An Autumnal Double City Break to Brussels & Bruges
Where: Brussels & Bruges. Belgium, Europe
When: October 2012
What: The Atomium, European Parliament, Grote Markt, Bruges Belfry, Belgian Windmills, Belgian Chocolates & Chocolate Waffles, Manneken de Pis, Brussels City Hall, Koekelberg Basilica, St Michaels' Cathedral, Belgium Railways, Dutch-inspired architecture.
Counter: 1 country
Illnesses or mishaps: None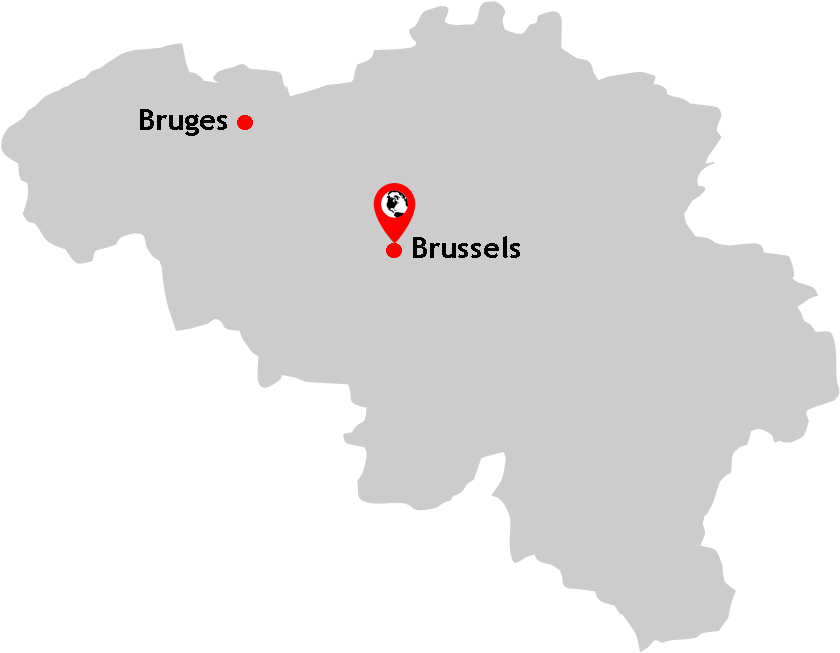 Belgium? So close to the UK shore that it doesn't feel like a proper getaway? This was my fear too, but for flights costing £24 return from my home city airport, I can hardly complain. I love city breaks in Autumn time. There's something about the orange leaves and that nip in the air, coupled with warm cafe bars and spending time just wandering around streets wiling away the time that really appeals. Belgium is, of course, home to a few famous things: chocolate, the booze cruise and, err, the European Parliament. After over a month of being ill in bed and therefore struggling to stay in work (thanks to an unexpected souvenir I picked up in Romania at the end of the summer), the brief trip to Belgium grew ever more appealing as it grew ever more closer. Weather predictions forecast grey drizzly skies. So, armed with a second hand copy of the Rough Guide for Belgium, two brollies and my trusty camera, we headed into the Flemish wonderland of Bruges and the very French feeling Brussels.
Belgium is the only country I have been where entering your PIN number into a terminal at a shop counter is preceded with a choice of options for language selection (English, French, German, Dutch). I am glad to say that English was number one in the list. The more serious lesson from this is to note the linguistic, and therefore political, complexity of the country. Lots of factions, lots of languages, lots of allegiances all struggling to maintain a common bond under the title 'Belgium'. Perhaps this linguistic and political crossroads makes Belgium the ideal place at which to place the parliament of the EU - a place representing the fissures and fault-lines bound to be experienced in the parliamentary debates themselves? Indeed, a conversation with a Flemish woman at the border control in Brussels airport revealed a real division between north (Flemish) and the predominantly French south. When commenting loudly as to why all the men in security uniforms intimately touched cheek-on-cheek when greeting (inside the security booths where you get your passport checked), the woman turned round to me and said "they only do this here. I am from Flanders in the north, and men don't do things like that up there." This intimate greeting between men clearly has its origins in France, which is located on Belgium's southern border. Another cultural curiosity is the Belgiums' love of waffles with chocolate - worth a purchase if you have time. Oh, and expect to see lots of TinTin and his little white dog Snowy - this being the country the cartoon where the character was created.
We only had two days in Belgium, each day to tackle a different city at opposite ends of the country. Day 1, Saturday, was to be spent in Bruges as weather predictions, which came good, meant we would escape the worst of the rain. Day 2 was to be spent back in Brussels exploring what this unknown quantity had to offer a single-day tourist like me. Luckily, the weather meant clear skies - perfect conditions for shots of the Atomium. Whilst being a little stressful at times, there was just enough time to fit in all of the main attractions which both cities had to offer. The trip was dramatically shortened from an initially planned onward journey into neighbouring Luxembourg.
We arrived In Belgium at the slightly inauspicious Brussels Charleroi airport in south Brussels: small and a little down at heel. It had already been a long day having been at work since 7am we touched down at 8pm local time. It was drizzly but very mild. Following running for various buses and trying to work the Metro ticket machine (twist the buttons - don't press), we arrived at the Hotel Thon positively sweating. Here's a tip for you bargain hunters out there: book a hotel at the weekend in a mainly business traveller-geared part of town and enjoy the dirt cheap hotel rates and half-price breakfasts. For very reasonable sums we had the most amazing breakfast and stayed in an uber-modern designer hotel for £25 per night. A metro ride three stops into Brussels' Grote Markt (the stunning old square) was a small and palatable inconvenience to pay. Staying at this standard of hotel would have been at least £120 per night.
Brussels was left, primarily to our second, and final, day. My initial impressions of Brussels were not good. Brussels was a little grubbier than I had expected. Whilst many areas were well presented, others were covered in graffiti, litter and general decay. I had clearly overestimated what a western European country's capital city should look like. We also happened upon the Brussels marathon on the Sunday which saw thousands descend on the city, giving our final day some extra buzz - as well as some additional travel headaches.
Outside of key tourist locations like the Grote Markt and Atomium, Brussels felt very impersonal and corporate: Brussels has two notable styles: uber-modern and Medieval - with seemingly little else in-between. However, she did have a few impressive gems up her sleeve, which the Metro system helped greatly in getting us to. Firstly there was the unique Atomium: a thrilling mixture between statue and architecture, with its huge silver pods being used at exhibition spaces, and which stands 102 metres tall in the Heysel area of the city. Another key site, which most culture vultures would probably make the trip to see is the European Parliament building in the Troon area of the city - an interesting sight to behold: a huge behemoth glass city which has the air of being a palace to bureaucracy; it's imposing nature a cross between an airport and something out of 'Metropolis'. It is thoroughly bland and would not attract any attention if it were not for its sheer size. It is not inspiring in any way. One of then most unusual sights in Brussels, and perplexing, was the 'Manneken de Pis' - a small fountain statue of a boy weeing. Literally, the name translates as 'statue which pisses'. This statue is, to Brusselians, what the Liberty Statue is to New Yorkers. It is iconic and versions of this rather unremarkable, and a little unsettling statue, are everywhere. There are even chocolate versions for you to, err, eat. Apparently the statue encapsulates the 'rebellious spirit' of Brussels. This statue was, for me, rather apt seeing as most subways and metro stations stank of urine anyway.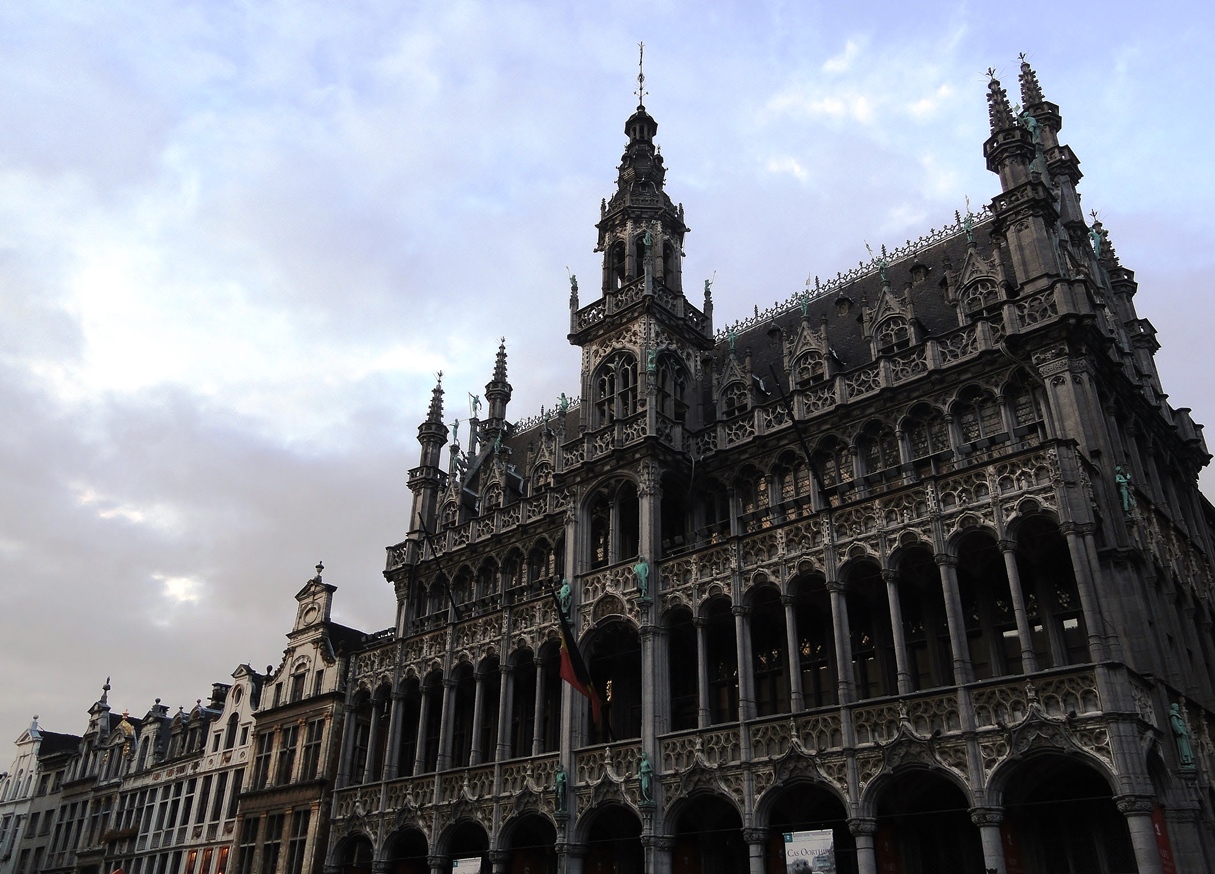 The fantastically ornate Gothic Broodhuis Museum in the Grand Place or Grote Markt.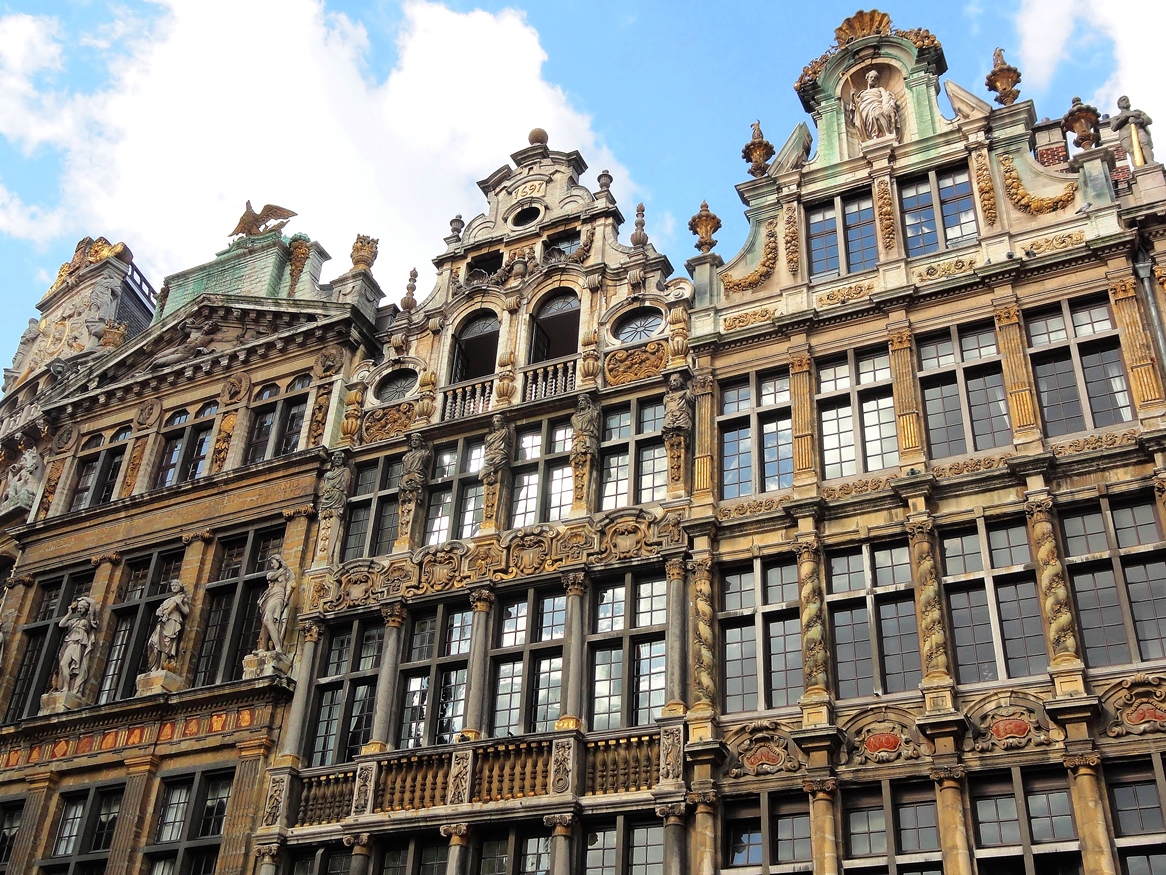 The fascinatingly ornate fascias of the Grote Markt.
The awe-inspiring Atomium: halfway between architecture and sculpture. Each of the spheres houses exhibits and you travel between the pods by either escalator or lift inside the tubes.
We had only one day in Bruges having got the Belgium railways' train from Brussels - £10 return and taking one hour in each direction. A day trip like this is just about possible providing you head out early enough and are willing to not sit around for hours eating lunches and drinking coffees. It was characterised by canals and Dutch-inspired architecture which made it feel like a perfect fusion of Venice and Amsterdam. It is quite possible to stay in Bruges for a couple of days and not get bored. It had a distinctly middle-class retiree feel; a quaint and perfectly formed city with charm in spades. Crammed full of chocolate boutiques, coffee shops, winding cobbled streets, windmills, canalways and soaring spires, it is a very picturesque and beautiful place to visit. There's plenty of travel eye candy to keep budding travel photographers happy for hours; luckily for me, the sun came out for the final hour meaning I could finally capture canal-side reflections with a blue sky.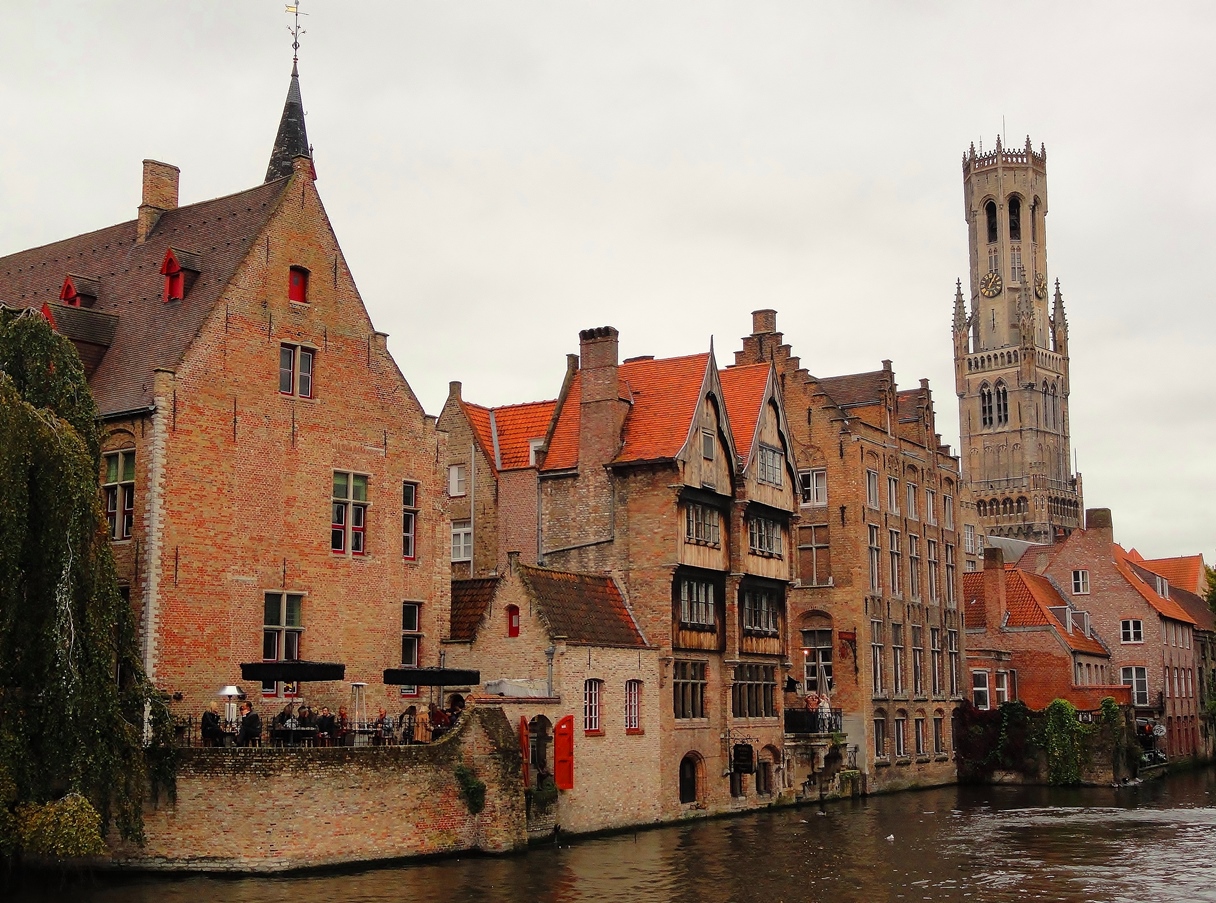 A really delightful view: the Venice-like Bruges with its canal waterways lapping against the foundations of buildings. Dominating is the shot of the Bruges Belfry. Sights like these go some way to justify Bruges' nickname as 'Venice of the North'. This is the Rozenhoedkaai.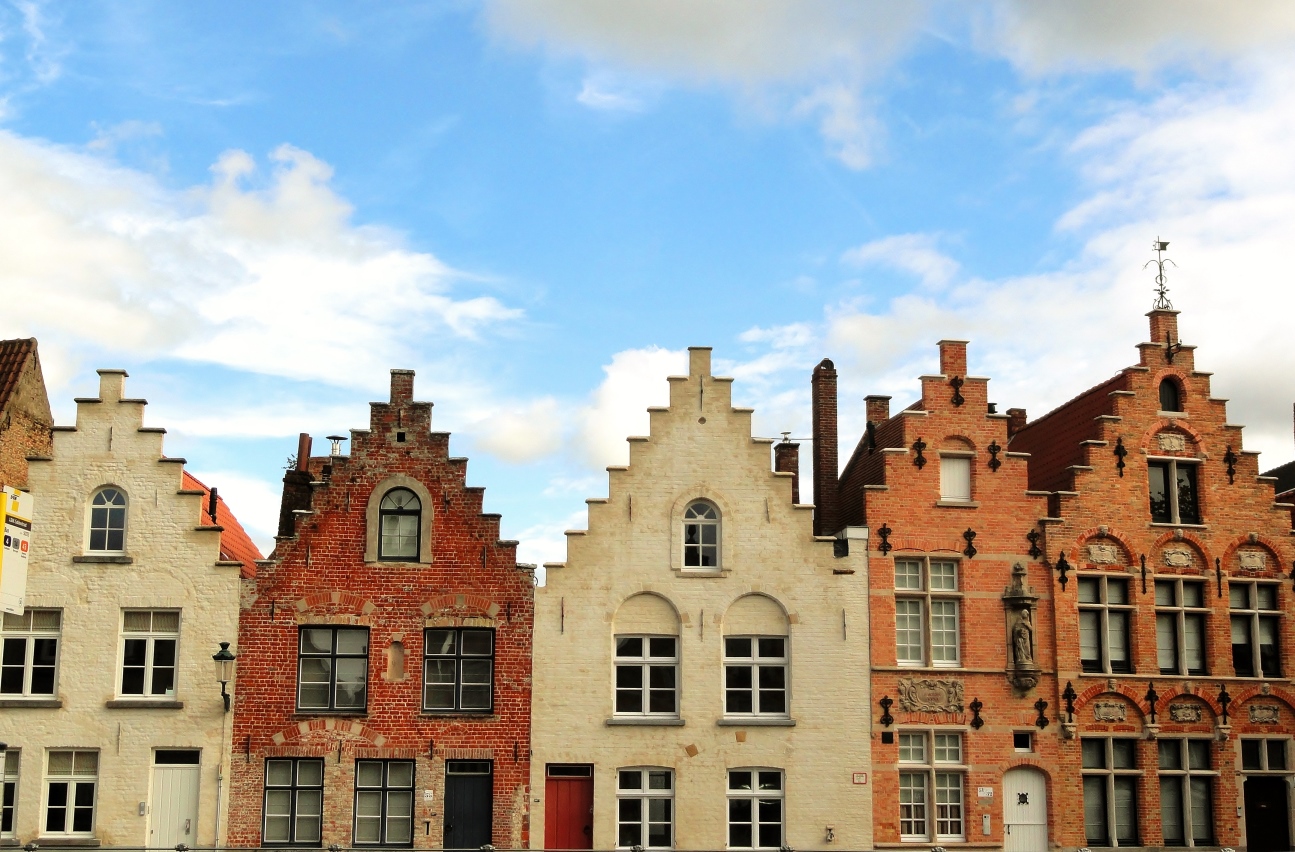 The Dutch-inspired architecture along the canal.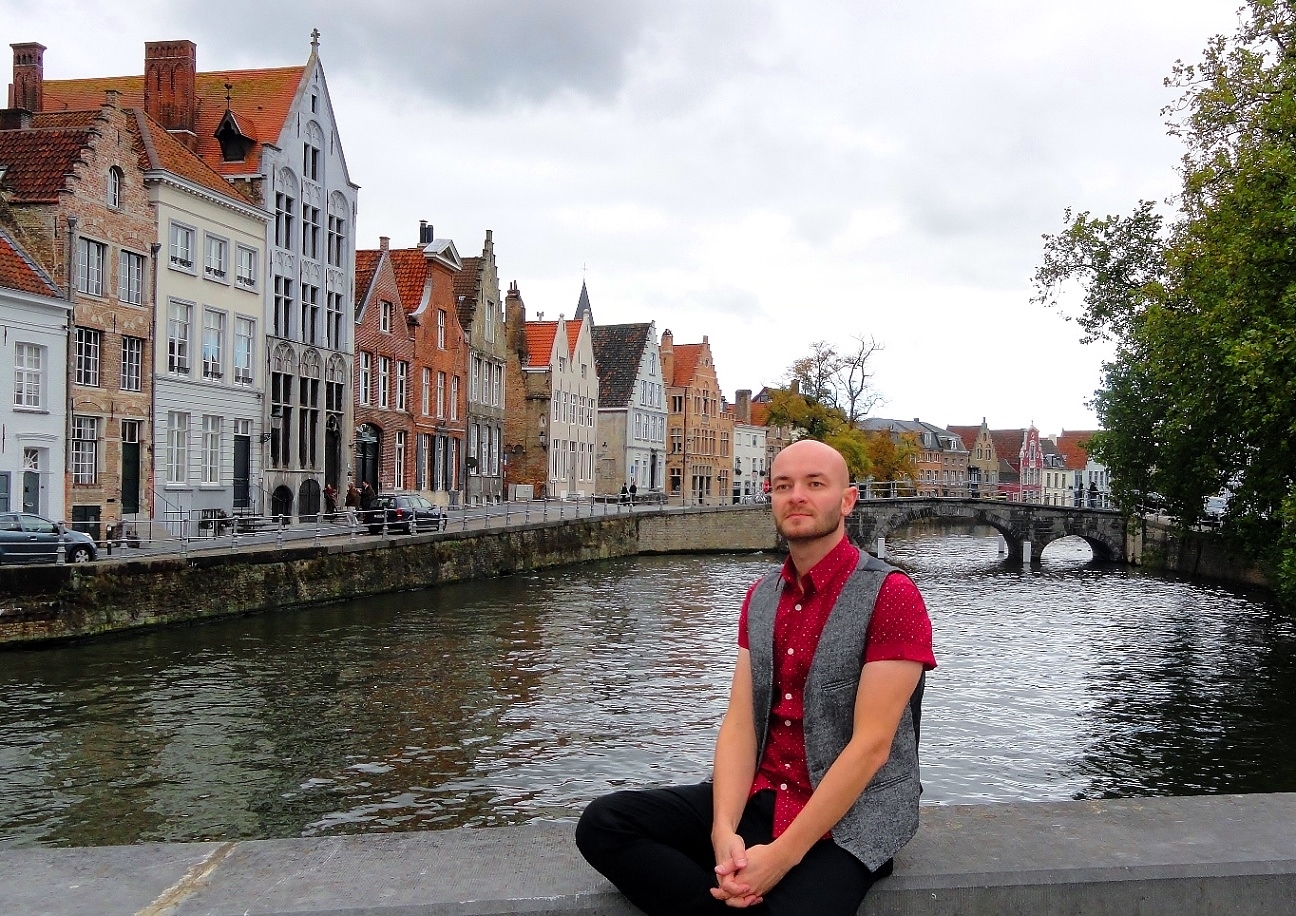 Am I in Venice, Amsterdam or Bruges? The Venice-like Bruges with its canal waterways.
travel tips, links & resources
Travelling between Brussels and Bruges is simple and inexpensive and well worth the best part of a day of your time in Belgium - perhaps more. Bruges is full of old town charm and tranquil waterways.
Be sure to sample some Belgian chocolates or waffles drizzled in chocolate - it's a quintessential Belgian experience.