A Double Bulgarian Adventure to Sofia & Plovdiv
Where: Sofia, Plovdiv. Bulgaria, Eastern Europe
When: June 2012
What: Communist Party House, Alexander Nevsky Cathedral,
Plovdiv Revival Architecture, Socialist Art Graveyard,
National Palace of Culture, Vitosha Mountain.
Counter: 1 country
Illnesses or mishaps: A touch of Bulgarian belly; Narrowly avoiding a giant Balkan centipede which made its way over my flip flop.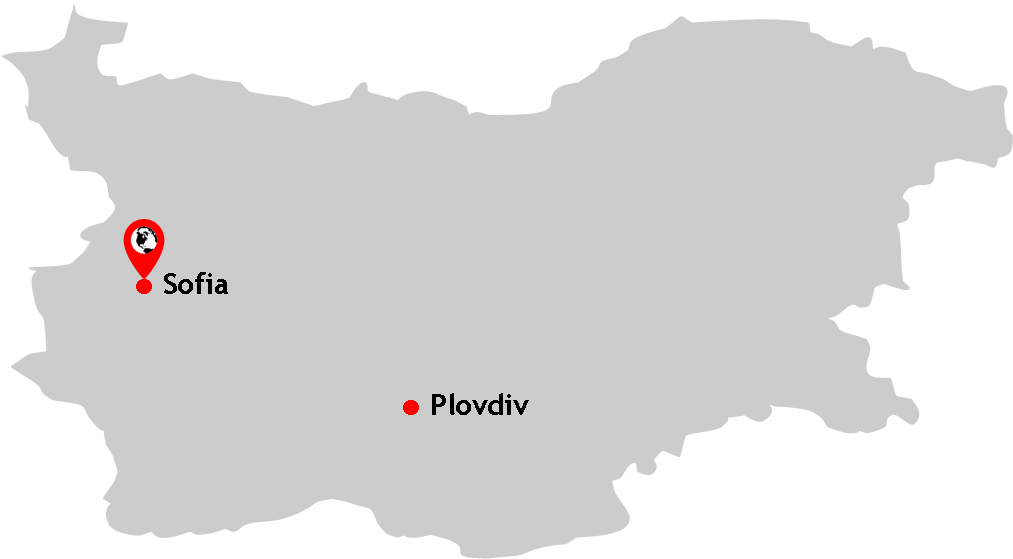 What does one think about when someone says the word 'Bulgaria'? Do your eyes glaze over? Do you search for a symbol, landmark or historical event? Bulgaria was certainly an unknown quantity to me too. Awkwardly, internet research often gleaned little information. Bulgaria was set to be an unknown quantity, an innocuous place, right up until the moment I stepped off the plane. It was one of those 'wait and see how it goes' trips. As a result, my trip to Bulgaria changed several times. The sticking point was what to do with a spare day having spent the first day and a half exploring Sofia, the country's capital. One plan was to visit a large abandoned UFO concrete structure sitting on Mount Budzludzha in central Bulgaria. It would have been rather fascinating to have seen it. The distance from Sofia, and the country's, let's say embryonic, public transport system meant that travelling to and from the site was not really possible. The only option would have been to hire a car and risk driving there. The scorching hot weather also added an additional concern. Thus, plan cancelled - and a great shame. Travelling to Mount Budzludzha was meant to be the replacement option for what should have been a double country trip, following a well-known route from Sofia down to Skopje, the capital of FYR Macedonia. Again, flight allocations with easyJet meant that there would just not be enough time, allowing for a six hour trip each way on the Balkan coach network. We were left with the only viable alternative - a trip to Plovdiv, Bulgaria's second city. Apart from a bout of 'Bulgaria belly' on the first day, which I thought may turn into something nasty, most of the trip went to plan once the plan had been decided!
Bulgaria lies on a confusing cultural crossroads between eastern European greats like Romania and Serbia, and Muslim Europe such as Turkey. It also allied itself strongly with the USSR during the iron curtain days (it must be pointed out that Bulgaria was never part of Soviet Russia but was Communist). It is therefore an interesting mix of the Mediterranean and eastern European. Indeed, this heritage is written in the faces of Bulgarians: olive coloured skin with piercingly bright blue eyes. The heat makes Bulgaria feel like a Mediterranean country, whilst its dilapidation in places locates it firmly within eastern Europe's grasp. One unfortunate by-product of the country's Communist days is that it now struggles with poverty more than any other country in Europe. Whilst I haven't been to every country in Europe just yet, Bulgaria could possibly have some of the worst pavements on the continent - certainly the worst I have seen anywhere. I wonder how many tourists head for home having twisted an ankle or two? My sightseeing was interspersed with flicking eyes back to the pavement every few seconds to make sure I wasn't walking into a mangled piece of iron sticking up out of the ground or an entire hole. Another sign that all is not well are the homeless: whilst few in number, when you do see tramps and beggars in Bulgaria they look particularly desperate. Many reviews cited the scams operating in the country which tourists need to be aware of. Those coming in for particularly scathing treatment were taxi drivers, copying the logos and even telephone numbers on the sides of legitimate taxi firms to ensnare unsuspecting tourists into their cabs and then charge them ten times the fare. You can see an example of how this works in practice, here. You need an afternoon just to make sure you are well versed in what could happen before you set off. Forewarned is definitely forearmed.
Two key things which make Bulgaria unique. First, a key hurdle most tourists have to face is the Cyrillic alphabet, which, as in Russia, is in use in Bulgaria. This is not surprising as the Cyrillic alphabet was created in Bulgaria during the 10th Century AD. An interesting aside to this is that its name comes from the man who created it: Cyril. Getting by on logos and Roman alphabet translations is easier in Sofia than it is outside of the capital. In Plovdiv, writing was almost exclusively Cyrillic, which caused a real issue when we arrived in the city - there being three bus stations we could not work out which one we had arrived at. I took to writing out the Cyrillic on my hand and trying to translate it in to Roman and then cross-reference it to the map in the guidebook. Five minutes later, we were none the wiser. Secondly, it became clear early on that Britain is a country to which Bulgarians aspire - to what degree socially, politically, economically I do not know but there was certainly a prominent use of the Union Jack flag, particularly on clothing and accessories. Sitting down for a coffee in Plovdiv, a young teenager sits with his friends wearing a tee-shirt with a red telephone box, red bus and with 'London' emblazoned across it. Also, opposite our hotel was a souvenir shop dedicated to London and UK things. Quite what relevance this shop, which can be seen here, has to Bulgarians and Sofians is beyond me.
As you know, I never avoid travelling to a country because it has had a poor write up in the past. I do believe that every place has an interesting story to tell. Places are not immune to the greater changes and events happening around them and so whether innately dynamic and interesting, or whether they get swept along by broader socio-political strokes outside of their control, countries cannot help but be interesting. I would argue it is almost impossible for any country not to have an interesting narrative. Bulgaria, like others, has a story to tell but it is one that some in the country are doing their best to erase. The Communist Party House building in Sofia is one such example of this. This erosion of history automatically qualifies Bulgaria as an interesting place to travel to. Oh, and it's exceptionally cheap. In particular, food in middle range restaurants average £5 including drinks. Indeed, I had the most amazing pizza in a restaurant along the main eating and shopping boulevard, Vitosha Boulevard, for only £3.20 (see it here). Bulgaria is enigmatic, tricky to understand and an underdeveloped tourism industry means finding the things to see is a little frustrating. There was, for instance, no information about the Socialist Museum - even in the tourist information office. Even our Rough Guide to Bulgaria, which we later discovered dated from 2008, let us down on several points. It was only due to the 'inyourpocket' guides online that I even knew it existed. Still, with a well-planned itinerary and with lots of research, Bulgaria has the potential to be a viable, cheap and rewarding trip - but you will have to work hard at breaking through its surface.
Sofia is the capital city of Bulgaria and it certainly has all the noise, dilapidation and gentle hustle and bustle this inevitably entails. Feeling like a cross between Kaunas in Lithuania and Belgrade in Serbia, Sofia was generally unkempt and dirty, but no more so than most of her other eastern European counterparts. A key hallmark of Communist days was the almost obsessive overuse of concrete - everywhere. The phrase 'concrete jungle' must have been coined here as everything seemed to be made of the stuff: benches, bins, statues, bollards, fountains and walkways. Only trouble is, concrete degrades quickly. Result? Everything appeared to be degraded and crumbling all at the same time. Indeed, the city's 1300 year monument, built in 1981, has now been cordoned off to protect the public sauntering through NDK Square. It is now ripe for demolition - not exactly a fitting tribute to the 1300 year commemoration of the forming of the first Bulgarian state, is it? Still, grand gestures cheaply executed is arguably a symptom of the Communist and eastern European experience which, in itself, has its own appeal.
A recent addition to the Sofia tourist landscape is the Museum of Socialist Art - effectively a dumping ground, but aggregating, of many of the surviving communism statues and symbols which were pulled down following the country's move to a market economy in the early 1990s. Even though these are statues, it really does feel like a graveyard of communism - the final resting place of a system destined to fail. Ironically, or befittingly, the open-air part of the museum is overlooked by a large modern building occupied by the banking group 'Fibank'. Positioning yourself with your camera pointing at a statue of Lenin, it is possible to get both in the same frame. I wonder if the irony resonates with Sofians? The huge red star top, which once adorned the Party House in the city centre, has also been relegated to this open-air museum, having been salvaged from the closed mineral baths where it had been dumped.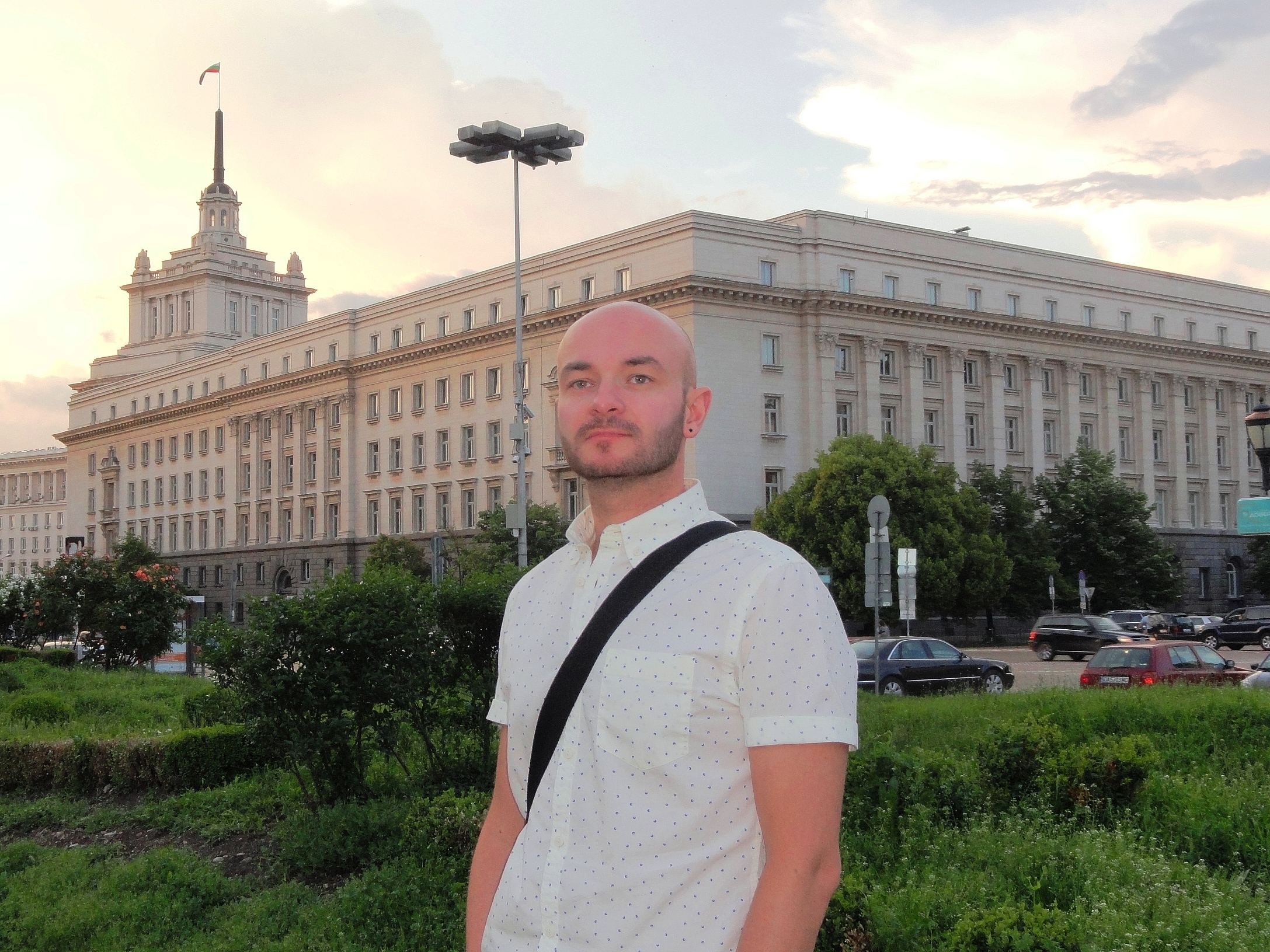 The former Communist Party House at sunset, former HQ to the Bulgarian Communists and whose red star top has been replaced by the republican national flag. Its design imitates key characteristics of the Stalin Palace which can be seen across countries of the former Eastern Bloc.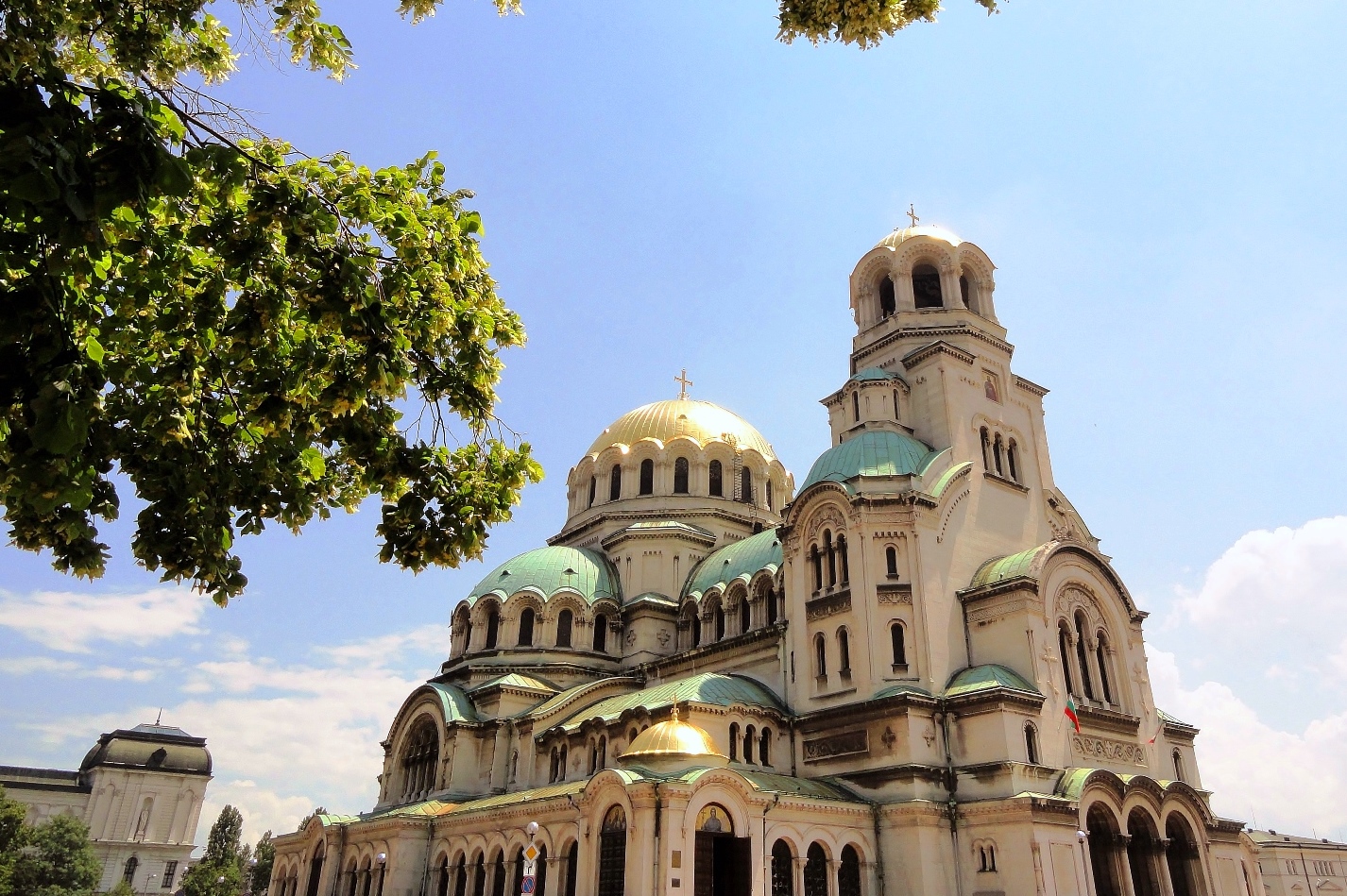 The golden cupolas of the Alexander Nevsky Memorial Cathedral, probably Sofia's most iconic landmark. Is is one of the largest eastern Orthodox cathedrals in the world.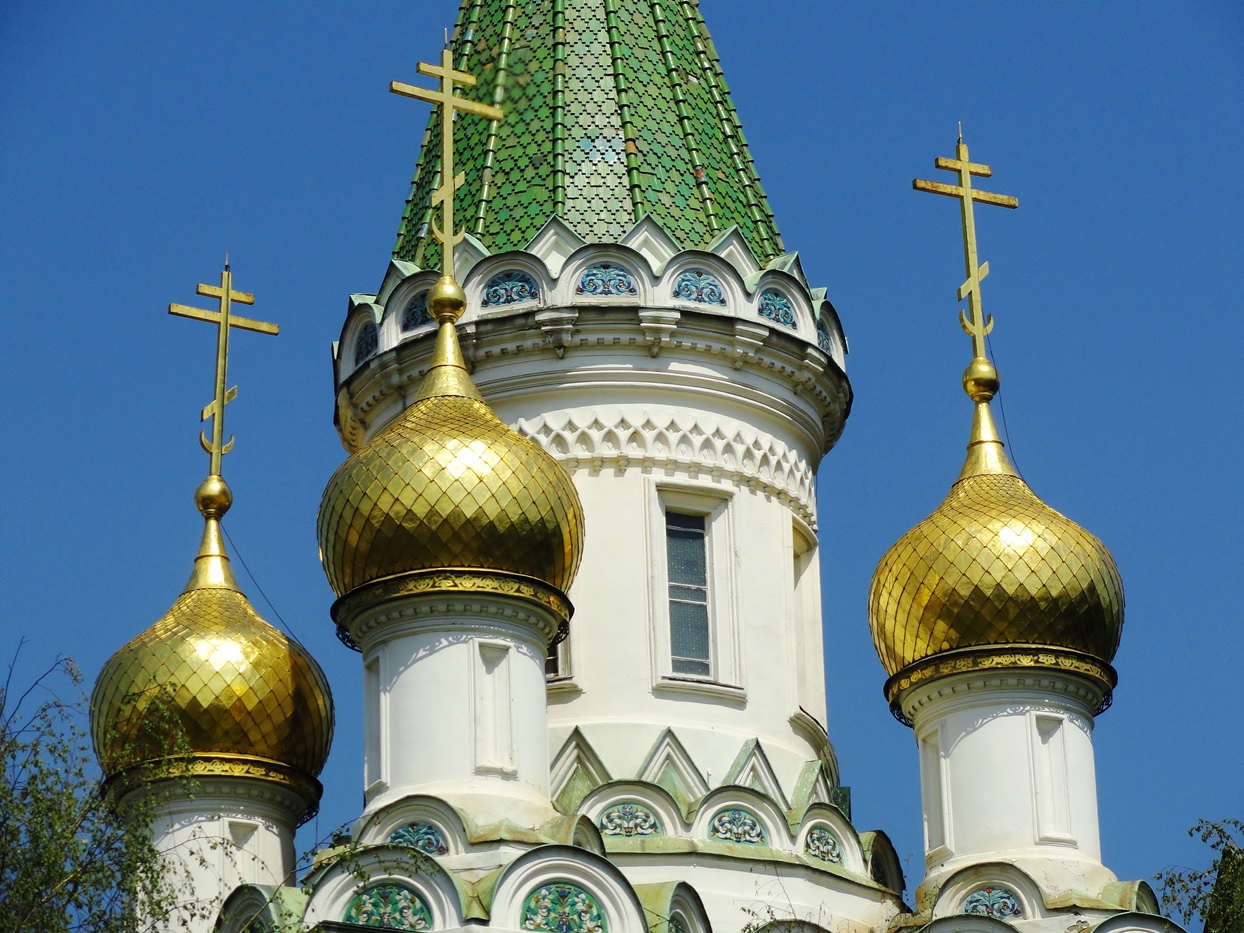 The St Nikolai Russian Church in central Sofia whose golds and greens mimic those of the Alexander Nevsky Cathedral nearby.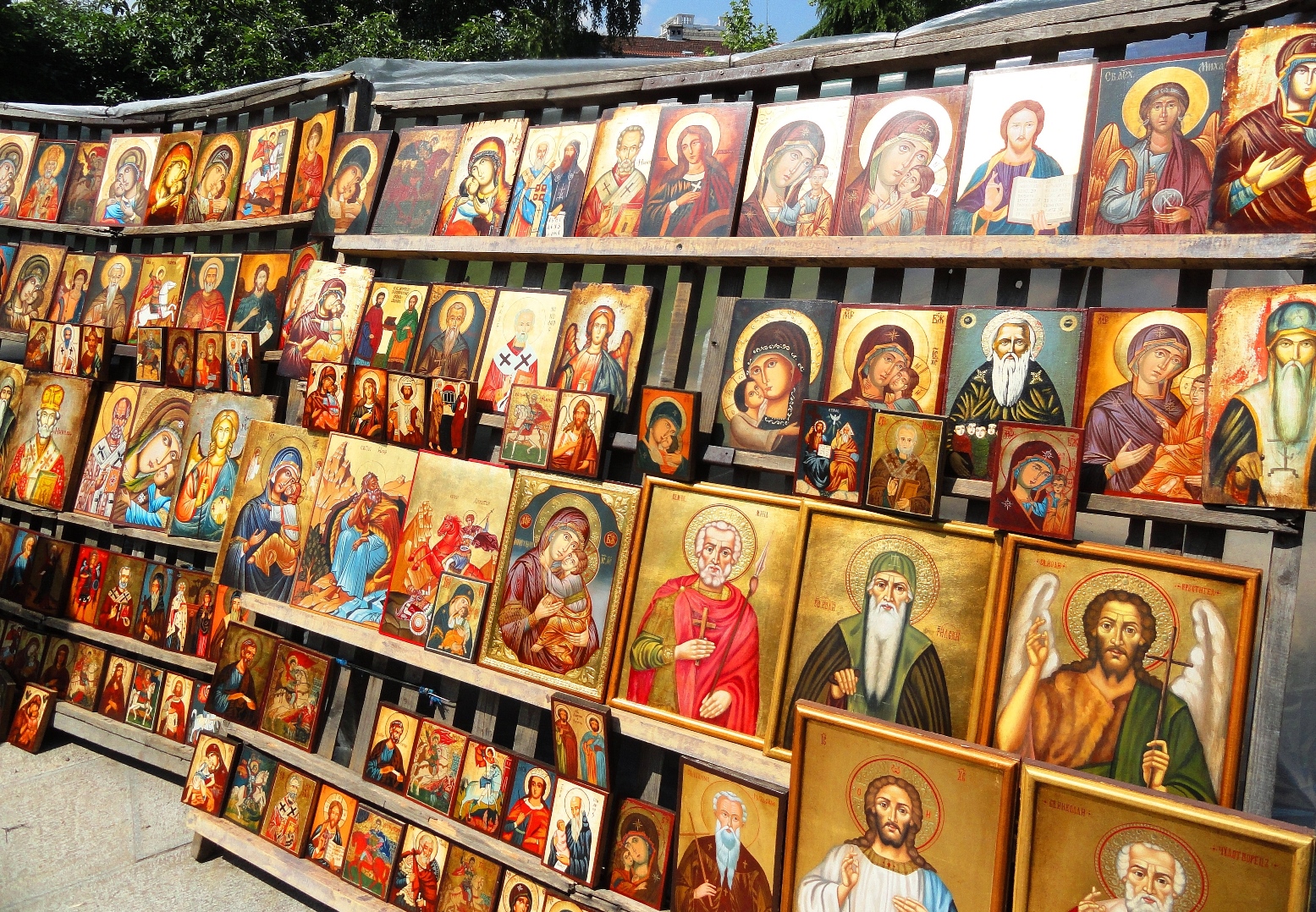 Orthodox religious paintings given extra sparkle by the afternoon summer sunshine.
Plovidv just goes to show that you should never try to second guess a second city. We travelled from Sofia to Plovdiv on the coach network for just £5.50 each way - a bargain considering the distance between the two cities is 130km. The journey was rather uninspiring being mainly flat green land except for the Sredna Gora Mountains during our part way through the Valley of the Roses. Plovdiv was a real departure, pun intended, from our experience of Bulgria so far as seen through the eyes of Sofia. Plovdiv was far more culturally oriented and geared towards the tourist. It is also one of the oldest cities in Europe and is at the heart of the Bulgarian national revival in architecture which bear the characteristics of countryside mountain houses with their flowery and ornate detailing. We managed to 'do' Plovdiv in the space of five hours, ensuring we had walked to the top of the Thracian Settlement hill which afforded us great views of Plovdiv from a higher vantage point - something that was sadly lacking back in Sofia. It was whilst taking in the views with an omelette and coffee that we realised we were in the company of the most disgusting looking, and largest, centipede I have ever seen, at around 15cm long. You can see him, and his large pincers, here. Plovdiv felt calm, young and hip, and was a perfect way to spend the best part of a spare day in Bulgaria.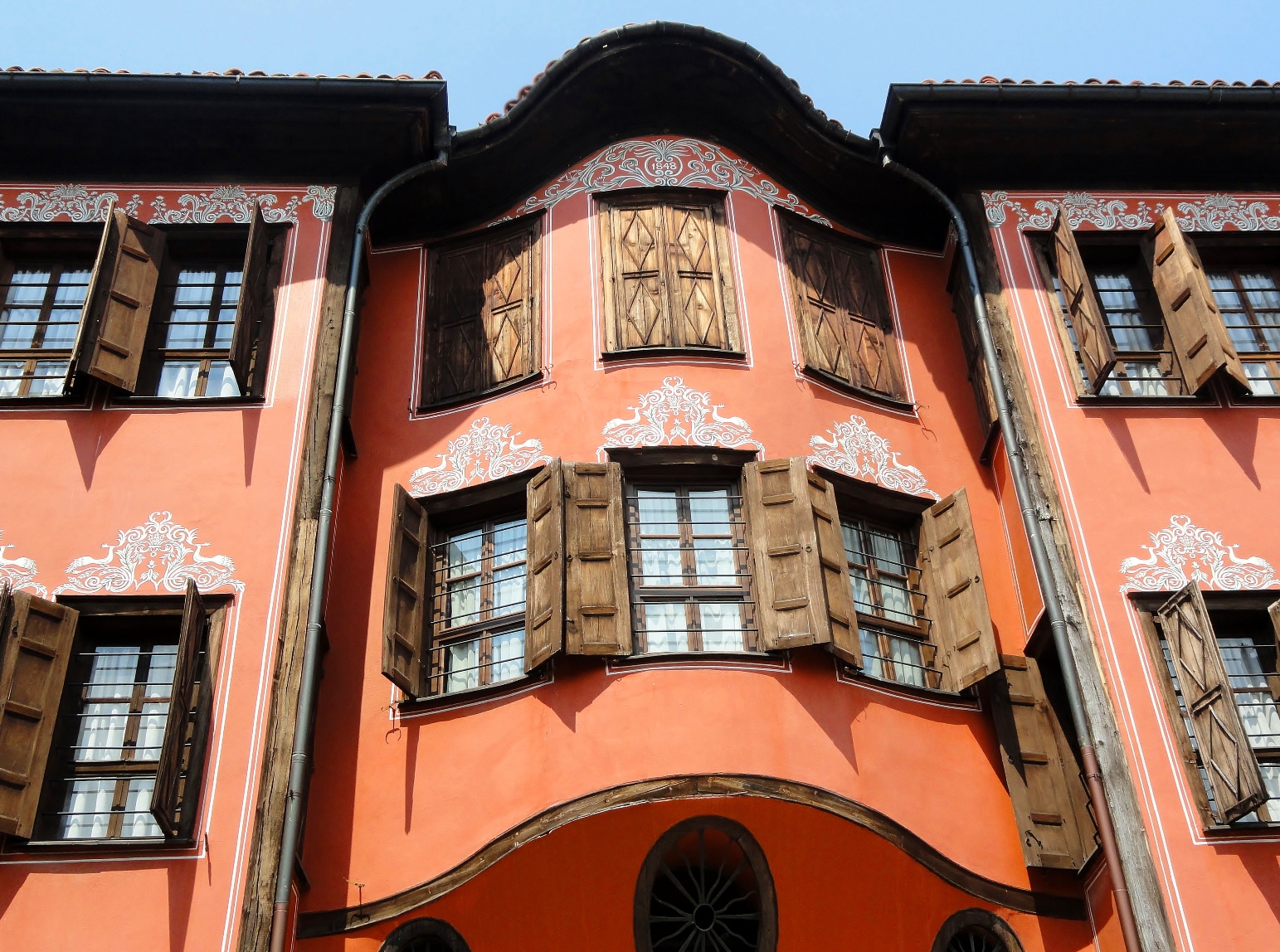 The floral and ornate patterns of buildings in Old Plovdiv.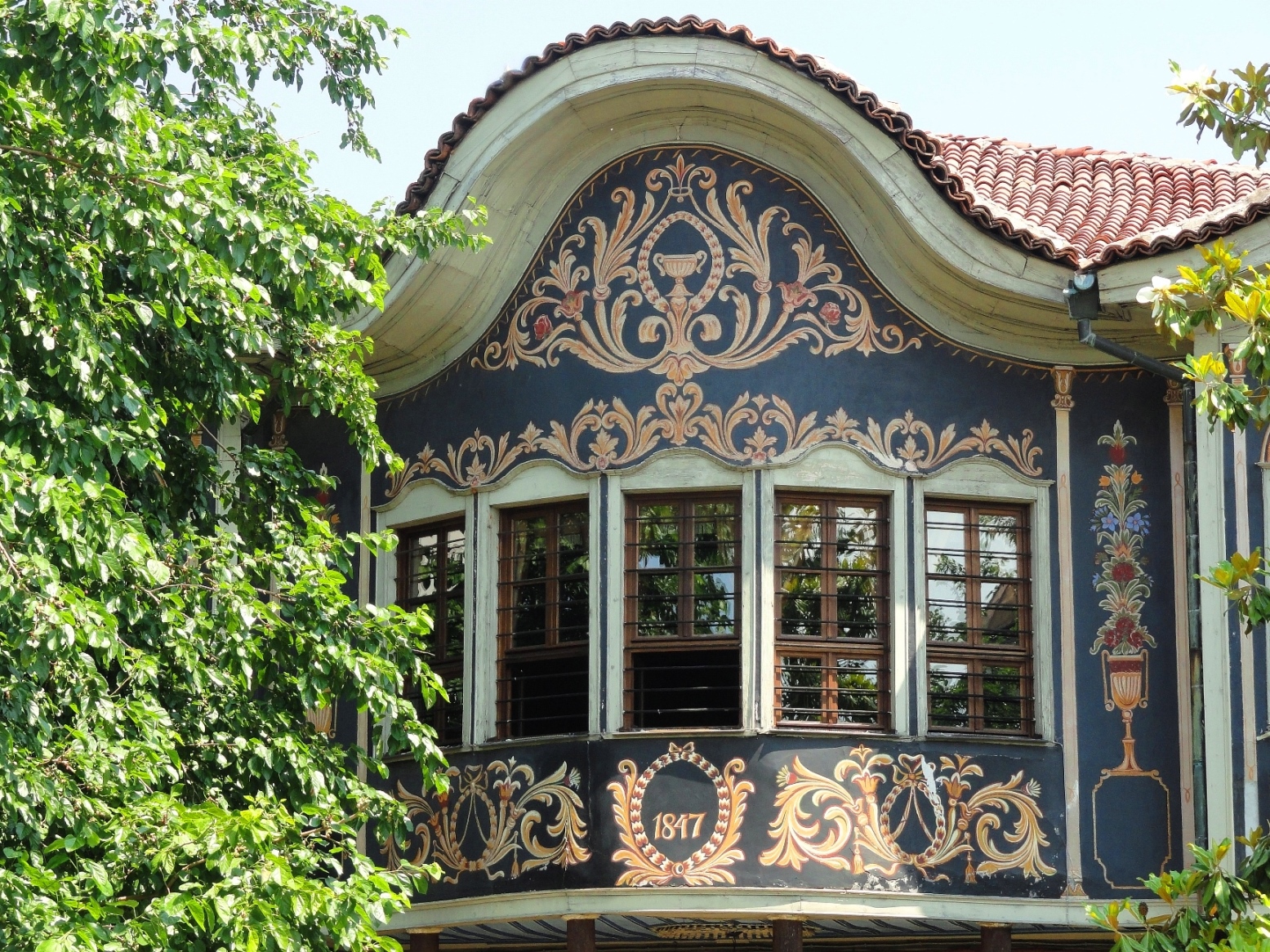 Old Plovidiv's Regional Ethnographic Museum.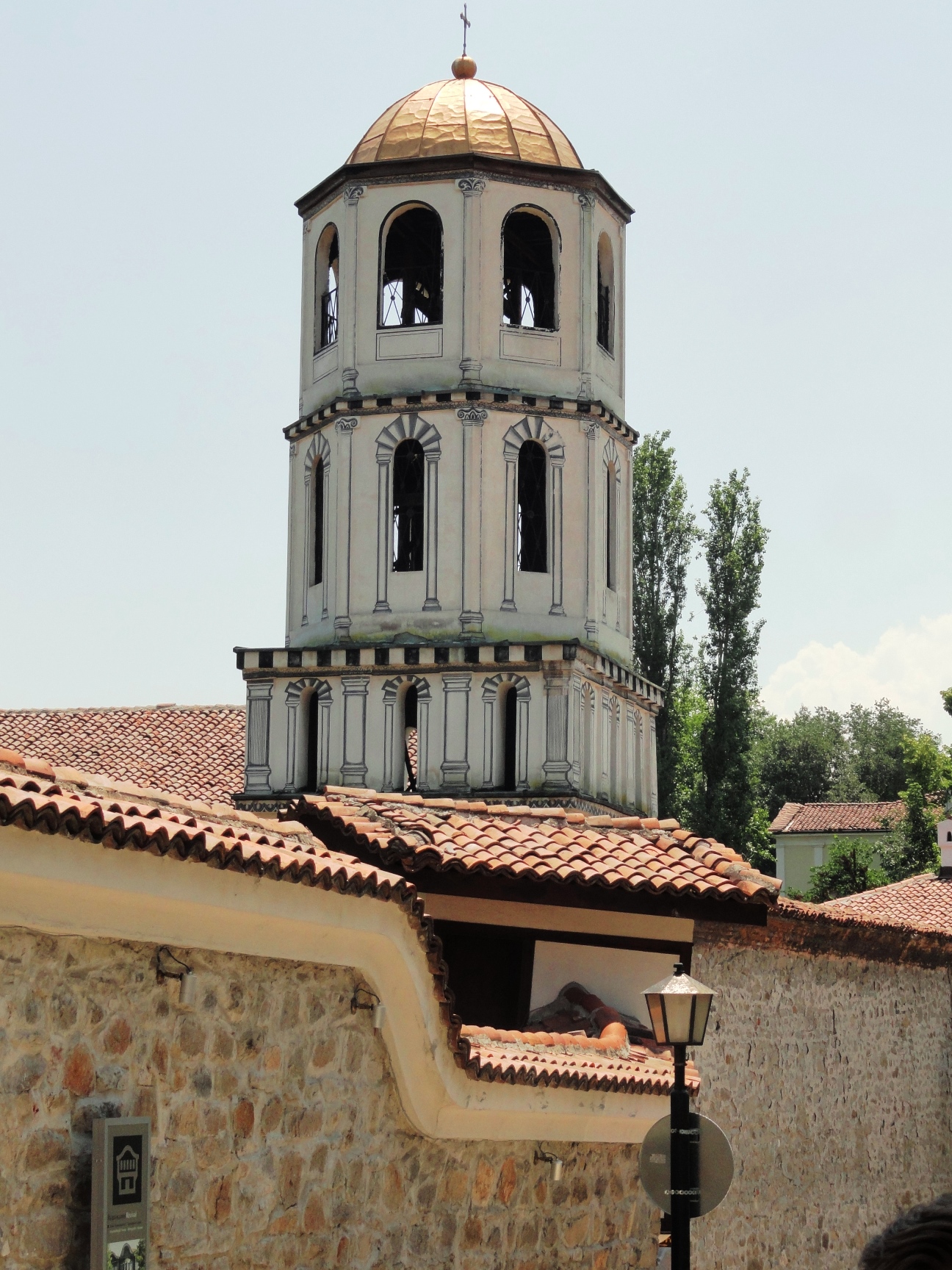 The Bell Tower in Old Plovidv.
A contented cat shelters from the sunshine in Old Plovdiv.
travel tips, links & resources
Travelling between Sofia and Plovdiv is simple and inexpensive and well worth the best part of a day of your time in Bulgaria - perhaps more. Plovdiv is full of old town charm and tranquil, cobbled lanes
Be sure to sample the view across Plovdiv from the top of Thracian Hill making sure you don't miss the floral patterns of the old buildings on your way up.