A Double Baltic Adventure Crossing the Gulf of Finland
Where: Helsinki and Tallinn. Finland and Estonia, Europe
When: August 2010
What: Tuomi Church, Finlandia Hall, Lutheran Church, Helsinki Railway Men, Helsinki Central Station, St Alexander Nevsky Cathedral, Moomins, Tallink Ferry journey, Reindeer hide, Toolonlahti bay, National Museum of Finland, Church Uspensky, Helsinki Market Square, Kallio Church, Tallinn's Medieval City Walls, Church of St Simeon, Gulf of Finland Views.
How: Flight, Tallink Ferry, Walking, Taxi.
Counter: 2 countries
Illnesses or mishaps: Getting caught up in the hordes of 'booze cruisers' travelling from Finland to Estonia and back in the search for vice bargains. Make sure you steer clear of the zooming shopping trolleys as you disembark at the Port of Tallinn!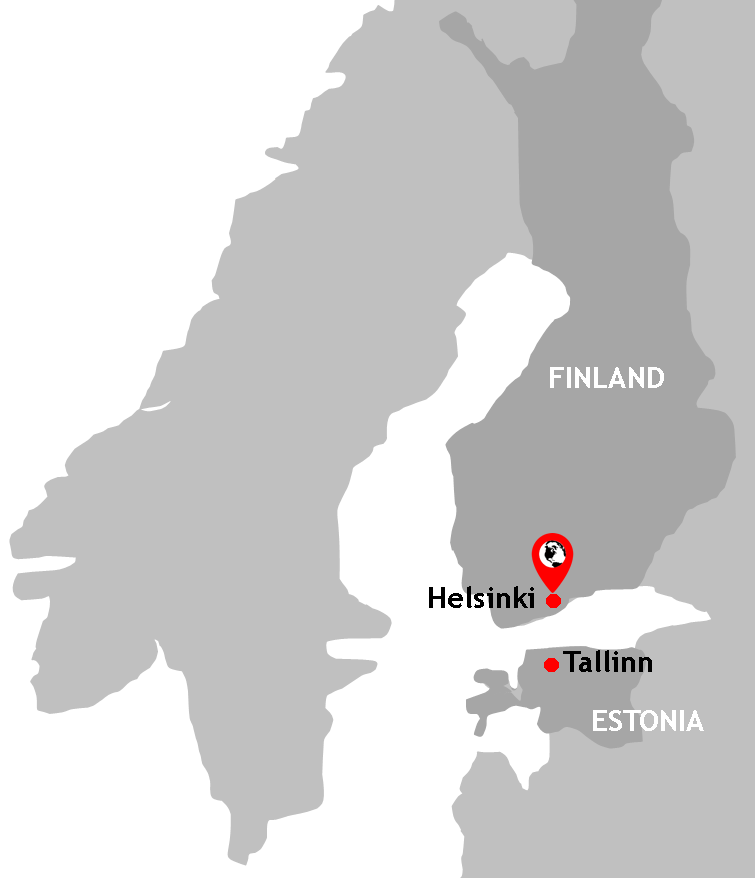 Having spent much of the Summer renovating our new property, it got to the stage where travel was an absolute necessity. The travel itch was becoming unbearable and there was only one prescription from Doctor Travel - get out there! Not really able to travel far, and with limited funds because of the renovations, it had to be Europe (and that's no bad thing). Finland was not covered by our Inter-rail trip around Europe back in 2007, so Finland it was. To be totally honest, Finland was an unknown quantity to me - unsure about what Finland was famous for. This is not a bad thing as drawing such a blank compels me to travel there. Trying to maximise the potential of the whole thing, it was clear that crossing the Gulf of Finland on the Tallink ferry system was a well-trodden excursion for anyone visiting Helsinki; two countries and two capital cities for the price of one. Bonus! A chance to scratch the travel itch with no bed-bugs included. I love trips where there are opportunities to head off to somewhere else - a chance to explore another country. Had I made this journey nineteen years earlier it would have been a trip from Europe and into the USSR.
The combination of Finland and Estonia/Helsinki and Tallinn is a fascinating one; you are not heading from like to like. Indeed, technically, heading from Finland to Estonia is a trip from northern to eastern Europe. This sounds rather grand considering the pithy distance between the two. Despite their proximity, the architectural, linguistic and cultural differences are stark - even more so when you take into account the volume of day travellers, and arguably therefore room for cross-cultural flow between, the two countries. Whilst the trip between the two countries takes only as matter of hours and spans northern and eastern Europe, you also travel from the modern to Medieval. Whilst there are elements of both in both cities, Helsinki feels predominantly modern and urbanised, Tallinn feels traditional and historically-focused. If you do travel to Helsinki, it would be a great shame not to head over to Tallinn on the ferry - the journey is an experience in itself, is rather leisurely and inexpensive and, in my opinion, has the potential to offer the kind of contrast which enlivens sometimes dull single-location city breaks. It is also an opportunity for globe trotters to bag another country.
Staying in the Kampii district of the city, Helsinki was as much as expected; clean, relatively expensive, and Nordic-feeling. Owing to flight delay, we arrived very late on a Sunday night: the city was dead. We could not find any place open to buy something to eat and had real trouble even locating the beating heart of the city. I know it was a Sunday night, but this was a capital city - surely something must be open... somewhere? Anywhere? This did surprise me but, then again, perhaps it is unfair to level the expectations you have of, let's say, London on the capital of Finland? In the end we resorted to buying a portion of chips and veggie burger from a bored-looking street vendor. Unsurprisingly, it wasn't nice but it kept hunger at bay until the morning at the cost of £7 a go.
The weather was great, meaning we could walk around the city with no issues. The thing I most wanted to see in the city were the Art-Deco inspired railway statues; so inspiring and rather magical. They flank the sides of Helsinki's main railway station with grim and severe expressions holding globes which illuminate at night. They are rather fantastic. These railway men were the most notable architectural treats the city had to offer, but the cool-looking white shapes of Finlandia Hall is a delight to photograph. Its sharp angular shapes and setting along the banks of Toolonlahti Bay make it rather fetching. Very Nordic. Toolonlahti Bay itself was tranquil and picturesque, surprisingly it has not been turned into a hub of tourism, so often the case with watery locations in other countries. With little boats and a solitary jetty, the bay felt almost beach-like. Another crowd pleaser, and a sight most city trippers would take a snap of with their camera is the green domed, white-walled Lutheran Cathedral. Like many churches in many capitals, this one is also among one of Helsinki's most prominent landmarks. Its vast expanse of steps - the biggest I have ever seen leading to a building - adds to its impressively powerful stature whilst, incongruously, still appearing elegant and feminine standing, as it does, in the centre of Senate Square. There were some nice restaurants around the Bay of Toolo which was a nice place to go for an evening meal - meaning you also catch sunset over the bay, slowly turning the buildings into silhouettes.
A two night stay in Helsinki was plenty as a city break but, perhaps, it is unsurprising to find out that much of what Finland has to offer tourists is to be found outside of the capital. Finland is the place to go Husky dog sledging, skiing, ride in carts pulled by reindeers, or even see the northern lights. The closest I got to a reindeer were the fleeces in Helsinki's Market Square. Finland, sadly for a city tripper like me, is an outdoors kind of place with adventure trips in its Lapland, Lakeland and Archipelago regions. It is, therefore, a little unfair for me to judge Finland on Helsinki alone. As the travel mantra goes, 'man cannot travel by capital city alone'. Perhaps I will have to reserve judgement until the next time...
Helsinki's Lutheran Church with its vast steps.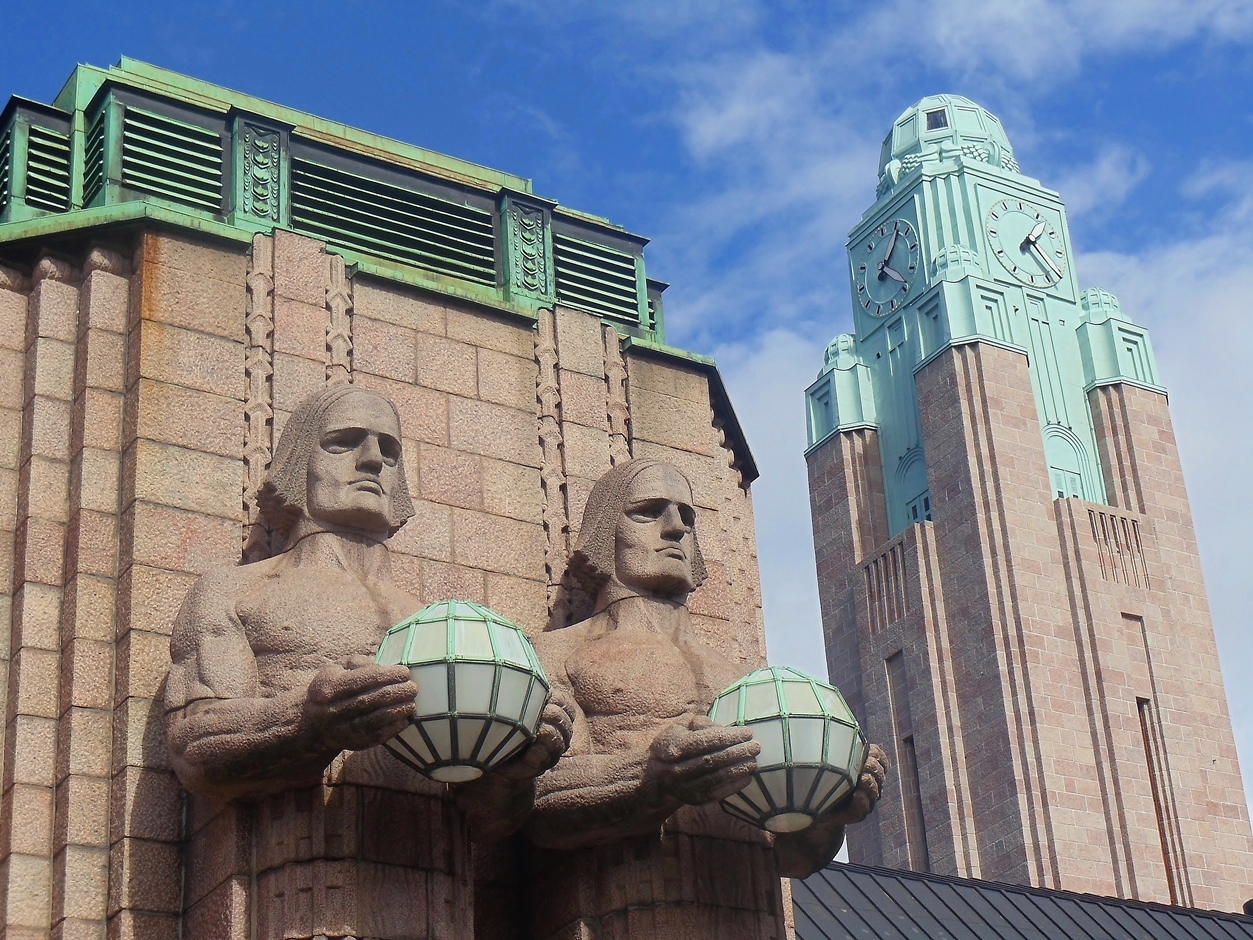 The icon of Helsinki: The magnificent pink Finnish granite Art Deco/Nouveau Helsinki Central Station with its imposing two pairs of gods holding lamps. I absolutely love this building. I have no idea why, but these railway men seem to capture something of the essence of Nordic Finland. So much so I spent around half and hour taking photographs of them from various angles. I think the accompanying clock tower, which looms large when viewed from certain standpoints, adds to the overall drama of the building.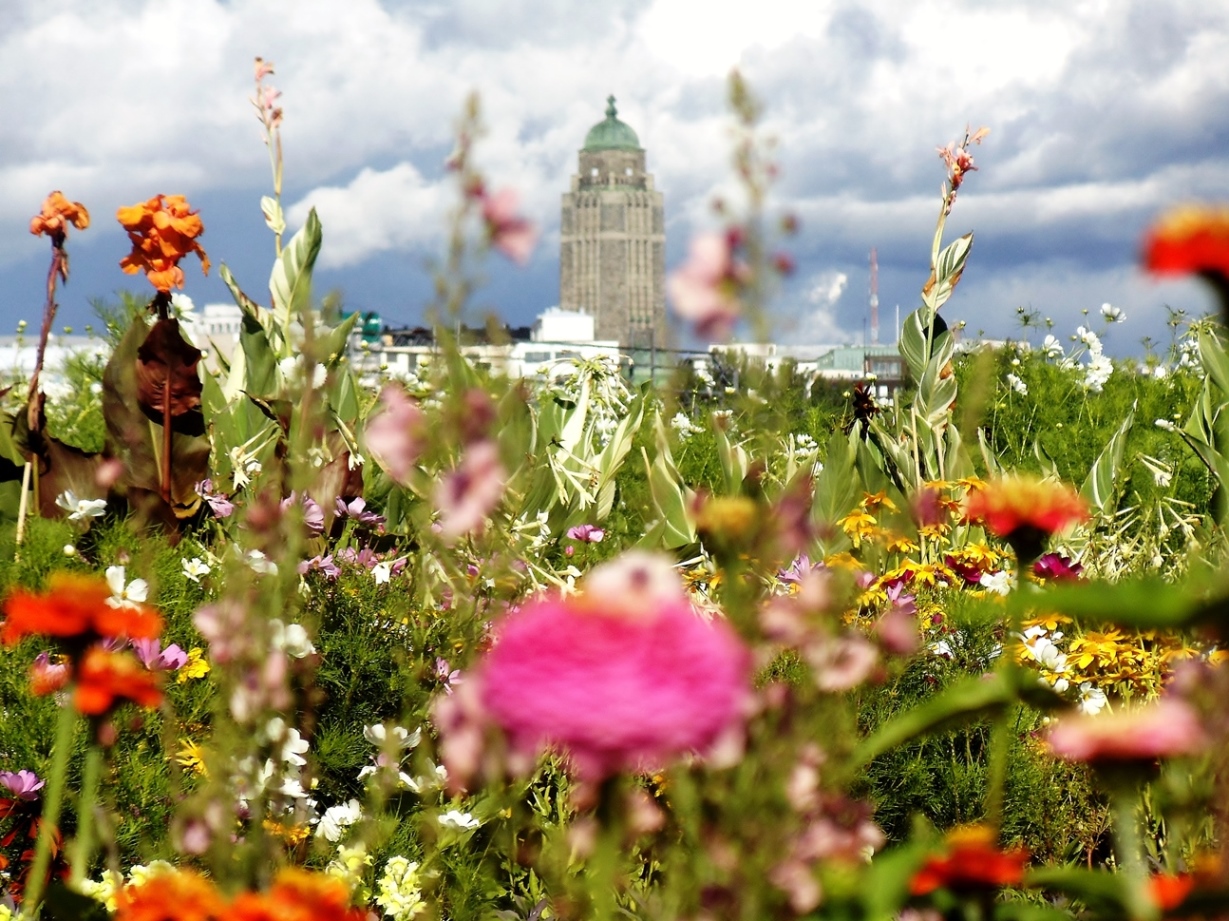 The huge tower of Kallio Church seen through the explosion of summer wild-flower blooms.
Following our two nights in Helsinki, we booked our return journey on the Tallink Express service to take us across the Gulf of Finland to the Estonian capital, Tallinn. The ferry was more like an ocean liner; huge with a stage at the front. For Helsinkis, Tallinn is the place to go for cheap booze and fags; a Baltic version of the Brits' booze cruise to France or Belgium. We got off at Tallinn port to see Helsinkis rushing for a trolley at a supermarket literally one hundred metres from the boat they had just got off. No doubt they were booked on the return journey just two hours later. The ferry journey itself is largely uninspiring, apart from the two end points with worthy city skyline views at either end. Leaving Helsinki takes you past a neat little row of coloured beach huts on a sand bank.
Approaching the coastline of Estonia was a delight and rather surprising. Coloured by negative perceptions of Estonia as a former USSR satellite country, Tallinn was beautiful and the cheaper prices countered those we had paid across the water in Finland. The dreamy Gothic spires of the Old Town and its medieval market made a slightly under-researched leg of the journey a real highlight. Tallinn is a UNESCO World Heritage site and a glance around its 13th Century centre justifies this categorisation. Most impressive is the glorious gateaux-like Russian-influenced onions of St Alexander Nevsky Cathedral, one of Tallin's most striking buildings. Like many Russian churches abroad, they never fail to disappoint. The church's black onions and gold embellishments, set against a vivid blue sky, made the whole view worth the walk to the top of the hill. The weather had been grey and overcast for much of the day, but the sky cleared just at the right moment for me to take the glorious photograph you see below. Divine intervention? Tallinn's Medieval towers, with their fetching red tiled cone hats and flanking stone walls are a key feature of the city's Old Town. A walk in a north-easterly direction takes you past the wooden, and slightly creepy, St Simeon Church, as well as past the Russian history museum, which cannot be missed owing to the small pea-coloured Lada car parked outside.
Strangely, service in Tallinn was noticeably poor and slow; a world away from the efficiency of Helsinki. There seemed to be no rush to serve you - everything seemed a little slower in Estonia. There was definitely a feel that the poor service you still experience across parts of the former Eastern Bloc resonate here, too. Perhaps people here are not in such a rush?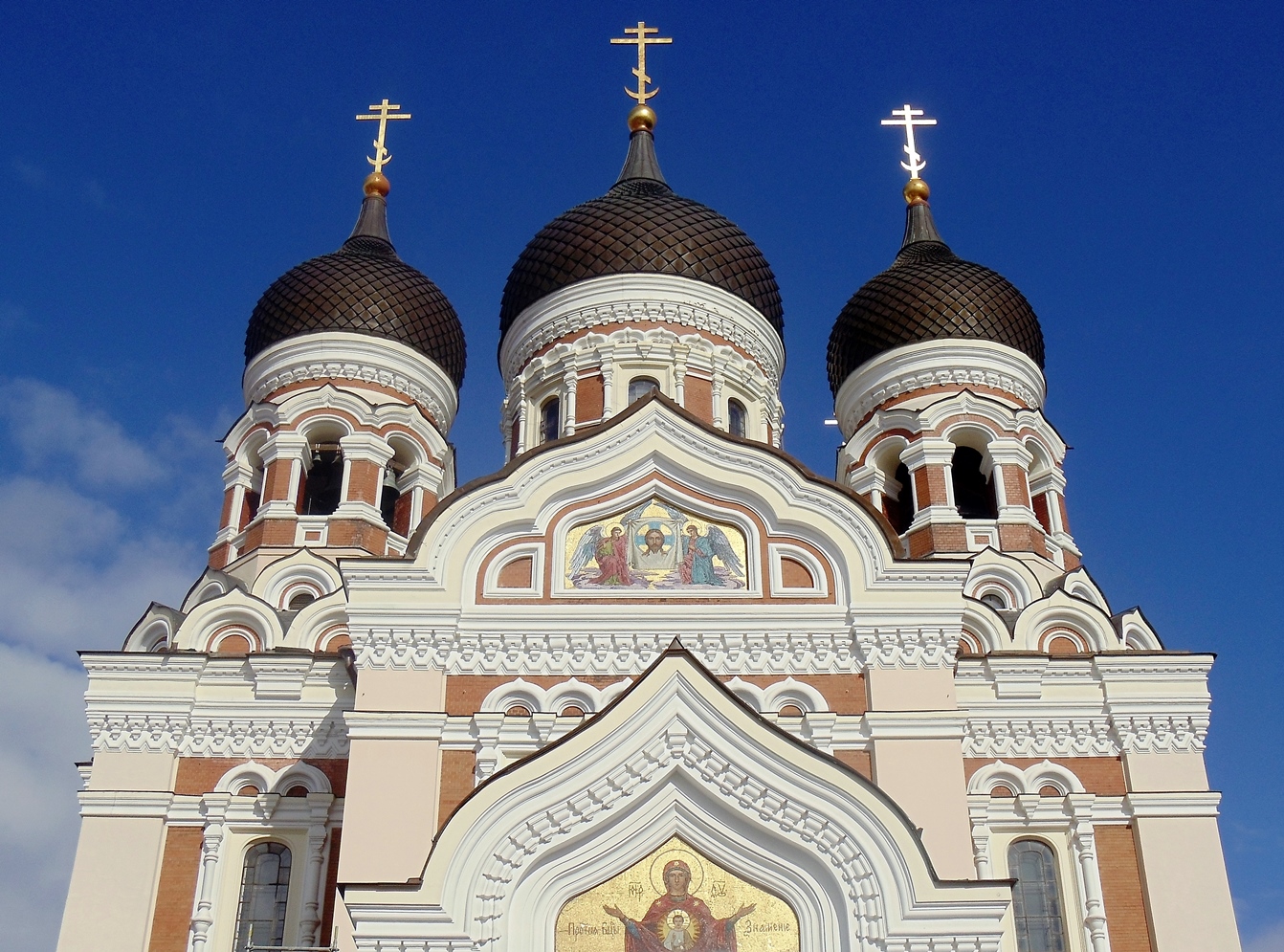 The glorious gateaux-like Russian-influenced onions of St Alexander Nevsky Cathedral, one of Tallinn's most striking buildings. Luckily, the clouds dispersed long enough for me to snap this picture - the vibrant blue sky complementing the cathedral.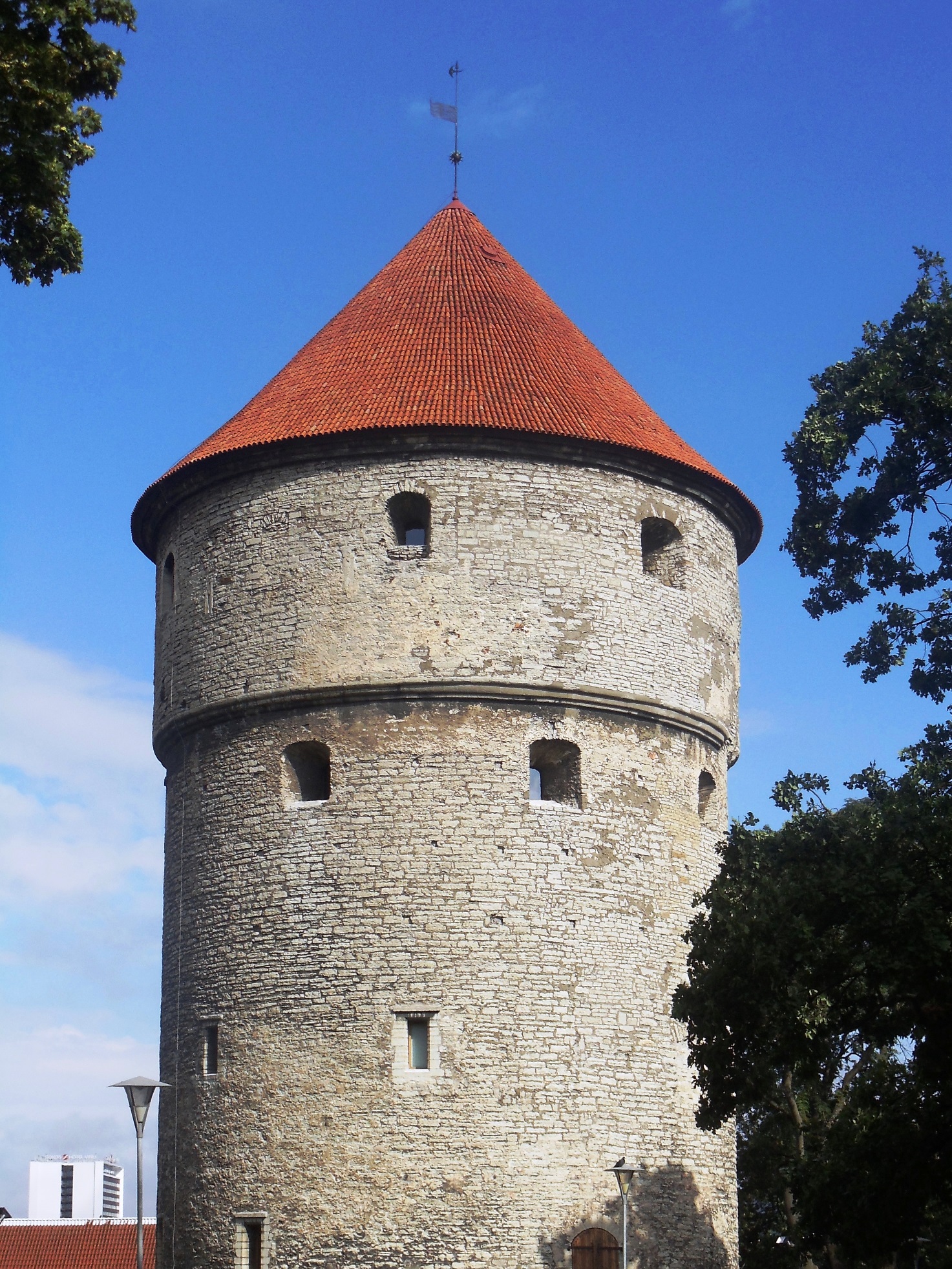 Tallinn's medieval city wall towers.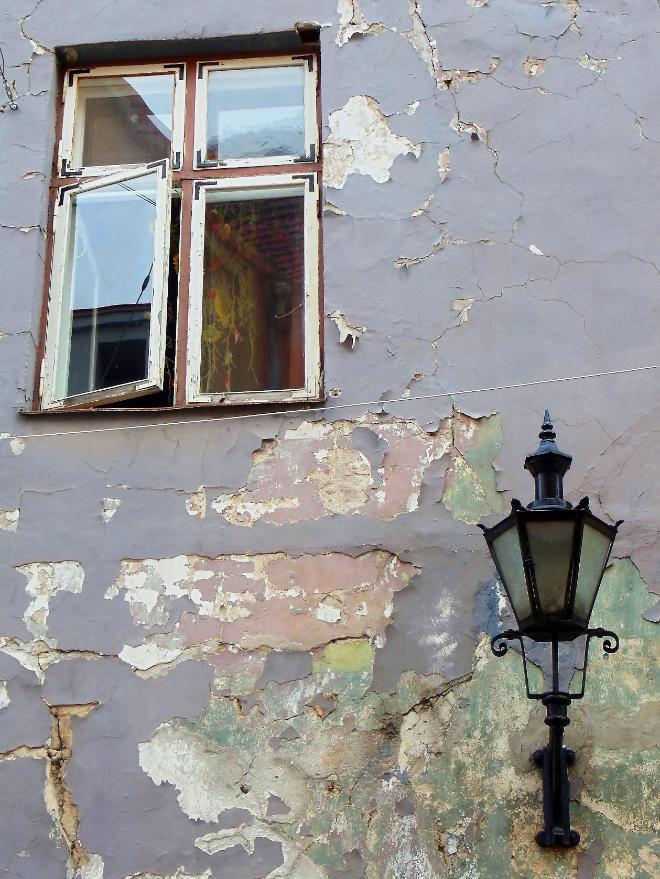 Tallinn's romantic dereliction.
travel tips, links & resources
Travelling between Tallinn and Helsinki is a very well-trodden route taken by locals and tourists alike. For this reason, it is an inexpensive and quick trip which, essentially, means you get two countries for the price of one.
It is quite possible to see Tallinn in one day - arriving and returning from Helsinki in one day, although this would be a shame. Tallinn is well worth an overnight stay of at least one night.