Travelling the Lands Where Eastern Europe Ends & Western Asia Begins
Where: Tbilisi, Gori, Yerevan, Aragatson, Sanahin, Haghpat
Georgia & Armenia, Eastern Europe and Western Asia
When: August 2012
What: Stalin Museum, Stalin's Death Mask, Freedom Bridge, Kura River Cable Car, Soviet Architecture, Hiking, Visiting Armenian Nomads, Mount Aragatsotn, Tbilisi Clock Tower, Hilltop Armenian Monasteries.
How: International flights, Hostel transfer, Walking, Taxi, Cable Car, Marashutka.
Counter: 2 countries
Illnesses or mishaps: Being taken prisoner by a Georgian street child who took to linking her arms around my legs and refused to let go.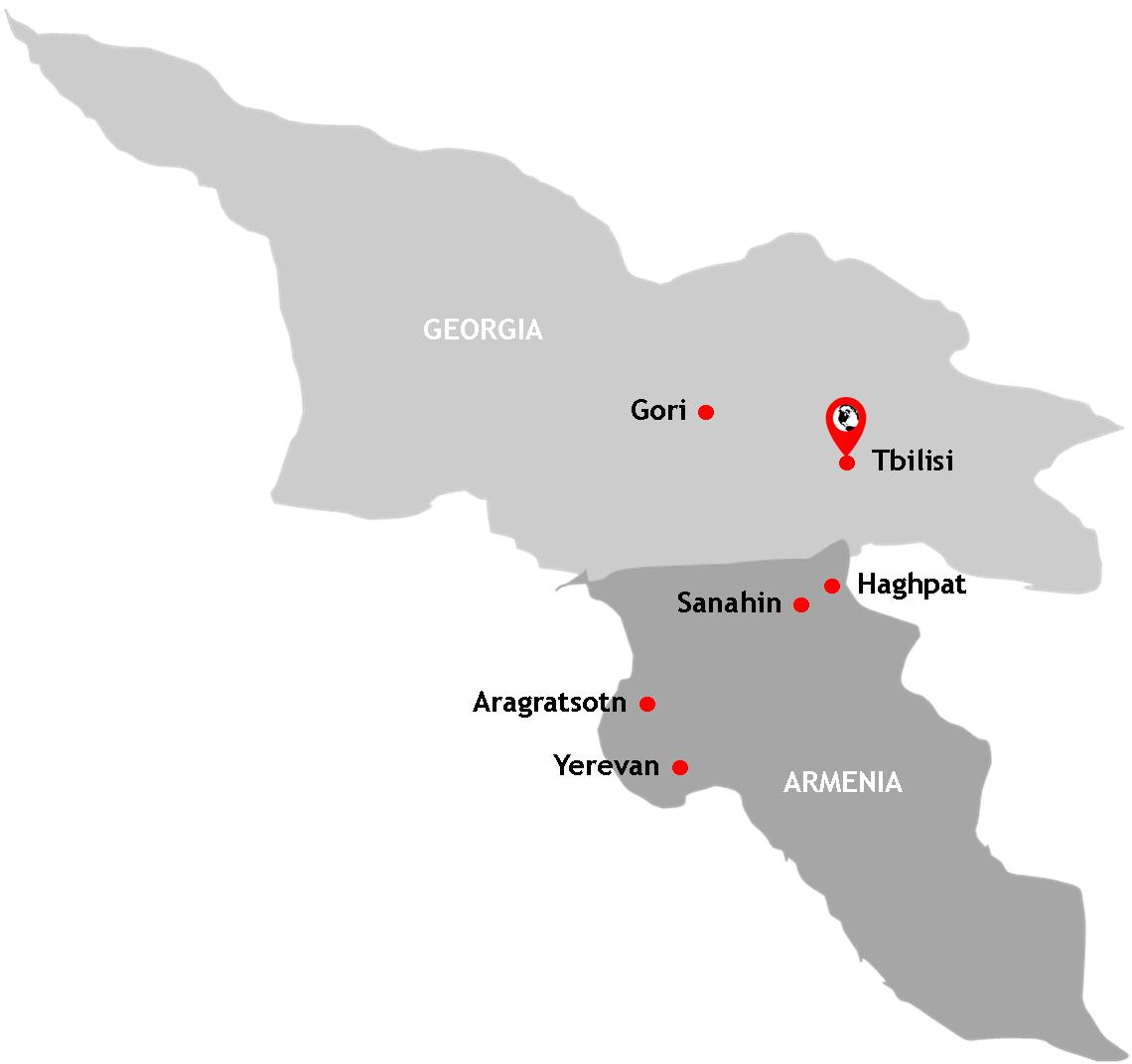 Georgia and Armenia reside on the borderline of western Asia and the extremities of eastern Europe. Small countries and two of three tightly-packed neighbours making up the trio of the Caucasus countries along with Azerbaijan. Azerbaijan's visa requirements proved to be too complex and expensive and thus the third of the Caucasus countries was relegated to, perhaps, a visit in the future. Ironic, considering our flight to Tbilisi from London travelled via Baku - the capital of Azerbaijan. We were not allowed to leave the plane at Baku but, on the return leg of the journey, I had the very lucky experience of seeing Baku's city skyline with its Flame skyscrapers and TV Tower. I first got a taste of Azerbaijan, like most people in Europe I would imagine, from this year's Eurovision, hosted from Baku's newly-built Crystal Hall. I can't claim to have been to Azerbaijan, and it's a shame we couldn't include it in our trip around this Europe/Asia crossroads experience, but I did get to see a rather spectacular sight - albeit from seat 16E of the aircraft.
The Caucasus is a region bedevilled with in-fighting and squabbling over scraps of land. If we were able to travel to Azerbaijan, we would have had to visit them in a certain order: Azerbaijan and Armenia are 'at war'. This means that Georgia acts as the 'link' country. We would have had to travel from Georgia to Azerbaijan, then back through Georgia to get into Armenia. The border between Armenia and Azerbaijan is closed and is the scene of regular violent skirmishes. Indeed, the British Foreign and Commonwealth Office advises travellers to avoid these areas. Oh, and we would have to ensure there was no Armenian passport stamp in our passports when entering Azerbaijan - this has the potential to result in a refusal of entry by the Azeries. This situation effectively doubles your travel time - the three countries cannot be visited in any sort of circuit. Georgia is stuck in the middle of what is a very troubled region - tensions stoked by Russia which borders the northern edge of Georgia. Russia has recognised the break-away regions of South Ossettia and Ngorno-Karabakh. South Ossettia declared independence from Georgia - and Georgia wants the region back. Ngorno-Karabakh is full of Armenians but is slap bang in the middle of Azerbaijan. The frozen conflict means that the Caucasus is an unstable and fractious region. Each country has chosen a larger country to back it: Georgia with America; Azerbaijan is supported by Turkey; Armenia by Russia. What could be interpreted as a localised war has, because of these partnerships, real potential to spill over into something much more significant. So, just Georgia and Armenia it was to be. A foolish assumption would be that, as neighbours, these countries would have a lot in common. Culturally (in music and diet) they do. You will notice sunflower seed shells on the ground wherever you go. Both Georgians and Armenians eat these by the bucket load. Our Armenian guide says this dates back to the fall of the Soviet Union when people lost their jobs and sat around in their gardens and fields eating these seeds to pass the time. Everything else contrasts vividly. The two countries have strained political relations: Georgia wants to be part of the EU and NATO and is constantly courting diplomatic relations with the US, whilst Armenia allies itself with its old Soviet heavyweight, Russia. It does not need stating that the US and Russia are, let's say, on different pages.
Of course, this backdrop makes the region a fascinating place to visit. The 'frozen' nature of the tensions in this region mean it is a relatively safe place for travellers providing you steer clear from disputed territories. Crime is virtually non-existent in these countries - and both countries have made strides to move on from the darker days of Soviet rule, although both countries are struggling to find their own roles in a global arena. Both countries appear physically different; Georgia's capital is full of old town charm characterised by cobbled streets and verandahs, whereas Yerevan in Armenia is characterised by imposing pink stone buildings and huge boulevards. One capital embraces its Soviet past, the other is trying desperately to build itself away from it. Both countries are awash with churches and monasteries perched on high cliff edges which make for stunning views for a budding photographer like me. Also, both countries have some pretty poor people. Scenes outside of the capital cities consist of half-built and abandoned single story dwellings, rusting metal - in all its forms, everywhere. Outside of the capital cities and away from urbanites, many live as subsistence farmers surviving only on what they can grow. A common sight was to see makeshift stalls selling fruit and vegetables along the countrys' highways. It was very humbling to see just how poor some people are here. I even spotted horses and carts on a couple of occasions.
I felt our presence in Georgia turned heads - people watched us, eyeing us up and down. This was the case, but to a lesser extent, in Armenia too. It wasn't until the final day of our trip that we learned that wearing shorts is perceived to be odd, even a little offensive. Rewinding our trip in my mind I realised that very few, if any, Armenians or Georgians - despite temperatures reaching the late thirties, wore shorts. Wow. How strange. The only people wearing the aforementioned offending garment appeared to be tourists. Us included. I'm not sure having known this before we set off would have made any difference. Whilst I know you should try to be respectful when in another country, there is no way I could have coped with the heat in jeans or trousers. I would have worn shorts anyway. It does go to show that you can take nothing for granted when abroad. It was the trip where we kept losing things too - camera cases, credit cards, important tickets. A point to note when travelling to the Caucasus - cash machines work the other way round. They dispense the cash and then there is a long delay before releasing your card. In Britain your card is released first. Not a problem? Actually, yes it was because your mind is trained to walk away after you get your cash - meaning you walk away leaving your card in the machine. This happened to the man in front of us at the airport cash machine, it happened to Ben (he lost the card completely) and it happened to me when I needed to get Armenian Dinars out at the Georgia/Armenia border. Luckily for me, a border guard came running after me and, after a quick verbal skirmish about where we were from (London "Ah, Olympics" came his reply) I was safely on my way - with my travel credit card thankfully in tow.
Georgia and Armenia are interesting to visit in themselves, but are even more so when taken together as part of the same trip such are their contrasting characters. Expect lots of glum-looking and cold faces on your travels, but this is deeply rooted in the culture, so don't take it personally if the smiles you see are few and far between.
the land where europe ends
Georgia has made great strides since independence from the USSR in 1991. It is a small country constantly under threat and intimidation by Russia which dominates its northern border. Georgia is firmly looking West-ward for its inspiration and future development. The current President, Mikhail Saakashvili, ousted Eduard Shevaardnadze (Grobachev's old Foreign Minister) in what was called the 'Rose Revolution' in 2003 - so named because it was a peaceful revolution when people stormed the Parliament in Tbilisi waving red roses. You can watch the dramatic storming of the parliament, here. Saakashvili sacked the entire police force in Georgia soon after taking power because it was corrupt and replaced it with young, newly-appointed officers. In 2008, when I was visiting Russia, Georgia and Russia went to war over South Ossettia - the Russians came to within miles of the capital Tbilisi. Georgia was forced into a humiliating climbdown against the brute force of Russia's military. Saakashvili pleaded, live on television hiding in the bunker beneath his palace perched on the hills of Tbilisi, for the Americans to help free what had become, not for the first time, a Russian-occupied Georgia. The US refrained from getting involved in what could spill over into a serious conflict between two world superpowers. Many Georgians are now anxious - worried about what Russia's next move will be. They fear that Russia will try to take control, by force or some other clandestine means, of Georgia once again, just as in Soviet days. The imprint of occupation from Soviet days is now even more indelibly etched in the minds of many Georgians.
A local delicacy in Georgia are cheese pasties. There are whole shops dedicated to them. Different shapes and sizes denote different cheeses or other contents. We ate these rather happily - tasty and ridiculously cheap considering the sheer size of them. One of these pasties would do for lunch. Lunch for 40p. Sorted. Another local delicacy in Georgia is, erm, the language. Unique to Georgia, the letters are a world away from anything I have seen before, looking like worms wriggling on lines. It is one crazy, but interesting-looking, language which adds to the overall sense of difference in this part of the world and genuinely points towards Asia and not Europe. Indeed, 'thank you' is 'Mad-lo-ba' in Georgian, which looks something like this: მადლობა.
Tbilisi is a pastel-coloured place where old buildings crumble gracefully in pinks, blues and greens in a kind of fairytale poverty. Wooden verandahs and balconies draped with ivy defy gravity as the walls supporting them crack and split. The city's magic is furthered by the distinctly Georgian Orthodox churches and cathedrals scattered across the capital. Tbilisi is beautiful.
Unfortunately, interrupting this magic, are building works. Virtually every pavement and road is being dug up. There are huge piles of bricks and stones everywhere. The road where our hotel was located had a huge gorge running up the centre of it - workmen were re-laying drains (this meant that our hotel on the last night of the trip had no water). It is a building frenzy which should, in a few years, make Tbilisi look rather amazing and a great tourist destination. Georgia is off the beaten track as a tourist destination at the moment, but the country knows that a lot of its commercial success in coming years will be heavily influenced by tourism - this explains this level of investment in the capital. Some of this investment has resulted in rather impressive achievements like the Bridge of Peace, which lights up with LEDs inside the glass panels, as well as the new cable car taking you from the banks of the River Kura up to the hillside and old fortifications overlooking the city. A journey on this thing costs just 30p. Another development, still to be completed, is the Rike Park along the banks of the River Kura comprising of modern ergonomically-shaped seating, fountains and landscaped gardens. Very modern - and points in the Western direction where many Georgians see their future fortunes. And it will need all of the tourism it can get. Whilst taking in the Stalin palace architecture of the Academy of Sciences building, I became attached to a little girl who'd decided to link her arms around my ankles and then refused to let go. Clearly this was a ruse to show she was a desperate orphan so hungry she clings onto the nearest Westerner. It was weird. Even shouting at her did nothing. My only option was to walk away - dragging her with me. After two metres' worth of free transportation the little thing let go and I was able to resume my holiday.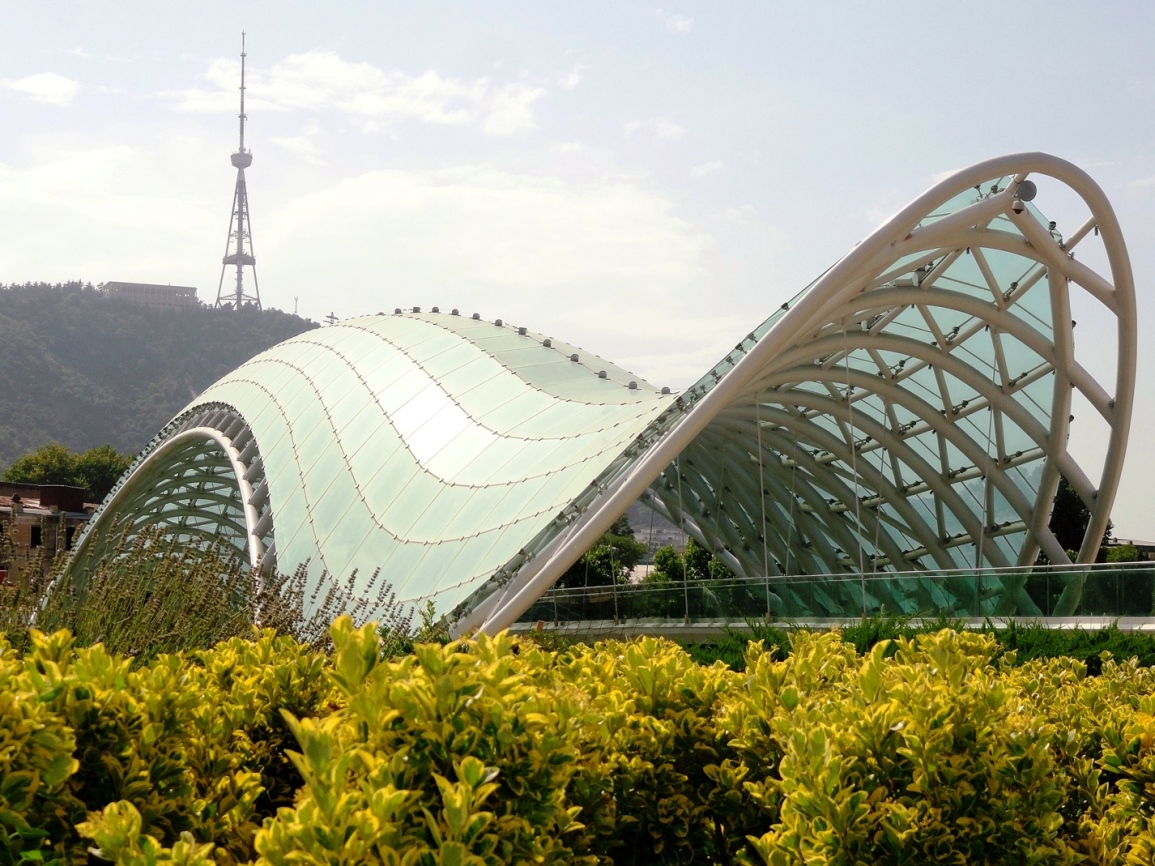 The wavy shapes of Tbilisi's Bridge of Peace with the TV tower in the background.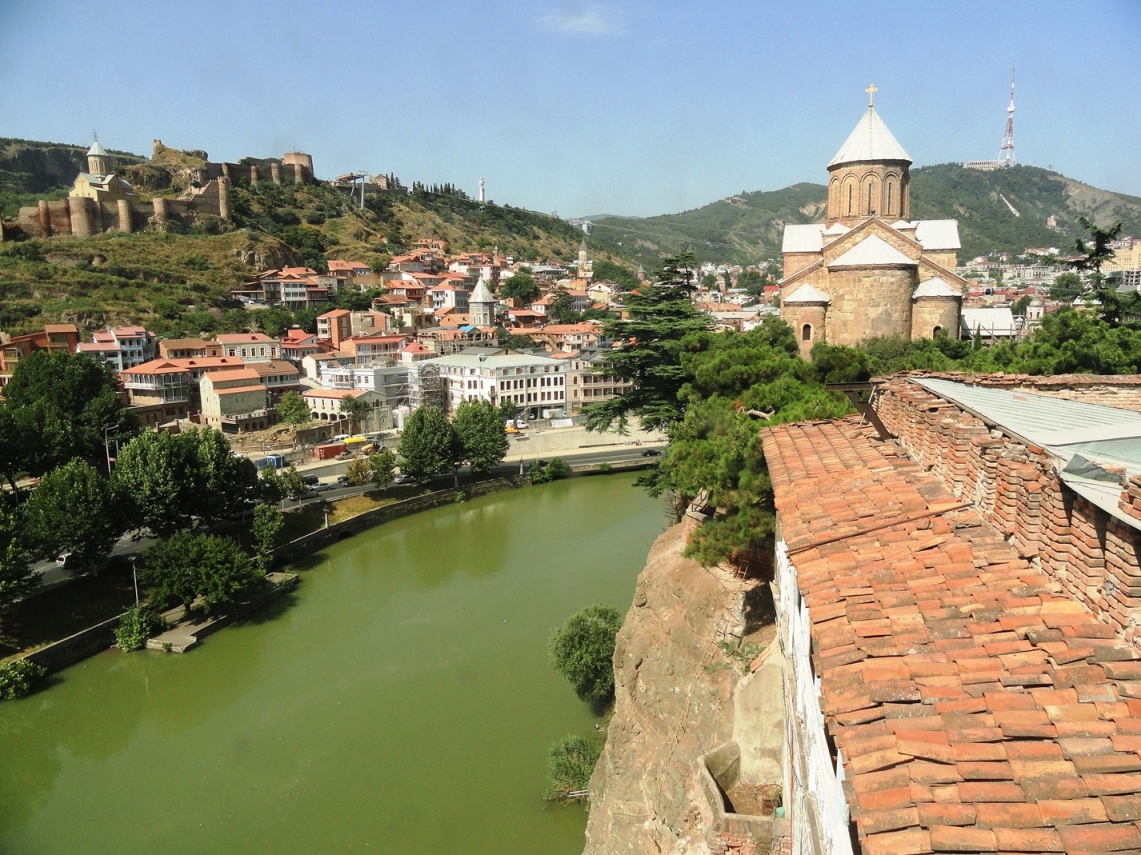 The view over the Kura River as seen from our hotel's breakfast room. In this shot you can make out the TV tower on the hill to the right, Old Metekhi Church and the Old Fort to the left.
A characteristically Georgian church.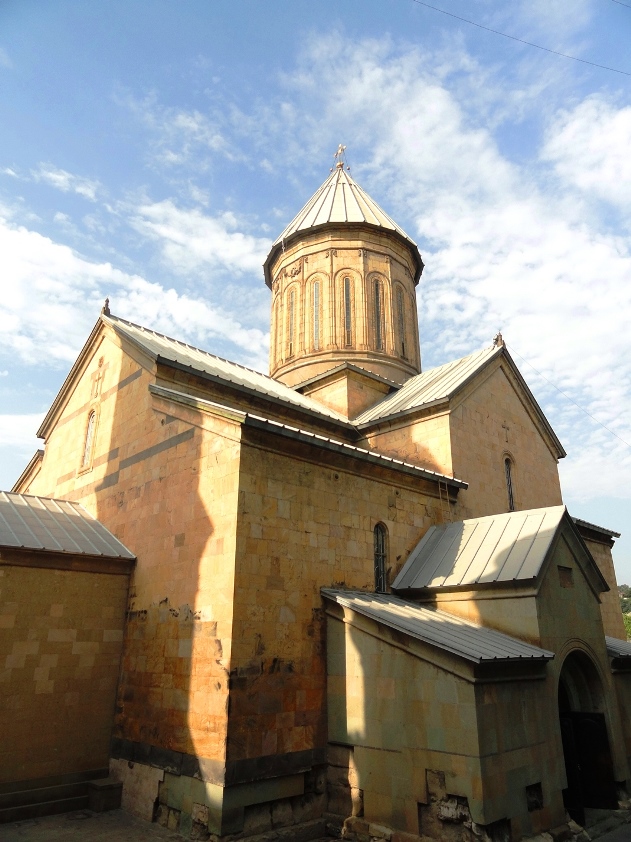 The wonderful Sioni Cathedral.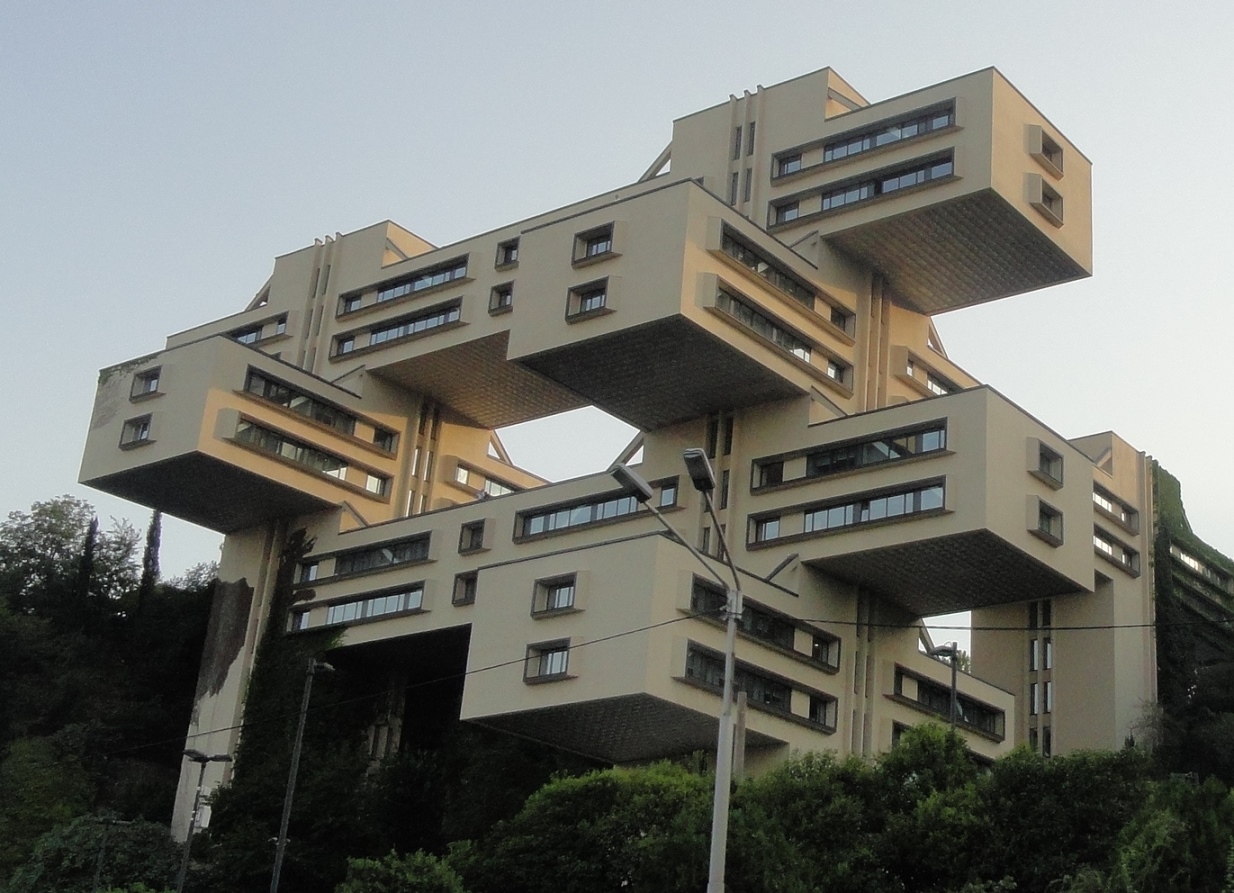 Soviet Tbilisi: the awesome Soviet criss-cross concrete structure of the old Ministry of Transport, now home to the Bank of Georgia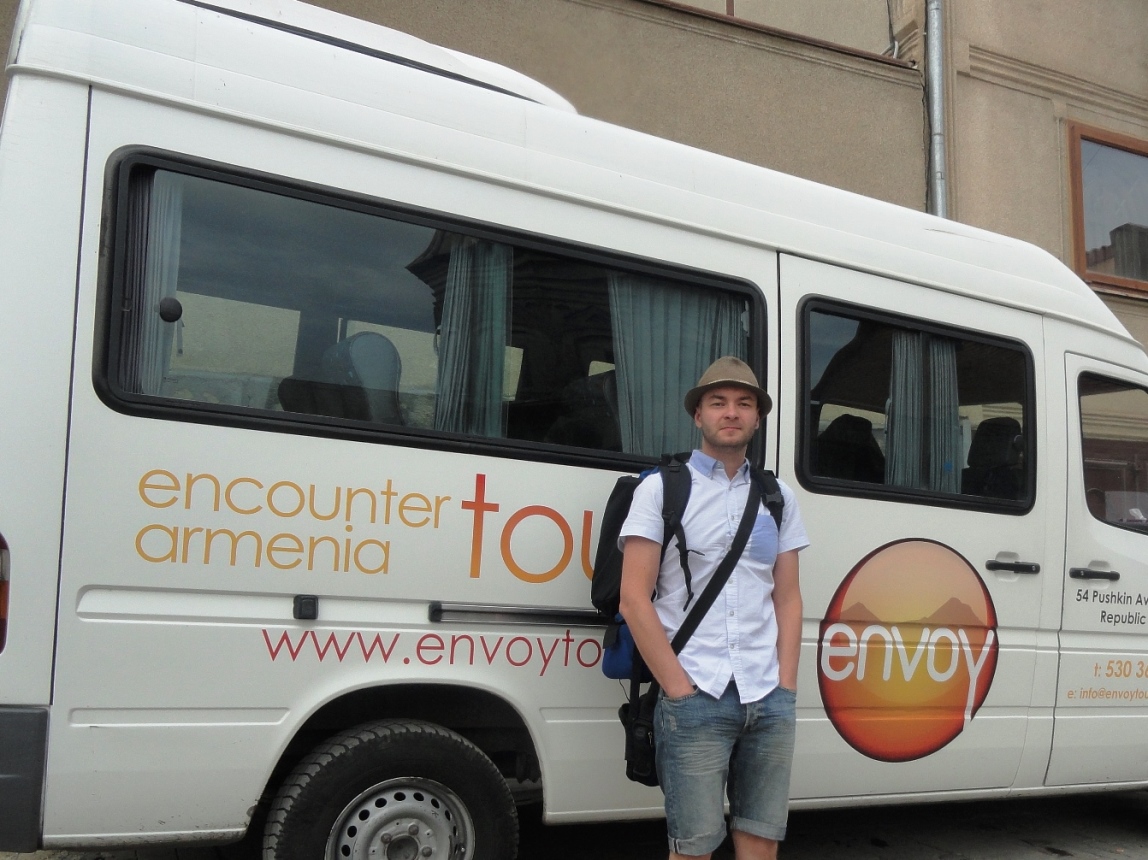 Setting off on the Enlinking Caucasus tour bus from Tbilisi to Yerevan.
Gori, a frontier town in eastern Georgia some 85km from the capital, is a ramshackle place of dilapidated beige buildings, shops selling unidentifiable cheap plastic goods and heat-baked treeless boulevards. The heat on the day we visited merely added to its oppressive atmosphere. It is quite possibly the most depressing place I have ever stepped foot in; a mournfulness hangs heavy in the air. I couldn't help but notice the bullet holes and scars of mortar strikes dating back to Georgia's 2008 war with Russia. No one comes to Gori because there is nothing there - except those travellers in search of a bit dark tourism, for this is the town which gave birth to one of history's most notorious dictators: Stalin. Despite the millions who died because of his policies, ultimately driven by power and paranoia, the Stalin Museum, just off 'Stalin Avenue', has a distinct whiff of deference about it. You won't find any mention of Stalin's victims in this place - one whose arches, Corinthian columns and reverential-looking statues, appears almost to worship this devilish deity of a dictator. It is a truly unsettling museum and one whose 'climax' is reached when you enter the red carpeted area into which is set Stalin's death mask, taken from an imprint of his face after his death in 1953.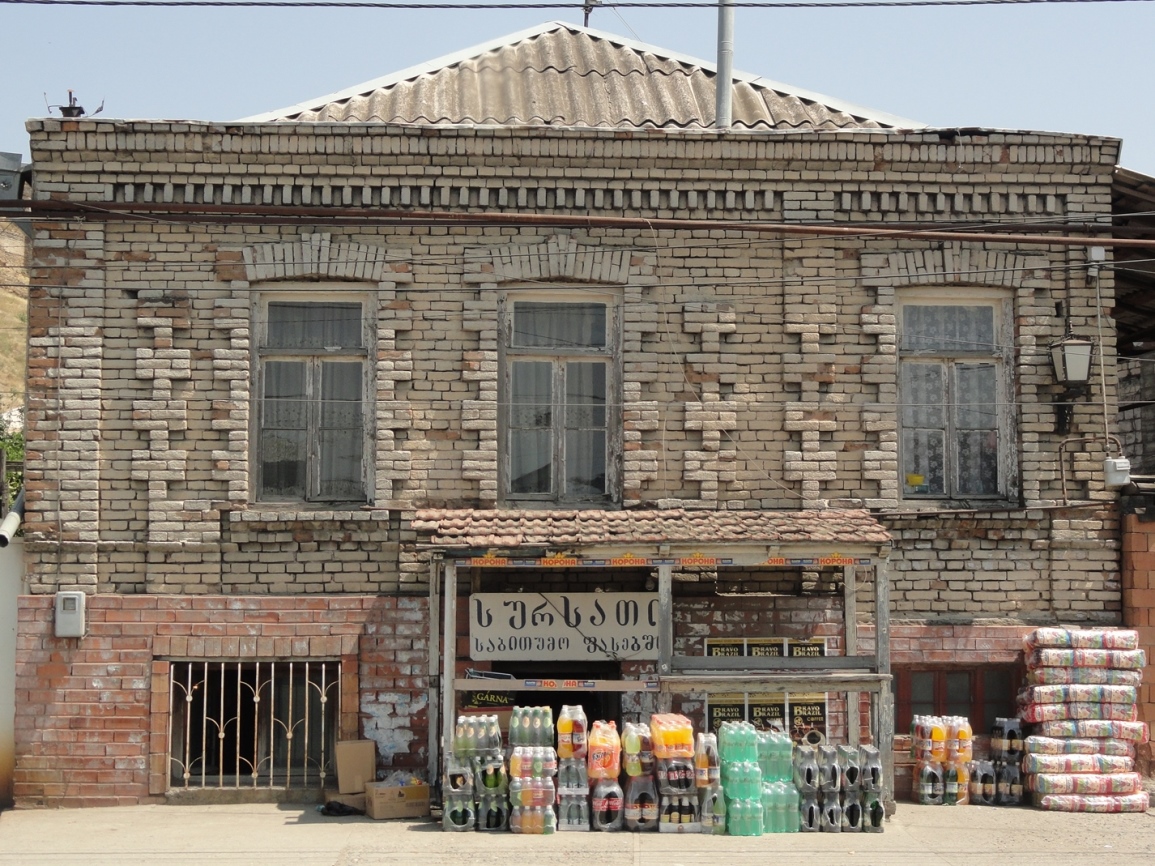 Gori street scene: a characterful shop selling bottles of fizzy drinks.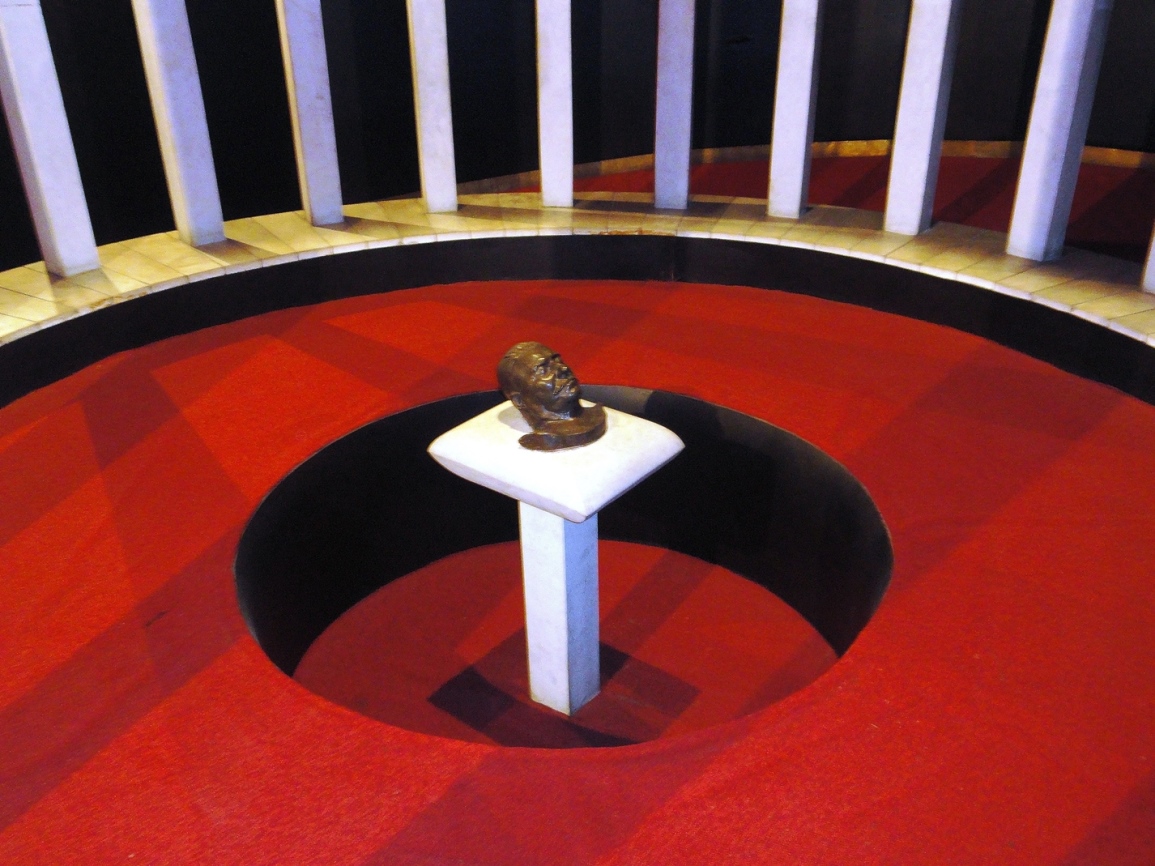 Stalin's death mask, taken from an imprint of his face after his death in 1953. A really grim sight and deemed by some to be the 'centrepiece' or climax of a trip to the museum.
Armenia is very poor. There are two Armenias - the capital city of Yerevan with its cafe culture and shopping boulevards. Then there is the large chunk of the population which lives in poverty out in more rural areas. Many Armenians consider themselves to be more Asian than European, although street culture in the capital, with its high-end boutiques, gestures firmly towards a western way of doing things. Something you will spot instantly in Armenia is that everything is peach-coloured. Many buildings have been tiled in the country's pink stone. Fittingly the symbol of Armenia is the apricot, with much of the landscape and buildings appearing in this colour. The blistering heat in August (which reached 37° during our trip) added to the orangey haze of the place. Another point of difference is the prevalence of Lada cars - everywhere. Famous for being the Soviet car of choice during USSR times, it appears that many in Armenia are so poor they have not yet been able to ditch their Ladas and replace it with something better. The Armenian language is even more incomprehensible than Georgian, once again firmly gesturing towards Asia, rather than a European language using the Latin or Cyrillic alphabets. Indeed, 'Thank You' in Armenian is 'Shnorhakalootyoon' and looks like this: շնորհակալ եմ.
Whereas Georgia is striving to shrug off its Soviet history, Armenia almost hankers after it. Many in Armenia will tell you, as our tour guide did on our trip out to the mountains, that many miss the security and employment which the USSR offered. It has been replaced with a market economy which has brought unemployment and uncertainty for the majority of Armenians who have little chance at making the market economy approach work for them. It's worth noting at this point that the large Stalin-palace-like building in Yerevan sports both the Armenian and Russian flags. Twenty years after independence, Armenians still look to Russia for stability and support. Indeed, Soviet symbols remain on key public buildings in Yerevan's Republic Square - no effort has been made to remove them as I have seen in other former communist countries.
Our first impressions of Armenia were not exactly positive. Having exited the Georgian border, walked through about 200 metres of no-man's land and arrived at the official Armenian border, there was organised chaos. There were lots of army-style camouflage-wearing uniform men (smoking and patting each other on the back) who weren't really doing anything in particular. Queues were backing up and, in the blistering heat, it was rather an unpleasant experience. What a contrast with the air conditioned professionalism of the Georgian border. After receiving another two stamps on my passport (one for exciting Georgia and one for entering Armenia) we were on our way, zooming into the Armenian countryside and zooming towards the next leg of our Caucasus adventure.
Yerevan has the name 'The Rose City' because many of its buildings have been constructed using local red stone. Many of the city's newest buildings have imitated this style, giving the place a very monotonous and overbearing feel. Huge boulevards were often mostly deserted during the heat of the day, but came to life once the intense heat had subsided, revealing a very western style street culture of eating ice-creams, sitting in parks drinking coffee and shopping in Giorgio Armani. Yerevan has some interesting and unique sights including the nearly-finished Cascades installation offering fantastic views of downtown Yerevan, as well as the fountain light display in Republic Square set to classical music (this we caught by pure chance following a tip-off from a local man in a restaurant).
There were some bizarre sights too, such as the old Soviet cinema building, built out of concrete in the shape of the two peaked Ararat mountains. Armenians are obessed by the Ararat Mountains, the name is everywhere. 'Ararat Restaurant', 'Araratabank', 'Ararat Cafe' - the name is all over the country. This Armenian obsession is slightly ironic considering the mountain is actually in Turkey. It was, however, once part of Armenia. For Soviet memorabilia hunters, Armenia has plenty to offer. It is not uncommon to see Armenia's apartment blocks and closed underground shop units still displaying Armenia's very own take on the hammer and sickle motif - the symbol but with added wings! Aside from the more obvious signs of a communist past, arguably its past is all around, in every brick and every pavement, in every face and every statue. The place reeks of a Soviet past and, if just for this reason alone, Yerevan is a fascinating place to visit.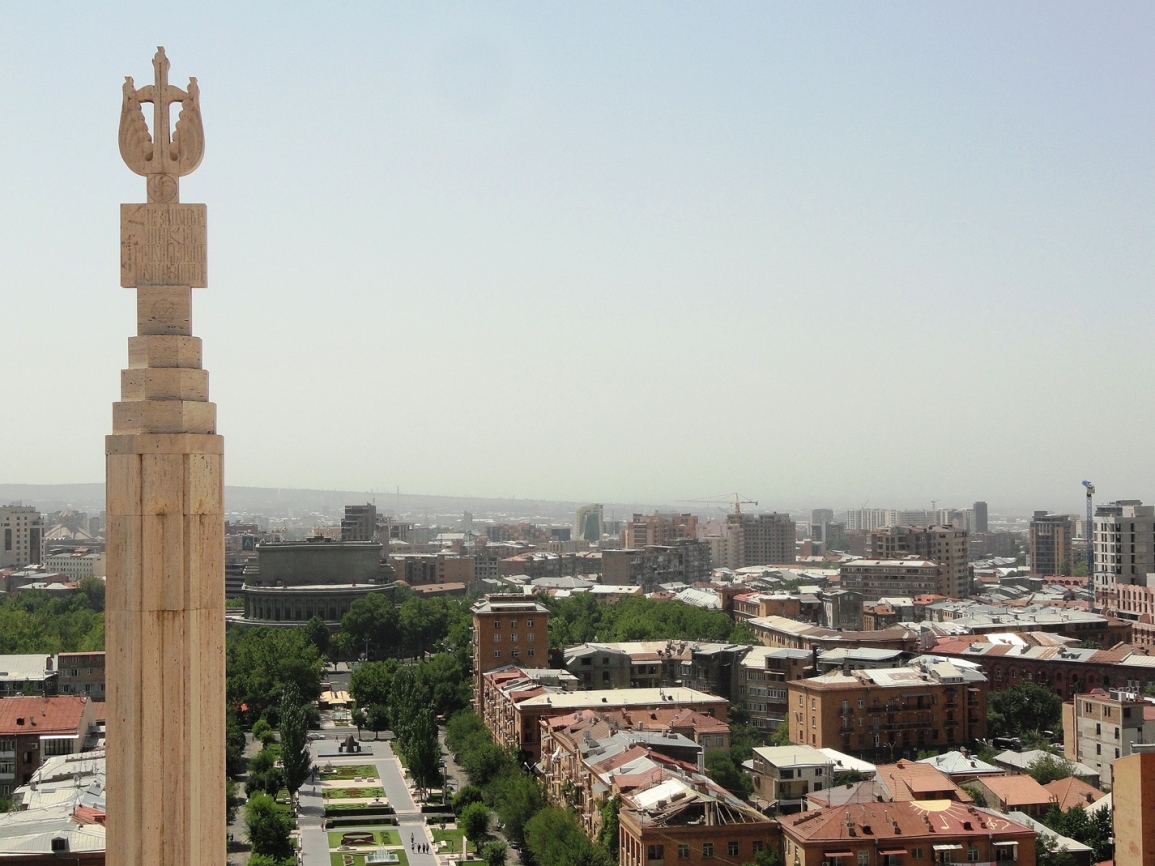 The Christian monument at the top of the Cascades surveys downtown Yerevan.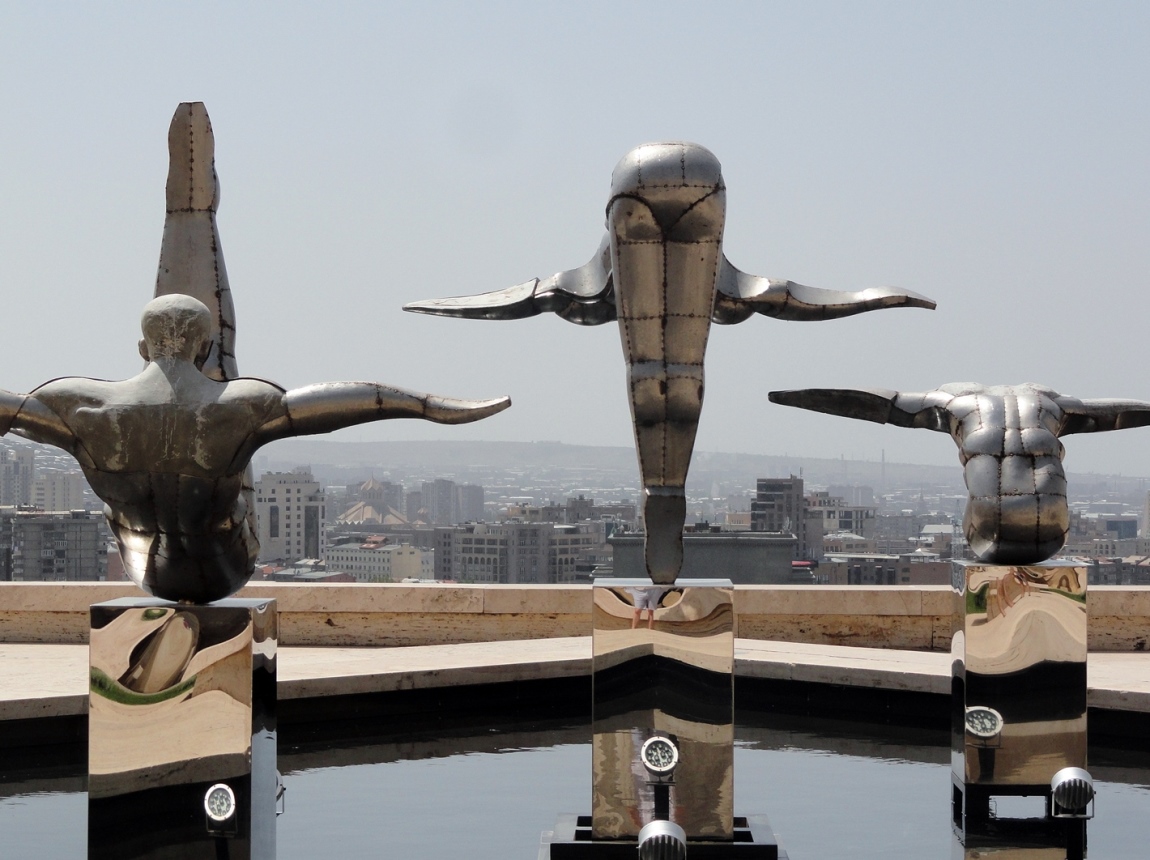 The wonderful sight of viewing the Yerevan skyline behind some of the statues and installations of the Cascades.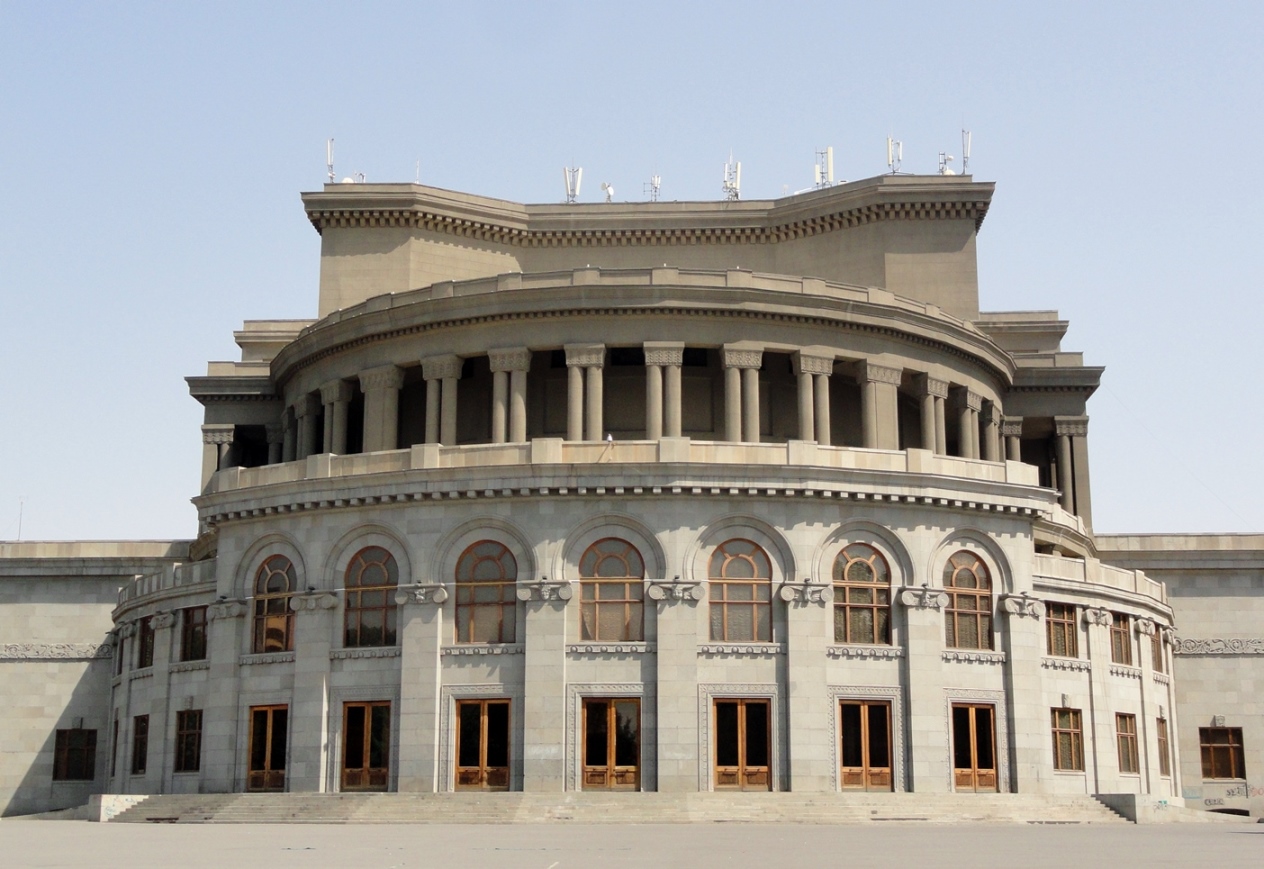 Yerevan's circular Opera House. Austere and impressive in equal measure.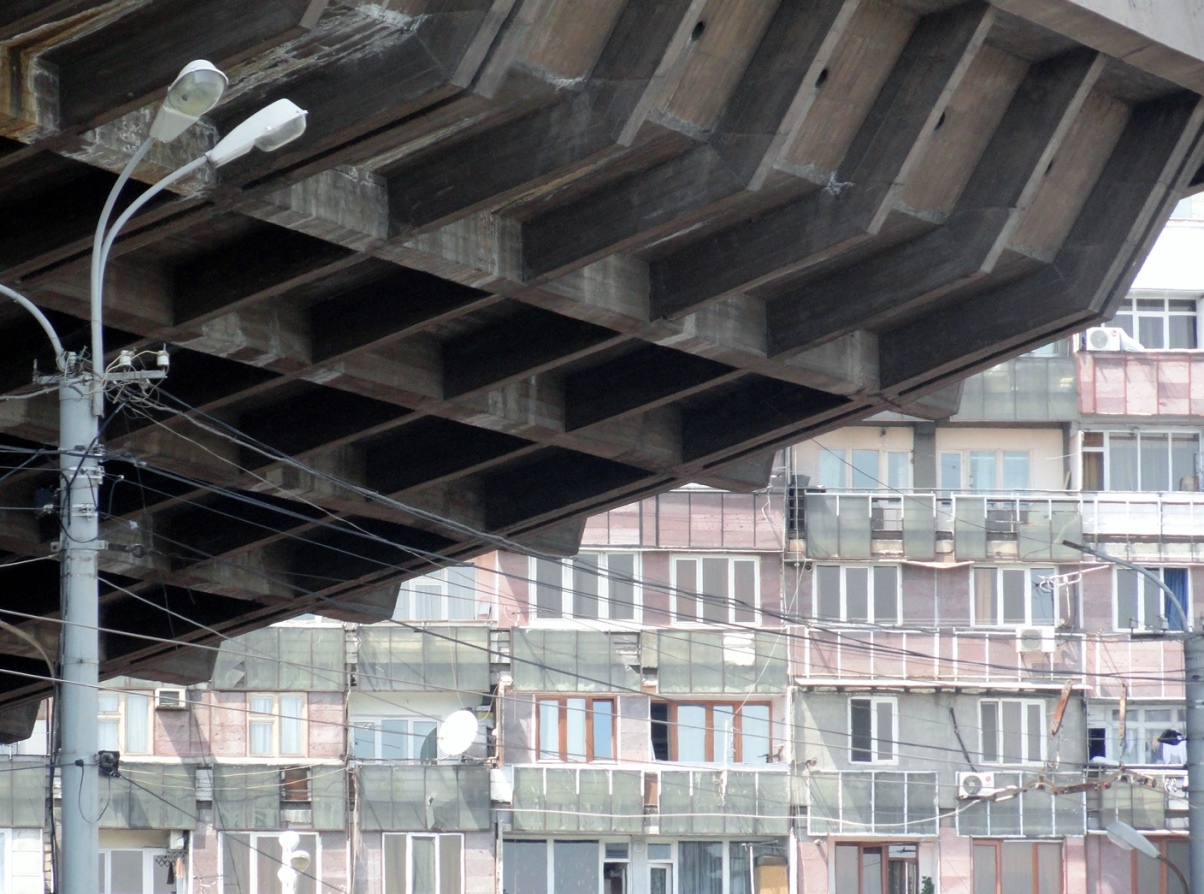 Concrete, concrete everywhere - did no one stop to think? Much of the outskirts of Yerevan is characterised by drab and truly awful Soviet era buildings.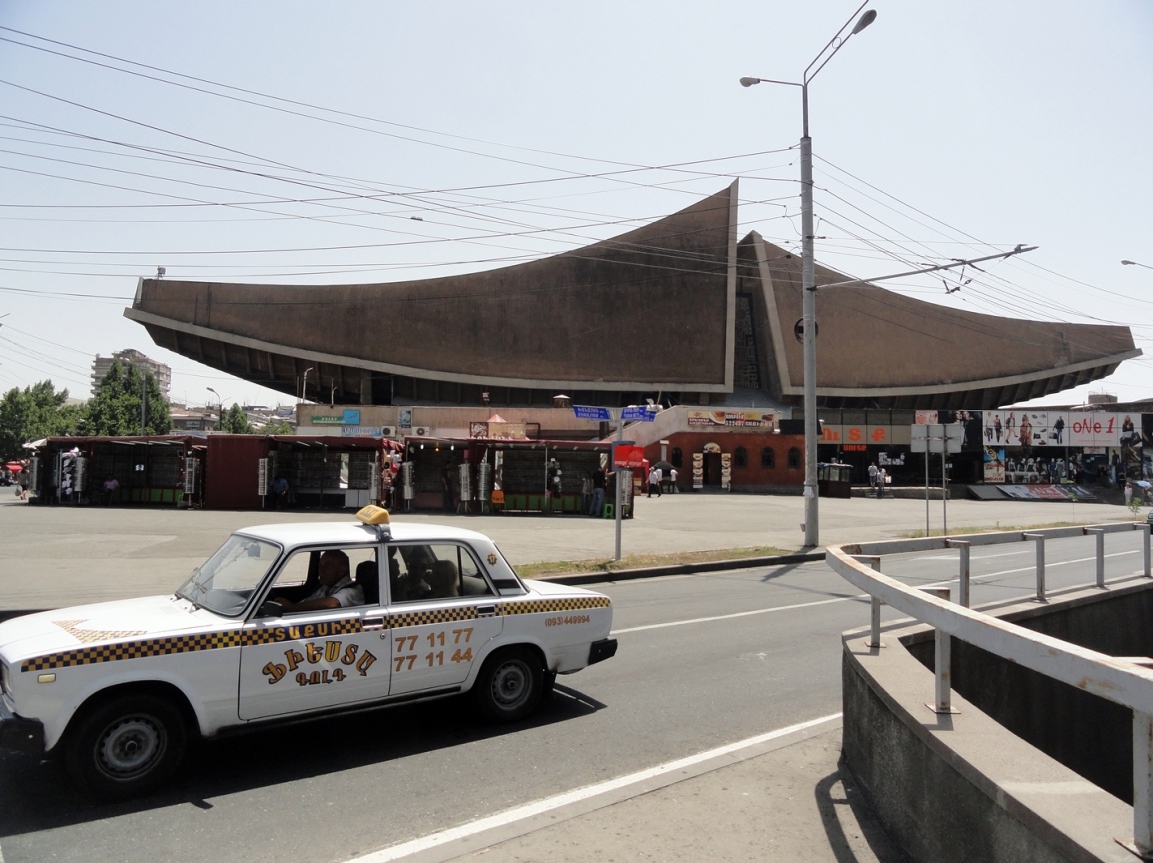 The old Soviet cinema concreted into the two peaks of the Ararat Mountains in Turkey (which used to be in Armenia). I love this building because of its sheer ugliness.
Haghpat and Sanahin are two monasteries in the Lori province of northern Armenia. Armenians are very proud of their monasteries, many of which are perched high on hillsides for reasons of isolation and protection and which were built around a thousand years ago. As part of our tour taking us down into Yerevan from Tbilisi in Georgia, we stopped off at Haghpat monastery, which dates back to the tenth century and which overlooks the Debed River. Sanahin monastery is six kilometers away on an opposite hillside and is slightly older (indeed, the name 'Sanahin' translates as 'older than the other one' - meaning older than the other monastery at Haghpat - I kid you not). The buildings, when viewed in their rugged mountainous locations, look rather stunning and are a photographer's dream. Our whistle-stop tour of northern Armenia was a clever combination of the need to travel from Tbilisi to Yerevan and the desire to splice it with a bit of sightseeing, too. It was a deal we'd struck with a hostel back in Yerevan and was a chance to see a couple of key sights in a part of the country we would have just whizzed through in a van. At a cost of 20,000AMD (or £30) I think it was well worth it - we will only have the chance to see these hilltop monasteries once - and they are rather central to Armenian culture and heritage and so it would have been rude to refuse.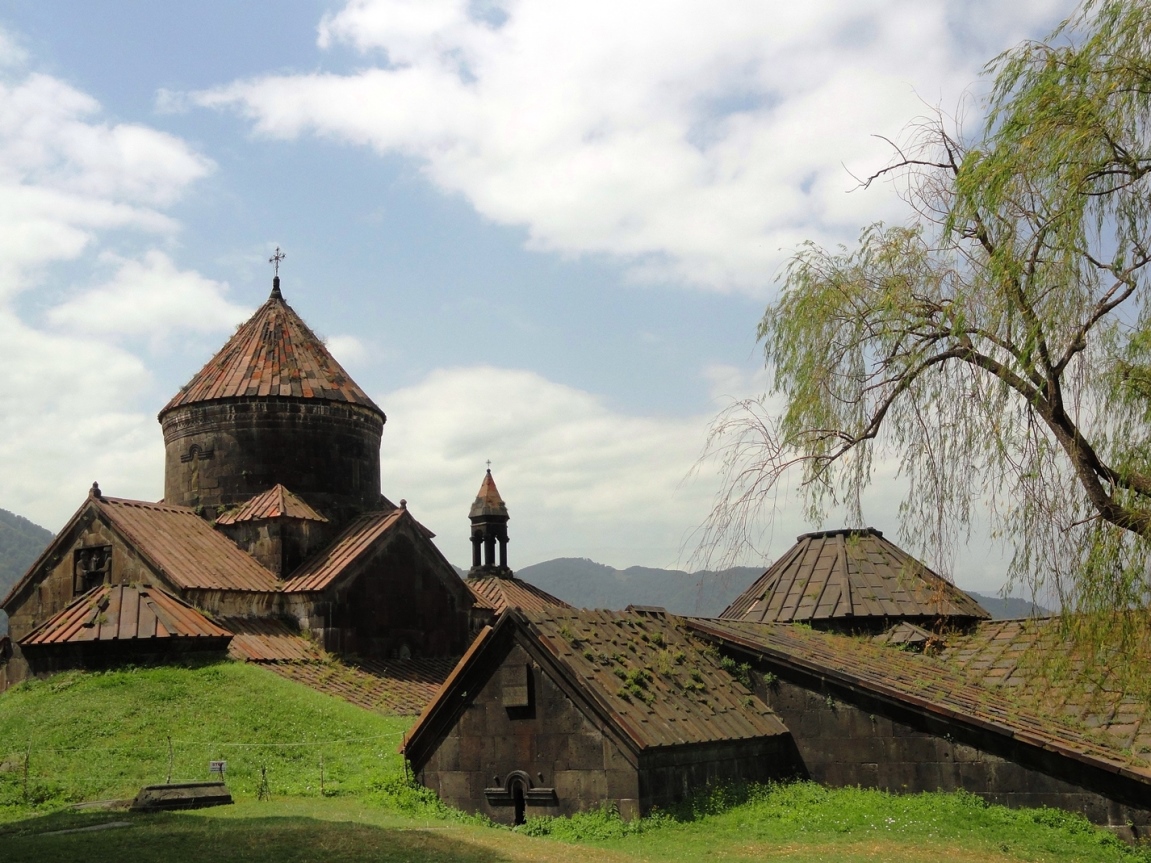 Haghpat Monastery literally built into the hillside. These monasteries all have remote locations because they were intended to be humble, solitary places for quiet reflection. Many religious buildings are brash and highly conspicuous. These monasteries were deliberately intended to blend in to the landscape. Their high positioning on mountaintops were also about quiet seclusion.
The main sights in Yerevan can essentially be ticked off in a day depending on how big your list is. This left us a spare day and a chance to do something a little bit different - and a cha nce to escape the blistering heat of the capital. We opted for the 'Embracing Armenia' tour run by the Envoy Hostel in Yerevan. For 13,000AMD (£20), we were taken to the top of Mount Aragats - the tallest mountain in Armenia which still had snow on its four peaks. Just how high we were above sea level (3200m) was felt in how cold it was on the mountain, as well as the fact that my ears kept popping! We saw Lake Kari nestled in amongst the peaks before meeting the Yezdies family, a nomadic family living on the slopes of Mount Aragats. We were introduced to a one-day-old goat which bleated constantly during our brief stay, as well as Nashi the puppy (Nashi meaning 'decorated' in Armenian owing to his patterned coat). The family were really kind and had absolutely wonderful, smiling, characterful faces.
I also opted, despite the heat, to do the hike from Amberd to Byurakan village via the gorge at Kasakh, seeing some strange looking (and apparently rare) wild plants and flowers on my way. The trip around Aragatsotn concluded with lunch with a local family in their home - all made from local produce as well as meeting an internationally recognised musician who hand makes traditional Armenian instruments like the 'Duduk'. The cutlery we ate with during the meal was made in the USSR, stamped with the 'CCCP' letters on the handles (click here to view). The tour around Aragatsotn, meeting local nomads and hiking up the Kasakh gorge was a real highlight of the whole trip to Georgia and Armenia. It gave us a chance to see rural Armenia instead of just urban centres which can be a little superficial and manicured. We travelled with a wonderful Armenian guide called Maria (whose English was almost better than mine) and a couple now living in Italy (Cindy and Ricardo). Boarding the coach I had no idea whether I would be doing the hiking (which was optional) but decided to because, as my old travel mantra goes, we will only be there once and so might as well. I also hoped that there would be some good photo opportunities along the way, too. There were...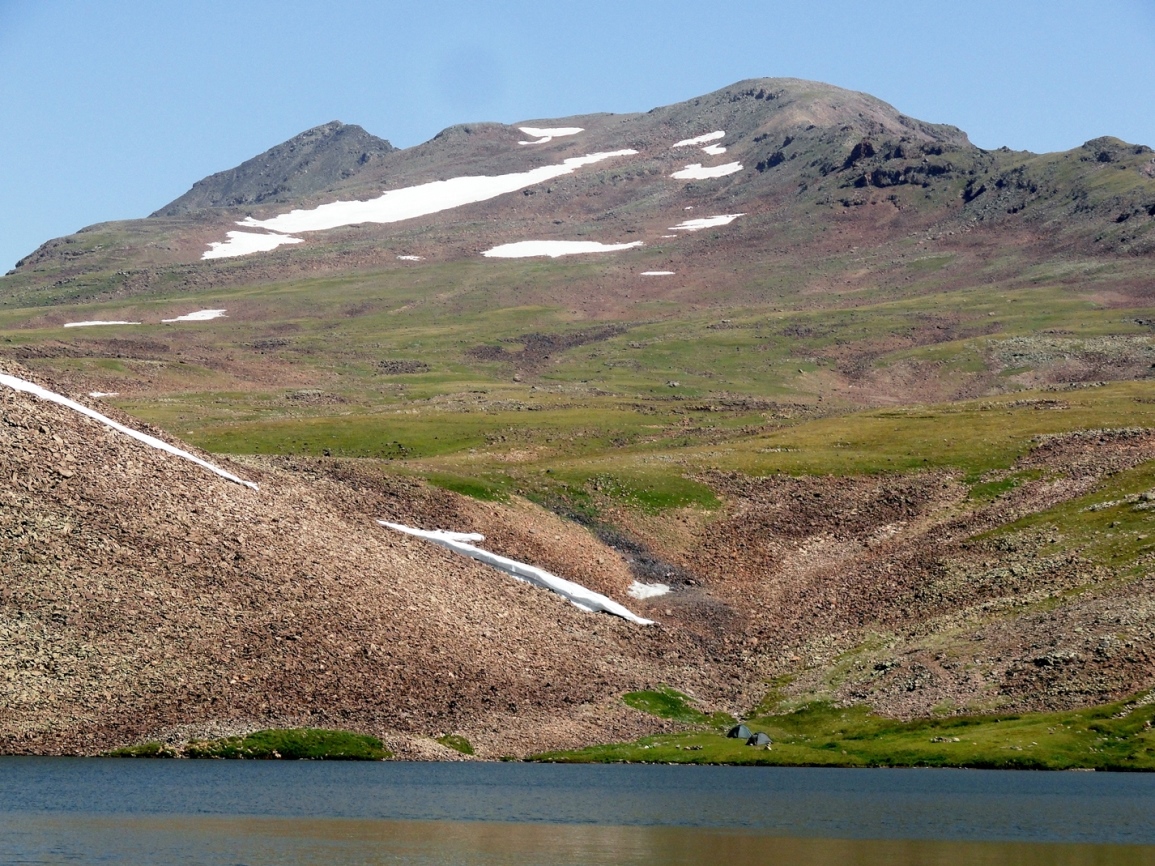 The view of Lake Kari nestled in the middle of the peaks of Mount Aragats, 3200 metres above sea level.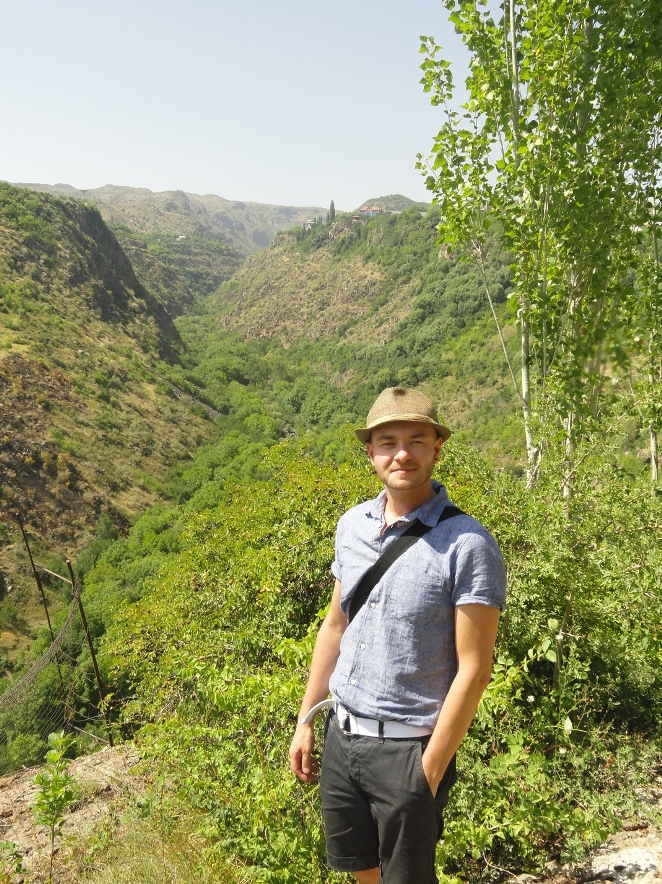 Overlooking the gorge with spectacular views.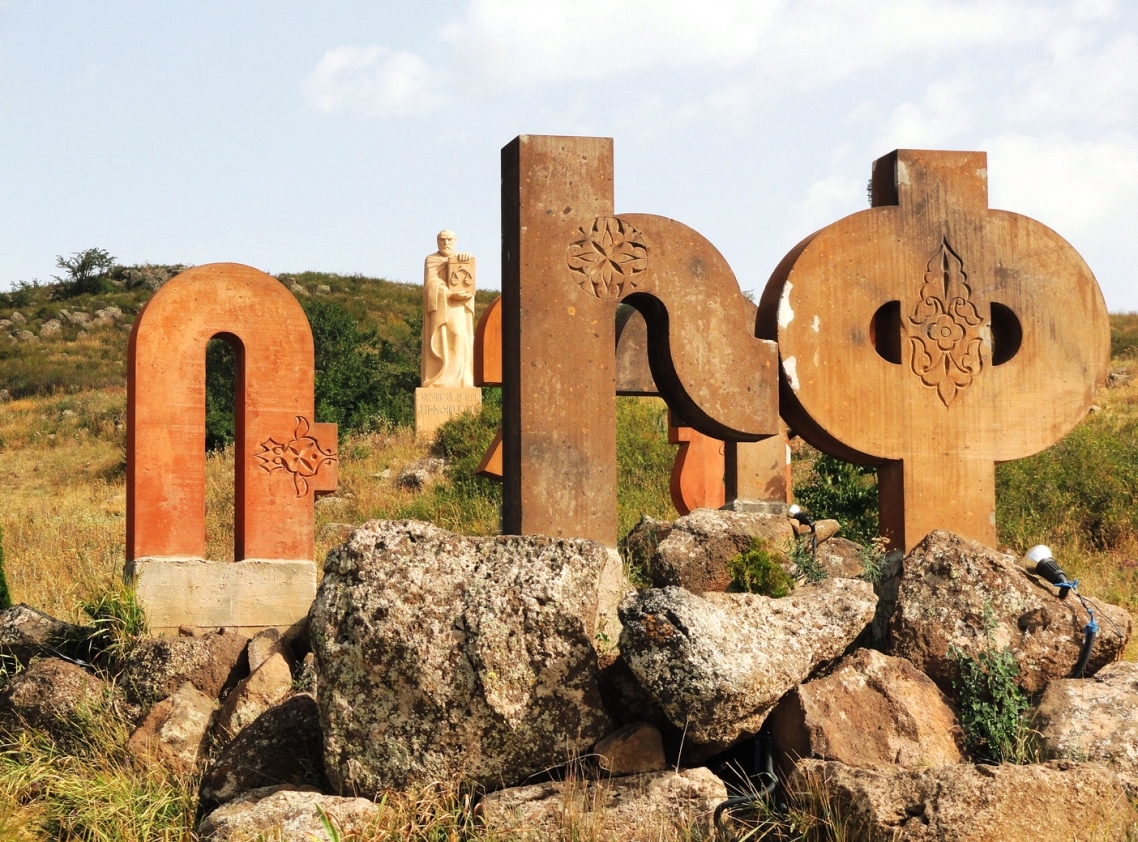 The Armenian Alphabet Monument in the Byurakan area commemorating 1600 years of the language. In commemoration, it was given a gift of 39 giant, carved Armenian letters, strategically placed near the final resting place of the man who created the alphabet, Mesrop Mashtots.
travel tips, links & resources
Consider your route carefully if you are wanting to travel to all three countries. Georgia is the transit country for both Azerbaijan and Armenia because, technically, both of these countries are at war. You can get into Armenia with an Azeri stamp, but not the other way round. Plan out the order of your trip carefully.
Be mindful when wearing shorts - some in Georgia find these too informal for public spaces.
You simply must try one the the huge Georgian cheese pasties. They are delicious and cheap.
The Envoy Hostel in Yerevan offers the opportunity of mixing transfers between Armenia and Georgia with the chance to stop-off and do a bit of tourism along the way - a great way of maximising your journey and a chance to see things you would otherwise miss as you wizz by. Prices are reasonable.