The Mammoth Railway Journey Across Europe
Where: Norway (Oslo), Sweden (Stockholm), Denmark (Copenhagen), Germany (Berlin), Austria (Vienna), Slovakia (Bratislava), Hungary (Budapest), Serbia (Belgrade), Croatia (Zagreb, Split), Slovenia (Ljubljana), Italy (Rome, Pisa), Vatican State (Vatican City).
When: July and August 2007.
What: Brandenburg Gate, The Berlin Wall, Thermal Baths, River Danube, Vatican City, Rathaus, Radhus, TheColiseum, Leaning Tower of Pisa.
How: European Rail System, Taxi, Walking, Train-on-a-ferry, Sleeper Train, Boat.
Counter: 12 countries
Illnesses or mishaps: Catching a cold in Vienna which took the wind out of my sails for a couple of days. That's it.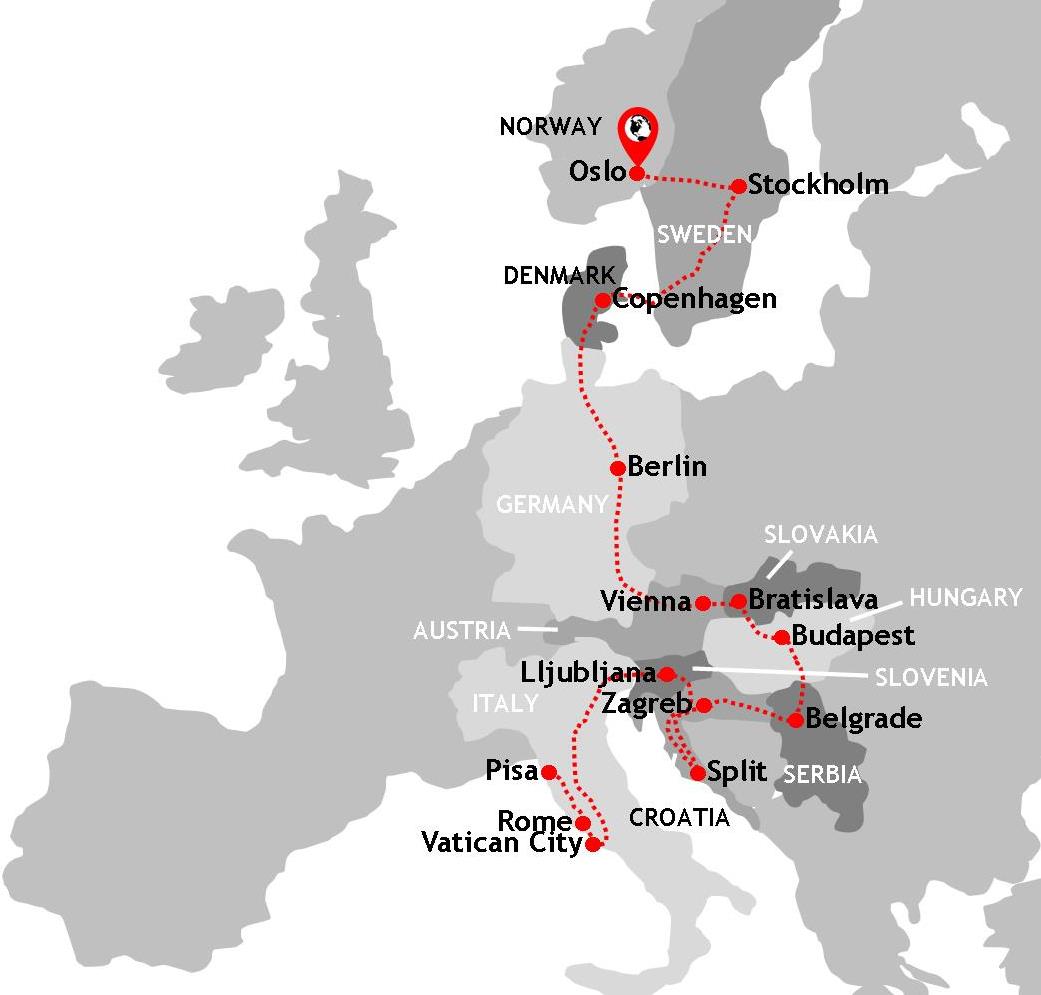 This, indeed, was an adventure across Europe. The train was to be our route across the borders of multiple countries, taking us directly into the heart of any country: the capital city. The train certainly has its advantages over the aeroplane, especially when doing a long tour. Obviously, it means you can nip over the border to take in another country without the need to take an expensive flight. What's more, you actually get to see some of the countryside of the place you're visiting - something you would miss out completely travelling up in the skies, which all look the same above any country. Trains also mean you do not have to endure take-offs and touchdowns and a way of checking off a not insignificant number of countries with only one take-off and landing. The train is infinitely cheaper, too. For £380, an Inter-Rail pass guaranteed us train travel across Europe for three weeks and also gave us the flexibility to choose our countries as we went along, basing our decisions on which country was nearby and which had iconic things we wanted to see. The ticket works on a number of journeys basis, which then expires at the end of a block of time - 22 days in our case. Being tight-fisted travellers, we travelled second class to keep costs down, too.
In three weeks we had to complete one self-imposed goal: to go to as many countries as possible. We wanted to see some of the key places, but also a few that were off the beaten track. When all was said and done we'd managed 11 countries, 11 capital cities and 15 separate locations. These were Norway (Oslo), Sweden (Stockholm), Denmark (Copenhagen), Germany (Berlin), Austria (Vienna), Slovakia (Bratislava), Hungary (Budapest), Serbia (Belgrade), Croatia (Zagreb, Split and Hvar Island), Slovenia (Ljubljana) and Italy (Rome and Pisa). Added to this was a visit to my first ever City State - Vatican City. Technically this brings the country and capital city count covered on this trip to a not insignificant twelve each. I think this is a classic case of trying to see a little too much in the time available. In hindsight, I wouldn't recommend it. Instead, stay a bit longer and get a feel for the place you're in.
Because decisions about where to travel next were made only a day or two in advance, internet access was vital. We'd often find ourselves heading for the nearest cyber cafe to book our next night's kip using hostelworld.com or octopus.com. Sometimes, decisions about how long we were going to stay were made immediately on arrival - if we didn't like the country we'd found ourselves in, then we'd simply shorten the stay by one night and head off in the morning. This lack of preparedness, because of the nature of the trip, meant that we certainly took one day at a time - and had the flexibility to move on when we chose. It meant we often found ourselves in some interesting erm, hostels. They ranged from the funky and friendly, to the dirty and truly bizarre. Most unusual was our stay in a near-deserted boarding school in Slovenia. It was a little unsettling to get up in the morning and walk down school corridors to brush your teeth and then eat breakfast in a huge canteen. Obviously, it was the summer and schools were empty, giving nomads like us cheap accommodation for the night. The thing about hostels is that there are really good ones and terrible ones. You really never know what kind you are walking into until you arrive - by which time it's too late! The best was the Hostel Possonium in Slovakia, which had a really friendly feel, complete will bulldog in reception, grunting its way through the day. The hostel, in this case, made up for the country which, to be frank, we couldn't wait to leave. There was very little to see and too many of the people we met were unforgiving to tourists and rude.
The differences between countries, even those that shared borders, were stark beyond belief. Slovakia and Croatia may as well have been on different continents. Serbia was in it's own little militarised world with guards and guns, and Slovenia was absolutely lovely with its flowers and fruit. On a trip like this you begin to appreciate why so many of these countries broke away from the Eastern Bloc and became independent - their characters are as unique as the people. The Inter-Rail did bestow one restriction: trains tend to operate to capital cities which can, when trying to gauge a country's culture, be rather misleading when trying to get to the heart of a country. Because of the nature of the trip, experience of many of the countries, with perhaps the exception of Croatia, were restricted to capital cities and whizzing through the countryside on trains. This, however, was just enough to get a general feel for the place and the people. Time was against us too which meant that we hopped from capital city to capital city and were generally unable (or unwilling) to sample life beyond these. Unlike many trips I have taken, the journeying itself became part of the adventure - rather than just a means to an end. Some may criticise brief stints like this, waxing lyrical about the need to spend weeks - even months - in a country in a bid to truly get to grips with the culture and the people. Whilst I sympathise with this view, everything we saw and did is of real traveller value, I would argue. It's also important to bear in mind that, unlike many trips I have taken, the journeying itself - the act of being on the train and travelling through countries - became a crucial part of the adventure. The act of travelling on trains was - rather than being just a means to an end - part of the Inter-Rail package.
For posterity's sake, below are two extracts of emails I sent at the time. As you'll see the places we visited changed from what we initially anticipated - a case of getting too carried away with what we could practically manage in the time...
Extract one from Germany: "Well, we've made the first week - have travelled around Scandinavia (Denmark, Sweden, Norway) and am currently in Berlin which is really quite trendy and uber modern, makes a change from all of those 'samey' Scandinavian countries which were beginning to do my head in. Spent loads of time drinking coffee and eating pastries and being one of those annoying touristy types taking fotos of everything. Several things have made me chuckle so far, like the 'for sale' signs in Swedish clothes shops advertising 'slut spurt' and the chocolate bar called 'plopp'. We've stayed in so many dodgy hostels it's quite unbelievable; I have seen so many pubic hairs that are not my own! Eek! Still, keeps things real dunnit?! We're currently in a hostel in the east of Berlin, just at the end of a huge row of terraced houses home to the local squatter population, with dubious-looking radical graffiti and bars made out of Aldi trollies! We'll be going for a final walk around Berlin today to see the remains of the Berlin wall etc before getting the night train (!!) to Vienna. Why is it that whenever I get a train I always get a seat next to the girl who has bird flu?! Silly cow was coughing for the whole FIVE hours of the journey. Felt like knifing her in the face by the time we got to Copenhagen. Next stops are: Slovakia, Hungary, Romania, Bulgaria, Serbia and Croatia, before heading for Rome and Pisa where we'll finally be flying back to Leeds..."
Extract two from Croatia: "We're now here in Croatia (thank god) after a few close calls in some less desirable European destinations. It all went down hill when we arrived in Bratislava, Slovakia; had an argument with the ice-cream seller and told him he was proper rude man innit, then a waitress tried ripping us off several hundred 'krones' - after haggling with her for about ten minutes and writing things down on a piece of paper for her I finally got my money back - realising soon after that the notes I had extracted from her (looking like a fortune) amounted to about 30p. Serbia was also an interesting place - was absolutely stunned by the shanty town outside Belgrade. Couldn't believe that places like that existed in Europe. There were also huge buildings cordoned off in Belgrade after being bombed by NATO in the war. Very scary to see it up close. Hungary was excellent - we finally gave in and got two nights at a 4star hotel there: went to the 'famous' thermal baths and had an hour-long Thai massage, which didn't hurt until she started pulling my fingers and clicking them out of their sockets. I'm sure that for the £25 I paid for the massage I'll reap the rewards in the form of jokes about being alone with a Thai women for an hour who spent the time pulling parts at my body and working up a sweat! We're heading to the Croatian coast tomorrow to do a bit of island hopping before hitting Rome and Pisa by the end of the week. May also try to squeeze in Slovenia..."
Our first leg of the journey was Norway; a pleasant, tranquil, but extremely expensive place (£5 for a pasty, anyone?). One could not be anything other than overwhelmed by the sheer size of the Town Hall at Oslo Bay in Downtown Oslo at 66 metres high - the place where the Nobel Peace Prize is awarded annually. It must be said we were slightly glad to be leaving in the hope that we would recoup costs in our next country stop. The views across the bay were gorgeous. Noticeable was Oslo's abundance of fountains - large, small and everything in-between. I suppose this is not surprising considering the Nordic heritage of water, ships and Vikings.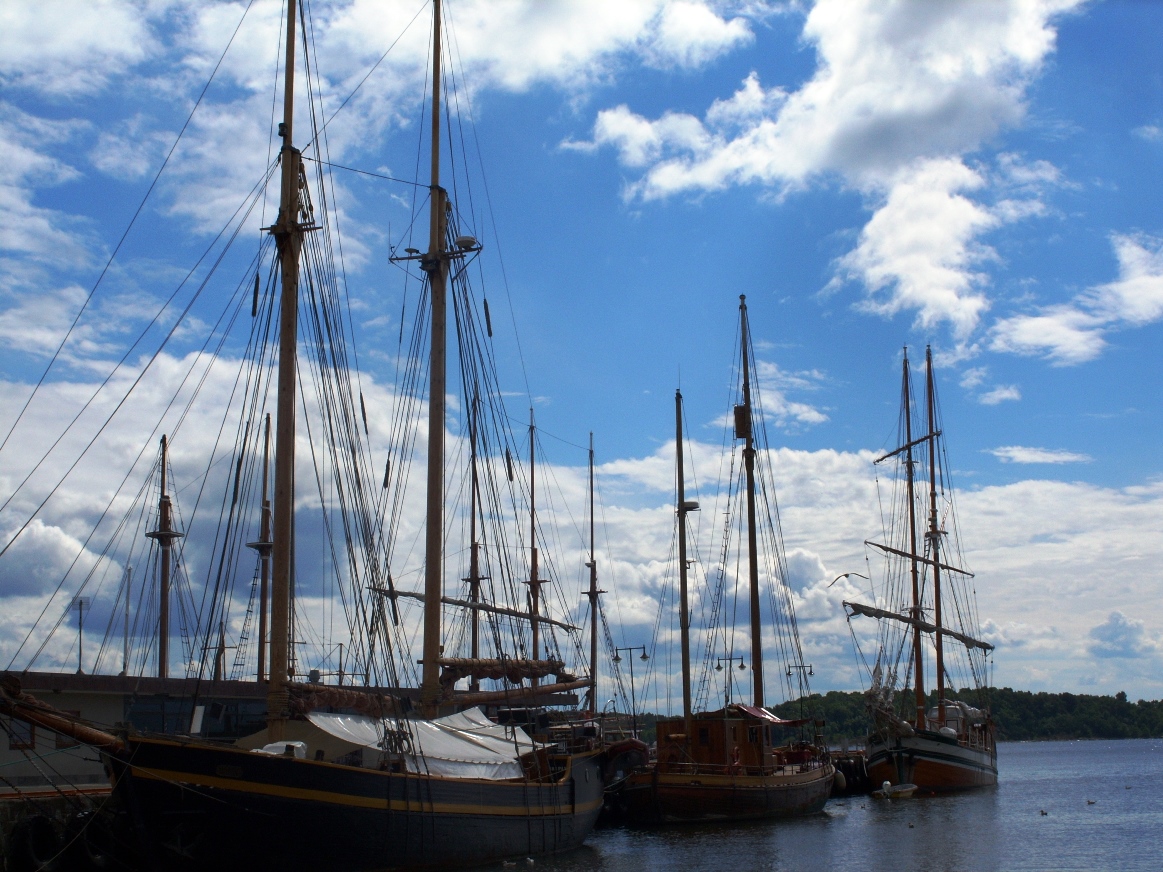 Norway's naval heritage isn't far from the surface.
Sweden felt noticeably different despite it being one of the Scandinavia group of countries. Unfortunately for us, like Norway, it was very expensive. The first major difference was the language which, for the English speaking traveller, had many unfortunate moments, such as the chocolate bar called 'Plopp', the very unfortunate word 'slut' meaning 'sale', and the call to all shoppers to take advantage of the 'Slutspurt' happening at Stockholm's branch of H&M. Oh, and let's not forget the 'Kok' shop either. My main issue with Sweden was that everything seemed new and there appeared to be very few old buildings - even the Old Town or 'Gamla Stan' seemed new-ish - manicured and washed clean. This meant that it lacked an urban edge, a bit of gritty realism (Berlin, two countries away on our travels, soon made up for this). Lovely place but just seemed to lack that architectural wow I like to see in a city. Still, the Sergel Torg went some way to compensate.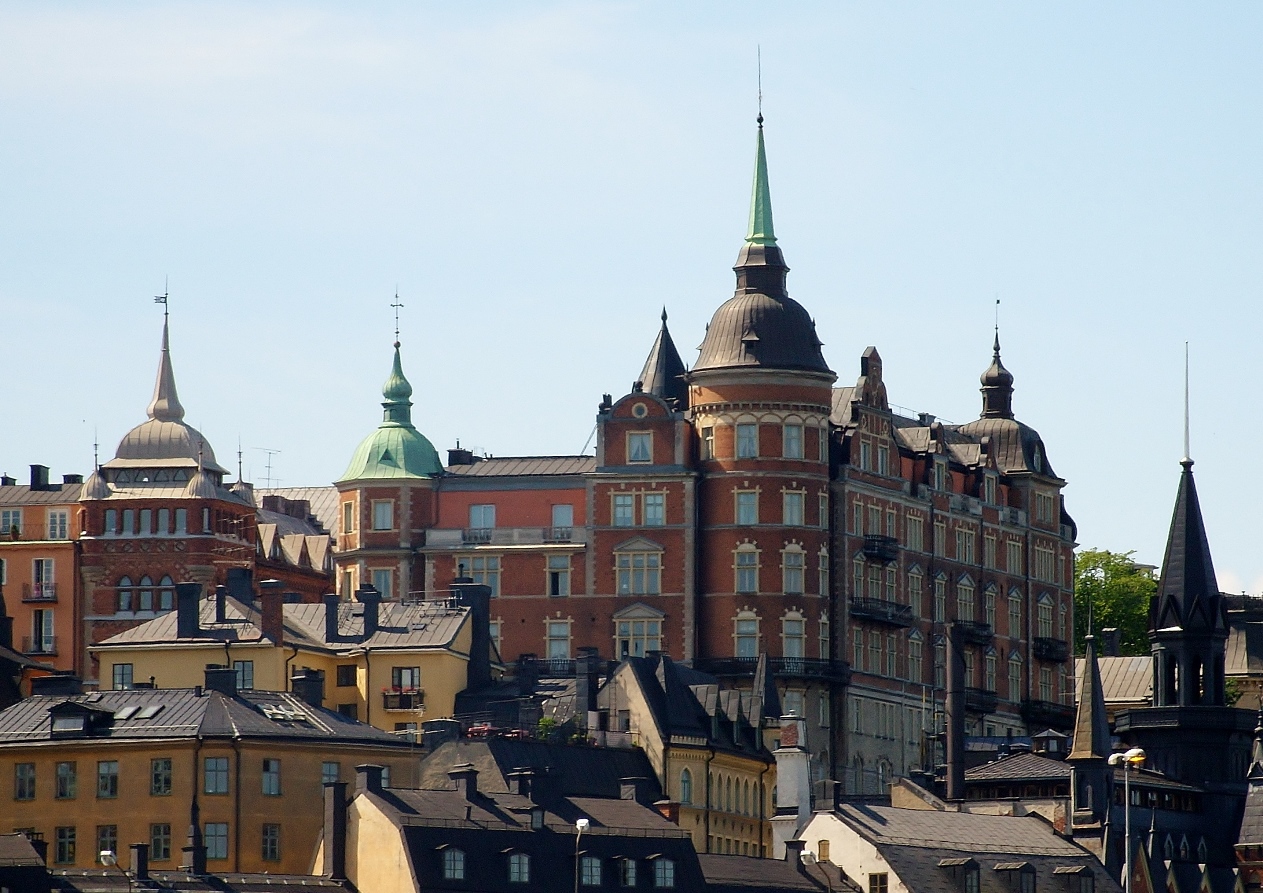 The dreamy Gothic spires of Stockholm.
A mainly picturesque capital city made up of green copper church spires, windmills and sailing boats. For a capital it was far quieter than I had expected; people were relaxed, not frantic as in places like London or larger commercial centres. The place seemed so much more chilled - something which was a feature of the other two Scandinavian countries we'd visited up until this point. It was also noticeably compact - with a distinctly village feel, especially with the boats and yachts along the Nyhaven Canal and its Balamory-type rainbow coloured buildings. It is unsurprising to find that, in the last few years, Copenhagen has invested significantly in glass skyscrapers and innovative architecture. Copenhagen was a capital city, but felt more like a warm and friendly village.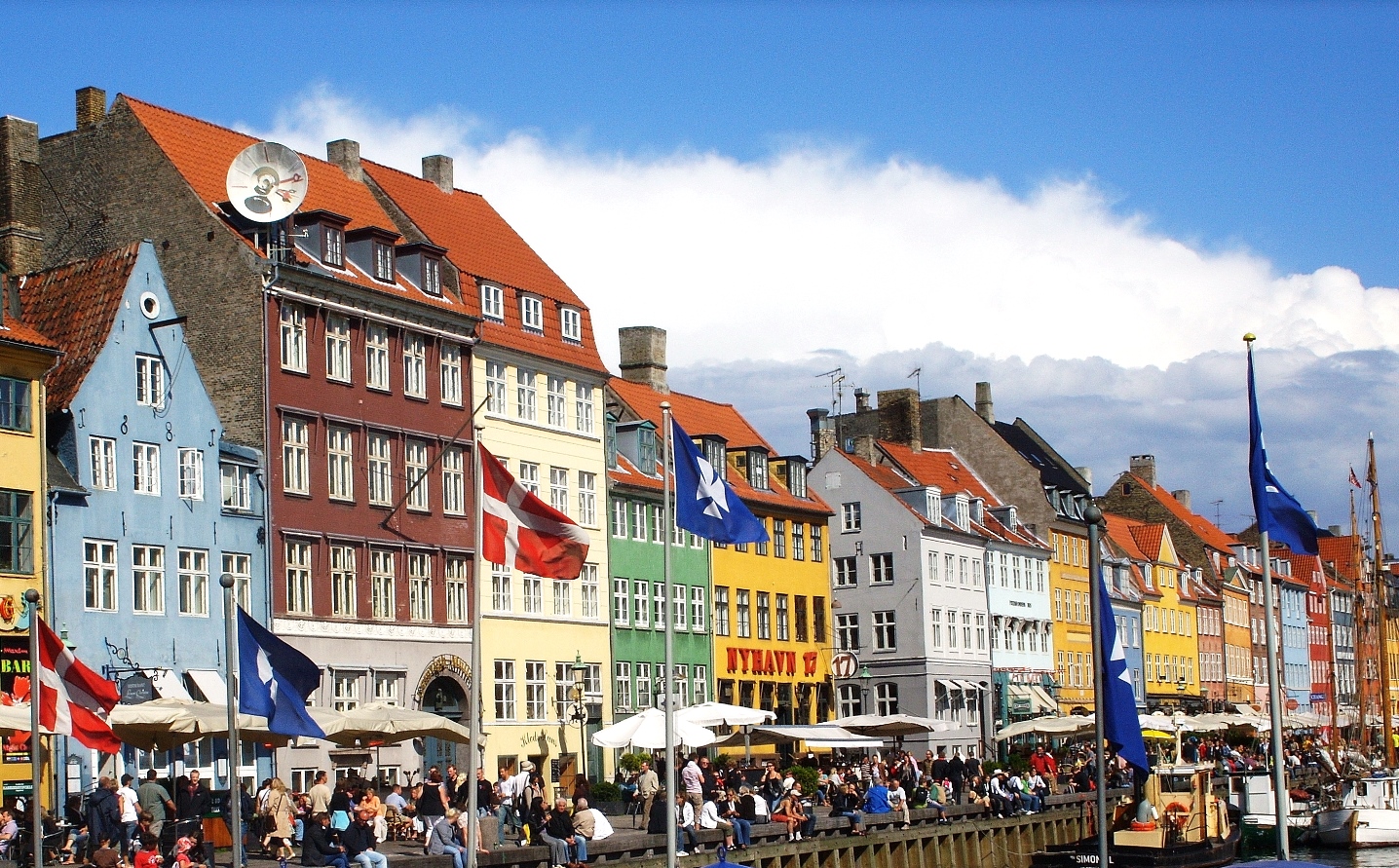 The Nyhaven Canal : a wonderful location in the city and bursting with colour.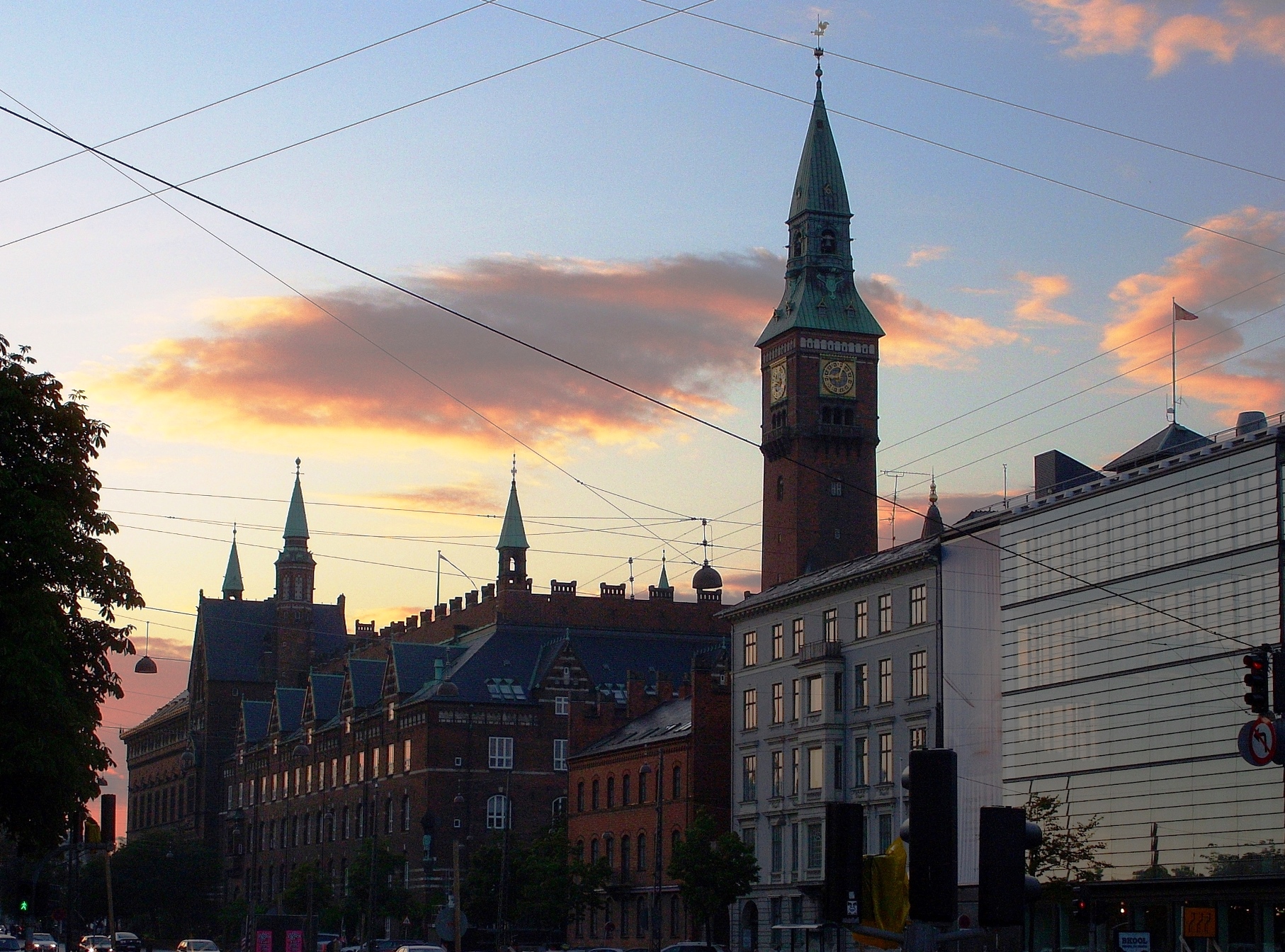 Night-time in Copenhagen with the silhouetted tower of City Hall - criss-crossed by tram wires.
Berlin was definitely one of the highlights of the journey; no need for morbid fascination here. We set off on a train from Denmark - which then drove onto a ferry when it had reached the coast of Denmark; the ferry took us across the Baltic Sea, then we rolled back onto soil again on the train. I didn't leave the train. Very strange to see a whole train roll onto a ferry - a real feat of engineering and daring - and a travel first for me. I have been on a ferry, I have been on a train. But never both at the same time!
Berlin is, obviously, one of Europe's key centres and should be seriously considered by anyone wishing to travel around Europe. Berlin was urban, gritty, lively and architecture impressive enough to rival any western European capital. The first thing that hits you is the amount of graffiti on walls, lamp posts and trains - certainly a sign of a buzzing cultural scene and a vibrant political discourse. Shamefully some of this graffiti harked back to the Nazi days: it was not uncommon to see swastikas on walls in more rural areas. We stayed at a hostel which was in one of the more seedier areas in the east of Berlin - squatters had taken over one of the larger residential buildings nearby, which used all sorts of materials found and foraged to create a large fence around the property. Without doubt, travelling to the top of the German TV Tower and visiting the Berlin Wall were the real highlights (I was a little naughty and took a small piece of the wall which is now safely ensconced in a pot on my shelf).
Remnants of communist rule by the Russians is very much in evidence in Berlin with functional concrete buildings aplenty - but which now form an increasingly vivid contrast with uber-modern architecture. A prime example of this is the Bundeskamzleramt and the drafting in of Norman Foster to revitalise the German Parliament Building. This place has buckets of history with endless opportunities for budding photographers; a city where old meets new and where, once, east met west. Unsurprisingly, Berlin's train station is something to behold; modern, efficient, clean and a real statement piece about what modern-day Germany is all about. In hindsight, we should have set aside more time to explore Berlin - it's sheer size meant we only got to explore the basic attractions and had less time to explore deeper.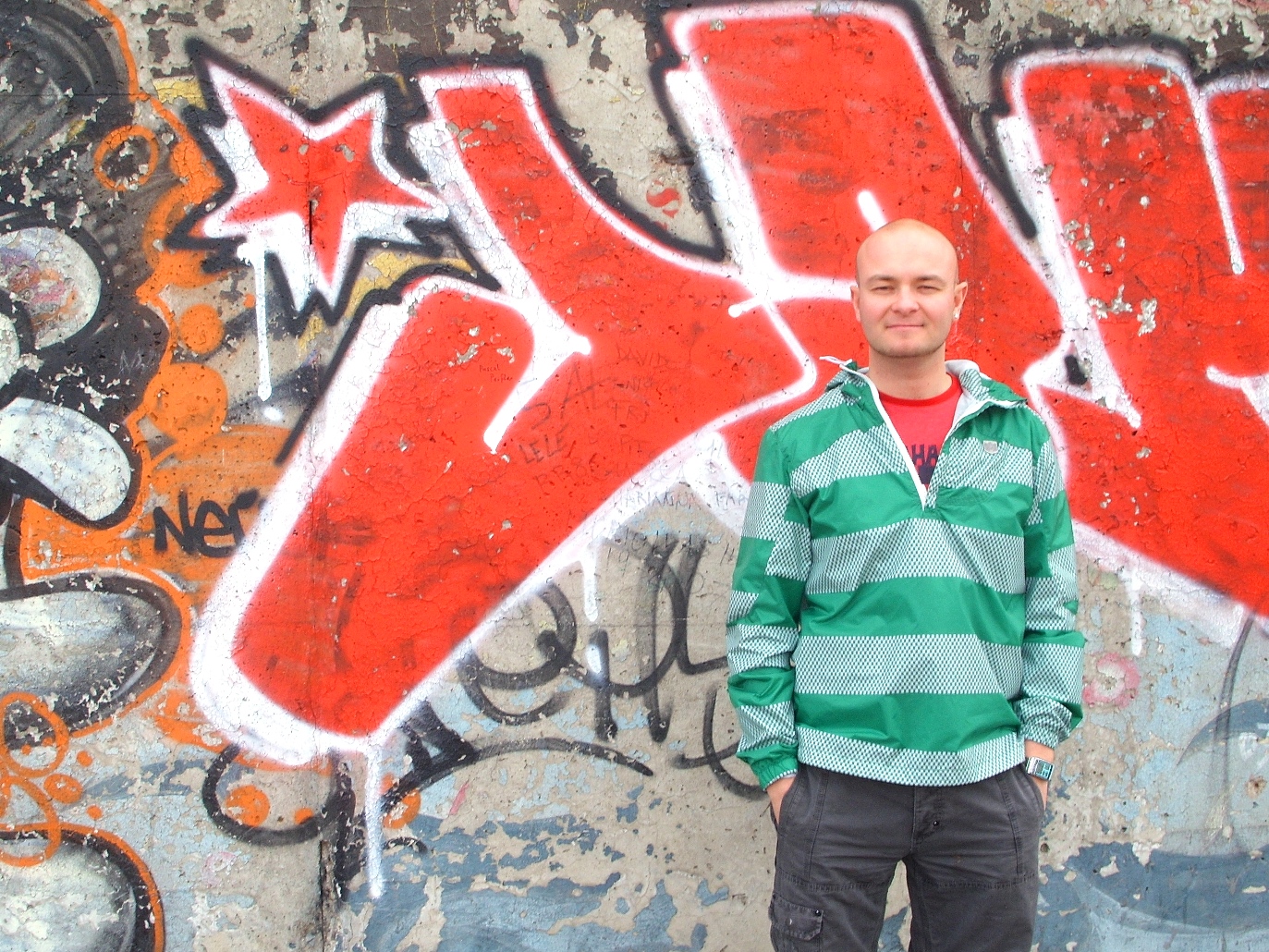 At the remnants of the infamous Berlin Wall.
Onto Vienna in Austria - and another travel first. We opted for an overnight sleeper train from Berlin into Vienna; nine hours of jolting and rocking from side to side and feeling like I was going to fall from the top bunk. The idea was we'd kill two birds with one stone by travelling and sleeping at the same time; didn't really sleep well and as a result we stumbled into Vienna the next morning a little worse for wear and it wasn't long before I came down with a cold - the final straw on a long and tiring journey. Despite this, I do feel that everyone should experience travelling across country borders by sleeper train. In more wakeful moments you would catch sounds of the countryside: dogs barking, people talking. It was certainly a unique experience - and definitely something any fan of the railway should do. Also memorable was Vienna's fairy-tale spires of the Votive Church and Rathaus. We'd also stumbled across the Vienna film festival and so Stephensplatz was awash with food stalls and seating ready for the big premiers.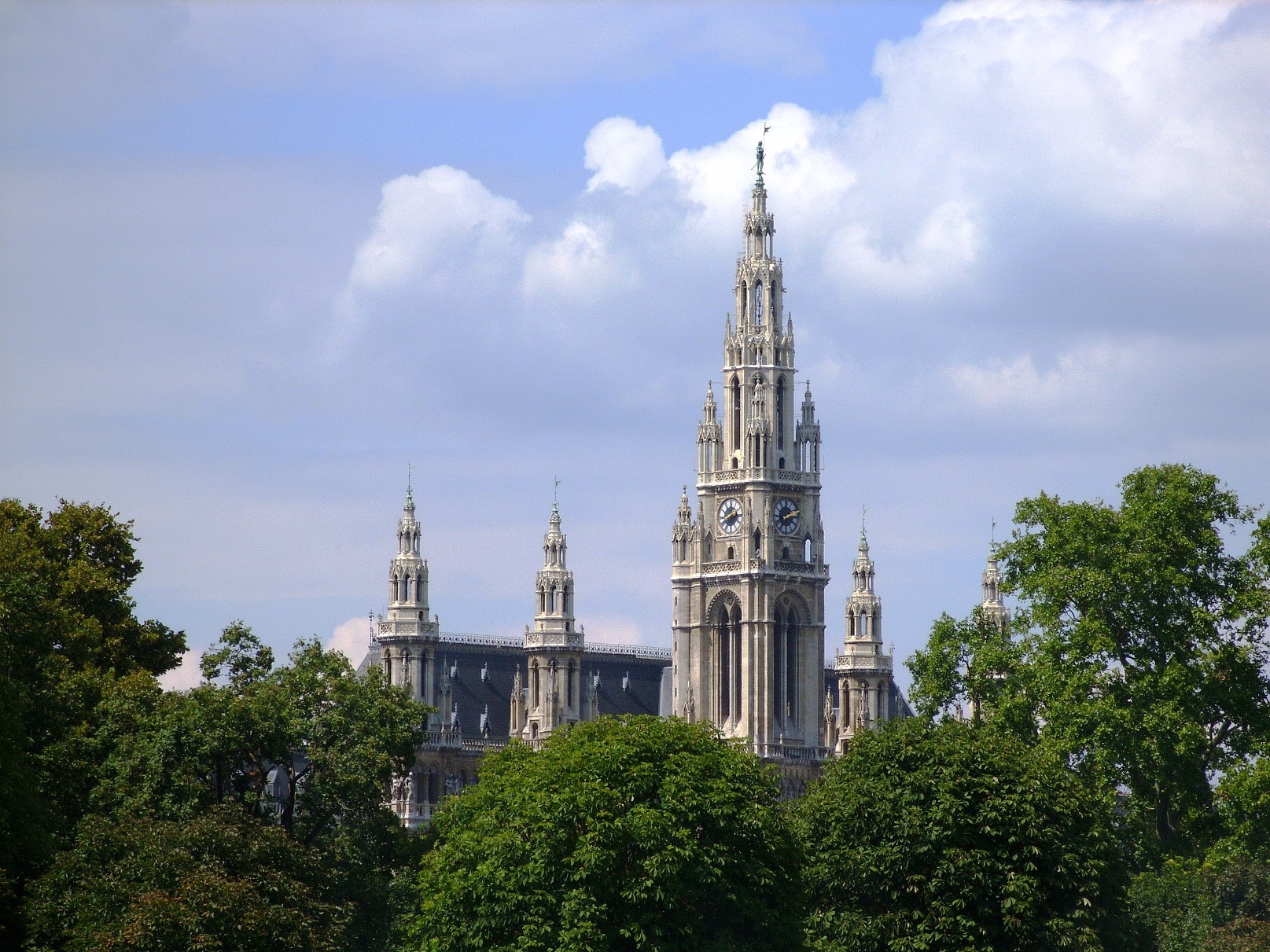 Vienna's fairy-tale looking Rathaus; the Mayoral and City Council.
Slovakia is a new country which owes its existence to the dissolution of the former Soviet Union. In 1993 the former Czechoslovakia peacefully split into two countries: Slovakia and the Czech Republic. Bratislava isa slightly downtrodden place where too many of the people we met were rude and tried to take advantage of tourists like us. Scratislava was home to Europe's stupidest or craftiest (I still can't decide) waitress, and the rudest ice-cream seller I have ever had the misfortune to buy an ice-cream from. This isn't to say that Bratislava doesn't have its own share of historic architecture, like the ornate and wedding cake-like Primate Palace - but Bratislava is hardly likely to max out your camera's memory card in a visit The hostel was rather nice and came complete with a real-life bulldog that trotted about a bit, grunted a lot, and generally lounged around the reception area sniffing out the latest guests. A nice hostel, however, does not a nice city make and so this wasn't enough for us to extend our stay any longer than we had originally planned. One day in Bratislava had also dried up all available photo opportunities and so off we set for our next destination - Hungary. Perhaps I was a bit of a novice traveller at the time, and was not, therefore, able to see what Bratislava had to offer.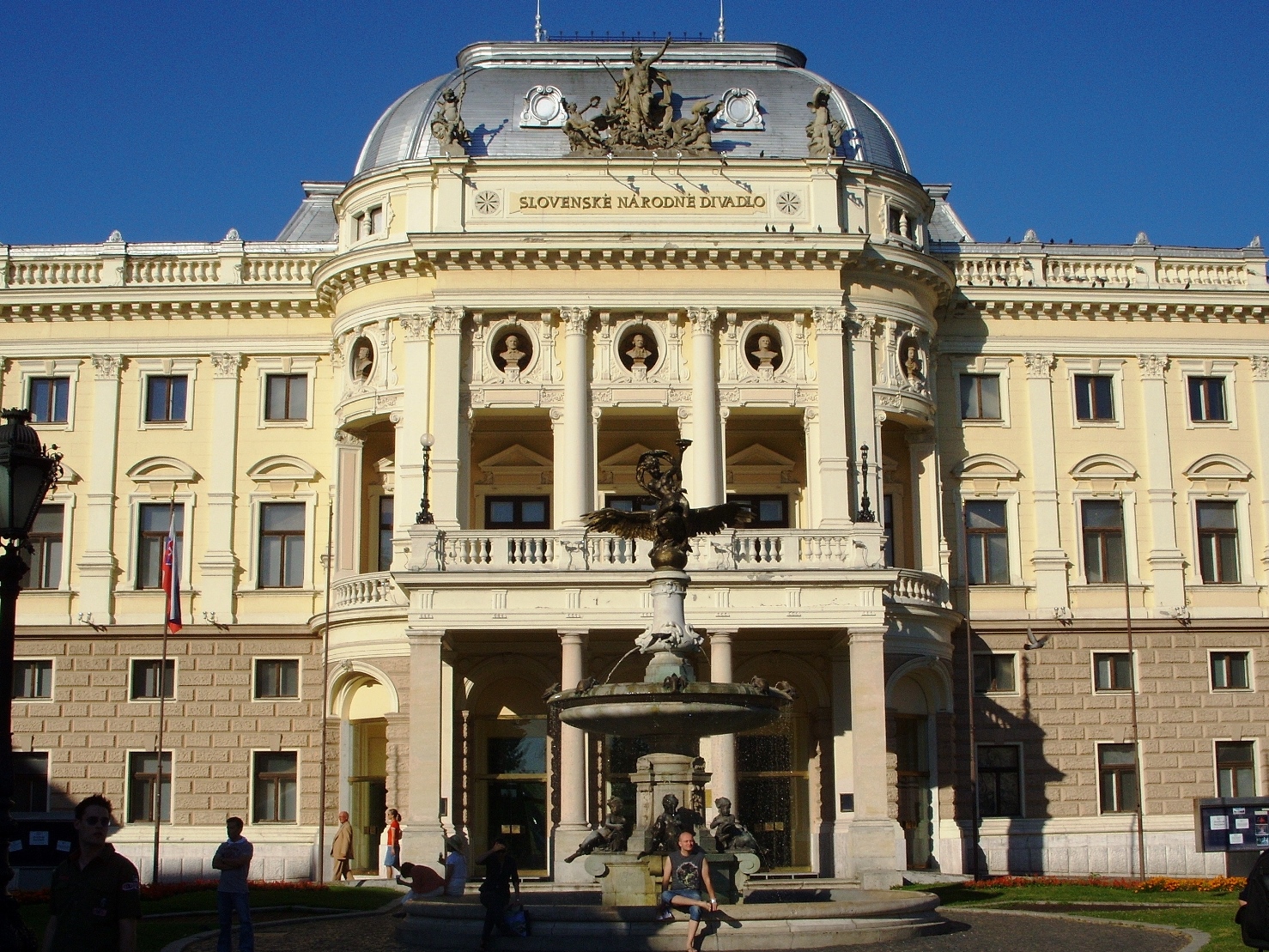 The National Theatre of Slovakia.
Hungary is an eastern European jewel with impressive architecture and enough to satisfy the tourist city tripper. Once viewed as the de-facto capital of Eastern Europe, Budapest continues to be a rather strange and interesting place. It had a distinctly Rome-type feel to it, with its imposing Parliament Building dominating the Danube, but had the poor infrastructure and poverty one has come to associate most cleanly with ex-communist countries. There were some real treats in Budapest; the Thai Massage and the famous Thermal Baths, not to mention the wondrous views of the Danube at night. Budapest was gritty, urban, and certainly deserves the title of capital city. Some capital cities along the trip thus far had failed to impress and the concern was that we might happen upon another Bratislava. I am pleased to report that we left feeling that we had, indeed, seen a city worthy of a visit.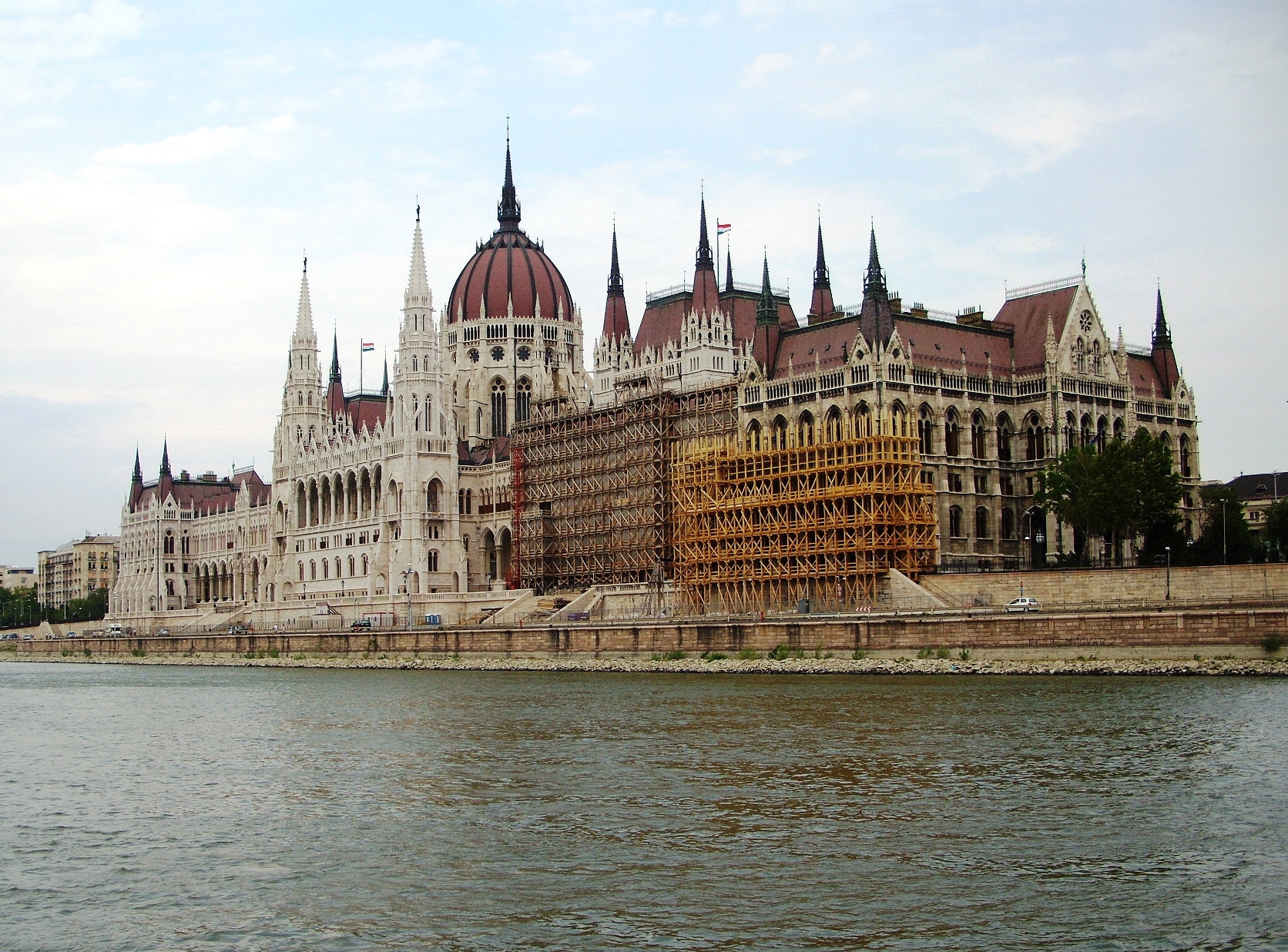 The Parliament Building of Hungary is a Gothic revival masterpiece perfectly positioned on the banks of the famous River Danube. Get a perfect photograph from on-board a river ferry tour like we did.
Our Inter-rail journey took a darker turn when we entered Serbia. The constant drizzle did not help. The city didn't feel very tourist friendly and there was an unsettling military feel to the country which I struggled to understand. Perhaps Serbia, and Belgrade for that matter, were struggling to comes to terms with their demotion - from being the lead country and capital of the former Yugoslavia to just another post-Yugoslav nation trying to find its place in the world. The military mood of the place was crystallised in the sight of a bombed out building in central Belgrade, the result of a NATO bombing raid in 1999 which sought to stop Serbia carrying out ethnic cleansing in Kosovo (see my journey through Kosovo in 2013 here). Guarding the remnants of the building, once a military headquarters, was a khaki-wearing soldier who came complete with machine gun. I managed to catch a quick photo of this, and him, knowing that I was probably taking a bit of a risk doing so. Add to this that, on our train journey into the country, three armed soldiers, in khaki and with machine guns, entered the train following a stop at the Hungary/Serbia border. They proceeded to pull down ceiling panels and grunt at the passengers, all the while marching up and down looking for, what I presume, were illegal immigrants. I couldn't help but think to myself, 'who'd want to sneak into this country anyway? You wish' etc. The whole thing was rather unsettling. One guard aggressively clicked his fingers at me because my feet were on the chair. I dared not complain. The train was held up for about twenty minutes while this unsavoury experience played out.
Some sights in Serbia take your breath away - but not always for the right reasons. The shanty town just outside of Belgrade was a real shock. It was a scene I'd connected more readily with third-world countries, and wouldn't ever have thought that such a place could exist in Europe - albeit eastern Europe. Belgrade was a grim but fascinating city to visit - it felt very far away from home. It was a city of graffiti, anonymous apartment blocks whose roofs were packed full of rusting TV aerials, whose streets were empty (it was raining and early in the morning), where there were bombed out buildings and which had a general Communist greyness which was hard to shake off. It may be unfair to judge Serbia on the limited time we stayed there but, ultimately, this was my experience. The drizzly wet weather only added to the general sense of despondency hanging over the city. And to think Belgrade was once the capital of Yugoslavia! Perhaps our next country would hold more promise...
A shot of the Belgrade city skyline as seen from The Monster Hostel. It was difficult to discern any one building - it just seemed a mass of aerials and cheap concrete in mounds. The weather didn't help.
Croatia has embraced life after Yugoslavia far more than others in its region. Its large stretches of Adriatic coastline and historical sights mean it has garnered the tourism pound more successfully than the rest. The Croats have well and truly left communism behind - and you feel the difference immediately on entering the country. It was wonderful to arrive in Croatia after a drab and depressing run of countries like Slovakia and Serbia. Seeing such countries was, of course, always part of the plan. But we were glad to arrive in a clean, beautiful country again - even the sun seemed to greet us on our arrival. People were friendly and the place, Zagreb being our initial stop, was thriving, with performances and street life to die for. I was amazed at how different Croatia was to Serbia. Croatia also had a few other sights up her sleeve, which tempted us to travel outside of the capital and down to the southern coast for what would be only twice during the whole trip (we were to later travel from Italy's capital Rome to Pisa to see the iconic Leaning Tower). Croatia was a country we really enjoyed - the sunny side of central Europe which sidesteps the tackiness of most Adriatic resorts as well as the crumbling infrastructure of the former Eastern Bloc.
Croatia is well-known for its resort locations like Dubrovnik and Split, but mention Zagreb to people and they give a befuddled expression. It must be said that Zagreb isn't exactly known for being an internationally-important capital city and this can lead people to think they should by-pass it and miss it out of their itinerary. However, as the photographs show, Zagreb is full of colour and character - which, in my book, make it worth a little of your time if you can afford it. The city is well-dressed with historic Austro-Hungarian architecture, drenched in sunshine and, I found, a friendly place in which to be a tourist. If you love winding cobbled streets, coffee shops and a bit of class Zagreb is the city for you.
Travelling 370 kilometres from Zagreb, we arrived in Split where we had, essentially, the sunshine holiday of the entire tour: beaches, harbours, blue waters and plenty of sunshine. Split was a real joy and a pleasant surprise - having not heard of it before I was just waiting to be disappointed. It just goes to show that capital cities are not always the jewels in the crown of a country. We also spent an afternoon travelling from Split out to sunbathe on one of the country's many islands - Hvar. Hvar was quiet and came complete with rock lizards. My tip here is to make sure you take a towel and everything else you might need when taking a trip out on a boat to spend time on one of Croatia's islands. Some islands have no electricity and thus no shops from which to buy what you need. Take everything with you.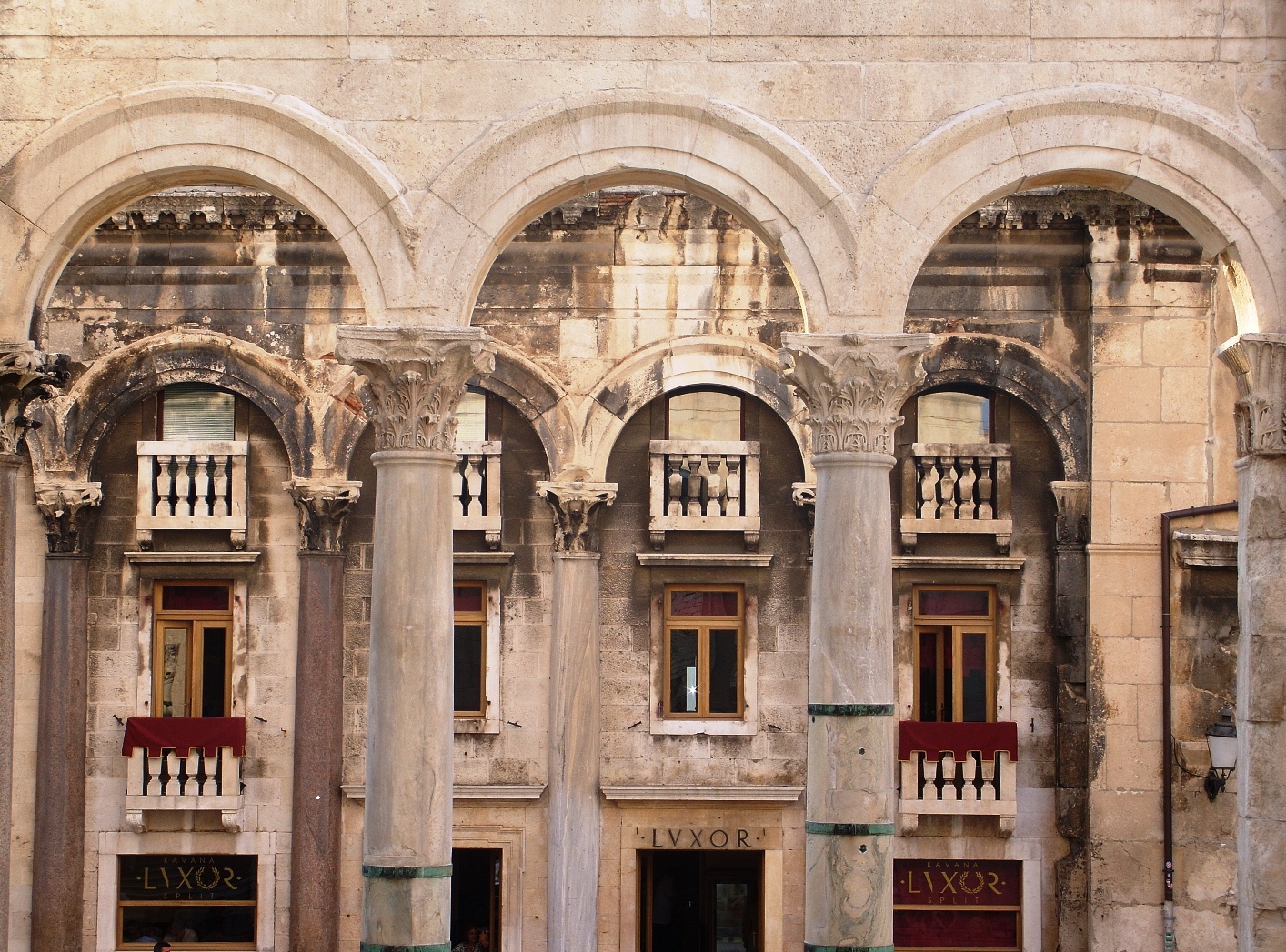 The arches of Diocletian's Palace next to his Mausoleum.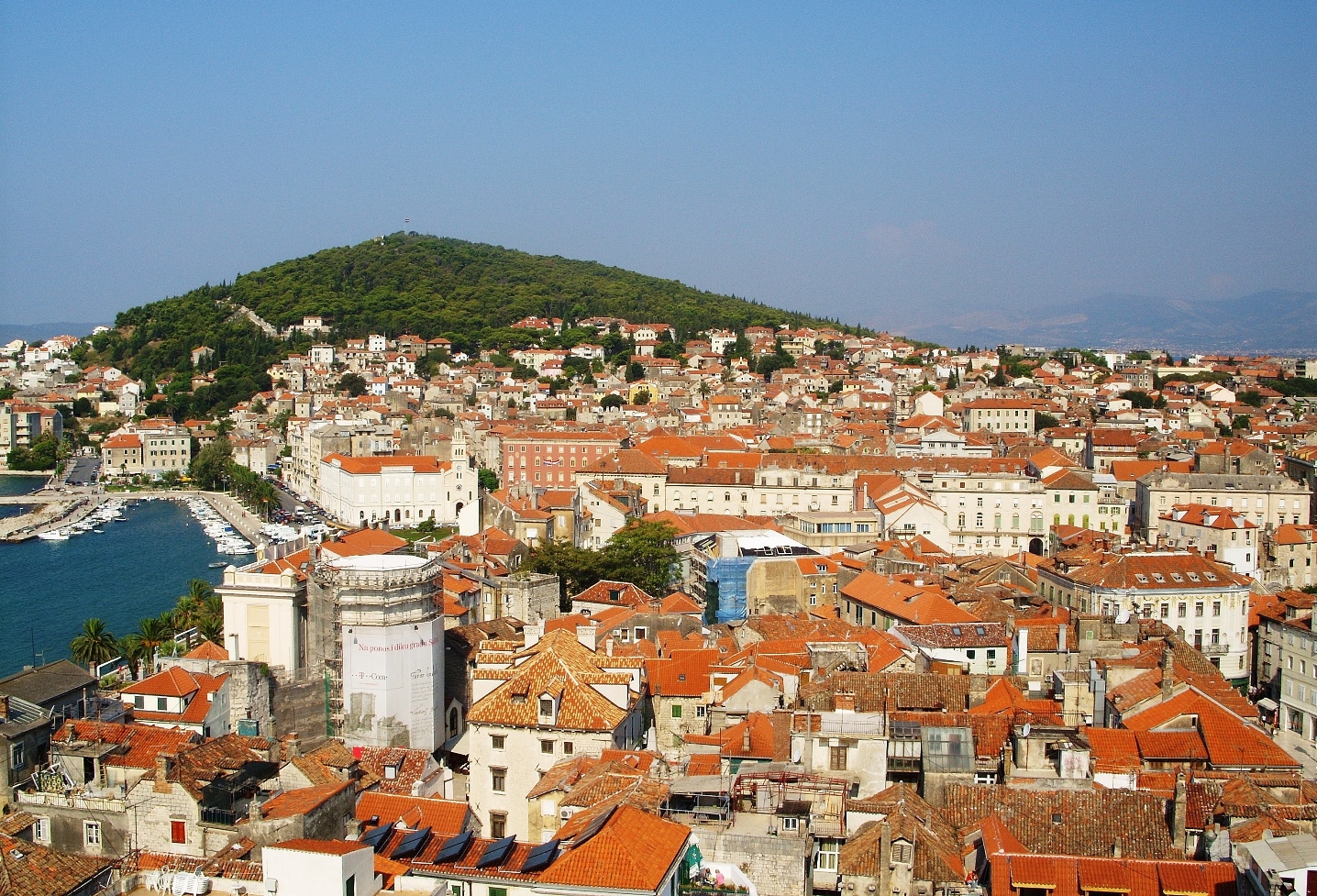 View of Split from the top of the Church Tower - red tiled roofs, blue sky and seas - and a lush green hill. What more could you want?
Ljubljana is testament to the saying 'beautiful things come in small packages'. It had a very village-like feel to it; narrow winding streets, utter tranquility and baskets of flowers everywhere. Not wishing to sound too patronising, Slovenia was cute and loveable. This in no way was a capital city. So friendly were the people that, on arrival in the city, with heavy rucksacks on our backs and Rough Guide in tow, one woman passing on her bike stopped, got off and asked us what it was we were looking for - all completely unprompted. I couldn't ever see that happening in some of the other counties we'd been prior to our arrival in Slovenia. In many ways Slovenia restored our faith in the central eastern block of countries - a little gem worthy of a city break. It certainly was a whistle-stop tour of the capital before catching our next train to a European great - Italy...
Early morning views of the Ljubljana Canal.
Italy is, of course, a crucial country in Europe for any traveller wanting to see the world. I suppose it kind of had to be on our itinerary. There are key sights which need to be ticked off of any respectable traveller's must-see bucket list. We had travelled to Italy twice before, on a trip to Turin and then Venice so I wasn't exactly unfamiliar with what Italy had to offer. The popularity of the destination also meant that we would be catching a flight back from here at low cost, making the entire trip really cost effective. Italy was our last stop and a chance top see some of Europe's, and the world's, most famous sights: the Coliseum, Vatican City and St. Peter's Square as well as the Leaning Tower of Pisa.
We stayed some distance outside of Rome - accommodation was very difficult to find at the prices we were prepared to pay so annoying journeys back and forth on the very gritty and urban Rome Metro were the order of the day. Essentially we paid for a double room in someone's house - a little weird but I don't suppose you can blame anyone for wanting to make a bit of money on the side. I was really surprised with Rome: much of what we saw of 'off the beaten track' Rome was dirty and covered in graffiti. It had a real edge to it which I wasn't really expecting. Poverty was highly visible in places, too. Expect beggars and hawkers on your journey around the city - and watch your bags and pockets! A bus tour allowed us to see some of the other sights both cities had to offer - as well as get us about quick; we were running out of time and money! Of course, visiting Rome meant I got to take in one of Europe's most famous sights - The Coliseum.
Pisa is famous for one thing - its Leaning Tower of the same name. Its lean has been caused by inadequate foundations placed on soft ground. I was really keen to see this tower and did what virtually everyone does when they see it - have a photograph pretending to hold it up - cliched, I know! Restoration work has lessened its tilt from the rather worrying 5.5 degrees to now something around 3. Pisa is a tourist trap of the worst kind so, if you want an easy ride, Pisa is your place packed, as it is, with restaurants and cafes for the daily sightseer. And this underscores one other point - Pisa is essentially a day trip place - it's a one-sight city and, once you've seen its leaning tower, you're pretty much done.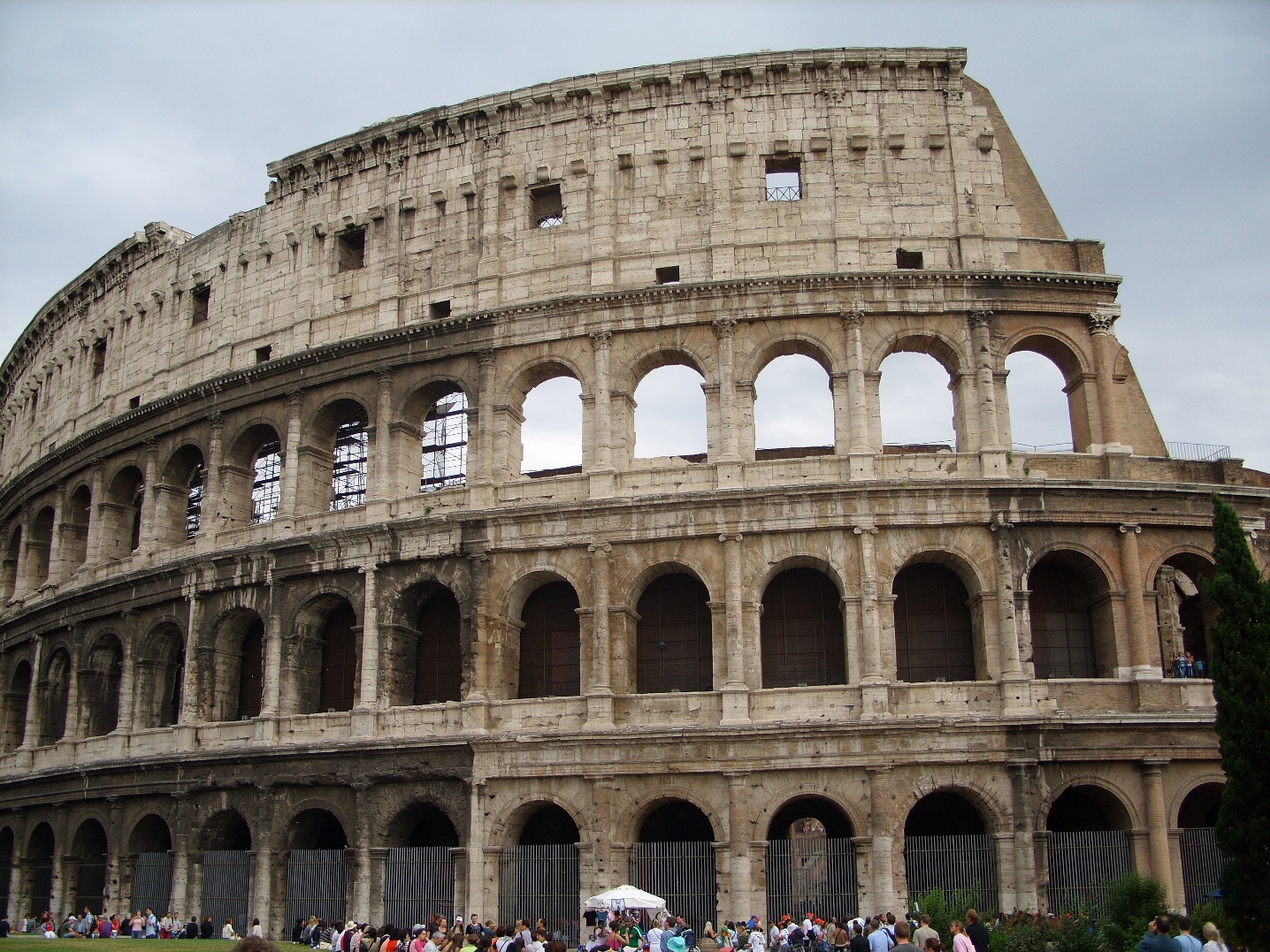 A true icon of world travel: The Coliseum.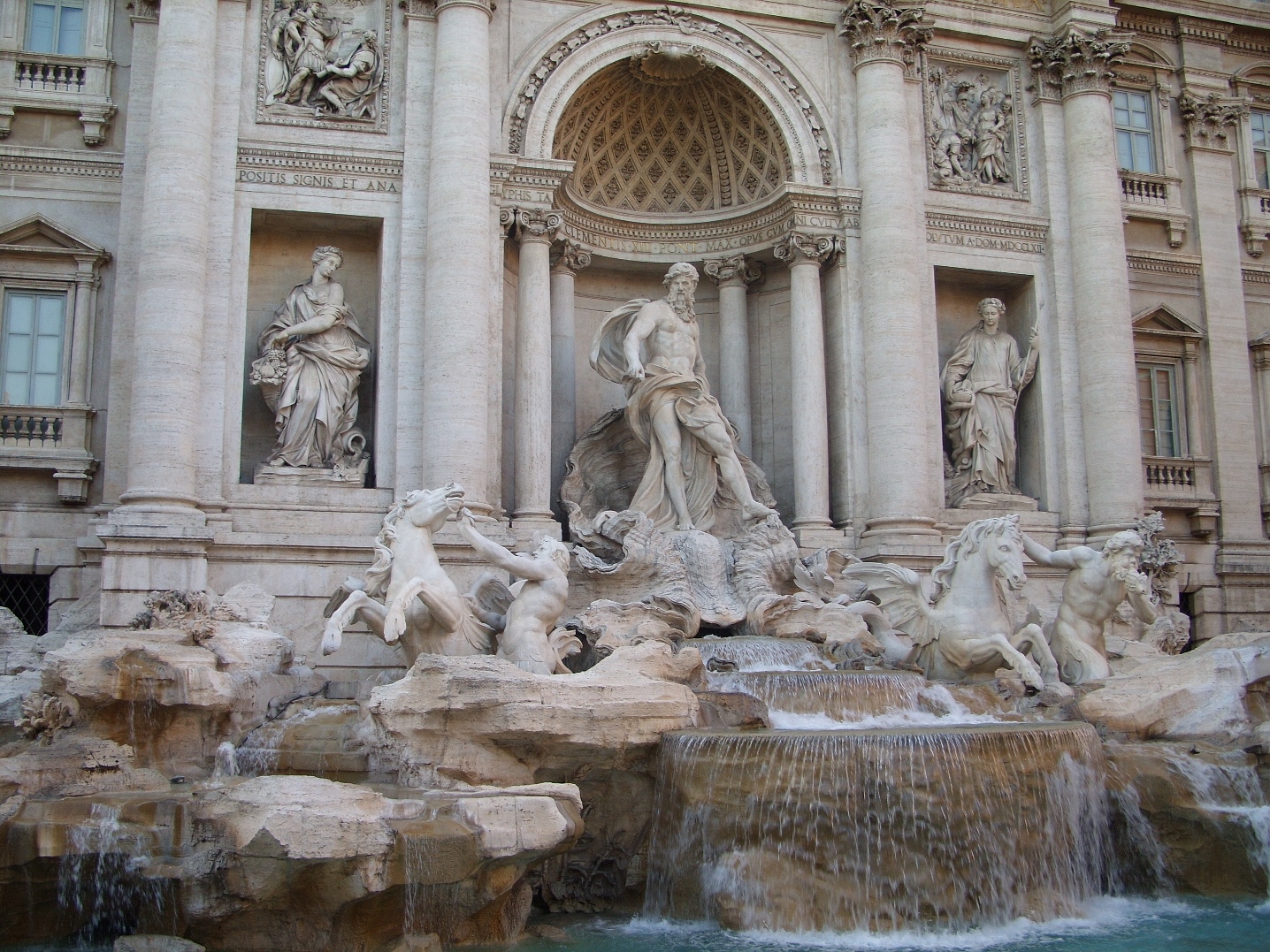 Rome's huge Baroque Trevi fountain - one of Italy's key landmarks.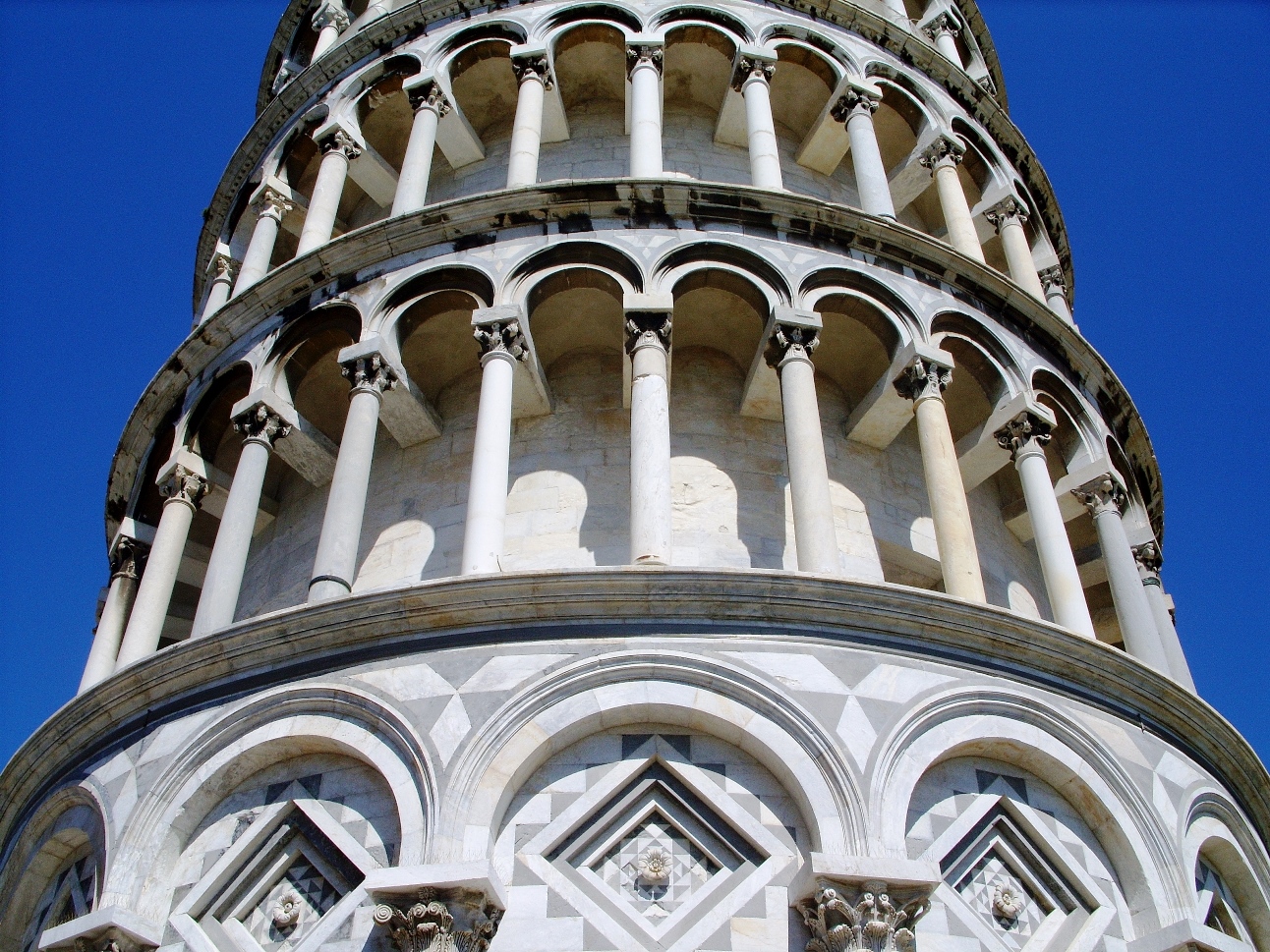 The Leaning Tower of Pisa.
Vatican City State is a land-locked sovereign state located within the city of Rome. It therefore, technically at least, deserves its own section as a separate country, although I do feel a bit of a charlatan separating it out in this way. It is the smallest independent state in the world by both size and population. It was a very serious place, with lots of robed and uniformed people looking serious doing serious things, after all, this is the Catholic Mecca. I couldn't help thinking 'get over yourself' and 'lighten up'. Still, Vatican City is, obviously a crucial visit for anyone interested in architecture. This state even has its own passports. Welcome to Vatican City State - the world's smallest nation.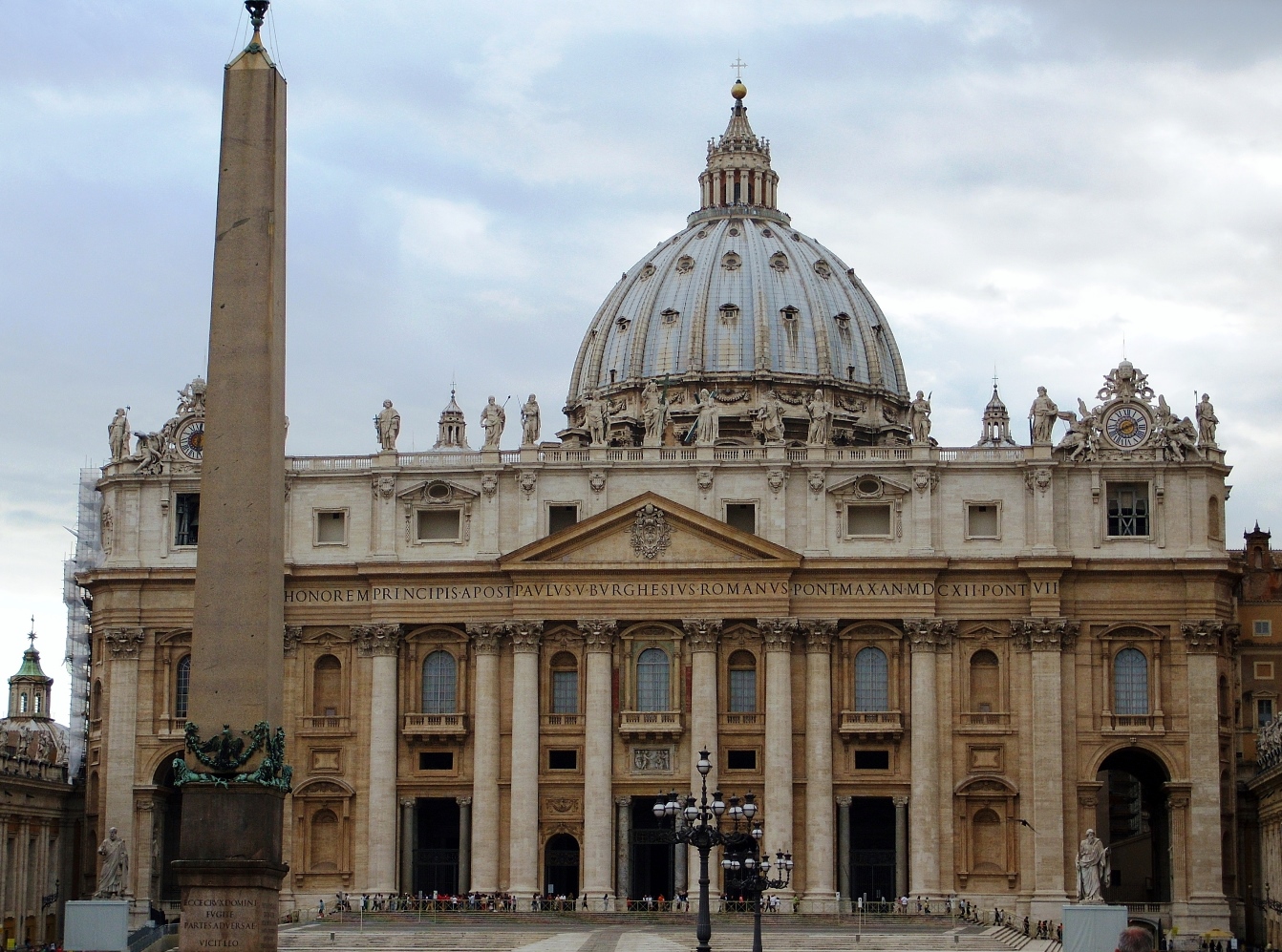 The stunning St Peter's Basilica.
travel tips, links & resources
Don't try to cram in too many countries like I did - it really gives you only a snapshot of a country which, whilst missing out sights, can also give you a very false impression of a nation. There is nothing worse than getting home and realising you've missed something special.
Take plenty of entertainment with you for the long train journeys but don't forget to look out of the window - the best TV screen there is!
Be sure to read the terms of your Inter-Rail pass very carefully as, inevitably with special travel passes, there are a litany of provisos and exclusions which could leave you standing at the station with nowhere to go.
There are a range of rail passes available from the official Inter Rail site here. Be sure to buy your pass from the official site.