An Aussie Road Trip Along Tasmania's Great Eastern Drive
Tasmania was my third Australian State or Territory.
Where: Hobart, Triabunna, Maria Island, Bicheno, Binalong Bay, Wineglass Bay, Coles Bay, Bay of Fires, Pyengana with various pit stops along the Great Eastern Drive. Tasmania, Australia.
When: December 2016
What: Tasmania's Great Eastern Drive, Salamanca Market, Colonial and Art Deco architecture of Hobart, Colonial graveyard, Battery Point, St Columba Falls, Painted Rocks, Blowhole, Bushwalking, Fossil-hunting, Carp's Bay and Lighthouse, Squeaking sand.
Wildlife spotting: Wombats, Echidnas, Wallabies, Little Penguin, Jellyfish, Skink Lizard, Kookaburra, Scarlet Robin, Cape Barren Goose, Tasmanian Nativehen. Sadly, but unsurprisingly, no Tasmanian Devil.
How: Domestic flight, hire car, ferry, taxi.
Mishaps or illnesses: Nearly getting stranded on the uninhabited Maria Island having arrived a little late for our return ferry back to the Tasmanian mainland.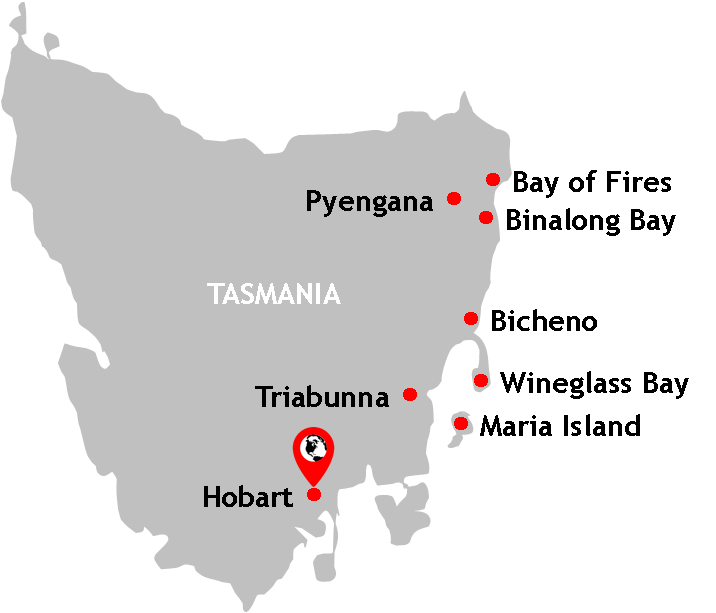 Tasmania sounds like it should be a country in its own right. It's a heart-shaped island south east of the Australian mainland and a little smaller than England. Access to "Tassie", to give it its endearing Aussie abbreviation, comes from catching a flight from Sydney or Melbourne (or the seafarer types among you can set sale from Melbourne on a boat). Our flight from Sydney took just under two hours and crossed the Bass Strait. Hobart airport is, therefore, a domestic airport. No international flights land here, its destination boards featuring Australian cities only (the usual big suspects but also intriguingly-named ones like Mudgee, Wagga Wagga and Dubbo). This serves to give Tasmania a feeling of isolation and remoteness which many a traveller, desperate to avoid tourists and selfie sticks, craves. Having flown from a people-packed, humid and noisy Sydney, believe me, this was all a refreshing change. Disembarking the plane into fresh air and the coolest temperatures I had felt for a long time (16 degrees!) was instantly revitalising. The intention was always to head to Tassie when Sydney started to get hot and sticky - and we'd timed it perfectly. On the weekend of our departure from New South Wales temperatures peaked at 38 degrees - with all of the ensuing thunder and lightning storms these kinds of temperatures are coupled with. Tasmania was, quite literally then, a breath of fresh air.
Being of a certain age, shamefully my only reference point of this, Australia's island state, was the Warner Brothers cartoon Tasmanian Devil which used to air on children's television back home in the United Kingdom. I had also heard of the annual Sydney to Hobart Yacht Race but this pretty much exhausted my prior knowledge of the state and meant I stepped onto Tasmanian soil rather ignorant but also with no preconceived ideas nor expectations as to what awaited me. And this led to the common schoolboy error of underestimating Tasmania: four days was simply not enough to see what this incredible little island of wonder had to offer. As my route map above illustrates, during our time we managed only the east coast, with just a small foray westward to see the St Columba waterfall at Pyengana. We didn't make it to the historic Port Arthur nor to Cradle Mountain - two places many would consider essential when in Tassie.
We didn't see a Tasmanian Devil either - but many visitors are rarely this lucky. Indeed, although elusive, and under threat because of a contagious tumour disease, the Tasmanian Devil is the undisputed icon of the island; the little black hairy creature's face appearing on everything from official state crests to oven gloves (yes, I did buy a pair). You're unlikely to bump into one of these feisty, nocturnal creatures but the corporatisation of its image ensures it is paradoxically omnipresent on the island. As an animal lover, I think this is heart-warming, showing that Taswegians have taken the little beast to their heart and this will, hopefully, guarantee it a safe path back from endangered status. Also, sightings of the extinct Tasmanian Tiger, perhaps the second most used creature in island branding and identification, persist despite not being seen since the early 1930s. It's probably fair to say that the Tassie Tiger exists only in the minds of Tawegians and not in reality.
Tasmania is a land of nature, wildlife and untrammelled landscapes. It's a wilderness destination unspoiled by industry and over-population. It was also a place, the beauty and rewards of which, we dramatically underestimated. This was Tasmania - my third Australian state and my first real foray out into this gigantic country since becoming a permanent resident of Australia.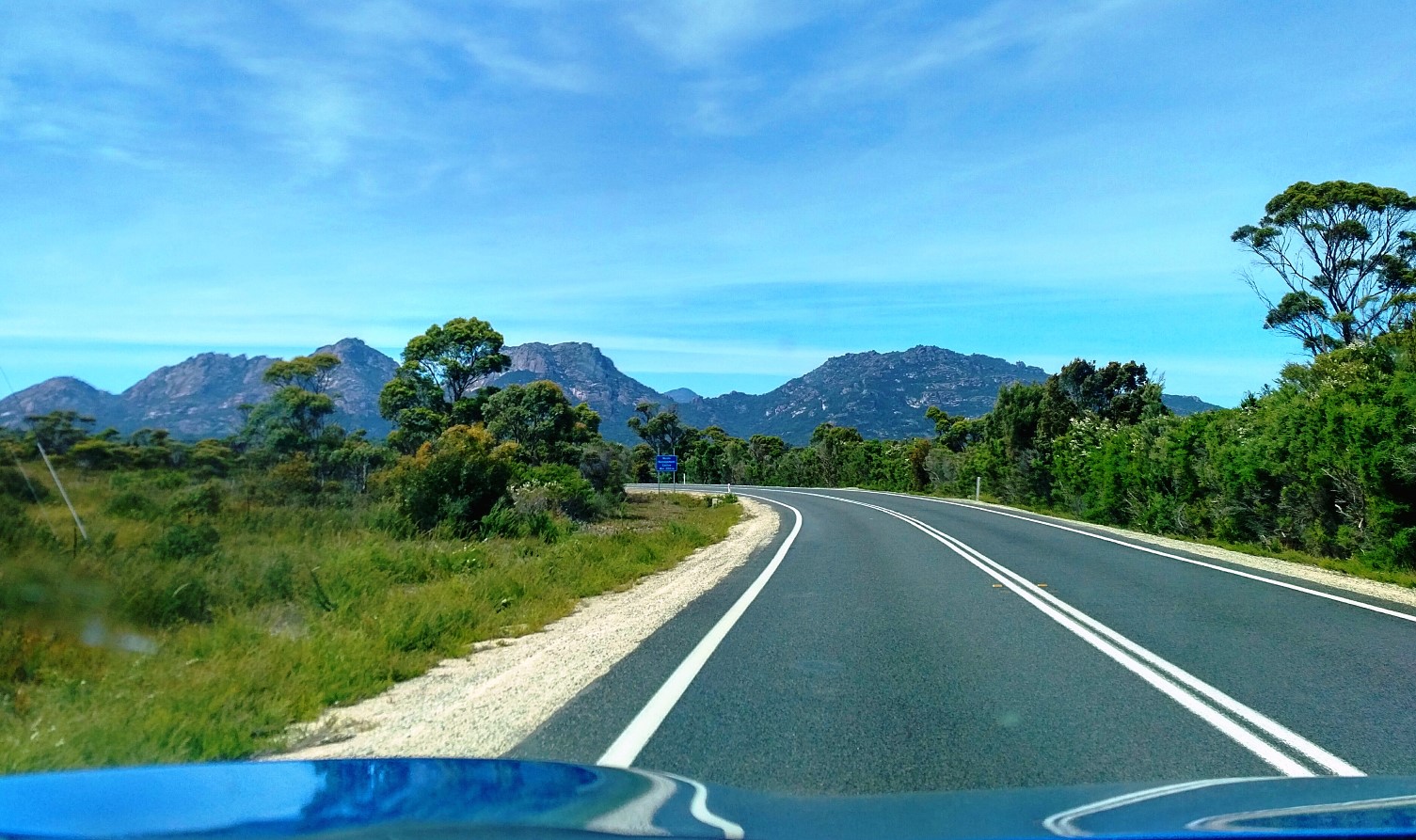 Road trip scenery along the Great Eastern Drive - you'll have the roads to yourself and remember that the journey is the destination. Warning: watch out for giant kangaroos attacking moving vehicles.
My initial impression of Hobart was not glowing but, having given it more time, it slowly revealed itself to be bursting with architectural gems rivalling those on the Australian mainland. In Hobart intricate Colonial-era architecture influenced by classical styles rubs shoulders with Art Deco masterpieces, Australian-influenced buildings (the like of which I am now rather familiar), and Modernist and Brutalist pieces. Hobart is a city on a human scale - perfectly walkable but one which exhibits the kind of grandeur in its architecture which impresses. It's also a city whose recent controversial history is recorded in its architecture.
As an immigrant from the United Kingdom, a walk through the historic housing at Battery Point is a surreal experience. Named after the battery guns which were established there as part of Hobart's sea defences, it features a range of architectural styles which conjure up memories of home for even the most ignorant of Britons. In a single street were architectural styles from all over the United Kingdom. Alongside Edwardian terraces were Victorian red brick homes of the 'two up two down' variety in which I had lived, followed by a Welsh slate cottage, and a Scottish manor house not dissimilar to those I had photographed in Glasgow and Edinburgh. Opposite this architectural eclecticism were shopfronts which could so easily have been teleported from east London. All that was missing on this architectural journey through the British Isles was a thatched cottage from the Cotswolds (perhaps omitted as its roof could be a trifle impractical in the Australian weather?) Imprinted onto its landscape through architecture, therefore, is Australia's colonial journey. Many from the British Isles made Australia, and thus Tasmania, their new home and in doing so, brought their regional building style with them. A walk down Hampden Road conjured up memories of my travels around the Scottish Highlands and Islands, around Wales and England. The street's architectural mix appears to have evolved this way, was not deliberate nor planned and thus it avoids feeling conceited and artificial; both incongruous and authentic. Like it or loathe it, the British influence on this part of the world is rudely prominent and palpable. This walk down memory lane was preceded by a saunter around Hobart's Arthur Circus - a circular street with some of the cutest, most pristine cottages anywhere, and whose picket fences positively struggled against the ocean tide of plants bursting in full bloom pushing against them, oozing onto the pavements like a floral liquid. A central circular lawn, around which the cottages were gathered, complete with tree swing and a gas lamp-style street light, finished the ensemble.
Hobart is also home to the famous weekly Salamanca Market - possibly one of the best markets I have been lucky enough to wander through, selling, as it does, everything from fruit rolls to poisonous Redback spiders encased in key rings to Tasmanian Devil glove puppets. The market is held every Saturday and is a Tasmanian showcase for what this island is becoming increasingly famous for as it carves an identity which differentiates it from Australia's mainland states: gourmet produce, homespun crafts and artistic fayre. If you can arrange your time in Tasmania to ensure you're in Hobart on a Saturday morning (as we did) it will pay dividends. And Salamanca underscores an important part of Tasmania's character: local, friendly and alternative. Hobart is a quirky city space: there are the street signal boxes, decorated in an array of creative designs (it's quite fun building up your own photographic collection as you wander the city), the dinky metal tables and chairs which would not look out of place in an episode of Star Trek, and the water fountains in the shape of giant fish - not to mention the Christmas displays featuring Tasmanian Devils wearing festive jumpers! All in all, Hobart is a perfectly pleasant little place in which to spend a day or two. As it was we had less than twenty four hours in the Tasmanian capital before heading north on the Great Eastern Drive.
But every city, every state in Australia, has a darker side - one which is hidden but is there if you care to look for it. A visit to St David's Park is sobering and a little eerie. It is the site of the first colonial graveyard, the fallen headstones which have been re-assembled along the park's walls and which feature people whose names indisputably betray their origins: "Morris", "Fairchild", "Lewis" and "Brown". Interestingly, also dotted in among the stones of Hobart's more 'notable' and affluent people, are small metal plaques recording the names of some of the city's convicts who, for reasons unbeknown to me, are also commemorated here: "James Dowsing. Calcutta Convict. Born 1776. Died 1839". It is indeed an unsettling feeling to walk through this graveyard, which is so far from home, but whose names are so close to home. Tasmania's dark past has been described as the closest the British ever came to committing absolute genocide on another race; the extermination of the Palawa people during the "Black War". Rather than making me feel at home, these common British names left me feeling alienated.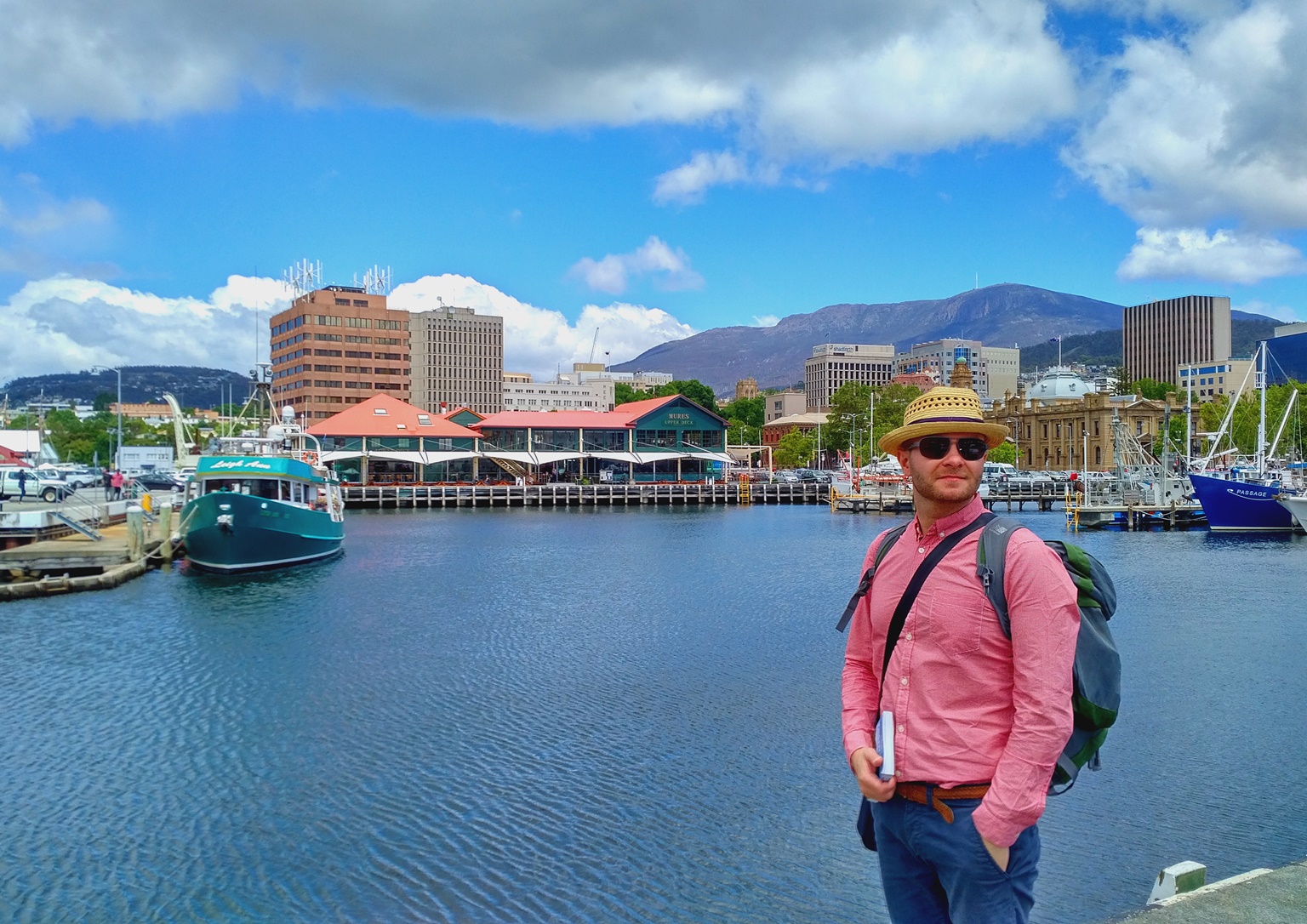 Hobart's humble but endearing waterfront.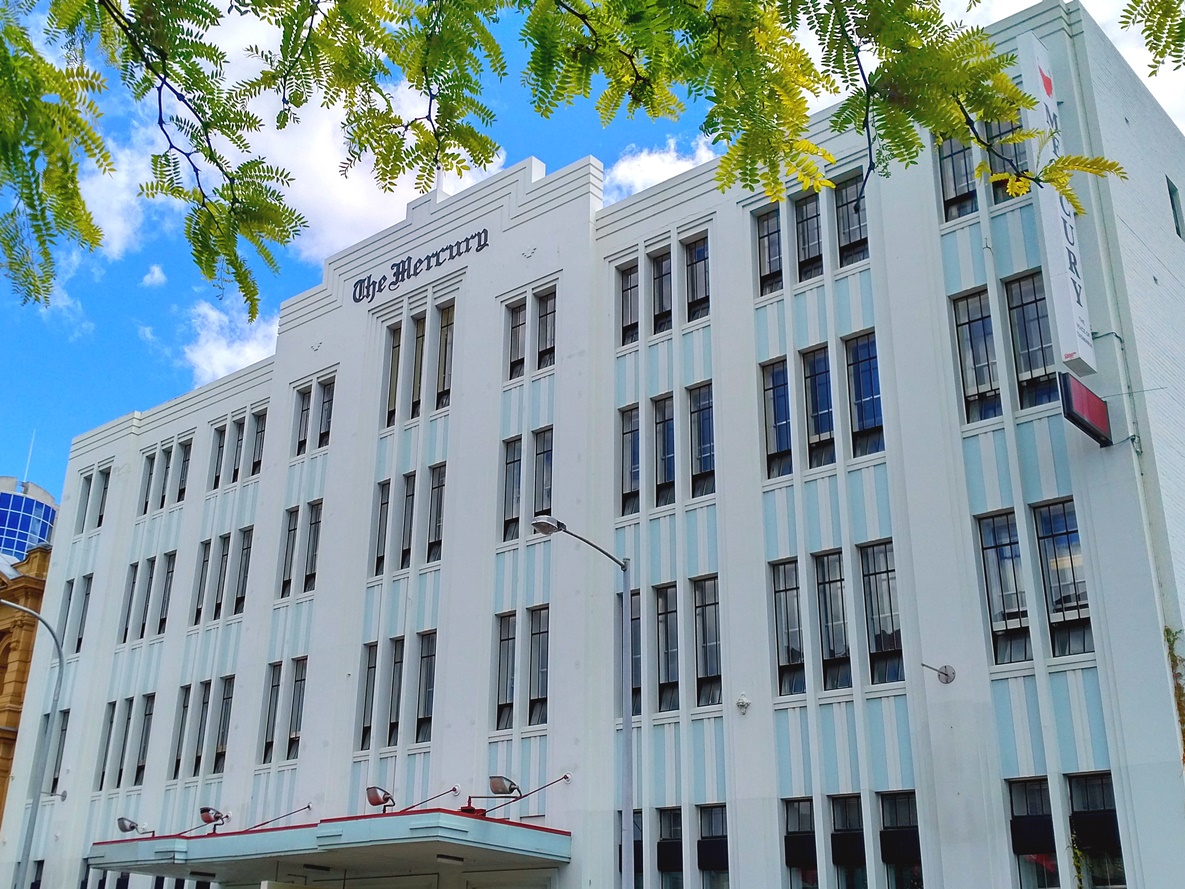 The stunning Art Deco perfection of Tasmania's national newspaper The Mercury.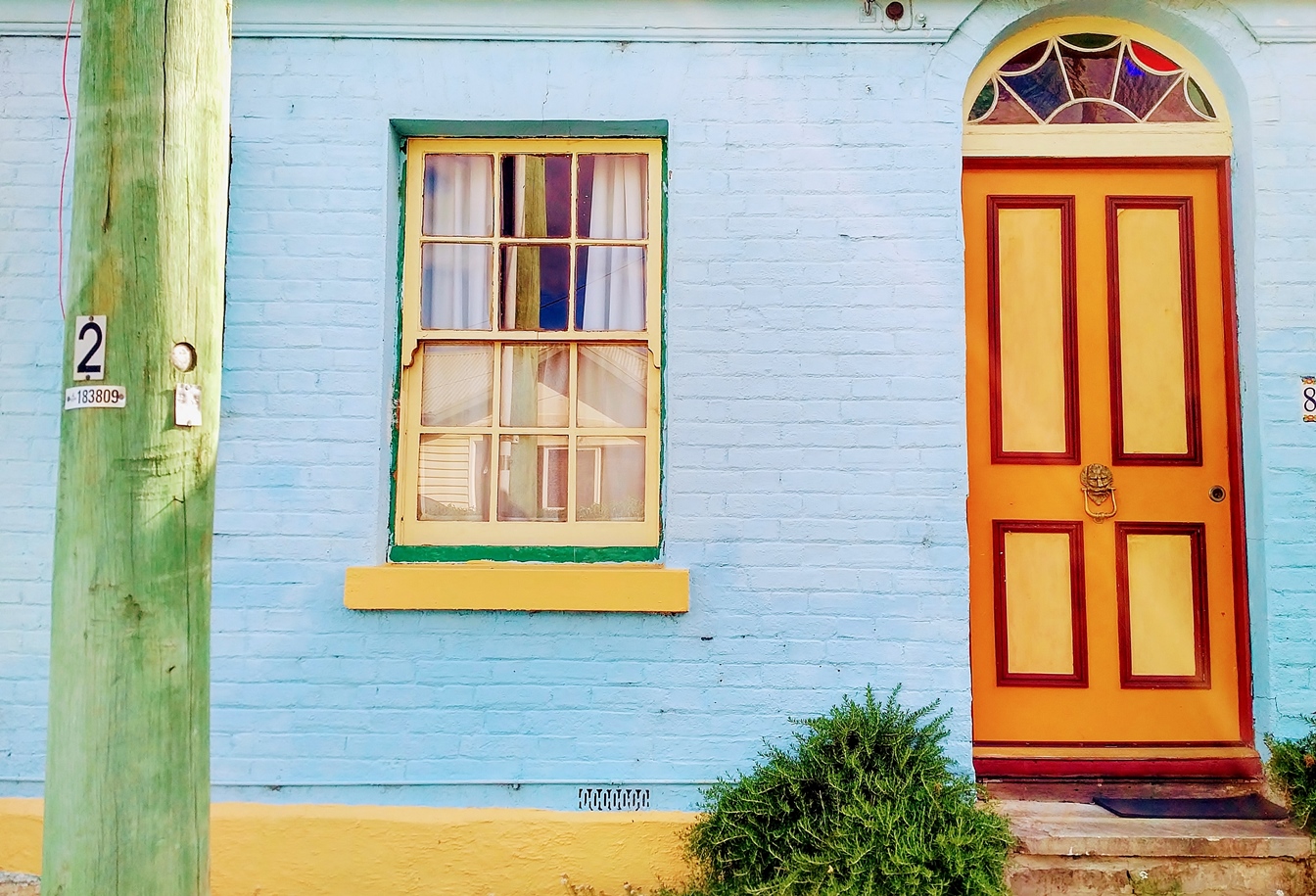 Perfect pastel composition: a residential property in Historic Hobart with pastel-coloured telegraph pole.
Maria Island, almost exactly the same size as Jersey in the Channel Islands, is a forty minute ferry ride from Triabunna on the Tasmanian mainland. It's an idyllic place, an outdoor zoo of indigenous Australian species, and one which has a distinct whiff of wilderness about it. There are no shops nor hotels - only a small Ranger station and a few tents inhabited by die-hard campers hell-bent on going it alone on a near-deserted island. It is wild, tranquil and quite possibly the most beautiful place I have ever seen. Stepping onto Maria Island meant that we were on an island, itself part of an island state which itself is part of an island country: an island within an island part of an island if you see what I mean. Island cubed. It felt remote and desolate: perfect white beaches, swampy billabongs and rocky cliffs decorated with exquisite patterns. Maria is also a place where animals come first and people come last. I saw my first ever Wombat in the wild, in fact I saw two but there's no point in quibbling about numbers; just to see one made my month. Also in the wildlife mix were Cape Barren Geese, a Scarlet Robin and Tasmanian Nativehens. Indeed, the island is home to a disease free population of the Tasmanian Devil - one measure of many being taken to ensure the preservation of the species. Unsurprisingly, we didn't see any of these enigmatic, feisty little creatures being, as they are, nocturnal - and, indeed, endangered.
Only occasionally did we pass other walkers as we tried to cover the two major sights on the island: the Fossil Cliffs and the Painted Rocks. Unfortunately these were at opposite ends of the island and we had little more than a two-hour window from disembarkation to re-embarkation. We arrived at just past 14:00 and needed to be back at the jetty for 16:15 ready for the 16:30 departure - the last of the day. The captain, John, advised us it was doable - although we wouldn't have much time at either place. Reassured this was feasible in the time, we set off, power-walking all the way like nature-photographer-cum-maniacs. Distracted by the manifold photographic opportunities Maria Island offered along the way (how dare Maria be so dashingly beautiful) we covered nearly ten kilometres of island ground but were fast running out of time. Power walking became power running with a furious race back to the jetty which saw us arrive at 16:27 (in these digital days one can be ever so precise about arrival times). We'd made it!
... But then the ferry steered out from the jetty. We were stunned as we had booked ourselves on this, the final ferry departure of the day. The captain had known we were up against it time-wise - even advised us to push our itinerary to maximise our enjoyment of the island. He even had our mobile numbers on which to call us if anything untoward were to happen. Our jaws dropped as the little boat ferried out into the ocean without us - three very significant minutes early. We had been well and truly forgotten about. Visions of us camping under the stars or in one of the island's abandoned farm buildings for the night, with no food or appropriate clothing (who knew how cold it would get on this island once the sun had dropped below the horizon?) flashed through my mind... "We have to head back to the Ranger station", I bawled. "We have to go there - they'll know what to do". Panic quickly subsided. I fished out my phone, dry-mouthed, and called the lady I had telephoned earlier in the day to book the ferry tickets. Luckily there was a signal - but it went straight to voicemail. Panic re-established itself as the primary emotion to this quickly escalating situation. Unsurprisingly anger then set in: "How can they go without us? They knew we were to be on the 16:30! He even told us we could make it in time. Why the hell did it leave three minutes early?!" A minute later Anne, the aforementioned ticket seller on the mainland, called back. We squinted into the distance (and it was now very much in the distance) as the little white boat began its 360 degree about turn and began to head back towards us. Granted, we were late getting back to the jetty, but it had also left three minutes early. Had it departed at its scheduled time we'd have made it with about a minute to spare. We knew we were partly responsible - but it was fair to say that any checking systems by the Maria Island Ferry company had failed too. We chose to say nothing as we boarded the boat. Embarrassingly for us it was not empty as we had hoped - but very busy. I bet everyone on that boat hated us at that point. I hid at the back of the boat shamefaced and hoped not to catch the eye of Captain John up front. A humorous travel tale to tell in hindsight, but far from funny at the time.
As it was I managed to capture some incredible photographs of Australian wilderness. Maria Island was an spontaneous detour on our road journey north from Hobart. We'd never planned to go there but, as I so often find, the unplanned often bears the tastiest, and bitterest, of travel fruits.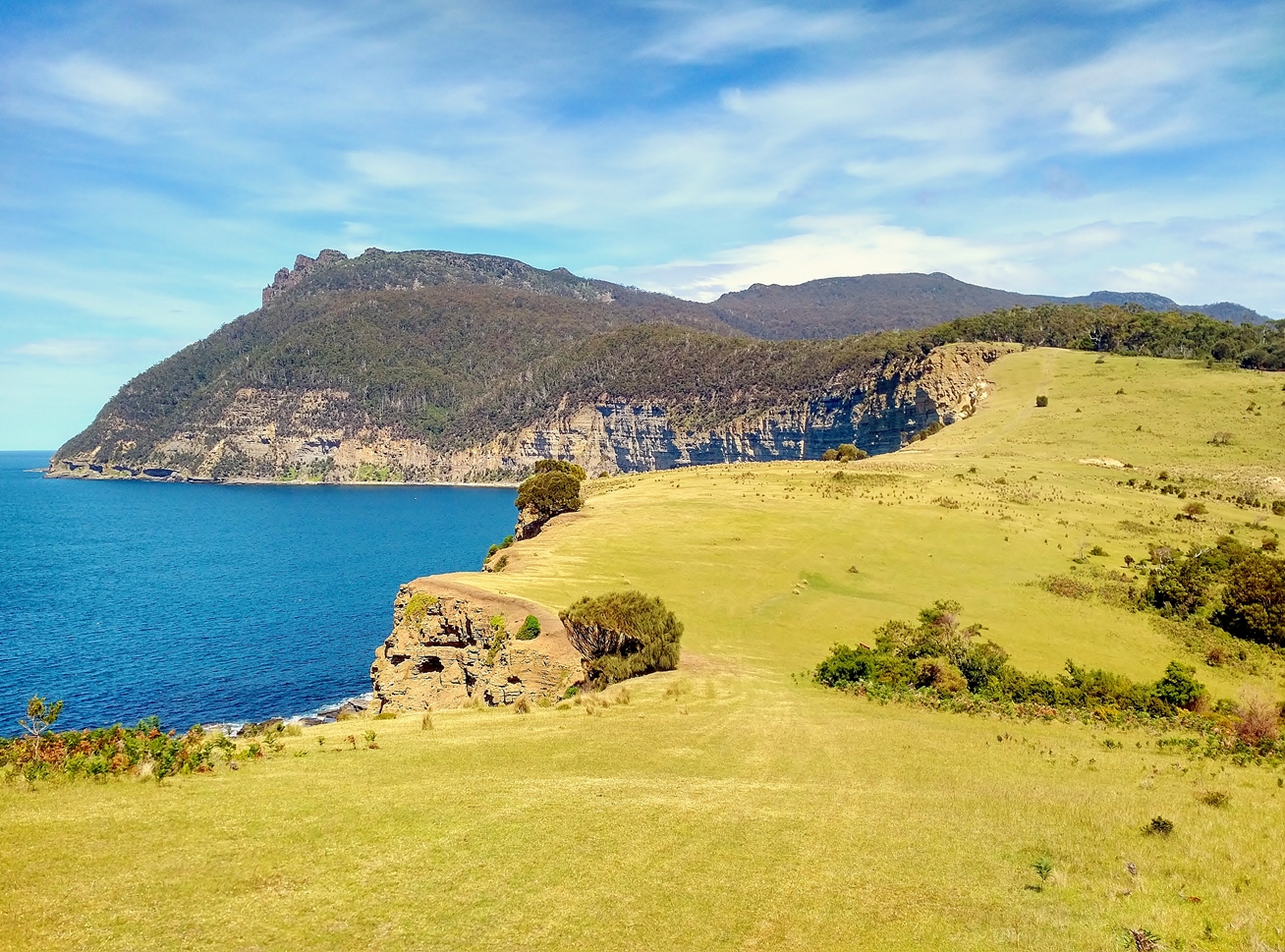 A dramatic view of the Fossil Cliffs and Fossil Bay.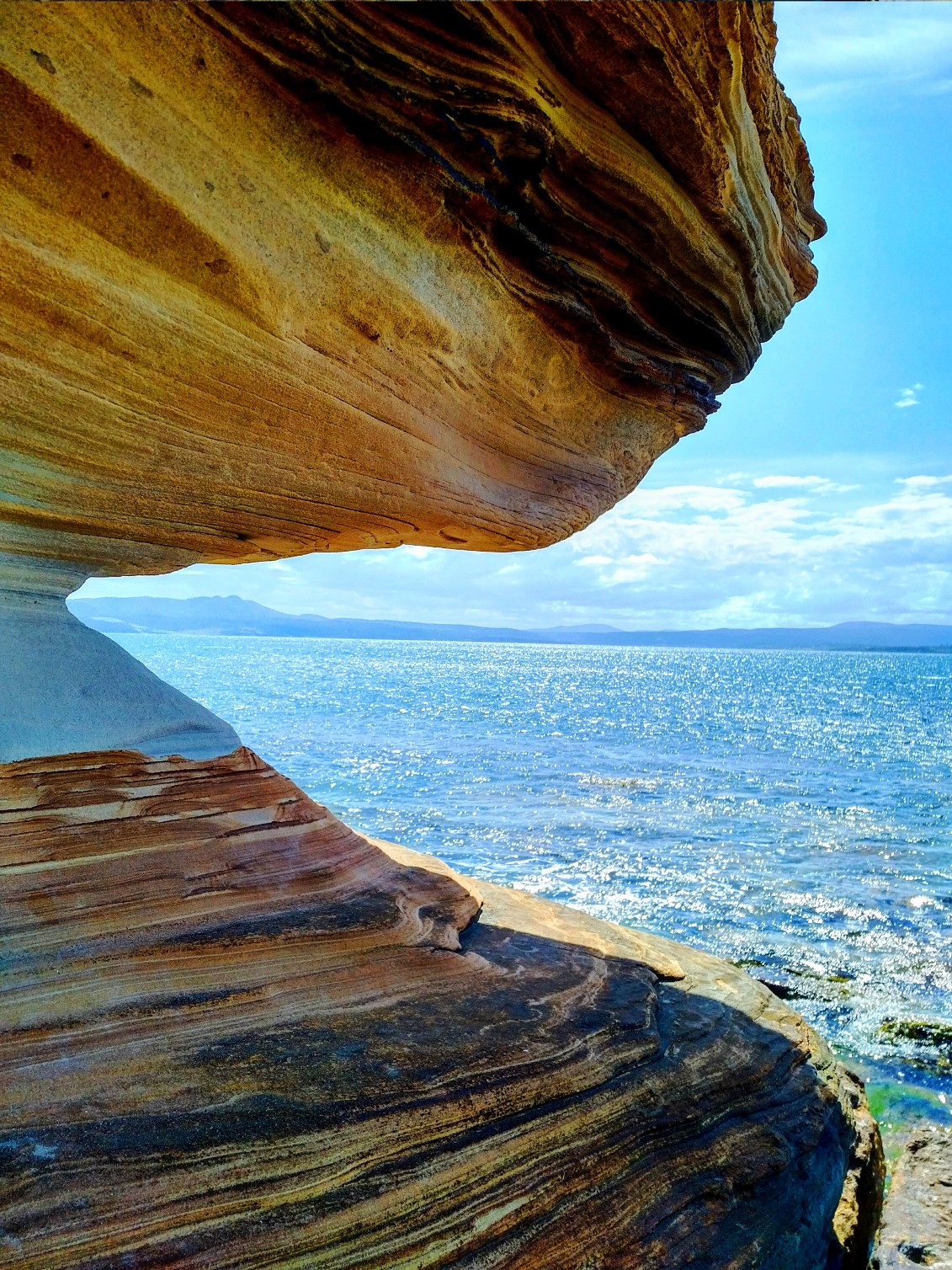 The Painted Cliffs' exquisite patterns are a result of staining by naturally-occurring iron oxide.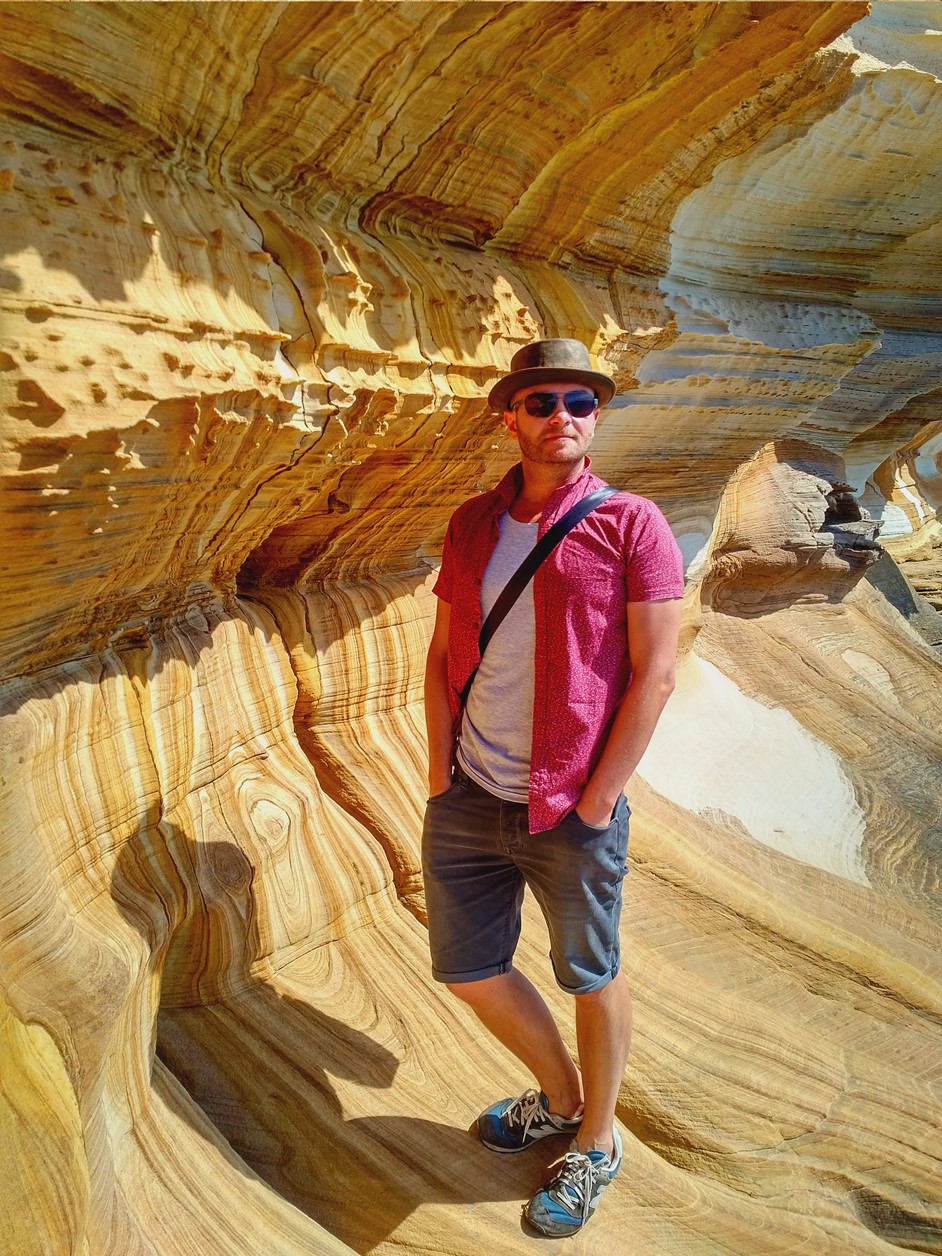 The Painted Cliffs' soft sandstone has been eaten by the sea resulting this smooth appearance.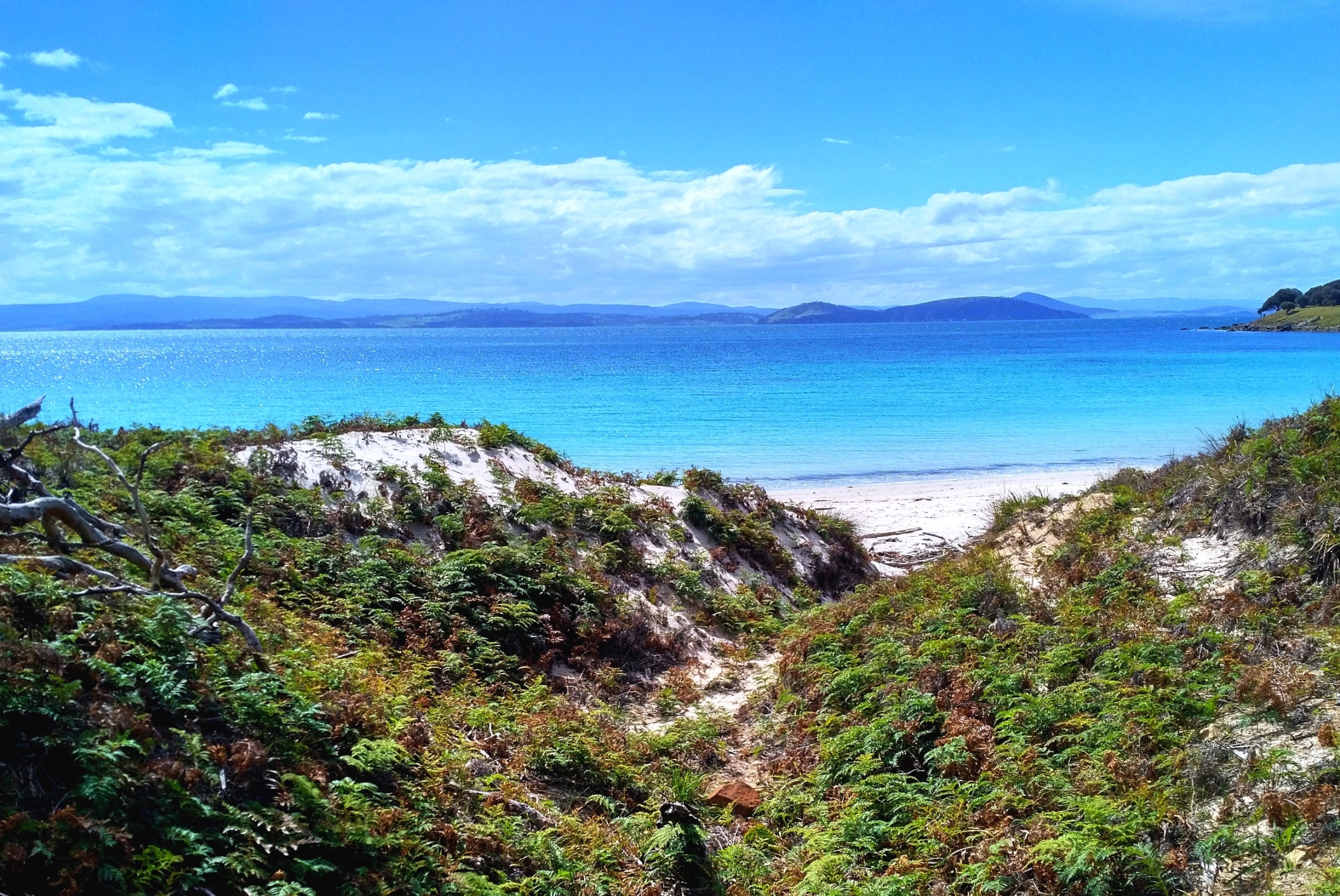 The evocative view of the horizon seen from Maria's white sandy shoreline.
pontypool, bicheno, binalong, pyengana & freycinet
The Great Eastern Drive is one of Australia's greatest road trips. Surprisingly, hotel rooms along this near 300 kilometre stretch of road are hard to come by. Australia isn't a hotel kind of country. Outside of the great cities, travel in Australia is dominated by caravan parks, campervans, campsites and motels - none of which particularly appeal; after a draining day sightseeing I appreciate a bit of luxury and, indeed, a bit of privacy. As it was we settled for what we could eek out of AirBnB. Our first overnight stay was in a wonderful ocean cottage at Bicheno, owned by Bruce and Pam. Our arrival at the cottage came complete with a greeting party comprised of a gorgeous pet dog and four hopping wallabies who, after hearing the revving of our engine on approach, bounced off into the brush closely chased by Kelly the dog who, as Bruce informed us, "didn't make it as a sheep dog but still likes to pretend with the wallabies". All rather charming. Unbeknown to us, Bicheno was famous for an explosive Blowhole and for its penguins which return from the bay's waters at dusk to sleep on land. We were lucky to see both.
Our second night, in Tasmania's far north, was one spent in a metal-clad (I haven't quite figured out the Australian obsession with corrugated metal sheeting) chalet-cum-portacabin-cum-shed-cum-beach hut in Binalong Bay. We were not greeted by our host in person, instead collecting the key from a small safe having been messaged across an entry code. Binalong Bay, despite its fame along this great driving route, only had one restaurant. Famished from a long drive and sightseeing session during the day, one which included a trip in-land to Pyengana to see Tasmania's biggest waterfall, we had no choice but to pay the $25 for the smallest takeaway fish and chips meal I have ever mauled. It was that, or go hungry. And this again underscores an unexpected aspect to Tasmania's Great Eastern Drive. It all seems a little unprepared for visitors. This obviously has its advantages but, when you're hungry, its disadvantages. With isolation comes a lack of choice. You can't have it both ways. As it was, we enjoyed the solitude Binalong offered and paid the money. It is also worth bearing in mind that the route between such places, which naively one may assume are significant when plotting your trip on a map of Tasmania, have almost nothing between them. There are no roadside cafes, no motorway service stations and, sometimes, no mobile phone coverage either. Indeed, our journey along Tasmania's Great Eastern Drive felt more like driving around Wales characterised, as it was, by empty winding roads, natural beauty and a sense of isolation. Upon reflection I realised it was the place names which were responsible for subconsciously stirring these Welsh reminiscences passing, as we did, through "Swansea", "Pontypool"...
Journeying the five hundred miles from Hobart to the Bay of Fires in the north (and back again) along this famous route, we passed other motorists only infrequently; the majority of the time we had this incredibly scenic mini odyssey entirely to ourselves - save from the wildlife which, if you keep your eyes peeled, will enter stage left at the roadside. On two occasions I espied an Echidna (a porcupine-like mammal which lays its own eggs) waddling along scrubland as well as wallabies and the beguiling kookaburra. Tasmania may be two thirds the size of England but it felt much, much larger; its looming mountains, vast open landscapes and beaches devoid of people transformed this little tiddler of an Australian state into a real adventure.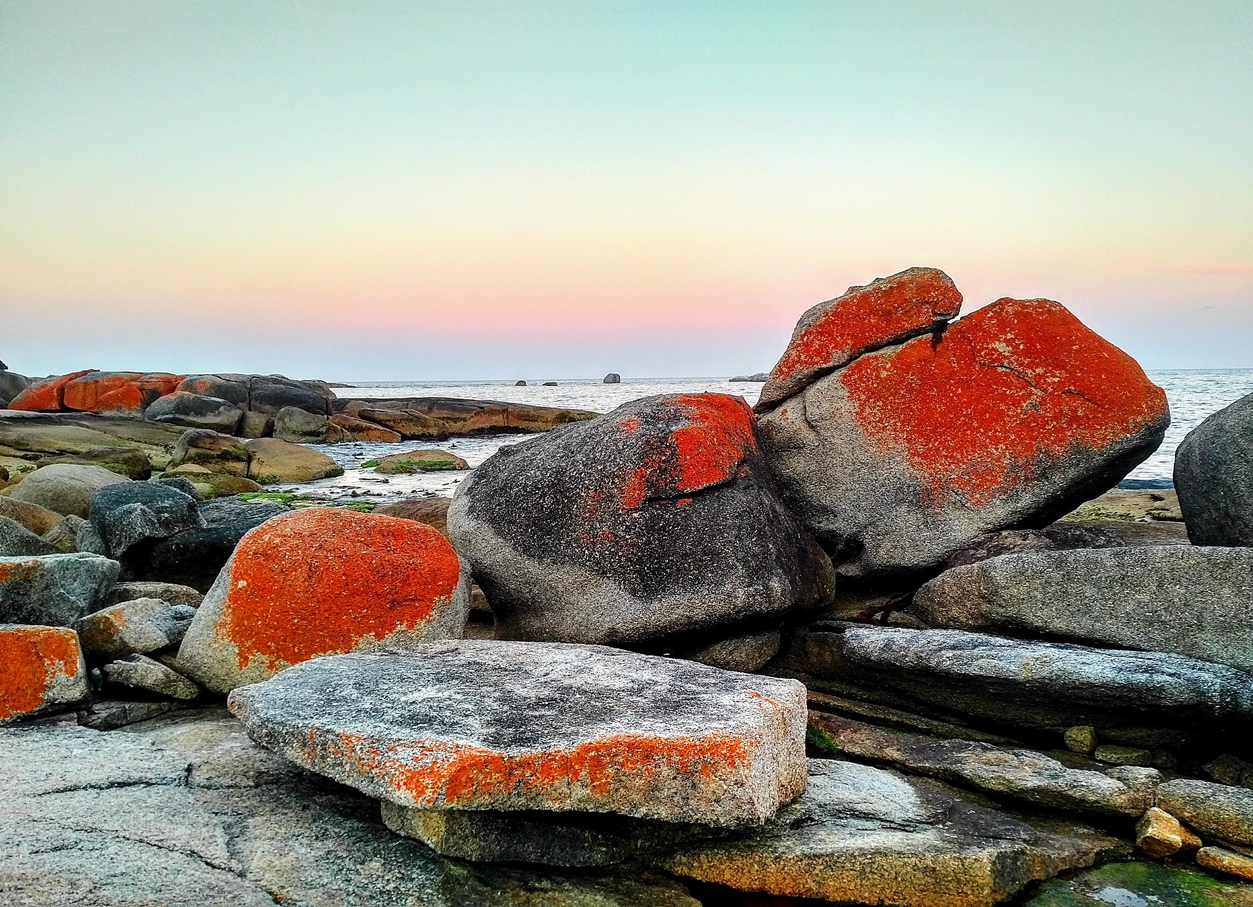 The giant orange-kissed boulders at Bicheno Bay photographed at sunset - the result of lichen.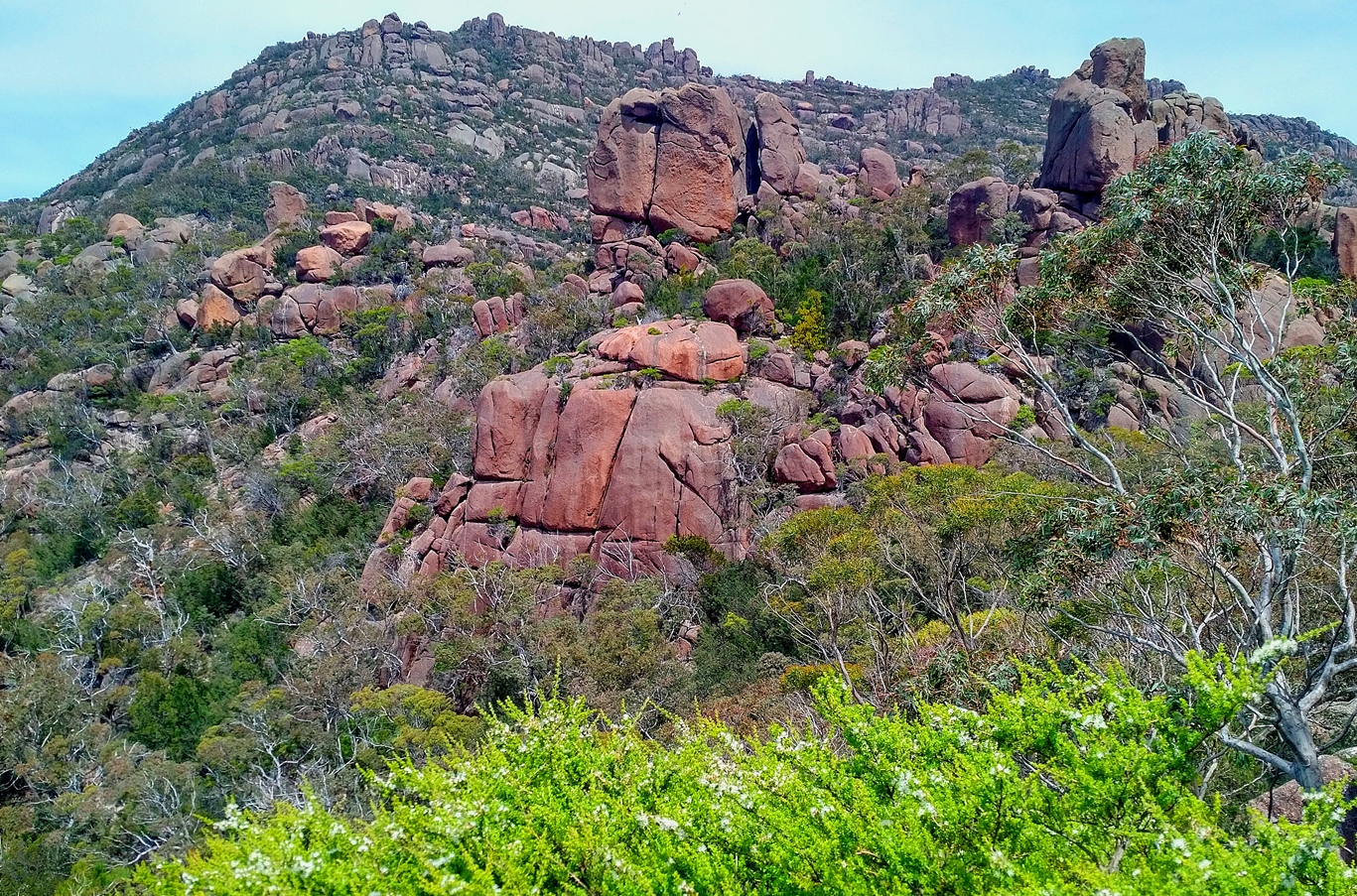 The stacked boulders of Freycinet National Park.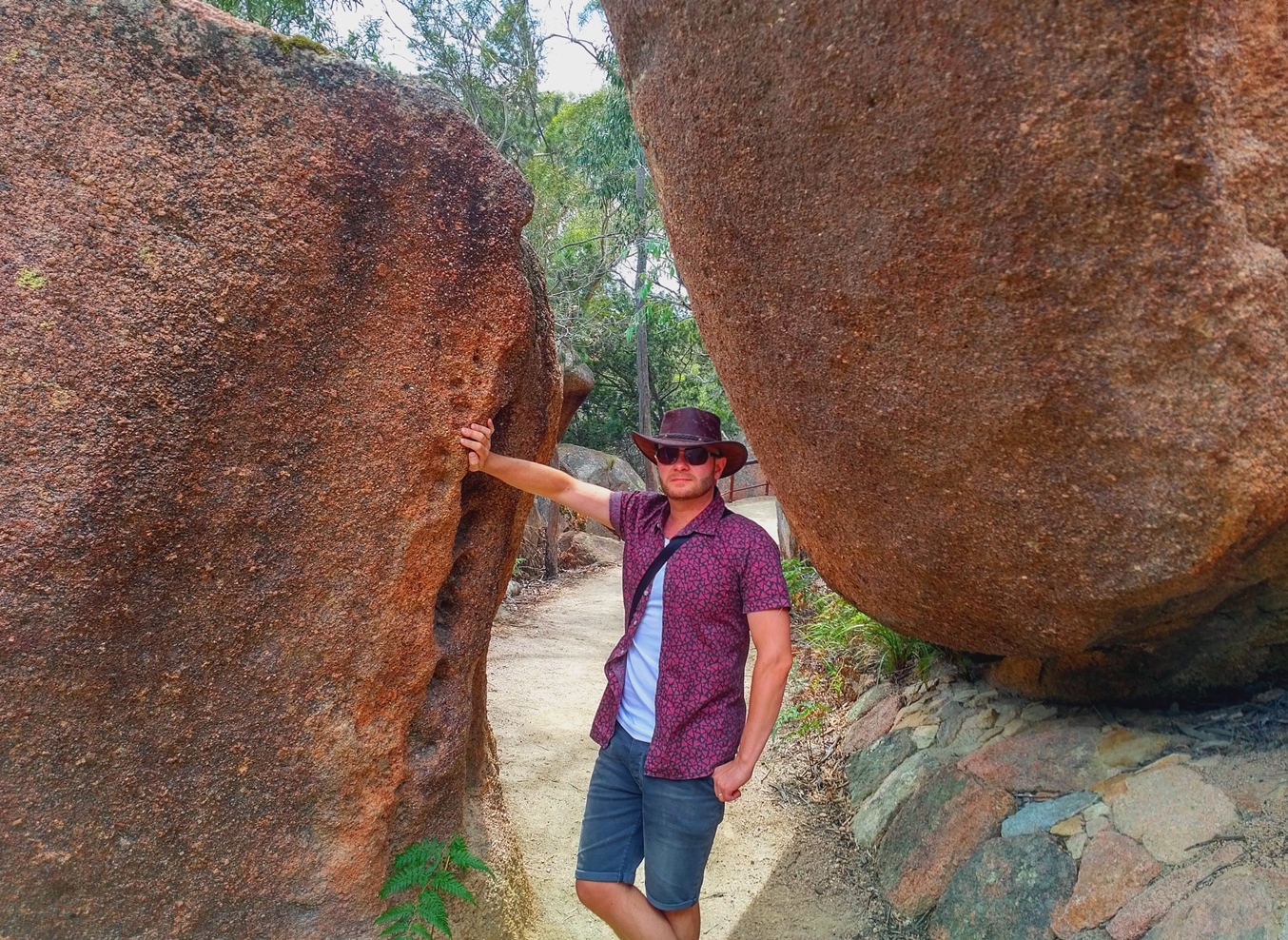 I finally gave in and bought a hat like the locals - they wear them for a reason! Freycinet National Park.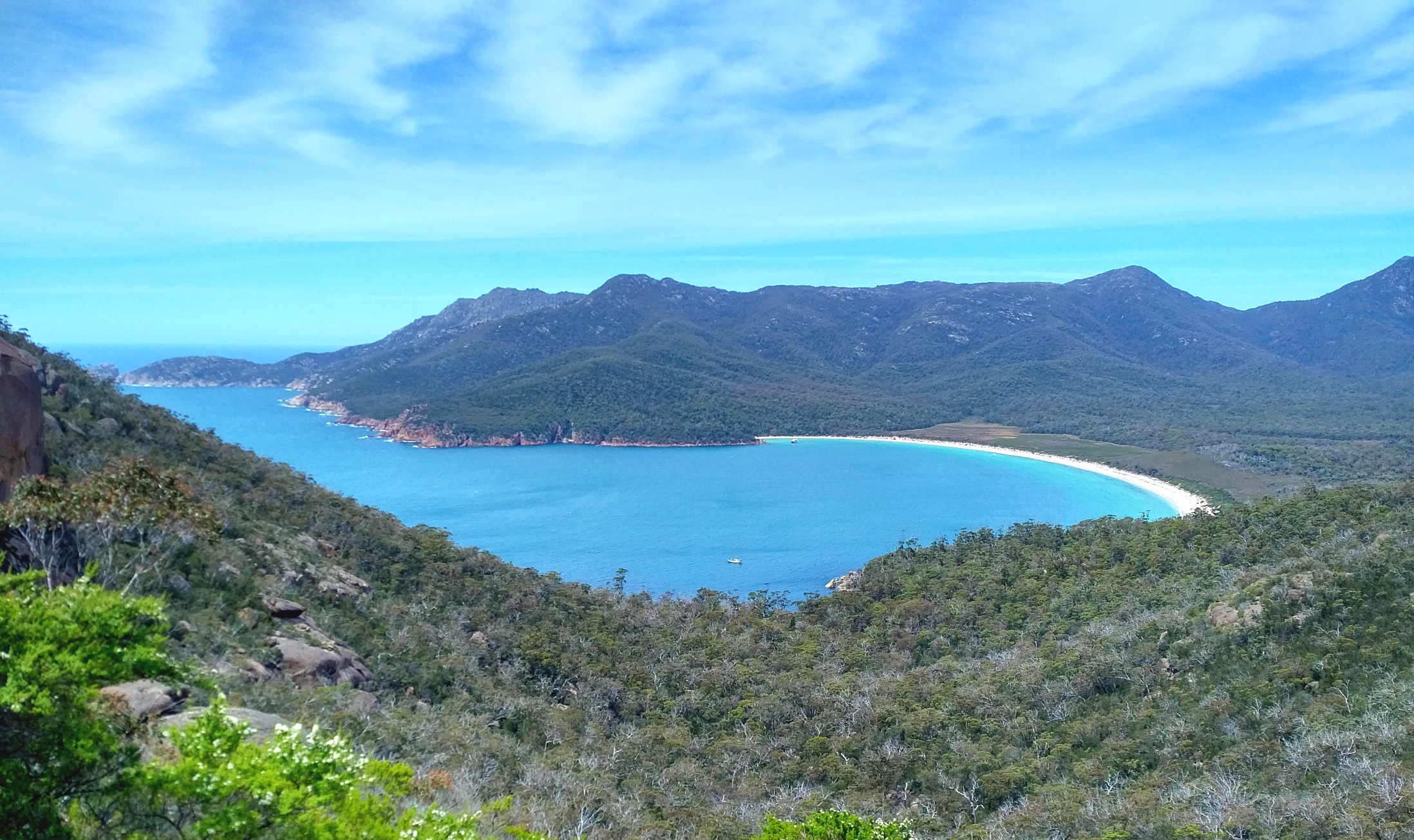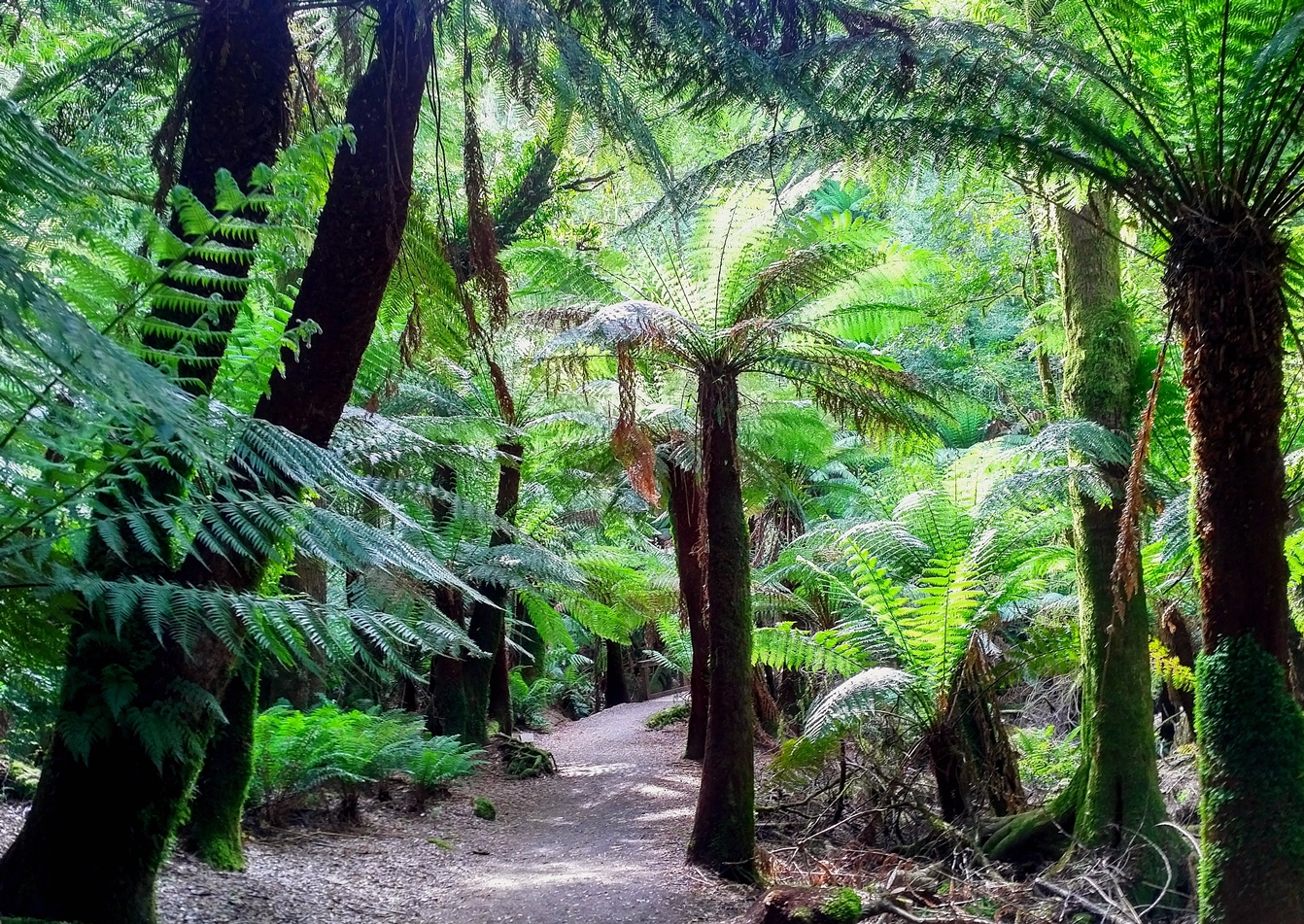 The incredible fern forest leading to St Columba Falls in Pyengana, north east Tasmania.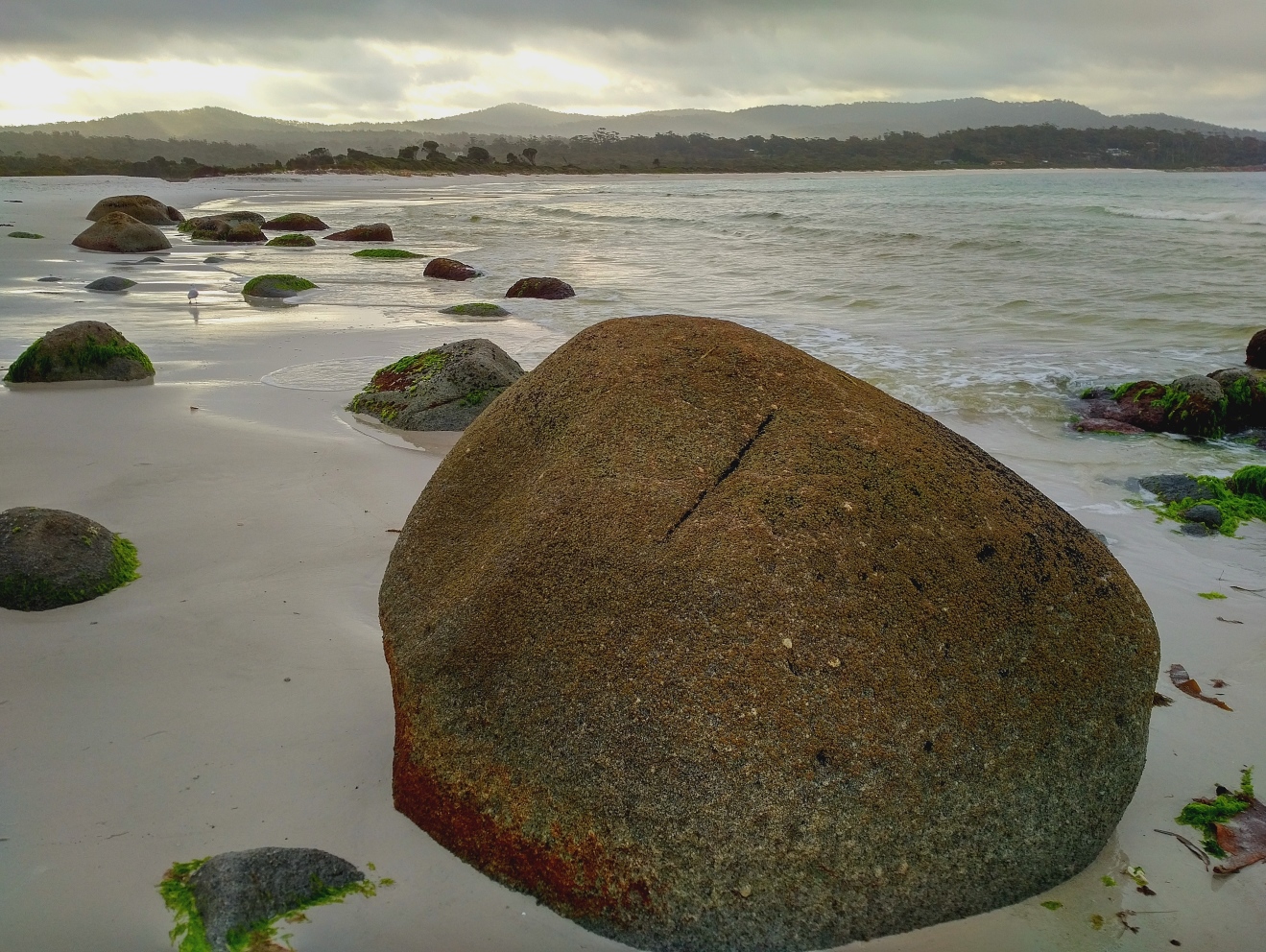 Boulder-tastic at Binalong Bay beach. Photographed at sunset. The sand is white and is famous for squeaking when you walk on it!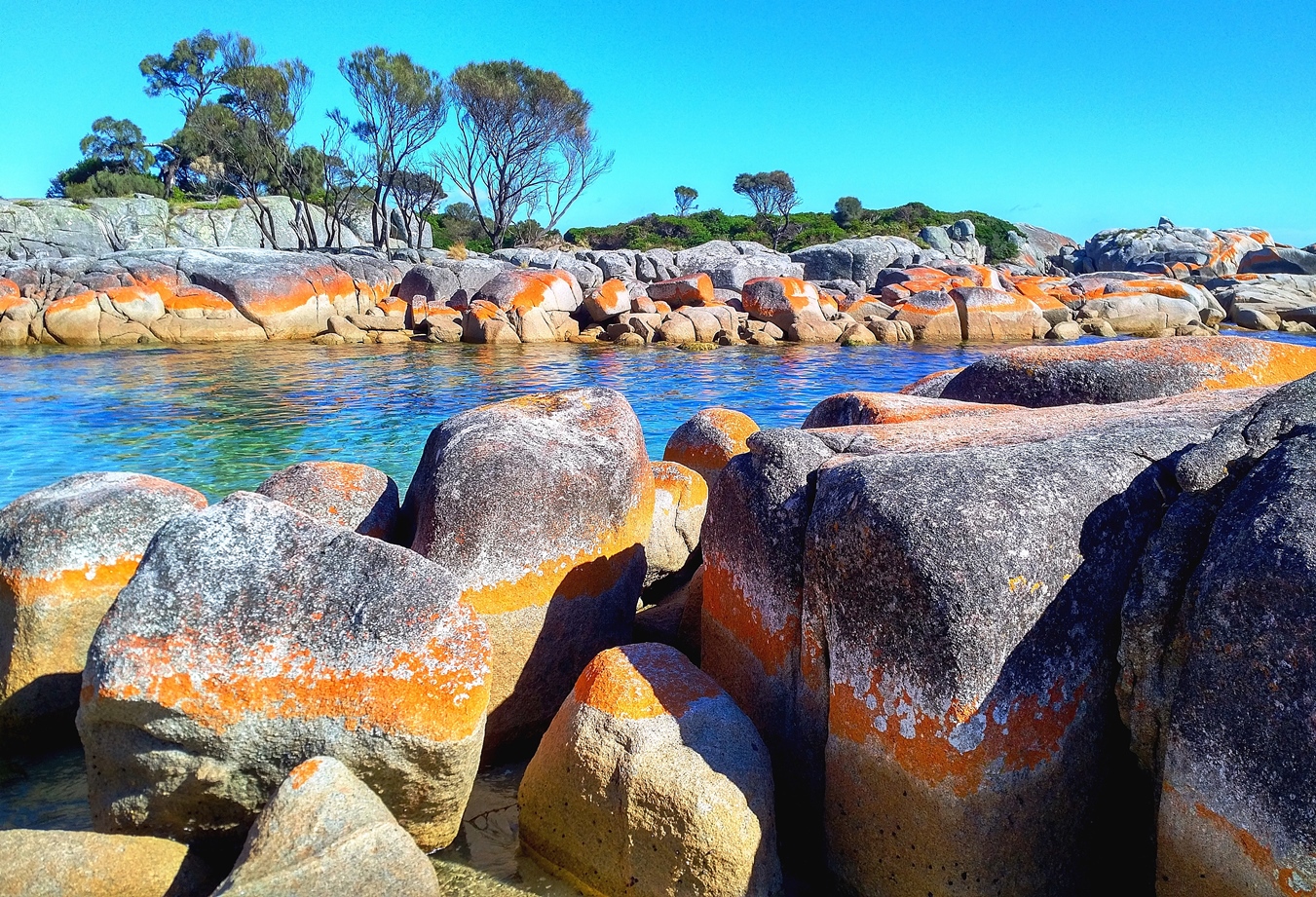 The orange banded boulders, created by lichen, which give this part of Tasmania its name: The Bay of Fires.
travel tips, links & resources
Although part of Australia, some items are not allowed entry into Tasmania, including some types of food and plants. Basset Hound sniffer dogs will greet you on your arrival in Hobart (they're very cute). Check before you travel.
The official Great Eastern Drive website can be found here.
Try not to pack too much into your itinerary - much of the pleasure you have will be from having the freedom to pull over and enjoy something you weren't expecting to see. It's a cliche but it's important to remember that the journey is also the destination!
The best way to get around Tasmania is to hire a car and drive. It really is the only way as public transport on this essentially rural isle is limited to infrequent tour buses. A lot of the beauty you will see will not feature on the official tourist trails. Go off the beaten track with a hire car and enjoy the freedom.
A trip to Maria Island is a must - it was near-paradise. Getting the little Maria Island ferry across from Triabunna on the mainland, a husband and wife operation, is a great experience in itself (just make sure you're back in time for the return ferry to avoid getting stranded!) It's also advisable that you have a mobile phone which will work on the island (Telstra or Optus).
This is obvious but often forgotten in the excitement of travel: if you're out in the sun ensure you follow the Australia maxim of 'Slip, Slop, Slap'. Slip on a long-sleeve top or trousers, Slop on sun lotion and Slap on a hat. High UVA and UVB rays mean being out and about is exceptionally dangerous in Australia. I have expanded my hat collection considerably since emigrating here. Take sunscreen with you onto the island - even if you're there for just a couple of hours.
Maria Island has no shops: go prepared!
Book your accommodation well in advance if you can. We resorted to AirBnB to secure overnight stays along the Great Eastern Drive. Australia is a land of trailer parks and camp sites and so if you're seeking something more luxurious do your planning early - especially if you're travelling in peak tourist season (between December and February).
As with all walks in rural areas, be aware of the critters which can latch onto you as you brush past. In Tasmania there are a range of bugs to watch out for, including ticks, Jack Jumper ants, Bull ants and Leeches.