Celebrating New Year in Europe's Last Dictatorship
Belarus was the first country on my journey eastward from the United Kingdom to Australia, followed by Azerbaijan and finally China.
Where: Minsk. Belarus, Eastern Europe.
When: December 2017 into January 2018
What: Stalinist architecture, Minsk Metro, Soviet symbolism, National Library of Belarus, Minsk City Gates, October Square, Island of Tears, Cold War-era bomb shelters, Lenin busts, Cosmic Brutalist architecture, Mound of Glory, Church of St Simon and Helena, National Exhibition Centre, Lee Harvey Oswald's former apartment.
How: International flight, taxi, walking, tour guide, Minsk Metro.
Country counter: Country No.77
Illnesses or mishaps: Layering up to keep Minsk's sub-zero temperatures out; developing Soviet-era paranoia about my hotel room being bugged and emails being monitored; innocently photographing the KGB's headquarters in central Minsk.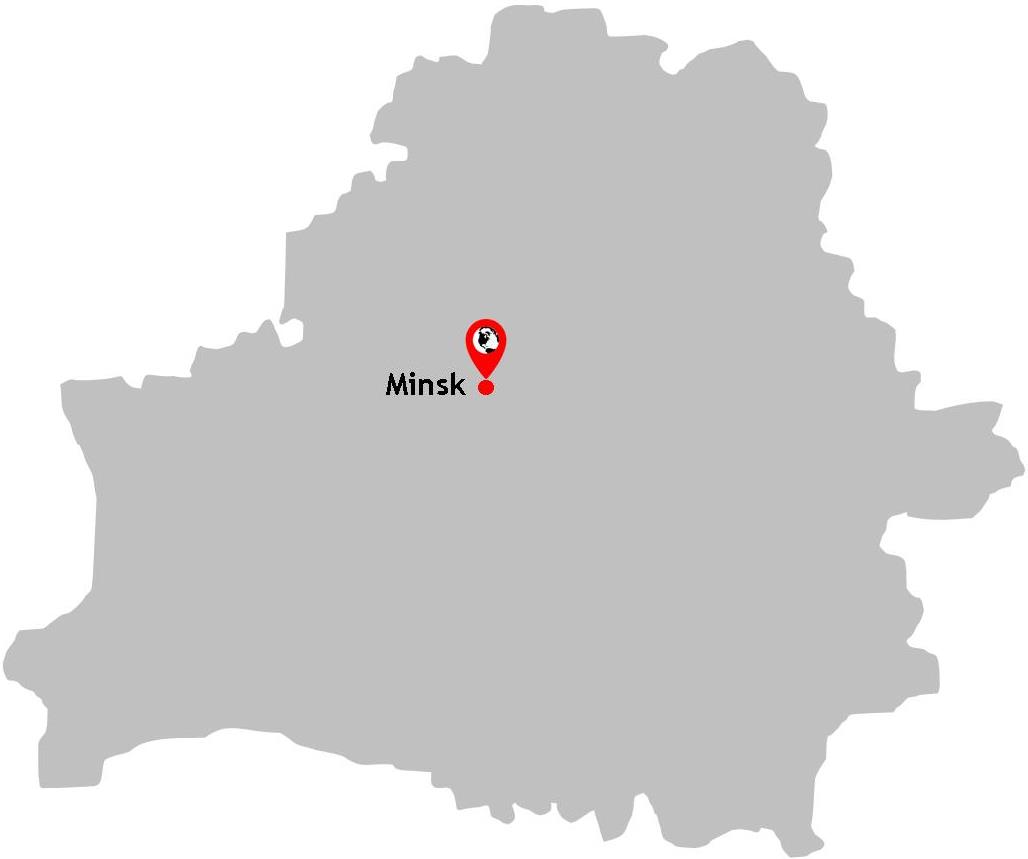 Belarus has been on my must-see list for years, remaining there longer than I would have liked simply because of the country's punitive visa entry requirements which included the component dreaded by many travellers: the "LoI" or Letter of Invitation. In February 2017 all of that changed and Belarus began accepting entrants from eighty countries without the need for a visa, providing they entered through Minsk's National Airport and limited their stay to no more than five days. The changes were swift and implemented, quite literally, overnight. Frustratingly, this major shift in policy occurred after I had left Europe, with Belarus being one of only two countries I had left to see on the entire continent (the other is Monaco). One of Europe's most secretive and repressive countries was opening up - and I was now ten thousand miles away. The race was on to see Belarus before Mr Lukashenko, the country's first and only president, changed his mind. A Christmas visit to England offered the perfect opportunity to see the Belarusian capital Minsk.
Belarus is most famous for being "the last dictatorship in Europe" and has been dubbed the "North Korea of Europe" by some journalists. Political dissent is crushed and hotel rooms used by foreign visitors are, it is widely reported, routinely bugged. There are laws which make insulting the president punishable by up to five years in prison, and another which makes criticising Belarus abroad punishable by up to two. I prefer to write the majority of my Travel Chronicles whilst travelling; I feel this gives them an authenticity and accuracy they may not otherwise have. However, I opted to write nothing about Belarus whilst travelling in the country itself. This Chronicle, therefore, has been written retrospectively.
With no direct flights from London, Minsk was a little tricky to get to, requiring, as it did, a flight through Amsterdam in the Netherlands and then another on the Belarusian national carrier Belavia. But Minsk is a destination which will pay such frustrations back with bonus interest. There's no getting away from it: Minsk is wacky, weird, wonderful - and authentic. It isn't travel hyperbole to say that Minsk is one big open air Soviet museum. Hammer and sickles remain in tact on the frontages of buildings (unlike in Bulgaria where they've been chiselled off), Lenin statues in squares and busts on the Metro system remain reverently in place (unlike in Albania where they were torn down in the dead of night and put into hiding) and incredible cosmic-style concrete buildings, an architectural style so characteristic of former Soviet countries, are still in one piece and fully operational (unlike in Georgia where buildings of this style are being demolished). Minsk is a city on a grand scale: giant boulevards, ornately decorated neoclassical buildings and, it must be said, it's a city which does Christmas kitsch better than anywhere. At night, downtown Minsk transforms into a Santa's grotto. Even the transmitter of Belarusian Television joins in the festivities with its skeletal mast twinkling and its UFO-style disk changing colour. It cuts a remarkable, and fantastically alien sight on the city's skyline. Indeed, I wasn't sure if it was just transmitting or preparing for lift off.
We rested our heads in the 'upmarket' and imaginatively named Hotel Minsk. It had all of the usual trimmings of a hotel stuck in a bygone era and a Soviet mindset of 'you get what you're given and put up with it'. It had obscene chandeliers, the reception desk was a closed area placed strategically high up in the lobby which meant you had to look up, literally and metaphorically, to the rather unhelpful staff who were quite happy to make you wait at check-in whilst they process you at a positively glacial speed - with, of course, a pronounced sneer included into the bargain. A further case in point was the cold soup served to me in the hotel's restaurant later that evening. It's a small incident but, I would argue, very revealing of the mindset with which you are likely to have to contend if you visit a country such as this. When asked by the very strange, and slightly creepy, waiter how my food was I attested that it was "not good" and was "cold" (as always, I default to simplistic English words when abroad). The five foot waiter grabbed the bowl with his unedifyingly large hands, muttered something in his local tongue, shrugged his shoulders and walked off robotically with my dish. No replacement. No apology. Nothing. My soup was gone. And I paid for it. Welcome to Belarus.
We had, in hindsight, booked a hotel which, in terms of a Russian spy thriller film, could have been straight out of central casting. I couldn't help but notice that the hotel's email address had a '.gov' stem to it. Moreover, the free Wi-Fi could only be accessed by providing your mobile phone number to which I would be sent a text message with a code. This then had to be entered into the interface displayed on my screen. My paranoia began to work overtime. Was this a means of getting my mobile number which could then be used to track my movements around the city? Who knows. Not that I was up to anything I shouldn't be, you understand, but I switched my phone to flight mode nonetheless - if only to save on battery power. All I do know is that never before have I had to hand over my mobile number in order to access Wi-Fi. A café a few blocks away, where we stopped for a well-earned hot drink away from the bitter Minsk winter, used precisely the same system. It seemed that all internet access in Minsk was centrally routed in this way. I therefore ensured I kept all of my social media posts about the country indisputably positive. Moreover, I couldn't help but notice that emails sent to our tour guide took an abnormally long time to arrive at their destination. Were our communications being monitored, too? Vladimir, our guide, advised us to switch to the encrypted WhatsApp to ensure we were able to communicate without this rather strange and unsettling time lag. Perhaps all of these incidents were mere coincidence. Then again, perhaps they weren't. After all, we were in the land of a dictator which has no police force to speak of, just "Militia", so what did I expect? Disbanded or at the very least renamed in other former Soviet republics, the KGB is still very much alive and kicking in Belarus in its original incarnation. Indeed, unbeknown to me, the imposing beige neoclassical building along Nezalezhnastsi Prospekt whose steps I was drawn to climb, tempted, as I was, to photograph the Soviet emblem on its giant wooden door was, I later discovered, none other than the KGB's headquarters. Oops.
Having done our best to navigate Minsk on foot in the sub-zero temperatures (I noticed that my beard had developed icicles on it during the previous day's sight-seeing) we relented and procured the services of Vladimir who, for 230 Belarusian Rubles (around £80), whizzed us around some of the sights in the greater Minsk area. With limited time, and increasingly thickening freezing fog, this was the safest and most efficient option. We were now engaged in a race against time to complete our must-see list before the fog swallowed the city altogether. Vladimir was knowledgeable, passionate and spoke perfect English, oh and he was a former military commander with the United Nations. He was somewhat surprised by the kinds of buildings we were interested in photographing, unable to appreciate, perhaps, the popularity of these weird Soviet constructions abroad. Thus, his default list of neoclassical buildings featuring statues and Corinthian columns were replaced by our list of cosmic-Brutalist pieces, cinema buildings he'd never even noticed before and anything which spoke of the Soviet age. It was rather nice for him to admit that he was beginning to see Minsk through "new eyes" because of us.
In an increasingly homogenous European city break market, Minsk offers something unusual and different. It is a place rather unused to foreign visitors; this is clearly etched on the faces of locals who pass you in the street. It is also a city of very few smiles. "Why are you going there?", "Are you crazy?" and "Why do you go to these bloody places" are frequent questions I'm asked. But my answer is always the same: these places are real. Belarus' stares are real. Its culture is real. Its whiff of 1975 is real. What's more, the number of British tourists visiting Belarus annually is minuscule. And this is another one of its key appeals: in many cases you're likely to have the city to yourself, a valuable opportunity to immerse yourself in a place and culture different to your own; not too many people from the free world want to spend their precious leisure time visiting a dictatorship and this is a distinct advantage. Indeed, Lonely Planet does not publish a separate guide for Belarus, so small is the demand for a travel guide to this most untrodden corner of the continent. It does, however, give Belarus a paltry 27 pages in its Guide to Eastern Europe. But don't let this dearth of travel publications deter you; I've found on a few occasions now that some of the world's most interesting countries have, ironically, the least written about them (see my journey to Moldova - the least visited country in Europe) and this is certainly true of Minsk. The fact is, Minsk is the reason I travel. It has an authenticity which only other capital cities, beset by zillions of tourists, over-development and an advanced tourism industry which has airbrushed all imperfections from sight, could only dream of. The Belarusian capital is, in all key respects, the very opposite of the well-trodden city break to be found elsewhere on the continent (boring/safe/predictable - delete as applicable). Lisbon, Barcelona or Paris this isn't. Welcome to Minsk, a capital city populated by haughty Babushka women whose approach to customer service is "Nyet" not "of course Sir, no problem". It is a city with a seemingly bemused population intent on staring at the strange-looking travellers from an alien place struggling with their backpacks and complaining about the sub-zero temperatures. It is also a city renowned for making you feel like you're being watched. Indeed, a visit to Minsk wouldn't be complete without a special side order of Soviet-sanctioned paranoia.
'Celebrating' the 2018 New Year in the depths of the European winter in a country with an authoritarian dictator and an unsettling feeling of being spied upon means that my city break to the Belarusian capital ranks as one of my most unusual and offbeat travel experiences to date. So much more interesting than a run-of-the-mill European city break, don't you think? Belarus was my 77th country and, as this Chronicle attests, a truly fascinating place to spend time in. I will remember my New Year in Dictatorland for a long time to come.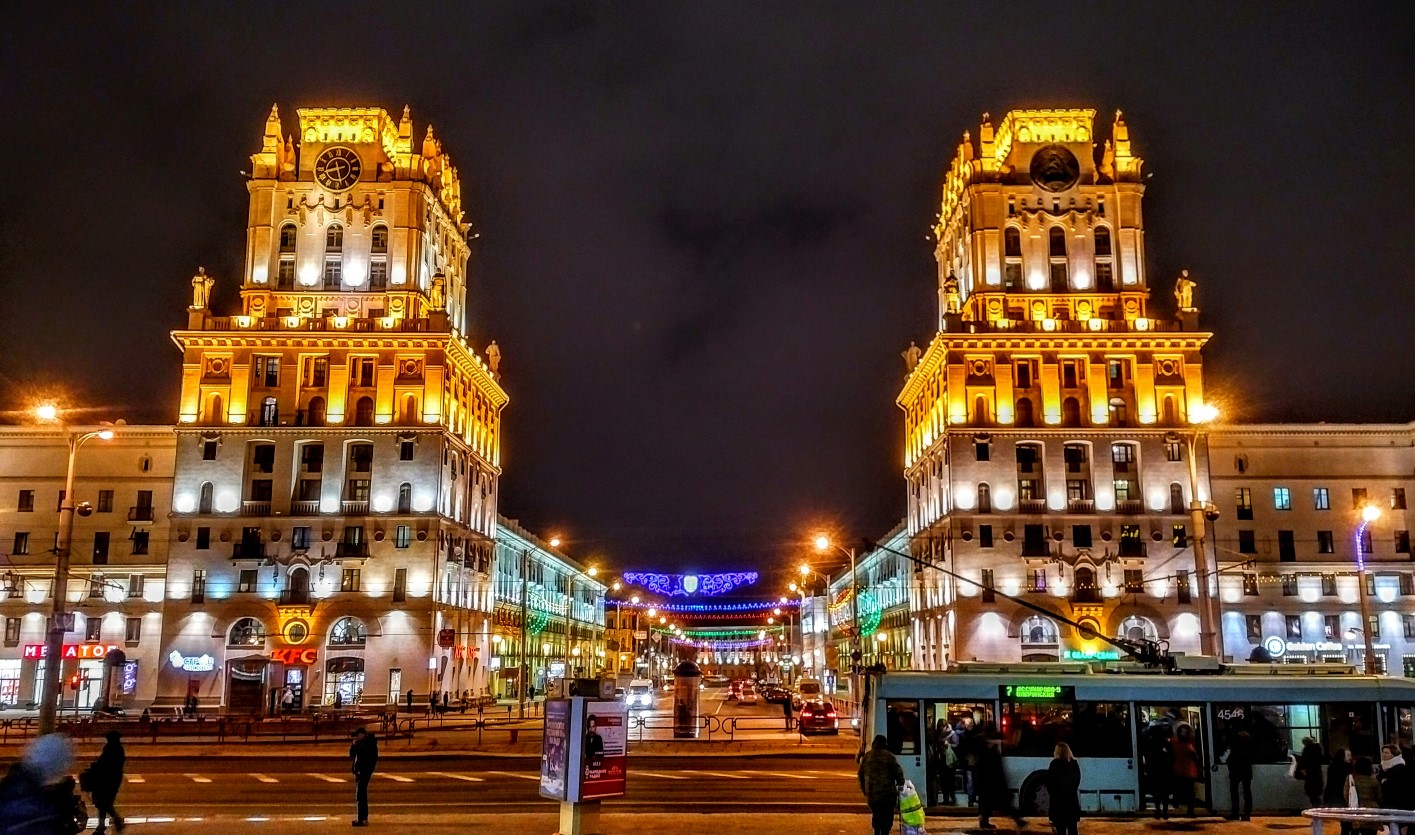 Minsk's impressive City Gates echo many of the architectural features of the Stalin Palace.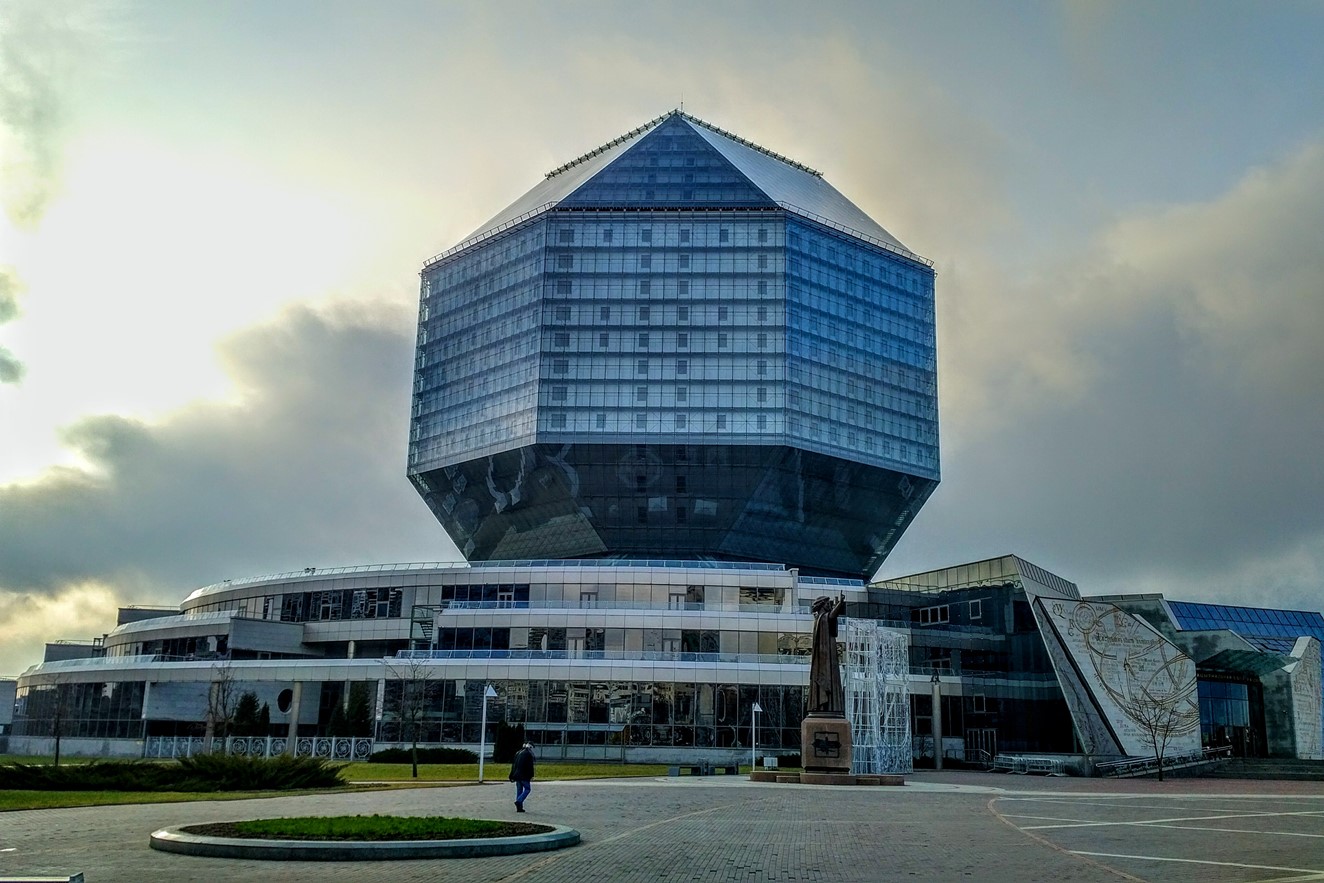 The National Library of Minsk - a grand architectural gesture in the shape of a rhombicuboctahedron seen by some locals as national vanity project.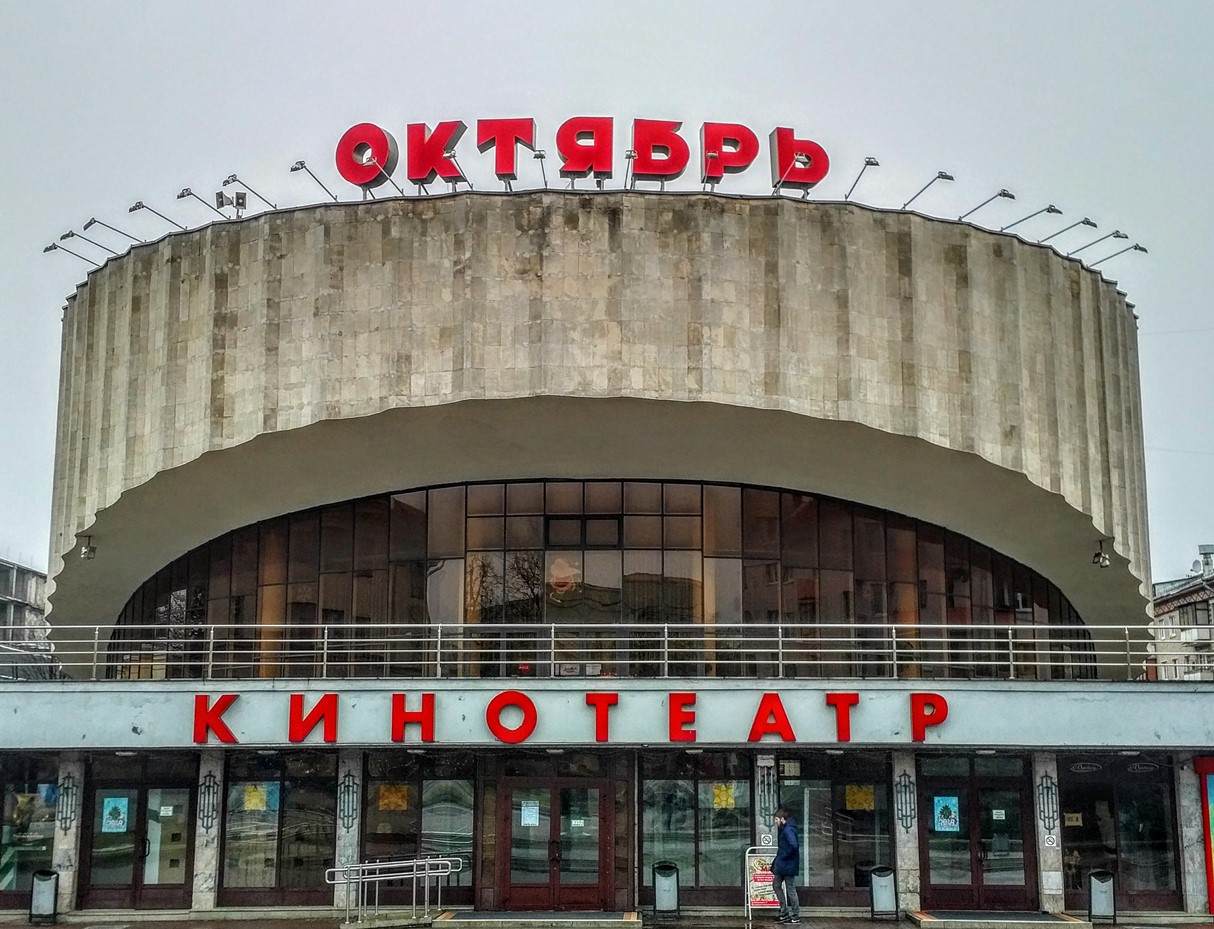 Minsk's cosmic style of architecture so characteristic of former Soviet countries. This is the October Cinema complete with red Cyrillic lettering.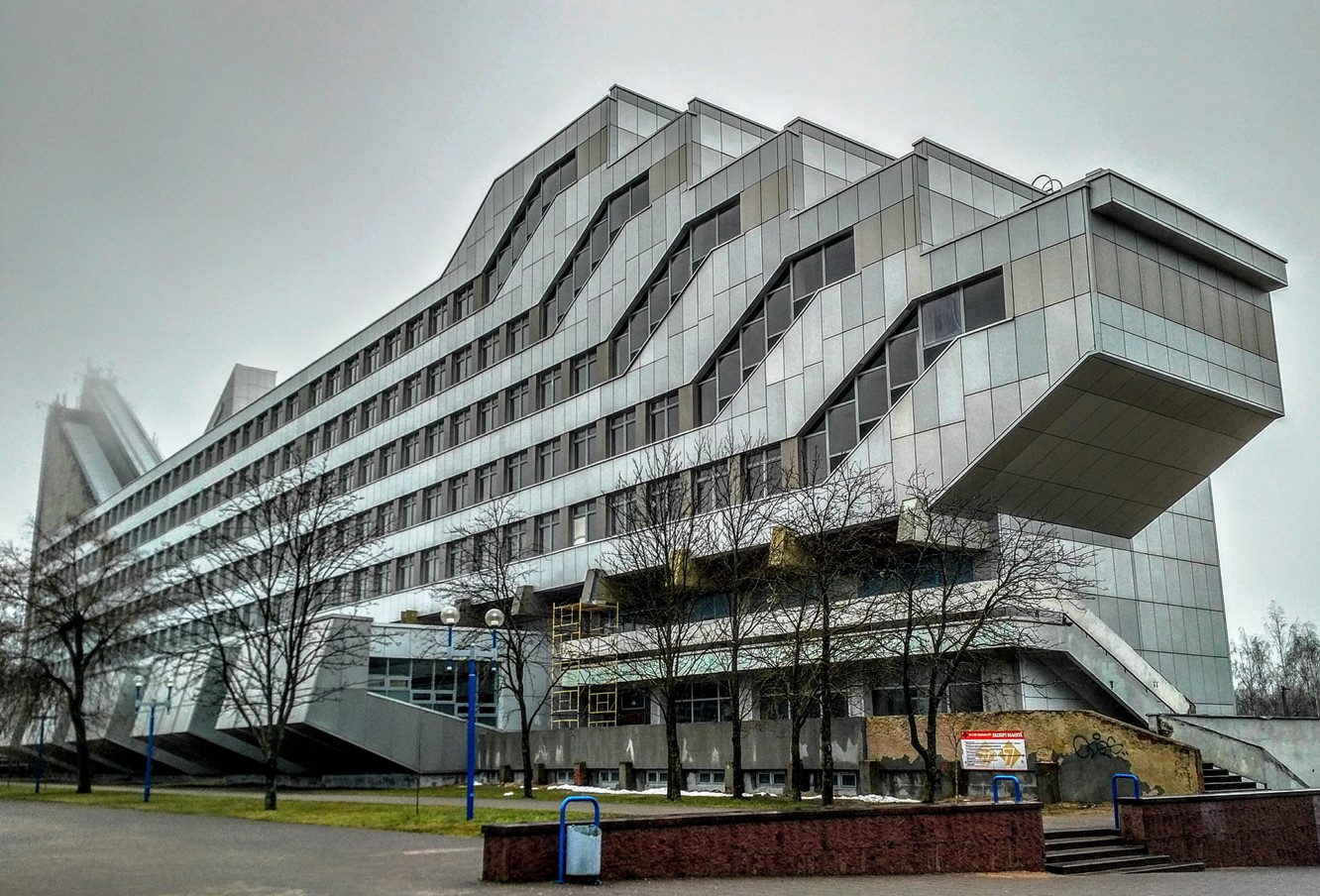 The student halls of the Polytechnic University: a stunning example of Minsk's cosmic architecture. This building features in the fantastic 'Cosmic Communist Constructions Photographed' book. I never thought I'd ever see it in person. Check out the fog in the distance top left.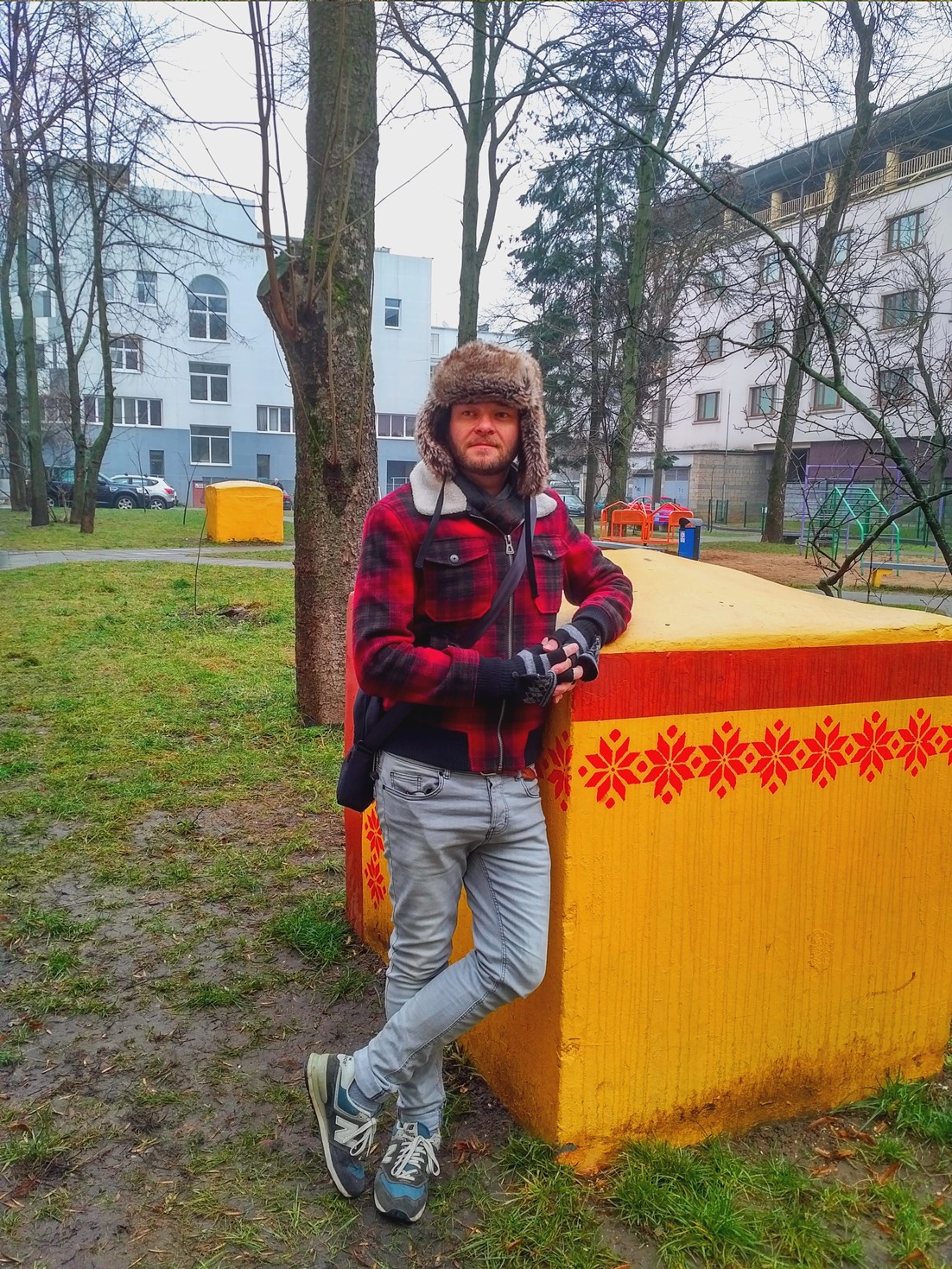 The yellow concrete cubes in this children's playground are large vents for underground air raid shelters dating back to the Cold War. This one has been decorated with a Belarusian design.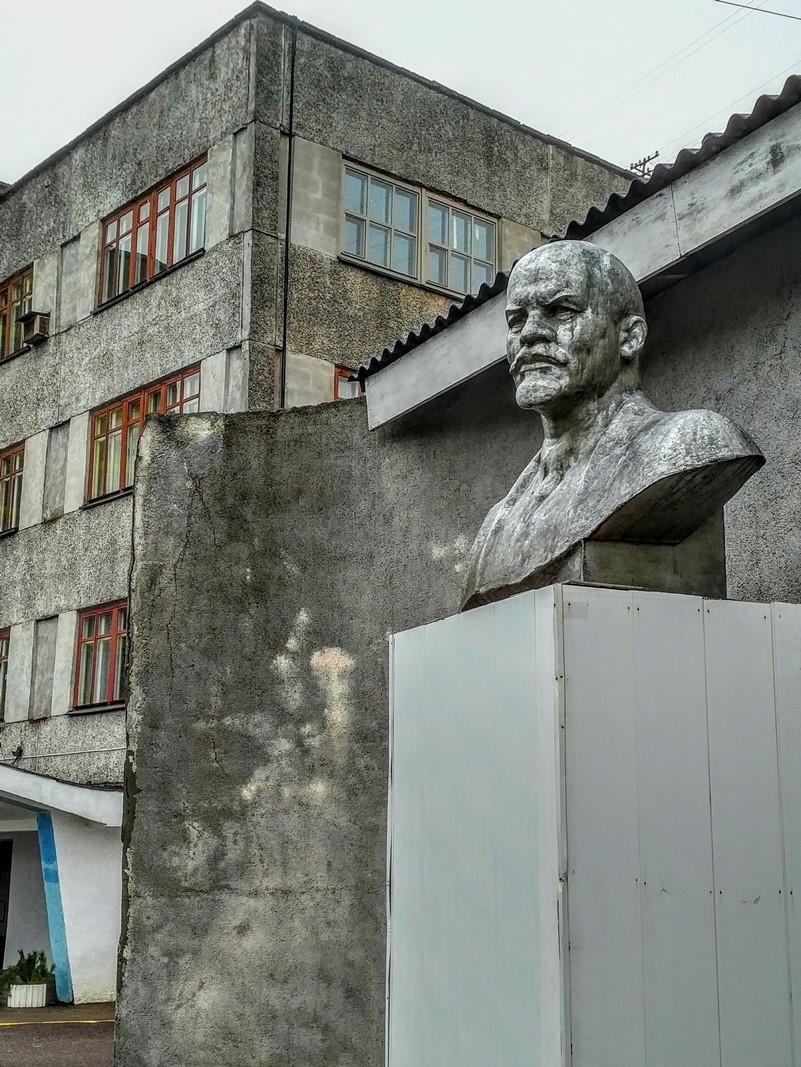 A bust of Lenin still stands outside an old USSR factory along Brazillian Street which is about to be wound down and the area redeveloped.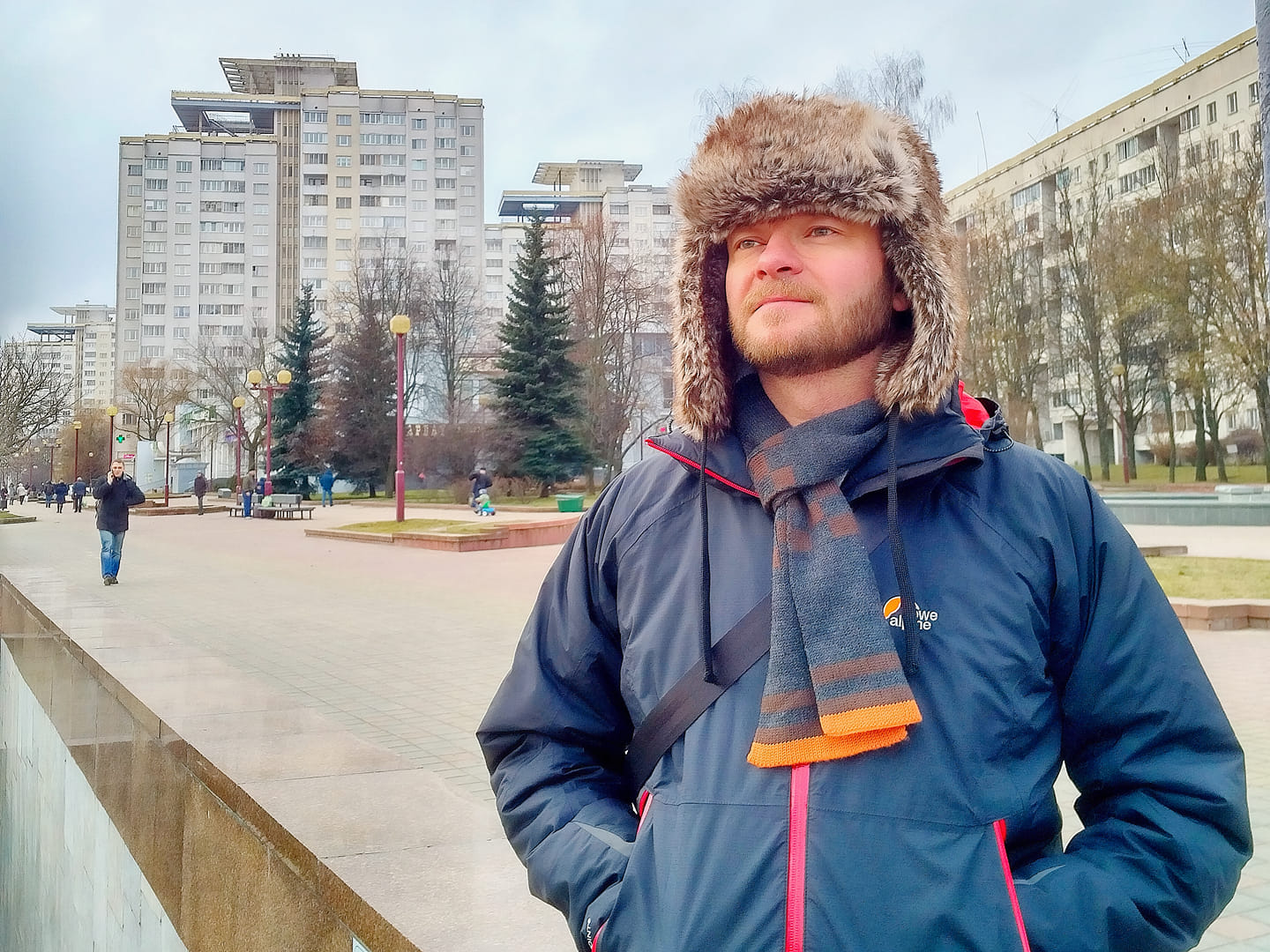 Minsk's Soviet town planning: anonymous apartment blocks, cosmic street furniture, ubiquitous beige marble and symmetrical alignment.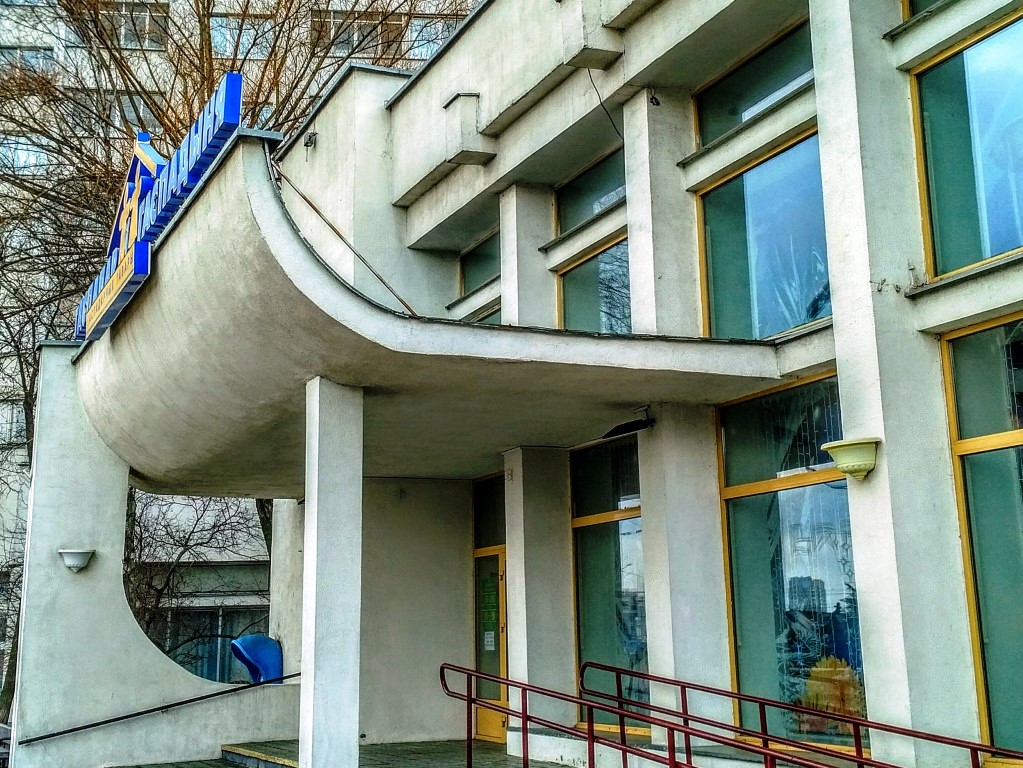 Architects working across the USSR drew inspiration from the Union's success in sending the first man into space. Buildings became an outward expression of this technological prowess.
Inspiration from the space race gave birth to a vast array of creative cosmic concrete designs. Fascinatingly ugly.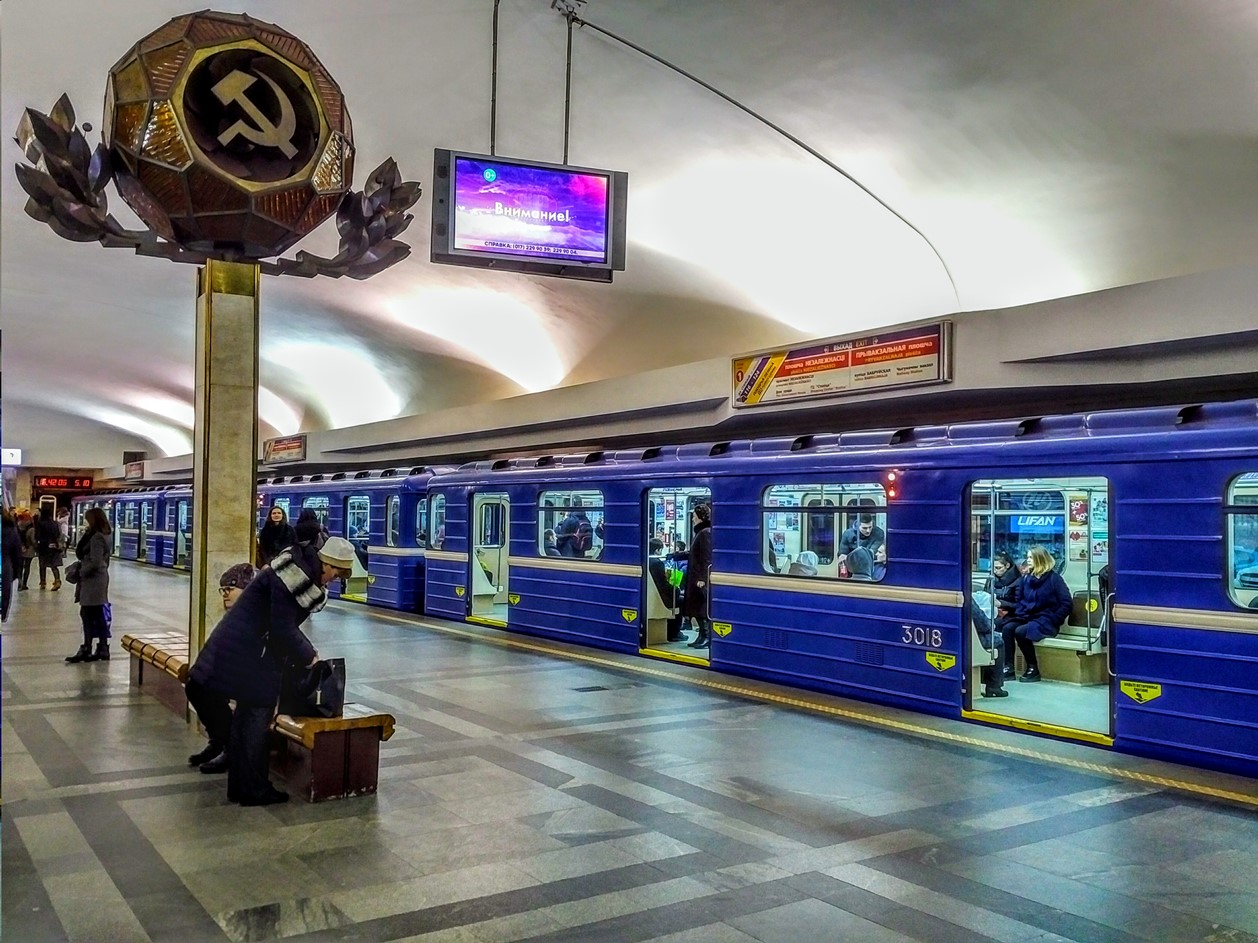 Going back in time: the hammer and sickle dominates a platform of the atmospheric Minsk Metro.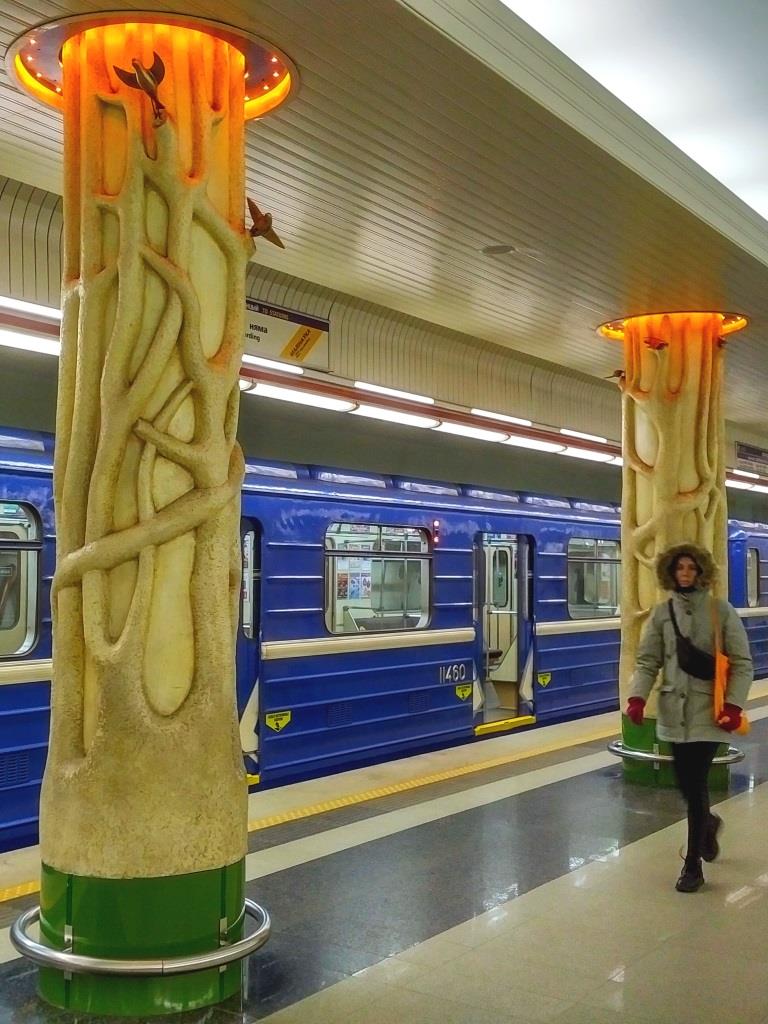 Minsk Metro designs: organic.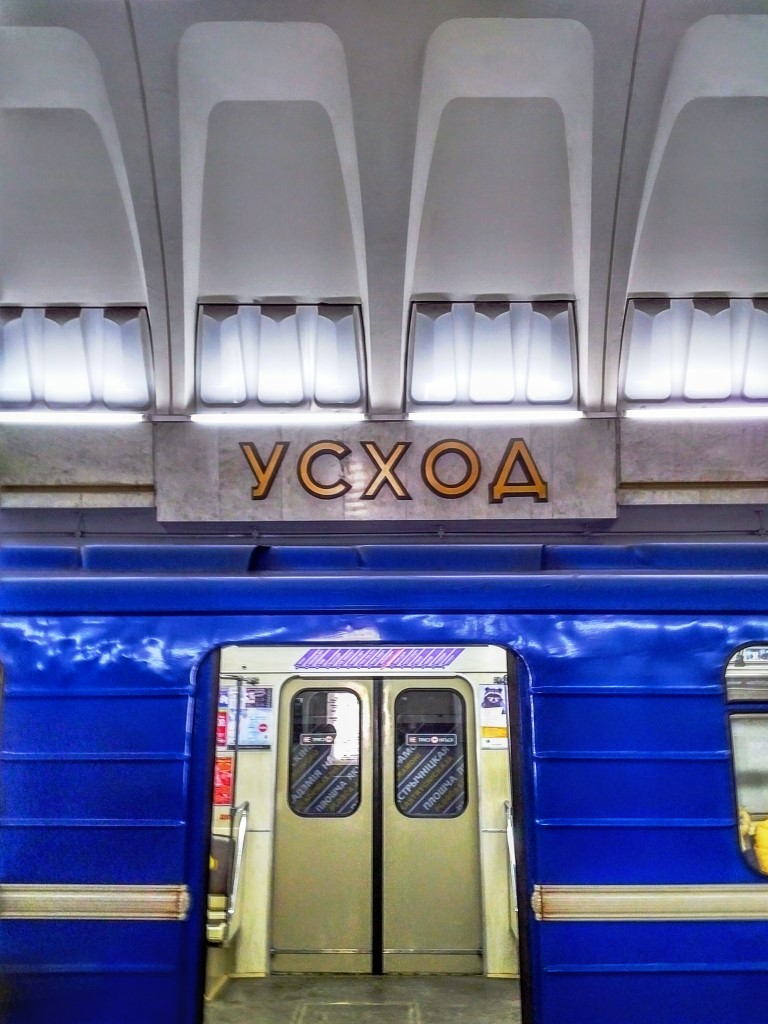 Minsk Metro designs: geometric.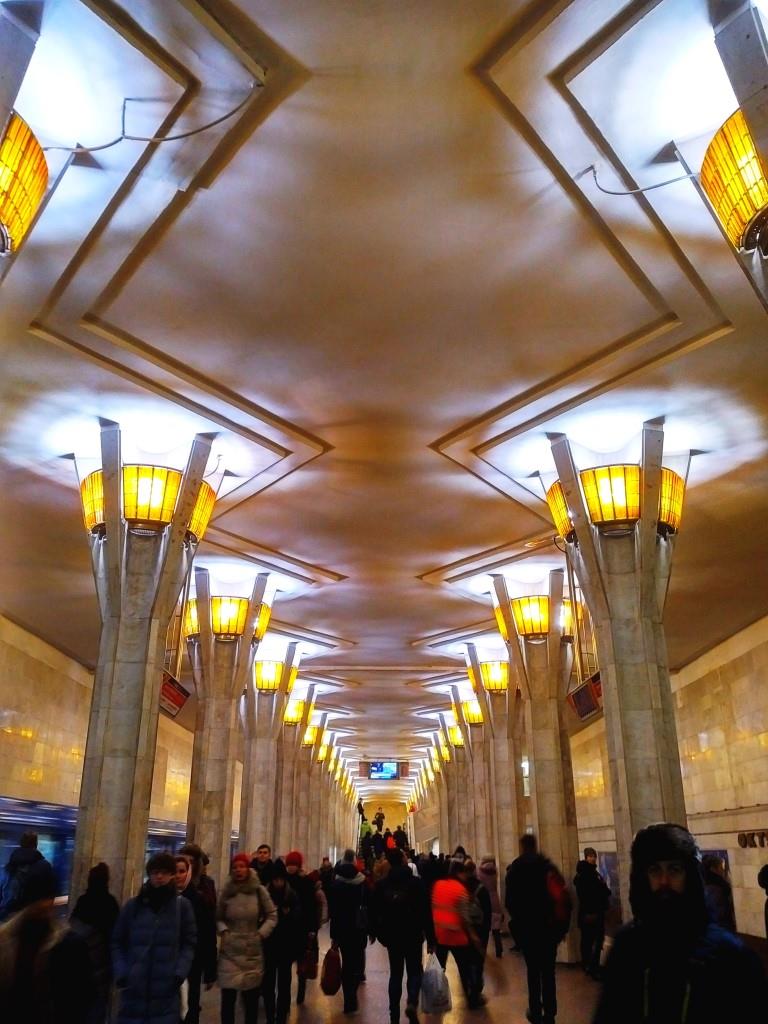 Minsk Metro designs: Corinthian columns.
The Mound if Glory on the outskirts of Minsk.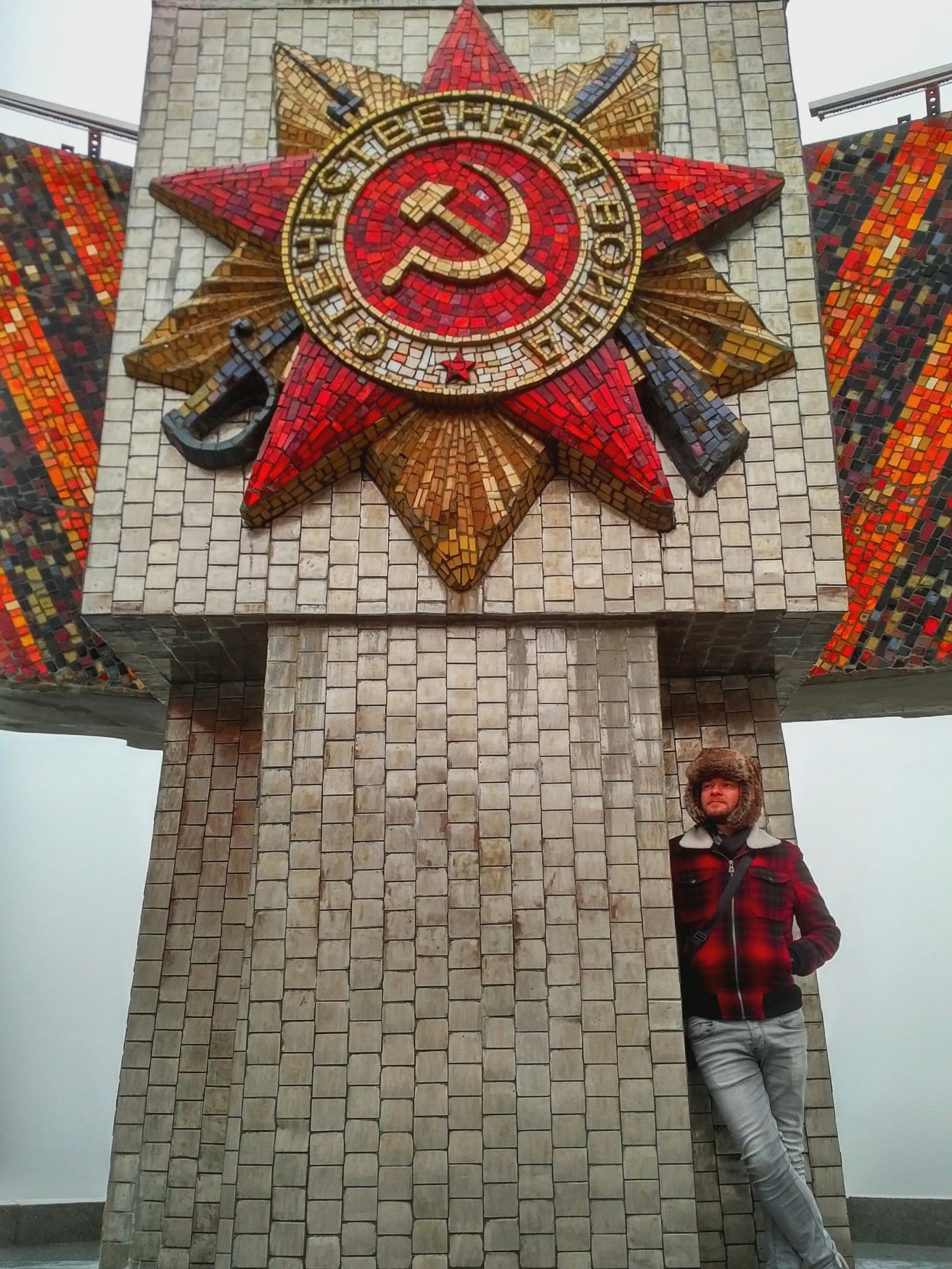 Inside the Mound of Glory. It was bitterly cold.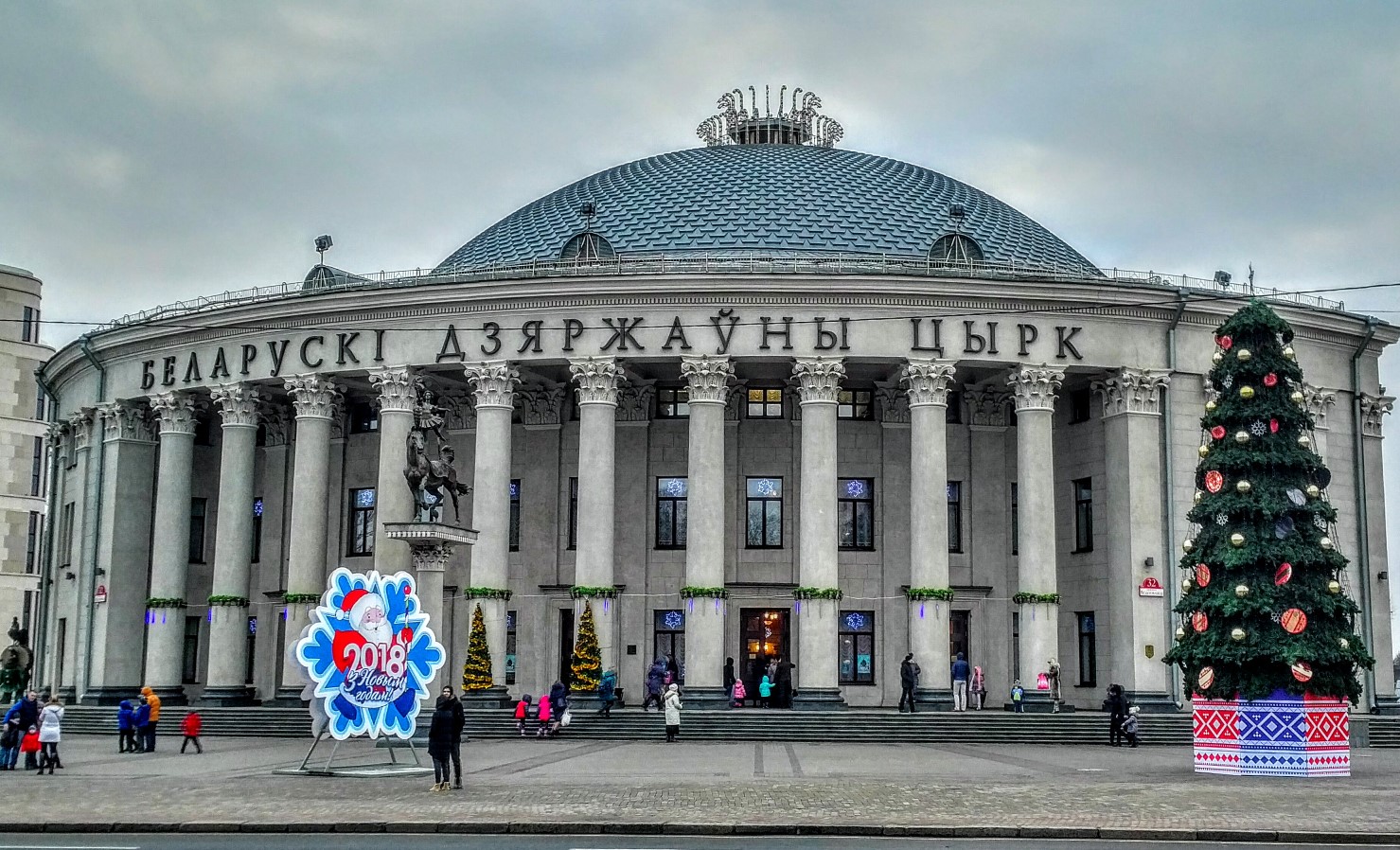 The round Belarusian State Circus building. There is a circus performance here each evening. The Soviets had a bit of a thing for circuses.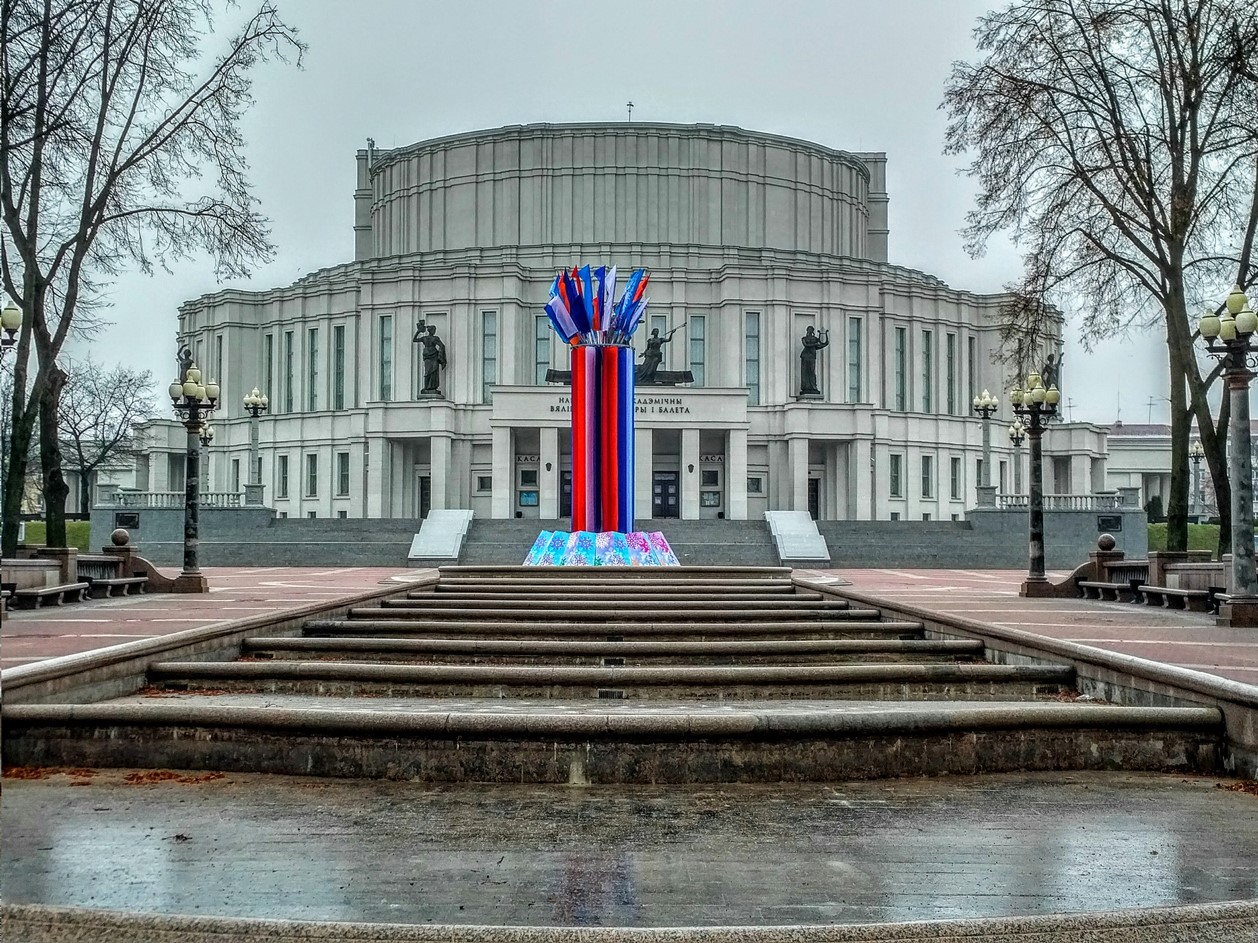 The National Academic Grand Opera and Ballet Theatre of the Republic of Belarus, to give it its full title. Elegant yet mournful at the same time.
travel tips, links & resources
Changes to Belarusian visa entry requirements can change overnight. It's important to keep an eye on any changes after you've booked your flights. Whilst swift changes benefited me, it does, however, suggest that negative changes can happen just as swiftly.
Belarus is a dictatorship. It is therefore advisable that you are careful about what you say and where you say it. It would be worthwhile saving your political rants, online or off, about freedom and democracy for when you get back home. Rumours abound that hotel rooms used by foreigners are routinely bugged.
Gay and Lesbian travellers should tread carefully, too. Belarus is intensely homophobic and to this end it would be advisable to leave the rainbow flag at home during your Minsk city break. Minsk is not the place for gay people to go for a romantic weekend away.
It's obvious but being able to speak a few basic Russian words is the only way you'll up your chances of receiving a smile in Belarus. Knowing 'good morning', 'good evening' and 'thank you very much' goes a very very long way in Belarus and will help to break the ice with sometimes suspicious locals.
It is vital you take evidence of comprehensive medical insurance with you and that documents show the level of cover and the name of the traveller. Whilst Belarus wants to increase its number of tourists it does not want to pay for you if you fall ill. If your paperwork does not satisfy the airport clerks checking your docs and passport then you'll be sent to a corner of the airport to buy insurance from a state-owned company - and you can be guaranteed that the queue will be a long one.
You will be given a small tear-off slip from your landing card. You need this in order to leave Belarus. Guard it with your life (I sellotaped it to the back of my passport).
If visiting in the Belarusian winter keep in mind that sightseeing time is limited due to a late sunrise and early sunset: when I was there it was around 10:00 - 16:00. Outside of these times photography was problematic.
Minsk has very few city guides written about it. However, the ever-faithful 'In Your Pocket' series has one: you can download it from here. Also, there is a rather useful tourist map available from Minsk Airport 2 when you arrive. Be sure to look out for your copy.
In a place like Minsk you might expect to be forbidden from taking photographs of certain buildings for security reasons. However, perhaps surprisingly, I was not told to stop photographing at any point during my visit - and I photographed most things.
The Belarus government recently changed its currency, knocking off several zeros. The old Belarusian currency's code of BYR has been changed to the new BYN. If you're using a currency converter app like XE, it will give you both options. Don't be confused, select BYN.