Orangutan Encounters on the Magical Island of Borneo
Starting in Singapore, Brunei and Malaysia on Borneo were the second and third countries on my journey around Southeast Asia.
Where: Bandar Seri Begawan & Temburong, Brunei. Kuching & Semenggoh, Malaysia. Southeast Asia.
When: April 2018
What: Masjid Omar Ali Saifuddien Mosque, Jame' Asr Hassanil Bolkiah Mosque, Kianggeh Market, Kampomng Ayer Floating Village, Proboscis Monkey safari, Bathing in a Rainforest Waterfall, Borneo Piranha Nibbling, Rainforest Trek, Rainforest Canopy Walk, Orangutan Sanctuary, State Legislative Assembly building, the pink Masjid Bandaraya Mosque, Kek Lapis layer cake, Kuching Civic Architecture, the Sultan's Palace.
How: International flight, taxi, walking, tour guide, long boat, speed boat, passenger ferry boat.
Wildlife spotting: Orang-utan, Proboscis monkey, Borneo piranha.
Country counter: Country No.81 and No.82
Illnesses or mishaps: Coming a little too close to a crocodile in a crocodile-infested mangrove swamp; an arduous climb 500 metres, or 1226 steps, in a hot and humid rainforest; tackling my fears of heights in a vertigo-inducing rainforest canopy walk 60 metres up.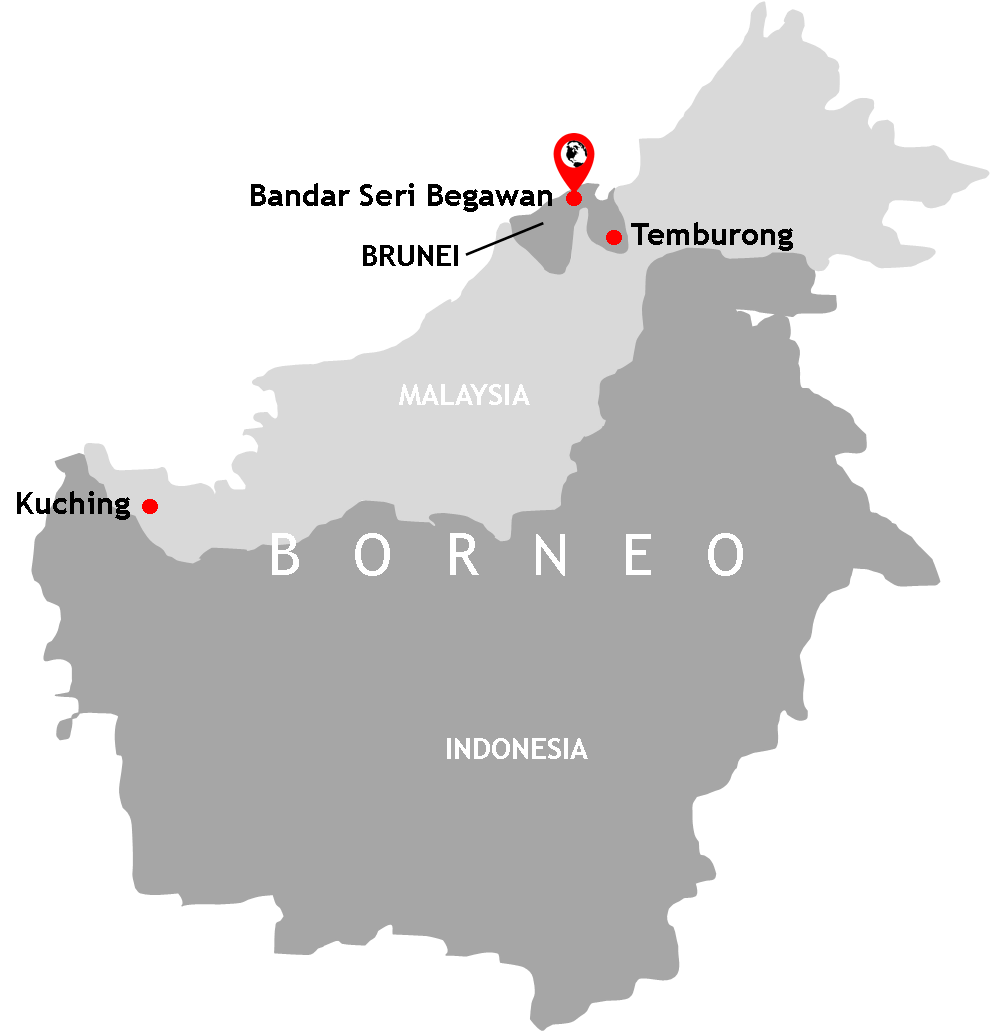 Borneo is the third largest island in the world. Its land mass, sitting in the middle of the South China Sea, is divided up in to three countries: the tiny Islamic sultanate of Brunei, Malaysia (Sarawak, Sabah and Labuan) and Indonesia (Kalimantan). The word Borneo is synonymous with wildlife conservation, the controversy about the use of palm oil and rescue efforts to save the iconic orang-utan. Singapore was our transport hub and ultimate launchpad onto the island of Borneo; it was a means to an end. Brunei was an opportunity to experience another country whilst we were in the region and so was added to our itinerary but, ultimately, our trip to Singapore and Brunei was all about seeing the orang-utan in Malaysian Borneo. The close proximity of all three countries to each other an opportunity not to be missed and so, as is so often the case, a desire to see one country morphed into an adventure involving several.
Travels in the Land of the Sultan
Brunei is not on most people's travel radars but, as I attest below, it has every right to be. Brunei is one of those countries where what you experience and what you will see will only ever really be known when you physically step foot on Bruneian soil. Thus there's a excitement and anticipation with Brunei - far more than you would ever get with a well-trodden destination. It is a land of mystery and of the unexpected, a country whose people and places remain unspoiled by the ravages and warping influences of mass tourism. In short, Brunei is an opportunity to see something unique and special in an increasingly homogeneous, globalising world.
Despite what your instincts might tell you, especially considering this little country on the northern tip of Borneo is tightly ruled by an absolute monarch and is slowly but surely phasing in Sharia Law, Brunei is a very friendly and safe place to spend time. Yes, I know I say this about most countries I go to, but as guests we were treated with absolute deference and respect by Bruneians from the very start. It quickly becomes clear that in Brunei smiles are given frequently, genuinely and willingly. Some people will engage you in conversation (mostly with staple conversation openers like, "Where you are from?" and "What football team do you support?"). Others will just greet you in the street, noting your status as a guest, with a "Salam" and be on their way. Some, like the young lady wearing a sky blue hijab who approached me outside Bandar Seri Begawan's striking mosque landmark, will see you taking photos and take time out of their day to suggest a better place from where you can capture that perfect shot ("If you go inside the mosque's grounds and down by the steps, you can get a beautiful picture of the boat and the sunset" she beamed). Pretty wonderful, right? Such local warmth can be put down to the Muslim respect for the guest, something I have experienced in so many countries now, but also the fact that Bruneians just seem like nice people. There was no hassle, no hawkish sellers, no aggression and no "no photo!" It's a country where you are allowed to simply wander around soaking up the atmosphere unhindered. Brunei is not a place where the tourist is viewed as an object from which money is to be extracted, alas the case in too many countries in Asia. Brunei was a delightful little place to spend a few days and, as we were to find, it was a destination which just kept on giving. This miniature Sultanate country on the northern tip of Borneo, independent from the United Kingdom since 1984, became my 81st country.
Bandar Seri Begawan is probably the capital city of which many people have never heard. It's hardly up there with London, Paris or New York. Its long name only narrowly avoids ridicule and the majority of its buildings are nothing more than functional and, it has to be said, increasingly dilapidated. BSB, as it is commonly abbreviated, also shortened to just Bandar by locals, does not make a great first impression. Waking up on the first full day in Bandar and heading out to explore this "Venice of the East", I was left with the uncomfortable feeling that we'd made a bit of a mistake. What on earth were we going to do here for three days? I consider myself particularly adept at finding beauty in the most unsightly of places but, where Bandar was concerned, I thought I might struggle.
In search of something to see we defaulted to the capital's undisputed landmark: the Masjid Omar Ali Saifuddien Mosque. Set alongside a perfectly still man-made lake, the giant golden onion domes and white minarets reflected brilliantly in the waters, the traditional wooden long boat perfectly positioned there added a touch of oriental intrigue. I was to return the next day, when the sky was clearer and the daylight had begun to fade, to photograph it again in more favourable light and sans clouds. Arguably it is the best photograph I have ever taken. In isolation the mosque was almost worth the trip to Brunei in itself but, alas, amazing adventures aren't made of mosques alone...
A short speed boat ride over the Brunei River, a snip at $1 each way, took us to a very different part of the capital. Kampong Ayer is a floating village of around 30,000 people living in pastel-coloured wooden shacks, many standing precariously on stilts. It is a village with its own floating schools, community centre and even floating mosque. Wooden plank walkways snaking between dwellings are perilous; many beams are rotten or missing altogether. Despite the fact that you're walking through their village with a camera taking photographs of its candy-like fairy-tale poverty, locals smile or greet you with a "Salam". Before disembarking the speed boat and walking around this watery world, we had been whizzed through on a speed boat tour at break-neck speed - so fast that any photography of this pretty place was virtually impossible. We weren't to know it but our overly speedy speedboat tour of Kampong Ayer would soon double as an impromptu school run. Several children from the local floating primary school, which had just closed for the day, were picked up by our driver. They were from the village's religious school, with the girls wearing white hijabs and the boys sporting traditional black songkok hats. It was a delight to have such cute and cheeky kids with us on our boat, a close-up experience of local life I wasn't expecting and the sort money simply can't buy. After several minutes zooming through the labyrinthine warren of dwellings they were dropped off at one of Kampong's jetties and made their way home with their little Disney and Ninja Turtle school bags in tow. One girl took the time to wave us off from the jetty.
A similarly authentic experience can be had in the local open air Kianggeh Market where, under a series of pitched corrugated roofs, a shape mimicked across buildings in the capital, locals buy their durian fruit, coconuts and the tiniest bananas I think I have ever seen. Bruneians were far too engrossed by the cut and thrust of bartering and buying to notice two western sorts gawping at the colourful produce and taking photographs of everyday life in Bandar.
Having visited Brunei's two impressive national mosques, tasted local life in the floating village and the open air market we felt we'd pretty much exhausted what Bangar Seri Begawan had to offer. But, as mentioned earlier, Brunei was a destination which slowly unfurled her Asian petals and revealed her beauty. Later that evening we found ourselves on a wooden boat at dusk thundering down the Brunei River on a quest to catch a glimpse of a monkey found only on the island of Borneo: the Proboscis, a strange-looking creature with a disconcertingly large nose. Often on safaris it's best not to get your hopes up so instead I contented myself with enjoying the journey itself rather than its ultimate endeavour of wildlife spotting. The weather had cleared from the humid and heavy grey skies which had characterised the earlier part of the day. A short sprinkle of rain turned the skies above us blue, affording us incredible views of the mangroves reflecting in the river's placid waters. The fact that we were cruising down a crocodile-infested river on a fresh evening was more than good enough for me. Quite suddenly our guide waved his hand at the captain who was stationed at the other end of the boat. The engine was immediately shut off. He gestured up into the trees (with his thumb, not index finger - it's a Bruneian thing). We heard a rustle. I caught a glimpse. Some leaves fell. I thought that this was probably the best we could expect. Again, I kept a handle on my hopes (disappointment in travel can be so crushing). We pressed on down the river, past mangroves and the Sultan's personal jetty. Another boat passed in the opposite direction, the guide giving our man a thumbs up. It seemed there may be a better chance of seeing the elusive Proboscis up ahead. We were in luck. Within minutes we had pulled over again. The engine was off and we were all gazing up at a troop of Proboscis monkeys climbing on a single tree high above the mangrove swamp: alpha male, females and babies. Our presence was noted by the creatures with strange, and rather ugly, protruding noses, but they were in no way concerned. We were able to photograph away happily as they swung and jumped around mother nature's climbing frame. My 'old fashioned' digital camera with its optical zoom, so often usurped by the camera on my mobile phone these days, truly came into its own, enabling me to capture the Proboscis up close.
Our return to Bandar was filled with the satisfaction that comes from having seen something rather magical. The sky was now a deep blue, the mangroves a rich green and the reflection of both upon the river's surface increasingly dramatic. A crocodile lifted its nose above the waterline and back again as we motored by. I didn't see it in time. If I had have I may have let out a little scream in terror. That was enough nature for me. Until tomorrow, anyway. Unbeknown to me, a few hours later I'd be trekking my way through the wilds of a virgin Borneo rainforest...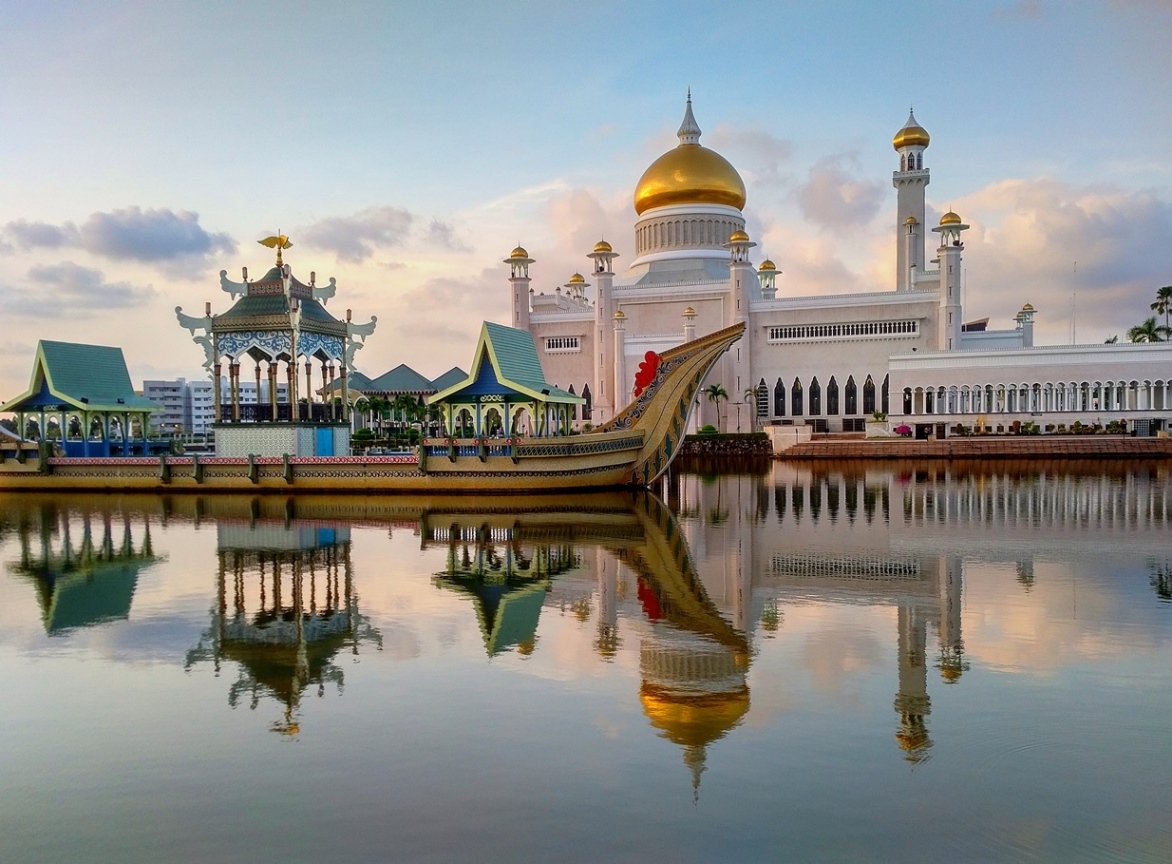 Quite possibly the best photograph I have ever taken. The Masjid Omar Ali Saifuddien Mosque at dusk.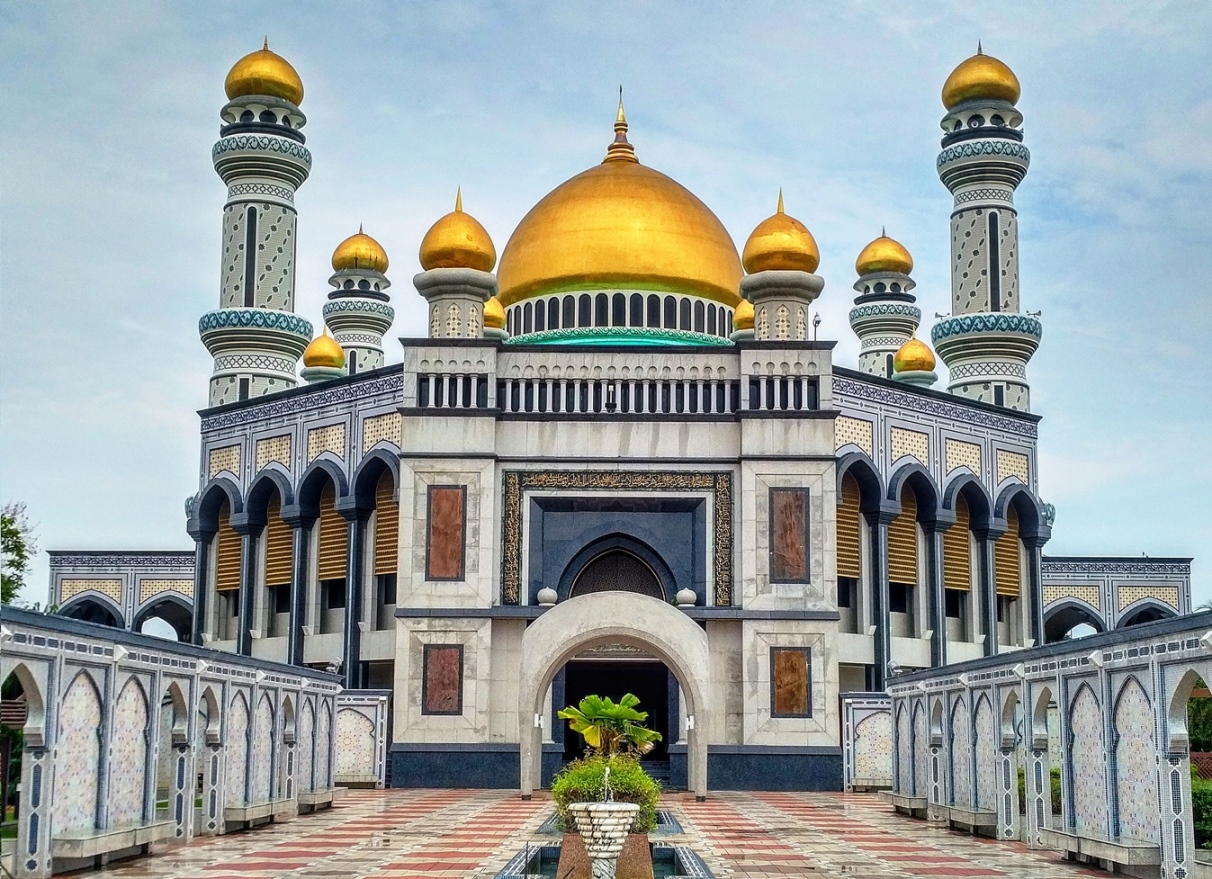 The Jame' Asr Hassanil Bolkiah Mosque, one of only two national mosques in Brunei.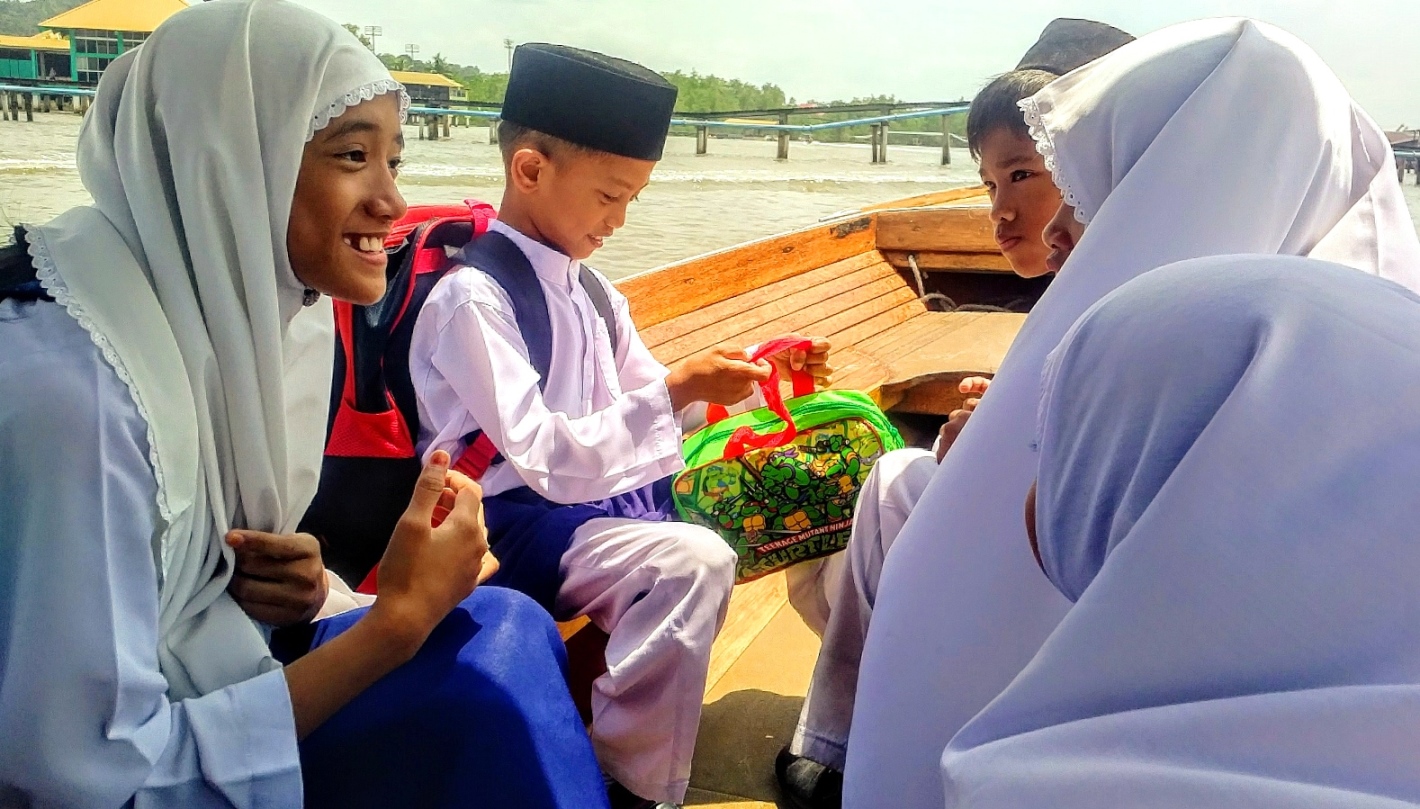 Our boat trip around the floating village doubled as a school run. Several children from the floating religious primary school boarded from one of the many jetties.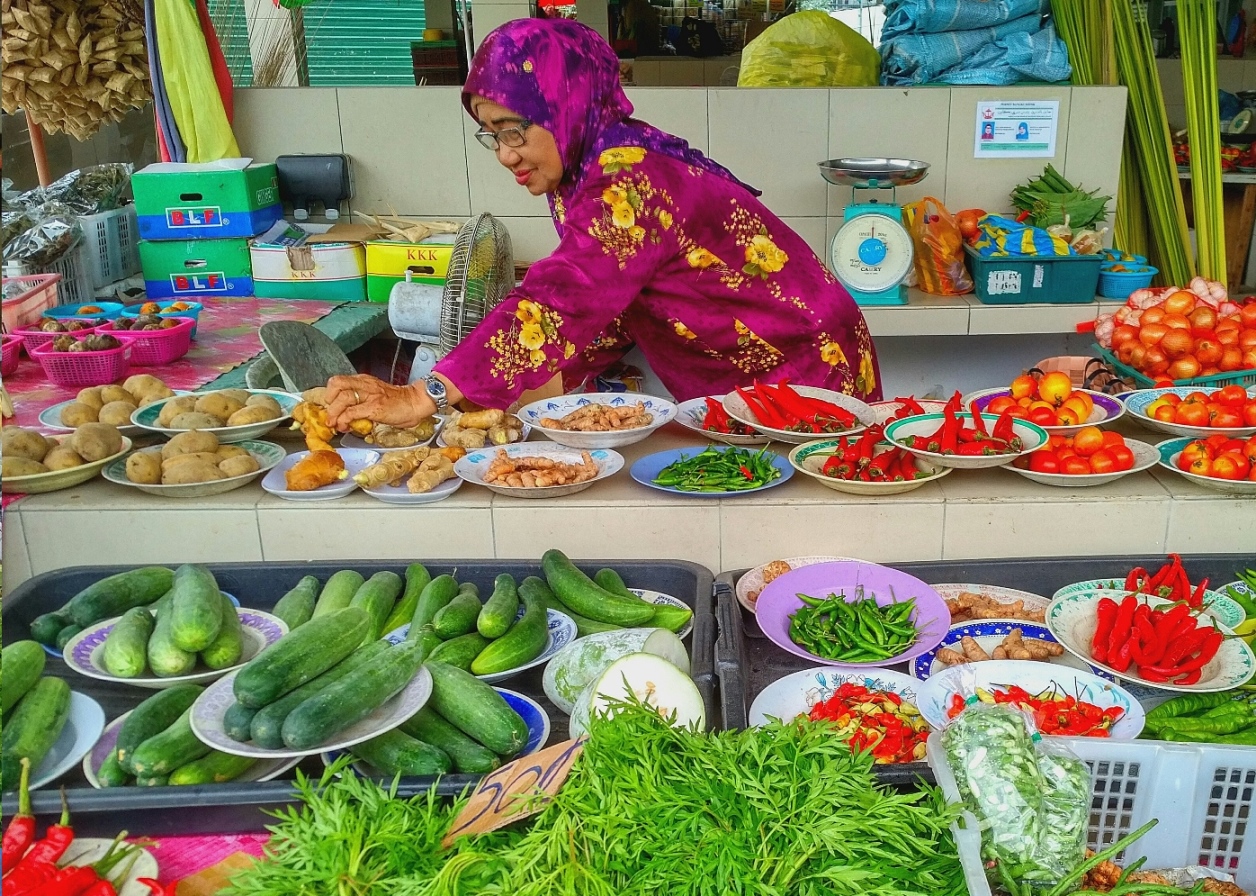 A stallholder at Bandar Seri Begawan's Kianggeh Market grants me a photograph. There are lots of smiles given willingly in Brunei.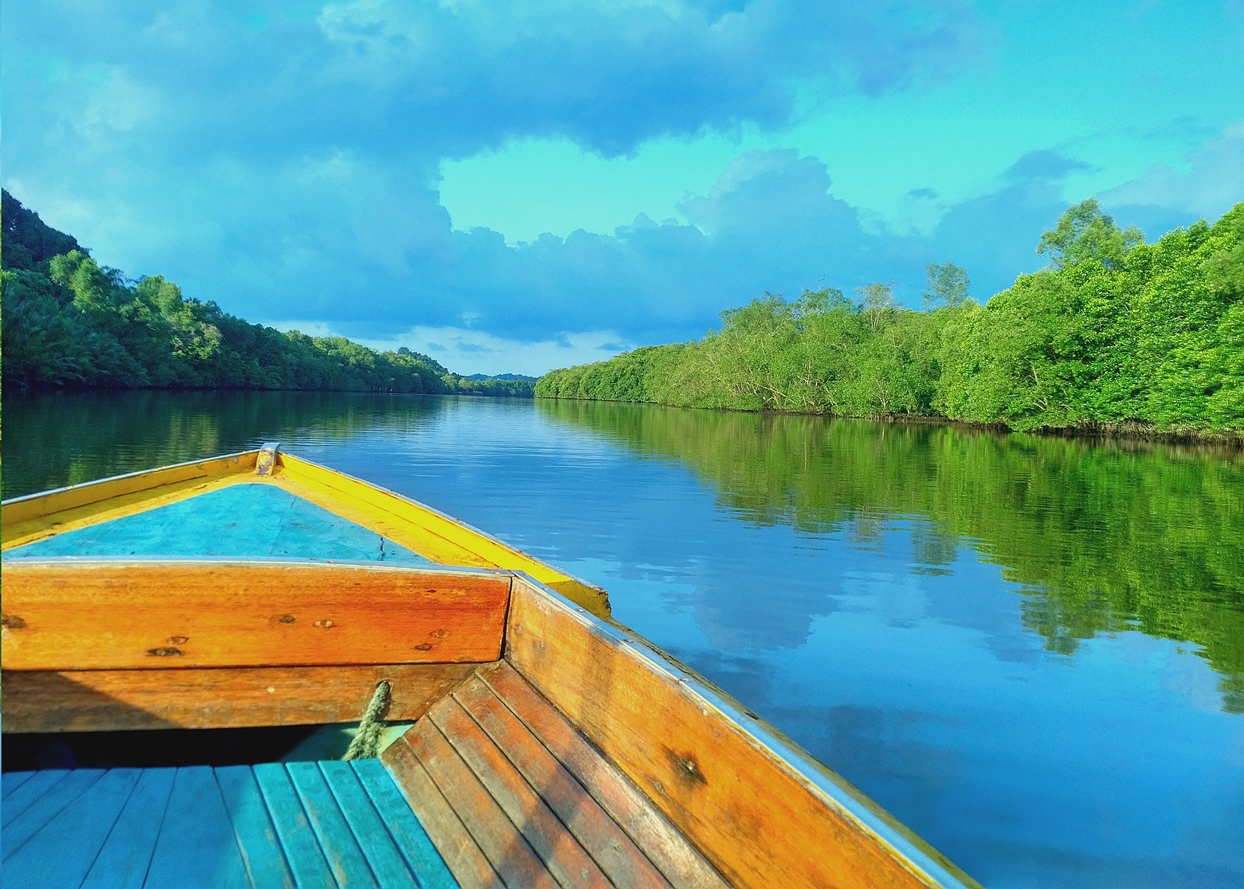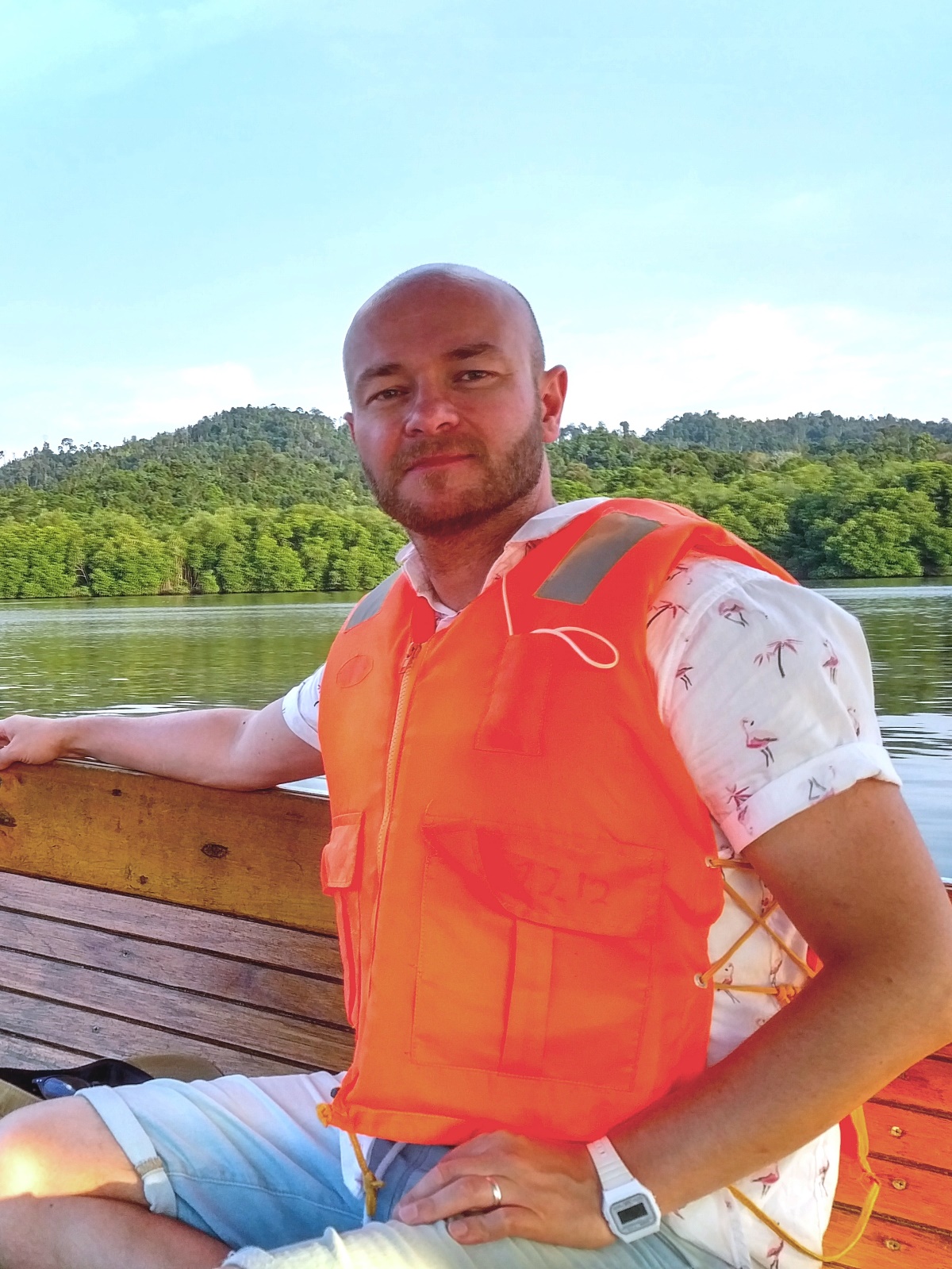 Awesome reflections on the journey back to Bandar Seri Begawan. The heavy skies had cleared after a short spell of rain.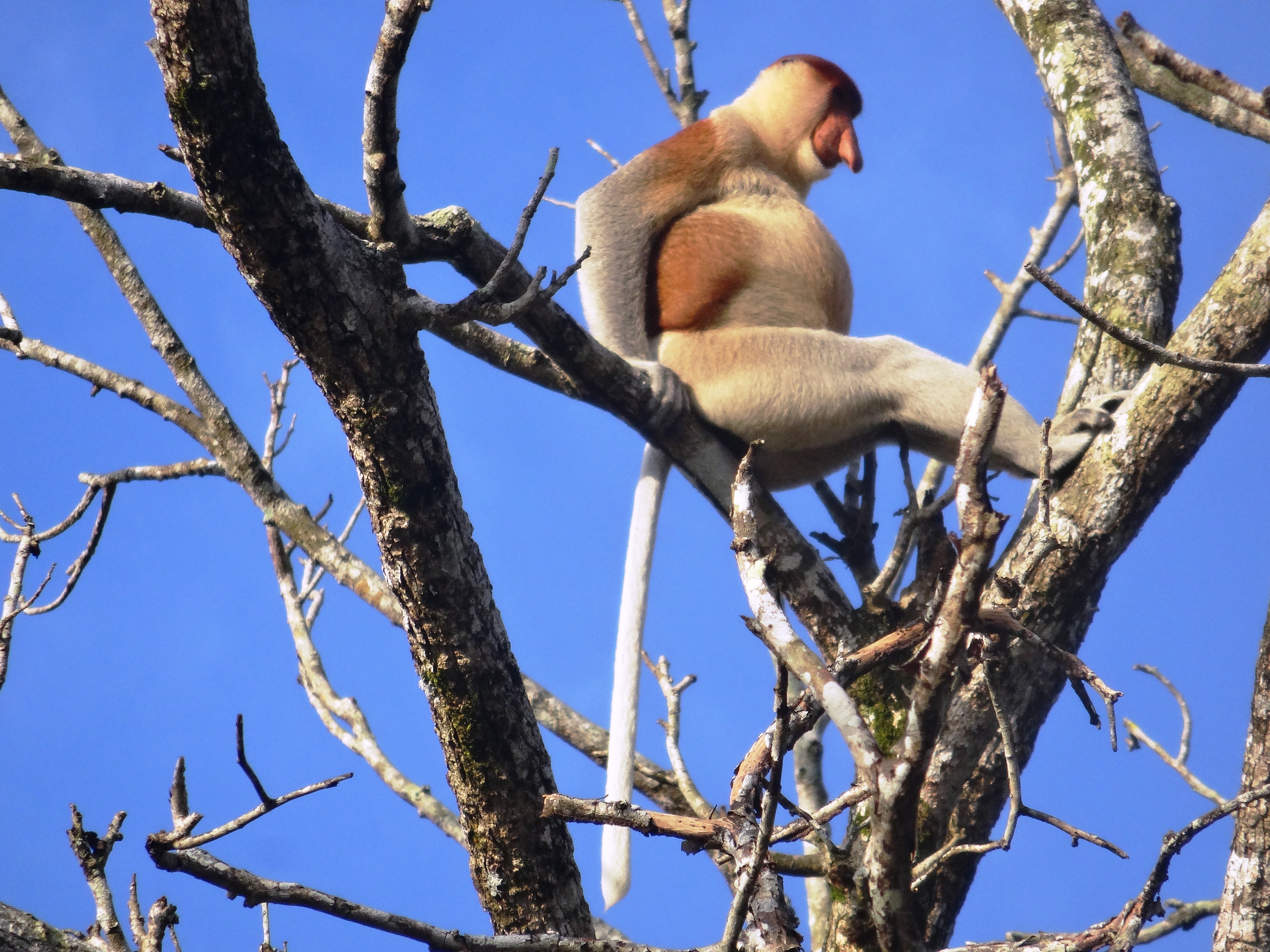 An alpha male Proboscis with his muscular legs and unedifyingly large nose. This species of monkey is only found on Borneo.
Brunei is a country split into two regions, with its eastern region Temburong cut off by the Malaysian state of Sarawak. To get there we had to cross Malaysian waters. Our journey across to Temburong was a long one, starting with a transfer to the Brunei River, a boat journey to the regional capital Bangar, a transfer to Batang Duri and a cruise in a traditional long boat through the shallow waters of the Temburong River. In entering Temburong we embarked on a trip through the most pristine virgin rainforest left on Borneo. Brunei's oil wealth has meant that it has not had to resort to deforestation for the contentious production of palm oil - a feature of the Malaysian part of the island which is threatening the survival of precious species, most famously, but not limited to, the endangered orang-utan. Temburong is protected, with almost all of it open only to scientists. We would trek through the tiny fraction of Temburong only open to a limited number of visitors so as to minimise the impact on the environment.
The real work started when we arrived at the entrance to the national park; an upward climb to over 1000 steps in the heat and humidity of a rainforest meant that, by the time we reached the top, my shirt was wringing wet with sweat. We then set about climbing the sixty metres of the canopy walking frame affording us a panoramic view above the tree tops and out across this virgin rainforest. I was standing looking out across the trees at almost half a kilometre up from the rainforest floor. Later we were to cool off underneath the cascades of one of Temburong's many waterfalls. The waterfall's pool was home to the so-called Borneo Piranha, which nibble away at the dead skin of anyone who happens to be bathing therein. Although completely harmless, I just couldn't get used to the sensation of having fish nibble at my body and so, having well and truly cooled off from the earlier ascent to the rainforest canopy, and having screamed like a banshee at every fishy nip, I clambered out to the safety of dry land - much to the amusement of our guide.
Despite my tiredness, and probably near heat stroke, I returned to the comforts of the capital feeling a sense of accomplishment that I had trekked through virgin rainforest, climbed up above the tree canopy and swam in a 'piranha'-infested waterfall. I told you Brunei was the destination which kept on giving...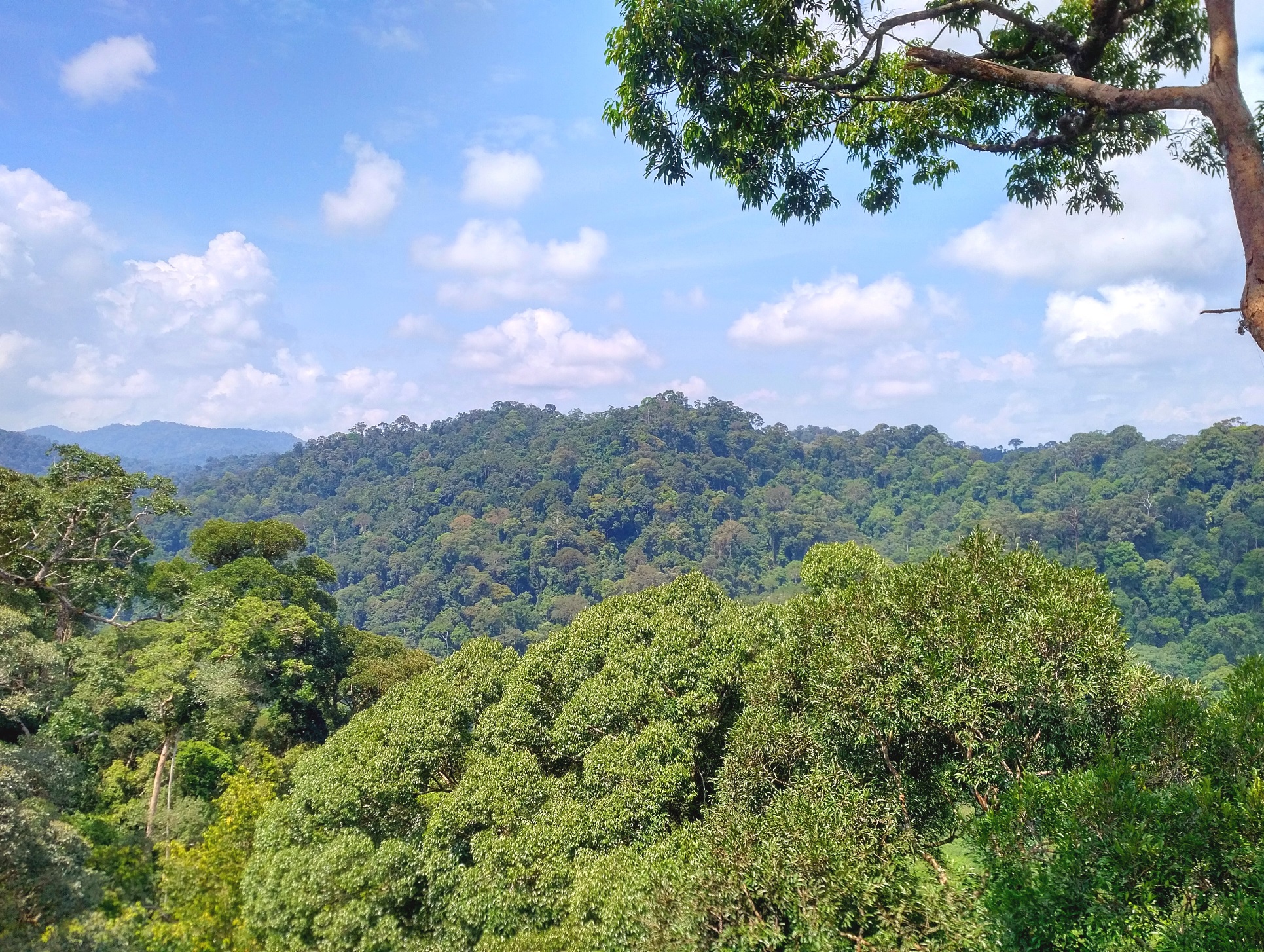 This is what virgin rainforest looks like half a kilometre up from the forest floor on the Ulu Temburong canopy walk. My shirt was drenched in sweat.

Rainforest 180° seen from the platform half a kilometre up from the rainforest floor.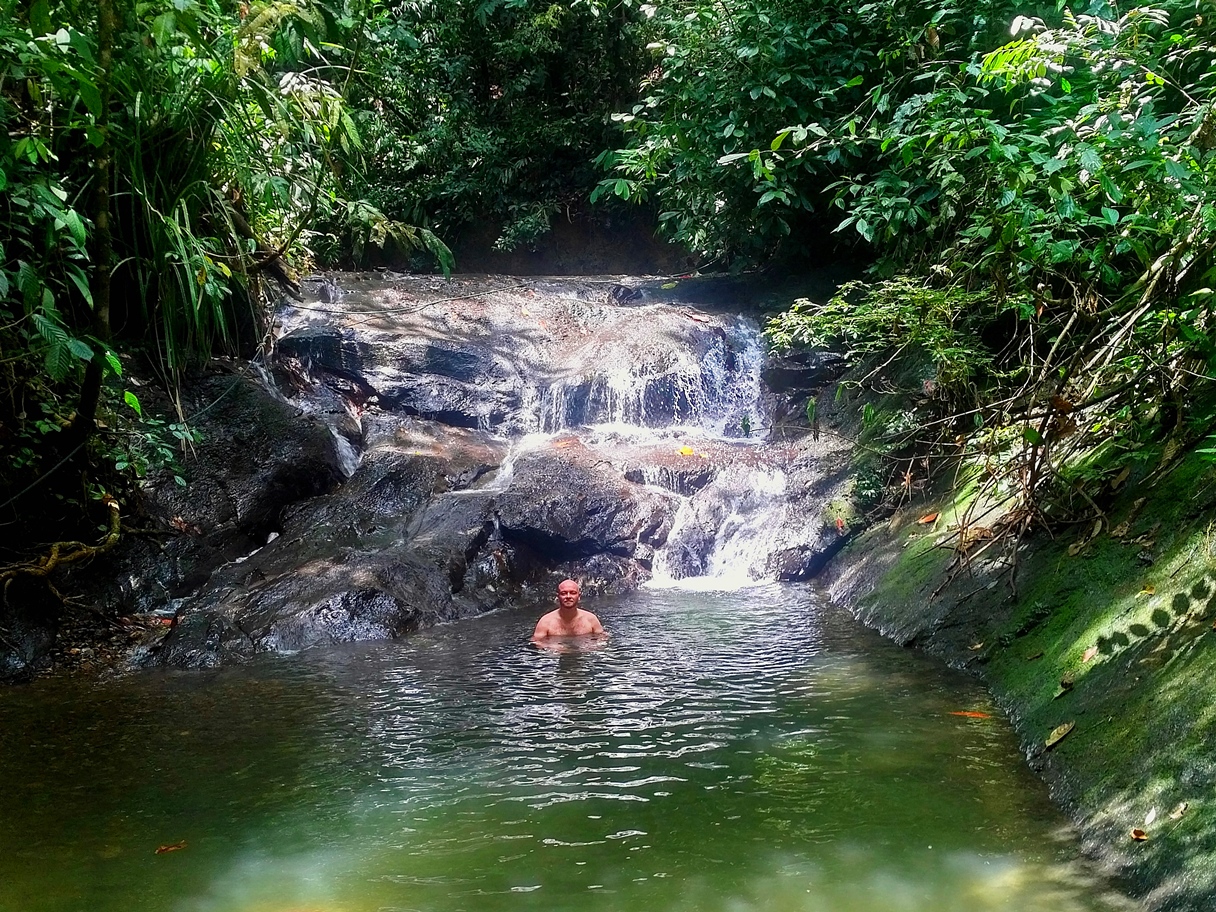 Bathing in the waters of the fall with 'Borneo Piranhas' nibbling me. It was a very unsettling sensation.
Malaysia shares the island of Borneo with two other countries: Brunei and Indonesia. In an ideal world getting from Brunei Darussalam's Bandar Seri Begawan to Kuching in East Malaysia would involve a simple flight between the two cities. However, to the unknowing eye what prospectively looks like a simple and short journey from one country to another on the map belies the complexity of Borneo. Brunei is very conservative and East Malaysia less so and thus this cultural disconnect results in less people wanting to travel between the two countries. To compound the problem Brunei shares its currency with Singapore (the S$ and B$ being pegged together at exactly the same value) but not with Malaysia which uses the Ringgit. Comparatively, then, Malaysians find Brunei expensive and are loathe to go there. Both factors result in limited traffic between both countries rendering regular flights commercially unviable. Unfortunately for us access to East Malaysia came by having to return to Singapore with a six hour transfer wait: essentially we had to fly off of Borneo and then fly back on to it. Nevertheless, getting to Kuching on Malaysian Borneo had been the ultimate goal of the entire three country trip. This was a quest to see the orang-utans, albeit via the scenic, and sometimes not so scenic, route! This small slice of Malaysia, a little adrift from the Malaysian mainland in the west, became my 82nd country.
Kuching is the capital of the Malaysian state of Sarawak. Many people make the sometimes long-winded journey to Kuching, which goes by the epithet "The city of cats", for one reason: orang-utans.
On our first morning on Malaysian Borneo we headed straight to the Semenggoh Wildlife Reserve - one of the best places in the world to see semi-wild orang-utans in their natural habitat of the rainforest. Rescued orang-utans, around twenty five of them, have free reign over six square kilometres of wild rainforest around which there is no fence. They are tempted down to a viewing area with the promise of their favourite foods; coconuts, durian fruit and the obligatory banana. It's entirely up to them if they put in an appearance and so, setting off for the orang-utans' morning feeding time at 9am, barely rested from the previous day's journey from Brunei and then Singapore and finally Kuching, we knew there was absolutely no guarantee of seeing anything. If they didn't show, we would simply have to keep returning to the sanctuary until we did; we were in it for the long haul. Days immediately prior to our arrival had been particularly good for sightings, with up to five of the gingery apes making an appearance. We dared not get our hopes up - after all, these these wild animals and they will do exactly what they please. But, just like the Proboscis Monkeys in Brunei, luck was again on our side; a total of eleven orang-utans put on a circus-like performance in the little rainforest clearing. Just like the Proboscis, my conventional zoom camera came into its own, allowing me to capture close-ups of this magical mammal from a safe distance. The alpha male, Richie, made himself very much at home on the main platform, his giant flanges wobbling as he casually munched his way through the fruity delights on offer. He was an incredible, awesome sight and, all the while, mothers swung from vine to vine and from branch to branch with their babies clinging on. The spectacle lasted for around an hour by which time we were being gently ushered away by the rangers back down the path which had been cut through the forest, during which I was mindful not to brush the vegetation on either side for fear of leeches attaching themselves to my legs as I passed.
Having managed to see the orang-utans so early on in our stay, the rest of our time in Kuching could be spent exploring what else this east Malaysian city had to offer. It's fair to say that there is beauty in Kuching - you just have to look for it. The promenade along the Sarawak River is a relatively functional affair but does lead to the striking Sarawak State Legislative Assembly building which features a large conical golden hat in the shape of an upturned umbrella. The newly-opened Harmony Bridge connects north Kuching with the south, its S-shaped curve an architectural rendition of Yin and Yang. Visually the bridge is intriguing enough to tempt you to walk over it but, in doing so, I quickly discovered it to be the wobbliest bridge I have ever stepped on; its swaying motion left me feeling rather nauseous - so much so that I could not wait to descend its serpentine shape and back onto terre firme. Kuching also has some very unusual examples of civic architecture but these generally have a low profile on the tourist trail as they are administrative buildings and so don't receive, in my opinion, the kind of fanfare they should simply because their function isn't particularly glamorous. They also do not sound very exciting with names like the "South Kuching City Council", "Kuching Civic Centre" and the "Commission for Kuching North". Their exceedingly dull names belie their architectural creativity. To compound their unfortunately low profile, nearly all are situated outside of the immediate city centre and so may evade those visitors sticking stubbornly to central Kuching. Such architectural marvels are testimony to the fact that Kuching has more to offer than 'just' its orang-utans. Seek and ye shall find.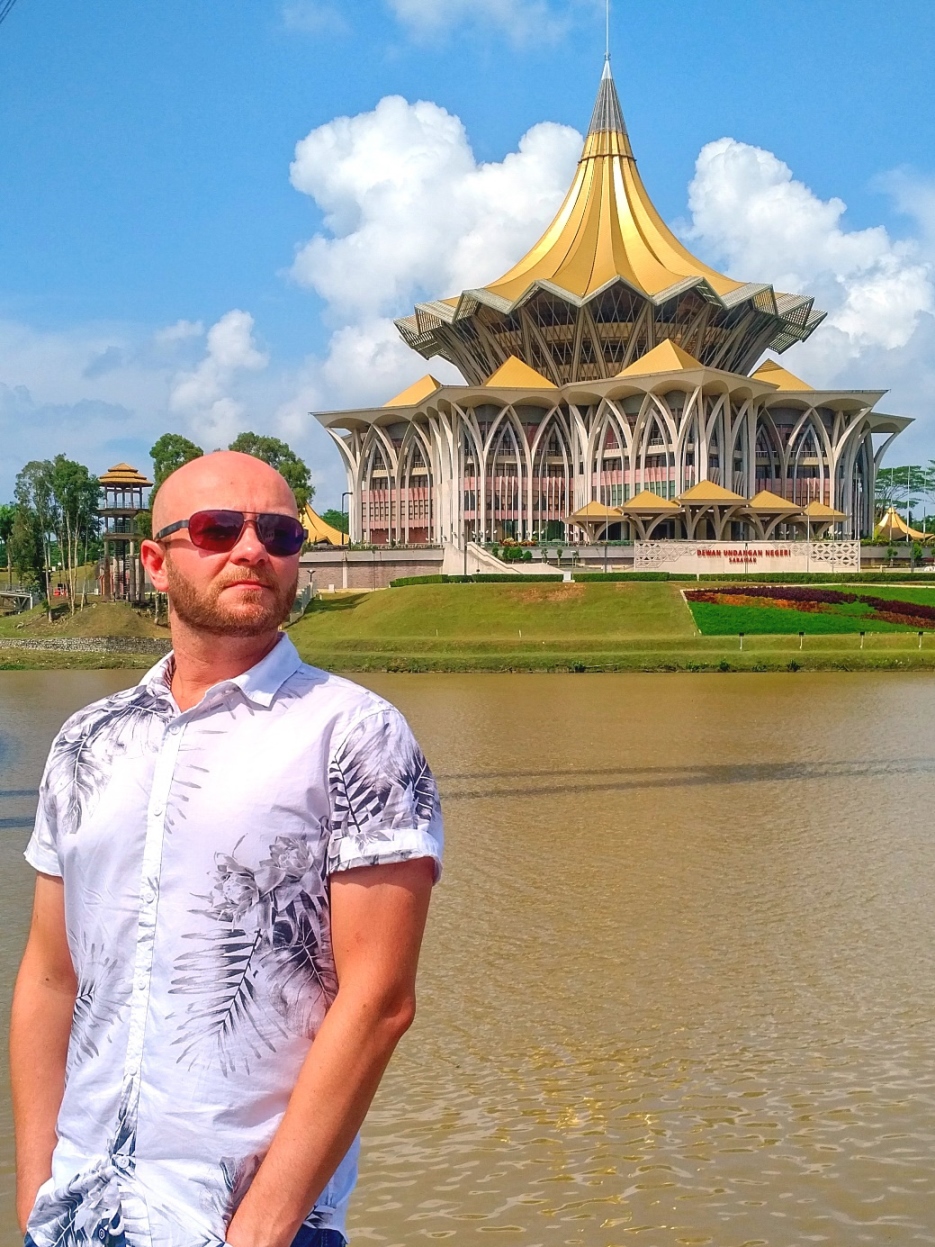 The striking Kuching State Legislative Assembly building on the Sarawak River.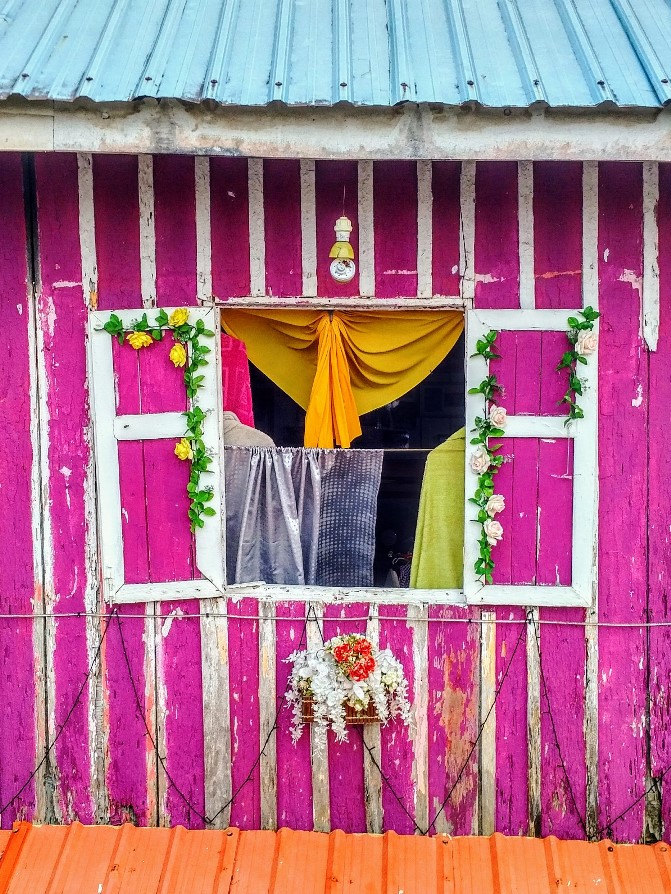 Kuching's romantic decay in technicolour.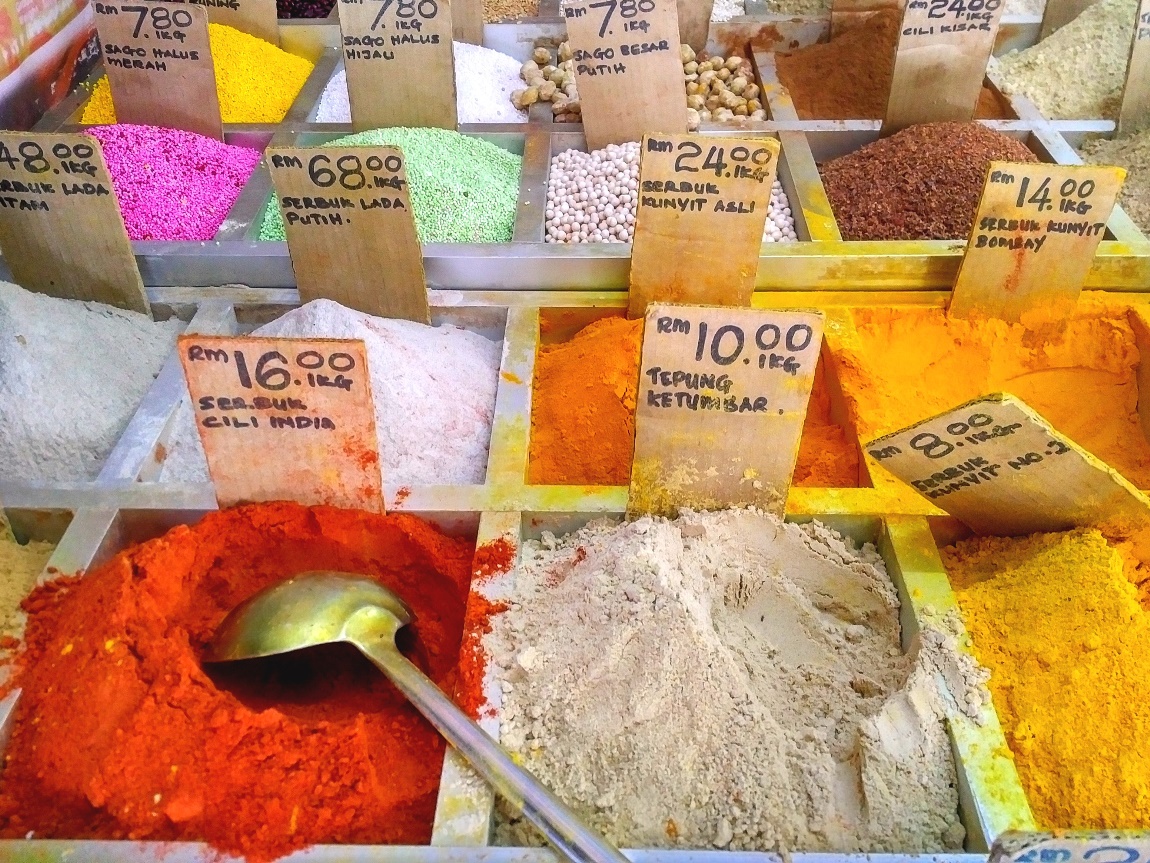 Brightly coloured Sarawak spices.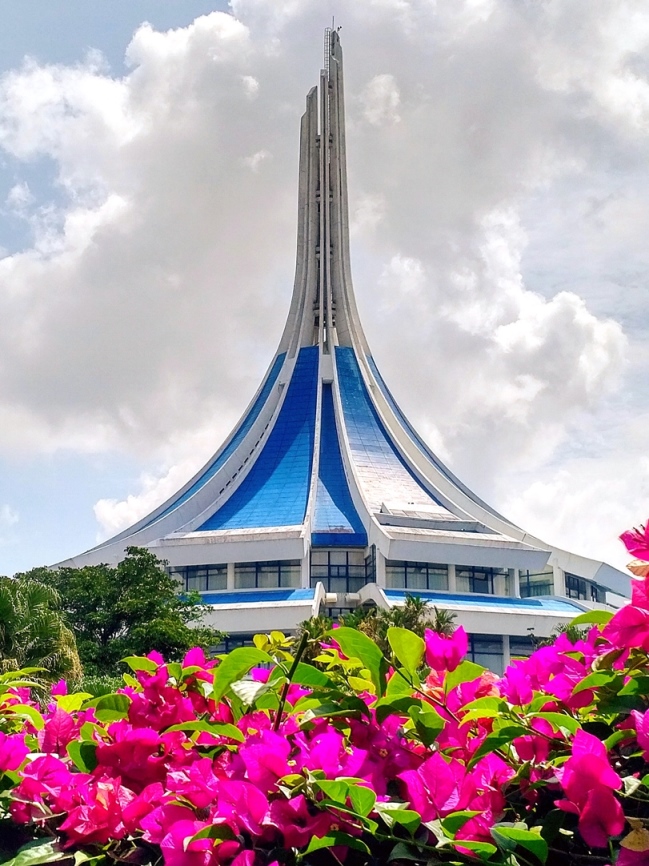 Kuching's creative civic architecture: City Council building for South Kuching is in the shape of an upturned lotus flower.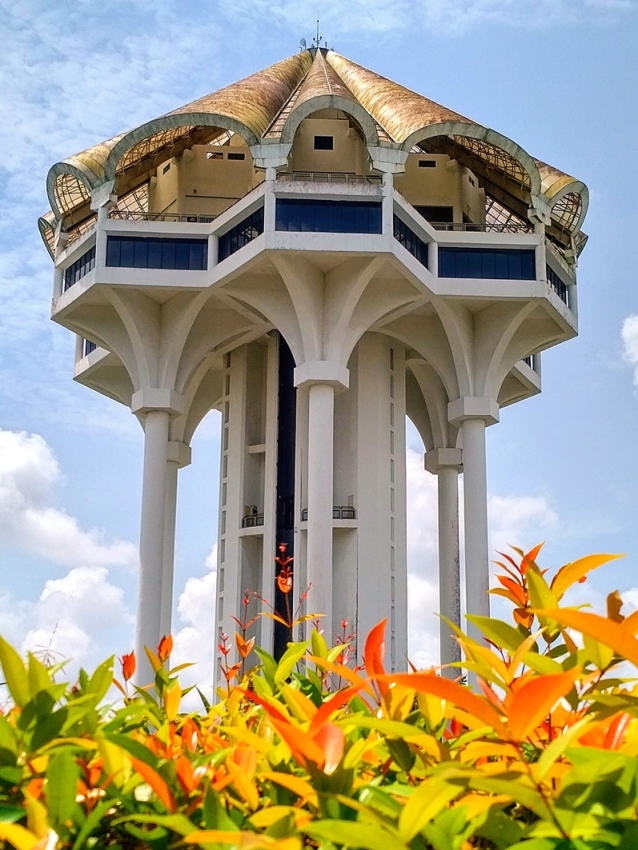 Kuching's creative civic architecture: The Kuching Civic Centre Malay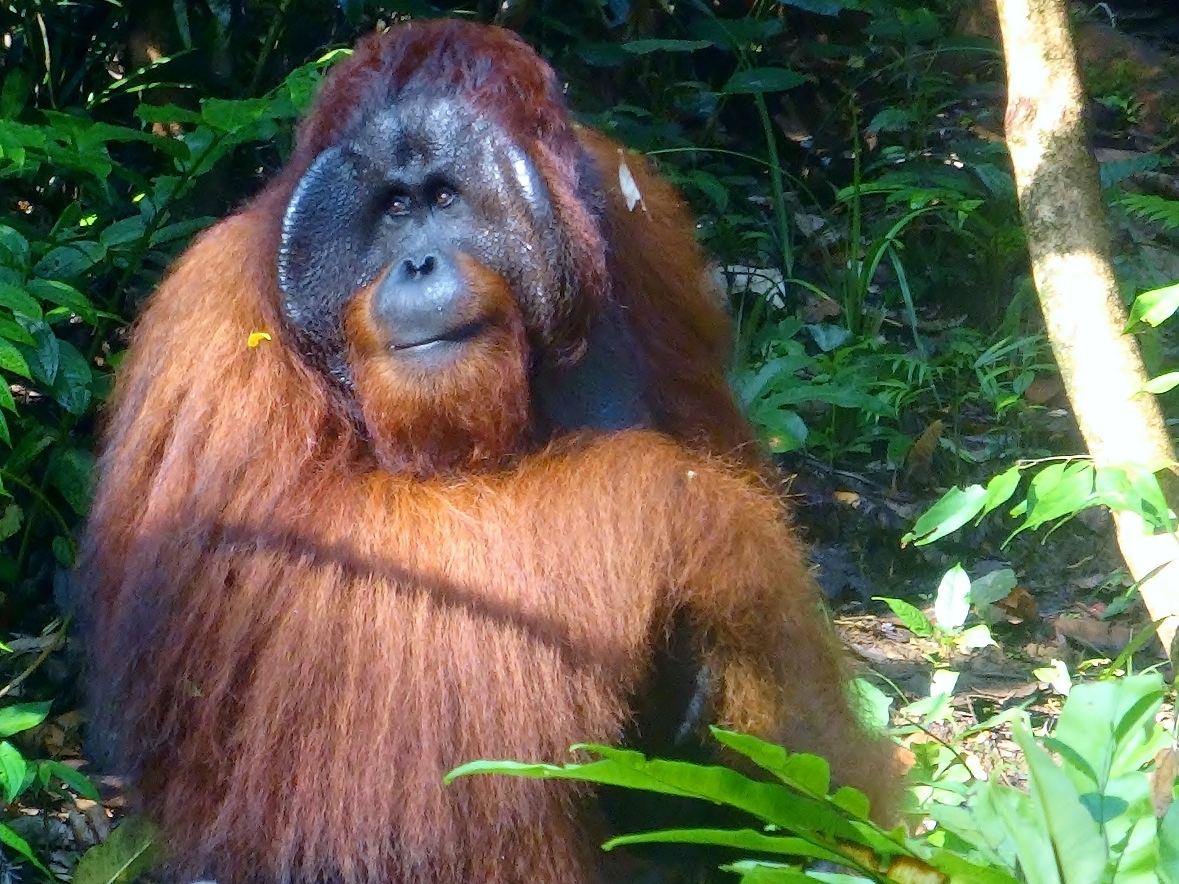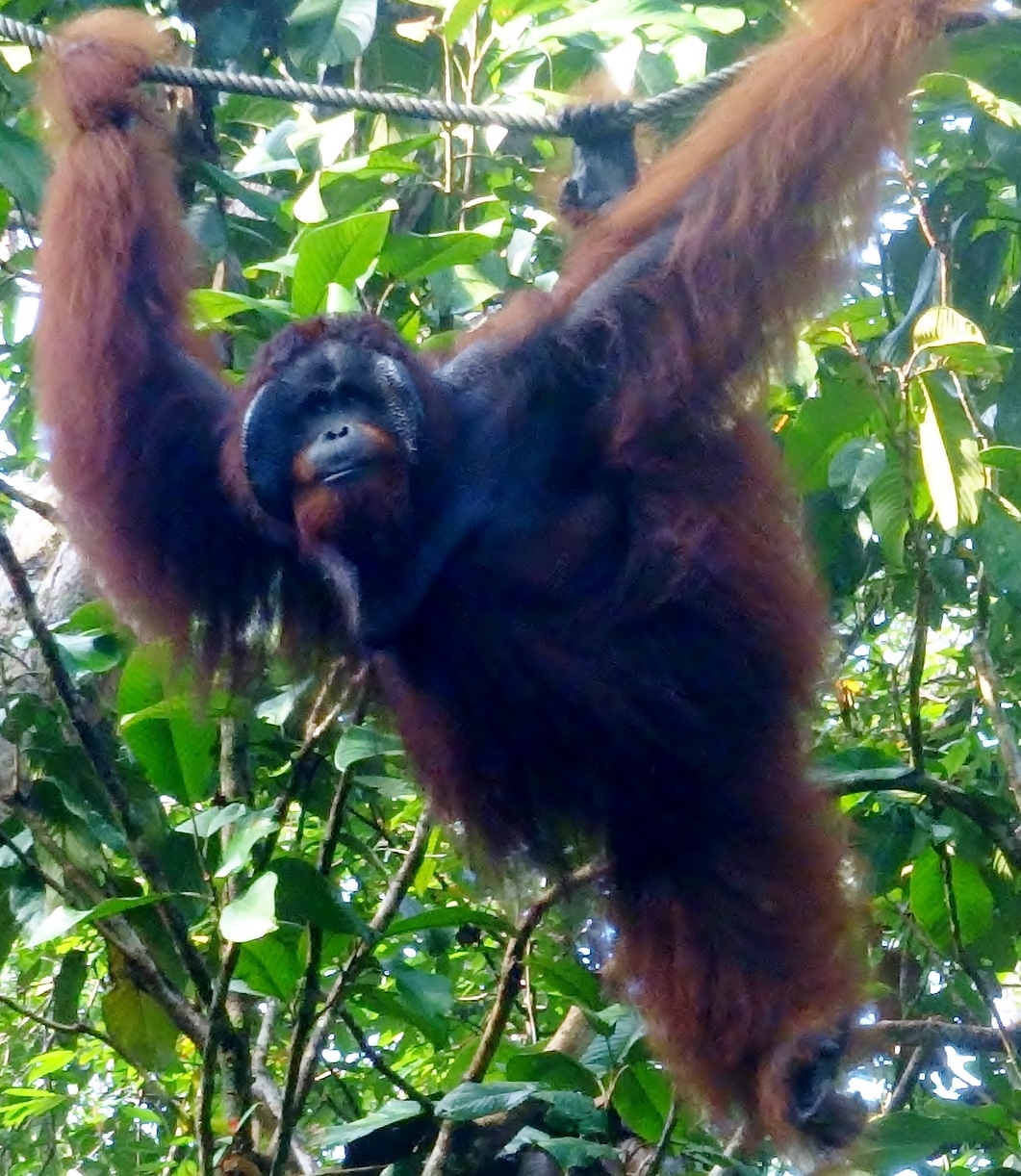 The alpha male Richie, with his giant flanges, surveys the scene at Semenggoh.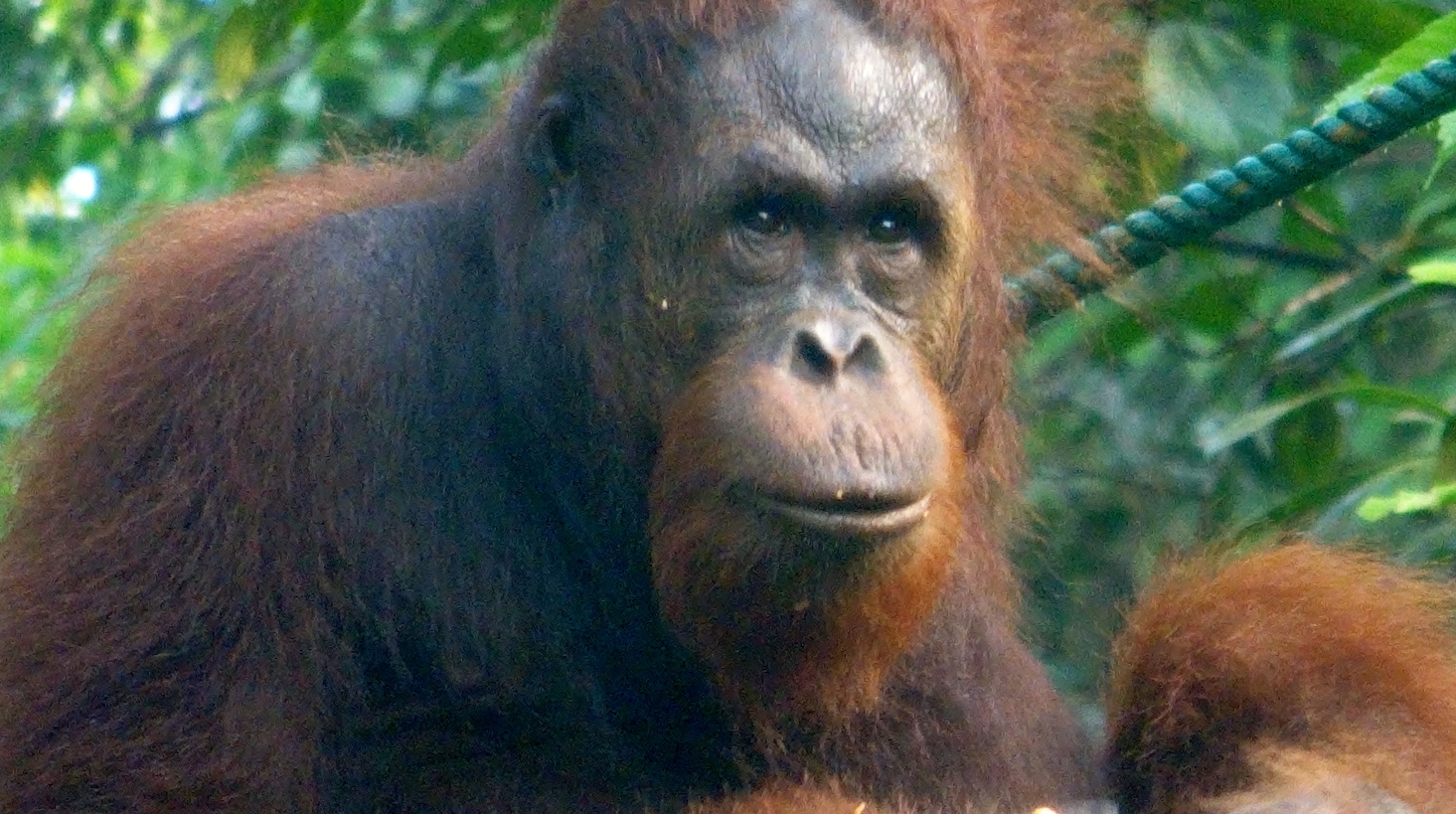 Luckily a total of eleven orang-utans made an appearance during our visit to Semenggoh. The day before there were five, the day after only three.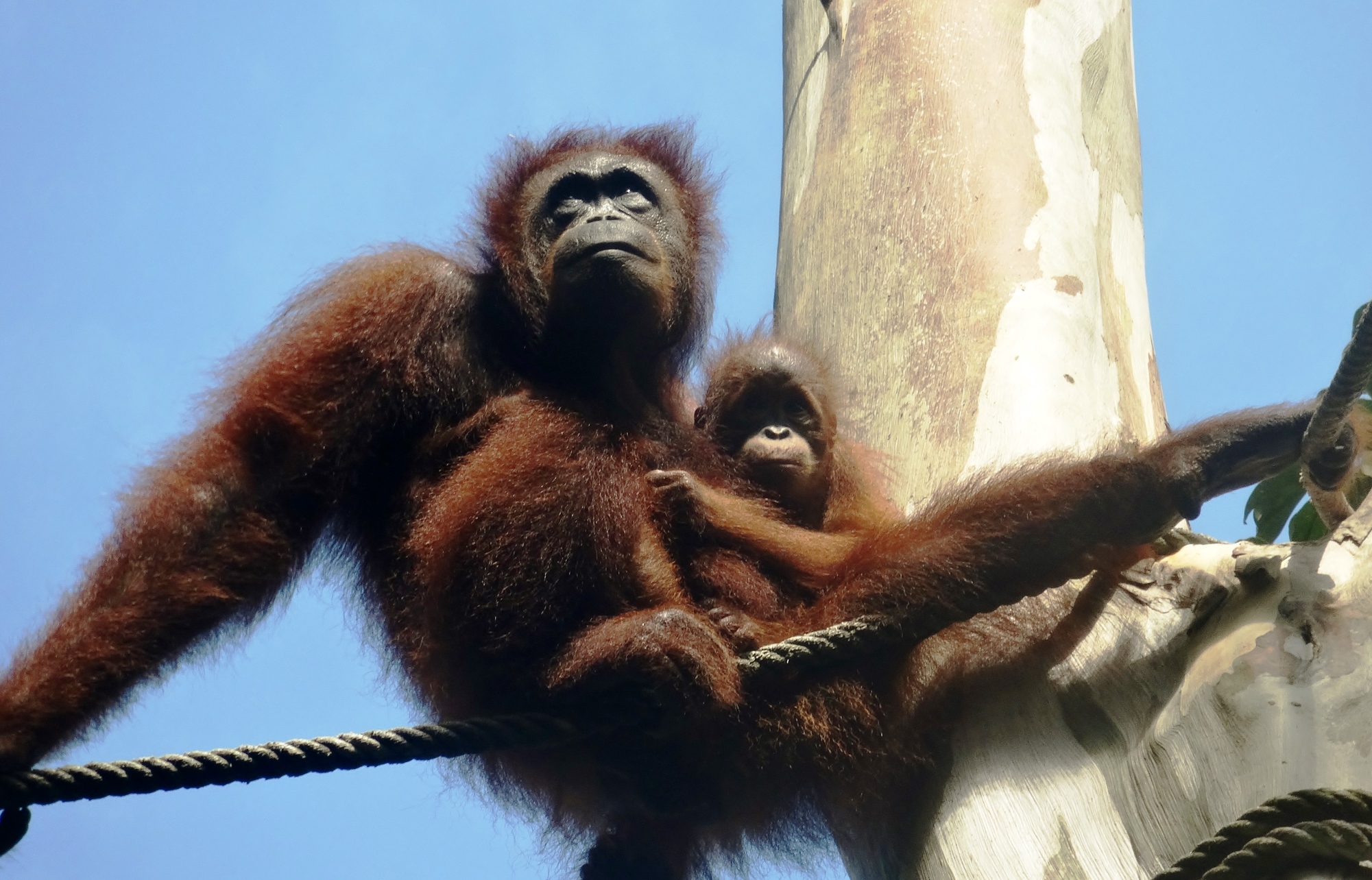 Mother and baby on a wire. Unbelievably special.
travel tips, links & resources
The Brunei Dollar is pegged to the value of the Singapore Dollar. The S$ is accepted in Brunei meaning there is no need to change your currency over if you are arriving from Singapore.
Mosques have 'non-muslim' visit times. If you want to venture indoors, plan ahead.
In Brunei taxis are few and far between. It is worth getting the card of your first driver who you'll probably meet at the airport. They are likely to offer it to you without being asked anyway. Keep it handy, you may need it.
Kampong village is best explored on foot - especially if you want to get up close and personal with the locals and their characterful stilt-standing homes. Avoid a 'tour' around the village as these are on speedboats and are far too fast for you to take any photos of any quality. Instead, pay a twentieth of the cost and get a water taxi over to the village for $1.
Brunei is a very religious country where Sharia law is being phased in. Be careful what you say and what you do or it could land you with a starring role in the next episode of 'Banged Up Abroad'. Dress considerately and avoid any political discussion, especially regarding the Sultan.
Brunei is a 'dry' country. There is no alcohol to be had anywhere - and for this reason don't bring any into the country. Make sure you don't forget that little luxurious tipple you bought in a duty free shop at the airport three countries beforehand.
As referred to in my Chronicle, it is considered rude to point with your index finger in Brunei. Try to break the habit of a lifetime by using your thumb instead. I tried but just couldn't remember in time.
Taxi drivers do not use meters in Kuching but drivers, in my experience, were honest and stuck to the agreed price. Fares were reasonable too. Getting our airport driver's business card proved useful - we booked him for our trip out to the Semenggoh orang-utan sanctuary and for our return trip to the airport a few days later.
Kuching has some unusual examples of architecture but these generally have a low profile and are outside of the immediate city centre. If you're a fan of architecture, hire a taxi driver for a couple of hours and show him screenshots of the buildings you want to see. Public transport is limited in the city.
As we were to find out to our cost, finding a quality restaurant that was open on between 3 and 6pm was impossible. Most restaurants seemed to shut up shop straight after the lunchtime rush had finished. We had to make do with a chocolate bar bought from a grocery store and then wait until the evening for the restaurants to re-open. If you want a proper lunch make sure you're there in time - that, or go hungry.
We struggled with menu items, particularly the few that were vegetarian or had fish, being unavailable in restaurants and hotels. I have rarely experienced this but it was a frequent occurrence in Kuching - and very frustrating. Being vegetarian in Kuching was problematic. You may wish to plan ahead and line up a list of potential restaurants. While vegetarian options were limited, 'The Courthouse' served quality food.