canada & united states of america
Rail Adventures Along North America's Eastern Seaboard & Beyond
Where: Toronto, Montreal, Ottawa, Windsor, Quebec, Wendake, Niagara, Canada. Detroit, Unites States of America. North America.
When: August 2011
What: CN Tower, Kayaking on Lake Ontario, Niagara Falls, Union Station, Montreal Tower, Canadian Parliament, French Canadia, American Indian Reserve, Dundas Square, Motown Museum, GM Renaissance Centre, Brick skyscrapers.
How: Transatlantic flight, VIA Canada Railways, Bus, Walking, Monorail, Taxi, Trans-border shuttle, Hotel safety bus.
Country counter: +1 country
Illnesses or mishaps: Ending up in one of America's most dangerous cities without so much as a clue until I stepped onto the streets of Downtown Detroit, where I was promptly threatened by a man who had just been released from prison; having my social media accounts hacked because of technology issues at our Montreal hotel.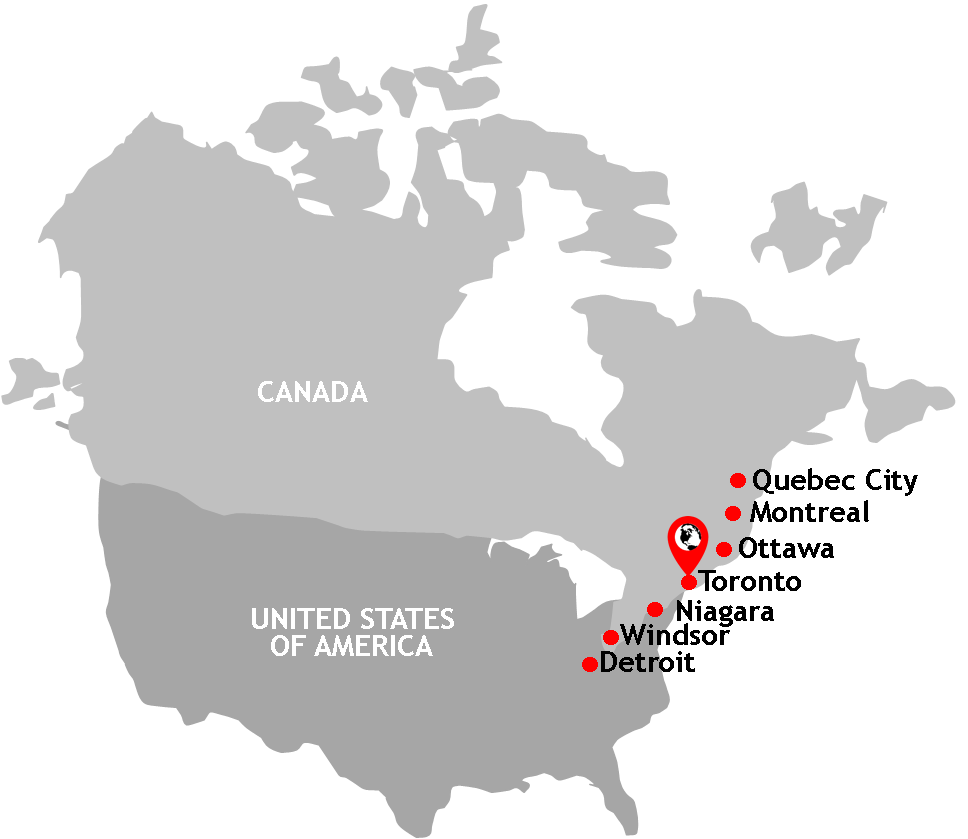 Journeying by railway is a quintessential travel experience, affording a ground's eye view of a country. Snaking through the landscape, trains unlock a country or a region, allowing you to mix with the locals, spend time gazing window-ward, and to get about cheaply. Canada was to be an adventure using the VIA Canada Railway. Our aim was to cover a not insignificant slice of its eastern seaboard, from Windsor in its south to Quebec in its north. Our railway journey was essentially a city-based one. In hindsight I regret this; I would have liked to have sampled Canadian life outside of its urban centres. We did, however, visit major cities in Ontario and Quebec provinces, with a foray into the United States via a simple border crossing into Detroit from Windsor - a foray I was to regret at the time but regard much more fondly years later.
Railway Adventures Along the Eastern Seaboard
Canada is vast. Indeed, an initial desire to travel over from the east to west coast to Vancouver were promptly abandoned when we learned it would take over four and a half days to get there by rail. Despite our best intrepid efforts we barely scratched the surface of this immense country - the world's second largest beaten only by Russia.
Canada was a tale of two countries. Like many, our first impressions of Canada were based on Toronto - a city full of fun and colour. But, as we headed eastwards into Quebec province, things took a decidedly French and, I'm afraid, less polite turn. Almost instantly there was a shift in atmosphere. While Toronto was immaculate and seemingly stuffed full of friendly people who would readily engage us in conversations (helping us with map reading, admiring our accents - particularly prevalent), places we visited in Quebec province (Montreal, Quebec City) felt edgier. Graffiti greeted us as we pulled into Montreal station - something we'd seen very little of in Ontario. People were brusque, unhelpful and would knock into you unapologetically. In short, we had travelled thousands of miles from Europe only to end up in... Europe. But that's travel. And colonialism.
Weather in Canada proved unpredictable. We took to having the country's Weather Channel on in the hotel rooms in which we stayed to help us plan our days around downpours. Weather ranged from blisteringly hot with near-100% humidity, to dramatic thunder storms complete with forked lightening and deluges. Through a combination of planning and luck we managed to dodge the worst of the inclement weather. We were rather thankful, for instance, that we had decided to visit the CN Tower on the day of our arrival as on proceeding days the skies opened; there would have been absolutely no point in seeing views of Toronto from the top of the tower enveloped in rain clouds.
The VIA Rail Canada network was as unlike British Railways as it was possible to get; punctual, clean and spacious. Staff were unfathomably polite, too. Indeed, we ended up having a long chat with two rail guards on our way from Niagara to Windsor. Our journeys on the network were leisurely, air conditioned and efficient. The online ticketing system was faultless, too. Seemingly, many in Canada use cars to get about. From what I could gather, the VIA Canada train network was designed principally for leisure travellers, the net result being that there were fewer daily departures and capacity quite limited. Booking ahead, therefore, was essential. In Canada, no seat means no journey. Pre-booking tickets online for each train was easy in itself but also problematic because it meant having to plan the trip down to the smallest detail: we had to know where we'd be and when, as well as how long we would be there, before we could book seats on a single train. Whilst this sort of research is part of the fun of travel - the anticipation, the nervous excitement, the prospect of adventure in new places - it was also a little fraught. Thus the rush was on to secure tickets before we left the United Kingdom.
At the end of the rail trip along Canada's eastern coast, we'd clocked up a massive 2600 kilometres. The £230 cost of our VIA Rail passes for the Windsor corridor proved to be exceptionally good value. Watching hundreds upon hundreds of miles of countryside roll by through the train window was like observing a living, breathing Polaroid of Canadian life pass by: green pastures, undulating hills, panelled wooden farm buildings and small rural stations had something of a Huckleberry Finn vibe about them. Added interest along particularly long stretches of track came from the completely incongruous use of familiar British place names ("Aldershot", "Chatham" and even "London"), which as a Briton, seemed truly absurd in this Canadian context.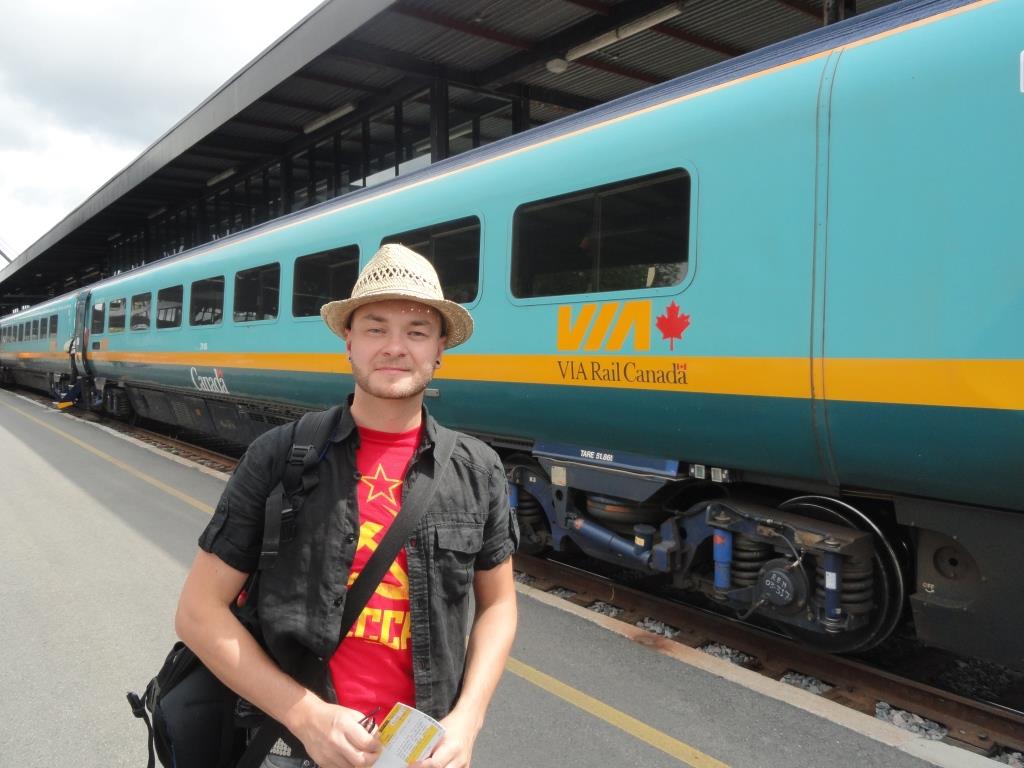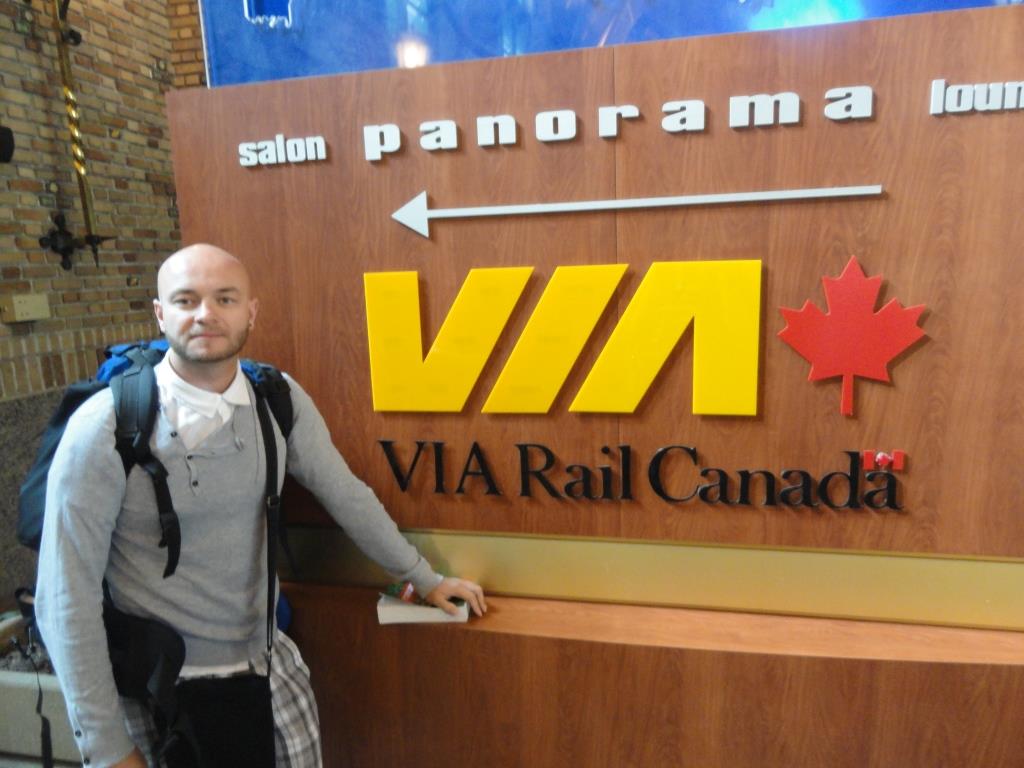 Travel by train; all the thrill of travel without the fear of flying. From left to right: at Toronto, Windsor, Ottawa and Quebec stations.
Toronto is an easy city to love. Thankfully it was the city we spent most time in - like a sandwich it was at the beginning and end of our rail journey along the eastern seaboard. Viewing the Toronto skyline for the first time was a great moment rekindling, as it did, memories of my time in New York City. Perhaps embarrassingly, the CN Tower was one of the reasons I was lured to Canada in the first place having, as I did, a bit of a penchant for large towers at the time. The CN Tower seemed positively ubiquitous, photobombing itself into any and every picture I snapped in Toronto; its giant size, over five hundred meters, ensures it can be seen from all over the city, squeezing in between buildings or soaring above others.
Toronto is a capital which many countries would be proud to call theirs - except Toronto isn't Canada's capital. That honour goes to Ottawa. Despite this mere technicality, Toronto is the bright lights and urban heart of Canada. This is no better embodied than in the city's Yonge-Dundas Square, the Canadian rendition of Times Square in New York or Piccadilly Circus in London. Indeed, Yonge-Dundas was once in the Guinness Book of World Records as the longest street in the world. It is the thriving hub of Toronto; a rendezvous point for revellers, a stage for street performers, a place for people to spontaneously burst into dance, and where visitors like me marvel at its kaleidoscopic fusion of colourful lights and kinetic energy. The focal point, a large music stage, is merely symbolic, for the real action, I would argue, happens all around you.
Every city worth its place on the international stage needs a thriving gay district, and Toronto did not disappoint on this measure. Known as Church and Wellesley, Toronto's gay village did indeed feel like a village with its smattering of bars, restaurants and small independent businesses. But it also felt a little insular and exclusive; waiters seemed far more concerned with catching up with the previous night's goings on to waste any time serving two Brits who were famished from a hard day's citysploring. It was the only place in Toronto where service standards dipped a little but, perhaps, it was just bad timing on our part. Church and Wellesley was eclipsed by the district of Cabbagetown just a few blocks away; its delis, independent boutiques and skilled graffiti murals seemed to offer something deeper and richer. Feeling so at home here, we determined that the only way to show our appreciation of the place was to stay for dinner.
You'd be foolish to write off Toronto as just another city with the usual mix of corporate architecture and obligatory fashionable districts. This warm and friendly Canadian lady has something unexpected up her blouse sleeve: she has an island which proffers the opportunity to try a variety of water sports. The island doubles as a kind of beach holiday-cum-children's theme park-cum-recreational sports destination (delete as applicable) for the two-and-a-half million Torontonians keen to escape the hubbub of downtown life. We journeyed to the island for a leisurely, sun-drenched afternoon kayaking on a small inlet of Lake Ontario. The island also guarantees an incredible vantage point from which to photograph the the Toronto city skyline (indeed, it is from Toronto Island that the main image at the top of this Chronicle comes).
Torontonians are renowned for their friendliness. On several occasions we were the positively coerced into accepting help even when we didn't require it. People in Toronto are up for fun and friendship. Indeed, I can quite imagine having a circle of friends within a matter of weeks if I were to ever live there. Toronto has the fascia of a big metropolis, but the friendliness of a small village, a seemingly contradictory combination which many cities can only dream of. It was on Toronto Island that I espied a sign which seemed to capture the city's friendly essence succinctly; it said, "Please Walk on the Grass".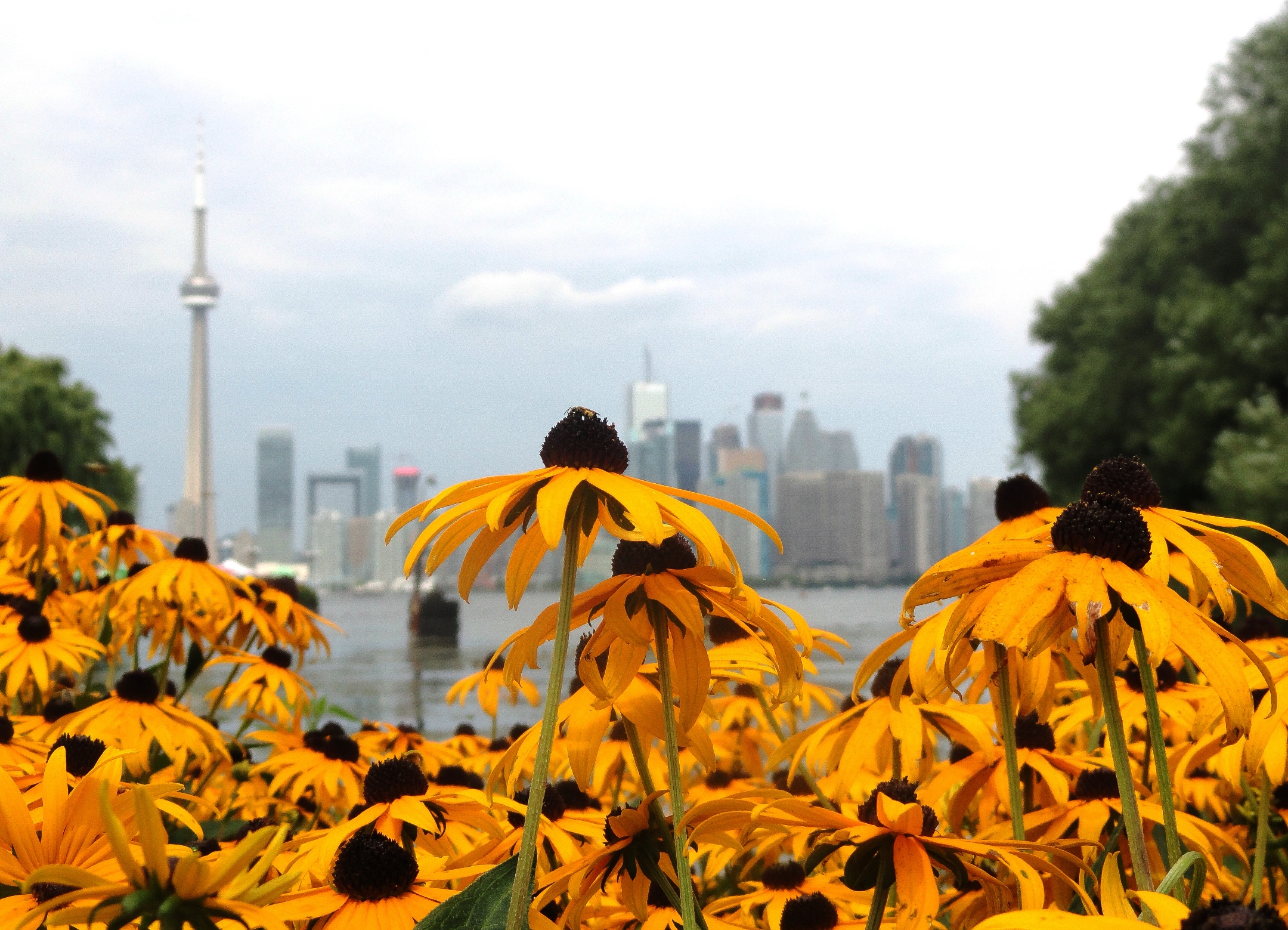 Downtown Toronto skyline as viewed from Toronto Island on an overcast afternoon.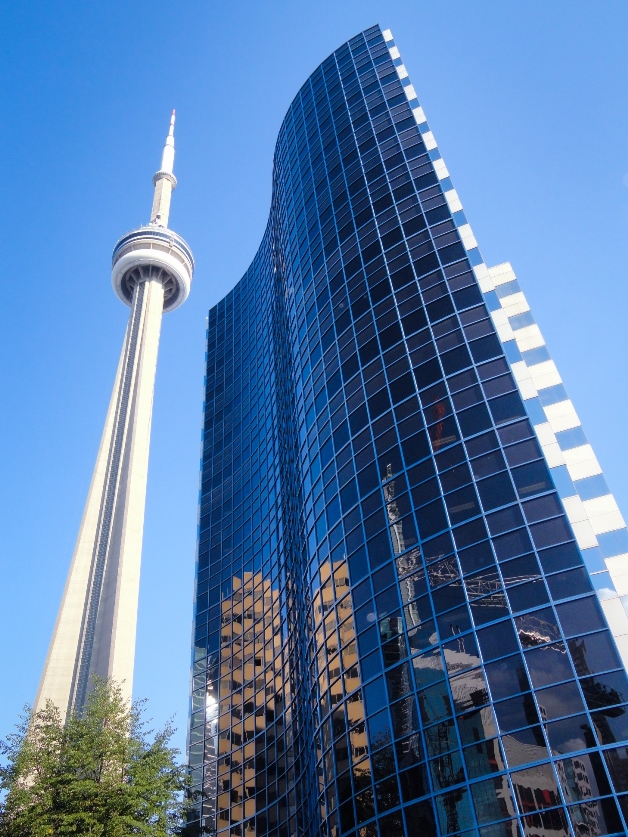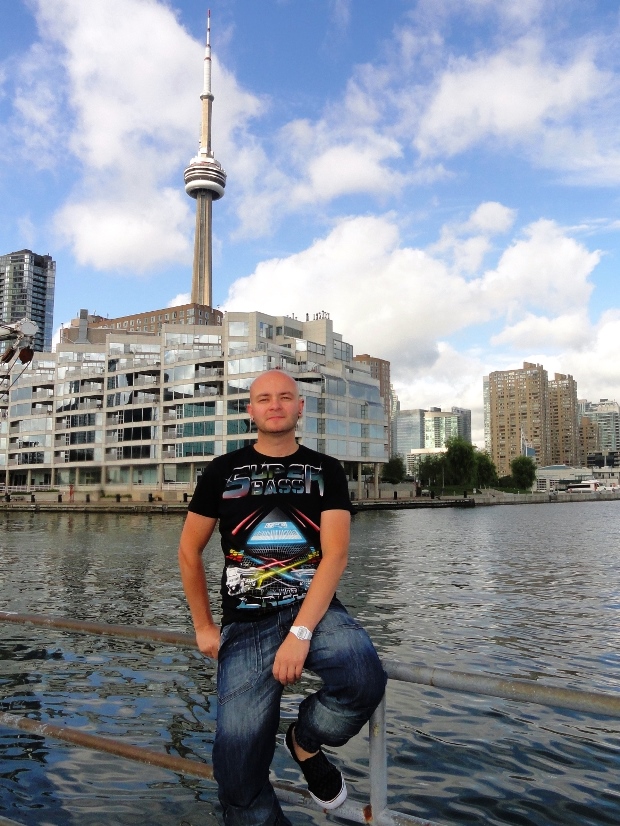 The striking Canadian National Tower.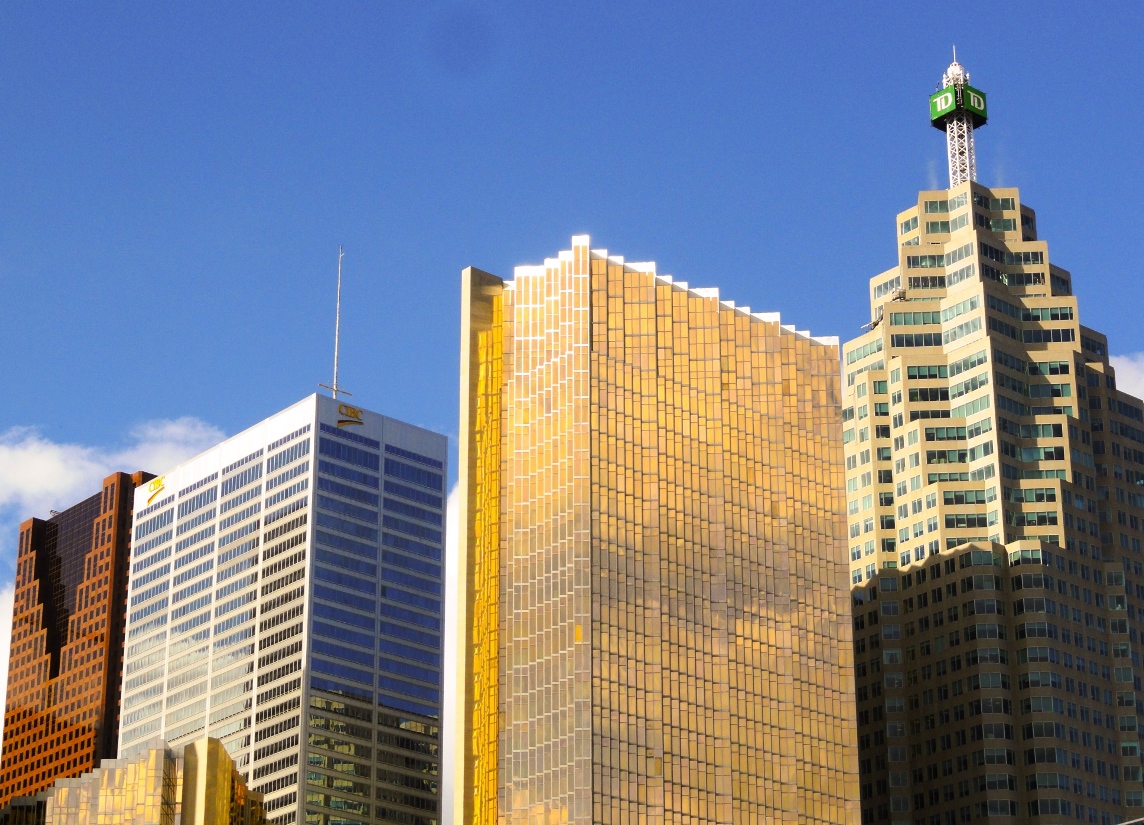 Toronto Skyscraper juxtaposition.
Niagara is an icon of world travel, attracting 25 million visitors annually. Unfortunately this is a number which will not surprise anyone who makes the trip from Toronto to get there. The falls were undeniably impressive, but the sheer number of tourists served to detract from its watery magic. Niagara was crammed full of families with badly behaved children, poor quality food outlets and other questionable tourist 'attractions'. The area around the falls had a distinct whiff of theme park about it, and shall forever be known, in my imagination, as 'Niagaraland'. Fortuitously we'd scheduled only a single night here, which meant we would soon be on our way once the obligatory photographs of the Falls with me in front of said Falls had been snapped. Having said all of this, we could not have visited the eastern side of Canada without beholding Niagara's magic, the Falls which I'd seen so many times times as a child in the film Superman. As we were staying one night, we decided to stay at a hotel which had the best view in town: completely uninterrupted views of Niagara's cascades. Whilst more expensive than I would normally settle for, it was one of those decisions based on my travel mantra: "We are only here once and so may as well". Our hotel room had floor to ceiling windows overlooking the Horseshoe and American Falls, both of which were illuminated at night in all of the colours of an artist's palette. The hotel's windows were the best television screen ever. With our brief stay in Niagara at an end we headed to the station to resume our tour of the eastern seaboard. Next stop: Windsor on the Canada/United States border.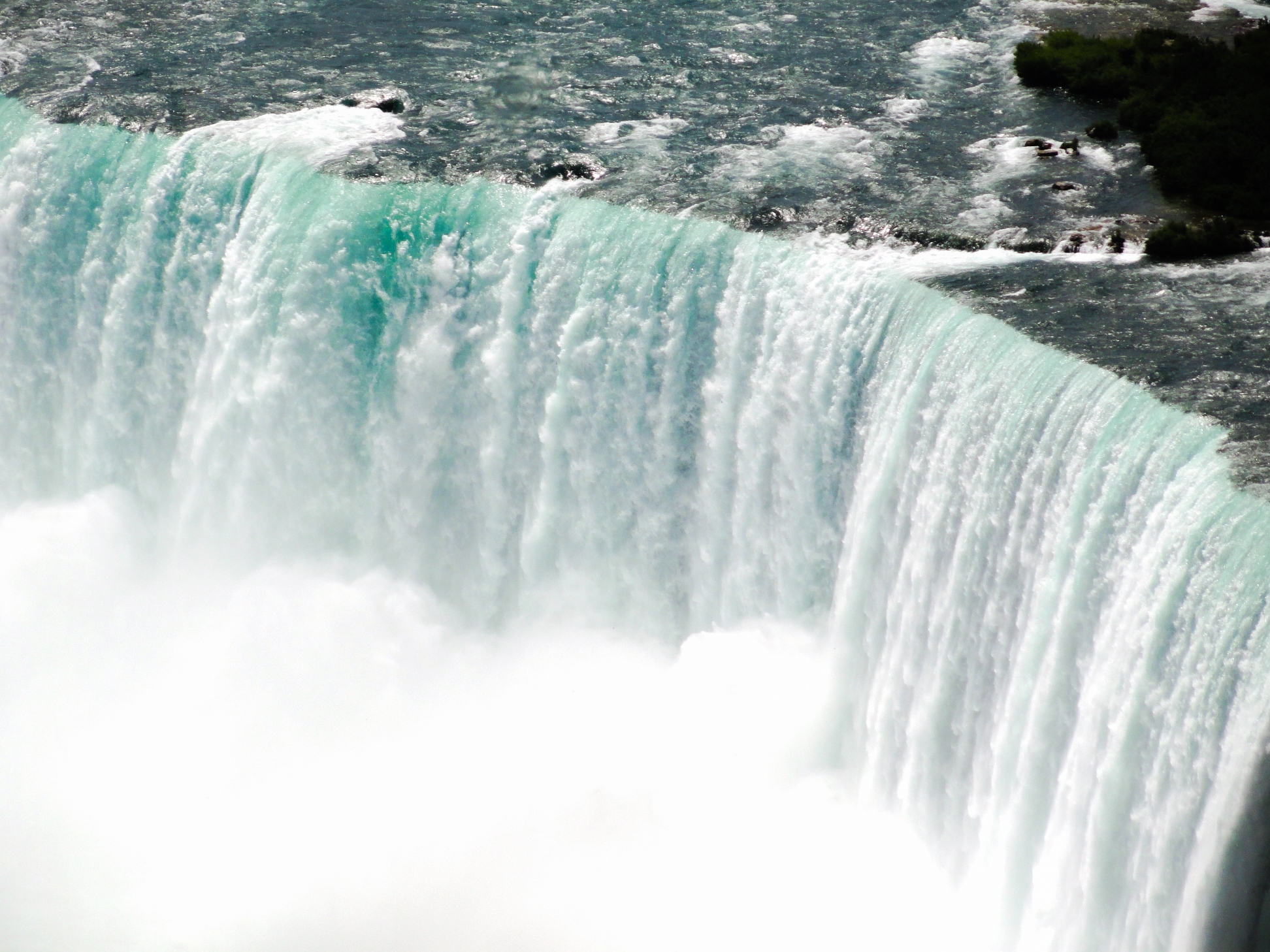 Niagara Falls' famous 53 metre drop and giant spray.
Windsor, Canada's southernmost city, is pleasant enough. It was once key in the making of motor cars and therefore once inextricably linked to Detroit which lies just across the Detroit River. Just like Detroit, Windsor's motor-making heyday is well and truly over, resulting in economic stagnation and joblessness in the city. I have fond memories of Windsor; it was a well-kept place, full of hanging baskets bursting with blooms and harbour-front sculptures - but one which I'm sure was not worth the several hours on the train from Niagara to get to. We did not stay overnight here, but did spend two long afternoons enjoying its tranquillity and the friendliness of locals. Initially, the plan was to spend a night here, with another in Detroit but, seduced by the deceptive glitz of Detroit's skyscrapers, which lay just across the water, we forfeited Windsor's one night and handed it, perhaps stupidly, over to Detroit. There were times in Detroit when we wished we'd opted for the uneventful safety and charming banality of Windsor. The tourist office in Windsor was, for instance, so dead that I think we literally woke the man up from his desk. Windsor - pleasant but, perhaps, a little too quiet. It is not a tourist destination in any way, which begs the question why it even featured on our itinerary. Windsor did have, however, a delightful little bistro-café along the harbour, from which we could see the towers of Detroit in America and which served some of the best food I've ever tasted. The service was also second to none. We returned to the same bistro-café on our return from (or should that be survival from) Detroit, tipping generously on both occasions.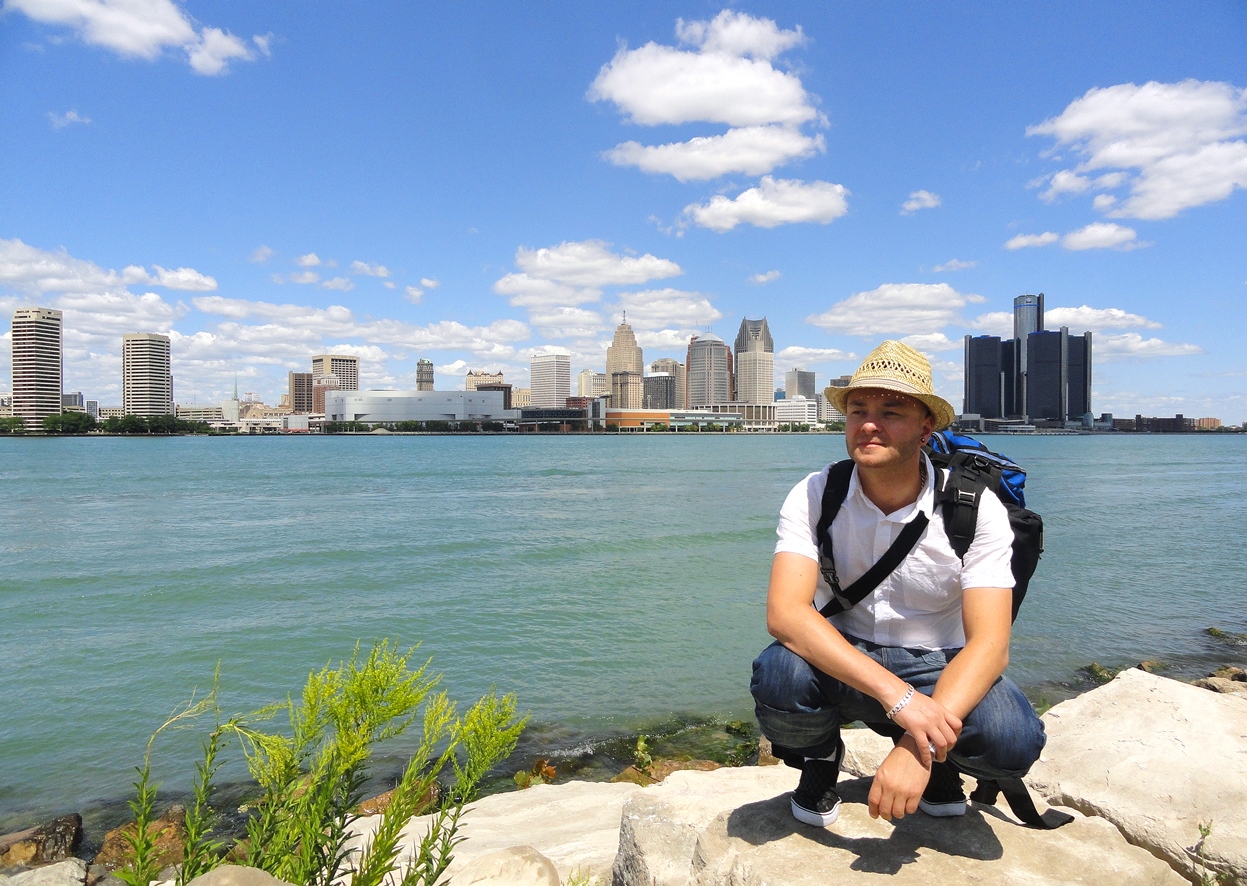 At Windsor's riverfront with Detroit in the distance.
An evocatively rusty piece of naval machinery juts out into the Detroit River with Detroit's city skyline viewable in the distance.
Ottawa is Canada's capital, but doesn't feel like it. Sure, it has the parliament and is the seat of political power, but in almost every other respect, Ottawa plays second to Toronto. It is only the capital because Queen Victoria declared it so - something some Canadians are said to feel a little uneasy about. Ottawa is pleasant enough but is more sleepy and traditional than I like my cities to be. The view across the Ottawa River toward the Parliament is respectable enough. We stumbled upon the Changing of the Guard ceremony in front of the Parliament, a display of tradition characterised by tall black bearskin hats and red blazers festooned with gold buttons. It soon dawned on me that we'd travelled nearly 6,000 kilometres to be... in London. This wasn't going to be the only time that I had a distinct and unshakable feeling of travel deja-vu.
The open friendliness which was such a feature of Toronto, but seemed to be a feature of Ontario more generally, was epitomised by an experience I had in a local café in Ottawa's market area where we'd decided to take breakfast. The owner, an overweight, friendly, bursting-with-energy type, made me repeat my order simply because she loved the way I pronounced "cereal". Having laughed loudly, she returned with another waiter only to make me repeat it again, bellowing "It's because we love your accent". Other diners laughed along too. There wasn't exactly much to do in Ottawa. We sufficed with a boat trip along the Ottawa River, a largely uninspiring affair. We were looking forward to the dramatic illumination of the buildings on Parliament Hill - an event which was duly cancelled because of the rain. The view from Nepean Point was worthwhile, as was staggering across the giant iconic spider statue from artist Bourgeois. Meeting up with an old university friend on the final day also added a personal dimension to Ottawa.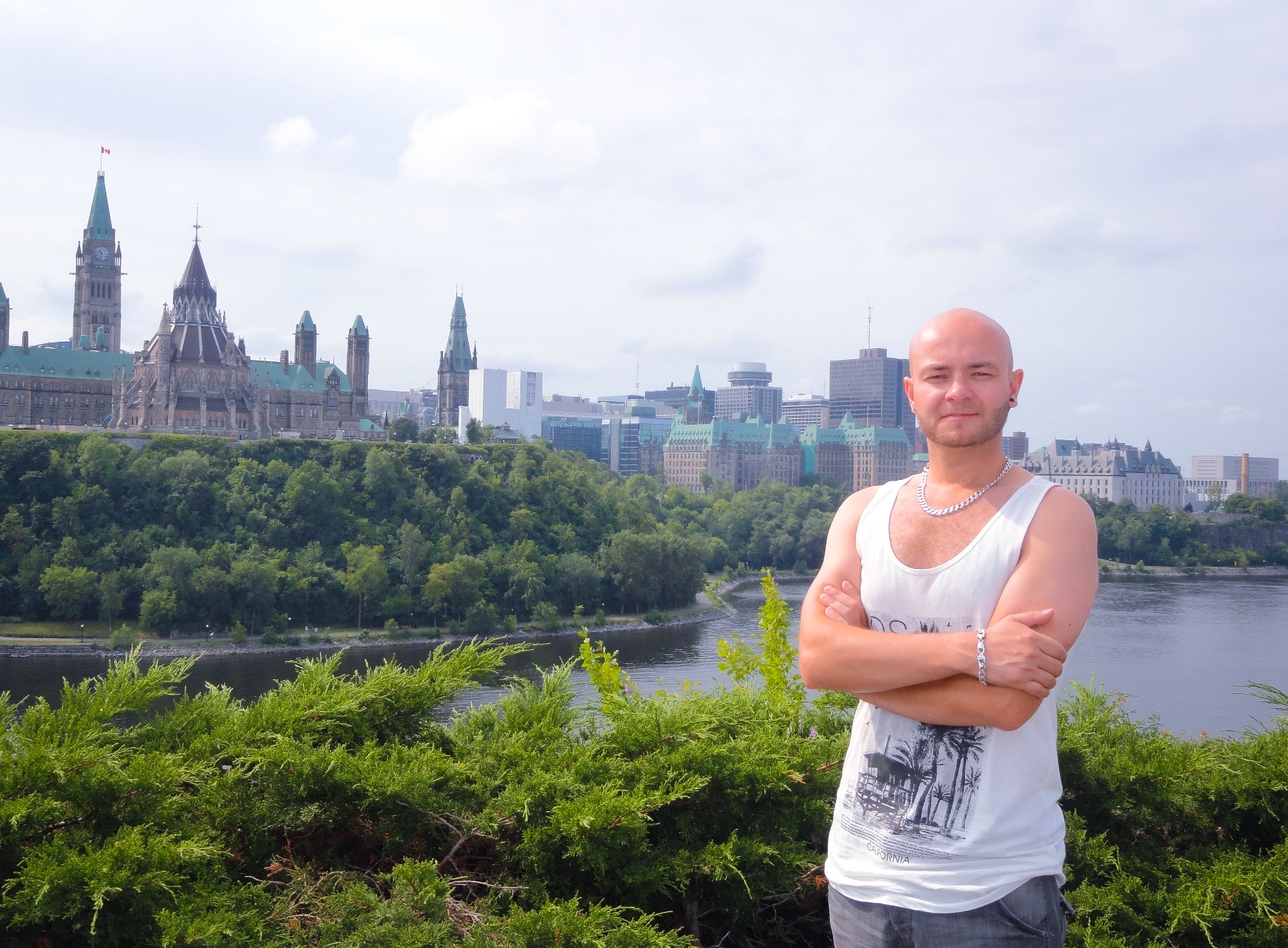 Overlooking Ottawa River with the seat of the Canadian Parliament position on the hill.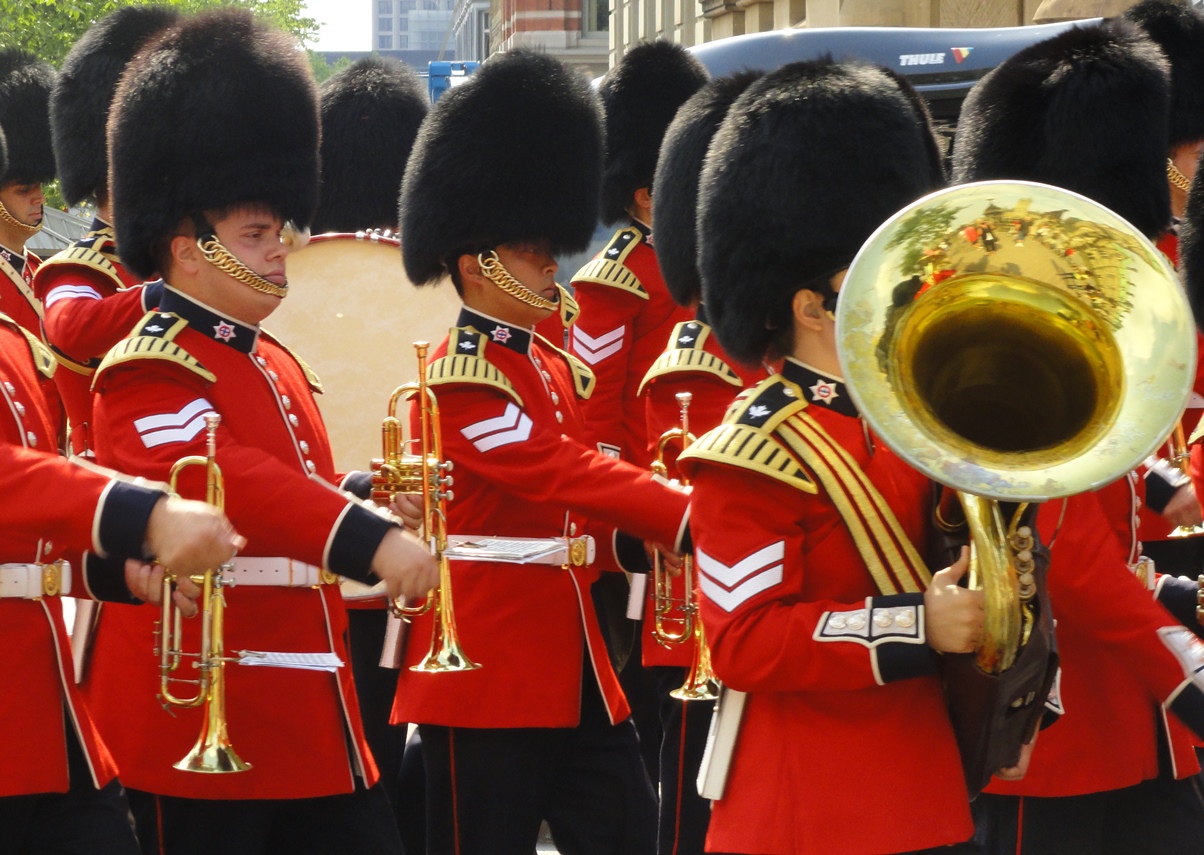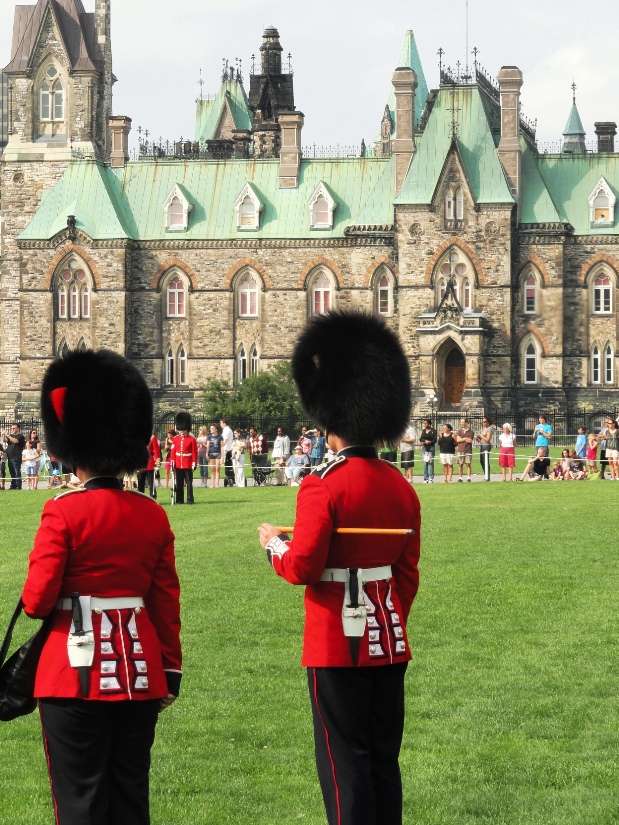 A very British affair: the Changing of the Guard at the Canadian Parliament. Did I take the train to London by mistake?
Montreal surprised me. I understood that the city would have an unmistakable "saveur Francaise", but having just arrived from Ottawa, where I felt like I was in London, it seemed that I now found myself in Paris. Don't you just love colonialism? I found Montreal to be uncompromisingly and unapologetically French; there was little attempt to be bilingual here. Contrastingly, in other parts of Canada I had been, there was, at least, an attempt to be inclusive of both languages. Many of the things I came across were written in French only. There were pretty little French patisseries, boulangeries and fussy little cafés on streets which had the most French of French-sounding names, such as the "Rue du Notre Dame".
Montreal felt gritty and urban with more graffiti, more noise, more attitude, and more arrogance. Its Old Town down by the harbour was typical tourist trap fayre with obligatory cobbles, souvenir shops and street portrait painters - cliché and not unique in any way. A climb to the top of Mont-Royale Hill (from which the city gets its name - "Mont-Real") in the midday heat afforded us some beguiling views of the city which allowed me to, at least, appreciate the city in all its cityscape glory. Montreal was also the home of the biggest incline tower in the world and, being a fan of towers, this was firmly on our list of things to see before we departed for Quebec (which would prove to be even more French than Montreal). What would have otherwise have been wasted time on our final morning was instead used profitably with the hiring of a bike, thanks to the city's Bixi public bike system. Cycling under the city's imposing skyscrapers along giant boulevards on a sunny morning was thrilling, if not a little hair-raising at times. I clearly took a few risks I shouldn't, having not been on a bike for some time. I received a few car horn beeps but am glad to say that I lived to tell the tale...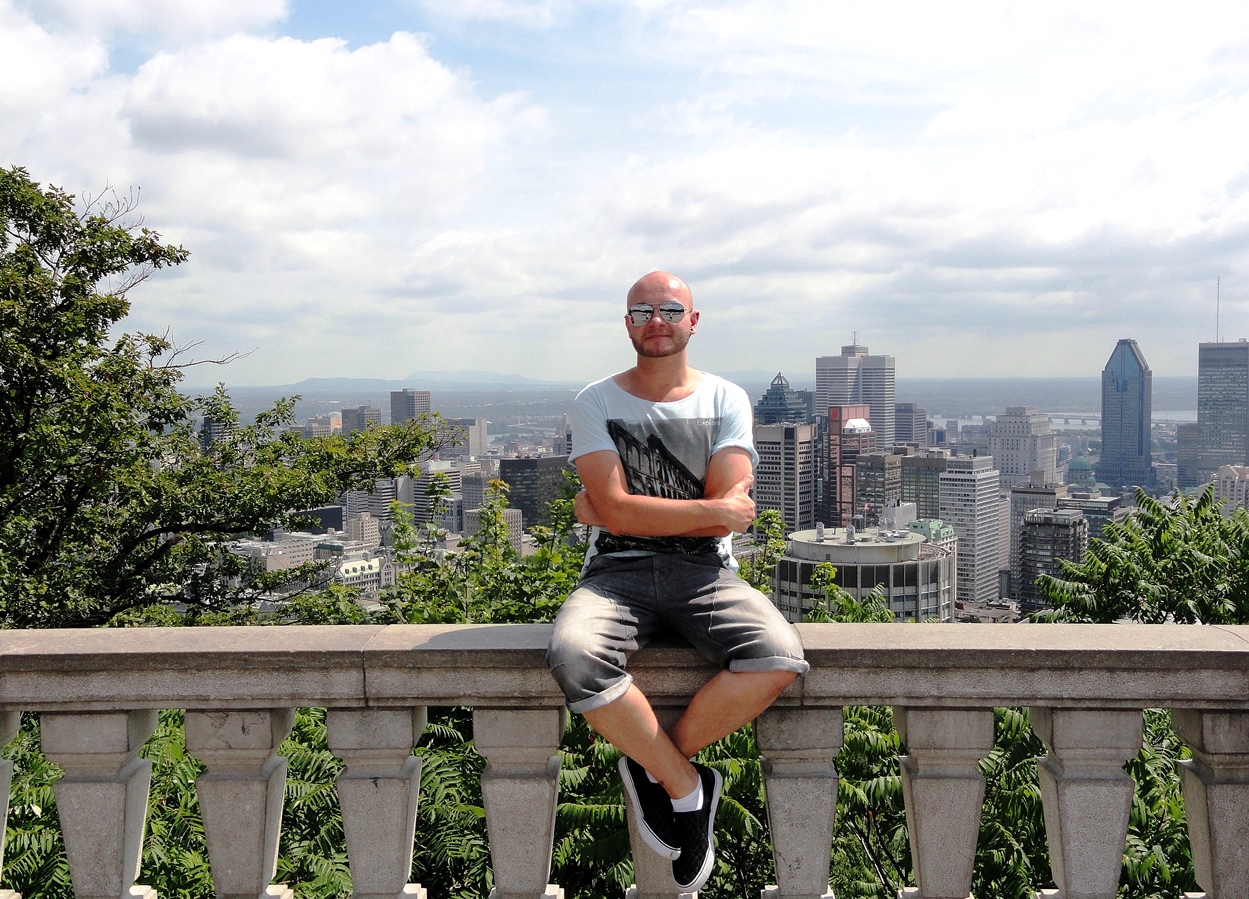 Mont-Royale hill views of Downtown Montreal.
If Montreal was French, then Quebec City was French cubed. Quebec was full of old world charm - if you like that sort of thing. Personally, it is rather tiring and I've seen it a million times. Quebec certainly attracted the crowds - but crowds of pensioners and retirees. It wasn't exactly hip - more like hip replacement. There wasn't a great deal to do or see, which was disappointing because I had heard of Quebec City - a name which naively evoked all manner of exciting possibilities in me. As a result we looked outside of the city for inspiration, heading deep into the province to see the Wendake Native American Indian Reserve. Catching a bus from outside the tourist centre we spent the best part of a day in a recreated village complete with camp fires, wig warms, traditional native American Indian performances and a wonderful vegetarian meal Wendake-style. Getting the ferry from Old Quebec port to Old Levis was a pleasant early evening experience watching, as we did, the sun drop below the horizon, which in turned transformed the city's neo-Gothic spires into menacing spikey silhouettes.
We made sure we stayed centrally - something pretty much dictated by the fact that we needed to be close central railway stations. We spent the night at the small, but perfectly formed, Manoir Sur le Cap, located near the Château du Frontenac and Notre Dame Basilica in Old Quebec and the most historic quarter in the whole of North America. The Chateau du Frontenac, the symbol of Quebec, was just about viewable from our hotel window although 'aperture' would probably be a more accurate noun.
On our final night, and as a last-minute decision, we headed to an expensive revolving floor restaurant at the top of a hotel just outside of Quebec's old city walls. There had just been a dramatic thunderstorm and we nearly reneged on our decision to go. The sun was in its final stages of retiring for the day, the sky over Quebec now gently illuminated in pastel hues of pinks and oranges. We deliberately took our time ordering our meal in order to make the most of the restaurant's 360° rotation; in doing so the views came to us. Seeing Quebec from this high vantage point was a highlight of my time in the city, there having been so little else to enjoy. The reality is travelling to Quebec is never going to feel intrepid. The most enjoyable thing about Quebec was the journey to get there. Where Quebec City is concerned, the journey is the destination.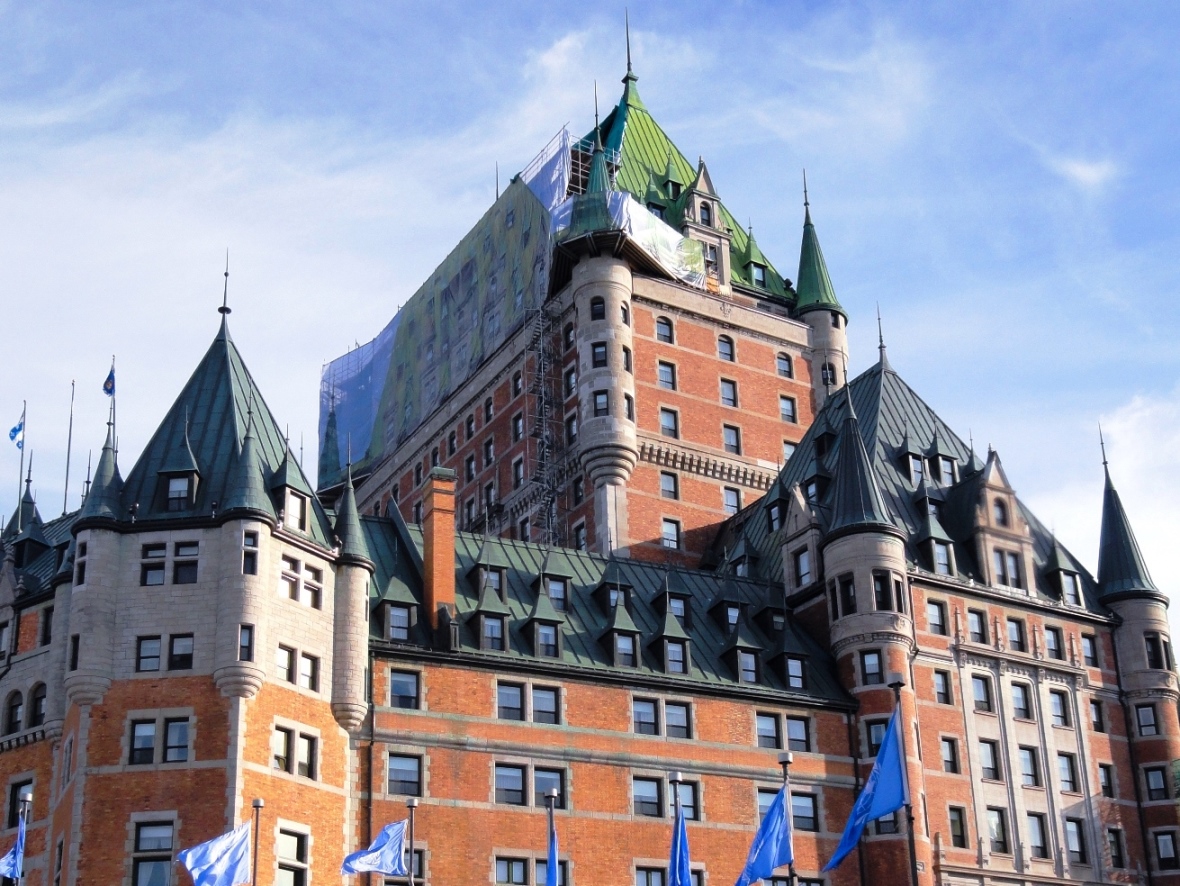 The Chateau du Frontenac, the symbol of Quebec.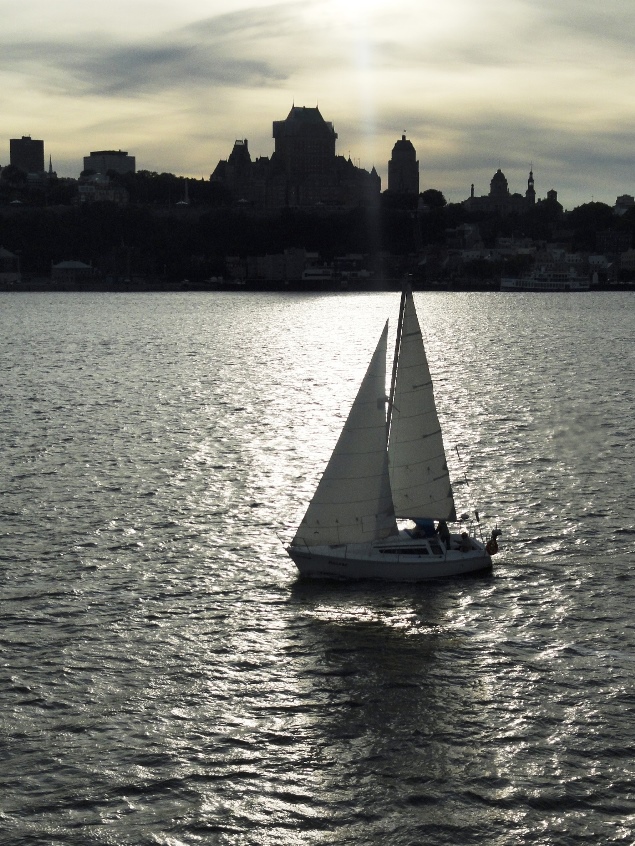 Silhouetted sailboat on Quebec's Saint Charles River.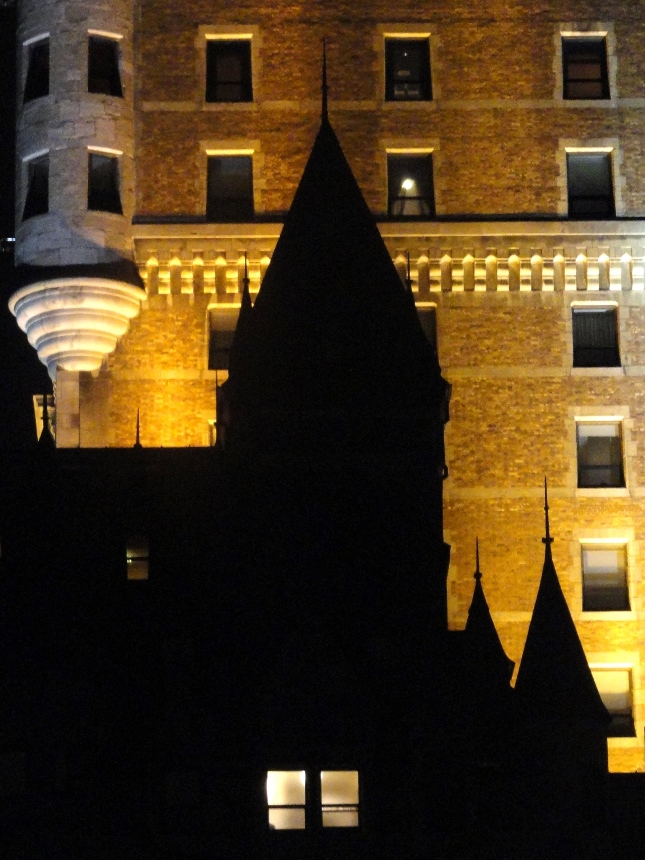 Turret shadows in the walls of the Chateau du Frontenac.
Detroit was the most under-researched destination we'd visited as part of the journey. There was an opportunity to include a US city with a simple border crossing - whether from Niagara into Buffalo or Windsor into Detroit. Superficial research revealed that it was the home of Motown. It was also home to some rather unique examples of brick-built buildings, constructed at a time when Detroit was in its economic ascendancy. These were some of the first architectural examples of tall buildings which were to provide the blueprint for what become known as skyscrapers. This was how Detroit ended up on our itinerary.
And so, for $3.50, a transit bus (Nexus) whisked us from Canada and into the United States. As it did so it lead us into one of America's most dangerous cities... Transiting through the Canada-America link tunnel, we were stopped at the border point and were required to disembark, hauling our rucksacks with us. The bus waited for its allotted ten minutes - and promptly left without us. For reasons known only to the US border guards themselves, we were detained the longest out of everyone on our bus, compelled to wait for the next one coming through the tunnel. We were interrogated in a depressing white box of a room, having waited in plastic chairs. A prominently-placed framed picture of President Obama hung on the wall behind our interrogator. There were also two large charters on the wall setting out the mantra that this room was America's "front line" followed by the words "God bless America". Neither inspired nor put me at ease.
Detroit is certainly no longer on the up. We'd arrived having been put through the wringer at US border, the US Border Protection guard concluding our interrogation by asking "why the hell" we wanted to go to Detroit. Back in Windsor, we'd received similarly bemused comments from a couple in a café where we'd had lunch and who, in typical Canadian style, started chatting to us about where we were travelling, our huge backpacks acting as the perfect conversation starter. "Are you going to Detroit with those bags? Good luck", came the comment. Not exactly reassuring. Having been to many places where people have issued warnings and consequently found them to be groundless, we brushed off these cautionary remarks but, in hindsight, we should probably have heeded them more than we did. As time would soon tell, such warnings were well deserved...
Within minutes of being in downtown Detroit, I was verbally threatened by a man tearing around the city streets in a pick-up truck, ironically in front of the Courts of Justice building, who thought I was taking photographs of him. From his remarks it was clear that he'd just been released from prison on probation. It must be said that this wasn't the first time in my life that I'd been called an "asshole", so I brushed it off, ensuring that my taking of photographs was a little more surreptitious from then on. Whilst only one small incident, it nonetheless tainted my perceptions of Detroit from that point onwards.
Detroit was noticeably quiet; it's not travel writer hyperbole to state that they were, in fact, almost completely deserted. This didn't look like any city centre I had ever been in. There were no shops; most retail units seemed boarded up, aside from a couple of convenience stores, which seemed to be doing their best to avoid being noticed; their windows encrusted with peeling notices and faded stickers. The only people around seemed to be a handful of "bums", all of whom seemed to come straight out of central casting for a Hollywood movie set in skid row, with their matted hair and their clutching of bottles wrapped in brown paper bags. Steam rising from the road plates was almost cinematic and served to add to the dystopic intensity of the place; I was part actor in a film about what happens to cities when they die. Indeed, the city was deemed dangerous enough that our hotel, as part of the services it provided, laid on a free shuttle bus to get its hotel guests from A to B. This was a safety shuttle. There also weren't that many guests.
The famous brick skyscrapers I'd come to see were all but abandoned. There was a real sense that "The D", as it's more affectionately marketed, had just been left to slowly fall apart. Having made a daring photographic raid on the buildings I'd wanted to see for around an hour, we retreated back to the safety of the Holiday Inn in central Detroit from where I undertook the kind of research which should really have been done weeks beforehand. The results were worrying: according to CNN, for the last four years Detroit was ranked as the most dangerous city in America. In 2011 it had a blip in violence and dropped to second place having been outgunned (pun intended) by St Louis in Missouri. We were in Detroit for two nights and had to make the best of it.
The safety shuttle took us out to the Motown Museum. It is south east Michigan's most popular tourist attraction. It proved to be a real gem of a place sparkling amid Detroit's mass dereliction and almost absolute abandonment. The Motown label was named after Detroit, which was known as the Motor Town and thus, as a portmanteau word, the label became Mo-Town. The tour guide regularly burst into song and we did the Temptations' Walk in Studio A, the very studio where the most famous Motown tracks were recorded by artists including Smokey Robinson, The Temptations, Diana Ross and The Supremes, Gladys Knight, and The Jackson Five. The Motown Museum rescued Detroit for us; it made a trip to one of America's most dangerous cities less of an itinerary error. Unfortunately we were not allowed to take any photographs inside and so I have no photos of what was, indisputably, my best experience in the city.
Detroit is also home to the General Motors' Renaissance Centre, a futuristic city-within-a-city; a walled place of glass and steel protecting people from the dangers of dystopia outside. This glass palace to the motor car, which overlooks the deprivation and economic failure below, with its businessmen and women drinking cocktails and enjoying haute cuisine, looked absurd and conceited in its context. It was, however, one of the few places in Detroit where I felt safe and so took to spending some hours inside. Its presence is a sign of hope for some that Detroit will one day regain its standing of yesteryear. Indeed, the building's name, "Renaissance" alludes to the pivotal role this building could play in the city's revival.
"The D", as it is marketed by authorities, whilst being a research oversight is probably the place I will remember most from the whole Canada Rail tour; its gritty reality made up for the bland tourist traps elsewhere on the journey.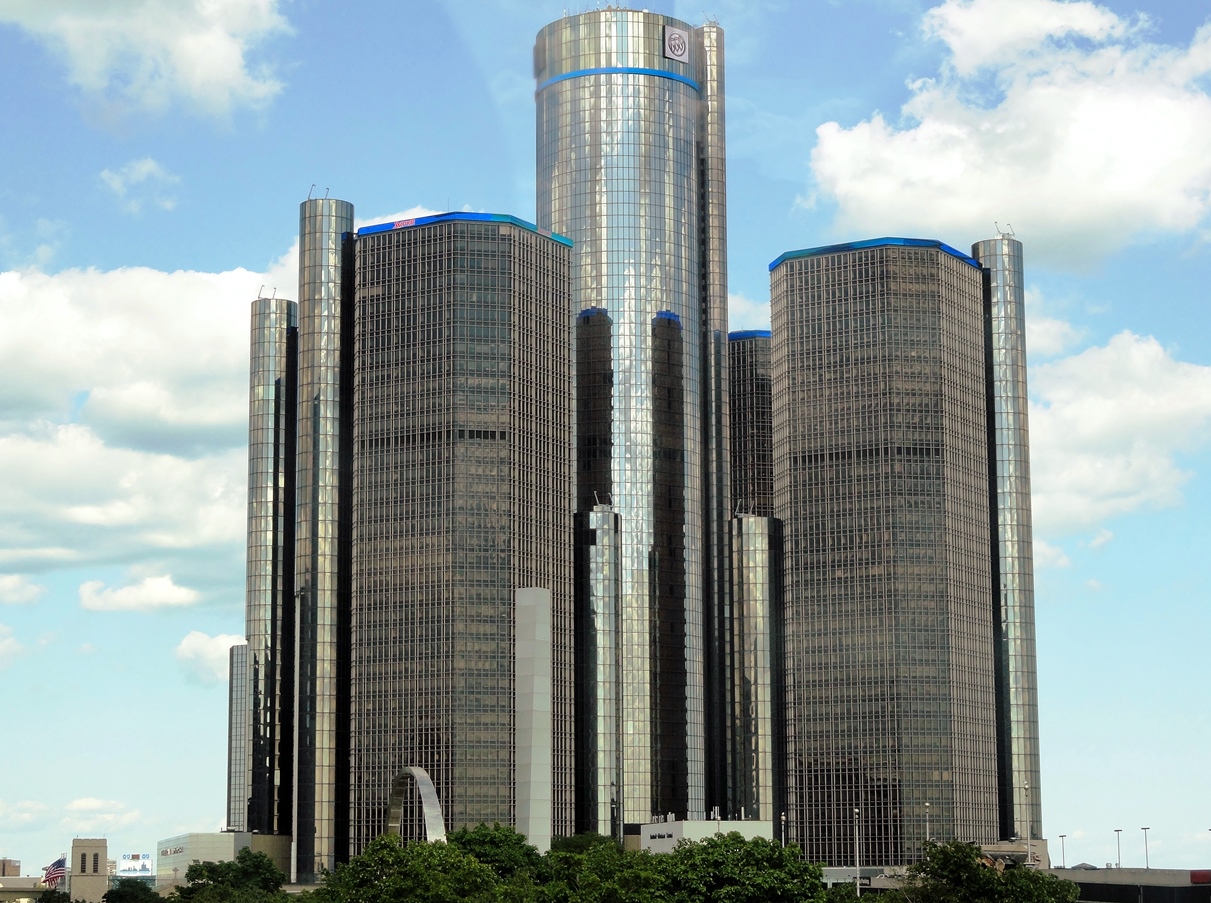 The glass palace of the Renaissance Centre, owned by GM Motors, which overlooks Detroit. You feel a little guilty eating and drinking in here knowing what is outside. Its presence is a sign of hope to some that Detroit will regain its standing of yesteryear. Photo taken whilst on Detroit's 'People Mover' monorail.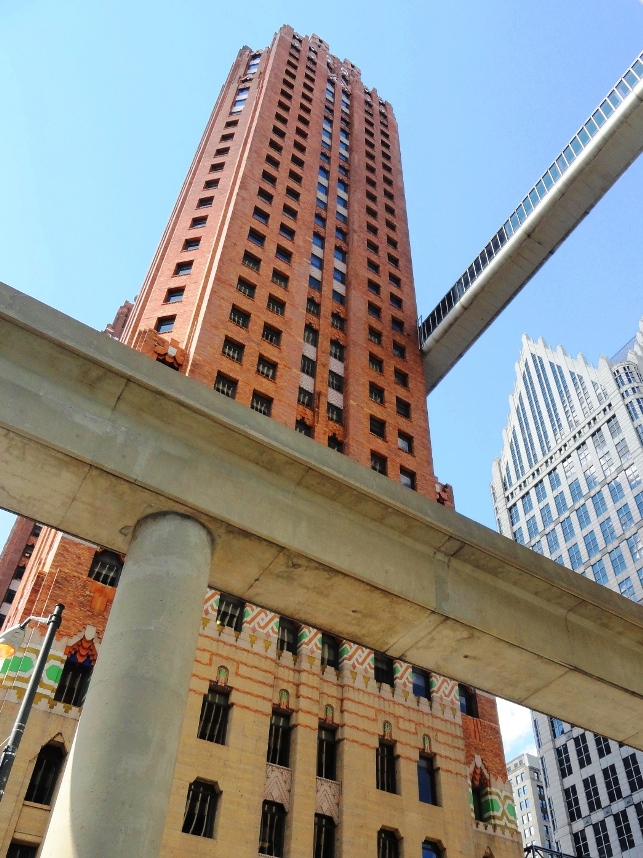 Definitely a motor city: concrete walkways criss-cross above your head on a walk through downtown Detroit.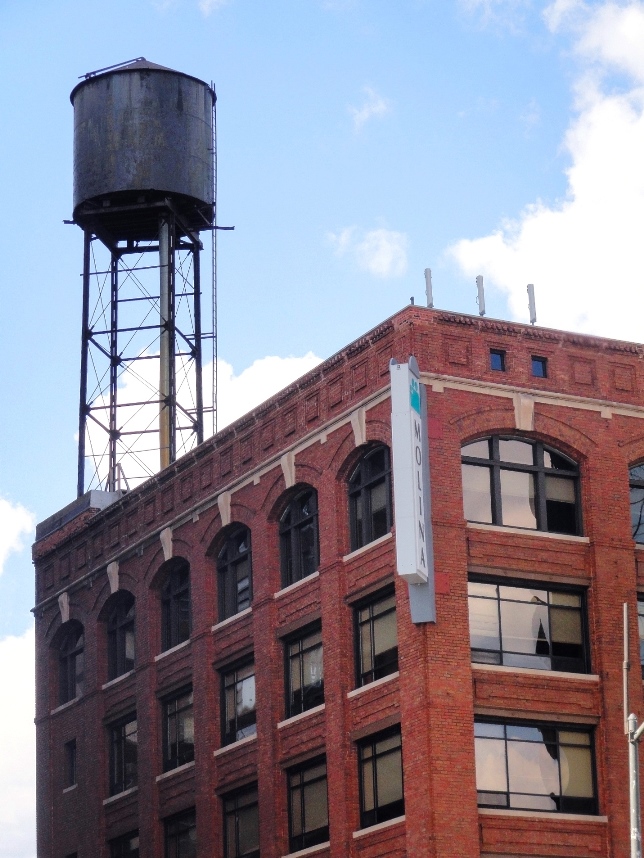 A water tank atop a red brick building seems to capture something of the essence of Detroit: raw, rusty and real.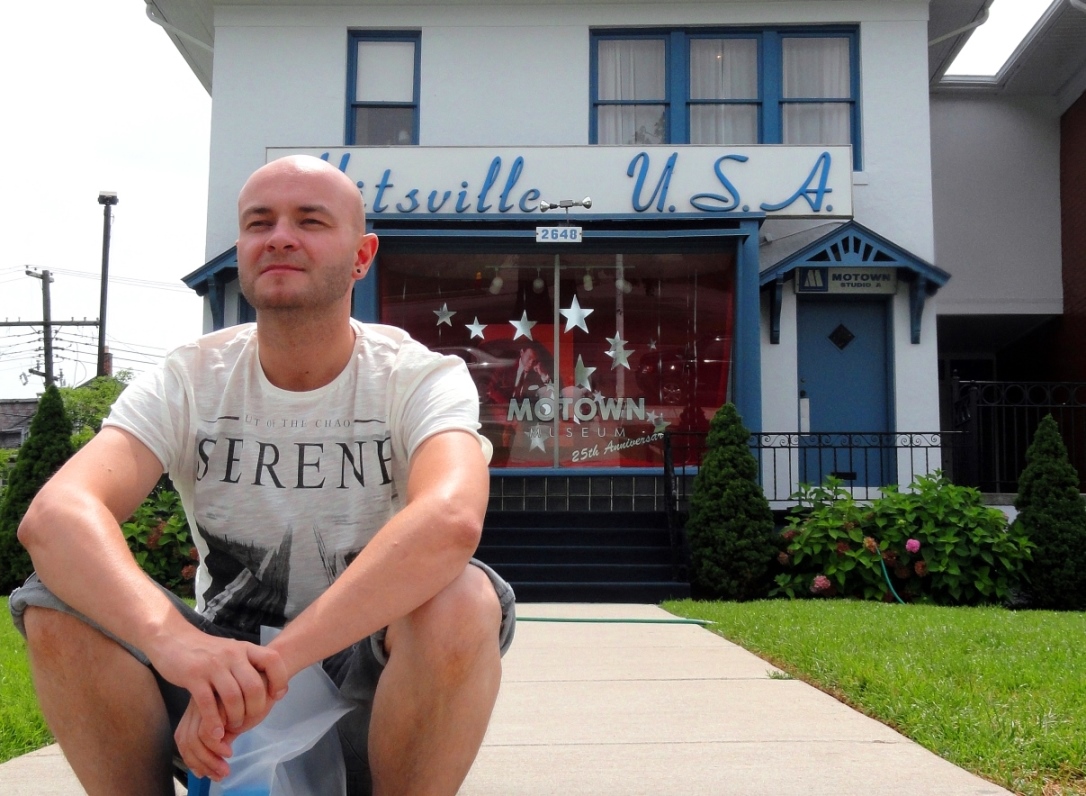 Hitsville U.S.A: Outside the home of Motown on Berry Gordy Boulevard where all the great Motown artists recorded their hits. The Motown label was named after Detroit, which was known as the Motor Town - or Mo-Town.
travel tips, links & resources
To get to Toronto Island from downtown Toronto, the average wait time between ferries ranges between half an hour and an hour. Sailing toward the island, you'll get a great view of Toronto's full skyline. The average trip time takes around 15 minutes one direction, giving you ample time to enjoy the majestic view of the lake.
Canada rail tickets can be purchased easily online. This is important as buying tickets on the day could prove problematic because trains, particularly on more popular routes, can be fully booked - and on VIA Canada Rail you won't get on without there being a spare seat. We booked all of our tickets weeks in advance. We were also able to change tickets on arrival when we needed to tweak plans. The transfer from the old to new ticket was seamless and cost nothing.
Using our online booking forms we were able to print all of our train tickets off at Toronto's main Union Station.
It being rather a complex trip (many destinations, train times and flights) it was necessary to put together an itinerary sheet - a printed copy of which we had with us when we crossed the border from Windsor in Canada to Detroit in the United States. Unbeknown to us this print-out would prove invaluable when being quizzed by US Border Protection.
You can get the latest from Motown Museum on their website here.
The World Federation of Great Towers website brings together the world's most impressive towers, including Toronto's CN Tower. You can visit their website here.