A Baltic Adventure Crossing the Gulf of Finland
Where: Helsinki, Finland. Tallinn, Estonia. Europe.
When: August 2010
What: Tuomi Church, Finlandia Hall, Lutheran Church, Helsinki Railway Men, Helsinki Central Station, St Alexander Nevsky Cathedral, Moomins, Tallink Ferry journey, Reindeer hide, Toolonlahti bay, National Museum of Finland, Church Uspensky, Helsinki Market Square, Kallio Church, Tallinn's Medieval City Walls, Church of St Simeon, Gulf of Finland views.
How: Flight, Tallink Ferry, Walking, Taxi.
Country counter: +2 countries
Illnesses or mishaps: Flight delays out of the UK resulting in a late arrival in Helsinki on a Sunday night: everything was closed and we were left traipsing deserted and dark streets in search of something to eat.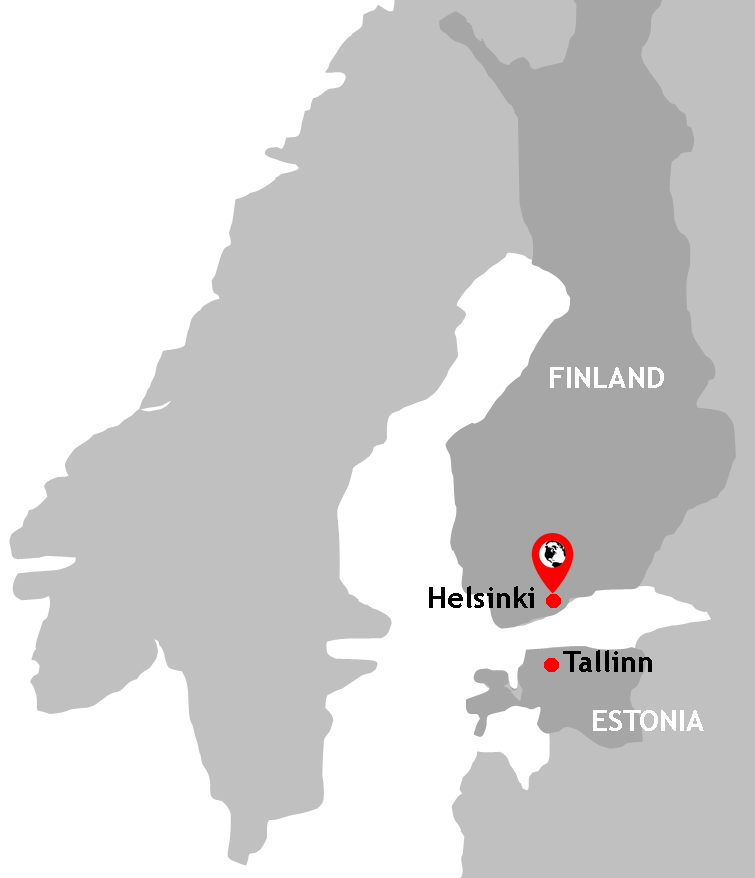 Finland was not covered by my twelve country Inter-rail journey around Europe back in 2007. This country was an unknown quantity to me searching, as I was, for an icon or landmark or famous trait. But this is the very reason to travel somewhere. Sometimes people want to know exactly what they're getting but I think it makes a nice change to adopt a "wait and see" approach. Not knowing is not necessarily a bad thing; drawing such a blank fuels the compulsion in me to travel to a place. Seeking to maximise the potential of the trip, often my modus operandi, it quickly became clear that crossing the Gulf of Finland on the Tallink Ferry was a well-trodden excursion for anyone visiting Helsinki; two countries and two capital cities for the price of one. Now I was getting excited. This was a real chance to scratch the travel itch - with no bed-bugs included. I love trips where opportunities to explore another country present themselves. Indeed, this explains why so many of my subsequent journeys are rarely one country affairs drawn, as I am, in to seeking out connecting flights, boats across the waters, trains which cross the border... Adding in a second or even third country elevates - no - transforms a simple trip into something closer to an adventure.
Combining Finland with Estonia, and thus Helsinki with Tallinn, is a fascinating option for travellers simply because you are not heading from like to like. Indeed, technically, heading from Finland in to Estonia is also trip from one point of the European geographical compass to the other: from Northern to Eastern Europe. This sounds a rather grand assertion considering the pithy distance between the two cities. Further research revealed that, had I made this journey less than two decades earlier this would be a journey not just from one country to another but, indeed, from one world to another: from a capitalist Europe to a communist Soviet Union.
And thus this was indeed a trip of contrasts. Helsinki has a modernity and freshness which exudes from its square glass buildings, shopping malls and night neons. Tallinn on the other hand can be best characterised as a place of turrets, cobbled streets and Medieval squares.
We stayed in the Kampii district of the city. Helsinki was clean, functional and, I was quick to note, relatively expensive. A delay to our flight meant that we arrived late on a Sunday night: the city was dark and deserted. There were no places open to buy something to eat. In the city's Sunday night darkness we had real trouble locating the beating heart of the city where, we figured, there must be something open. In the end we resorted to buying a portion of chips and a veggie burger from a bored-looking street vendor who seemed mildly irritated by our late-night patronising of his restaurant on wheels.
The next day, as if to apologise for a rocky start, Helsinki blessed us with bright sunshine and rich, blue skies. In the Northern Hemisphere, even in the summer months, nice weather isn't always guaranteed - and only a foolish traveller would positively expect this kind of weather in a northern European capital. We hot-footed it to the magnificent Art-Deco statues guarding the entrance to the city's main railway station; these are often cited as the symbol of the Finnish capital. Their grim and severe expressions, semi-naked bodies, and sinewy muscles holding aloft giant illuminated globes, combine to make this one of the most dramatic and austere entrances to a railway station that I have ever seen. As if by architectural contrast, there is the cool-looking white shapes of Finlandia Hall, with its uncompromisingly sharp angular pieces set against the banks of Toolonlahti Bay. Toolonlahti Bay itself was tranquil and picturesque. With little boats, a solitary jetty and a few colourful flags spinning in the breeze coming off of the water, the bay felt a far cry from the hubbub of the city. The green domed, white-walled Lutheran Cathedral, as with many religious buildings in capitals the world over, is also among one of Helsinki's most prominent landmarks. Visitors flock to its giant expanse of steps - the biggest I have ever seen leading to a building. Despite such excesses, the Cathedral appears elegant - almost feminine - standing, as it does, in the centre of Senate Square.
Helsinki is a perfectly easy place in which to be a traveller; it's clean, safe and there are just enough things on the sightseeing list worthy of photography to keep most visitors happy. But it's hardly intrepid travel. In hindsight, I regret not heading further afield - for Finnish culture is to be found in the great outdoors in Lapland, Lakeland and Archipelago regions.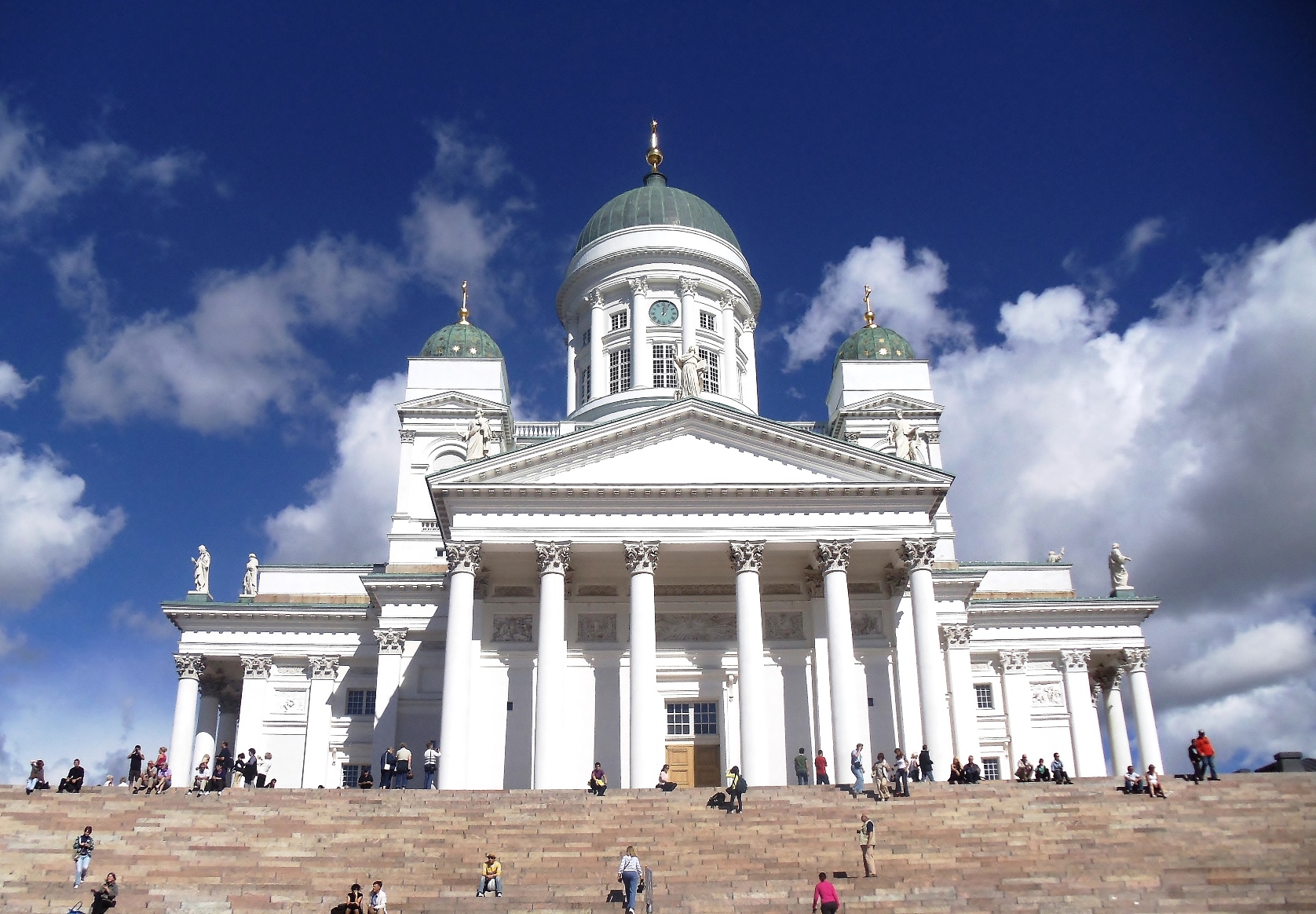 Helsinki's Lutheran Church with its expanse of steps.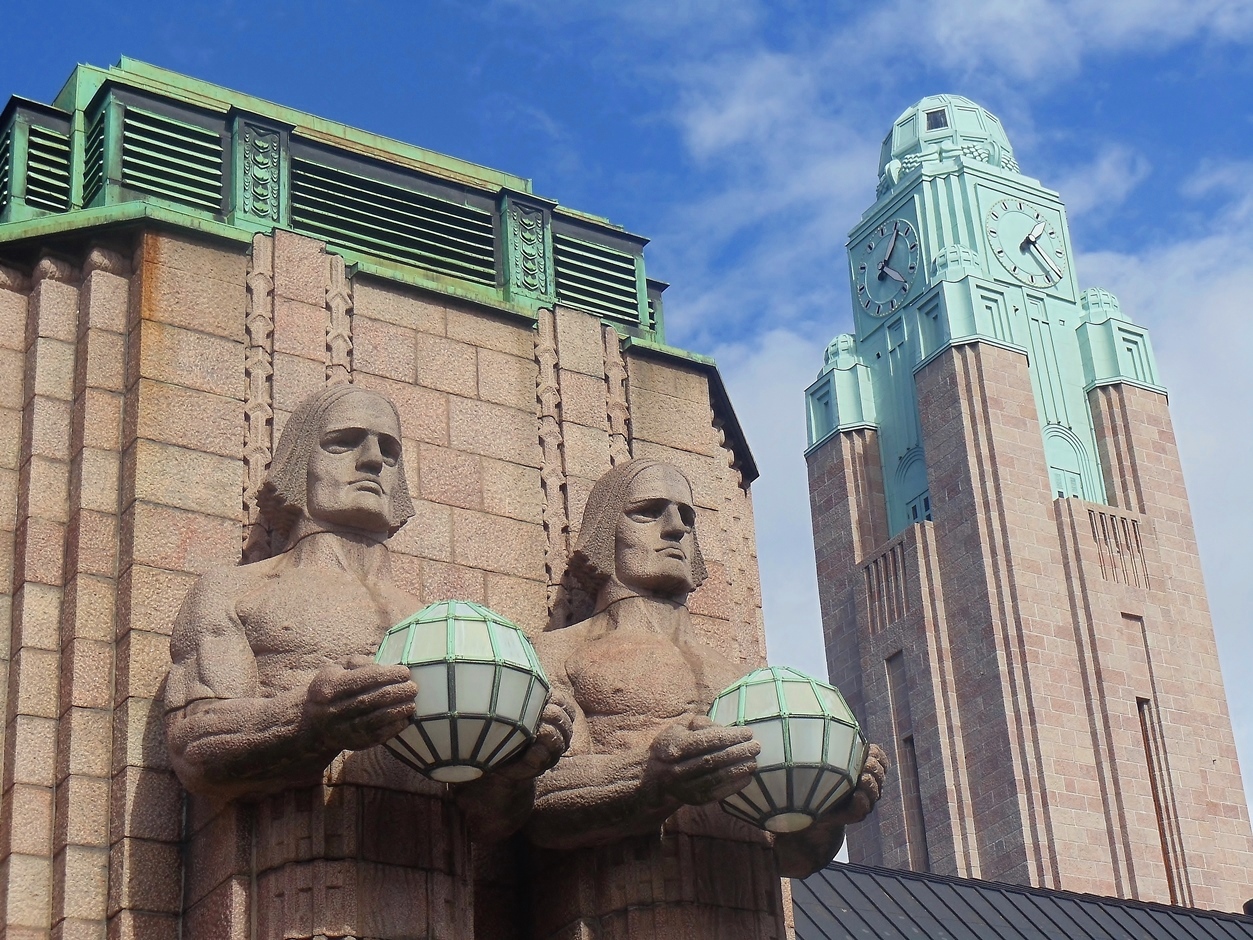 The icon of Helsinki: The magnificent pink Finnish granite Art Deco/Nouveau Helsinki Central Station with its imposing two pairs of gods holding lamps. I absolutely love this building. I have no idea why, but these railway men seem to capture something of the essence of Nordic Finland. So much so I spent around half and hour taking photographs of them from various angles. I think the accompanying clock tower, which looms large when viewed from certain standpoints, adds to the drama of this building.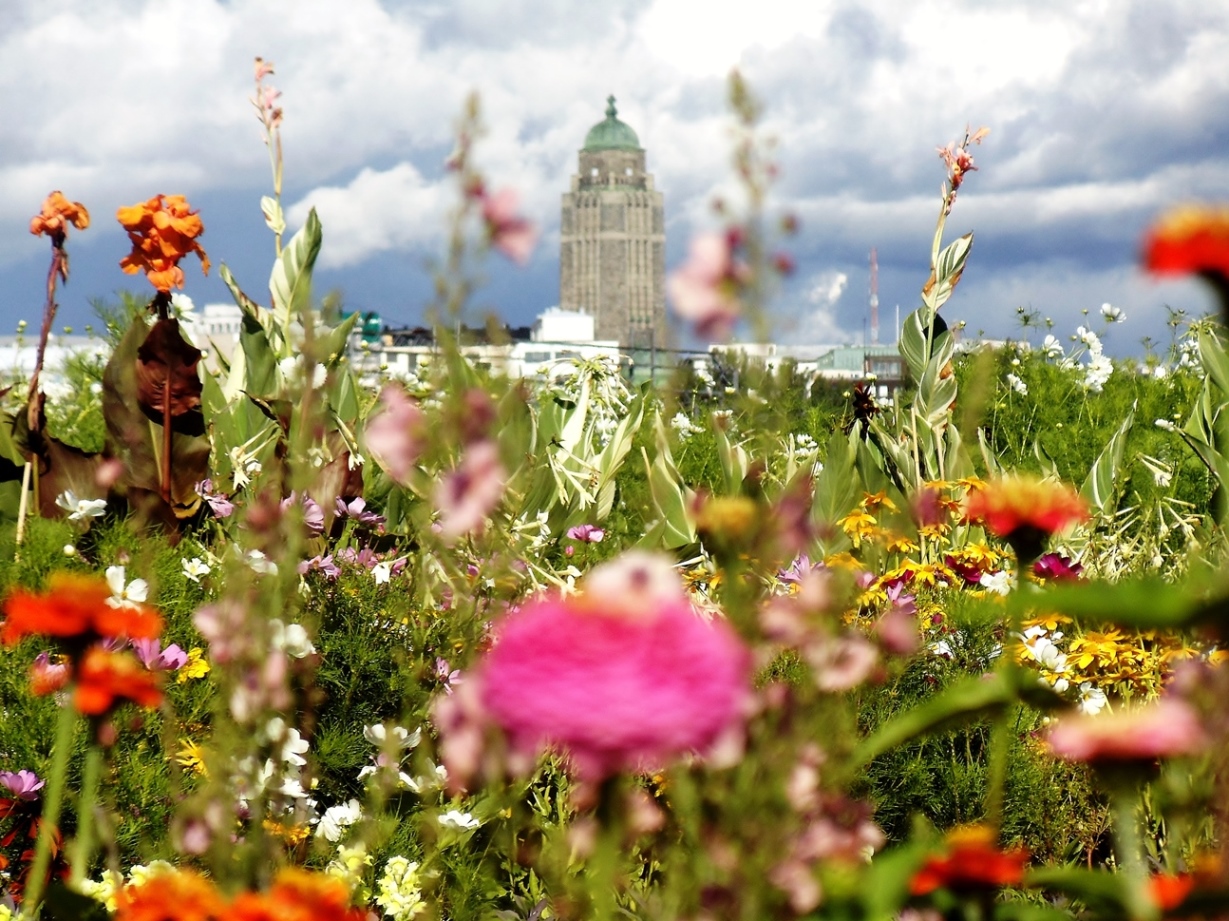 The huge tower of Kallio Church seen through an explosion of summer wild-flower blooms.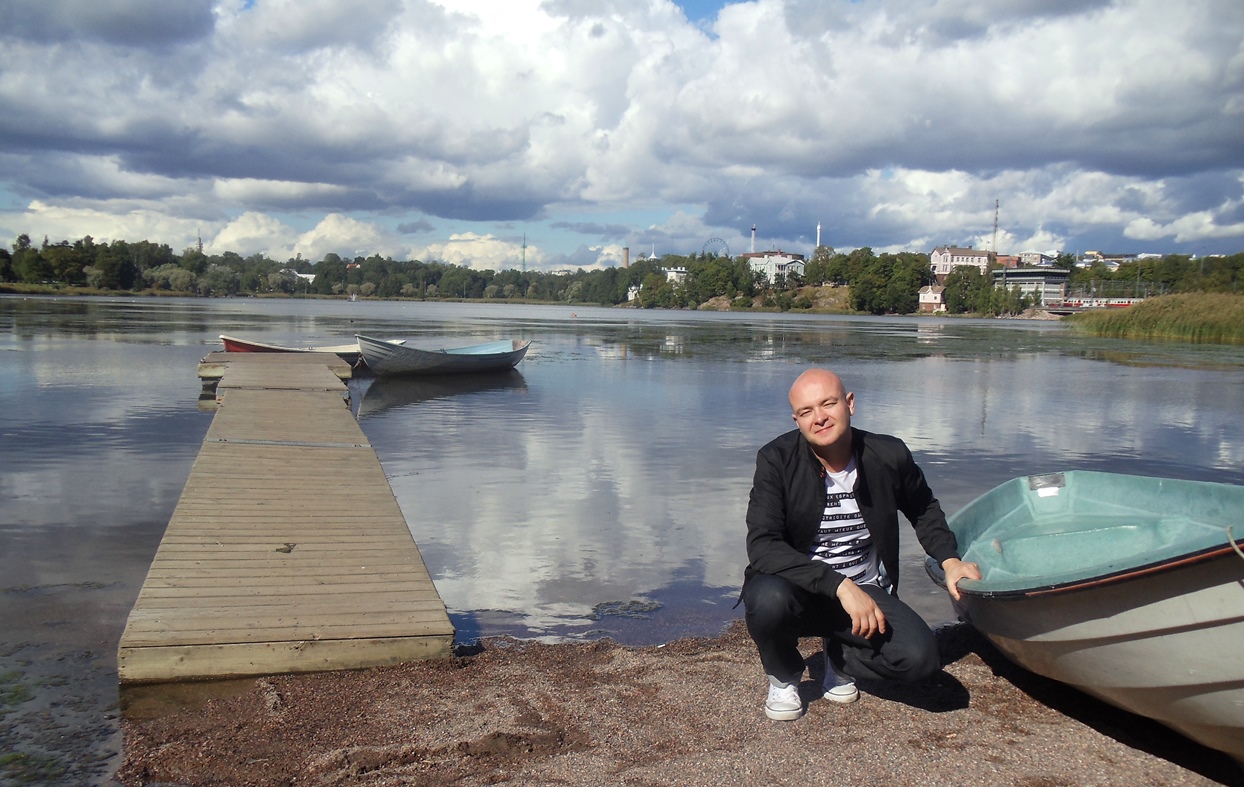 At Toolonlahti Bay - a world away from the hubbub of the city.
We booked our return journey on the Tallink Express service to take us across the Gulf of Finland to the Estonian capital, Tallinn. The ferry had ambitions of being an ocean liner coming complete, as it did, with huge stage at the front. For Helsinkians, Tallinn is the place to go for cheap alcohol and products of the nicotine variety. We disembarked at Tallinn Port. Although very keen ourselves to get the Estonian leg of our trip underway our enthusiasm was eclipsed by scores of Helsinkians racing for trolleys in a mad dash to load up and re-embark the vessel with their discounted contraband; it was a curious experience getting caught up in the Nordic rendition of Supermarket Sweep.
The ferry journey itself is remarkable but only because it is unremarkable. Aside from passing a cute row of coloured beach huts on a sandy bank somewhere in the middle of the Gulf there is nothing else to visually intrude upon your thoughts as the ferry furrows the water. There is, though, the general thrill of arriving in a new country by sea - surely one of the best ways to arrive? So often have I arrived in a foreign land through the sterile and grimly institutional airport. There have been exceptions but rarely have I found this to be an uplifting way to enter a new country.
Approaching the coastline of Estonia was a delight and rather surprising. My perceptions perhaps coloured by Estonia as a former Soviet country, Tallinn's Medieval Gothic spires and turrets loomed large on a horizon rapidly honing into view. Tallinn is a UNESCO World Heritage site and a wander around its 13th Century cobbled centre more than justifies this categorisation. Most impressive is the glorious bulbous onions of the Russian St Alexander Nevsky Cathedral, one of Tallinn's most striking buildings. It looks like a carefully-made cake with intricate cream layers. Its black domes and gold embellishments, set against a vivid blue sky, appear almost edible. The weather had been grey and overcast for much of the day, but the sky cleared just long enough for me to take one glorious photograph. Divine intervention? Tallinn's Medieval towers, with their fetching red-tiled cone hats and flanking stone walls encircle the city's Old Town and, I pondered, probably went a long way to protecting the city's heritage from the worst excesses of Soviet rule. A walk in a north-easterly direction takes you past the wooden, and slightly creepy, St Simeon Church. I was especially intrigued by this because, at the time, it was the first wooden church I had ever seen.
The glorious gateaux-like Russian-influenced onions of St Alexander Nevsky Cathedral, one of Tallinn's most striking buildings. Luckily, the clouds dispersed long enough for me to snap this picture - the vibrant blue sky complementing the cathedral.
Tallinn's medieval city wall towers.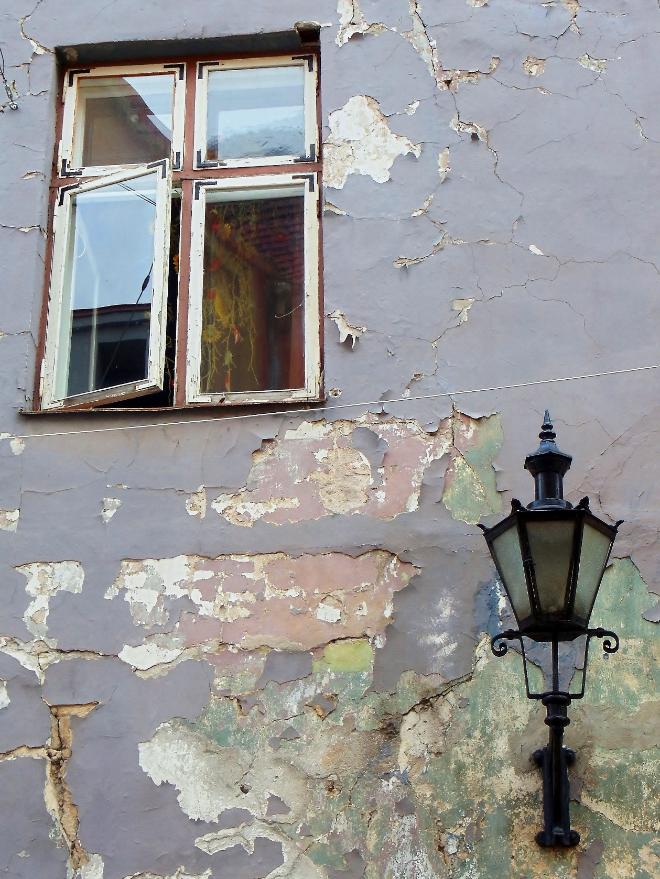 Tallinn's romantic dereliction.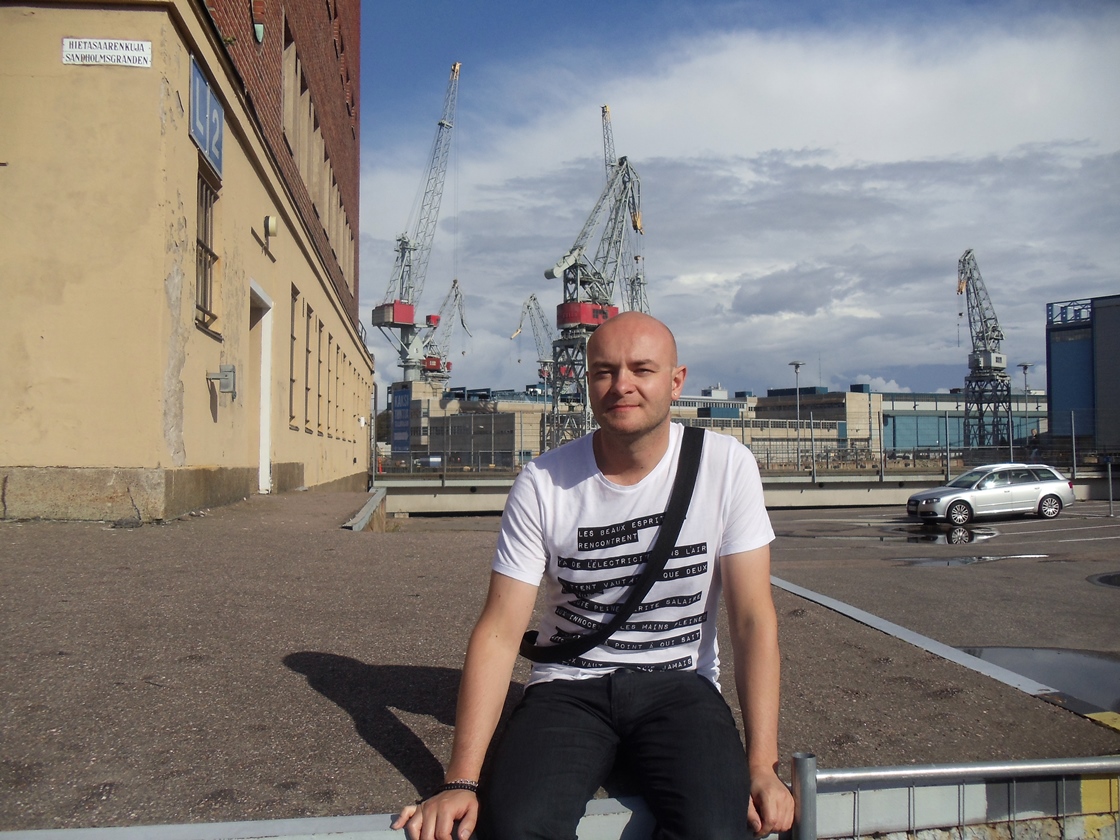 At the Port of Tallinn awaiting the return ferry to Finland.
travel tips, links & resources
Travelling between Tallinn and Helsinki is a very well-trodden route taken by locals and tourists alike. For this reason, it is an inexpensive and quick trip which, essentially, means you get two countries for the price of one. It also has the potential to offer the kind of contrast which enlivens sometimes dull single-location city breaks.
It is quite possible to see Tallinn, arriving and returning from Helsinki, in one day, although this would be a shame. Tallinn is well worth staying overnight; the affordable hotel prices, compared to Helsinki, are persuasive.
Helsinki's Bay of Toolo is a great place to head for your evening meal. This is where you can eat, catch sunset over the bay and slowly watch the buildings turning in to blackened silhouettes.
A two night stay in Helsinki was plenty as a city break but, perhaps, it is unsurprising to find out that much of what Finland has to offer tourists is to be found outside of the capital. Finland is the place to go for Husky dog sledging, skiing, ride in carts pulled by reindeer, or even see the Northern Lights. The closest I got to a reindeer were the fleeces in Helsinki's Market Square. Finland, sadly for a city tripper like me, is an outdoors kind of place with adventure trips in its Lapland, Lakeland and Archipelago regions. It is, therefore, a little unfair for me to judge Finland on Helsinki alone.
In Tallinn prices fall far below those in Finland. This can go a long way to balancing out the expense of the Finnish leg of your journey. However, service in cafes and restaurants took the shine off of this added financial bonus: service was noticeably poor and slow. Expect to double the amount of time you spend in such businesses waiting to get served.