Journeying Northern India's Legendary Golden Triangle
Where: Delhi, Agra,Abhaneri, Jaipur, Pushkar. India, Asia.
When: December 2012—January 2013
What: The Taj Mahal, Lotus Temple, Chatterpur Temple, Palace of the Winds, Abhaneri Step Well, Elephantastic village and safari, Travelling on the Indian Railway journey, Red Fort, Baby Taj, Lotus Temple, Qutab Minar, Chatterpur Temple, Monkey Temple, Agra Fort.
How: International flight, Autorickshaws, Rickshaws, Elephant ride, Taxis, Indian Railways.
Country counter: +1 country
Illnesses or mishaps: Power cuts leading to cold showers and darkness; cancelled train services; our driver becoming embroiled in a nasty dispute with another driver; tense exchanges at religious sites; answering the interminable question "where you from?" from invasive hawkers and scouts.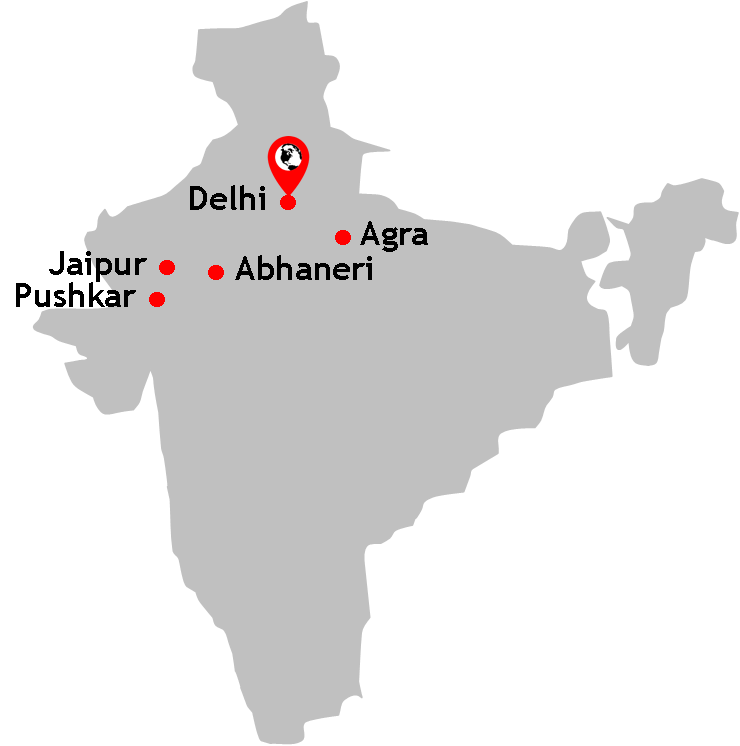 India is both better and worse than you expect it to be. India is all the things you've seen, heard and thought - just magnified. India cubed. Any traveller new to India is bound to have a few pressing concerns. India is definitely a country you spend weeks, likely months, researching and preparing for. India is like doing DIY: 90% preparation and 10% actual execution. Head into India blindly and do so at your peril. Firstly, there are the travel injections for Rabies, Hepatitis (A and B), Typhoid, Polio, Diphtheria and Tetanus. These on their own will set you back a princely sum. Then there's the putting together of a really serious first aid kit with the all-important medications for the almost inevitable bout of "Delhi belly". Then there's all the anti-mosquito paraphernalia: wrist bands, lotions, plug-in repellents, nets to sleep under. Then there's the anti-malarial drugs which you need to take a fortnight before (and a week after) your trip to India. Luckily for us, India's Golden Triangle resides in the north, a region designated as "little or no risk" by NHS Scotland's malaria map of India. Outside of health concerns, there are also the scams, which are both impressive in their audacity and creativity - even extending to completely fake tourist offices! Forewarned is definitely forearmed where India's concerned. All of these issues would deter some travellers, but India's beauty, colour, culture and world-renowned sights banish travel worries for many and draws visitors, like a magnet, to her shores.
India is full of surprises and how experienced you think you are as a traveller has almost no bearing on your preparedness for what this country will throw at you. There are the rickshaw drivers, the heroes of India who will take you on a cheap, short journey by pure brute peddle-power. They are at the bottom of the economic ladder, working harder than any other driver using other forms of transport. For this reason we made the rickshaw our transport of choice for small journeys and tipped heavily. Indeed, it was not uncommon to see exhausted rickshaw drivers at roadsides dangling over the metal frames of their carts, asleep with flies buzzing all around them. They have patched clothing and get treated poorly in the "every man for himself" road culture of India and quickly, therefore, earned my undying respect. Images of poverty are all around which, frequently, had my jaw dropping open in amazement. I am unlikely to forget, for instance, the little girl I espied ironing by the roadside using an iron... filled with hot coals. Expect, also, to see fires dotted along the roadsides lit by a seemingly infinite number of homeless as their only means of warmth. These have the side-effect of enveloping everything in a smoke-choked haze. Monkeys jump and bound across rooftops, on car roofs and swing on electricity cables above your head; this is a land where the monkeys do as they please. You would also be wise to keep a look out for the cows which, with their impressive horns, will think nothing of head-butting you if you dare to fail to move aside in a timely manner. Cows are revered in India and it appears the cows have embraced their holy status with gusto and absolute conviction. Power-cuts take place intermittently and at the most inopportune of moments, such as when you are enjoying your coffee in a coffee shop. Suddenly everything stops dead around you and you're left sitting in blackened silence mid-sip. Of course, this is the reason behind hotels providing guests with torches in all of the rooms. Journeys along any Indian city's roads are likely to be interspersed with sightings of drivers conspicuously relieving themselves - even in the busiest of places. This country is also the place of fetid open sewers, a culture where spitting publicly is somewhat a national pastime, and where car horns compete in national championships along every road you will ever travel along with drivers engaged in a battle to see who can beep the loudest and for the longest. India is a kaleidoscopic, cacophonic nightmare; an uncompromising and confronting assault on the body's senses. But she is also beautiful.
The most bizarre thing India had to throw at us was the phenomenon of being asked by Indian tourists it they could have their photograph taken with us because we were, well, with white skin. Initially thinking they wanted us to take a photo of them, it soon became apparent that "of" was, in fact, "with". This was a surreal experience which would repeat itself at the most popular sites we visited: the Taj Mahal at Agra, Amber fort outside Amber and the Red Fort in Delhi. I didn't know whether to be offended or flattered: it was certainly peculiar, but it did mean we became engaged in brief conversations with people we wouldn't otherwise have spoken to. This practice offers a curious glimpse into the minds of ordinary Indians and their perception of white Westerners.
This was intended to be a railway adventure, a linking of the three key cities making up northern India's famed Golden Triangle using Indian Railways. However, the trip rapidly collapsed into a mixture of road and rail transportation as we dedicated ourselves to conquering the three locations we had set out to visit: our first rail trip and onward journey were supposedly cancelled because of "the weather up north". So, what do you do when your plans go awry at the first hurdle? Throw money at it, of course. It is the predicament of any traveller with hotels booked and an itinerary which is in no way flexible. It is the Achilles Heel of a carefully-organised trip like ours; there was simply too much at stake for us to miss our onward bookings. In such situations, the only thing which was flexible was our credit card. The cold reality is that you can do or achieve almost anything in India - provided you have the money to make it happen. There are many languages spoken in India but the language which unites all is the language of money. For all of its problems the fact remains that India is the reason travel was invented. It is a bewildering, fascinating, disgusting, exhilarating, stomach-churning, magical, frantic, mystical place where pretty much everything is different to the land that you herald from.
Delhi is a crazy place with stunning sights peppered all over the city. It is divided into Old and New Delhi - the former being a British creation in the days of the British Raj. Delhi is a microcosm of all of the significant issues that modern India faces: poverty, health, a creaking infrastructure, and traffic congestion. Indeed, the Delhi rush hour starts at about 7am and only begins to fizzle out some twelve hours later. The first thing any visitor will notice, after making their way through the modern Indira Ghandi Airport, is the predatory nature of taxi drivers and street scouts. They come out of nowhere, having lain in wait, to bombard you with prying questions about where you're from, where you're staying, for how long and how you intend to travel around. Being British in India does not help: forget your human obligation to be oh-so polite to strangers. Tell them assertively that you are not interested. Soon, my patience evaporated, resorting, as I did, to ignoring them outright. This felt rude but anything less so merely serves to encourage them. Such predators operate mainly at Connaught Place and the Delhi railway stations so prepare to have your patience tested to the limit at these places in particular. Poverty drives many to earn a living this way. Indeed, some even to lie to you by claiming your train is cancelled or your hotel is burnt down so they can then "recommend" a replacement driver or alternative hotel for which they will receive commission. Ignore all unsolicited offers of help. While this may offend those just being friendly (and it is important to stress that there are some), it does prevent you from becoming embroiled in something more sinister with those harbouring a more self-centred agenda. Some will start with the predator calling card of "Where are you from?" Others try to shake your hand or patiently observe you taking photographs before telling you something interesting about the thing you've just photographed after which they shift the conversation on to other things. Ignore and walk.
With a limited time in the capital, and initially intimidated by Delhi's unique form of driving etiquette and violent demonstrations which had closed parts of the Delhi metro, we decided to hire a driver for the day. Not exactly intrepid travellers living on the edge, but arguably a complete necessity - especially considering Delhi was decidedly cold with a foggy haze hanging over the city. Raj was assigned to us for eight hours, or two hundred kilometres - whichever was the greater, for the princely sum of £45. We simply told him where we wanted to go, and he took us, waiting in the car whilst we checked off the most obligatory sights on the tourist trail. The list of things we wanted to see with our own eyes was, indeed, long but, thanks to Raj, we covered all of Delhi's sights in no time and did so without freezing our socks off (I was already wearing two pairs), spending too much time in the open air breathing in the Delhi smog and having to contend with hawkers. We explored the obligatory Red Fort, whose red walls stretched out into the foggy distance, the iconic Lotus Temple, with its white stone petals opening skyward and not unlike the Sydney Opera House, and the incredible soaring red brick bulk of the Qtab Minar.
Our final morning in Delhi was spent rushing for the Taj Express train, due to leave New Delhi station at an un-Godly 6am. In hindsight booking such an early train was a schoolboy error. Arriving tired and a little bewildered in the smoggy darkness of Delhi it didn't take us long to notice that our train was conspicuously absent on the departure board. It was cancelled and, a little exasperated that our Indian Railway adventure had got off to such a flying stop, we were left standing in the most challenging circumstances I have experienced as a traveller so far: we had to step over bodies wrapped in blankets. Indeed, these were not cold travellers waiting for a departure but the homeless of Delhi. It was 5am, freezing, dark and somewhat threatening. Having left the relative comfort of the hotel, we suddenly found ourselves stranded and, I have to admit, somewhat vulnerable. Helpfully the travel advice office on the station's first floor was closed. Of course it would be. To cut a long story short, we ended up hiring a driver from Delhi Tours for a not-insignificant sum. This, indeed, was turning out to be the most expensive train cancellation ever. Shared between two of us made this unforeseen expense more palatable. It also bestowed additional luxury and convenience, which, having experienced India up close, I was secretly very grateful for. It meant we had a driver who would be at our beck and call for three days and who would also be taking us from the world renowned Agra to the Pink City of Jaipur. Tired and with little choice, we paid up. I couldn't help thinking that we'd sold out at the first sign of a problem. This was now not going to be a rail adventure across northern India; there's a poetic quality which comes with being able to say that but, in travel, the reality is often far from the poetic. I knew that aspects of the operator's story rang true having learnt enough about how Indian railways worked from my online booking experience but there was also part of me wondering if we'd been had. So, enter stage left, Rameesh, our driver... In the end he was such an incredible man, and looked out for us to the extent that we were to tip him an extra 1000 Rupees (around £11) when we waved goodbye to him in Jaipur. He was completely thrilled with his tip being, as it was, quite a substantial sum of money.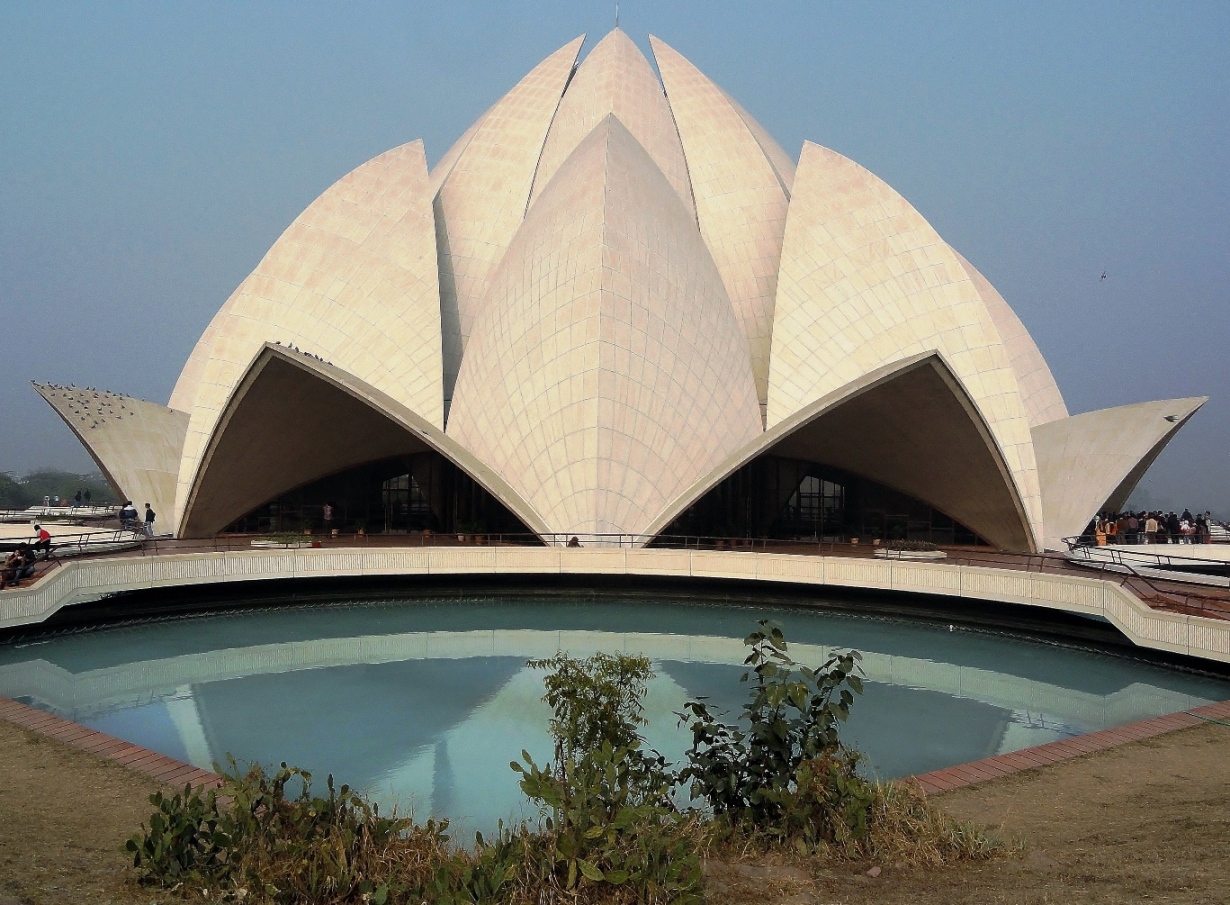 The wonderfully sculptural petal-like shapes of Delhi's Lotus Temple.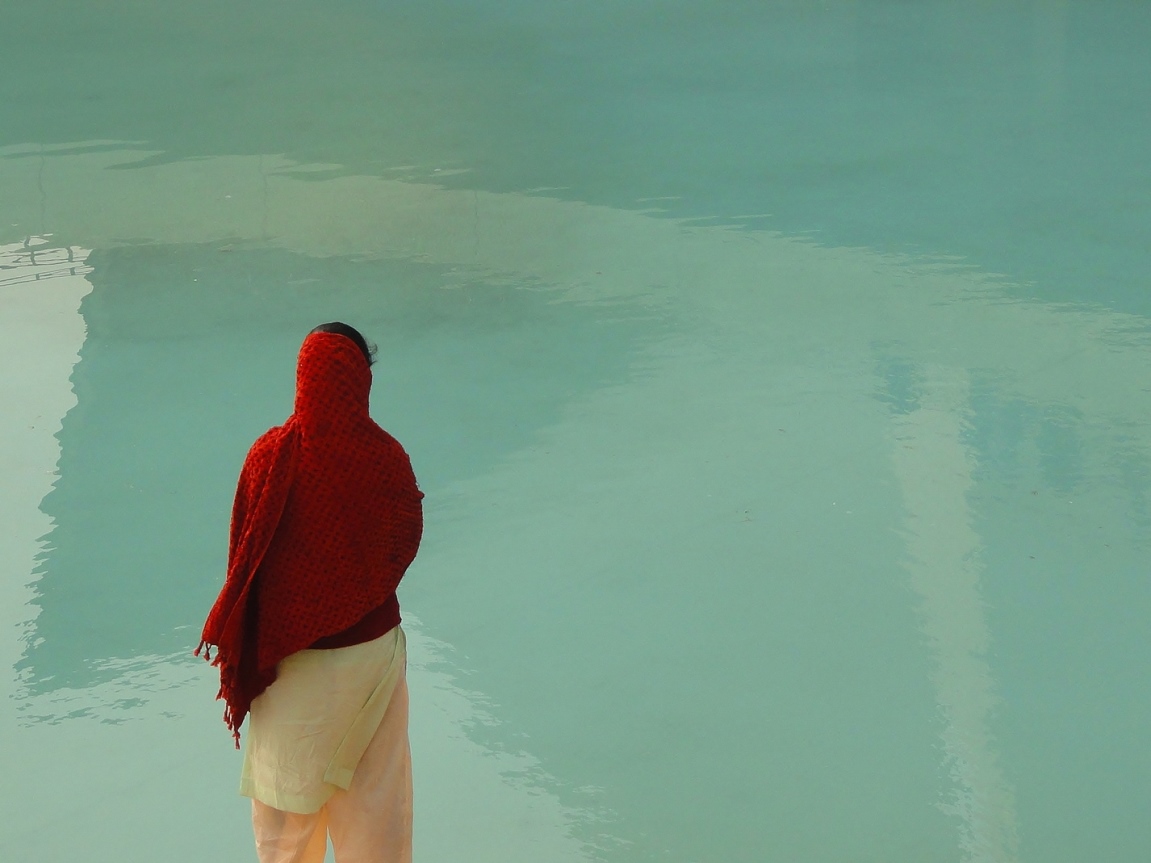 A woman looks into the turquoise waters of the Lotus Temple.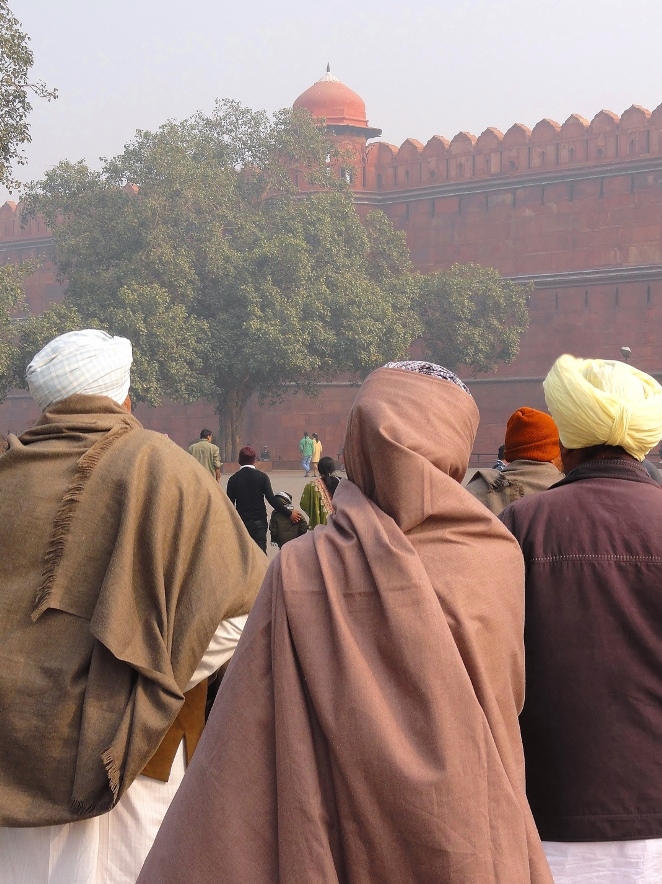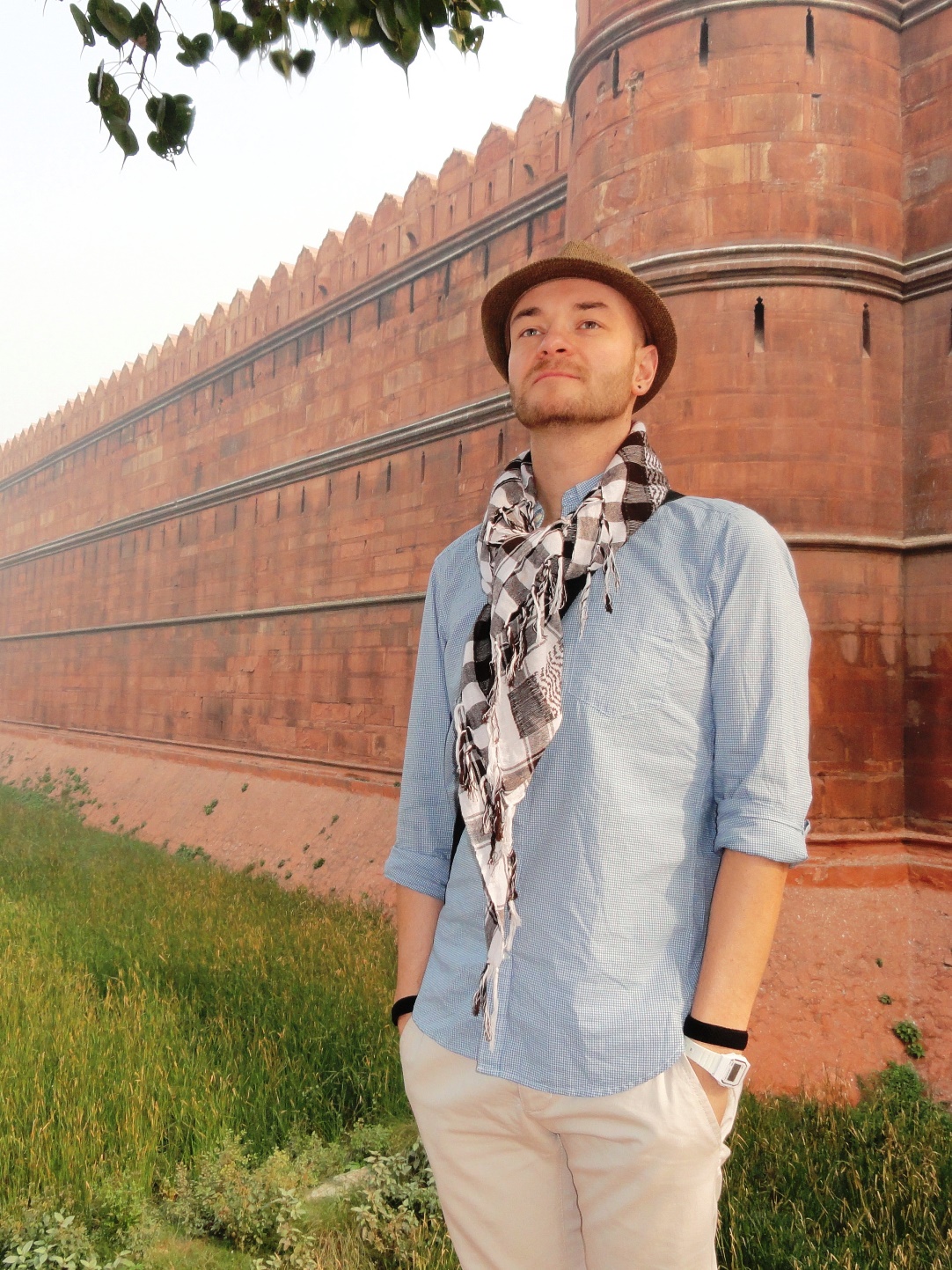 Scenes from outside of Delhi's iconic Red Fort, dating from the 17th Century.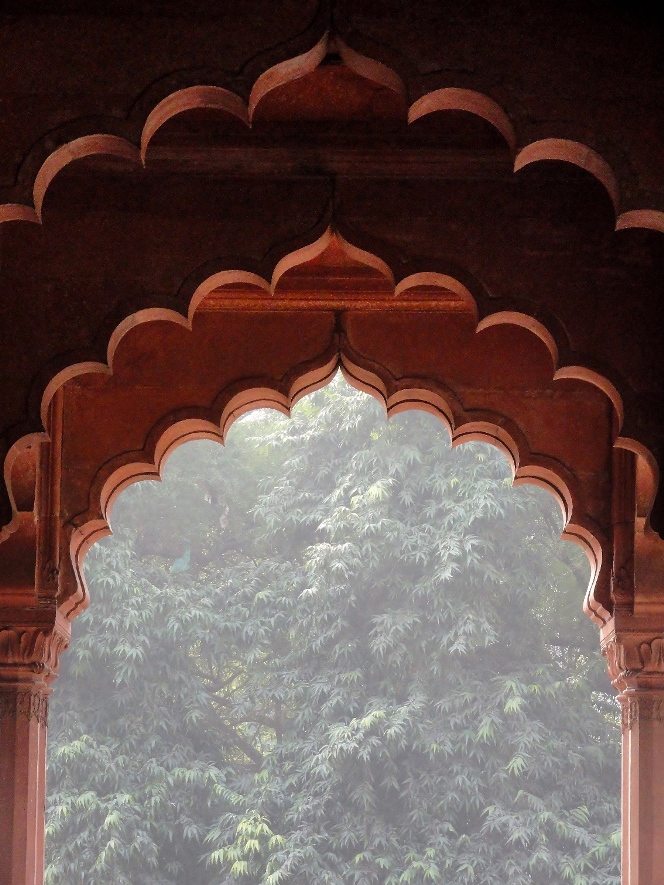 The wonderful arches of the Red Fort's Diwan-i-Am capture the light.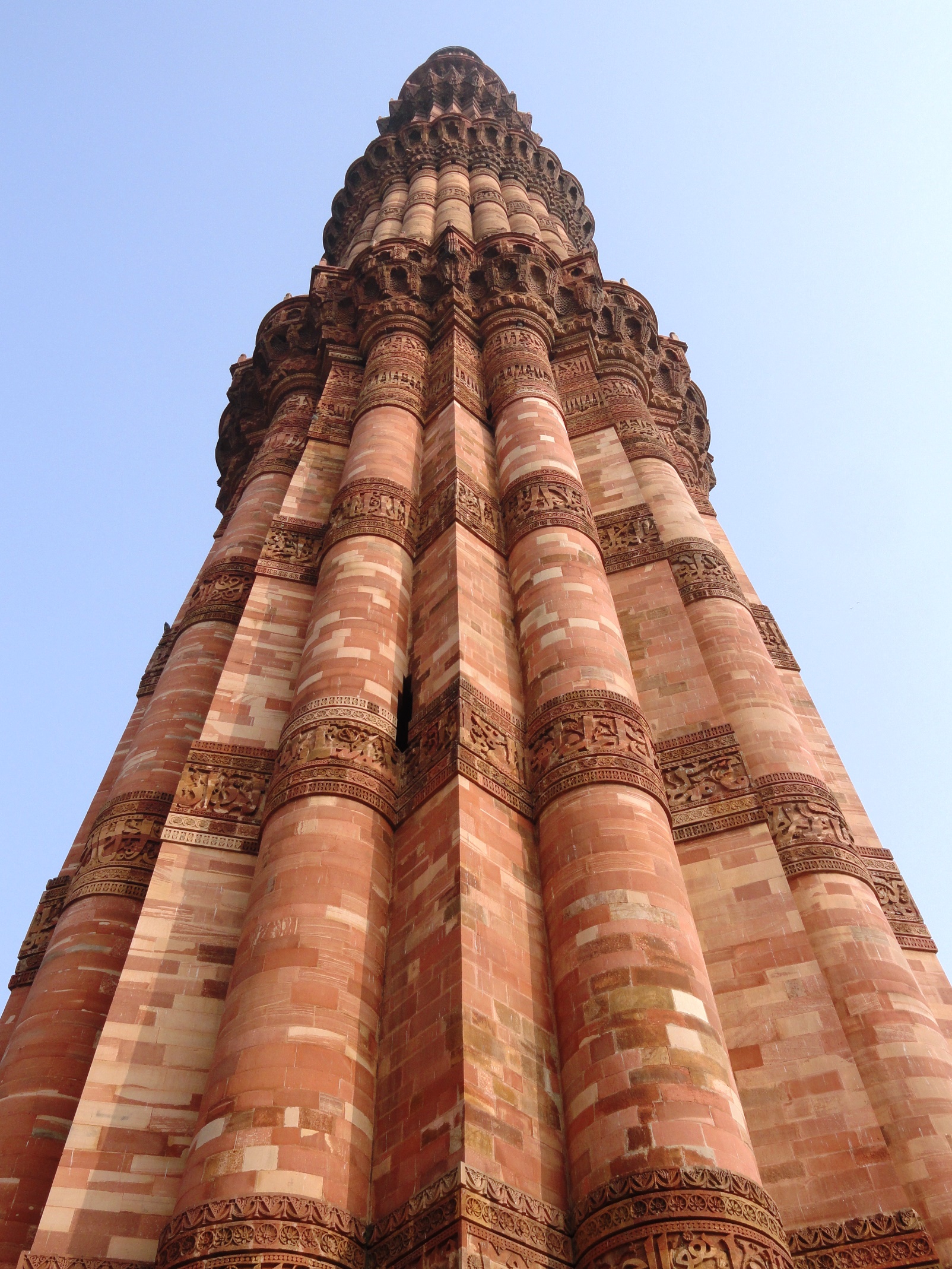 The soaring red brick bulk of the Qtab Minar.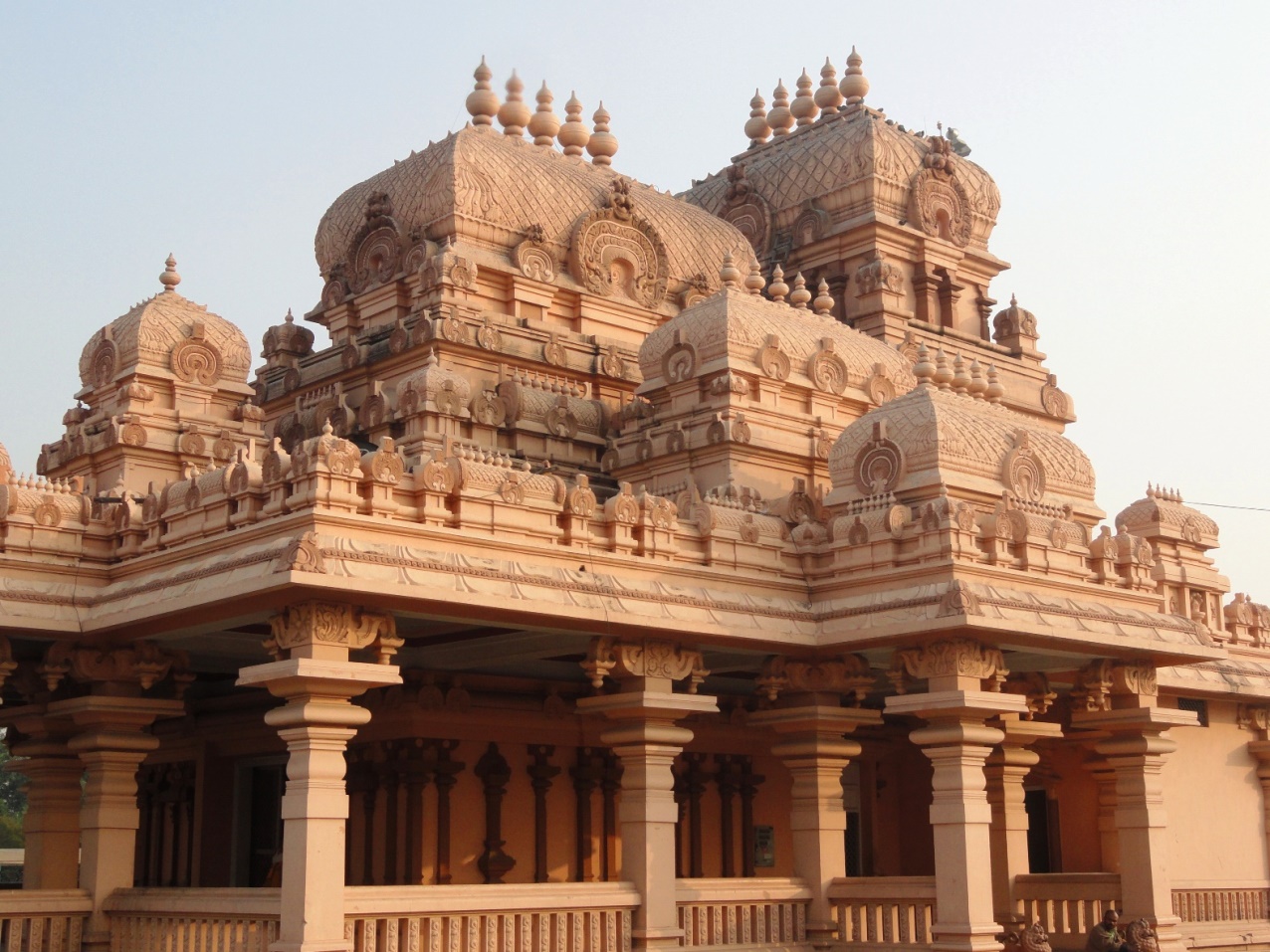 The incredible Chattarpur Ka Mandir Hindu Temple.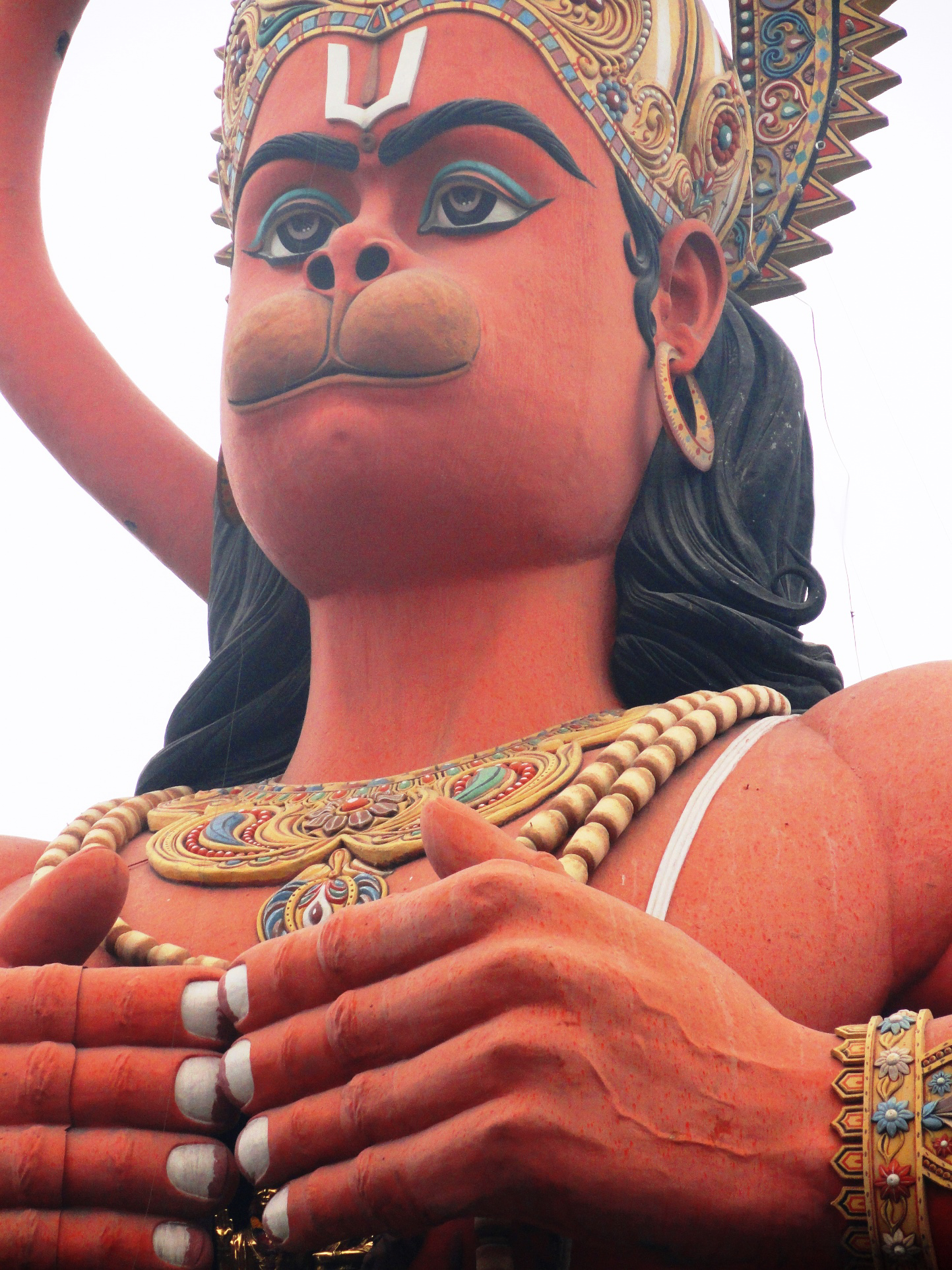 The 33-metre Hanuman statue in Jhandewalan.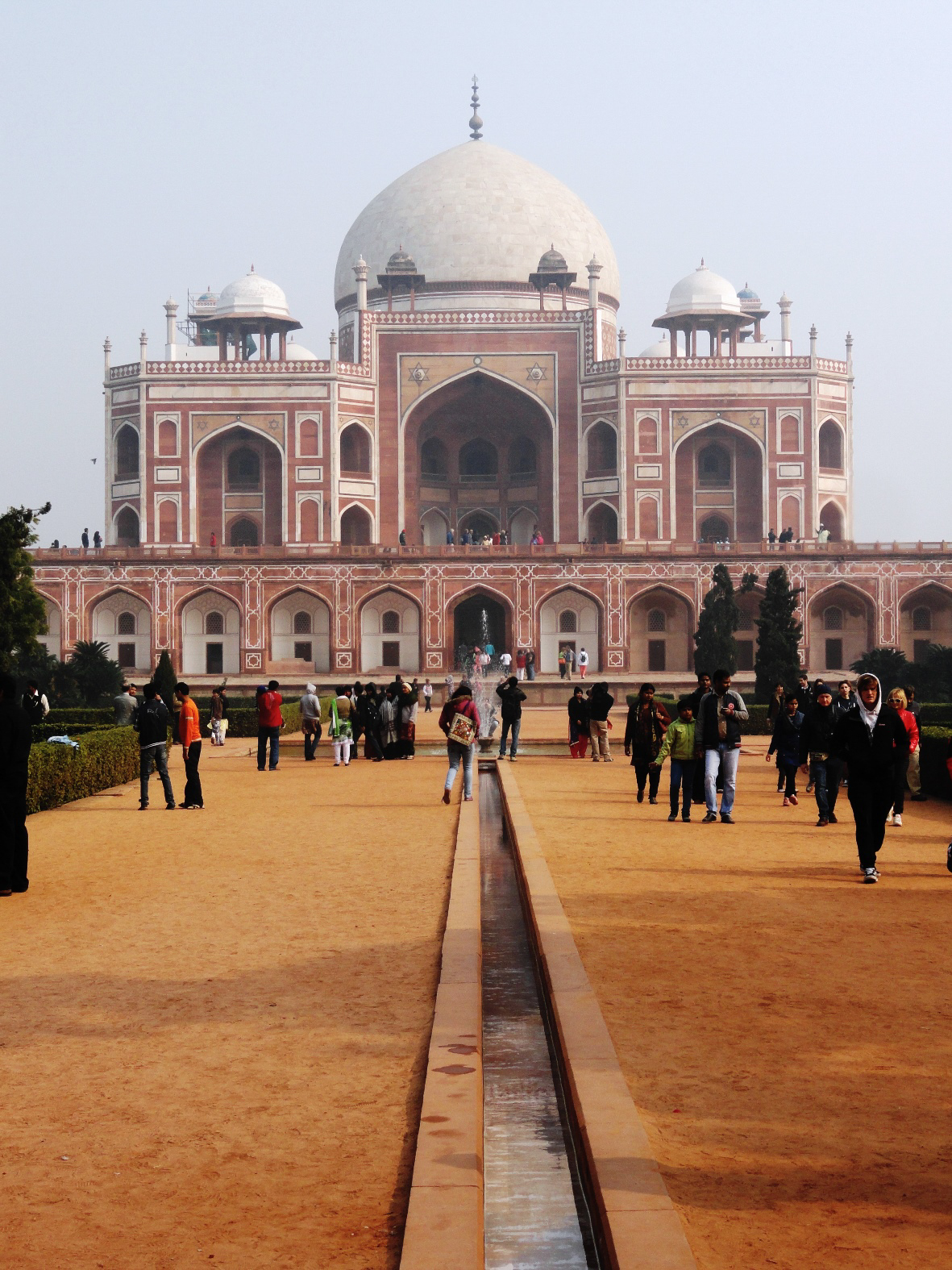 Agra is about three hours' drive from Delhi and holds much of the "golden" in the epithetic "Golden Triangle" home, as it is, to one of the most famous buildings in the world: the Taj Mahal. The Taj can, at some points in the year, be an elusive beast. The smog which descends upon the city of Agra means that your hopes of capturing an incredible photograph of this most iconic of buildings may be thwarted. We awoke to a smoggy Agra, entering the compound of the Taj Mahal at around 10am. Luckily for us, the smog began to clear by early afternoon and just at the point that we were about to leave, having done our utmost to photograph the Taj by tinkering with camera settings and angles. I am glad the fog lifted because, to travel all the way to India and not be able to photograph one of the New7 Wonders of the World would have been an utter tragedy. Indeed, the previous day we had tried to view the Taj from roof of a café in the Taj Gange area of the city (which served me the oldest-looking bottle of Coke I have ever seen), a place where filth, a rancid stench, a menagerie of animals and humans all occupied the same narrow streets. The Taj was barely visible and no matter which camera settings were employed, its white marble became almost indivisible from the low-lying mists which had enveloped it. As it was, I was satisfied that I had managed to capture a relatively decent shot of the Taj; we could so easily have left the Taj compound with something infinitely worse.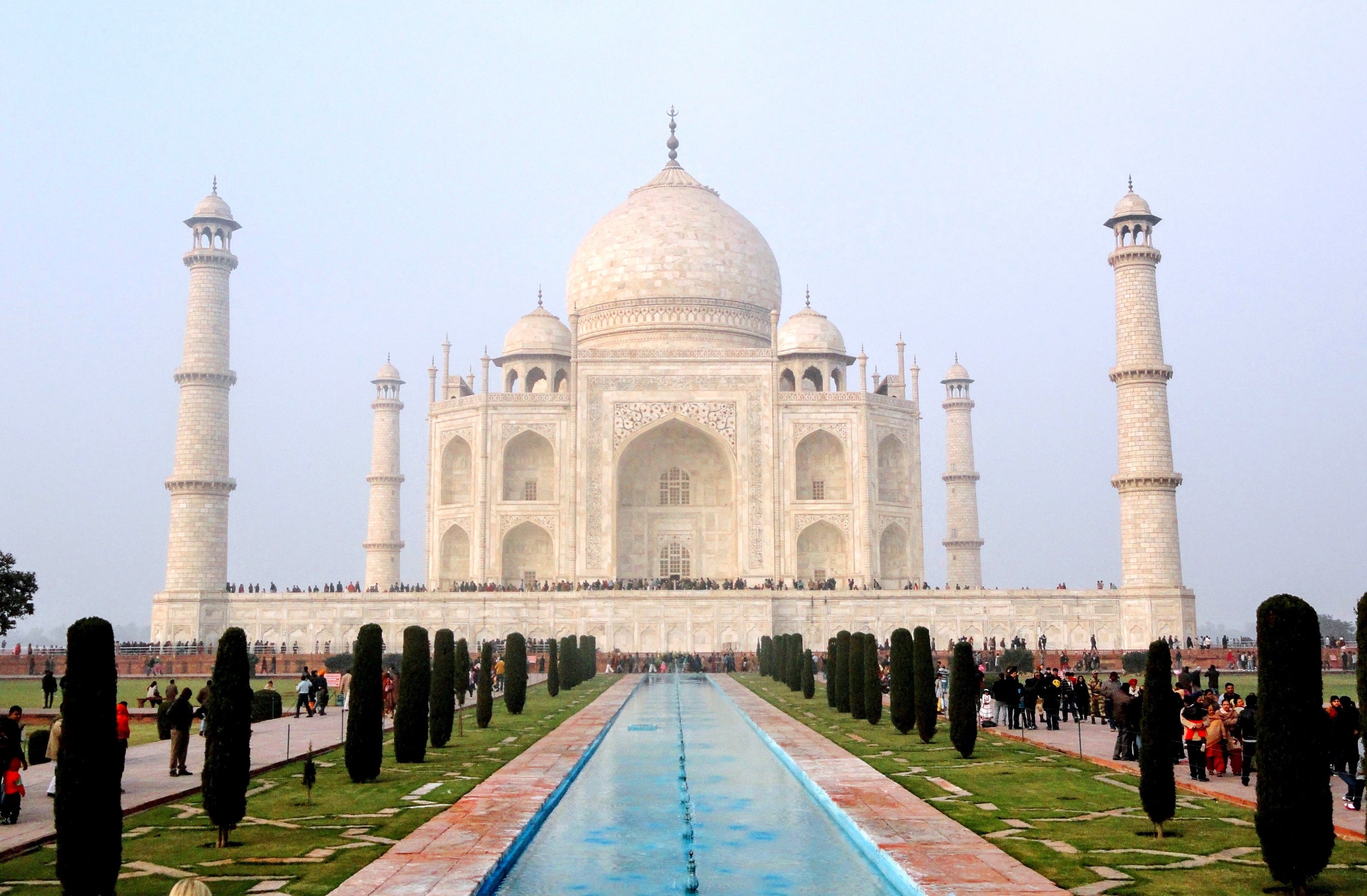 The Taj Mahal. It was enveloped in the misty smog of an Agra morning and virtually hidden from view but, just as we were about to leave the grounds,it emerged.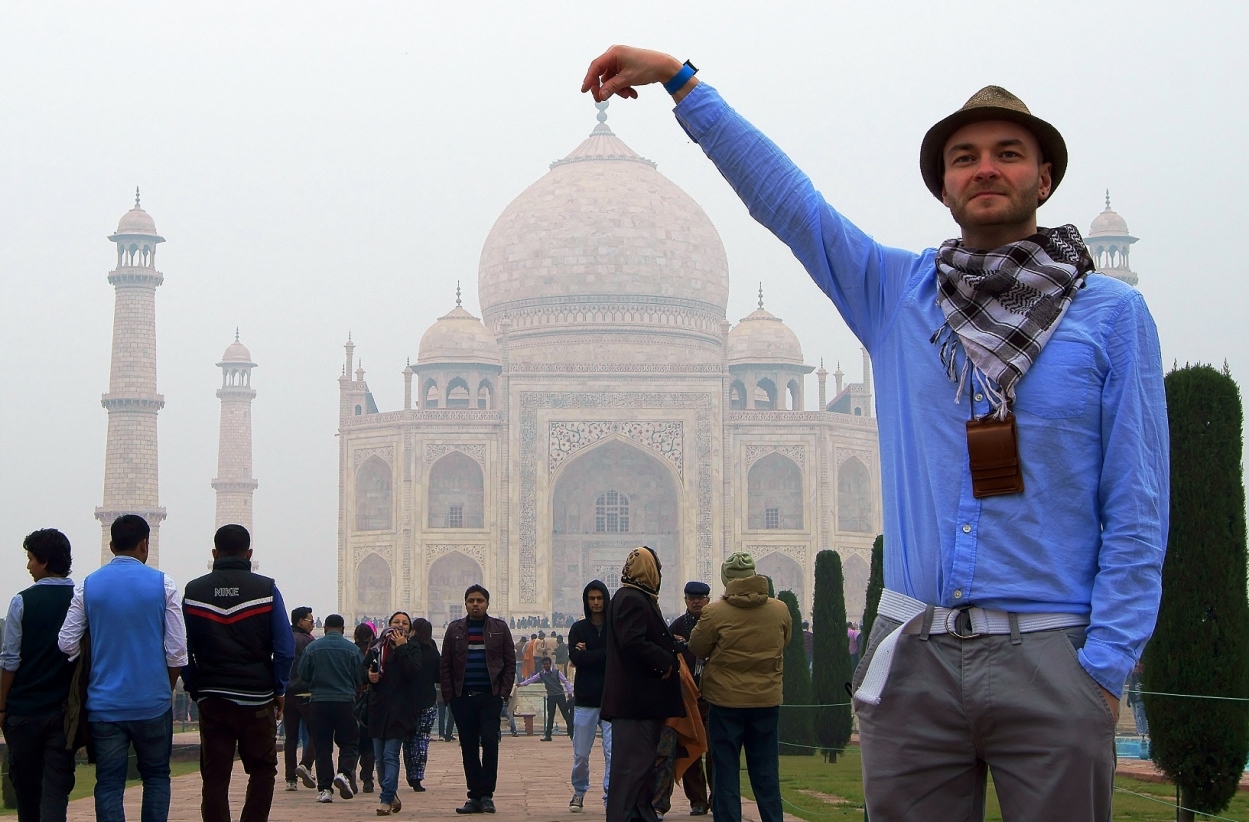 So this is what it's all about. The Taj Mahal - built to house the body of an emperor's wife after she'd died during giving birth to his eleventh child. Luckily for us, the sun finally burnt away the fog and mists which had hidden the building all morning. It's a mausoleum, not a mosque.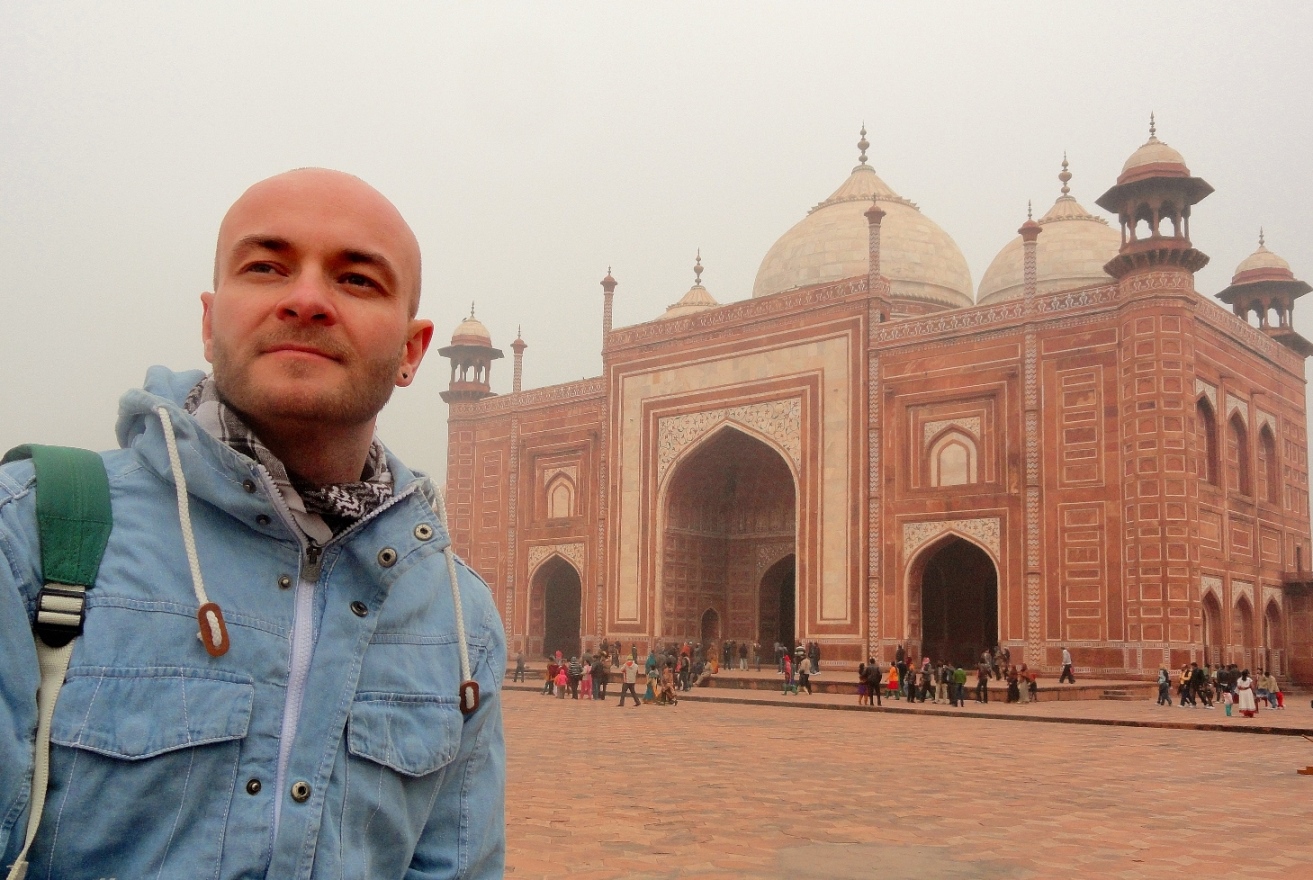 One of the striking and rather impressive red brick mosques which flank the Taj Mahal.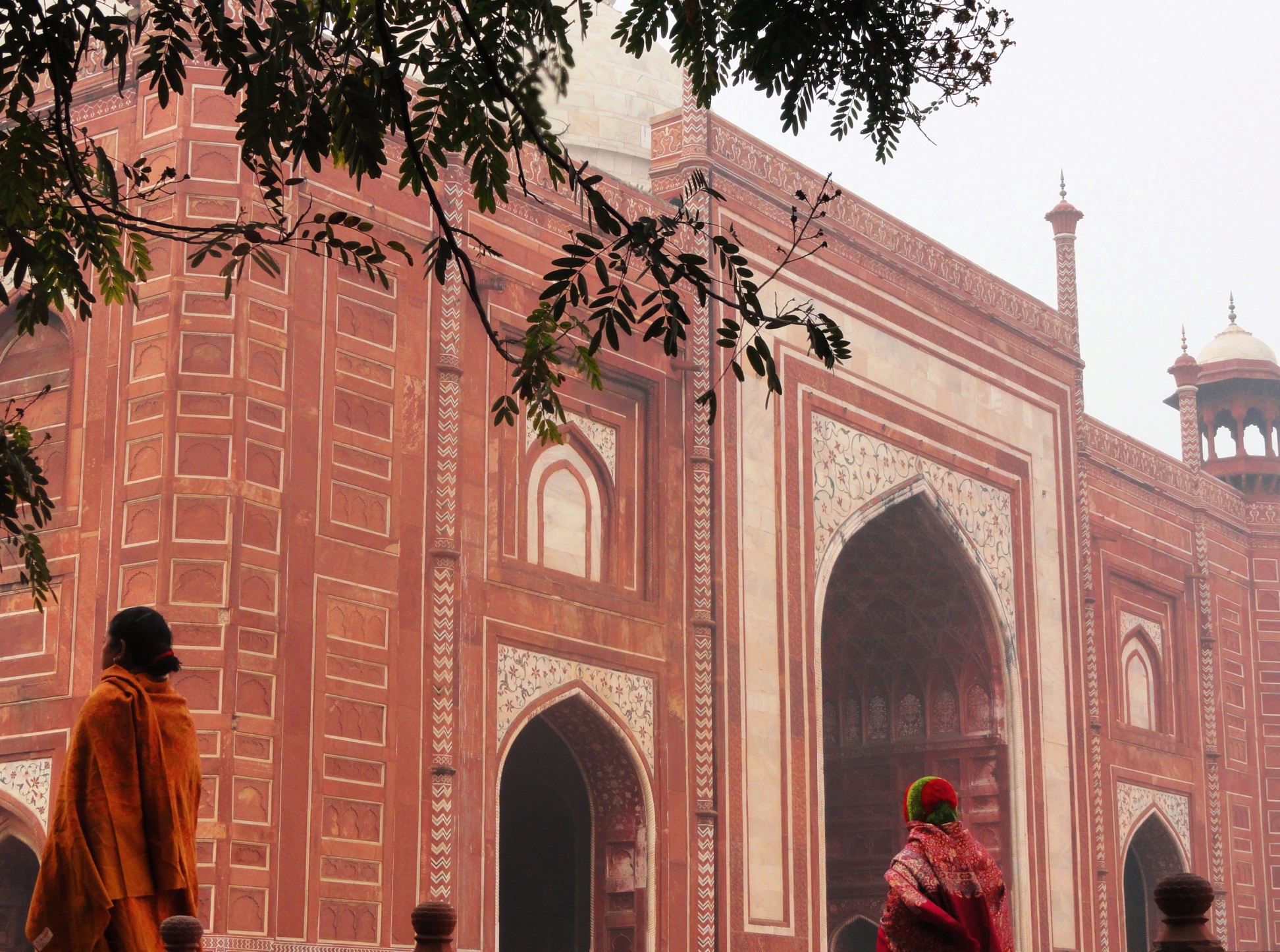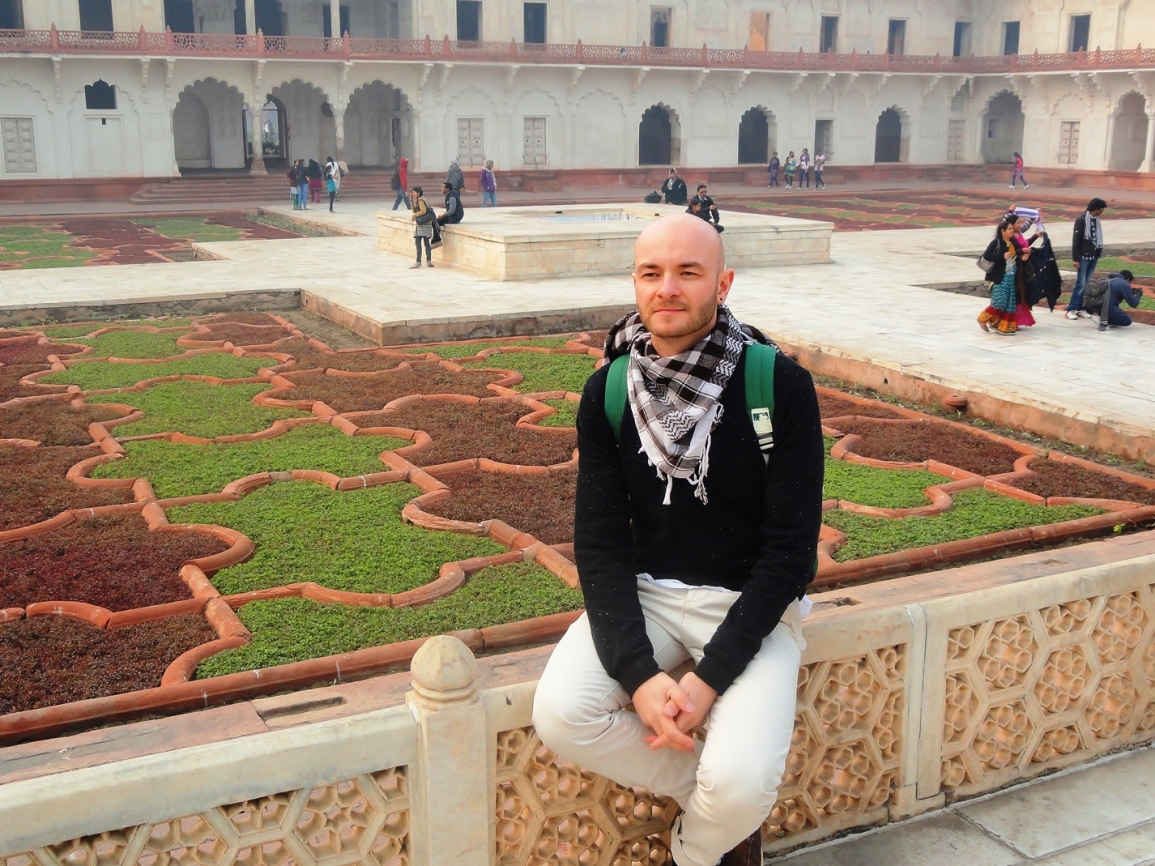 The colourful Mughal gardens in the grounds of Agra's Fort complex.
The road from Agra to Jaipur was also a journey from India's Uttar Pradesh region to its Rajasthan region. Rajasthan is India's largest region and known to be its most exuberant and colourful. Many of the places we visited in Rajasthan appeared in vivid technicolour. Our journey around Rajasthan took in the capital Jaipur but also Abhaneri and Pushkar. Indeed, the road out of Agra was a tricky one. The power cut that gave us such a rude awakening on our final morning in the city was a sign of things to come. A truck had broken down at the city limits and Rameesh spent twenty minutes painstakingly and precariously driving along the edges of the road. It was not the first time we were to find his driving skills to be - thankfully - second to none. Making it all the more daunting was the freezing fog which reduced visibility to something around five metres. As we pressed further towards Rajasthan, we began to leave the smog of Agra behind and found ourselves shedding layers as temperatures rose. The sun was coming out, literally but also metaphorically. We were some 95 kilometres outside of Jaipur when we stopped off at a small village called Abhaneri, the location of the Escher-like Chand Baori Step Well. It was also home to a little old man, wearing a white turban, sitting with a pottery wheel and making little clay Chai cups. A more beautiful Indian scene you will not find. For reasons lost in the mists of time I bought two of these Chai cups for posterity. Abhaneri village was also the place I bartered for two of the most delicious bananas I have ever had the joy to consume for a knock-down price of 10 Rupees.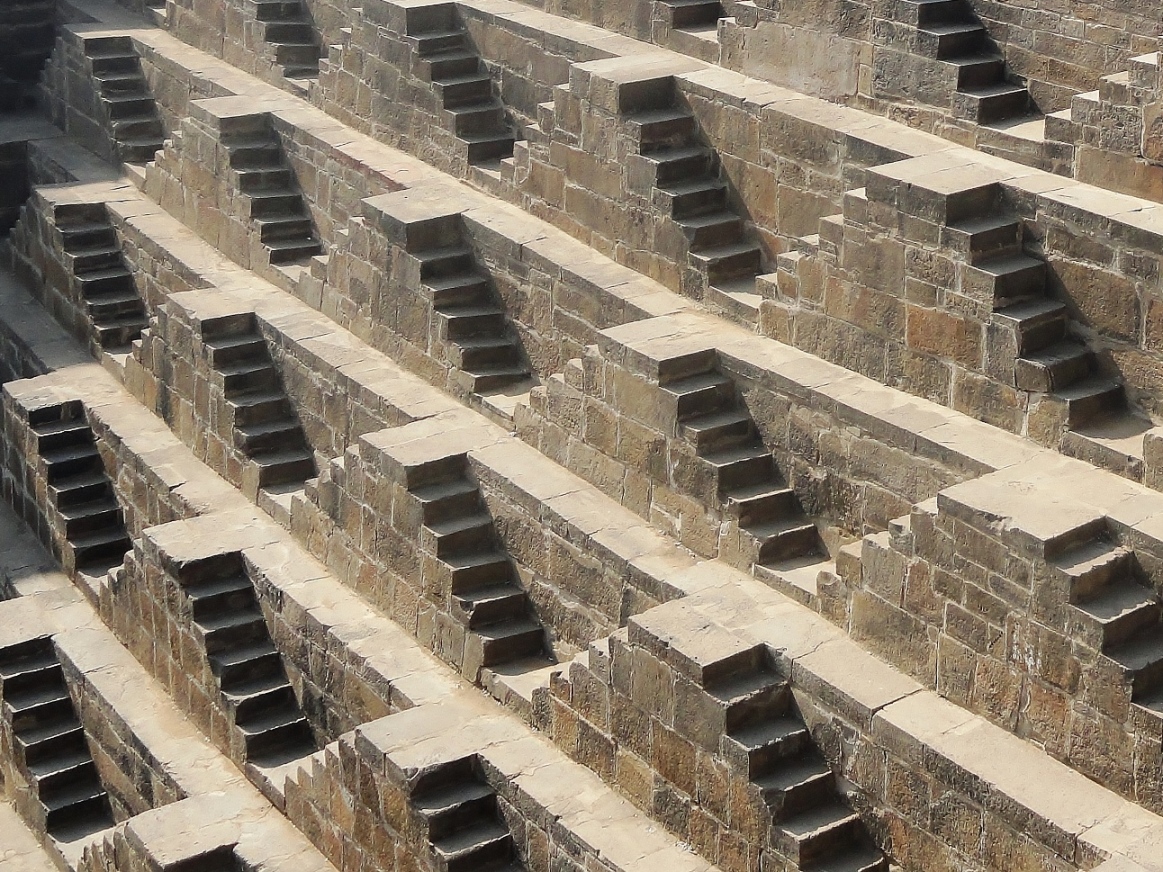 The Chand Baori Step Well with its Escher-like shapes.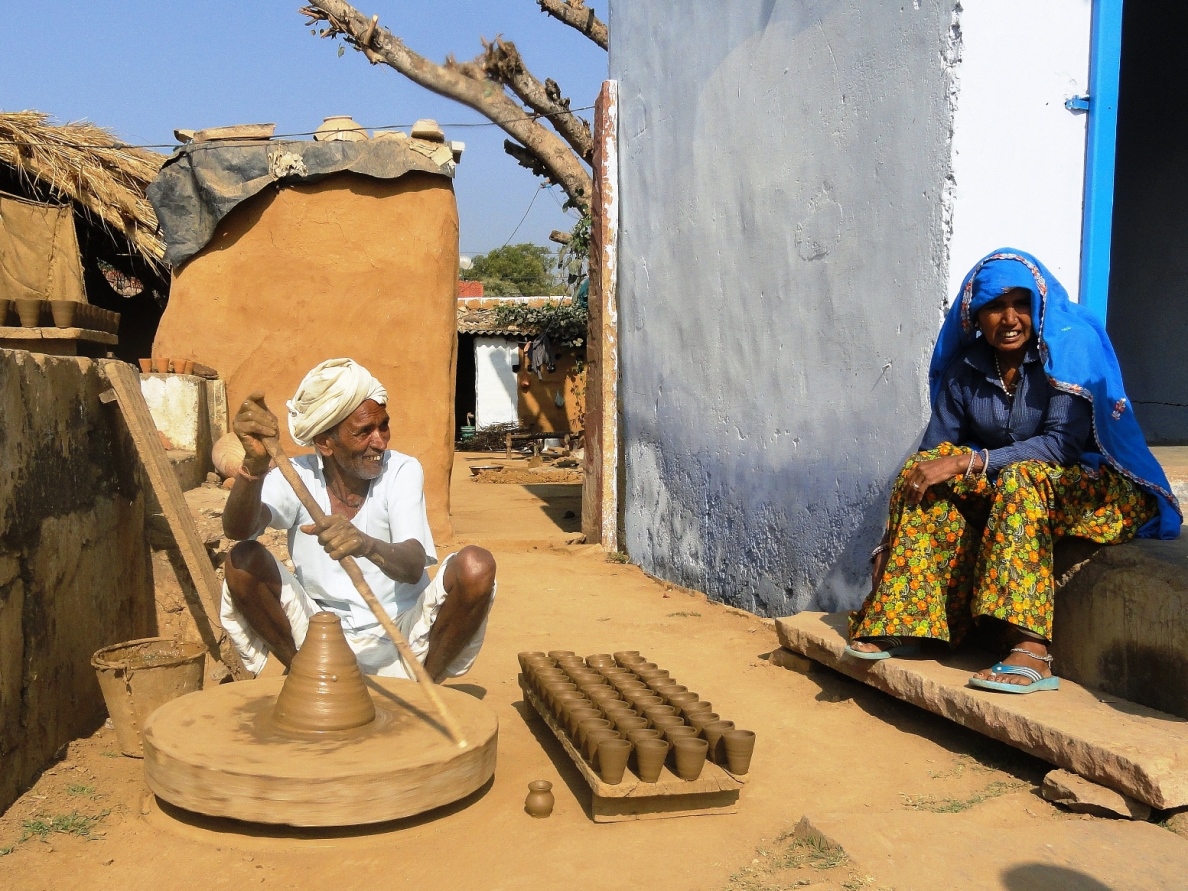 The man with his pottery wheel makes small Chai drinking clay cups for for a living.
Just before Jaipur was to reveal itself in all its Pink City glory, we pulled over outside of the city limits to visit the Monkey Temple, a crazy place where Macaques run wild in abandoned temples set amid a dramatic mountainous landscape and where Hindus undertake holy bathing rituals at the foot of the temple itself. I also couldn't help but notice the impressive specimen of a holy cow which was confidently strutting the watery edges of the Ghat.
It was in central Jaipur where we bade goodbye to Rameesh; we were on our own from hereon in. Just outside of the city lay the great Amber Fort and Lake Palace. Rickshaw rides to and from the Pink City allowed us to pick up a few choice items for home from the city's famous bazaar and a stop off at the coffee chain which had become our second home in India: Café Coffee Day - a coffee shop selling Western-style ground coffee for less than half the price back home. Jaipur is also famous for being home to a sanctuary for elephants rescued from all around Rajasthan. We spent the best part of a day at Elephantastic riding on an elephant called Birley, a 28 year old girl who was eight months pregnant. Initially we rode bareback but were soon dressed up as Maharajas in a mounted box with blankets and cushions for reasons only our host can explain. We trekked briefly through a national park of India where we espied rescued tigers and antelopes. Painting an elephant was a relaxing way to pass an hour or so but, all the while, watching out for the elephant's tail which took to flicking the brush and paint pot out of my hands. As part of the experience we were invited into the home of Rahul, the manager of Elephantastic, for supper. His mother had prepared an amazing Indian vegetarian meal (India is an incredible place for vegetarians). Unbeknown to us we would be sharing our meal, briefly, with a small rabbit called Chico who had a fondness for chapatis.
It was in Jaipur that we finally got our chance to experience Indian Railways embarking, as we did, on the Shtbdi Express train back to Delhi - a mere five hours in Executive First Class. Jaipur Junction station was a torrid, awful affair. Arriving in plenty of time as we did, there was time to acclimatise to the chaos; the beggars, the pickpockets, the first class passengers, the disabled men with ill-fitting plastic limbs, the endless spitting onto the track whilst waiting for the train. People walked across tracks, hung out of doors on moving trains, pulled carts of potato chips and luggage along platforms. It was a frenetic and crazy place and one where I kept my valuables close. Very close. A drunk guy wandered into my face then staggered off, drawing disapproving looks from other, more well-healed, Indians waiting for the inevitably-delayed train on the First Class area of the platform. Twenty minutes later and our battered, asthmatic beast of a train lurched into the junction - and not a minute too soon; afternoon was quickly slipping into dusk and we did not fancy spending any time in the dark at this station. After such inauspicious beginnings followed a reasonably uneventful journey on to Delhi. We were the recipients of two meals which I opted to avoid; with no Delhi belly or Bombay bum after nine days in India I was not about to start taking risks now...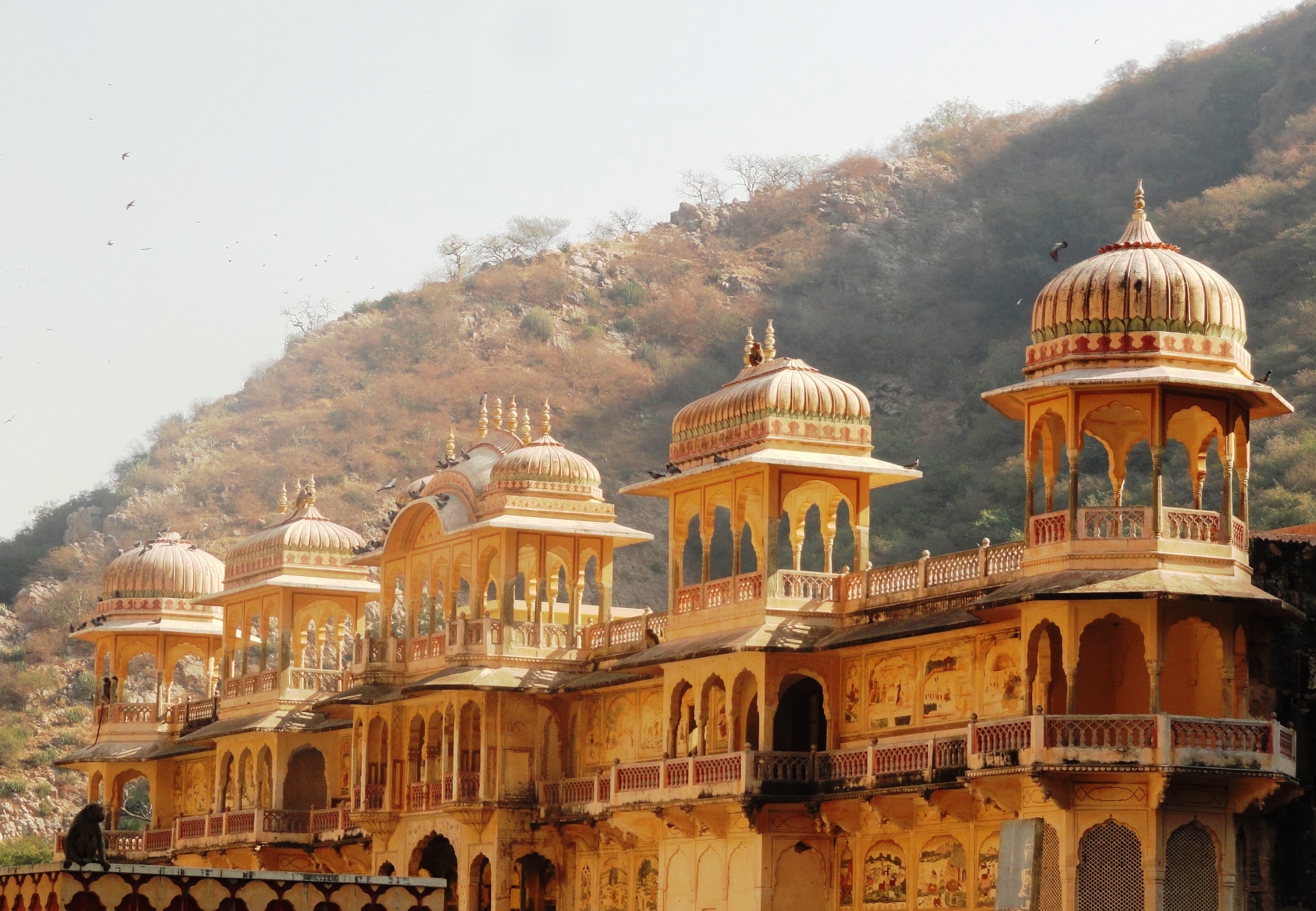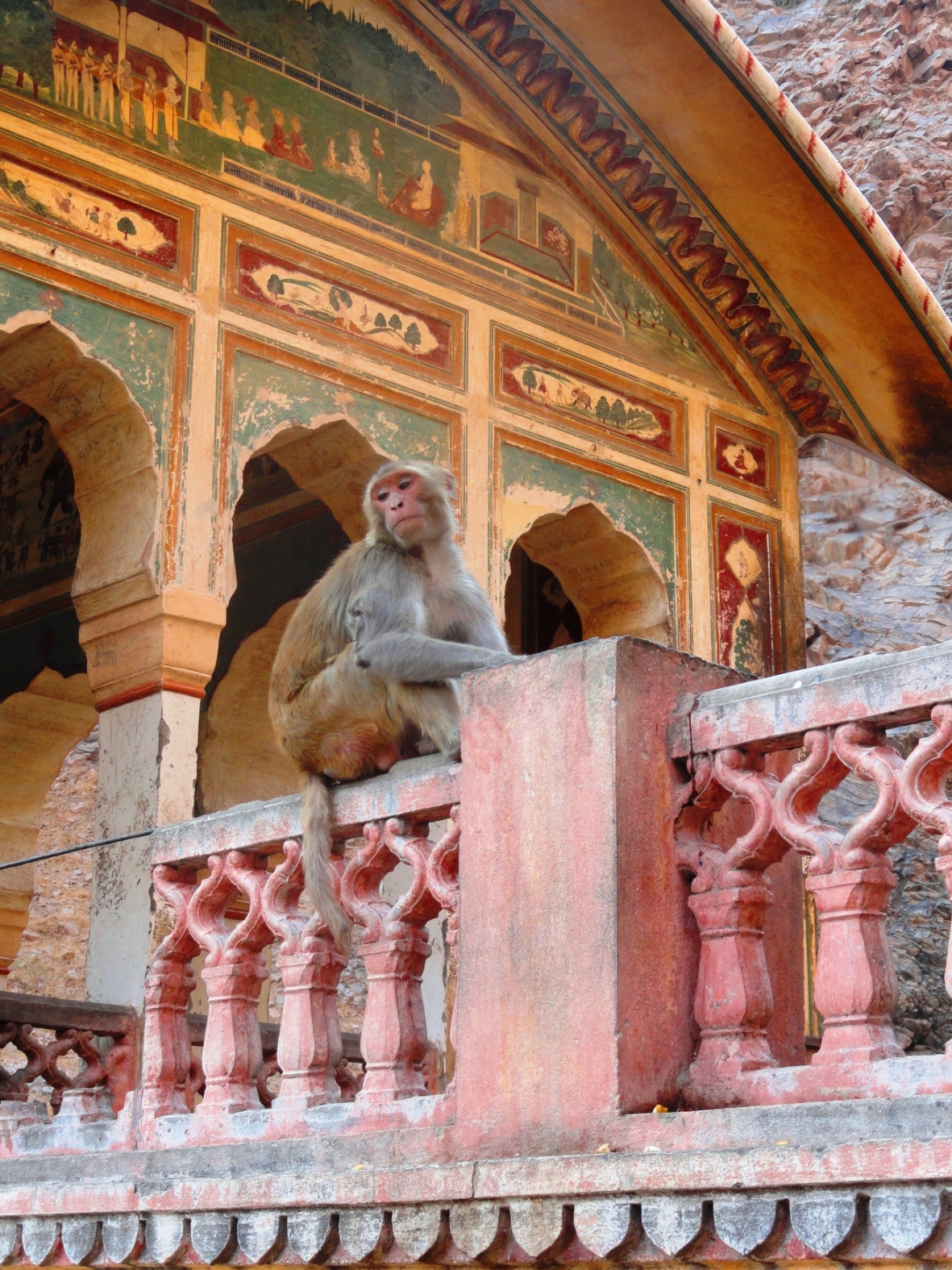 The wonderful Monkey Temple, home to scores of macaque monkeys which live and play in the abandoned temples. The surrounding mountain ranges make this a striking place to visit.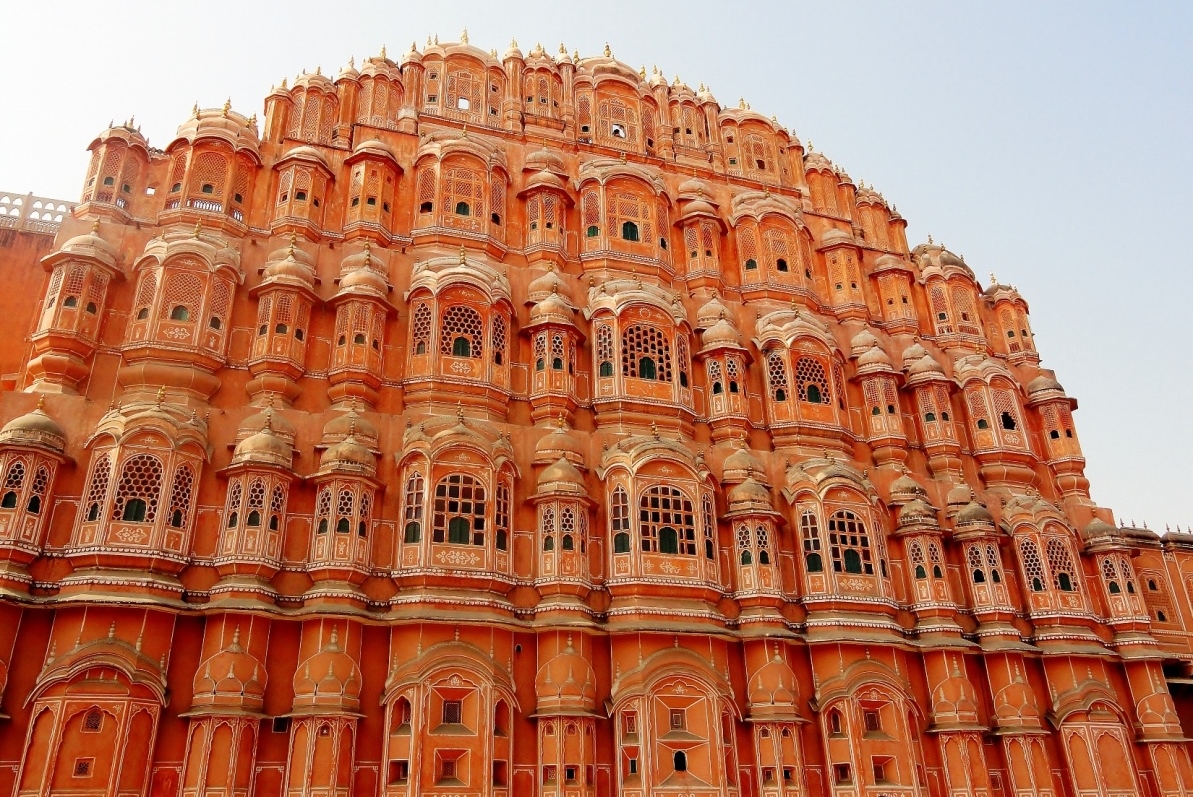 The Hawa Mahal, or Palace of the Winds. Buildings like this are responsible for the city's epithet of "The Pink City".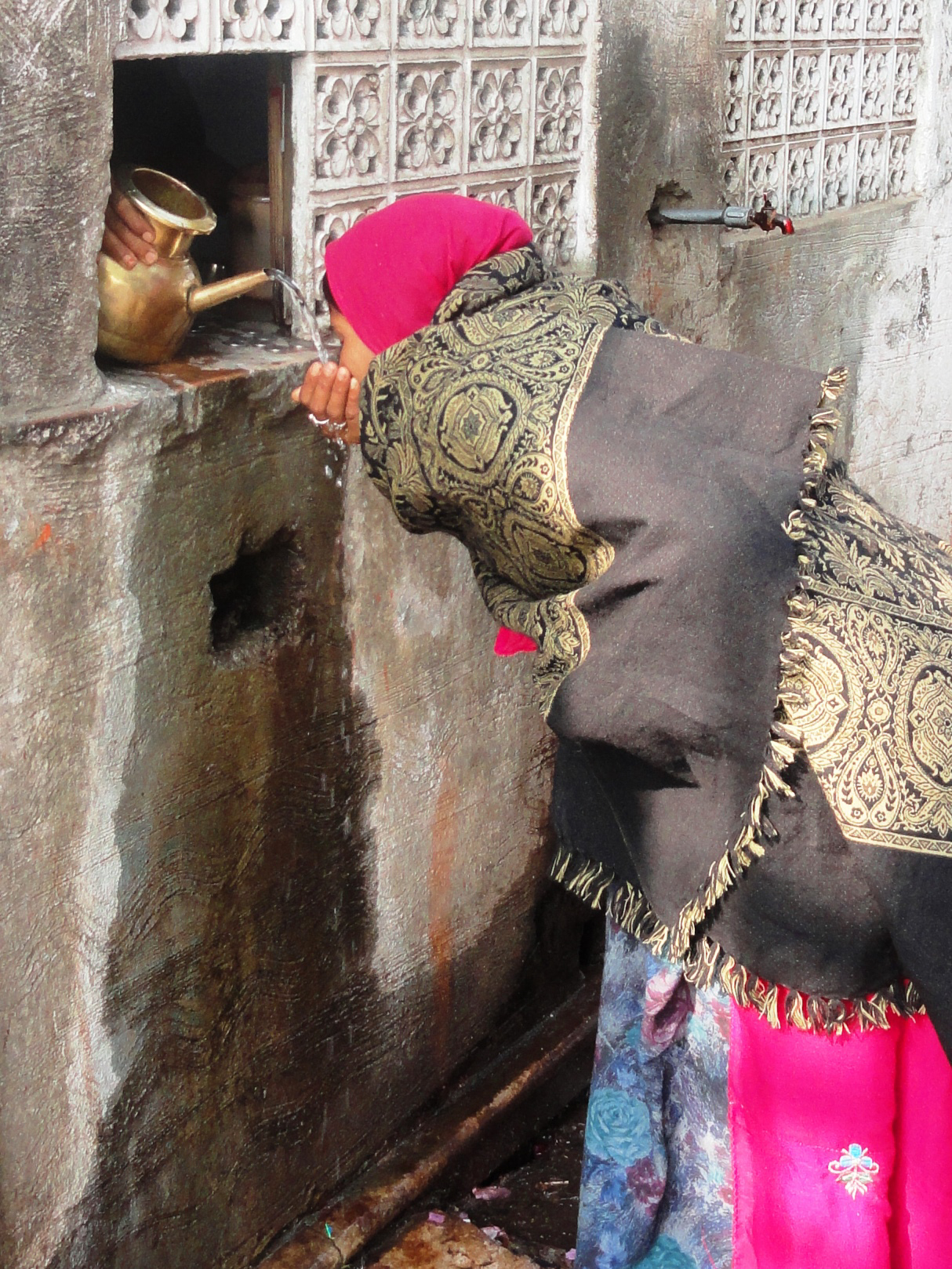 A woman drinks from a rudimentary drinking fountain.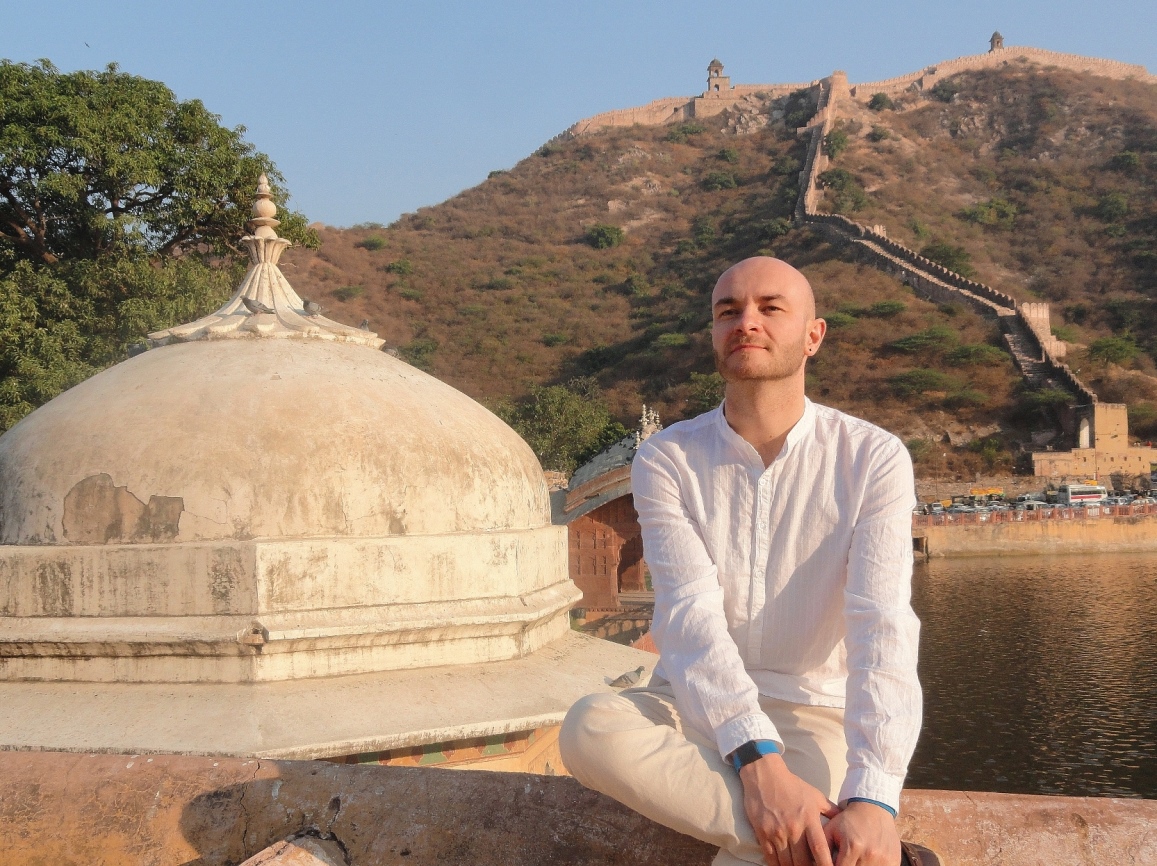 Amber Fort views with the defensive wall running up the mountainside.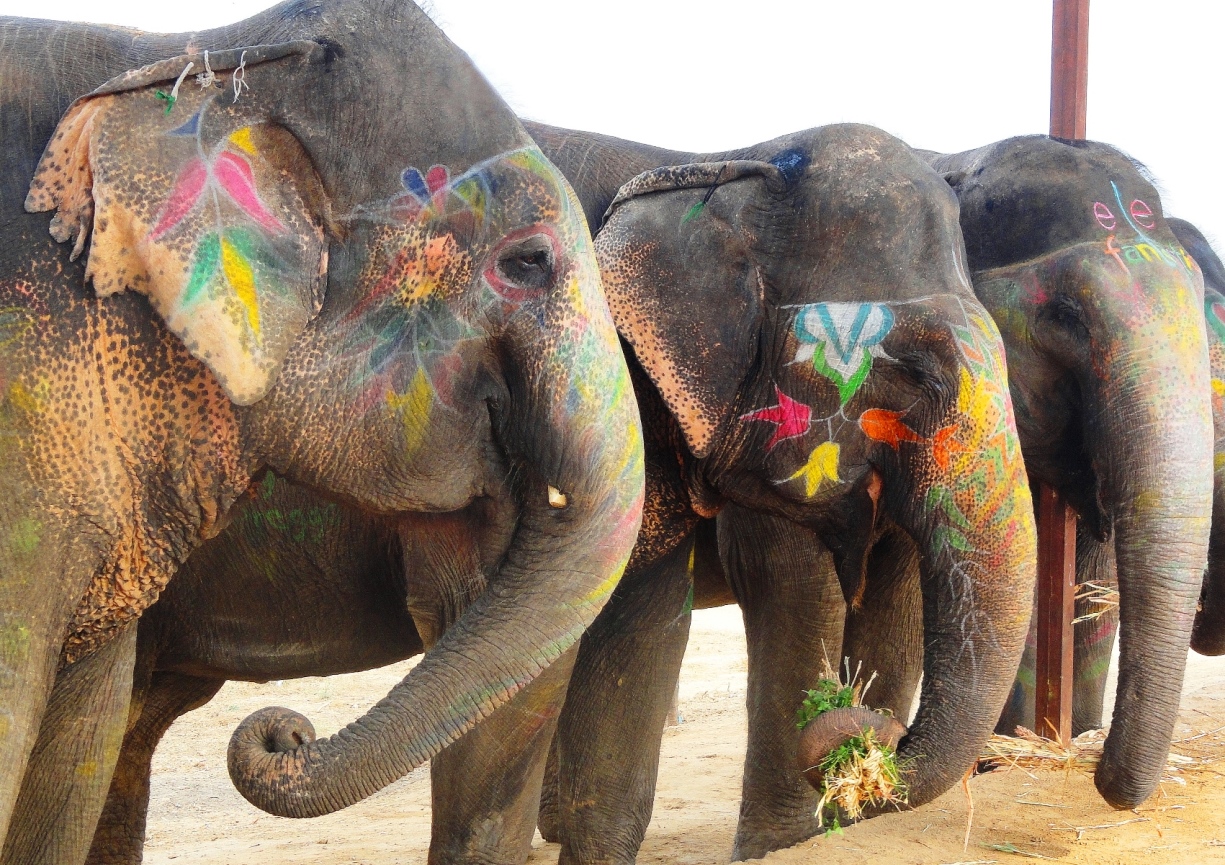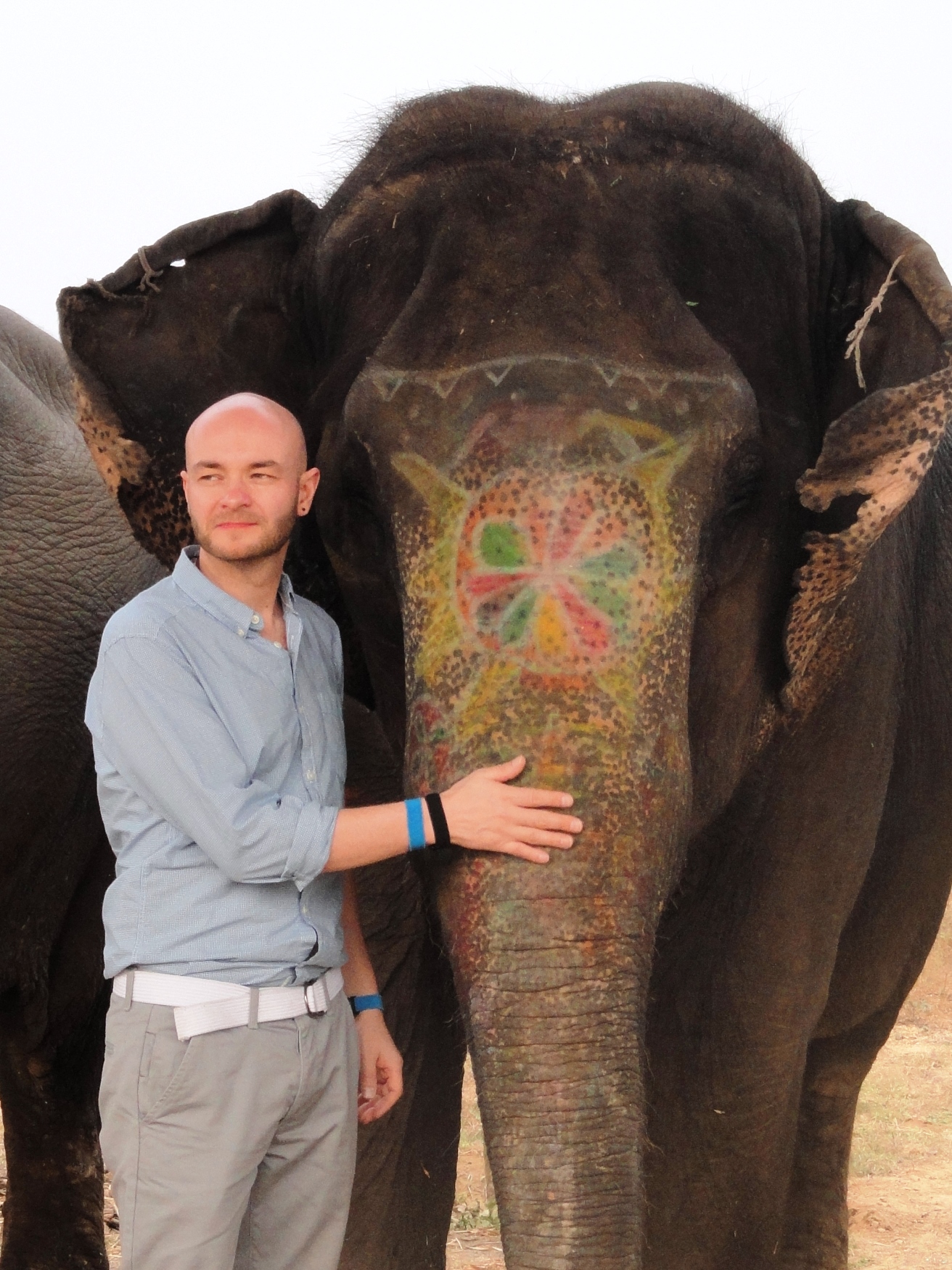 At Elephantastic with rescued elephants painted with luminous paints made from natural compounds.
We were sold a trip out to Pushkar, a town in central Rajasthan. A trip of 150 kilometres east of Jaipur and which featured only nominally in the Rajasthan section of our Lonely Planet Guide to India. We were looking around for a day trip to fill a void which had developed in our itinerary having visited so much of our intended sights on the way to Jaipur. So, to Pushkar we went. We enjoyed views over the holy Ghat and across to Snake Mountain seen from the Lonely Planet-recommended Out of the Blue rooftop café. The journey took us through Kishangarh known mostly for its marble and so unsurprisingly goes by the epithet The Marble City. Two warnings from Pushkar: do not take photographs of the Ghat and the religious bathers - it is considered deeply, deeply disrespectful. Even though we were not doing any such thing, this did not stop people verbally abusing us. The fact is, any kind of photography is difficult in these kinds of places. Get your photos safely from a rooftop café nearby. With the glorious Ghat view, the rooftop café and the bazaar all done, not forgetting the jumping grey monkeys and head-butting cows included, our time in the pilgrimage town of Pushkar was at an end.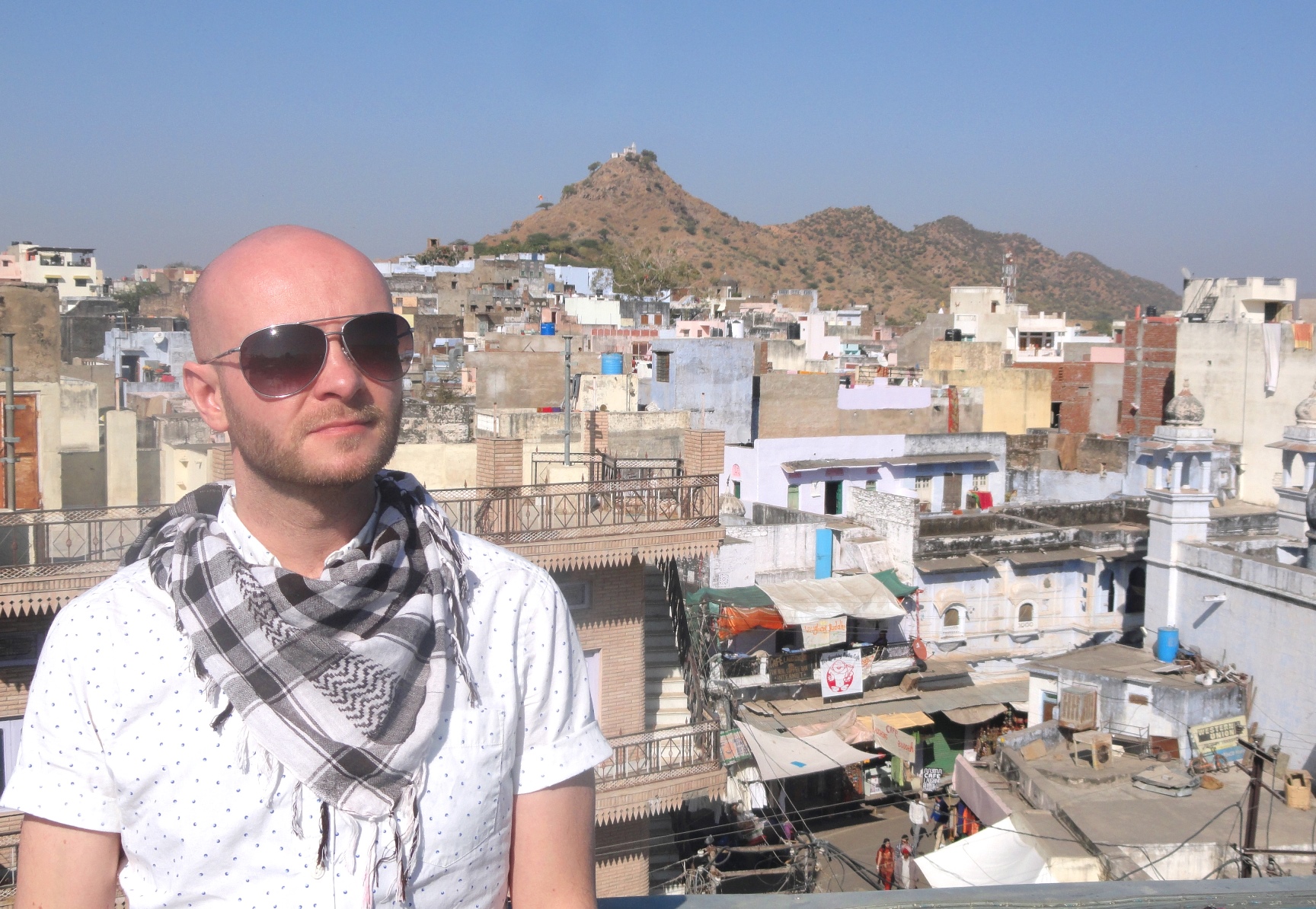 Overlooking Pushkar from a rooftop café.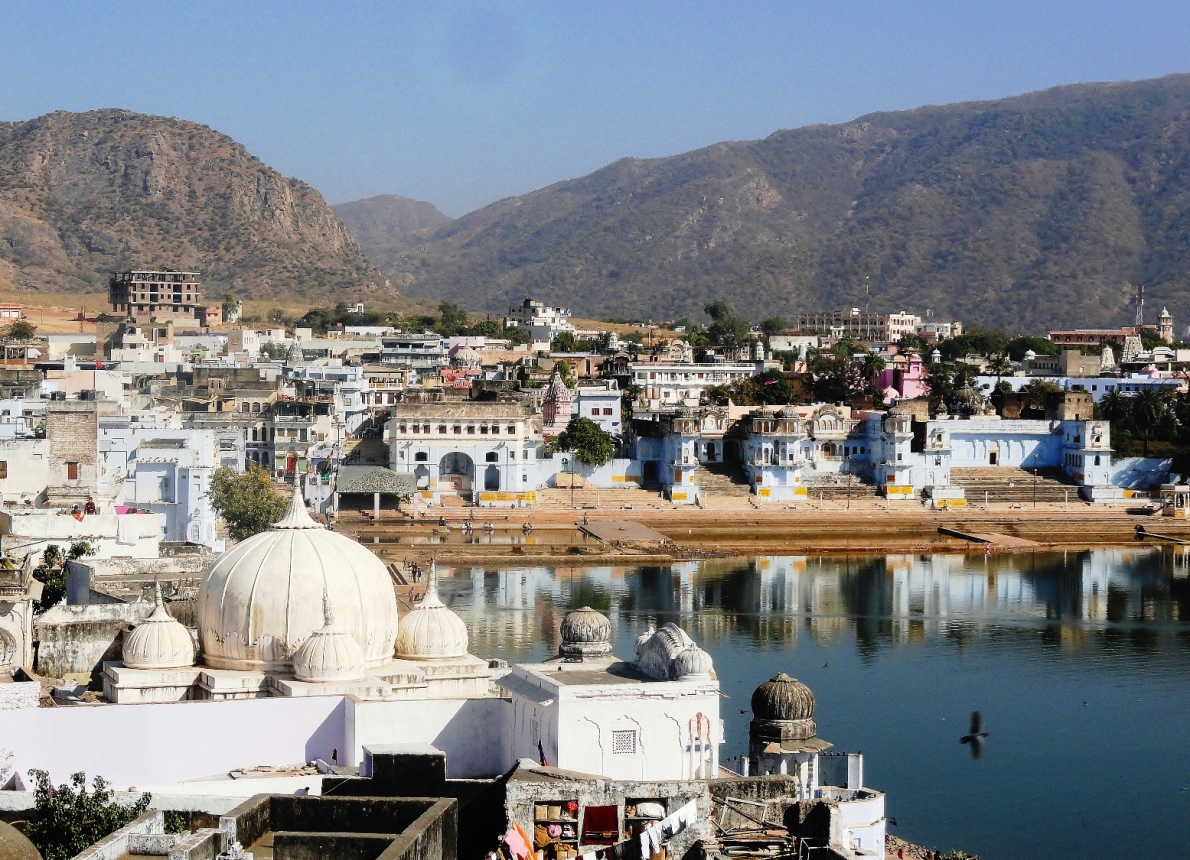 The stunning view across the holy lake and across to Snake Mountain. I love the pastel blue hues of the buildings along the lakeside.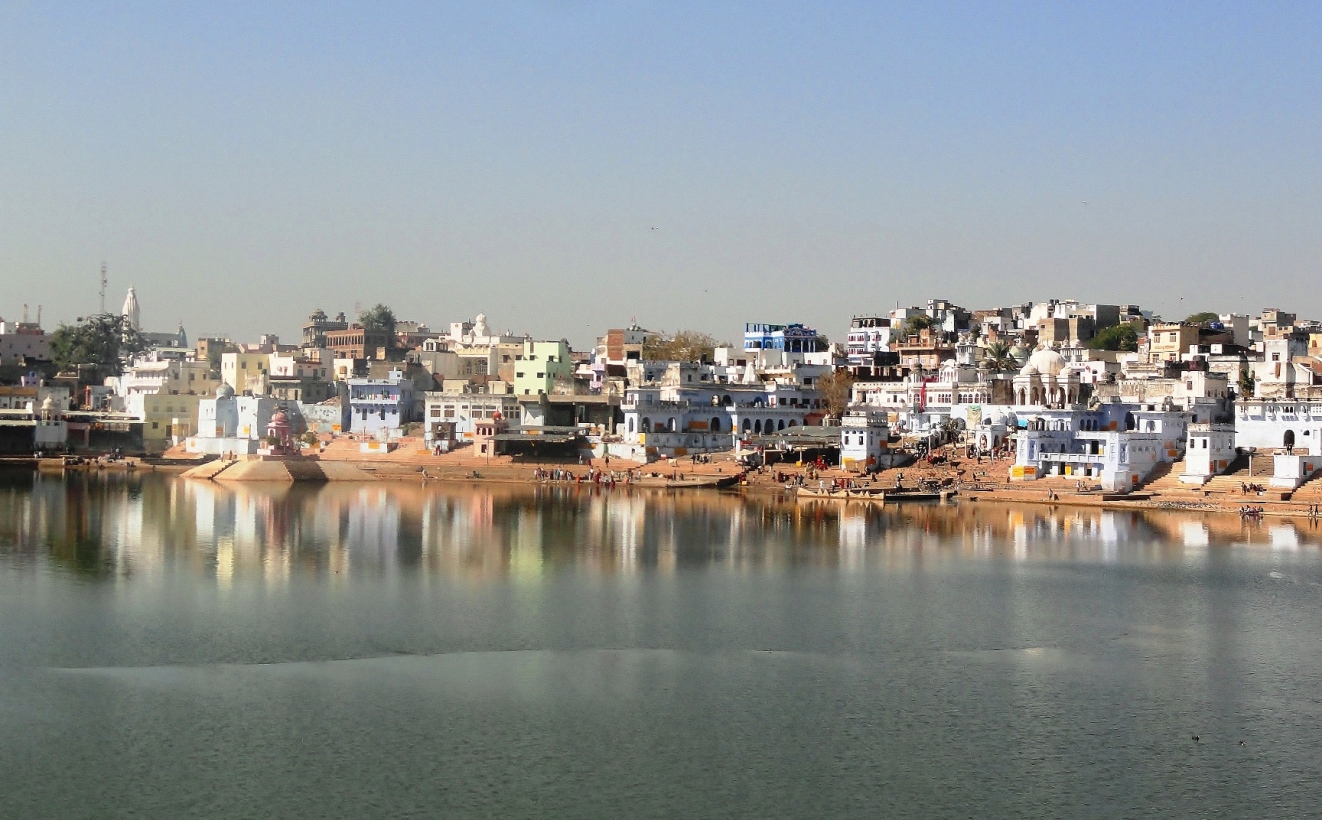 A view of the holy Ghat seen from across the waters - it is forbidden to photograph any of the bathers individually out of respect - hence this rather distant shot. Still, I think it looks great just as it is.
travel tips, links & resources
Ensure your vaccinations are up to date. India is not a place where you would want to become sick.
Be prepared for the hundreds of hawkers and tourist scouts who will descend on you at busy tourist places trying to sell you anything from hotel stays to day trips. They are prepared to lie to you, also. Be dismissive and firm otherwise they will never leave you alone.
I personally avoided any street food and ate at clean-looking, higher-class restaurants. Doing so meant that I ended, after two weeks of Indian travel, with just a cold. Not bad going all things considered.
Check the weather forecast if you're planning on seeing Agra's Taj Mahal. You could be left disappointed if you visit on a smoggy day.
Try to use rickshaw drivers for short trips around town. These are the heroes of India who will take you on cheap, short journeys by pure brute peddle-power. They live hard lives and desperately need your custom. Tip too!
Consider mosquitoes when packing your luggage: think of packing white clothing, long sleeved tops and light trousers in particular.
If you embark upon a trip don't pay your driver any of the tolls along the way. Insist instead on paying everything at the very end in one transaction. This will mean you are not in the position of having to add up a series of differing toll charges when it comes to settling your bill at the end of the journey. Pay at the end and confirm this with your driver before setting off.
Do not accept flowers from anyone. On two occasions men tried to hand me flowers, claiming it was about showing religious respect. It was, of course, another swindle. Tell them you're no fool and walk.
A welcome benefit getting into India's treasured sights is that, although foreigners pay twenty times the entrance fee compared to citizens themselves, you are allowed to use the "high value" ticket queue which is essentially empty. This means you effectively skip queues which are often thousands upon thousands of people long. Don't be put off if you arrive at a scene of chaos as you are unlikely to have to wait in line with the locals.