Exploring the Jordanian Jewel at the Heart of the Middle East
Where: Amman, Jerash, Wadi Musa, Petra & Wadi Rum. Jordan, Middle East. Asia.
When: February 2012
What: Capital city buzz in Amman, Amman Citadel, Amman Amphitheatre, Roman city of Jerash, Treasury and Monastery at Petra, Camel desert trekking, Bedouin camping, Wadi Rum desert safari, Petroglyph carvings, Sand Dunes, Rock Climbing and Gorge Walking, Drinking tea with Bedouin tribe.
How: International Flights, Taxi, Desert Jeep, Serveece taxi, Camel ride.
Country counter: +1 country
Illnesses or mishaps: Experiencing one of the worst breakfasts ever on my travels: stale bread sticks with out of date jam. To be fair, we were in the middle of the Jordanian desert; seeing the confronting sight of a severed camel's head hanging outside a butcher's shop in Ma'an City.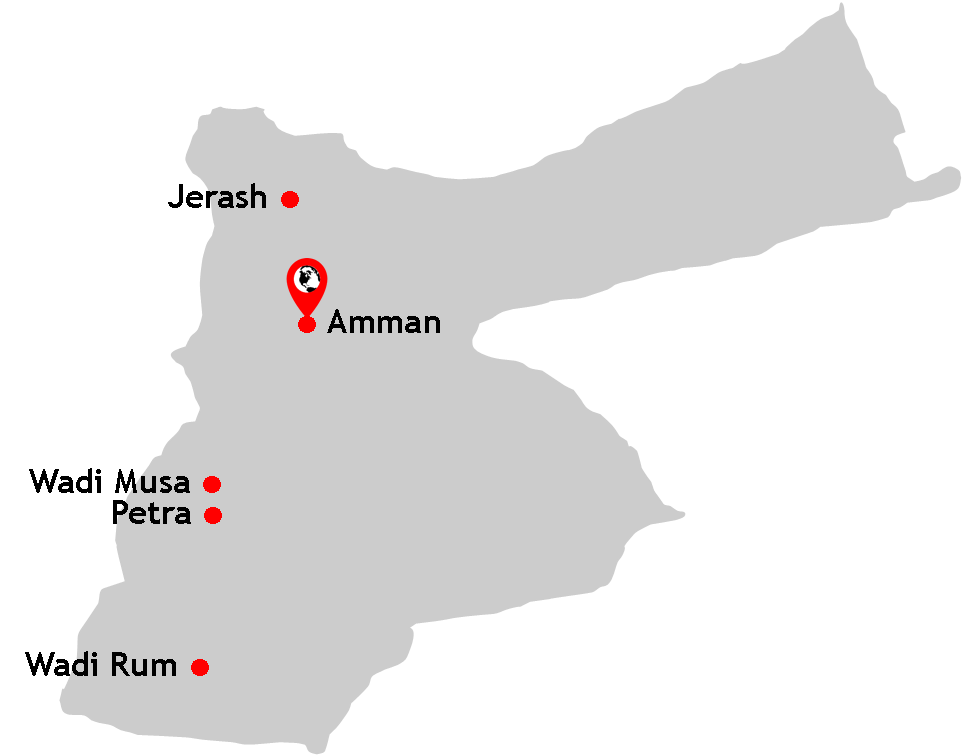 I once glimpsed Jordan on a cable car ride up to the top of Temptation Mountain in the Palestinian-controlled West Bank. Looking across the border back then I could see the small houses of another land, a country which was tantalisingly close but frustratingly out of reach. I had that aching feeling travellers get; a longing and yearning to visit another land I knew little, if anything, about. I vowed to travel there one day. Indeed, one year later I got my wish: we were destined to explore the magical Kingdom of Jordan, a country land-locked between Syria, Iraq, Saudi Arabia and the Palestinian Territory of the West Bank. Jordan's location in the middle of such a turbulent and fractious region has the potential for people to misjudge it - even discount it as a travel destination.
The strict no alcohol and drugs lifestyle of many Jordanians means that you are very unlikely to run into any crime-related problems - a feeling of safety underpinned by most Jordanians' respectful and hospitable nature. During any visit - no matter the duration - the greetings all tourists will hear countless times before they head for home are, "Welcome to Jordan" and "You are welcome". Hospitality and respect are ingrained in Jordanian culture: they are proud to welcome visitors to their country and relish the opportunity to show you around. Indeed, getting around isn't as easy as you'd wish it to be as the transport network is limited. We thus fell back on the mercies and 'generosity' of countless taxi drivers who were always willing to do us a "nice price" to get us to where we wanted to go.
Jordan is a land where you can oscillate between being a simple tourist and adventurous, intrepid traveller. From Roman ruins to ancient lost cities, from Bedouin desert adventures to capital city buzz, Jordan is incredible. In fact, Jordan is the reason I travel.
Many people miss Amman out of their tour of Jordan - heading straight for Petra or the desert when they fly into the capital. However, I'd advise that to miss Amman out entirely is a great mistake for Amman is a buzzing, crazy and vibrant part of Jordan. Activity is frantic on the streets and in the roads; everyone seems to be busy doing something. Amman's economy centres around small, independent shops organised along family and tribal ties. In Amman you can witness first hand the culture and religion at play: shopkeepers haggling, cars beeping, smells wafting. Architecturally homogeneous in the main, Amman's hustle and bustle is its main, thrilling attraction. The ramshackle tenements clinging to the hillsides encircling the capital seen from the Citadel cut an evocative sight even though no single building stands out. Indeed, it is the sum of Amman's parts which makes this city incredible to behold. Taking in this view from the Citadel just as the inevitable soundtrack of the Call to Prayer plays, reverberating around the hills and synchronised from speakers mounted on to scores of mosque minarets, is a visceral and moving experience. I love destinations where you are completely immersed, where there is no-one or nothing mediating and moderating your experience of place. There are no bus tours or tacky tourist guides here. Jordan is as authentic a travel experience as you will ever have.
Amman is too busy getting on with its own uniquely Jordanian version of Islamic life to care about showing off to international visitors and, as someone who searches for authenticity in my travels, I found this refreshing. If you're prepared to rough it a little, staying in downtown Amman is really inexpensive and another way of experiencing Jordan up close. We opted for the lovely Jordan Tower Hostel located slap bang in the heart of the city. For a small sum per night we had a hostel room with a faulty TV set, a separate toilet, breakfast and access to the roof with its unsurpassed views out over the capital. Our mattresses were of the cheap foam variety and the flimsy, single pane windows did little to dampen sound of the Call to Prayer. Jordanian respect and hospitality went a long way to making up for the hostel's material shortcomings - as did the cheap, hearty meals served in the lounge area. We intentionally opted for a locally-owned hotel full of local character and, well, local characters. Indeed, our order one evening of two soups from the menu triggered giggles in both of us recalling, as it did, a very famous British comedy sketch starring Julie Walters (watch it here).
The Jordan Tower Hostel was the perfect spot from which to see the best of Amman city, from the Citadel overlooking the sandy-coloured homes, to the the freneticism of downtown Amman. Indeed, one evening we headed out into the streets of Amman with absolutely no idea where we were headed. There was no destination in mind - just the destination of the journey itself. We sauntered through the night market which lined the sidewalk. Ropes of light bulbs emitting a glaring white dangled above the range of goods on offer. The minarets of mosques, illuminated in green, looked down upon this most local and wonderful of scenes. From what I could see, albeit in the patchy blackness of the evening, we were the only visitors; being the only two white people meant that we frequently turned heads. I was not perturbed by people staring at us but, instead, rather reassured for it made clear to me that we were in a place not many people travel to. And I love that.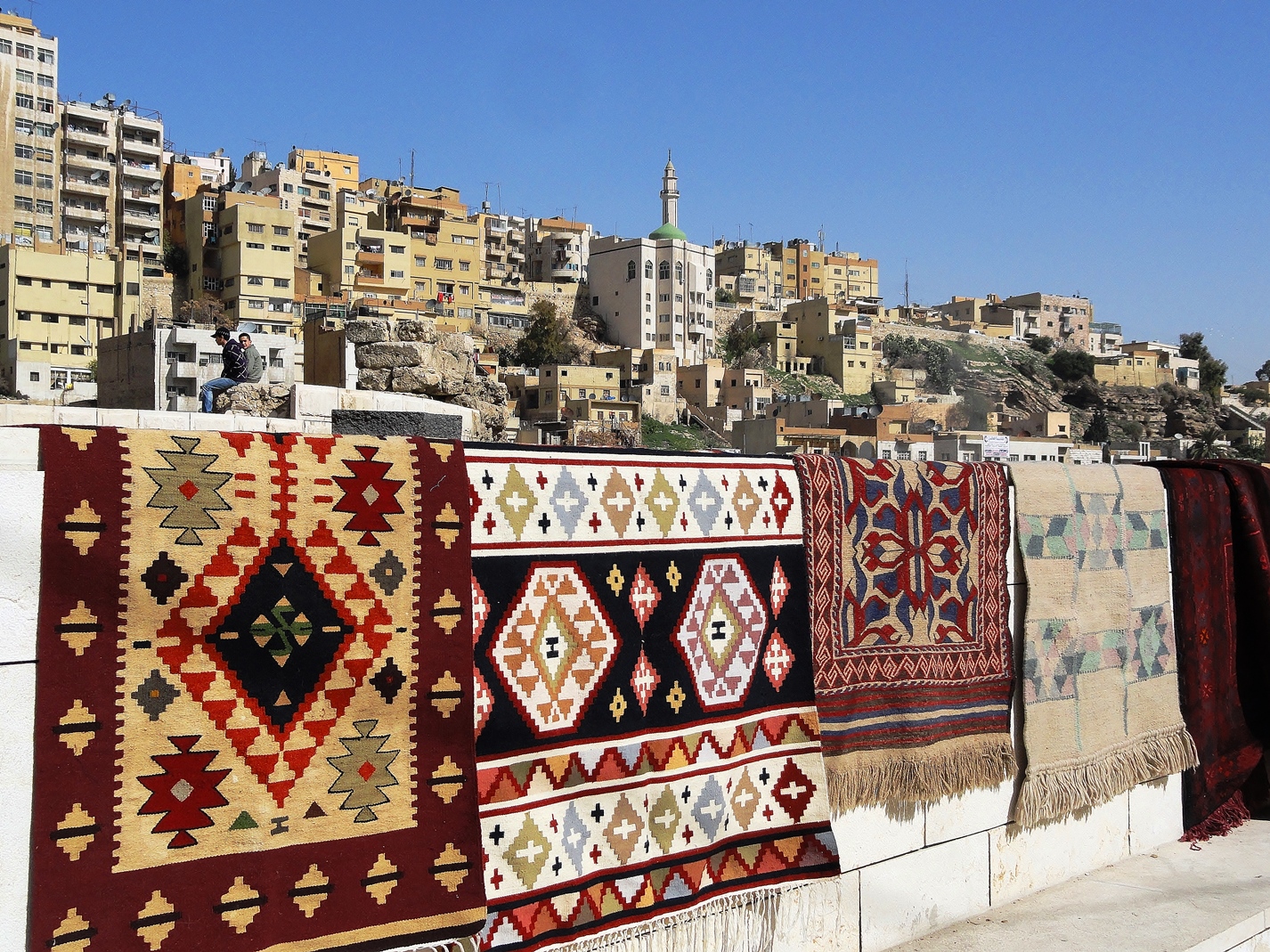 Rugs with traditional designs hang out to dry along a wall and, in doing, cut an incredible sight against the city skyline.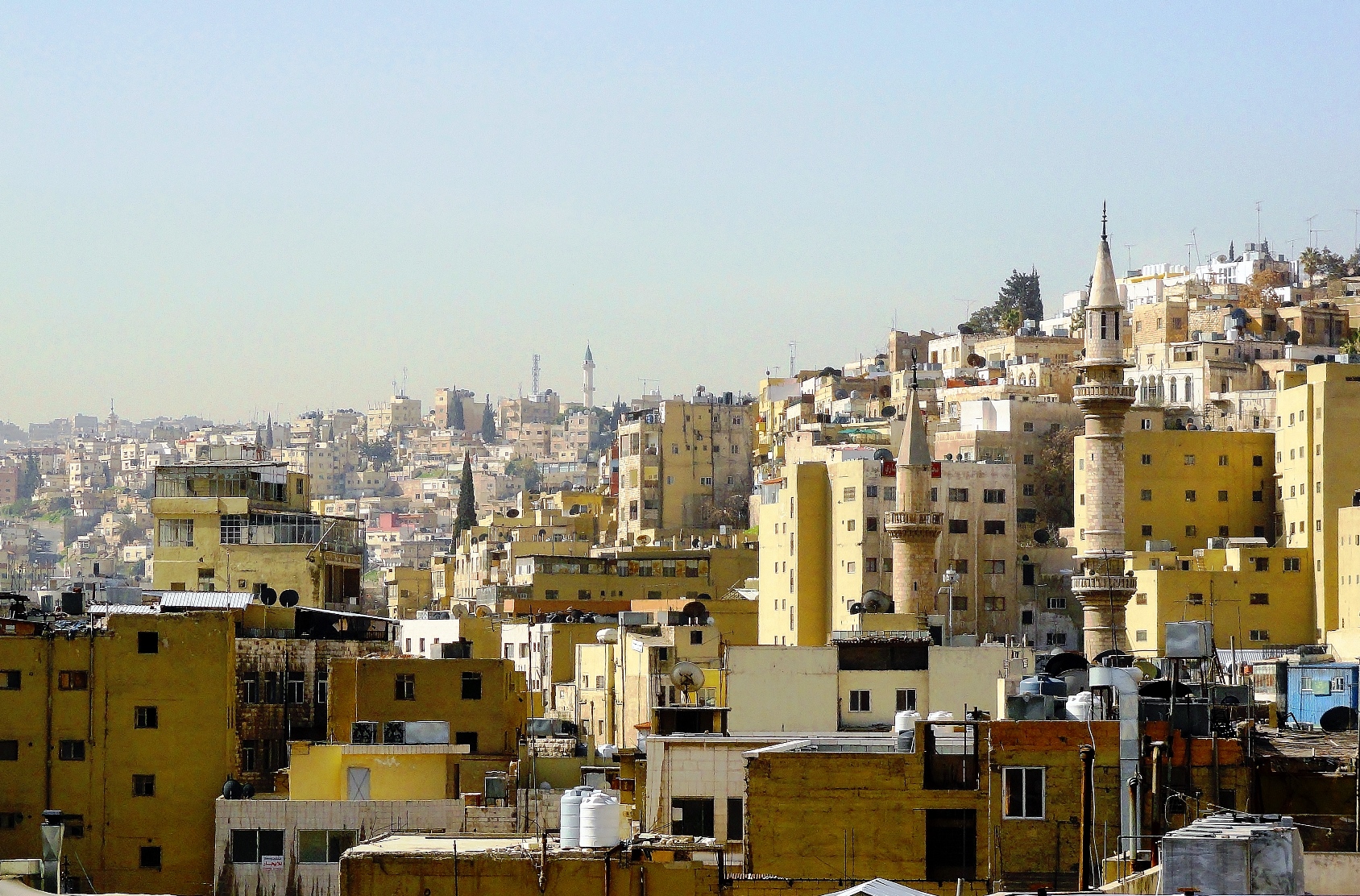 Skyline views of downtown Amman as seen from the roof of the Jordan Tower Hostel where we stayed for two nights. This was the view that greeted us on the first morning.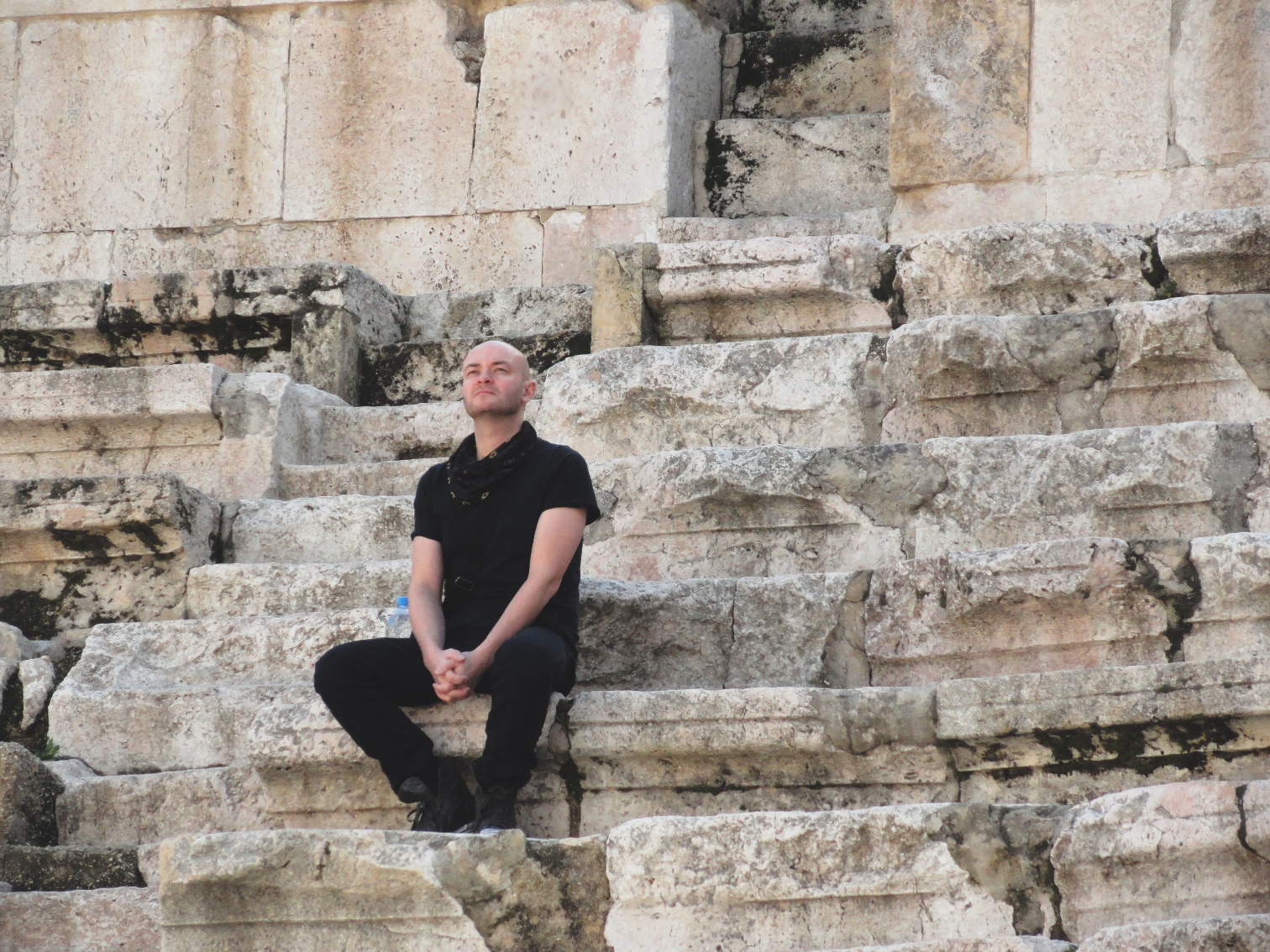 The Roman Amphitheatre overlooking the Jordanian capital. This dates back to the time when Amman was called Philadelphia.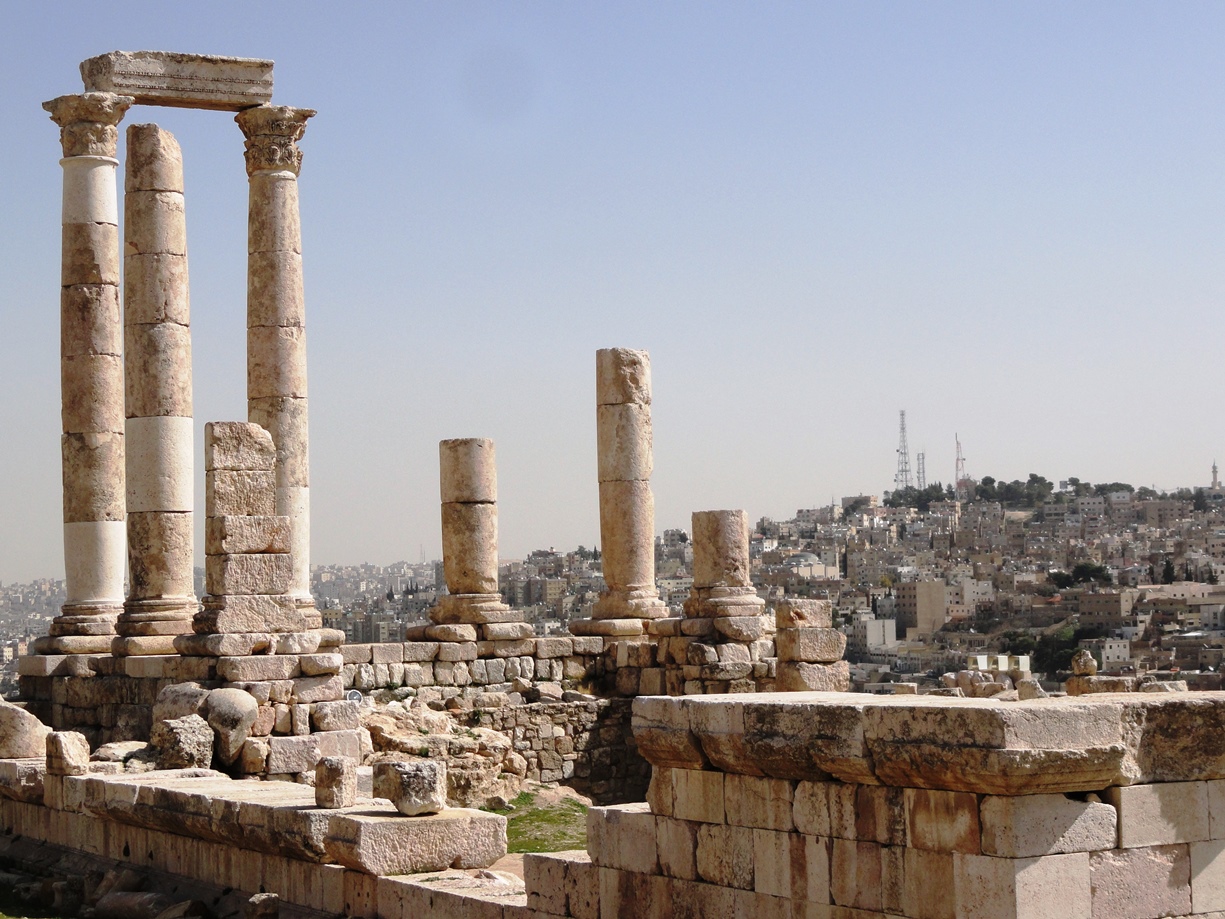 The incredible Amman Citadel with the evocative view out across Amman.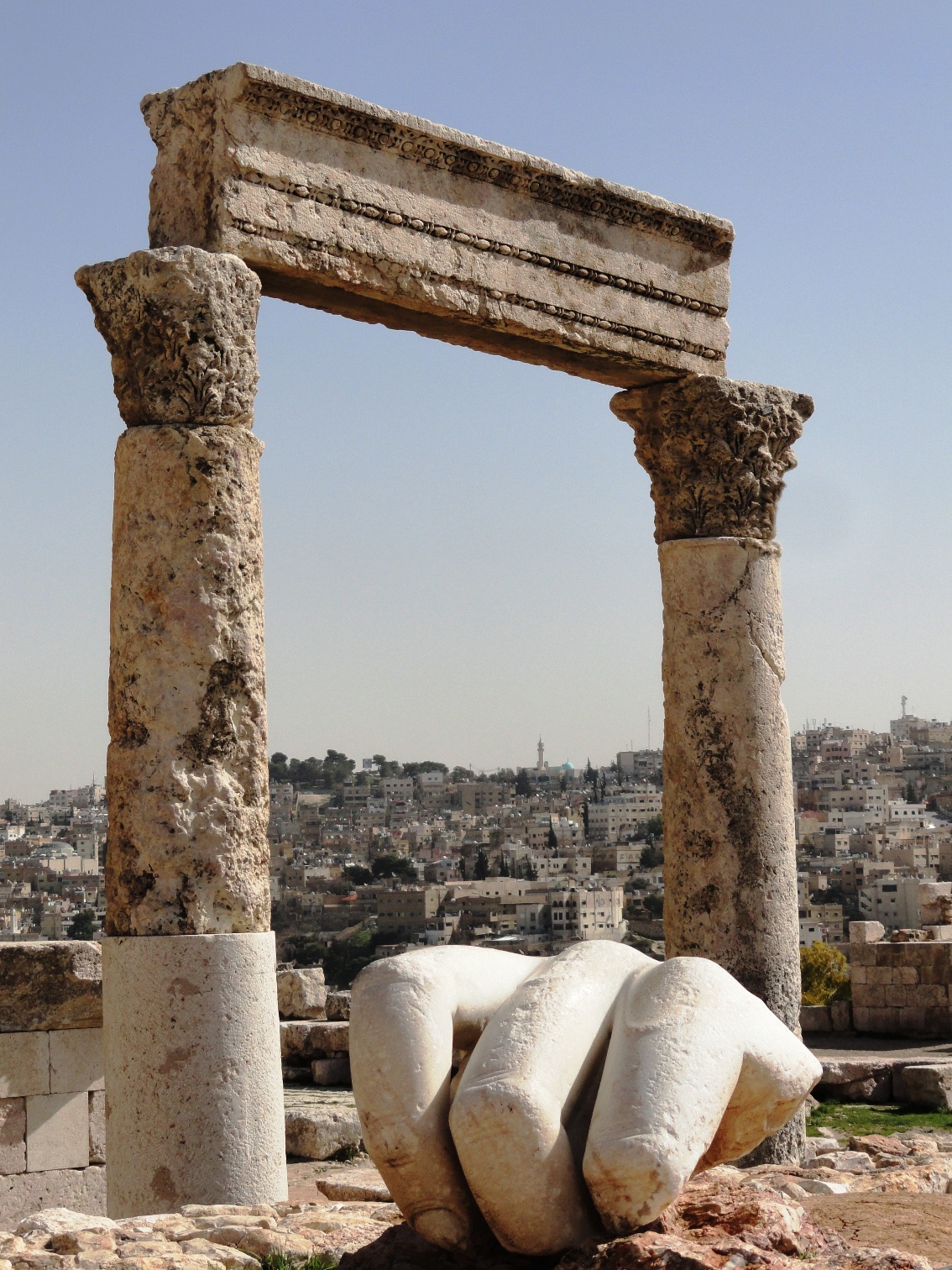 The giant hand of a Hercules statue.
Jerash, some 50 kilometres north of Amman, is one of the most visited sites in Jordan, famous for being one of the world's best-preserved Roman towns. Our journey northward was memorably punctuated by the sighting of road signs for Iraq and Syria. The full extent of Jerash's splendour was only uncovered some decades before being, as it was, up until that point, completely hidden underneath Jordan's shifting desert sands. We spent the best part of a sweltering afternoon wandering around the immense arches, Corinthian columns, impressive temples, amphitheatres and dwellings of this epithetic "Pompeii of the Middle East" - the Roman architecture rendered particularly striking set against the richness of a blue sky.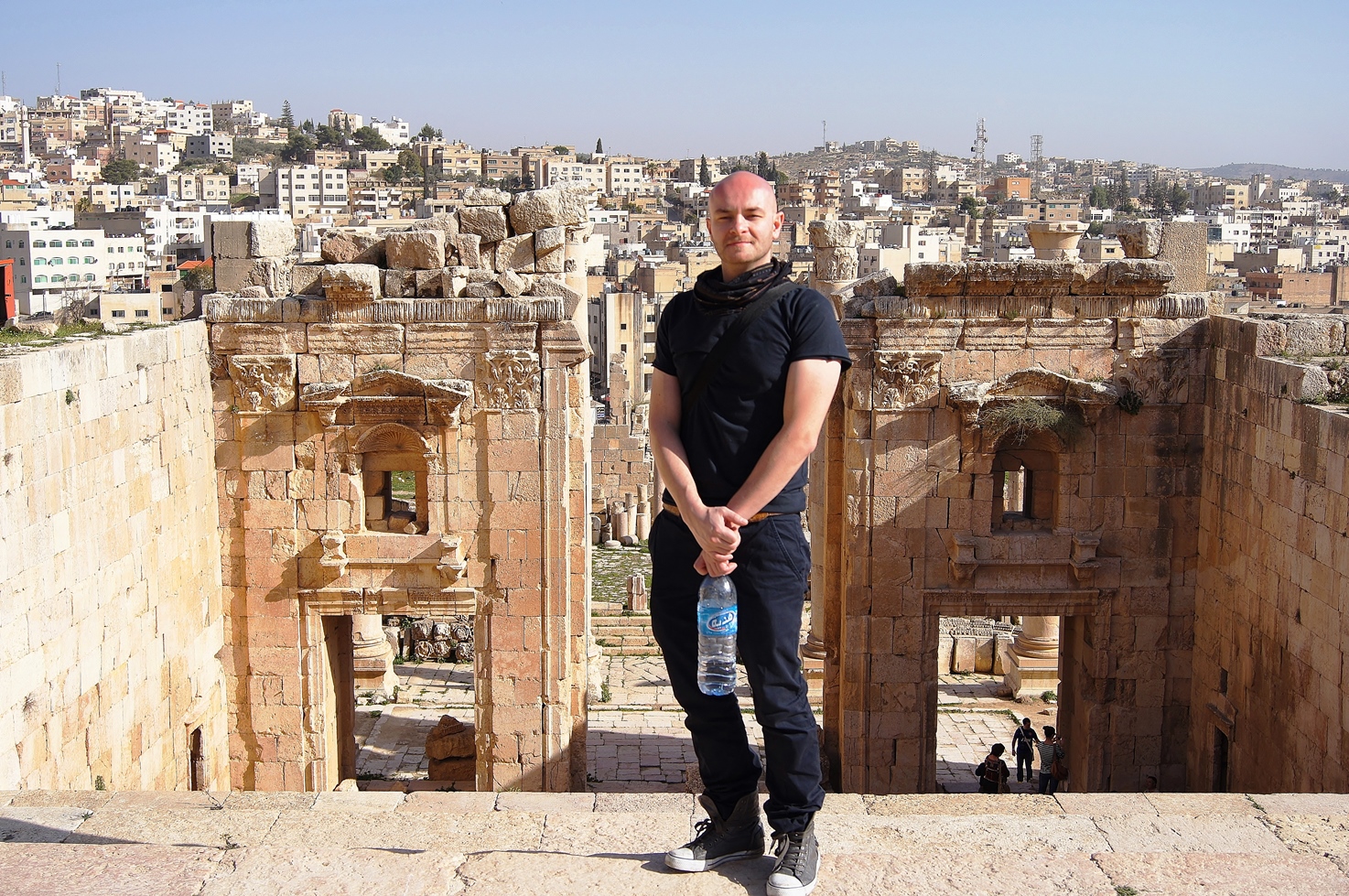 Modern Jerash framed by the skeletal remains of the Gateway to the Temple of Artemis as seen from the top of the Artemis steps.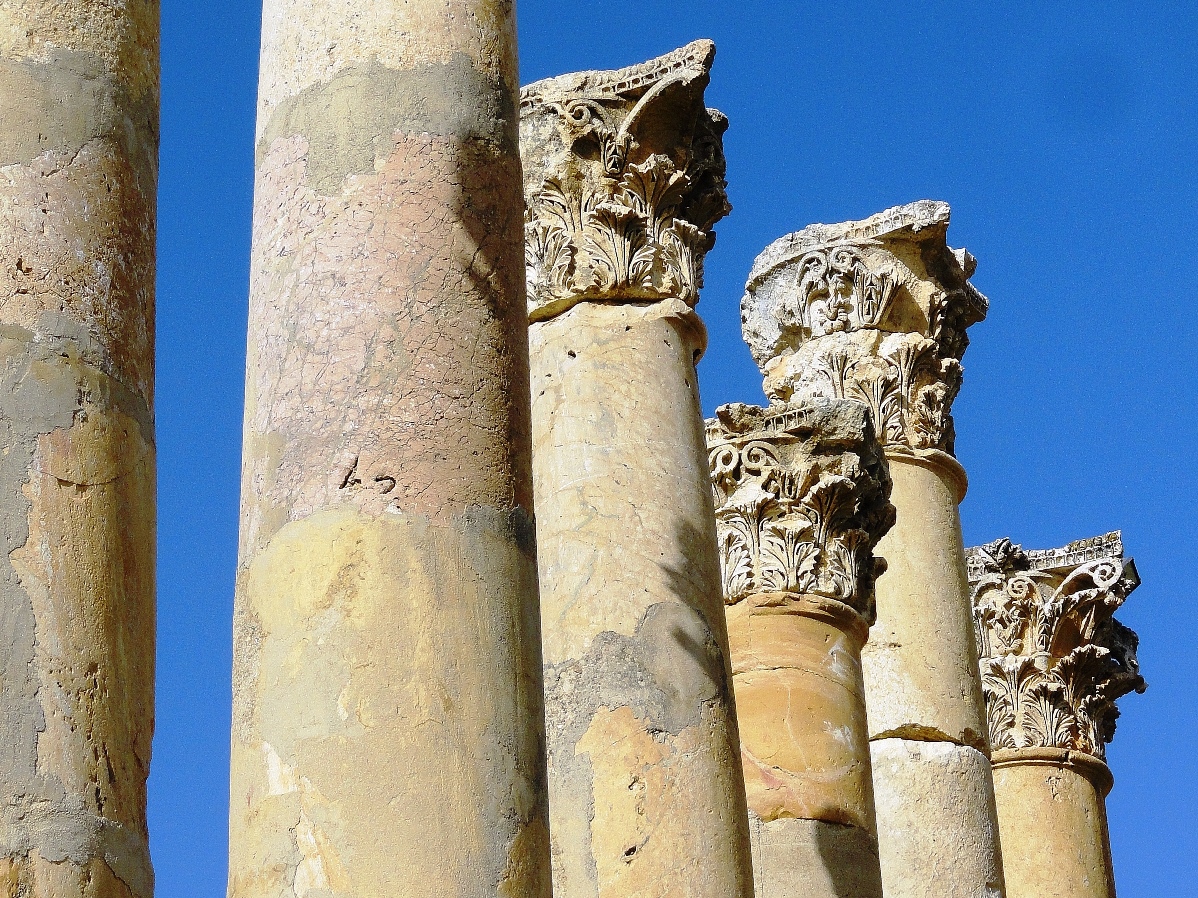 Corinthian columns of the Cardo Maximus strike into the blue sky.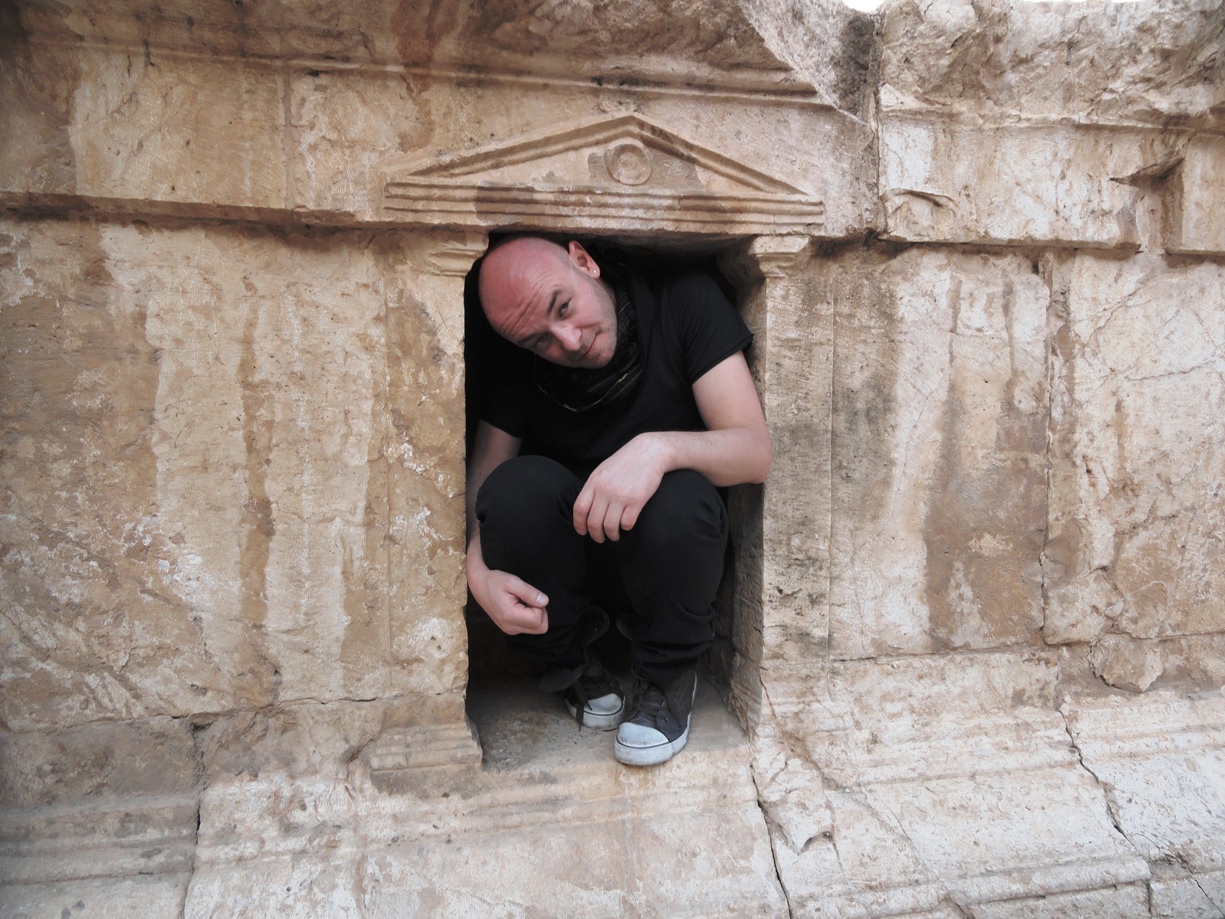 My Alice in Wonderland moment in a Lilliputian window of the Amphitheatre stage.
Wadi Musa is the town which has sprung up solely to serve the influx of tourists to the Petra site as there are no hotels or restaurants allowed inside Petra itself. It is unremarkable and tourist-geared - a place with mediocre restaurants and hotels - and probably the only place where locals become more predatory and less respectful than in the rest of Jordan. With large numbers of tourists come the usual problems - even in Jordan. Hawkers and locals hassling you to look at their stalls, incessant offers of horse and camel rides and obligatory tourist souvenirs little better than twisted bits of plastic. It's a soulless pitstop en-route to a World Wonder. Like many key towns and cities in Jordan (a notoriously hilly and mountainous country) it resides within a valley with some pleasant views across the hills. Wadi Musa means "Valley of Moses" in Arabic, but despite this rather grandiose name will always exist in the shadows of the magnificent sights in Petra. Nothing to see here, move along please.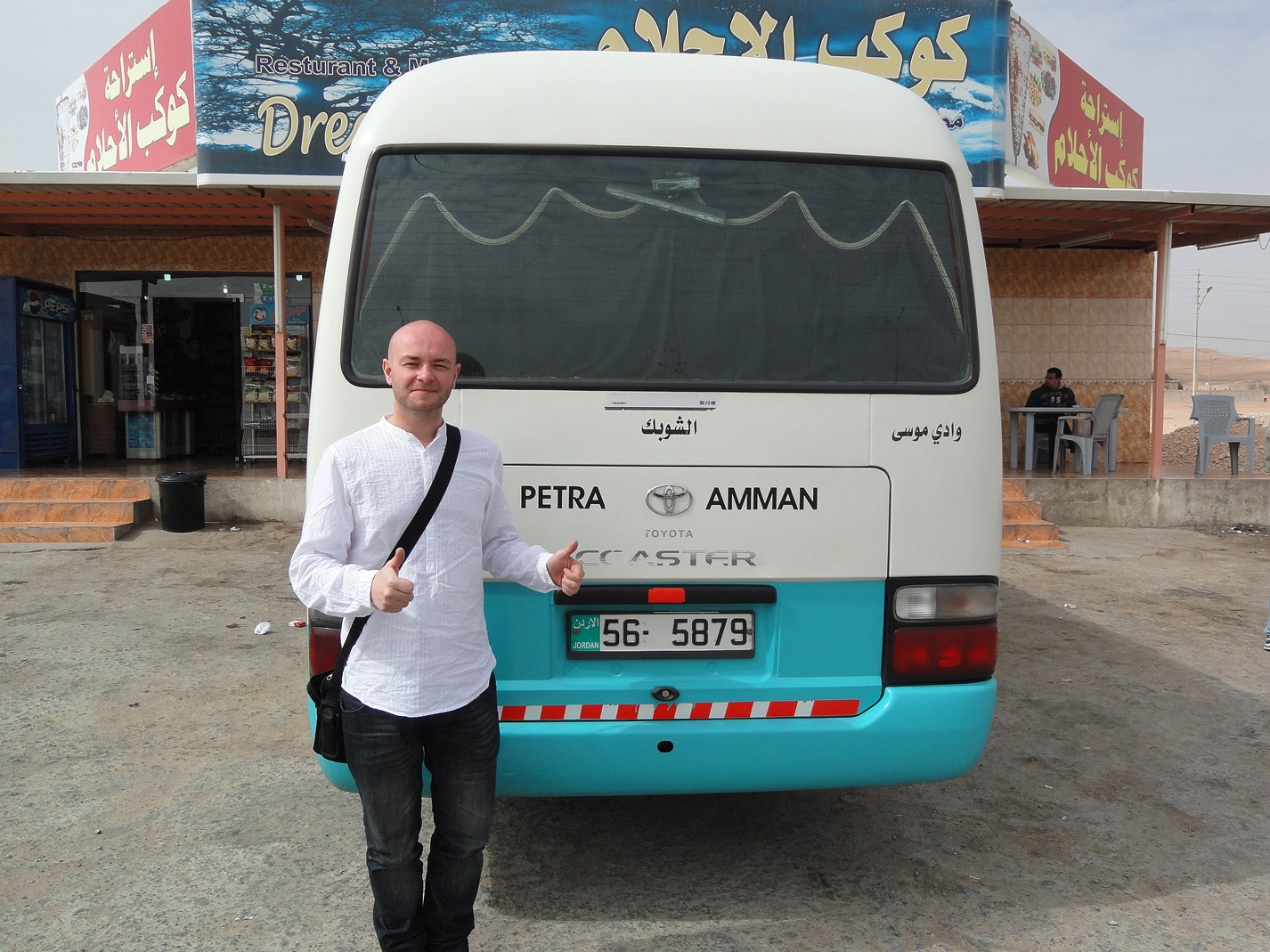 Travelling like a local: at a pit-stop half-way from Amman to Petra on the serveece taxi.
The only real way to get to Petra from Amman is to hire a taxi or to clamber inside a "serveece" - a minibus-taxi which takes up to ten people to the same destination with the cost of the journey split equally between all travellers. We opted for this second, cost efficient method to get to Petra - a snip at £4 considering the not insignificant distance of 275 kilometres covered. Petra is Jordan's must-see destination, so much so that it is often used as the symbol of the country. Tell people you are travelling to Jordan and they will automatically assume you're visiting Petra. It is not a misplaced assumption, either. Indeed, the BBC listed this as one of the "40 places you must see before you die", UNESCO has awarded it World Heritage Site status and is also one of the New7Wonders of the World.
On entering Petra the very worst of the vagaries of modern tourism experienced in Wadi Musa begin to ebb and fade. Gone are the street hawkers and the souvenir stalls and, aside from the odd offer of a camel or donkey ride from passing Bedoiun, you are pretty much left to your own devices to wander this incredible place. A walk through the dim, narrow gorge, known as the Siq, does little to prepare you for the abrupt and dramatic appearance of the Al Khazneh - or Treasury Building - at its end. This is iconic travel at its most iconic. Dating back to 1200BC, the Nabataeans (the ancient peoples of Jordan) carved the Al Khazneh out of, and in to, the mountainside with ornate and grandiose precision. Similar to Jerash, Petra comes with an almost ghostly atmosphere. I felt the kind of pervasive eeriness which, I imagine, would come from walking through a deserted city where its inhabitants have all mysteriously vanished. The El Deir , or Monastery Building, emerges from around the corner, our just reward for walking some two kilometres on from the Al Khazneh with the additional requirement of ascending four hundreds steps. Fittingly we reached a sign which read "View from the End of the World".
The Al Khazneh or Treasury Building. If you think you've seen this before it's because (a) you've been here or (b) you saw it in an Indiana Jones film.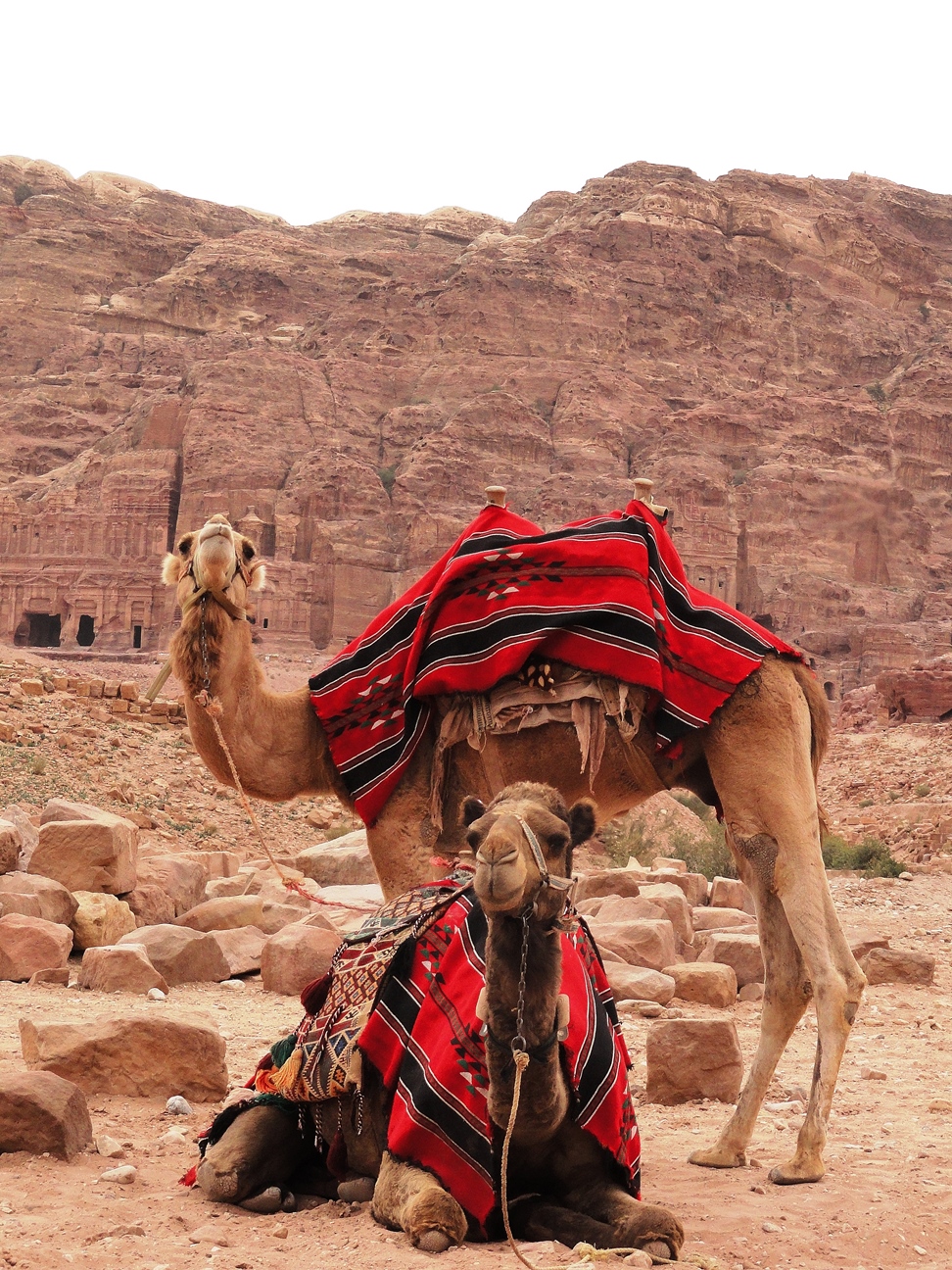 Camels pose for my camera.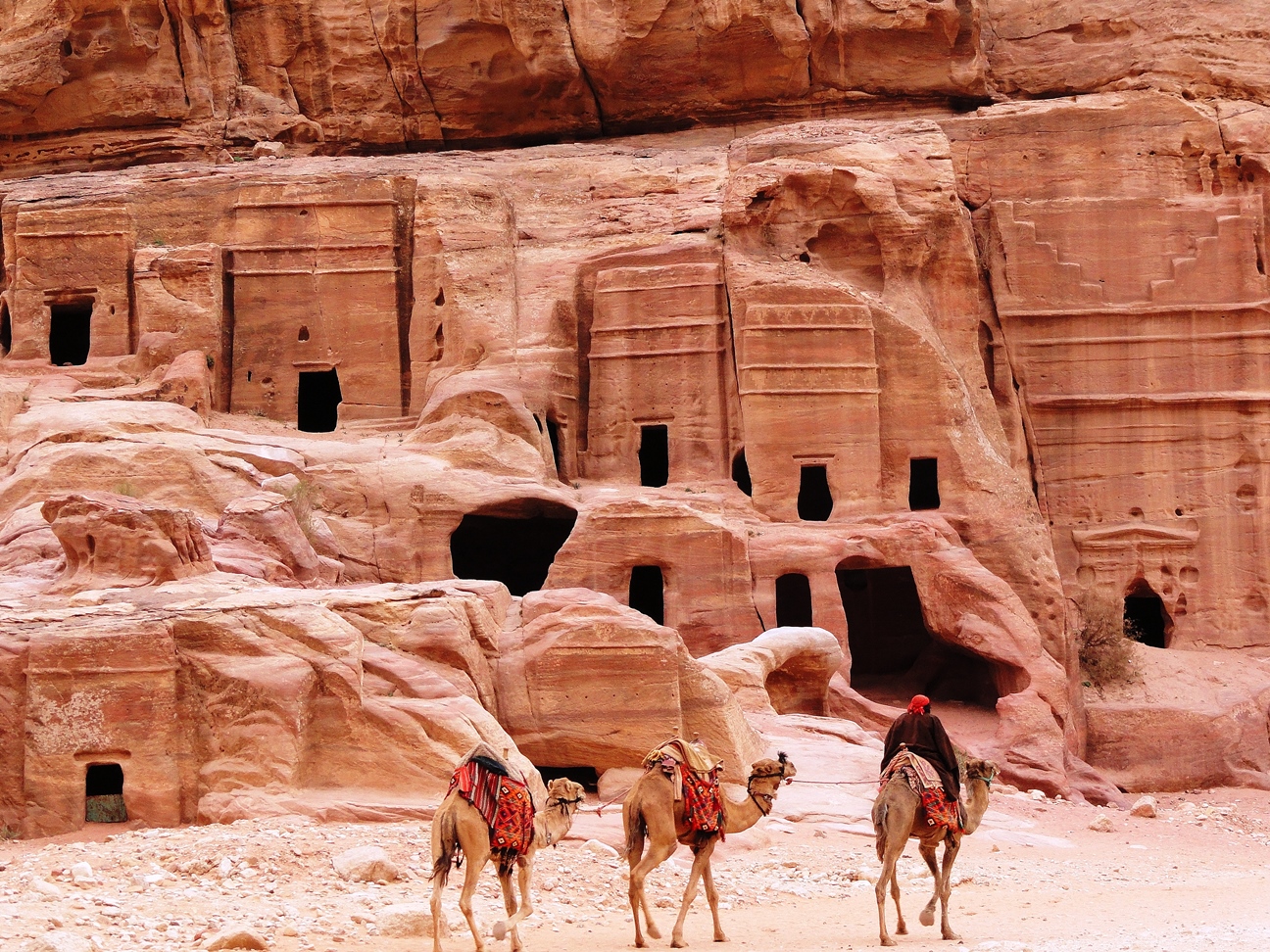 A caravan of camels makes its way past Nabataean cave homes with apertures as windows and doors.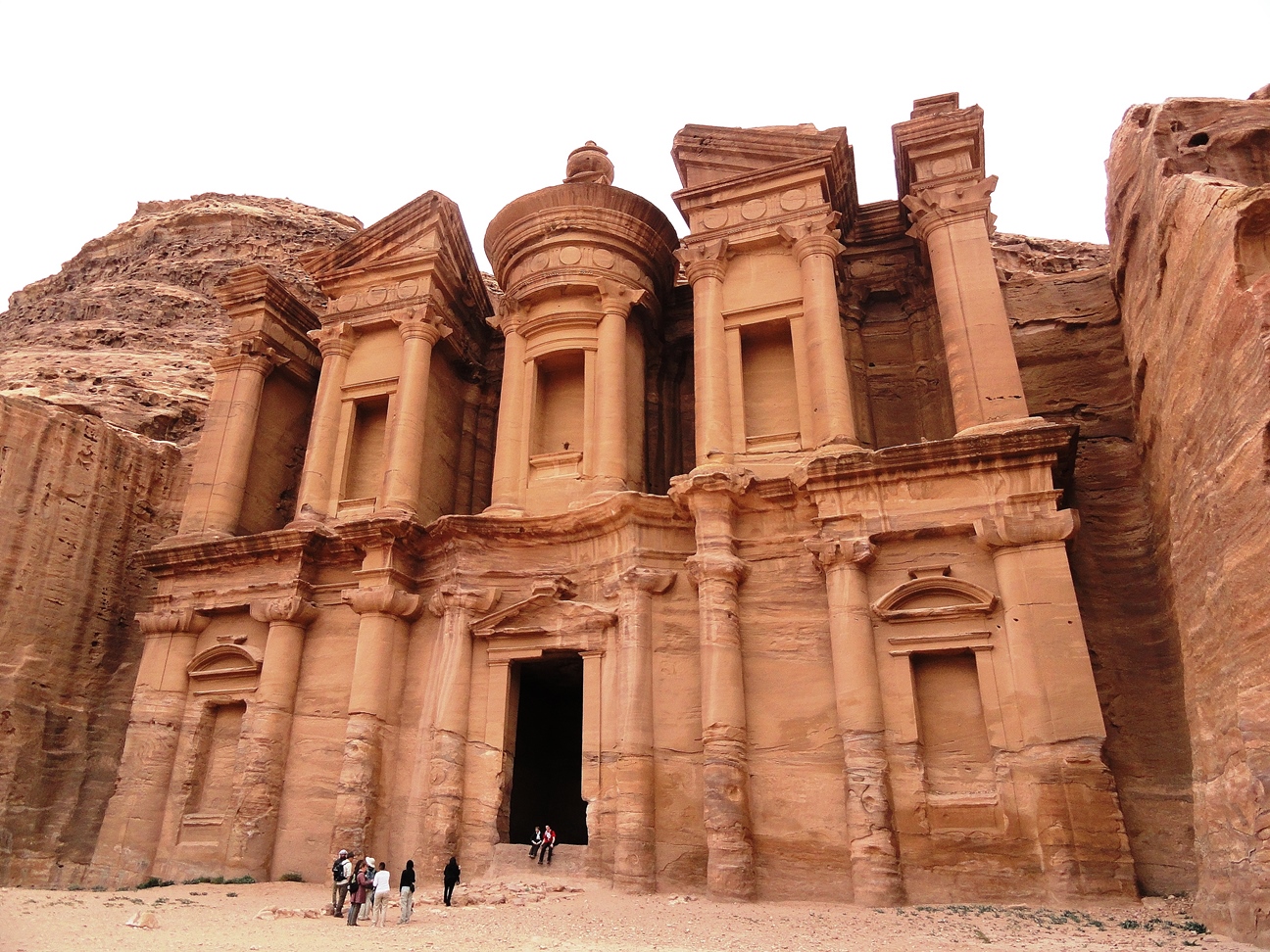 The Monastery building can be accessed by climbing up to 400 steps. The façade of the Monastery cuts a remarkable sight when set against the backdrop of the mountain from which it has been sculpted.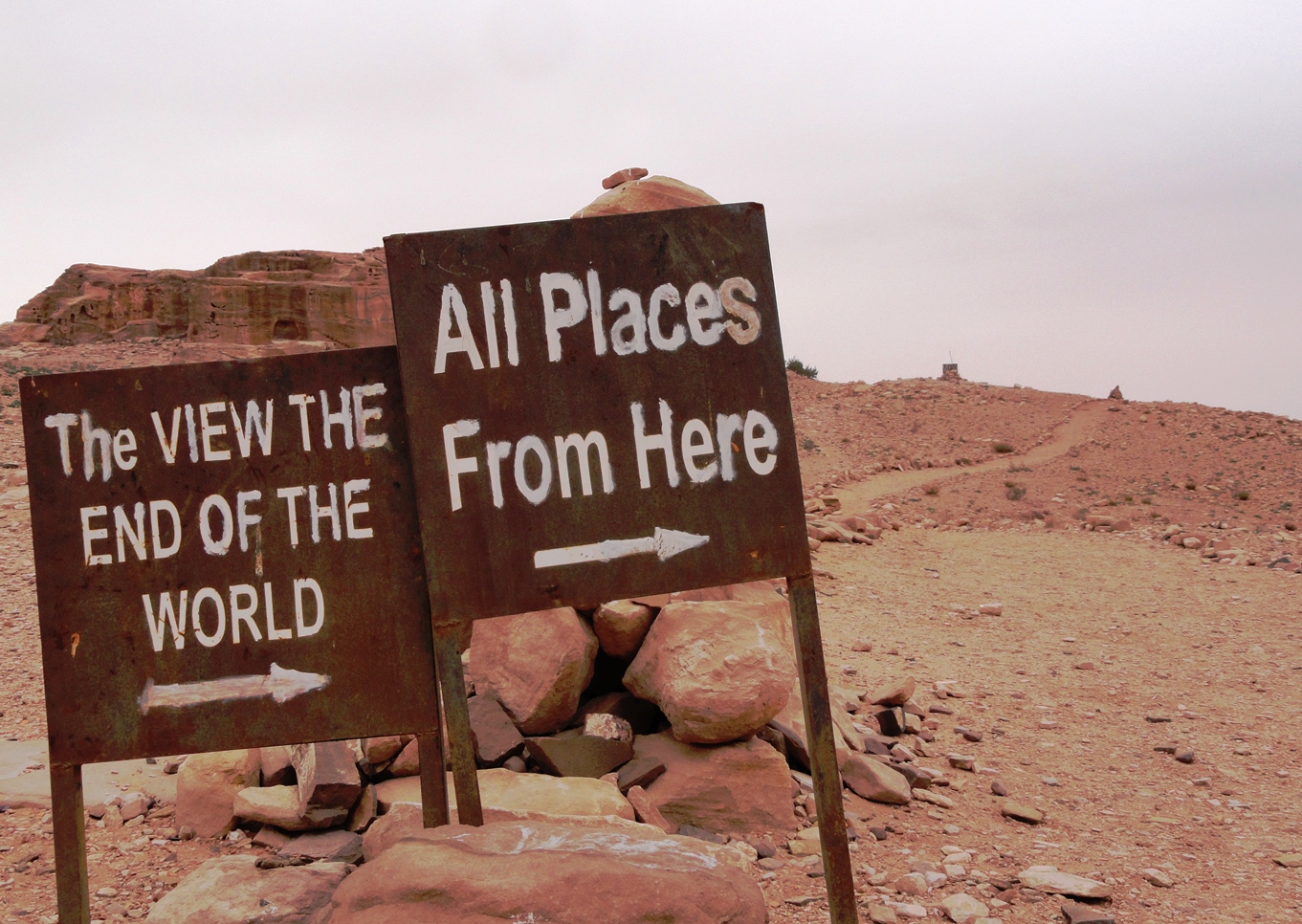 Reaching the end of the world.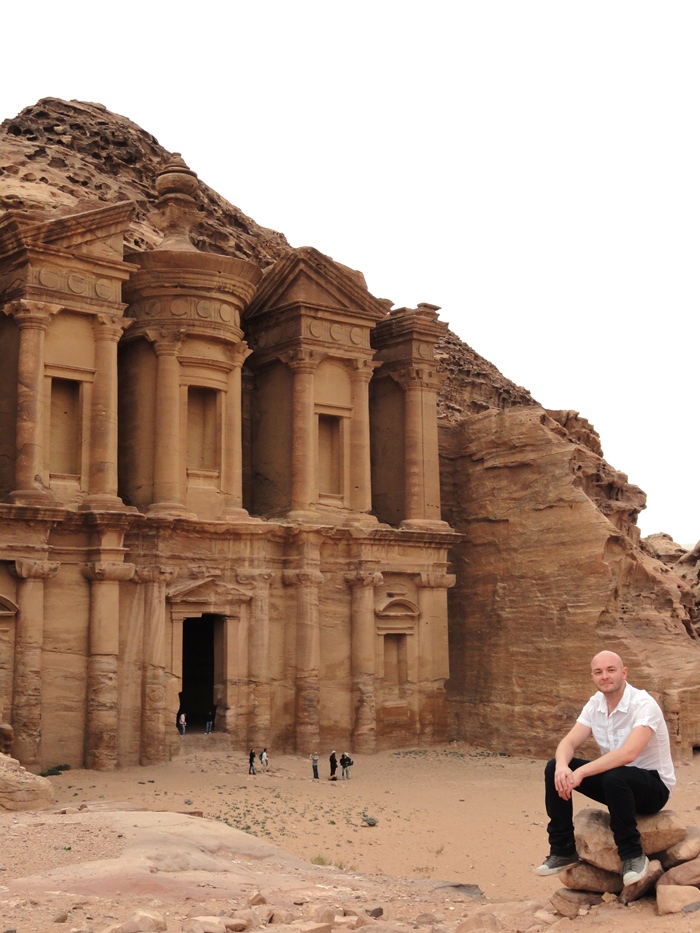 The El Deir Monastery building.
Wadi Rum, a desert in southern Jordan bordering Saudi Arabia and made famous by Lawrence of Arabia who travelled through here, was the final destination on our journey around Jordan. We had arranged, through a series of emails back and forth, to stay overnight with a family of Bedouin in their camp. This was true adventure travel. Not long after our arrival we were bundled into the back of a green Jeep to begin our tour of the desert; incredible rock formations, ancient petroglyphs, giant sand dunes and vertigo-inducing rock bridges. The vivid burnt orangey reds of the desert and otherworldly rock shapes were almost lunar in semblance. And, apart from one group of travellers we came across briefly, it was a desert we seemingly had entirely to ourselves - save for the odd rock lizard and lost black camel lolloping aimlessly by.
After a day exploring the very best of desert life, which included a sweaty walk through a giant gorge, clambering up to and walking across the great Burdah Rock Bridge as well as running up and down sand dunes, we retired to the relative comfort of our tent at the foot of a mountain. This being off-season, we had the entire camp to ourselves. As many travellers will attest, desert temperatures drop dramatically at night. This being February the temperatures hovered around a few degrees at night meaning we had little option but to take full advantage of the plethora of thick blankets available in the tent. Indeed, we found ourselves using them all - the downward weight of which, when one was underneath, bordered on the oppressive and claustrophobic. The only thing left uncovered, and thus frozen, was my nose.
We awoke to a misty and evocative desert scene the next morning. Throwing open our tent window we savoured the view of a desertscape which was perfectly still, perfectly silent. A less than satisfactory breakfast comprised of stale breadsticks and a near-finished jar of jam awaited us and would have to suffice as sustenance for our long, slow camel trek out of the desert to begin our journey back up north to the Jordanian capital. Wadi Rum was my first desert experience, my first foreign camping experience as well as my first sighting of a sand dune which is why it represents such a pivotal point in my travel journey.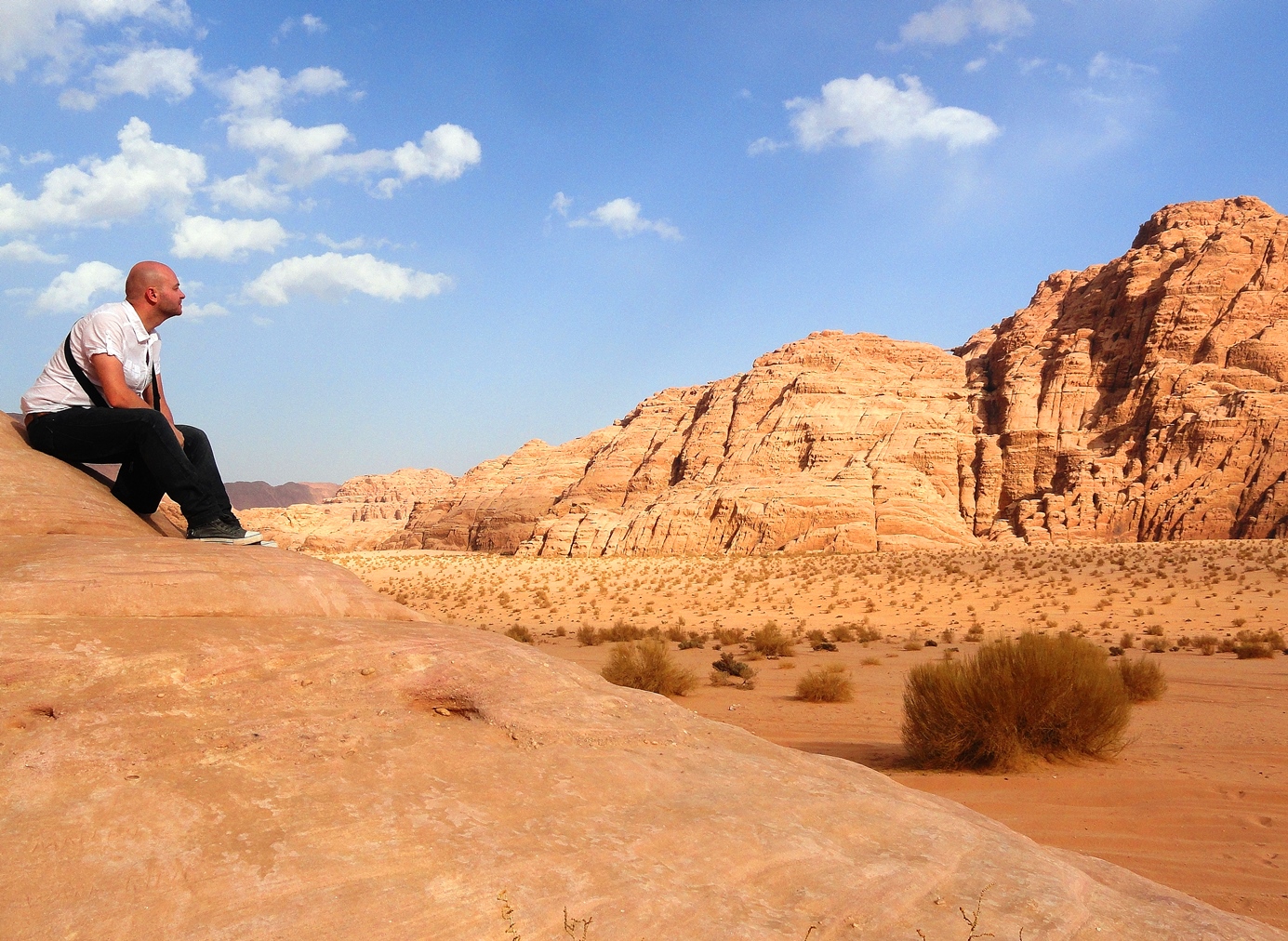 Taking in the desertscape of Wadi Rum.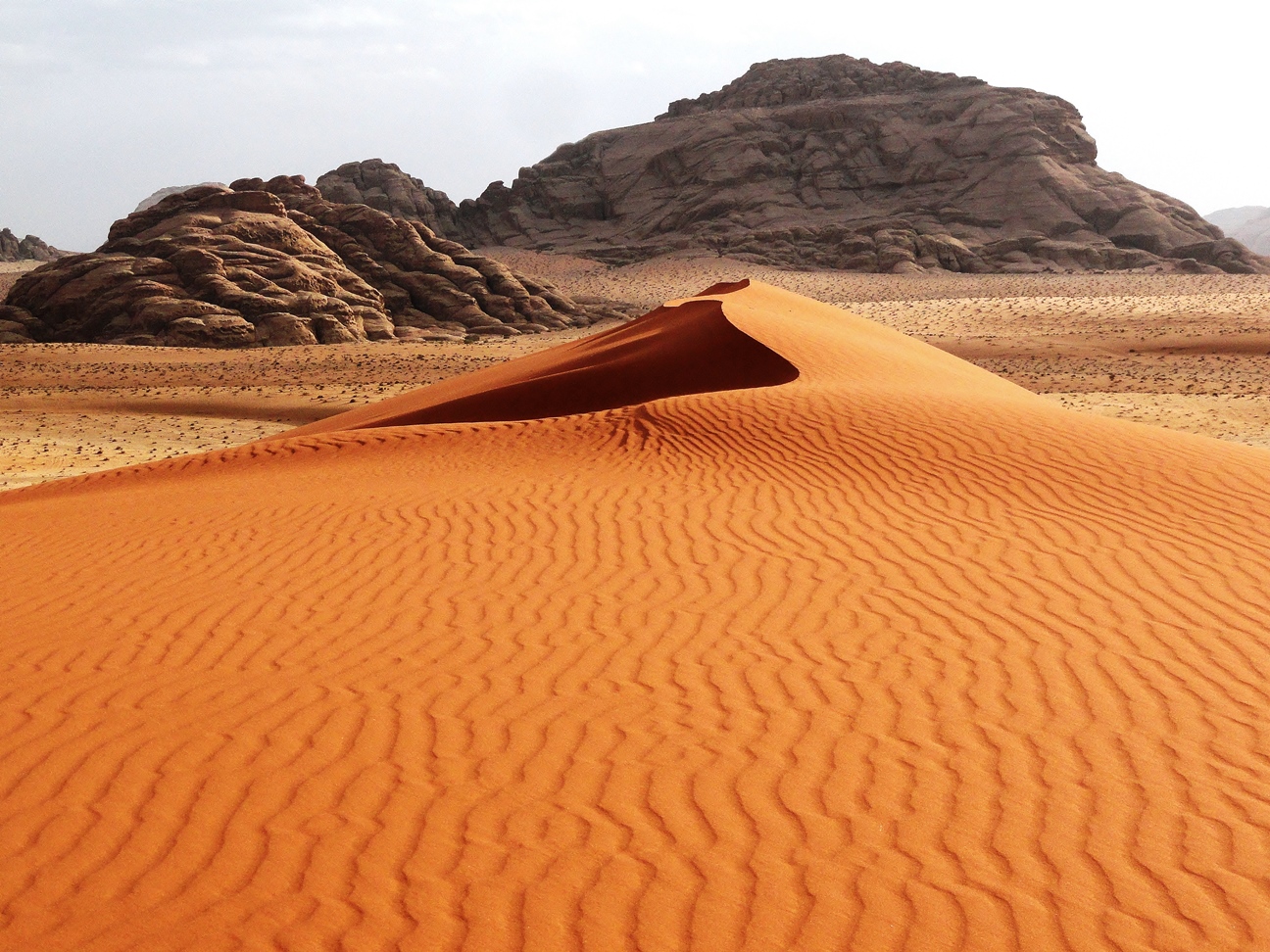 A mesmerising sand dune. I later had this photograph published in the July 2012 edition of Lonely Planet Magazine. See it here.
Our desert safari Jeep: a vintage model.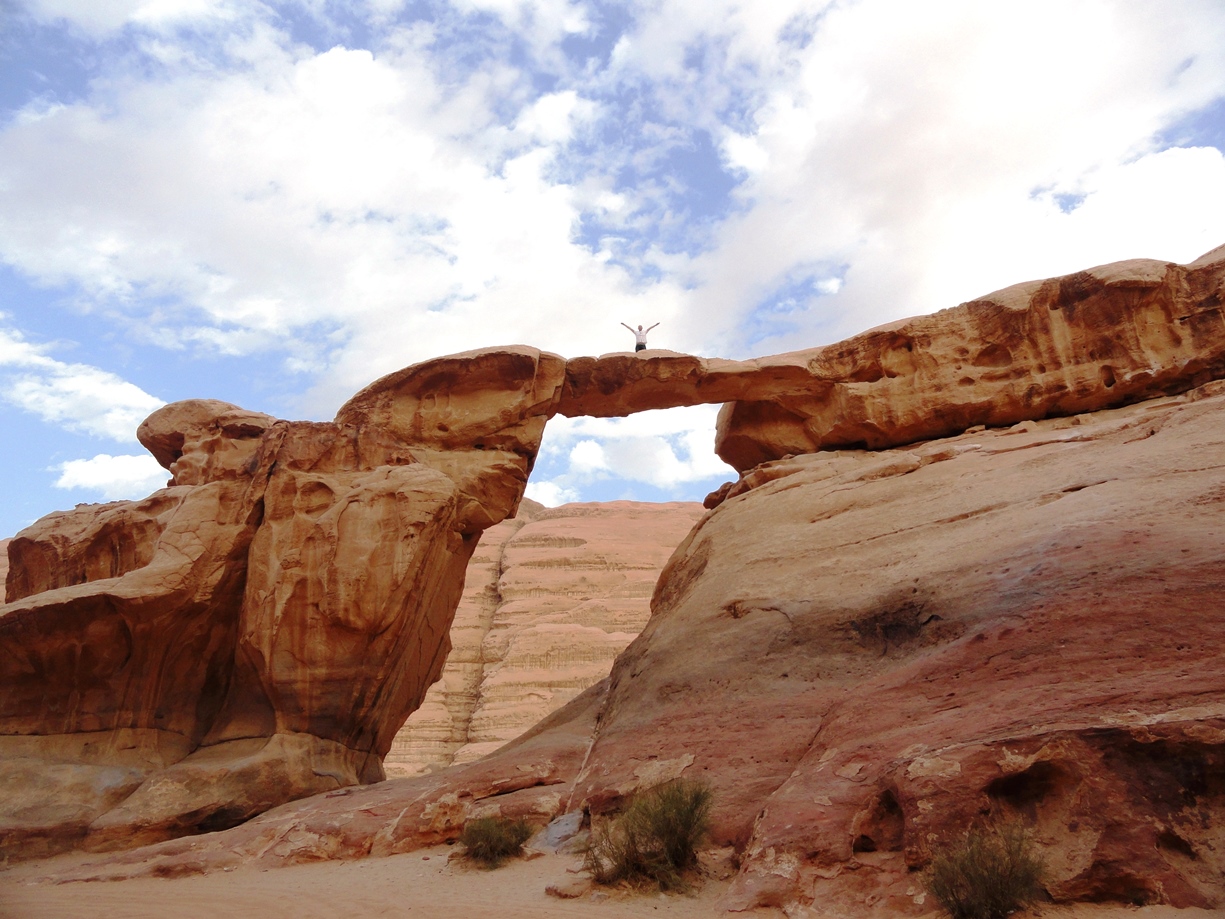 On top of the Burdah Rock Bridge.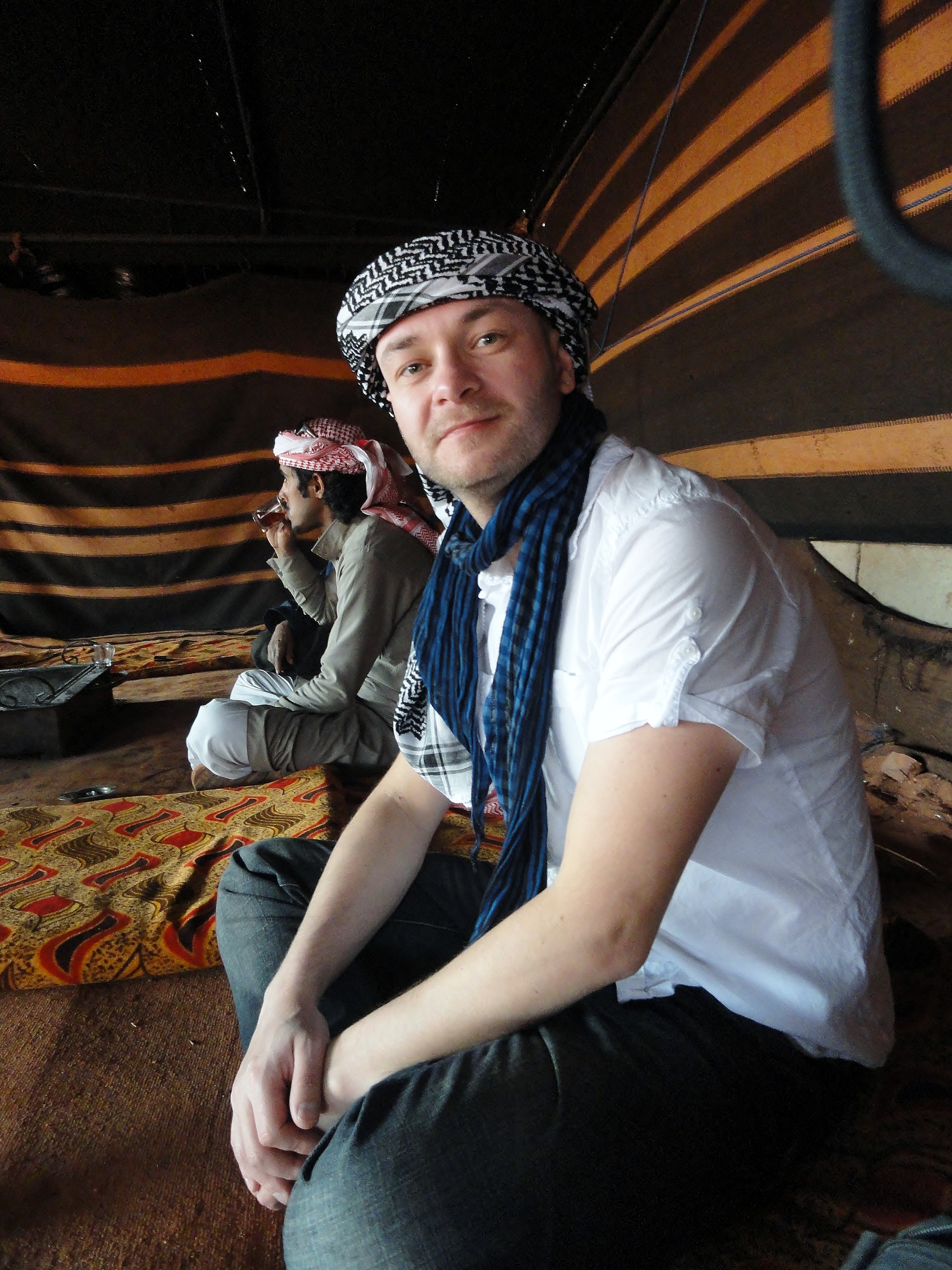 Stopping for Bedouin tea.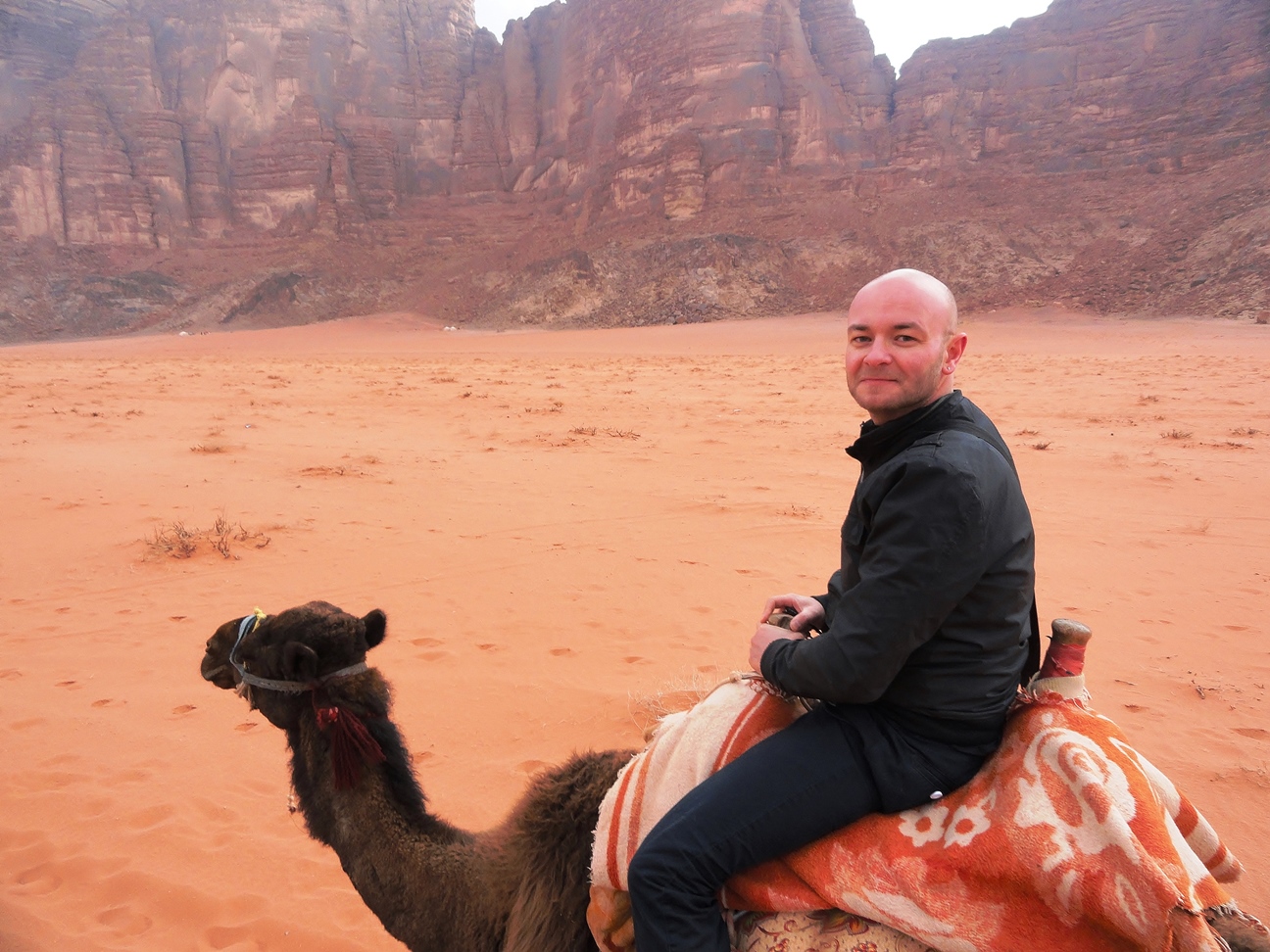 Camel trekking out of the desert on a cold February morning.
travel tips, links & resources
Amman, Jordan's capital, is well worth a day of your time. Some travel guides will dissuade you from travelling here. Don't listen to them.
Learn a couple of basic phrases in Arabic. These go a long way to building bridges.
We used bedouinwhispers.com to book our overnight stay in the Wadi Rum desert. I recommend them.
If staying overnight in Wadi Rum be sure to bring equipment for all eventualities, including a torch and the ability to 'layer up' your clothes when needed - especially if you are travelling in colder months. During the day weather in the desert is very hot but can drop to below zero overnight.
February is off peak tourist season in Jordan. Prices drop as do the numbers of tourists. Win win in my opinion.
Wadi Rum is definitely off the beaten track for most tourists because it is in the middle of nowhere but, with a little organisation, research and effort, a visit here will repay you in memories made and adventures had.
As with many Islamic countries, be sure to pack a pair of ear plugs to go some way to dampening the sound of the inevitable and inescapable Call to Prayer. It's definitely evocative and moving during the day but, at 5am, rather less so. Give sleep a fighting chance and pack some ear plugs.
Jordan is not a dry country, but public displays of drunkenness are frowned upon. Moderation is your watchword.
I would advise choosing local accommodation offerings over predictable, and far less rewarding stays, in generic hotel chains. Staying in a very local hotel, despite its material shortcomings, wasa highlight of my time in the Jordanian capital. It may have had dodgy electrics, chicken wire on the windows and a mattress made of foam but, ultimately, this is the stuff your future travel tales will be made of.