An Autumnal City Break to the Wonderful Latvian Capital Riga
Where: Riga
Republic of Latvia, Eastern Europe
When: October 2011
What: Academy of Sciences, Riga TV Tower, Riga Central Market, Rabbit Island, Victory Monument, Uzvaras Park.
How: International flight, Taxi, Walking
Counter: 1 country
Illnesses or mishaps: Trying to sight-see in thick winter fog.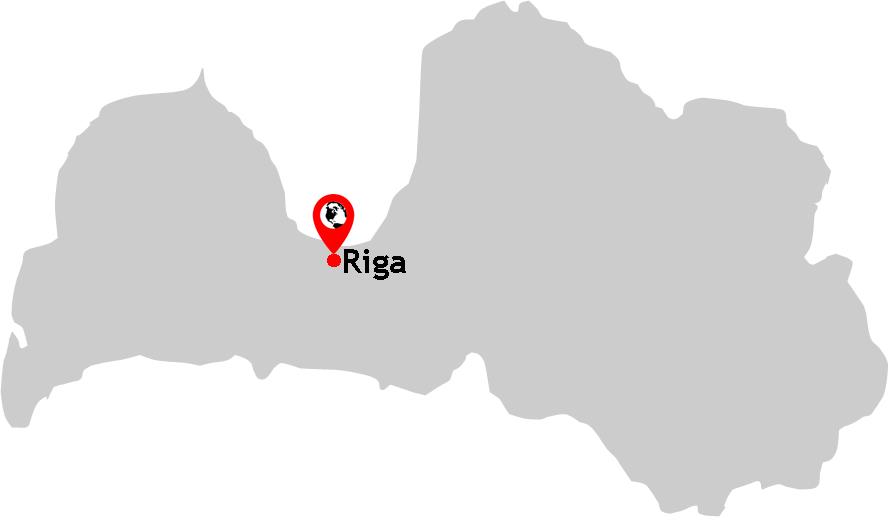 Latvia is an interesting place. It has all the old-city charm of Estonia's Tallin and Lithuania's Vilnius, whilst having a little more urban grit and edginess to it than the other two Baltic brothers I have visited. Latvia was my third and final Baltic country - sandwiched, as it is, between Estonia in the north and Lithuania in the south. Just like Estonia, Latvia's eastern side borders Russia. Lithuanians are spared this proximity. Travellers hoping to visit Riga and see a swathe of Soviet memorabilia will be sorely disappointed. Many of the statues installed during the Soviet era have been flattened. What is a partial erasing of the past is, however, half-hearted. Is it that Latvians accept that their history is, in the medium term, bound up with the Soviet past? I get the feeling they realise that removing symbols of the oppression does not make it go away. So, whilst many of the more obvious hallmarks and symbols have been removed, locked away or destroyed, many of the less obvious, more subtle signs are everywhere - that's if you look for them like I did.
The occupation (or 'liberation' as the Soviets had it) is everywhere: it is present in the little old man in Riga's Central Market selling paraphernalia from Soviet times which includes a mini silver bust of Stalin, in the partially-forgotten hammer and sickle motifs on metal fencing along a much-neglected Daugava River, it is present in the lofty awe some Latvians hold for the Stalin Palace in central Riga as they walk to and from work with its symbolic red lights on each of its architectural pinnacles. It is also present in the language, the lack of smiling people (a key Russian trait) and the prevalence of rust-induced splitting of concrete on bins, benches, pavements and walls. Partially responsible for this is the fact that nearly a quarter of the population is indeed Russian and, as mentioned, Latvia shares a vital border with Russia. Indeed, I ended up bartering with a Russian (who "loves de Inglish") for a Russian doll for a friend. He was steaming drunk and reeked of vodka. It is unsurprising, therefore, to find that Latvia also has its own USSR-style TV Tower - another key architectural hallmark of a not-too-long-ago Soviet presence. Just as in other satellite countries, some of these key symbols have gone to seed. Whilst impressive, the Academy of Sciences main building appears worn and a little down at heal; the TV Tower's windows so stained it was difficult to take photographs through them when we travelled the ninety metres or so to the observation room. The restaurant situated on the floor above was closed.
Latvia had clearly started Autumn several weeks before Britain - all trees and bushes sported their Autumnal colours and there was a definite close-to-freezing nip in the air - so much so that buying a pair of extra thick woollen socks (for 0.90 Santimis - about £1) and a pair of fingerless gloves which were convertible into mittens (for about £1.50) from Riga Central Market was the only way forward. Most stallholders at the market were middle-aged women who looked like eastern European versions of Mrs Slocombe from 'Are You Being Served?' The market was a veritable feast of stuff - one of the tidiest and most hygienic markets I have ever been into. It has five large arches, making it the largest market in Europe. Its arches on land extended the gigantic steel arches of the Riga Railway Bridge - think Tyne Bridge in Newcastle but with several more arches rather than just one. Strange was that these women clearly got dressed up for work - behind the utility aprons and work clothing lay make-up, serious hair-dos and a dash of glamour (albeit miss-placed glamour - and glamour from the early eighties!) Surprisingly, prices in the market were not that cheap - largely comparable with UK supermarket prices: £3 for a jar of coffee, 60p for a small loaf of bread and so on. Indoors, Riga's central market was appealing and lively - lots of local colour and character. Outside, however, were dubious characters drinking from bottles and hanging around in knots of three or four men. It is clearly the place to go in Riga is you don't have a job to go to.
We arrived on a bright and sunny autumnal, but decidedly chilly, day. The bright colours of the trees softened some of the less-appealing aspects of Riga. Bastejkalns Park, which divides Riga Old Town from the city's central district, was wonderful in the autumn sun - the Freedom Monument at one end, and with the Pilsetas Canal meandering through it. It was idyllic and reminded of the wonderful autumn getaway to the canals of Amsterdam some years ago. Little did we know that this weather would switch suddenly on day two to be replaced by dense fog which was so thick, seeing any building or even the other side of the river was a no-go. We thanked our lucky stars that on day one we'd made it to the top of the Stalin palace for outdoor views across the city, as well as to the viewing area of the Riga TV Tower, and managed to zap other key sights on camera before this onset. The fog was freezing on day two - but we pressed ahead to see some of the remnants of Soviet occupation in the Kipsala side of the city - an area of the city outside of the quaint Old Town and very much off the tourist trail. One Soviet find was the symbolism on the railings of the Daugava River on Riga's AB Danbis peninsula. The Soviet piece de resistance was the huge Victory monument in Uzvaras Park - impressive no matter what your politics. Half-way across the Akmens Tilts Stone Bridge we could not see the bank; it had completely disappeared into the fog. It was rather ghostly - and probably apt as we were on the hunt for the ghosts of communism. Trips to the 'Double Coffee' chain, which you will see across Baltic and former USSR satellite countries, kept the cold out during this chilly, but atmospheric, day.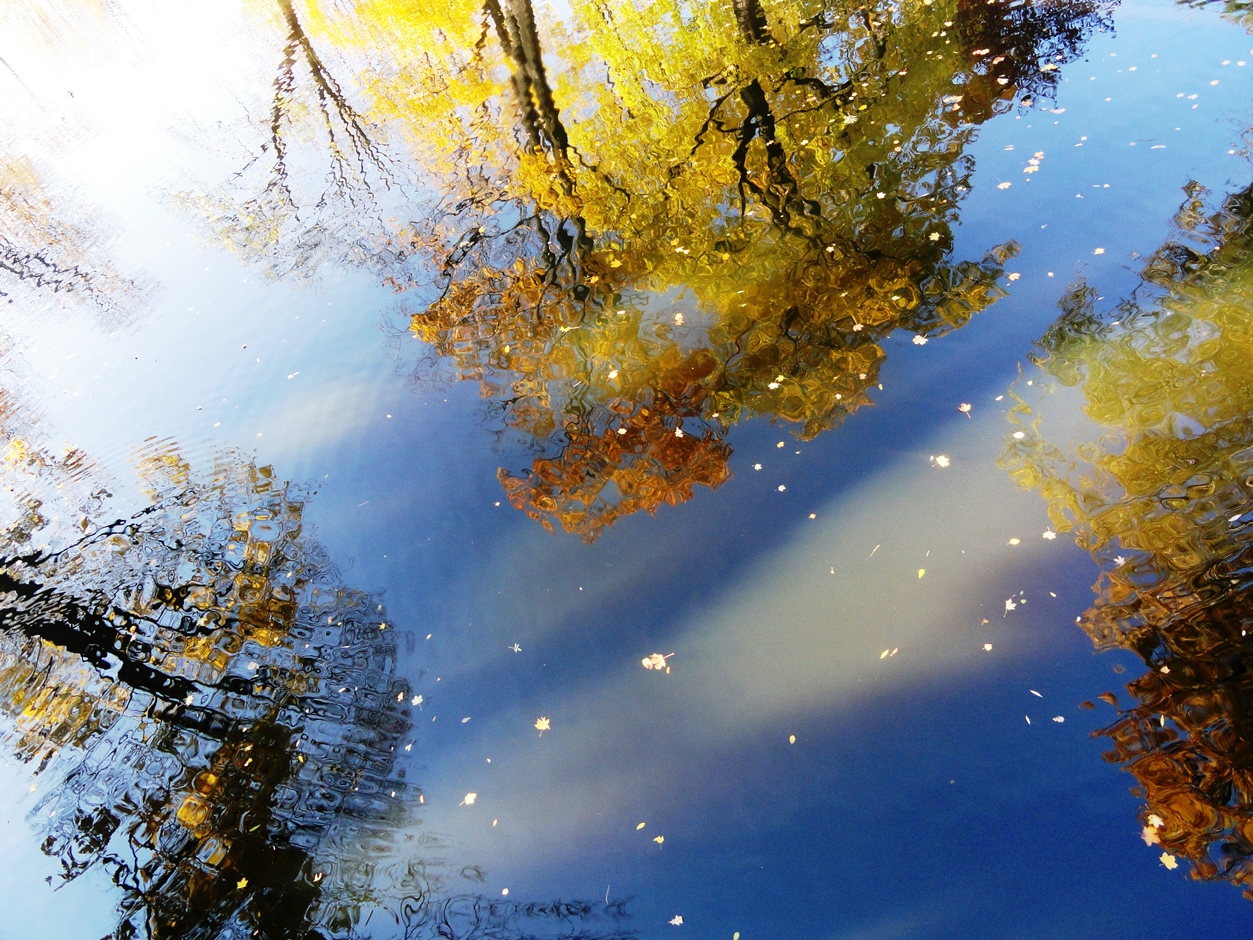 The bright autumn weather creates fantastic reflections on the waters of the Pilsetas Canal in Bastejkalns Park.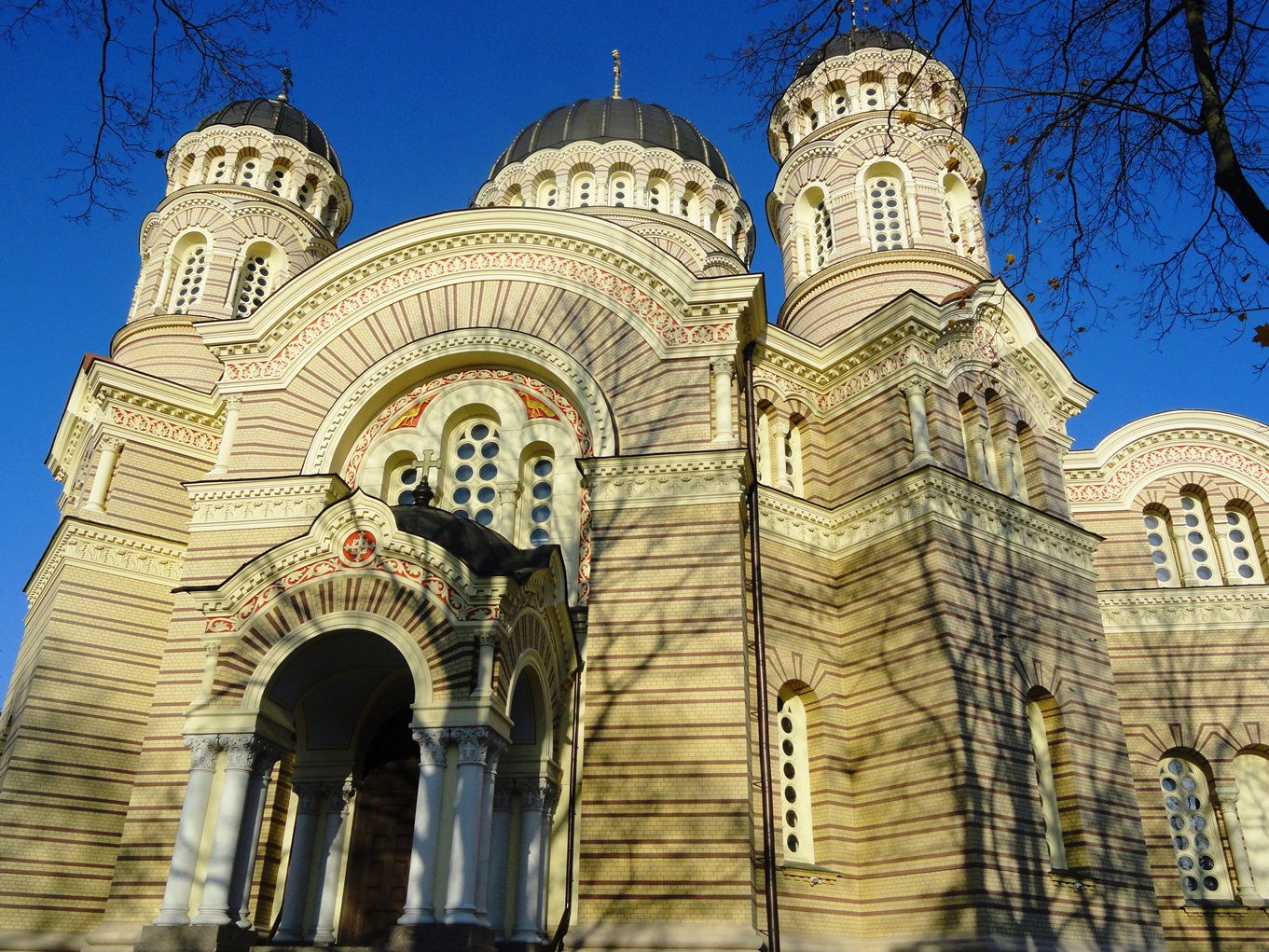 Riga's Russian Orthodox Church - a further reminder, if any were needed, of Russia's pervasive influence in the Baltics (what Russia calls its 'near-abroad'). Russia still regards the three Baltic countries with some negativity. Russia's state-owned RT news channel often singles out Estonia for particular criticism, as well as seeming to enjoy reporting the economic problems experienced by Latvia and Lithuania - backhanded revenge for the Baltic countries' desperation to, and success in, breaking from the USSR in the early 1990s. Estonia comes in for particular scorn because of the country's decision to remove a Red Army war memorial from Tallinn - a symbol for many of Russian occupation.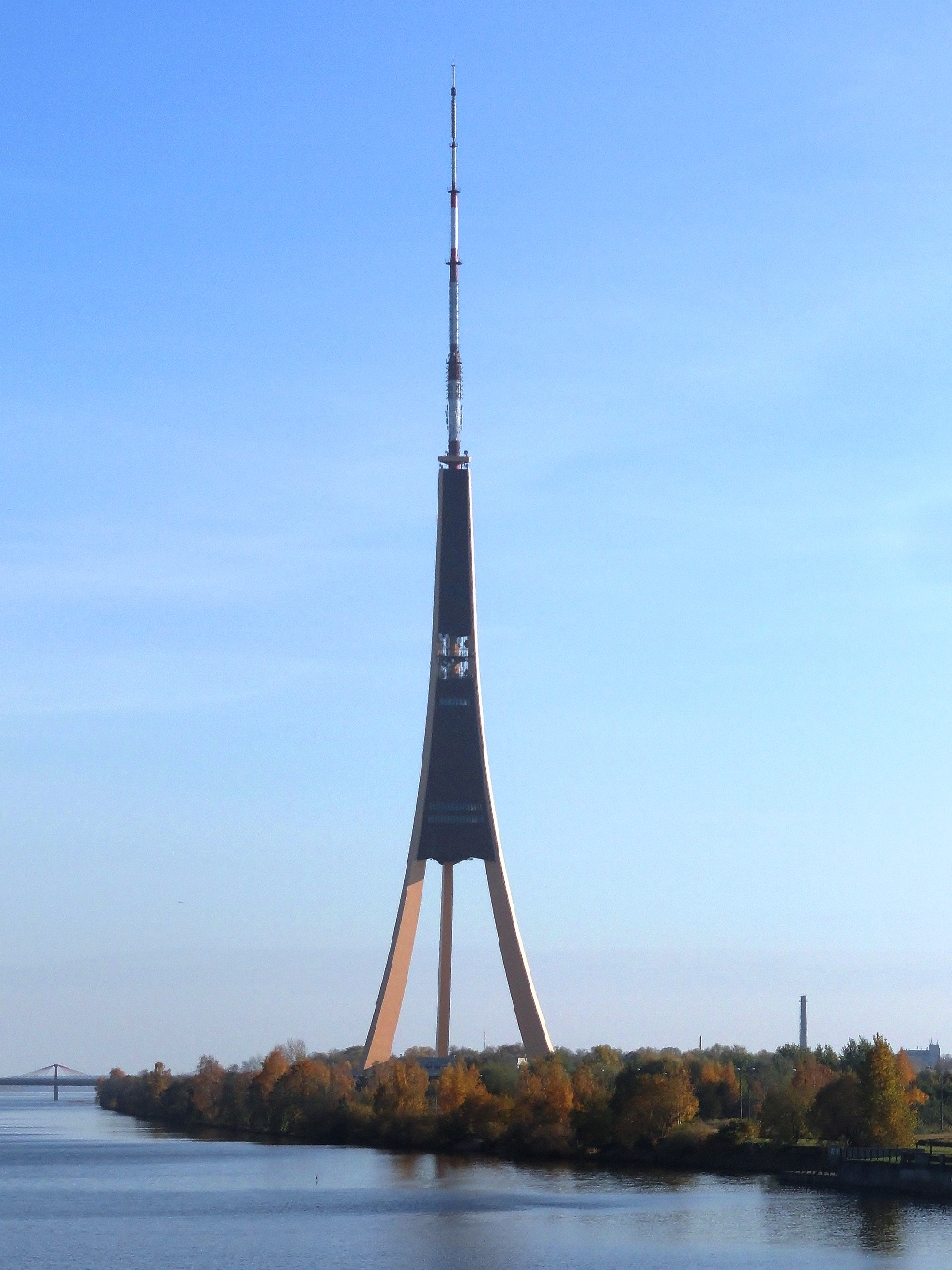 Riga's elegantly shaped TV Tower - the tallest tower in the European Union.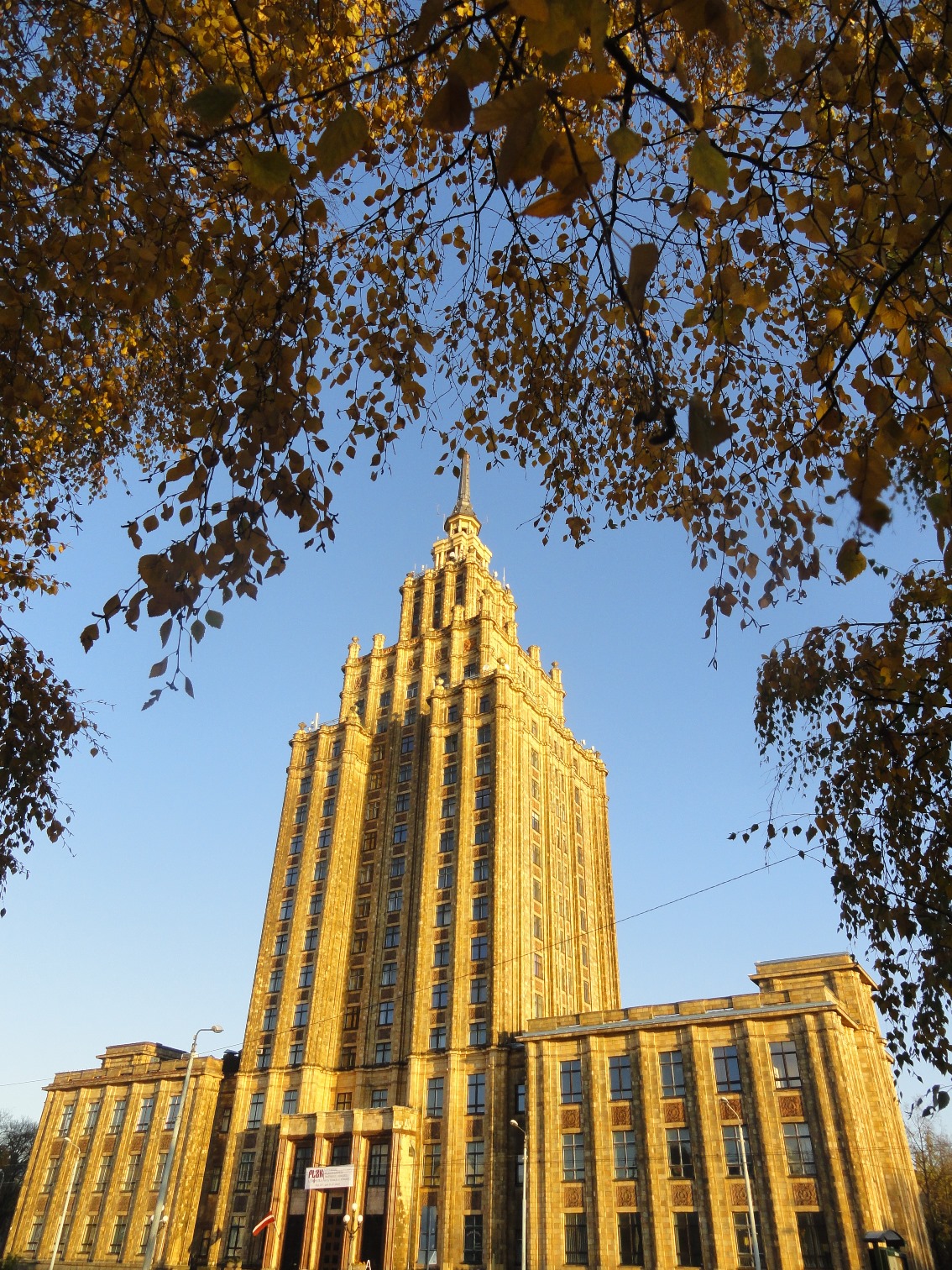 The Academy of Sciences. Known by locals as 'Stalin's Birthday Cake' or 'The Kremlin'.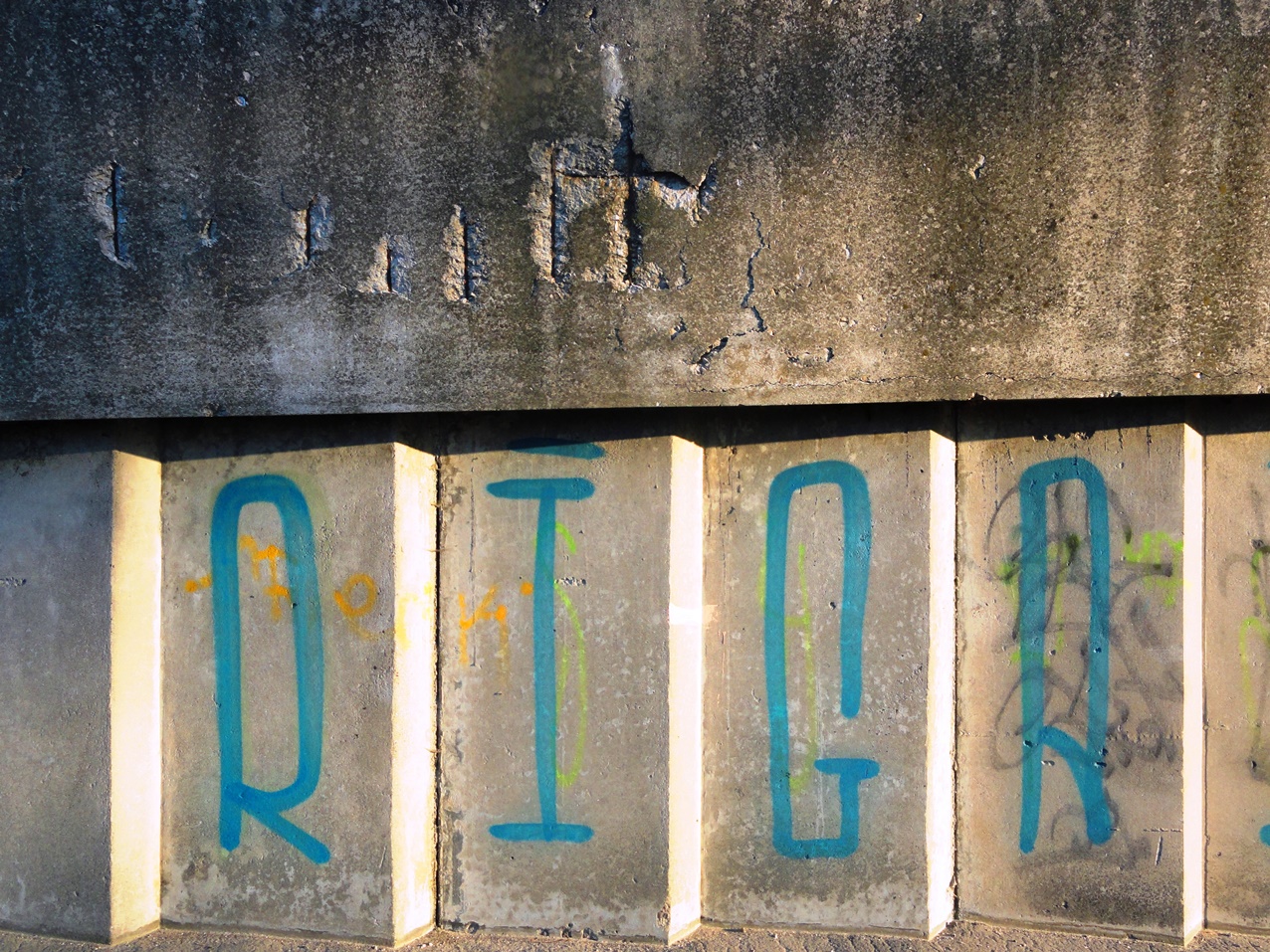 Evocative graffiti on decaying concrete.
travel tips, links & resources
Riga is such a beautiful city my only advice is to visit. It is without doubt one of the best European city breaks I have ever had.
If the sky is clear during your stay be sure to head to the TV tower for wonderful views across the peninsula (even if the windows are dirty).
Riga is perfectly navigable by foot and it's quite possible to see the main sights within 48 hours. Plan for at least two days - and add at least another 24 hours of you want a more relaxing saunter around the city.