An Adventure Around the Largest Country in the Baltic Region
Where: Vilnius, Trakai, Kaunas. Lithuania, Europe.
When: June 2011
What: Vilnius Television Tower, Trakai Castle, River Nerris, River Nemunas, Skamba Skamba Festival, Pedalo riding on Lake Galve, Socialist Realist Statues, Gates of Dawn, Soviet Era Tenements.
How: Flights, bus, taxi, walking, coach.
Country counter: +1 country
Illnesses or mishaps: Getting caught in a Lithuanian deluge upon arrival in Vilnius; catching the wrong bus from Trakai, taking several times longer to arrive back in Vilnius.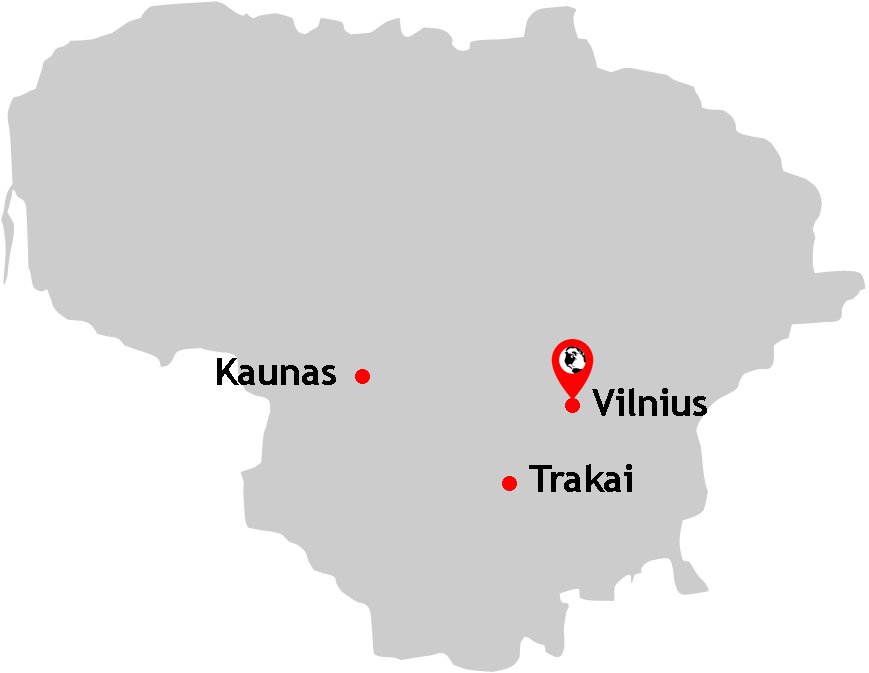 Having travelled to many post-Soviet states, I had well and truly developed a penchant for all things former Eastern Bloc and so Lithuania immediately appealed when I saw it had been added to the list of destinations of my local, no-frills airline. Lithuania was the first Soviet satellite country to try to break away from the Union, and is the country credited with catalysing the collapse of Soviet communism and the symbolic tearing down of the Berlin Wall shortly afterwards. Indeed, in typically restrained protests arguably so characteristic of the Baltic region as a whole, two million people linked arms against Communism stretching from Tallinn in Estonia to Vilnius in Lithuania in an act of unflinching and resolute solidarity.
This was my second visit to the Baltic region, having experienced this region of Europe in a visit to Estonia the previous year. Lithuania is approximately a two-hour flight from the United Kingdom. Unfortunately for me I spent the entire time sat next to a large drunk Lithuanian who arrived having had a belly full of alcohol already and who then proceeded to burp his way through three cans of Heineken on the flight. Not exactly a salubrious start to my triple city Lithuanian adventure. Our flight destination was to the lesser-known Kaunas, Lithuania's second city, but we'd booked our place on a shuttle bus to take us directly to Vilnius, the Lithuanian capital.
Torrential rain greeted us on our arrival in Vilnius; the weather from a rainy-saturated England had clearly travelled with us. A most bewildering spectacle was the hundreds of folk music fans in the city. Being my first few hours in the country we thought this was 'what Lithuanians did', only to be jolted out of my naïvety by discovering later that we had, in fact, arrived in the middle of the Skamba Skamba Folk Festival.
We set about negotiating the city's chronologically-challenged bus network to get out to the Karoliniskes district, some 3 kilometres outside the city centre. In this short distance I witnessed the quaint charm of old Vilnius abruptly give way to morose-looking apartment blocks with collapsing balconies, graffiti and overgrown lawns choked in weeds. It certainly didn't take long to see the other face to Vilnius, a face pockmarked and scarred by an indelible Soviet legacy. Eclipsing all of this dilapidation was the Boksta, or Vilnius Television Tower, which thrusts an uncompromising 326 meters into the sky. State sponsored Soviet architects drew their cosmic aesthetic from the Space Race with the United States, an architectural movement which resulted in some amazingly bizarre cosmic constructions across all Soviet Socialist republics. It is a style of architecture I have come to love and admire. The tower itself is a classic architectural hallmark of communism, a construction designed to confidently convey the technological prowess of Soviet communism. The Vilnius Tower holds an oxymoronic place in the Lithuanian psyche being a classic symbol of Soviet occupation but also the place where, in 1991, Lithuanians fought for their freedom against advancing Soviet tanks sent to take control of television broadcasts. Indeed, fifteen Lithuanians laid down in front of the rolling tanks at the foot of the tower. The tanks simply rolled over them. In the new Soviet era of perestroika and glasnost, Mikhail Gorbachev ordered the tanks to pull back and, in doing so, effectively left Lithuania to its freedom. A series of mournful crosses and a marble memorial stone now sit at the foot of the tower commemorating those who perished in what has become known as The Battle for the Boksta. We took the lift up, some 190 metres high, to the Milky Way Observation Bar, a deck which afforded us 360 degree views out across Vilnius. This was a view almost exclusively comprised of tawdry apartment blocks of the Soviet-Gothic kind, white anonymous rectangles repeated across the hills in something of a geometric pattern. Stranger still was the 1980s-style décor in the bar coupled with the fact that the floor revolved but, admittedly, not without the mechanics underneath making it audibly obvious to everyone that it was struggling to function. We took in a coffee and watched this most evocative of city views rotate by in a kind of monochromatic kaleidoscope of communism.
But there's more to a visit to Lithuania than gawping morbidly at its scars and wounds. We headed in search of some Lithuanian beauty and, in doing so, discovered Trakai. Trakai is the former hub of political and military power in Lithuania, comprising the red-bricked Trakai Castle on an island in the middle of Lake Galve. Sorry to spoil the illusion but this fairy-tale castle was rebuilt in the 1950s from more ancient ruins in contravention of Soviet orders not to; a pleasant beauty spot meets symbol of national resistance. Bobbing around the lake on a pedalo in the warm summer sun was a beautiful way to spend an afternoon and, indeed, take in all sides of the castle. The weather was perfect, for the red brick of the castle took to reflecting in the blues of Lake Galve, one of the deepest lakes in Lithuania. Other parts of Trakai were picturesque enough, with traditional wooden fishermen's houses with their tin roofs making the short walk from the bus stop to the Lake a characterful one. The same, however, can't be said for the bus station itself being, as it was, a depressingly functional concrete affair of the type so beloved by Soviet architects.
We spent our last day back in Kaunas, a transitional capital used in times of national emergency and Lithuania's second city. It is also widely considered to be the economic and cultural heart of Lithuania. Kaunas was fairly unremarkable but a perfectly easy place in which to be a visitor. Its main thoroughfare Liberty Avenue is characterised by cobbled streets, heritage architecture and an awesomely cosmic fountain, with its silver sputnik balls straight out of the Soviet Russia. One of the highlights was travelling up to the observation terrace of the Church of the Resurrection, which gave us some rather wonderful views of this sleepy second city. It was certainly an unusual place to go to catch a view of a city skyline. Indeed, I couldn't help but notice, from this high vantage point, the existence of a large basketball court below where locals were enthusiastically engaging in a sport which is nothing short of a national obsession. Kaunas is also home to an impressive number of churches, one of the most notable of which is that of the St Michael the Archangel Church.
Lithuania is a land with a seemingly contradictory mix of both fatalism and optimism. I couldn't help but notice that beige seemed to be a prevailing colour here. Older generations wore this washed out shade almost reverentially, as if honouring the communist era which has since been confined to the dustbin of history: beige trousers, beige shirts, even beige leather shoes. In contrast, many younger Lithuanians embraced modern attire signalling, perhaps, a more forward-thinking mindset. It is probably not travel writer hyperbole to suggest that Lithuania is caught between two worlds, two eras even, for there is a detectable nostalgia for the communist past but also a yearning for something better. Indeed, Lithuania has been a member of the European Union since 2004 and thus views its fortunes firmly within the capitalist yolk of Western Europe. Lithuania, therefore, is a country where a range of contradictory ingredients seemingly coalesce: its lakeside castles of traditional Lithuania contrast with the cosmic television tower of Soviet occupation, which contrasts with the emerging glass architecture of a modern Vilnius. Lithuania is a country in transition and, for this reason alone, it is a fascinating and unusual European city break.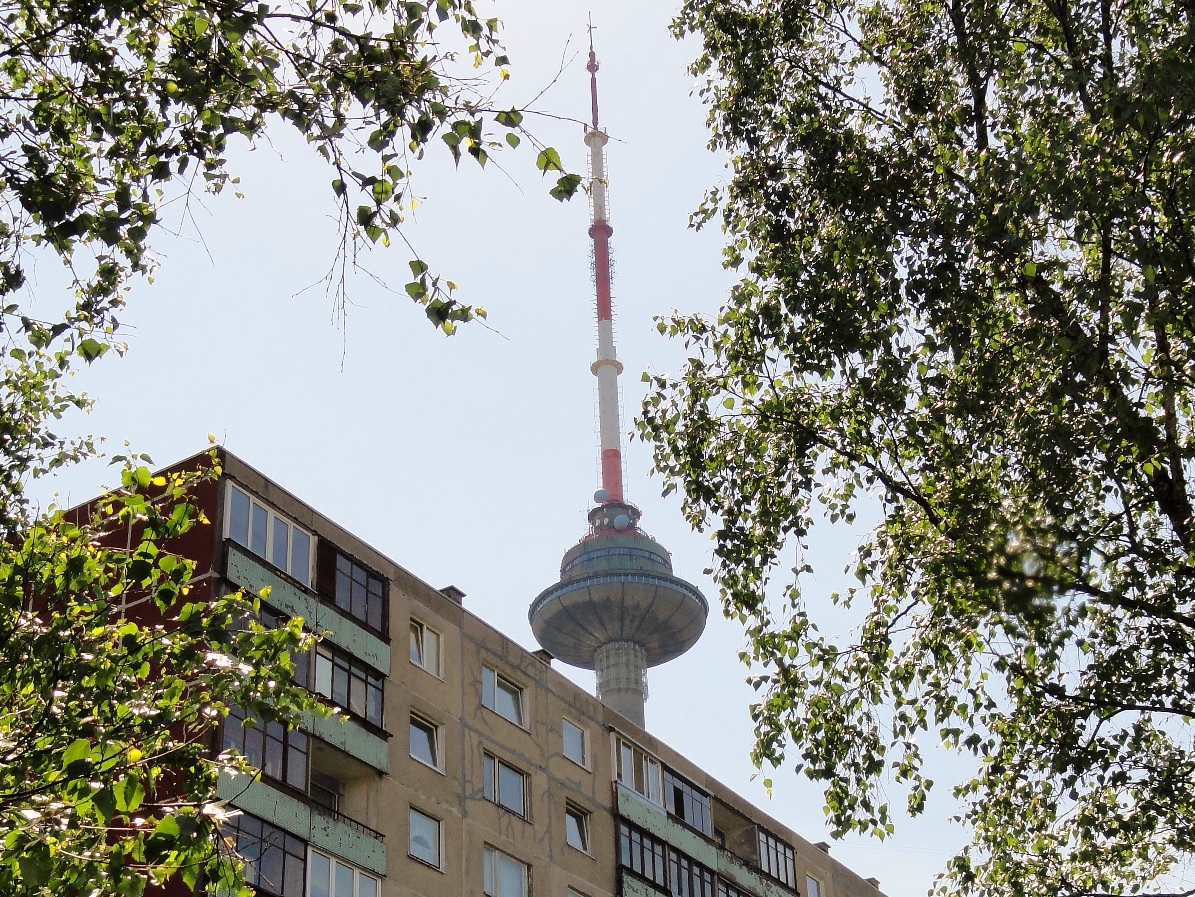 Vilnius at its most Soviet: the television tower dwarfs a Soviet-era tenement building.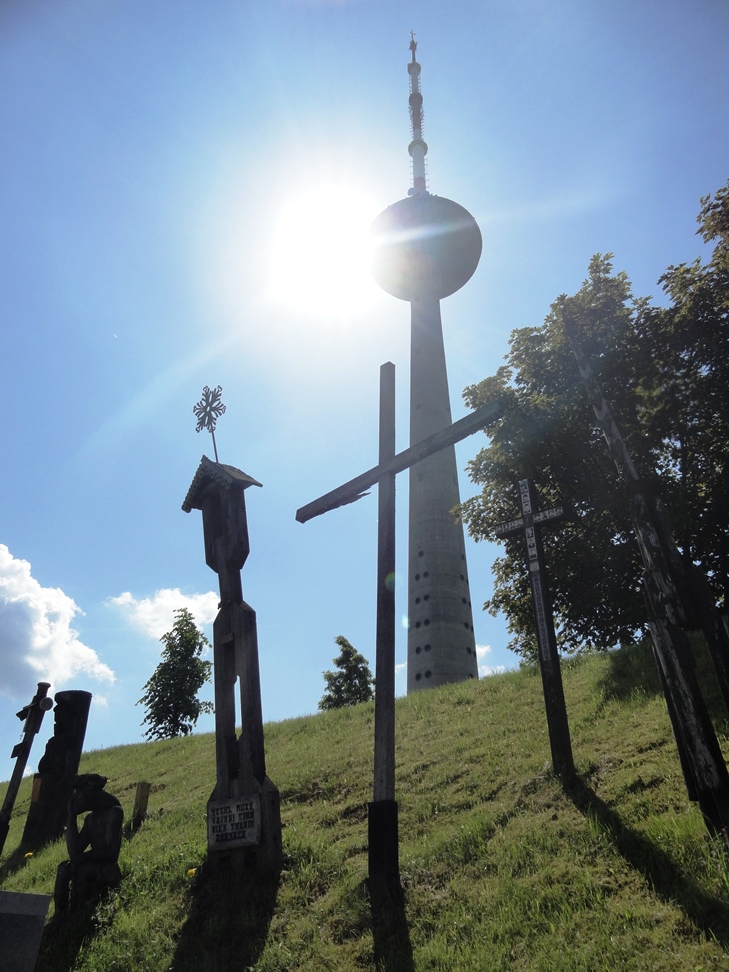 Memorial crosses sit at the foot of the Vilnius television tower commemorating those that died fighting for freedom.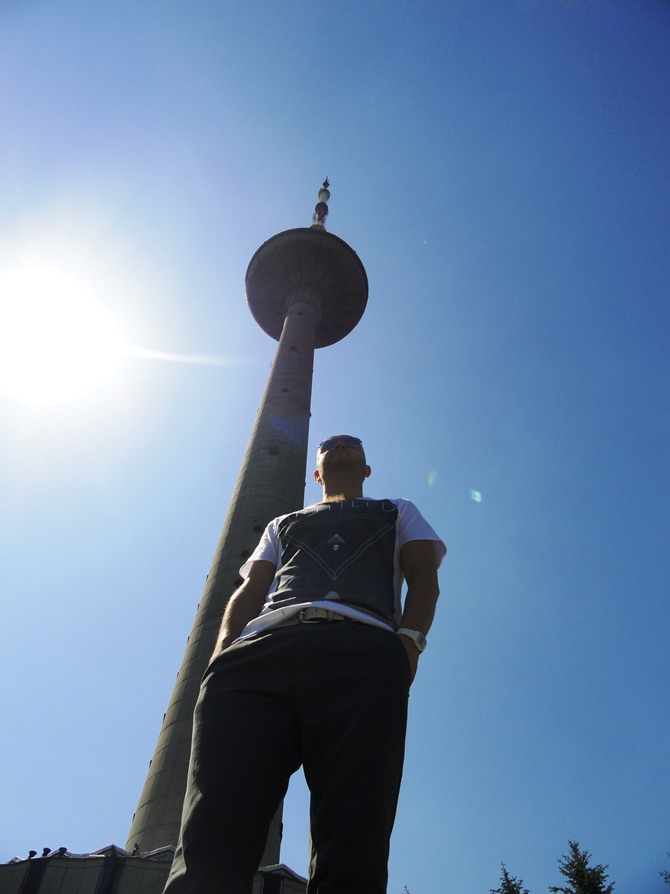 The Vilnius TV Tower: the tallest building in Lithuania.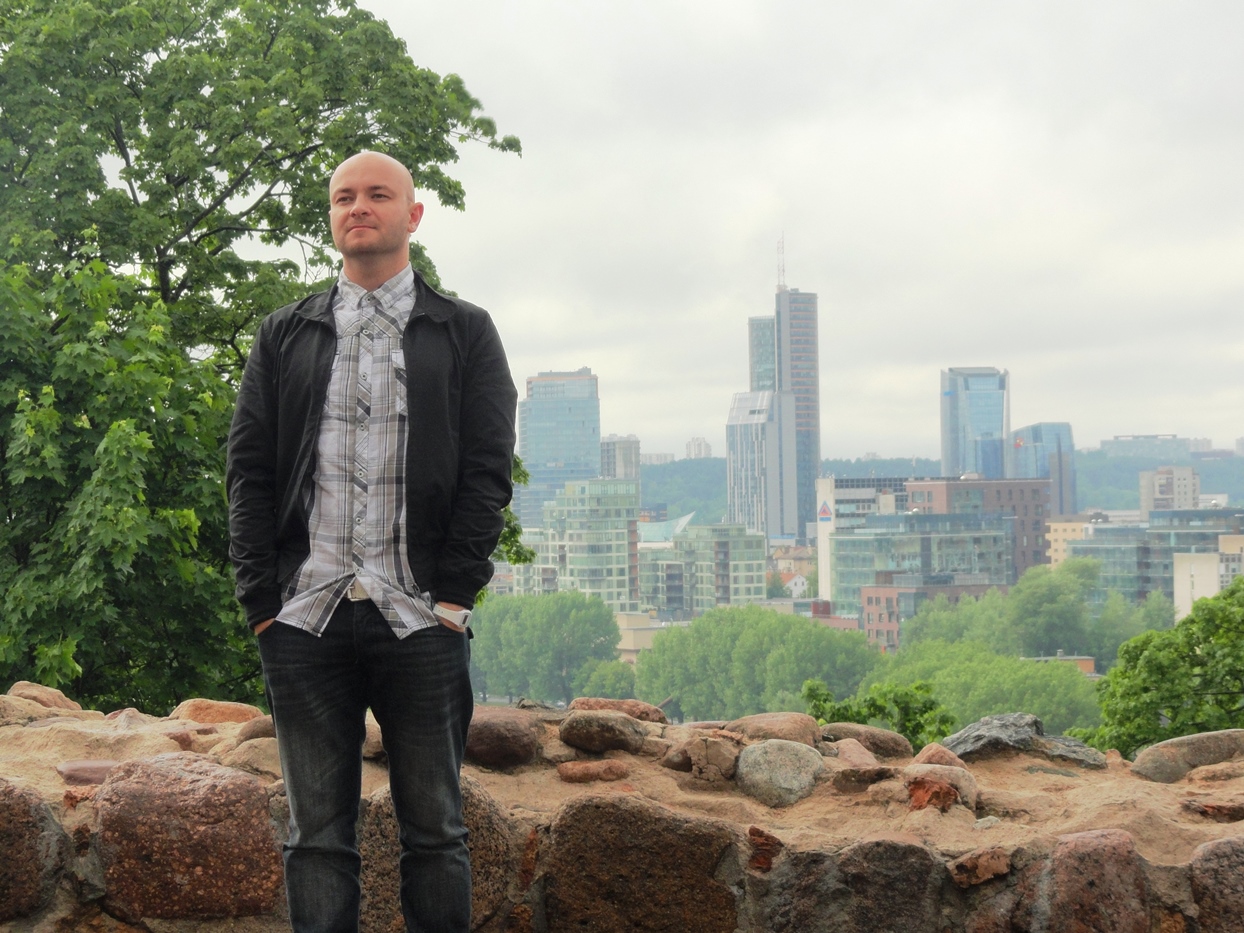 Overlooking modern Vilnius.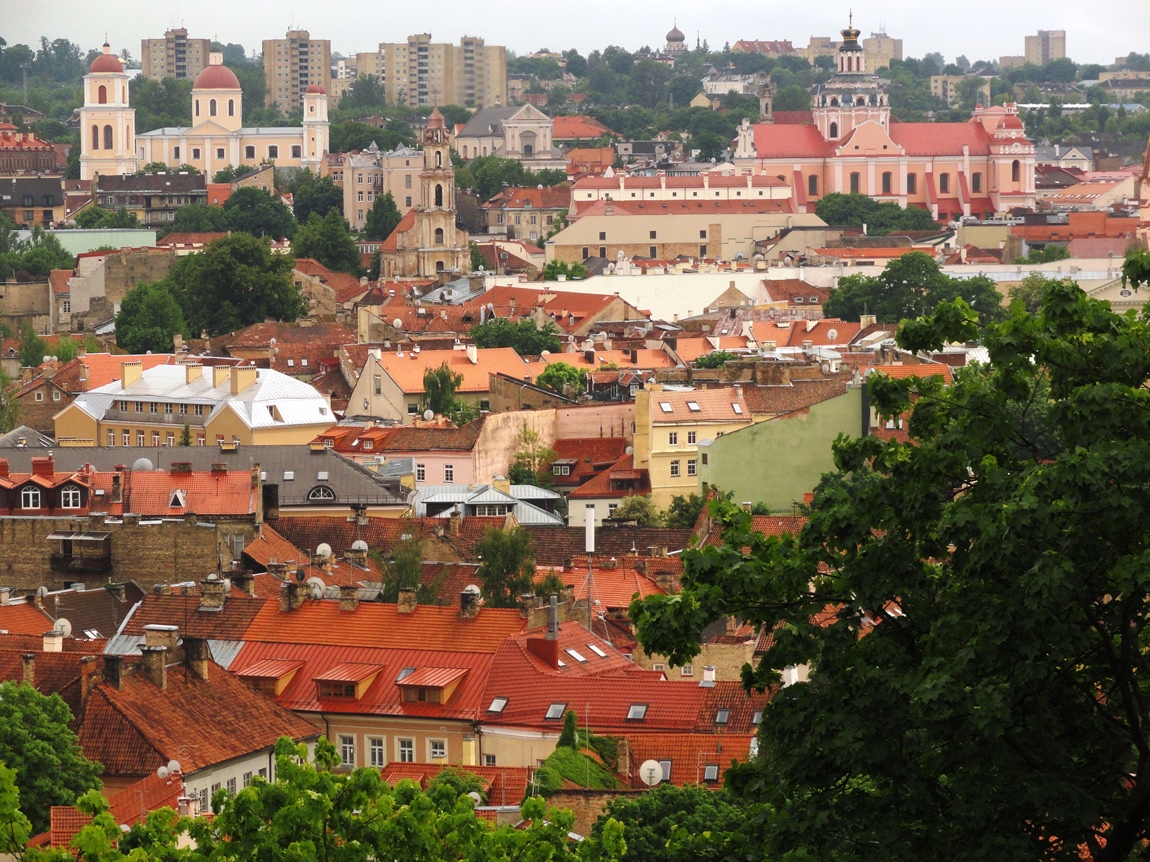 The terracotta roofs of Vilnius Old Town.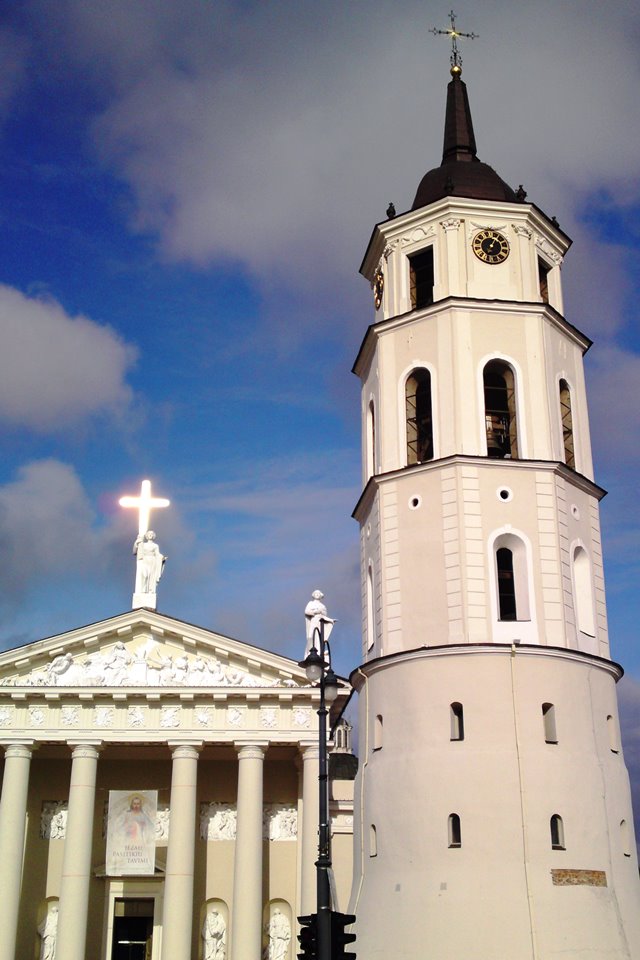 The elegant Bell Tower of Vilnius Cathedral.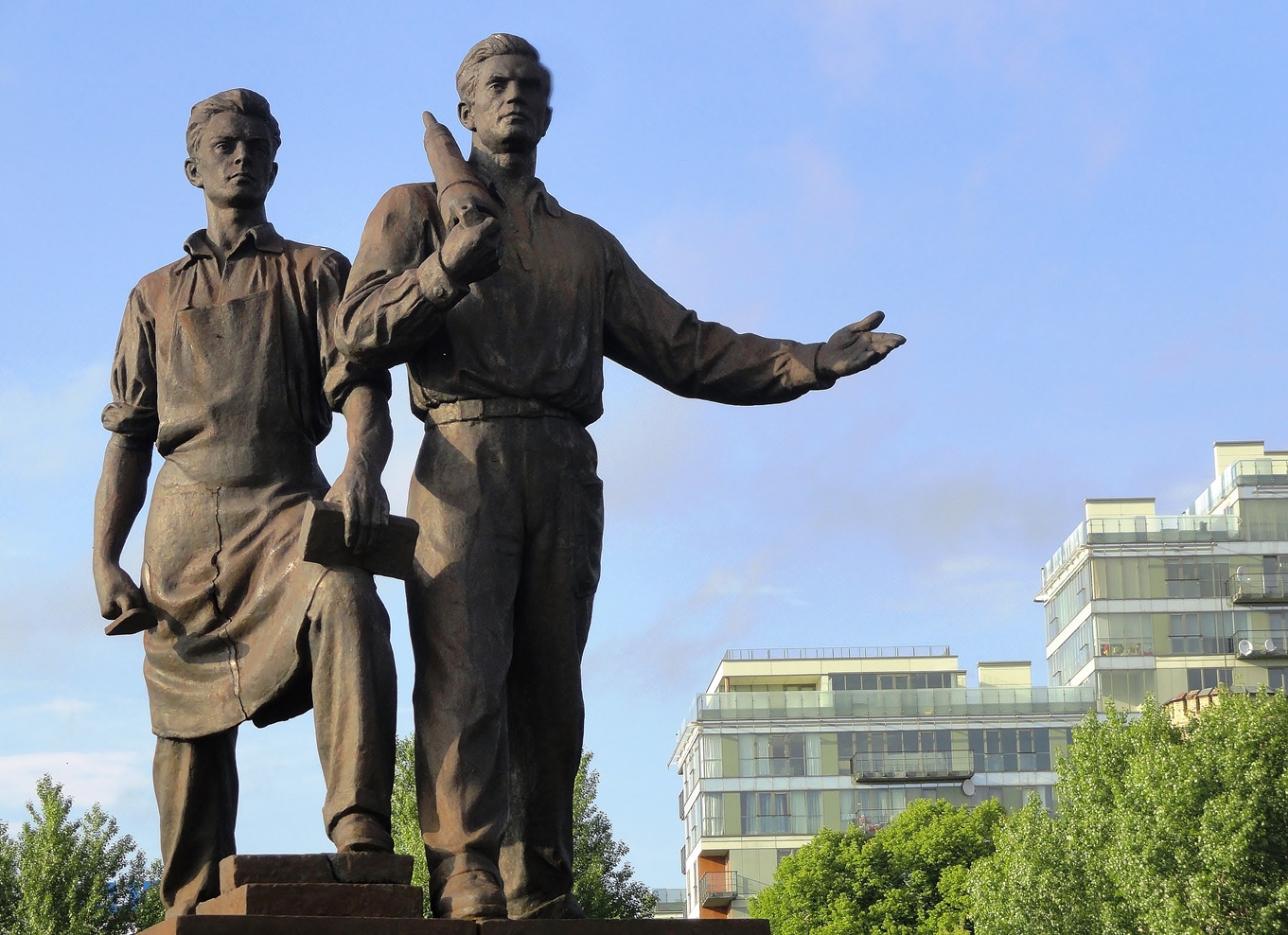 A Socialist Realist statue on the Green Bridge crossing the Neris River showing Construction and Industry. These are the only Communist statues left in the city. There are two theories as to why they remain. One, that locals liked them too much to let them go the way of all of the other communist statues. Two, to give Lithuanians a laugh as they commute over the bridge on their way to work.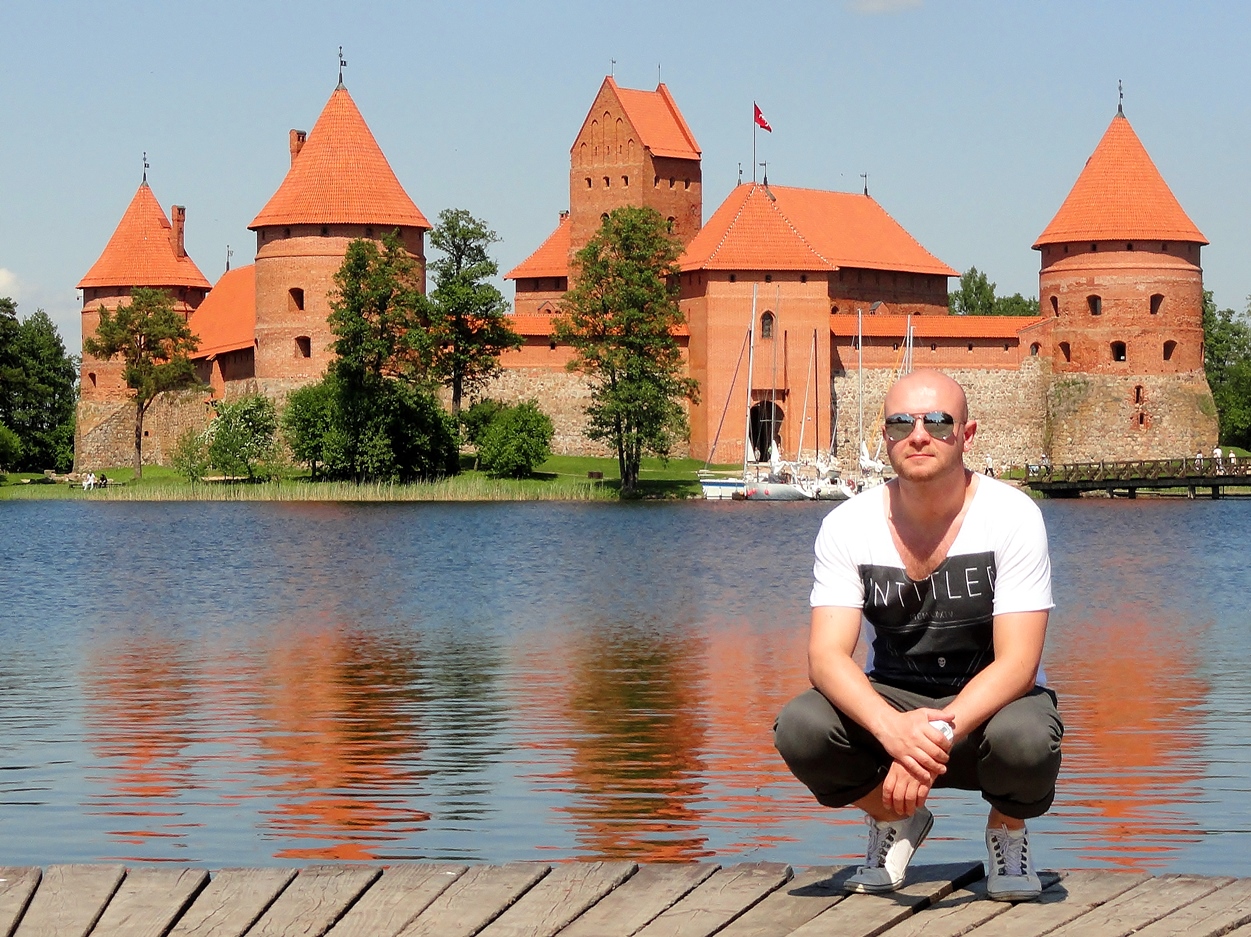 Trakai Castle is widely regarded as the symbol of Lithuania. Indeed, it is the main photograph used on my 'Baltic States' Rough Guide covering Estonia, Latvia and Lithuania.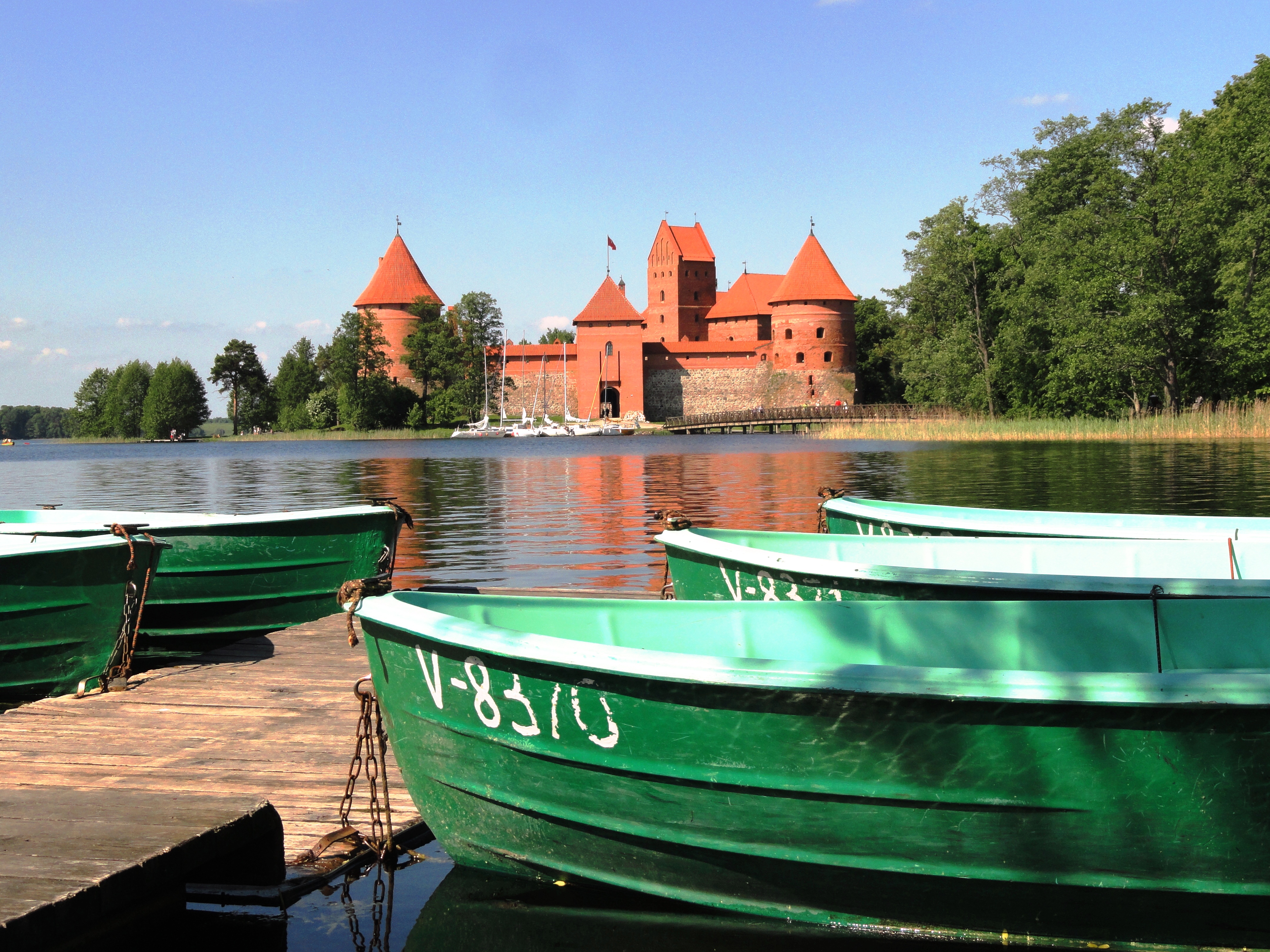 Green tin boats foreground an icon of Lithuania.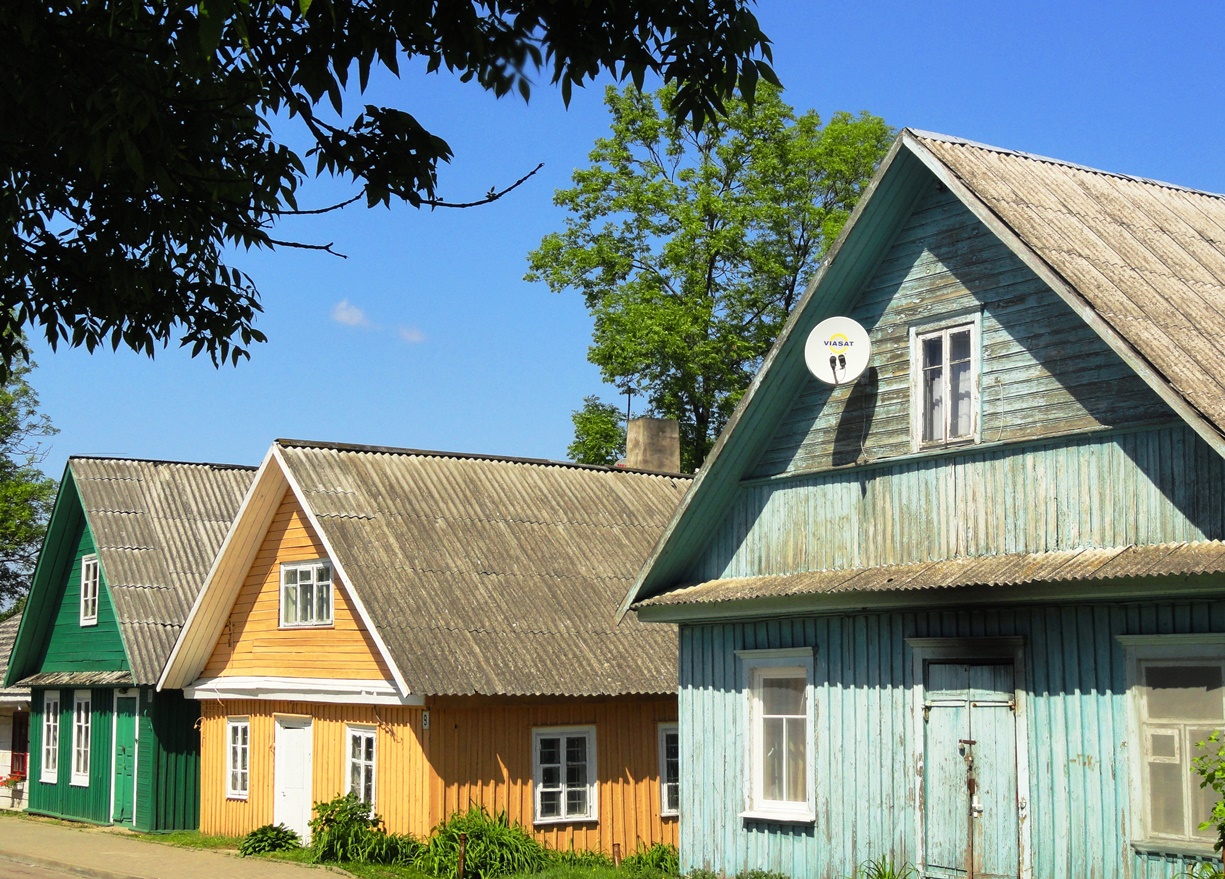 Traditional pastel-coloured fishermen's cottages in the area of Trakai known as 'small town'.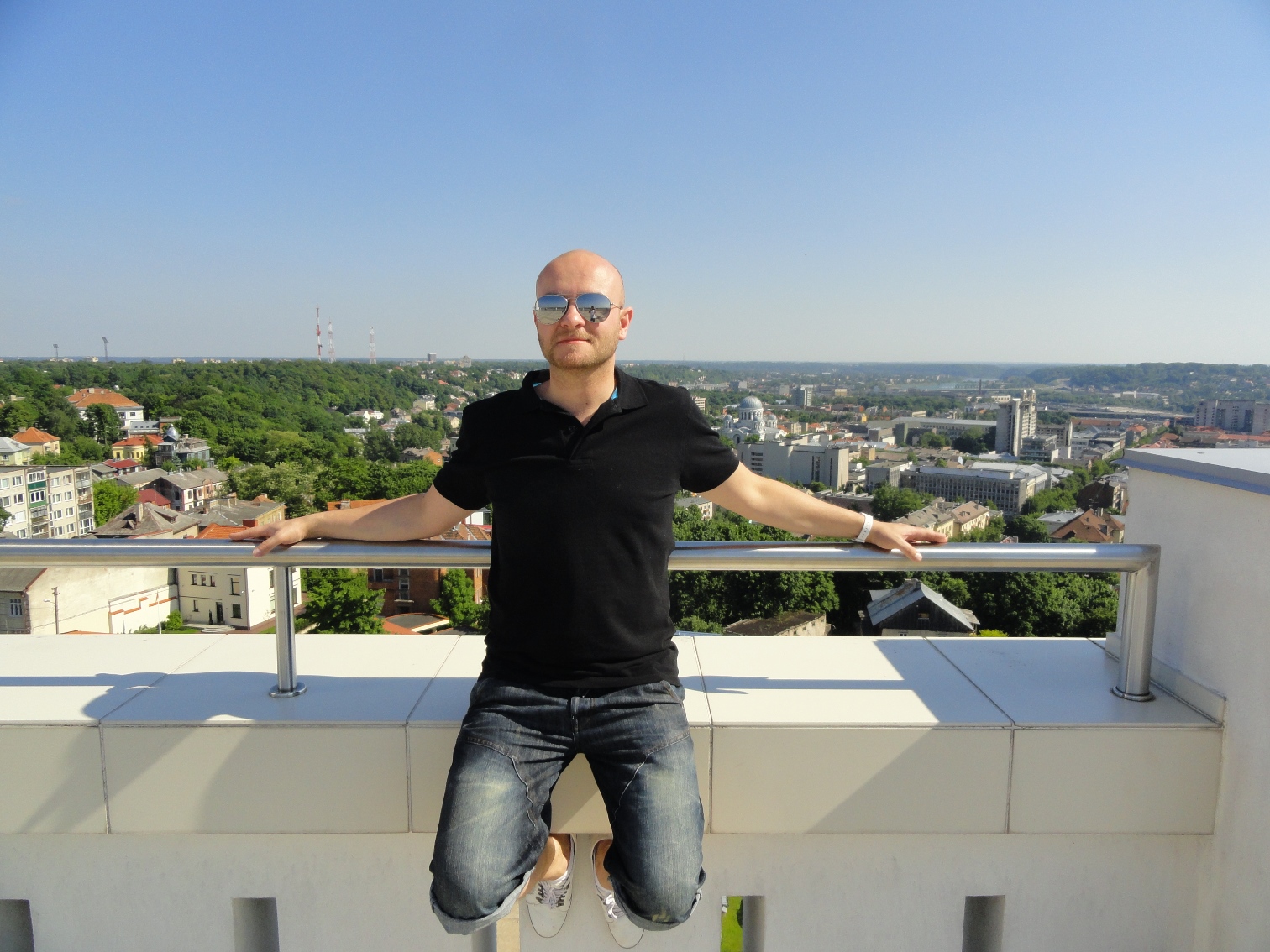 On the roof of the Church of the Resurrection, which gave us some rather beautiful views of the city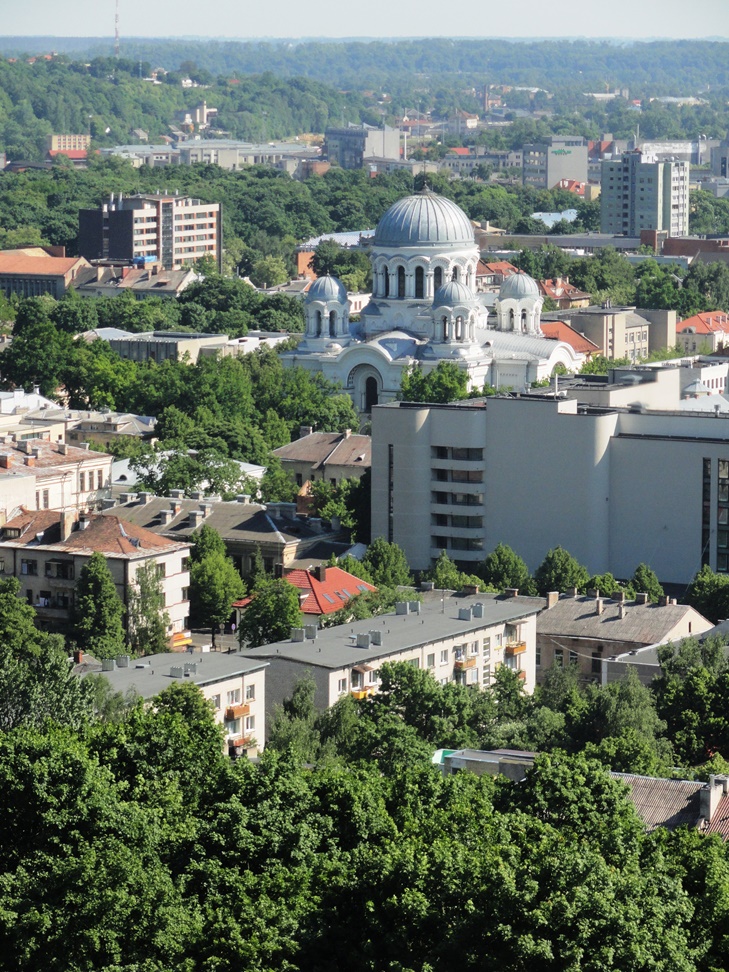 A green Kaunas city skyline seen from the Church of the Resurrection.
The evocative sputnik fountain on Liberty Avenue.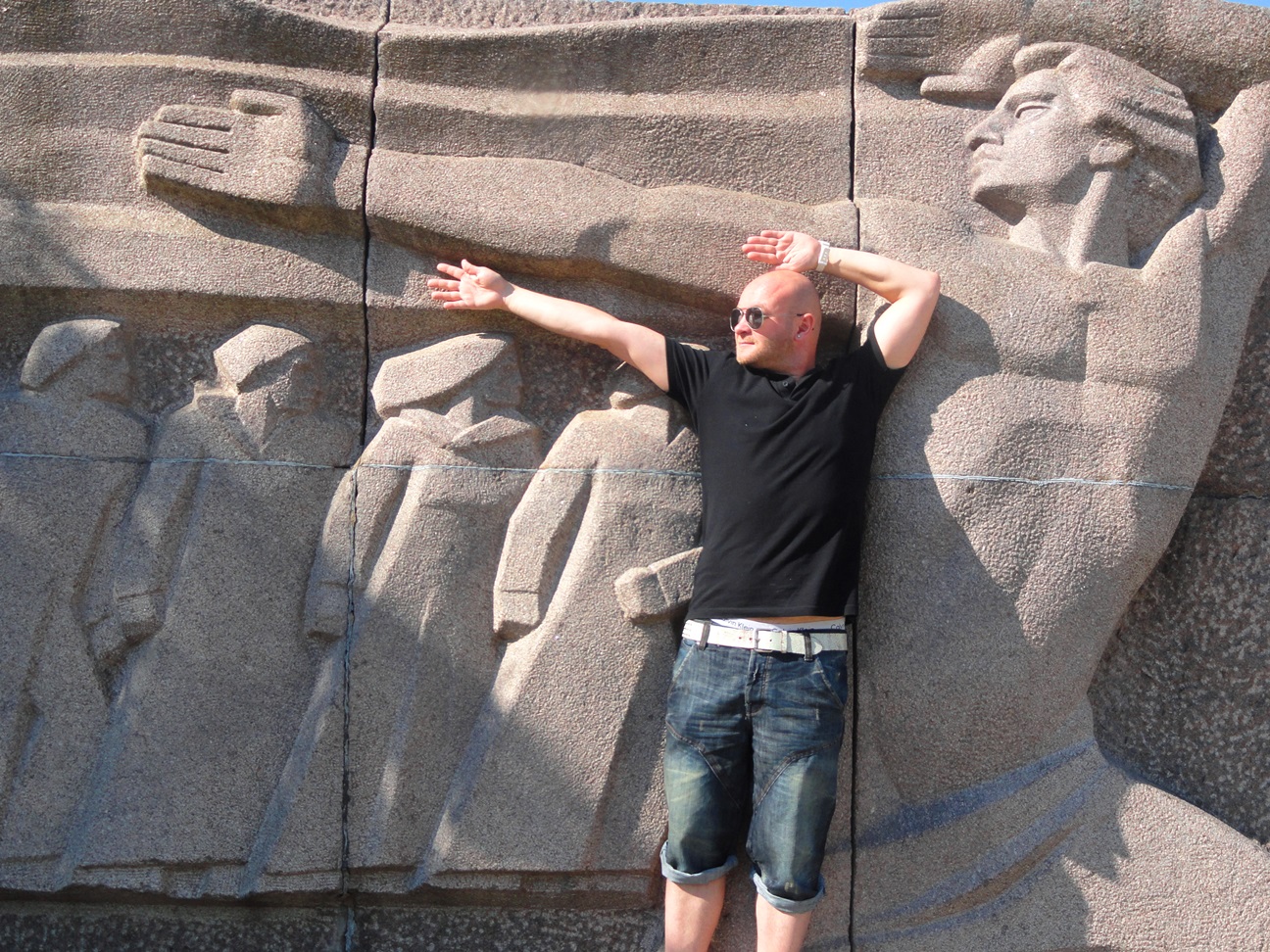 A relief sculpture as part of the Vytaatas War Museum Square.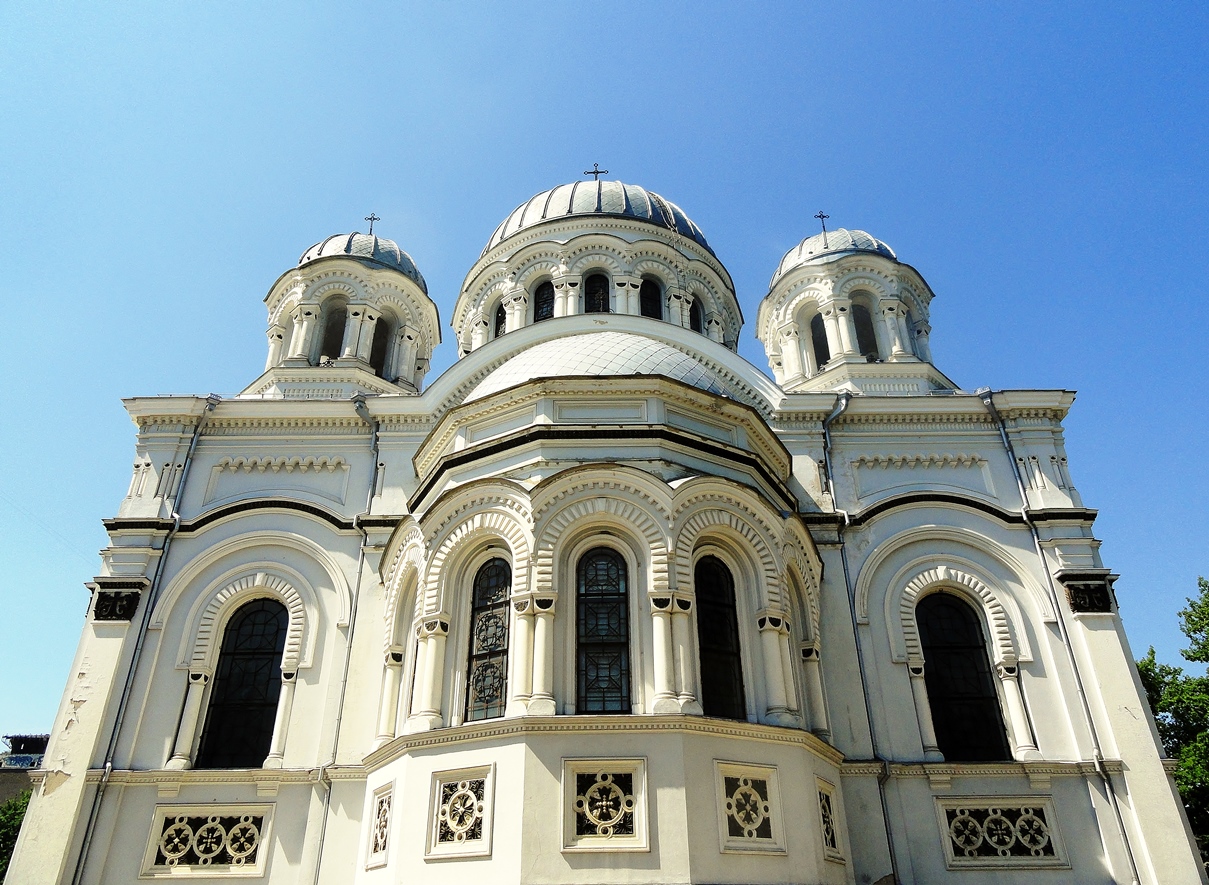 The Neo-Byzantine styling of the St Michael the Archangel Church.
travel tips, links & resources
If you're travelling on a budget, investigate whether it is cheaper to fly to Kaunas and then get a coach onward to the capital Vilnius. This is what I did. Yes, it is a bit of extra hassle but could make your already inexpensive trip to Lithuania that little bit cheaper. There are many departures each day and the journey from Lithuania's second city to its capital takes around one hour and 45 minutes.
Buses from Vilnius to Trakai leave the central bus station around 40 times per day and take about 20 minutes, making it the perfect distance for a day trip from the Lithuanian capital.
You simply must pay a visit to the Boksta - it's the most evocative sight in Lithuania charged with meaning and history.
With food being relatively cheap, try to tip where possible - the money you leave is worth far more to the person waiting on you than it is to you.