A Road Trip Around the Mediterranean Island Country
Where: Malta: Valletta, St Julian's, Sliema, Mdina, Rabat. Gozo: Dwejra, Victoria, Xaghra, Mgarr, Qbajjar. Malta, Europe
When: May 2013
What: Ferry across the Comino Channel, Azure Window, Carmelite Church, Ggantija Temple, Jellyfish, Rock lizards.
How: International Flight, Hire Car, CarFerry, Walking.
Country counter: +1 country
Illnesses or mishaps: Being diverted to Nantes in northern France on our outgoing flight because of a medical emergency on board; very nearly going paddling in a sea teeming with jellyfish. It always pays to look closely first!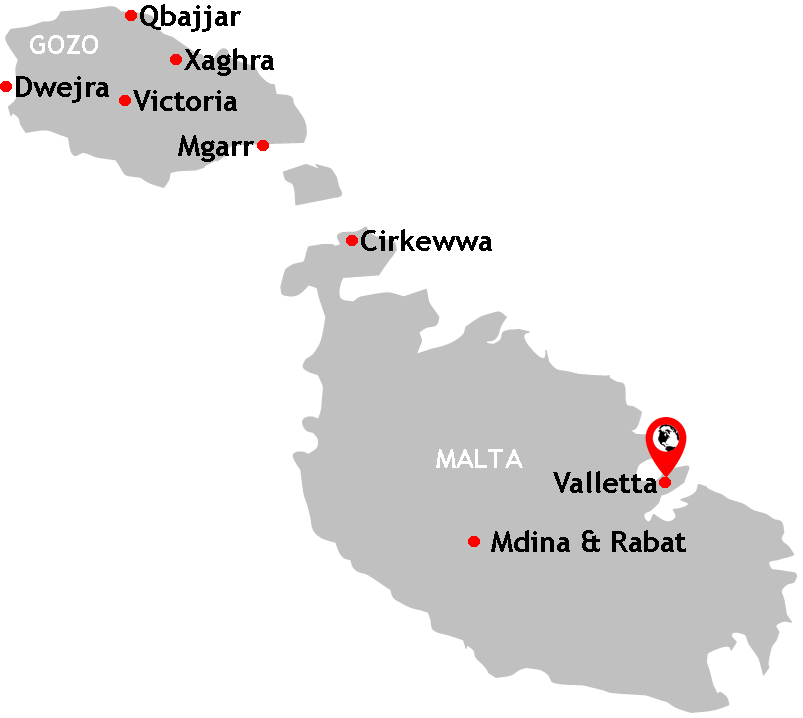 Malta was to be made up solely of a simple city break to the capital Valletta. However, the 'Lonely Planet Guide to Malta and Gozo' soon dropped on the doormat and the list of things we should really see quickly grew. Why can we never go to a place and keep it simple? With time tight there was only one way forward. Enter, stage left, the hire car. There are times when you are unsure about a decision you've made and so when it bears more fruit than you could possibly have hoped for it is particularly satisfying... The words "Is there a doctor or nurse on board" and "As some of you may know we have a medical emergency on board and are diverting to Nantes in France where we'll be landing shortly" are not the words one expects, nor wants, to hear uttered on a flight tannoy. Nevertheless this is what we got on our flight out of the UK. It was an inauspicious start to the trip... This flight delay meant that the decision to rent a car really came into its own. So, with two hours shaved off of an already short trip we headed into Malta with added gusto, picking up the hire car from the airport, re-setting the (also hired) sat-nav from Portugese to English, and zooming off to our first destination with only an airport cake and coffee to fuel us. Hiring a car saved time by not having to wait for public transport, saved money by not having to pay for public transport and meant our itinerary could be entirely flexible. Driving around Malta was not, however, stress-free by any means.
Malta is staunchly Roman Catholic. Plaques and religious statues adorn almost every home and building, often surrounded by flowers laid by worshippers. Even for an atheist I find these little tiles quite charming in simple aesthetic terms. This level of religious devotion outstrips Italy and possibly even India in some respects. Nevertheless, Malta feels modern enough to afford you a trouble-free stay. Malta, the smallest state in the EU, is an incongruous mix of countries, conquerings and colonials. It is quite possible to imagine you are in Italy, Greece, the Middle East or, in some quarters, England. Incongruous of all are the statues of Queen Victoria, the red telephone and post boxes, the square plug sockets (don't bother bringing plug adaptors) and the blue over-the-door police lanterns - a cherished overhang, literally, from the days when Malta was a British Crown Colony. Malta became an independent country in 1964, and in 1979 finally ditched the queen as its head of state for good. This staggering of independence in two stages partially alludes to the fondness the Maltese have for the British colonial days and which goes some way to explaining the continuance of British icons like these. Paradoxically of all is that these icons are frozen in time - icons stopped at the point the British powers removed themselves from the archipelago. Expect, and marvel at, therefore, the retro Co-op signage for 99 tea bags, the impressively old sign for HMV, the stores still named 'haberdashery' as if from an episode of 'Are You Being Served?' These are retro British icons stopped dead in their tracks and which form a crucial part of Malta's cultural mix: Co-op and HMV signage rub shoulders with distinctly Maltese balconies, religious paraphernalia and...M&S. This collision is particularly pronounced in the country's capital Valletta.
It would be rather easy for Britons to retire in Malta surrounded by poignant reminders of Britain's yesteryear. Ironically, many of these icons have failed to endure back home. Red phone boxes are all but extinct: HMV sports its garish pink logo with modern zeal, and red-style post boxes will inevitably be phased out following the Royal Mail's impending privatisation. It is also ironic how Malta hangs onto icons of Britain's past but fails to cherish some of its own with the 1960s-style yellow Xarabank buses now entirely replaced by standard issue green arriva buses - name sound familiar? Malta is, therefore, an interesting place in which to dip your toe into a bygone Britain: distilling the essence of the English into a few stereotypical, and outmoded, symbols and brands.
Malta is an archipelago, a chain of three islands called (in ascending size order) Comino, Gozo and Malta. It is the largest of these islands, Malta, whose name has gone forward as the republic's overall name The Republic of Malta. The section below named 'Malta', therefore, relates to the single island rather than the republic itself, just in case you were wondering. I have grouped all of the places we visited under single island headings because, as you can see from the map above, we covered numerous locations on each island and did not spend enough time in these places to warrant full sections of their own.
Malta is the biggest of the three islands on the archipelago, and is also home to its miniature capital city Valletta being, as it is, less than one kilometre squared in size. It is an elegant place with overhanging balconies in sheer abundance. Those on Republic Street are particularly impressive, being a veritable feast of styles and deep, subdued colours. The view of Valletta from the Bay of Sliema, where we were based, is stunning. The huge sandy-coloured dome of the Carmelite Church and spires loom impressively on the skyline foregrounded by the lapping blue waters of the harbour. The sight had distinct and comparable echoes of Venice and is a skyline deserving of any world capital. It is this image which regularly pops up in any Malta-related internet search and which lures you into booking your flight ticket.
We travelled to Valletta on a Saturday evening. Valletta was not exactly heaving. Expectations that Valletta's subdued sauntering would be replaced with a more capital city-like urban vibe later on in the evening were dashed. Instead, a cold wind blew through the streets, al-fresco dining areas were virtually empty and a lonely busker gave up playing his trumpet. Of course, this experience is indicative of Valletta's gentility and its reserve. If you want a happening party scene head to St Julian's further down the coast. Valletta is about manners, history and the, dare I say, British stiff upper lip. Indeed, the only music you'll hear being pumped into the steep cobbled streets of Valletta is not techno nor pop music but monks singing in one of the many adjacent churches. Similarly, the gatherings we saw here were not youths on a night out binge drinking but congregations going to church. A common sight is that of small statues of Roman Catholic figures built into the side of many a building, often with a crude light bulb or broken lantern below to illuminate it. Valletta's tranquillity is part of its allure meaning it is a welcome retreat from Malta's many resorts. It is, not yet anyway, just another tacky city centre serving the sole interests of capitalism. It should instead be seen as a centre more geared to serving Catholicism than capitalism.
Valletta's tranquillity meant we had the whole outdoor restaurant to ourselves, apart from a ginger stray cat who rather enjoyed the whole octopus we gave it having ordered a seafood pizza to find there were two whole octopi included in the deal. The islands are unsurprisingly very sea-oriented so if, like me, you are a bit squeamish about strange eight-legged sea monsters on your pizza, keep a close eye on what you're ordering! Just across the harbour lies Valletta's opposite: the promenade areas of St Julian's and Sliema both of which conjure up images of Miami not Malta. Muscular men prance up and down with unfathomably miniature dogs, joggers in the latest gear dash by with ipods in-tow, people working out on the outdoor gym equipment and drinkers sit in noisy al-fresco bars sipping cocktails with neon lights all around. Head approximately 12km westward from Valletta and the Miami-like promenades of St Julian's and Sliema and you will stumble across Malta's original and ancient walled capital Mdina. Rabat lies a stone throw outside Mdina's golden walls and sports a traditional ensemble of narrow streets, religious statues and balconies. Rabat is Malta's essence distilled into a tiny space. The small square is dominated by a lightbulb covered, and lovely, St Paul's Church. Stop off at the small cake shop opposite for a selection of traditional Maltese pastries and nougats before heading off. St Paul's Square is a perfectly pint-sized place in which to people watch and drink coffee.
Malta is an island with a multi-layered personality: staunchly religious and traditional, definitely quaint and charming, and certainly glitzy and pretentious - it just depends which aspect of Malta you want to see: there is a type of Malta to suit everyone - anything from tasteful to tasteless and everything else in-between.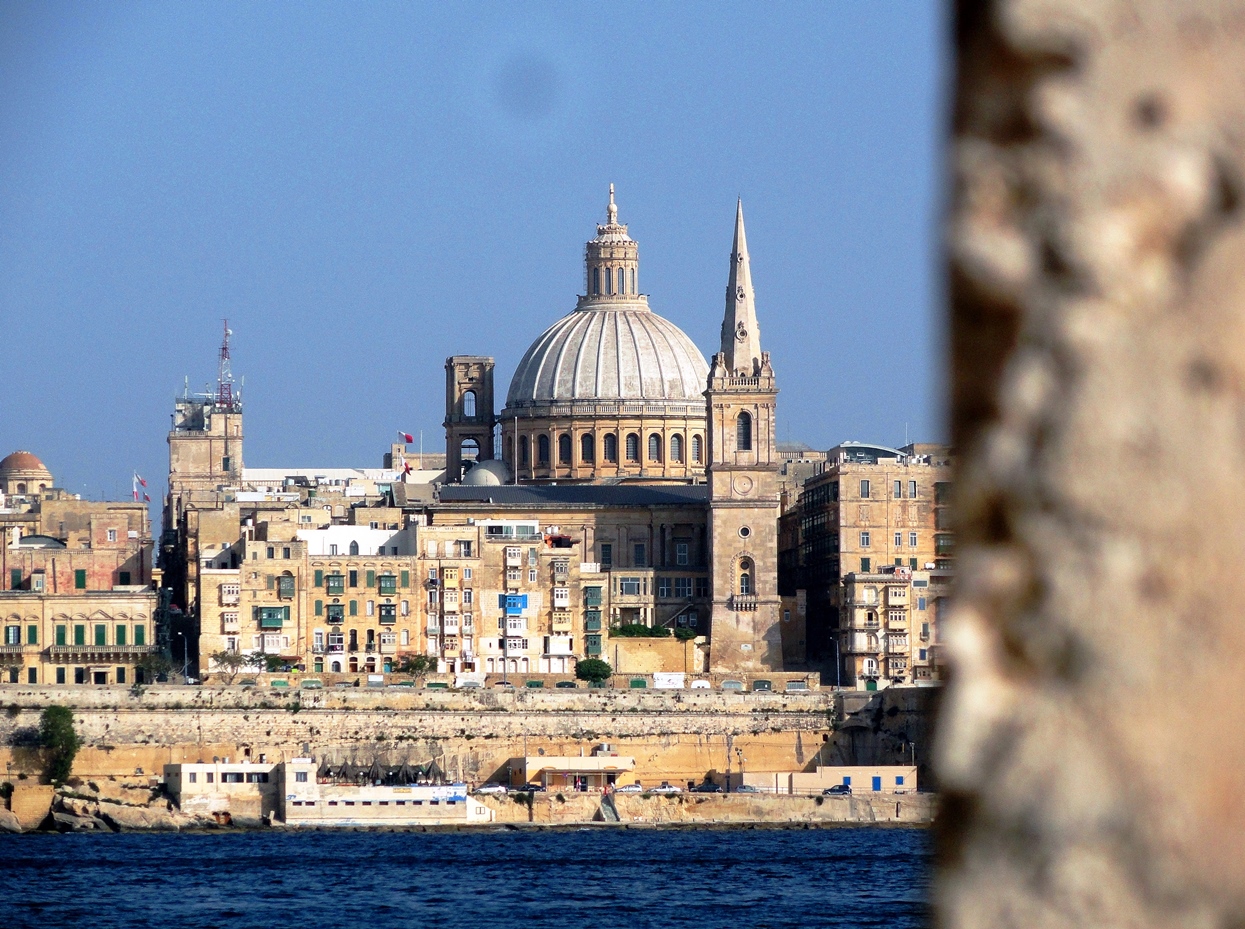 The beautiful view of Valletta as seen from across the harbour at Sliema. In the centre looms the huge sandy-coloured dome of the Carmelite Church.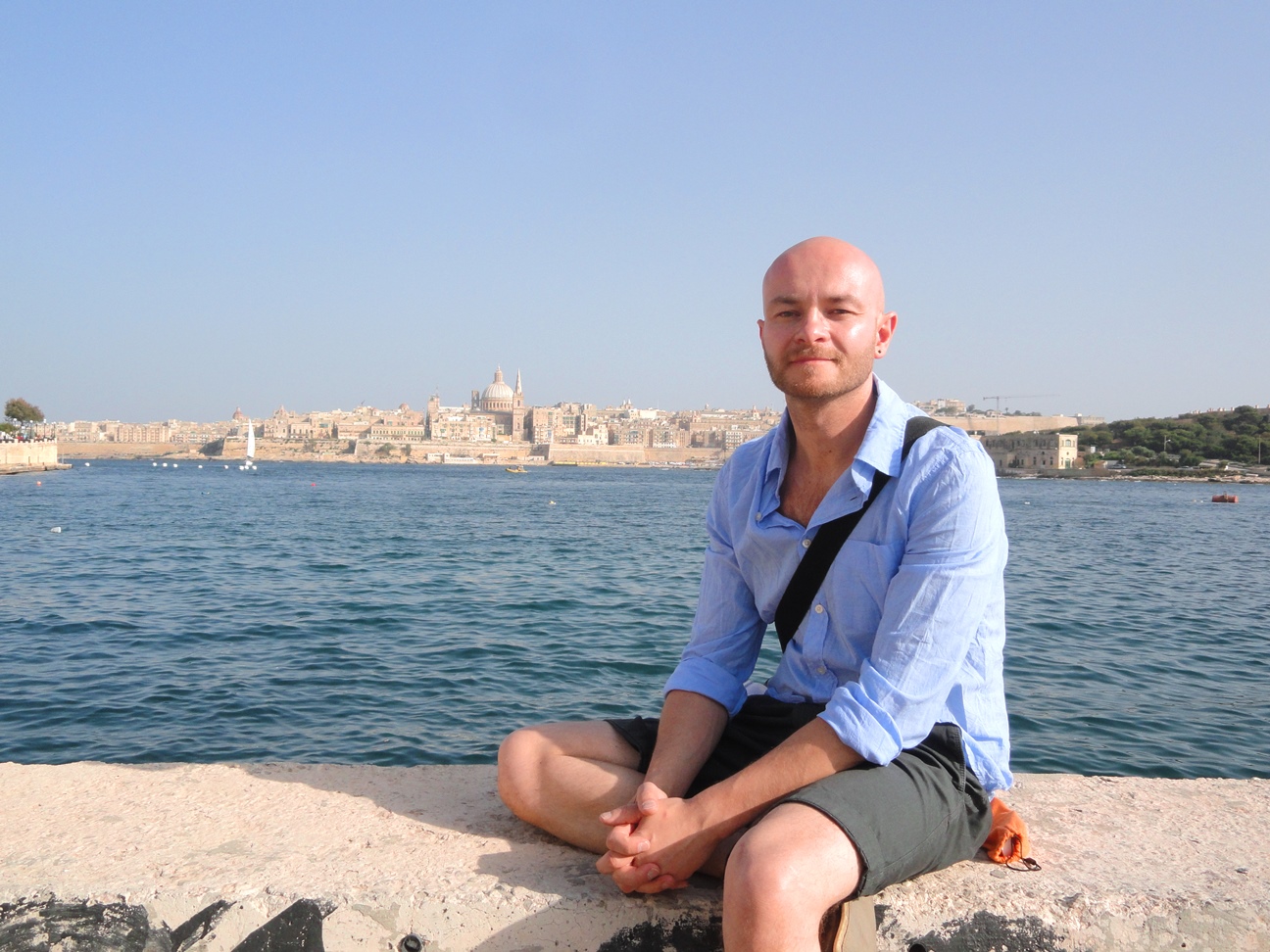 Overlooking Valletta: a more pretty city skyline you will not see in all the world.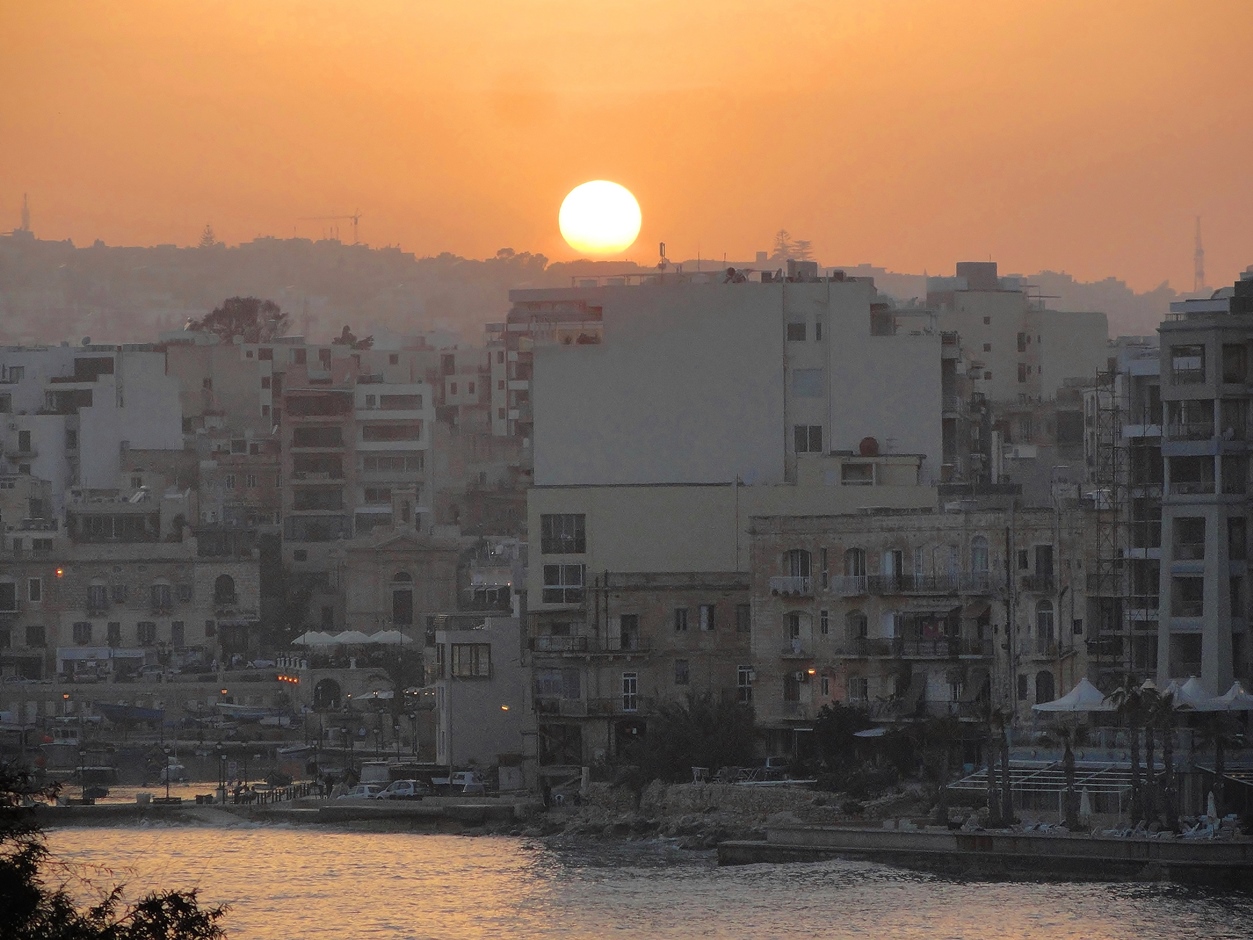 Sunset over the busy skyline of Sliema.
Gozo is Malta's second biggest island connected by a reliable ferry system which will get you from Malta's northern port at Cirkewwa to Gozo's Mgarr port on the south-eastern tip of the island. We drove onto the ferry and off again in around twenty five minutes paying a fare of twenty Euros on the return leg. It was a painless experience with a short stint on the upper deck to take in the views of Malta's smallest island Comino with its bright Blue Lagoon. Virtually uninhabited, Comino was a dumping ground for plague victims in the nineteenth century. Lucky for us, then, that we were not stopping.
The first thing that hits you is that Gozo moves at a much slower pace than Malta. Its land is lush and green with crops, human-sized cacti and brightly-coloured flowers. Gozo feels far more local and rural; a sleepy idyll and the ideal choice if you want to avoid the crowds and noise on your holiday. Expect country lanes, steep hills and some stunning geographical sights. Our first port of call was Dwejra Point on the western edge of the island, home to the huge and very photogenic Azure Window. The large sandstone arch frames the azure blues of the ocean and the cliffs behind - a window on the unique and UNESCO-recognised geographical marvels. Like me, you might be lucky enough to come across crabs in some of the rock pools thrown in as part of the experience. In 2012 part of the Azure arch collapsed - meaning that time is ticking if you want to see this sight. Soon, it will not be there.
Also of photogenic import on Gozo are the Salt Pans on the northern tip of the island. Viewed from high up these pans are a stone square patchwork quilt designed to collect Mediterranean salts when the tide comes in. If you're in a car it's well worth the trip. I have never seen this sort of thing before and so this was another travel first for me. However, the highlight of this leg of the journey to Xwieni Bay, and possibly the highlight of Gozo itself, has to be seeing hundreds of jellyfish all coming into the shallow waters of the bay. Their purple heads and translucent tentacles bobbing along in tune with the tide. Minutes before seeing these I was thinking how nice it would be to go for a quick paddle. Note of caution: don't paddle in the warm waters of the Mediterranean without having a good look first - that, or go in with steel-capped leather boots. This is the first time I've seen jellyfish in the flesh, also managing to catch some decent photographs and video of them too - both of which you can view below.
Driving along what seemed like all four points of the Gozitan compass we also stopped off for a gorgeous tasting tomato soup and bread in Victoria (aka Rabat), Gozo's largest town, and the Ggantija Temple at Xaghra (Malta's oldest temple) which also afforded us stunning views over southern Gozo and the perfect point to see the island's citadel in all its domineering glory. What Gozo lacks in size it more than makes up for in tranquillity, beauty and natural wonders.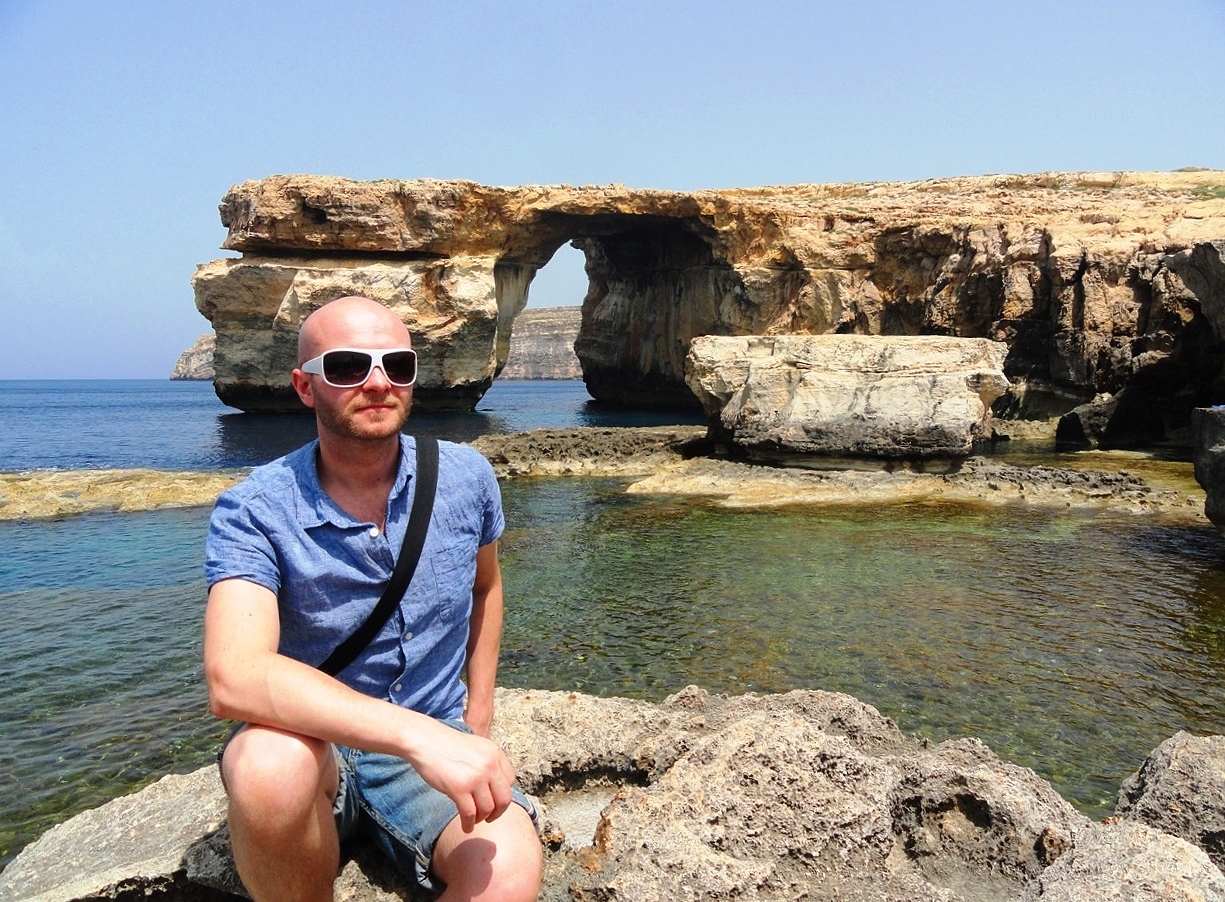 The stunning Azure Window whose large sandstone arch frames the azure blues of the ocean and cliffs. In March 2017 the arch finally collapsed. I saw it just in time.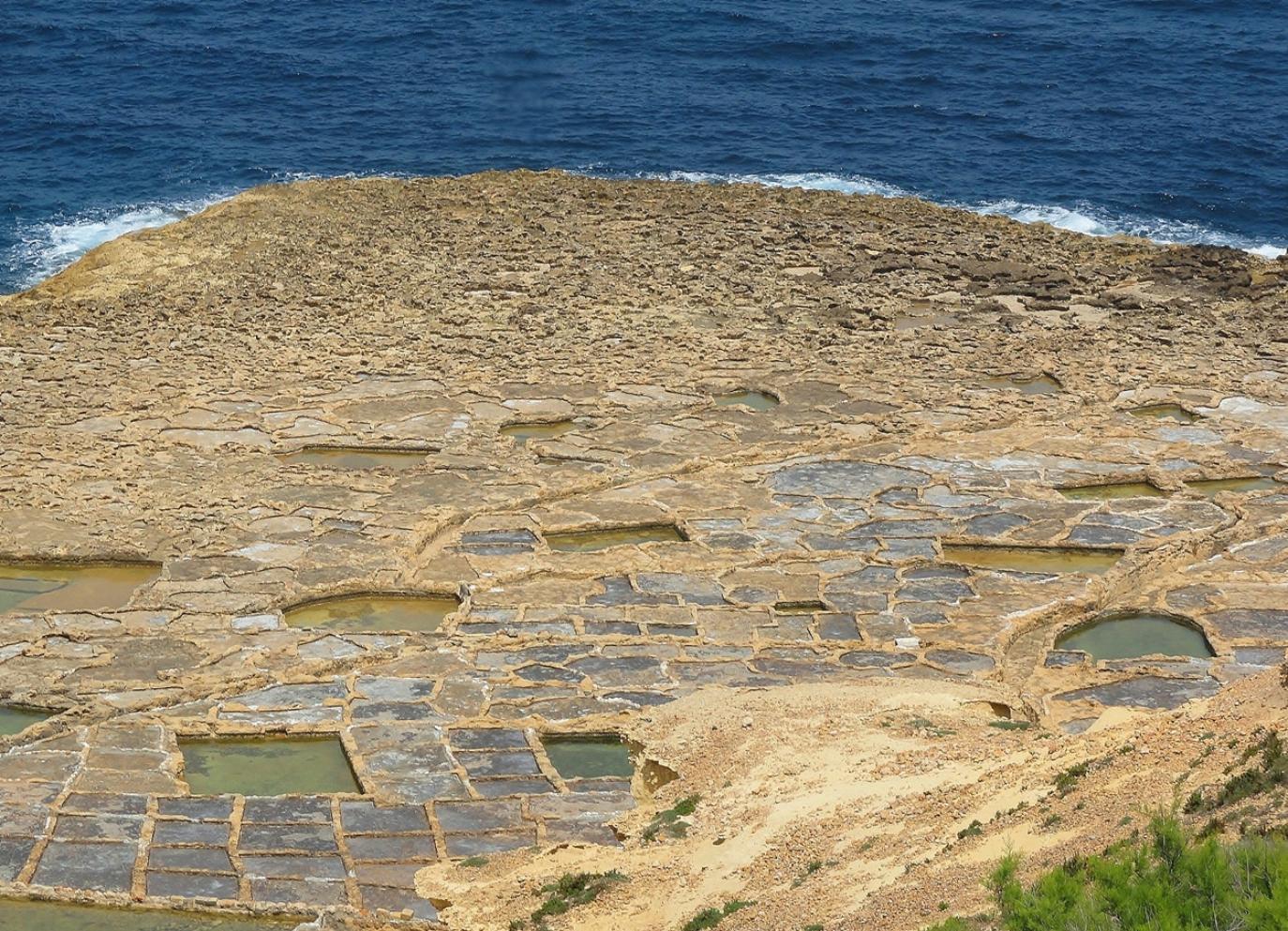 The Salt Pans make a curious and photogenic patchwork quilt of stone and salt along the coastline of Qbajjar Bay.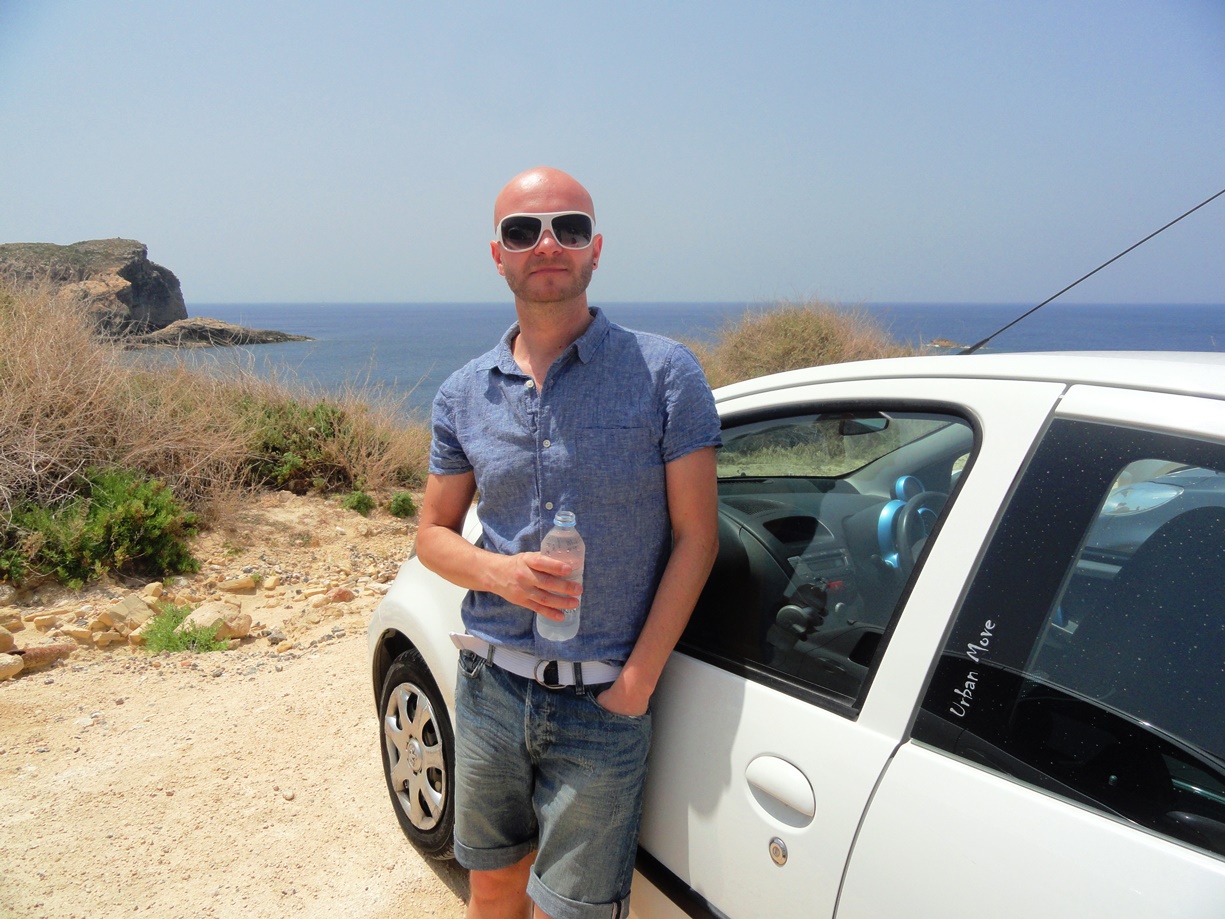 The only way to truly explore Malta: on an awesome road trip.
travel tips, links & resources
Malta really is the kind of place where hiring a car and driving yourself round yields massive benefits. We hired a car for less than £50 and it meant that we made maximum use of our time there and got to see places unavailable on public transport, including life in small Maltese village where, arguably, you are more likely to experience Malta in all of its glorious authenticity. There's plenty of the Maltese character and culture to be seen outside of the main urban centres.
Getting the ferry across to Gozo between Mcgarr and Cirkewwar is a straight forward affair. Just pay on arrival, queue for the next ferry and drive on-board in your hire car. The journey takes about 25 minutes one way and ensures your Maltese round trip covers two islands, not just one!
Keep an eye out for the Britain of yesteryear: brands and icons persist in Malta where they have ironically failed back in Blighty.
Malta uses the British plug socket formation.