Island Hopping in the Central Visayas
Where: Manila, Cebu, Pescador, Bohol & Panglao islands. Philippines. Asia.
When: September - October 2022
What: Manila street scenes, Fort Santiago, Maynilad (Old Manila), Manila Cathedral, Technicolour Jeepneys, Divisoria street market, Sea kayaking in the Bohol Sea, Swimming with thousands of sardines: 'The Sardine Run', Swimming with turtles at Moalboal, Mahogany Forest, The Chocolate Hills at Bohol.
How: International flights, Grab Taxis, Walking, Tuk-tuk, Bangka boat, Domestic flights, Ferry, Driver hire for a day.
Country counter: Country No.92
Wildlife spotting: Starfish (various species), Sardines, Turtles, Dolphins, Jellyfish, Sea urchins, Geckos.
Illnesses or mishaps: Being stung by jellyfish (three times) which caused my arm to go numb and fingers to tingle; falling victim to the best scam ever - a blessing in disguise; dealing with a bout of 'Bohol Belly' whilst on Bohol Island which eventually required a course of antibiotics; significant airline delays on my return flight home.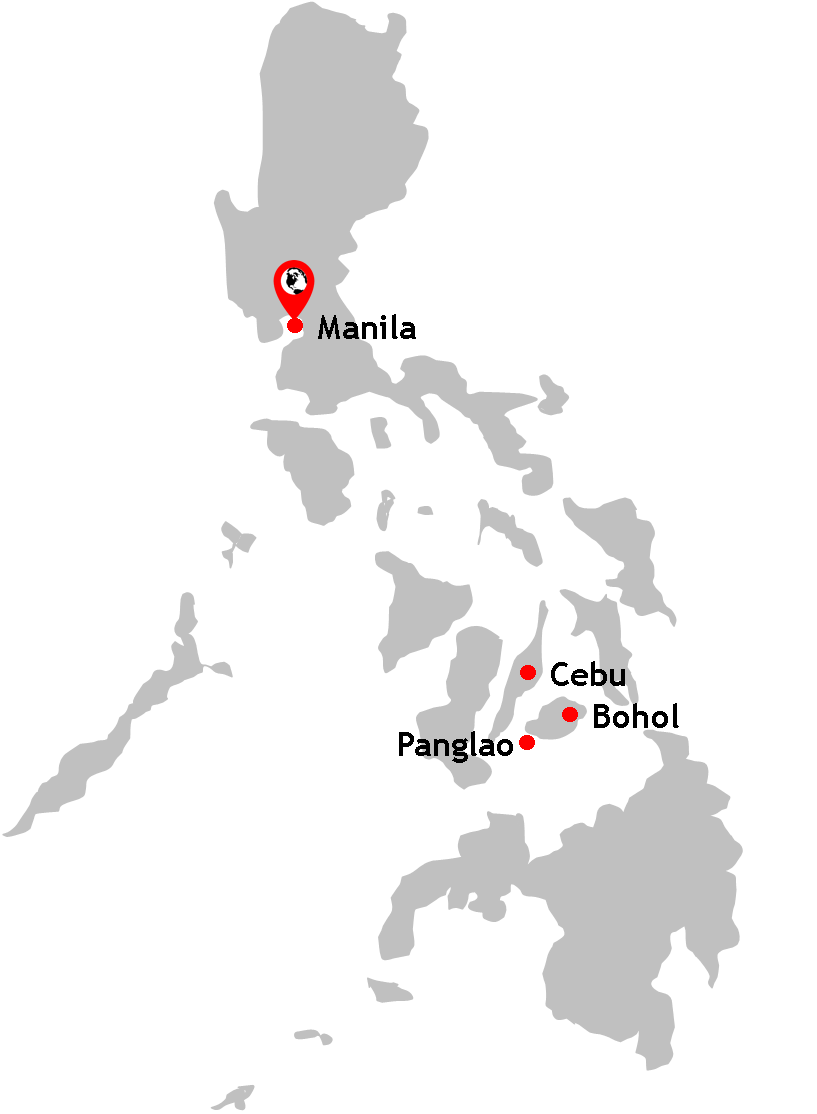 The Philippines was to become my first foray out into the world after a two and a half-year international travel hiatus which saw me restrict my travel to domestic adventures inside of Australia only. The pandemic was to become, ultimately, an opportunity to explore my own metaphorical backyard but, after such a long period, it was high time to once again spread my wings beyond my own Antipodean borders. Initial research yielded depressing results; flight prices were exorbitant but then, enter stage left, the Philippines! September is shoulder season for this, Asia's only Christian country, and thus flight costs were reasonable (comparatively speaking). And so, admittedly, the Philippines became my 92nd country by default, by the sole virtue of (a) having cheap flights available at the right time and (b) by my not having been there before (this last criterion is particularly important). Not only was this my first time travelling internationally for years but was also my first time travelling on my Australian passport as a citizen of Australia. If anything were to go amiss, I would find myself dealing with Canberra and not London. So, welcome to the Philippines and the resumption of my international adventures. As I was to discover, the Philippines was sure worth the wait.
Manila is everything I anticipated it would be, and I was pleased about that. It has all the noise, craziness, dirt, colour and freneticism of a major Asian city. Many travel writers online espouse the virtues of skipping the Filipino capital altogether; "there's not much to see", "give it a wide berth" and "move along" were among the remarks I read. It depends what you're searching for in your adventures but, I would attest, this misses the point of travel; travel shouldn't just be about iconic buildings, famous landmarks or paradisal beaches. It's about witnessing the lives of others in a different land, about culture, about life and thus prompting you to reflect upon your own. Indeed, the streets of Manila are some of the most evocative, culturally rich and photogenic in Asia: crumbling tenements collapsing gently, in slow motion and in a state of fairy-tale decay, their corrugated tin hats and buckling pastel bodies seemingly having grown organically up from the ground itself. Stray cats flake out in the sun, people beam smiles and an insanity of cables knit above your head. Not everything has to be beautifully pristine, world-renowned. Beauty can also be found in the grubby, the everyday, the down-at-heel. In travel I have come to appreciate that beauty is to be more readily found in the ordinary, not the extraordinary. I could have spent hours wandering these kinds of streets were it not for temperatures which frequently passed thirty degrees and, indeed, when combined with the kind of humidity to be expected when travelling in The Tropics. To an international traveller at least, Manila doesn't have impressive buildings or world-class landmarks but, I would argue, it is the sum of its parts that make it a destination worth, at least, a day or two. I also prefer to start my travels in a country in the capital city; it helps me to get my bearings and orient myself before heading further afield.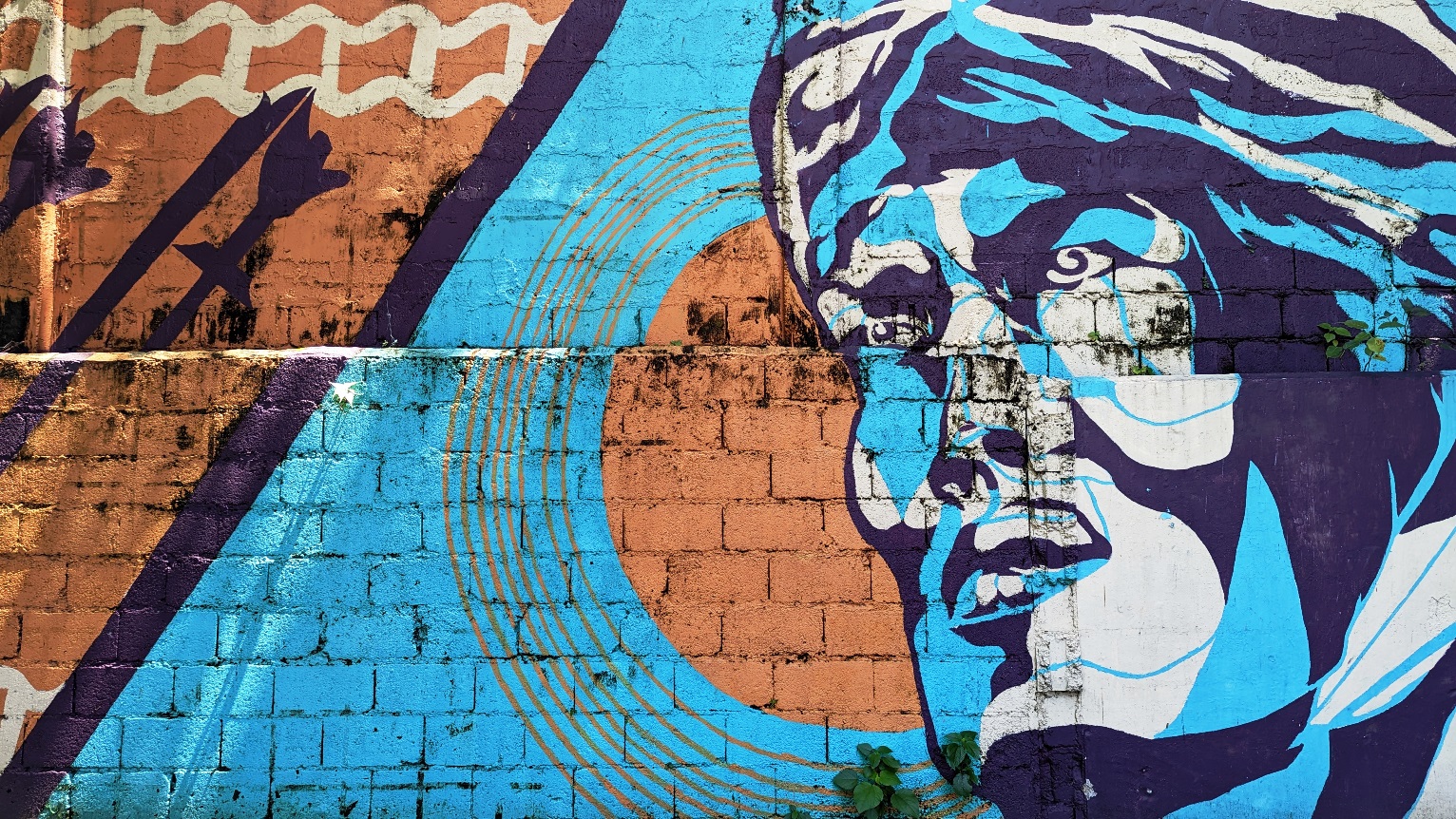 A n evocative mural of native Chieftain Rajah Soliman in the grounds of Fort Santiago.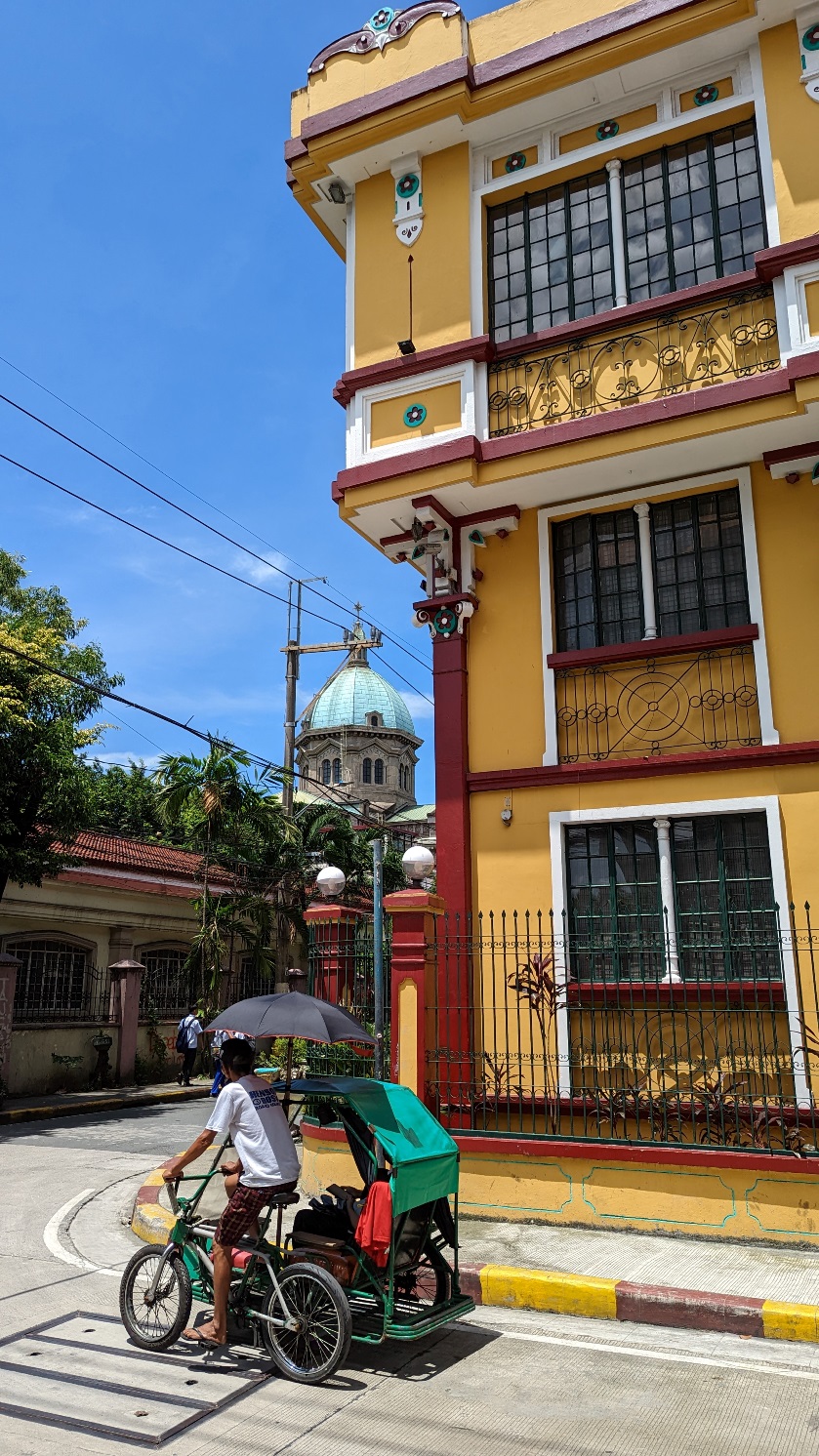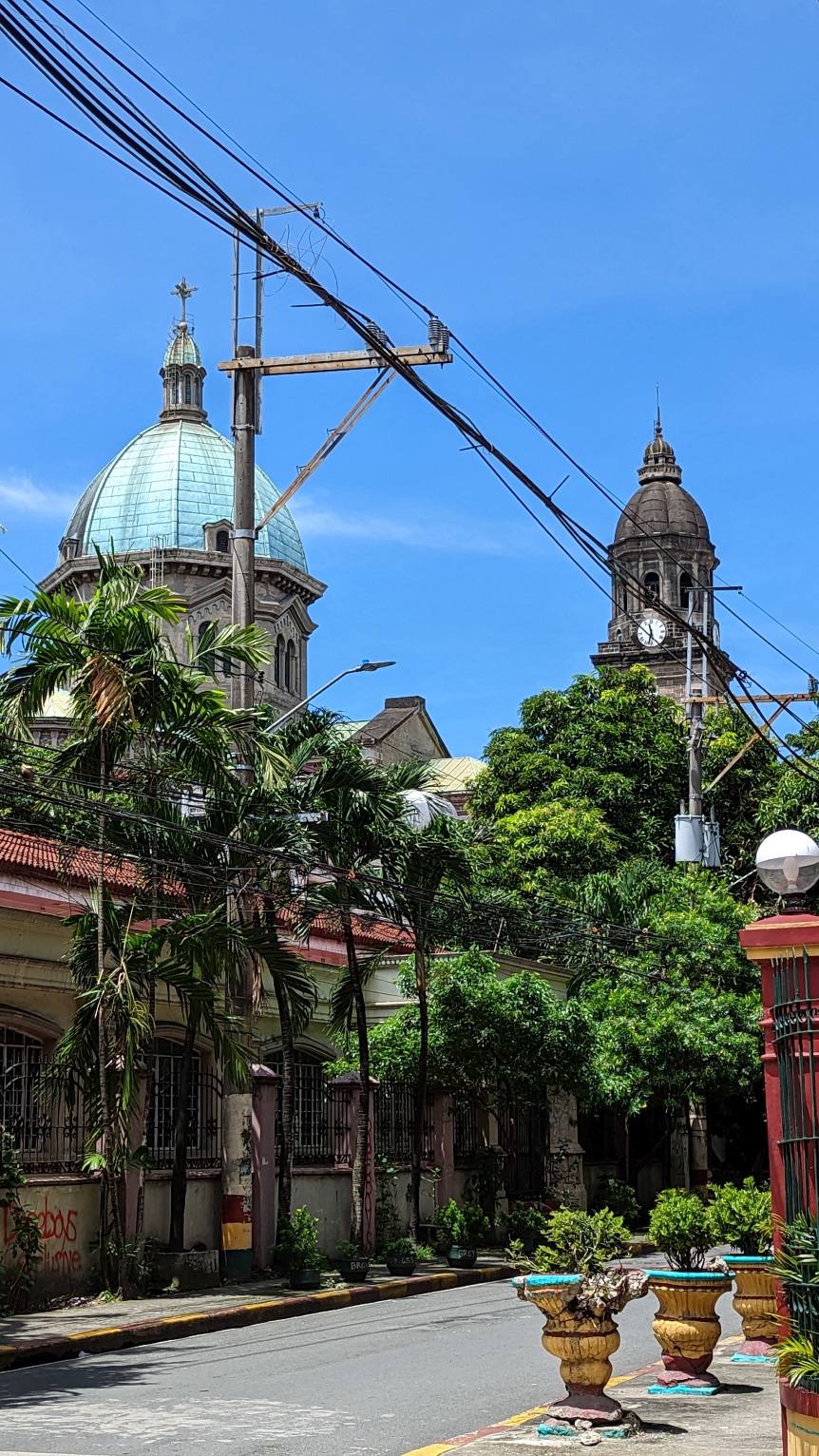 Street scenes from the Intramuros (Latin:"inside the walls") area of Manila. The domes are those of Manila Cathedral.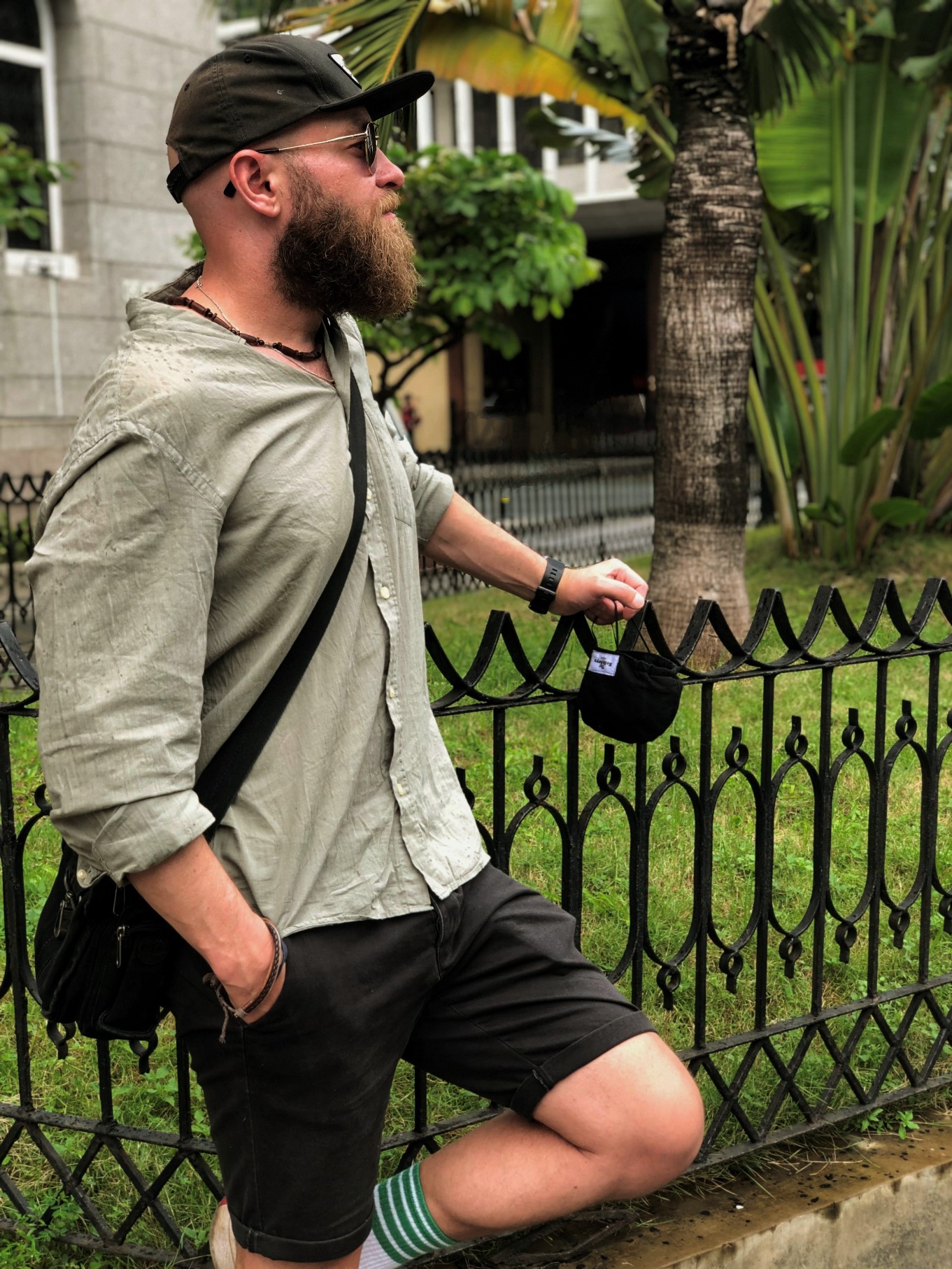 Awaiting for my Grab Taxi outside Manila Cathedral.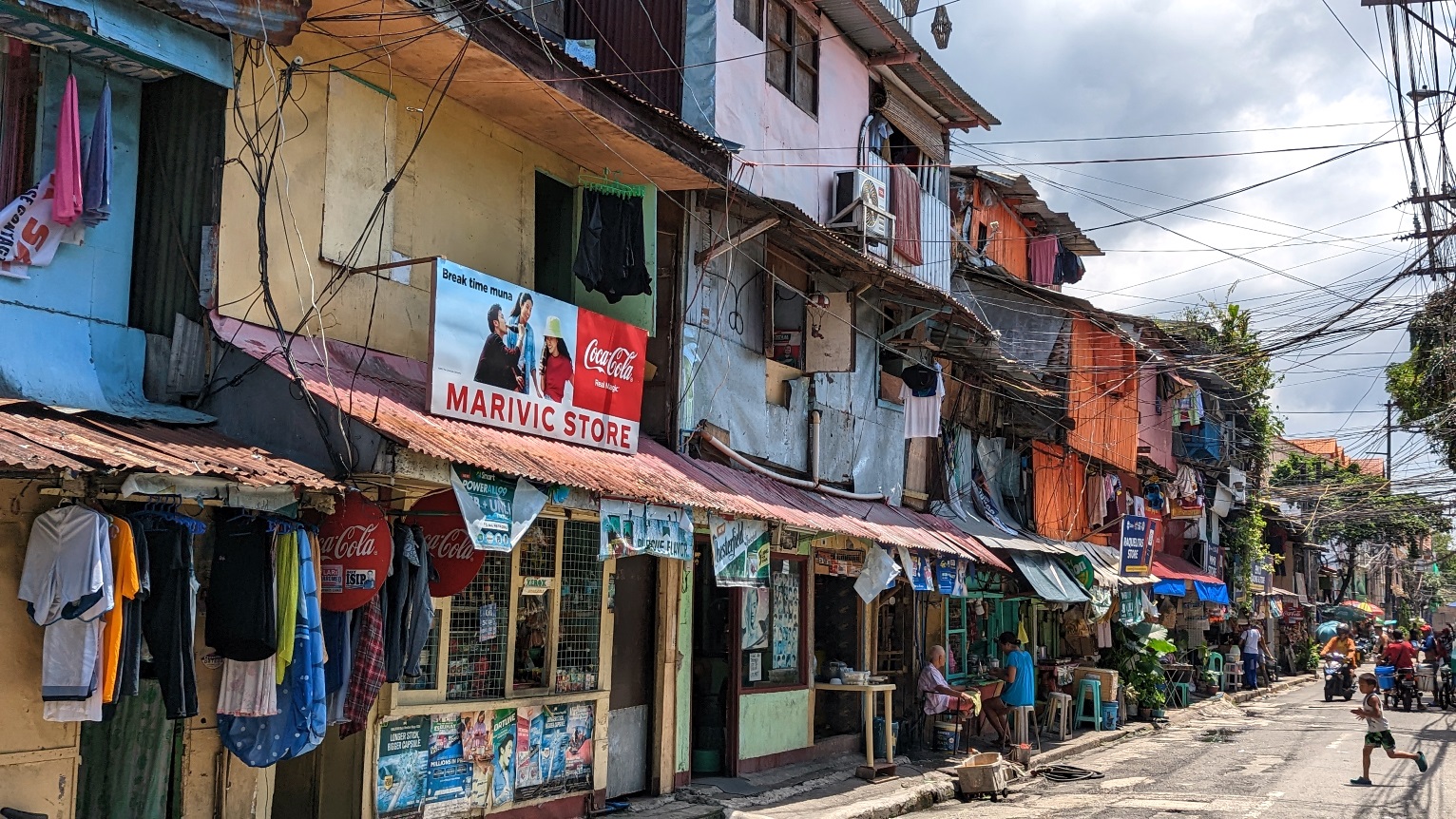 I could wander around manila's streets for hours - and would have done so had it not been so hot.
Central Visayas: Cebu, Pescador, Bohol & Panglao islands
Of course, Manila is not the Philippines. A trip to this country in no way could be considered complete without journeying to at least a couple of its islands. With thousands to choose from, the creation of any kind of itinerary is initially a daunting one. Our first taste of Filipino island life came in the form of Cebu, with a one hour flight from Manila to Cebu city on Cebu Pacific Air. This was to be a two night stop with only one full day on the island, so we had to make the most of it. We did what so many come to Cebu Island to do: head south west to Moalboal to snorkel, swim with thousands of sardines and alongside the majestic turtle. We organised the trip ourselves, choosing to avoid the easier option of booking ourselves on a tour with other tourists and, instead, hired a driver for the day. Fred drove us the long, bumpy road to Moalboal. We passed village after village, town after town, their varying sizes nevertheless characterised by the ubiquitous crumbling of buildings pieced together by tin, plastic and other disparate, found materials. Dogs with mange roamed the streets, people urinated by the roadside, crazy cables strung out across roads, table-top stores punctuated buckled pavements and locals stood around with their tee-shirts rolled up to their chest exposing their sweaty bellies. Traffic marred our journey and meant that, on many occasions, this all played out in slow motion - a slow-moving Polaroid of poverty. After the first two hours this kaleidoscope of repeating shapes and colours became overwhelming. I was relieved when such scenes began to fade into something more rural. Lumpy mountains, banana palms and wide vistas were a welcome sight indeed. After three hours solid sat inside Fred's car we arrived at Moalboal a little dazed and bewildered.
We headed to the main tourism office down at the harbour to purchase our permit to snorkel. The price was P100 each. Instead of heading inside where we'd initially set our sights, we were redirected to a desk-slash-table where a man told us to fill in our details for the permit. I looked at the paper and it had an official-looking crest at the top. Long story short we were being scammed. But that's not the whole story. The scam involved us ending up on a private boat where we were taken snorkelling on the reef at Pescador Island, and then swimming with the sardines and the turtles closer to the shoreline. We got to do everything we came to Moalboal to do without any of the hassle involved in organising it on the fly. The crew were great and were on hand with a bottle of vinegar when I was stung by jellyfish. Three times. Of course, it was when we disembarked the boat that the scam became apparent. We were charged P2500 (around A$80) for the boat. The P100 had just been for the permit, was not connected to the boat journey nor the three hours we spent snorkelling. However (and it is a big however), as far as scams go I was almost glad it played out this way. The amount charged may be a lot of money to a local, but to me was a reasonable price for what we received. What's more, had we tried to go it alone we would have had to engage in a whole series of bartering exchanges with people about hiring gear, boat rides, wheres and hows. As it was, the scam, whilst leaving an unpleasant taste in the mouth, made life easy - other people took the mental load - we just followed along and enjoyed the experience. It was also a private tour, rather than a group tour, plus we got to travel on a traditional boat steadied by a bamboo frame and not a generic, modern chunk of metal I saw other travellers arrive in. Sometimes in travel, blessings come in all shapes and sizes.
The watery adventure started almost immediately. We climbed into the water (I was particularly glad of my hasty rock shoes purchase from the mall the day before) and walked through the shallow waters leading to the boat. A carpet of strange-looking seaweed was decorated with an incredible-looking species of starfish marked, as they were, with large black spots on an orangey-coloured body. We clambered up the ladder of the boat and were soon zooming towards Pescador Island. We spent around an hour snorkelling over coral reef, swimming down as close as we could to capture Philippines' underwater marvels on our GoPro. Swimming with sardines was next, an experience known as 'The Sardine Run'. Huge mesmerising schools of sardines twisted and curved, their silvery bodies sparkling as they caught the sunlight from above water. One school was particularly enamoured of a piece of large coral closer to the surface, posing the perfect chance to get closer to this underwater performance. I never expected to see any turtles; as a traveller of many years and edging ever closer to 100 countries, I've grown cynical about travel hyperbole in blogs and on social media where everything is perfect and oh-so-awesome. I've learnt not to get my hopes up. I'd seen starfish, been snorkelling and swum with sardines. I was happy with that. But the turtles eclipsed everything: these placid, gentle things with beautiful big eyes were completely unperturbed by my presence. They are, possibly, the most beautiful creatures on the planet. Swimming with turtles was never on my bucket list but it should have been. A day trip to Moalboal, which was only half-organised the day before, and which also involved a brush with Filipino scammers working in-hock with the local tourist office, was an incredible one which went a long way to justifying the entire trip to the Philippines.
The next day we would set sail on a ferry from Cebu Port bound for Tagbilaran on Bohol Island - famous for its peculiar bulbous landscape called Chocolate Hills and the gorgeous Tarsier monkey. We based ourselves on the nearby Panglao Island at the Amarela Resort, with its on private beach on the shores of the Bohol Sea. I was sure glad of its free availability of kayaks which meant that, on our first full day on the island, we were able to go sea kayaking, making our way along the coast, pulling up a nearby beach and enjoying the wild scenes. Indeed, so wild I was able to get my first ever selfie with a starfish, which was basking in a rock pool on the beach partially covered in seaweed. I was more careful to avoid the black sputnik shapes of the sea urchins which seemed to gather together in small spiky clusters; stepping on one in Fiji, and having to pick the spines out of my feet with tweezers, wasn't an experience I wanted to repeat. A hot coffee down on the beach (in 30' heat) rounded off a memorable day. It was hotel coffee so not exactly to standard but that didn't matter; it'd been a great day in the Philippines (again). The following day involved a 75 kilometre drive to the centre of Bohol Island and an icon of the Philippines: the strange hill-like dollops known as Chocolate Hills.
Once again we fell back on the services of an online booking company to procure a driver for the day. We headed into the dead centre of Bohol Island, crossing the bridge from Panglao. The Chocolate Hills are so-called because at certain points in the year the vegetation dies away and the hills turn brown. We would be arriving on a day when the hills were a distinct shade of green. Nevertheless, the scene of these bulbous mounds stretching as far as they eye could see was marvellous indeed. Once again, I feared disappointment but was pleasantly surprised. The landscape oscillated uncomfortably between the playful and the unsettling, the landscape taking on the semblance of a green body with large diseased welts. It was at Chocolate Hills where we were to become a tourist attraction ourselves. A group of excitable women descended, asking to have their photos taken with us - precisely the same phenomenon we had experienced previously in a number of other Asian countries, namely Burma and India. We played along, letting them take their harmless holiday snaps with us included, before we collpased back into the air-conditioned comfort of the car, chased off the hills themselves by the oppressive humidity and heat combination.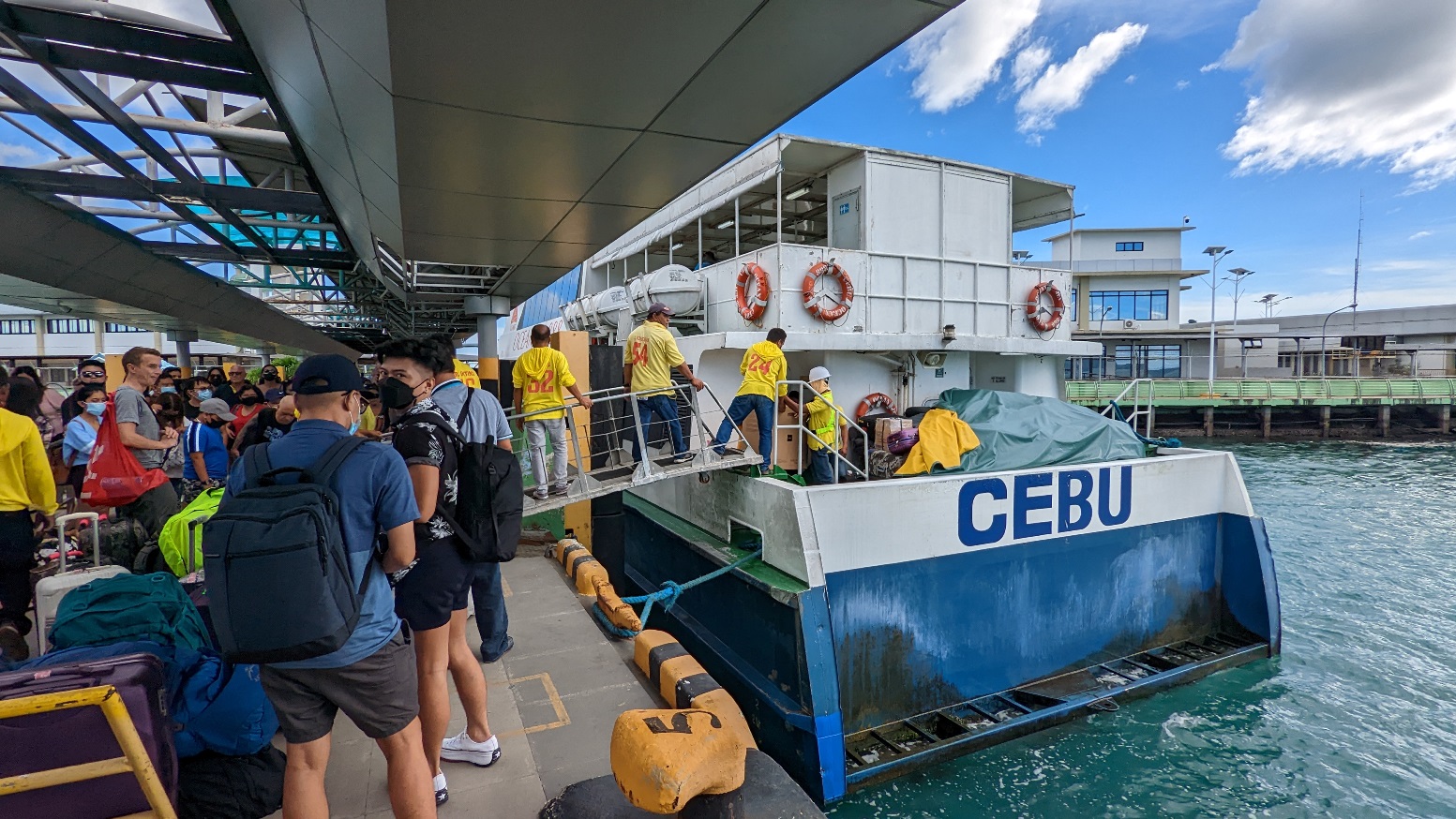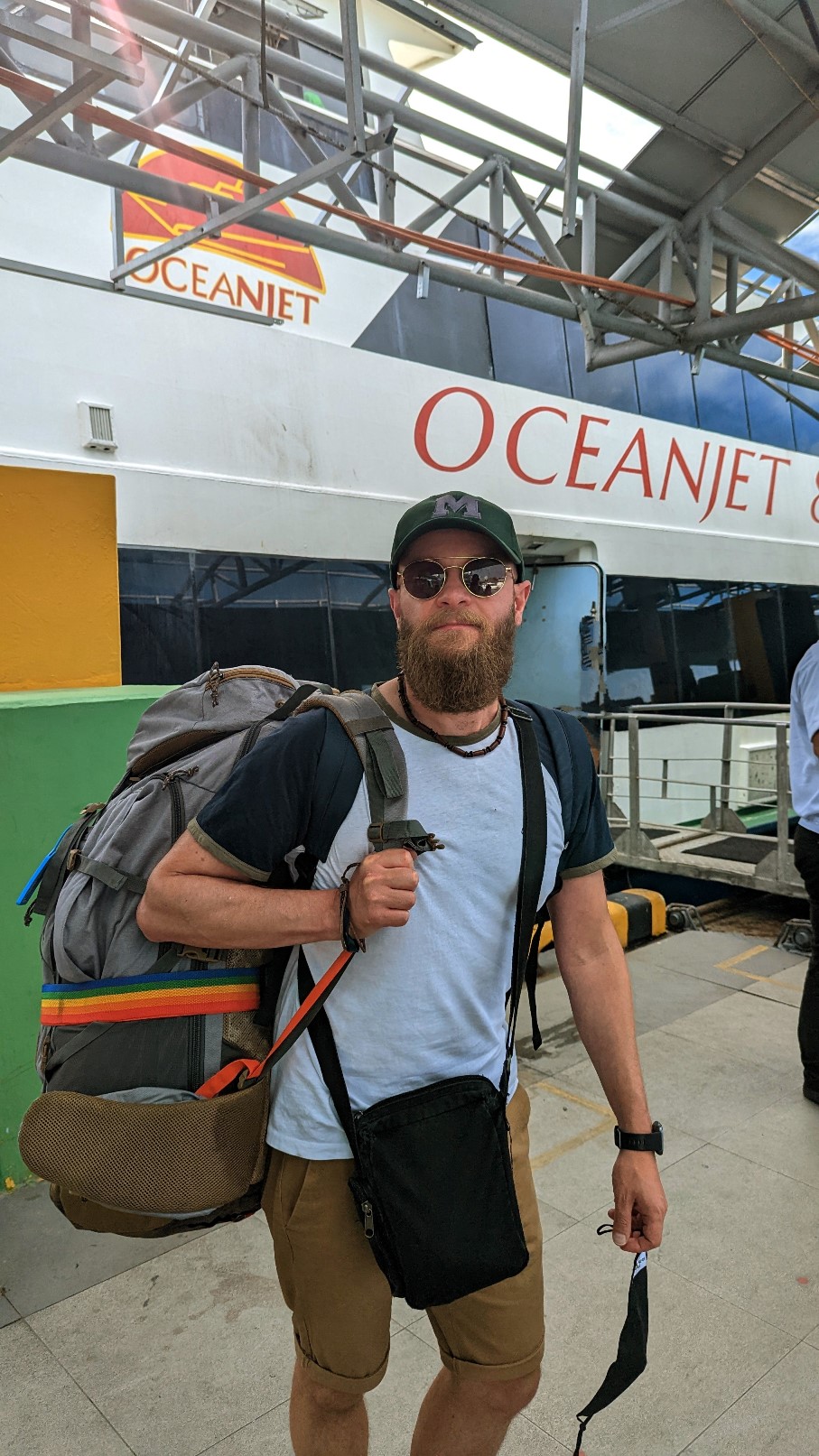 Catching the OceanJet ferry from Cebu to Tagbilaran on Bohol Island.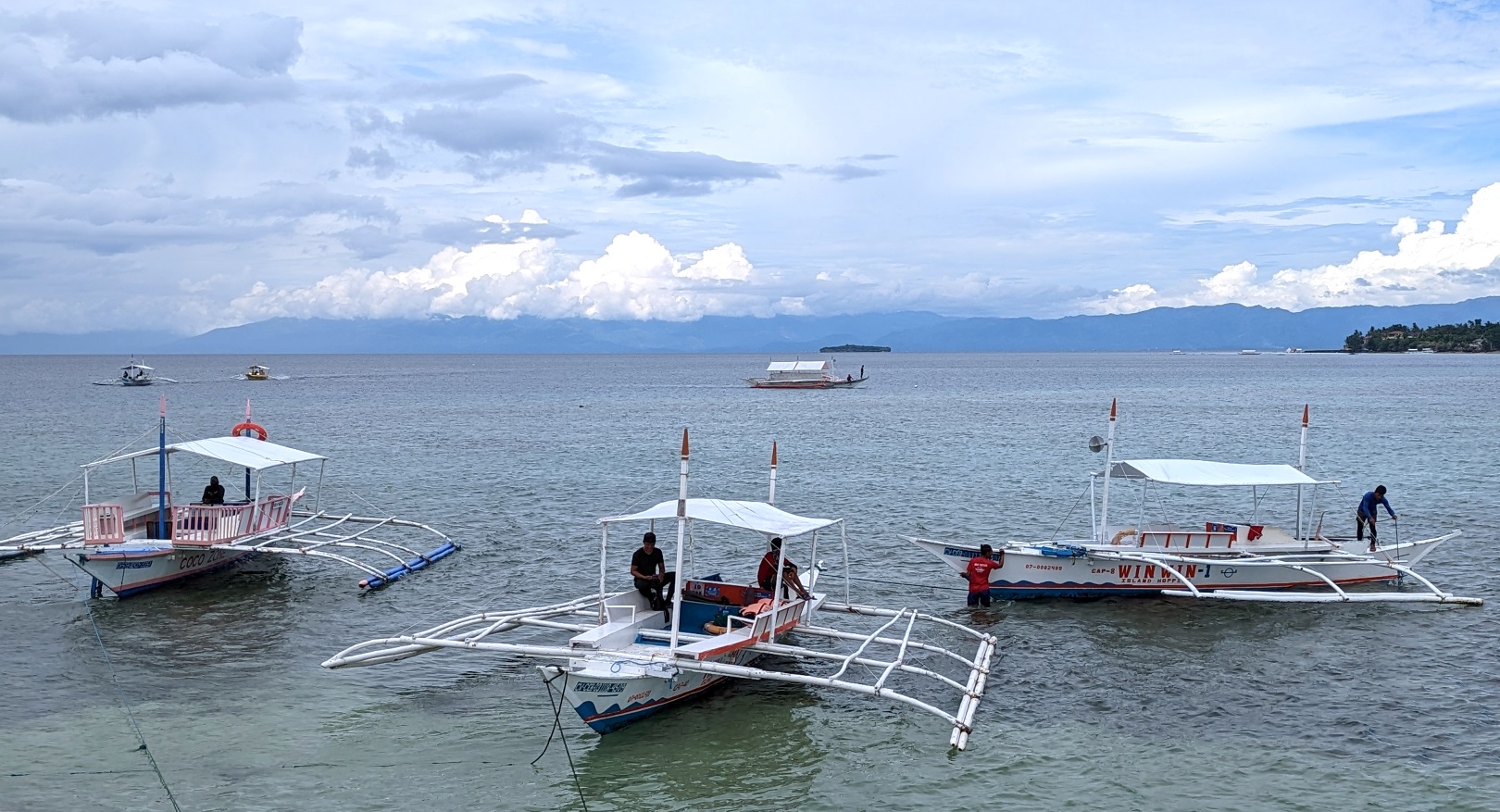 Traditional Bangka boats line the coast at Moalboal at the south-western end of Bohol Island.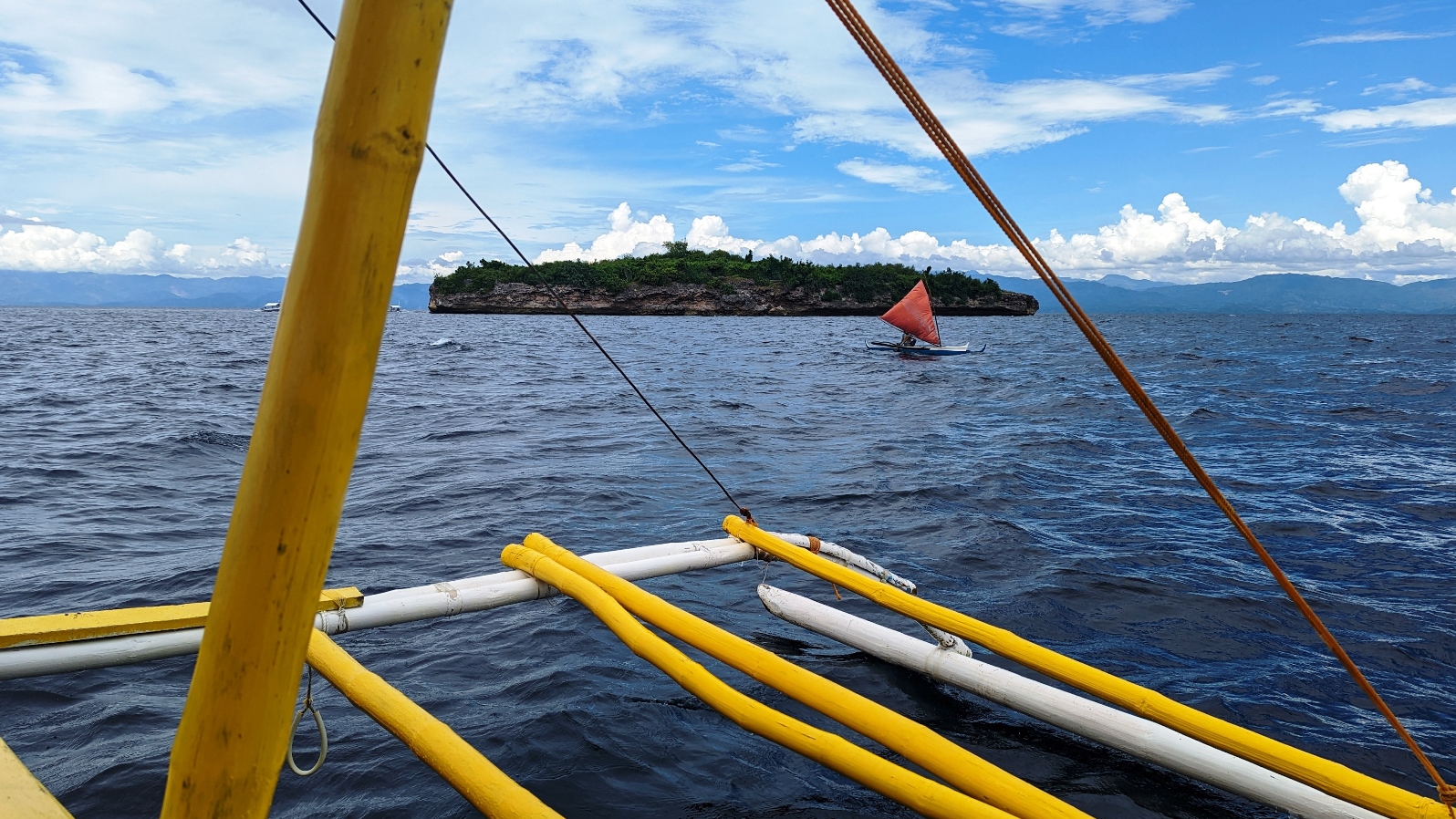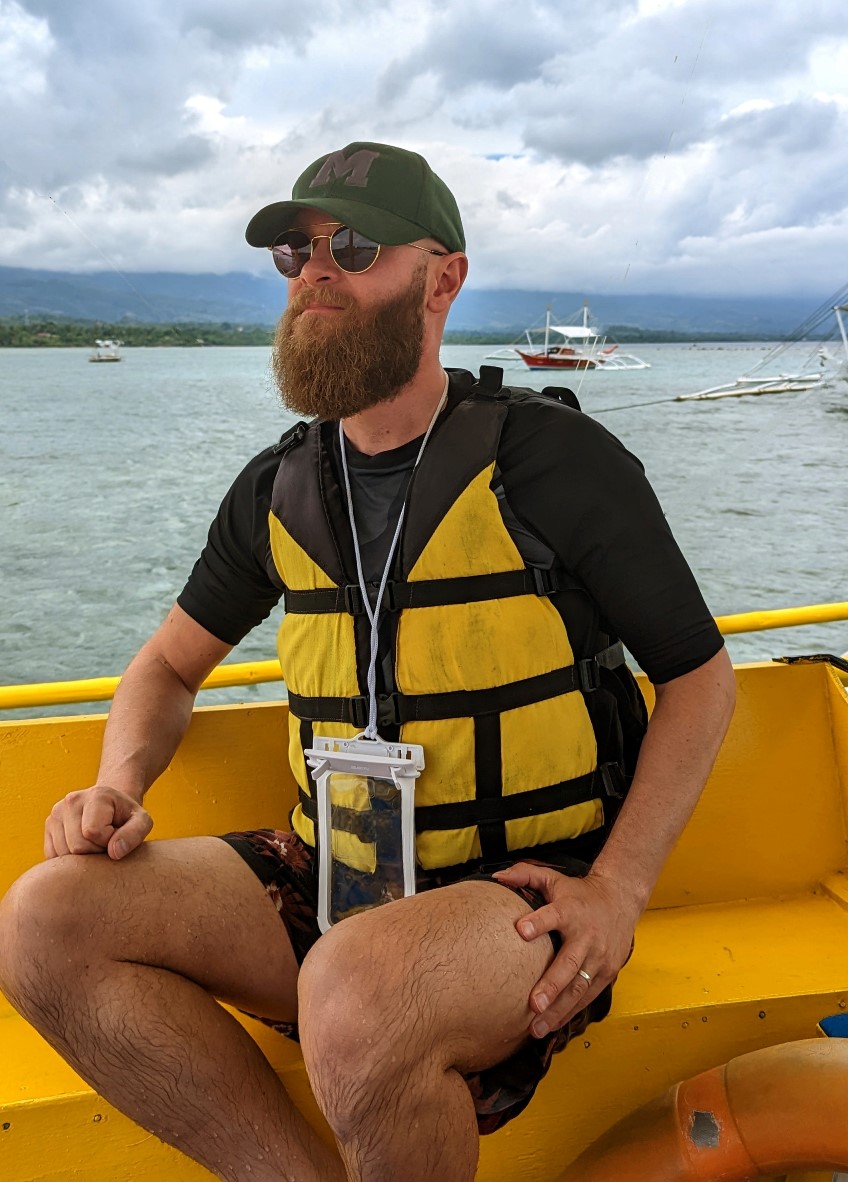 The view of Pescador Island from our Bangka boat.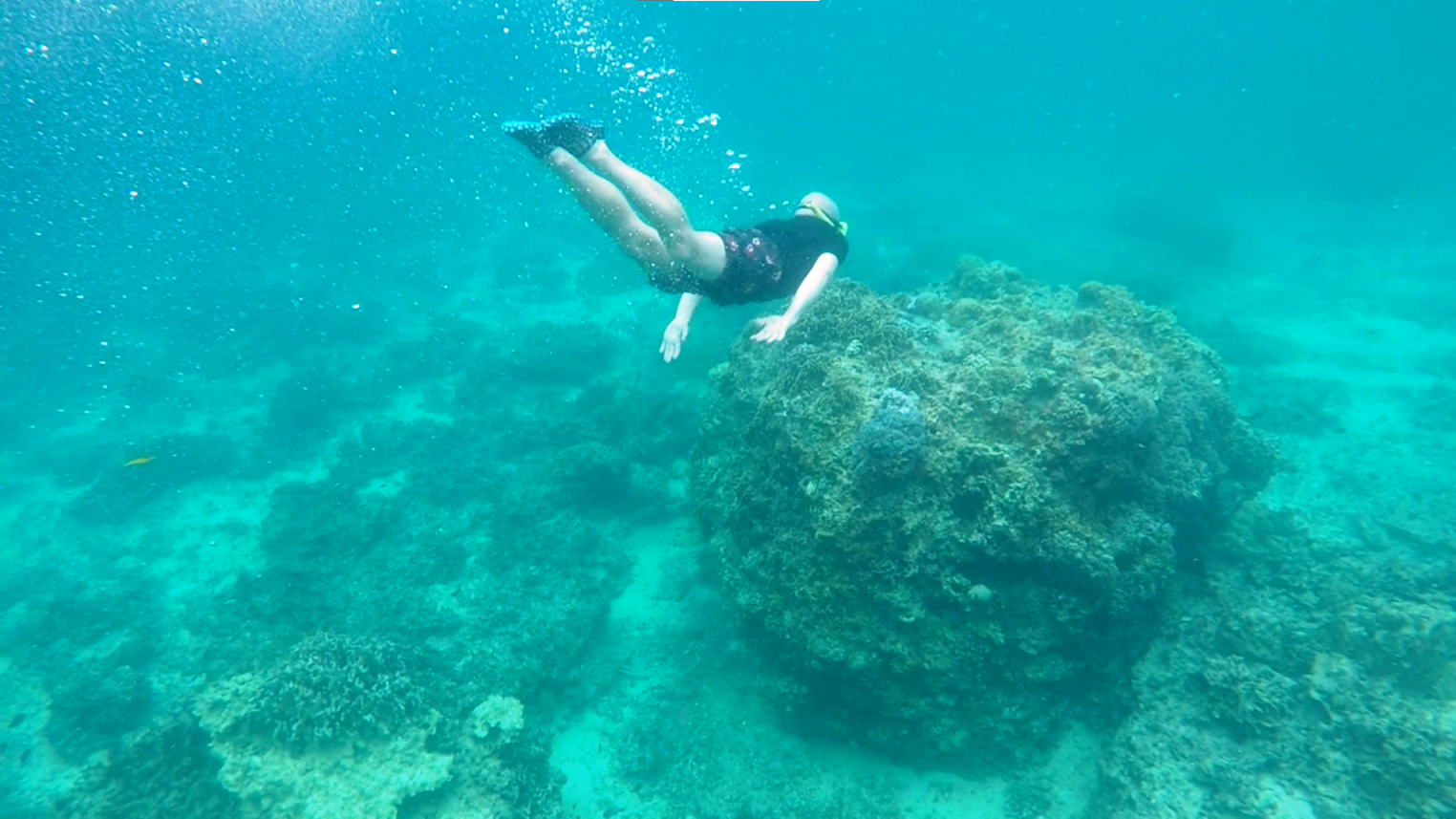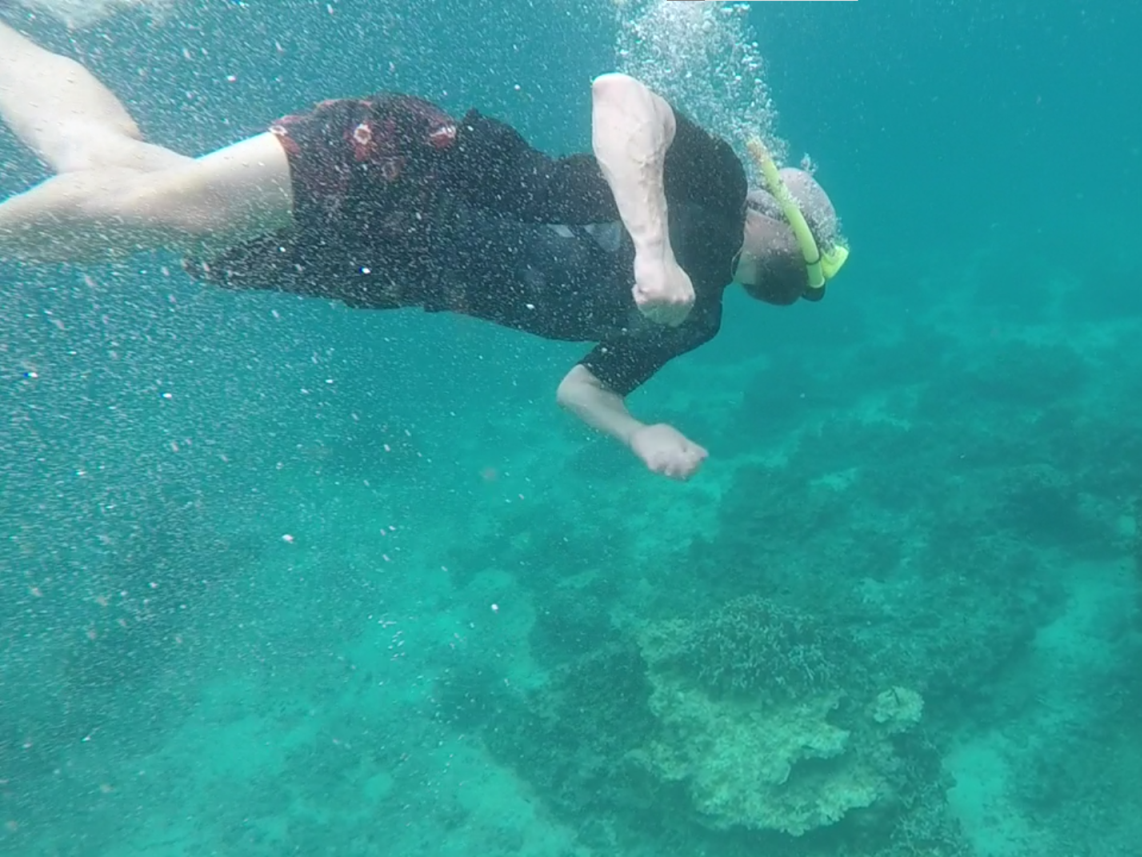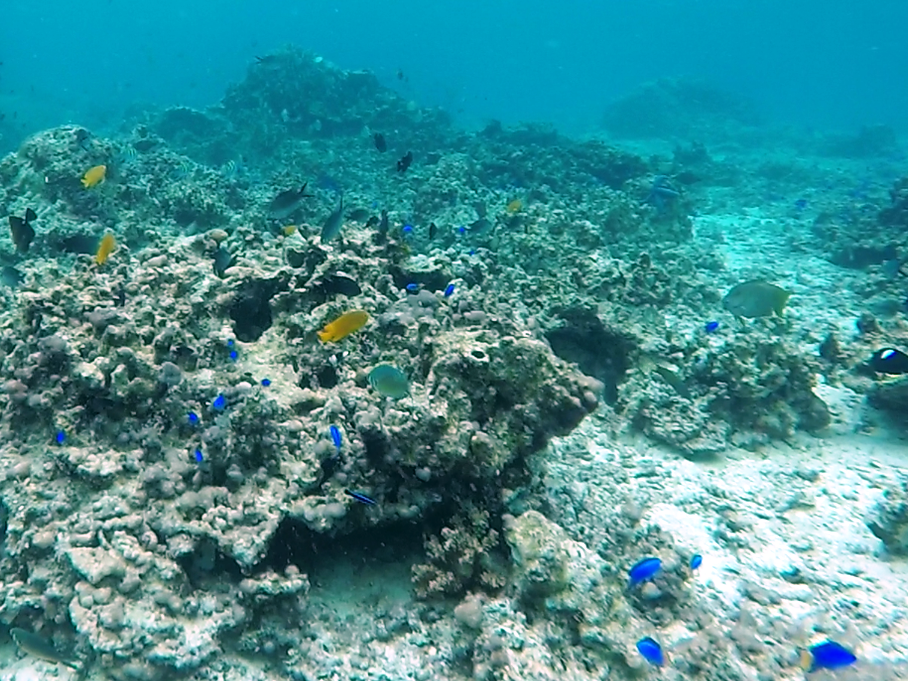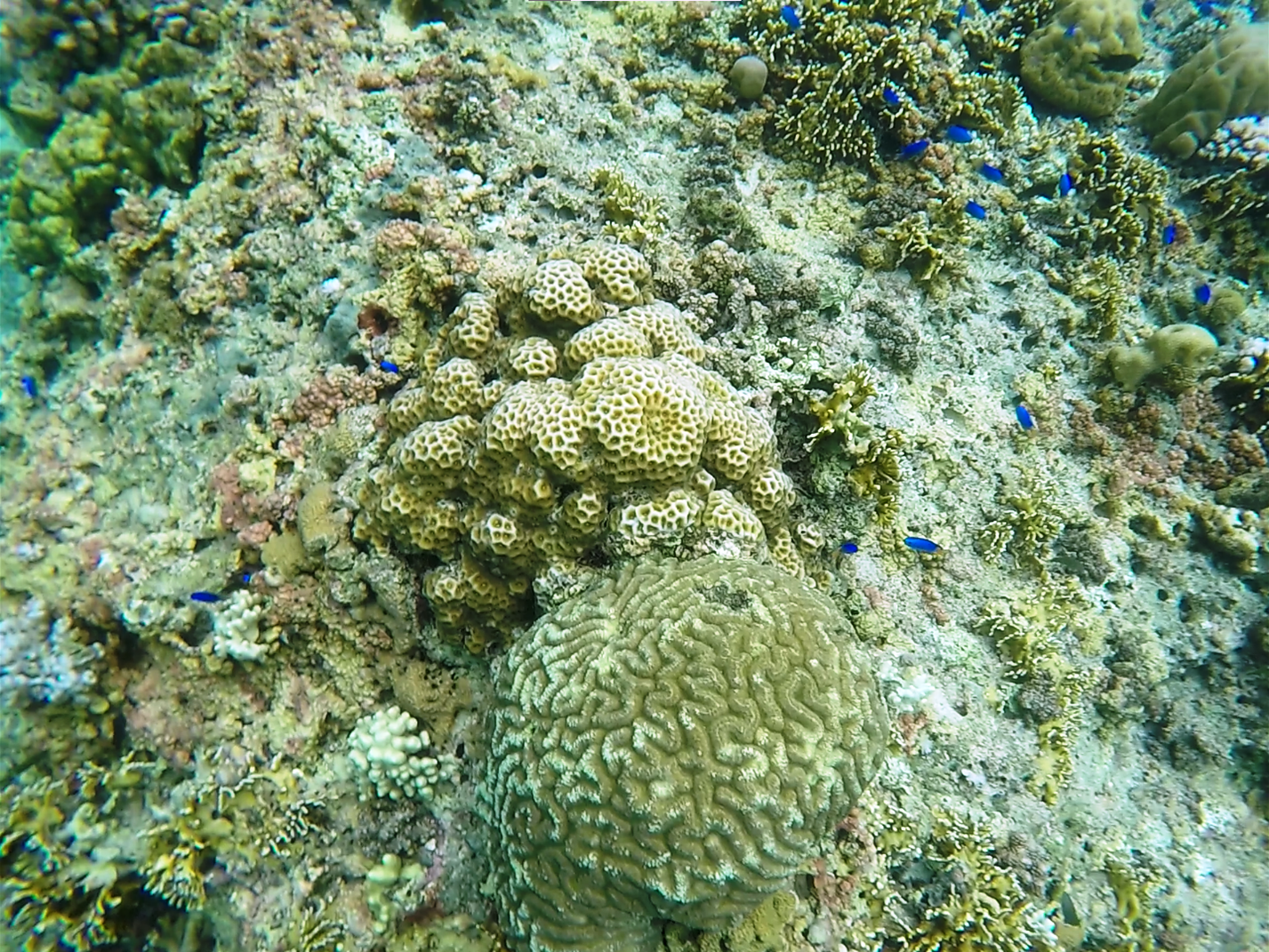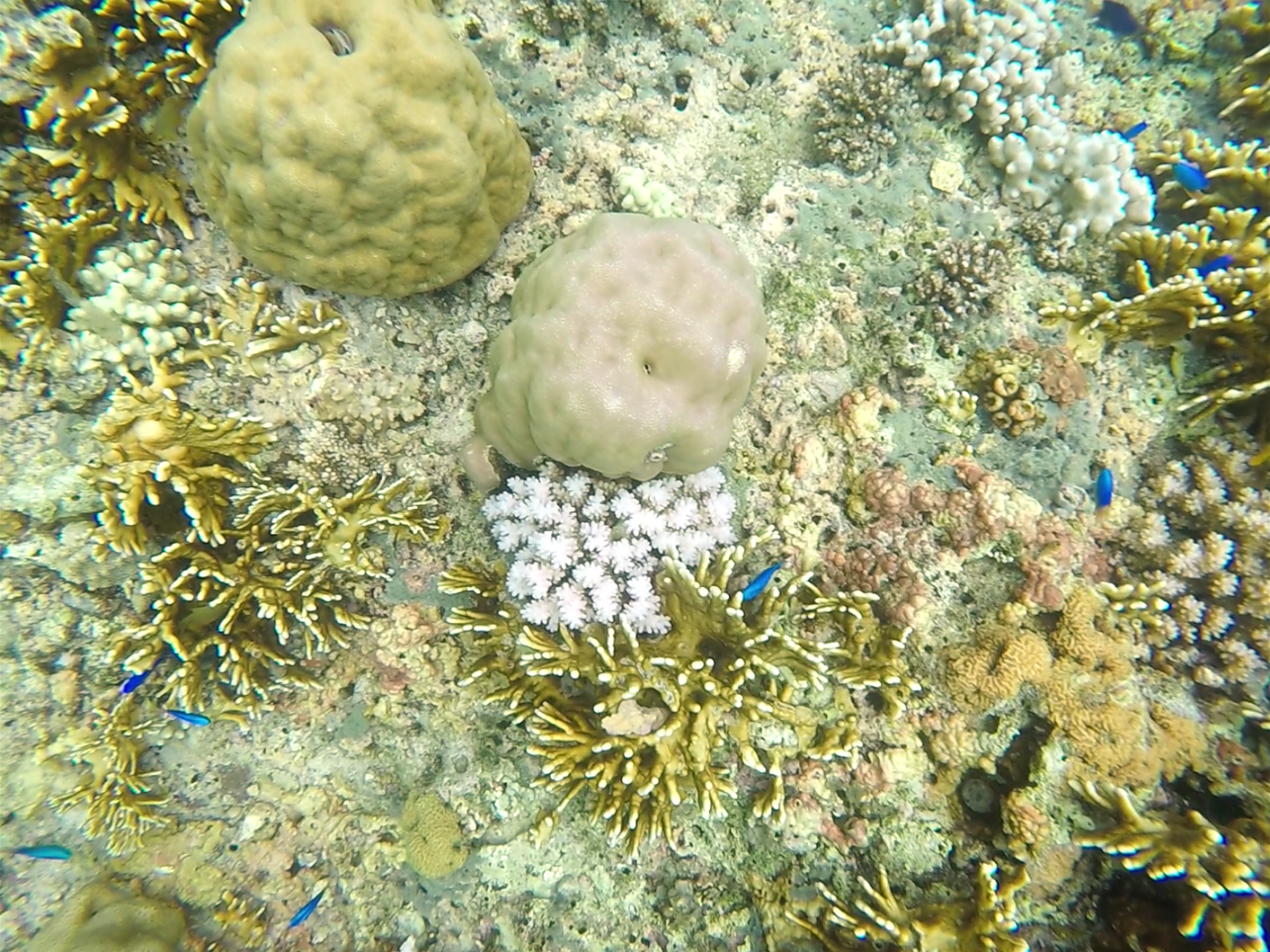 Snorkelling in the coral off the coast of Pescador Island, a small island off the coast of Moalboal.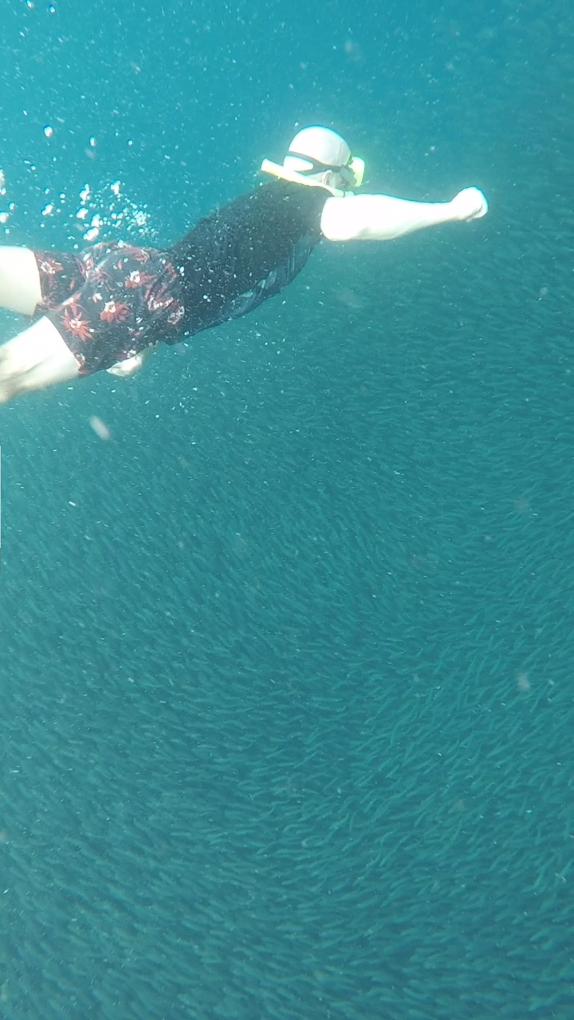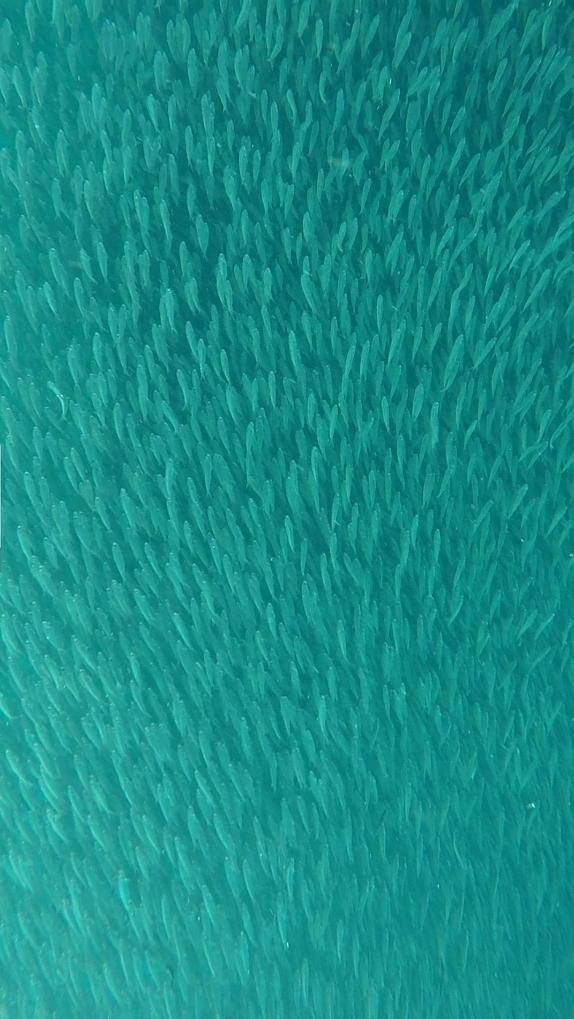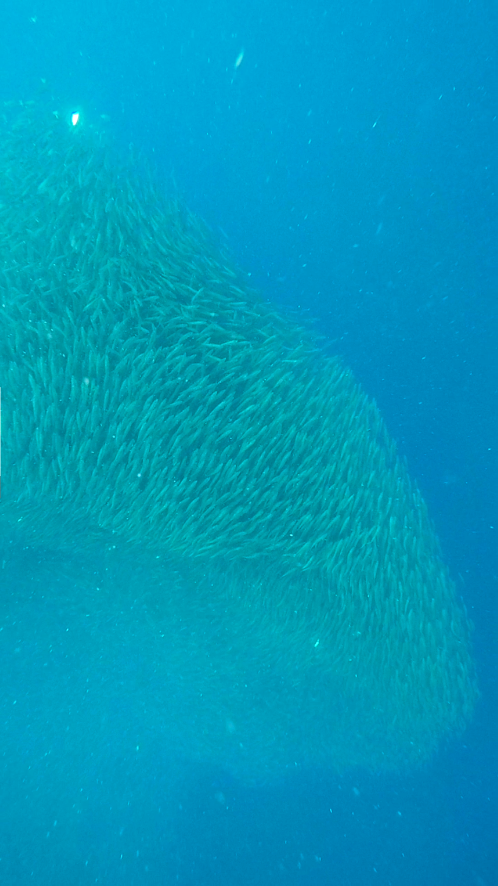 Swimming with thousands of sardines off the coast of Moalboal on Bohol Island, known as The Sardine Run.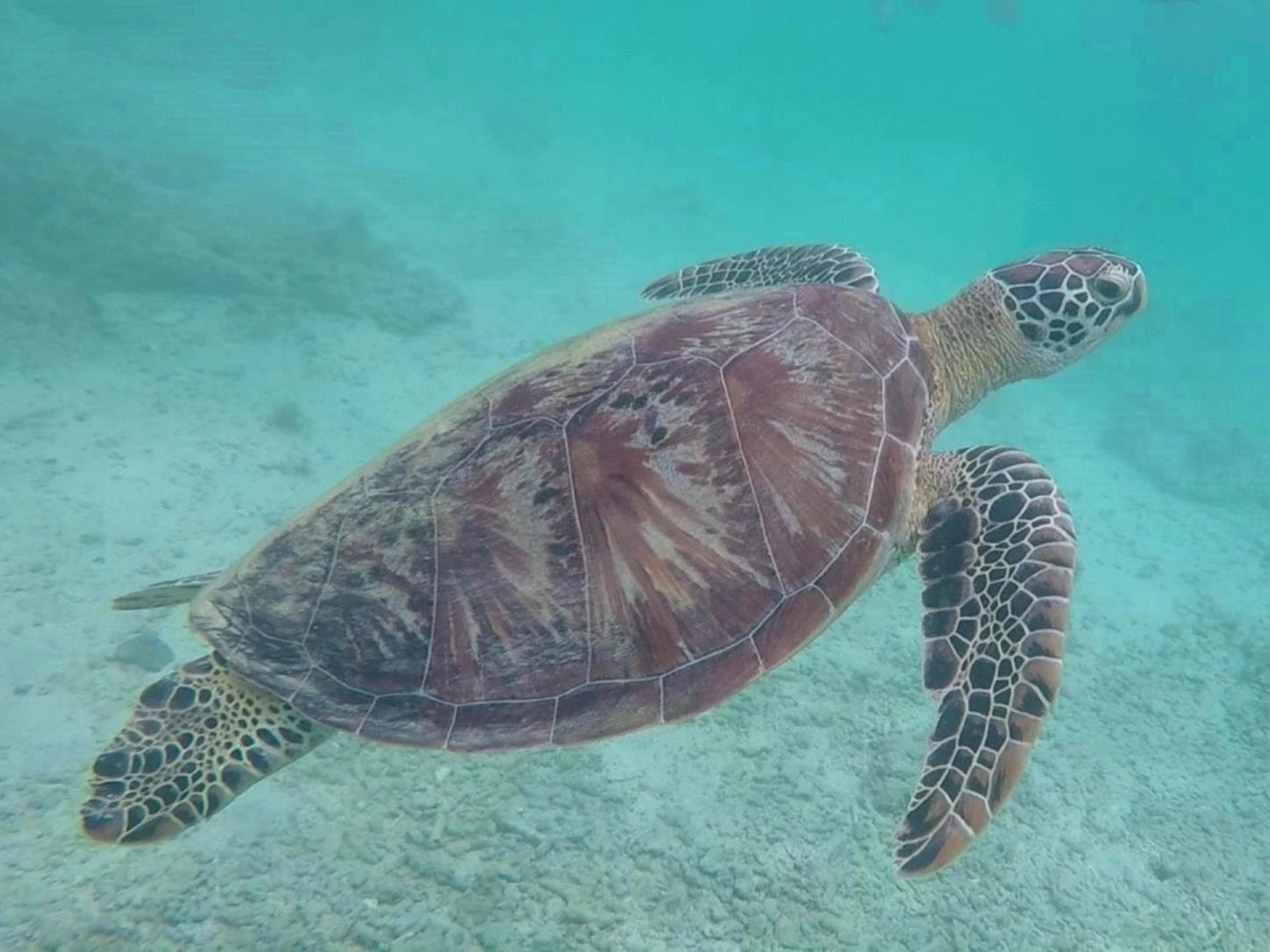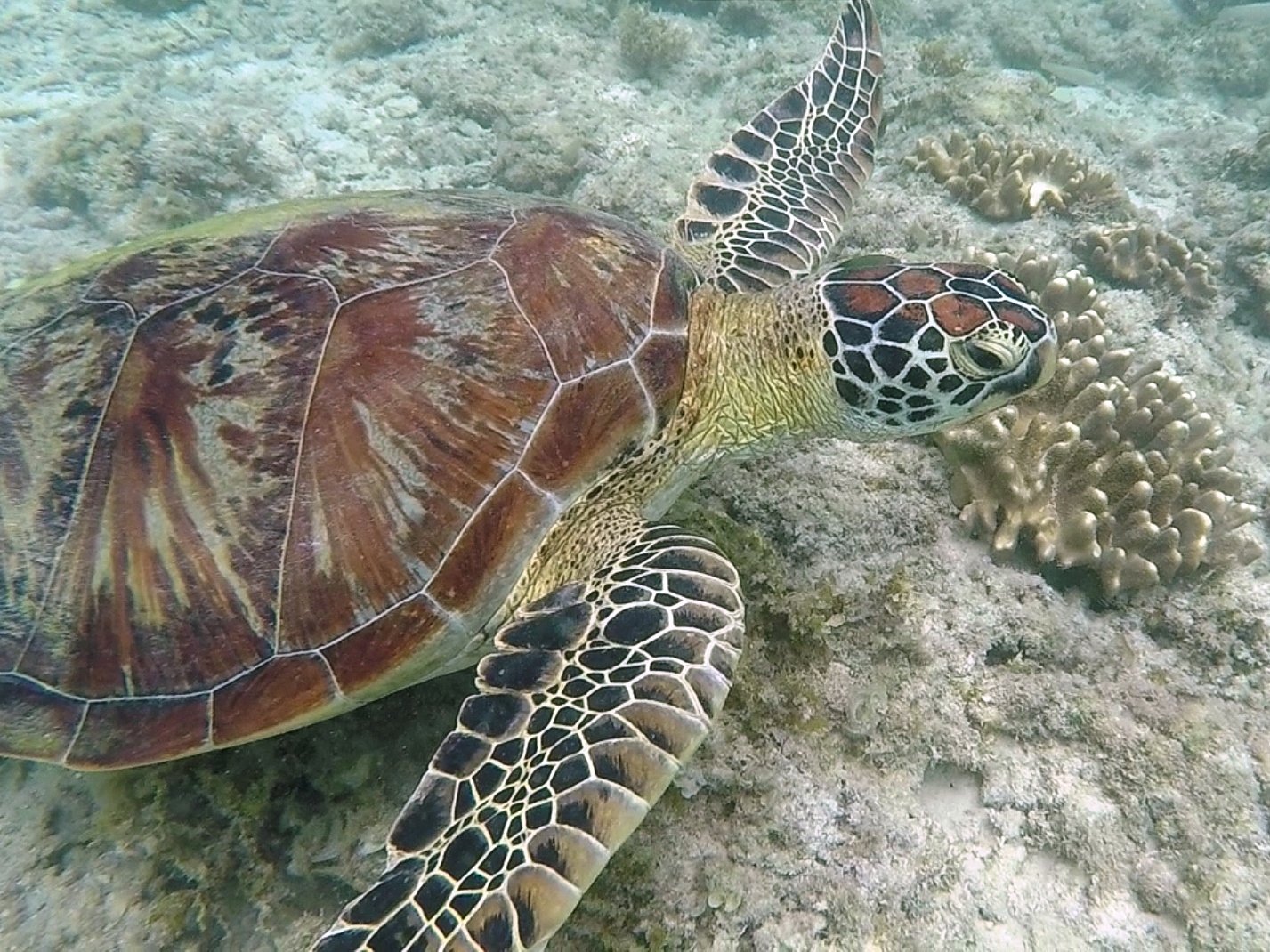 Swimming with turtles wasn't on my bucket list - but should have been.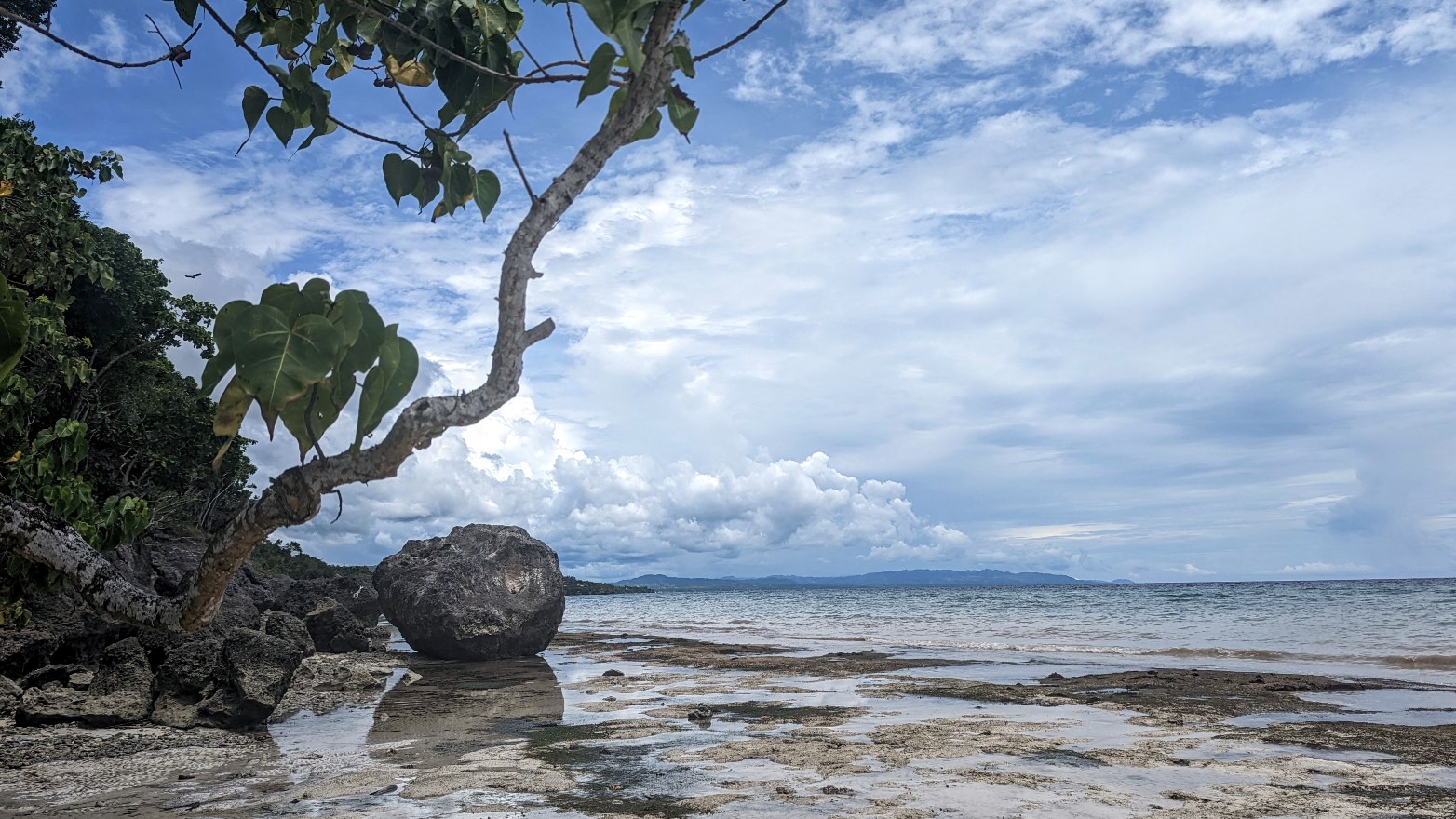 Kayaking along the coast of Panglao Island, just off the coastline of Bohol Island.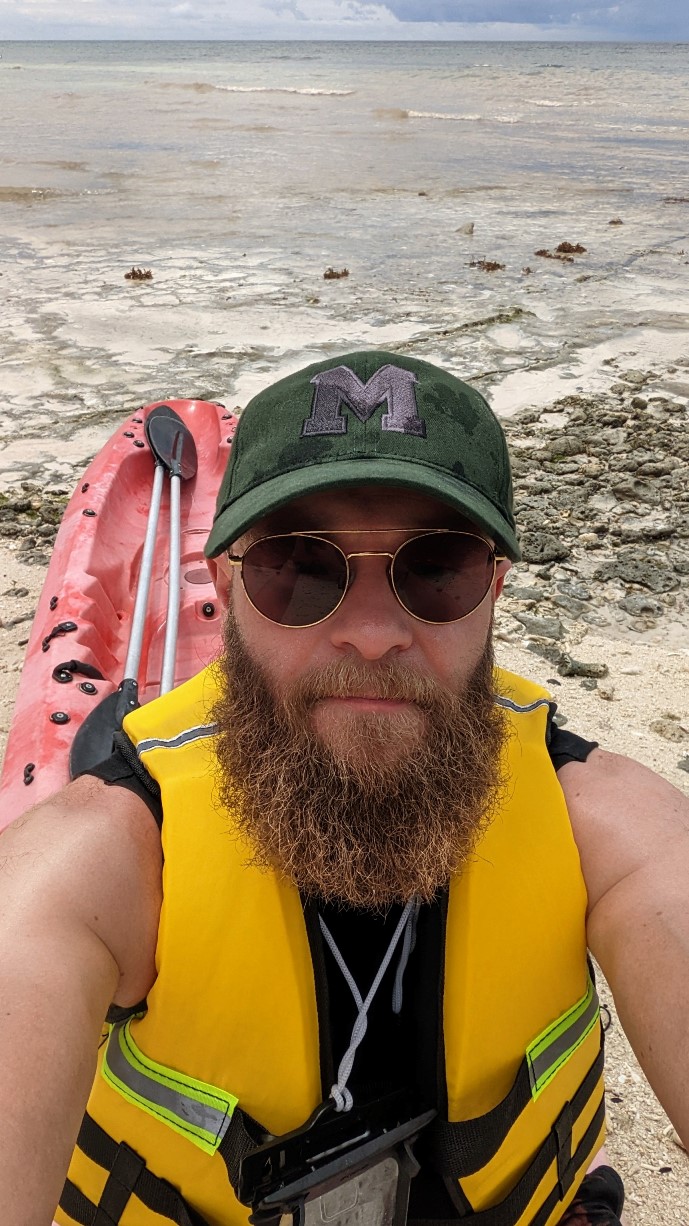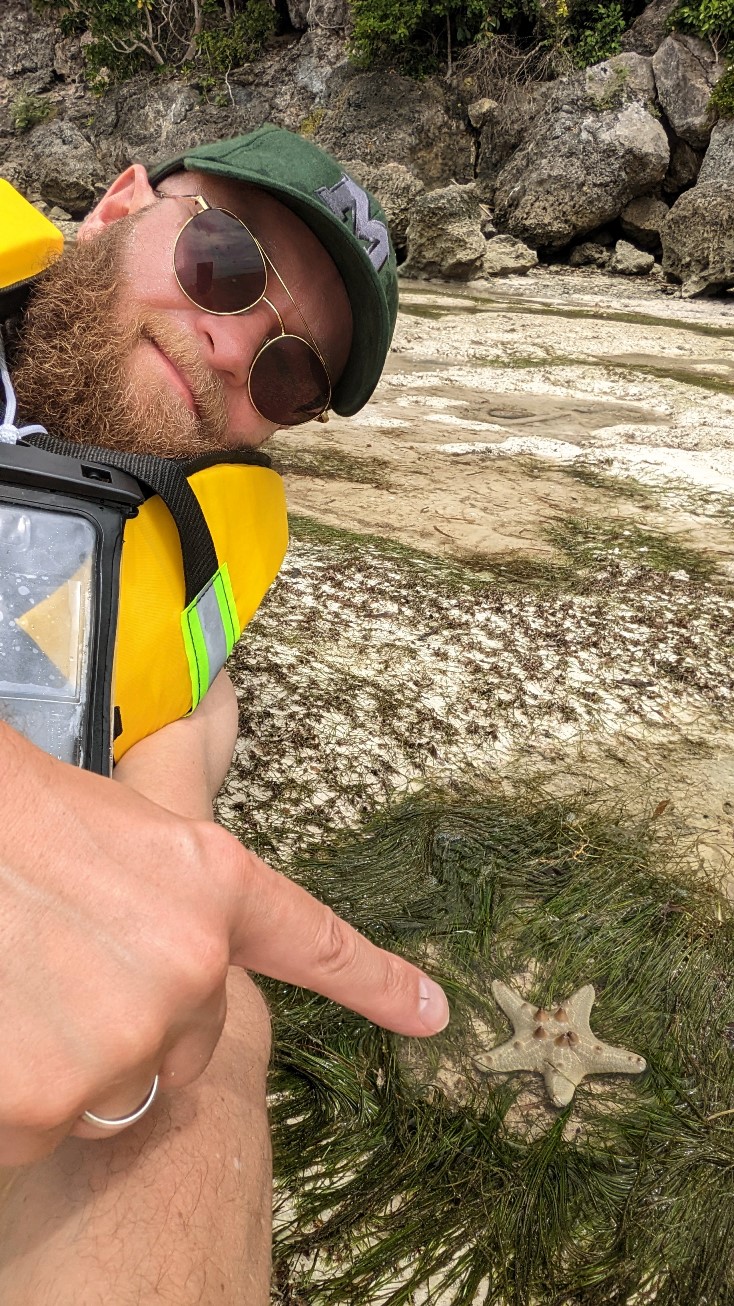 Sea kayaking in the Bohol Sea along the coast of Panglao Island. Right: Starfish selfie.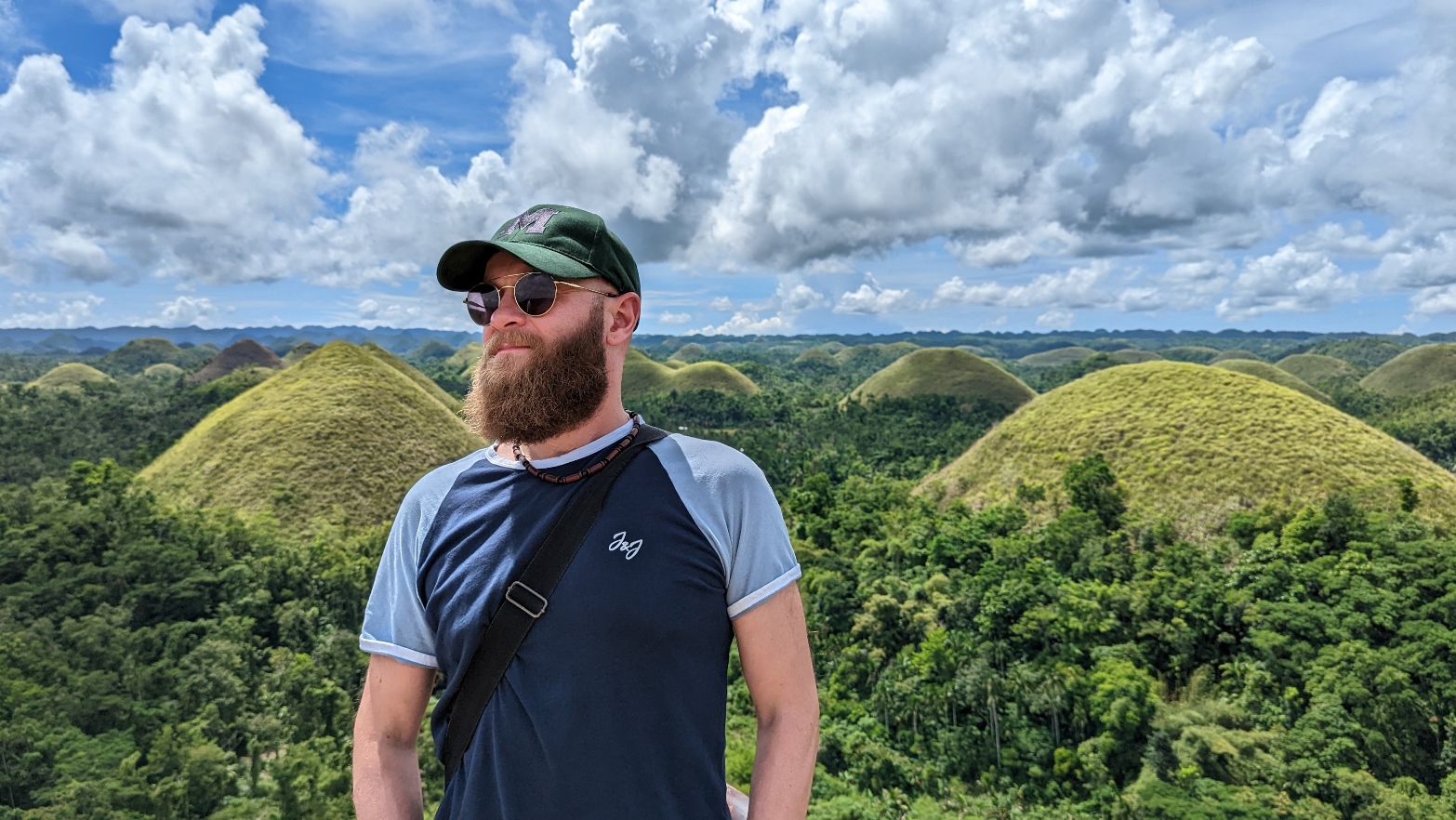 The incredible Chocolate Hills which sit at the heart of Bohol Island.
travel tips, links & resources
The southern end of the Philippines is generally considered off-limits for visitors because of terrorist activity, piracy and the chance of kidnapping. Check your country's travel guidance and insurance limitations if you're determined to head here.
Book domestic flights early: prices nearly tripled within two weeks as the date of our flight approached. Domestic air travel is relatively cheap in the Philippines - unless you leave it late. We flew with Cebu Pacific. They have an app to help you manage your bookings. When booking, be sure to deselect the automatically-included travel insurance. It's hidden away in the detail. Also, my initial attempts to pay for tickets using credit cards failed repeatedly until I set up an account.
Consider giving Manila a couple of days in your itinerary if you can spare the time. It's an opportunity to see the Filipino capital in all its uncompromising glory. As with all large cities, keep an eye on your belongings and be sure to look out for pickpockets in busier areas.
Travelling around Manila can be daunting. Install the Grab app (Southeast Asia's Uber equivalent) to Grab your way around the city. Unless you have a Filipino bank card you will need to pay the driver in cash but at least the fare and destination are clear and indisputable.
The Philippines is a meat-eater's dream. The flip side to this is that if you're vegetarian (or vegan for that matter) you'll have to get by on the usual Margarita pizza or mushroom risotto. Breakfast in hotels is similarly limited.
We booked our ferry tickets from Cebu to Bohol through Klook.com (link here). We paid online and within minutes had our ferry tickets emailed to us. The process was simple and reliable. I'd recommend this as opposed to arriving at the ferry terminal, having to queue and there potentially being no seats available. I'd also recommend booking Business Class seats for a little more money; 'tourist class' was cramped and very hot.
We booked our driver Fred through Klook.com. We had a driver for a 13-hour period and the princely sum of A$130. He picked us up at our hotel and drove us to and from Moalboal. If you want your driver to be more than just a driver (knowledgeable about processes, the area and so on) best to book a tour guide rather than driver.
Snorkelling in Moalboal is awesome. However, as I was to learn to my cost, the water has sardines and turtles, but also plenty of jellyfish. I was stung three times. The final time was the worst. I became worried when my arm started to go numb and my fingers began tingling. My purchase of rock shoes and a stinger-proof short sleeve tee shirt the day before was not sufficient. Bring a wet suit or trouser and top separates which fully cover your limbs. You may also want to be super-organised and bring your own vinegar in a bottle just in case you do get stung.
There is no ethical way to photograph the wonderful Tarsier monkey. They are nocturnal animals but are kept awake for travellers to photograph during daytime. The creatures struggle in captivity and are known for committing suicide by banging their heads on tree trunks. In short, they're only happy in the wild. Avoid visiting so-called conservation parks to see these little gems.