24 Hours in the Qatari Capital Doha
Where: Doha, Qatar. Middle East, Asia.
When: January 2014
Highlights: Al Corniche, Souk Waqif, Dhow boat ride, Teapot Sculpture, The Museum of Islamic Art, Sheraton Hotel, Helter Skelter, The Pearl Sculpture.
How: International flights, Taxi, Dhow boat ride, walking
Country counter: Country No.54.
Illnesses or mishaps: Getting utterly lost amongst the World Cup-related building frenzy and falling on the mercy of a local taxi driver; sightseeing at break-neck speed in the dusty heat of Doha.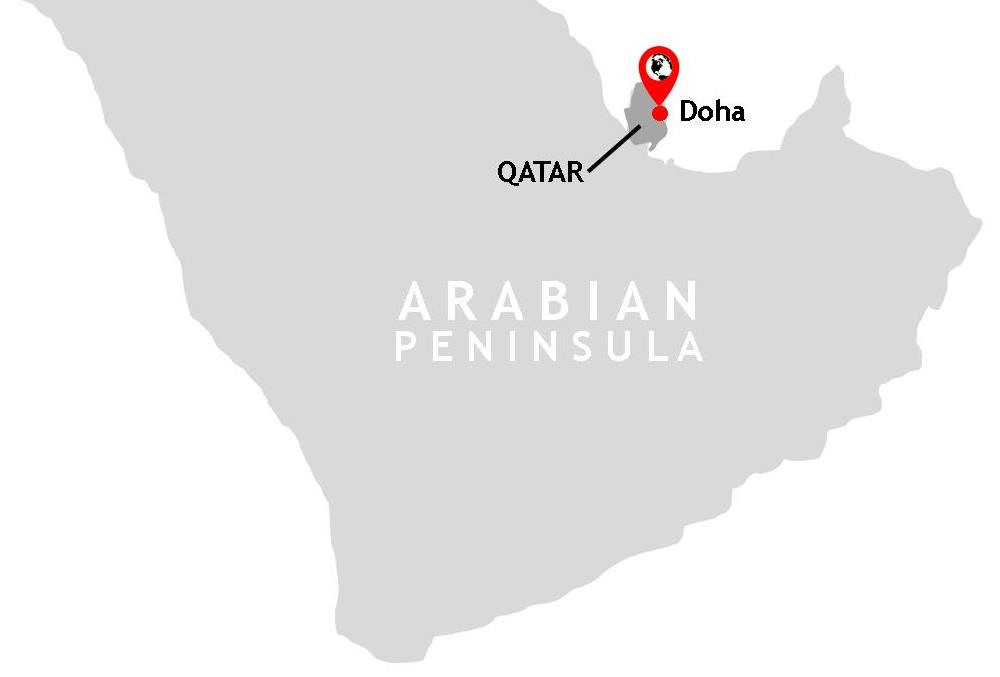 Qatar is a tiny country which more than makes up for its diminutive size in wealth. The country has grown to be filthy rich through its oil and gas reserves since gaining full independence from the United Kingdom in the 1970s. Glass towers along the bay and man-made islands make it a miniature, archipelago version of Dubai - an archipelago which clings to the eastern side of Saudi Arabia. Qatar has been ruled by the authoritarian Al-Thani royal family for the last century but has, arguably, been spared the destabilising effect of the Arab Spring because of its wealth, with its people content enough to overlook restricted freedoms for the sake of sharing in the country's economic boom. It is famous for being the impending World Cup hosts, as well as being the home of the (state funded) Al-Jazeera television channel which gained notoriety and infamy in equal measure during the Iraq War of 2003.
This was a whistle-stop tour of the Qatari capital Doha in a bid to use, more profitably, some lengthy transit time at Doha International. Doha was our transit airport on the way back from Burma and, for the cost of 100 Riyals (£17), we purchased a transit visa so that we could exit the the airport and explore Doha before catching a connecting flight homeward. I wouldn't normally advocate this brief-beyond-belief approach to travel but, in travel, you have to learn to compromise: two days would have been nice but the page you are looking at is a product of having less than twenty four hours in the country. Ideal? Certainly not, but an opportunity not to be missed. It seemed our plans to travel around Burma were to have an added extra thrown in for free - buy one country, get one free. Getting your hands on the tourist visa on arrival in Doha is simple. Instead of making your way to the transfer hub, get off your flight at the arrivals hall. Go to any passport checking desk and pay 100 Qatari Riyals. Off you go. Airport staff wear traditional religious dress - the women in black headscarves and the men in pure white headwear. The reception I received from staff on both occasions was decidedly frosty and unwelcoming - but that's airport staff the world over in my experience. All of my other trips and travels through the Middle East have been in the north of the peninsula. Qatar is the furthest south I have been at the time of writing - and my first state in the Persian Gulf. On arrival in Qatar my phone switched to show plus three hours. I was now on Baghdad time...
Doha is a strange city built in the middle of a desert landscape. Its location is fully revealed from the high vantage point of your flight seat as you come into land - desert sands encircle and lap at the city boundary. It dawns on you that the Qatari royal family, whose portraits adorn most shops in the city, really have built Doha (a former fishing village) in the middle of the Arabian Desert. What has been achieved in this desertscape is rather remarkable. The Al Corniche district, with its plethora of skyscrapers of all shapes and designs, conjures us images of Shanghai or New York. At night these towers are lit up to such a creative extent that they come dangerously close to slipping from the sublime to the ridiculous. Doha has a rather impressive skyline which any major international city would be proud to call its own; it's a symbol of Qatar's international ambitions. It is clear that Qatar wants its place in the elite club of rich nations. Indeed, its oil wealth will inevitably ensure that it gets there. Unsurprisingly, in light of Qatar hosting the next World Cup, Doha is a bit of a building site. In fact, there were so many diversions as a result of these gigantic building projects that getting around on foot was not just problematic but, at some points, nigh-on impossible. Diversions and sealed off roads sent us off in different directions, losing our bearings and getting utterly lost as a result. After an hour of trying to find our hotel we relented and jumped in a trademark turquoise Doha city taxi. Drivers are meant to, but don't always, put the meters on so beware and make sure they do.
But don't be fooled. We travelled over to the Al Corniche on a Dhow boat, stupidly assuming that this part of the city would have a range of cafés and restaurants to cater for all of the office workers. Not a bit of it. Instead we found a soulless business district with virtually no-one around. The only mortals about were those involved in building more, as yet unfinished, skyscrapers. The sheer height and number of them makes it difficult for me to believe they could be even at half occupancy. Another intriguing sight is Doha's souk - built only recently but made to look authentically old, the walls of which have been deliberately distressed to make the souk, a sort of Arabian bazaar with restaurants, appear traditional and yesteryear. The authorities have also arranged for three men in traditional clothes to ride up and down the main street on horseback in an attempt to create an atmosphere. The horsemen would have added an air of authenticity to the fake souk if it wasn't for the fact that the street they rode down is incredibly short - resulting in you seeing them every five minutes as they trot up and down the same cobbles on a loop. The attempt to authenticate Doha in this way fails dismally and hovered somewhere between film set and fair ground. It was impossible to feel that I was in a real place - and began to suspect that other people in traditional garb were also part of this Qatari theatre production, like an Arabian version on The Truman Show. As I have discovered a number of occasions on my travels, building whole cities from scratch and trying to give them culture and atmosphere almost always fails. A place needs history to work, and whilst Doha tries its best to play on its old fishing village roots with its Dhow boat rides across to the Al Corniche, it just isn't enough. The place feels staged and artificial. Perhaps I wouldn't feel this way if I hadn't been to some of the world's most famous souks - including the Grand Bazaar in Istanbul, Turkey and the huge labyrinth of a souk in Marrakesh, Morocco. The capital does, however, have a number of interesting new buildings which give traditional Islamic architecture a modern and satisfying flourish. In my mind, these are infinitely more desirable than the incongruous kitsch towers of Al Corniche.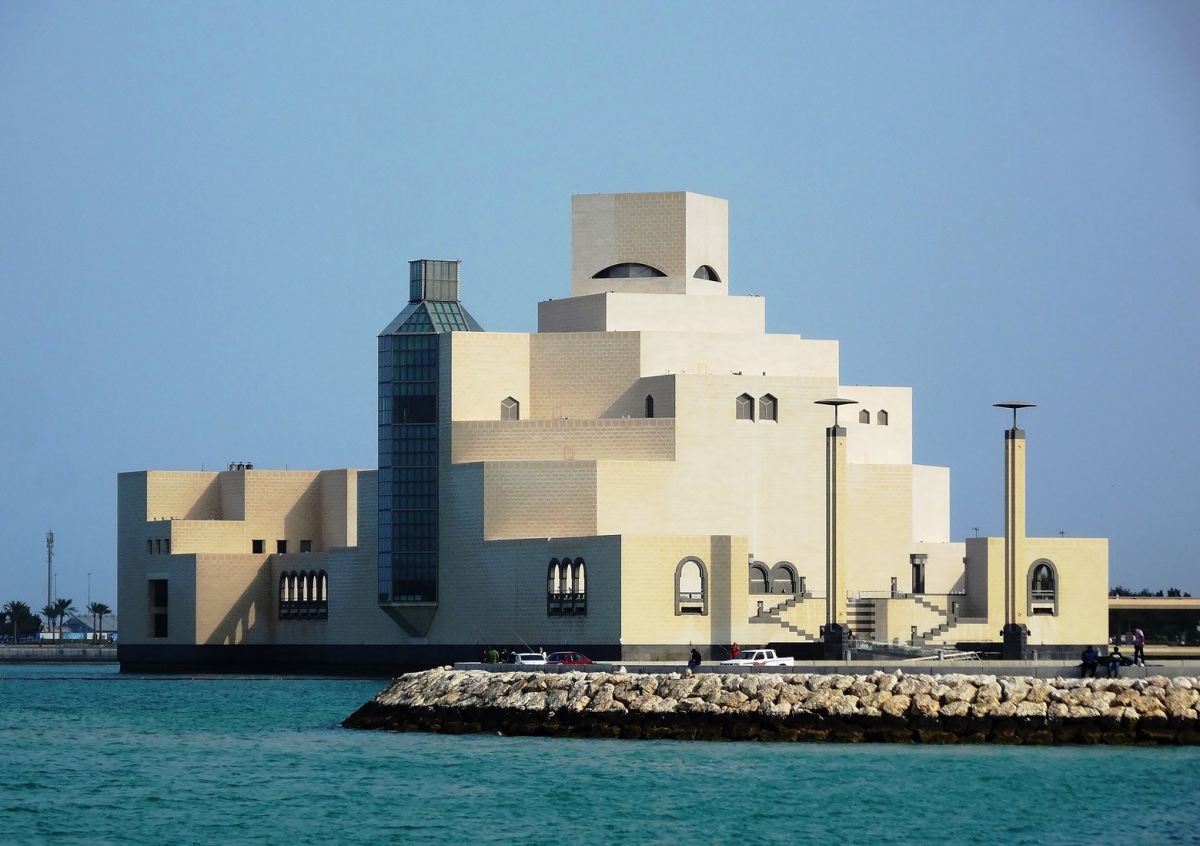 An example of traditional Islamic architecture being given a modern and satisfying twist: The Museum of Islamic Art.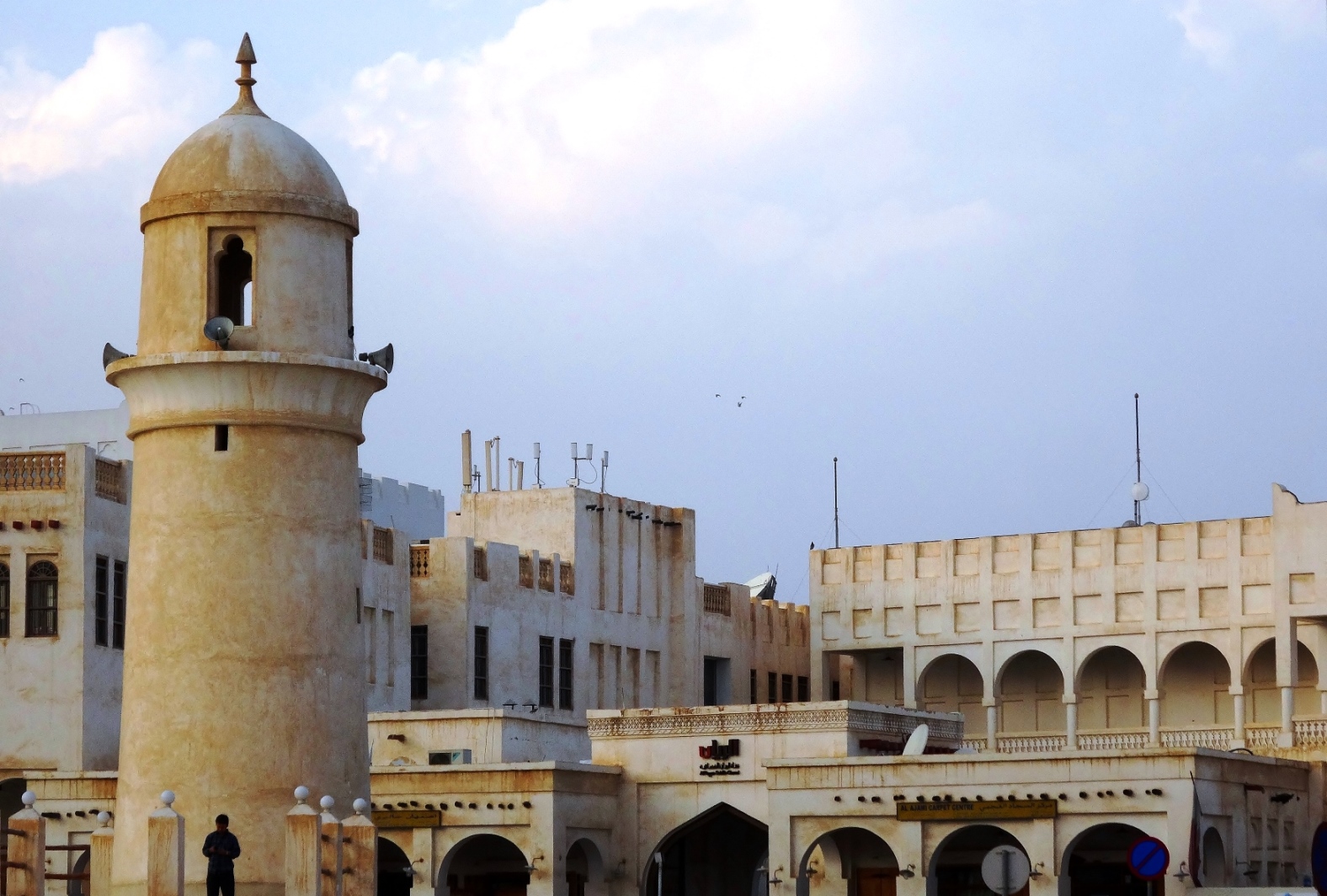 Battlements and ramparts: walls have been deliberately distressed to make the souk, a sort of Arabian bazaar with restaurants, feel old.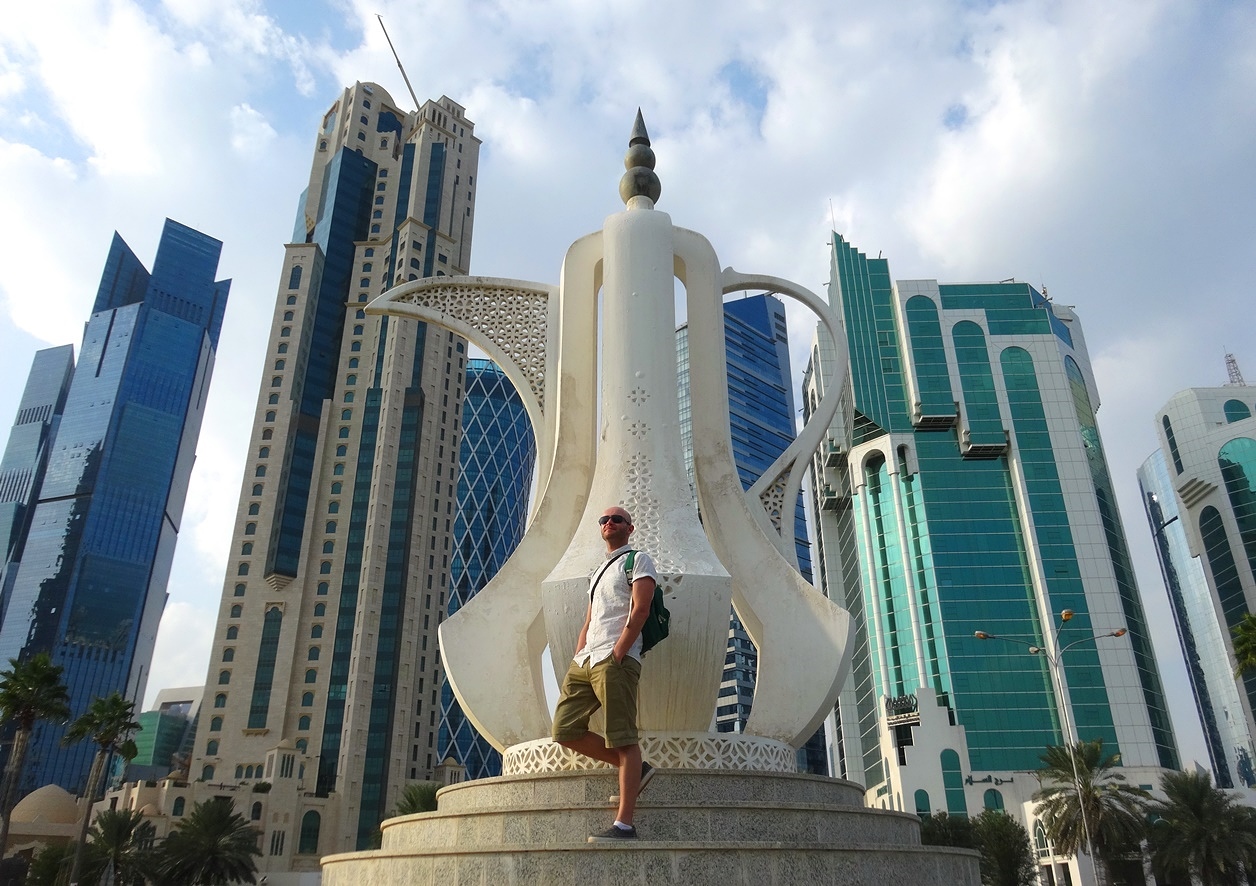 In front of giant The Teapot sculpture, with the glass towers of the Corniche creating a photogenic backdrop.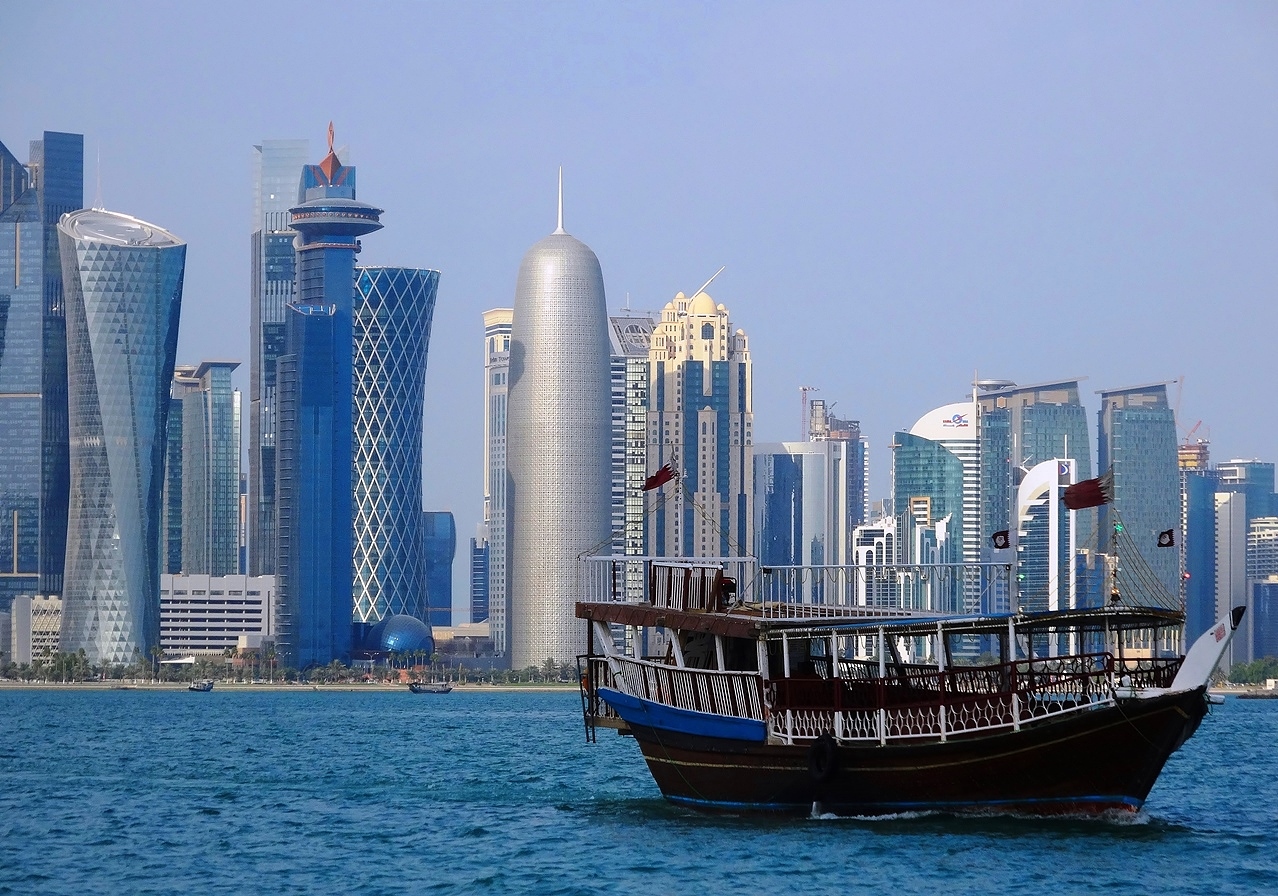 Doha's Dhow boat heritage sits incongruously against a backdrop of glass towers.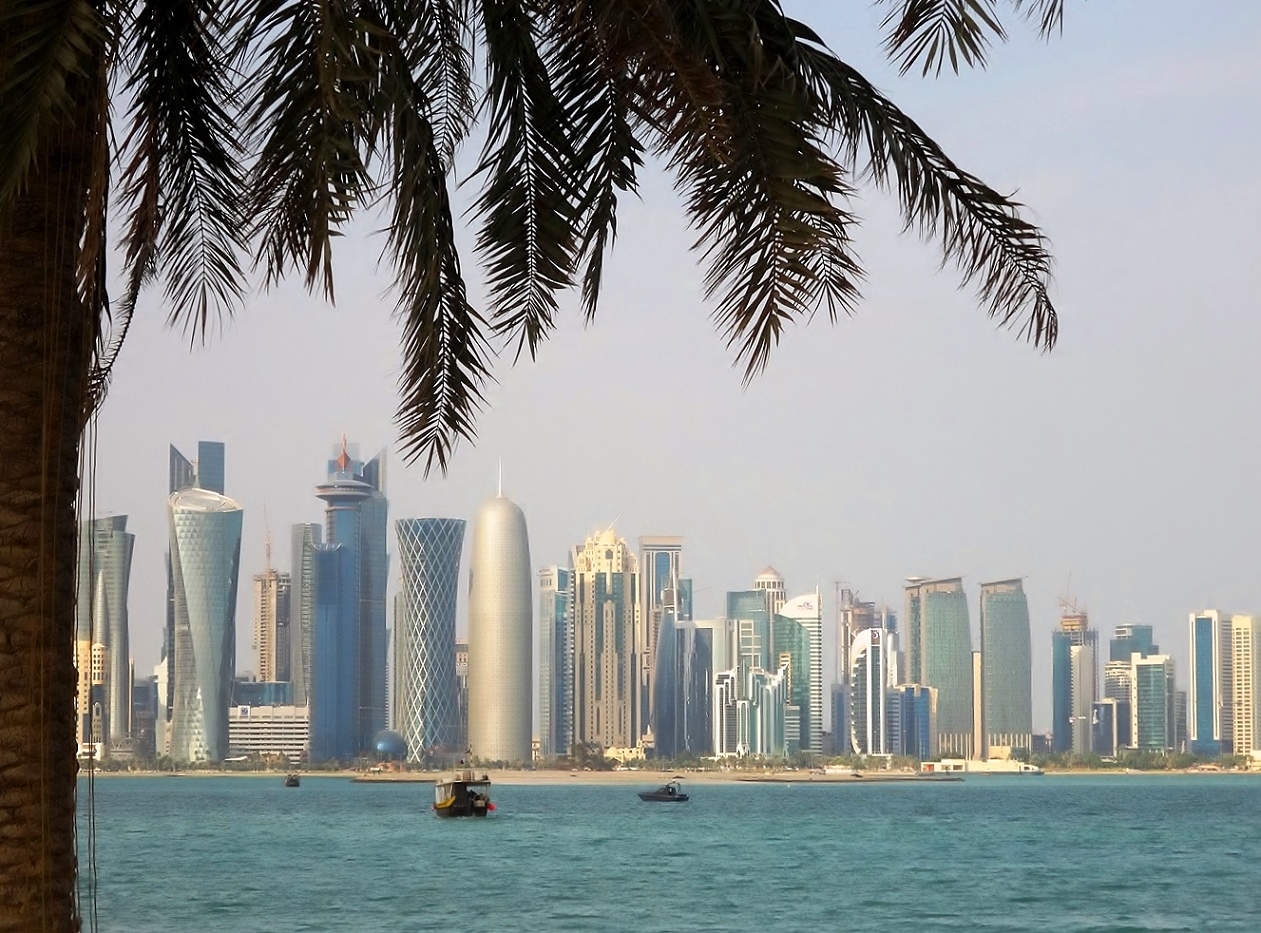 A palm tree's leaves create a satisfying frame for Doha skyline.
travel tips, links & resources
Doha is a building site and will continue to be so until the World Cup is over. Don't make the mistake of thinking you can walk everywhere - in many cases it would be best to hire a taxi. From what I could tell, it's also a city not designed to be navigated on foot.
If you are wanting a transit visa, head to the arrivals section of the airport where you can buy one for 100 Qatari Riyals - it is well worth the money just to see another, albeit tiny, country.
If your itinerary allows, make sure you see The Corniche at night to see the light display on the array of towers. It's the closest you'll get to Shanghai on the Persian Gulf!
Taxi drivers are meant, but don't always, put the meters on at the start of the trip. Keep an eye out to make sure they do.