An Adventure into the Urban Heart of Red Mother Russia
Where: Moscow & Saint Petersburg, Russia. Europe.
When: August 2008
What: Saint Basil's Cathedral, Red Square, Seven Sisters skyscrapers (Ministry of Foreign Affairs; Hotel Ukraina; Moscow State University; Kotelnicheskaya Embankment Building), River Moscow Cruise, Gorky Park, Moscow Metro, Ostankino Television Tower, Park of Achievements, The Kremlin, Church of the Spilled Blood, GUM Department Store, Russian Dolls.
How: International Flight, Taxi, Boat, Russian Train, Moscow Metro, Saint Petersburg Metro, Walking.
Country counter: +1 country
Illnesses or mishaps: becoming completely lost at a main railway station in Moscow making us very nearly miss our train to Saint Petersburg; doing my upmost to avoid anyone in a position of power; a wasted boat journey to the Peterhof Palace as the entry fee was cash only.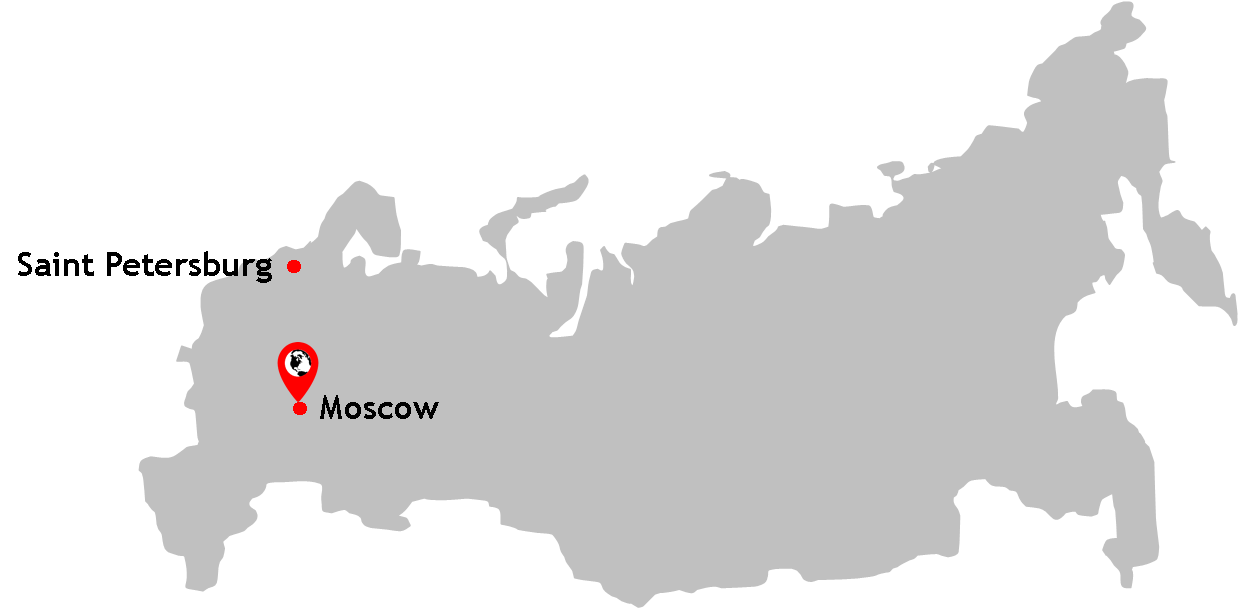 Russia is a land of beguiling gold-domed churches, of soaring Stalin Palaces, of palatial underground Metro systems, of bitterly cold winters and of untrammelled toxic machismo. It is also a land infamous for its villainous dictators, its intractable corruption, its Machiavellian-style realpolitik. This land, the largest country in the world with eleven time zones and covering 11% of the global land mass, is arguably one of the most iconic on the planet. Russia has an allure all of her own, a compelling and enchanting mix of the dramatic and of the dangerous. There is something of the dark about Russia. The Cold War may officially be over, but its legacy persists in the Russian psyche. It runs deep. Indeed, it is this Soviet hangover which will ultimately shape your experience of this most enigmatic and most misunderstood of countries.
Russia is a thrilling place in which to be a traveller. It is thrilling because a visit to Russia is a visit to the Other; a different mindset and different aesthetic exist here. In travelling to Russia you enter a new world, one which you have to work hard at understanding. In parts it is mesmeric, in parts it is positively impenetrable. What is a Briton to make of Russians' steely and inscrutable faces? What is a Briton to make of Moscow's gigantic palaces built on such an absurd scale? What is a Briton to make of the country's bizarre cosmic architecture which manifests itself in geometric patterns straight out of Science Fiction?
Oftentimes I have fallen back on the kindness, helpfulness and, admittedly, the excellent spoken English of foreigners in their own lands to help me get by; a lazy and inept traveller succeeds in their journey because of a thousand little helps from natives: their insights, their recommendations and, most important of all, their help with directions. These, to a notable degree, are less available in Russia. It is far too crude, and indeed unfair, to suggest that this is solely because Russians aren't very friendly people. This, of course, isn't true. It is, however, the result of a complex combination of linguistic, cultural and political forces which ultimately intersect to affect the experience of the foreign visitor. Linguistically many Russians are unable to help, a significant barrier caused by the Latin/Cyrillic alphabet difference. Cultural forces dictate the projecting of a cool, emotionless countenance to others - visitors included. Finally, political forces over many decades have incubated and fostered a suspicion of the outsider. But none of this is bad because any traveller worth their airfare visits a foreign land because they want to experience otherness, they get a rush from being rendered helpless and seek that sense of achievement at the end of a trip when they realise that, despite all the odds, they made it work.
I was glad that Russia came into my life on my 30th birthday. Such a great country should be reserved for a special life event; there was a certain poetry in sharing my birthday with Red Mother Russia. Indeed, I was to be so entranced by what I saw in Russia that I spent the next decade seeking out examples of Soviet architecture in the rest of Europe. Visiting Russia was the commencement of a life-long obsession with cosmic architecture, with Seven Sisters skyscrapers and with television towers. Russia: there is no other place quite like it. Love her or loathe her, Russia is an opportunity to challenge yourself as a traveller. It is an opportunity to see some of the most iconic sights in world travel before you head to that other heavenly country in the sky.
We arrived in Moscow late afternoon, struggling with heavy backpacks having had a relatively long journey flying to Denmark from the United Kingdom and from Denmark on to Russia. There was very little time to get to grips with anything as we schlepped ourselves and our bags from airport to hotel. These were the days when we would do battle with the public transport systems to get to our hotel in a bid to save money. I have since learnt that saving money means wasting valuable time and now insist on arranging airport-to-hotel transfers. As a seasoned traveller this is one luxury I now afford myself. I have learned that in travel, time is far more valuable than money itself. As it was, by the time we reached the hotel, checked in, dumped our bags and headed out on to Moscow's streets, fuelled by that nervous excitement that only a traveller can identify with, it was already dusk. Drawn as if by an inexorable force, we headed straight for Red Square, home to the Kremlin and Saint Basil's Cathedral.
I don't think I'll ever forget the moment I entered Red Square, walking up a small incline which slowly revealed Saint Basil's iconic technicolour onion domes. People speak of "wow moments" in travel, and I despise travel writer cliché such as this. Indeed, I work hard not to lapse into any travel clichés anywhere on this site. However, this really was a literal wow moment, my mouth able to elicit nothing other than the clichéd, but prolonged gasping "w-o-w". I was seeing, in person, one of the world's most famous buildings, one I had seen seemingly thousands of times on television as a child. I always thought Saint Basil's, with its coloured swirls looking not unlike elaborate ice-creams topped with multicoloured sauces, looked like a building from another planet: strange, unusual, peculiar. I've always been drawn towards those things I don't understand, toward the things which differentiate a country from the one in which I grew up. As a traveller with a desire to see the world, I am drawn to difference. This goes some way to explaining the countries I choose to visit; the unfamiliar, the lesser-known, the off-the-beaten track. Artificially illuminated amid the dark blue hues of a Moscow evening sky, Saint Basil's appeared even more magical. Unfortunately this didn't make for great photographs still getting used, as I was, to my new digital camera. It's a fair appraisal to say that my photographic skills have improved substantially since this time. We were to return to Red Square the following morning to try again. Red Square: Part Two.
What followed was an exploration of Moscow, the largest megacity in Europe, which we endeavoured to navigate in the heat and on foot whilst doing our best to decipher the indecipherable Cyrillic alphabet, sometimes resorting to painstakingly playing spot the difference between Russian words written in our Rough Guide to Moscow and the words we could see written at Metro stations or on street signs. Piecing things together like the novices travelling on a shoestring budget that we were, we made it to the Moscow Park of Achievements (now the Exhibition of Achievements of the National Economy), an exhibition-cum-amusement park with pavilions encircling a main square. The pavilions themselves, architecturally speaking, were compelling enough rendered, as they were, in a range of styles and reverently displaying the unmistakable iconography of a Soviet Russia: wheatsheafs, hammer and sickles, revolutionary stars... Each pavilion represented a different Soviet Socialist Republic, built in a corresponding architectural style, the interior spaces once used to exhibit each republic's successes in technology, science, culture and the arts. Impressive on the outside certainly, but the inside of many of these pavilions betrayed a different story with some having been reduced to becoming nothing more than indoor markets. Indeed, I remember musing at the time how the Park of Achievements had become symbolic of the failure of the Soviet dream itself, spaces intended to espouse the virtues of communism now forced to sell cheap plastic goods in a humiliating adoption of capitalist principles. In the distance I could see the silhouette of the gargantuan Ostankino Television Tower. At 540 metres it remains the tallest free-standing structure in Europe and eleventh tallest in the world.
Some sights were seen first-hand by design, as a result of deliberate endeavour and deliberate planning. Others were the result of pure chance. Crossing a bridge spanning the River Moscow brought me face to face with one of the Seven Sister skyscrapers: the dramatic Kotelnicheskaya Embankment Building. This building was so unusual and so unlike anything I had seen before that we made it our mission to see as many of the remaining six as we could, managing a not insignificant three more: the Ministry of Foreign Affairs, Hotel Ukraina and Moscow State University. My only regret from the trip was that we didn't manage to behold all seven of these evocative Stalin Palaces. And so began my obsession with this style of architecture, an obsession which saw me seek out these buildings across the satelliterepublics of the former Soviet Union. It was a quest which was to last nearly ten years and saw me photograph the Stalin skyscraper in countries as diverse and Moldova, Armenia, Georgia, Poland, Romania, Belarus and Ukraine.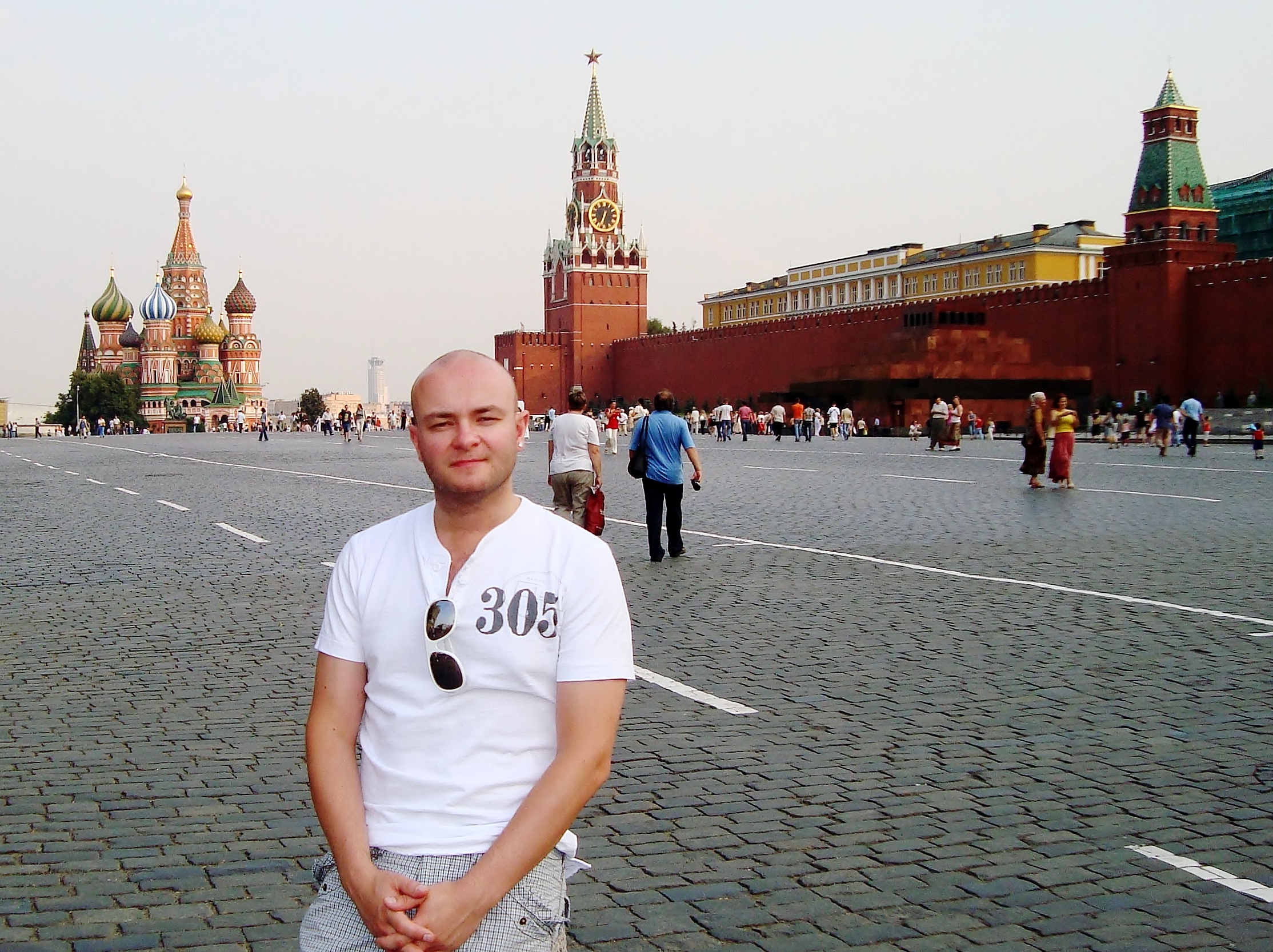 Moscow's famous Red Square with St Basil's and the Kremlin - a sight I'd longed to see for years.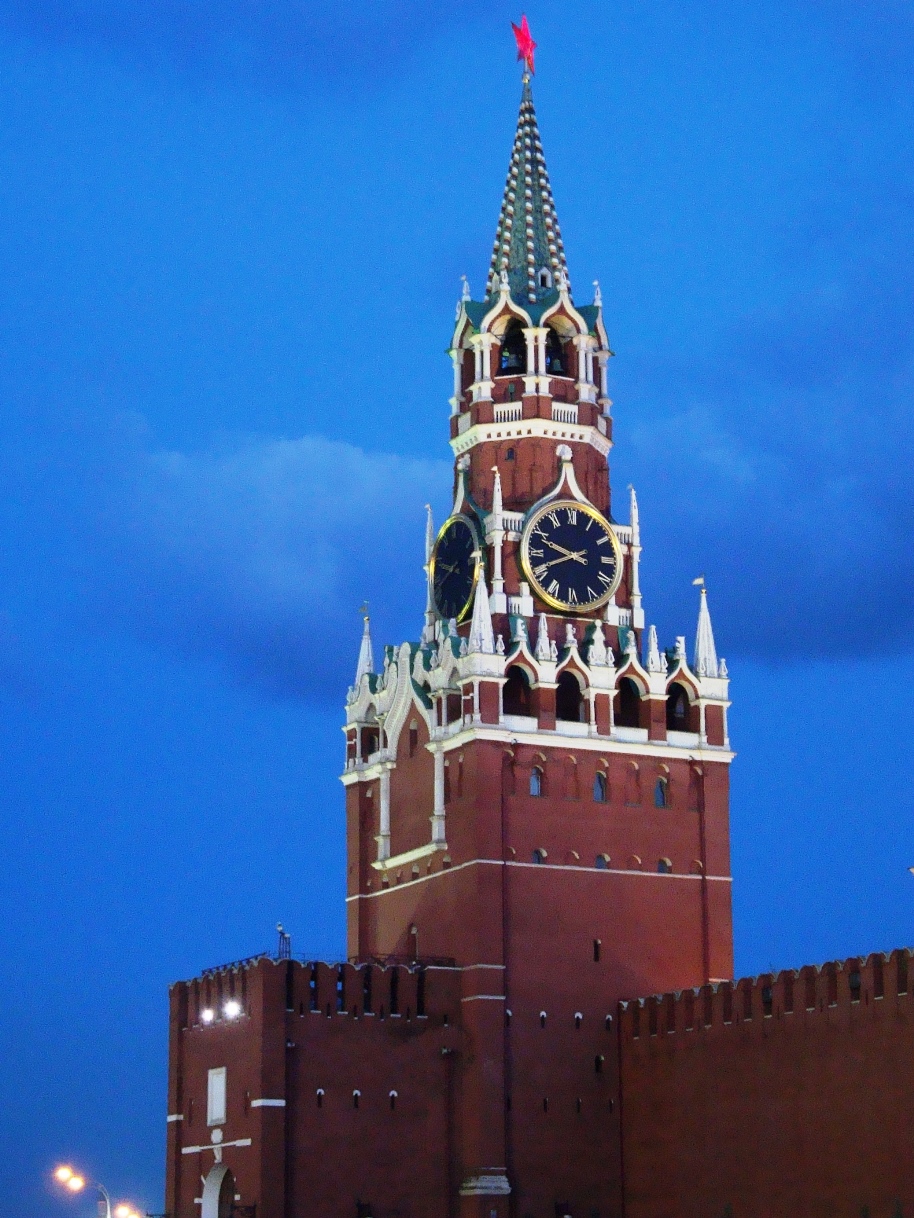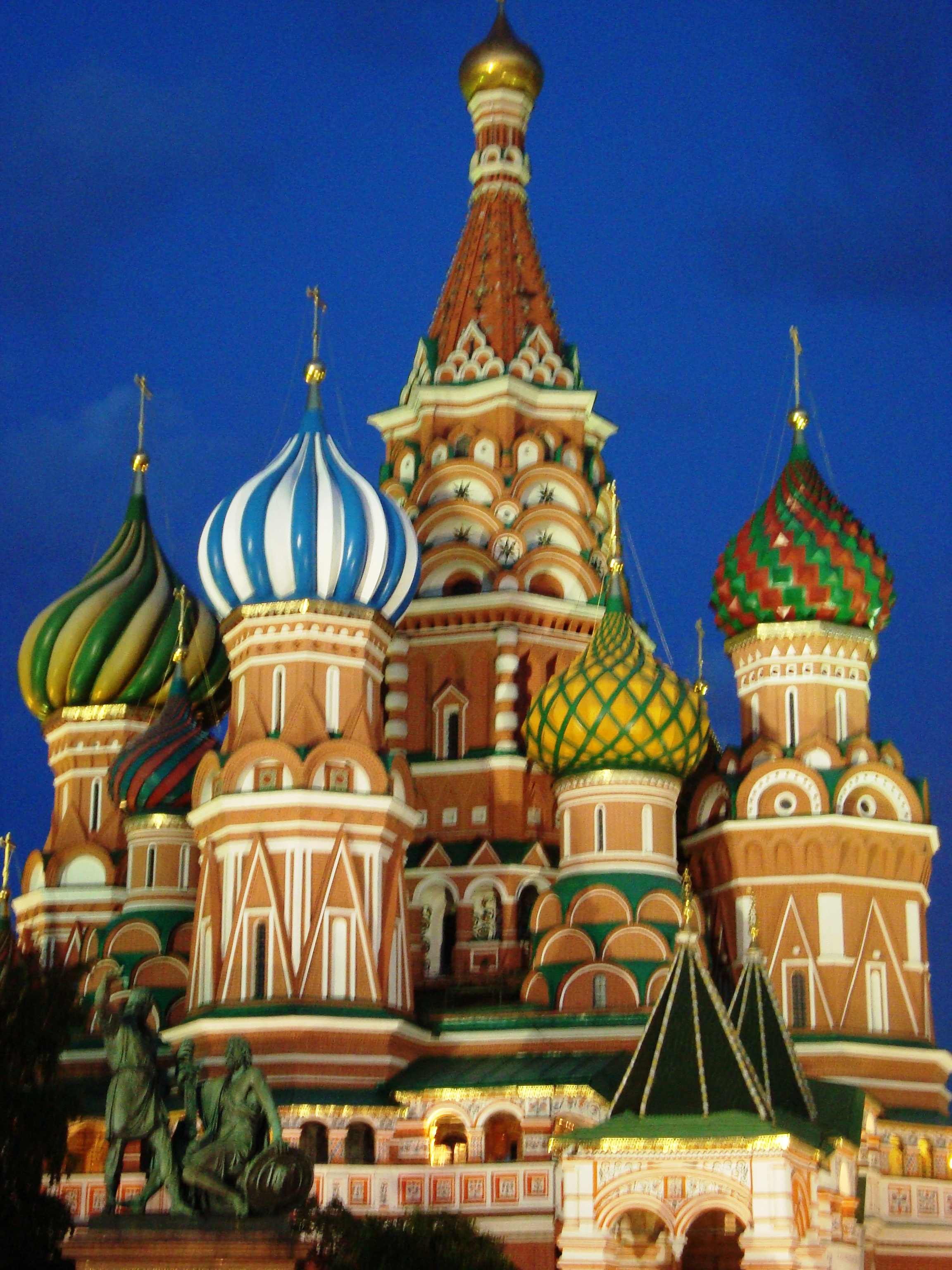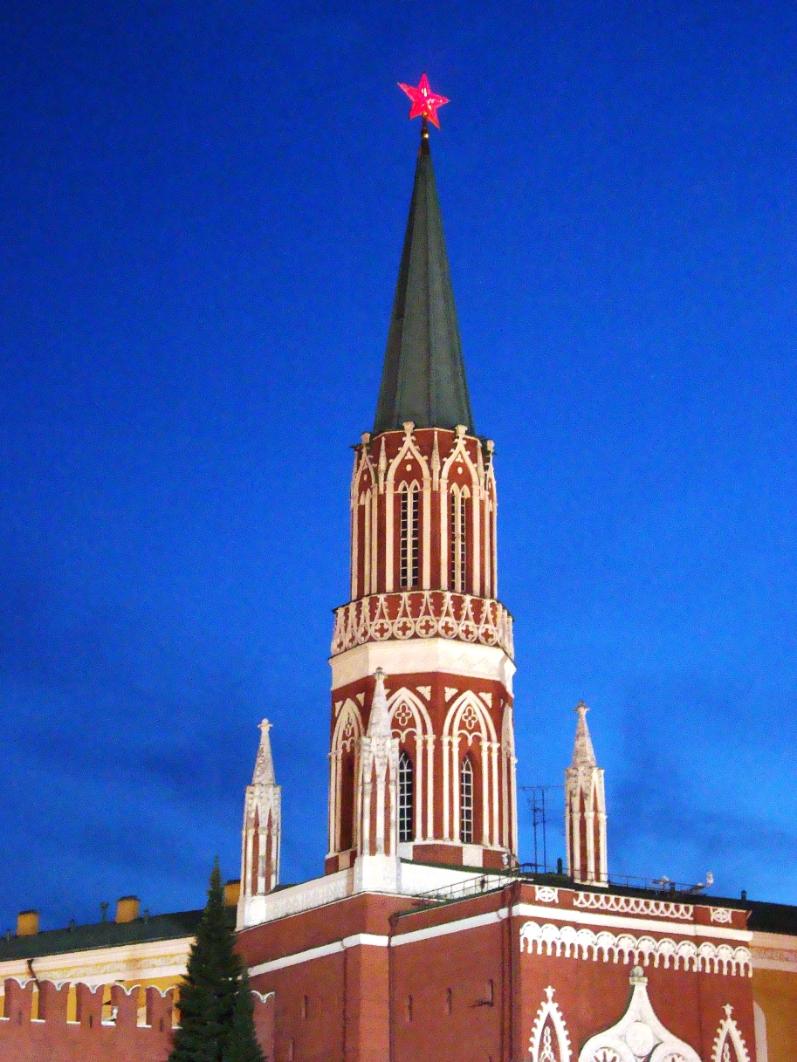 Red Square at dusk: the red star-topped towers of The Kremlin flank a photograph of the glorious Saint Basil's Cathedral with its ice-cream-like swirls.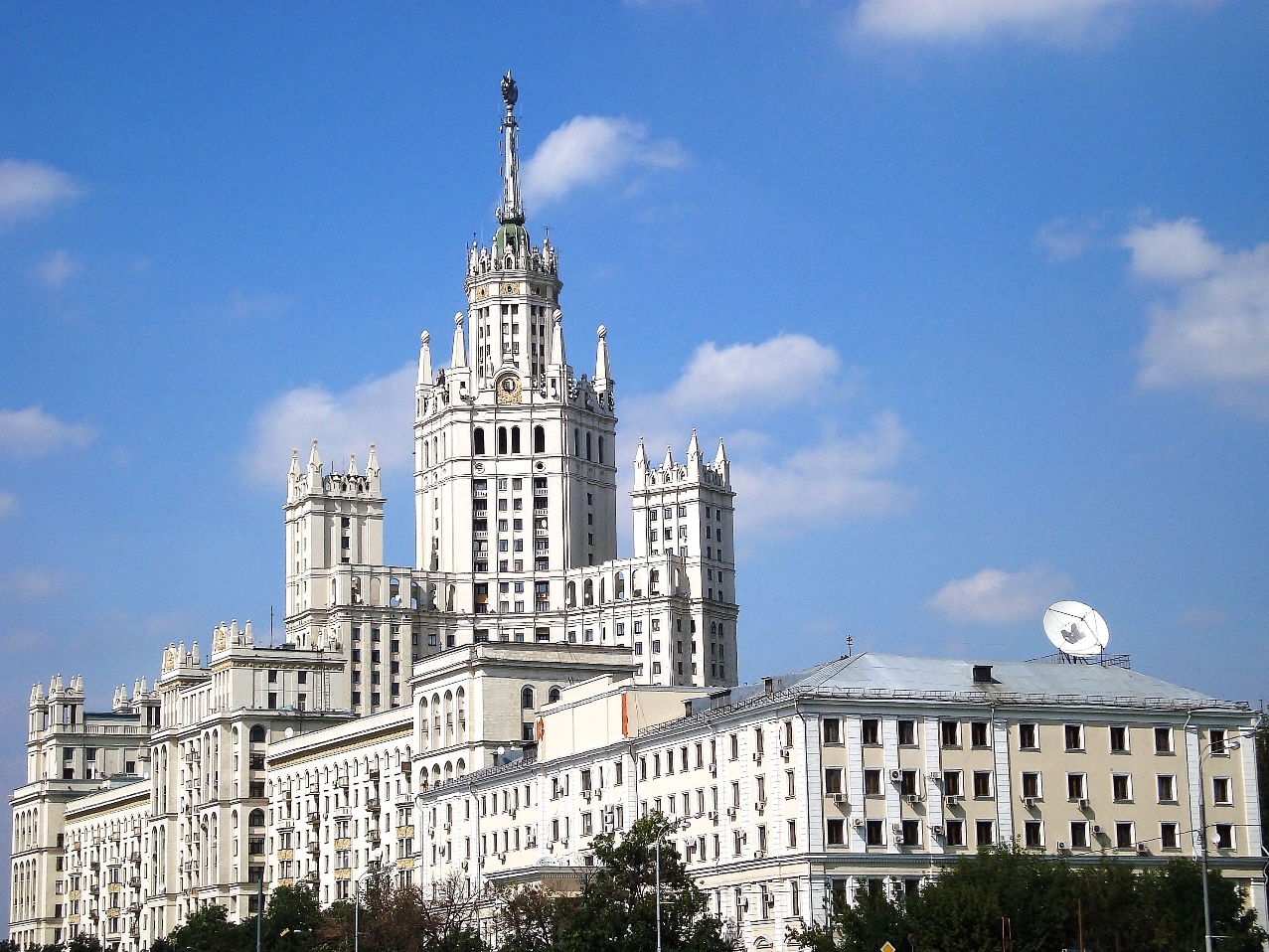 Stalin's Seven Sister skyscrapers: the dramatic Kotelnicheskaya Embankment Building.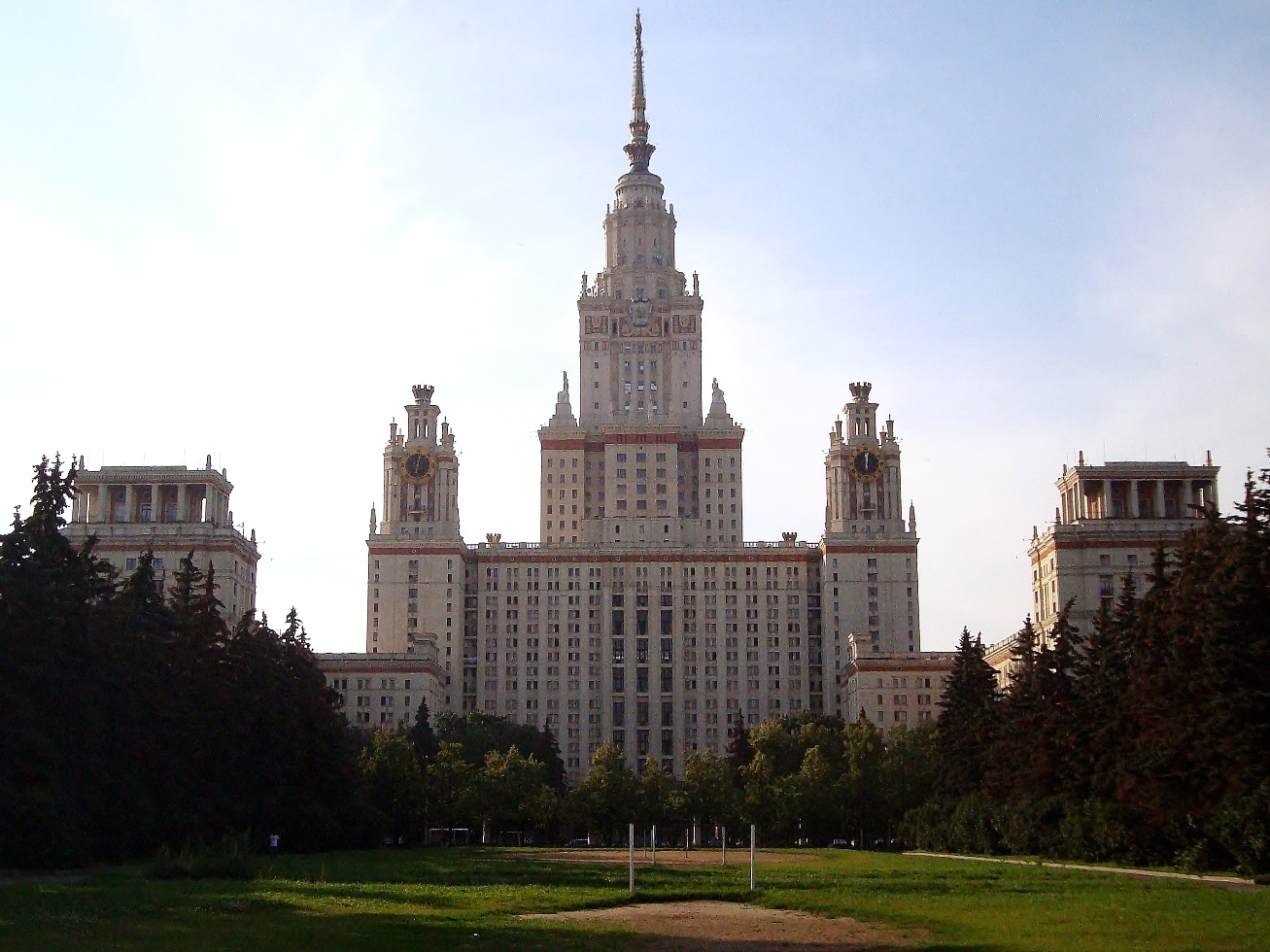 Stalin's Seven Sister skyscrapers: Moscow State University. Apparently part inspiration for these fascinating monsters was the Royal Liver Building in Liverpool.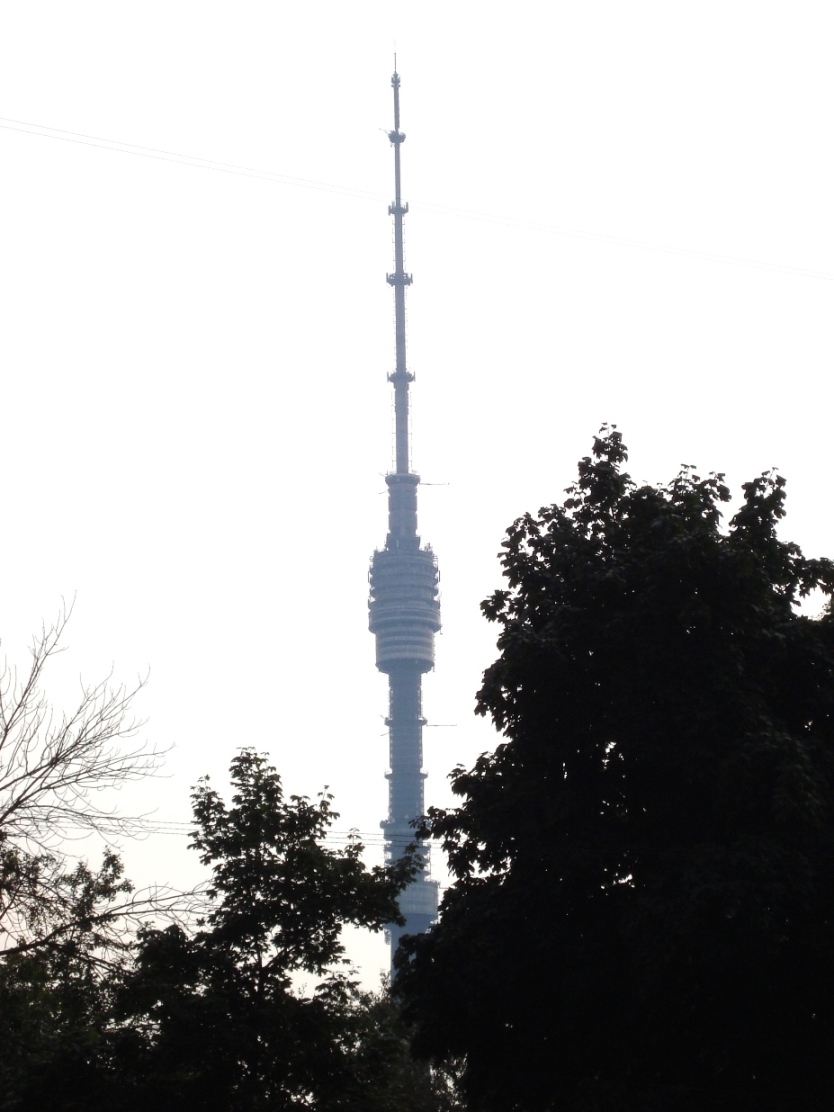 The 540m-tall Ostankino Television Tower appears as a silhouette beyond the trees.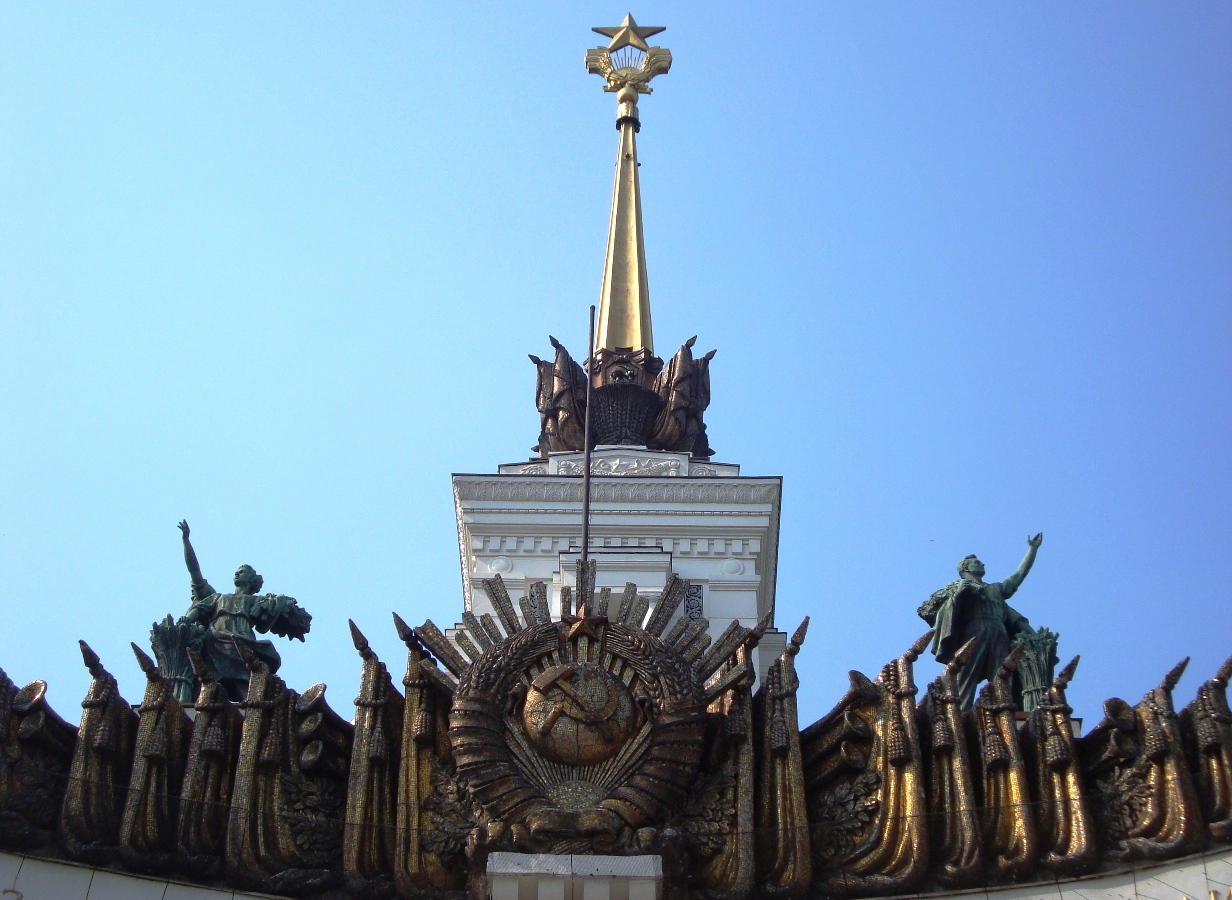 The Moscow Park of Achievements: the Central Pavilion's display of Soviet iconography.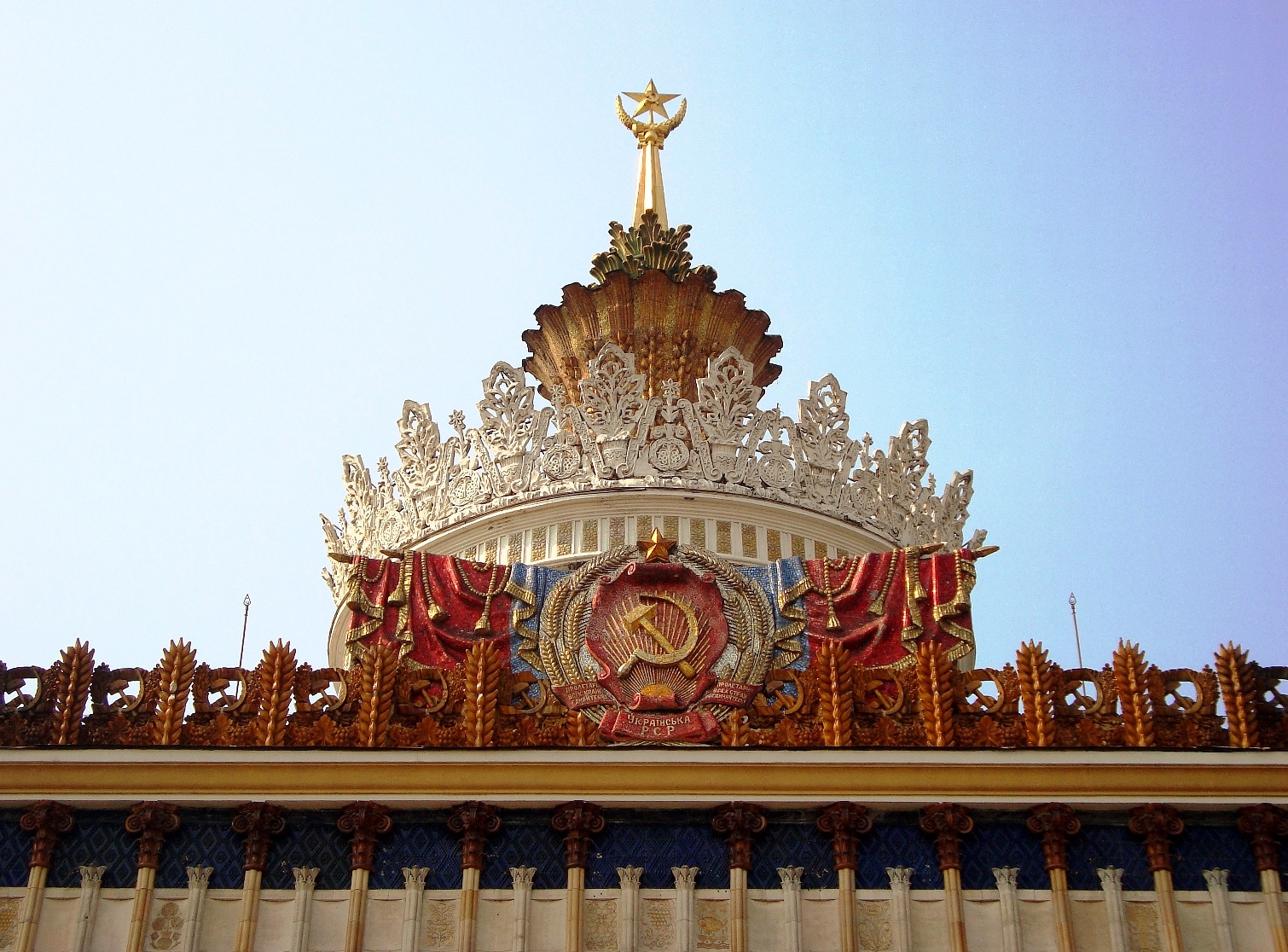 The Moscow Park of Achievements: the incredible Soviet embellishments atop the Pavilion of Ukraine.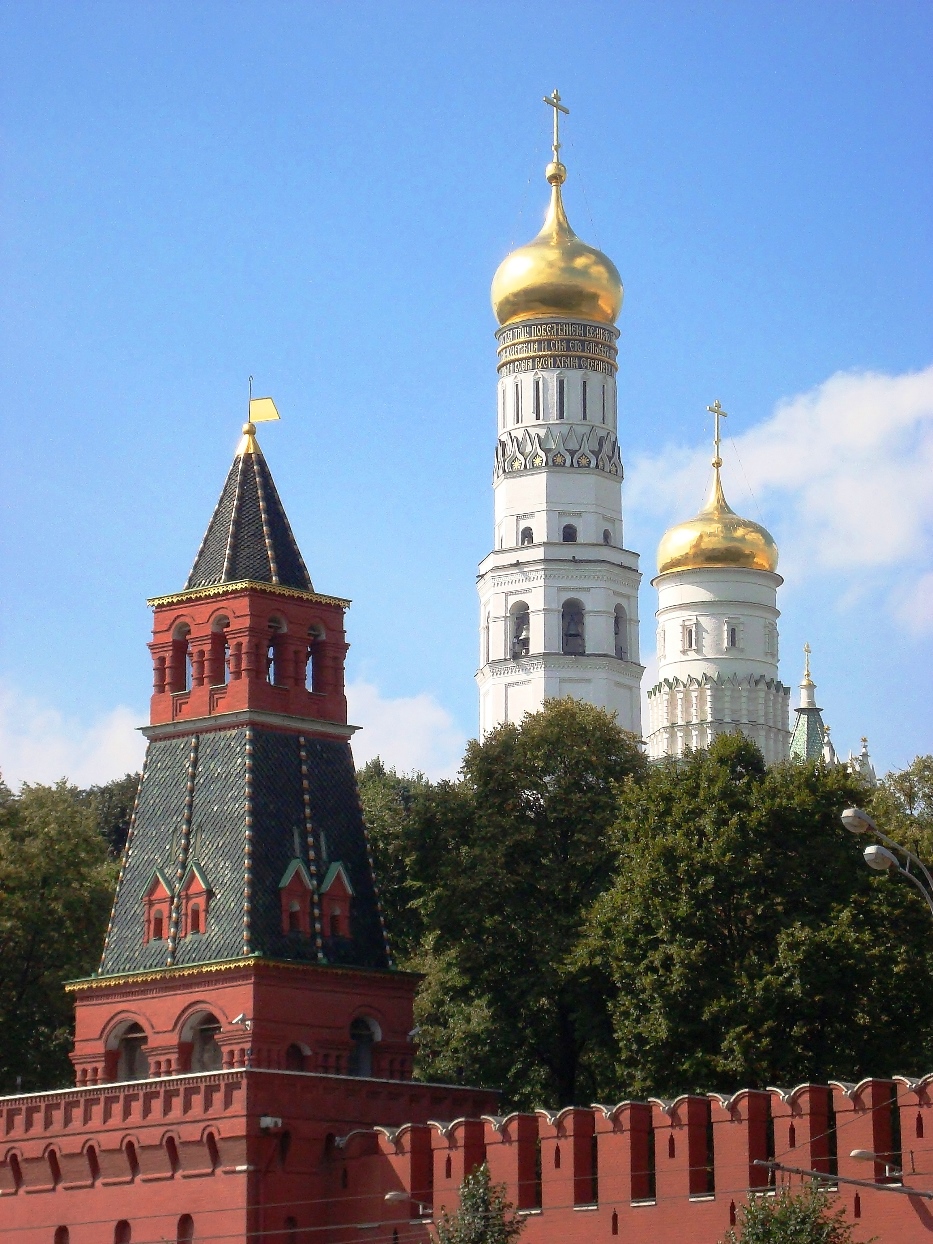 Kremlin towers and golden onion domes.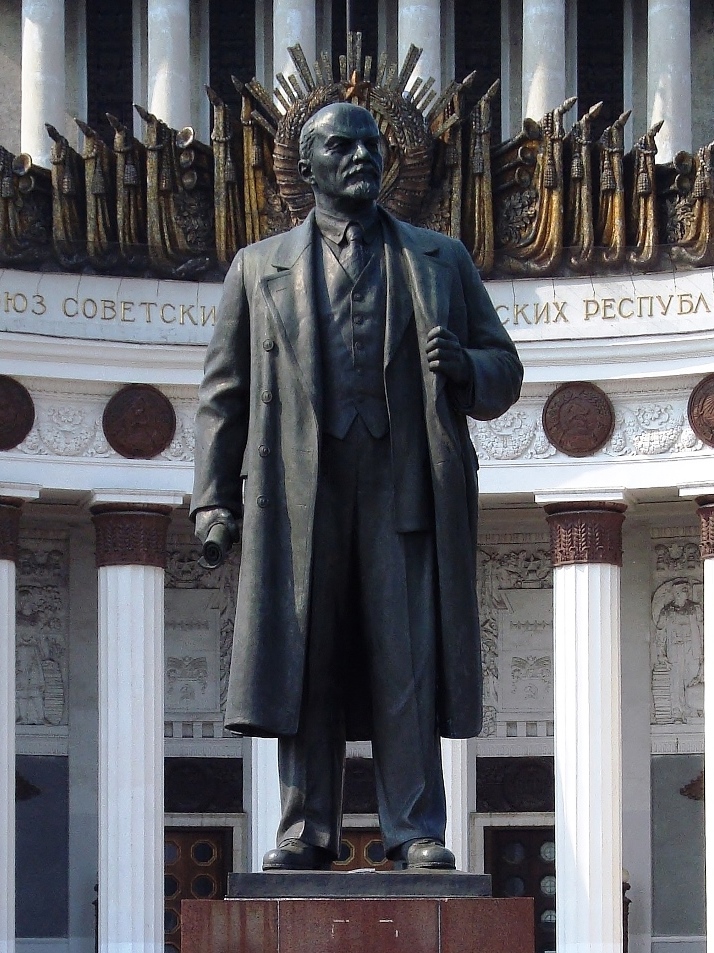 Lenin stands proudly at the Moscow Park of Achievements.
Using the Moscow to Saint Petersburg Railway, we travelled some 700 kilometres for nine hours and across four Russian oblasts to reach this, Russia's second city. It was a journey we very nearly never made; we were running late having underestimated Moscow traffic, and failing to understand a series of instructions from ticket office staff and Muscovites in broken English, we boarded the train with barely thirty seconds to spare before it began to pull out of the station. After such a fraught start to our journey northward to Saint Petersburg, what followed was nine hours of being forced to endure old Russian cartoons on an old flickering TV set suspended from the ceiling of this, a supposedly first class, carriage. The experience was made all the more unbearable by fellow travellers (seemingly all Russian) repeatedly bursting into laughter at the inane antics of the cartoon characters on screen. I spent the journey being silently appalled. Indeed, I have never been so relieved to disembark a train in my entire life.
In travelling north by train we had seemingly re-entered familiar territory. Whereas Moscow felt something else other than Europe, Saint Petersburg felt distinctly European. Gone too was the austere atmosphere of Moscow. Indeed, the prevalence of OMON, the special-police branch of the National Guard of Russia, on street corners and in Metro stations, was significantly less in Saint Petersburg than back in the Russian capital. This had me inwardly breathing a sigh of relief meaning that I began to feel more at ease. A saunter along the canal ways of the city has some writers readily reaching for comparisons with Venice although this, in my opinion, is somewhat of a stretch. The River Neva running through the heart of the city adds to its pleasing watery aspect. Along the banks of the Griboyedov Canal lies the Church of the Spilled Blood, a building deliberately evoking the multicoloured onion domes of Saint Basil's but, ultimately, which struggles to compete with it.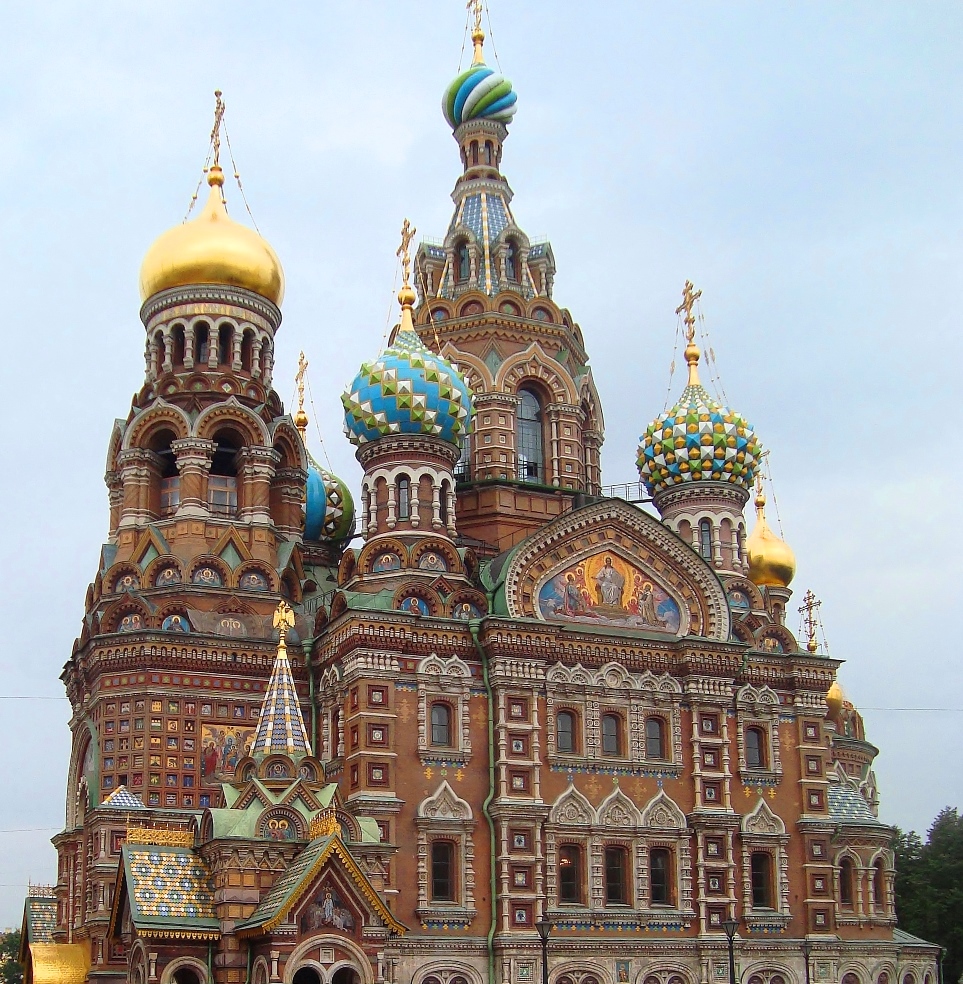 The Church of the Spilled Blood. It has, since it's completion in 1907, has been used as a morgue for death-starved Russians in WWII as well as a warehouse for vegetables. It intentionally resembles Saint Basil's in Moscow.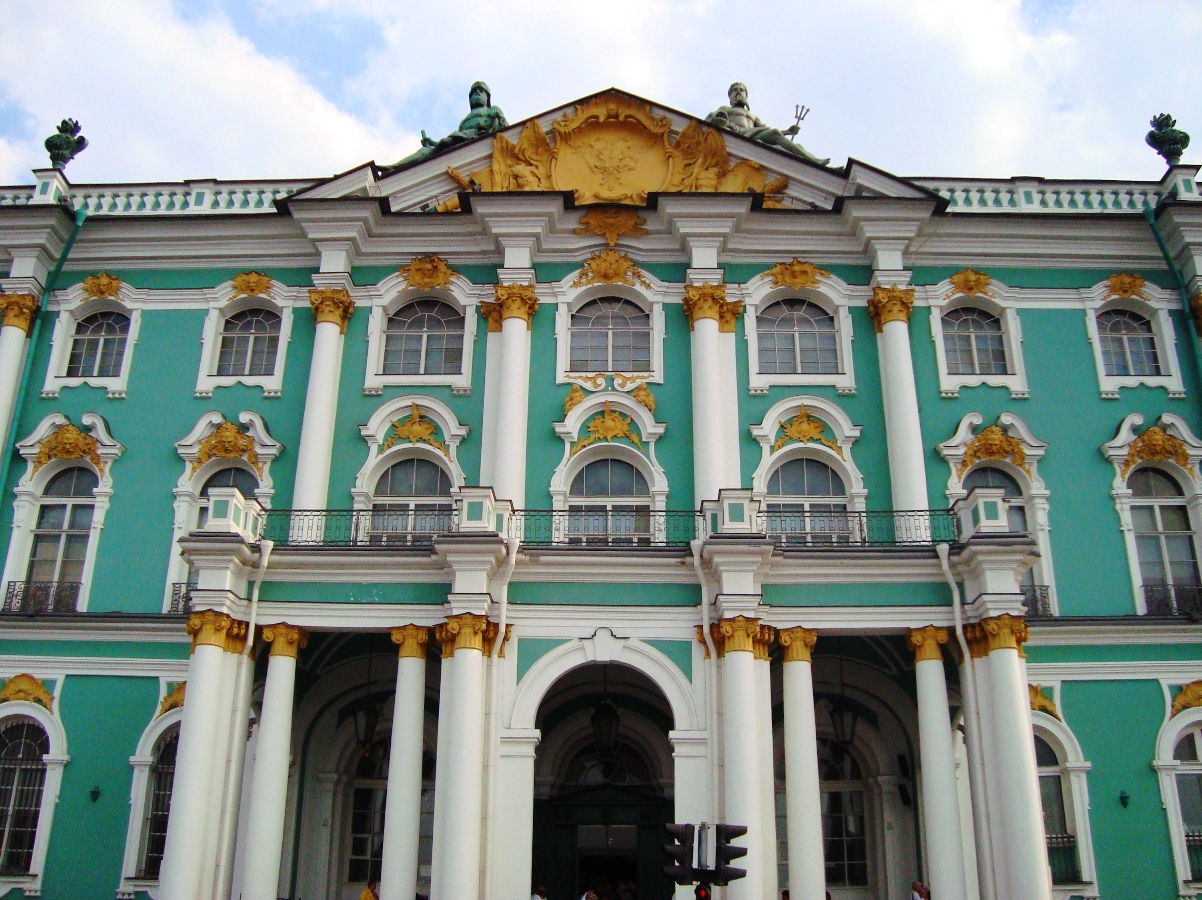 The green fascia of the State Hermitage Museum, the largest art museum in the world. It holds much of the art collect of Catherine the Great.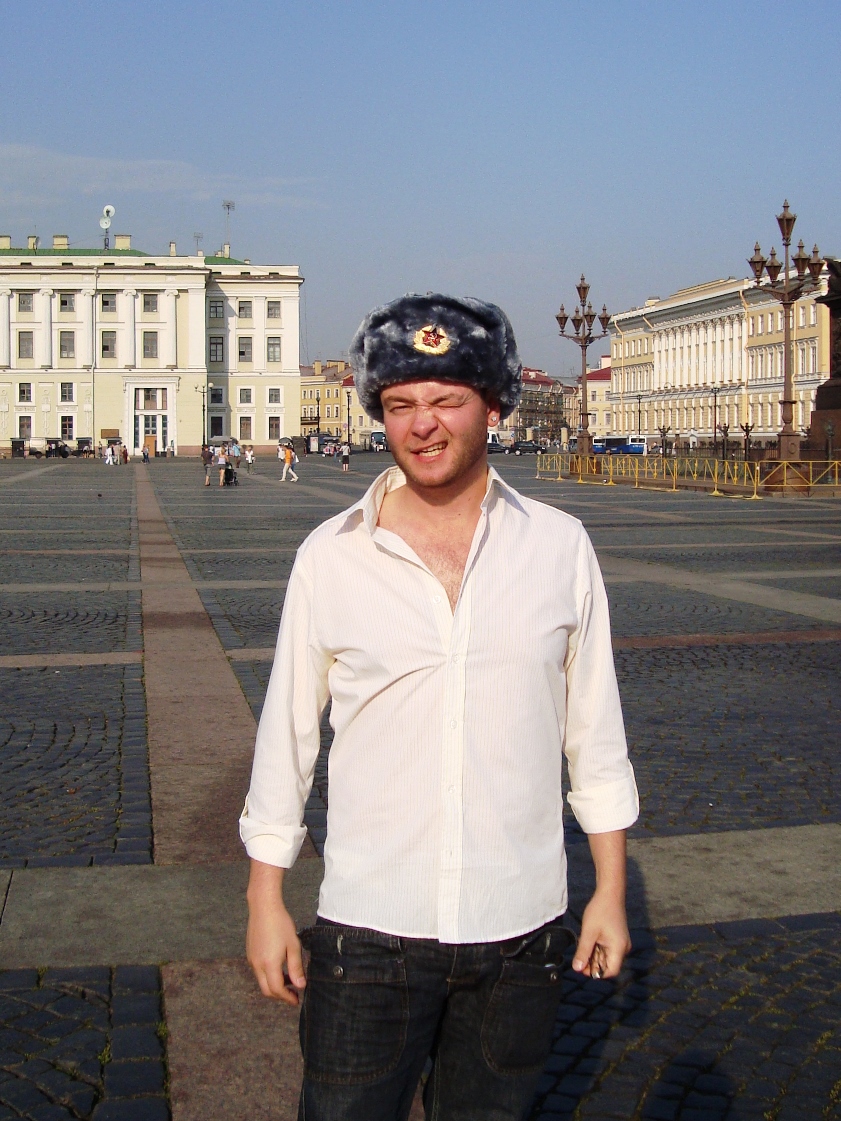 Wearing a Russian hat in 30 degree heat. I'm not hot in the slightest.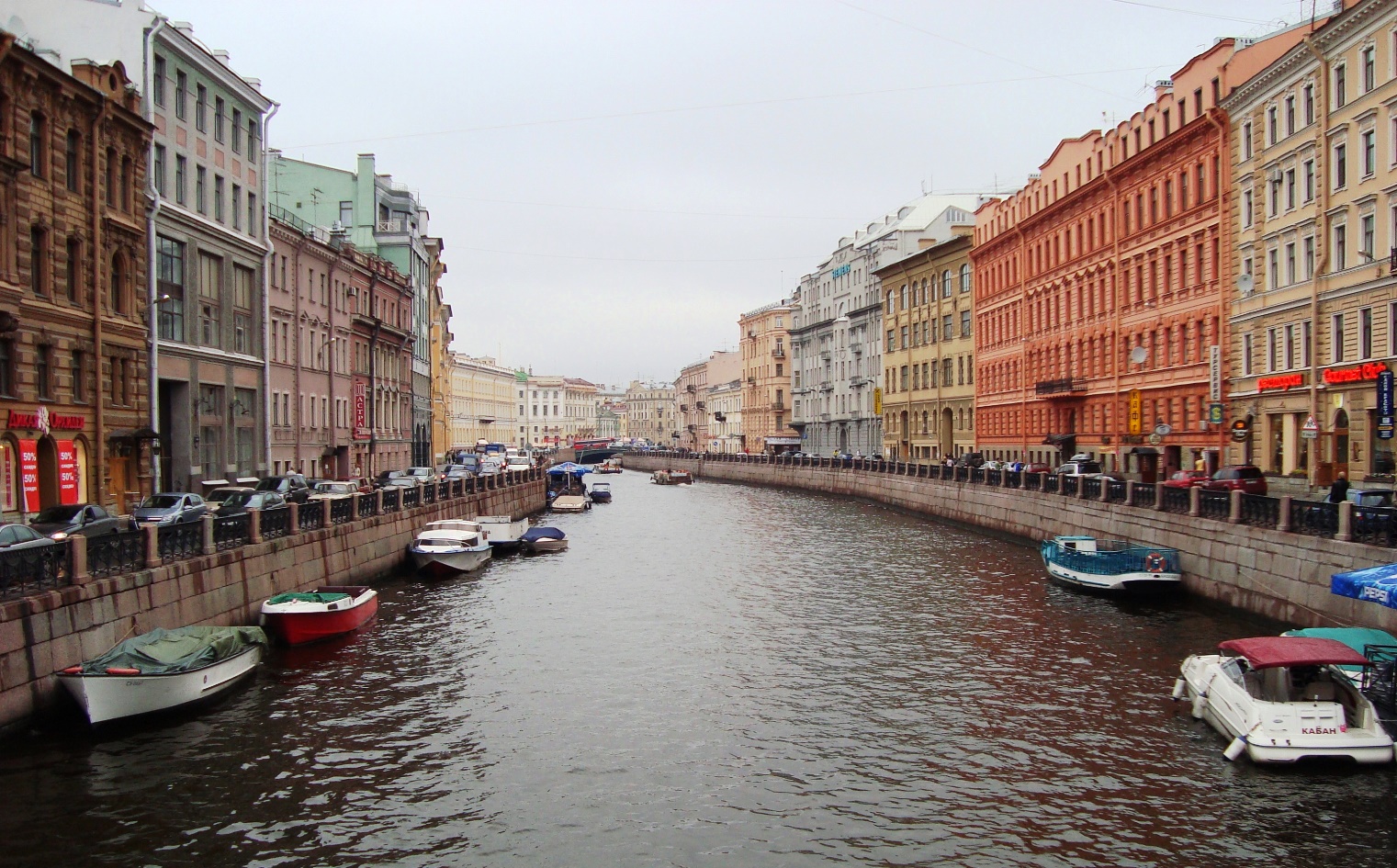 Saint Petersburg's canalways go a little way to explaining the city's epithet of the Venice of the East.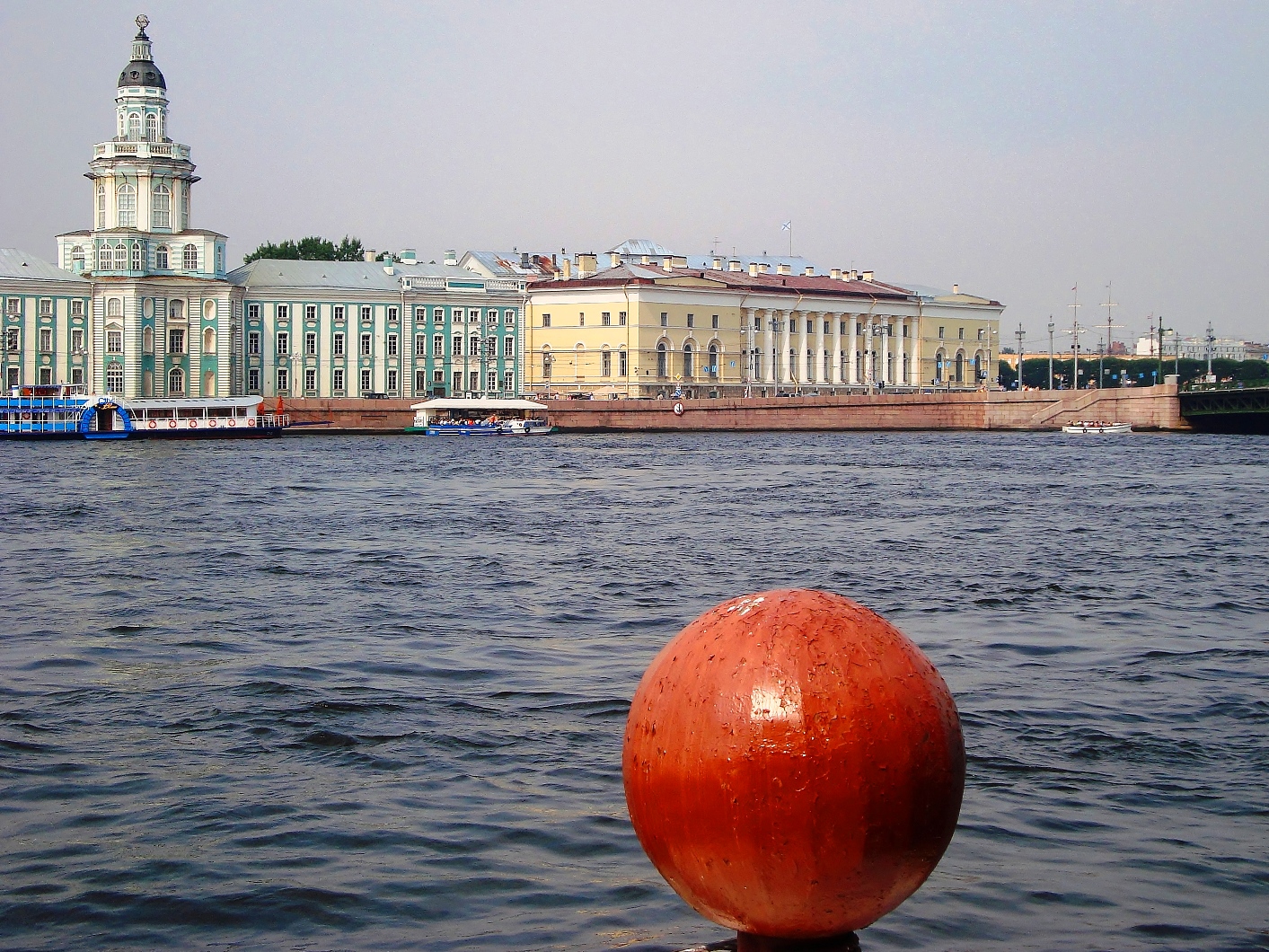 The Hermitage Museum viewed from across the River Neva.
travel tips, links & resources
Make sure you book your ticket to Saint Petersburg from Moscow in good time; it is a popular route meaning that seats sell out. The journey is a long one, so make sure you take something with you to (a) entertain yourself and to (b) block out the noise generated by other rail users.
Moscow has several train stations - make sure you know which one your train is departing from. I remember locating the station amongst market stalls and busy streets being really challenging. We made our train in time - but only just.
At the time of travel, some attractions and businesses only accepted cash. This resulted in us embarking on a journey only to be refused entry to the Peterhof Palace because we could not pay in cash. Ours, ultimately, was a wasted journey. I suppose we should have carried a mix of card and cash just in case - but we learned the hard way.
Russia is internationally-renowned for its corrupt officials. Wherever possible, avoid contact with those in positions of officialdom and certainly don't do anything which can be used against you as leverage for a bribe or a shakedown. Be on you best civic behaviour; dropping litter or urinating in public, even when you think you are not being watched, have been known to cause visitors serious problems with authorities.
Be mindful of where you point your camera. The Russian psyche is one bedevilled by paranoia. Photographing any place deemed strategically significant such as transport hubs or important buildings is likely to elicit a negative reaction from those in charge. I took a photograph inside a supermarket (which was opposite the Ministry of Foreign Affairs building) and was instructed by the security guard to stop. Something of the Cold War mentality persists in Russia. You'd be wise to behave accordingly.
A resurgent Russian nationalism means that anyone not speaking the Russian language may experience short shrift from locals if you try to communicate in English. The Cyrillic script makes Russia less easy to navigate; signs are virtually incomprehensible. This poses challenges but also opportunities. It is vital, in this toxic context, that you learn a few basic Russian phrases. These will go a long way to building bridges with sometimes hostile characters who may appreciate your efforts and try to help you a little more than they may otherwise have done.