Exploring the Urban Heart of Red Mother Russia
Where: Moscow & St Petersburg. Russia, Europe
When: August 2008
What: St Basil's Cathedral, Red Square, Stalin's Seven Sisters, River Moscow Cruise, Gorky Park, Moscow Metro, Ostankino TV Tower, Park of Achievements, The Kremlin, Church of the Spilled Blood, GUM DepartmentStore.
How: International Flight, Taxi, Boat, Russian Train, Moscow & St Petersburg Metros, Walking.
Counter: 1 country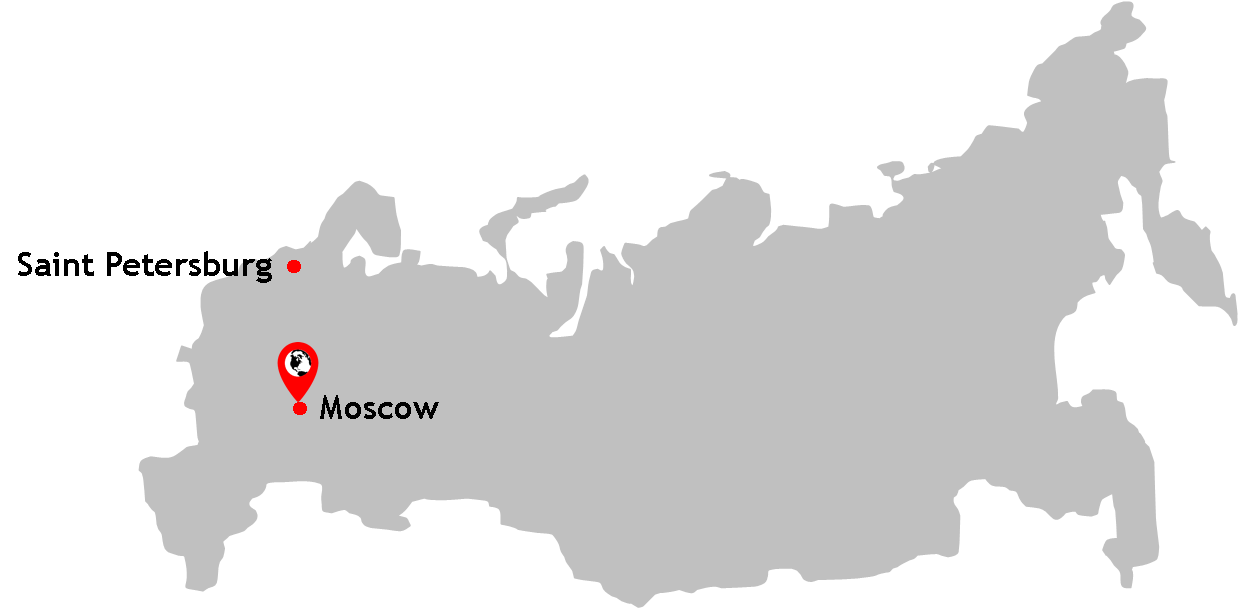 Russia was a beguiling place; architecturally I believe there is no other place quite like it. I'd wanted to go to Russia for years and, on my 30th birthday in August 2008 I finally got my wish. Added spice for us came from the Georgian and Russian conflict which had started two days before we left. News stands were awash with images of tanks and of Georgian President Saakashvili, and on the TV in our hotel. Russian media bias was rather blatant, unsurprisingly, especially in a country where there seemed to be an infinite range of different security and police divisions, each with their own particular uniform. One division, with blue shirts and trousers, sees 'men', no older than 20 in my opinion, hanging around metro stations in groups of three or four, carrying truncheons. Doesn't exactly instil confidence. Russia was quite clearly a country built on an arrogant machismo; men don't so much talk as grunt at you. Culturally there was an unmistakable undercurrent of mistrust and corruption: we walked past one police station, where the room (notice I didn't say reception desk) was filled with slack-looking officers smoking and laughing.
The country has a fascinating history; although far too complex to get to grips with in a short visit. Clear was the feeling that Russia struggles with what it is; huge buildings and architectural follies which serve no other purpose but to stand there as a reminder of a once great Russia, resorting to being used as indoor markets, underlines the superficiality of modern Russia; iconic Russian architecture built to make a statement, but nothing else. The USSR used its iconography and architecture to make grand gestures and big statements, purely out of an inferiority complex - playing catch-up with the West. The Park of Achievements (now tellingly re-named the All Russian Exhibition Centre) was designed to glorify communism and socialism. Nobody is making Russia play catch-up, it wants to do it itself. It is like a badly behaved younger brother who throws tantrums when he doesn't get enough attention, or gets left out of being picked for the football team and therefore becomes rude and aggressive. Why else would you build a huge park with a strange assortment of arches, fountains and empty buildings, and then call it 'The Park of Achievements'? It seems that Russia's greatest achievements quickly become its greatest embarrassments; standards by which it becomes judged and dismissed by the West.
All of this means that everything you see in Russia is infused with interest and history. Also its most recent history, from 1917 onwards is arguably some of its most jaw-droppingly fascinating. Like it or loathe it for what it stands for, Russia is an absolute must for anybody wanting to see the sights of the world before they head to that vaster country in the sky. A week was just not enough - you need at least a fortnight to get to grips with what there is to see here. This trip does not mean I am done with Russia - not just yet. I'll be back.
Although I have only travelled a tiny proportion of this vast country, Moscow definitely felt like the dark, beating heart of Russia. I was desperate to see some of the huge and imposing Stalin palaces, the red brick towers of the Kremlin and St Basil's Cathedral. These are truly iconic sights which elicited a gasp from me on my approach to Red Square - and were worth travelling to Russia in themselves. St Basil's is a truly stunning sight and one I had been desperate to see for so long. It is so otherwordly in its colours and swirls that it becomes hard to imagine that man built it.
Moscow was also crammed full of weird and wonderful things to behold. A prime example we saw on our visit was the grand statement of the gold fountain in the Park of Achievements which didn't work. Also, the Ostankino TV Tower; at 540m tall it was taller than the Empire State Building when it was completed in 1967. It is still the tallest tower in Europe and the fourth tallest in the world; another grand gesture which, as history has marked, Russia is then judged by. In 1993 the tower was stormed by communists, taking three TV stations off the air. More tellingly, in 2000, the tower caught fire because of faulty 1960s electrics. Russian President, Vladimir Putin, declared, "This latest accident shows the shape of our vital installations and the overall state of our country." We stayed at the Golden Apple in Moscow. On leaving my 30th birthday card and balloons in the room, we returned to find that someone in the hotel had arranged the balloons into a smiley face and left a cake and bottle of champagne. Nice touch, I thought - and sadly a little uncharacteristic of Moscow.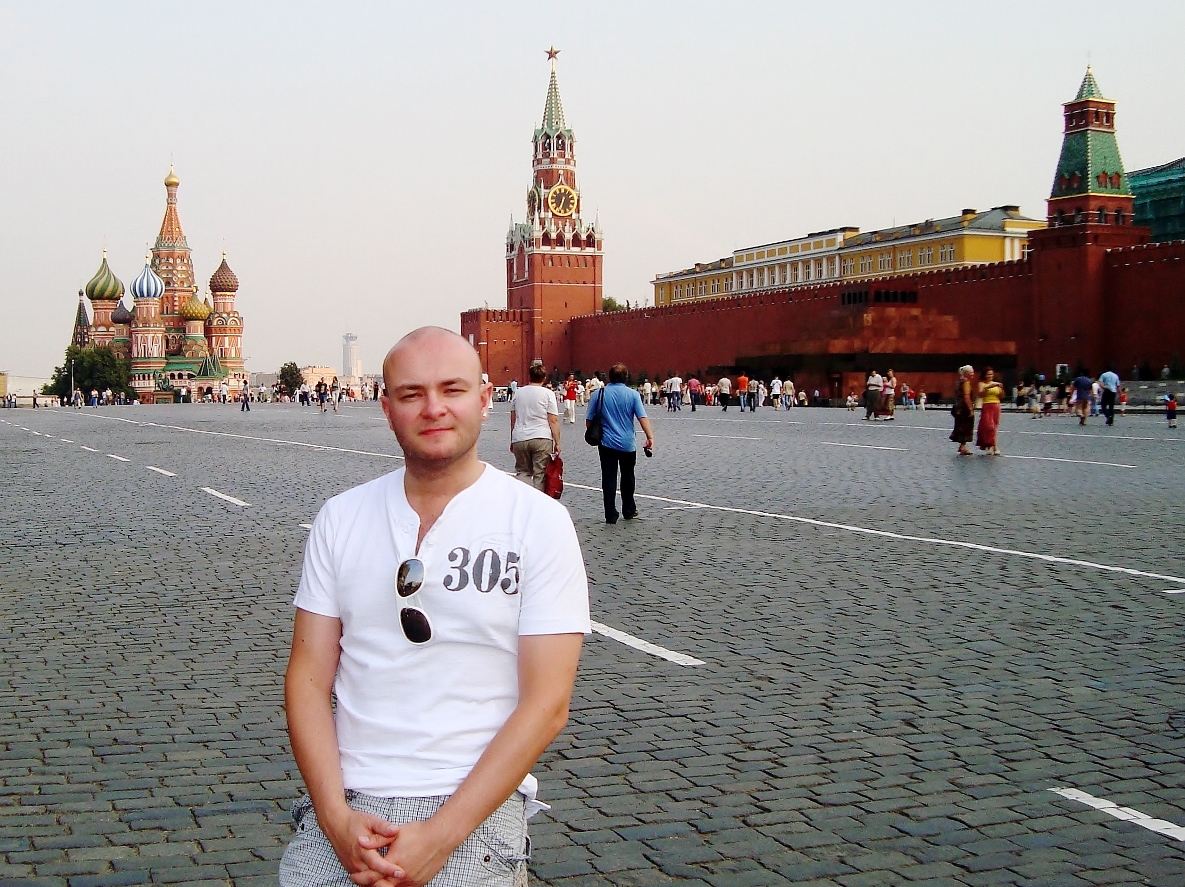 Moscow's famous Red Square with St Basil's and the Kremlin - a sight I'd longed to see for years.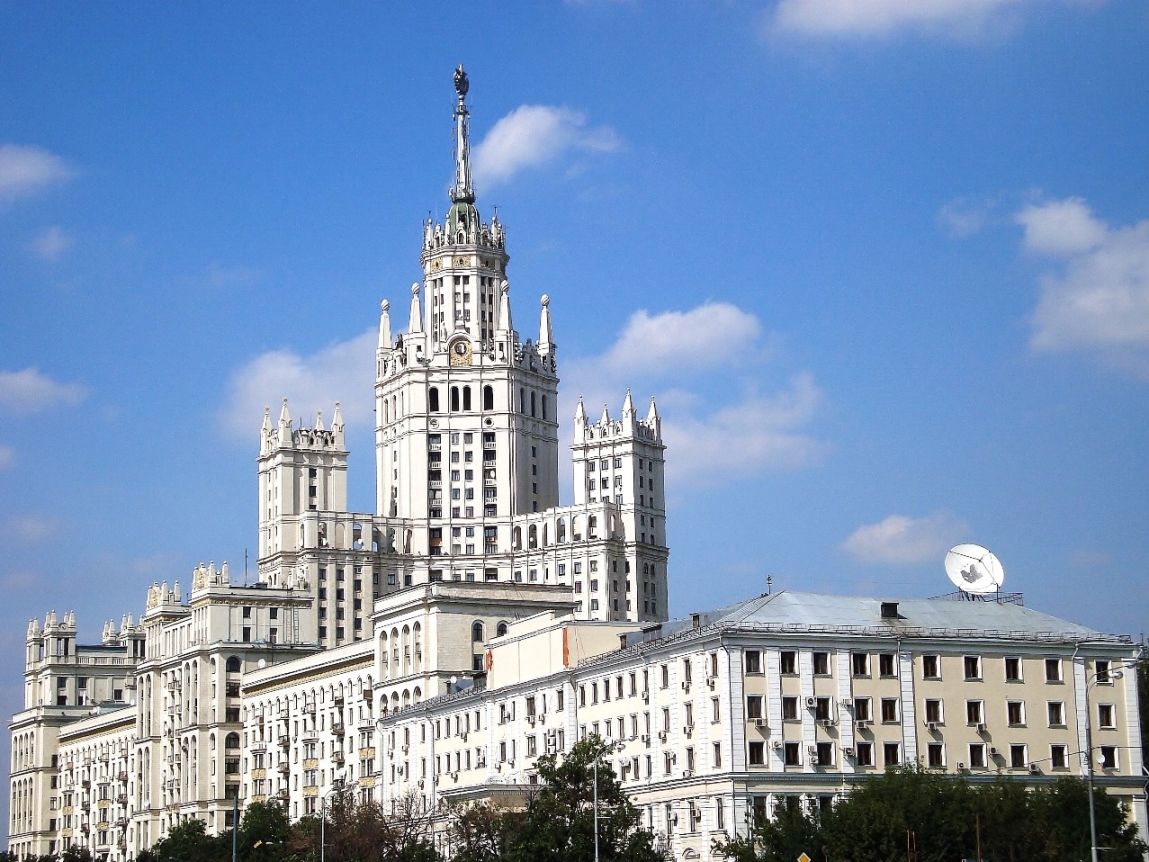 Stalin's Seven Sister skyscrapers: a dramatic apartment building on Otyelnicheskaya Nabyerezhnaya.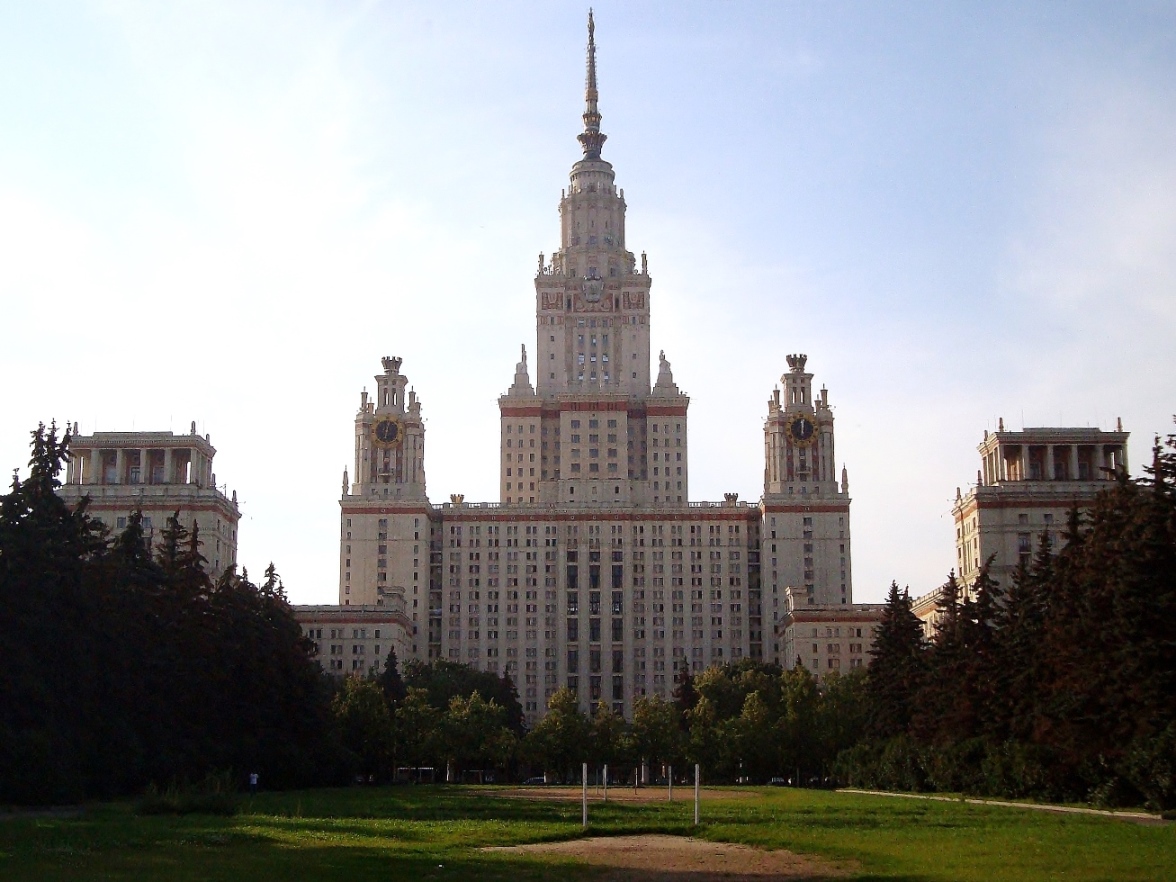 Stalin's Seven Sister skyscrapers: Moscow State University. Apparently part inspiration for these fascinating monsters was the Royal Liver Building in Liverpool.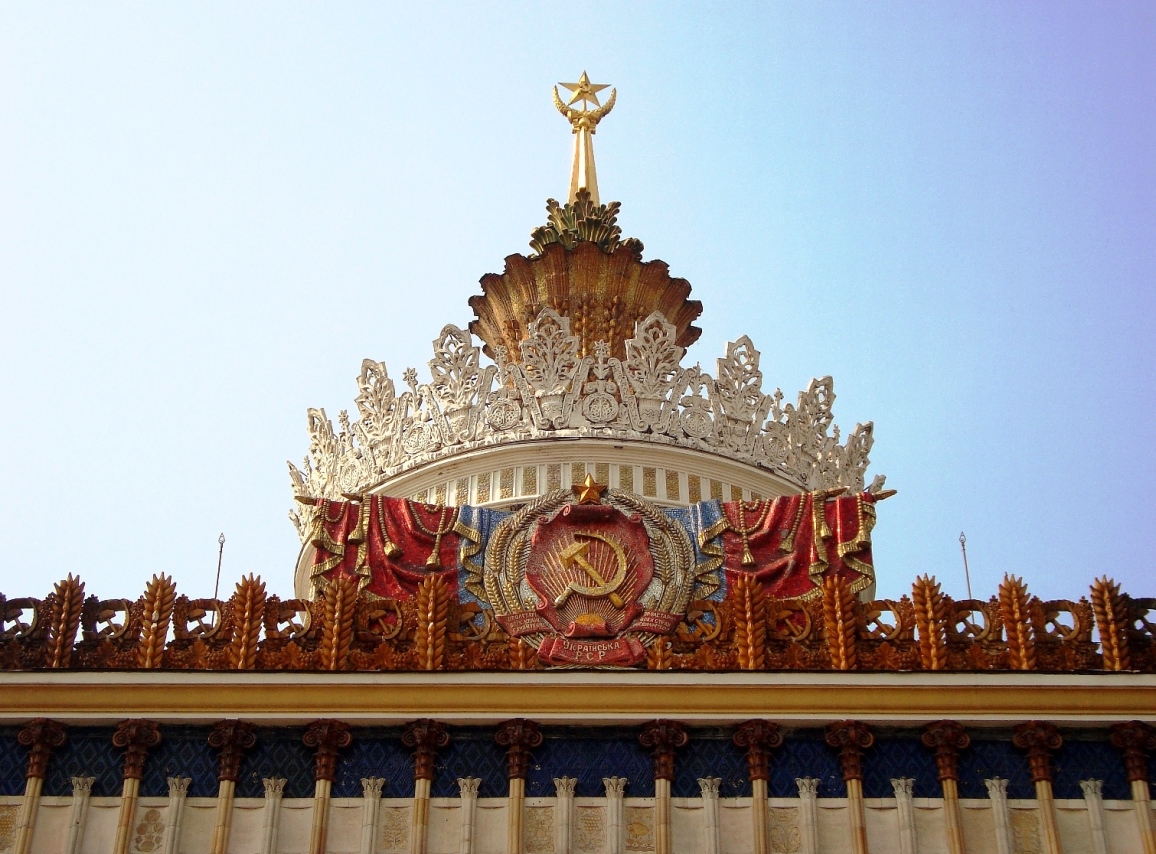 The Moscow Park of Achievements : many of the buildings are topped by iconic USSR symbols.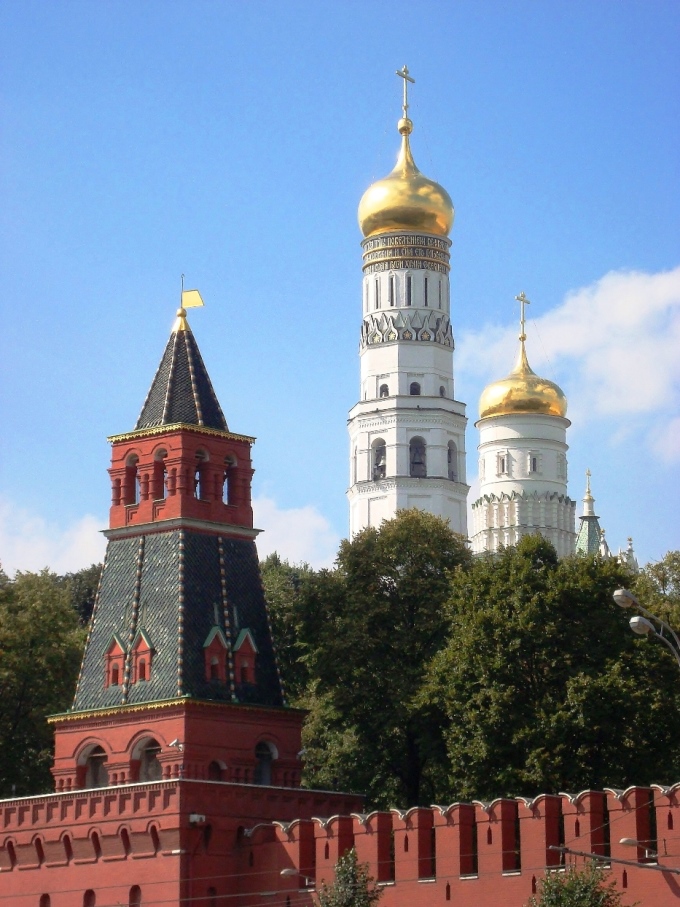 Kremlin towers and golden onion domes.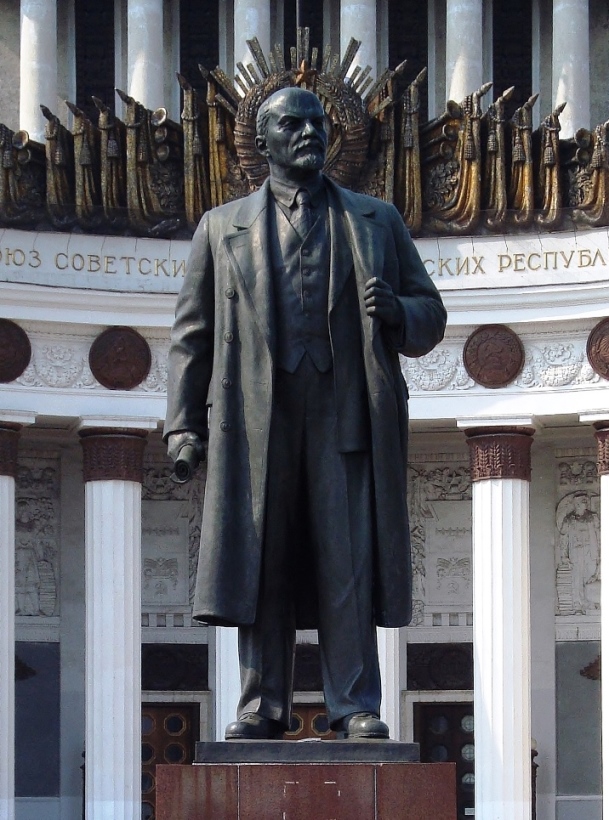 Lenin stands proudly at the Moscow Park of Achievements.
Using the Moscow-St Petersburg Railway, we travelled some 700km, nine hours and across four Russian oblasts to reach Russia's second city (click here to view the indecipherable ticket). It was a journey we nearly never made - running late, and failing to understand a series of instructions from ticket office staff and Muscovites in broken English, we boarded the train with thirty seconds to spare. We wisely chose first class. I spent nine hours watching dreadfully old Russian programmes, which were beamed into the carriage by an old-style TV set. Most irritating was that for hours, fellow travellers (all Russian), sat there giggling and laughing at the programmes being shown. One programme was a cartoon from what looked like the 1960s. I spent the journey being generally, but mutely, appalled - especially as I couldn't understand a word and the whole nine hours' worth of entertainment was completely lost on me.
St Petersburg was boiling hot - and rather underwhelming. Likened by some as Russia's Venice, I had certain expectations which were not fulfilled. It must be said that our mix-up with cash and credit cards meant that we had a wasted journey to the Peterhof palace - although we did have a nice little boat journey to the palace - we just couldn't get on the island! Great shame. St Pete did seem far less Russian and more European. Apart from key Russian icons like the Metro system, there was little which reminded us of Moscow; there were certainly less police men or the OMON staring at us, which put us more at ease than we had been in Moscow.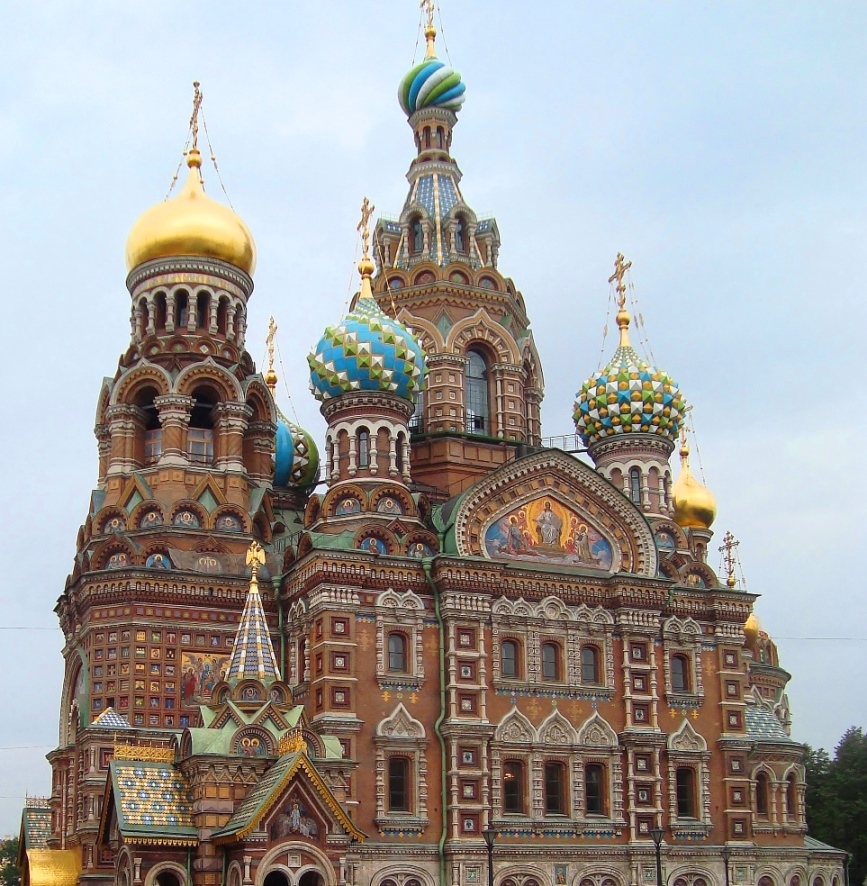 The Church of the Spilled Blood. It has, since it's completion in 1907, has been used as a morgue for death-starved Russians in WWII as well as a warehouse for vegetables. It intentionally resembles the internationally recognisable St Basil's in Moscow.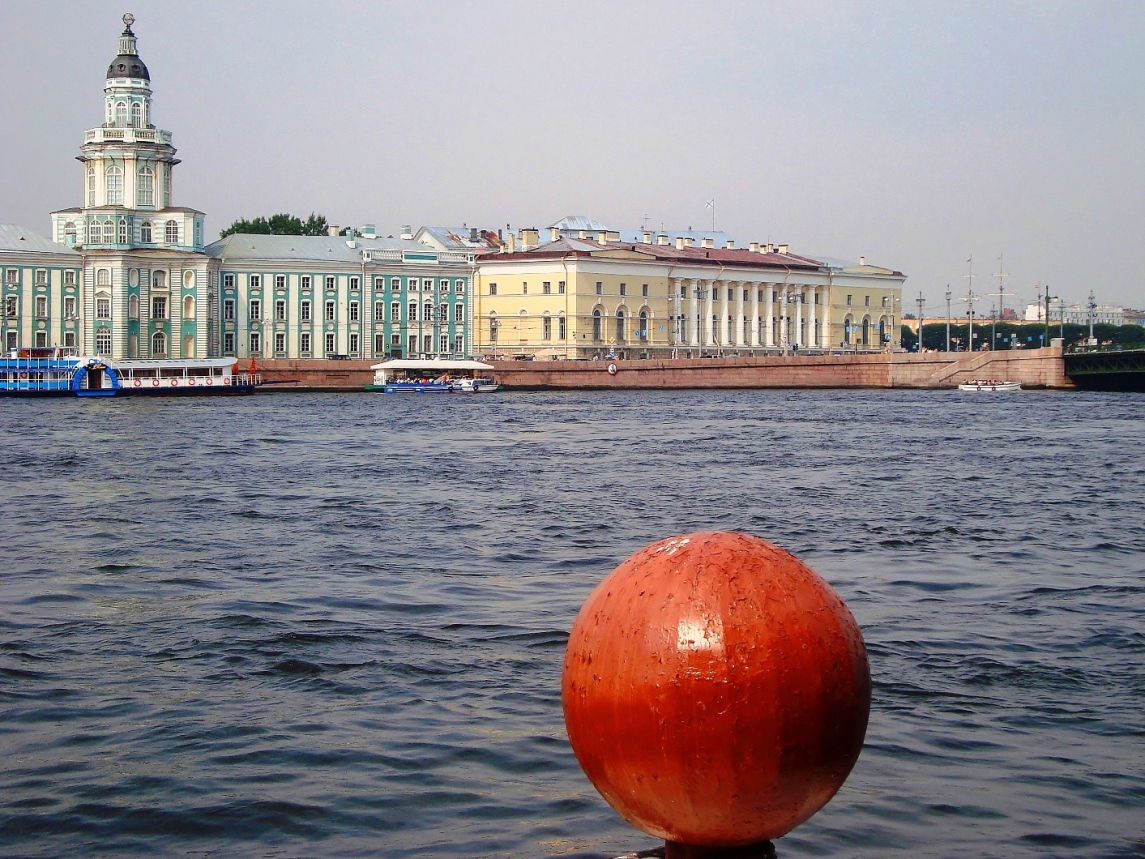 The Hermitage Museum viewed from across the River Neva.
travel tips, links & resources
Make sure you book your ticket to St Petersburg from Moscow in good time. Obviously it is a popular route meaning that your plans could be disrupted if you leave it too late.
Moscow has several train stations - make sure you know which one your train departs from. I remember locating the station amongst market stalls and busy streets being a bit of a nightmare. We made our train - but only just.
Russia is internationally-renowned for its corrupt officials. Wherever possible, avoid contact with those in positions of officialdom and certainly don't do anything which can be used against you as leverage for a bribe or a shakedown.