A Summer Road Trip Across Scotland from Edinburgh to Inverness
Where: Edinburgh, Inverness, Fort Augustus, Glen Coe, Laggan, Spean Bridge. Scotland, United Kingdom
When: August 2009
What: Loch Ness, The Scottish Parliament, Forth Rail and Road Bridges, Ben Nevis Cable Car Ride, Laggan Dam, Urquart Castle, Edinburgh Fringe Festival, Princes Street, Edinburgh Castle, Little Athens.
Counter: 1 country
Illnesses or mishaps: The exhaust falling off of our car resulting in an emergency call to a local mechanic in Fort Augustus who soldered it back on for £10.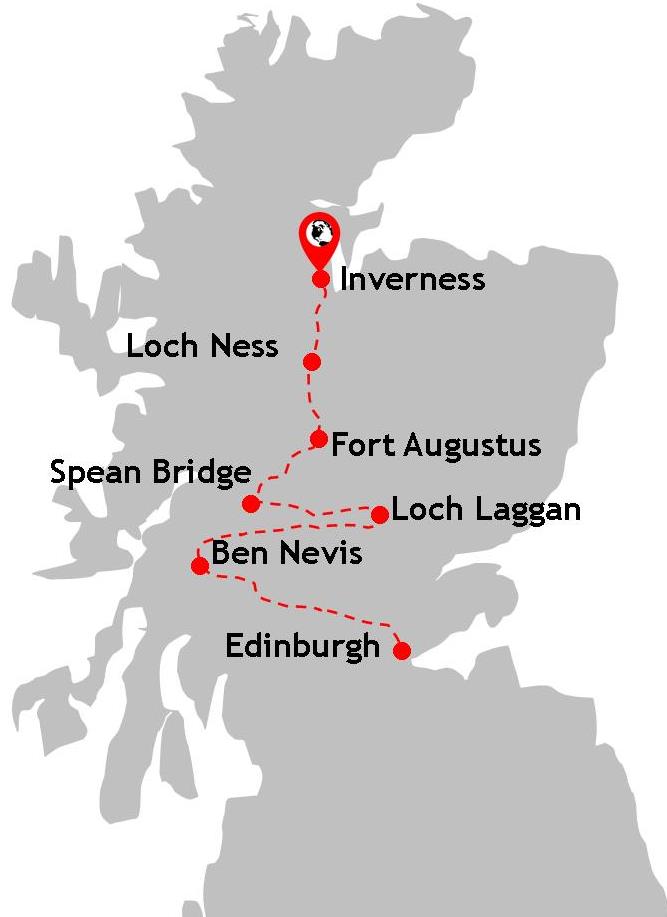 An attempt to keep things cheap and simple in the summer of 2009 saw us embark on a car journey around the highlights of what Scotland had to offer. Sometimes people are so busy looking abroad that they fail to give the beautiful things on their own doorstep a cursory thought. Scotland stands up to the competition and is well worth serious consideration for at least one of your summer holidays. Driving around Alba (Gaelic for Scotland) allows you to place foreign destinations in context. Scotland is just about far enough and its cultural differences just about marked enough to help you feel like you are somewhere different, like you are somewhere far away on holiday. It has stunning landscapes which would give most European countries a fair run for their money and some pretty vibrant cities to boot.
Zig-zagging from north to south, and starting from Inverness, we hit the Alba highlights of Inverness, Loch Ness, Fort Augustus, Spean Bridge, Ben Nevis, Loch Laggan in the Scottish Highlands, as well as Glen Coe, Edinburgh's Fringe festival and the Scottish seat of power, the Holyrood Scottish parliament - not to mention the glorious and mighty Forth road and rail bridges. For a bit of landscape escape we also travelled up to the top of Ben Nevis by cable car! It was not all plain sailing - travelling from Loch Ness to Fort Augustus, the exhaust fell off the car (we had to reverse to go and collect the thing). This meant we were humiliatingly towed all the way to Fort Augustus. Still, I did try to turn a nightmare into a bonus and decided to skinny dip in Loch Ness whilst we waited for the car assistance mechanic to arrive. Luckily, he was able to patch up the exhaust at Fort Augustus, for the cost of a tenner, and we were happily on our way! These were the things we saw and did when we went Driving around Alba.
Inverness was our first stop on the Driving Scotland adventure. It was our most northerly point from which we were to descend down the spine of Scotland, finishing up in Edinburgh. Inverness is a quiet city - even having arrived on a Saturday night when locals were heading into town for their nights out. Outside the restaurants and bars, the city was quiet and a peaceful place to take a walk along the River Ness - on the imaginatively-named 'Ness Walk'. Inverness is a beautiful city full of Scottish character - large grey stone weathered buildings with grand conical turrets give the city import and regency.
Inverness is Gaelic for 'Mouth of the River Ness', a perfect starting point to tick off one of Scotland's most famous tourist sights: Loch Ness - home to the much debated Loch Ness Monster. Whilst looking for the famed monster is quite clearly a silly and pointless exercise, it is really quite extraordinary how many people there are here from other countries? The monster myth really acts like a shot in the arm for this highland location - the hordes of tourists from the UK and around the world feels incongruous - especially in such a beautiful and tranquil location. The closest we got to the creature itself were two plastic creations - one outside the Loch Ness Monster Exhibition and gift shop, the other partially submerged in a nearby man-made pool - all rather ridiculous and touristy, but fun nevertheless.
A lonely tree branch points out into Loch Ness and in doing so helps capture a sense of the loch's atmospheric solitude.
fort augustus, glen coe, laggan & spean bridge
Fort Augustus is at the end of the Loch Ness region, a small village which relies heavily on tourists like me to keep the money flowing. It was never a place we'd intended to visit on our itinerary - but it was a place we had an hour or so to explore whilst the car exhaust was being re-attached to our rapidly fading Renault Clio. We thought our driving holiday was over before it had barely begun. It was from Fort Augustus that our saviour came - in the form of a mechanic who welded our exhaust pipe back on after it fell off along Loch Ness itself. We retrieved the offending article and waited for him to arrive. Within two hours we were on our way. The village is a leisurely place to spend a couple of hours; it has quaint village shops and a rather fetching lock with waterfall. It is also home to the rare Breeds and Children's Farm which we visited to kill some time. One of the principal benefits of a driving holiday means you can stop off at anywhere which takes your fancy. Glen Coe, Spean Bridge and Laggan Dam were three such places. Spean Bridge was the location we decided to base ourselves for a night - a weird place to stay because the two star hotel has strong military links and so I felt like I was a private staying in a soldiers' mess.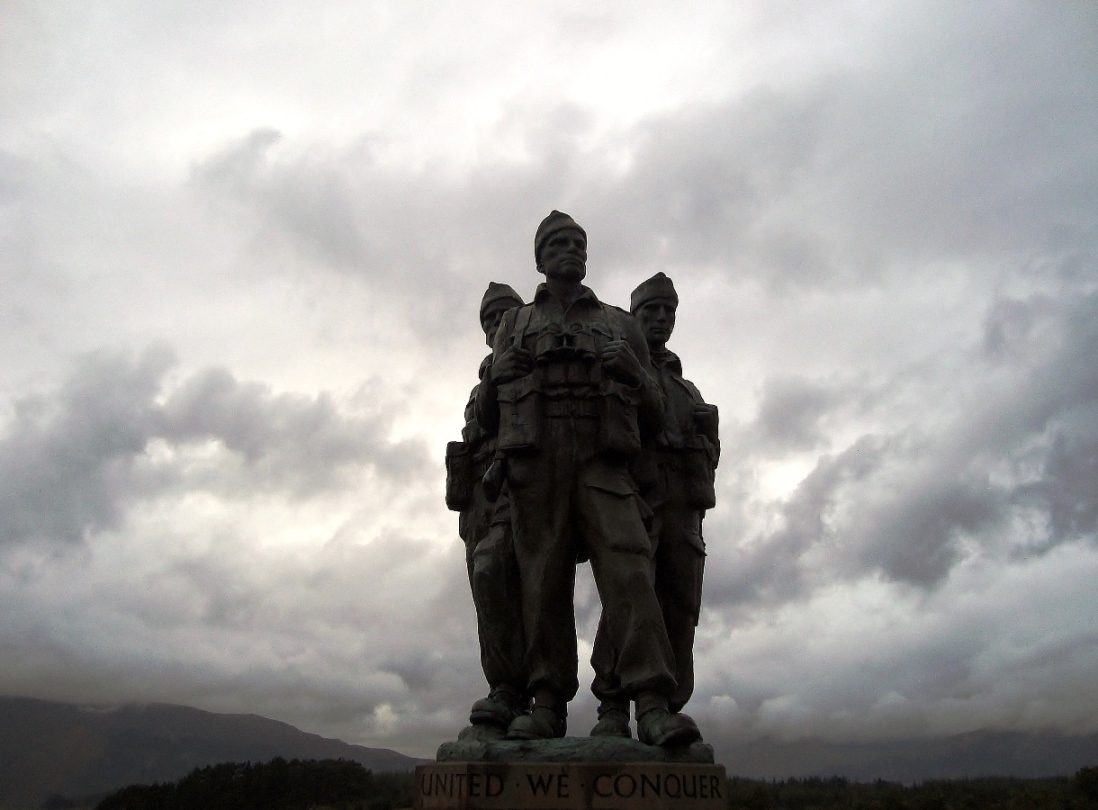 The Glencoe Massacre Monument set against a moody Scottish sky.
Ben Nevis is the highest mountain in the British Isles - drawing mountain climbers from all over Europe and, indeed, the world. I have already climbed Mount Snowdon but climbing this beast was a step too far at the time - it is not something you rush into. So, we opted for the cable car ride instead which transported us to the top of the mountain which has a little mountaintop restaurant. The restaurant itself is a busy and frantic affair, rammed full of people who have just completed the gruelling journey up and are busy stuffing themselves with carbohydrates and energy drinks. Many decide to take the cable car back down again. However you get there, the views are stunning on a clear day.
Taking in the view on top of Ben Nevis. Rather amazing on a good weather day.
Edinburgh was the final stop in our Driving Scotland tour - and a fitting place in which to do so. A little by chance we happened upon the Edinburgh Fringe festival at the same time. We knew that the Fringe was running because it was August - and Edinburgh is synonymous with the event at this time of year. Unfortunately it meant that trying to find a place to stay during the festival was hard - and expensive. In hindsight we should probably have avoided Fringe time altogether. However, it was thrilling to be in Edinburgh at the time of the festival. The phrase hustle and bustle doesn't sum it up. Flyers thrust into your hand, desperate artists keen to fill seats drop their prices shout like market stall sellers, and street performers bring shopping streets to a standstill. Edinburgh has some great sights worthy of a visit by any self-respecting city tripper - to fuse these sights with one of the biggest street festivals in the world is a wonderful experience.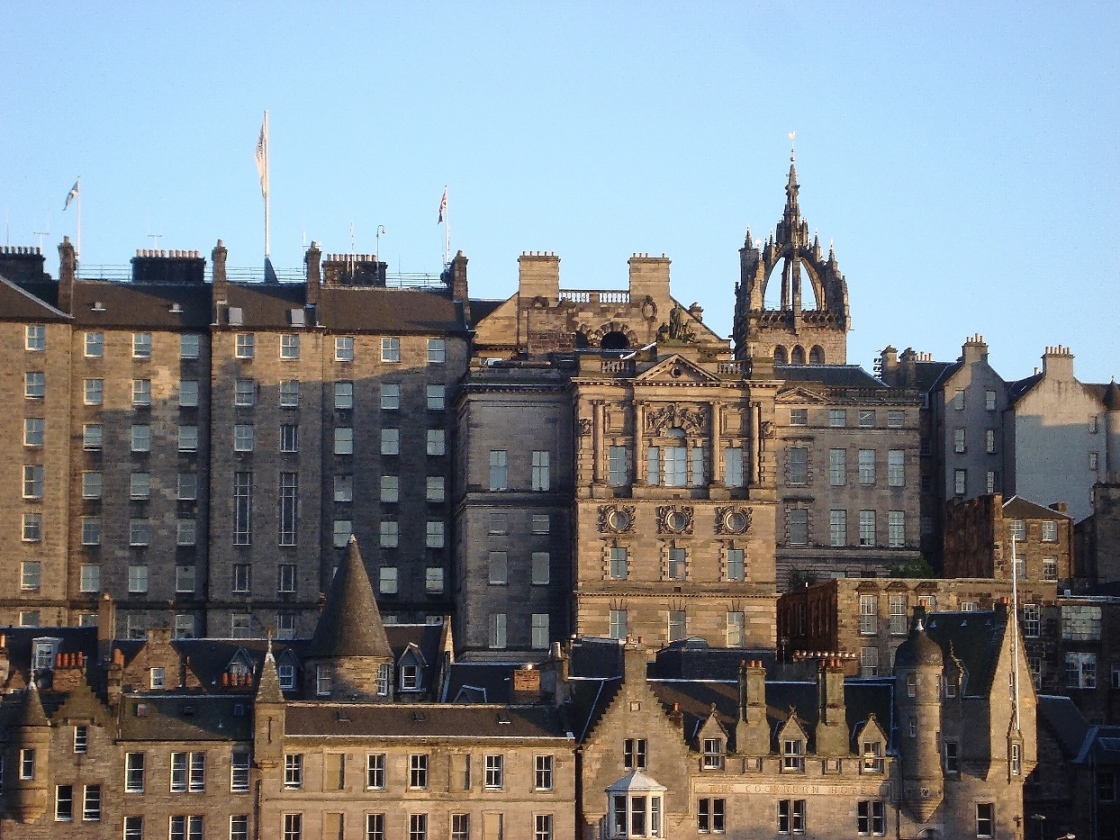 The stone skyline of Edinburgh full of embellishment, turrets and grandiosity. This is one of my favourite photographs from the trip - I love the way the sunset highlights the buildings' architectural details.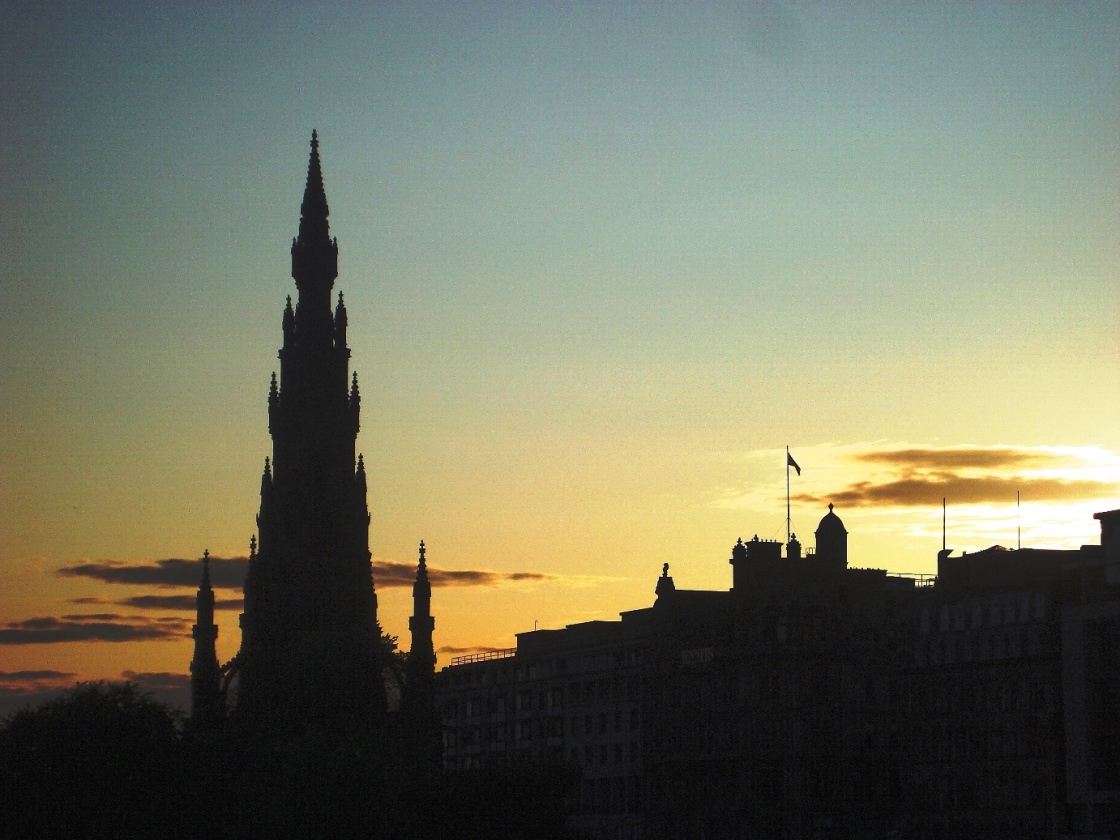 A silhouetted Scot Monument cuts a striking shape against the Edinburgh sunset.
travel tips, links & resources
Scotland is a country which, ideally, should be explored road-trip style. So much of what you will take pleasure in will be unexpected and not included in any tour itinerary that it's vital you have the flexibility just to pull over and take in the view when the occasion arises.
You don't have to pay for expensive tickets at the Edinburgh Fringe. There are plenty of street performers who perform for a small tips and are actually very good. Also, for lesser-known performances in smaller venues there were many ocassions where tickets were handed out for free just before the performance was due to start. They do this to fill the seats and create the atmosphere for the actors performing and for those that paid for their ticket only hurs before. My advice is to tak any flyer handed to you in the streets.