48 Hours in South East Asia's Futuristic Sci-fi City
Singapore was the first country on my three country journey around south east Asia, followed by Brunei and then Malaysia on Borneo.
Where: Singapore City, Singapore, South East Asia.
When: March 2018
What: Gardens by the Bay, Art-Science Museum, Marina Bay Sands, Sultan Mosque, Little India, Chinatown, Merlion Park, Buddha Tooth Relic Temple, Parliament, Islamic Nagore Durgha shrine, Flower Dome, OCBC Skywalk.
How: International flight, taxi, walking, MRT Metro.
Country counter: Country No.80
Illnesses or mishaps: Trying to traverse the city in the unbearable humidity.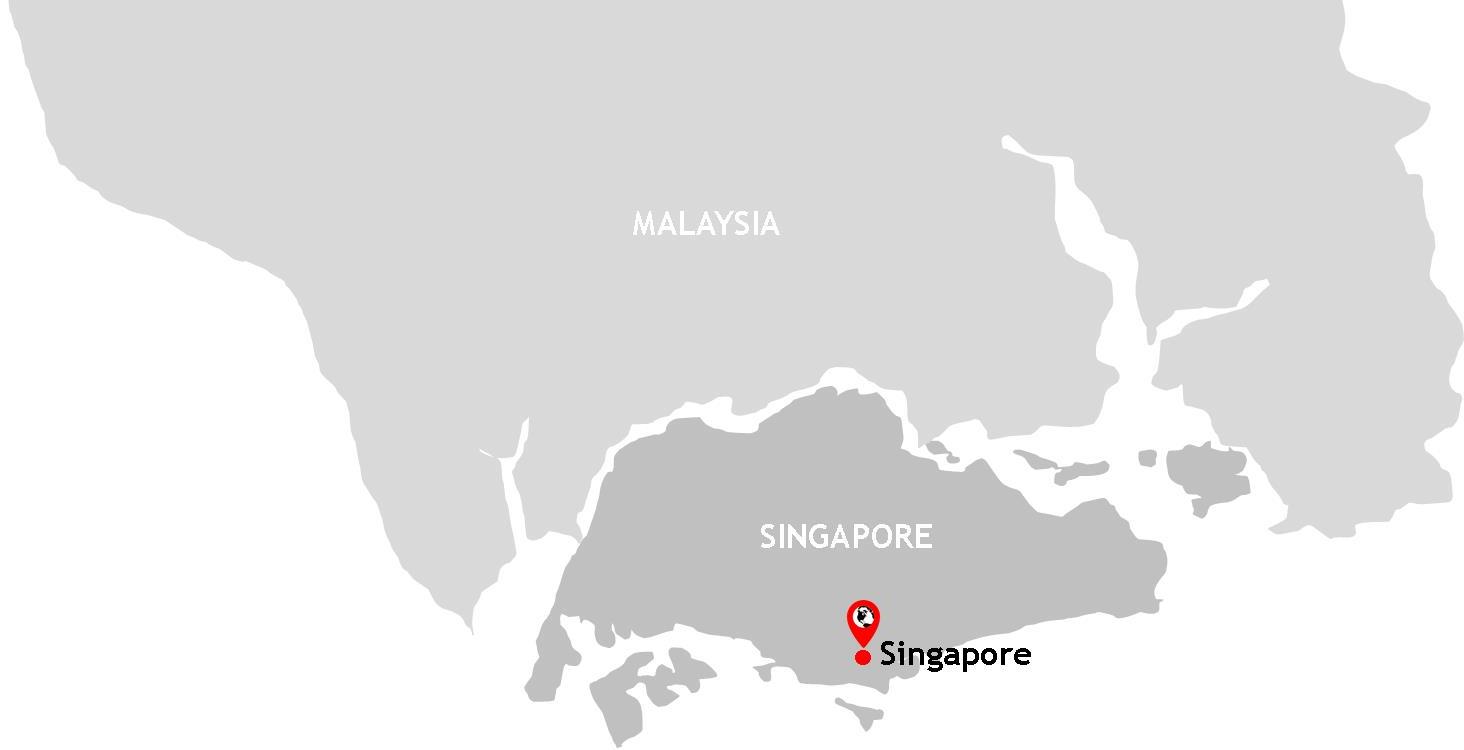 Singapore is a tiny country at the very heart of Southeast Asia. Once an obscure swampy marshland, Britain, under the stewardship of Sir Thomas Raffles and the East India company, transformed this slab of land on the southern tip of Malaysia into an Asian success story. Shamefacedly, I struggled to get too excited about my trip to this glitzy city state - it's hardly intrepid travel. Having recently visited Belarus, Azerbaijan and China, I did wonder what the well-trodden safety of Singapore could possibly offer someone with a penchant for the more unusual and offbeat places out there. I thought I knew what I'd be getting: an Asian take on Doha or Dubai. After all, cities are all the same these days, aren't they? As I was to discover, my prejudices were unfounded and my ignorance well and truly confirmed.
The first thing I noticed was that Singapore was an unexpectedly green city, with every conceivable plant species from this part of the world in absolute abundance, softening the sharp edges of corporate buildings, dangling from walkways and climbers swallowing the harsh concrete pillars of flyovers. This greening of Singapore started back in 1963 with the Prime Minster Lee Kuan Yew's master plan to create "a city within a garden". In almost post-apocalyptic scenes, Singapore appears to be a city where the plants have completely taken over following some tragic existential event. In most cities corporate spaces and green spaces compete, with the latter often relegated to fenced in patches of land. In Singapore, the two live side by side in a happy symbiotic, inter-dependent relationship. Not only does the greening of a city counter the effects of pollution and offer a little respite from the unrelenting heat of a Singaporean afternoon, it also looks beautiful. It therefore begs the question: why isn't every city doing this?
Indeed, the city's newest architectural additions take their cues from nature in this mass organic love-in with shapes and embellishments lifted straight from mother nature's design sketchbook: buildings sporting bee-like hexagonal windows, stone pillars shaped like tree trunks, a subway's linear fascia breaking out into a swarm of butterflies. Other characteristics of Singapore's architectural botany include wavy undulations, rounded edges and gentle curves. Singapore is a different kind of city oscillating between Tokyo and a tropical Fijian island. Singapore 'does city' differently and this sets it apart from being yet another generic, inhuman cityscape of glass and steel. Paradoxically, Singapore's greenery serves to make the city feel more futuristic, not less so. There's something about corporate architecture, when combined with rampant vegetation, that conjures up moments from retro Science Fiction films like Day of the Triffids or Silent Running. Even the country's official mascot, the Merlion, a fusion of mermaid and lion, rendered in fountain form along the banks of Marina Bay, has a distinct whiff of playful, creature-bending Science Fiction about it.
The perfect synergy between Singapore's futuristic modernity and nature is perfectly and most beautifully realised in the city's most iconic attraction: Gardens by the Bay, a fantasy land where Sci-Fi meets botanical garden. A suspended walkway snaking through Super Tree Grove and a light display choreographed to opera music sounds like yet anther naff family attraction; something straight out of Disneyland. Normally I avoid this kind of tourist confectionery like the plague. It is, however, an absolute triumph of human imagination; the twelve conically-shaped purple trees reaching high into the sky become a botanical climbing frame for real vegetation. This otherworldly spectacle is set against the futuristic, and increasingly iconic, buildings of Marina Bay: the lotus flower-inspired Art-Science building and the Marina Bay Sands complex (to the layman it's the building with three towers topped by what looks like a thin boat). The fact that so many of Singapore's newest creations become recognised around the world so soon after their construction is testament to their design brilliance.
The much-needed counterweight to Singapore's futuristic verticality comes in the form of its local cultural districts, where modestly-scaled places of worship rub alongside colourful shophouses from colonial times which play host to a fizzing local economy. There is the warren of arty streets in the Kampong Glam area, known locally as the Arab Quarter, the centrepiece of which is the glorious Sultan Mosque with its golden onion dome to which all streets seem to lead. Little India, another of the city's ethnic quarters, mixes technicolour Hindu temples with architecture from the British colonial-era. This pattern is repeated in Chinatown, but with red paper lanterns, Taoist temples and Buddha statues. Indeed, so distinct are these cultural areas of Singapore that the city feels less integrated but, rather, partitioned; paradoxically part of the city and yet separate from it; perhaps a legacy of the old colonial strategy of geographically zoning people by their race. Often described as one large melting pot, more accurately, I would say, Singapore feels like a series of separate pots. Whatever their origin, these districts hold the promise of genuine colour and culture; they are not cultural confectionery designed with the tourist in mind. They feel authentic. Indeed, I don't think it's overstating the case to say that wandering around Singapore at times feels like a journey through several countries of Southeast Asia without the hassle of airports and passports: paper lanterns herald your arrival in China; religious garlands made from Marigold flowers herald your arrival in India; the golden domes of mosques with scores of shoes lined up thoughtfully outside herald your arrival in Brunei or Malaysia.
In Singapore you get a tantalising taste of the world and the cultures and practices which have been carried upon the waves of the South China Sea and broken upon its shores. Singapore is the world of Asiain miniature and perhaps, therefore, it was wholly fitting that, by chance, this little world on an island became my numerically significant 80th country.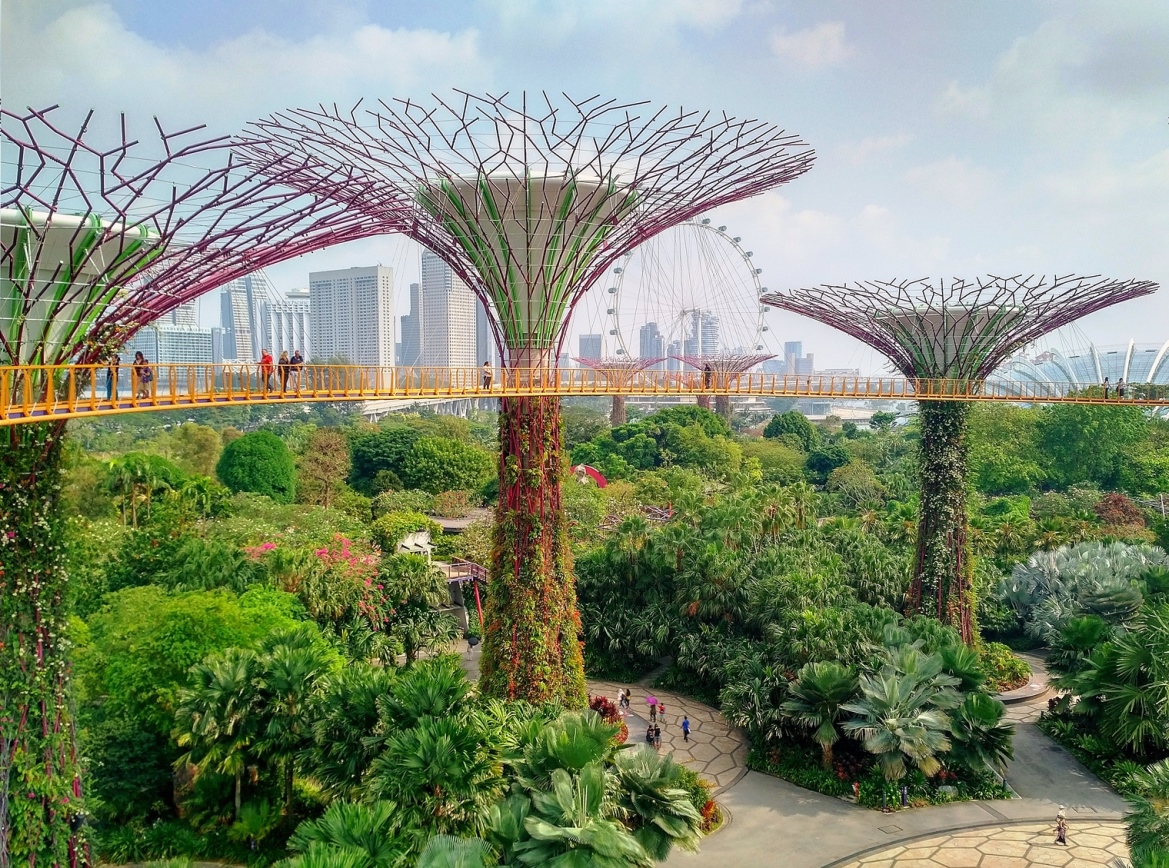 Gardens by the Bay - where Science Fiction and botanical garden collide.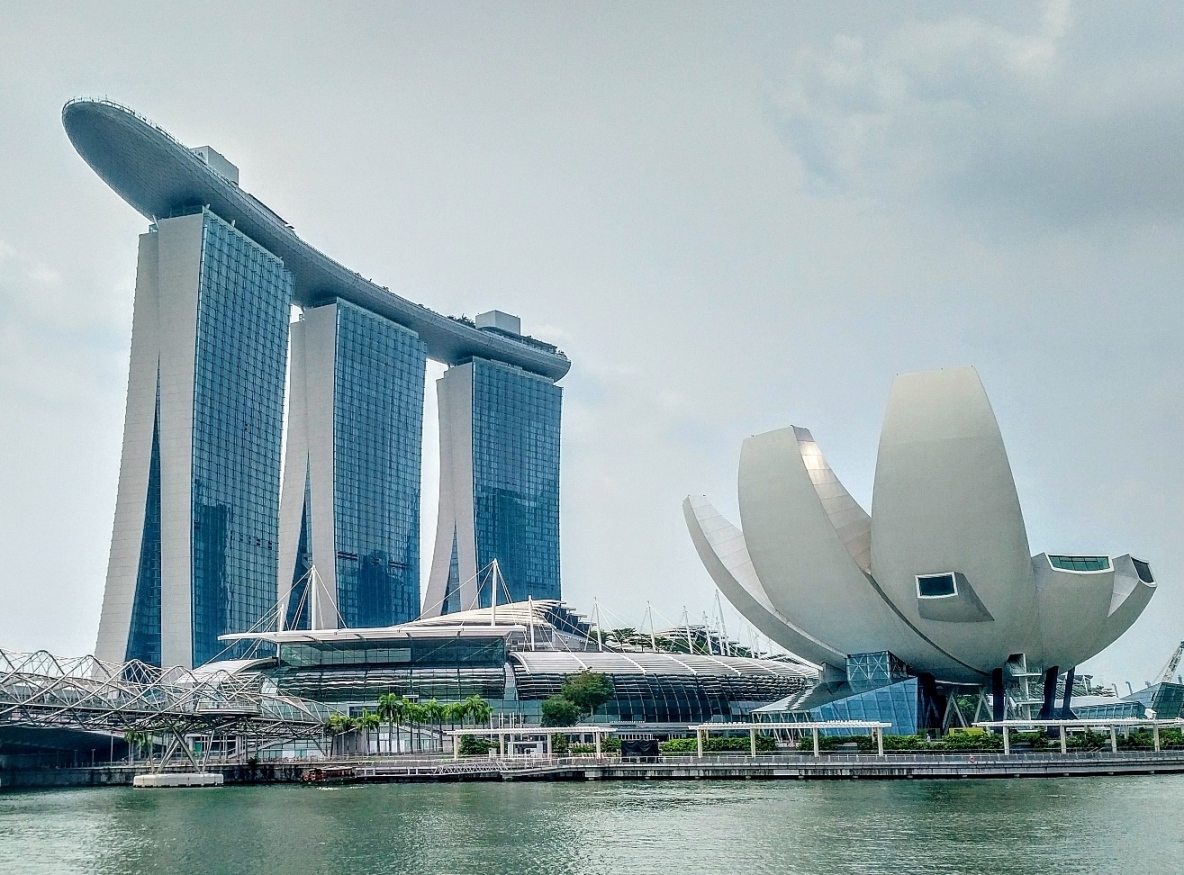 The lotus flower-like ArtScience Museum and the distinctive Marina Bay Sands building.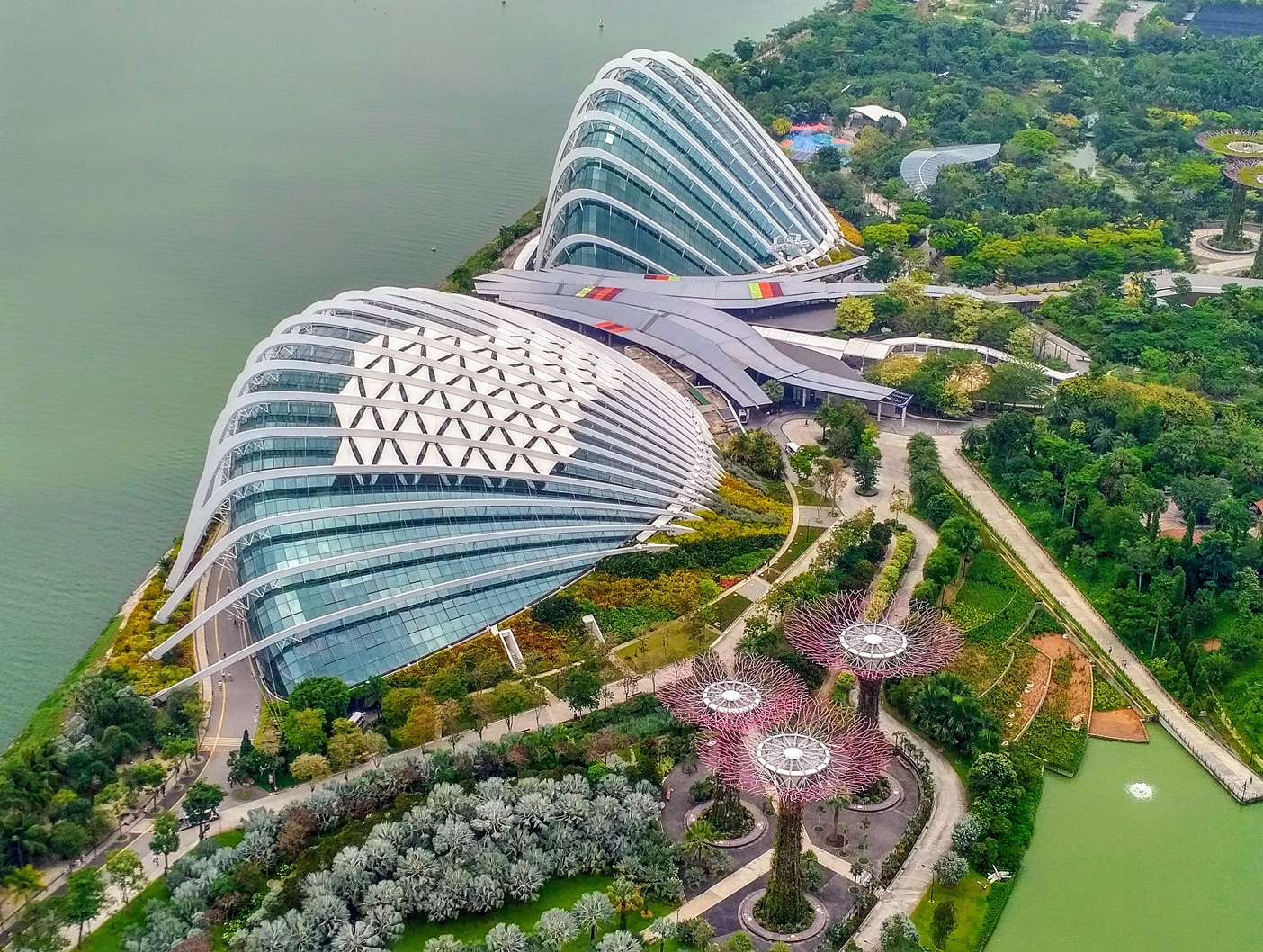 Singapore from above. The Gardens by the Bay and botanical domes seen from the top of the Marina Bay Sands building.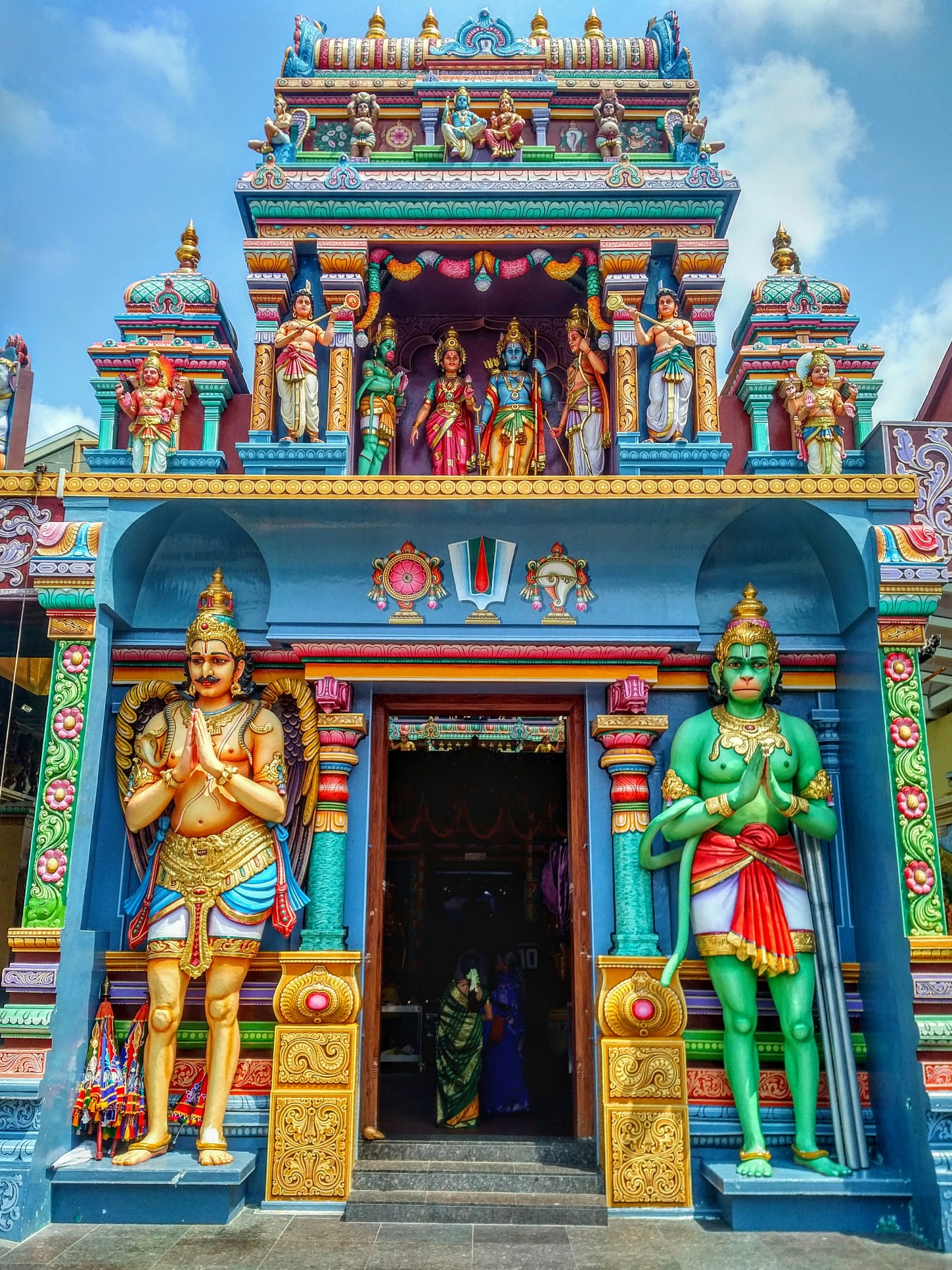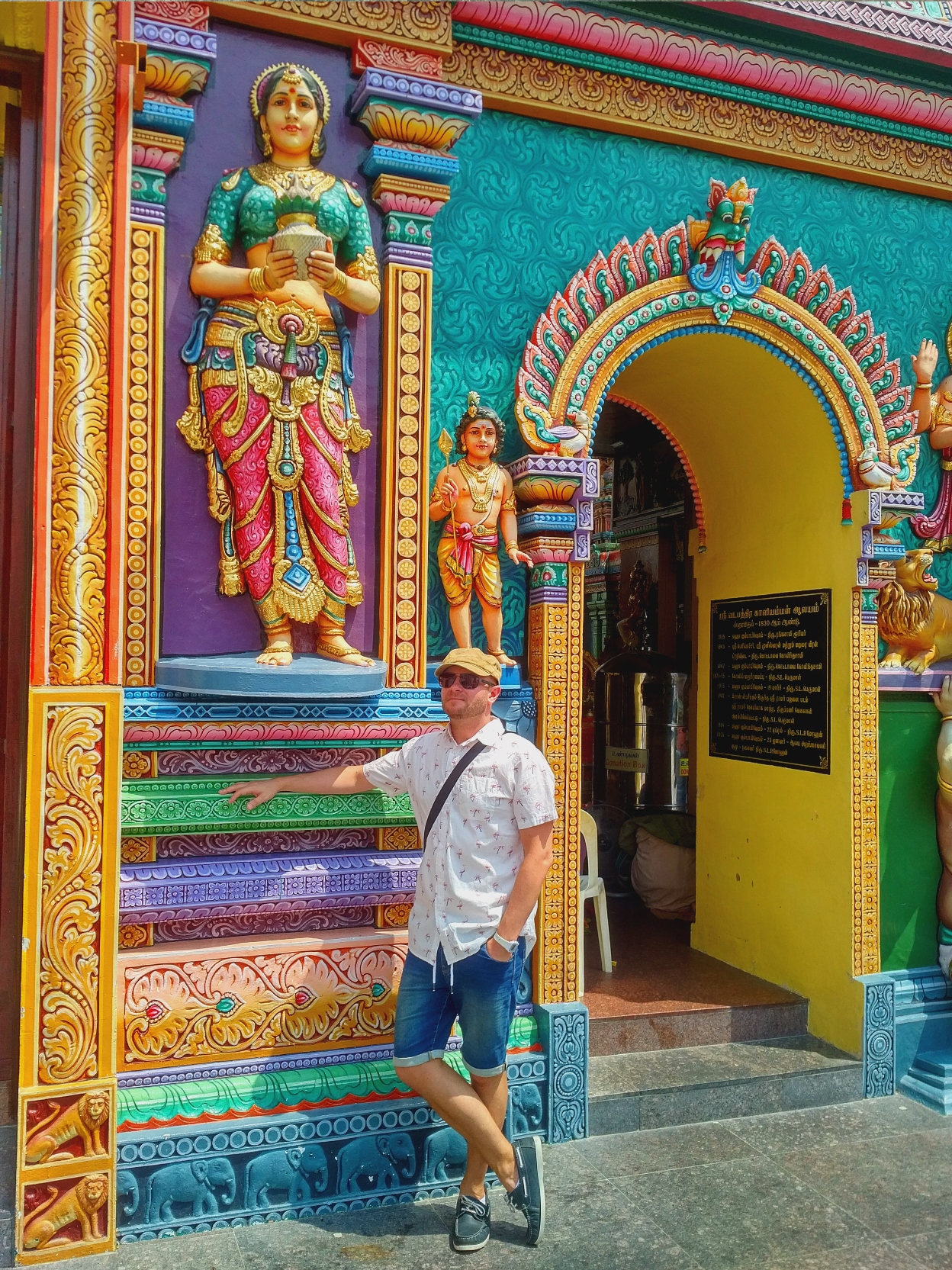 The riotous technicolour ornate statues of the Sri Krishnan Temple.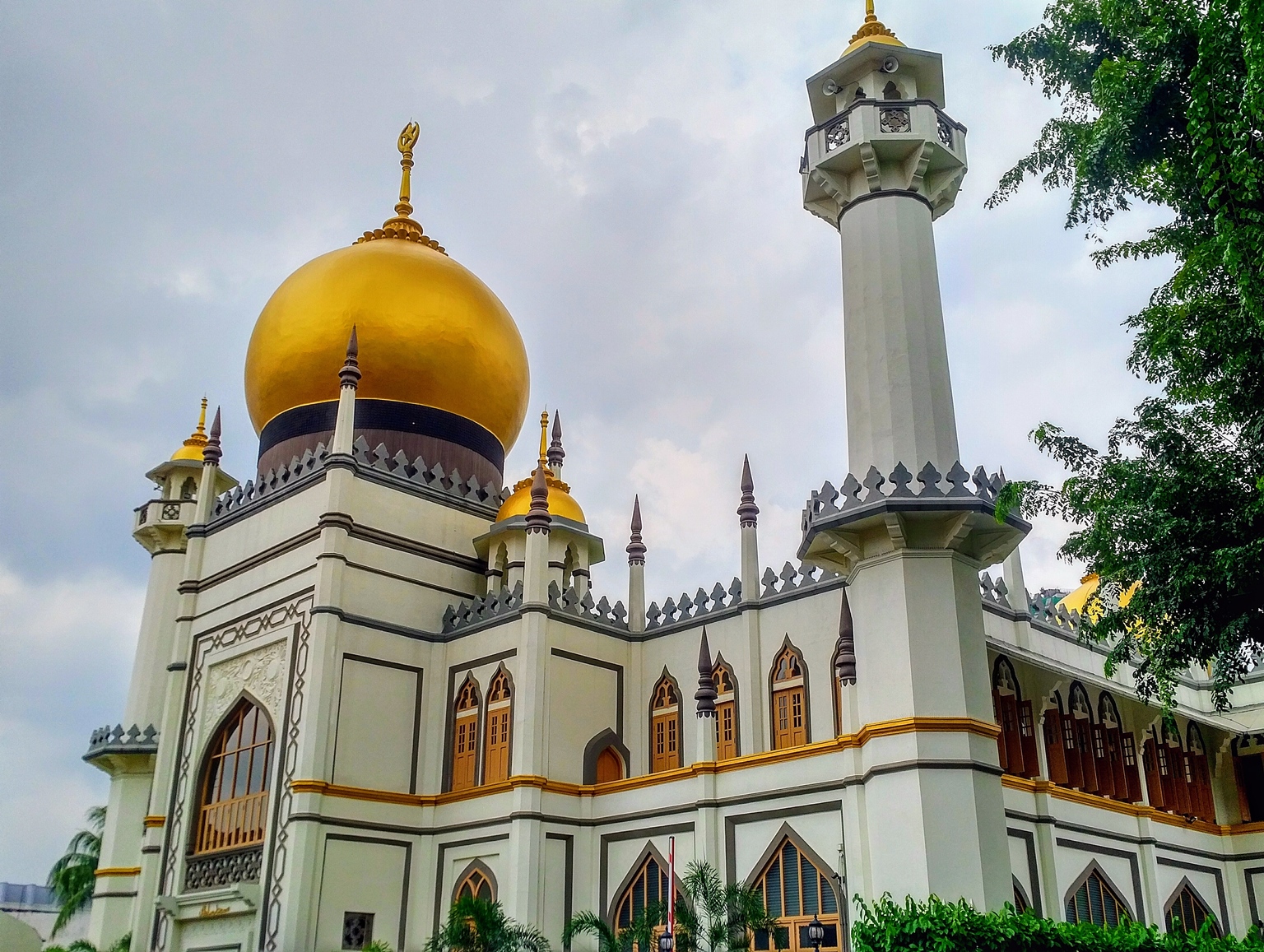 The golden domes of the Sultana Mosque in the Kampong Glam area of Singapore.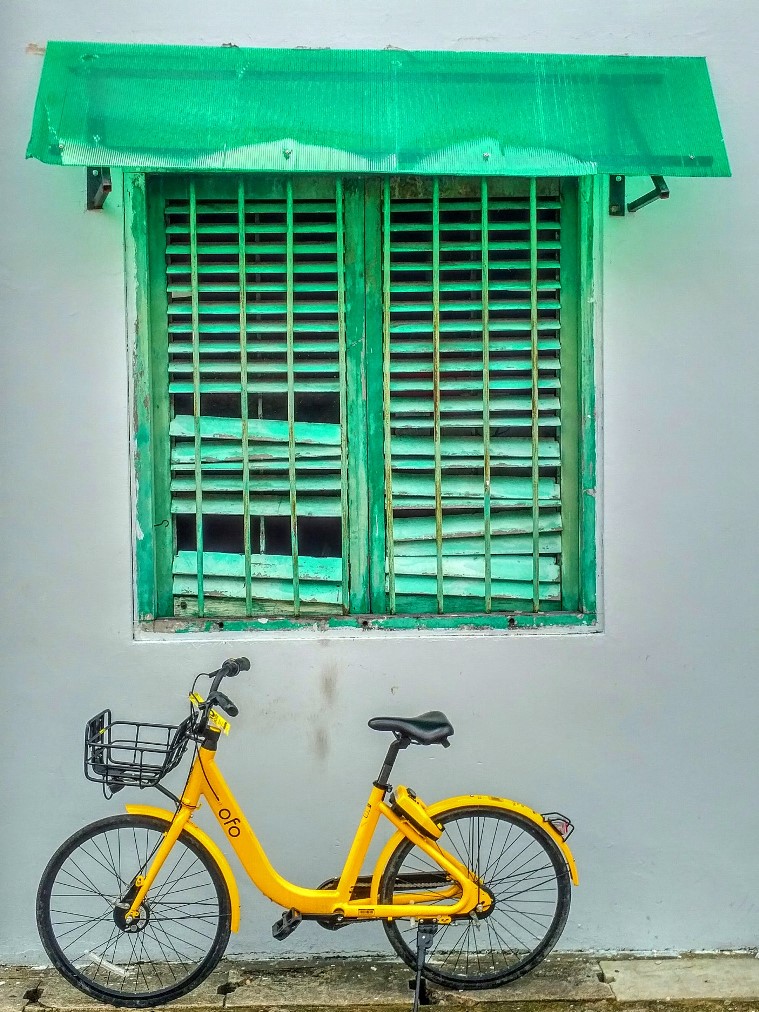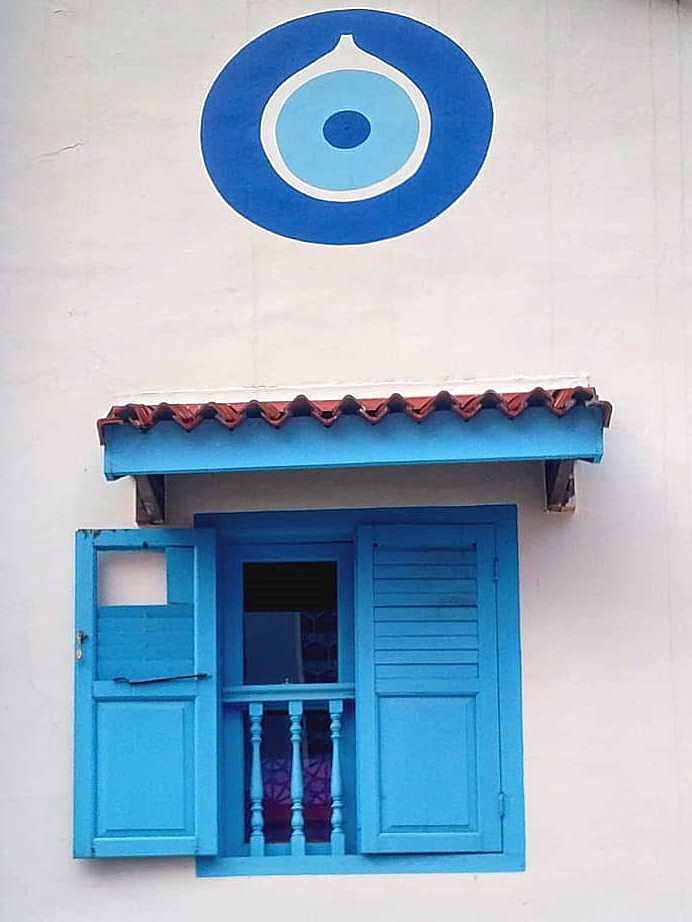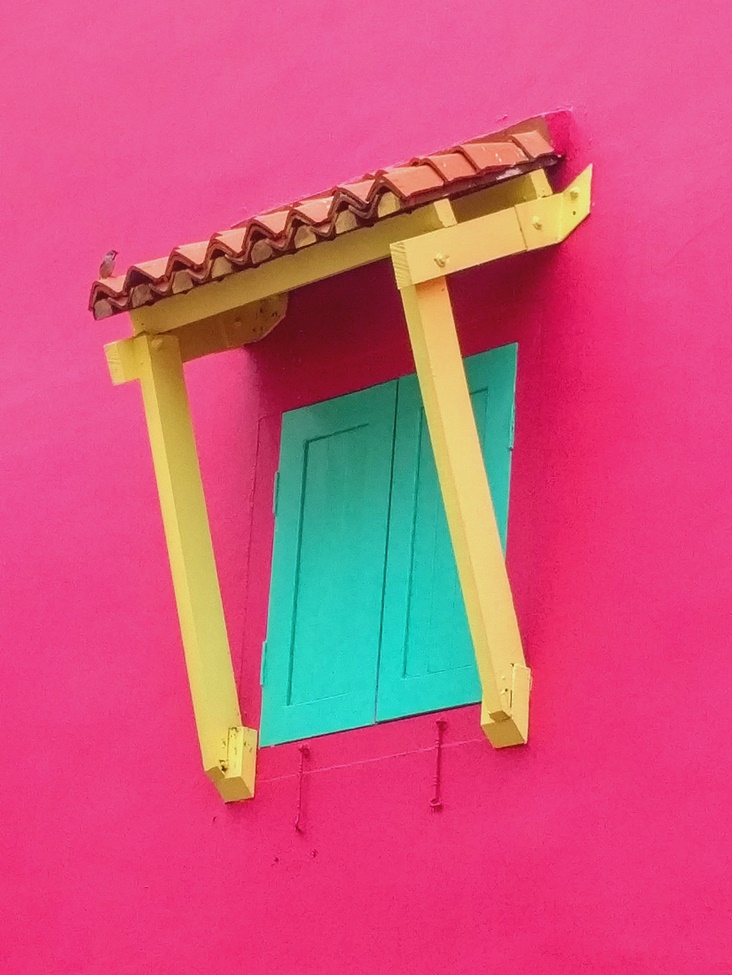 Singapore is a land of wonderful technicolour windows.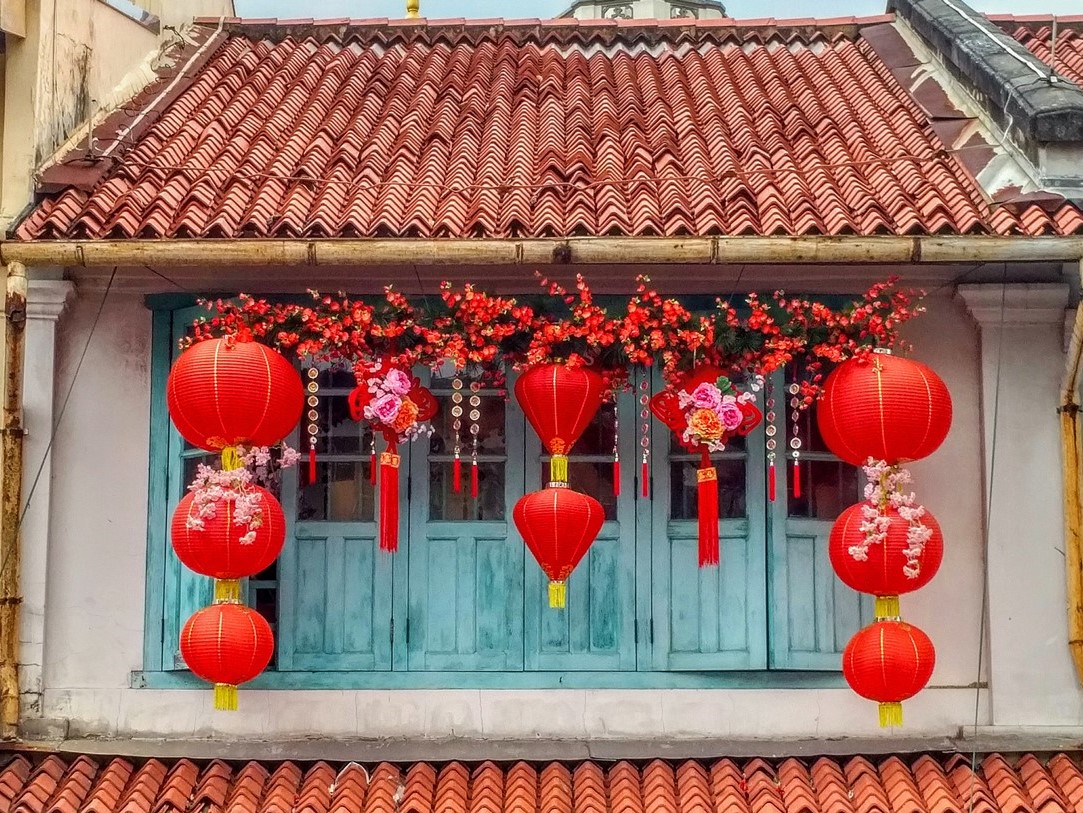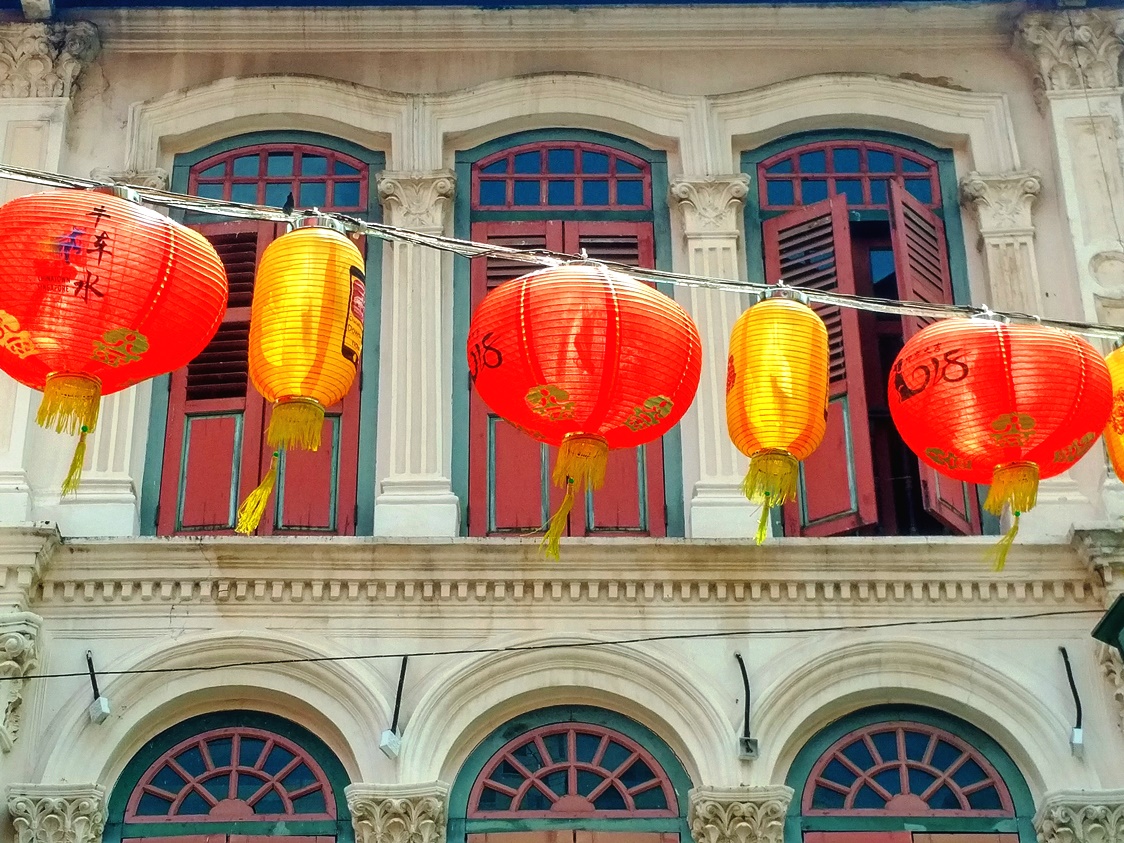 In Singapore, when walking around its cultural districts, it certainly pays to look up at the shophouses.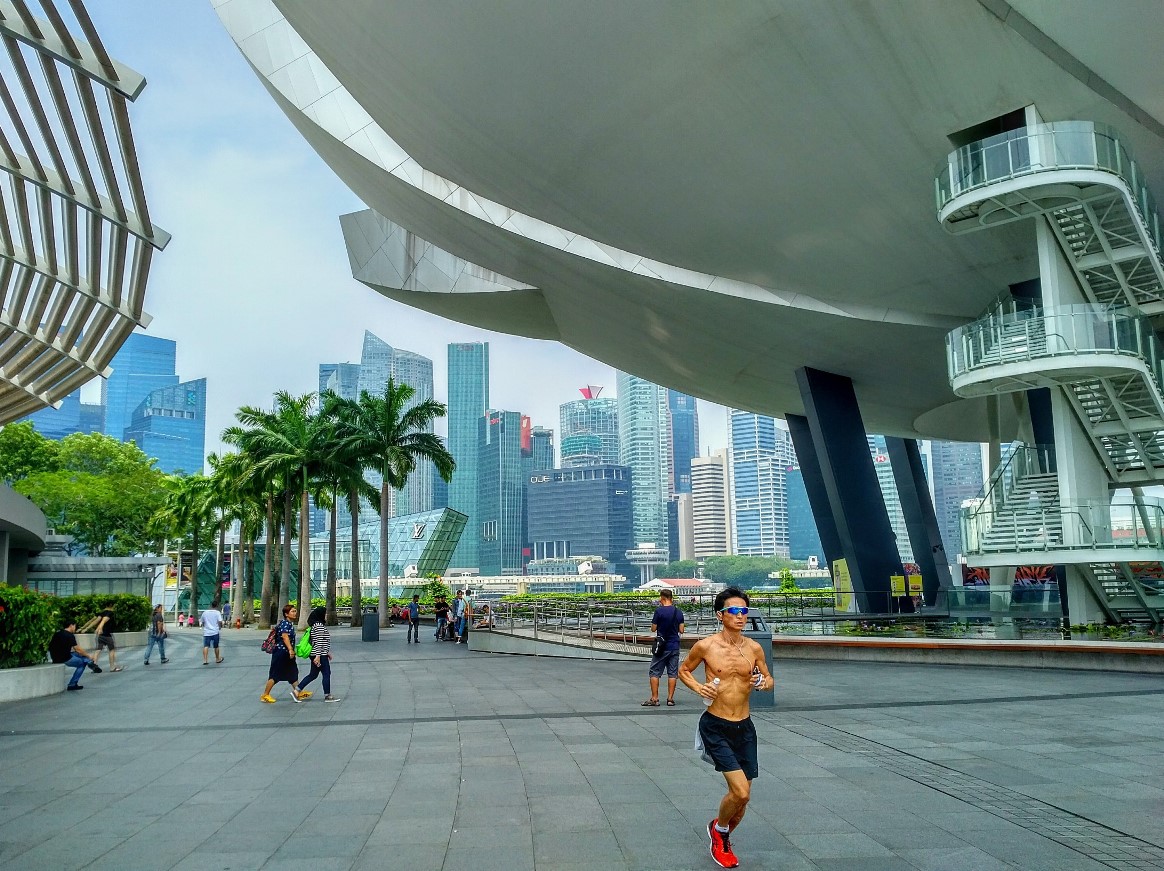 A very Singaporean scene: corporate towers, palm trees, futuristic buildings and fitness fanatics.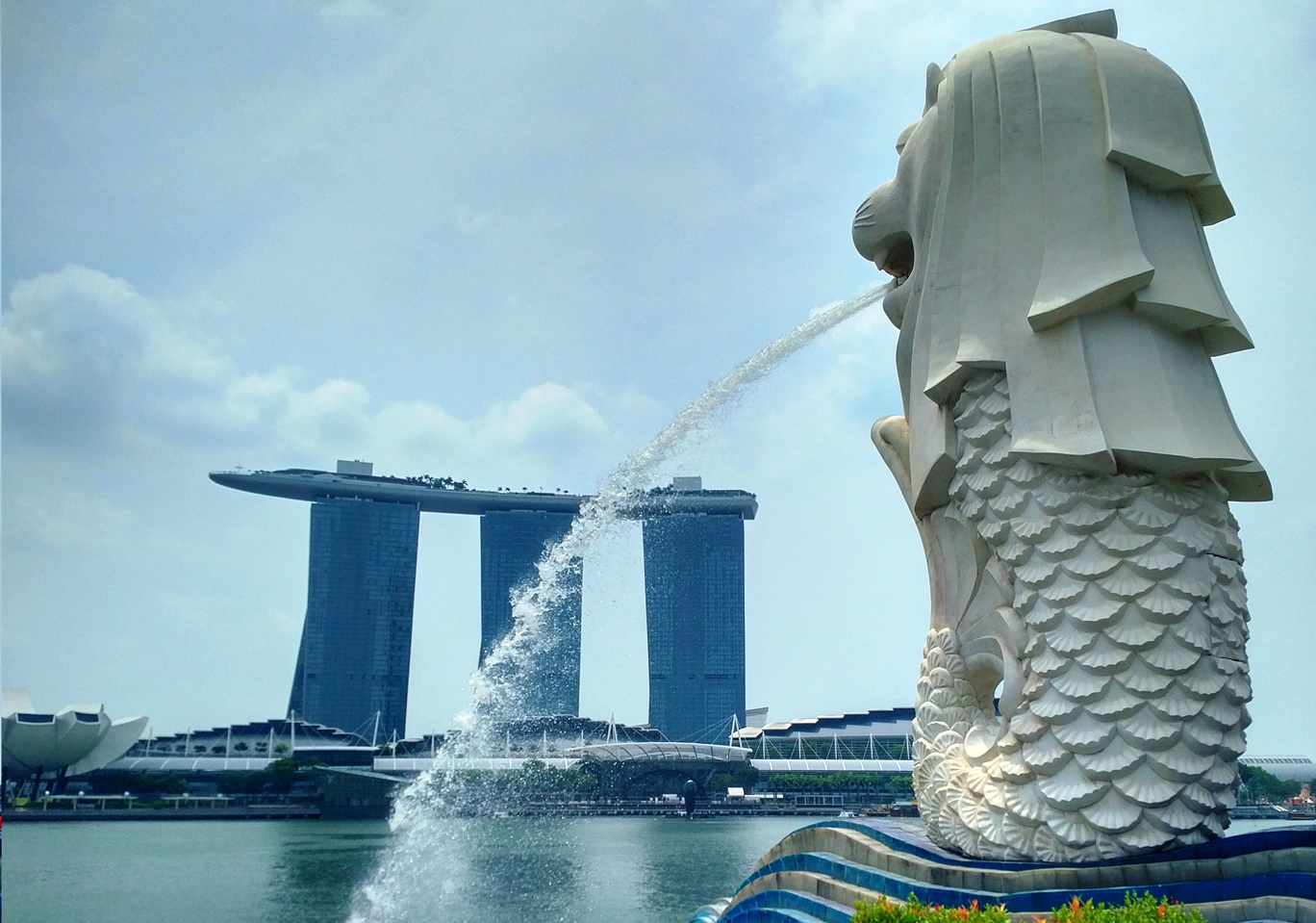 The Merlion, a fusion of mermaid and lion, rendered in fountain form along the banks of Marina Bay.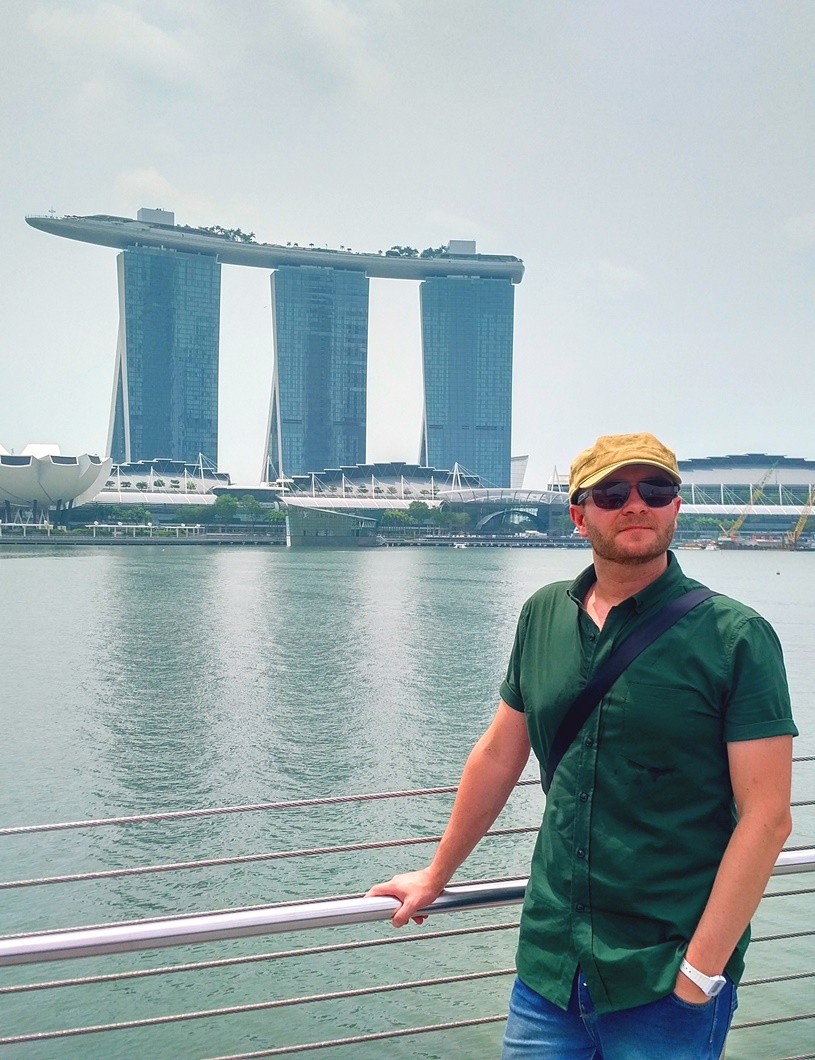 The iconic Marina Bay Sands building.
travel tips, links & resources
An MRT travel card is a quick and cheap way of getting around town. You'll be glad of the cool stations and carriages in Singapore's oppressive humidity and the fact that most journeys cost under a dollar.
Taxis in Singapore are very civilised affairs. In so many countries I avoid these like the plague for fear of being ripped off or getting into an argument. In Singapore there was no such concern meaning that, when it just got too hot and humid to make our way on foot, we'd flag one down. They are surprisingly cheap too and all fares are metered.
A tip from a Singapore-based friend lead us to 'Toast Box', a great local coffee chain which charges a fraction of the price for a decent coffee compared to western coffee shop chains. You save money and have the satisfaction of 'going local' for your daily caffeine hit.
Singapore can be a hot, sticky place to walk around. Pack with this in mind or you'll find yourself popping into high street stores to buy something more appropriate.
The Singapore Dollar, Australian Dollar and Brunei Dollar are all of the same value, making life a little easier if you happen to be travelling around these countries as part of a more complex multi-country journey.