Tradition, Technology & Tension on the Korean Peninsula
Where: Seoul, Busan, Panmungom. South Korea, Asia.
When: April 2017
What: Spring cherry blossom, Changdeokgung Palace, Secret Garden, Gyeonbokgung Palace, Deoksugung Palace, Namsan Tower, Night time Neons, Folk Museum Pagoda, Gangnam, Being a guest of the UN at the JSA, Seeing North Korean Guards at Punmon Hall, Stepping into North Korea, Watchtowers, North Korean Ghost Village, Talk by North Korean defector, Gamcheon Village, Hongbeopsa Temple and Buddha, Imjingak Village, Camp Bonifas.
How: Plane, train, taxi, walking, tour coach, cable car.
Country counter: +1 country
Illnesses or mishaps: Being in South Korea during a resurgence in tension on the peninsula; the cancelling of part of our JSA tour in the DMZ because the North Korean army was busy laying landmines close to the border; traversing the length and breadth of South Korea with a nasty virus.
Why go to South Korea? I suppose it's not most people's idea of a holiday but, as I frequently point out on this site, I'm drawn to the unusual and those places many mistakenly choose to bypass. I travel rather than holiday and South Korea is my kind of destination. South Korea is a land of pagodas and palaces, of cherry blossom and colourful lanterns, of frustratingly fiddly gadgets (which beep annoyingly and often don't work) and gaudy flashing lights. South Korea is a seemingly contradictory country where the modern and the traditional collide; a land of temples and palaces harking back to more Confucianist times but also of untrammelled technological innovation which finds its expression in leading companies like Samsung, Daewoo, LG and Hyundai. Tradition and technology are joined by an unavoidable sprinkling of tension, too, thanks to South Korea's estranged evil twin brother residing in the North. Conscription to the army is compulsory for men in South Korea; it's perfectly normal, therefore, to see young khaki-clad soldiers dining in restaurants, picking up a latte in cafés and doing their shopping alongside you. Indeed, inside Seoul's main railway station, there is even a separate lounge for "ROK and US armed forces only" - an observation which, henceforth, had me ever so slightly on edge for the rest of my time in the country (there are 28,500 US soldiers stationed in South Korea). A country of such unparalleled modernity and bygone beauty comes with a significant side order of menace; I just couldn't shake off the pervasive sense that I was balancing on some kind of socio-political fault line, the giant plates of which could collide at any moment.
This little country, no bigger than the size of England, comes with some unenviable world records: South Korea has the highest rate of suicide (surpassing Japan), has one of the highest rates of alcoholism and its people work some of the most punishing hours in the developed world. In a survey publicised by Al Jazeera on its 101 East programme, 80% of people under the age of 35 wanted to emigrate to countries like the United States, Canada and Australia, citing South Korea's judgmental, suffocating and competitive culture as the cause. Even in some of its busiest places, I found South Korea to be a subdued and reserved place; I couldn't work out if this pervasive quietude was mere dignified stoicism or a sadness turned in on itself. The only time I witnessed life and energy was when alcohol was around.
Tension on the Korean peninsula is nothing new. Unfortunately for us, our time in South Korea saw tensions on the peninsula rise dramatically: threat and counter threat, China urging restraint, a visit to Seoul by the US Vice President Mike Pence and US war ships steaming towards South Korean waters. Unbeknown to us, our visit to South Korea was to coincide with the 105th anniversary of the birth of the first Kim leader and the founder of North Korea, triggering a major military show of force in Pyongyang and yet another missile test. Worryingly, China cancelled all flights to the North Korean capital Pyongyang during our stay. If China, the DPRK's only supporter in the region, was worried then, I figured, we should all be. We hoped beyond hope that the US naval convoy did not arrive in South Korean waters before we were due to leave (it docked in Busan a few days after we had left). News headlines ranged from "Beijing urges US and North Korea to step back from brink of war" to "North Korea parades military might and warns US amid nuclear test fears". Watching an Australian news broadcast in our Seoul hotel room, I could really have done without the presenter stating, "...and Seoul could be reduced to a car park." I certainly chose a memorable time to visit South Korea,my 74th country.
With ten million inhabitants, the capital of South Korea is gargantuan. Approaching the city at night along the freeway from the airport reveals its vastness in all its twinkling, psychedelic glory. The area of Gangnam, made most famous internationally by the KPOP hit Gangnam Style, is a nightmare with flashing lights. Even at night time, I advise you to take your sunglasses. Thousands throng the giant boulevard running through the district - a capitalist mecca with every brand known to man given a spot on this hedonistic consumer stage. Television screens uniformly line the length of the street like army soldiers, playing meaningless abstract graphics on a loop and with synchronised lasers atop - all of which project their beams high into the sky. The whole scene oscillates uneasily from giant outdoor mall, to midnight rave and an MTV music video. In Gangnam you glimpse the future in all its superficial, vacuous, generic glory. Awesome and awful become indistinguishable in Gangnam. Most soul-sapping of all was the fact that nothing in this sought-after, desirable area of Seoul said Korean. I had come to this country, travelling in an aluminium tube for eleven hours and swapping the continent of Oceania for that of Asia, in search of 'Korean-ness', in search of what makes South Korea unique. Gangnam is the urban equivalent of candy floss: whilst bright and colourful, its taste is sickly and its goodness utterly illusory. Places like this aren't good for human beings. Gangnam is the kind of place I love to hate.
We based ourselves in the Myeongdong area of the city, a working class area definitely not geared towards foreigners. This was the locals' domain stuffed, as it was, with local eateries serving unidentifiable food objects at plastic table tops eerily illuminated under makeshift yellowy lights and where, all the while, thousands of volts hummed above our heads through dangling power cables criss-crossing the roads like electrical spiders' webs. Office workers, who all seemed to dress the same and drink the same, staggered around somehow managing to defy the laws of gravity (I initially struggled to reconcile the dignified and reserved Koreans I saw during the day with the out-and-out drunken ones I witnessed repeatedly at night). Retail outlets in Myeongdong were almost exclusively workshops and domestic hardware stores out of which billowed on to the streets everything from letterboxes to tiles, fire extinguishers to garish lighting. Despite its utter uselessness to me as a traveller, Myeongdong was a slice of authentic Korea away from the generic city look so depressingly characteristic of capital cities these days. It came with noise, stench and with the absolute certainty of us having to leave the area in order to eat safely (one of my travel rules is never to eat street food after my experience in Romania). I liked Myeongdong a lot; it had culture, local colour and character. Arriving late on our first night, our first meal consisted of a cheesy pasta dish microwaved by a kind man in the local 7eleven. This kind of NASA-style space food designed for convenience and not nutritional value wasn't ideal - especially after an eleven hour flight but was a 'food solution' for two weary heads desperate for carbs and some sleep, nonetheless.
A necessary antidote to the generic cityscape and the crazy local scene were the serene and beautiful temples, pagodas and palaces dotted around Seoul. Whilst Gangnam offers a (terrifying) glimpse into the future, the Changdeokgung and Geongbokgung palaces, among others, whisk you away to a more dignified and sophisticated past. I do feel blessed that our time in Seoul, and the viewing of these majestic temples and palaces, coincided perfectly with the cherry blossom season - a season we had hoped to see but had missed by only a matter of weeks in Japan a few years previous. Seoul's pagodas and temples were perfectly framed in understated, delicate pinks and whites - such a contrast with the lurid, garish intensity of the city. This is a special time for Koreans; the cherry blossom season kick-starts an annual pilgrimage to the city's temples and palaces to be photographed wearing traditional cultural clothing. It's the Korean equivalent of English people dressing up as Henry VIII in springtime to be photographed at the Tower of London in front of the daffodils. The whole practice could be perceived as a little tacky; effectively renting the past (no doubt many of these outfits are rented) for a day of superficial, photography-fuelled posing. However, in a country so focused on superfluous (ill-functioning) gadgetry, flashing lights and futuristic 'to go' food solutions, it was endearing (and admittedly reassuring) to see Koreans take a step back and connect with their past in this way, going some way to putting the soul back into Seoul. Koreans bring hi-tech and expensive camera equipment with them, too, perhaps underscoring just how seriously they take this uniquely Korean rendering of the on-location photoshoot. Less vacuous selfie and more cultural experience, then, but certainly the most conspicuous example of South Korea's ability to fuse the traditional with the technological that you are ever likely to see.
These temples are what define Korea and set it apart from other countries on the Pacific Rim. Changdeokgung and Geongbokgung are what I came to South Korea for; they are defining and iconic structures and I loved them. Just like my time spent seeing hilltop monasteries in Armenia, however, view too many and they all begin to look alike. Choose, therefore, your temple visits wisely as visiting too many in too short a space of time will merely hasten your development of that most afflicting of travel conditions: sightseer fatigue. You can have too much of a good thing, you know.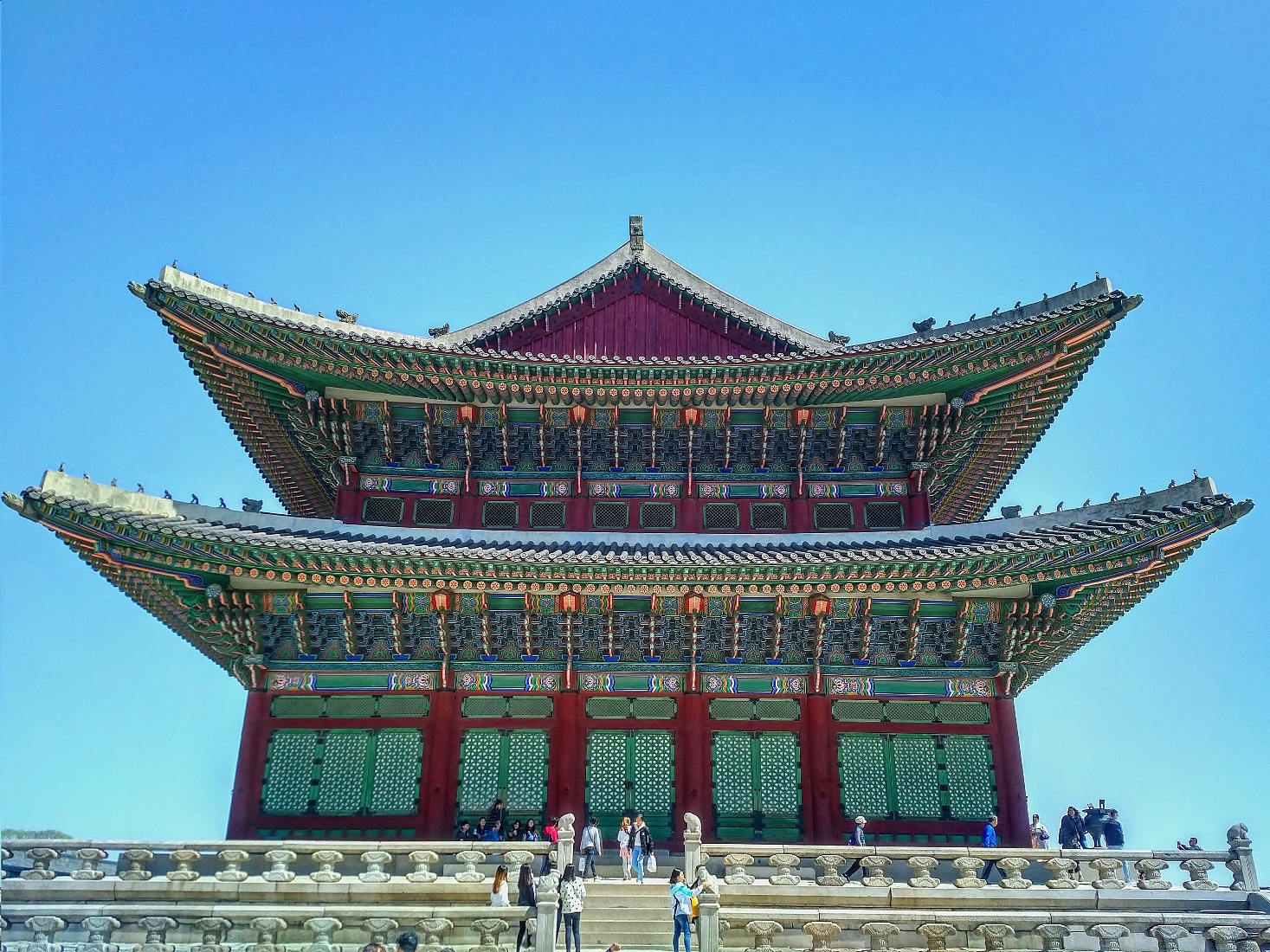 The majestic Gyeongbokgung Palace. To your right you can see that modern Korea is never far away.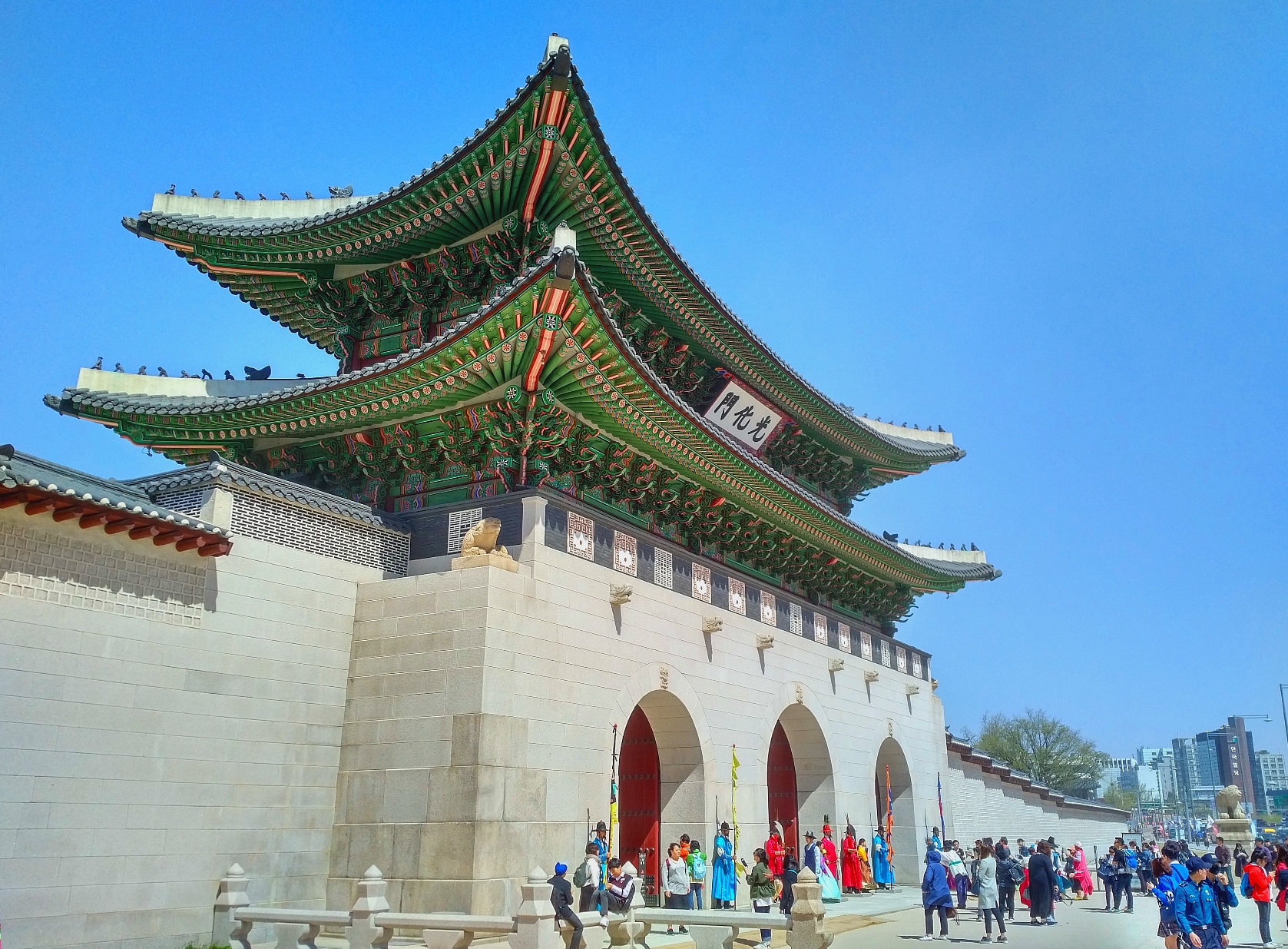 The Gyeongbokgung Palace entrance.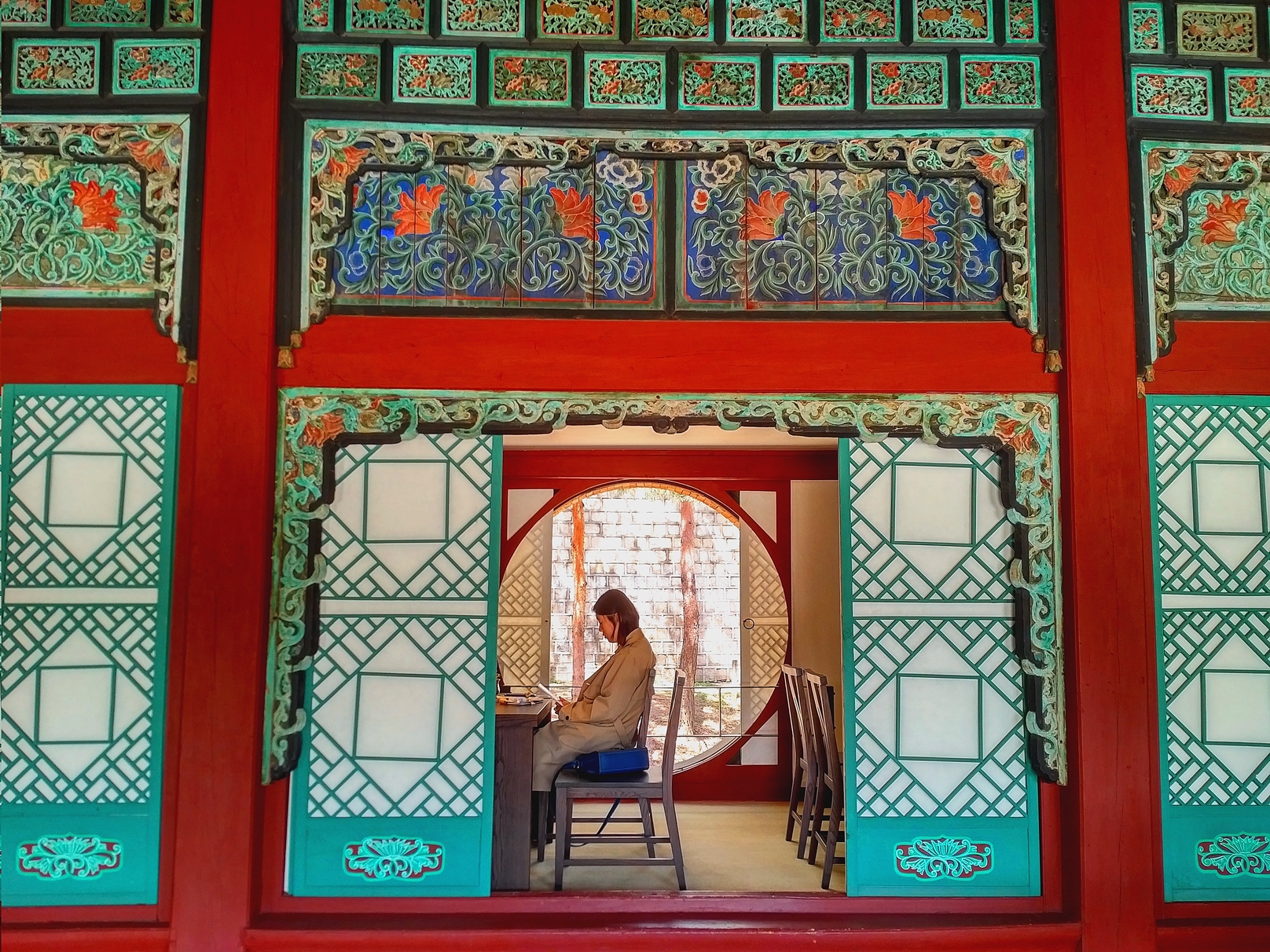 A woman reads quietly in the Jibokjae (Private Royal Library) framed perfectly by its exquisite traditional exterior.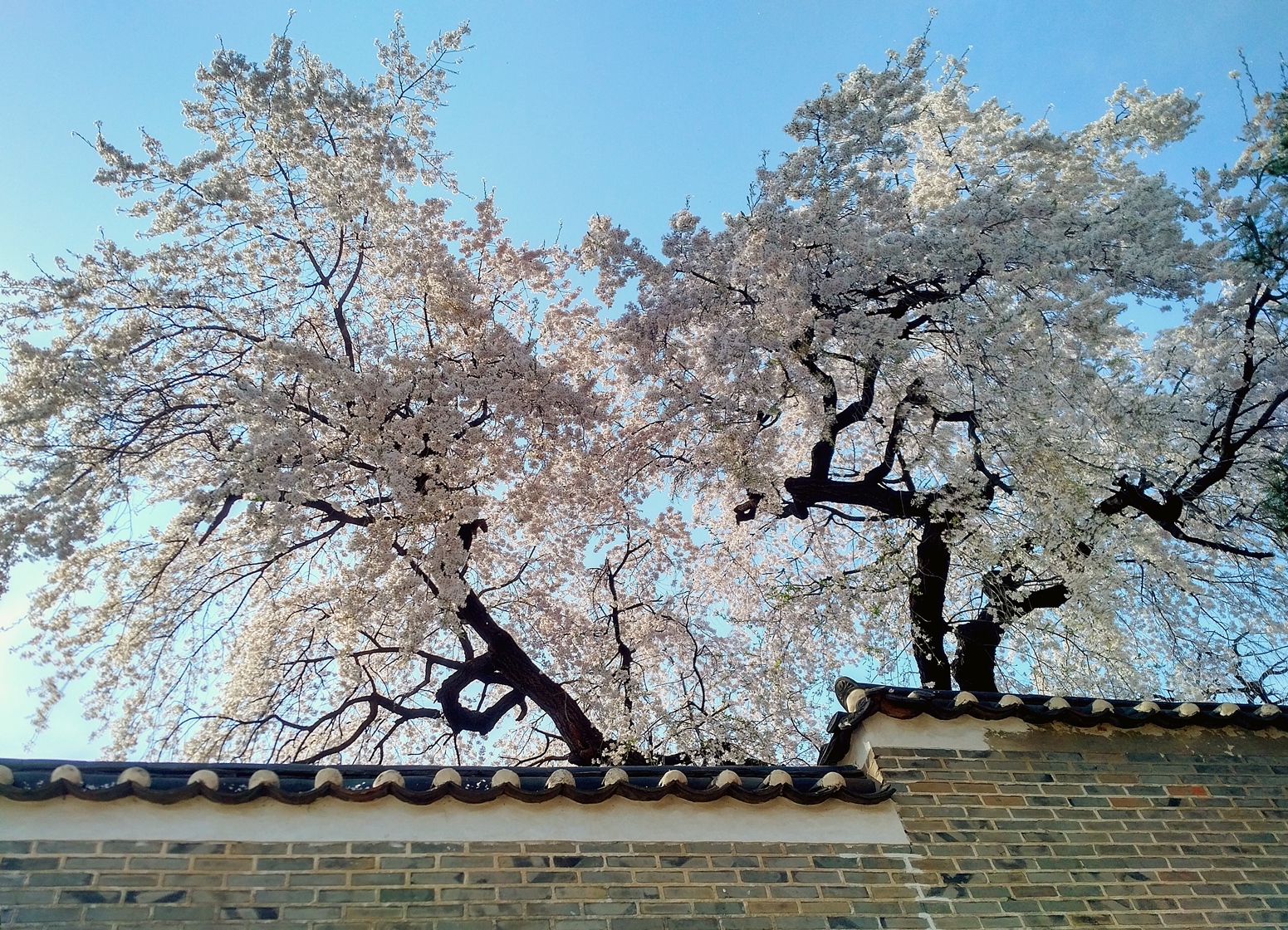 Blossom, blossom everywhere: viewing of Seoul's majestic temples and palaces coincided perfectly with the cherry blossom season.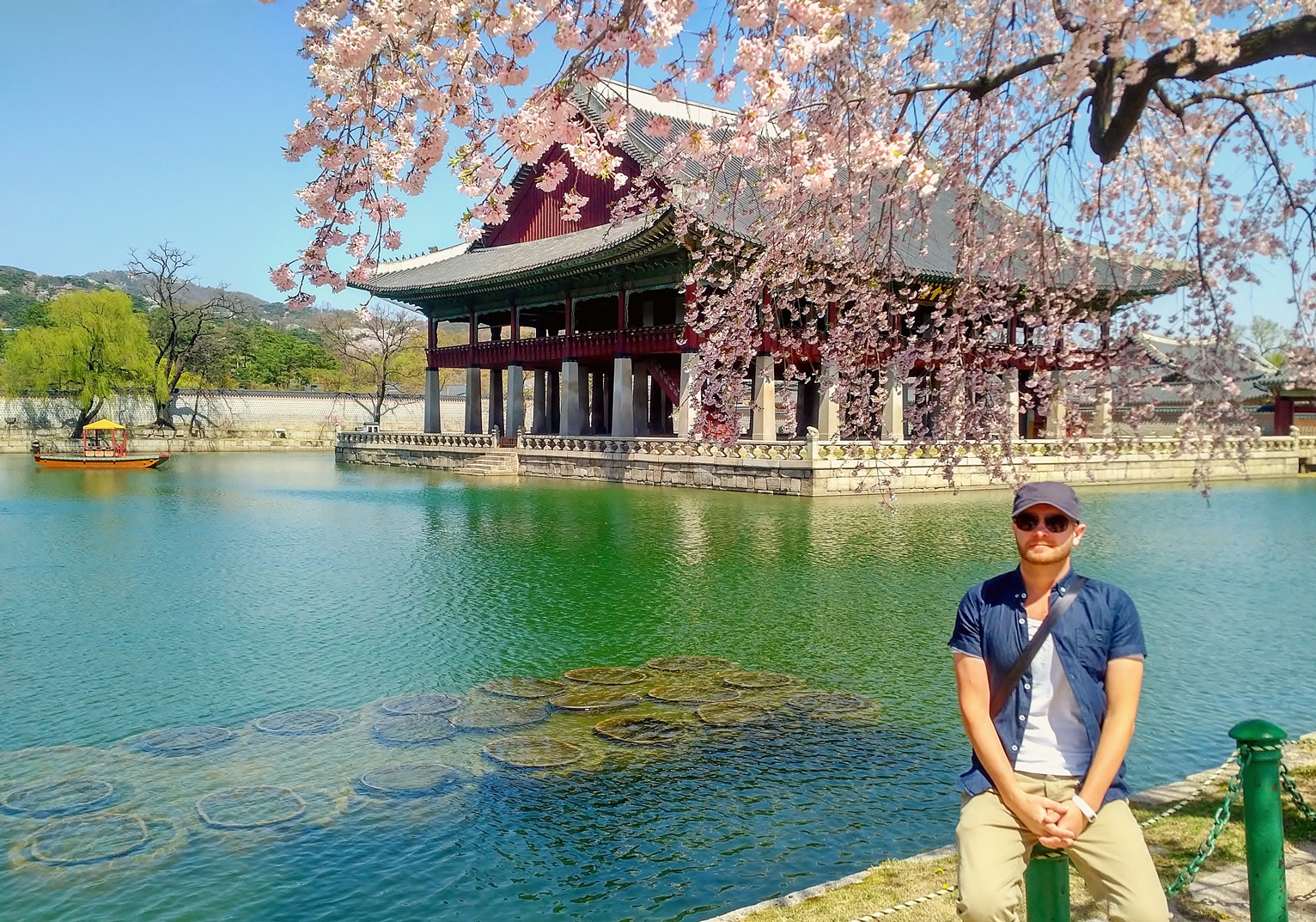 The Gyeonghoeru (Royal Banquet Hall) of the Gyeongbokgung Palace foregrounded by cherry blossom.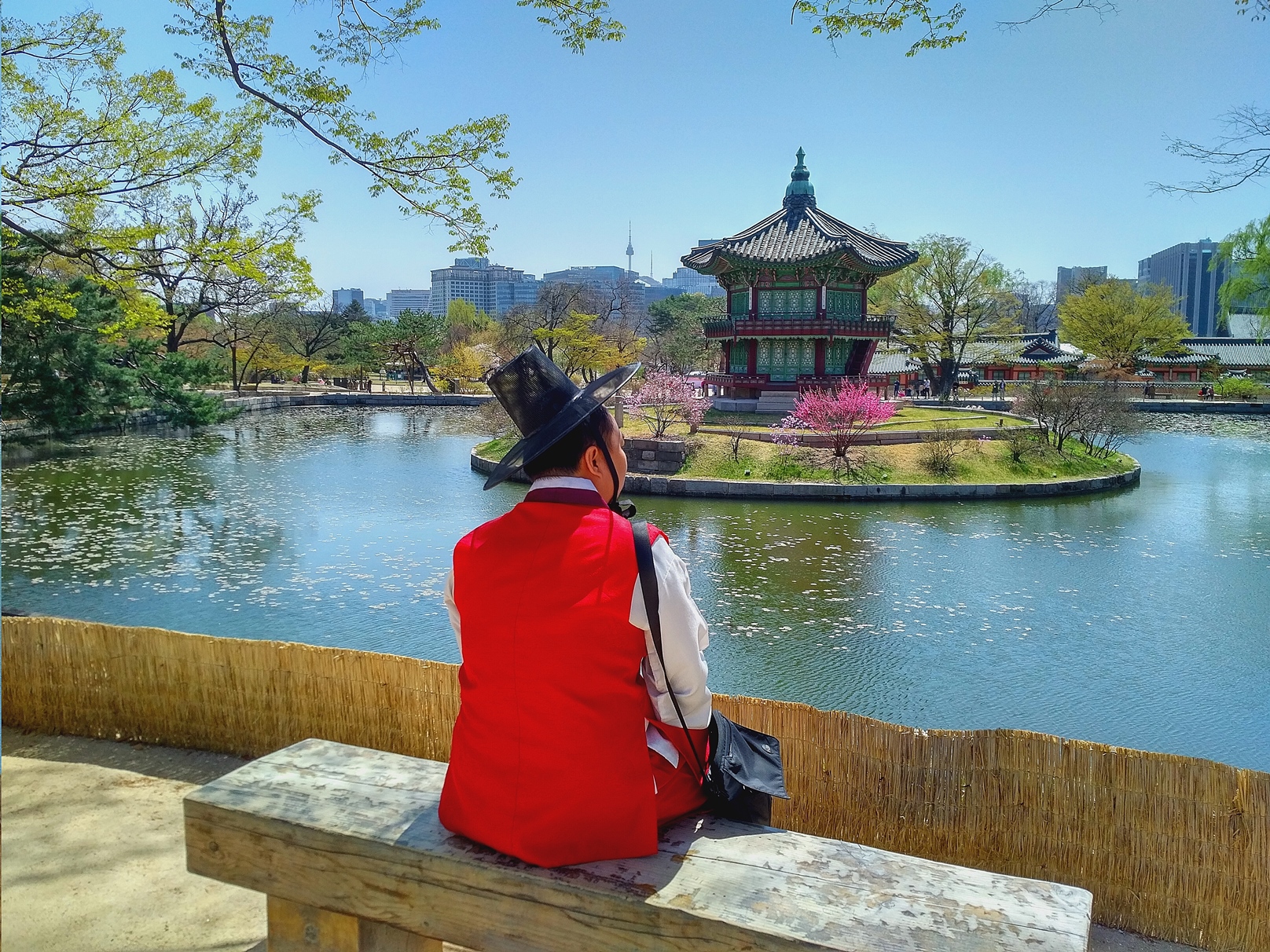 A man in traditional Korean dress surveys the view of the Hyangwonjeong Pavilion with the modern city of Seoul looming in the distance.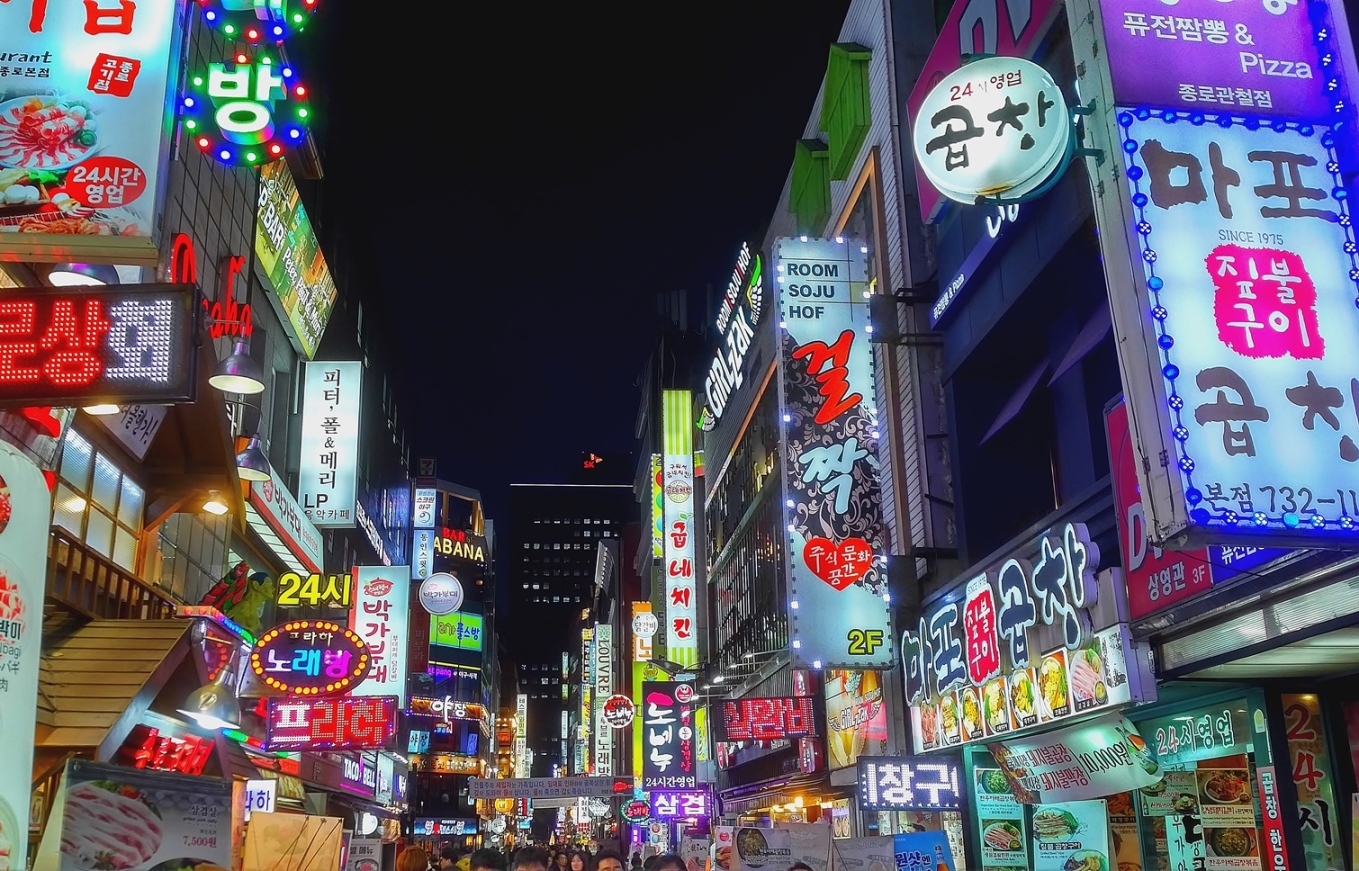 Seoul comes alive at night: Insadong's crazy and cluttered signage.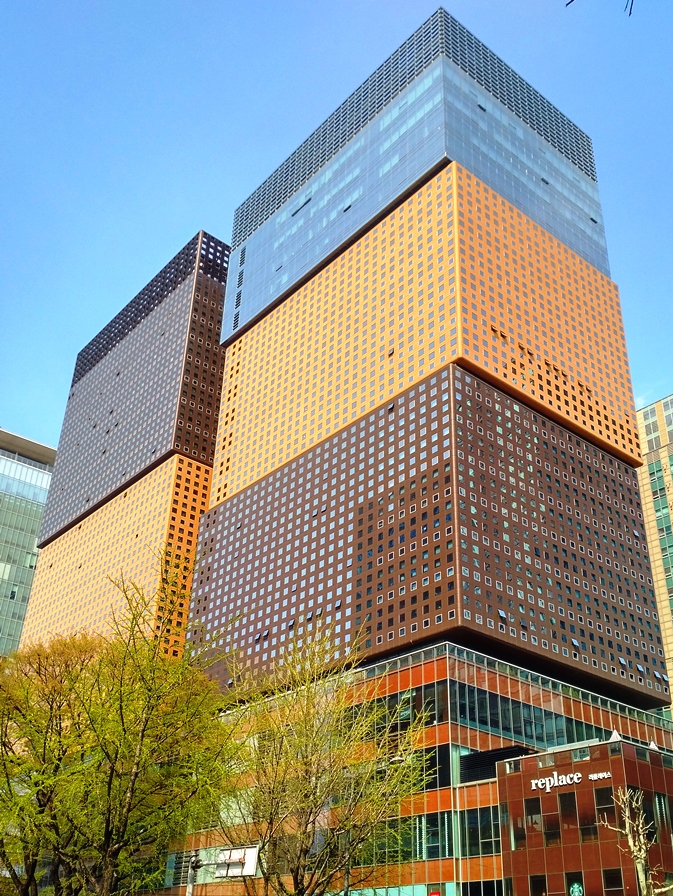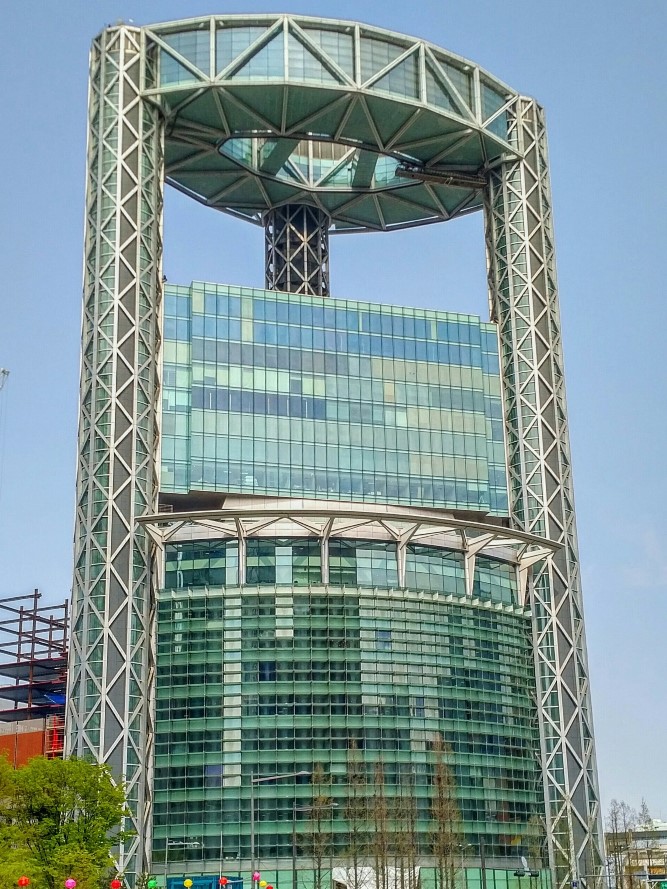 Sci-Fi Seoul: futuristic architecture and the N Seoul Tower.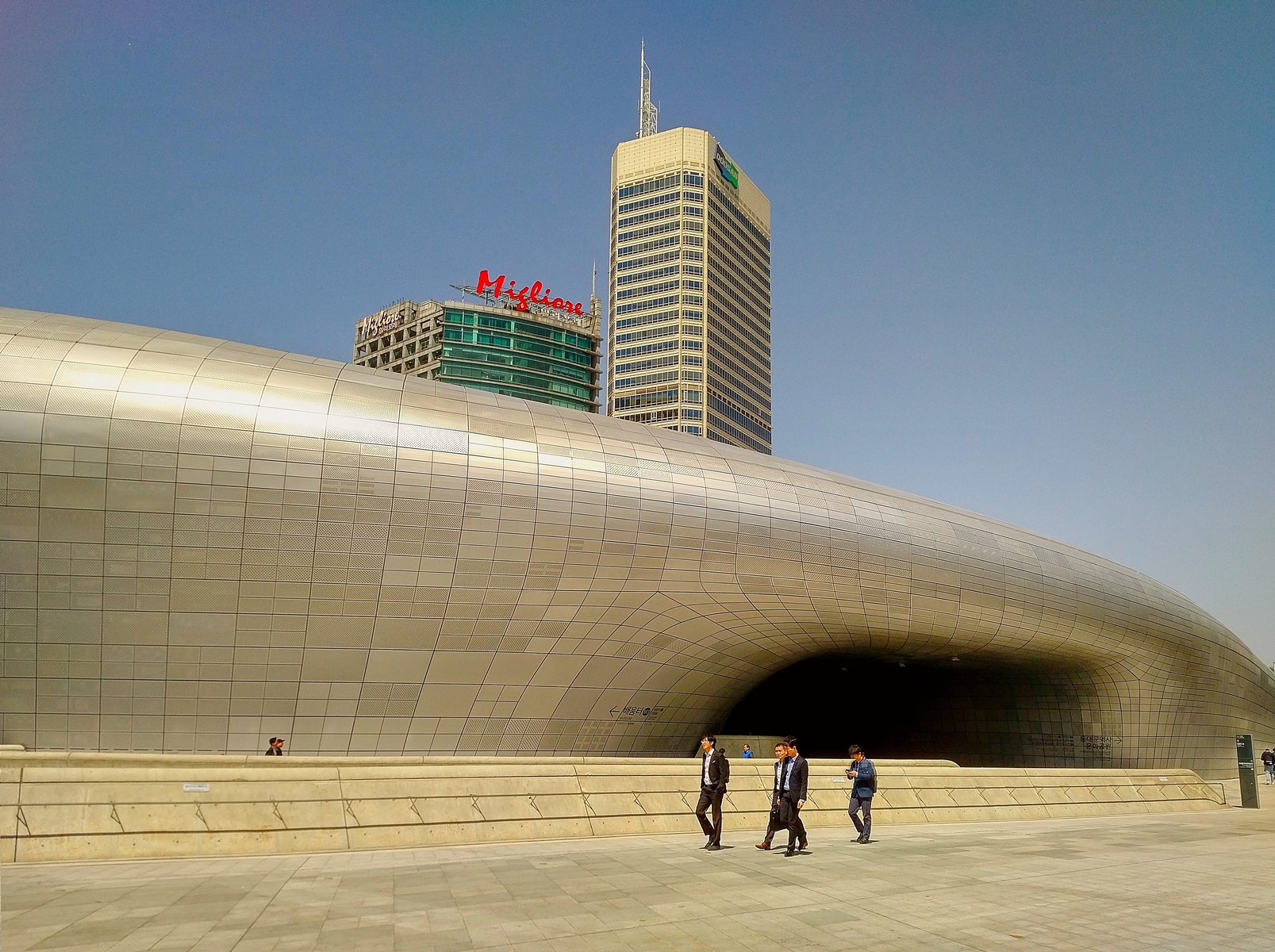 Futuristic Seoul: the space age shape of the Dongdaemun Design Centre.
Panmunjom is another name for the Joint Security Area (JSA), one of the last vestiges of the Cold War and the Military Demarcation Line (MDL) between the North and South of Korea in the Demilitarised Zone (DMZ). This is the only place where South and North Korean forces stand and face each other and, despite what its name may suggest, this zone is one of the most militarised in the world. This is the iconic place featuring huts painted in United Nations blue - the MDL running straight through the middle of the blue Armistice Meeting room where 'both Koreas' meet for diplomatic discussions: the North Koreans remaining in the northern half of the room and the South Koreans in their southern half. The unremarkable wooden meeting table, made a little less so by the presence of a solitary UN desk flag, straddles this most historic and momentous of divides: East versus West, communism versus capitalism, despotism versus democracy, insanity versus normality. This most unassuming and humble of buildings bridges a politically-volcanic fissure which has remained bubbling, and cyclically erupting, since the Armistice was signed here in the early 1950s. No peace deal has ever been signed by the two sides and so, technically, the North and the South are still at war.
Responsibility for our safety was then officially transferred from the civilian tour company when we arrived at the UN-controlled Camp Bonifas - home to ROK and US soldiers. We were instructed to leave all of our belongings on the coach, were told to don yellow "UNCMAC Guest" badges on our left breast pockets (so we could easily be identified and avoid being mistaken for someone else and thus shot) before boarding an army-controlled coach, driven by a soldier with shades, into the JSA itself. Like everyone else, I had to sign a waiver document which stated, "The visit to the Joint Security Area at Punmunjom will entail entry into a hostile area and possibility of injury or death as a direct result of enemy action." We were accompanied on our journey by a North Korean defector who, for reasons which should be obvious, was not allowed to join us on the second leg of the trip into the JSA itself. Normal citizens of South Korea are also not permitted to enter the JSA, the journey into which comprised of two passport checks, once as we entered the wider DMZ and once when we entered the JSA within it. The first checkpoint was the moment at which we left South Korea and entered into a zone which was under the control of the United Nations.
Being led out of the Home of Freedom house, in steady single file, guided by an American GI, and out onto the steps which looked down to the UN huts and North Korea's Panmon Hall, must rank as one of my most powerful travel moments. South Korean soldiers stood firm, fists clenched, and faced north towards Panmon Hall which, seemingly, was manned by a solitary North Korean soldier whose tin hat and the cut of his trousers suggested a land and mindset of a bygone era (we were reliably informed that behind him, inside the building, was another soldier with orders to shoot his colleague dead should he try to defect by sprinting the few metres needed to reach the safety of the Republic of South Korea). Tasting this standoff was an awesome experience. This was not tourist theatre. This was the real deal. Indeed, part of our tour had to be cancelled by the UNCMAC because North Korean soldiers had been seen laying land mines on their side of the border that morning and in doing so had brought along scores of other soldiers armed with guns - any one of whom could wilfully misinterpret a tourist grabbing for their camera as a reason to aim and fire. This leg of the tour was, in the words of the US soldier who had taken command of our tour, "unsafe" for mere civilians. Indeed, the entire trip two days previously had been cancelled by order of the military, so volatile was the situation. We were indeed lucky ours went ahead. Four days after us, in a show of solidarity with the South Korean government amid rising tensions on the peninsula, US Vice President Mike Pence visited the JSA.
Entering into the Armistice room and walking across to the northern portion to have my photograph taken in between two robot-like and fierce South Korean soldiers meant that, technically, and for less than twenty seconds, I had entered North Korea. By way of an aside, I had seen Michael Palin do exactly this in his 1990s BBC TV series Full Circle where he demonstrated moving from South to North Korea, and back again, in a matter of steps. Does this mean North Korea has the honour of becoming my 75th country? Well, unfortunately I think that would be a bit of a stretch; this kind of numerical gymnastics isn't in the spirit of this site. This will, however, be an experience I will never forget and will be one I'll recount to anyone who'll listen.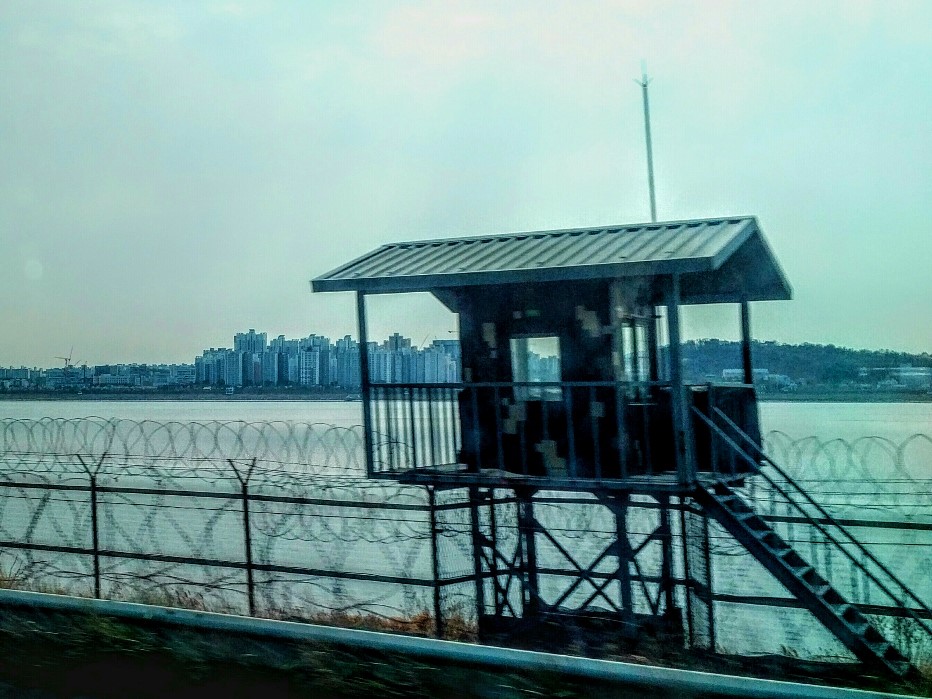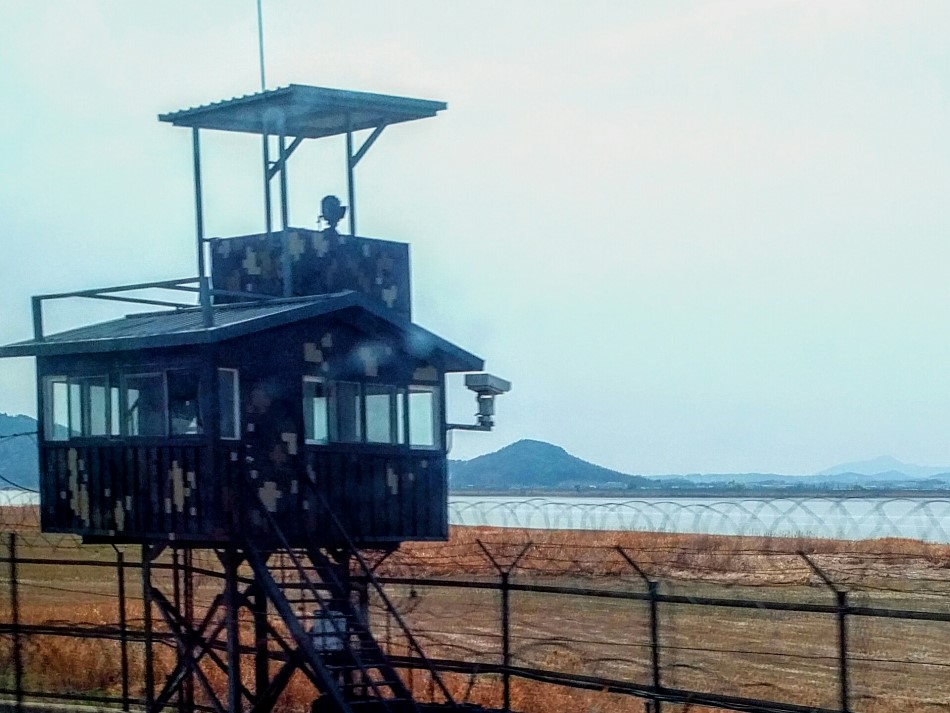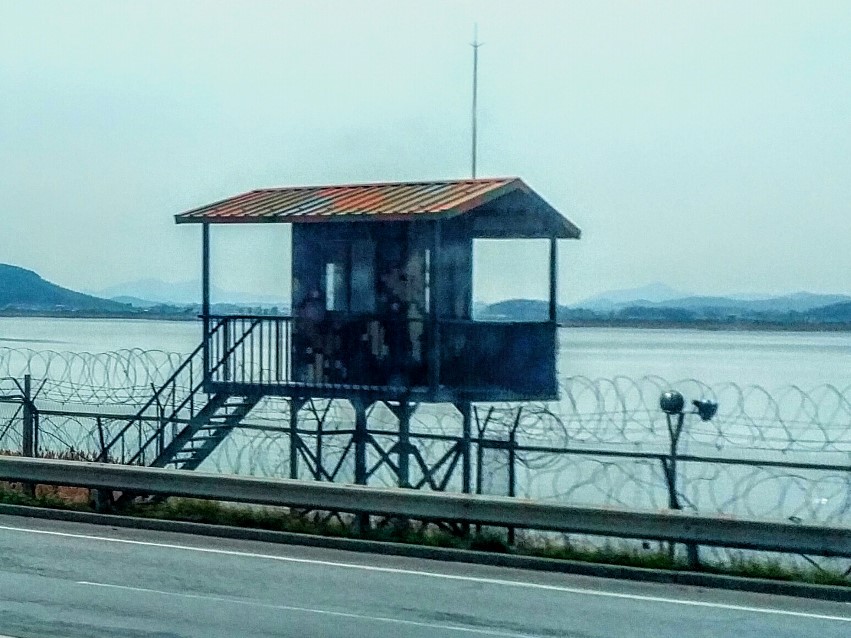 Military watchtowers along the road through Panmunjom to the Demilitarised Zone between South and North Korea. North Korea is in the distance.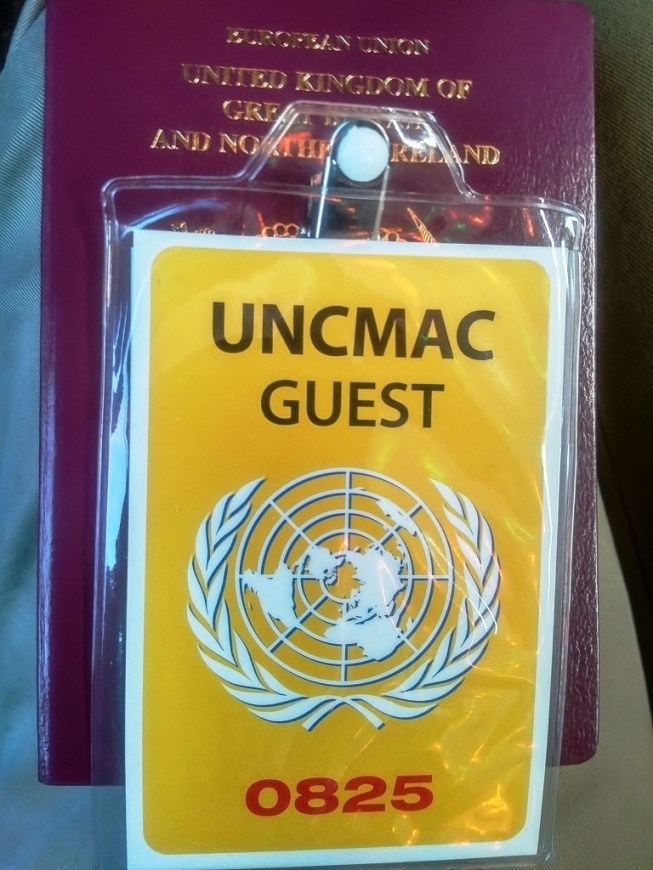 My UN entry badge (UNCMAC: United Nations Command Military Armistice Commission).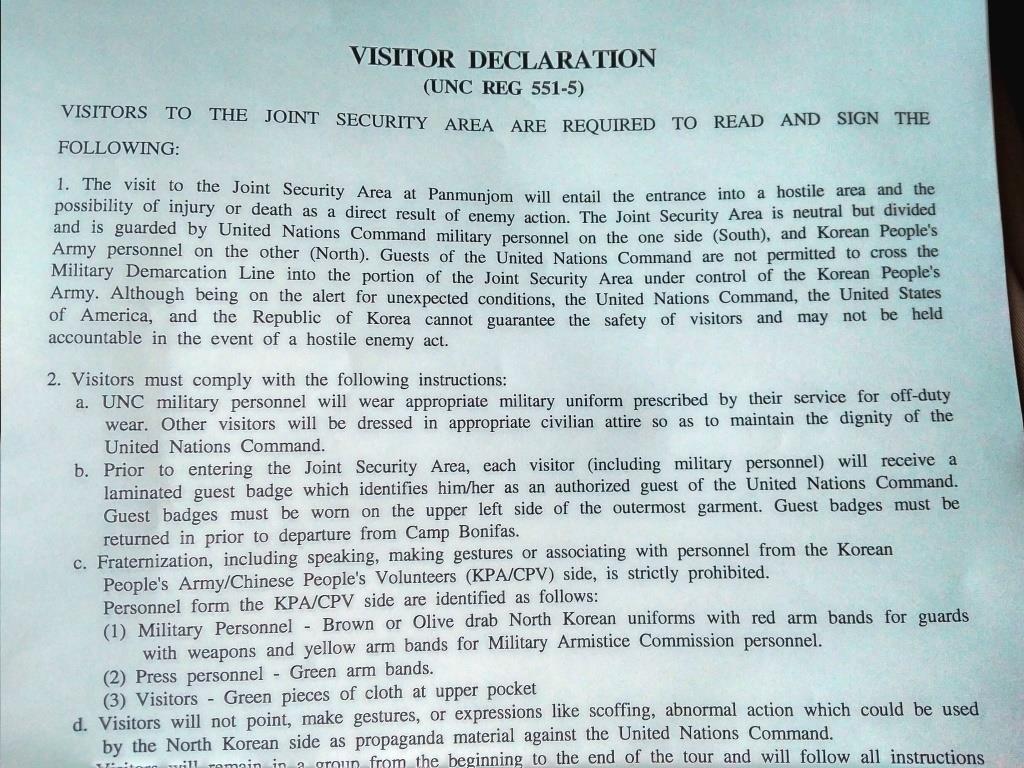 The declaration waiver document outlining the possibility of "death" in this "hostile" area and that UNCMAC cannot guarantee my safety!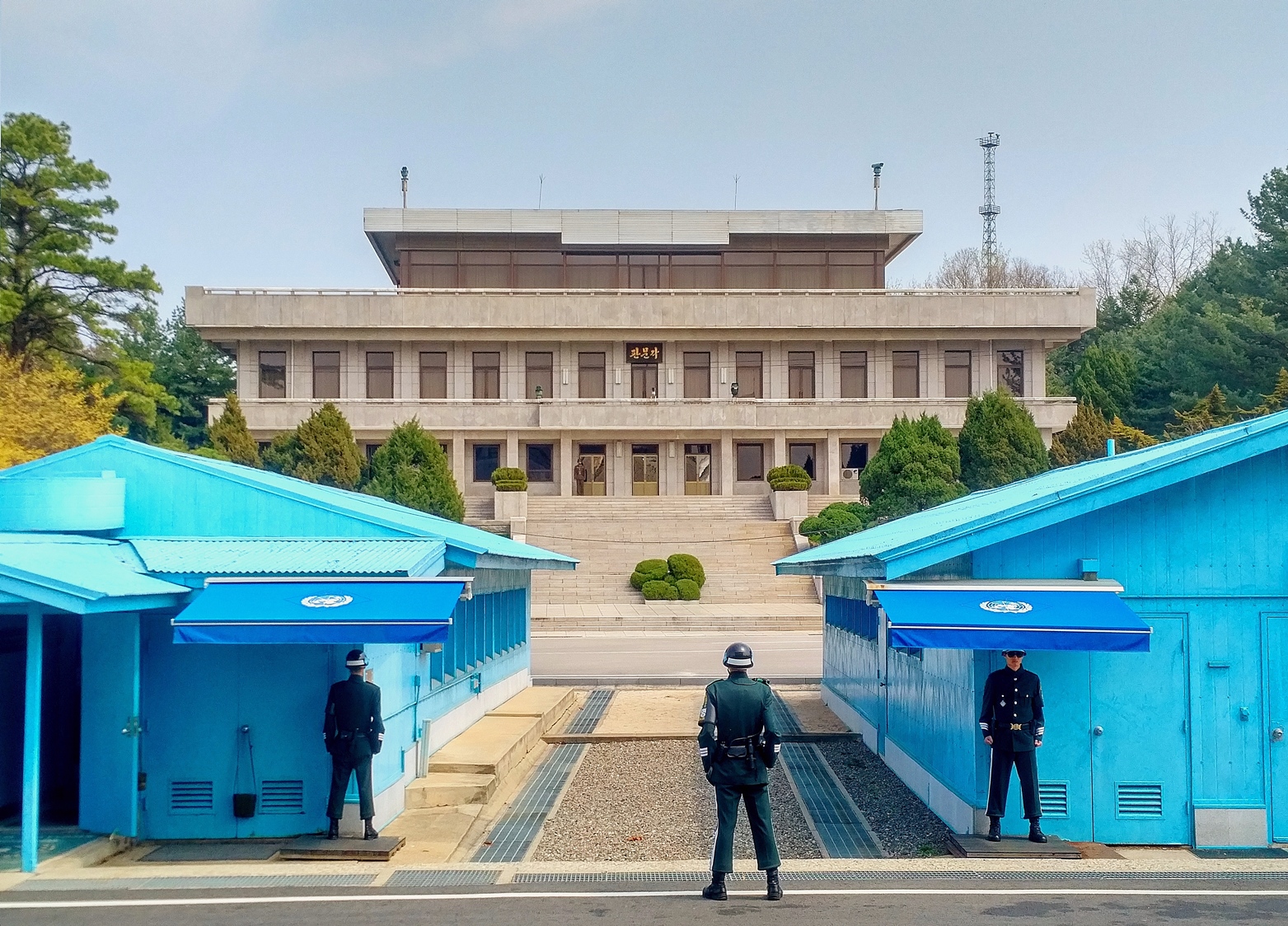 North and South Korea face each other. The blue huts are UN controlled. The masonry building behind them is North Korea. A lonely North Korean guard looks down to the South Korean forces at the DMZ bordering both countries.
Within the confines of the JSA: Joint Security Area.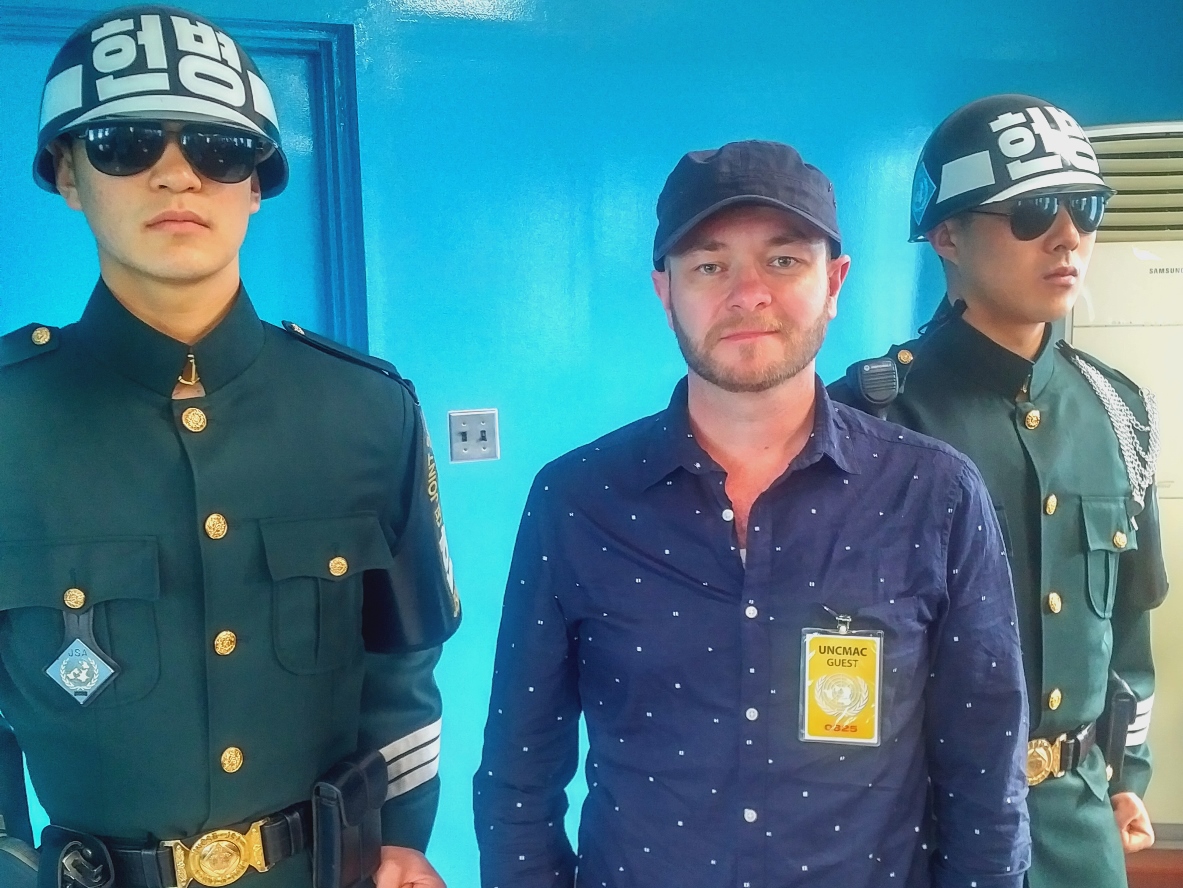 Technically stood in North Korea in the blue Armistice Meeting Room.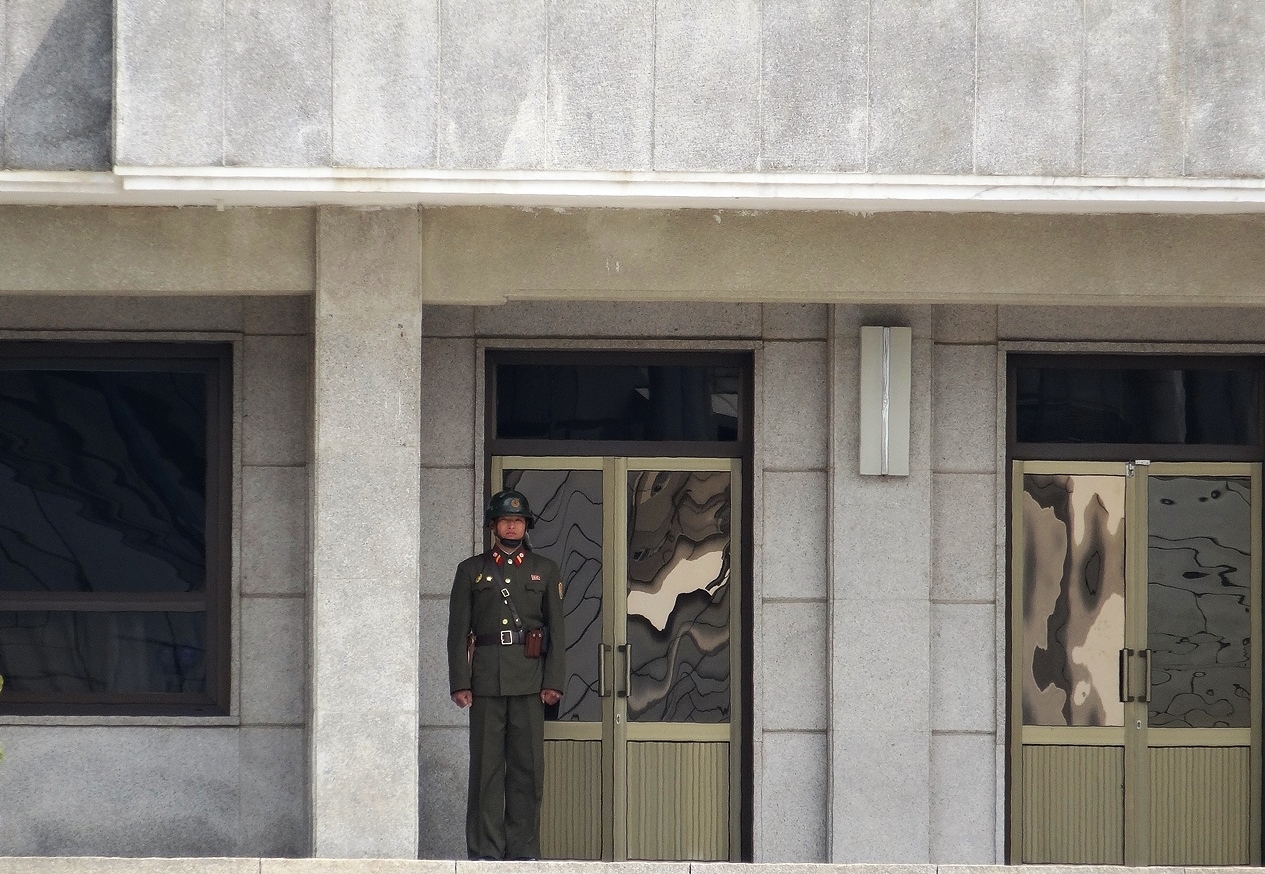 A solitary North Korean guard, fists clenched, stands outside Panmon Hall looking straight ahead to South Korean forces at the JSA. His tin hat and the cut of his trousers suggests a soldier from a bygone era. Beyond the doors stands another DPRK soldier with orders to shoot his colleague dead should he attempt to defect to the 'other Korea' which lies, tantalisingly, only a matter of metres away.
Access to Busan came in the form of a comfortable and efficient two and half hour, 420 kilometres train journey from Seoul's main station. Making this journey means you'll travel the very length of South Korea from its northern capital to its second city on the south coast.
We'd initially planned to stay three nights in Busan but cut this time by a third when it became clear that we'd actually ended up in the South Korean version of Blackpool (an unsophisticated seaside town in England). Aside from a trip out to the cultural village of Gamcheon, a rainbow-coloured affair perched beautifully on the hillside, and one to see the wonderful giant golden Buddha at the Hongbeopsa Buddhist temple at Nopo, Busan had very little extra to offer which couldn't be found back in the capital. Busan is a featureless urban sprawl punctuated by ubiquitous zany signage, dangling electricity cables and some pretty noxious smells. In comparison with Seoul's pristine streets, Busan was dirtier, edgier, seedier. It is perhaps no surprise that it was in Busan where I first spotted a Korean street food delicacy bubbling away like a swampy witch's brew in a large pot on a mobile street stall: Beongdegi (steamed silkworm larvae). The stench was an unappetising, stomach-churning confluence of macaroni cheese and garlic. Indeed, a hastily-purchased face mask from a local store for 3000W (£2) was particularly necessary in Busan. While skies appeared blue and clear, there was clearly something in the atmosphere which my nose did not like. In donning my mask I joined thousands of other Koreans whose concerns about air quality clearly matched my own. It was also virtually impossible to find any food which was close to something I recognised and felt comfortable eating. We survived on pastries from a local bakers for the duration of our stay in Busan. Food was a real problem.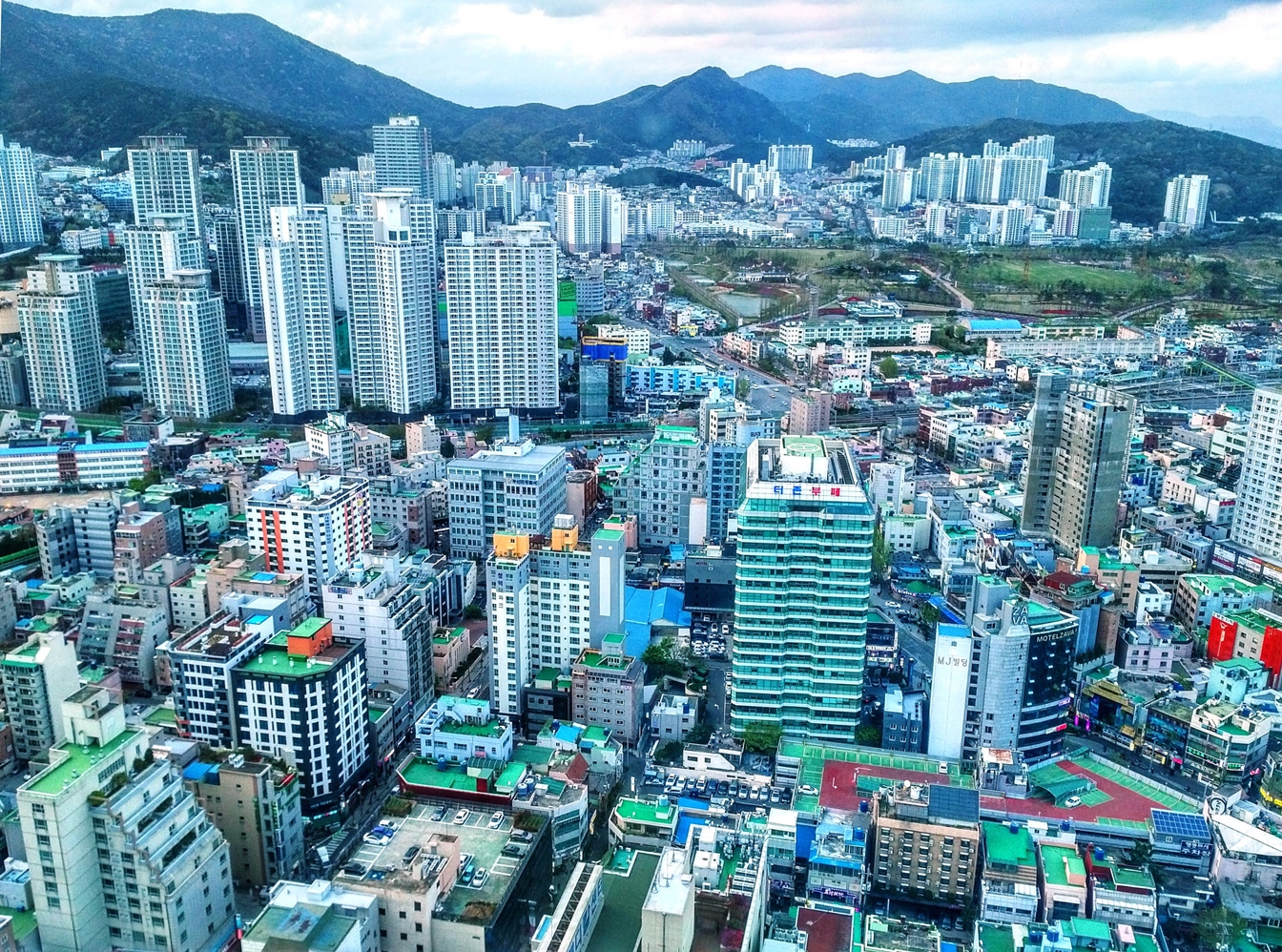 The wonderful pastels of Gamcheon Village: once a slum but, through the artistic deployment of colour and creativity, is now a tourist attraction.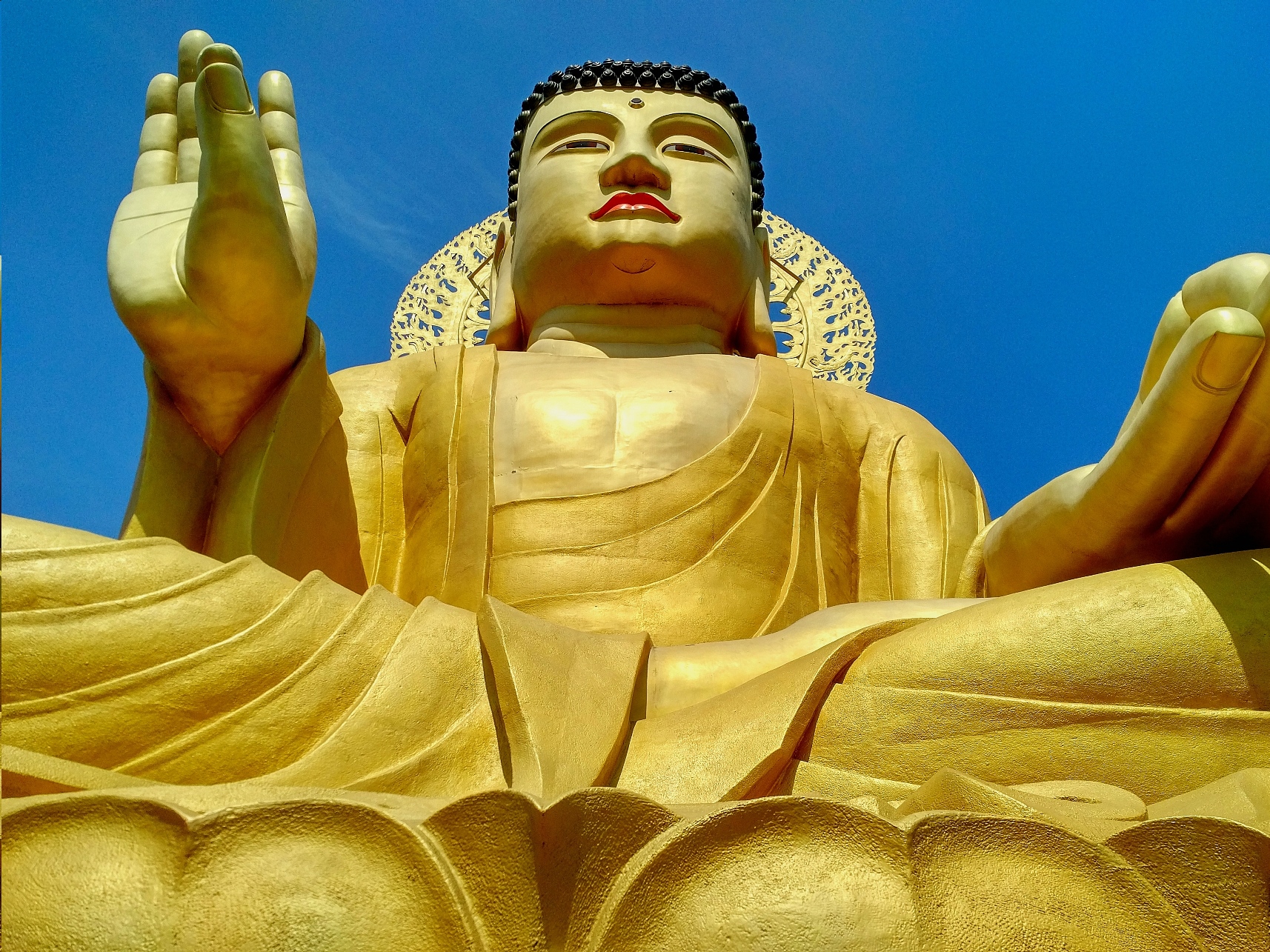 The giant gold Buddha at Hongbeopsa Temple. The couple at the Buddha's feet put its size into perspective.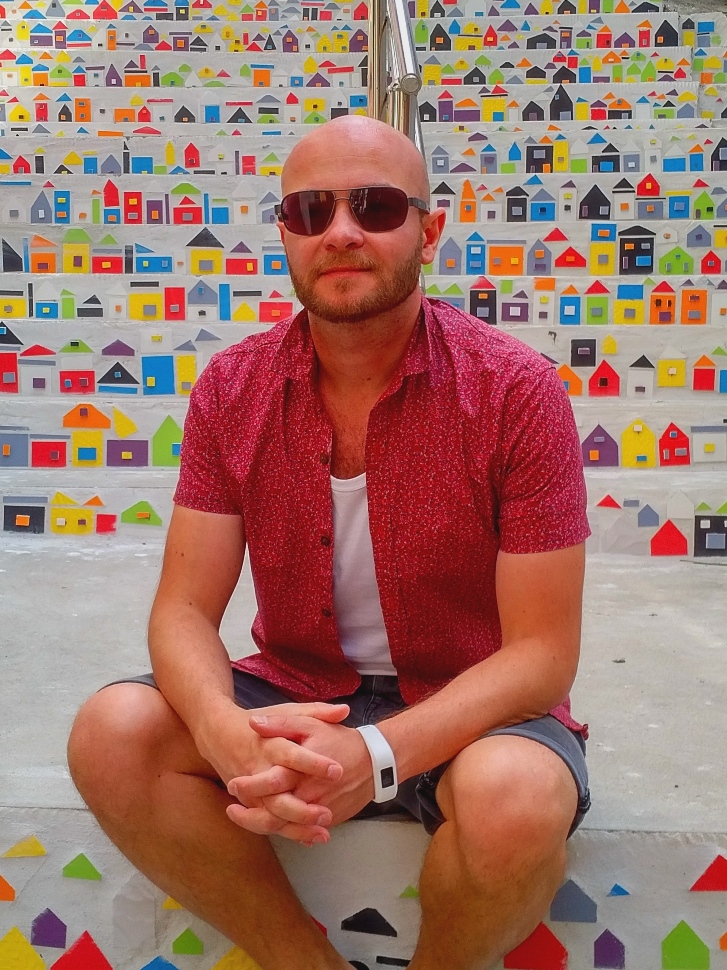 Gamcheon Culture Village's mosaic steps.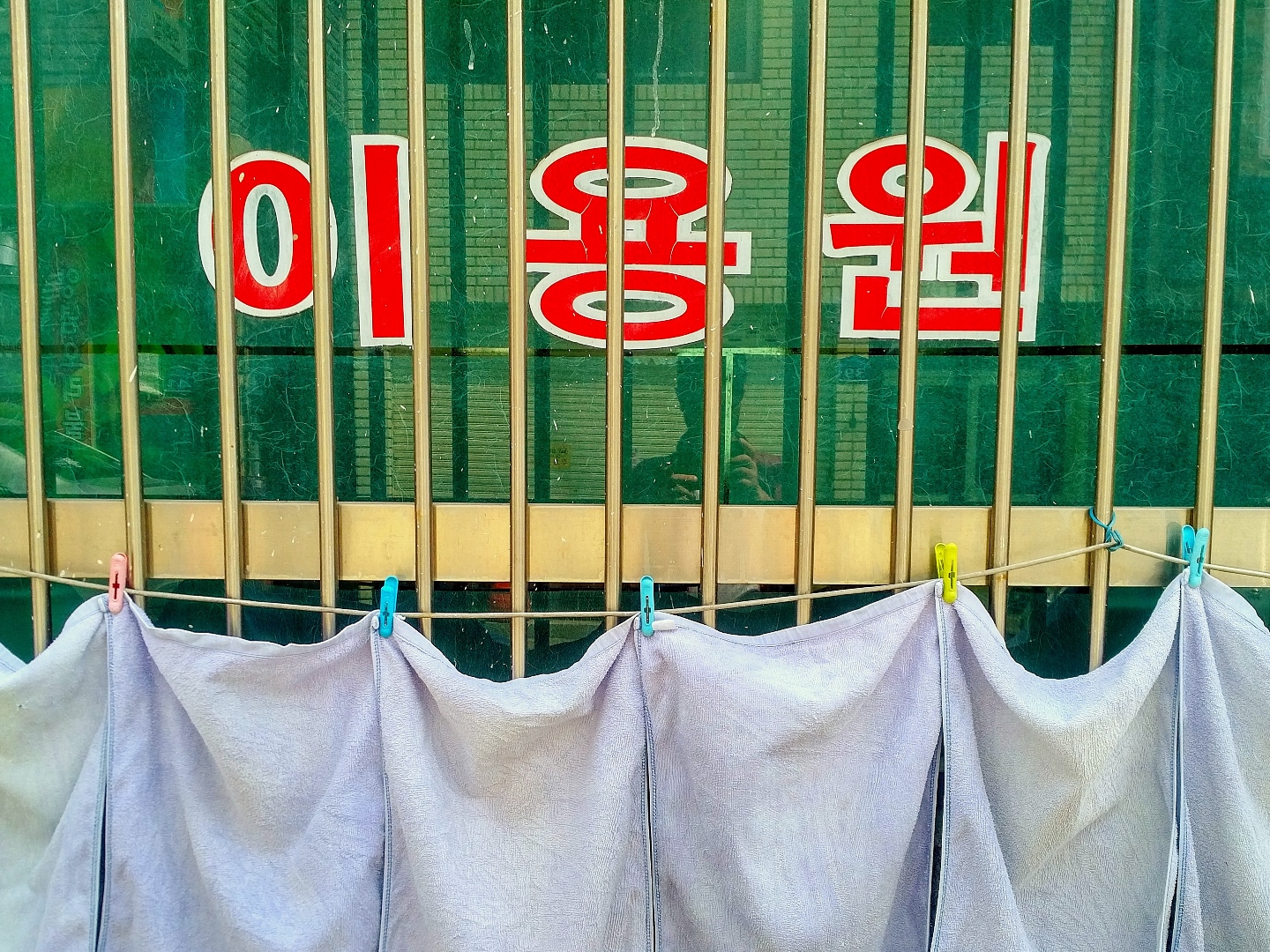 Laundry hangs out to dry in a satisfyingly uniform fashion in front of characterful Korean script in the wonderful hilltop technicolour village of Gamcheon.
travel tips, links & resources
Air quality is not good in South Korea. Expect to sneeze and blow your nose throughout your stay. Try buying a face mask to ease symptoms and, if you suffer from respiratory problems, bring your medications two-fold.
Taxis are rather cheap in South Korea and the vast majority of drivers are honest and use the meter in their cabs. Many will not speak English and so make sure you have your requests pre-filled out in Google translate or other translation apps to make sure your journey is a smooth one.
We booked our trip out to the DMZ JSA with the

PTC Lee tour company. Hopefully you will get Gina Lee as your guide - she was awesome!
Eating was a problem in South Korea far more so than anywhere else I've experienced - especially as a vegetarian. I try not to take risks abroad where food is concerned and, seeing as such a large proportion of the eating out food industry in South Korea is geared towards locals and street food, we were really stuck for somewhere to have a square meal. Try to plan ahead as best you can or head to one of the French patisserie chains which have taken a hold in the country. At least there you can get something recognisable and warm.
Train tickets can be bought easily and in advance on the Korail website

here.
The Secret Garden at Changdeokgung was overrated and often booked up. You can try getting yourself on to tours in another language (we got onto the Japanese Tour). Ticket sellers, however, appeared reluctant to use up Japanese places on two English speakers and only sold the tickets to us moments before the tour was due to start. You can't book in advance for these things so joining another language tour may be your only option of seeing the Secret Garden. Personally I felt it wasn't worth the hassle.