switzerland & liechtenstein
A Solo Alpine Adventure in Search of a Micronation
Where: Basel and Sargans, Switzerland. Vaduz and Triesenberg, Liechtenstein. Europe.
When: April 2014
What: Rathaus, The Munster, River Rhine, Lalleking, Spalentor City Gate, Tinguley Fountain, Sargans Schloss, Swiss Railways, Liechtenstein Passport Stamp, Vaduz Schloss, Triesenberg Village, Alps Panorama, Basel airport - the only airport in the world to serve three countries simultaneously.
How: International flight, Swiss Railways, International shuttle bus, walking.
Country counter: +1 country
Illnesses or mishaps: Negotiating the exorbitant prices of both Switzerland and then Liechtenstein.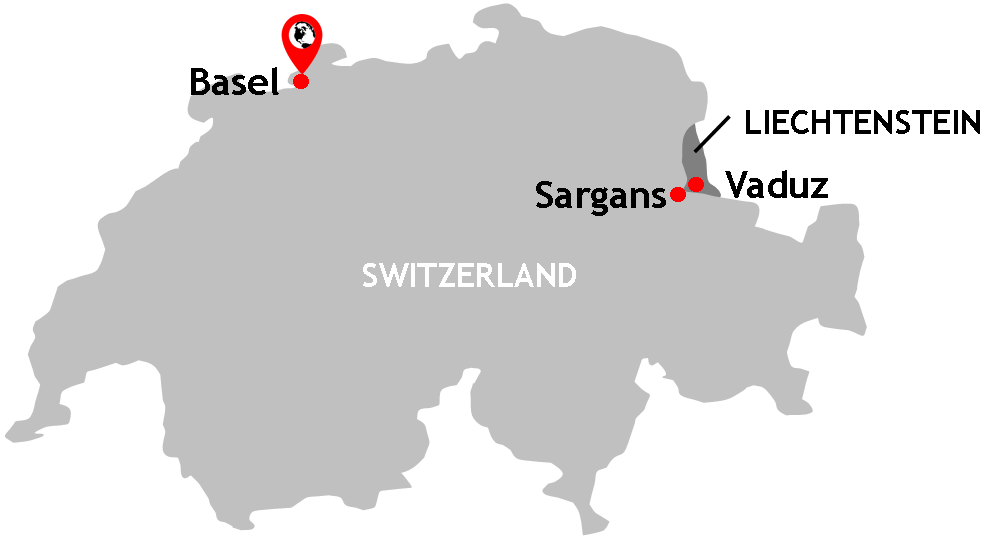 This was a double country trip using Switzerland to gain access to the Lilliputian country of Liechtenstein nestled tightly against Switzerland's eastern edge. Liechtenstein has no airport and so the easiest, and most well-trodden, route into the country is through Switzerland - with many travellers opting to fly to Zurich in eastern Switzerland. Not one to follow the crowd, my entry point was a city called Basel in the north west. The plan? To travel the 160 kilometre distance by Swiss Train (SBB) from the north to the eastern border at Sargans and then catch a bus from there to Liechtenstein's miniature capital Vaduz.
Travelling to Liechtenstein meant I got to tick off another one of the few remaining countries on the continent I had yet to see (I now have only San Marino, Cyprus, Andorra, Belarus and Moldova to go). Liechtenstein is my 55th country, although sat on my little LIEmobil bus looking searchingly out of the window, it was unclear where Switzerland stopped and Liechtenstein began. It's always exciting knowing the exact point at which one country ends and a new one begins; undoubtedly one of the highlights of a journey involving more than one country and border crossings. At borders languages, cultures, currencies, countryside and even clocks change at the drop of a hat, making these transition points an exciting moment in a long journey. As it was, transitioning from Switzerland to Liechtenstein and back again was a hassle-free and discreet affair: there are no border controls between Switzerland and Liechtenstein. On my return journey, I managed to spot where the border lay: it was between Balzers and Trubbach. The only hint that this was a border? The presence of a lonely Liechtenstein flag waving in the wind as you cross the River Rhine...
I'd been to Switzerland back in 2010 when we took a city break to Zurich and then headed further north on the train out to the famous Schaffhausen waterfalls. Googling my options, Basel looked pleasant enough and so a second trip to the expensive central European country offered the best way of seeing Liechtenstein on the cheap. Plus, travelling from Basel in the north east to Sargans in the east by Swiss Railways meant that I got to see some beautiful countryside thrown in as part of the deal - albeit from a window seat in economy class. Switzerland has some stunning landscapes, making a train journey from Basel in the north to Sargans on the eastern border a pleasure. I do love a railway journey in a foreign country - things you'd see out of the carriage window at home, and which fail to elicit even the most cursory of glances, for some reason suddenly become interesting and different in a foreign land. Just like its German neighbour, Swiss Railways has a very good reputation for professionalism, comfort and reliability making your journey a relaxed one. You also may be lucky enough to be travelling on one of the railway's double decker trains, giving you the chance to watch the landscape roll by from a higher-than-normal vantage point.
Basel sits on the extreme north western edge of Switzerland. In fact, I arrived at Basel airport , famously the only airport in the world to serve three countries simultaneously: Switzerland, France and Germany. As a result the airport has three names and three exits - one for each country. Watch which exit you take or you could end up in the wrong country. Basel, like the rest of Switzerland, is painfully expensive. The costs of my trip were kept down by staying in a hotel in the Kleinbasel area of the city, which is the other side of the Rhine to the Altstadt and a little corporate and, admittedly, seedy.
The city sits on the banks of the River Rhine with the red Munster Church steeples and surrounding Swiss-style chequered-tiled roofs of the Altstadt cutting a beautiful sight on the horizon. The biggest of the city's squares is the Marktplatz - home to the red and gold Rathaus with its decorative, floral murals. The Altstadt, or old town area, is pretty enough and a very easy place to wile away your city break hours; almost every building is decorated with an elaborate mural or has fancy avant-garde swirls or neo-Gothic turrets. Cobbled streets wind in all directions, occasionally reconvening at Renaissance street fountains with columns and spouts spurting water. The 600 year old Spalentor City Gate sits dramatically at the end of a particularly pretty street. The Swiss are renowned for their clocks and it is no surprise that Basel is full of magical timepieces in different styles, colours and locations. Indeed, look out for the many wall-mounted sundials, too, which I found to also be a feature of the city. Basel is also a city somewhat on the eccentric side being, as it is, home to one of the most absurd fountains I have ever seen. Made by a kinetic artist called Tinguley, and located in front of Basel Theatre in Theatreplatz, it features a host of moving metal formations driven by pulleys, whirring belts and water hoses. I didn't really know what to make of it; it was simultaneously ridiculous and fun. Then there's the mechanised Lalleking, a gargoyle-like face perched high up the corner of a building in the richer northern half of Basel. Facing the poorer, southern part of the city, it pokes its tongue in and out every few seconds. North/south city rivalry summed up in stone.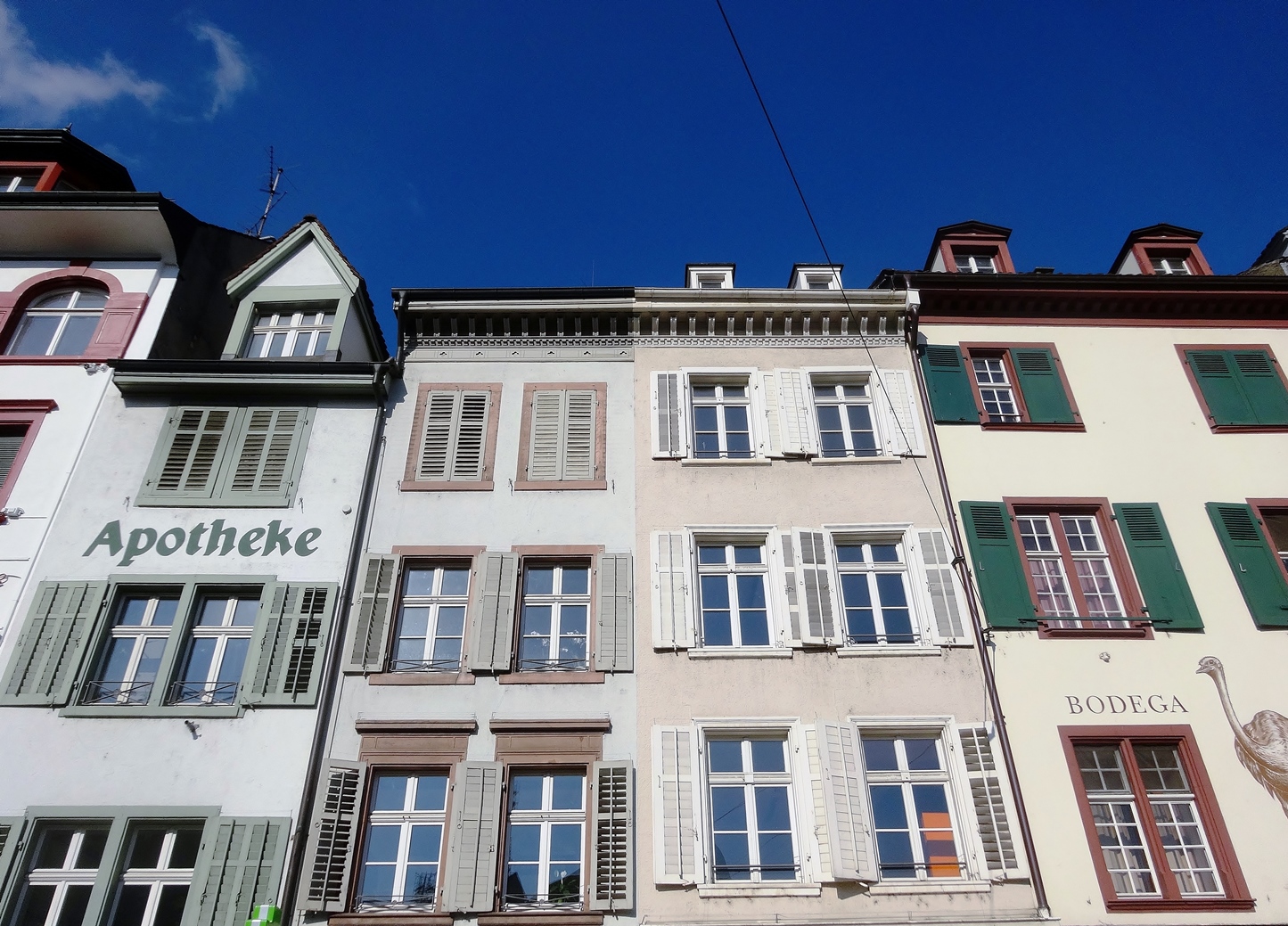 Basel architecture: the city's long history is written in its buildings. I love these tall, narrow houses.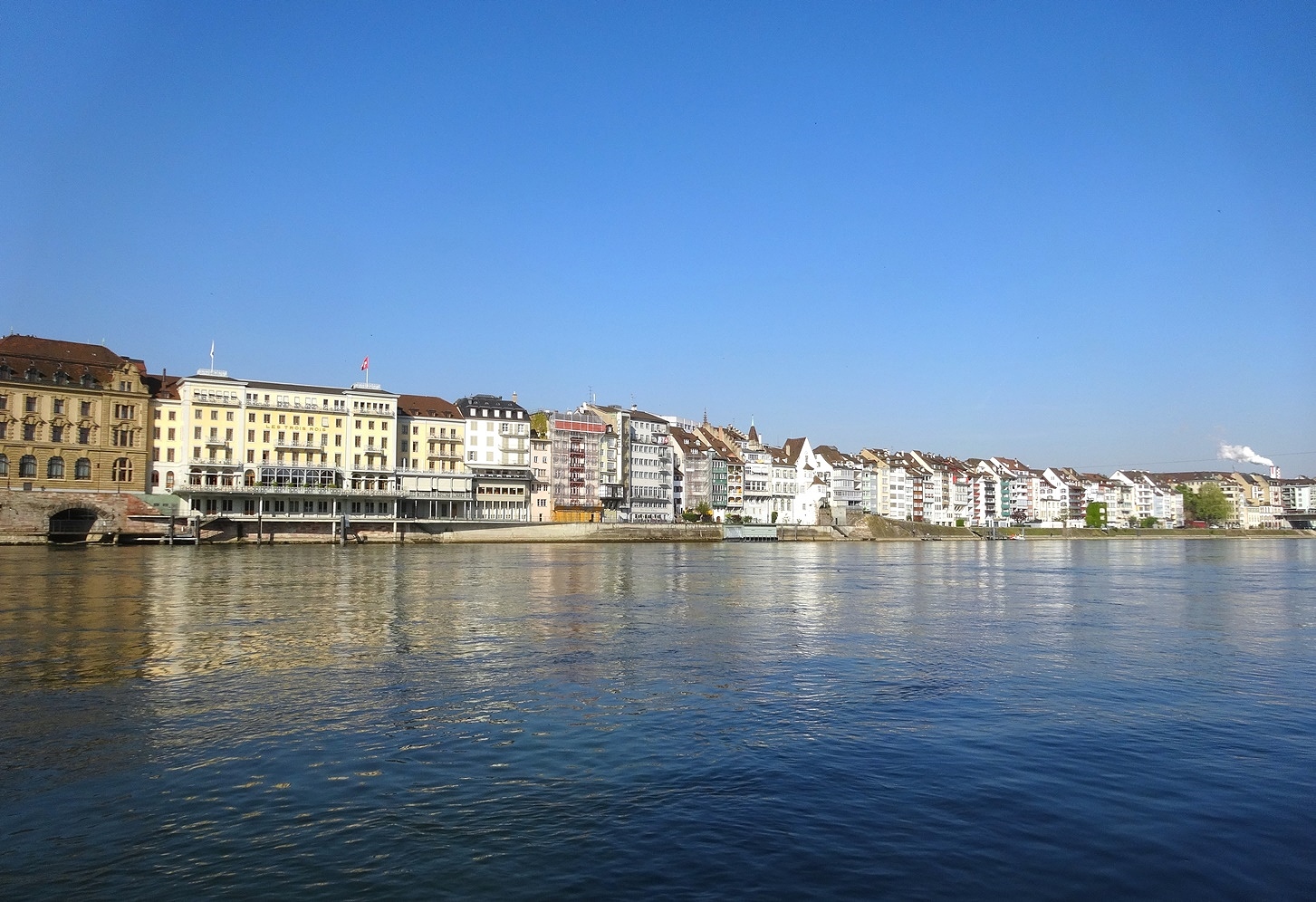 The view of the northern bank of the Rhine.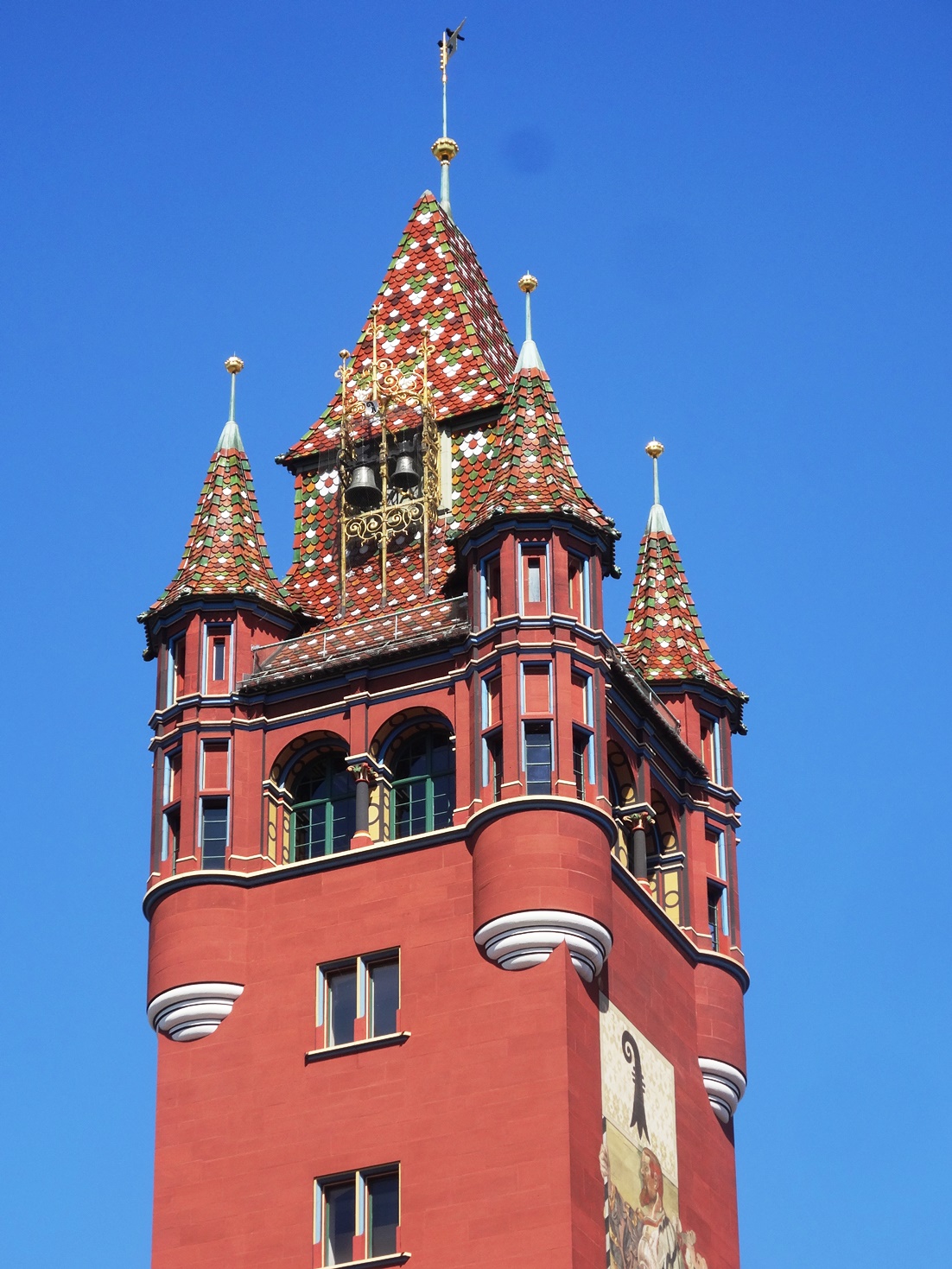 The Basel Rathaus: the five-hundred year old building dominated Marktplatz.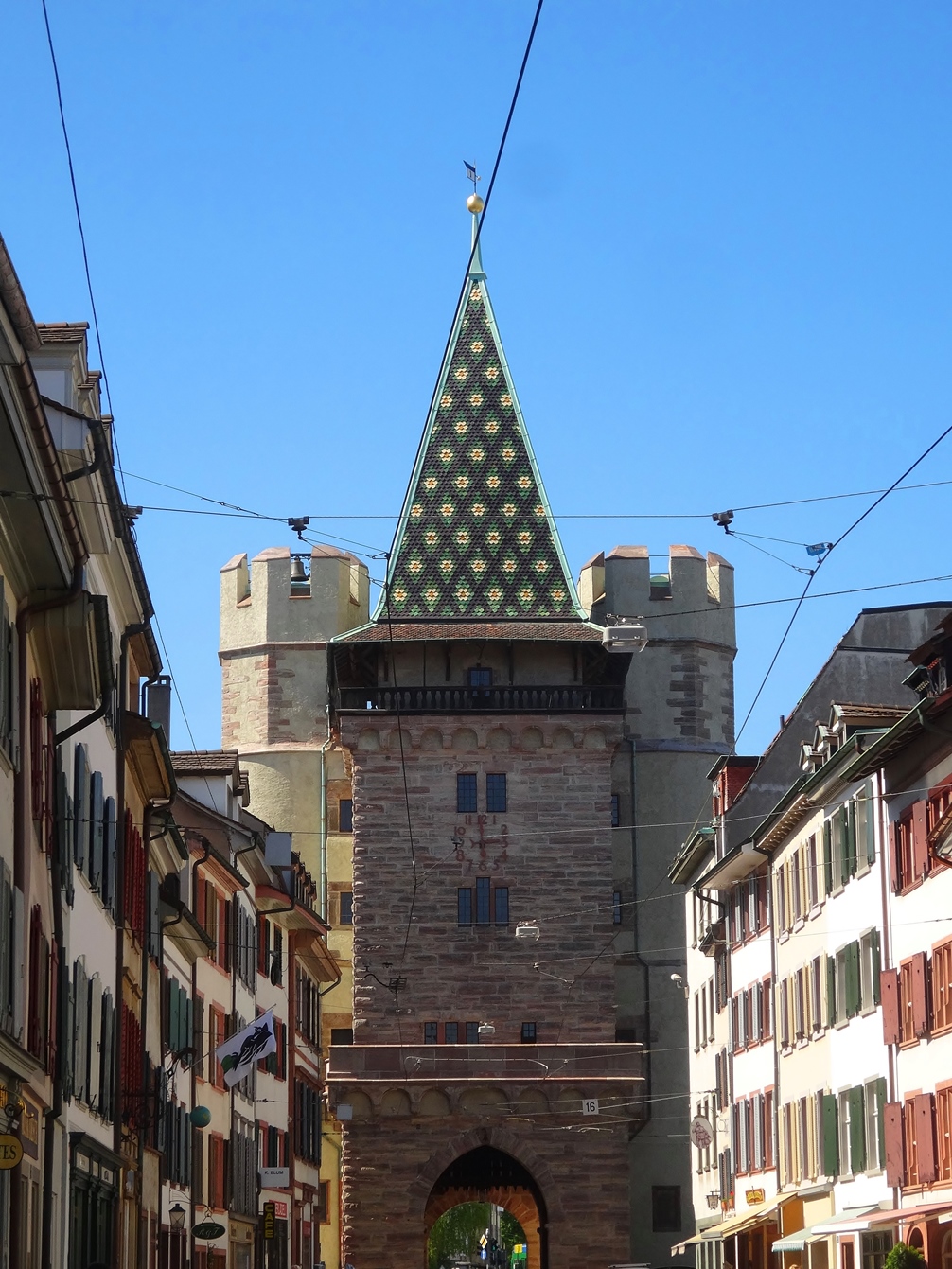 The wonderful 600-year old Spalentor Gate.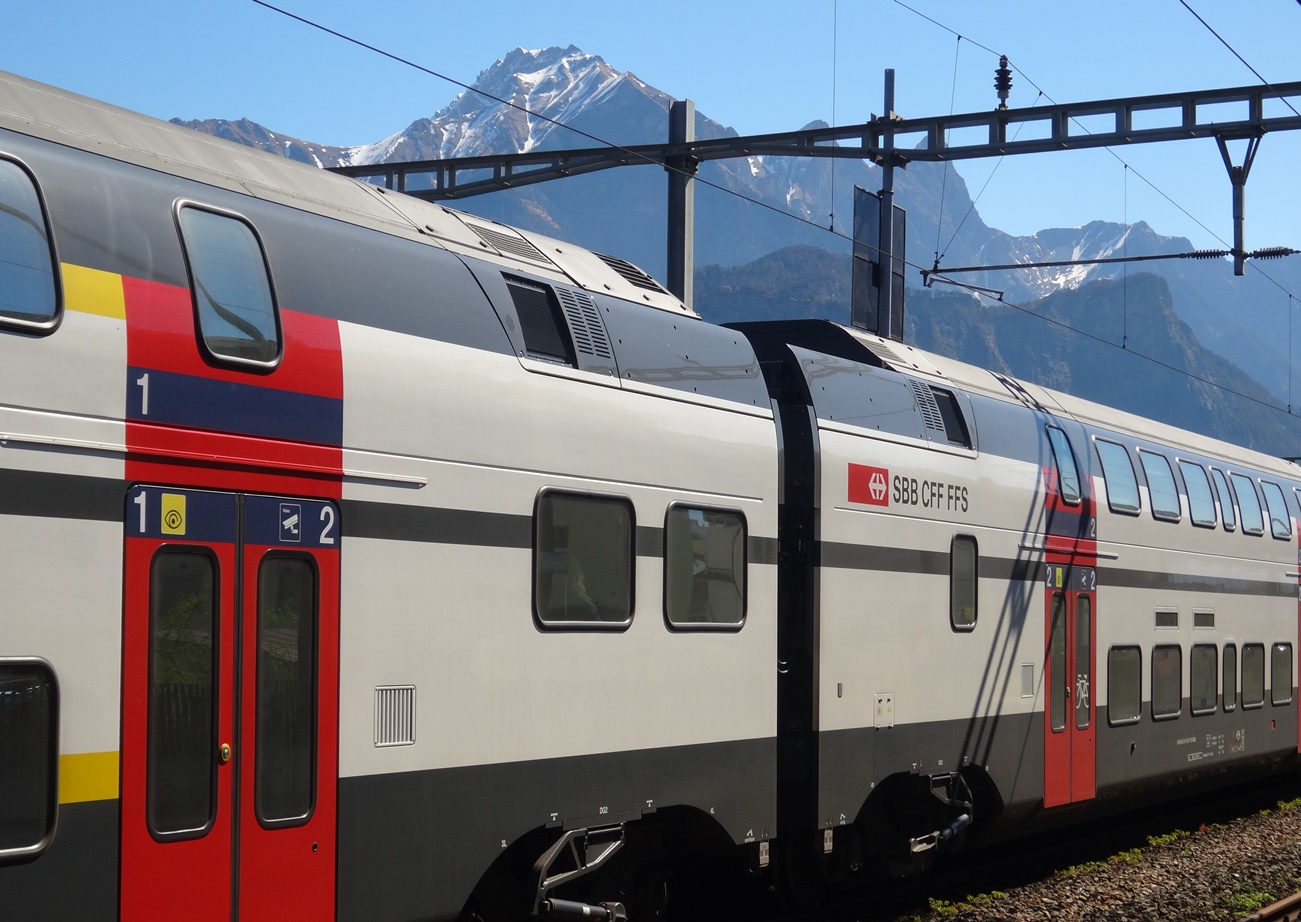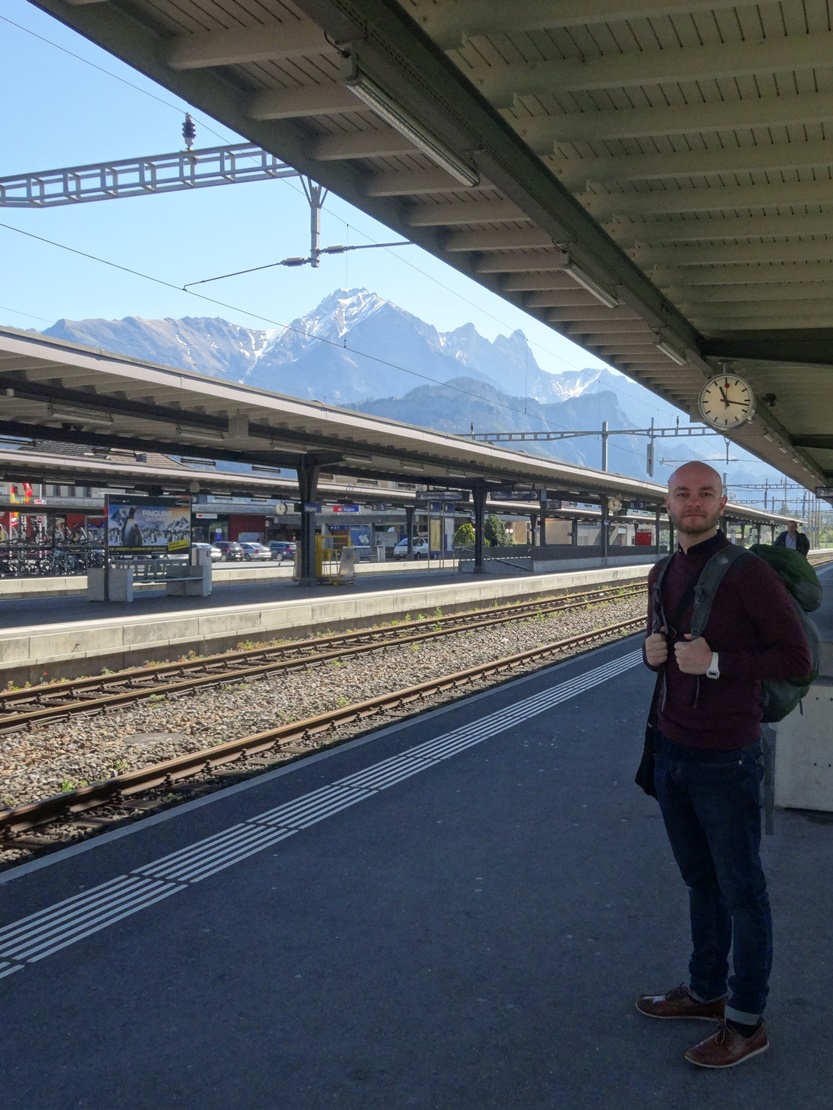 Switzerland: a very beautiful place in which to travel by rail.
Finding myself in Sargans on my return from Liechtenstein with over an hour and a half to spare, I decided to see what this Swiss border town had to show me. It's a place with stunning snow-capped mountain views all around, hillside vineyards and a schloss (castle) and kirche (church) dramatically positioned on a hillside. Add to this the bright spring sunshine, the over zealous singing of the birds, and the friendly locals wishing me "morgen" as I passed by, I ended up completely relaxed and felt less like I had wasted valuable Vaduz sightseeing time by arriving back here so early. There are enough cafés and restaurants to keep you going, too.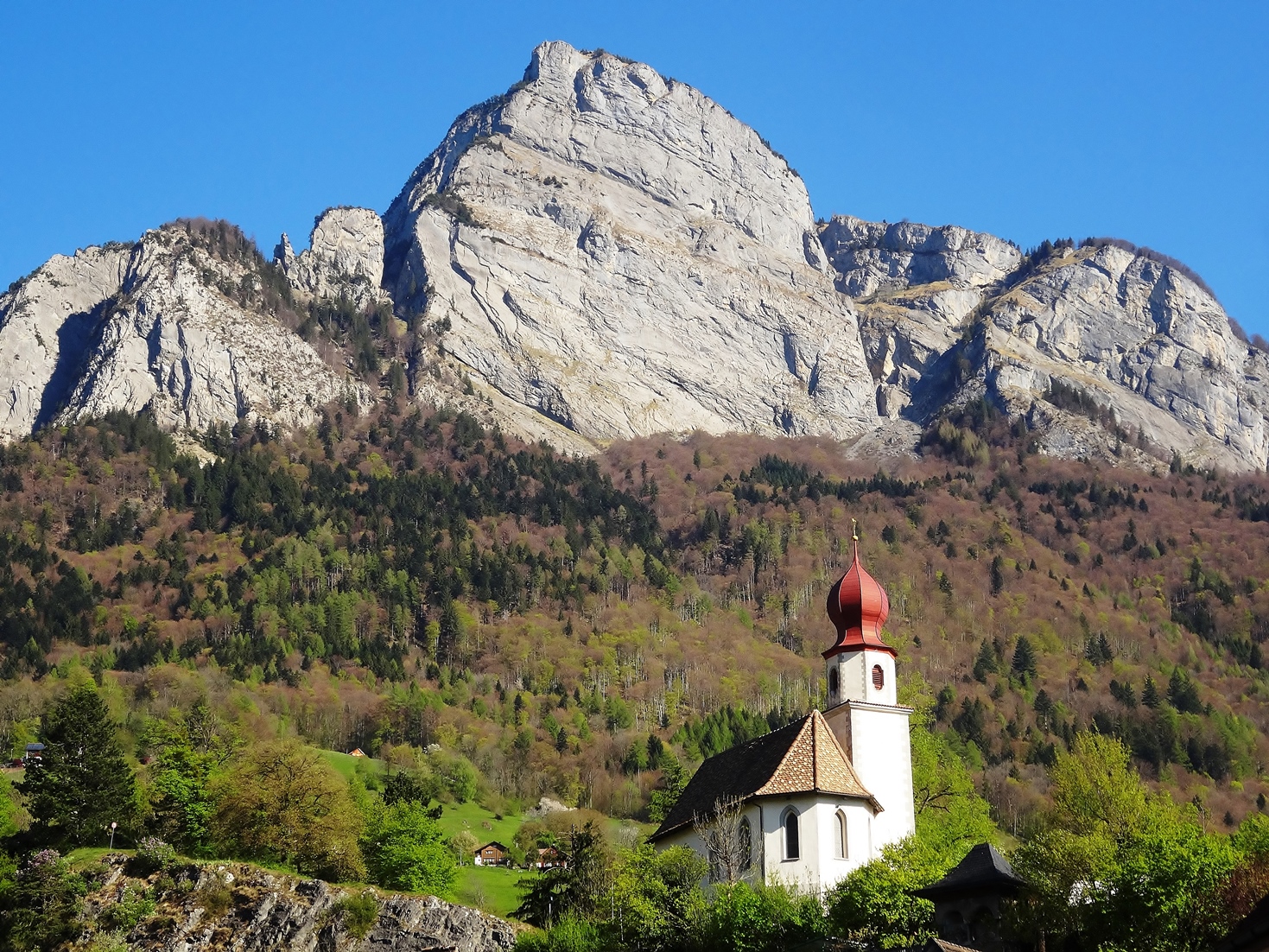 St Oswald's Church perched half-way up a hill with the rugged grey mountains in the background cutting a dramatic scene.
The Alpine Micronation with the Strange Name
Liechtenstein is a tiny mountain principality clinging to the eastern edge of Switzerland and is the sixth smallest country in the world. It is a German-speaking country which uses the Swiss Franc as its currency. Some mistakenly think that Liechtenstein is part of Switzerland - much to the ire of Liechtensteiners. Many of the visitors to make it to this miniature country are either those attracted by its novelty value as one of the world's micro nations or those just passing through as part of a bigger tour of Europe. It's the only country in the world to be named after a person (it was purchased by, and named after, Johann Von Liechtenstein). Other facts adding a sense of intrigue to this country with the unusual name are that it is one of only two countries in the world to be doubly landlocked (the other is Uzbekistan which I visited later the same year), it is also claimed to have more PO Box companies registered to trade out of the tax haven country than it has people living there. Finally, it is completely ruled by the monarch, too, so not exactly a democratic country. Liechtenstein more than makes up for its diminutive size with its truly spectacular landscapes and scenery: the country lies entirely within the Alps, making it a popular skiing destination. Indeed, Liechtenstein doesn't really need you - it is perfectly self-sufficient and rich enough to not have to lower itself by soliciting the tourist. It seems perfectly content to remain tucked away, a little-visited place unspoilt by the ravages of tourism.
Liechtenstein is a little beauty left undiscovered by many, denigrated by some, and completely unknown by others. Indeed, it is so geographically small that most world maps are unable to show its existence physically on the page. When I told people of my plans to travel to Liechtenstein, the reaction was more often than not one of laughter. And, of course, this underscores one of Liechtenstein's main issues: the name sounds ridiculous and results in the uninitiated concluding that the tiny micro nation is an aberration, insignificant, ridiculous even. In fact Liechtenstein is none of these things. It is, rather, a stunning place with a landscape as beautiful as any out there. Laugh at Liechtenstein and pass up the chance to see an awe-inspiring mountain range, old town charm and sophistication, Alpine tranquillity and the possibility of a bit of outdoor adventure. Even though I didn't partake in the latter, I would recommend that any visit here should be accompanied by an excursion doing something active; skiing or hiking.
Vaduz is the micro capital of a micro country. It has just enough to keep you occupied for the afternoon: you have to work that bit harder to find things to photograph, but the view from the Schloss - the castle home to the Princely royal family - is well worth the 45 degree near-vertical climb to the top of the hill. Schloss Vaduz is the landmark of the principality but without the stunning mountain landscape in which it sits, the Schloss itself would be fairly unremarkable. No visit to Vaduz would be complete without a brief trip to the tourist office to get a Liechtenstein stamp for your passport. Unlike other stamps you may have acquired on your travels, this one comes with a fee.
Vaduz is no bustling metropolis, and don't expect any urban adventures here. I have stayed in some countries whose 'capitals' seriously stretch the very understanding of the word, but Vaduz stretches the definition even further - almost to breaking point. Ironically, this in itself generates enough intrigue to warrant you visiting. In Vaduz, capital really stands for 'main village': it has a reserved, quaint feel; a place which gently hums, rather than bustles, with the odd café or restaurant and the occasional group of visitors like Chinese coach parties or Scout groups. The most tasteless thing you will comes across in Vaduz is the miniature city train, which takes tourists around the main sights of the capital. I chose not to partake - especially as everything is within walking distance and so, to take a train, seemed quite decadent if not entirely absurd. Vaduz is probably not the place for the restless traveller who gets bored quickly, more one for those wanting a bit of peace and quiet and a simple, sauntering break. Not many people stay the night, which goes some way to explaining the scarcity of hotel rooms available in Vaduz (and the resulting high cost of those that there are). Your best bet is to stay outside of the capital like I did. I spent the night in the village of Triesenberg; not only were the costs a little more acceptable but I was also able to appreciate the incredible views of the Alps from my hotel bedroom.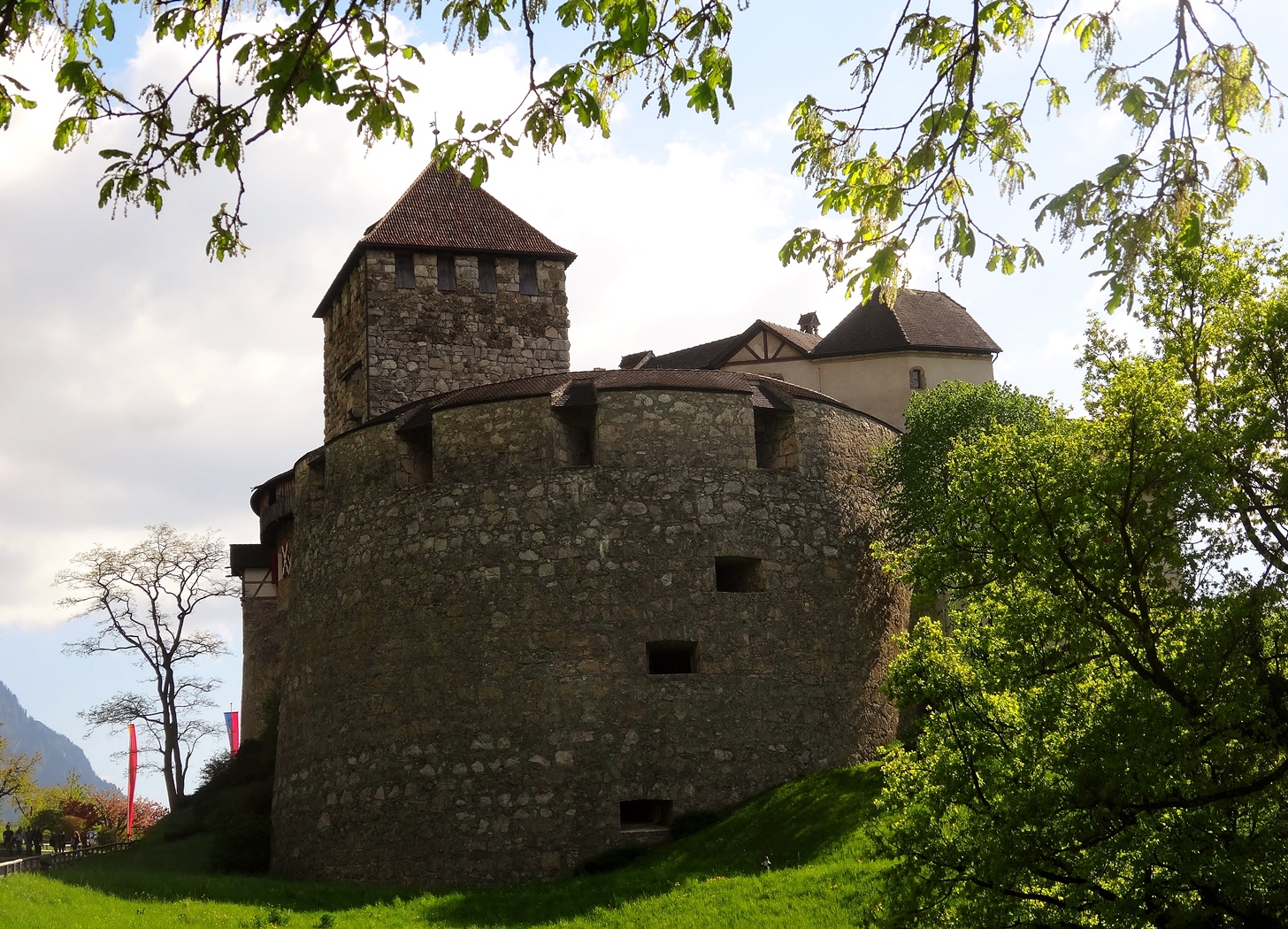 The landmark of Liechtenstein, the Vaduz Schloss, home to the ruling monarch and which overlooks the capital from high above on a hill.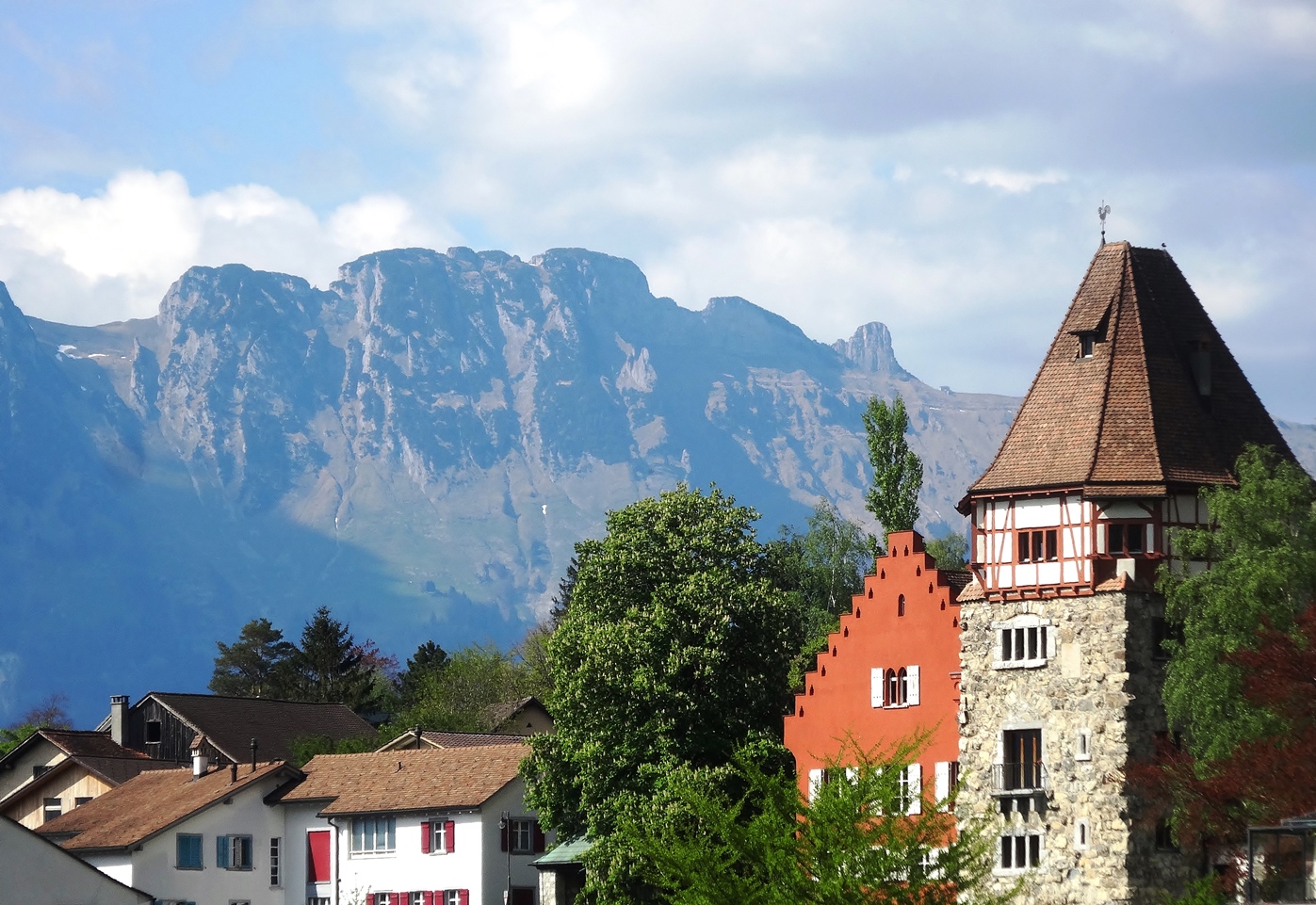 Characterful housing in the Mittledorf area of Vaduz.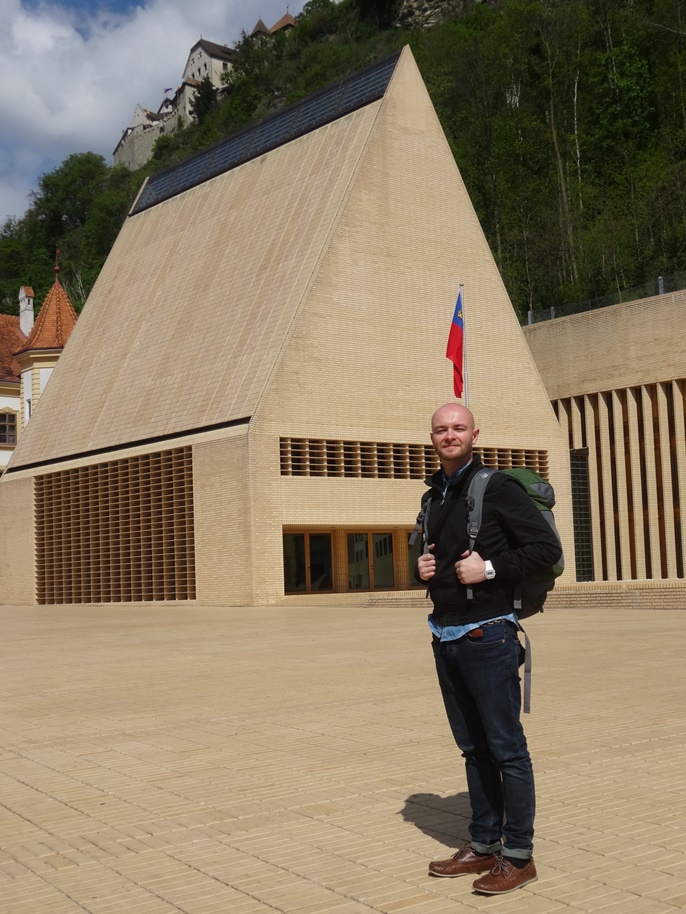 Stood on Vaduz's main high street and in one of the smallest capital cities in the world.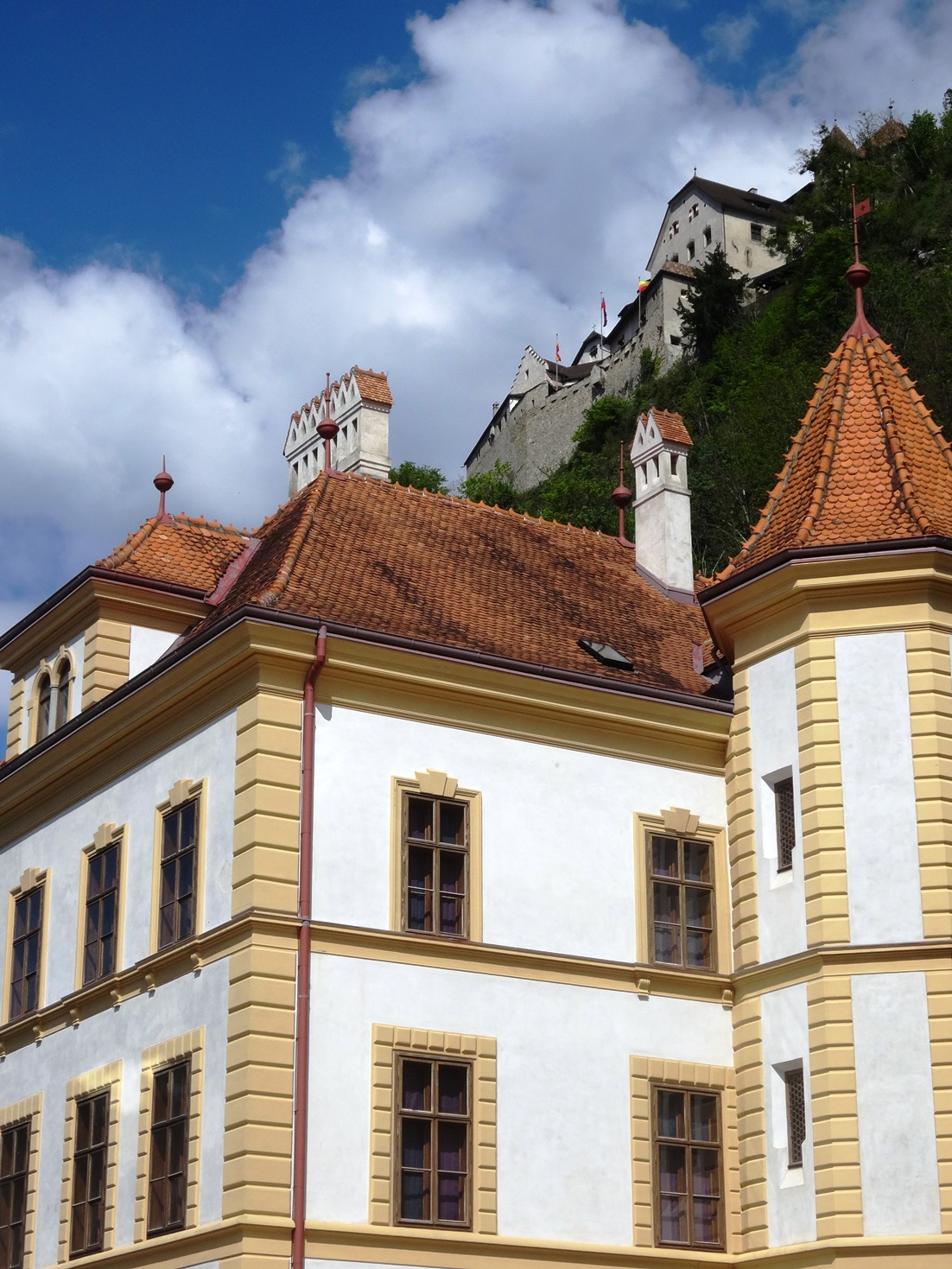 Vaduz Schloss looks down upon the main street of Stadtle.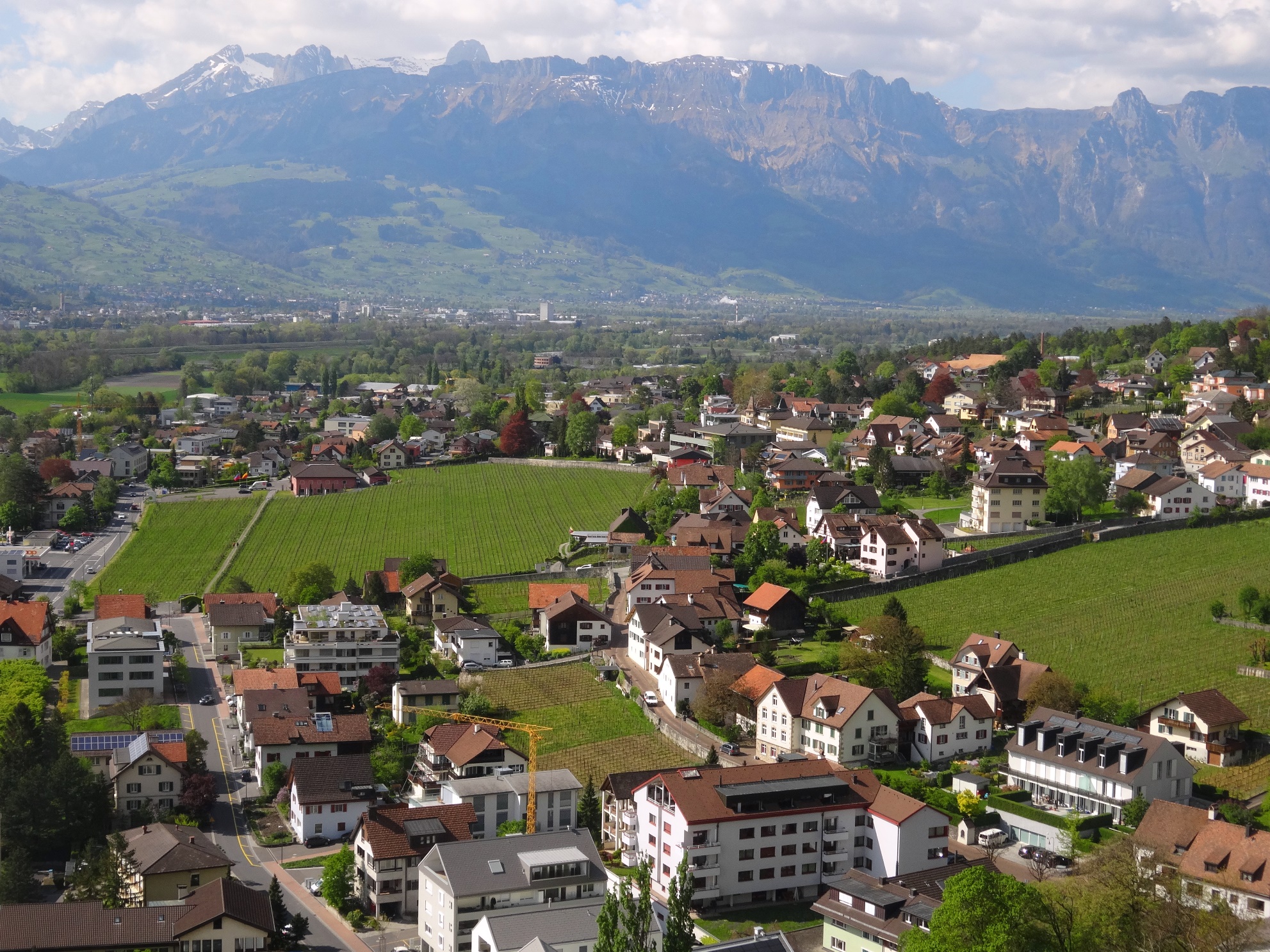 The view out across Vaduz.
With a quick wander around the Vaduz Stadt, and an unpalatably-expensive pizza eaten, I made my way by bus out to Triesenberg, a small mountain village with breath-taking views of the snow-capped Alps and around 10 kilometres east of the capital. Indeed, my ears kept popping as we drove, zig-zag wise, up the mountainside being, as it is, nearly 1000 metres above sea level. And this last point is, of course, where Liechtenstein pays you back for all the hassles that you have endured visit it. Liechtenstein's main landmark is its landscape: its mountainous slopes, its lush fields and its stunning vistas. Adding to the sense of magic was the regular tolling of the St Joseph's Parish church, with its large onion dome. Its tolling every quarter of an hour was interspersed by long periods of tuneful tolling - a wonderful soundtrack to appreciate Alpine views by.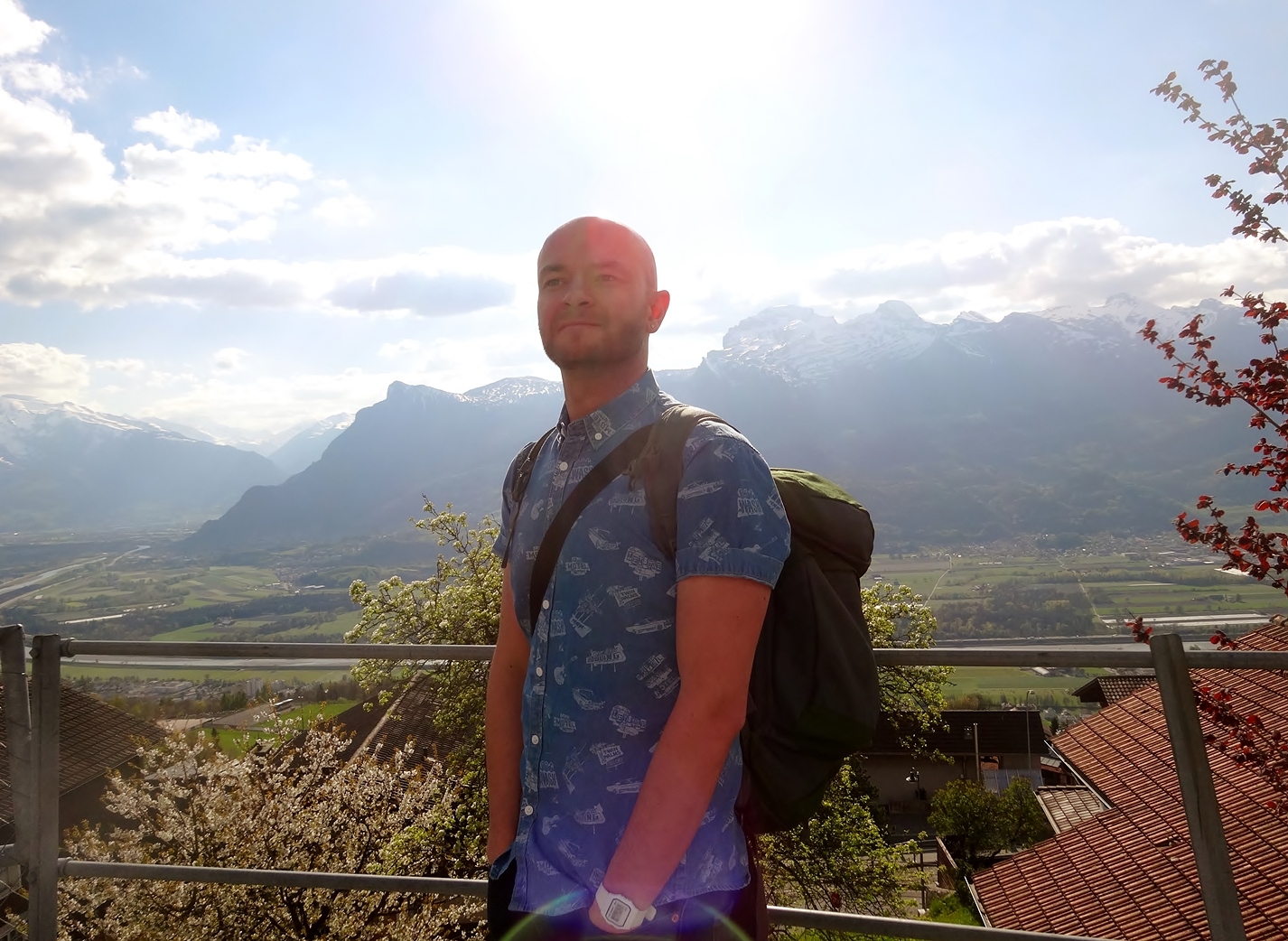 Overlooking the valley as seen from Triesenberg, a small mountain village just to the east of Vaduz.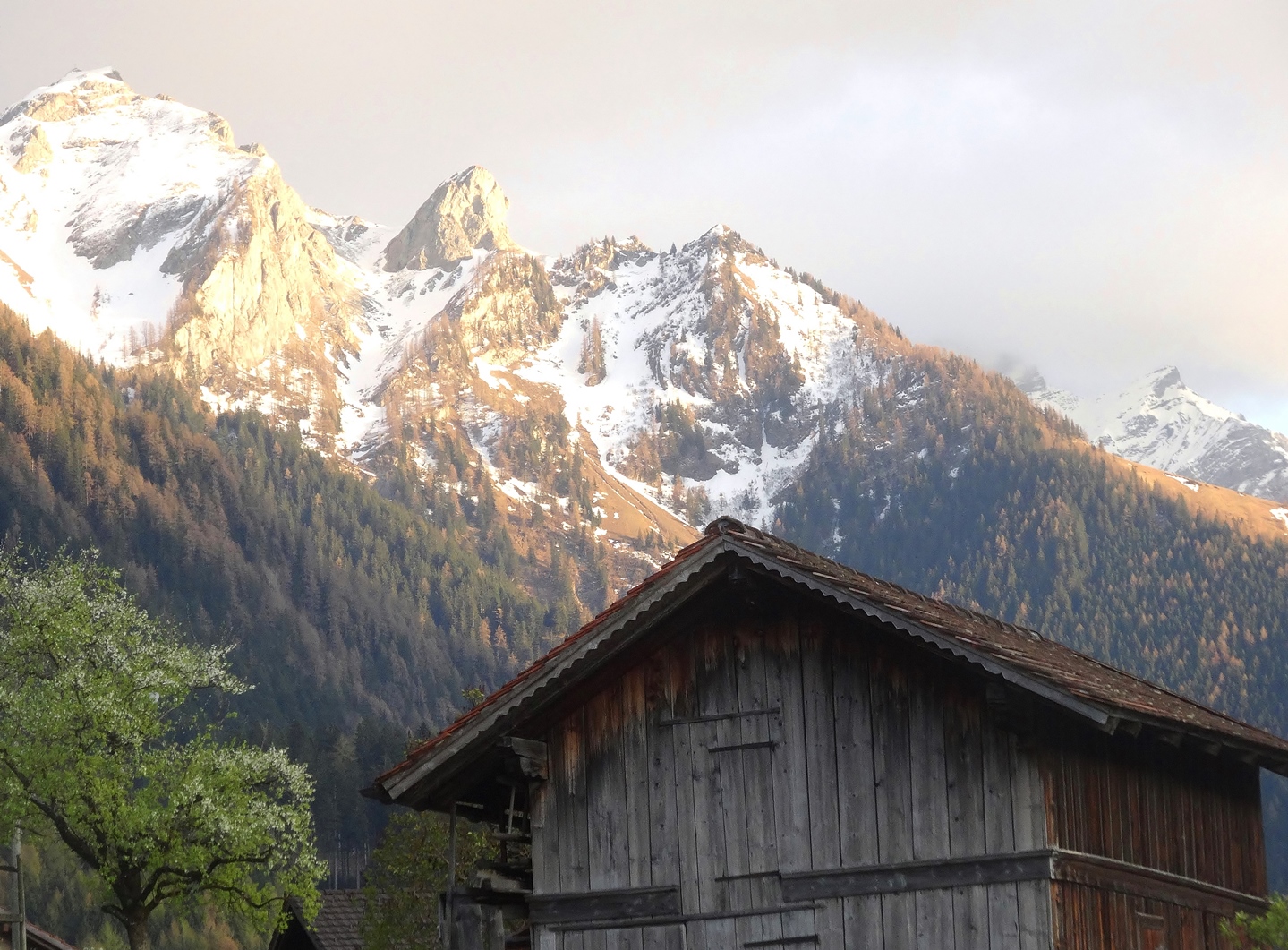 Snow-capped mountain view from Triesenberg mountain village.
travel tips, links & resources
Book your Swiss train journeys online before you leave - in some cases saving you over 50% off of the normal price. Everything can be booked on the SBB website. These return train journeys are a bit expensive return unless you do what I did and book the super-advanced tickets online. This chopped the price down to less than half this amount - but did mean that I was booked on a specific train with no flexibility. This does inevitably entail a little more stress on the day but saved me fifty quid - a small but significant saving, especially considering how expensive Switzerland was going to be.
Look out for the Mobility Card, basically free transport to anyone with a hotel booking. Luckily for me a kind gentleman prevented me from using one of the green ticket machines at the airport to buy a ticket, explaining that if I had evidence of a hotel booking on me I didn't need to get a ticket for the airport shuttle (bus number 50) into the city.
A journey on Swiss Trains should not just be a means to an end, but a destination in itself. Have your camera poised and on the right settings for shots from behind a window - fall asleep on your journey and you'll miss the lot!
The Number 11 LieMobil bus leaves from Sargans station every half an hour. On-board screens tell you your location clearly. Alight at 'Vaduz Post' for central Vaduz. All bus timetables are available online.
Passport stamp hunters may want to get a passport stamp from the Liechtenstein Tourism centre for a small fee. I think it is worth it.
Both Switzerland and Liechtenstein are expensive countries in which to be a traveller. Eating in a restaurant in Vaduz was eye-wateringly expensive but I had little choice.
Liechtenstein offers the possibility of a bit of outdoor adventure. Even though I didn't partake in the latter, I would recommend that any visit here should be accompanied by doing something active; skiing or hiking for example.
I would also recommend that you do not pass through Liechtenstein just to 'tick it off'. This was my initial mindset but, having now been there, I am regretting not giving the country a little more of my time. Its location and size give the impression that Liechtenstein is almost hiding, rewarding only those travellers who have taken the time, trouble and Swiss Francs to get there.