A Twin City Trip to Northern Switzerland
Where: Zurich & Schaffhausen. Switzerland, Europe
When: October 2009
What: Largest Waterfall in Europe, Largest Clock Face in the World, Grossmunster Cathedral, Zurichsee, Fraumunster, Geiser Fountain, Flower Clock, Swiss National Museum, Ritter Knight House, Fronwagplatz.
How: Flights, Swiss train, walking (lots of walking).
Counter: 1 country
One country we couldn't manage to squeeze in to our Inter-rail adventure of twelve countries back in 2007 was Switzerland. Reasonably-priced flights allowed me to right this wrong - albeit by travelling to two parts of Switzerland which attract less tourists than some of the country's other main draws like Geneva and its Alpine areas. This was another European city break during the autumn months - a wonderful time of year for sight-seeing in western Europe; one of orange leaves and a festive nip in the air - perfect for a city saunter and cosy coffee times in well-selected cafes. I was to return to Switzerland several years later on my trip from Basel to the eastern Swiss border at Sargans to see the Lilliputian country of Liechtenstein.
Zurich is Switzerland's financial centre and, as I was to discover, a financial centre does not a great tourist destination make. If you're looking for a destination to max out your digital camera's memory card on then Zurich isn't it. This is not to say Zurich is a lost cause - it isn't. There is certainly enough to keep you occupied for a couple of days. Using the city's trams we navigated Zurich's principal sights, including the largest clock face in the world on the tower of St Peterskirch and the twin towers of the Grossmunster Cathedral - the landmark building of the city. Its chiming on the hour dominates Zurich's soundscape. The city's River Limmat is scenic and runs like an artery through Zurich. Buildings along the riverside, when illuminated at night, reflect brilliantly on the surfaces of the river, which sometimes takes on a Venice-like quality with its mooring posts and little boats. The Swiss are renowned for their clocks and thus it is no surprise that Zurich is a city with an impressive array of clocks and clock towers (there is even a clock made out of flowers).
The River Limmat runs out into the Zurichsee, or Lake Zurich, giving the city something many city breaks don't have: I have never been on a European city break where a lake is thrown in as an added extra. Apart from the tolling of the Grossmunster bells, it was noticeable just how quiet this city was - every day had the feel of a Sunday; no crowds, no busy cafes or restaurants, no urban hustle and bustle. Even at rush-hour the trams snaking through the city were half-full at best. All of this could have felt rather eerie. Instead, our time in Zurich was relaxing and peaceful. Zurich is a financial centre and, to this end, principally a place of business and commerce meaning it's an understated, but never-the-less, picturesque destination.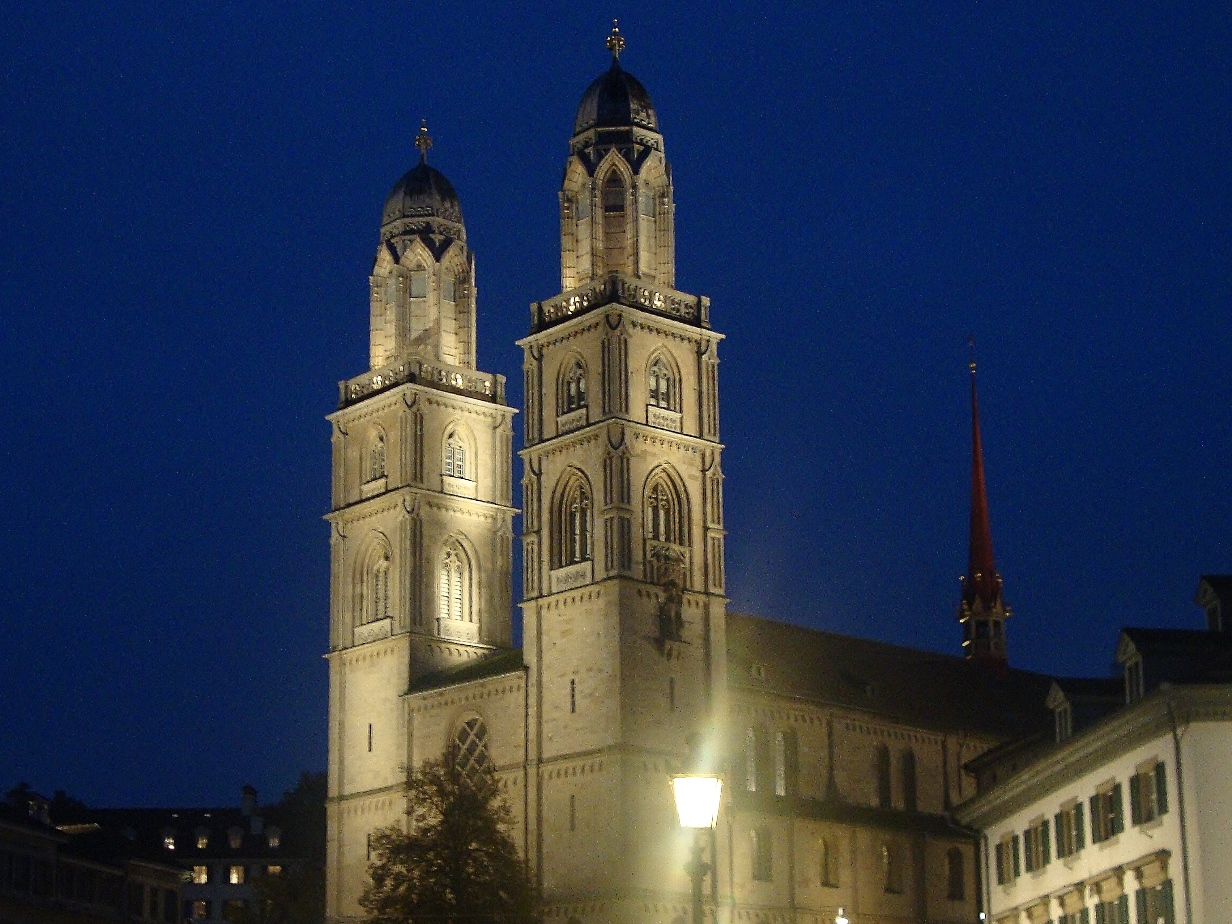 The impressive-sized Grossmunster Cathedral by night and undisputed landmark of Zurich.
The Ganymede statue is silhouetted against the Zurichsee at dusk as an illuminated ferry heads out into the lake.
Schaffhausen is a town 40km outside of Zurich and easily accessible by train. Getting the train here for a day trip meant that, technically anyway, we travelled from central to northern Switzerland. We took the trouble to visit here for the same reason as everybody else: Schaffhausen is home to Europe's largest waterfall at 23 metres high and 150 metres wide. The waterfalls can be reached by walking a couple of kilometres from the town's historic centre. Despite its record, I couldn't help but feel a little disappointed when I saw the falls themselves - the European record perhaps inflating my expectations beyond what was reasonable.
Many people come to Schaffhausen for the Rhine Falls and leave soon after. However, the town's historic centre is well worth you delaying your return train journey to Zurich for a couple of hours. The town's Fronwagplatz has some pretty wonderful things to photograph, including fountains with characters and spouts so typical of Switzerland and buildings with mural-covered facades like the intriguing spectacle of the Ritter Knight House. Clock towers, remnants of medieval stone walls and delightful local eateries make Schaffhausen pretty and perfectly formed.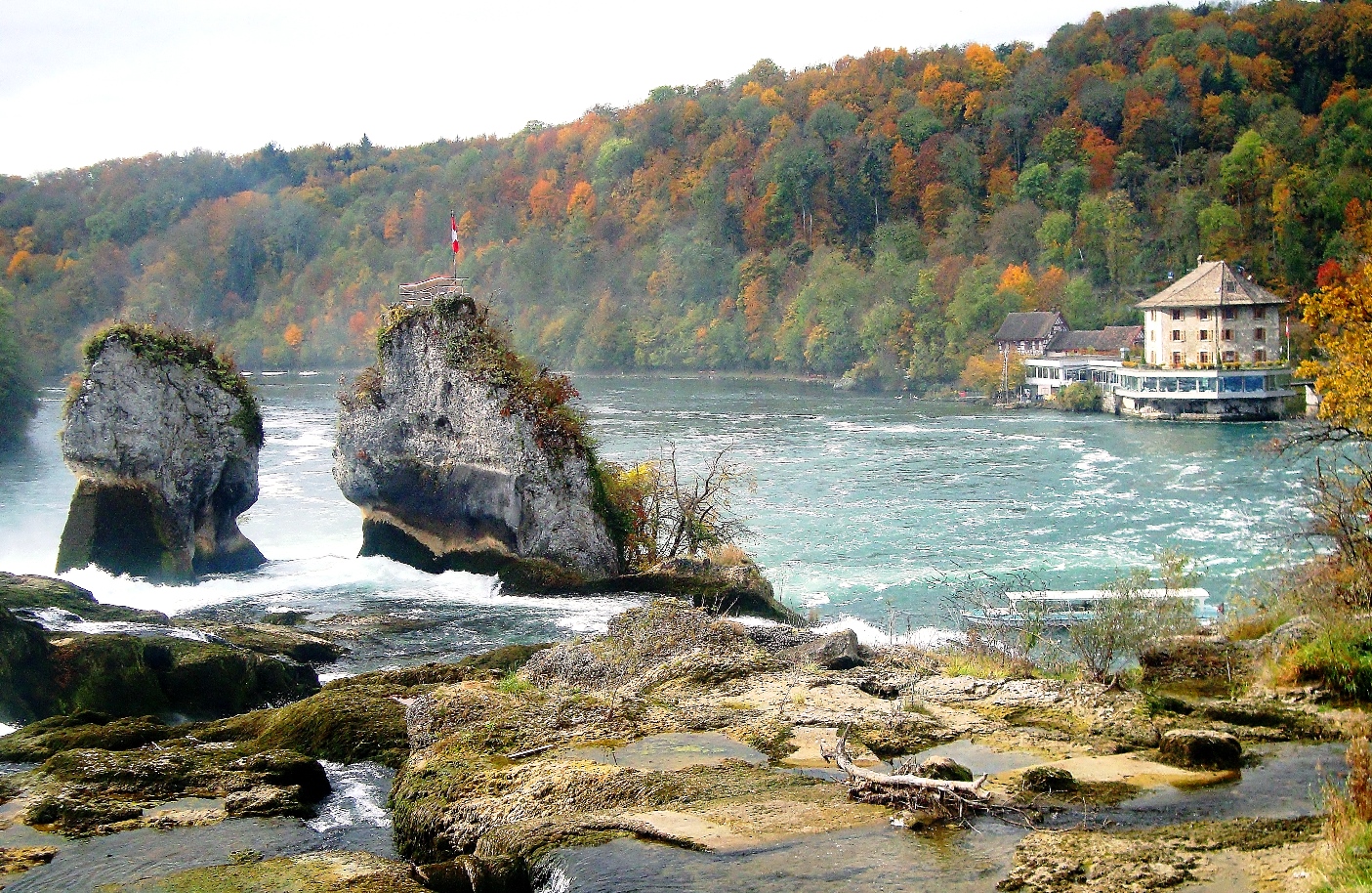 The Rhinefalls' distinctive double rock formation and the largest waterfall in Europe.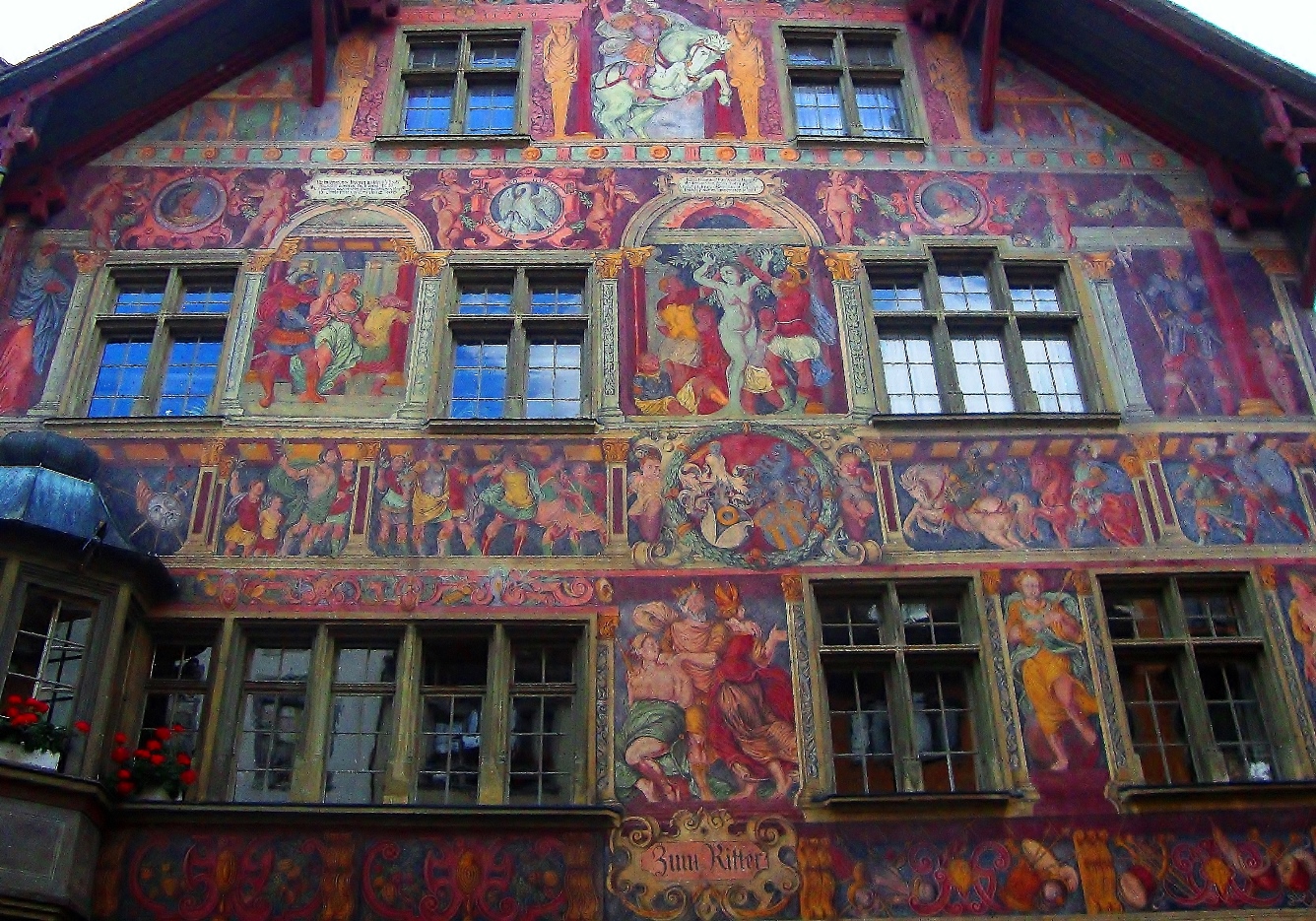 The painted facade of the Ritter Knight house.
travel tips, links & resources
Travelling to Schaffhausen from Zurich takes 40 minutes or so with trains departing regularly.
If the waterfall at Schaffhausen doesn't wow you, the frescos on its town buildings will. Schaffhausen is worth a day trip if you have the time to spare as it offers an authentic experience of life in a provincial Swiss town.