A Journey to the Country Where East Ends and West Begins
Where: Istanbul & Cappadocia. Turkey, Europe/Asia
When: May 2009
What: Blue Mosque, Fairy Chimneys, Rock Homes, Horse-riding, Sheesha smoking, Grand Bazaar, Galata Tower, Call to Prayer.
How: Taxi, Walking, Internal flights, Horse-ride.
Counter: 1 country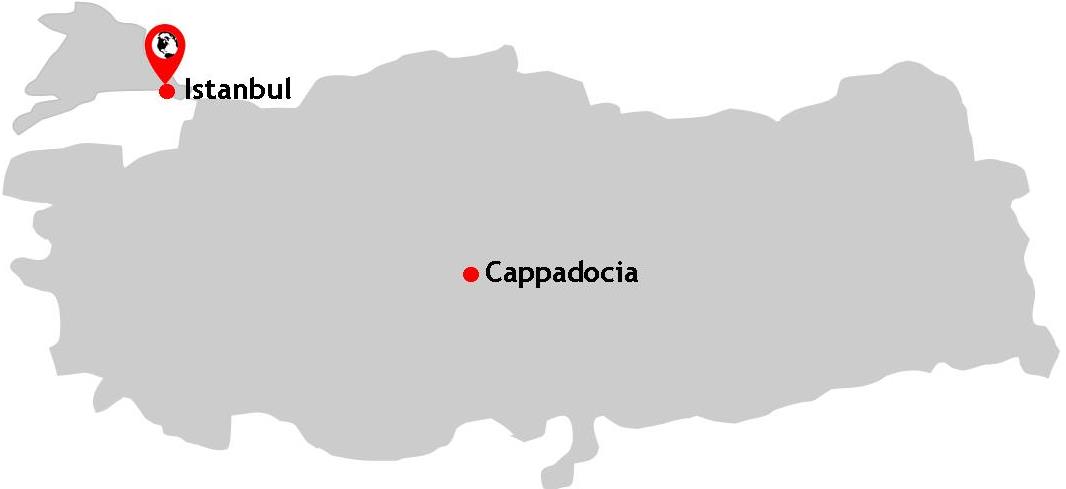 We flew to Istanbul from Manchester arriving in a scorching hot Turkey - just what I needed to finally see off those Spring chills back in England. For me, Turkey's reputation as a destination was always marred by those who travelled there as sun-seekers and those after resort-based holidays. I therefore, ignorantly, thought this was all Turkey had to offer. On closer investigation it became apparent that Turkey has some amazing sights - none less so than the iconic and awe-inspiring Blue Mosque as well as a collection of almost equally impressive mosques dotted throughout Istanbul. The Blue Mosque is, without doubt, an iconic travel sight and should feature on any respectable traveller's must-see list, along with the Statue of Liberty, Niagara Falls and the Angkor Wat. It was the promise of beholding this internationally renowned sights which pulled me unflinchingly in Turkey's direction. It didn't disappoint; almost appearing like an upturned architectural scorpion with its spiky minarets jutting into the sky. Turkey was the place of one of my travel first: it was here that I heard my first call to prayer, which resounded around both regions of Turkey we travelled to. Such a soundtrack suddenly makes you feel very far from home. Whilst officially a secular country, Turkey's pores exude Islam from every possible place. An important point of note: despite representing the gateway from Europe into the Middle East, Turks are not Arabs and hate being confused as so.
Turkey resides on a continental fault line between East and West, being simultaneously in both Europe and the Middle East. Along with Russia, Turkey is the only country to have territory in both Europe and Asia at the same time. It is a place with interesting collisions, a veritable scrum of colours and smells in a classic 'East meets West' melee. If you are visiting Turkey make sure it's not just Istanbul. If you want to see something otherworldly, Cappadocia is an absolute must - it will take your breath away. You could risk viewing the fairy chimneys from about in a hot air balloon (not inexpensive), but these balloon trips are not without their risks and we'd decided not to partake (indeed, several weeks after our trip to Cappadocia, several tourists were killed in a balloon trip. A sobering thought). Turkey was my first taste of a part of the world which does things very differently from home.
Istanbul is not the capital city of Turkey - that accolade of officialdom goes to Ankara hundreds of miles south east of Istanbul. Istanbul straddles both sides of the rich blue Bosphorus River and at the same time connects East with West, Europe with Asia. A walk across one of the big bridges over the Bosphorus magically signals a trip from Europe into Asia - an official journey from one continent to another, a rather special experience. Expect to see men, of wide ranging ages, fishing over the balustrades of the bridge on your way over - a common, and pleasant, sight in Istanbul; testimony to the thriving sea life to be found in the river. The blues of the Bosphorus are vivid and pulsating, acting like a giant vein snaking its way through the city.
Istanbul's iconic sight, The Blue Mosque, was truly breathtaking and the city views from the Bosphorus River, and from our hotel, were rather impressive - a real mix of old and new. Minarets from a plethora of stunning mosques pierce the sky at seemingly every turn you take. Each minaret, each call to prayer, each dome signalling in the starkest fashion that you are on the very fringes of two continents and gestures very starkly towards the Middle East. Istanbul resides along this political, continental and religious fault line making it a truly unique city break.
For a secular country which does not pertain to support any one religion in particular, the Islamic call to prayer was aired with confident regularity throughout the day; starting at 6am. Bring your earplugs, especially if you intend to stay in central Istanbul. In Britain, church bells toll only on Sunday, meaning we get off lightly in comparison. As a tourist, however, the prayer call really added atmosphere and drove home the point that Istanbul, although on the surface appearing westernised, was most definitely Islamic at heart. it was, therefore, startling to see a gay bar in one part of the city; although, it must be said, this bar felt vulnerable and isolated when we visited it for an afternoon coffee. Istanbul, of course, has all of the iconic sights the travelling bounty hunter is looking for and is a must for any visit to the country. Istanbul has one of the best and most dramatic skylines I have seen and its roots at the heart of the Ottoman Empire arguably make it one of the world's most significant cities.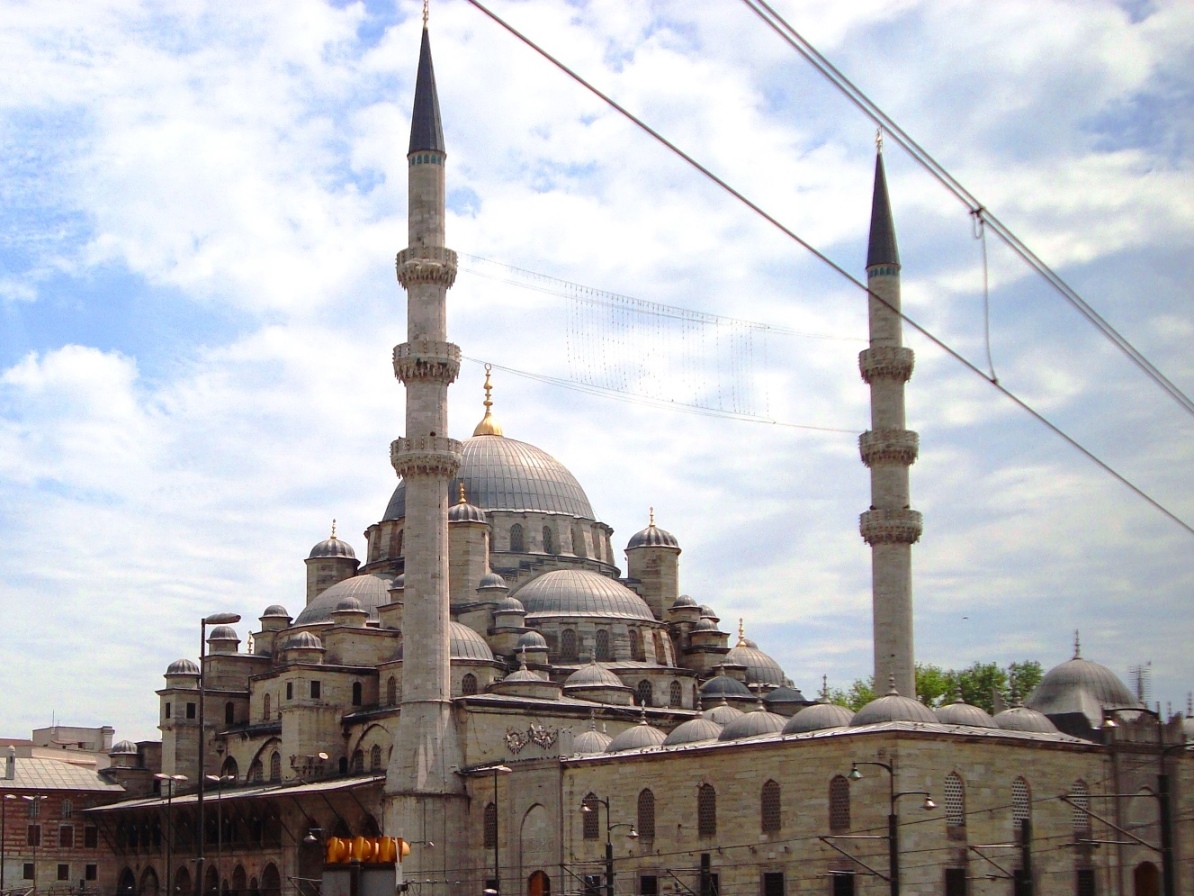 The Süleymaniye Mosque, Istanbul's largest mosque perched on the city's third hilltop.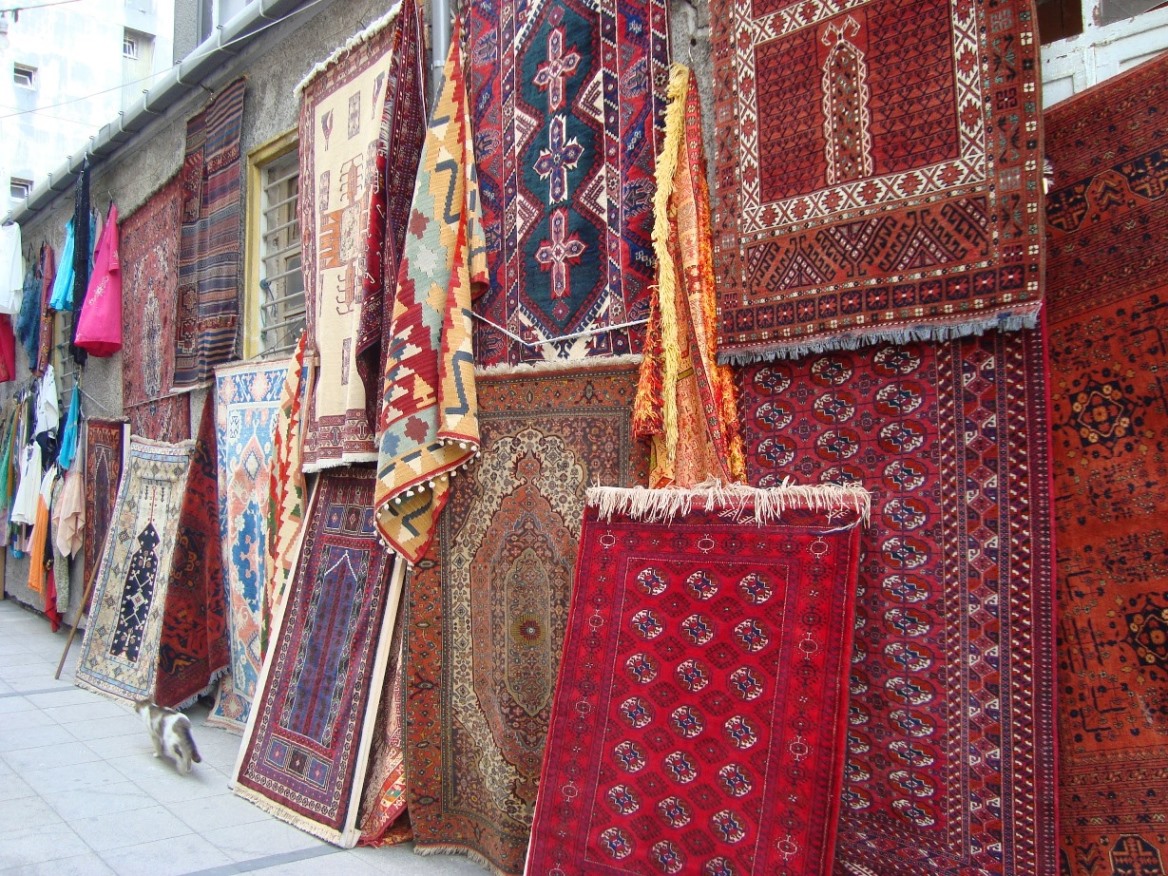 Grand Bazaar colour: Ottoman style rugs.
Flying internally on Turkish Airlines, we arrived at Kayseri Airport in Cappadocia - possibly the smallest airport I have ever seen. Breathtaking and quite freaky landscapes greeted us when we got to our Pension in Uchisar village - run by a retired French couple - two of many French people living in Cappadocia, which is surprisingly turning into a mini French enclave. The landscape seems even more eerie when it became apparent that the holes in these naturally-formed turrets and stacks were, in fact, windows and doors. People live in the rocks having sculptured windows, doors and, on the interior, shelves into the walls. Some of these strange homes, reassuringly, have satellite dishes fastened to the outside. Troglodytes have satellite television! A wander through the caves and hilly terrain in Uchisar lead us to a little makeshift cafe constructed from tree logs and Turkish cloth; made by a little old man who was as happy as he was kind. The traditional fayre of Turkish apple tea and salty nuts the little 'Shade Tea Garden' offered for a few pence went down well and we got to wear traditional head dresses as part of the bargain. A delightful little experience - unplanned, unexpected, but unsurpassed. Although he didn't speak English, the little man was friendly and hospitable.
We met a local man who makes his money by taking westerners like us on long horse rides through the Cappadocian countryside. Although pleasant and getting to see some more of the countryside in central Turkey, five hours on horseback took its toll on my bum cheeks, walking a little like John Wayne in a classic western! It did mean we saw a lot more of Cappadocia that we would otherwise have seen on foot. On the final night, we walked up the steep incline of Uchisar Hill, also known as Cappadocia Castle to watch the sun set - at 1350 metres high, we were quite frozen by the time the sun had set. The scenes we saw up there were stunning and well worth the hardship.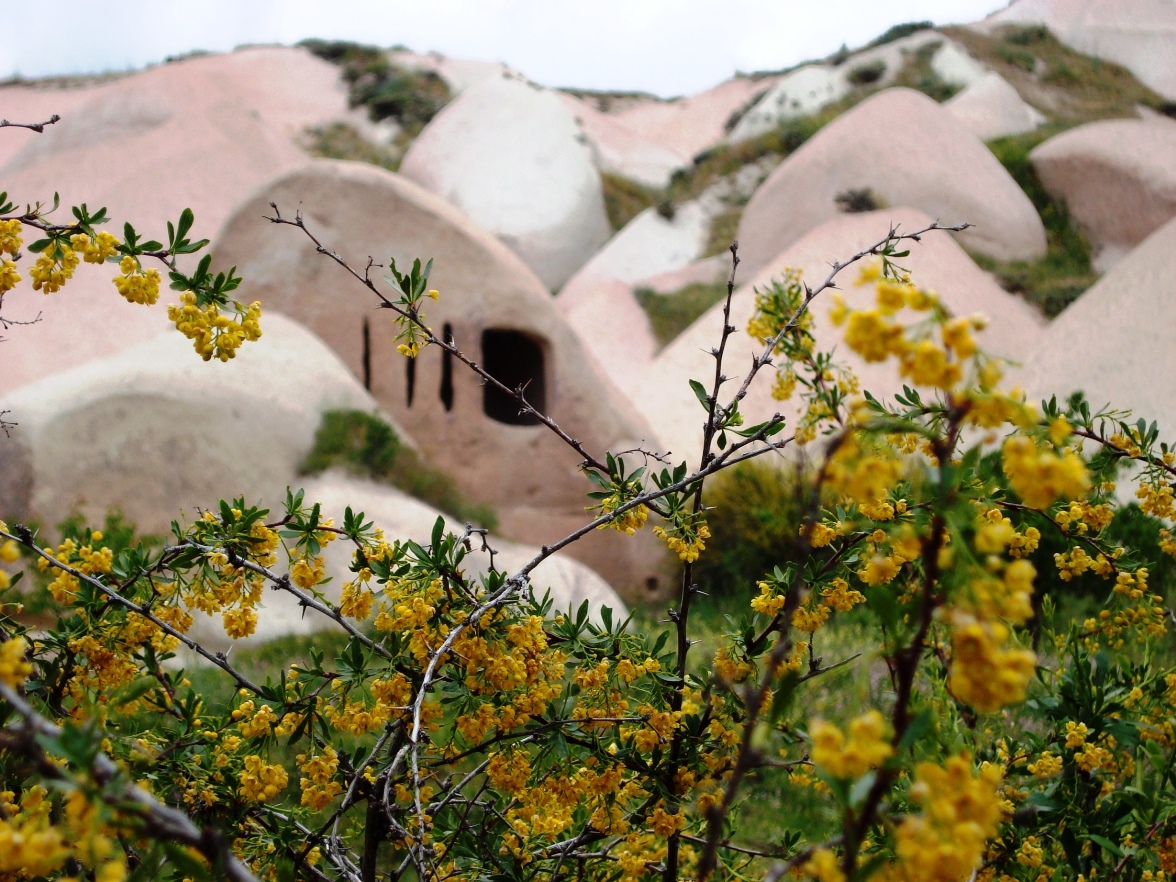 The lovely, soft ice-cream dollop shapes of the landscape, almost lunar in its formations and set off beautifully by countryside greenery. It is sights like these which draw tourists to this region of Turkey.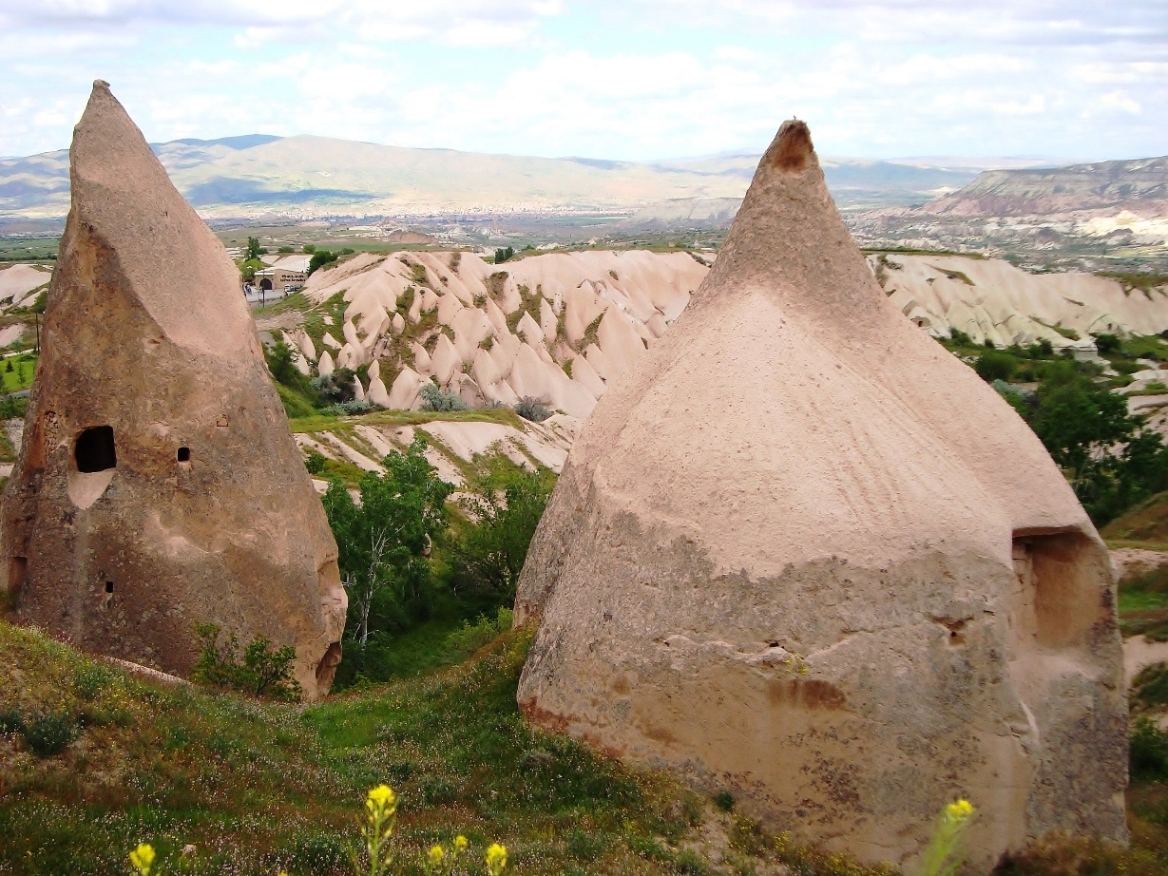 One of the freaky-looking rock homes. It is hard to fathom but someone lives in here! Right, two fairy chimney homes peek into the cloudy blue sky with the mountains in the background.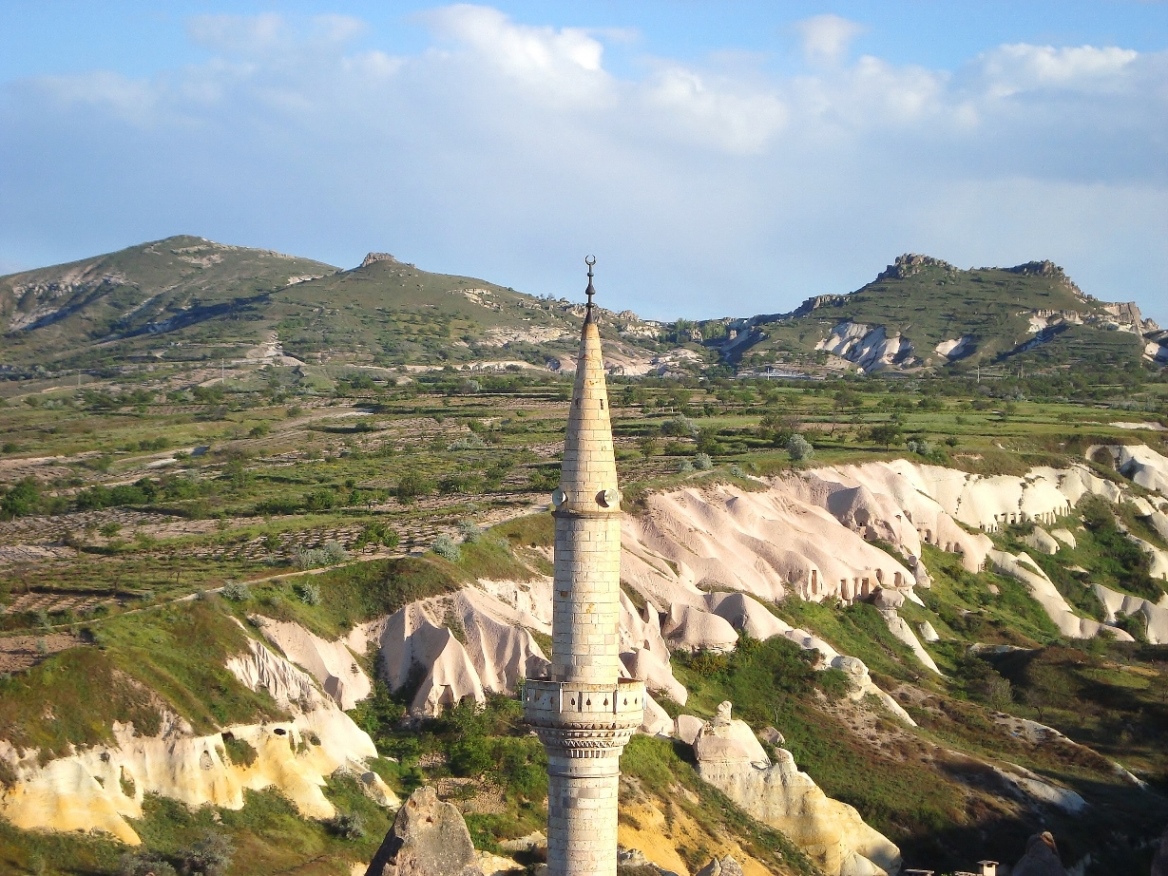 A mosque's minaret looks out into the dramatic landscape.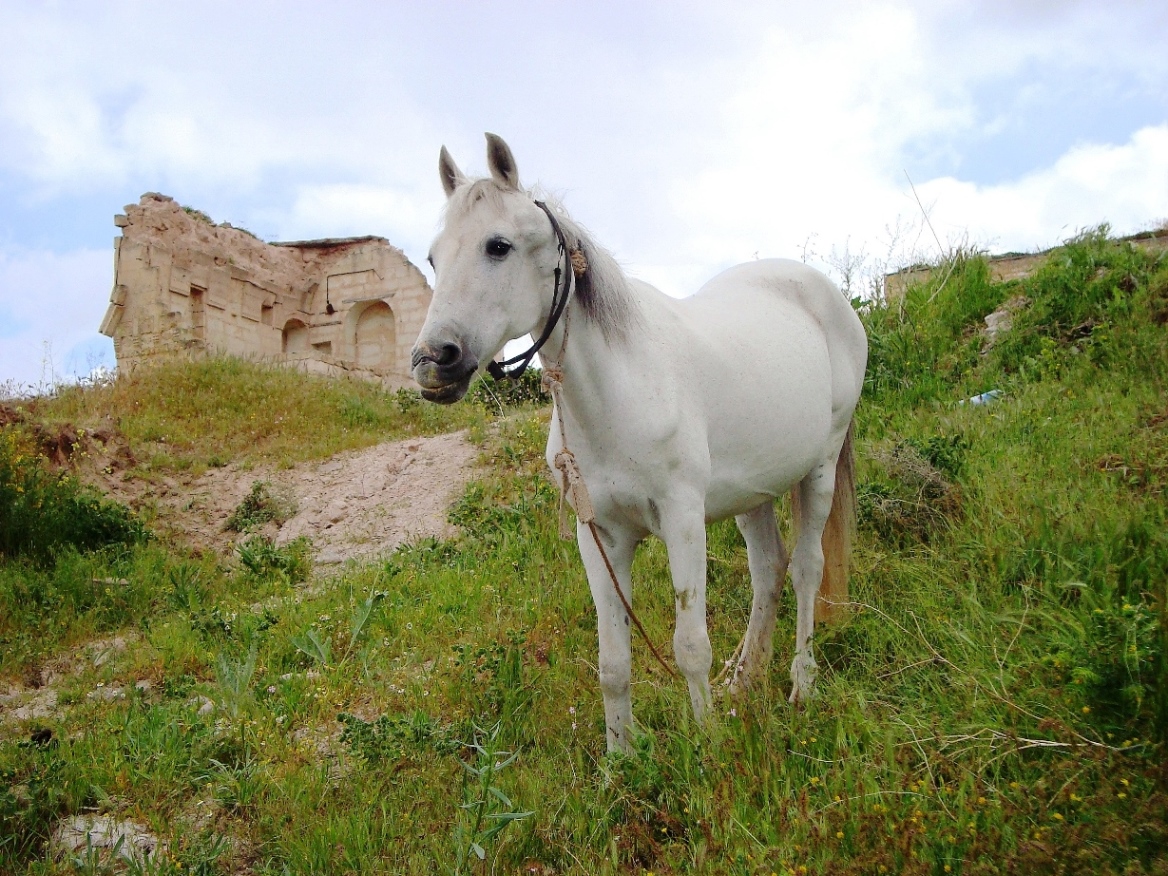 A lonely horse potters around the hilly terrain - she was totally still when we happened across this scene - almost sculptural in its stillness.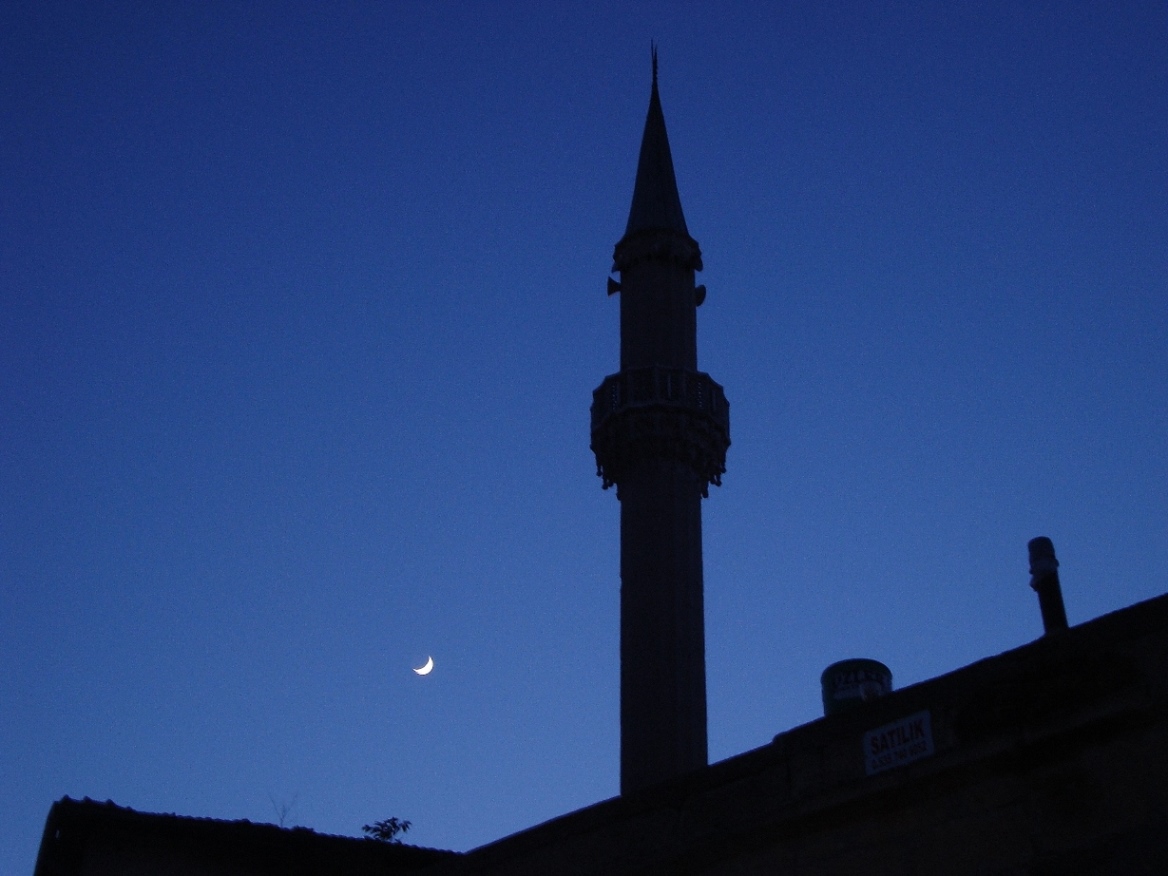 Wonderful night-time views of the village of Uchisar and Uchisar mosque.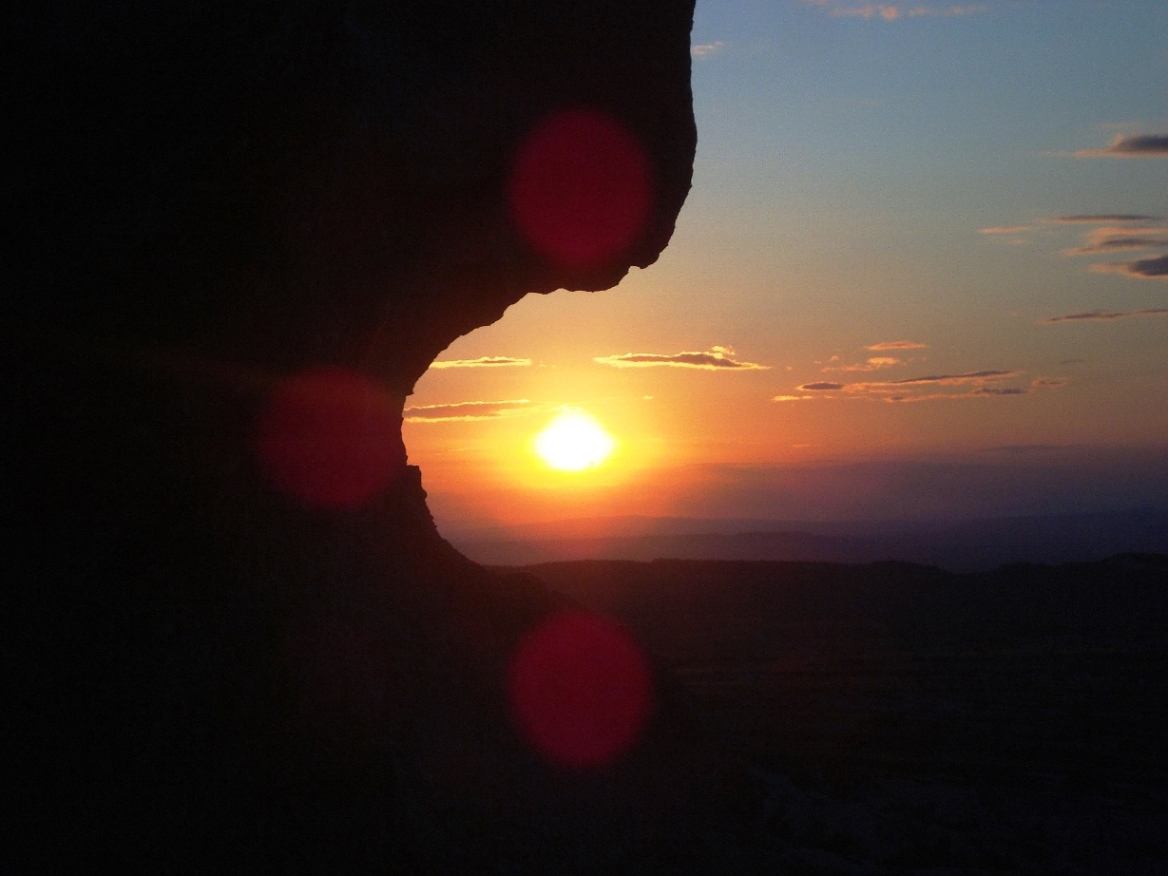 At the top of Uchisar Hill at sunset.
travel tips, links & resources
Flying from Istanbul to Cappadocia's small airport is easy and inexpensive and you'll reap the rewards when you take in the fairytale landscape.
Take earplugs with you if you are fond of a good night's sleep. The call to prayer was relatively quiet in Cappadocia but in Istanbul was rather intense.