A Pyrenees Adventure in Search of a European Micronation
Where: Andorra La Vella & Pal, Andorra. Barcelona, Spain. Europe.
When: August 2015
What: Caldea Spa, Salvador Dali Sculpture, Giant Mannequin Street Parade, Northern Valley Views, Sagrada Familia, Gaudi's La Pedrera; Park Guell; Casa Battlo, Place D'Espagne, The Frieze Picasso mural.
Country counter: Country No.65.
Illnesses or mishaps: Going on what was, without doubt, the most boring coach tour ever. I have never been so glad to leave a coach in my life. Painful.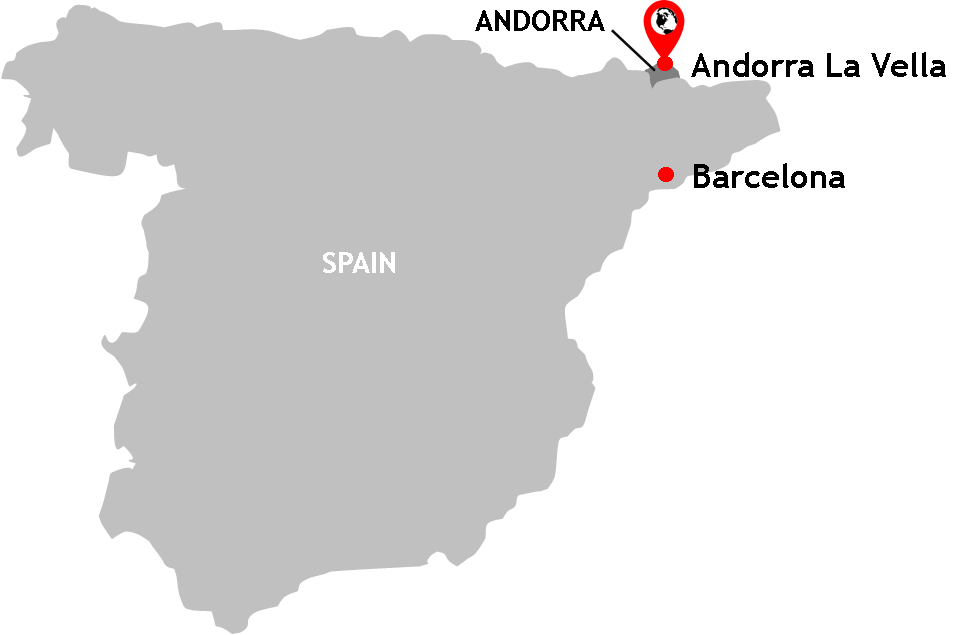 As regular readers of this site know, I am not averse to visiting the lesser-known and more obscure places out there. I have been to nearly every country in Europe now and flying to Barcelona was a means to an end: it gave me cheap and convenient access to the little country nestling in the Pyrenees between Spain and France: Andorra. It was a chance to see the sixth smallest country in Europe as well as a chance to bring me one country closer to achieving the feat of visiting every country on the continent. My trip through Spain to Andorra was a not-too-dissimilar reprise of my journey to another miniature nation last year when I travelled through Switzerland to get to Liechtenstein. This itself mirrored my trip a year earlier when we journeyed through Belgium to visit Luxembourg. You've got to give it to Europe - it does micro countries extremely well.
The Pyrenees Micro Country
Access to Andorra came from a little shuttle bus service called Andorrabus which picked us up at Barcelona airport and whisked us, in a mere three hours, through Pyrenees scenery and into the miniature country. The journey itself is pleasant enough comprised, as it is, of rocky outcrops, fields and agricultural buildings. The ascent up into the Pyrenees mountains made my ears pop quite a few times and, unsurprisingly, the deeper you head into them, the more dramatic the mountain ranges become - often dressed with hats of clouds at their peaks. There's the odd impressive dam and rapid running river, too.
Unlike Liechtenstein and Luxembourg which don't seem to bother, Andorra has a pronounced and formal border point which comes complete with flag, signage, police booths and Guardia Nacionale officers wearing sunglasses. Andorra is not a member of the E.U. and this may account for this slightly more emphatic border point: Andorra is the point at which you enter or leave the European Union. I do like being able to see the exact point at which I leave one country and enter another - it's exciting and, as we cleared the border, I entered into my 65th country.
Andorra La Vella is the microscopic capital of Andorra and the highest capital city in Europe. I don't mind saying that, after arriving in Andorra La Vella some twelve hours after setting off from the UK, I was pretty exhausted. Looming black clouds and loud claps of thunder ensured there was an ominous start to our time in the capital. Being over 3000 feet above sea level meant the storm felt unnervingly close. An open restaurant was hard to find at five o'clock in the afternoon and we'd not eaten anything substantial all day. I had forgotten that in this part of the world businesses, particularly restaurants, close for a siesta. It's a bit of a shock to someone heralding from the United Kingdom where every minute of the day is fair game for a bit of money making. In Andorra, any restaurant worthy of the name was closed, drastically limiting our culinary options. Ravenous by this point we ate in an unappetising, down-at-heal 'restaurant' more geared towards elderly locals than tourists. I don't normally mind going 'native' but did mind having to eat the world's weirdest pizza for my trouble (in fact, we struggled to like any of the food we ate in Andorra during our time there). Further claps of thunder and a torrential downpour brought our first evening in the capital to an abrupt and untimely end. After sheltering from the rain in a local shopping centre from where we'd bought some Toblerone as 'desert' we darted into the welcoming dryness of our hotel - which itself shook with every thundery clap. Being thousands of feet above sea level and located in a mountain valley, Andorra's weather is notoriously changeable. Checking the forecast back home prior to departure was almost pointless; it changed on a daily basis.
The Andorran capital can be divided into two distinct halves: the new and the old. The new part of town is comprised of shopping streets stuffed full of Tabacs, clothing stores, duty free and a bewildering array of perfume shops. You'd be wrong to dismiss the Andorran capital as a sleepy mountain town; it's a lively little place where hip teenagers whizz by on their skateboards, stores blast dance music out onto the street and dogs of seemingly every size and colour are out for their daily jaunt. Everyone in Andorra La Vella seems to have a dog - either on a lead or ensconced in a fashionable designer handbag. Just when we thought we'd got the measure of the place, a chance decision to explore the historic centre on our second evening had us come face to face with the Virgen street procession, one comprised of scores of giant mannequins dancing to the drums of musicians. We were additionally lucky to have come across this; apparently it's an annual event held on the 1st of August and we'd happened upon its 30th anniversary, too!
Other points of interest in the capital include the iconic Salvador Dali bronze sculpture "La Noblesse Du Temps", where a clock is propped melted-wise slithering down the branches of a blasted tree. Also, a visit to Andorra La Vella wouldn't be complete without a stint in the Caldea Innu Spa. It is the largest thermal spa in Europe and comes with a building as impressive as its record suggests. It's the undeniable landmark of the city and, arguably, the country too. A mirror-covered peak soars into the air simultaneously reflecting and evoking the mountains around it. During cloudier moments the building reflects the grey and appears to vanish. By the same token, when the sun shines it emerges from its cloudy slumber to defiantly reflect the sun, cutting a remarkable sight on the city skyline. It's not unlike London's Shard in appearance. For €49 you get to bathe in the thermal waters and, more importantly in my opinion, do so on an outside terrace overlooking the beauty of the valley.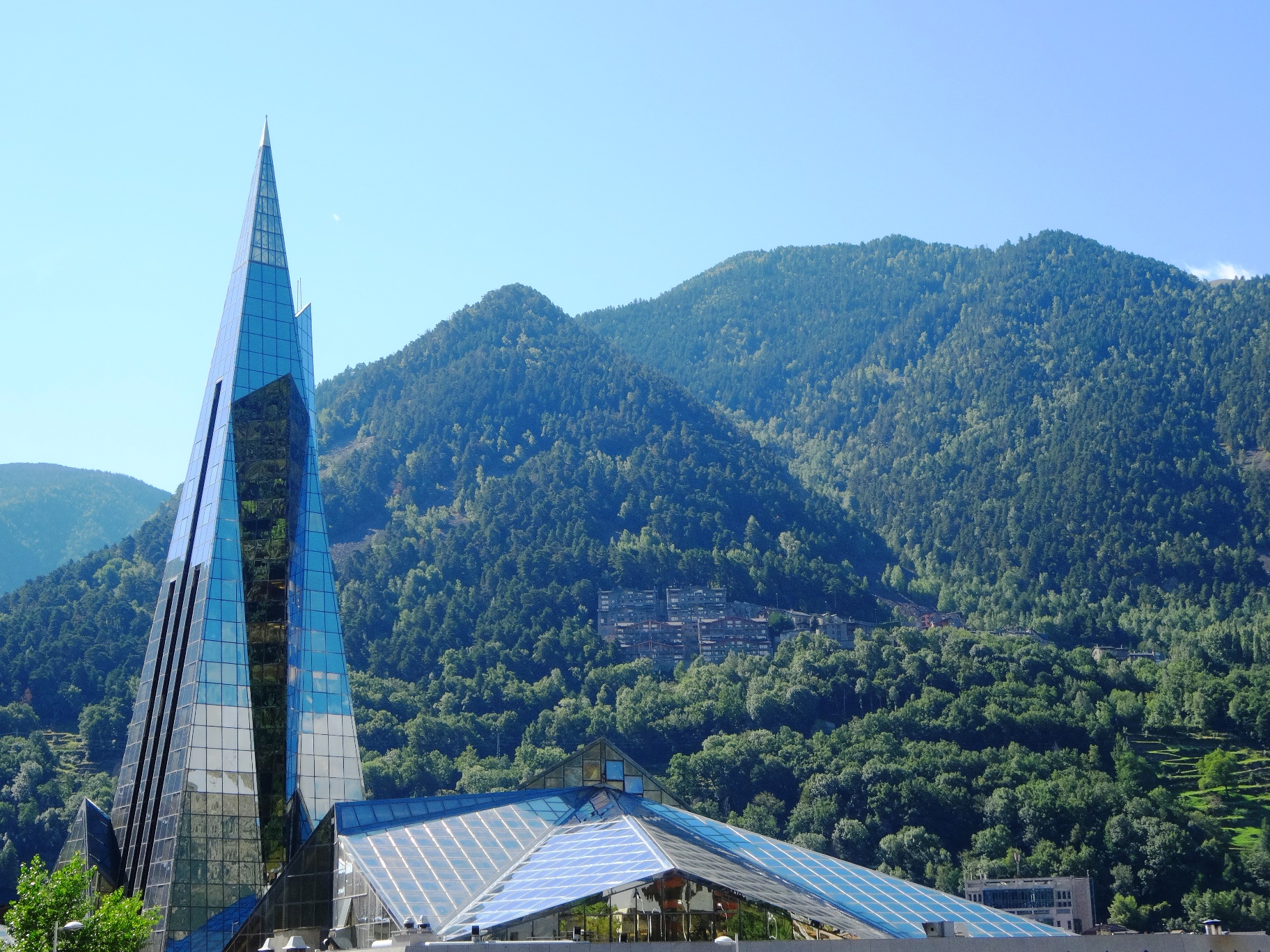 The wonderful Caldea Spa building. It simultaneously reflects and mimics the mountains around it.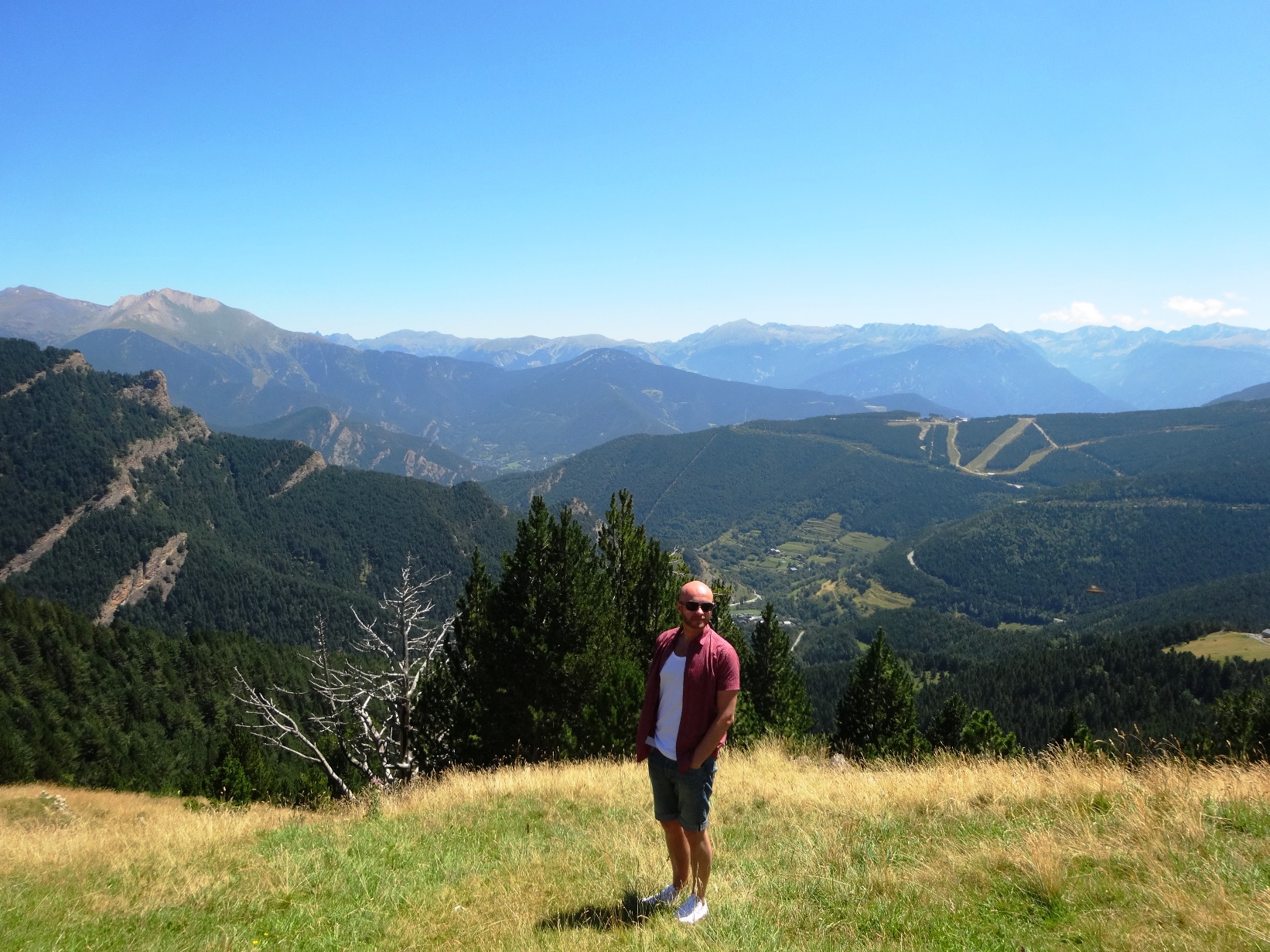 Overlooking Andorra's Pyrenees mountains at Pal.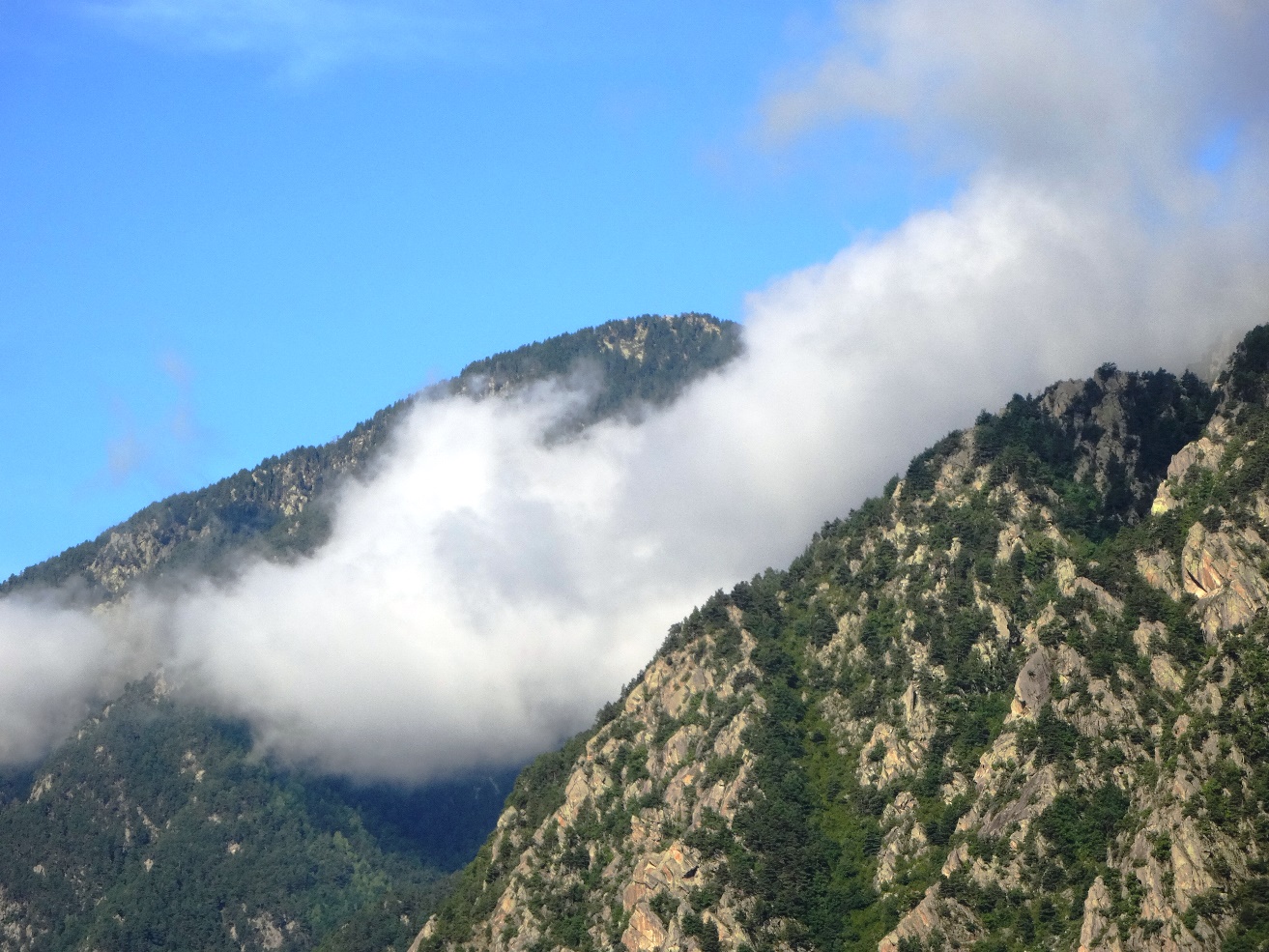 It's not uncommon to see clouds hugging the mountainsides when you wake in the morning. You are, after all, waking up in Europe's highest capital.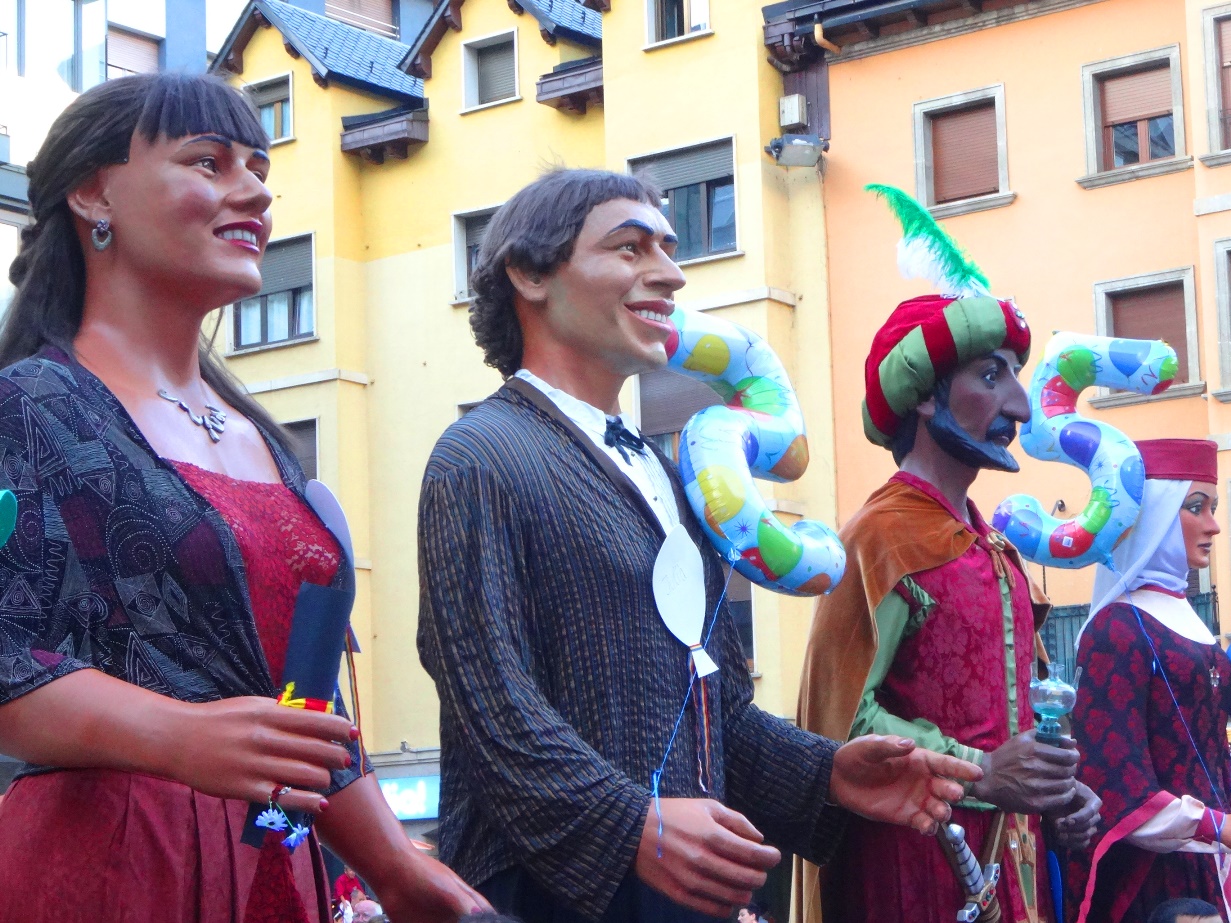 Giant mannequins of the Virgen parade make their way through the streets of the capital's Historic quarter.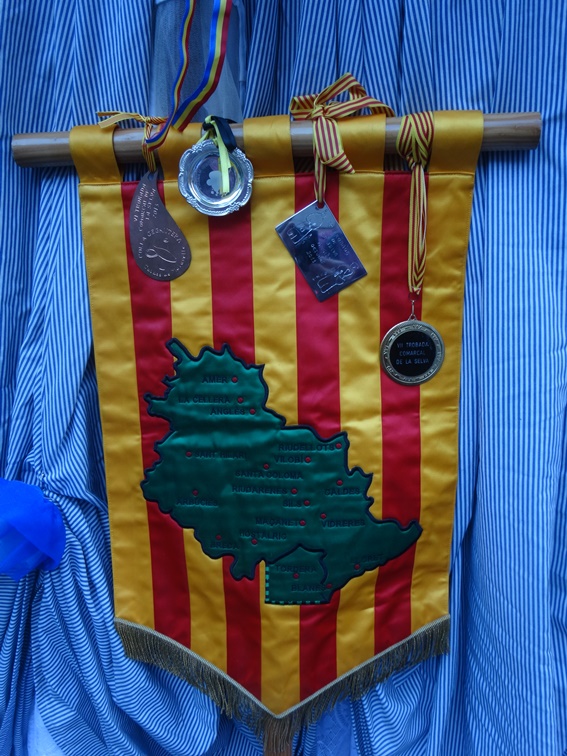 An outline of Andorra is inset into its flag at the Virgen Parade.
In Search of Gaudi's Barcelona
I am a bit of a travel snob. There's no doubt about it. I turn my nose up at people who say they're going to Spain on holiday. After all, it's where everyone in Britain goes, isn't it? Such a well-trodden path cannot possibly be exciting, can it? It's so unadventurous and cliche it never fails to create a wave of deflation when someone rambles on about going to Spain as if it's the only destination on Earth. There are so many incredible countries out there - why go to the same one every year? For these reasons I, perhaps mistakenly, tend to dismiss Spain all too readily. I'd rather spend my time travelling to quirky, off-the-beaten track places which oft bring quizzical or alarmed responses from those that I tell.
I have been to Spain before, both as a child on holiday and much later when I taught English as a Foreign Language to students at an international school in Tarragona near Barcelona. Back then I only managed to capture a few grainy photos of my weekend in Barcelona on an old 35mm camera. This trip to Andorra, which was the sole driving force for going to Barcelona in the first place, was a chance to right this wrong. This time I returned to Barcelona armed with a digital camera in a bid to do the city's gems justice.
Barcelona is renowned internationally for its architecture, most famously that of Gaudi. Anyone visiting the Catalan city is magnetically drawn to the Sagrada Familia - an as yet unfinished fairy tale creation of his which fuses Gothic and organic elements and which is the most visited sight in the country. The Sagrada's tapered spires appear to grow from the ground like tree trunks. This comparison is particularly apt when you consider the length of time trees and the building itself have taken to grow. The Sagrada Familia: a work in progress for over a century. Controversy continues to dog this unfinished building as modern architects, in the absence of any detailed plans, do their best to finish it by surmising what Gaudi would have wanted. Critics feel that some recent additions deviate from Gaudi's style. The use of concrete rather than stone is particularly contentious. Rightly so. Outside, the profile of the Sagrada Familia is significantly compromised surrounded, as it is, by cranes and builders' netting. Its image is so obstructed that I almost didn't bother photographing it. However, it is on the inside where the marriage of art and architecture can really be appreciated, in spite of the swarms of tourists with their hovering selfie sticks and cameras flashing. Barcelona is a veritable tourist trap of the absolute worst kind and this has the potential to taint your experience of what is, architecturally, a remarkable place. The word 'overtourism' has been coined in recent years and it can justifiably be used to describe the position Barcelona now finds itself in.
Gaudi's designs inspired by natural forms can be seen all over the city, most wonderfully on the roof of La Pedrera, famous for its fanciful chimney pots, which look not unlike beige medieval knights in armour and white chess pieces rendered in interesting contortions. This was what I'd come to Barcelona to see. The famed Park Guell was next on our Gaudi tour of Barcelona: the intense heat and high humidity only marginally detracted from the park's iconic mosaic-covered creations, which most notably include a larger-than-life (and much-photographed) salamander and wavy, serpentine-shaped seating tiled in exquisite patterns. Casa Batllo, known to locals as the House of Bones or House of the Dragon, featured an otherworldly spine-like roof line with coloured mosaics like something out of a Gothic fairy tale. I make no apologies for the fact that my Barcelona section below is dominated by Gaudi. Indeed, getting close to Gaudi is an expensive endeavour, setting me back no less than €70.
On reflection I think it was serendipitous that my photographs of Gaudi and Barcelona back in 2003 were of such poor quality triggering, as they did, a revisit over a decade later when I was mature enough to appreciate Gaudi's Barcelona like never before.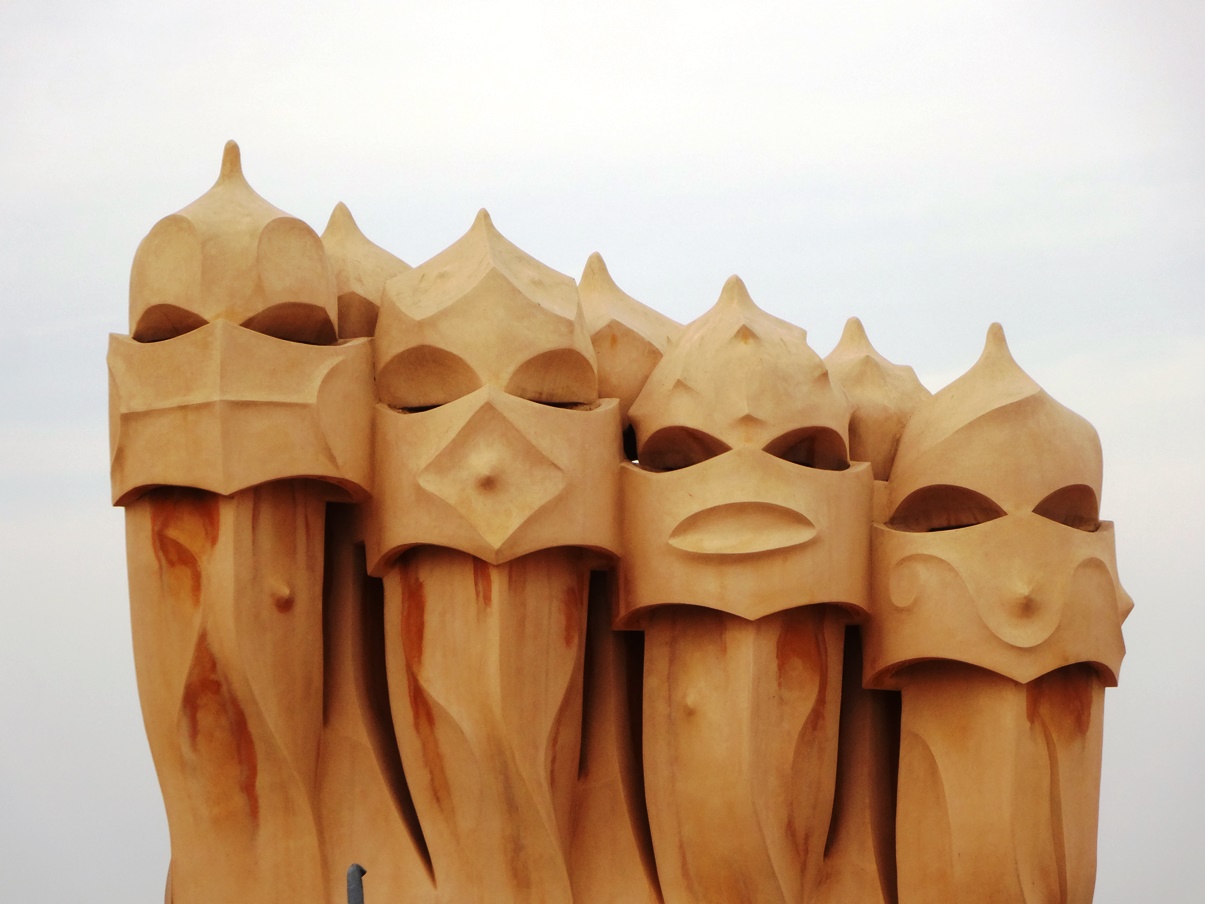 The awesome and iconic medieval knight-inspired chimneys of Gaudi's La Pedrera building. I love these.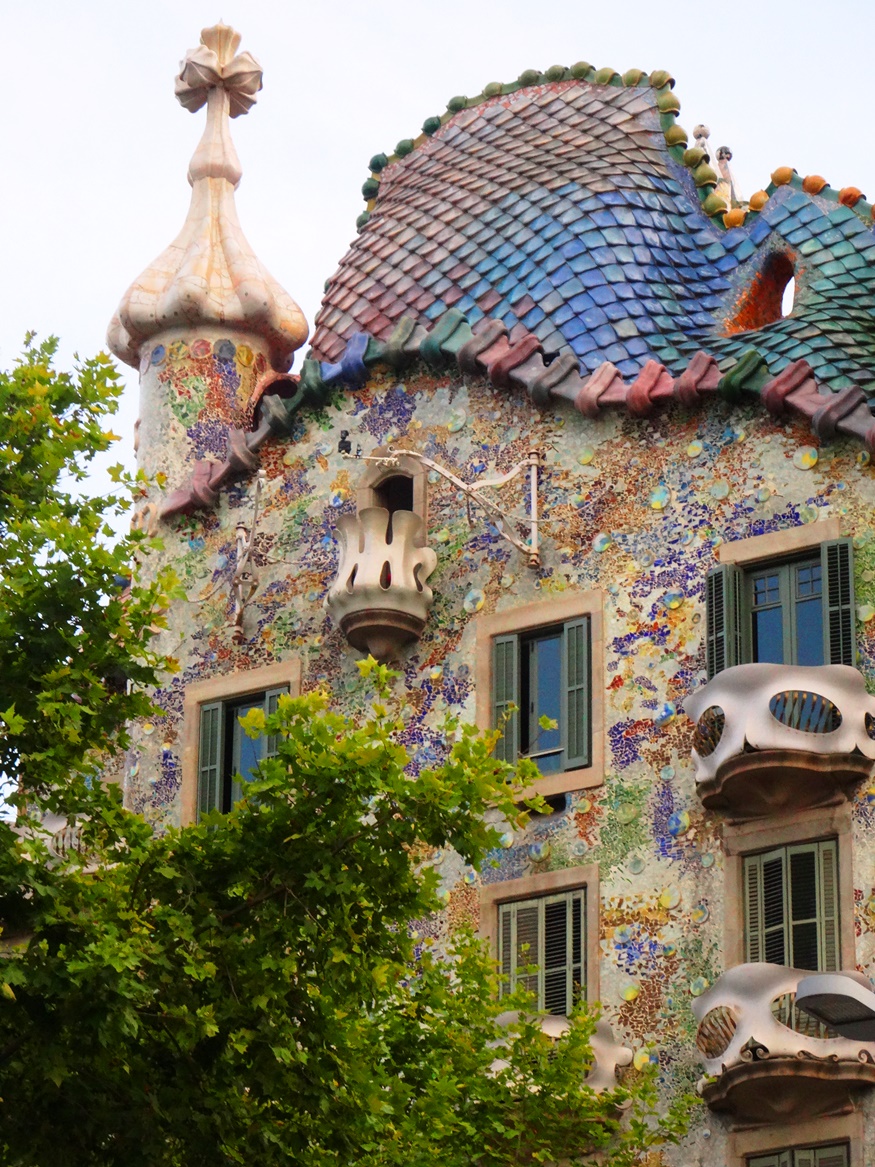 Gaudi's Casa Battlo, known to locals as the House of Bones because of its bulbous roofline.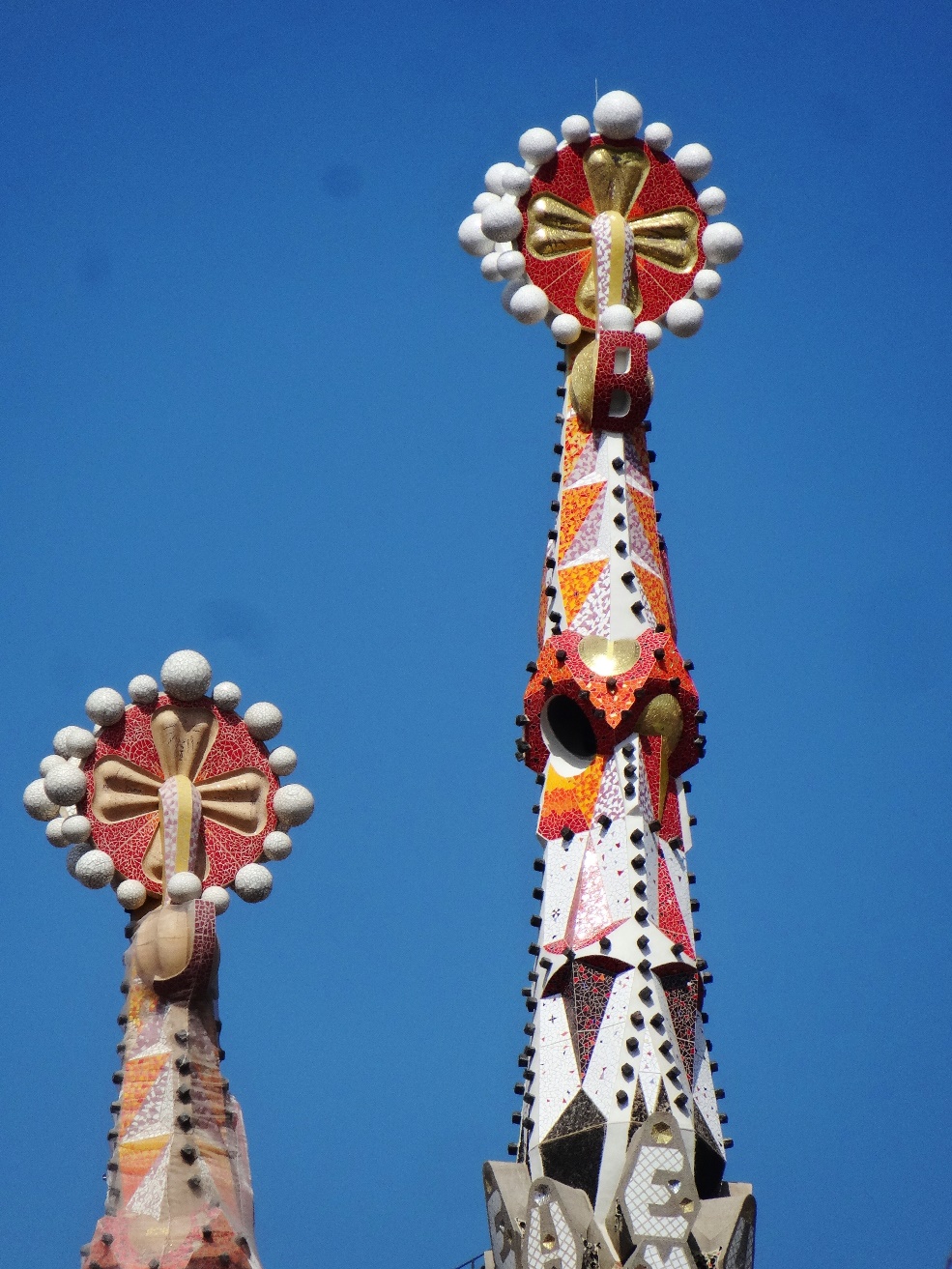 Right, the Sagrada Familia's external mosaic details high up on the building.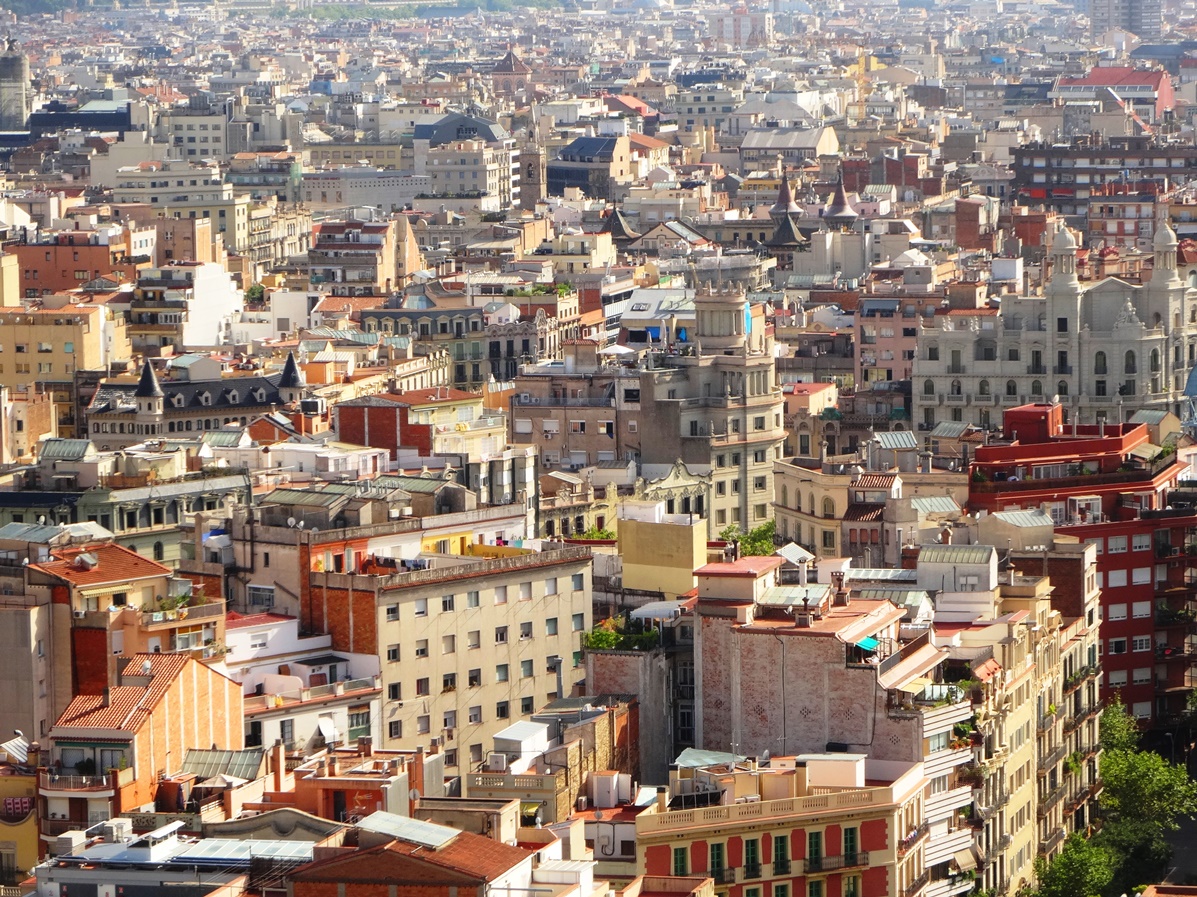 Barcelona's busy skyline.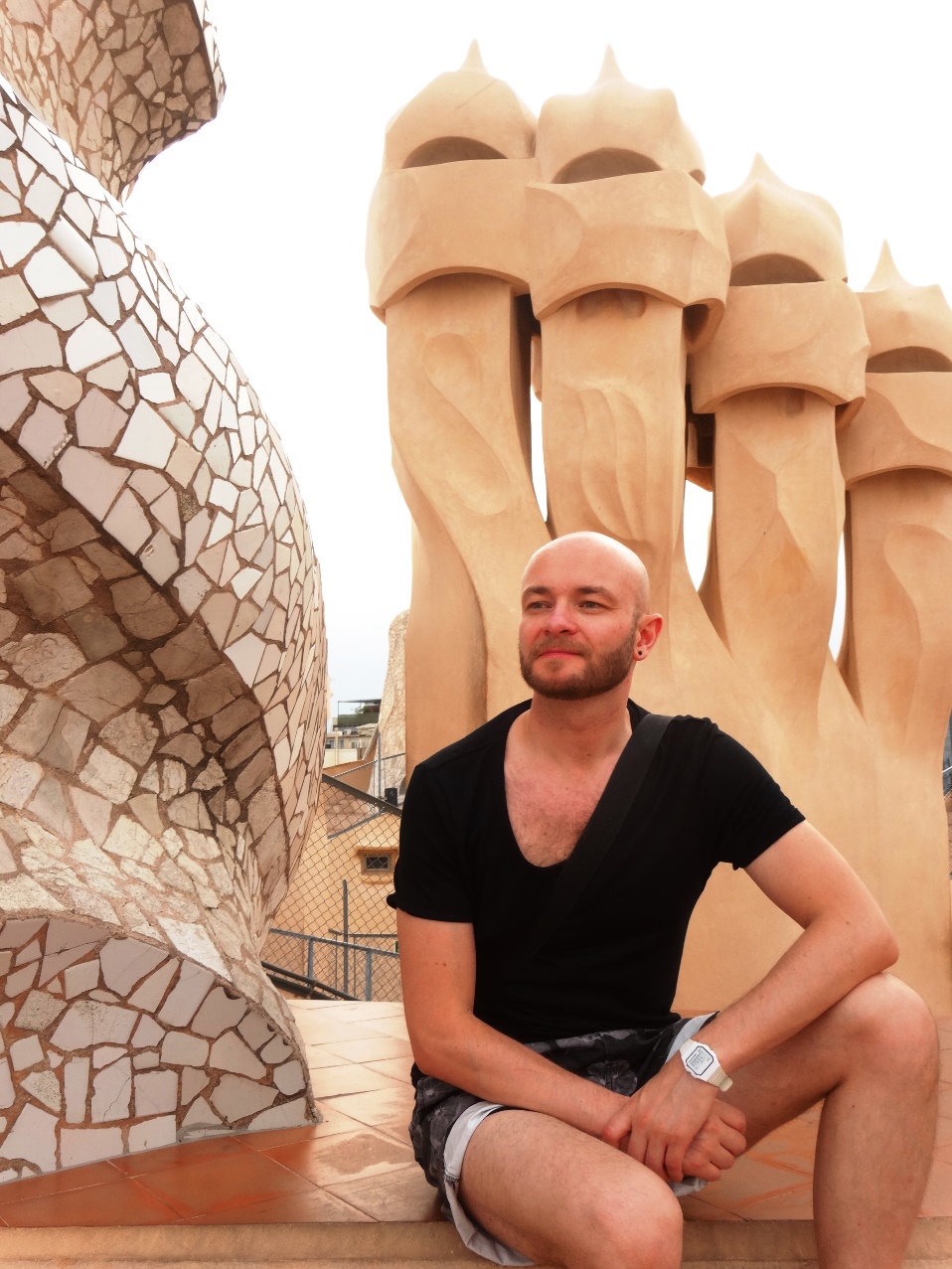 Gaudi's La Pedrera with its range of unique ventilation towers.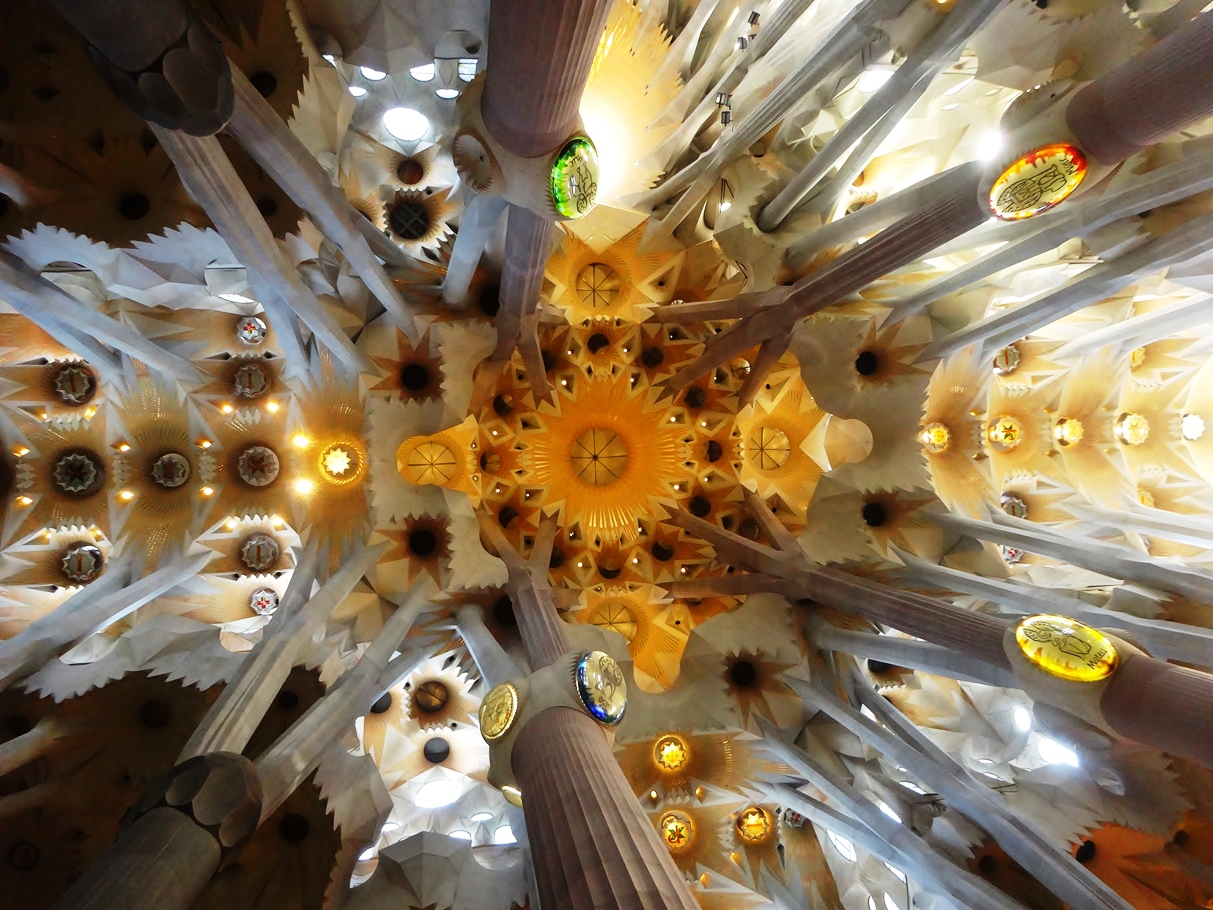 The Sagrada Familia's ceiling with classic elements of Modernism's obsession with flora and tree-like shapes.
travel tips, links & resources
To travel from Barcelona to Andorra La Vella we booked seats on Andorrabybus.com. The journey took around three hours, was clean and efficient and cost around 30 Euros per passenger. The bus came with free WiFi. I always find travelling by bus across borders, rather than flying over them, exciting.
Common sense travel: make sure you pack for all weather eventualities when heading into the Pyrenees; expect a distinct drop in temperature on your journey from Barcelona. Being thousands of feet above sea level and located in a mountain valley, Andorra's weather is notoriously changeable. Checking the forecast back home prior to departure was almost pointless; it changed on a daily basis. Pack a rain mac and brolly along with your shorts and sun lotion to cater for all eventualities.
Book trips to Gaudi's buildings and attractions online. It will mean you avoid the worst of the queues. And there will be queues. For Barcelona, read 'over-tourism'. Queues for all of Gaudi's sites are long and will quickly try your patience as well as eat into your limited sight-seeing time. Entrance fees are on the pricey side and, if you are an architecture geek and want to visit the majority of Gaudi's buildings here, brace yourself.
Do your research if you want to eat something other than the standard tourist fayre. Barcelona is a tourist trap of the worst kind, meaning that fresh food not consisting of pizza and chips is difficult to find unless you arrive with a list of pre-identified eateries. It's that, or chips aplenty.