A Road Trip Through Country & Outback South Australia
South Australia was my seventh Australian State or Territory.
Where: Adelaide, Lochiel, Snowtown, Stirling North, Quorn, Flinders Ranges at Wilpena and Rawnsley Station, Wilmington, Wirrabara, Kangaroo Island. South Australia, Australia.
When: April 2021
What: Bumbunga Salt Lake, 12.5km hike to Rawnsley Bluff and Wilpena Lookout, Gorge Trekking, E-scooting around Adelaide, Seal sanctuary, Tobogganing and sandboarding on giant sand dunes, Silo and Water Tower art, white sandy beaches, Remarkable Rocks, Admirals Arch.
How: Domestic flights, city e-scooter, hire car, island ferry.
Wildlife spotting: Sea Lions, New Zealand Fur Seals, Wallabies, Pelicans, Galahs, Crimson Rosella Parrots, Fairy Wren, Emus, Kangaroos, Wedge-tailed Eagles, Flying Foxes.
Mishaps or illnesses: Narrowly avoiding colliding with a kangaroo and her joey on the road at dawn; breaking my expensive digital camera sandboarding; unwittingly photographing the scene of Australia's worst serial killings.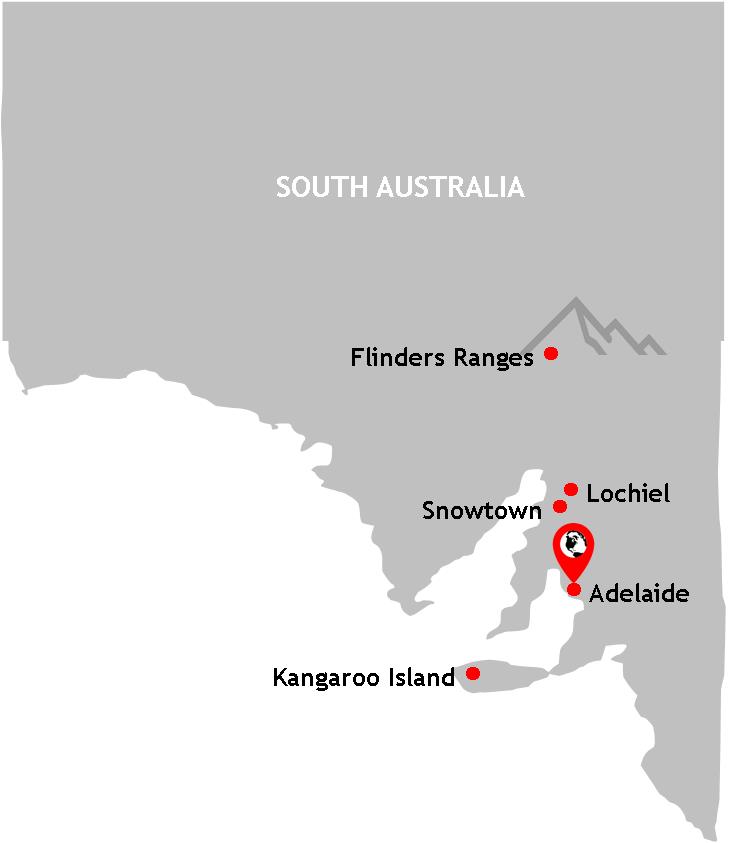 "And the sun sank again on the grand Australian bush - the nurse and tutor of eccentric minds,
the home of the weird, and of much that is different from things in other lands."
Henry Lawson, While the Billy Boils
South Australia. The fourth largest Australian state or territory and, as I touched down in Adelaide, my seventh Australian state, with only Queensland now remaining. Initial plans to fly to Brisbane and drive along the east coast to Cairns to experience Australia's iconic Great Barrier Reef were shelved, for the second time in a year, because of another infection scare in the Queensland capital. Amid a pandemic-ravaged world, and so used to counting countries, I have resorted to counting Australian states and territories instead... This was the first time I had left the borders of New South Wales in close to 15 months. In that time I had travelled all over my home state, seeking out incredible sights and outdoor adventures which would otherwise have remained unknown to me: from the iconic hippie paradise of Byron in NSW's Far North, to the otherworldly lunar landscape of Mungo in its south west; from hiking across the top of the awesome Warrumbungles in Central NSW, to straddling two time zones on the State's western border at Broken Hill.
South Australia didn't make a good impression on me as we disembarked the plane and tried to officially enter the state; a chaotic scene greeted me at Adelaide Airport where the app I'd been instructed to download prior to boarding was suddenly not required. Instead I was passed onto a makeshift counter with a screen constructed from black sheeting and forced to comply with new requirement to provide evidence of my Sydney address - which, in hard copy form, I obviously did not have on me. After frantically searching through emails and apps, I managed to source a document with my address on it, after which I was presented with a ticket - the kind you get when you partake in a raffle. Had I applied for a travel permit?, I was asked. Well, of course I hadn't as it was not on the official state website for inter-state travellers. Quite farcical.
Adelaide is a beige place of brown, blocky buildings - a place which, in parts, hovers uneasily between a 1970s failed urban utopia and Soviet nightmare. The afternoon's orangey sunshine served only to intensify the impression that I was merely sifting through a series of sepia photographs of yesteryear. Indeed, the presence of an old Victorian-era bandstand as well as some Morris Dancers knocking their sticks together in the street did little to suppress my appreciation of Adelaide as a time-warp town. With temperatures hovering around 30°, the purple Beam Scooters dotted along sidewalks offered the perfect travel solution. We could get around the city quickly and coolly. With an app downloaded and a few preliminaries completed, we were soon 'beaming' our way around Adelaide: the Botanical Garden with its thousands of screeching Flying Foxes, to some of the city's more modern and, indeed, futuristic architecture. We found ourselves along the Karrawirra Parri River where we certainly felt lucky enough to come across a café which was actually open: an already sleepy state capital was rendered positively narcoleptic on Easter Sunday, with most businesses closed. I enjoyed my first bite of food since leaving Sydney early that morning.
But we weren't in South Australia to see Adelaide. The reality is that, outside of Sydney and Melbourne, Australia doesn't do cities very well. They are often downbeat, functional affairs with a distinct feeling of frontier town about them. We were here to experience a not insubstantial slice of the great South Australian Outback: wide open spaces, island escapes, and iconic wildlife. Lake Bumbunga in Lochiel, also called Pink Lake, was our first experience of what South Australia's Mother Nature had to offer. A vast flat lake bed covered in a thick layer of salt stretched out to the horizon and sparkled before us in the mid-morning sunshine. I've often seen the salt flats of Bolivia in travel publications and vowed to go there one day. I'm glad that I got to see the salty flat of Bumbunga - an otherworldly, lunar experience far closer to home. By this time the sun's rays were becoming increasingly fierce and the heat building and so we crunched our way through the salt and back to the air conditioned luxury of the hire car.
A largely flat South Australian landscape gave way to gentle undulations as we pressed on to the great Flinders Range, stopping only at small country towns like Snowtown and Quorn to grab a coffee and cake or some groceries for cooking dinner back in our cabins. I was to discover later when doing some retrospective research that during my time in Snowtown I had, in fact, photographed the scene of Australia's worst serial killings. What I thought was a quaint Aussie town full of charm, with its tin roofs and Federation architecture had, unbeknown to me, a very dark story to tell.
We stayed for two nights at Rawnsley Park Station with its awesome views of the Flinders Ranges and convenient access to the Rawnsley Bluff hiking trail. We determined to rise early the next morning to complete the hike before the mercury rose too high and, by 07:50, were starting our trek, pausing briefly to enjoy the sight of a couple of Western Grey Kangaroos somewhat silhouetted in the distance against the horizon. The hike's difficulty level is described as "Challenging" with "steep terrain" and thus braced myself for a bit of a slog - or "a doozie", as an Aussie would say. Within minutes my face was running with rivulets of sweat taking most of my sun protection with it. We eased into the ascent, navigating the ants' nests along the way. These were the same ants I had came across in Upper Colo a couple of months earlier. Standing on a nest for less than a second brings scores of them out in defence, swarming over your trainers, into your socks and up your legs. Having experienced these before I knew exactly what to do when they now took to attacking my feet: scream loudly and hit my ankles with rocks, my baseball cap and anything else I could lay my hands on. These nests are difficult to avoid in places; they're often located on the trails themselves meaning you have little option but to tread on them; I did so, but only on the understanding that any longer than a footstep would bring the beasts out of their nests and on the offensive. The silver lining to all of this was that the ever-present threat ensured a fast-paced hike, completing both the ascents and descent way ahead of our expectations. The sandy shingle beloved by the ants soon gave way to a vertical, boulder-strewn affair. Indeed, much of our 500 metre ascent took place on this kind of terrain. I remember thinking this must be where the adjective "challenging" is earned. Having reached the top of the Bluff, we extended the hike by a further 2 kilometres to enjoy the view of the Ranges from Wilpena Lookout. All in all, we'd covered 12.5 kilometres with an elevation gain of 520 metres in a little over four hours - and this included multiple stops to take photos. It was close to mid-day when we arrived back at the car; I was swiftly overcome with a wave of tiredness which had me retire to bed for a fair chunk of the afternoon, rousing myself around early evening to set off on a scenic off road drive along Bunyeroo Gorge. I'm glad we did because there was an incredible view of the mountain road snaking out to the Flinders Ranges which were, by that point in the evening, growing purple in the fading light. The vista seemed fitting capturing, as it did, the very spirit of road tripping like no other I have seen before.
The following morning we headed south toward our stop for that night: a little cabin in an orchard outside the small country town of Wirrabara. Our route south was blessed with the sighting of two Emus racing along the side of the road. On spotting me, they dashed off into the bushland, their mass of grey feathers comically bouncing up and down as they did so. Before arriving in Wirrabara we pulled over for a two kilometre trek through Alligator Gorge - a giant chunky orange-walled affair which came complete with its own unique acoustics experience; the buzzing insects and rattling of stones as we passed over them were amplified and echoed within the Gorge's giant confines. The Gorge was also home to square-shaped animal poo - a sure sign that wombats were alive and well. By now I was beginning to flag; in travel tiredness quickly accumulates and I have learnt to ease off when my body needs it. And so we pressed on to the little cottage overlooking a peach orchard. It was a chintzy place with eco credentials and would have been a perfect spot to stay for a few days. Alas, we were stopping for just one night; we had to get up early in the morning for a long drive down to Cape Jervis; we were booked on the 13:00 ferry to the enticingly-named Kangaroo Island...
Kangaroo Island lies 110 kilometres off the South Australian coast and is the third largest island in Australia. It took around 45 minutes to get from Cape Jervis to Port Penneshaw on the Sea Link ferry; behind us the Australian mainland slowly faded and ahead of us a new land, dubbed "Treasure Island" by some, honed into view. As a traveller I love the feeling of arriving in a new place; that feeling of excitement generated by adventures yet to be had is an awesome, visceral one. It's always fun when you get on a ferry and can take your car with you. We thus rolled on in our hire car and rolled off in our hire car, immediately ready to explore the island. And, indeed, we did: after two full days and two nights we felt like we had driven the length and breadth of KI.
We booked ourselves into the imaginatively-named Kangaroo Island Cabins, little detached corrugated huts set back from the road and in woodland. Thankfully this cracked, arid, dusty patch of land was home to several gorgeous Wallabies. On both mornings, I made sure I was up early enough, around dawn, to spend some time photographing them and generally enjoying being in the company of these most iconic of Aussie creatures. I was soon to discover that this spot was also home to the luminously-blue Fairy Wren and some warbling Australian Magpies which, on the second morning, took to staring at us through the patio doors. I don't mind admitting that I was sad to leave them behind when we packed up our car and headed off. Australia's animals are completely beguiling and KI had them in heaps...
As our little cabin in the woods testified, Kangaroo Island is humming with wildlife. We made sure we were at Seal Bay early on our first morning. This meant we were able to spend time with the seals for around half an hour without anyone else there to detract from the magic. I'd seen sea lions before, way back in 2015 on our road trip from Sydney to Melbourne, but this latest experience far surpassed the first; the sheer number, at least twenty, squabbling, rolling and lolloping amid a paradisal beach scene on a windswept morning was pretty special. As if by complete contrast, no less than thirty minutes after leaving this uplifting scene I was sandboarding and tobogganing down giant sand dunes. Now, this is not something I'd traditionally go for - I hate anything that feels like a Disneyland-style experience. However, I figured that I'd get to see some impressive dunes as part of the deal and so signed myself up. I was right: the dunes were impressive - especially when, after a torturous clamber up it, I sat astride the ridge where both slopes met. The journey down was fast - so much so that I zoomed straight into the bushes at the bottom of the dune. I had sand in my ears, beard, nose and my pants. It got everywhere. Sadly, it also got into my trusty digital camera which was in my pocket. Its lens filled with sand and had jammed. You live and learn, I suppose. A little saddened by the loss of my old travel buddy, I took a saunter along the pure white sands of Hanson Bay Beach at Karatta. As is so often the case in Australia, we had the beach to ourselves. A drive westward brought us to the Flinders Chase National Park - home to a photogenic winding road snaking off into the distance, the giant Remarkable Rocks positioned sculpturally on the tip of the isle's coast and the dramatic Admirals Arch under which basked visitors, like me, who were also quite far from home: some New Zealand Fur Seals.
On the final day we checked out from our little cabin in the woods at 10:00. Our ferry to the mainland wasn't scheduled until the evening and so we readied ourselves for a day in the hire car, first making a trip out to the paradisal Stokes Bay Beach at Cassini, access to which came only by crawling through the apertures created by an assortment of giant interlocking boulders. I have never had to go caving in order to get to a beach before. We pressed onwards to American River where a group of pelicans were gracefully battling the blustery and chilly temperatures rushing in off the Great Australian Bight. The warm sunny weather, like the cell coverage, was intermittent and often non-existent on Kangaroo Island, although thankfully the clouds cleared enough for me to photograph a particularly impressive collection of Grasstrees. I have travelled around a relatively substantial chunk of Australia now and have become used to the kind of vegetation and flora in this part of the world but did notice a distinct shift on Kangaroo Island. Their usual blackened bases and spiky green leaves were joined by unusually long stamens phallically reaching many metres into the air. They were positively Sci-Fi in their appearance, like vegetation from another dimension - and well worth the hassle of trespassing onto a farmer's fenced-off field to photograph them.
As I have come to discover from my travels around Australia, the true beating heart of Australia will never be found in the state capitals: there is nothing more un-Australian, in my opinion, than the Opera House, the Harbour Bridge or the off-the-shelf glass skyscrapers of cities like Sydney, Perth or Melbourne. Australia's ancient beating heart, a slow, murmuring thud from the Dreamtime will only ever be felt in her oft-maligned sleepy country towns, in her vast scorched vistas stretching far into the horizon, in her vividly red ochre and her greying dust. A journey into the Australian Country and Outback is a journey into the truest and purest part of Australia. You can feel Australia's soul in such places. Australia is an extraordinary place indeed.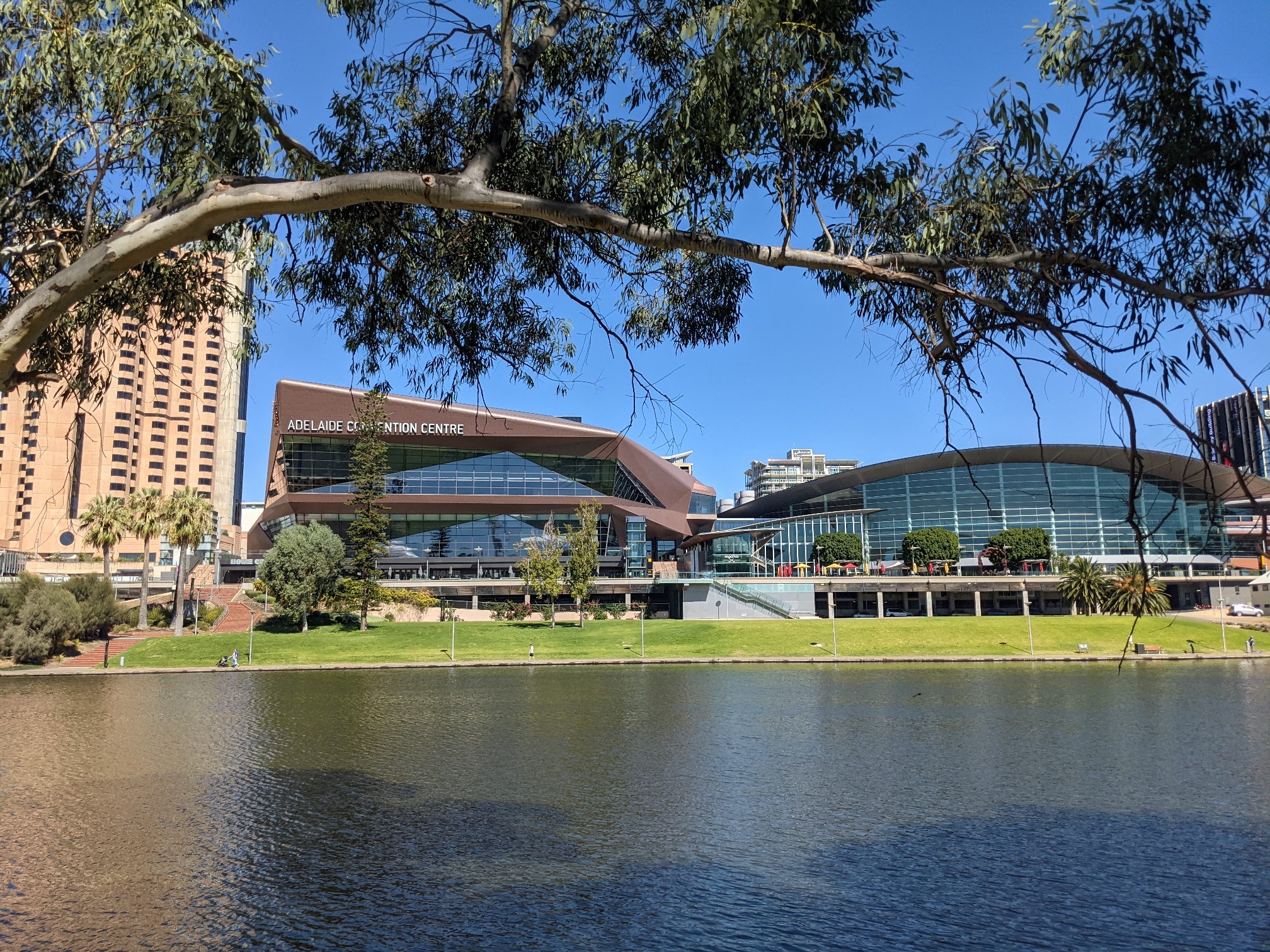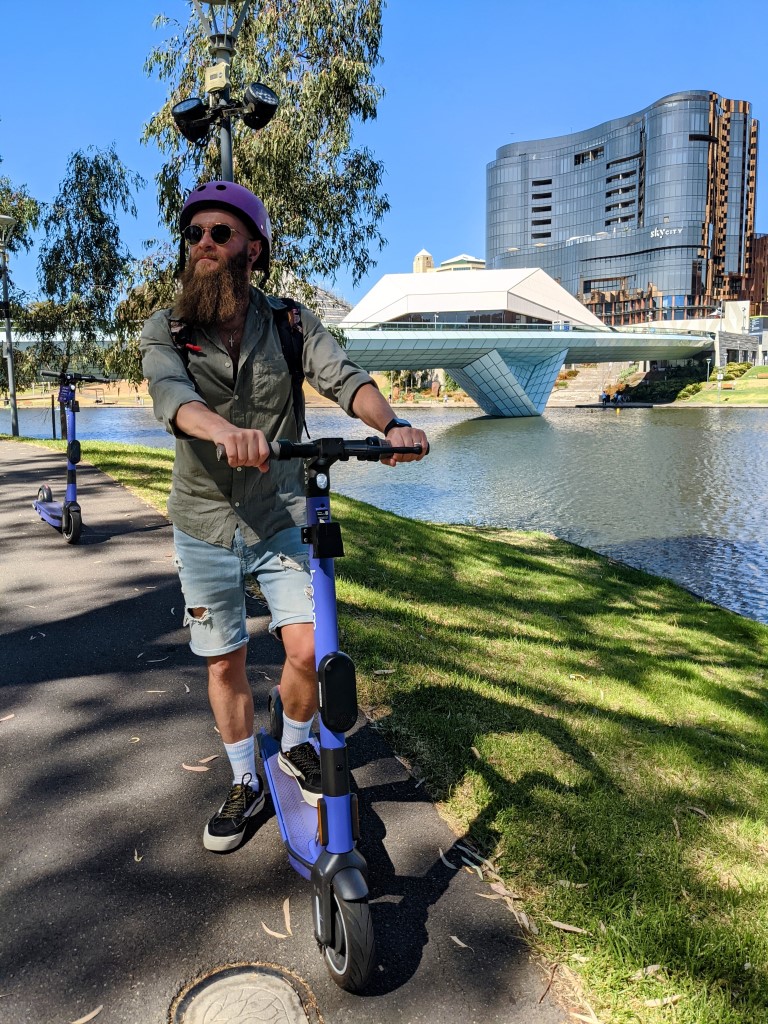 It's quite difficult to get too excited about Adelaide but zooming around on Beam Scooters certainly helped to endear the South Australian capital to me a little.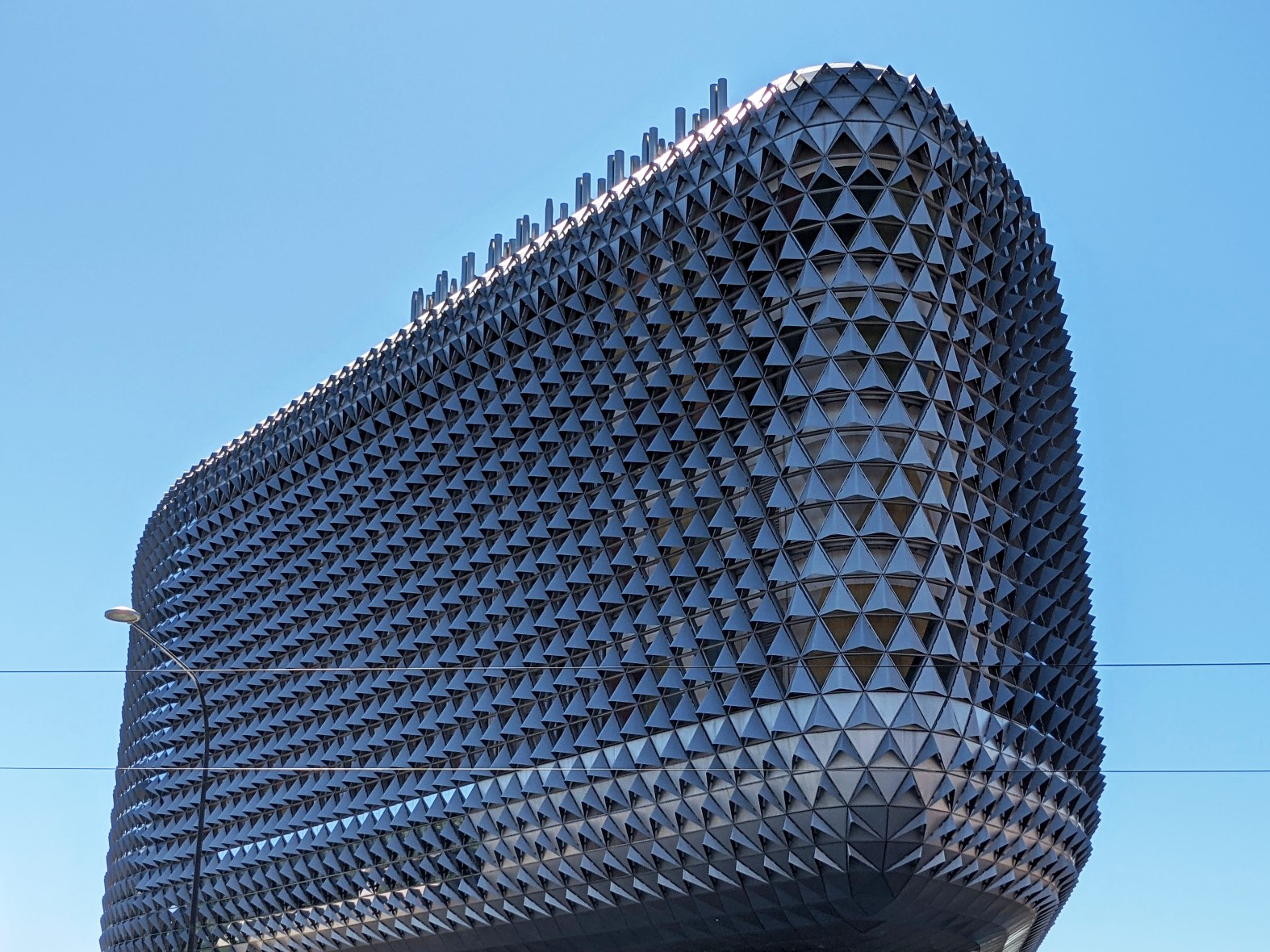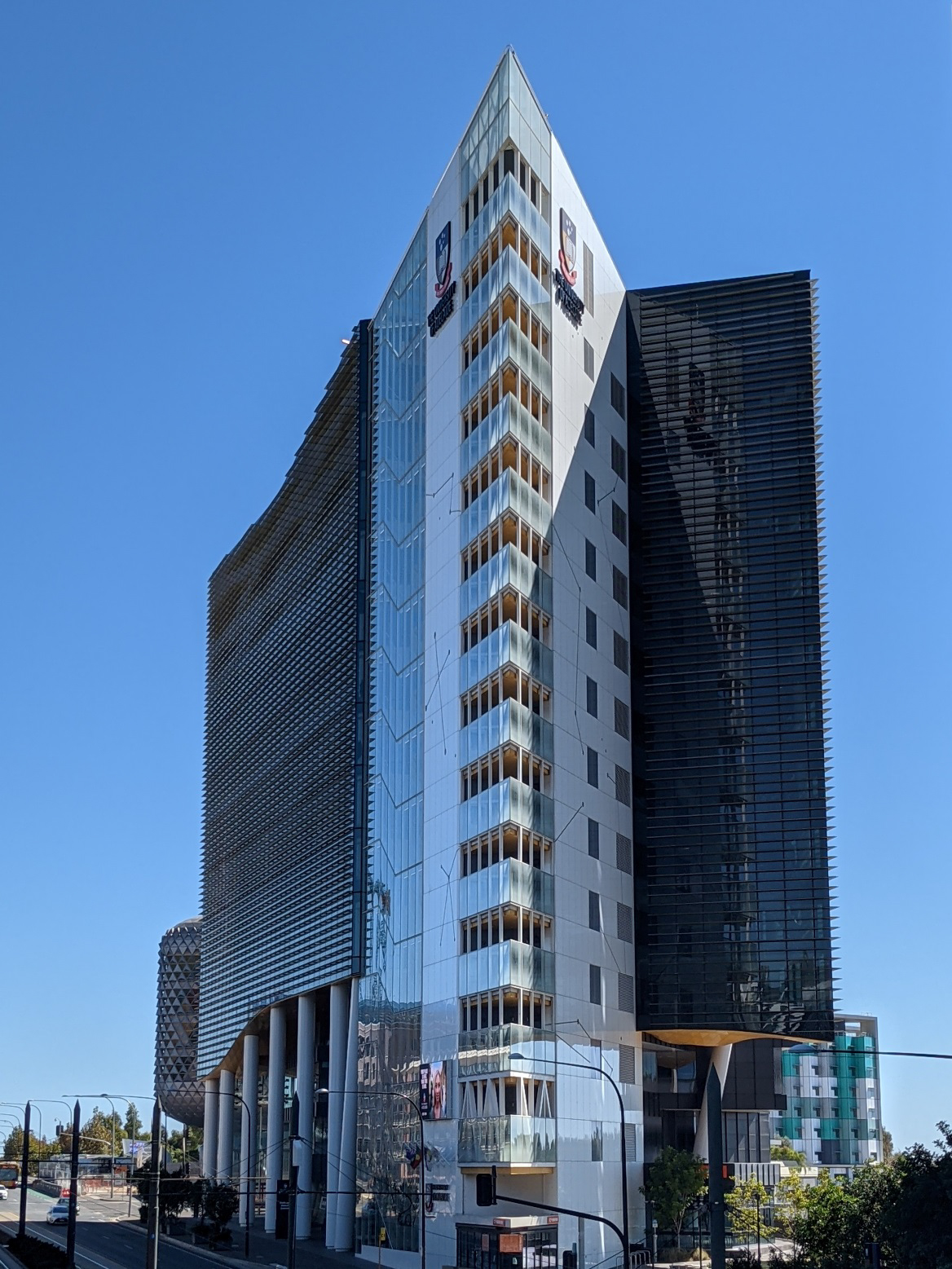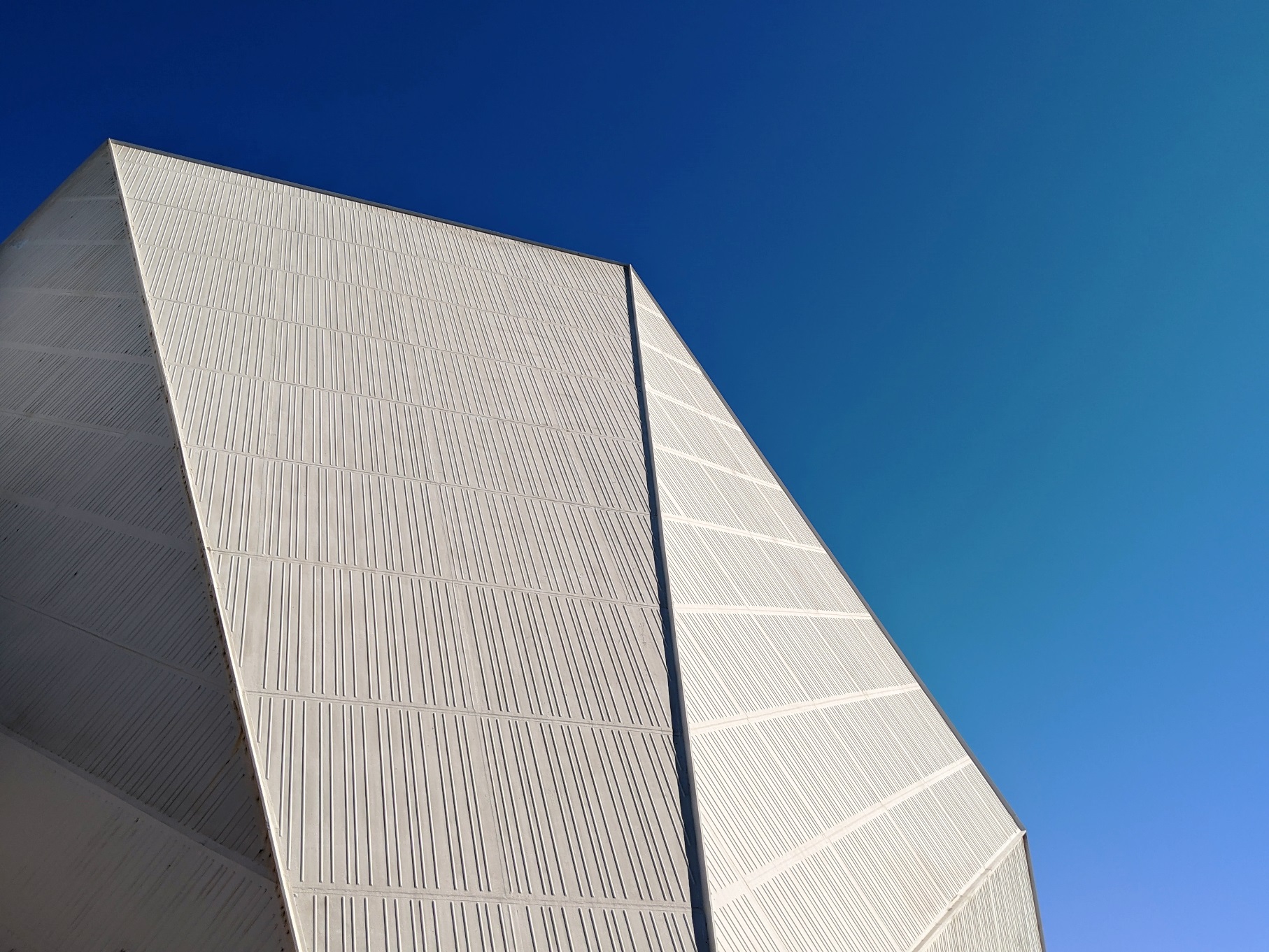 Adelaide Architecture: the tessellated South Australia Health and Medical Research Institute; the University of Adelaide plays with perspective; the Festival Theatre channels the Sydney Opera House.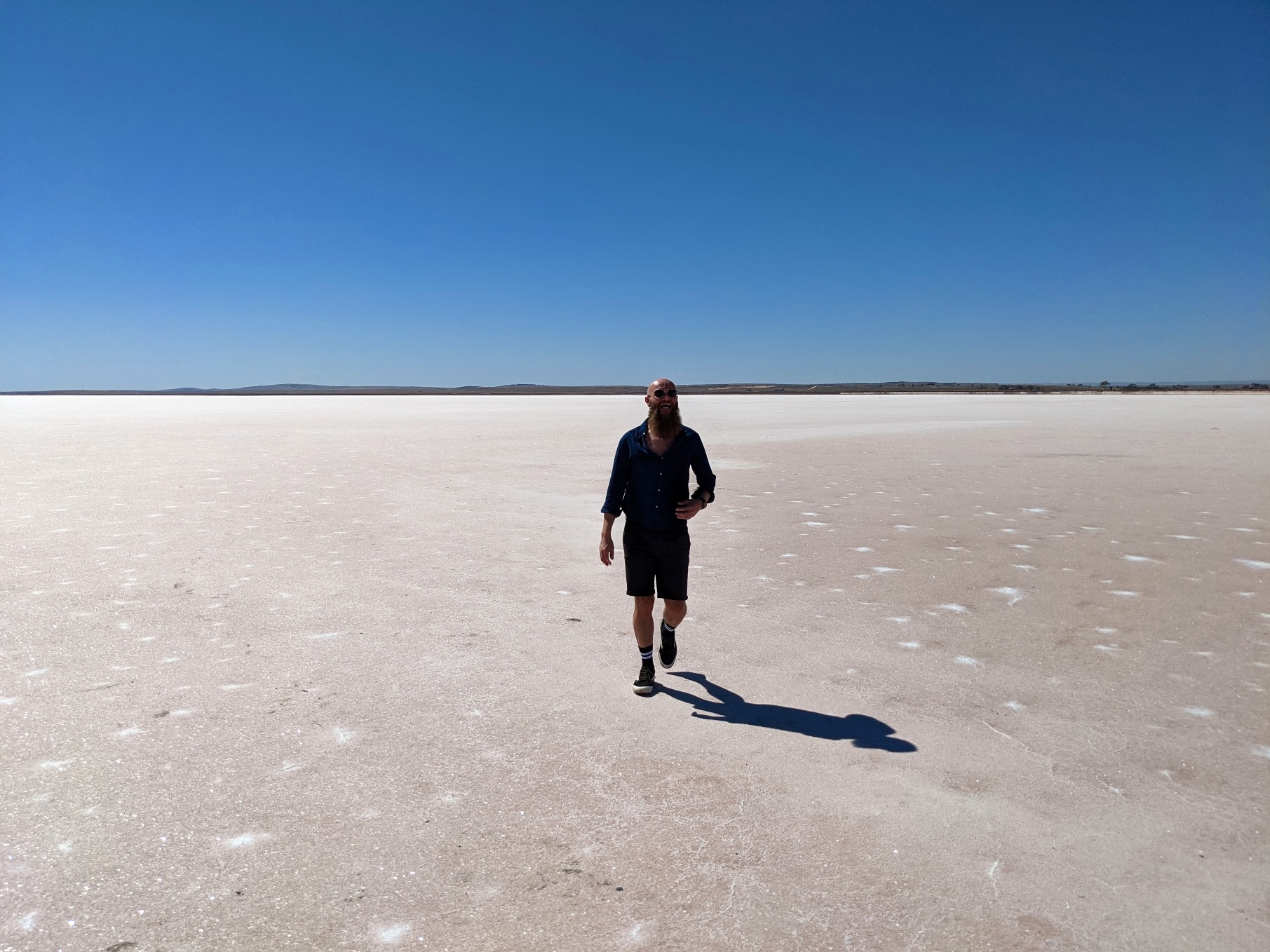 At the salty Bumbunga Lake, rendered positively sparkling in the mid-morning sunshine.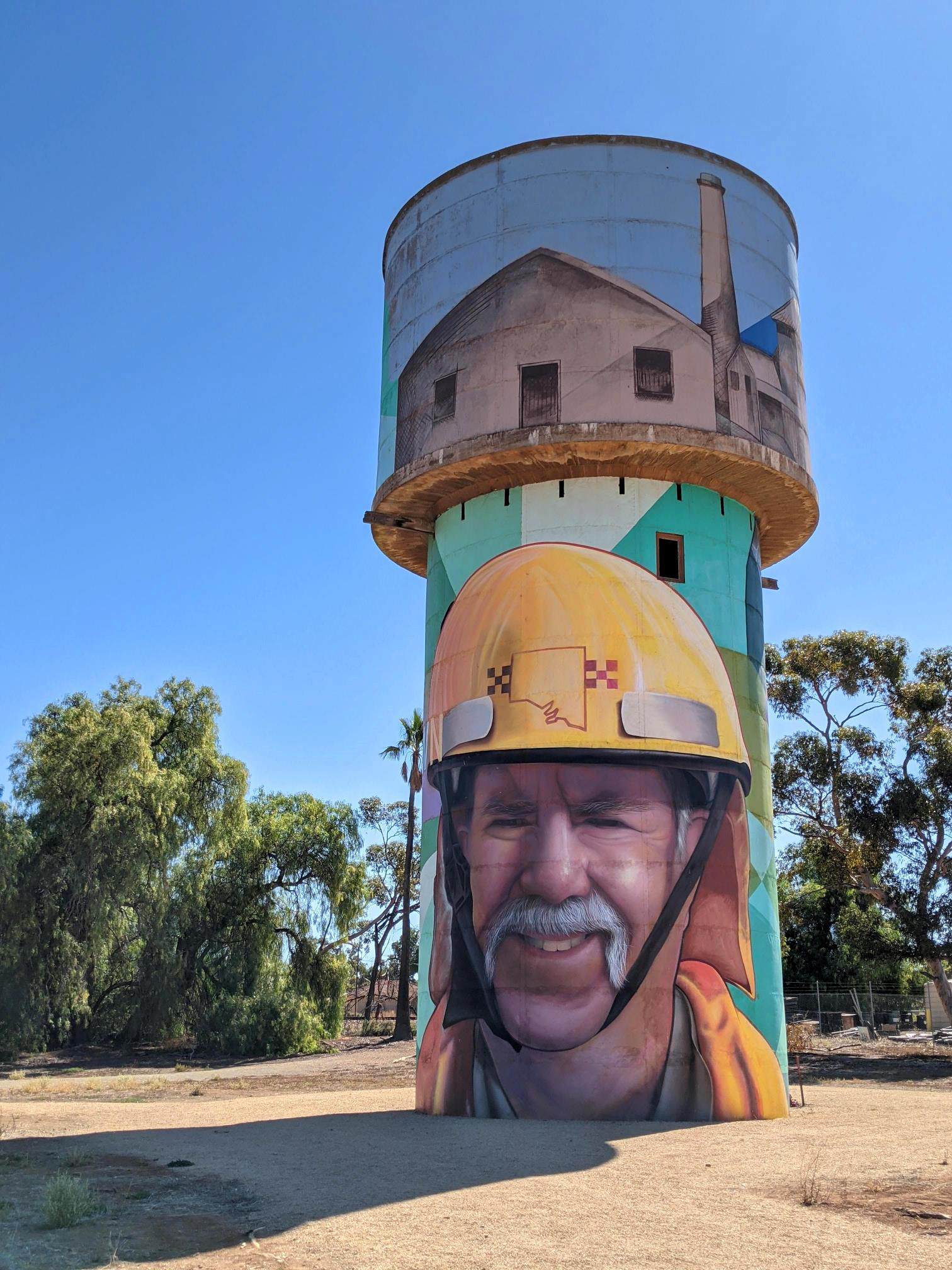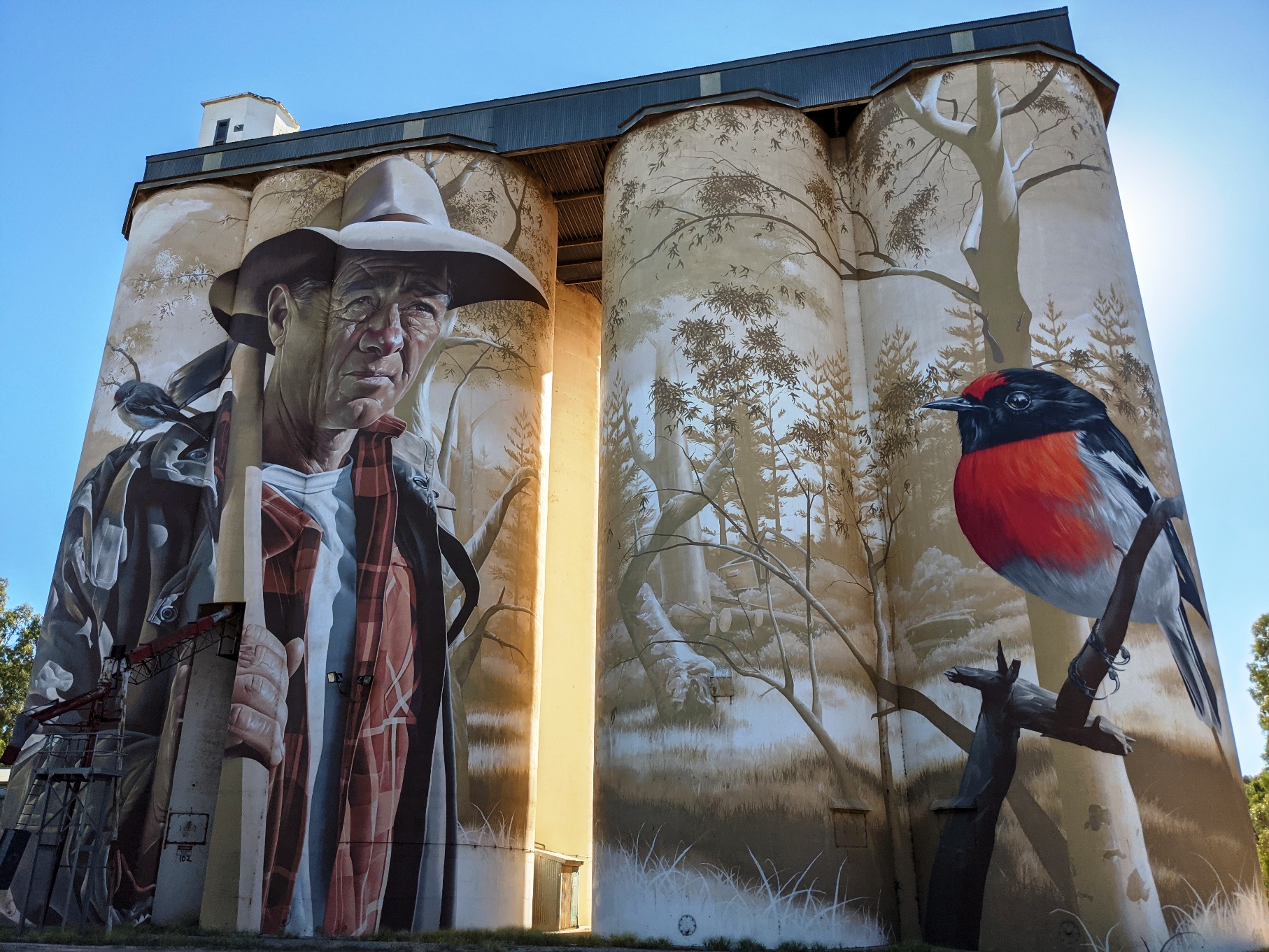 Outback art: the water tower at Snowtown and the silo mural in Wirrabara.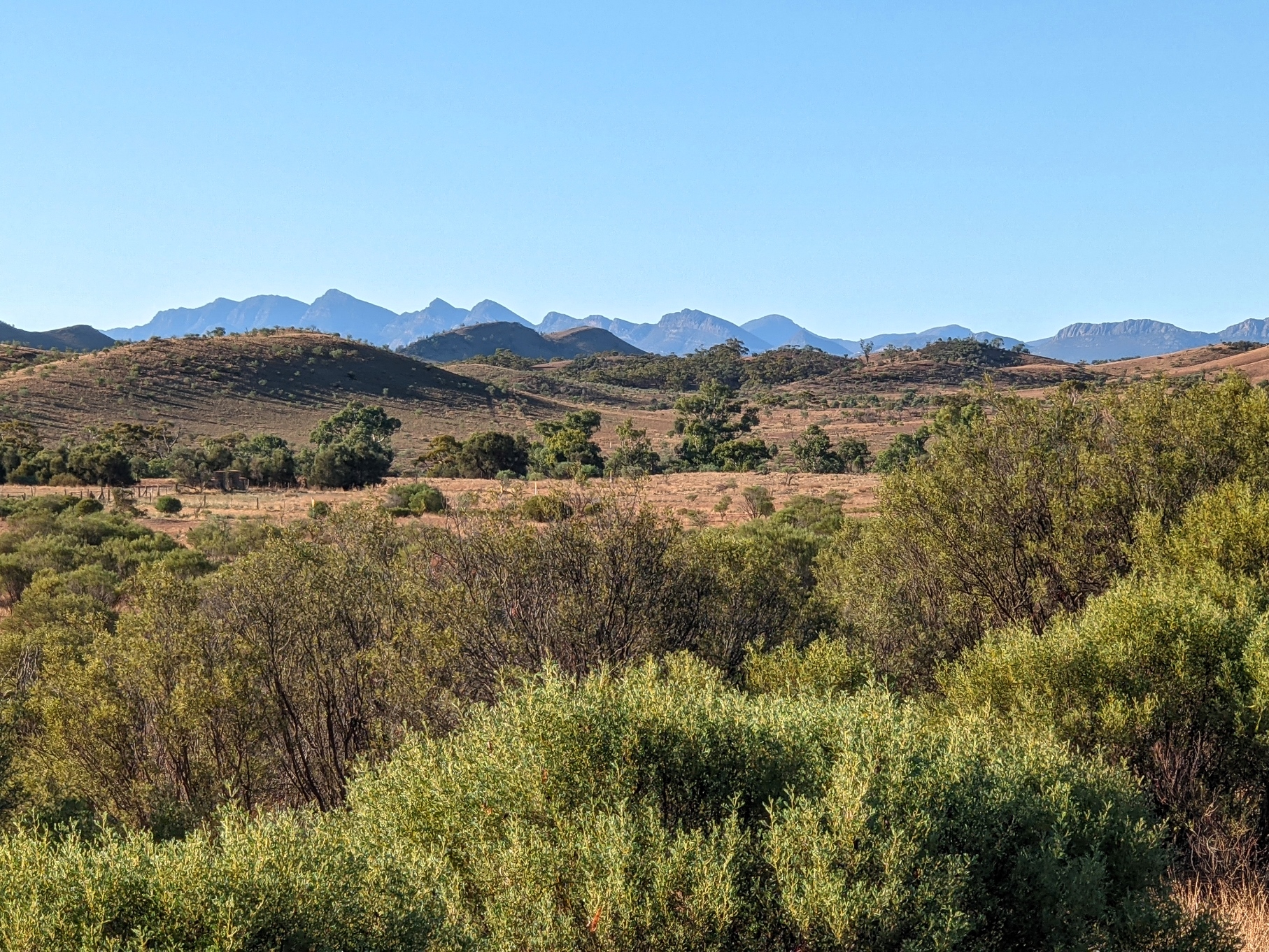 The land of the Adnyamathanha people: where gentle undulations give way to rugged purple peaks.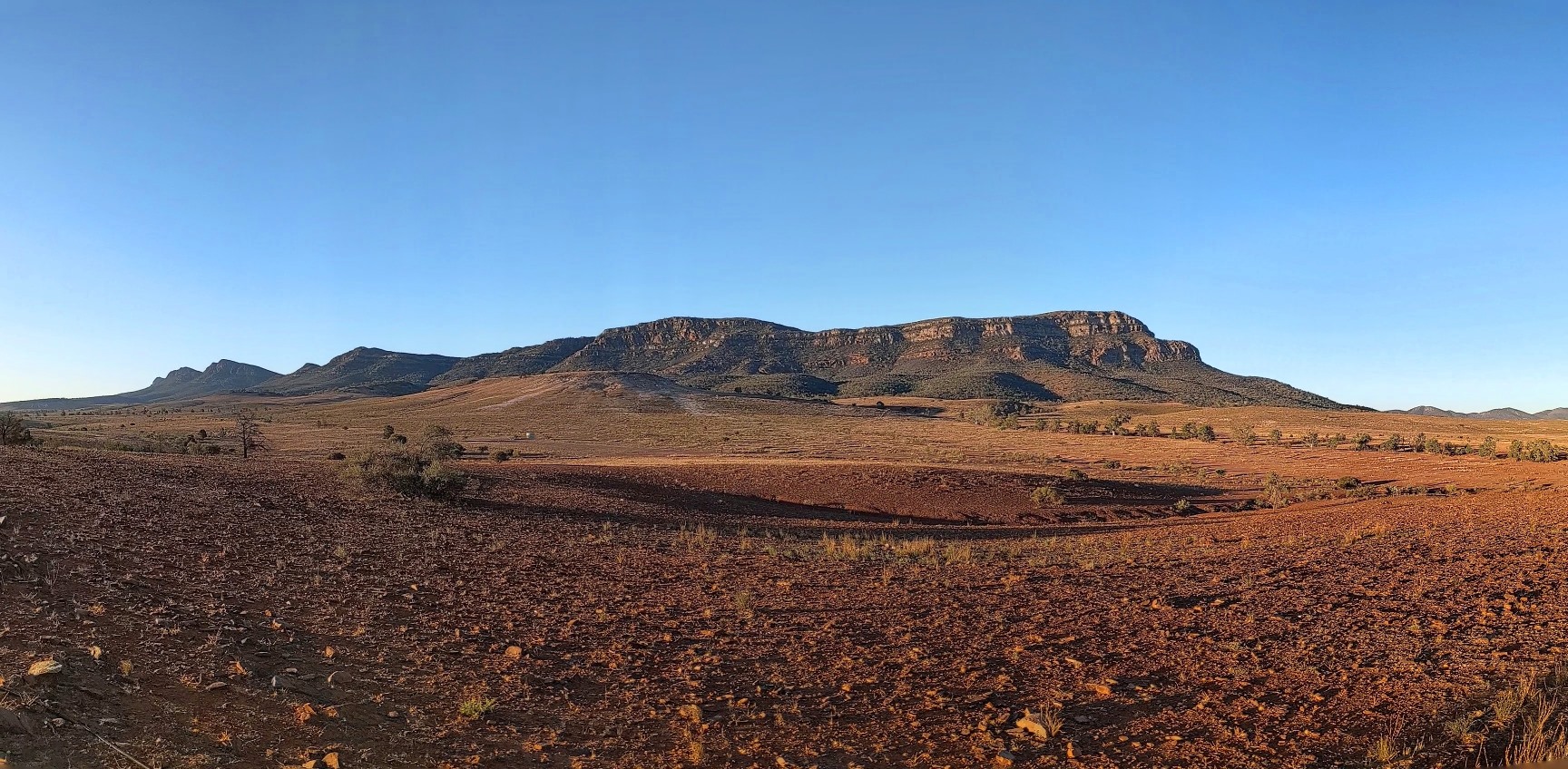 Outback orange: Rawnsley Bluff 180° at sunset - it was just begging to be hiked.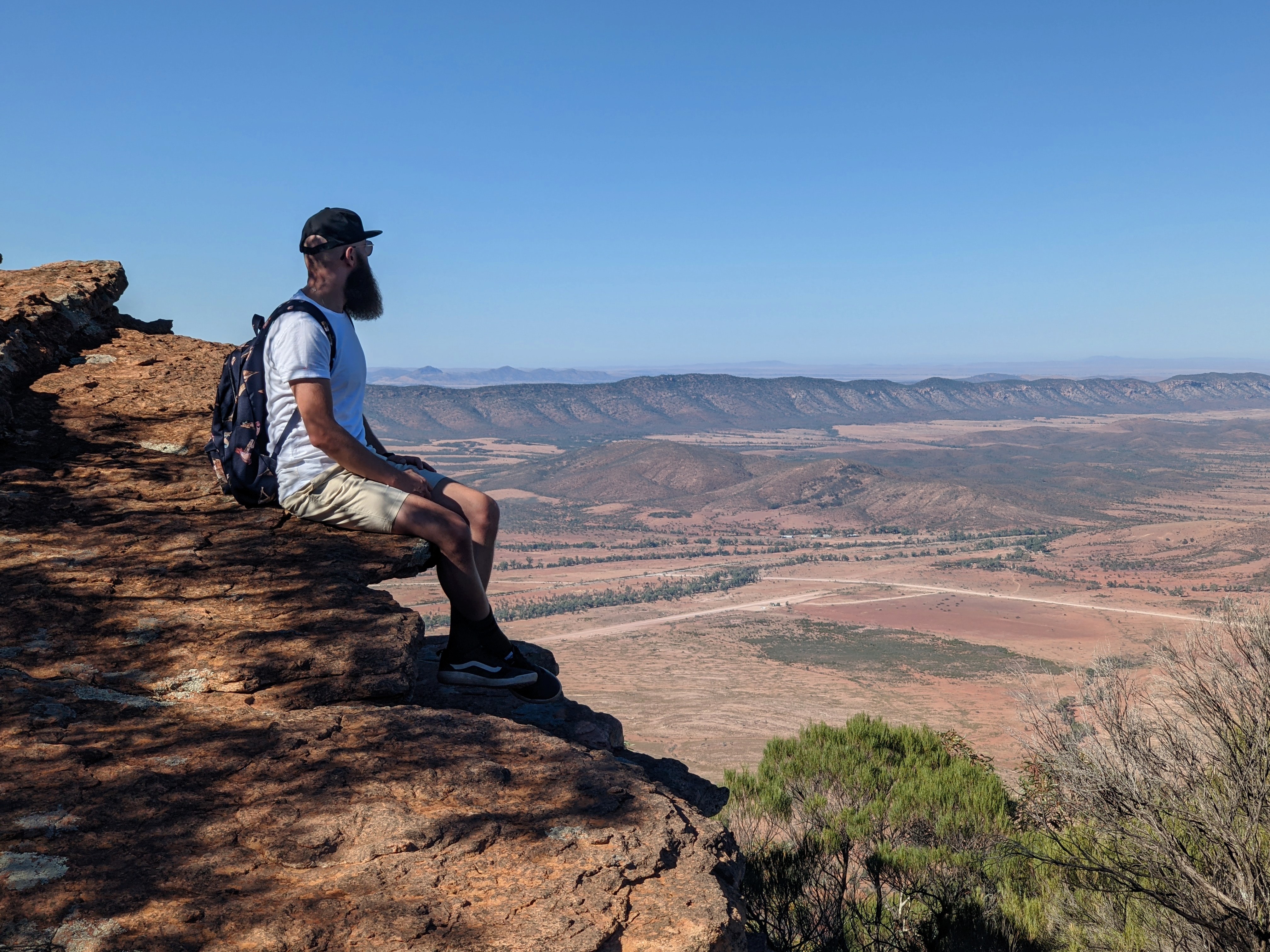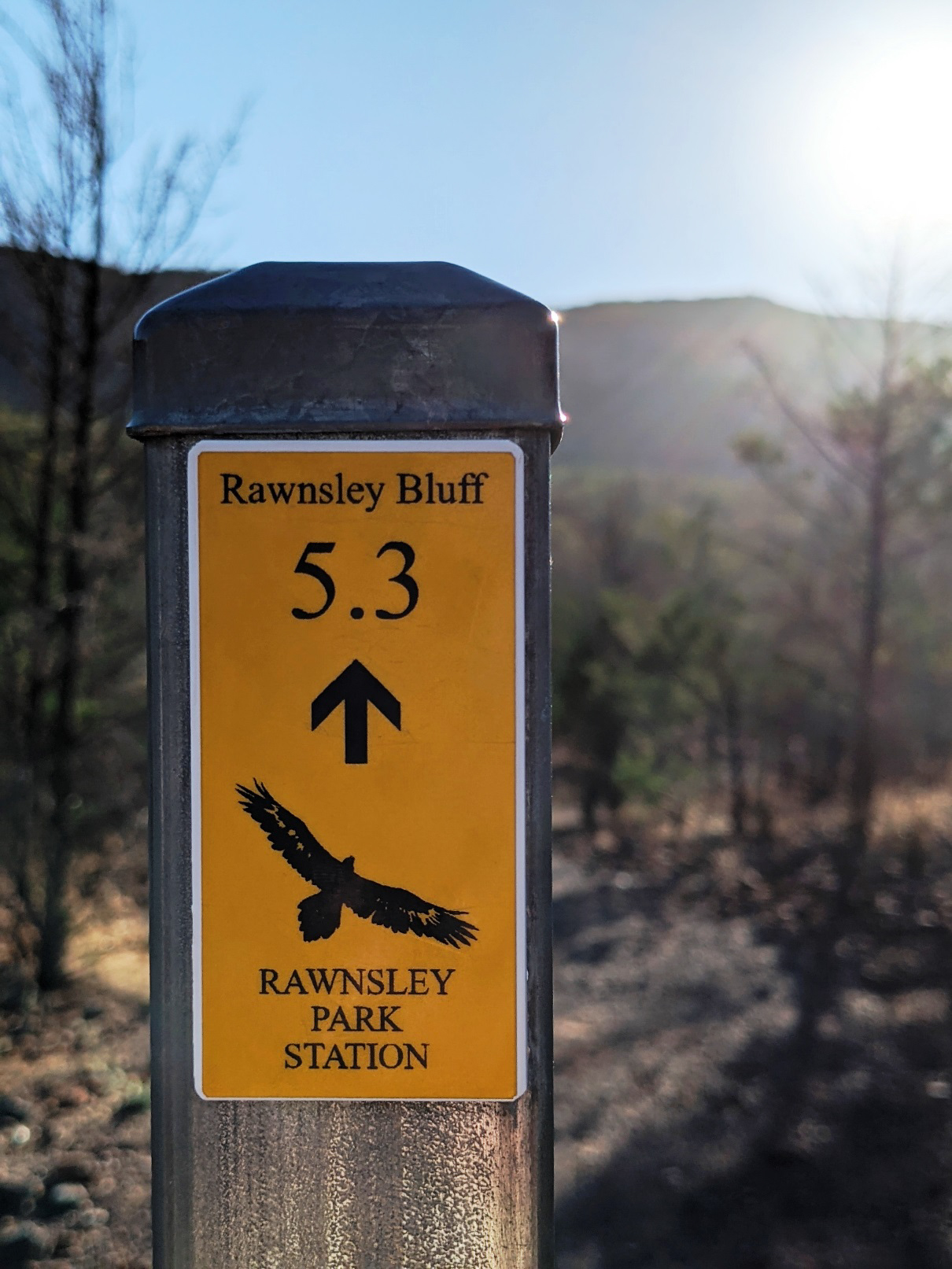 Hiking to the top of Rawnsley Bluff - the perfect way to spend our first morning in the great Flinders Ranges.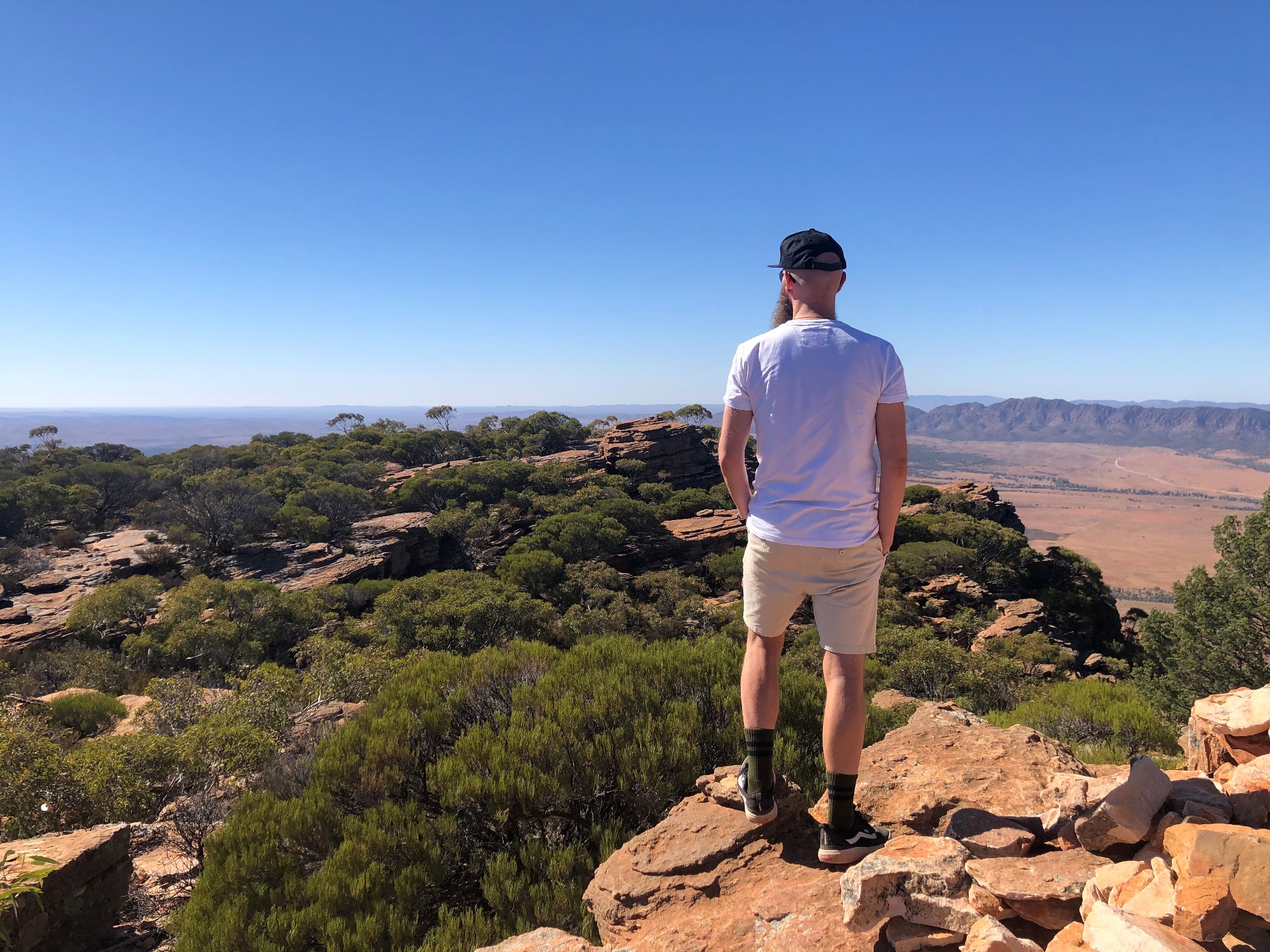 Taking in the view of Rawnsley Bluff. The ants made sure we made good time.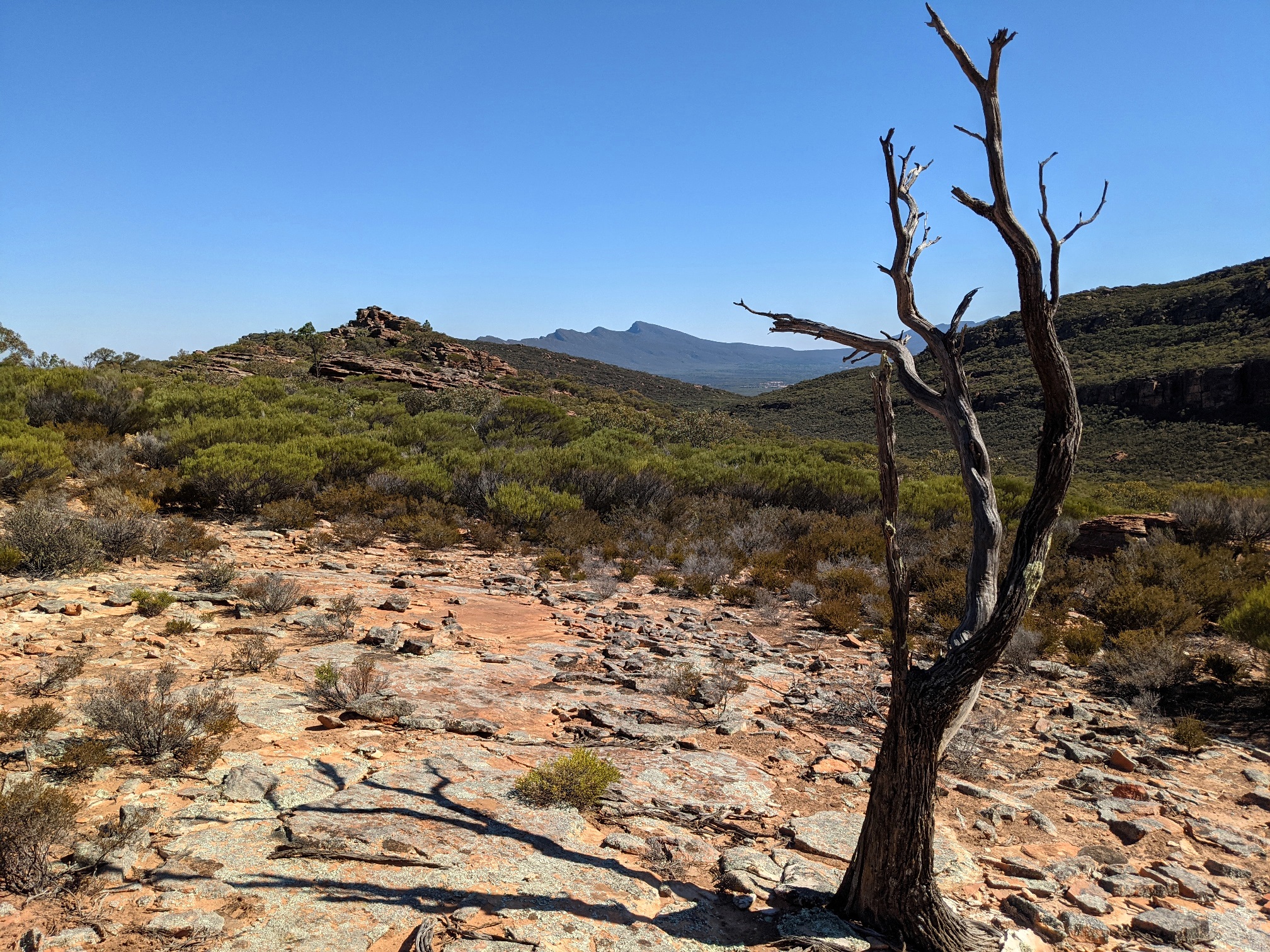 An evocative landscape to hike in: hiking Rawnsley Bluff and Wilpena Lookout in the South Australian outback.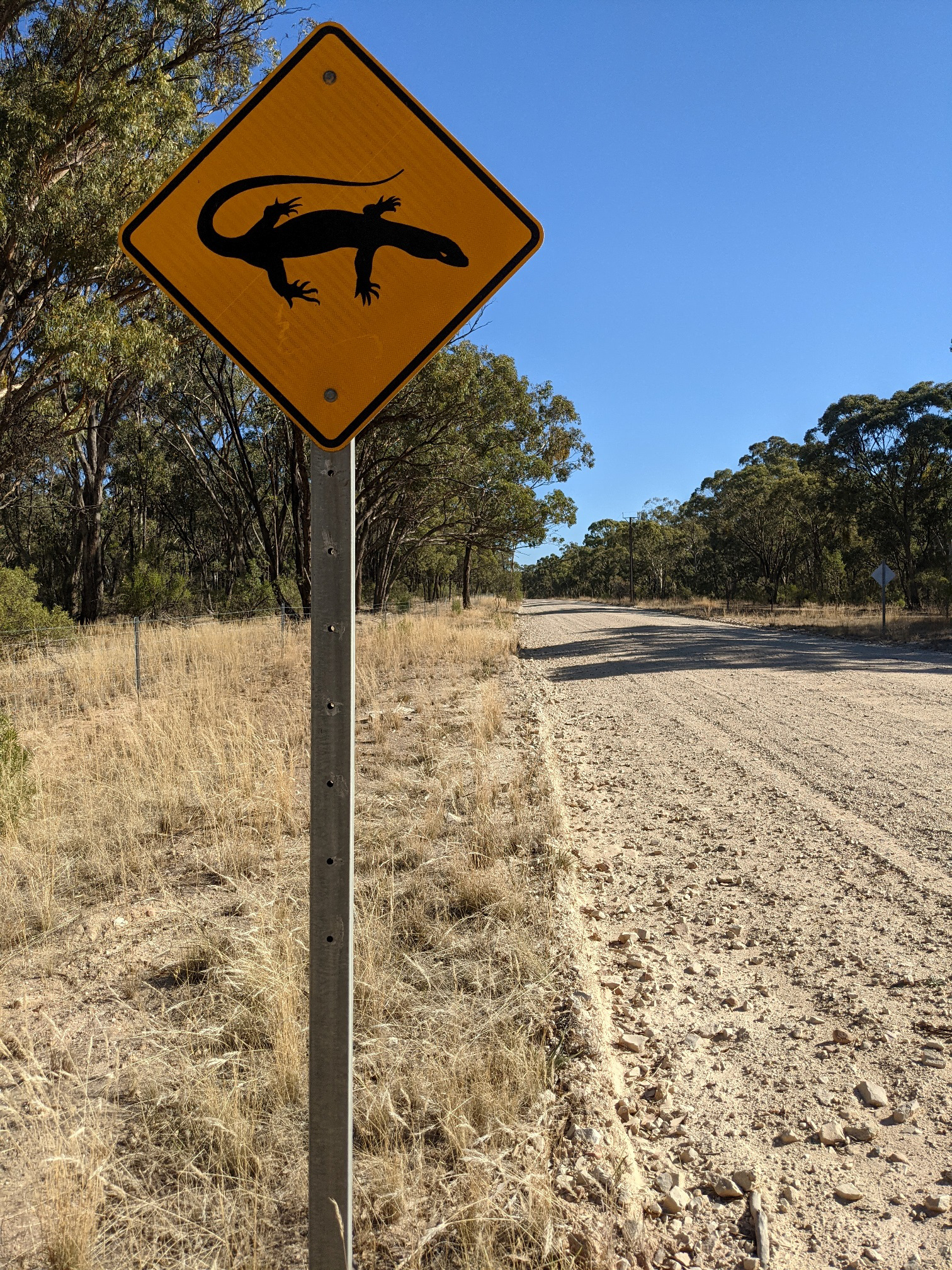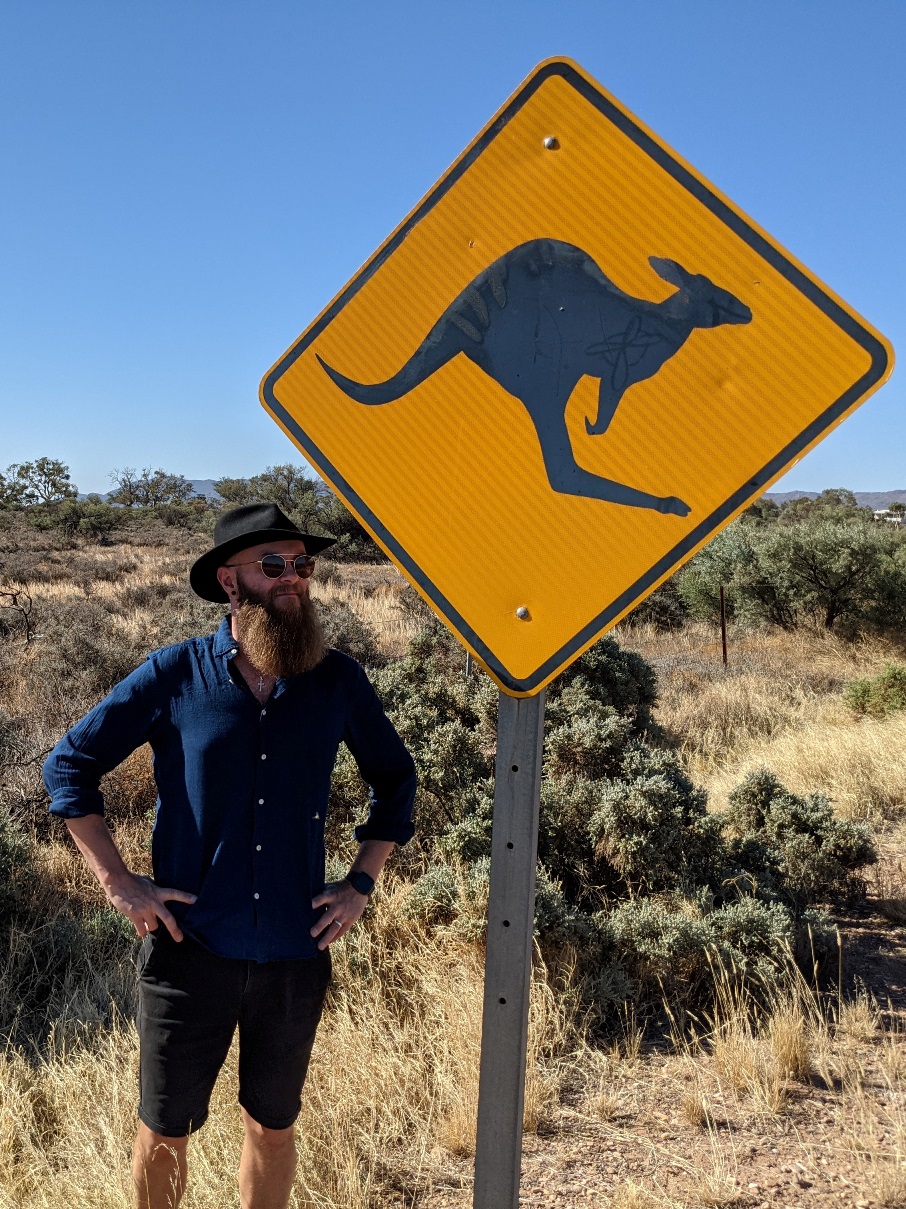 An Aussie road trip is a chance to play 'Wildlife Diamond Sign Bingo'. Left to right: a Goanna sign at Wirrabara, a Kangaroo sign at Stirling North, a Quoll sign in the Flinders Ranges.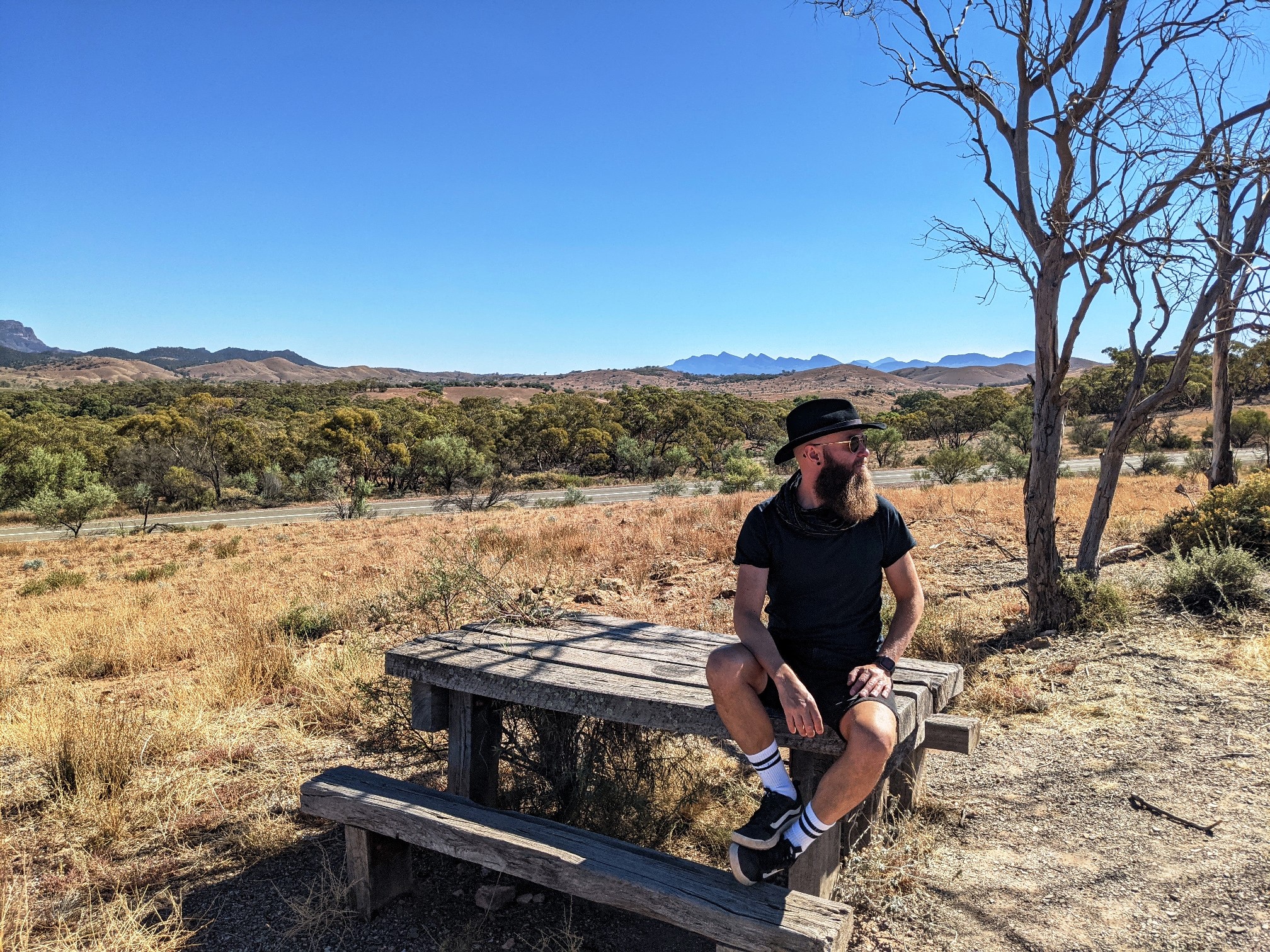 Channelling Brokeback Mountain vibes in the South Australian outback.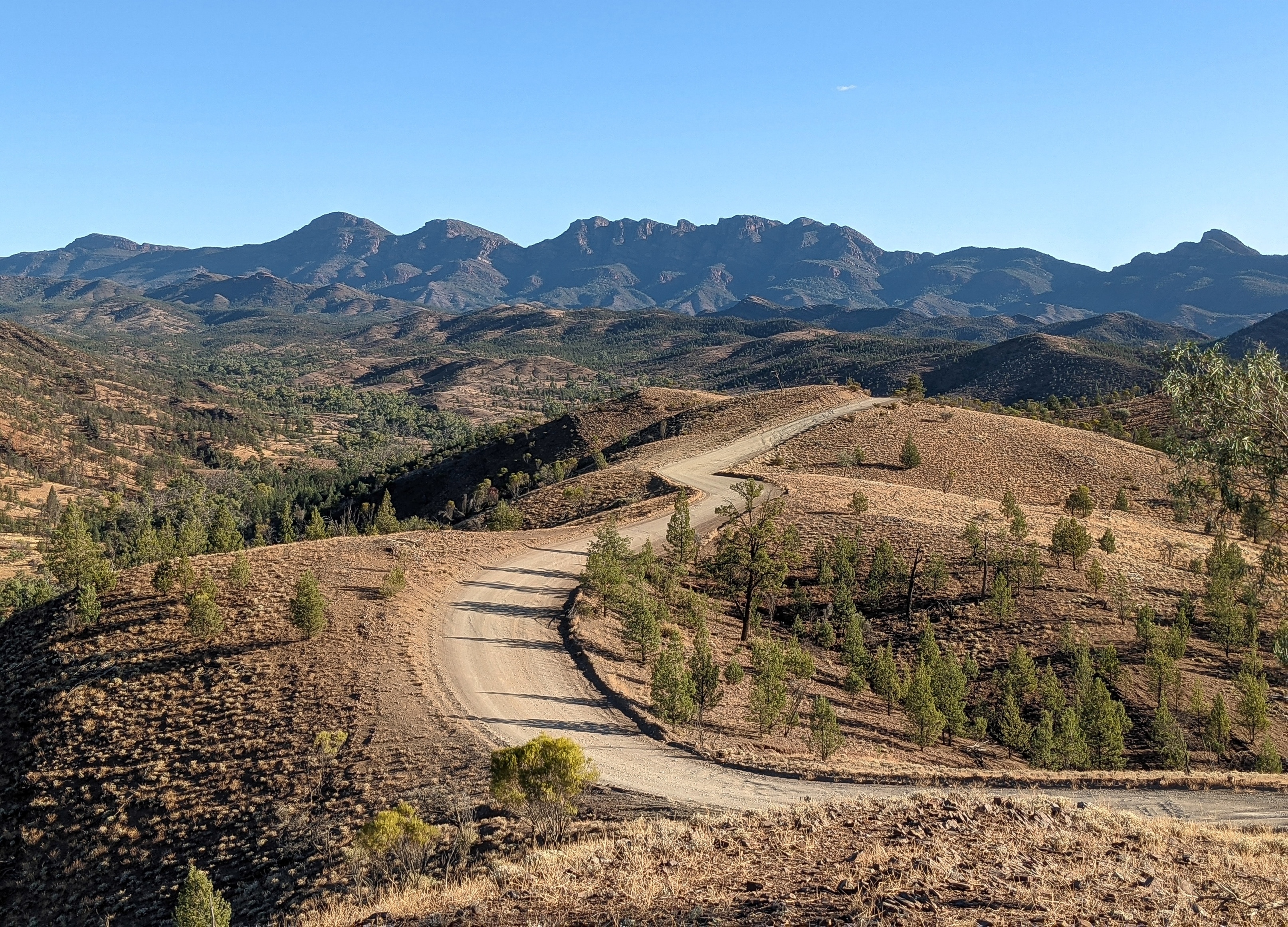 The Bunyeroo Valley evokes the spirit of the quintessential road trip like no other view I've seen.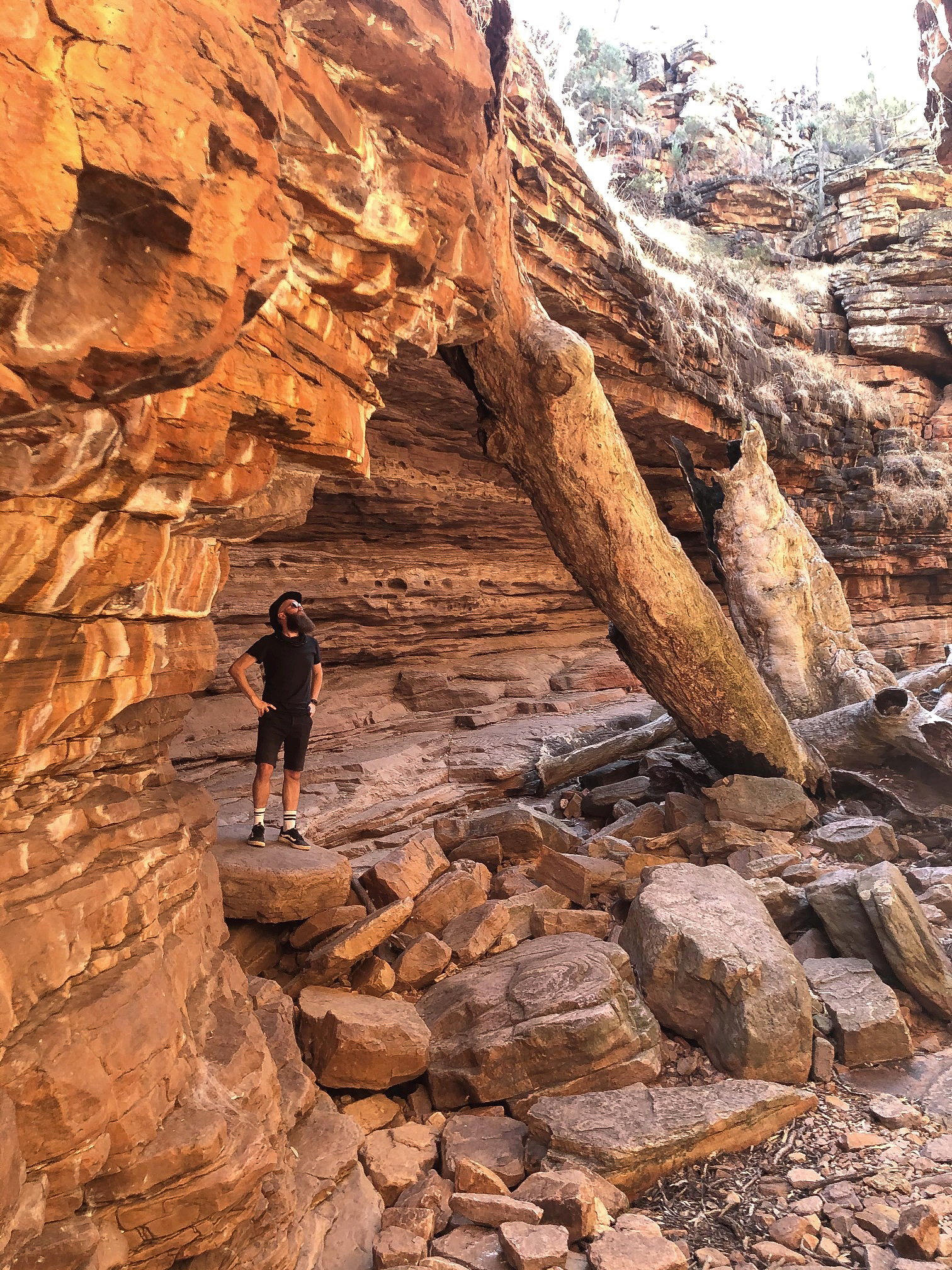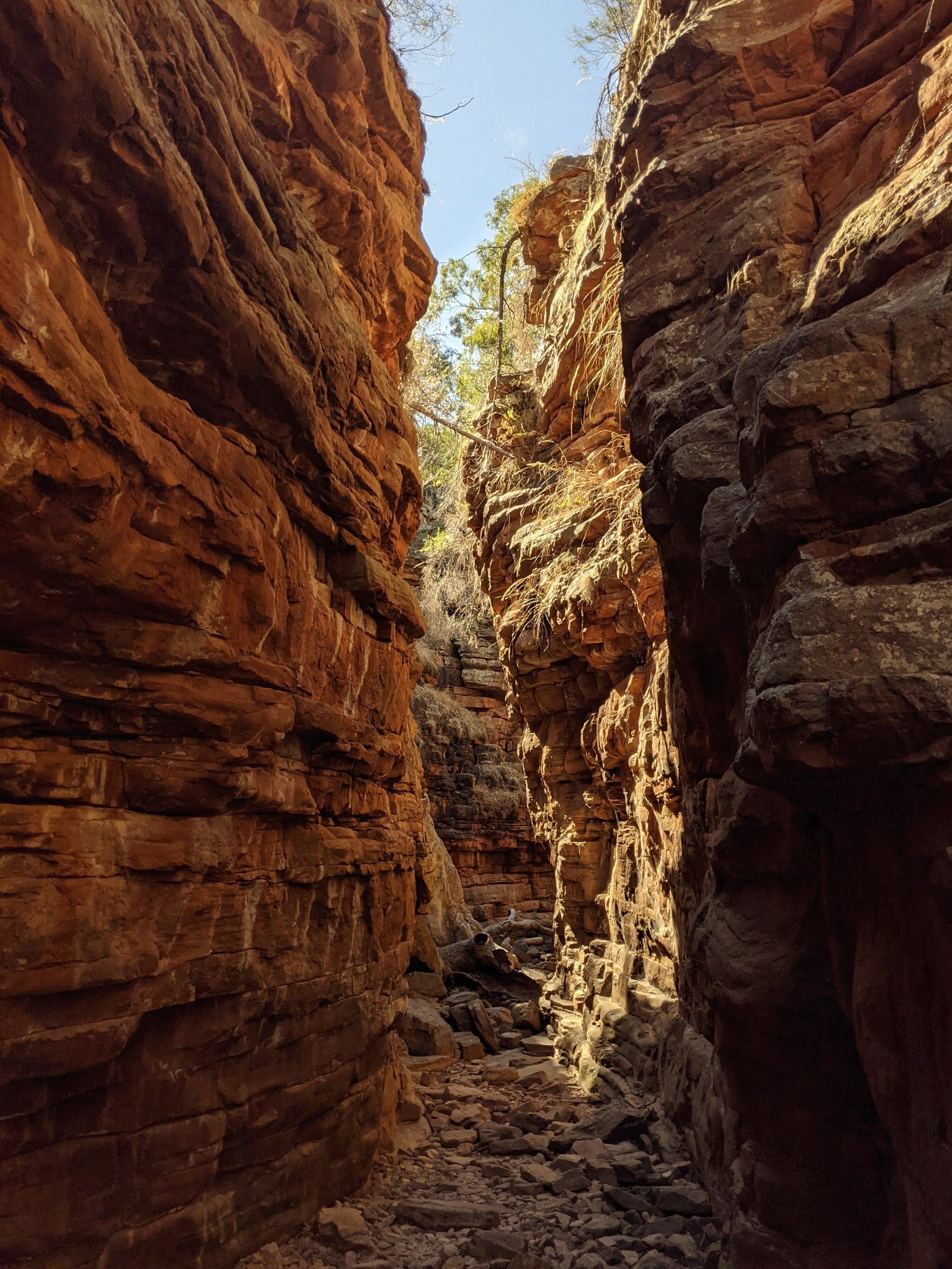 A loop trek through Alligator Gorge in Mount Remarkable National Park. Our trek through here came complete with a unique acoustic experience; the buzzing insects and rattling of stones echoed within the gorge's giant walls.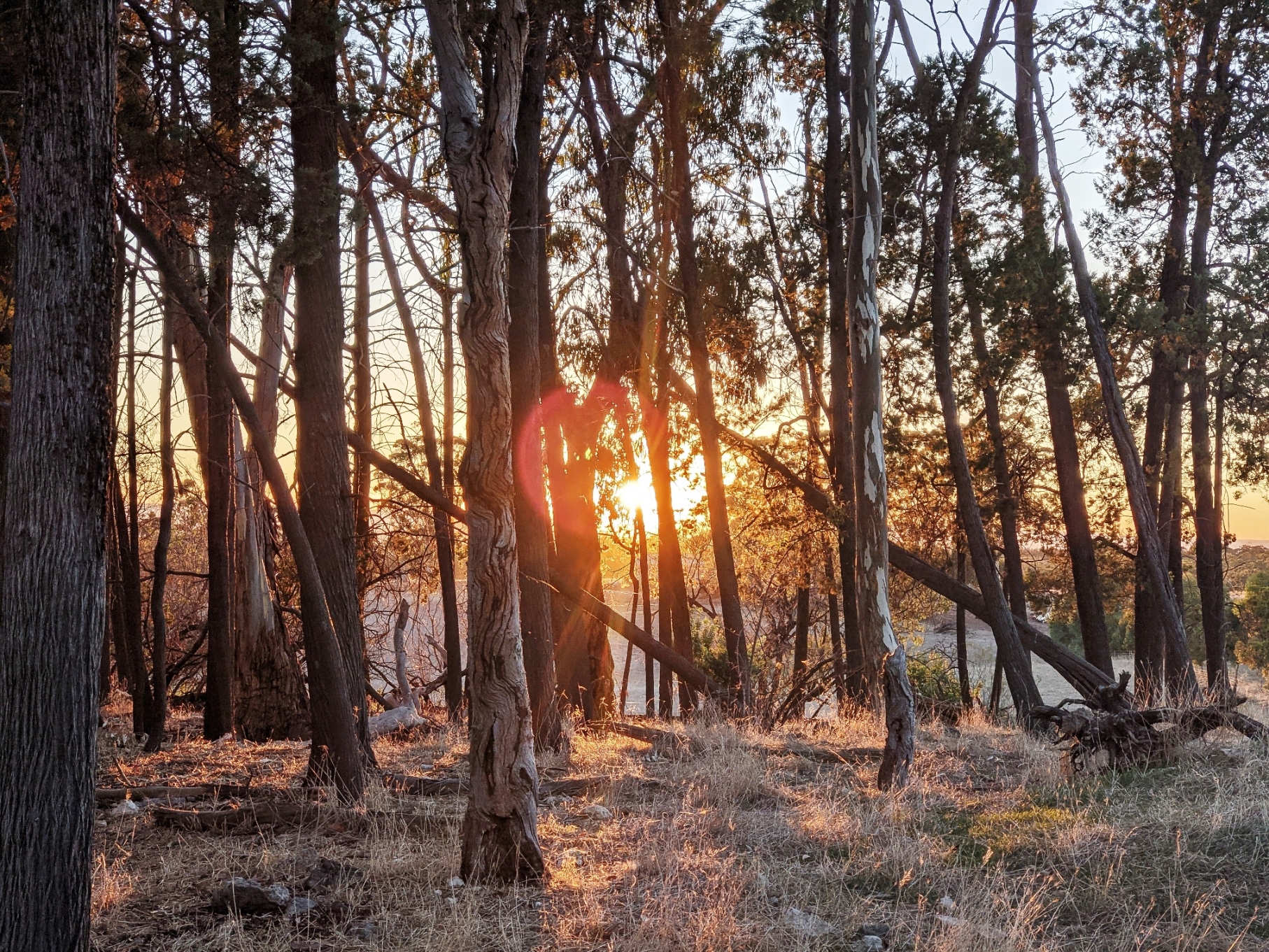 The day breaks through the woodland at our cabin stay in Wirrabara. It was just one of many beautiful sunrises during my time in South Australia.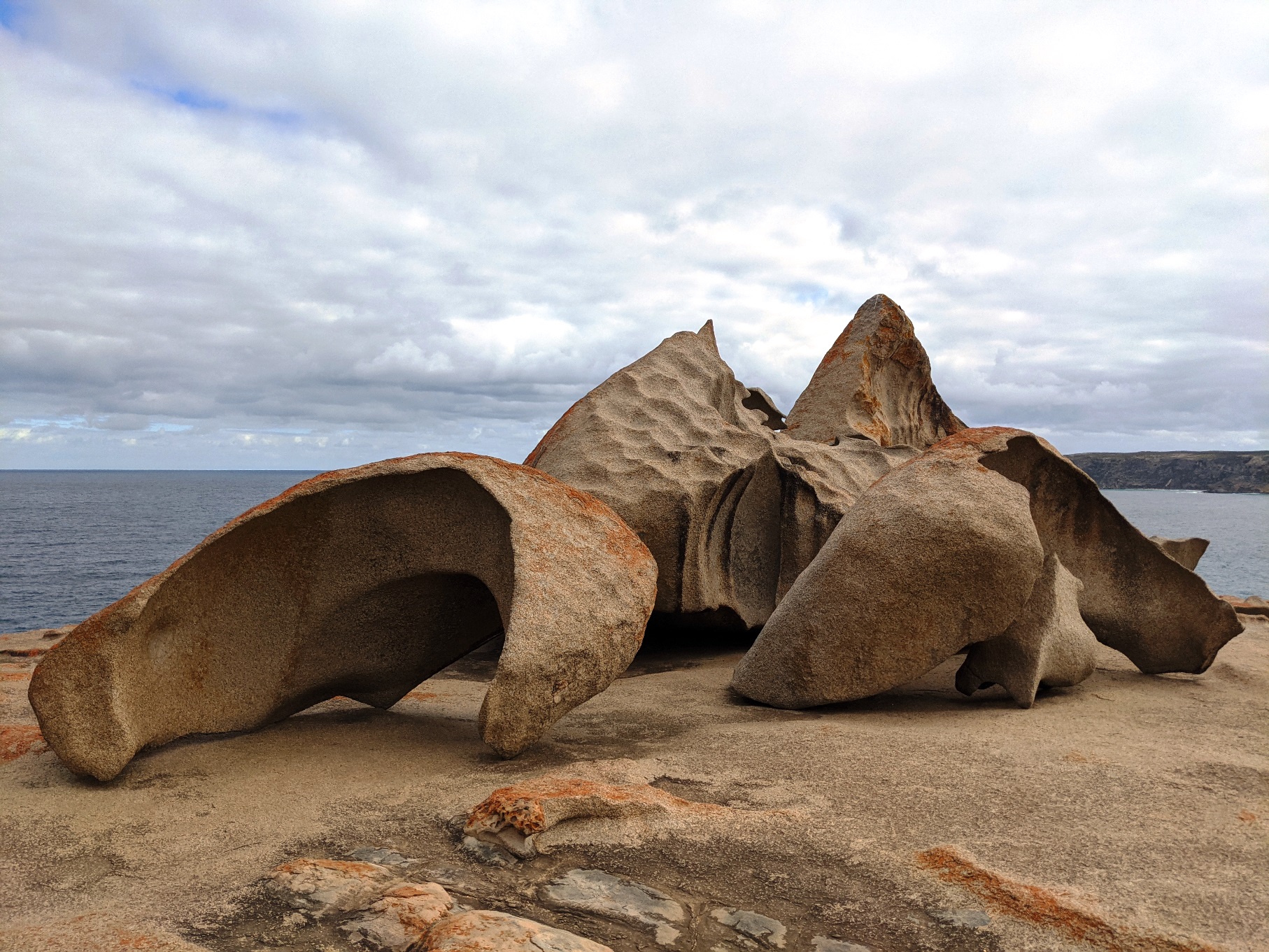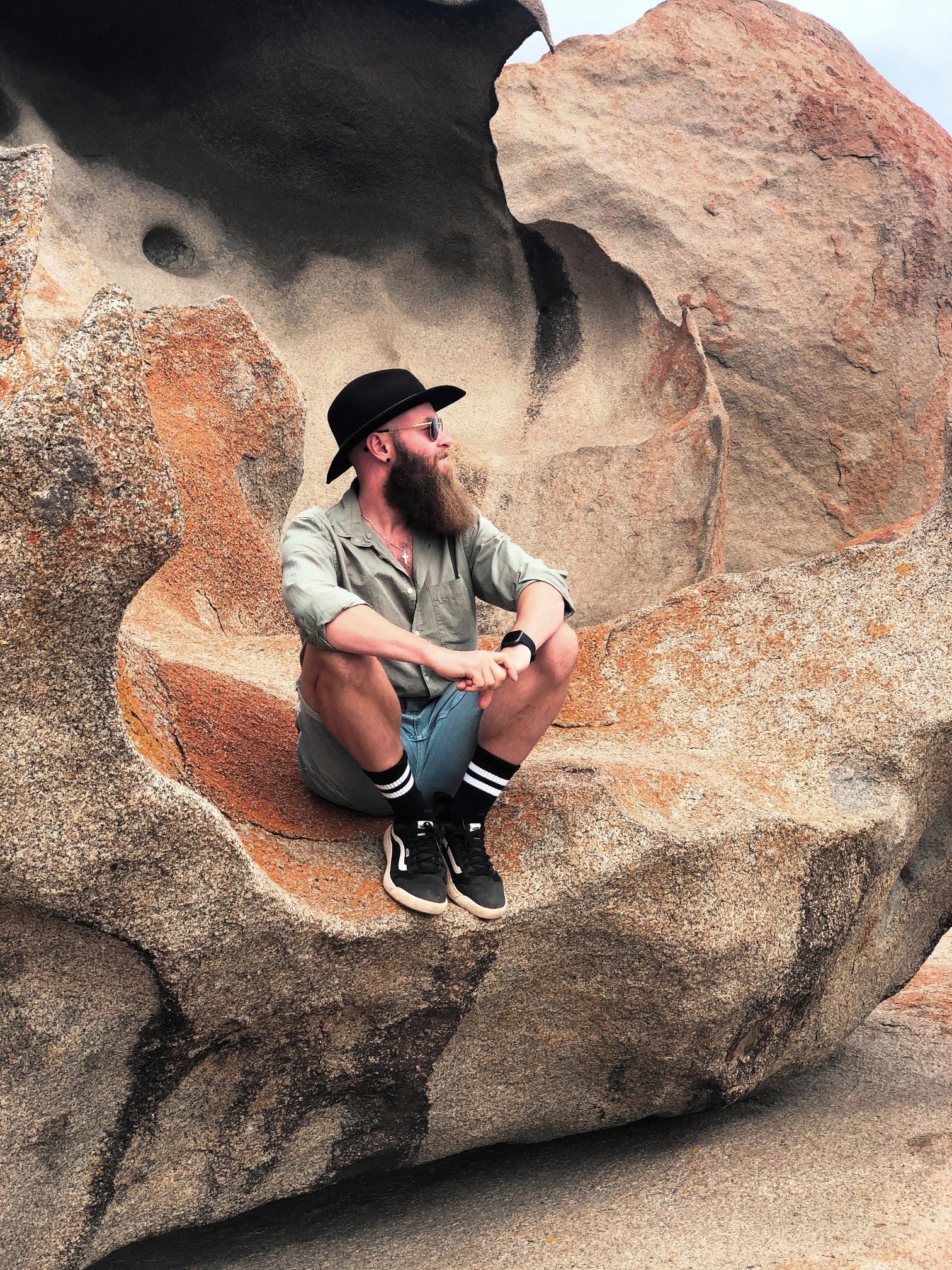 The Remarkable Rocks in the Flinders Chase National Park on Kangaroo Island.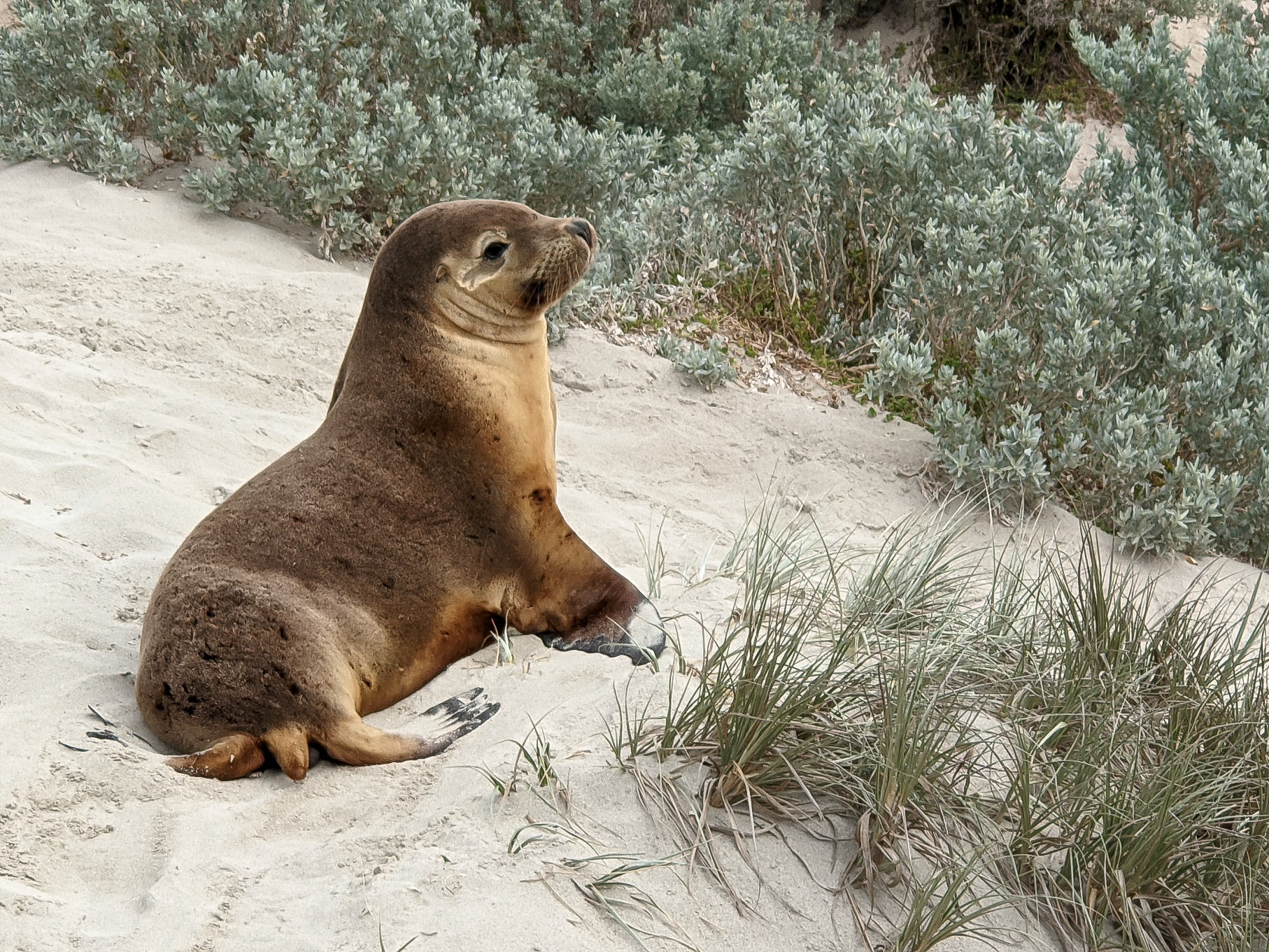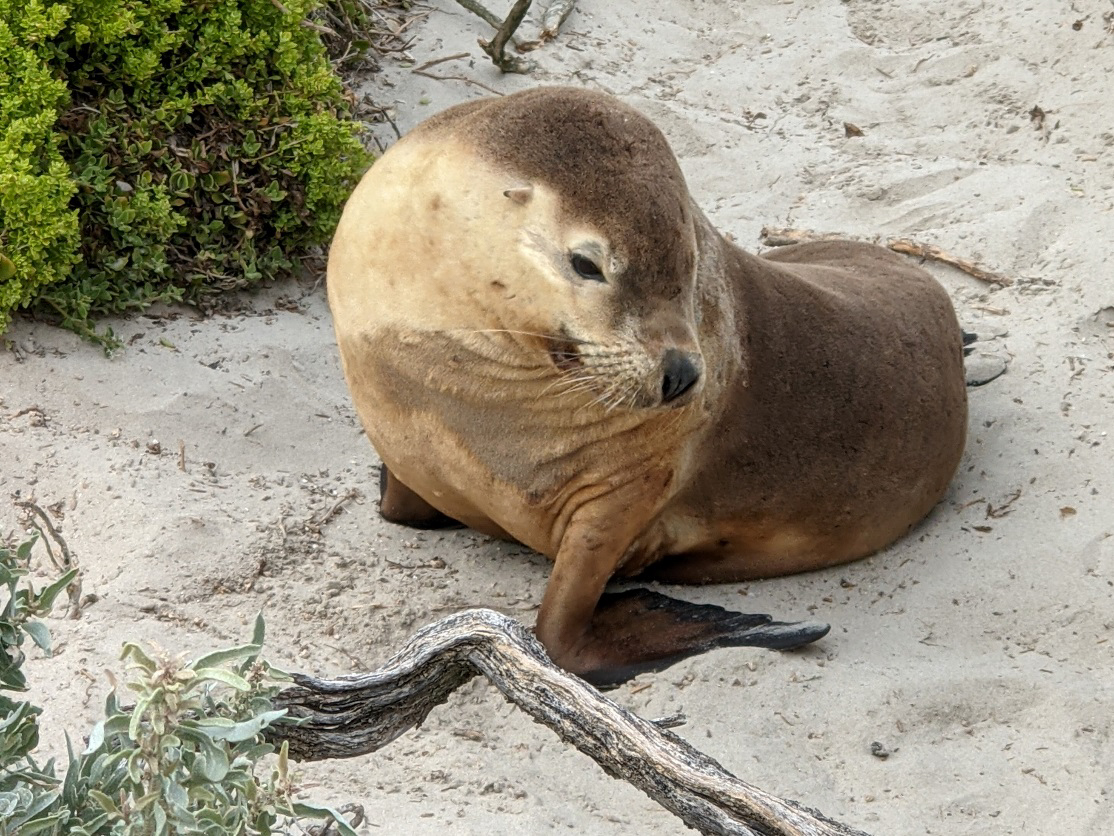 The magical Seal Bay sanctuary in the south of Kangaroo Island. We arrived early and in doing so had these beautiful creatures to ourselves.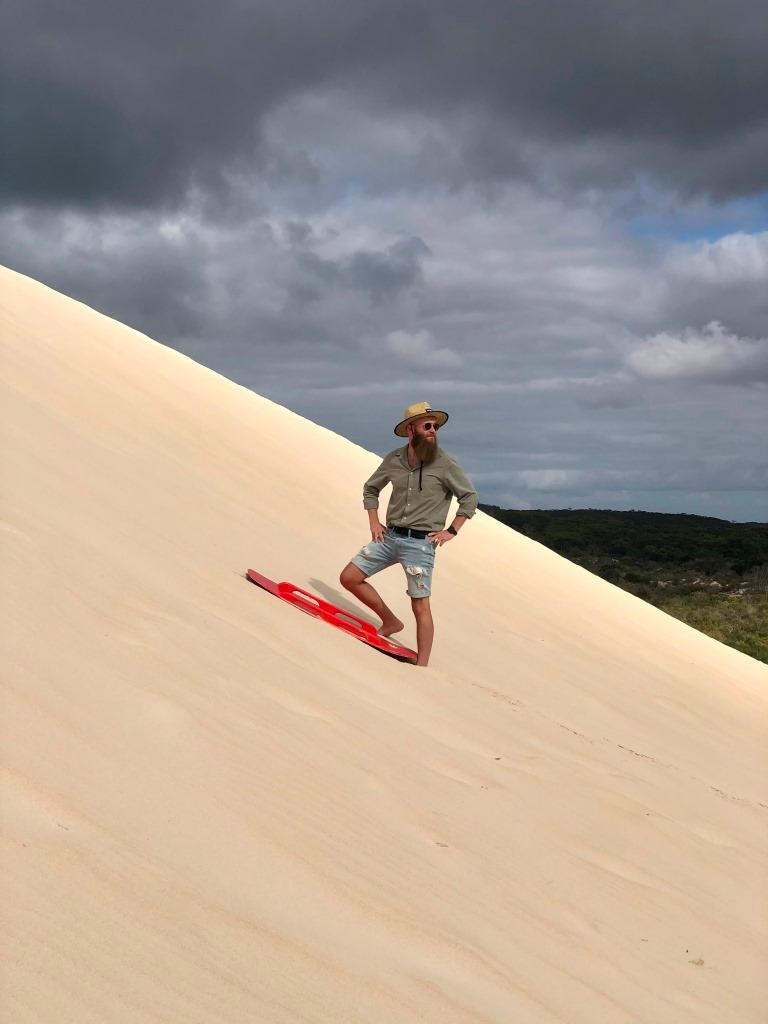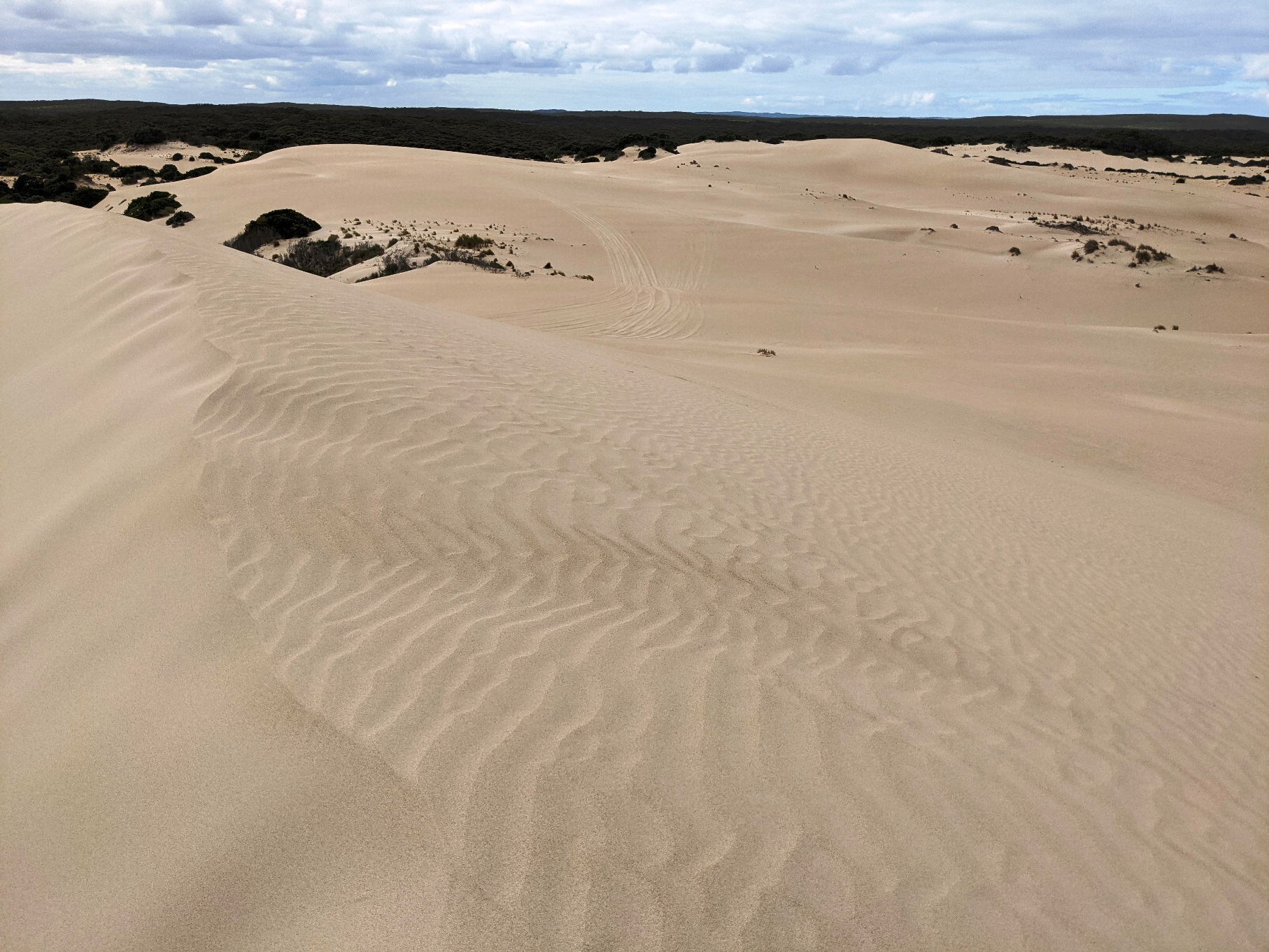 Sandboarding and tobogganing down the giant sand dunes of Little Sahara on Kangaroo Island. Great fun.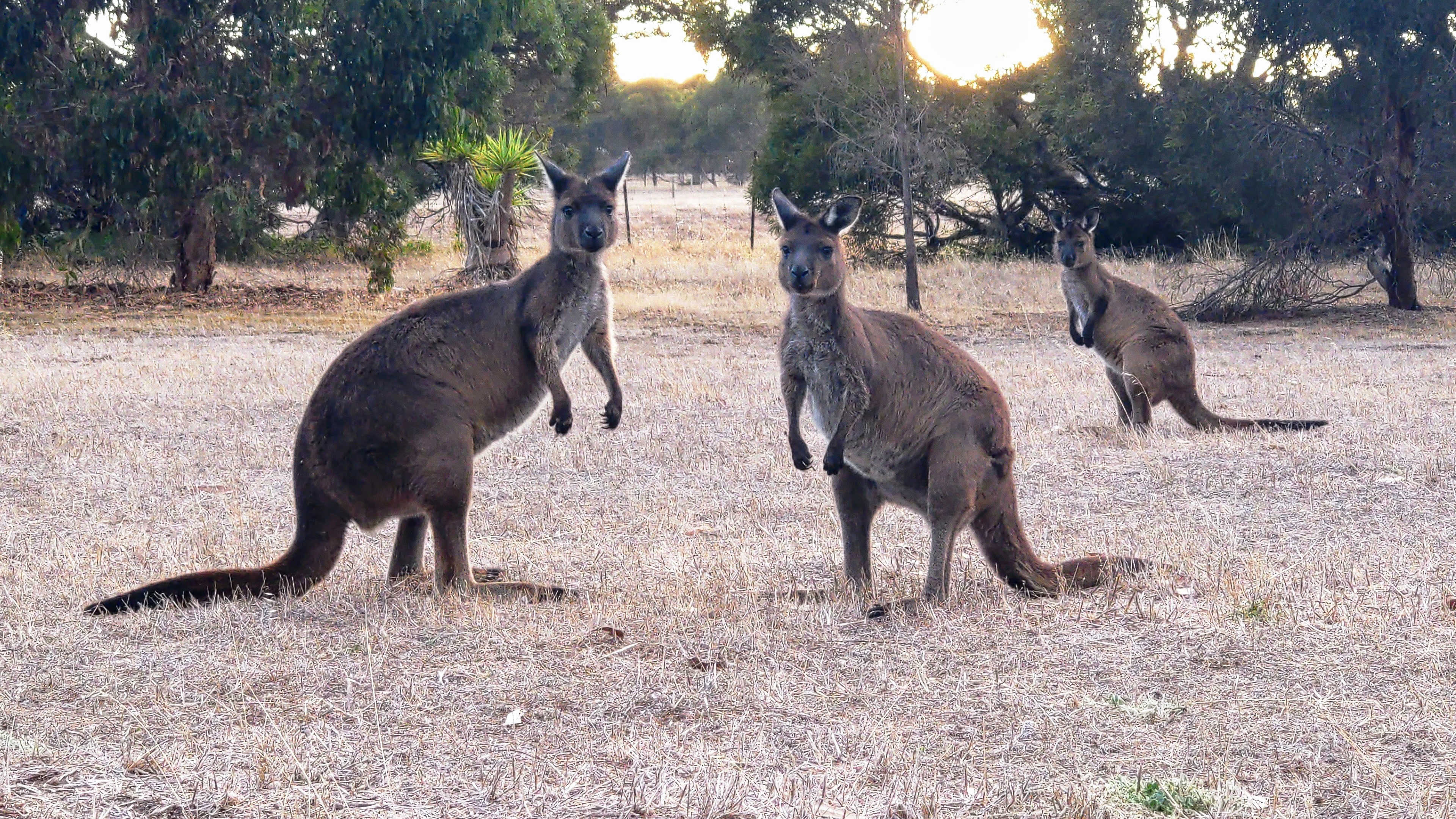 Our little Kingscote cabin in the woods came with some very beautiful locals. I made sure I was up at dawn to enjoy being in the company of these iconic Aussie creatures.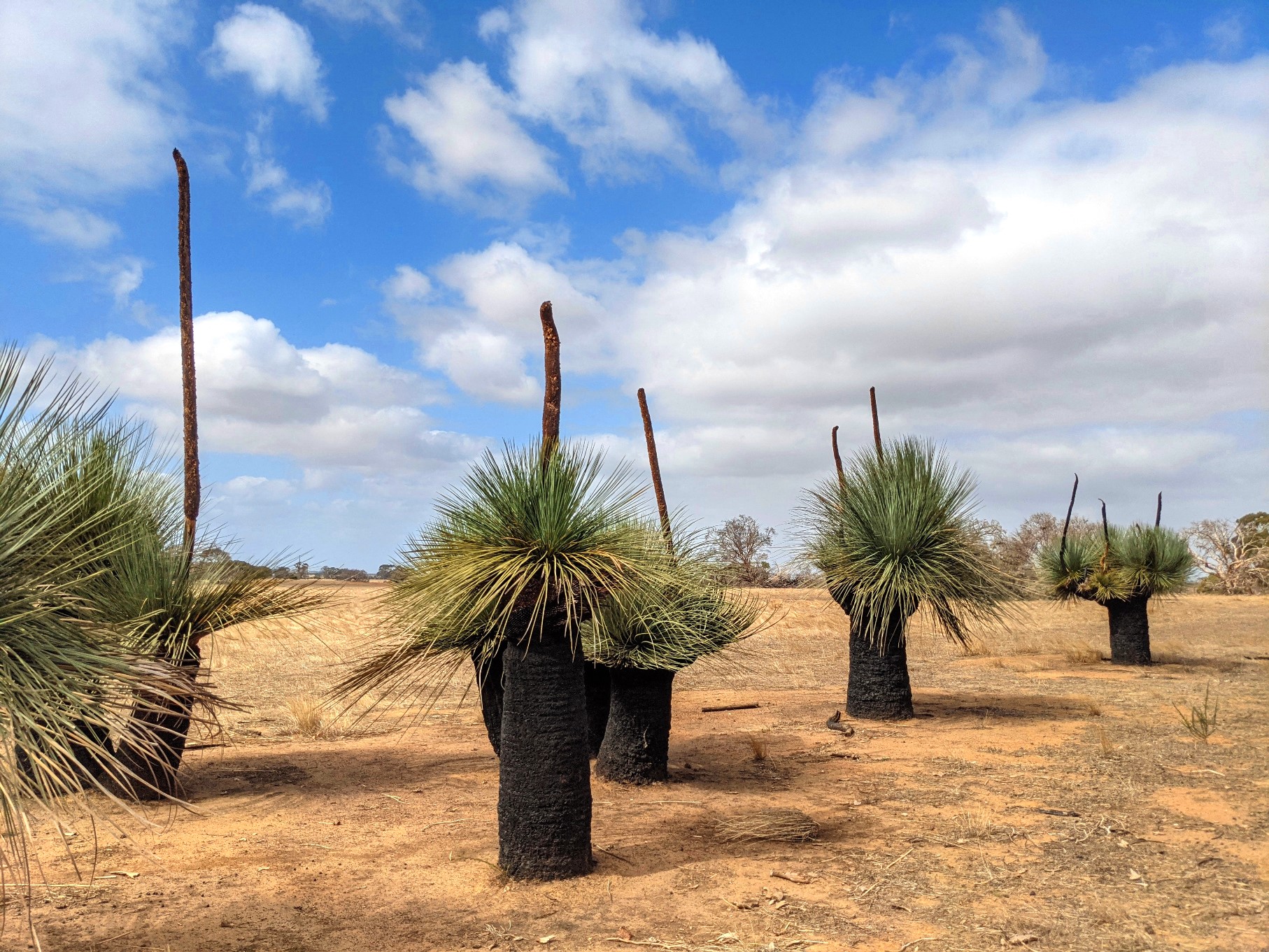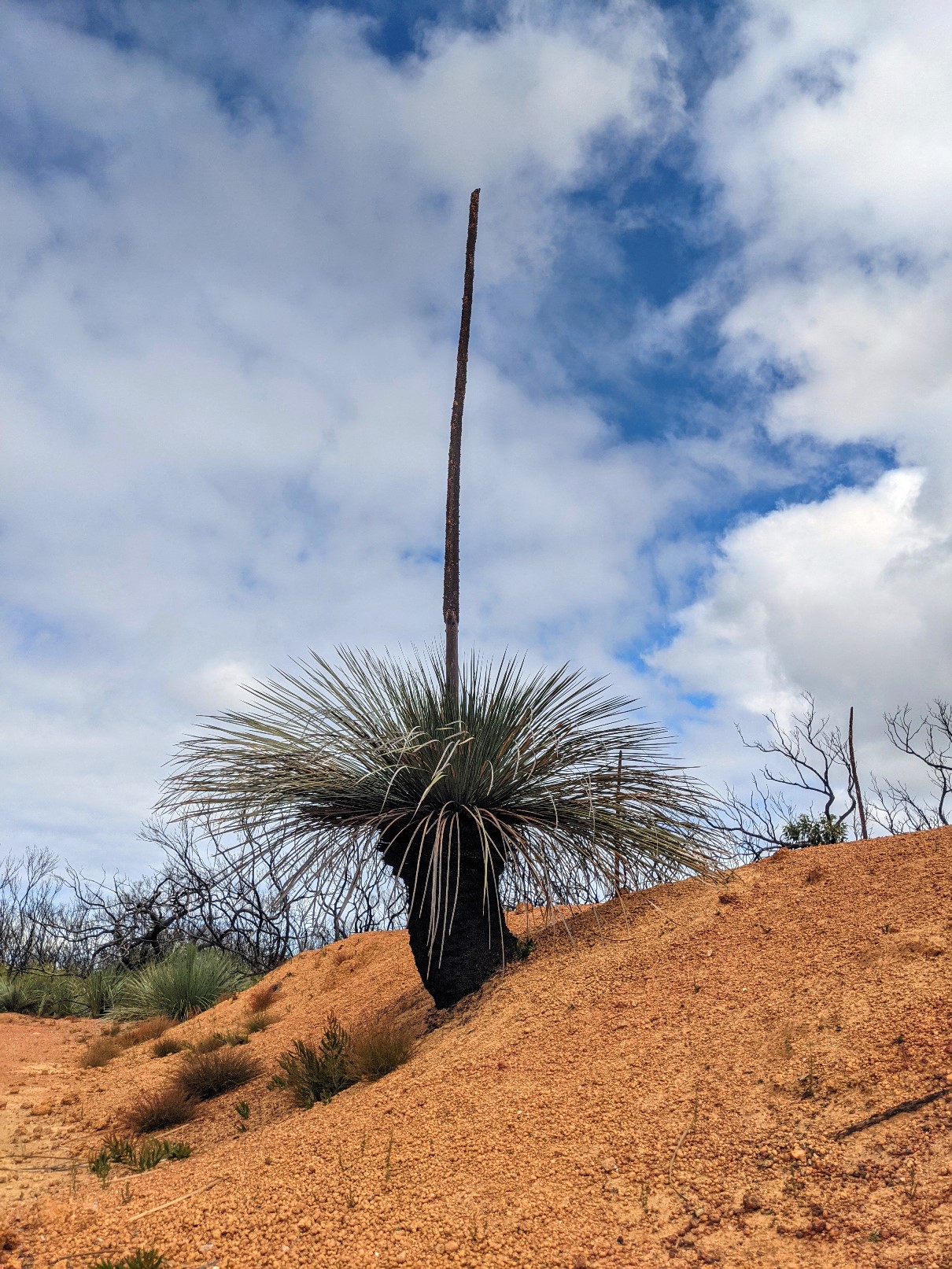 Kangaroo Island's otherworldly Grasstrees: plant life from another dimension?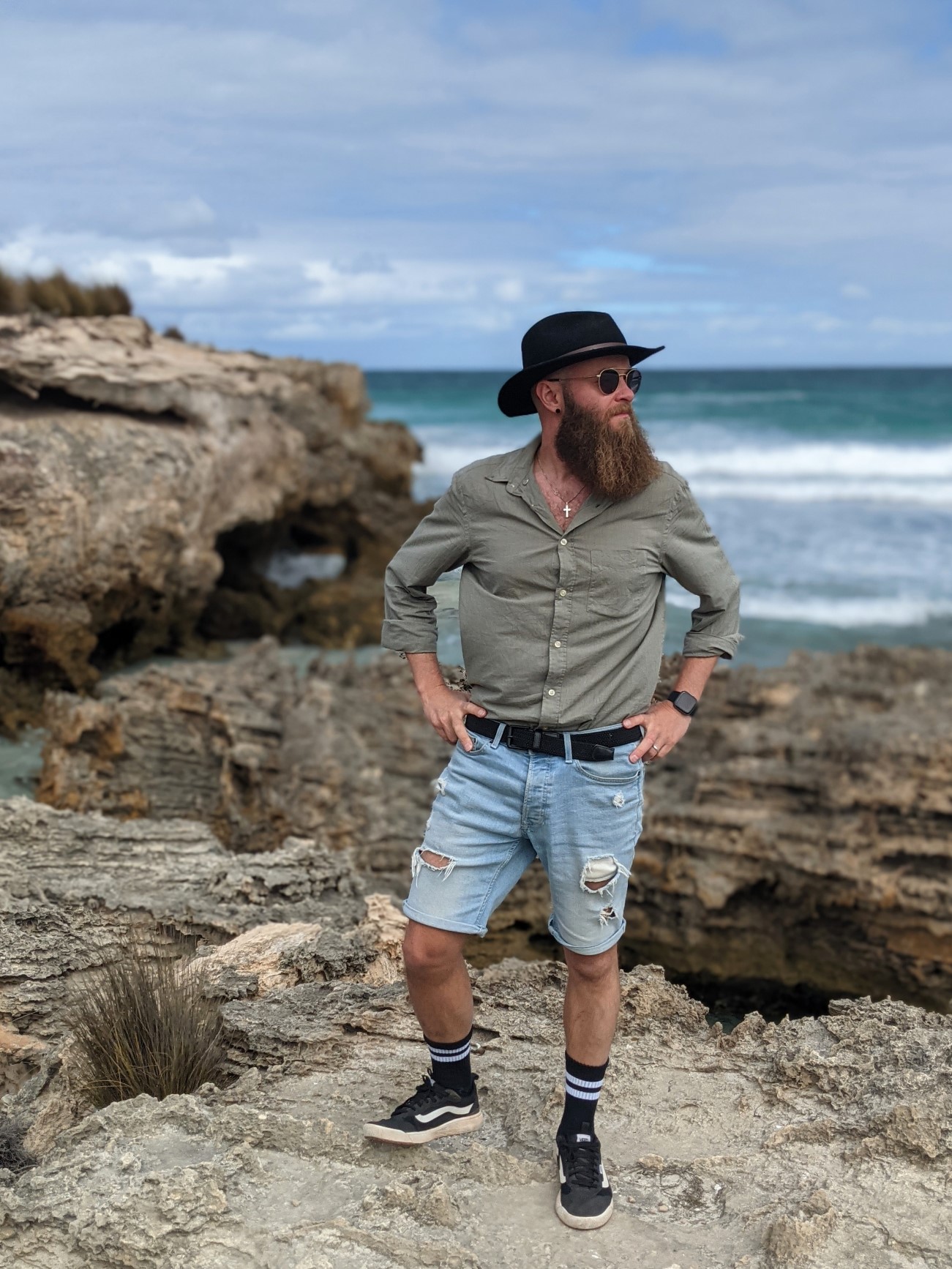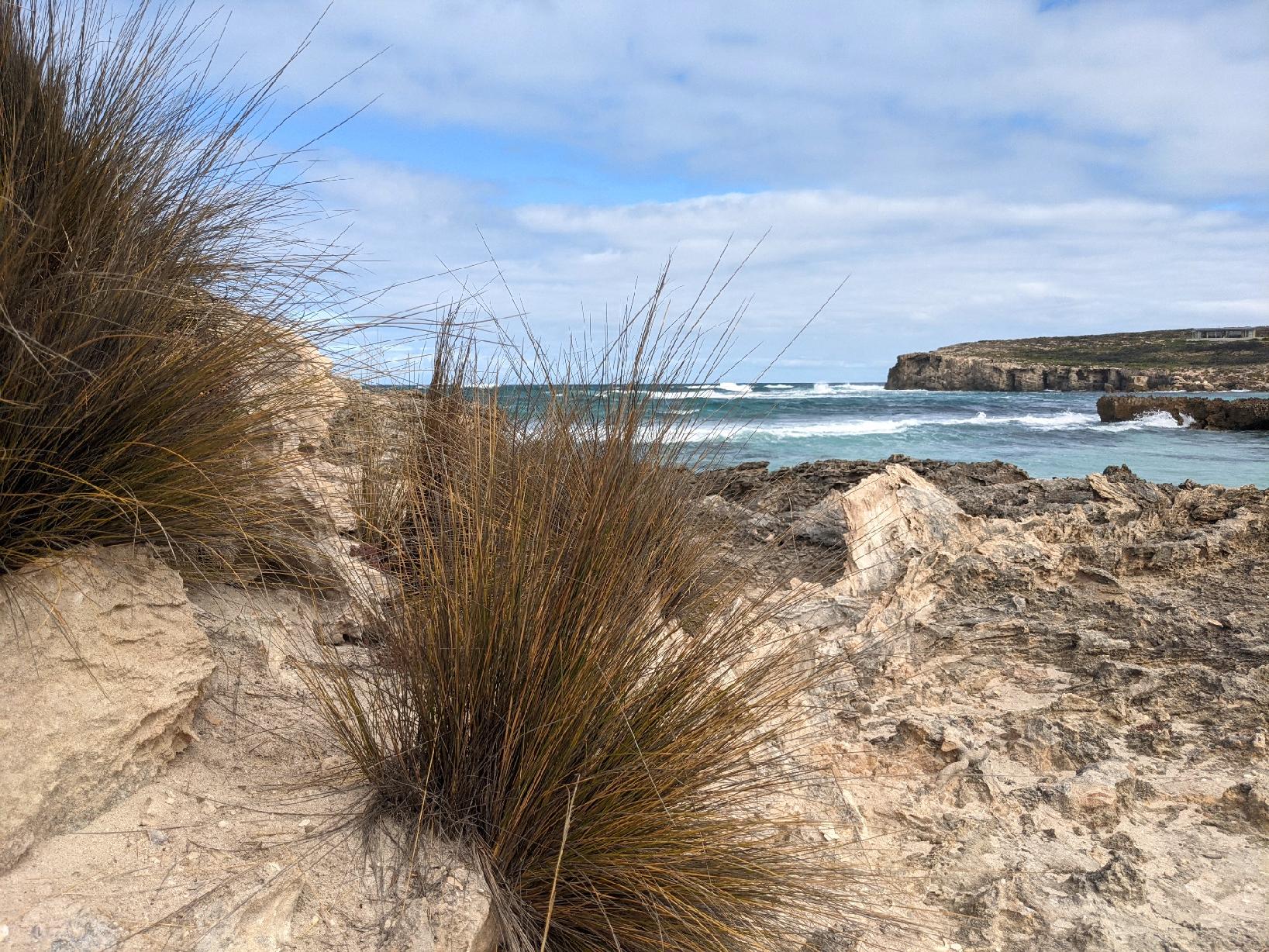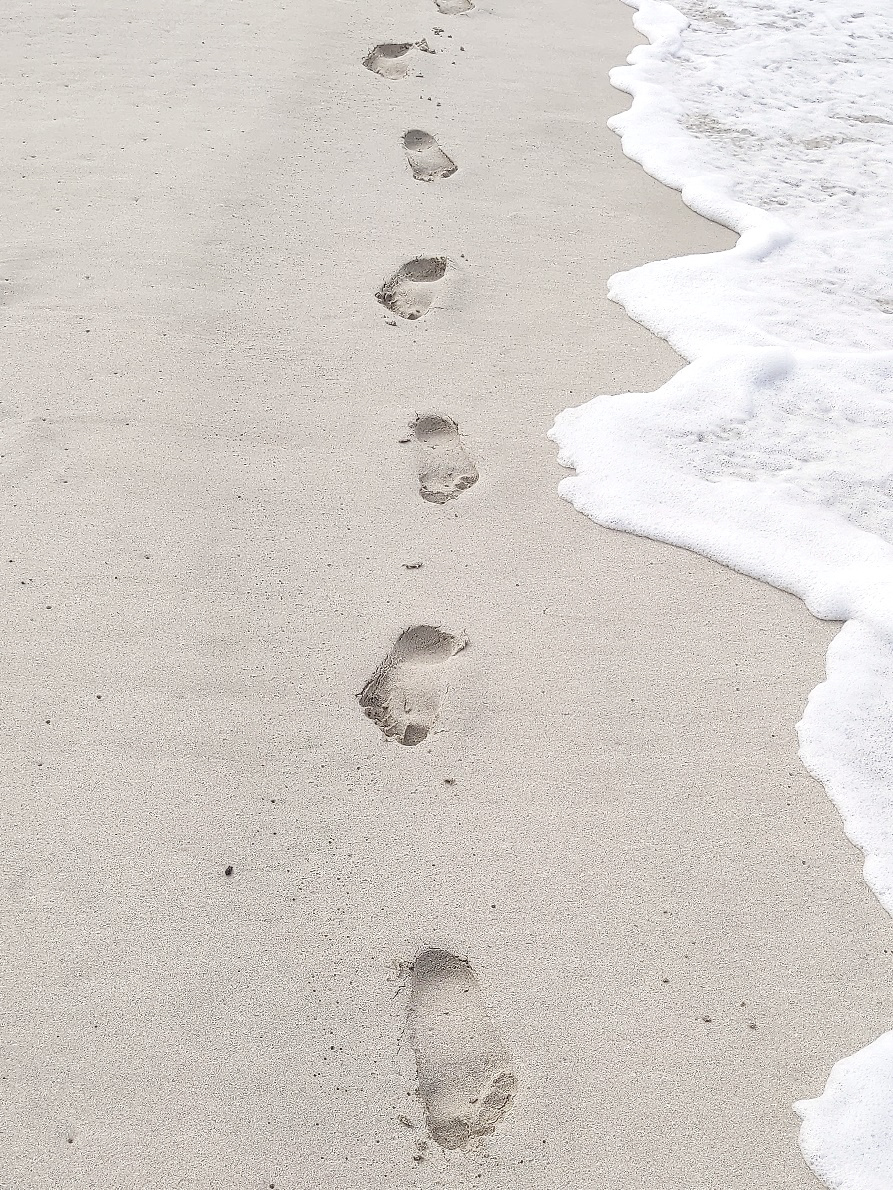 The idyllic white sandy Hanson Bay Beach on the west of Kangaroo Island. As is so often the case in Australia, we had the beach to ourselves...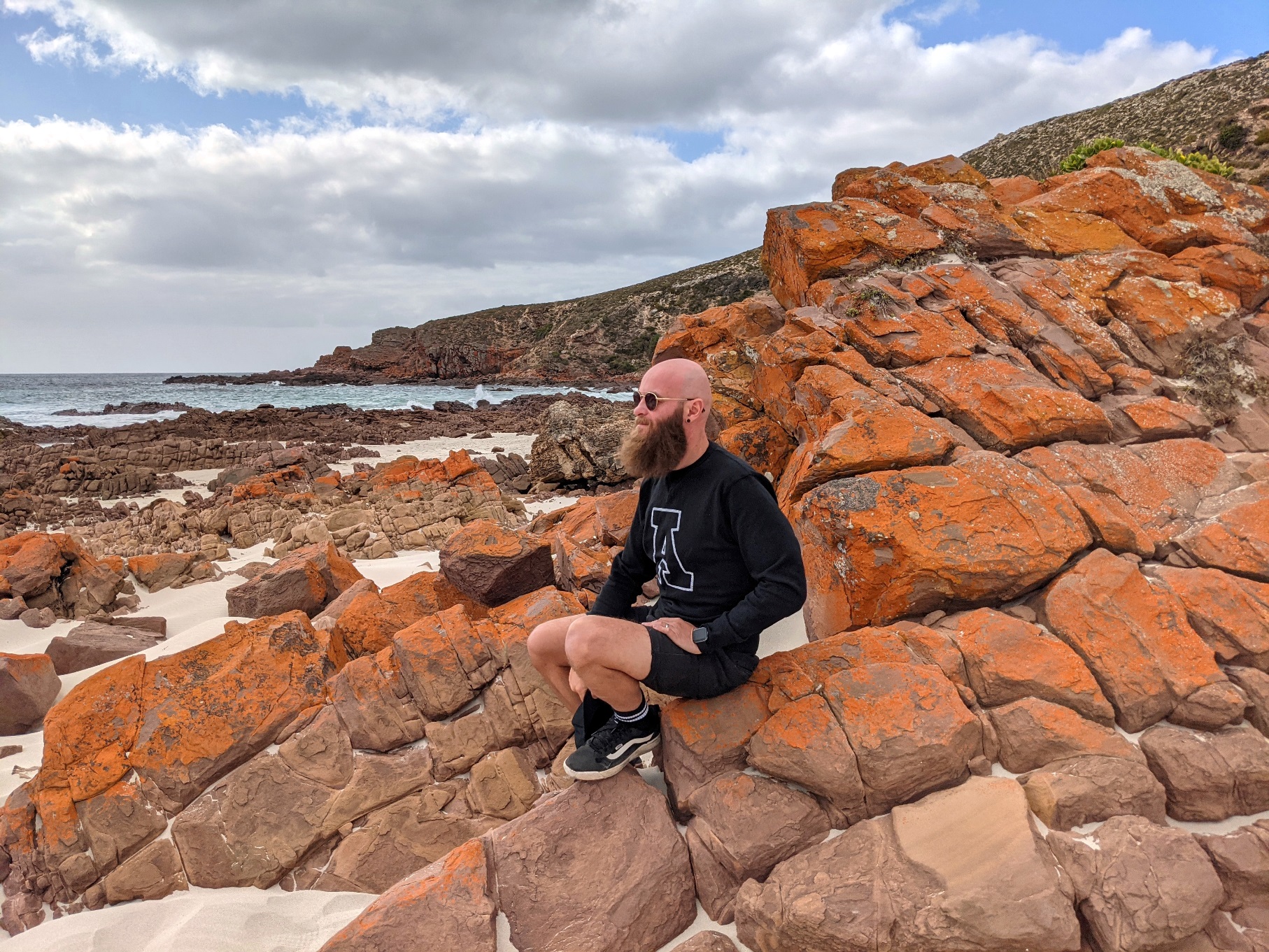 Red lichen covers the boulders of the paradisal Stokes Bay Beach on Kangaroo Island.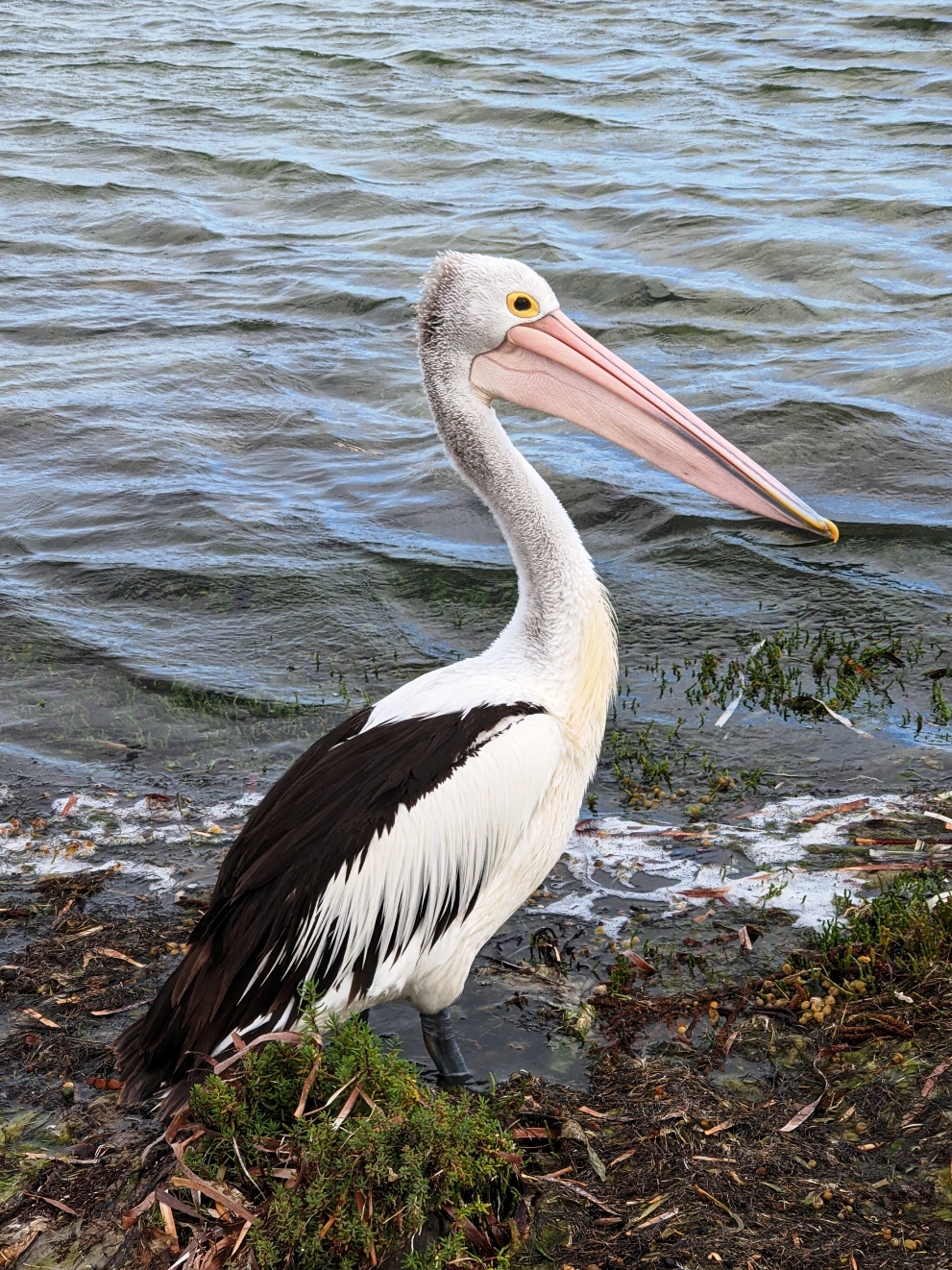 A Pelican braces the weather at American River.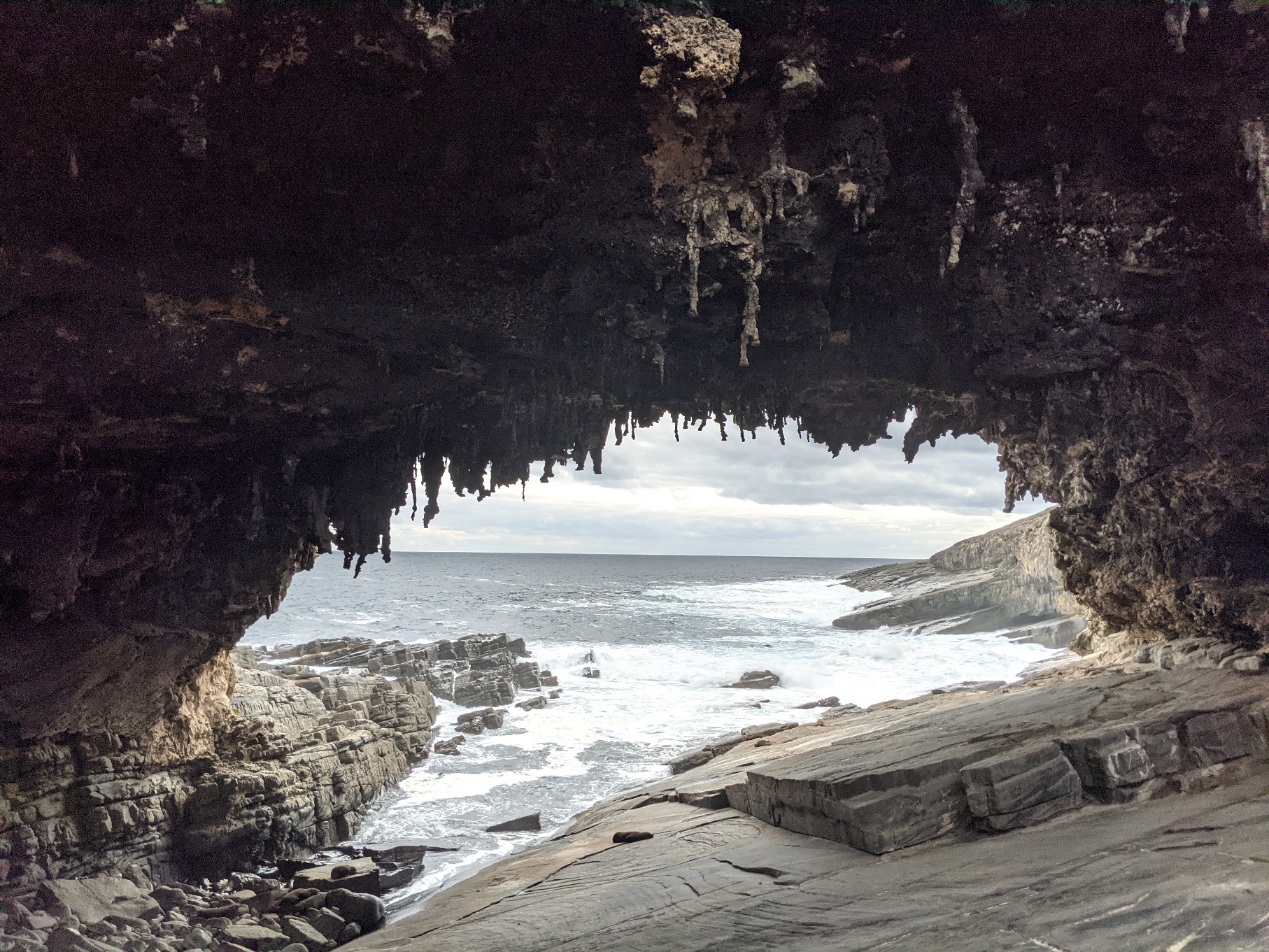 Admirals Arch in the Flinders Chase National Park. Can you see the New Zealand Fur Seals?
travel tips, links & resources
A road trip through any part of Australia is a chance to experience 'real Australia' outside of the generic state capitals. Little country towns offer the chance for an awesome coffee and tasty slice of banana bread. Pull over and support local Australia.
Booking your place on board the Kangaroo Island ferry is essential. Places are snapped up sometimes weeks in advance. Leaving it a week before we were due to travel, we were left with less than ideal sailing times, although we did manage to better our evening return ferry by two hours by turning up early and asking if there had been any cancellations.
As seems to be the case during the pandemic, rental cars are hard to come by in Australian states. There were at least twenty car hire companies in Adelaide and, by the time we got around to booking our car, only Europcar had vehicles left for hire - and there were only three of these left. Before booking flights, check you can get a car first.
Book your accommodation well in advance if you can. Australia is a land of trailer parks and camp sites and so if you're seeking something more luxurious do your planning early. In smaller towns motel rooms are quite basic but you can often expect tea and coffee making facilities as well as a microwave.
Savour the ride: try not to pack too much into your itinerary - much of your enjoyment will come from having the freedom to pull over and enjoy something you weren't expecting to see. It's a cliché but it's important to remember that the journey is also the destination!
Check out Aussie Towns, a fabulous website which gives you a neat summary and a little background on almost every town in Australia sorted alphabetically.