An Epic Backpacking Adventure Across Europe
Where: Oslo, Norway. Stockholm, Sweden. Copenhagen, Denmark. Berlin, Germany. Vienna, Austria. Bratislava, Slovakia. Budapest, Hungary. Belgrade, Serbia. Zagreb, Split, Hvar Island & Pakleni Island, Croatia. Ljubljana, Slovenia. Rome & Pisa, Italy. Vatican City, Vatican State. Europe.
When: July - August 2007.
What: Nyhavn Canal, Little Mermaid Statue, Checkpoint Charlie, The Brandenburg Gate, Berlin Wall, Fernsehturm TV Tower, Kaiser Wilhelm Memorial Church, Votive Church and Rathaus, Vienna Film Festival, National Theatre of Slovakia, Szechenyi Thermal Baths, River Danube, Hungarian Parliament, NATO-bombed building, Diocletian's Palace, The Coliseum, Trevi Fountain, Leaning Tower of Pisa, Smallest independent state in the world.
How: European Rail System, Taxi, Walking, Train-on-a-ferry, Sleeper Train, Boat.
Country counter: +12 countries
Illnesses or mishaps: Catching a cold in Vienna which took the wind out of my sails for a couple of days; getting a rude awakening entering Serbian territory thanks to Serbian soldiers boarding the train with machine guns.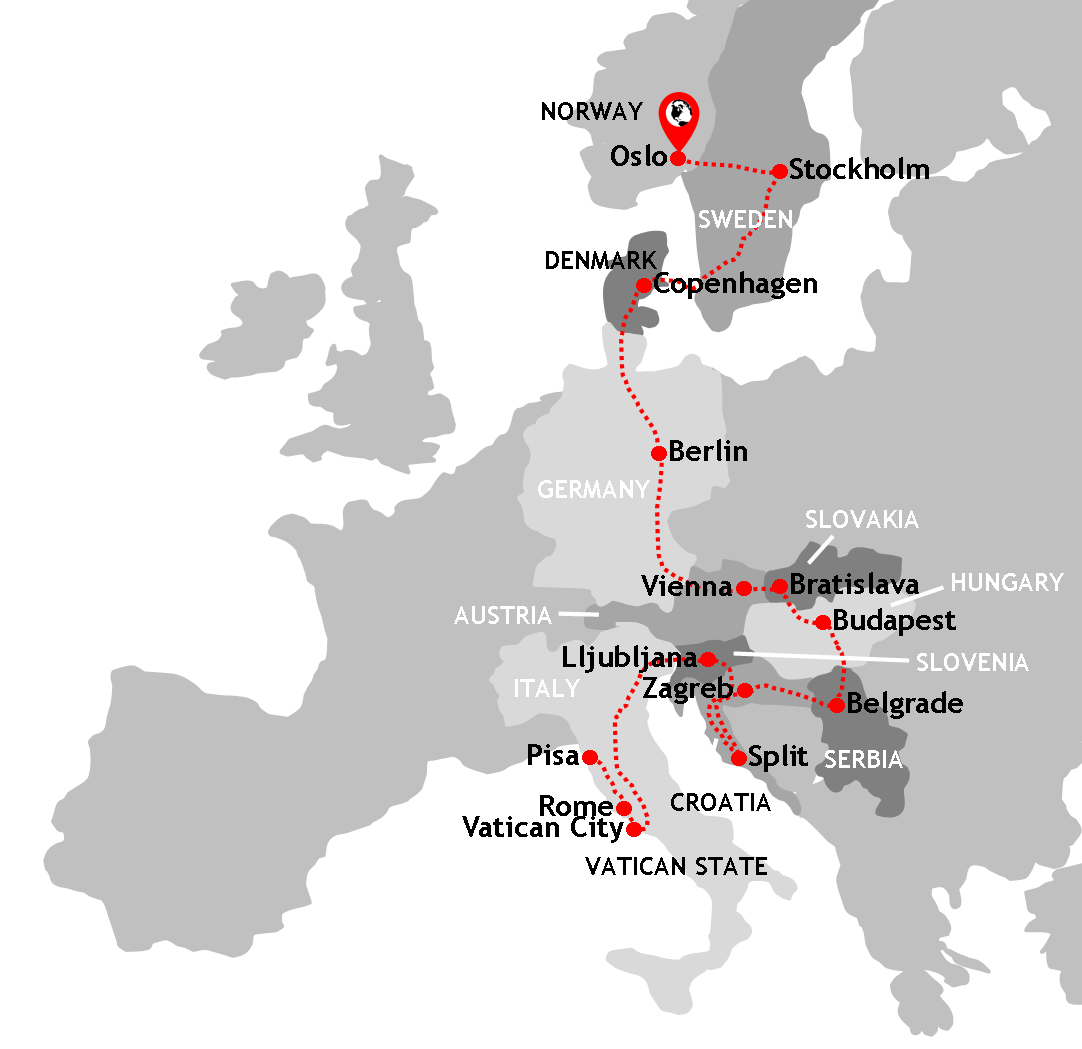 This, indeed, was an adventure across Europe. The train was to be our mode of travel across the borders of multiple countries, taking us directly into what is considered by almost anyone as the heart of any country: the capital city. There's something romantic about travelling by rail; watching the world whizz by through the window is the archetypal travel experience, like watching a living, breathing polaroid from the comfort of your seat. It's travel cliché to say the journey is the destination but, in the case of railway travel, it is most certainly true. On a multi-country journey such as this, you also get to experience, at ground level, those magical moments when you transition from one country to another. Indeed, these border crossings in Europe are dramatic moments for they are often the point at which you switch from one currency to another, one culture to another, one time zone to another, one alphabet to another and one language to another - sometimes all of these at once. And this speaks to the value of travelling by train across multiple countries; you get to experience this often abrupt shift, enabling you to fully appreciate first hand Europe's incredible diversity. Indeed, on some of our journeys the crossing of the border was an incredibly understated affair, marked by nothing more than the presence of a lonely flag fluttering dejectedly in the wind, on others machine gun-wielding soldiers would board pulling down ceiling panels and checking travellers' documents with an unsavoury, almost feverish, relish. A railway journey through Europe is simultaneously, therefore, a journey through the often fractious border politics of an entire continent. Europe is a continent with multiple personalities.
In three weeks we set only one goal: to visit as many countries as possible. Our starting point was the Norwegian capital Oslo with a return flight leaving from Pisa in Italy just over three weeks later. Where we travelled to in-between these two nomadic bookends and for how long was "TBD". Ours was a blank itinerary which we filled in along the way. We knew we wanted to see some of the most iconic sights Europe had to offer - after all, what is travel if you haven't seen some of the icons? But we were equally keen to see a little of off-the-beaten-track Europe, too. This was an adventure after all - and what kind of adventure would it be if we stuck only to the well-trodden tourist trail? For a mere £380, an Inter-Rail Pass guaranteed us train travel across Europe and, importantly, gave us the flexibility to choose our countries as we went along, liberatingly basing our decisions on a whim: sticking our finger on a map, choosing a country because we liked the sound of it or because we knew absolutely nothing about it and thus it piqued our interest. Sometimes decisions about how long we were going to stay were made not long after arriving - if we didn't like the country we'd found ourselves in, then we'd simply head off in the morning. This 'arrive and see' approach meant we often found ourselves in some interesting hostels. They ranged from the funky and friendly, to the dirty and truly bizarre. Most unusual of all was our stay in a near-deserted boarding school in Slovenia. It was a little unsettling to get up in the morning and to have to walk down school corridors to brush your teeth in the bathroom and to then join other backpackers for breakfast in the school canteen. The best hostel experience was the Hostel Possonium in Slovakia, which was warm and friendly, and came complete will a grunting Bulldog in reception. After experiencing the the Slovak capital Bratislava, I would say that the hostel went some way to making up for the country.
We undertook this journey at a time when the internet could only be accessed at cyber cafés. There was no mobile internet to speak of and certainly no social media. To this end, communicating with those back home meant emailing or, indeed, using a public payphone. We therefore made sure that we procured a copy of Lonely Planet Guide to... or The Rough Guide to... from bookshops in each country, strategically mailing them back home along the way to avoid having to lug heavy guide books around in our backpacks which would, because of the nature of the trip, rapidly accumulate. On our return home, a pile of travel guides would be waiting on the doormat - a satisfying reminder of adventures had, of places experienced, of memories made.
By the end of the journey we had visited 16 separate destinations across 12 countries and spent a massive 76 hours travelling over 5700 kilometres on the European railway network, from Scandinavia in the north, through central Europe and down towards the Mediterranean.
We began our Inter-Rail adventure in Oslo, the Norwegian capital, having arrived by air from the United Kingdom. This was my first taste of life in Scandinavia and I had no idea what to expect. We took to sauntering the city centre once our backpacks had been dropped off at the hostel. Oslo is a watery city resting, as it does, on the Skagerrak Strait connecting the North Sea and the Kattegat Sea and, from there, the Baltic Sea. The city therefore had a distinctly nautical feel - a sense of wateriness accentuated by the city's preponderance of fountains. Oslo's giant boulevards and the expansive view across the Oslofjord makes it a city with an almost perfect aspect. Indeed, on our final morning in the city, and thus Norway generally, we headed to a grassy knoll overlooking the capital - a fitting end to our time in this most Nordic of Nordic capitals. Further adventures beckoned and, having baulked at Norway's exorbitant prices, it was more than time to move on before we ran out of money - this was a budget adventure after all.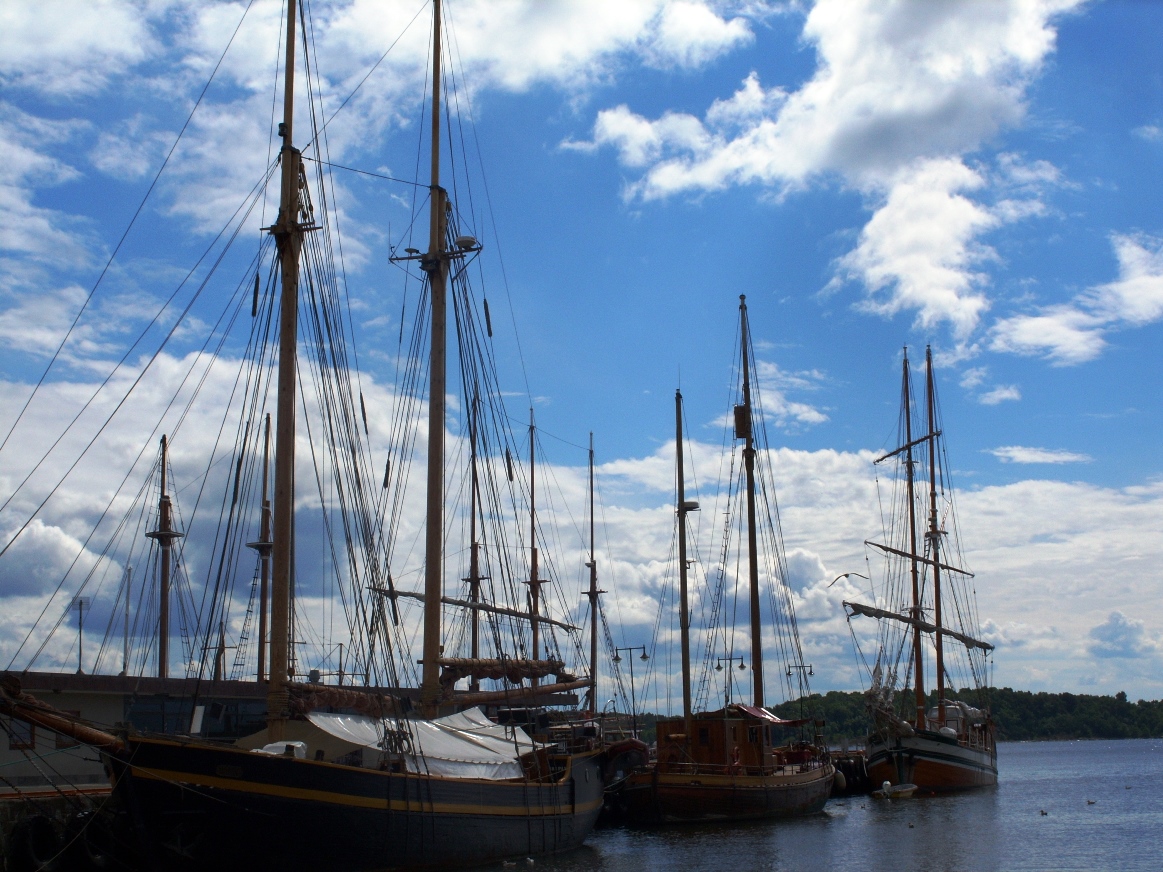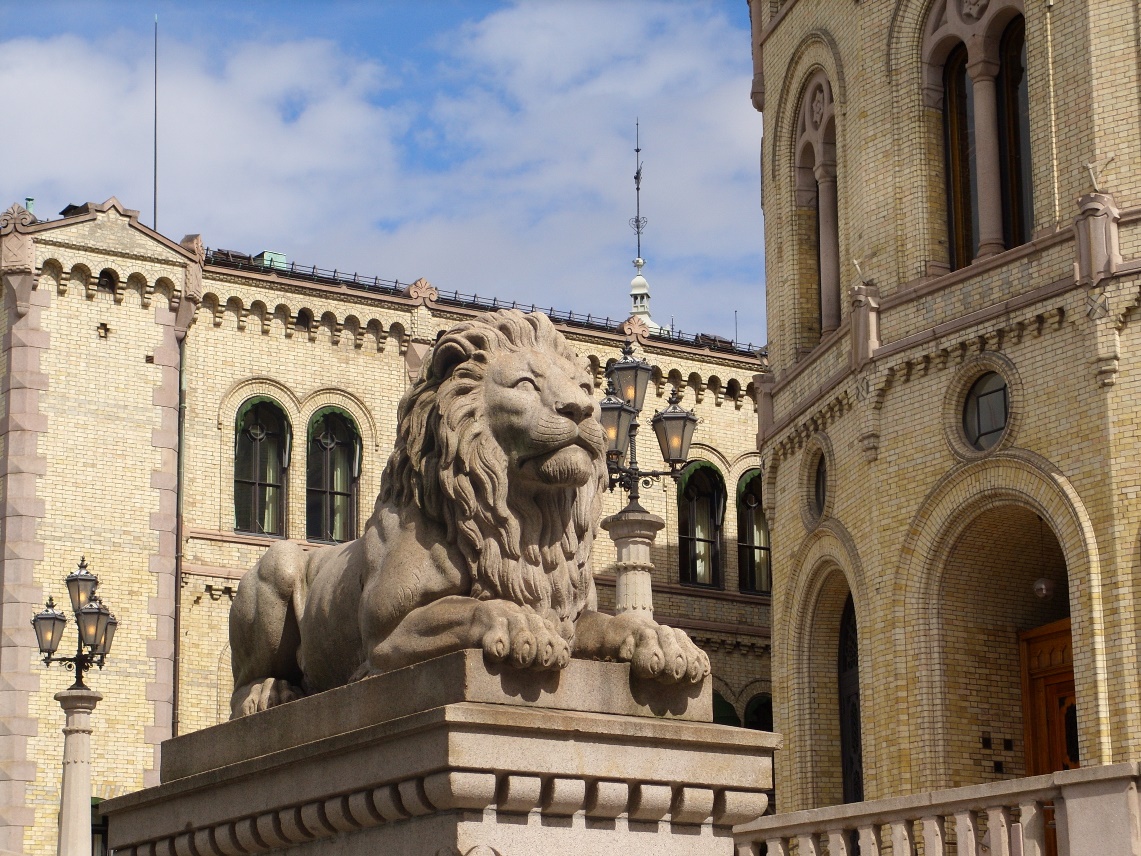 A dramatic stone lion guards the entrance to the Norwegian Parliament.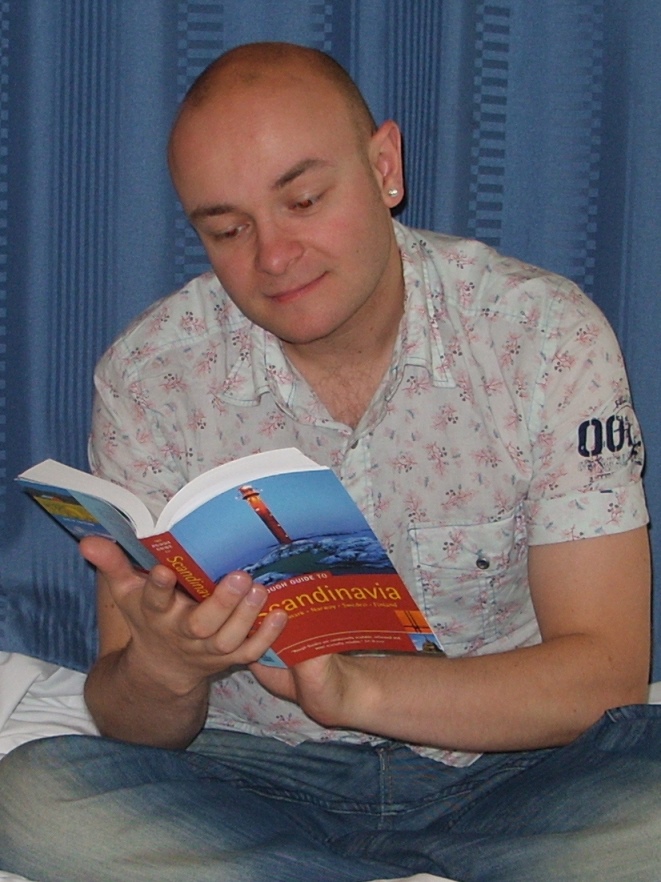 At the hostel researching our next steps in Scandinavia.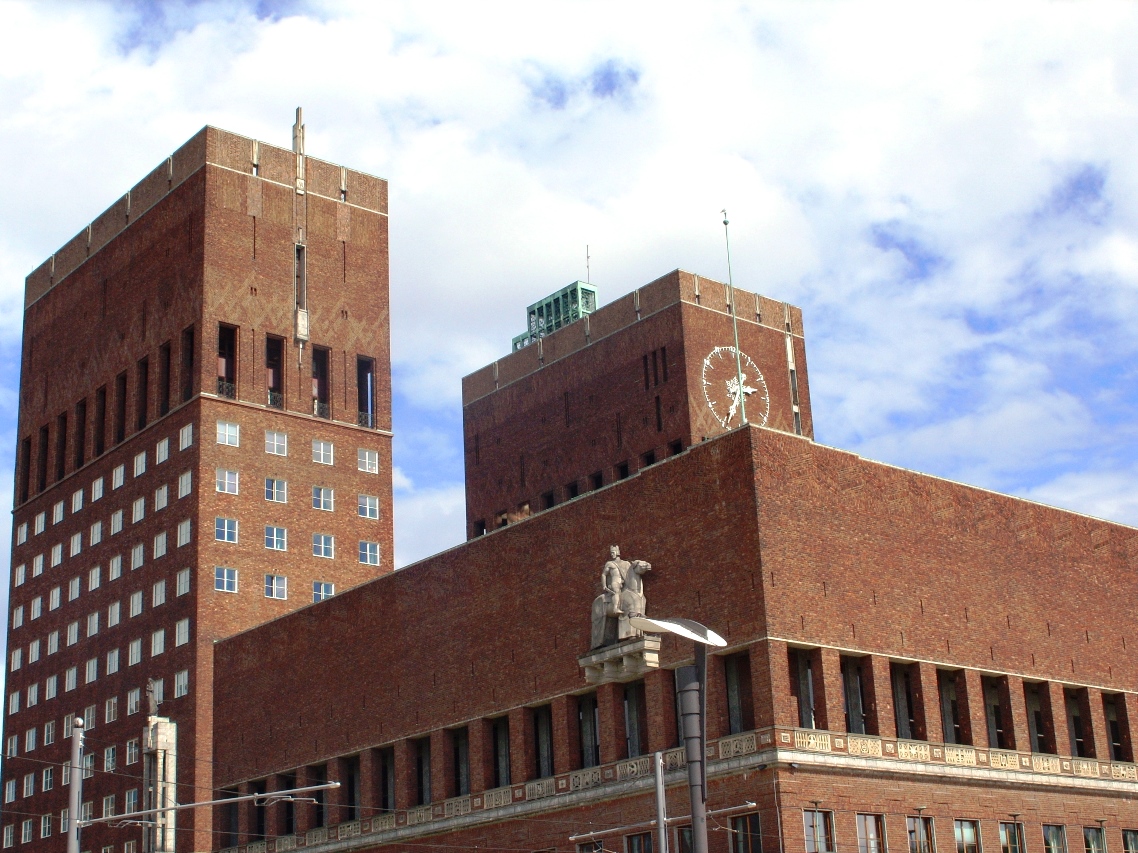 Oslo Town Hall: the place where the Nobel Peace Prize is awarded each year.
We arrived in Sweden late. In fact, the city was in heading into complete darkness save for some yellowy street lights and the odd illuminated church spire. Indeed, even in the grey hues of a rapidly advancing dusk, it was obvious to see that Stockholm was a city of domes and spires. A short distance from Oslo, relatively speaking of course, and we had entered a country with a new language and a new currency, swapping our Norwegian Krone for Swedish Krona. The Swedish language itself threw up a large number of words which, when read by someone from the United Kingdom, were rather hilarious; Sweden is a particularly rich treasure trove for this kind of linguistic hilarity - more so than any other country I travelled through on this journey and, indeed, since. We spent our time traversing the city on foot, too budget-conscious to take a taxi anywhere, enjoying the historic parts of the city and doing our very best to circumvent the exorbitant Swedish prices which were, unfortunately, on par with those back in Norway. This budget trip was turning out to be anything but budget.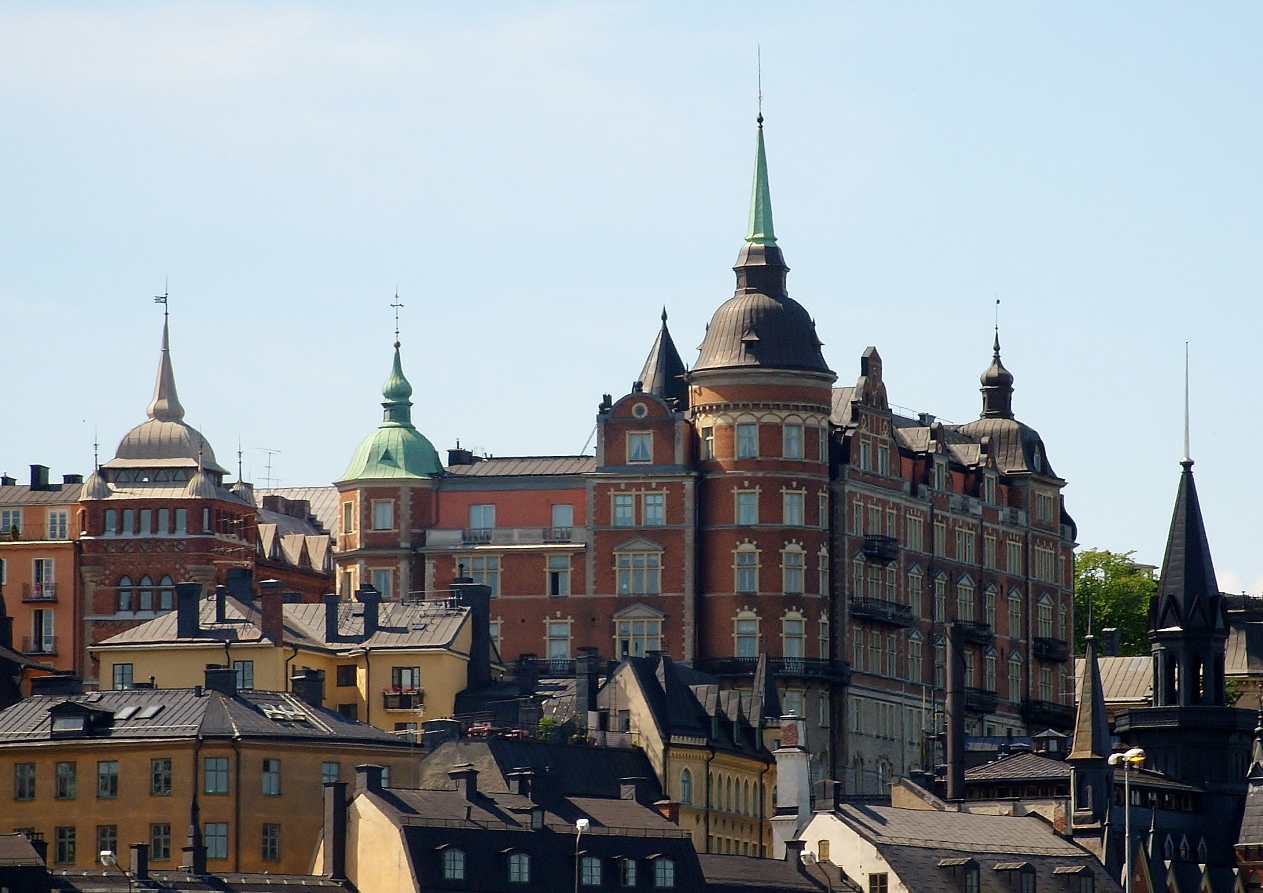 Stockholm: a city of domes and spires.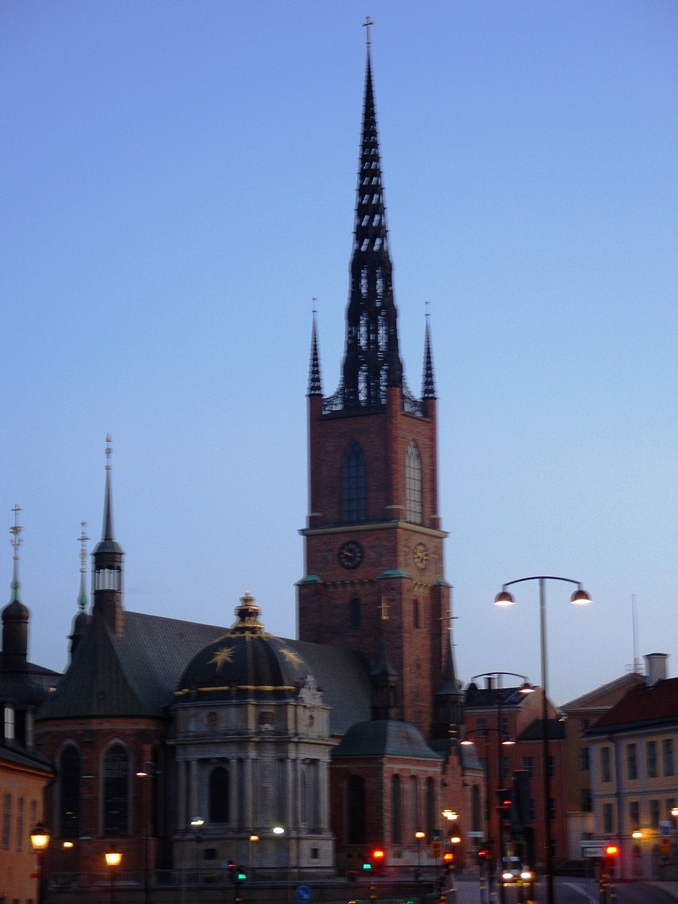 The Riddarholmen Church at dusk.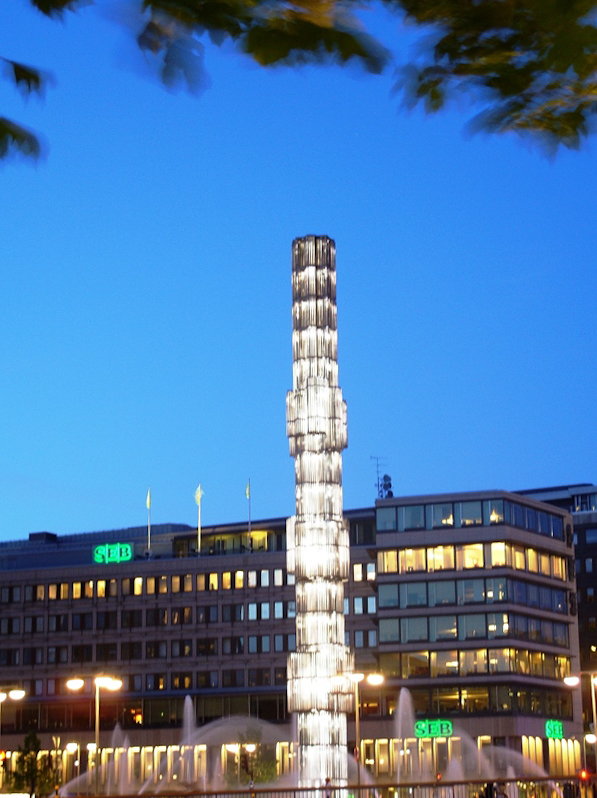 The striking Sergels Torg Fountain.
The belltower of Stockholm Town Hall.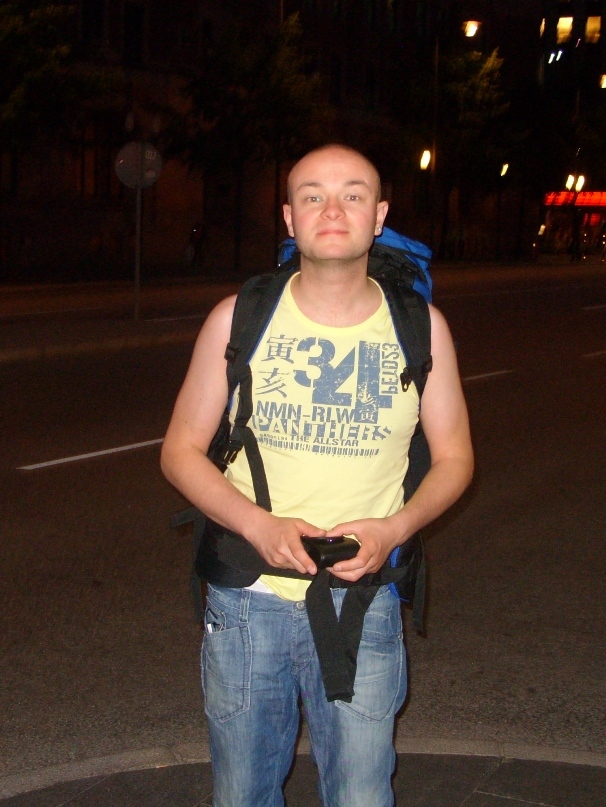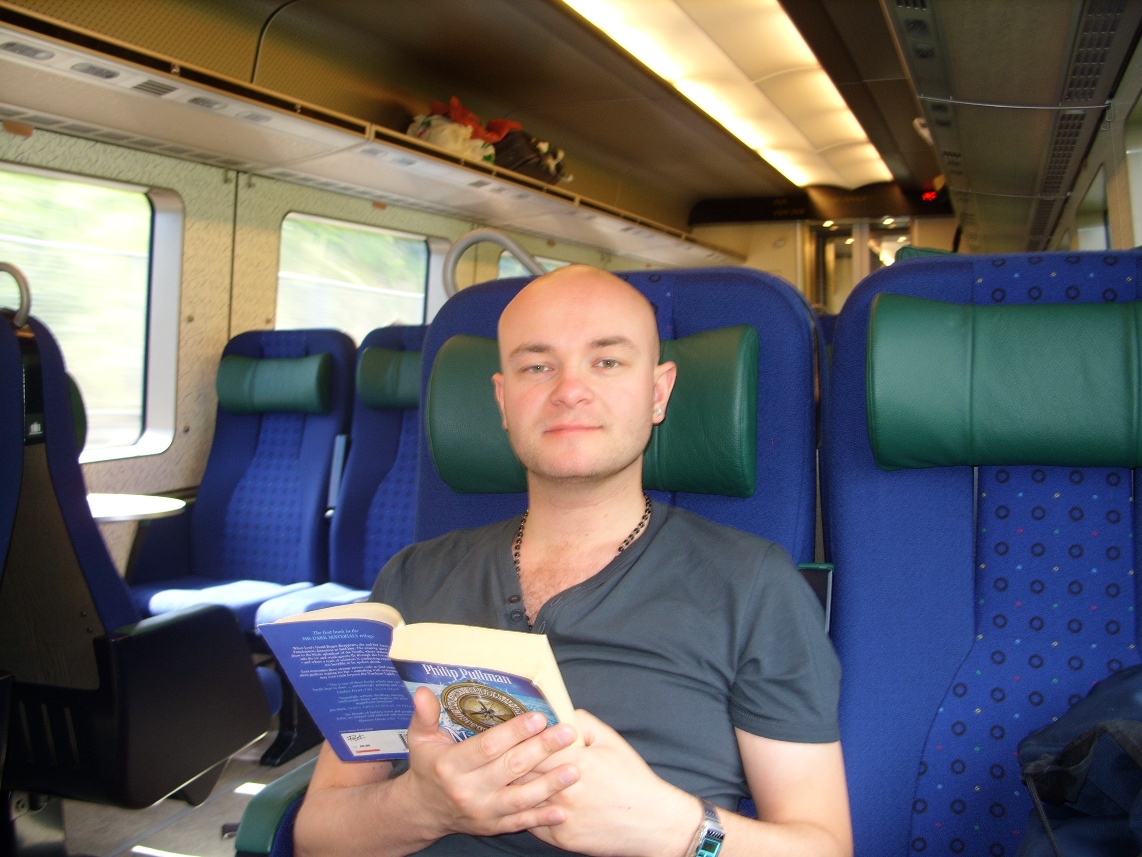 In and out: a backpacker's journey. Left: entering the Swedish capital at night. Right: leaving on, what else, a train - next stop: the Danish capital Copenhagen.
Denmark was the third country on our railway journey from Northern to Southern Europe and my third country in Scandinavia. The Danish capital is an easy-going place characterised by green copper church spires, elegant windmills and cobbled streets. But don't let these initial impressions fool you; Copenhagen may wear the mask of tradition but, underneath it, beats the heart of a modern, thriving city. The wonderful Nyhavn Canal is the throbbing heart of Copenhagen. Buildings rendered in a variety of primary colours line the canal rainbow-wise and play host to a string of restaurants and café s. This is the place where you're most likely to see Copenhageners unwinding from the stresses of city life. A visit to Copenhagen would be incomplete without a leisurely walk along the Langelinie Promenade to see the undisputed icon of the city and, arguably, of Denmark itself: the statue of the Little Mermaid. As far as icons go, this is one is understated and on the petite side. In fact, I distinctly remember walking past it and, in my youthful ignorance, feeling completely underwhelmed. However, in my maturity I have come to appreciate its delicacy and elegance a little more. Size isn't everything, right?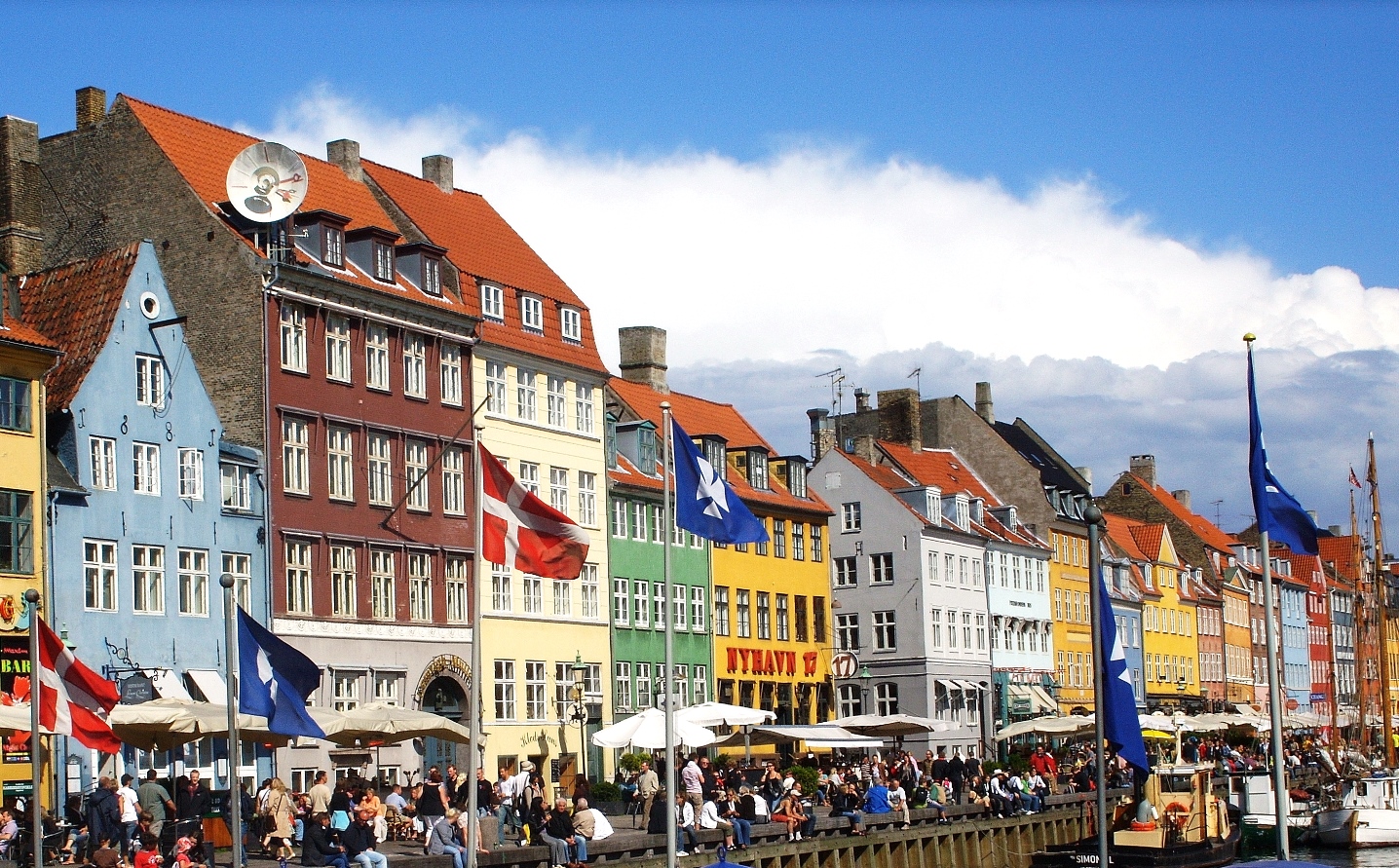 The colour and hubbub of the Nyhavn Canal.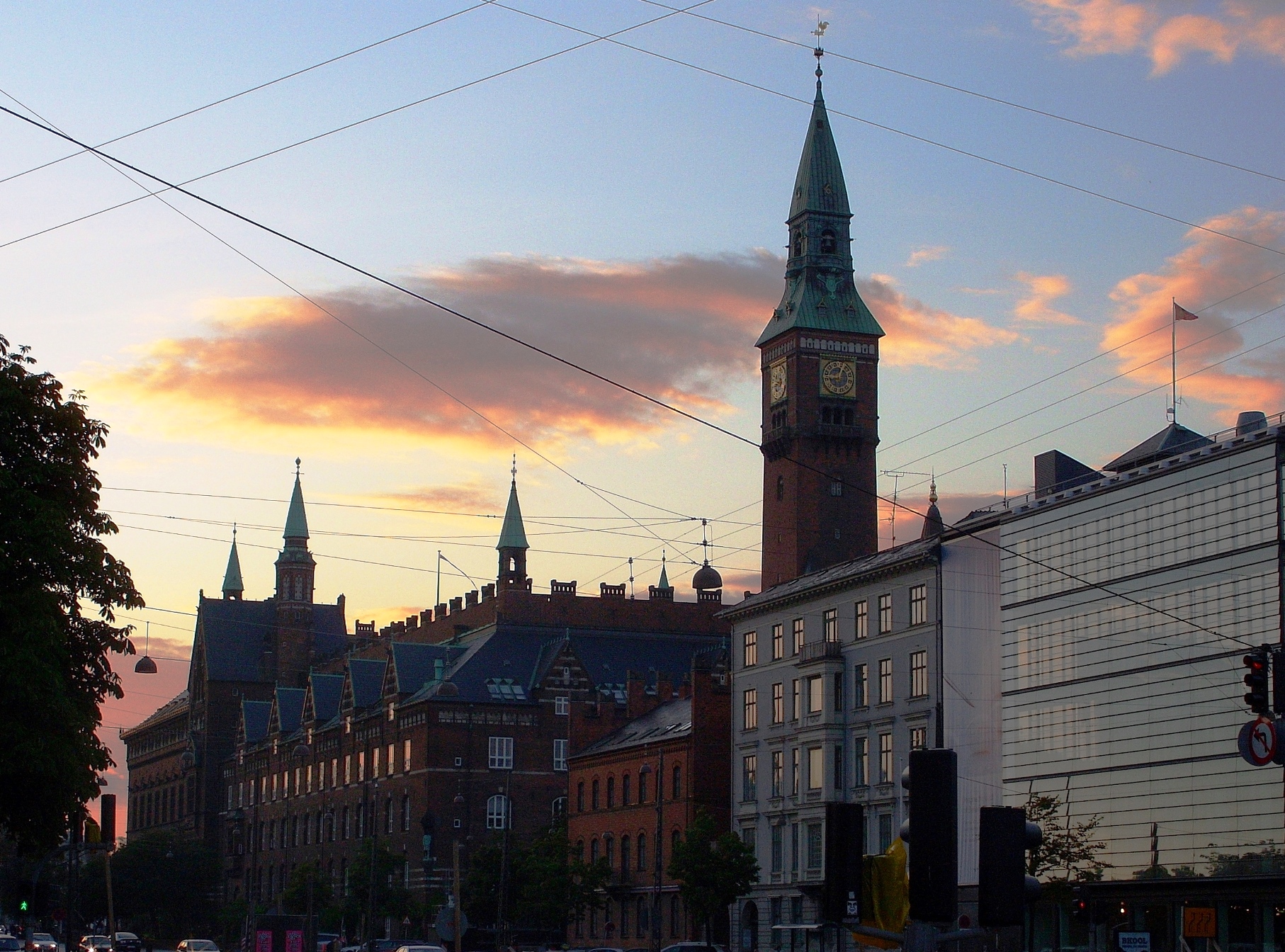 Night-time in Copenhagen with the silhouetted tower of City Hall - criss-crossed by tram wires.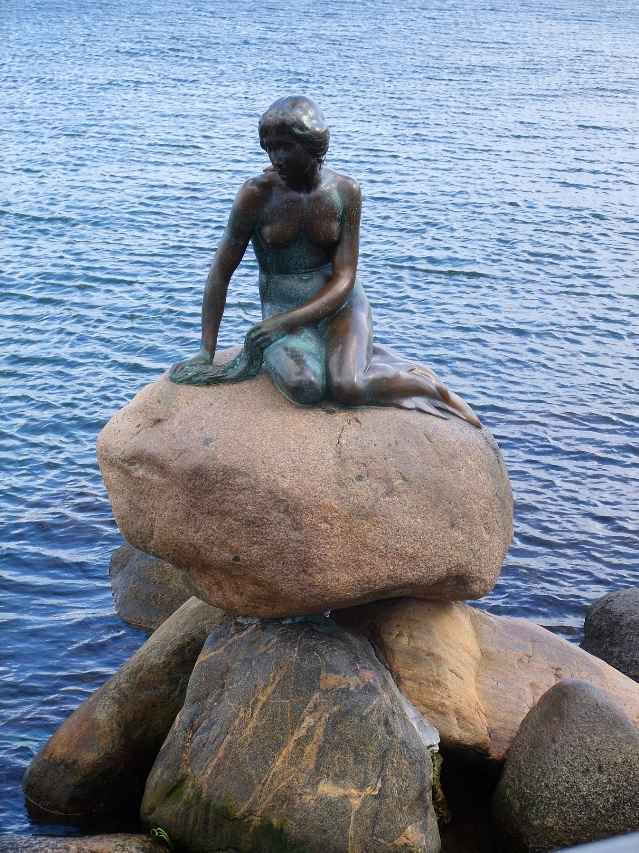 The iconic Little Mermaid statue.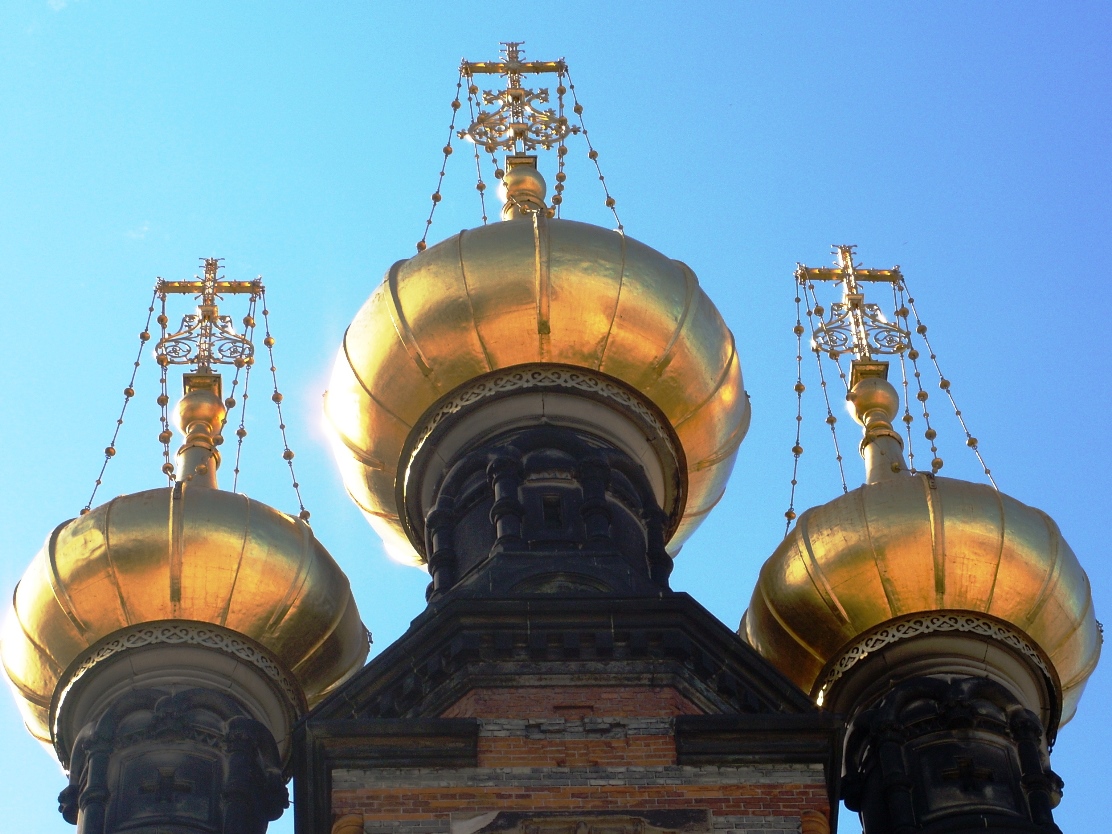 Stockholm's Russian Orthodox Church.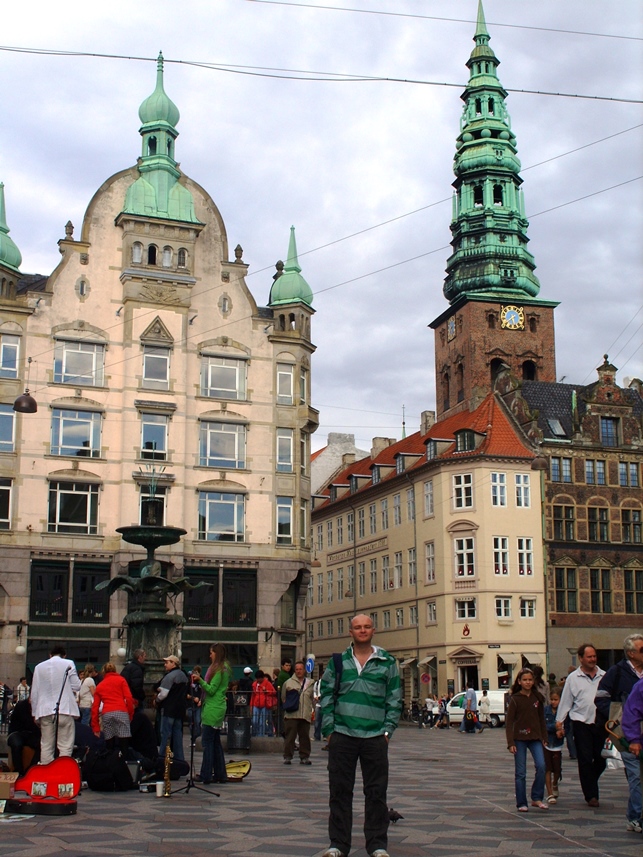 Stroget's impressive green spire.
We pressed onto Berlin and, in doing so, left Scandinavia firmly behind us. We set off on a train from Copenhagen - which then rolled onto a ferry when it reached the Danish coast. The ferry took us across the Baltic Sea and, upon reaching land, we rolled back off as a train and on to German soil. I have been on a ferry. I have been on a train. But never both at the same time. This 'train-ferry' was one of many wonderful idiosyncrasies the trip would throw at us.
Having been to three capital cities which, while beautiful and worthy in their own right, lacked the kind of landmarks and icons so characteristic of other cities on the continent, I was glad that we had made it to the German capital Berlin - for this is a place with iconic and dramatic landmarks, many forged in tumultuous moments of the Twentieth Century. I found my time at the Berlin Wall, the giant concrete construction which, in snaking through Berlin, divided East from West Berlin, compelling and exciting. This was a wall which separated people, but also competing ideologies and economic systems. Indeed, border stones are still in existence and mark the boundary between the capitalist West Germany and the Deutsche Demokratische Republik. The awesome Fernsehturm Television Tower, an architectural relic which would not look out of place in a Science Fiction film, stands like a rude technological finger raised to West Berliners. Of course, the communists had a particular predilection for television towers such as this, building them as outward symbols of technological prowess and scientific advancement; propaganda through architecture. Soaring above a modern downtown Berlin, the Fernsehturm looks vulgar and incongruous , like the engineers got lost and installed it in the wrong country. Indeed, it is possibly the most un-German looking thing in the whole of the city. This, of course, makes it all the more fascinating. And so, with obligatory trips to see Checkpoint Charlie and the iconic broken spire of the Kaiser Wilhelm Memorial Church, our time in Germany's capital drew to a close; Austria was calling ...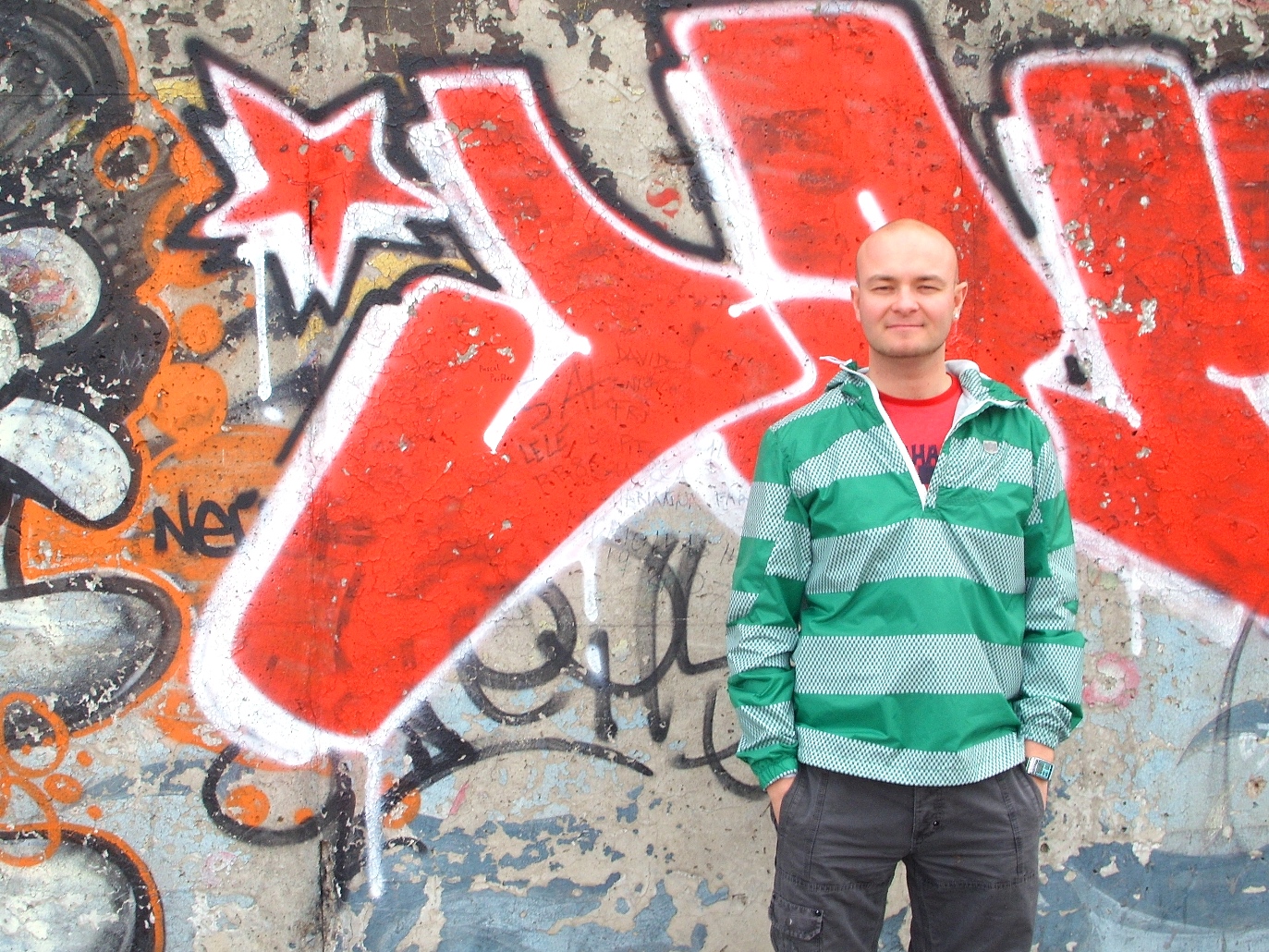 At the remnants of the infamous Berlin Wall.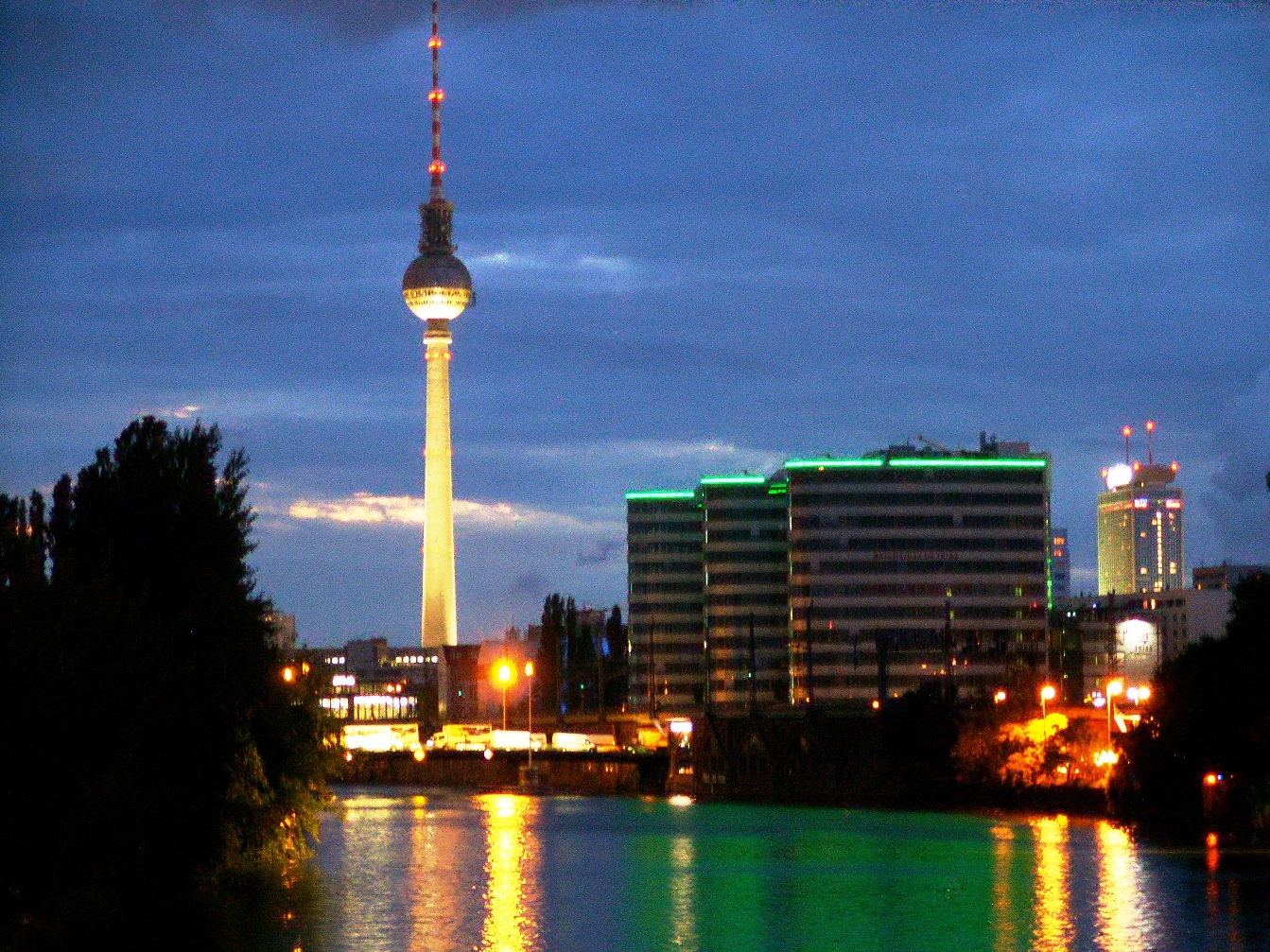 The awesome Fernsehturm TV Tower; an architectural relic of the time when part of Berlin was under communist control.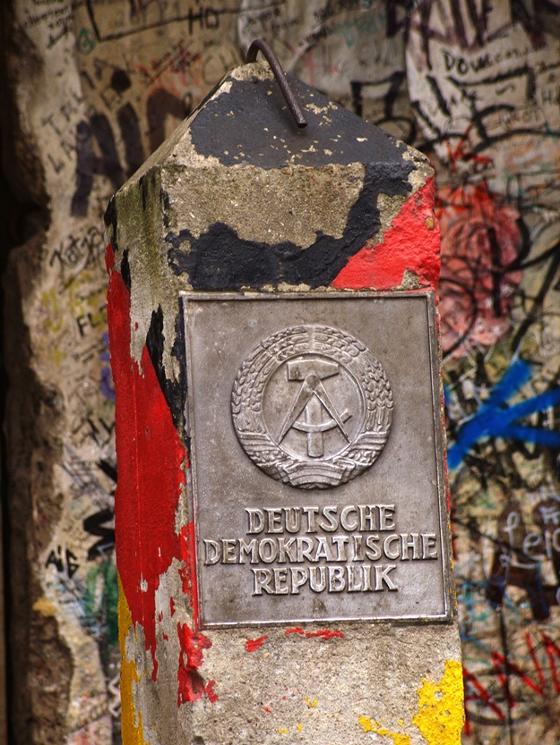 A border stone demarcating East from West Berlin.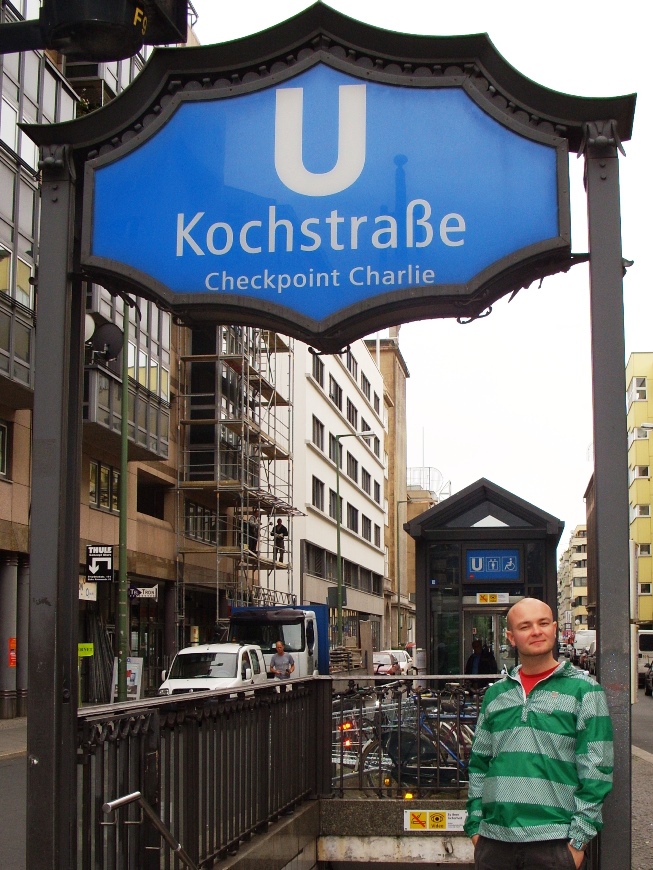 Checkpoint Charlie crossing point.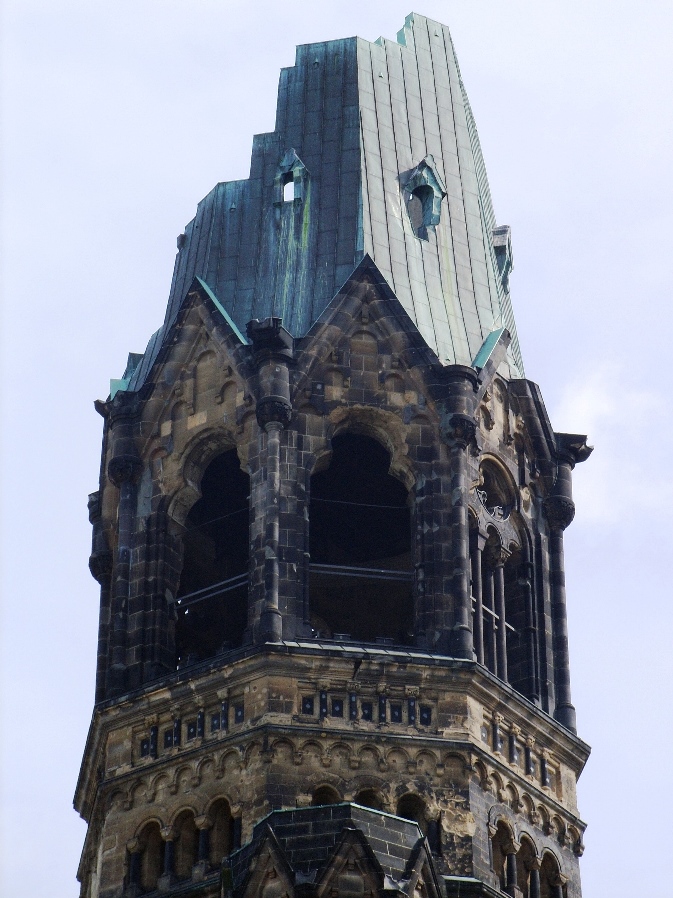 The iconic spire of Kaiser Wilhelm Memorial Church.
We departed from Berlin's Hauptbahnhof railway station late in the evening. Just like the 'train-ferry', this was going to be another first; we were destined for a trip aboard the overnight Sleeper Train from Berlin to Vienna, the capital of Austria. My overly romanticised image of this journey quickly faded once our backpacks were stowed and we were tucked up in bed hoping to sleep our way to the Austrian capital.
The realities of trying to sleep inside a moving metal tube on rails soon became clear and were a distinct departure from the romantic ideals in my mind of taking the sleeper train to Vienna. What proceeded was nine hours of jolting, rocking side to side and bouncing accompanied by a most unwelcome symphony of screeching train wheels on train track. In more wakeful moments I would catch some of the sounds of the countryside: dogs barking, wind blowing, leaves rustling and my mind would start to race in wonderment, "I wonder where we are". Not long after falling asleep I would soon be awoken by the frightening sensation that I was falling out of bed. And so, inevitably, we pulled into Vienna early in the morning fatigued and a little jaded - a classic example of the expectation of travel and the reality of travel not quite aligning. As I entered country number five I began to feel a little unwell; this terrible night's sleep the final straw for my body which was now protesting for more rest. What followed was a laid-back time in the Austrian capital, soaking up the sunshine, admiring the fairy-tale spires of the Votive Church and Rathaus, and sampling the atmosphere of the Vienna Film Festival on Stephensplatz.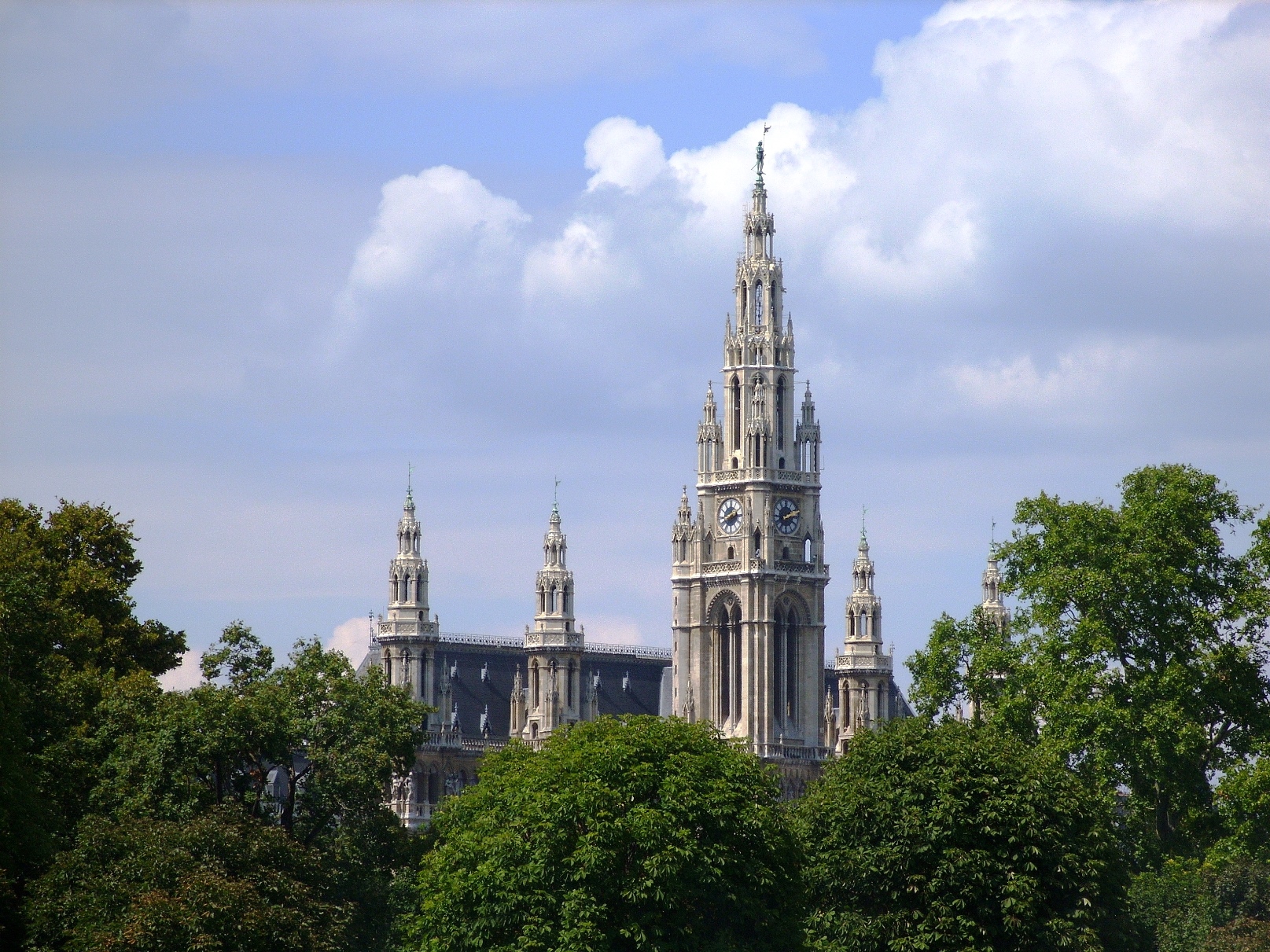 Vienna's fairy-tale looking Rathaus; the Mayoral and City Council.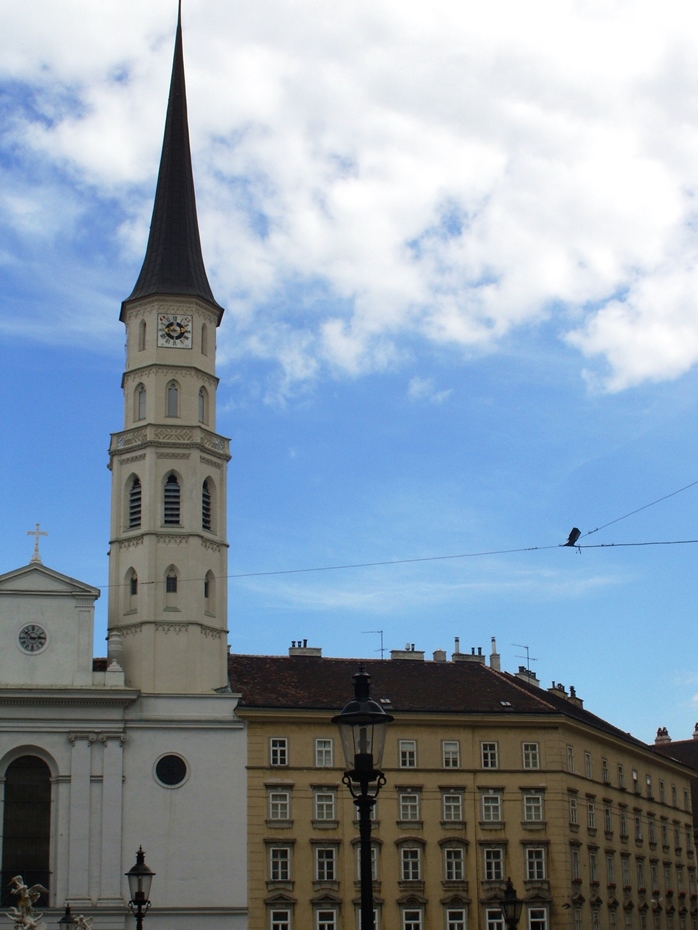 The spire of Saint Michael's Church.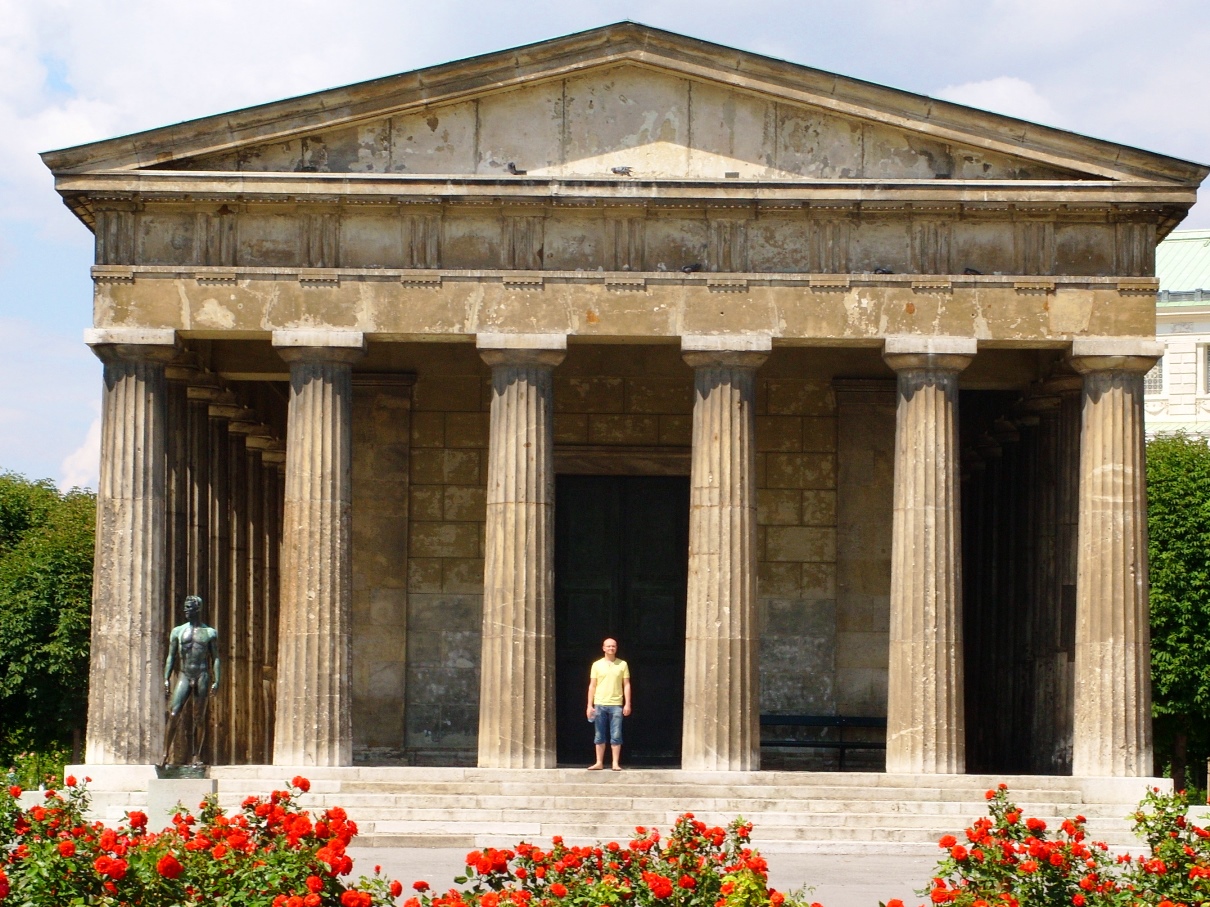 The Corinthian columns of the Griechischer Temple.
Having made our way through Berlin and Vienna, two of Europe's most famous capital cities, we were now headed to one of its lesser-known ones: Bratislava, the capital of Slovakia. Slovakia is a relatively new country which owes its existence to the dissolution of the former Soviet Union. In 1993 the former Czechoslovakia peacefully split into two countries: Slovakia and the Czech Republic.
Although the Slovak capital is a mere one hour's train journey from Vienna, one of the principal reasons for choosing this as our next destination, it represented an abrupt departure from that which had gone before. In travelling from Austria we had entered into a different kind of Europe. There were still traces of the Europe we knew and had enjoyed up until this point - but something important had changed. The mood. The atmosphere. The mindset. Bratislava was home to Europe's craftiest waitress who did her upmost to fiddle me out of a few Slovak Korunas. Unfortunately for her, and despite me still feeling a little under the weather from Austria, she did not bargain on my tenacity. Driven by my sense of right and wrong, I grabbed a pen and paper to show her, in the international language of advanced mathematics, how the change she had dispensed was insufficient. Feigning a moment of realisation, she begrudgingly gave me was I was owed. This experience was shortly followed by a nasty exchange with an ice-cream seller who clearly had very little time for visitors like us. Perhaps these were unfortunate incidents and co-incidental but, coming in such quick succession, nevertheless left a lasting impression on me as a visitor. Irritated and jaded by our experiences with a thief and an abusive stallholder, we set out to at least try to salvage something of our time in the Slovak capital. One saving grace was that our hostel was actually rather nice and, most memorably, came complete with a real-life bulldog that trotted about a bit, grunted a lot, and generally lounged around the reception area sniffing out the latest guests. A nice hostel alone, however, does not a great city make and so we soon decided to leave the Slovaks to their mathematically-challenged serving staff and abusive purveyors of ice-cream for we had better places to go: we were Budapest-bound.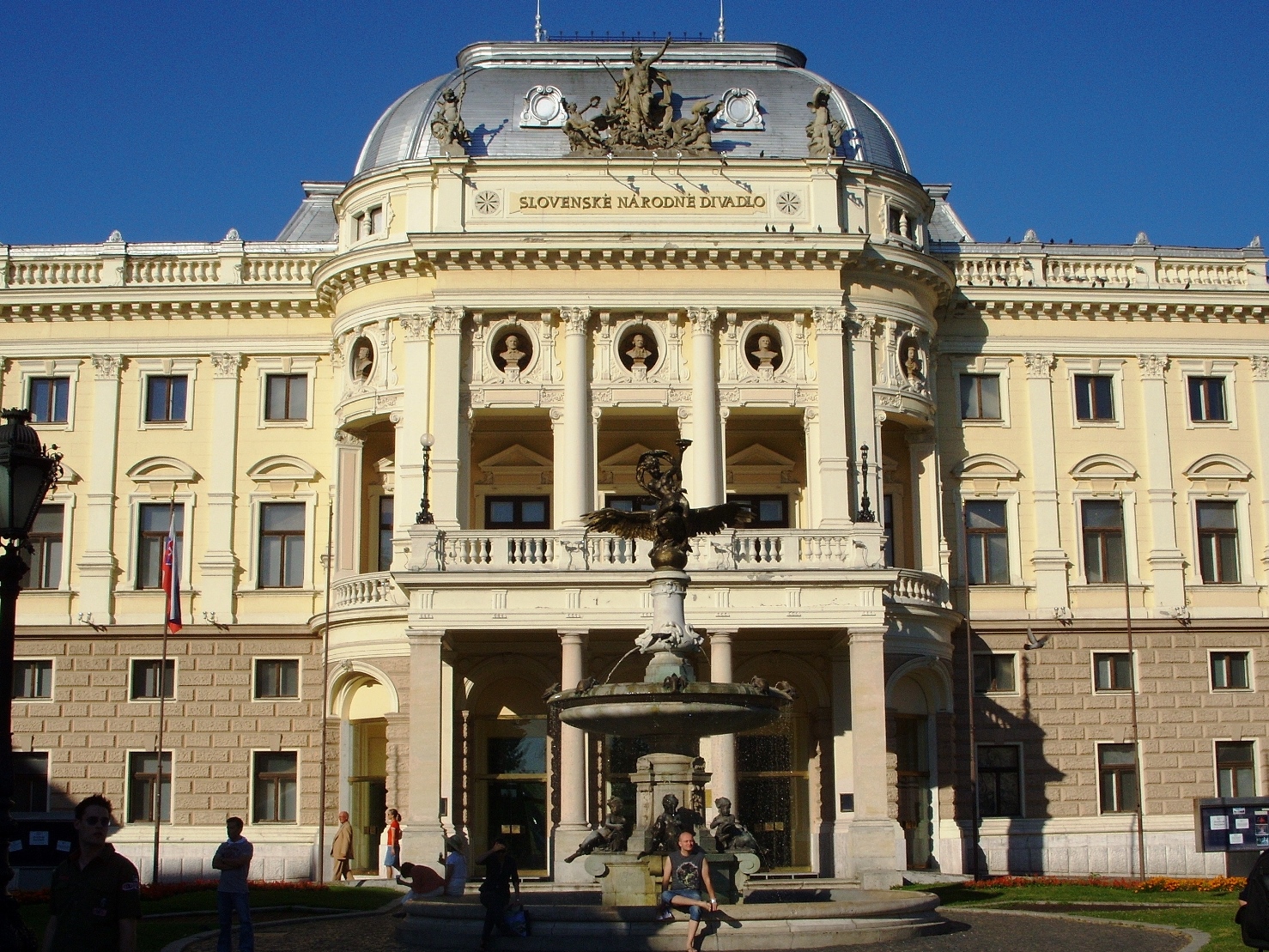 The National Theatre of Slovakia.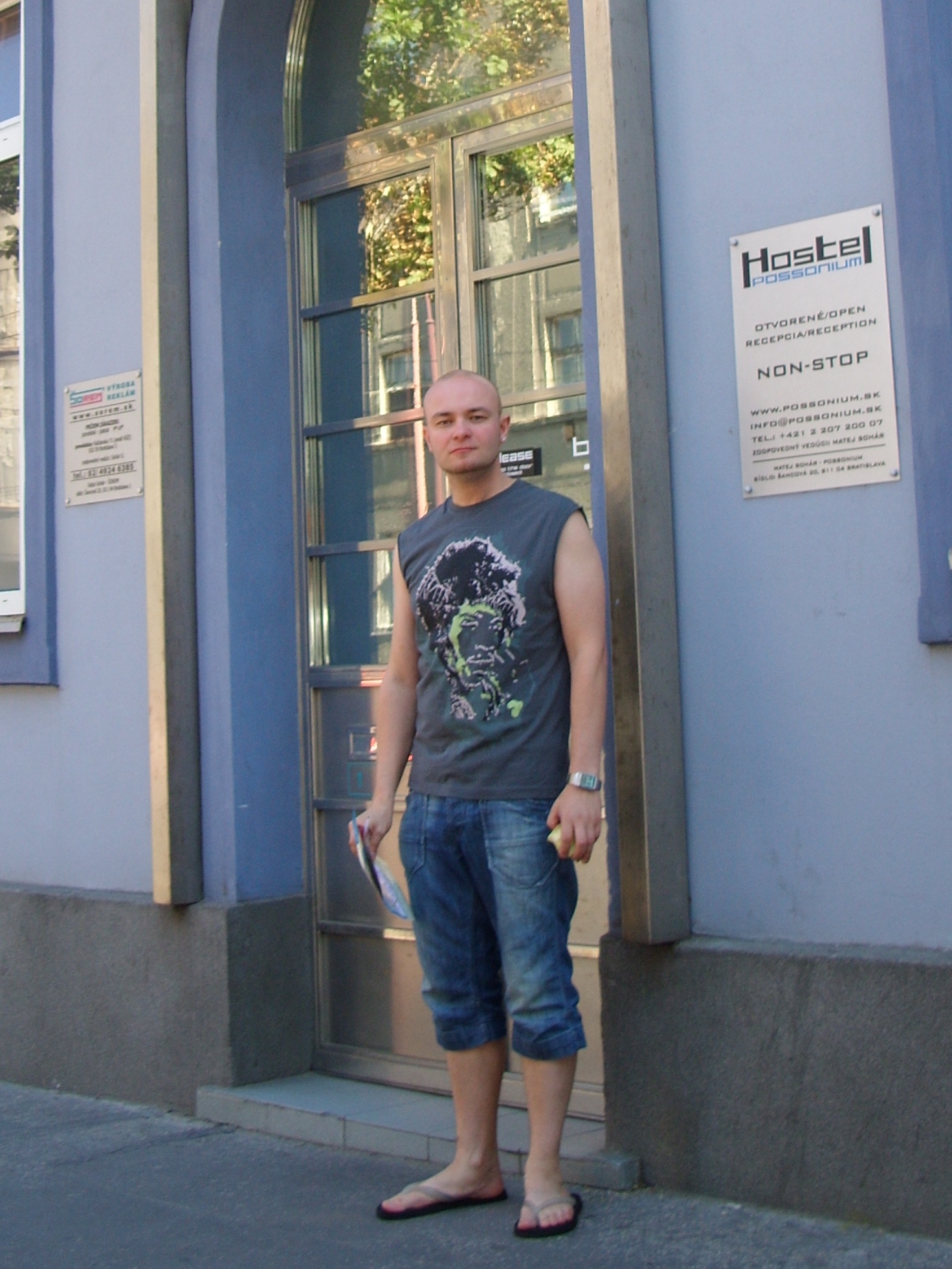 Hostel life: outside the Hostel Possonium.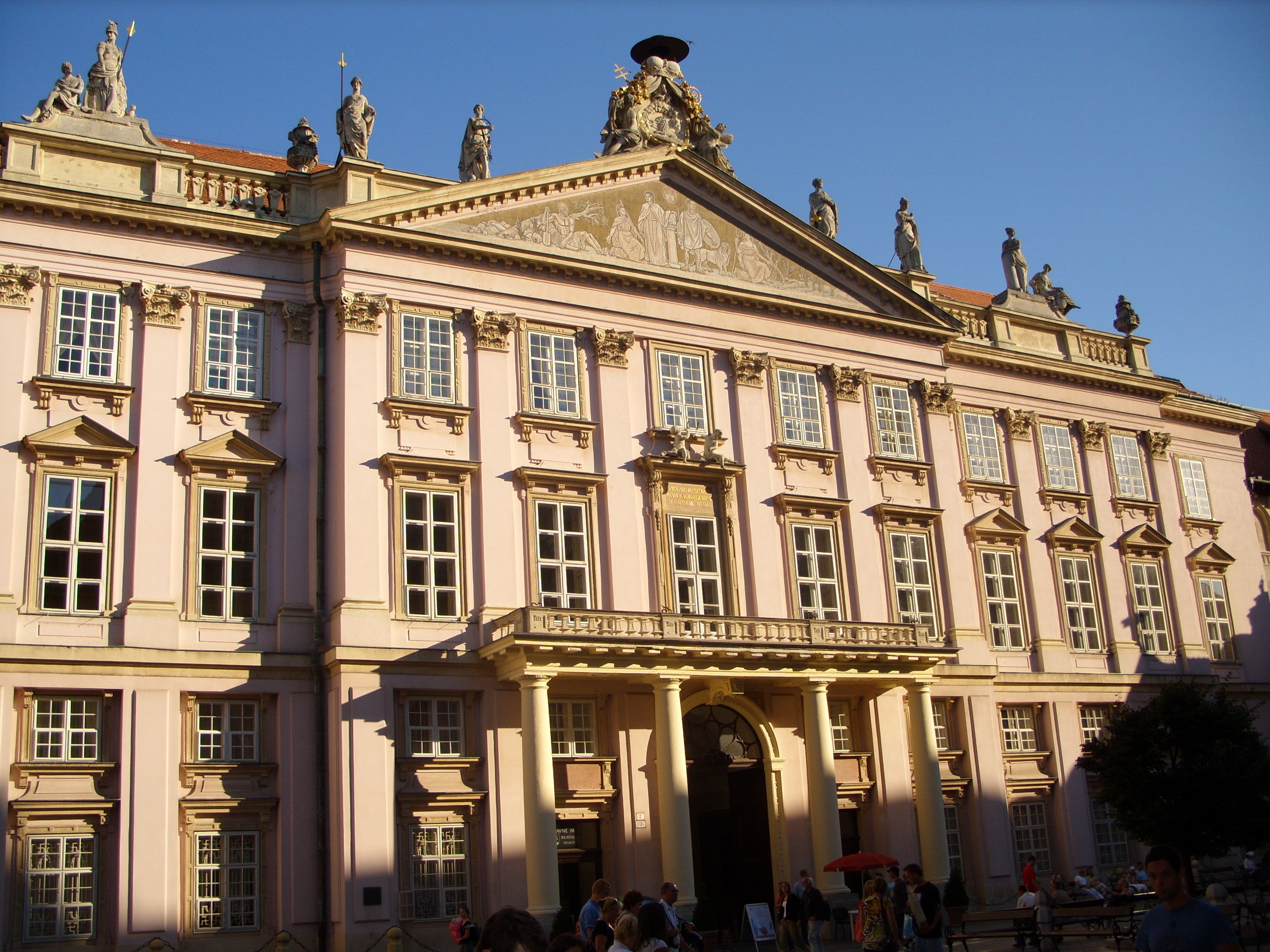 The Mayoral Seat of the Primate's Palace.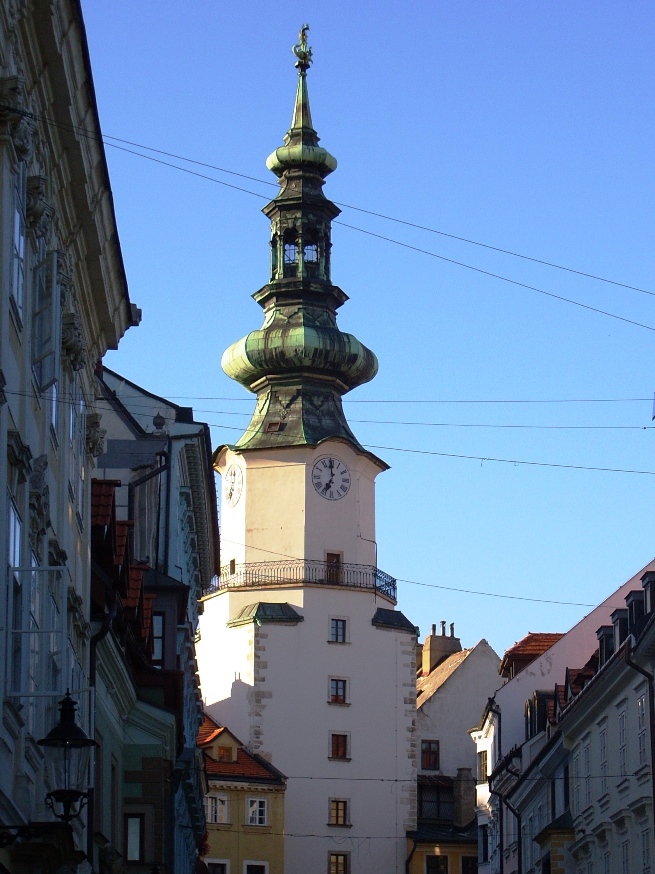 The copper spire of Saint Michael's Gate.
Hungary is a jewel in the Eastern European crown. Once viewed as the defacto capital of Eastern Europe, Budapest is a rather contradictory mixture of ingredients, from world-class architecture to creaking, communist-era infrastructure. There is a magnificence in the Hungarian Parliament Building, whose Gothic spires and turrets dramatically line the banks of the River Danube. Even accounting for the Coliseum in Rome, which we'd also see on this trip, I'd even go so far as to say that this was the most impressive building we'd behold on the journey. We opted to get a better vantage point of the parliament by jumping aboard a cruise boat along the River Danube. Even though it was partially obscured by scaffolding, the Hungarian Parliament was completely incredible. This was more like it! The short time we had left was spent splashing around in the warm waters of the world famous Széchenyi Thermal Baths in central Budapest - an obligatory activity when in the Hungarian capital. Enthused by the supposed health benefits properties of the thermal waters, and getting a little carried away, I threw caution to the wind and opted for a Thai massage - which, after being pulled and hit for the best part of an hour, I quickly came to regret.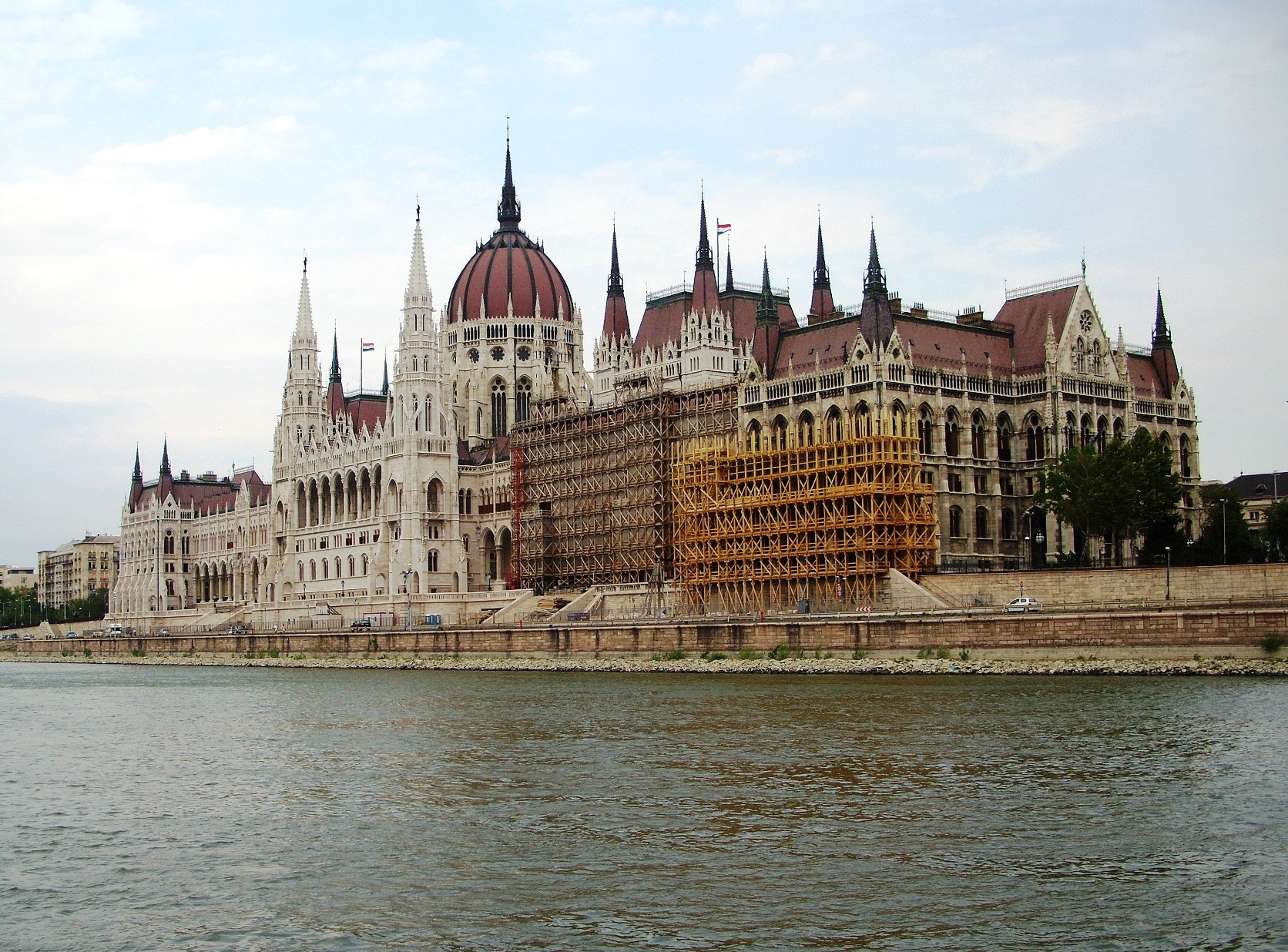 The Parliament Building of Hungary is a Gothic revival masterpiece perfectly positioned on the banks of the famous River Danube.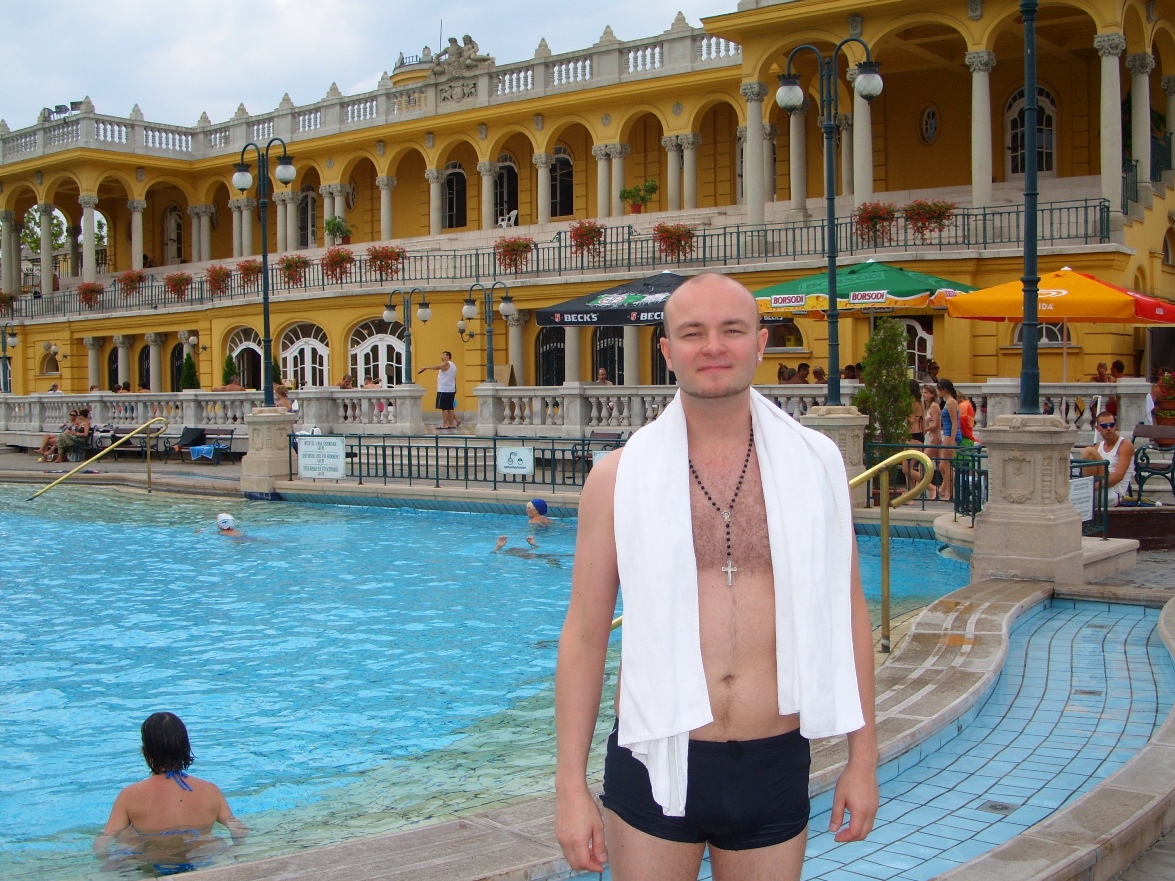 At the world famous Széchenyi Thermal Baths in central Budapest.
A nine hour train journey from Budapest brought us to the Serbian capital of Belgrade. Our long and sleepy trip into the country was rudely interrupted by several khaki-clad soldiers carrying machine guns who boarded the train following a stop at the Hungarian/Serbian border. They proceeded to pull down ceiling panels and grunt at the passengers, all the while marching up and down looking for something. I couldn't conceive of what they may be searching for? Illegal immigrants? Contraband? Drugs? Naïve British travellers on their first big railway adventure? One guard aggressively clicked his fingers at my feet which were, admittedly, on the chair opposite. I dared not complain and did as instructed. The train was held up for about twenty minutes while this whole unsavoury episode played out. Unfortunately this was not an aberration but a sign of things to come, for our journey took a darker turn when we entered Belgrade, once the capital of communist Yugoslavia.
Having left Budapest around lunchtime, we arrived in Belgrade late in the evening. We fumbled through the pages of our trusty travel guide under yellowy street lights hoping to locate our hostel - ominously named The Monster Hostel - and squinting at street signs high up on the corners of buildings to, quite literally, determine our next steps. Indeed, our move from Hungary to Serbia was also a move from the Latin alphabet to the more incomprehensible Cyrillic alphabet, its backwards N letters and enigmatic squiggles rendered even more unhelpful in a Belgrade enveloped in the blacks of night-time. On arrival at the Monster Hostel we dropped our backpacks off in our room and spent a little time in the common room, trying to share in the laughter of other travellers who were busy swapping travel tales and spinning yarns of their adventures. I've always found these shared spaces in hostels a little too intense and, especially after a long train journey which had lasted almost the entire day, wasn't really enjoying any of it - despite my outward attempts to smile and nod in the right places.
I awoke the next day to a city of graffiti, anonymous apartment blocks whose roofs were packed full of rusting television aerials arranged maniacally at dizzying angles, and whose streets and boulevards were almost entirely empty. The drizzly, wet weather only added to the general sense of despondency hanging over the city. Our militaristic encounter on the train the previous night was confronting enough but my mouth dropped open at the sight of a bombed out building, the result of a NATO bombing raid in 1999 which sought to stop Serbia carrying out ethnic cleansing in Kosovo, in the heart of Belgrade. Guarding the collapsed building, once a military headquarters, was a soldier who came complete with machine gun. To someone who had never seen a soldier before, let alone machine guns and bombed out buildings, this was all new and rather grimly fascinating.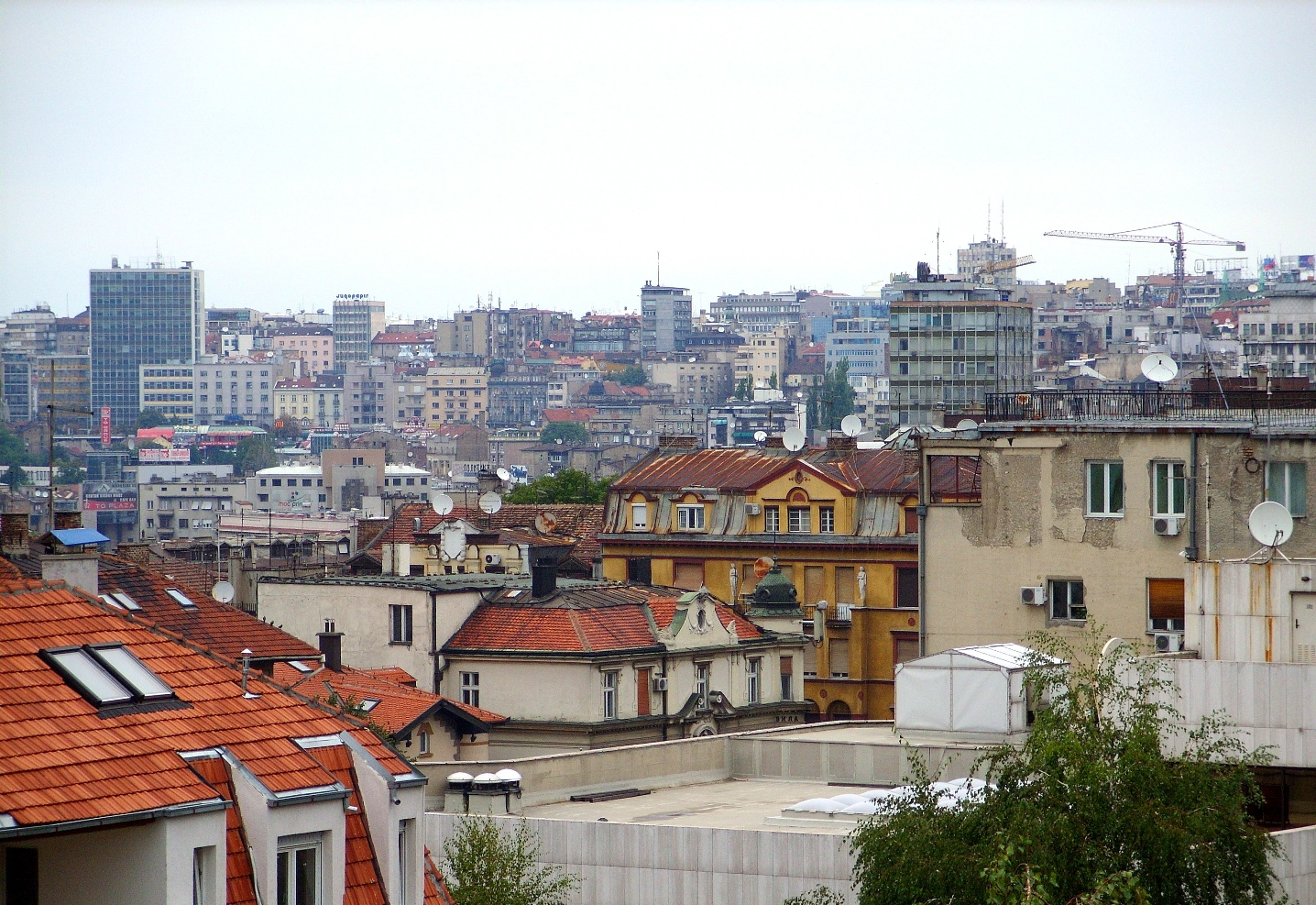 A shot of the Belgrade city skyline as seen from The Monster Hostel. It was difficult to discern any one building - it just seemed a mass of aerials and cheap concrete in mounds. The weather didn't help.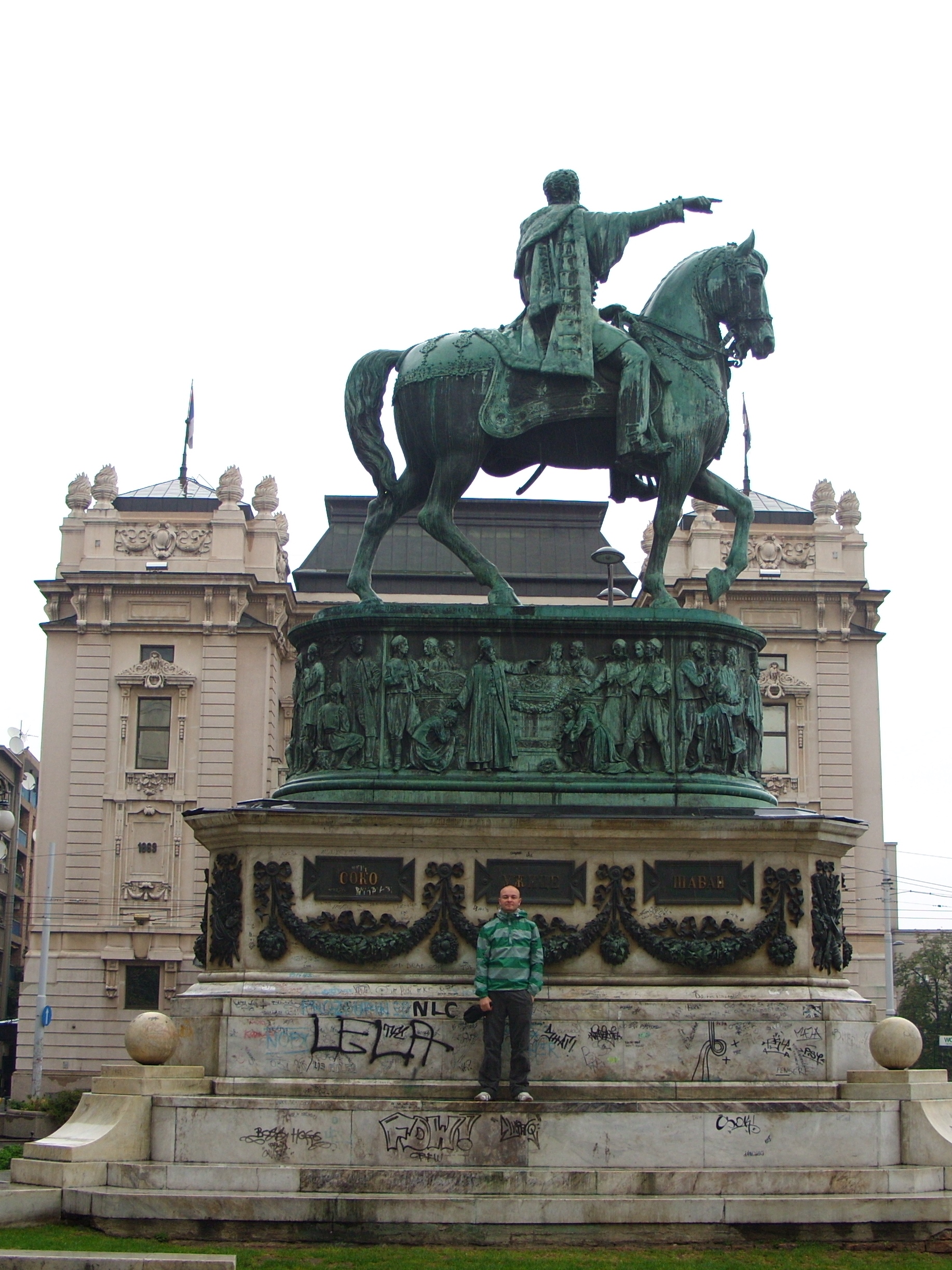 At the foot of the Prince of Serbia statue in Republic Square.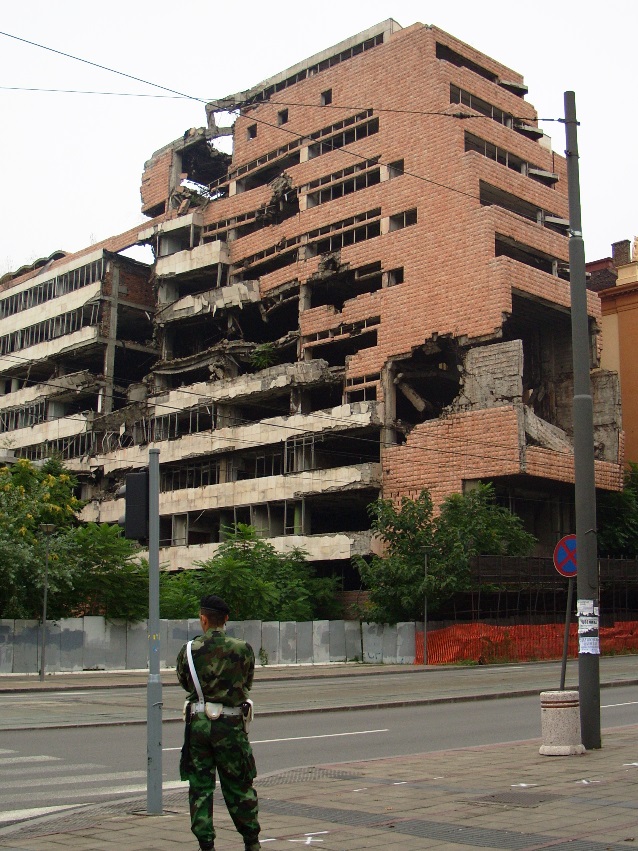 A building bombed by NATO is under guard by a Serbian soldier.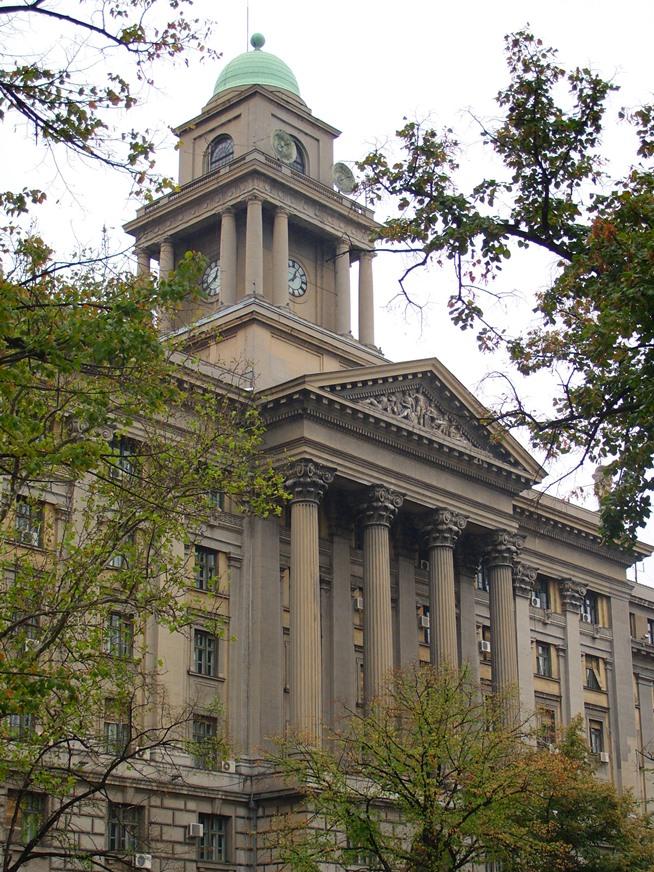 A building stands between the trees.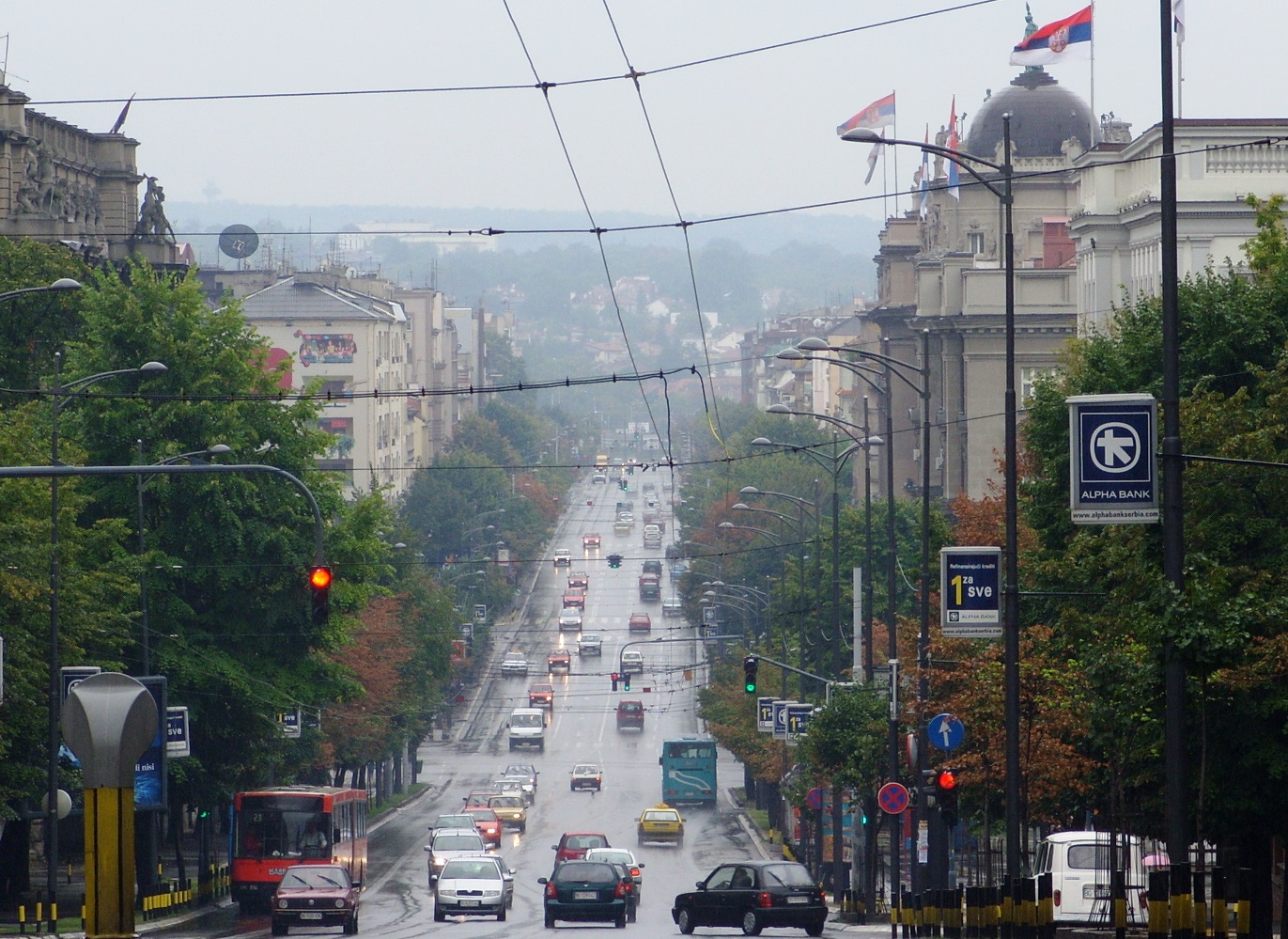 Belgrade street scene in the morning drizzle.
Zagreb, Split, Hvar Island & Pakleni Island
We left the greyness and militaristic intensity of Serbia far behind us and, as the train pulled out of Belgrade and passed shanty towns constructed by the railside, I couldn't help but think I was glad to be leaving. It was a not insignificant 390 kilometres and eight hours' train journey on to the Adriatic coastline - and Croatia, our ninth country of the journey.
Croatia has embraced life after Yugoslavia with gusto. Its large stretches of Adriatic coastline and historically-important sights mean it has garnered the tourism dollar more successfully than other countries of the former Yugoslavia. The Croats have well and truly left communism behind and you feel the difference immediately on entering the country. It was wonderful to arrive in Croatia. Indeed, even the sun appeared to greet us upon our arrival and seemed to say, "It's okay you two, you're in Croatia now". We were 390 kilometres but also a world away from Belgrade. I never ceased to be amazed by the differences between countries on this trip and the often abrupt, jolting transitions between them. As rail travellers I think these transitions were able to be felt more keenly. Now in the friendly Croatian capital, the tension was behind us and we began to relax a little. Zagreb is well-dressed and colourful, with historic Austro-Hungarian architecture, drenched in sunshine and, I found, a perfectly easy place in which to be a visitor.
Having experienced Croatian capital city life we headed further down the coast, travelling an additional 410 kilometres to the jewel in the Croatian crown: Split. It was here that we slipped into a new phase of the journey: the sun-soaked beach holiday. The bombed-out buildings of Belgrade and the and devious waitresses of Bratislava were nothing but moments in a bad dream. We whiled away our time sauntering around Diocletian's Palace and taking in sumptuous views of red-tiled roofs from the top of the Cathedral of Saint Domnius. We soon hopped across the water to the historic Hvar Island before also hopping to Pakleni Island for a day trip. Pakleni is a small uninhabited island where we took to sunbathing on the rocks - not unlike the lizards we spotted and to enjoying the relaxed atmosphere of a Croatian summer. This railway adventure across Europe was, if nothing else, varied.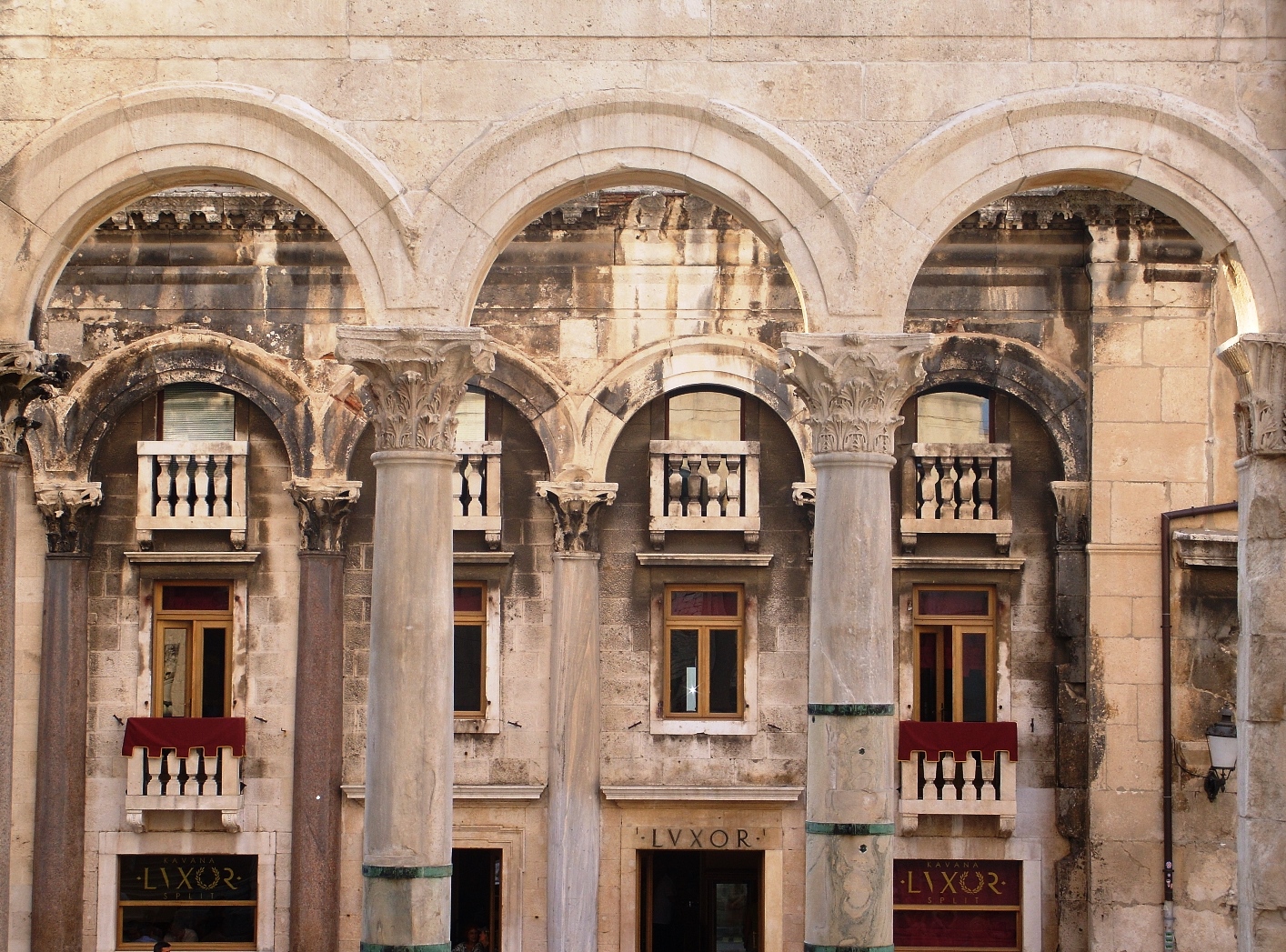 The arches of Diocletian's Palace next to his Mausoleum.
View of Split from the top of the Church Tower - red tiled roofs, blue sky and seas - and a lush green hill. What more could you want?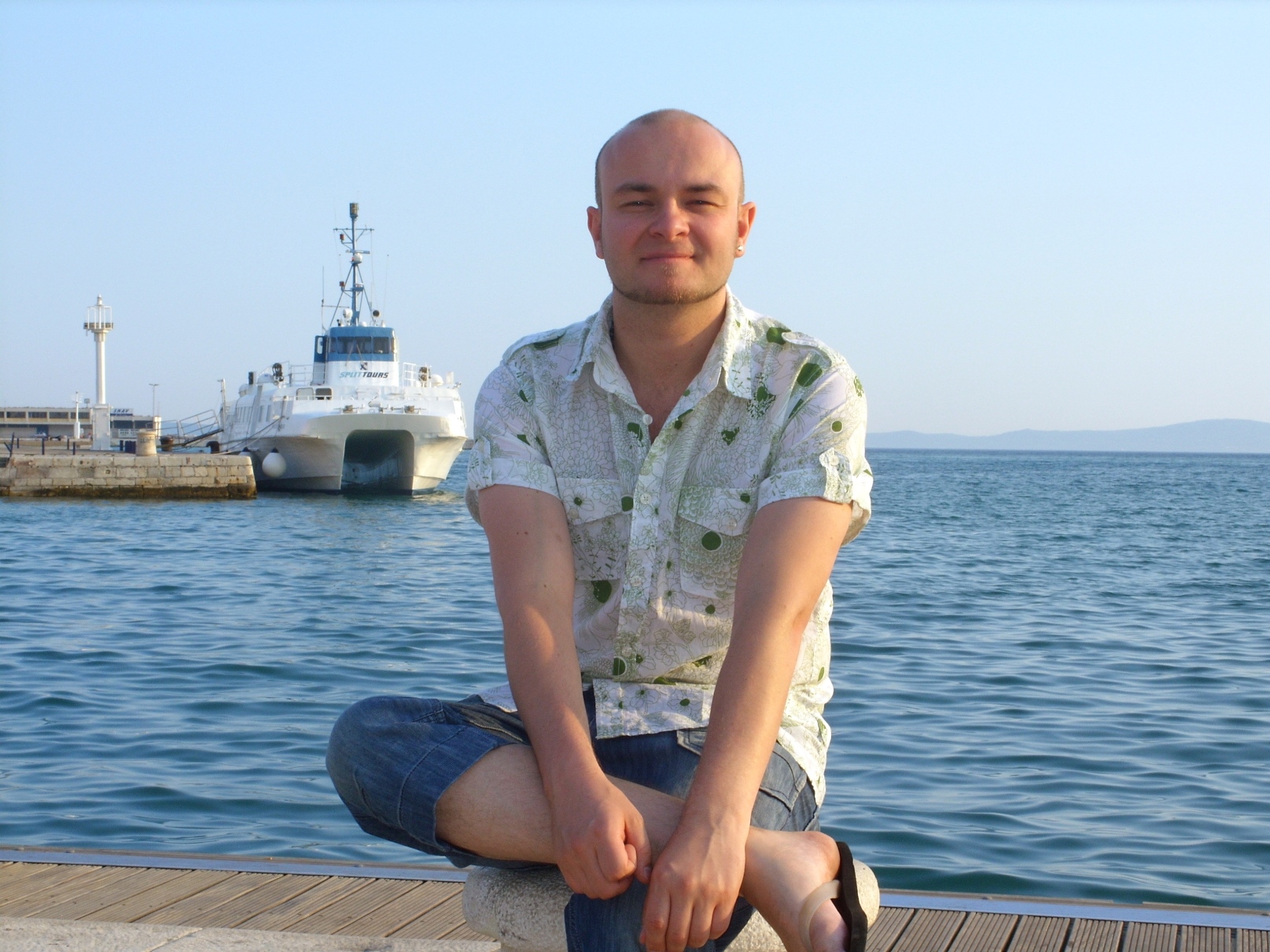 At Luka Split taking in the city's port views.
We reluctantly left Croatia behind; the need to make it to Pisa in central Italy in time for our return flight compelled us to keep on moving. We set our sights on the small country of Slovenia. Slovenia is nestled in-between Croatia and Italy and so it made sense that this should be our tenth country. Indeed, the countries we visited were somewhat determined by the direction in which we needed to travel. Being approximately 320 kilometres from Split, we arrived in late afternoon and headed straight to our sleeping quarters for the night - a boarding school which, in the middle of the school summer vacation, was doubling as a hostel. Of course, as with most other destinations on this journey, our arrival at the hostel was preceded by a frantic thumbing through our of Rough Guide to Europe while lugging heavy backpacks and adopting generally helpless expressions. It was not long before a woman passing on her bike stopped, got off and asked us what it was we were looking for - all completely unprompted. With her helpful directions we were quickly on our way. Slovenia made a very good first impression.
Ljubljana, the Slovene capital, is a city on a very human scale. It is testament to the saying "beautiful things come in small packages" for this was more village than city; narrow winding streets, baskets of flowers and perfectly formed canals with little white bridges crossing them characterised our early morning walk through the city. We came across a vegetable market full of produce in riotous colour. Despite our bleary eyes and tiredness it was impossible not to be uplifted by this cute little toy-town of a place. Unfortunately this was among the shortest of our stop-overs, with only one evening and a morning to see Ljubljana. I know, I know, but time was becoming an increasingly scarce commodity - and we had a European great to get to: Italy!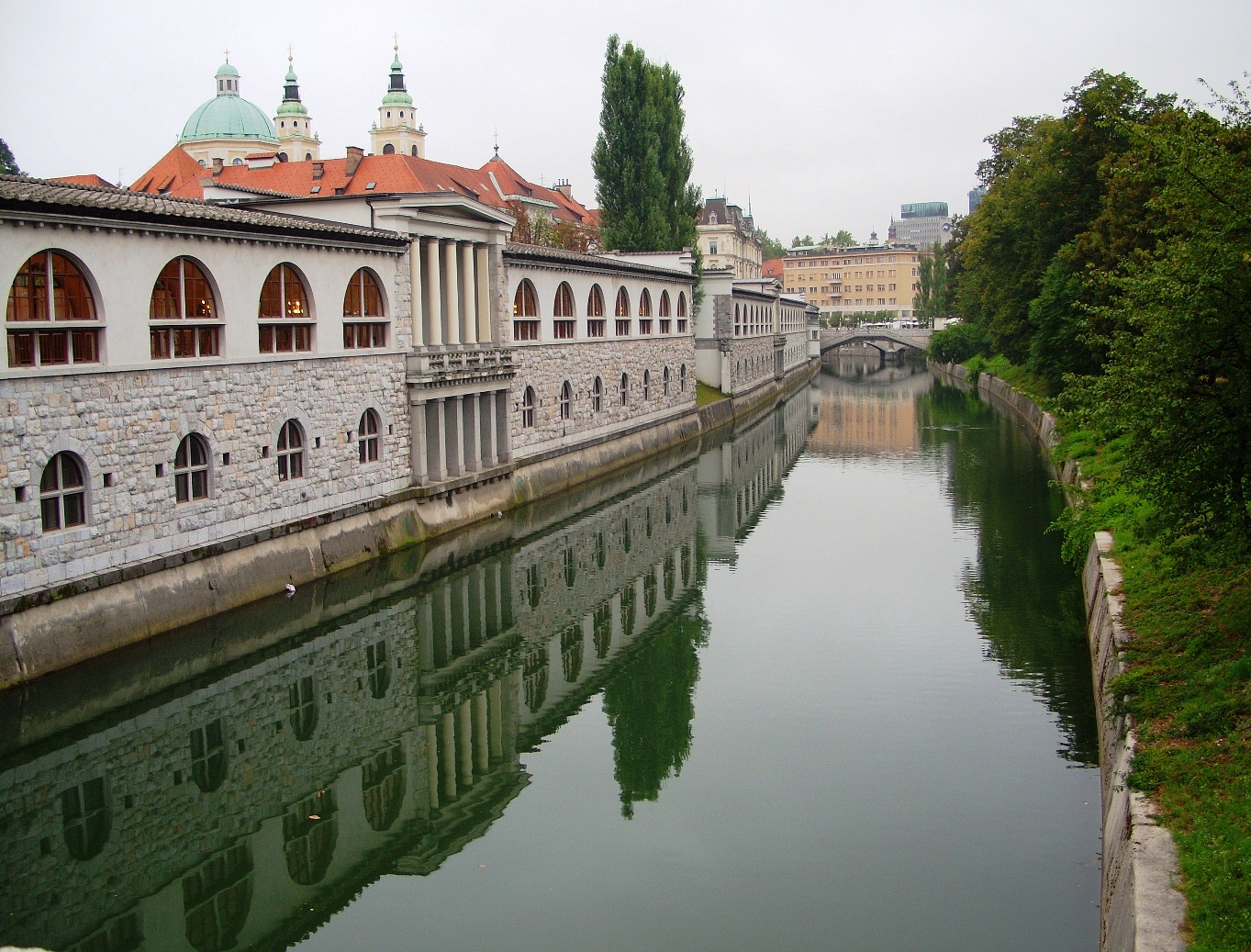 Early morning views of the Ljubljana Canal.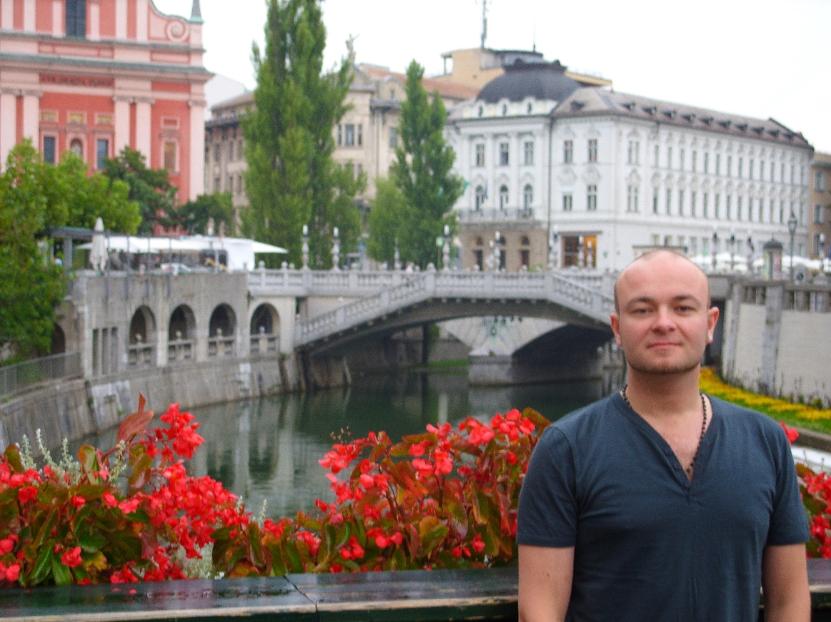 Early morning views along the Ljubljanica River.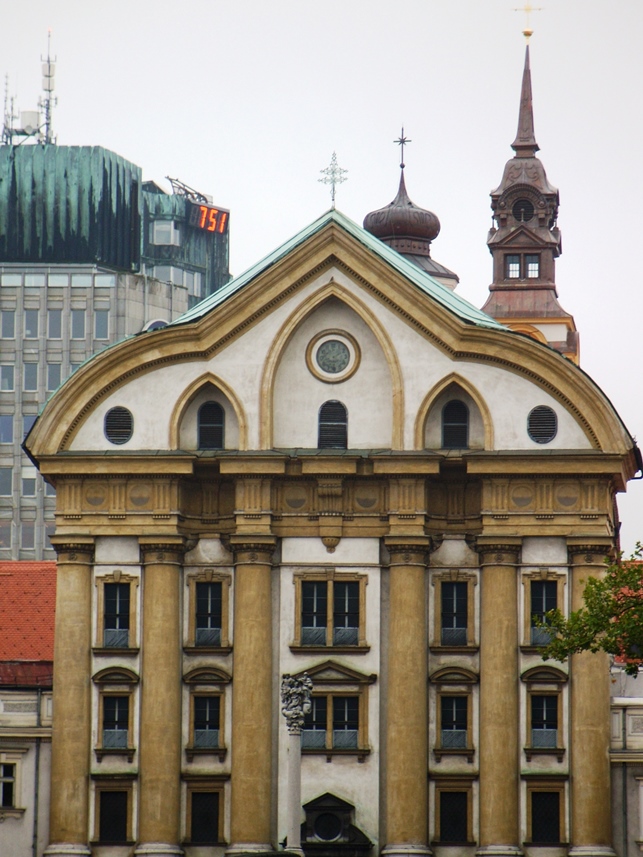 Italy is at the heart of any self-respecting traveller's plans to see Europe being, as it is, home to some of the most famous landmarks and iconic sights in world travel. It is the quintessential European destination. I had visited Italy twice before on separate trips to Turin and Venice so I wasn't exactly unfamiliar with the country. Italy was our penultimate country and a chance experience iconic travel at, well, its most iconic.
Being budget conscious we stayed quite some distance outside of Rome meaning that constant journeys back and forth on the very gritty, graffiti-covered Rome Metro were entirely necessary. Our accommodation was essentially a double room in someone's house on the edge of the city and, apart from staying in a boarding school in Slovenia, easily ranked as one of the stranger places in which we stayed. One thing is for sure: travelling on such a tight budget certainly unleashes the weird and wonderful on a trip. Through a mixture of walking, bus tours, Metro and sheer determination we covered the Italian bucket list items of the Coliseum, the Trevi Fountain, the Pantheon and the sights of the Centro Storico. Unknowingly, and this attests to my ignorance at the time, I'd also accidentally entered a twelfth country in the form of the micronation of Vatican City - the smallest country in the world! For more on this see below.
With our thirst to see some of the world's most historic sights somewhat quenched, we pressed on to Pisa, a not insignificant 350 kilometres north of Rome, to see another. It was perhaps the landmark about which I was the most aware as a child. Of course, Pisa is for its eponymous tower ironically made famous because of a critical flaw in its construction. Inadequate foundations laid upon soft ground meant that, at one point, the tower leaned at a worrying 5.5 degrees. Restoration work has since reduced its tilt from to a less concerning three degrees.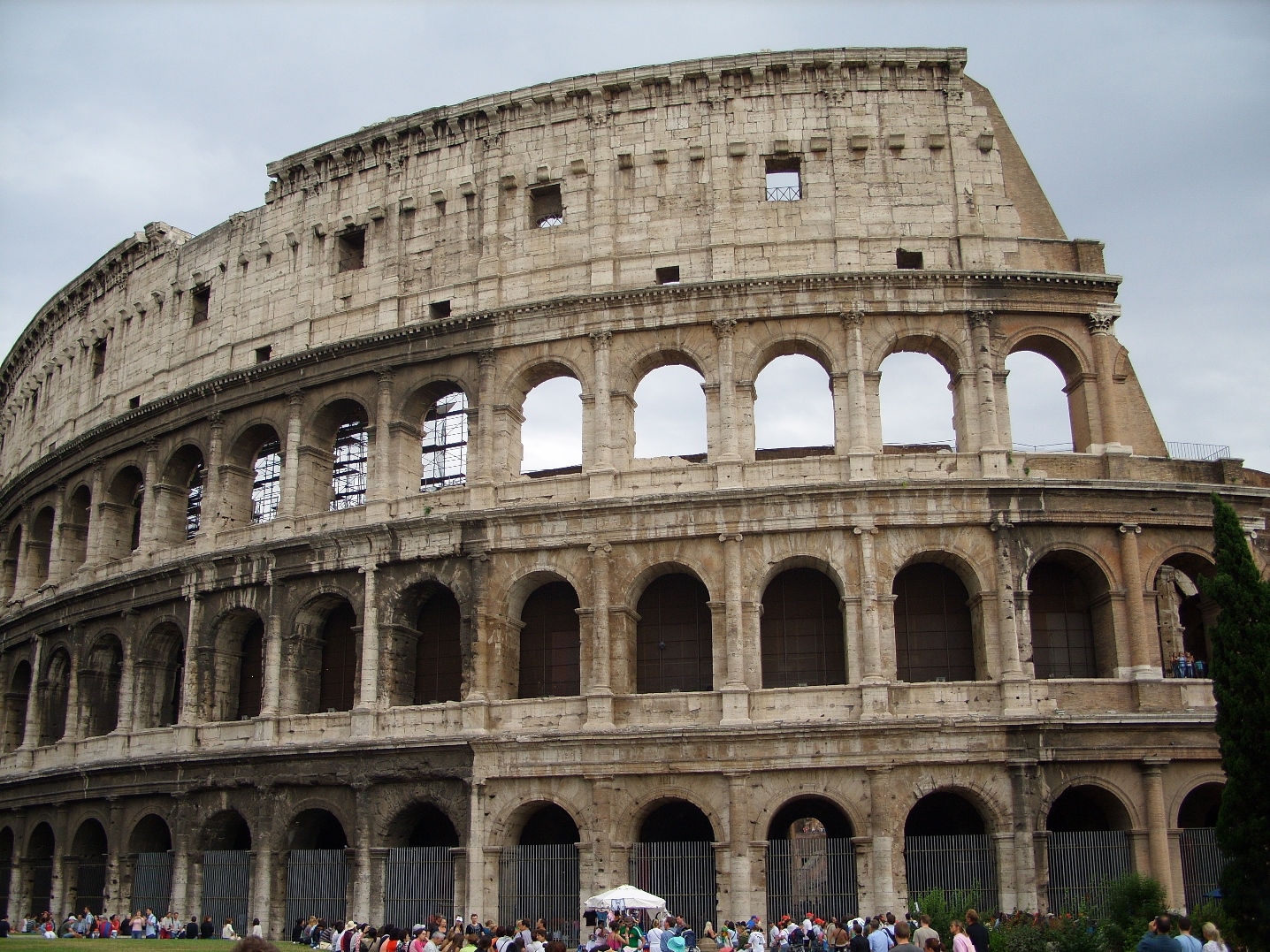 A true icon of world travel: The Coliseum.
Rome's huge Baroque Trevi fountain - one of Italy's key landmarks.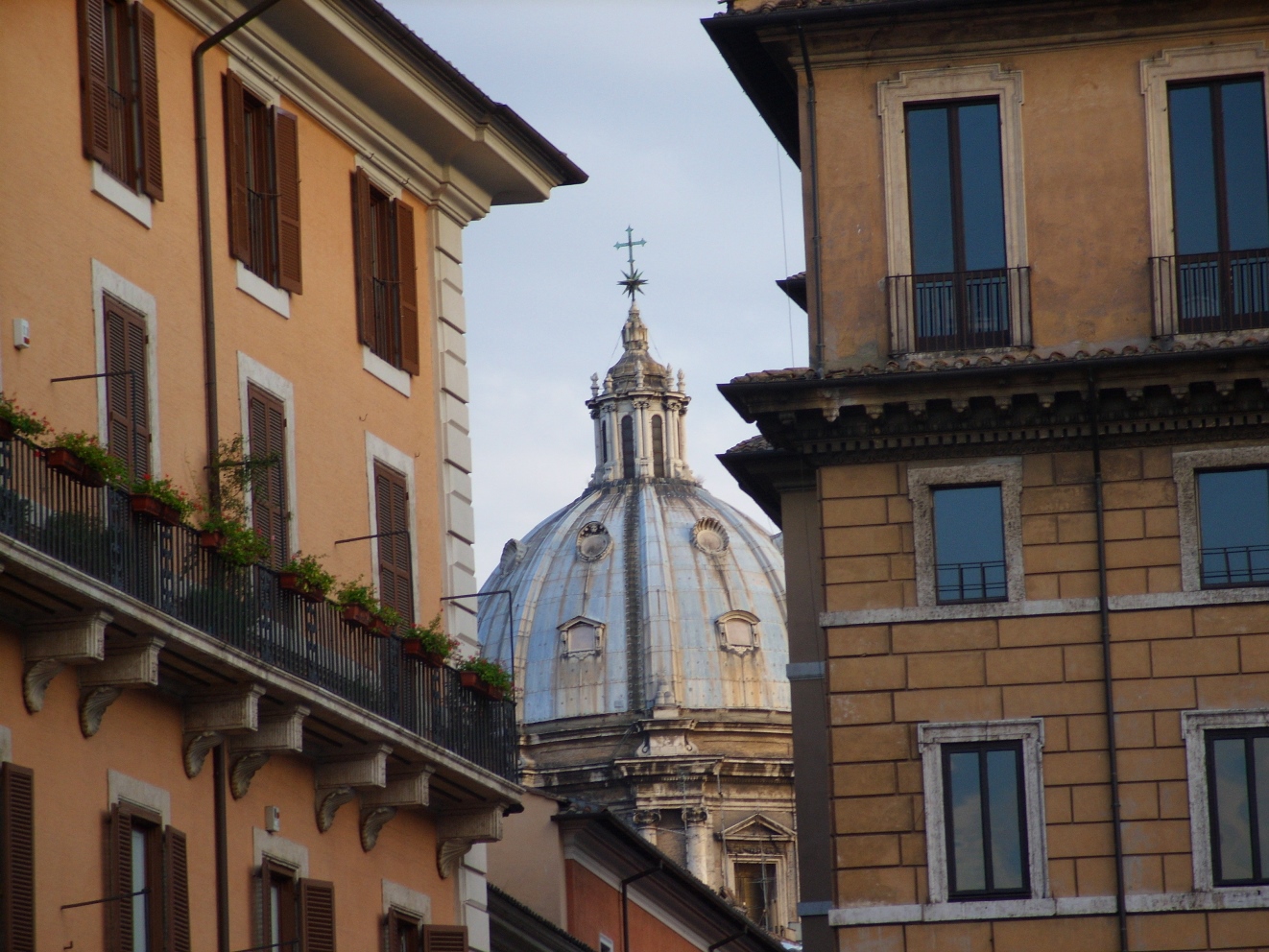 The stunning St Peter's Basilica seen peeping between buildings in Rome.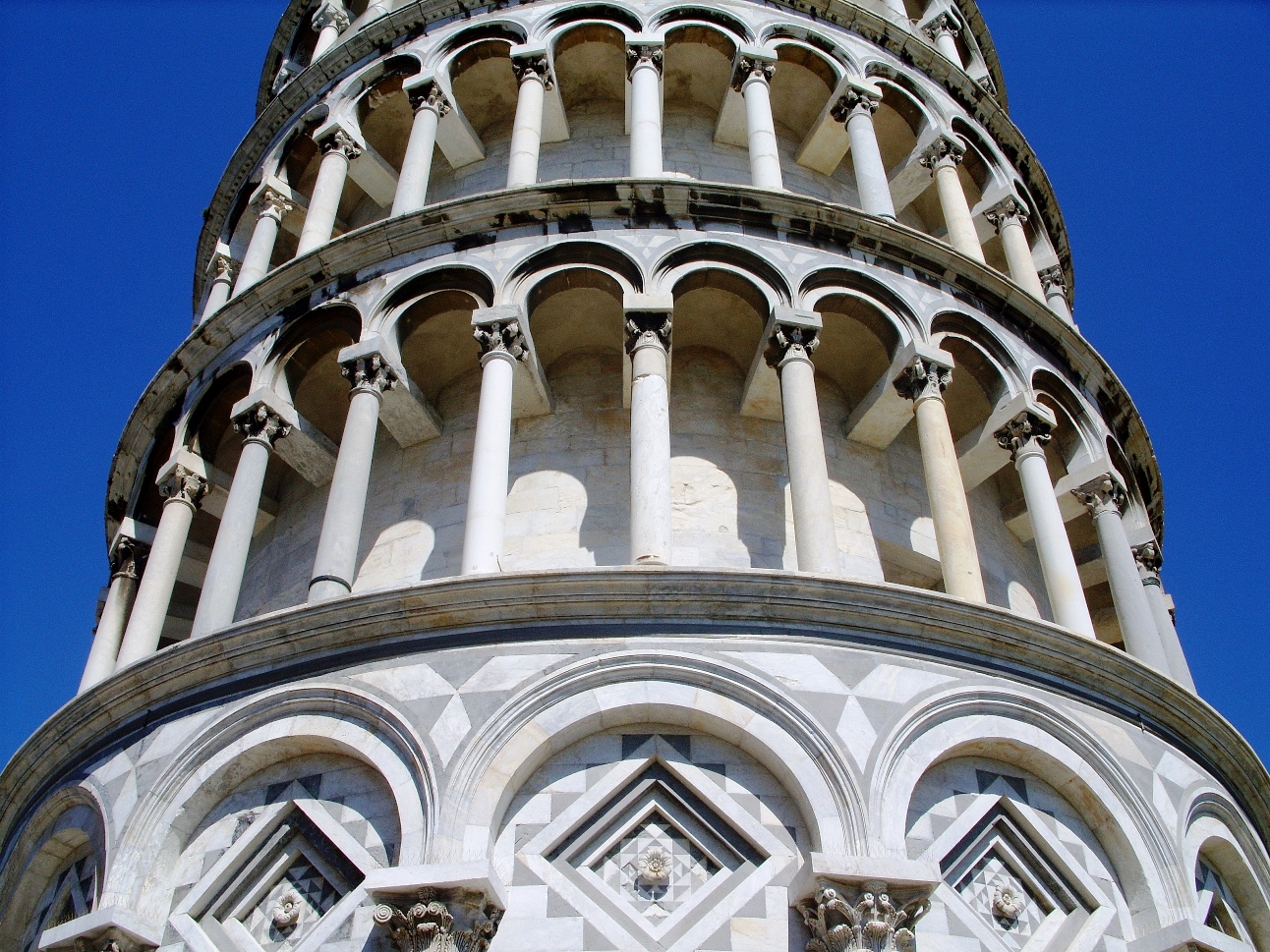 The Leaning Tower of Pisa detail.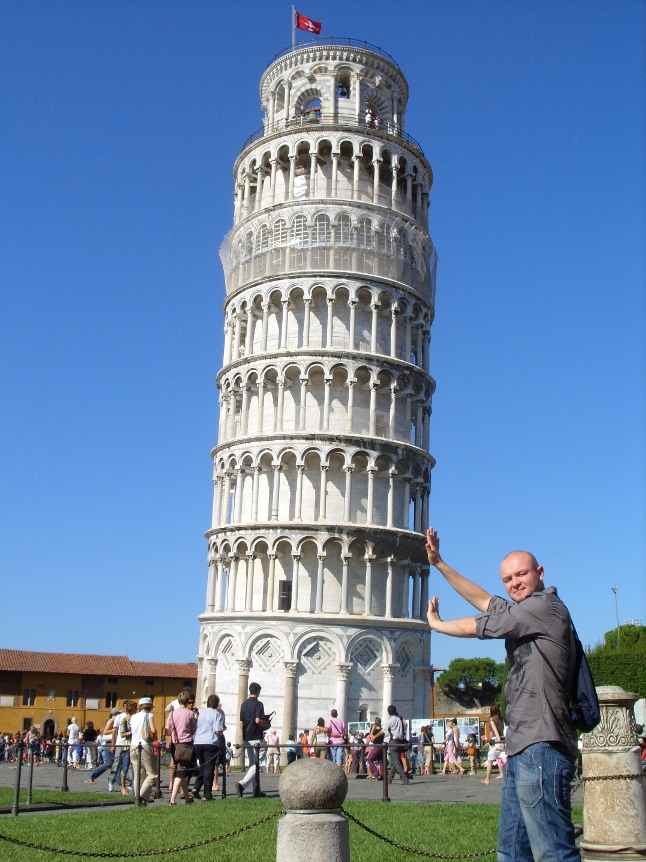 Obligatory perspective shot holding up the tower.
Vatican City State is a land-locked sovereign state located within the city of Rome. It therefore, technically at least, deserves its own section in this Travel Chronicle as a separate country. Vatican City is the smallest independent state in the world by both size and population. It is a very serious place where robed and uniformed people undertake serious tasks with serious expressions. There are certainly no smiles nor laughs to be found in this place. Indeed, Vatican City is the kind of place where, if you were to burst out laughing, I have no doubt you would at the very least be verbally reprimanded - if not arrested. The atmosphere was heavy and intense. Nuns with white veils walked past my camera as I sought to photograph the stunning St. Peter's Basilica. Giant stone columns and imposing buildings add to the heaviness and gravitas of the place, one which seemed to contrast so dramatically with the Rome just a little way beyond its thick walls.
The stunning St Peter's Basilica.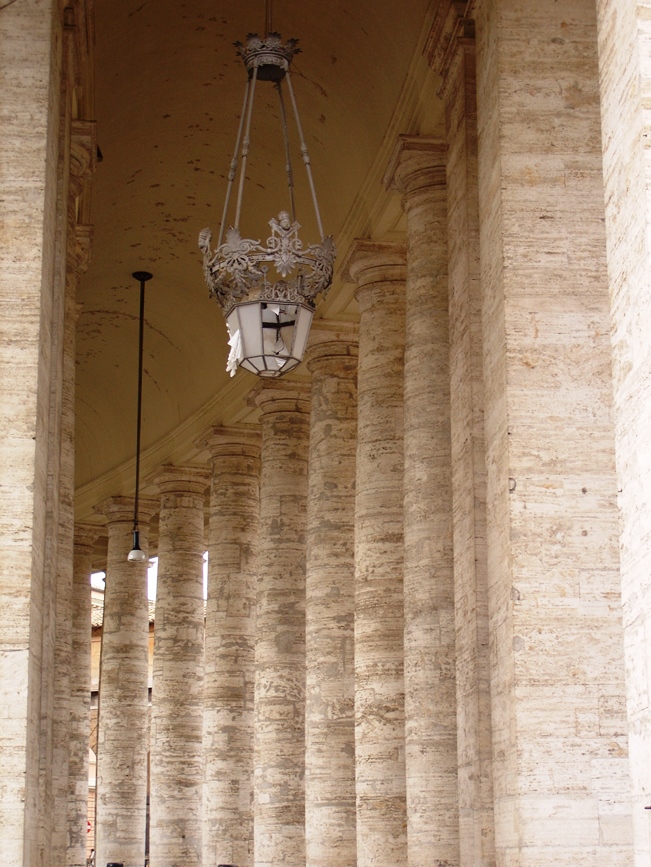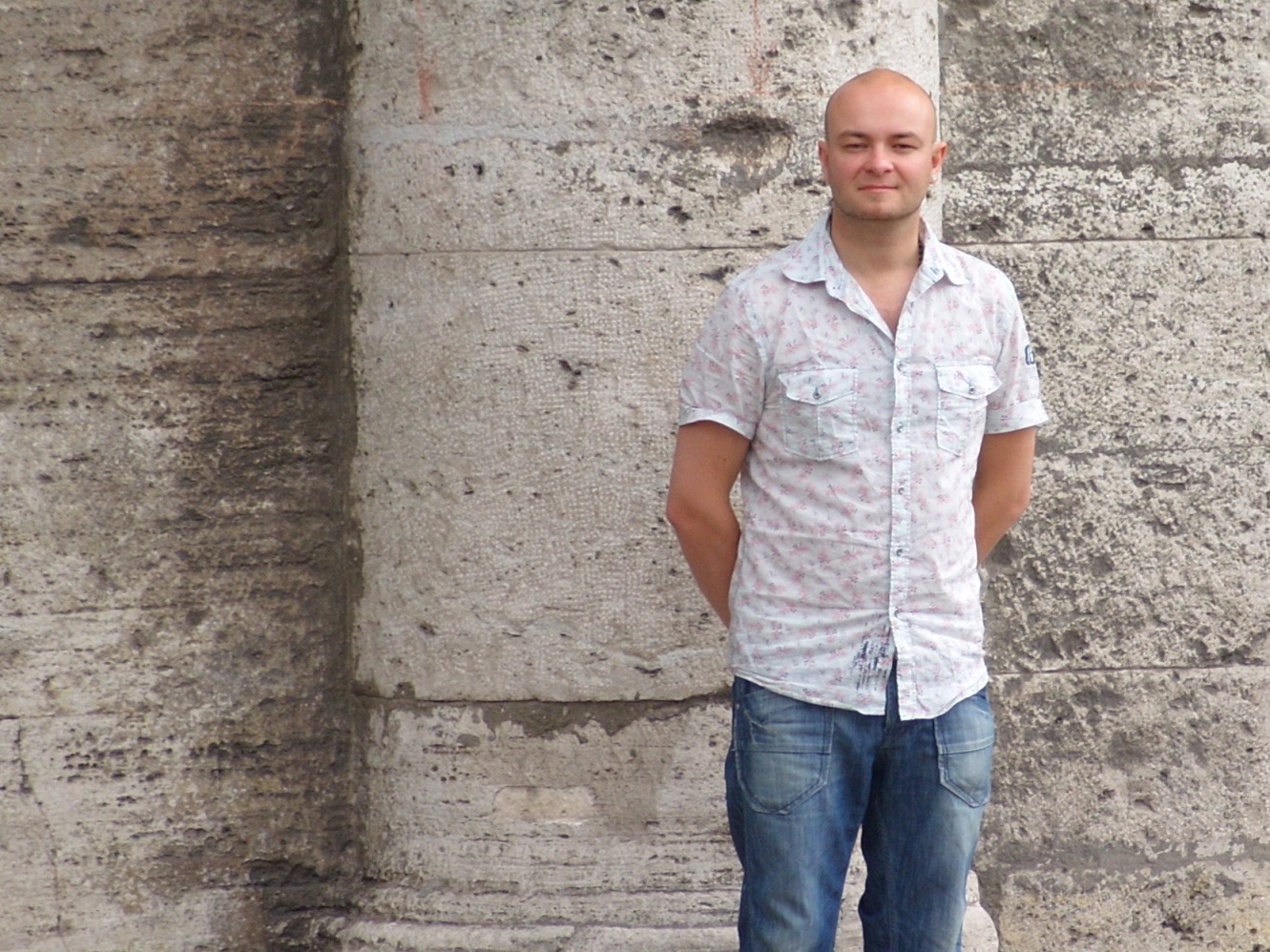 travel tips, links & resources
While there are many countries which now have the awfully-named Euro as its currency, bear in mind that this is not the currency in all European countries. At time of writing Sweden, Norway, Denmark, Hungary, Romania, Croatia, Czech Republic and Poland had not adopted the Euro as their currency. If travelling through these countries, try to avoid converting your currency too frequently. Indeed, it is probably worth spending all of your Norwegian Krona in Norway rather than converting what's left when you arrive in Denmark, for example. This list of countries only includes those within the EU - not those outside of it like Switzerland.
I recommend mixing tourist trail and off-the-beaten track countries on a long journey such as this. A lot of the adventure comes from having a range of destinations.
Take plenty of entertainment with you for the long train journeys but don't forget to look out of the window - the best entertainment there is. Remember: the journey is also the destination.
Be sure to read the terms of your Inter-Rail pass very carefully as, inevitably with special travel passes, there are a litany of exclusions which could leave you standing at the station with nowhere to go.
There are a range of rail passes available from the official Inter Rail site here. Be sure to buy your pass from the official site and not through an agency. Cut out the middle man and go direct.
I have since learnt that trying to save money by booking really cheap accommodation on the edge of town is, in the end, a completely false economy. The money you save is then spent travelling into the centre of the city where you, ultimately, want to be. It also drains your sightseeing time. If you can, spend that little bit more to make the most of your time in a capital city.