Melanesian Adventures in the French Overseas Territory
Where: Grande Terre: Nouméa, Dumbéa, Yaté. New Caledonia, Oceania.
When: September-October 2023
What: Place des Cocotiers, Jean-Marie Tjibaou Cultural Centre, traditional Melanesian dancing, Porte Moselle Market, Kayaking in Dumbéa Bay, Grand Kaori - the 1000-year-old tree, E-biking through Parc Provincial de la Riviére Blueu, the Drowned Forest.
How: International flight, walking, e-bike, hire car.
Country counter: Country No.95
Illnesses or mishaps: Back pain which scuppered my chance of hiking up the Pic Malaoui mountain in Nouméa's south.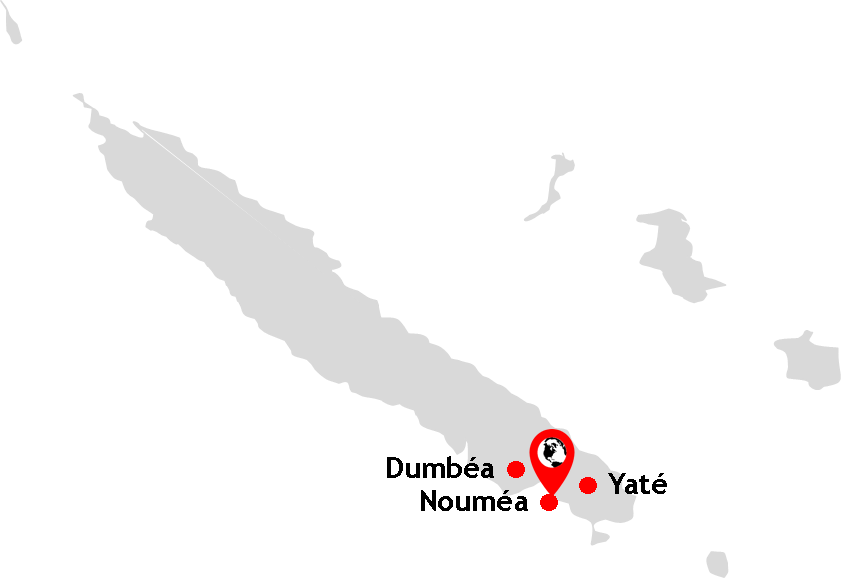 Before I begin writing anything about New Caledonia let's deal with the country-sized elephant in the room: New Caledonia isn't technically a country at all. This group of islands, less than a couple of thousand kilometres off Australia's eastern coastline, is a French Overseas Territory. Absurdly it's part of France. Colonialism strikes again. There have been numerous attempts at independence via referendums but many New Caledonians see that in an increasingly unstable world, no less an unstable Asia-Pacific region, greater security comes from sticking with their French colonial masters. Referendums in 2018, 2020 and 2021 have all rejected independence from France by a slim majority. The world is complex and its countries just so. There are different types of countries with varying degrees of independence and interdependence. Some have seats at the United Nations, others do not. Some are self-governing, others reliant on neighbouring (or indeed) faraway countries to hold them up. Some are unrecognised, some are brand new and others long-standing ones. Countries are curious idiosyncratic things, some defying simplistic black-and-white categorisation. There are travel purists out there only counting countries by UN seat, despite the fact that doing so belies the world's complexity and that a single criterion doth not a country make. I took the decision long ago to decide what is, and what isn't, a country on a case-by-case basis. As I sit here overlooking Dumbéa's turquoise waters inhabited by deadly sea snakes and sharks, flanked by rustling palms, shored by mangroves and surrounded by sub-tropical vegetation, it is quite clear that I am absolutely and categorically not in France.
Wishing to avoid yet another generic city centre hotel devoid of culture and personality, we instead based ourselves at a small residence in Dumbéa a mere 20 kilometres north of Nouméa. This was unquestionably the best decision we made. I've increasingly learnt over the years that, in travel, where you choose to stay can be critical; it has the power to transform a trip into something far more special or, indeed, spoil it altogether. With its African-themed styling, our residence came with a hot tub on the patio deck which itself looked out beyond the palm trees and across to turquoise waters where Gadji Bay meets the Dumbéa River. At early evening, the sun would take to slowly dropping behind the mountains in the distance, their moody purple hues back-lit by a palette of oranges and yellows and foregrounded by palm trees darkening into the blacks of silhouettes. This was nature's awesome performance with a late afternoon matinee each and every evening, a spectacle that couldn't be resisted and one which entranced and beguiled us into stopping whatever we were doing. This was without doubt the best show in town - and we had front row seats. The residence was owned and managed by a wonderful woman who made us feel like kings during our stay; her hospitality and servings of delicious homemade bread were interspersed with a wicked sense of humour. For so many reasons, this could quite possibly be the loveliest place I have ever stayed and, likely, will ever stay. This wonderful residence went a long way to compensating for some of the many shortcomings we were to experience during our time in New Caledonia.
Central Noumea is nothing to write home about. It is one of the quietest urban centres I have visited. We expected, at the very least, a little bit of hustle and bustle from cafes and restaurants - after all this was the island's main commercial centre, the weather was gorgeous, it was Saturday lunchtime and we were at the Place des Cocotiers (Coconut Square) in the heart of the centre-ville, billed as something of a meeting place for New Caledonians. Instead, Noumea greeted us with quiet streets and businesses which preferred to emblazon "Ferme" signs on their doors rather than actually serve someone. My stomach had been rumbling for a couple of hours after an early morning flight out of Australia. Glancing at what lay around me, I began to worry about how we were going to find a place to eat. Images of enjoying stylish alfresco dining in the New Caledonian sunshine dissolved amid Noumea's functional, bland architecture. We gravitated towards Noumea Quays at the passenger cruise terminal where we defaulted to a restaurant called Little Italy and promptly exchanged an exorbitant amount of money in Central Pacific Francs for a pizza - the most I think I have paid for a plate of food in my life. My stomach was full but my wallet somewhat emptier. No one travels to the South Pacific for a cheap getaway. Indeed, the region's reputation as a place of eye wateringly-high prices precedes it but New Caledonia takes this to a whole new level. Feeling a little financially bereft post-pizza, we drove to a giant Carrefour on the outskirts of Noumea in the hope of picking up food at prices my stomach could, well, stomach. In hindsight this was a noble effort but utterly naive. The next day we had a little more success at finding something of the pulse of Noumea with a trip to the Porte Moselle Market, a place to gawp at the parrot fish and other crazy sea creatures on ice, buy and eat a comically small banana (so characteristic of this part of the world), enjoy a Malongo coffee with carrot cake and watch some traditional Melanesian dancing at the main stage. This felt a bit more like it.
It was only a short walk down from our residence's hot tub to the beach, a brown sandy affair with characteristic overhanging palms, fallen coconuts and mangroves. The tranquil waters made a mid-morning kayak a relaxed undertaking - somewhat fortunate considering J'avais mal au dos. Underwater creatures splashed for cover as we passed slowly by - a slightly disconcerting reminder that we did not have these waters to ourselves but were merely sharing them for a while with seemingly grumpy, or skittish, underwater residents. I mused that they were probably just fish disturbed from their resting places among the roots of the mangroves but, inevitably, traveller tales of New Caledonia's poisonous sea snakes were never very far from my mind. A sultry hour out on the flat, gently rippling expanse of water saw the New Caledonian weather cycle through all four seasons in quick succession and replayed on a loop: the sun would beat down, followed by the sweeping in of clouds, wind, rain sprinkles and then fierce sun again. This sedate but nonetheless enjoyable kayaking trip was my only water-based experience in New Caledonia (that's if you exclude the hot tub). With beaches closed to bathers and snorkelers alike because of a nervous government hoping to prevent a recurrence of Tourist Killed in Shark Attack headlines, we opted for some land-based adventures instead.
The Blue River Park in the Yaté region of Grande Terre's South Province was a 60 kilometre drive east of Dumbéa. Our helter-skelter drive up and down mountains was rewarded with a beautiful vista characterised by scorched red earth and unusual-looking vegetation. We drove to Pont Perignon where we deposited the car and hired two e-bikes for an outrageous sum. It was a half-day hire but we only had a couple of hours before we would have to begin the hazardous journey back up and down the mountain to Dumbéa; this wasn't a trip we savoured making in the falling light of dusk. Let loose on our e-bikes we powered through 16 kilometres of the park's reserve, from Pont Perignon to the 1000-year-old tree at Grand Kaori, pulling over multiple times to behold the truly otherworldly scenery along the Blue River. The dead white trees emerging from the icy blue of the river, known more poetically as The Drowned Forest, struck a remarkable sight against their mountainous backdrop. Indeed, amid the mists of passing showers (a bracing and refreshing experience to bike through), the Blue River appeared almost spectral, ghostly.
I enjoyed this little slice of 'France' just off the coast of Australia; it was a chance to escape to something a little different without the need to travel too far and an opportunity to dust off my high school French. It was surprising just how much of the language came flooding back after being mothballed for decades in linguistic storage. A whole range of words, from "savon" (soap) to "les deux" (both) and "jolie" (pretty) resurfaced immediately for deployment and without much pondering required. Indeed, I'm very proud to say that my French was complimented on a number of occasions. It means that I can now add New Caledonia to the list of countries outside of France where I have been able to use my French speaking skills, alongside Morocco in 2010 and French Canadia in 2011. Welcome to New Caledonia, my 95th country and my sixth on the continent of Oceania.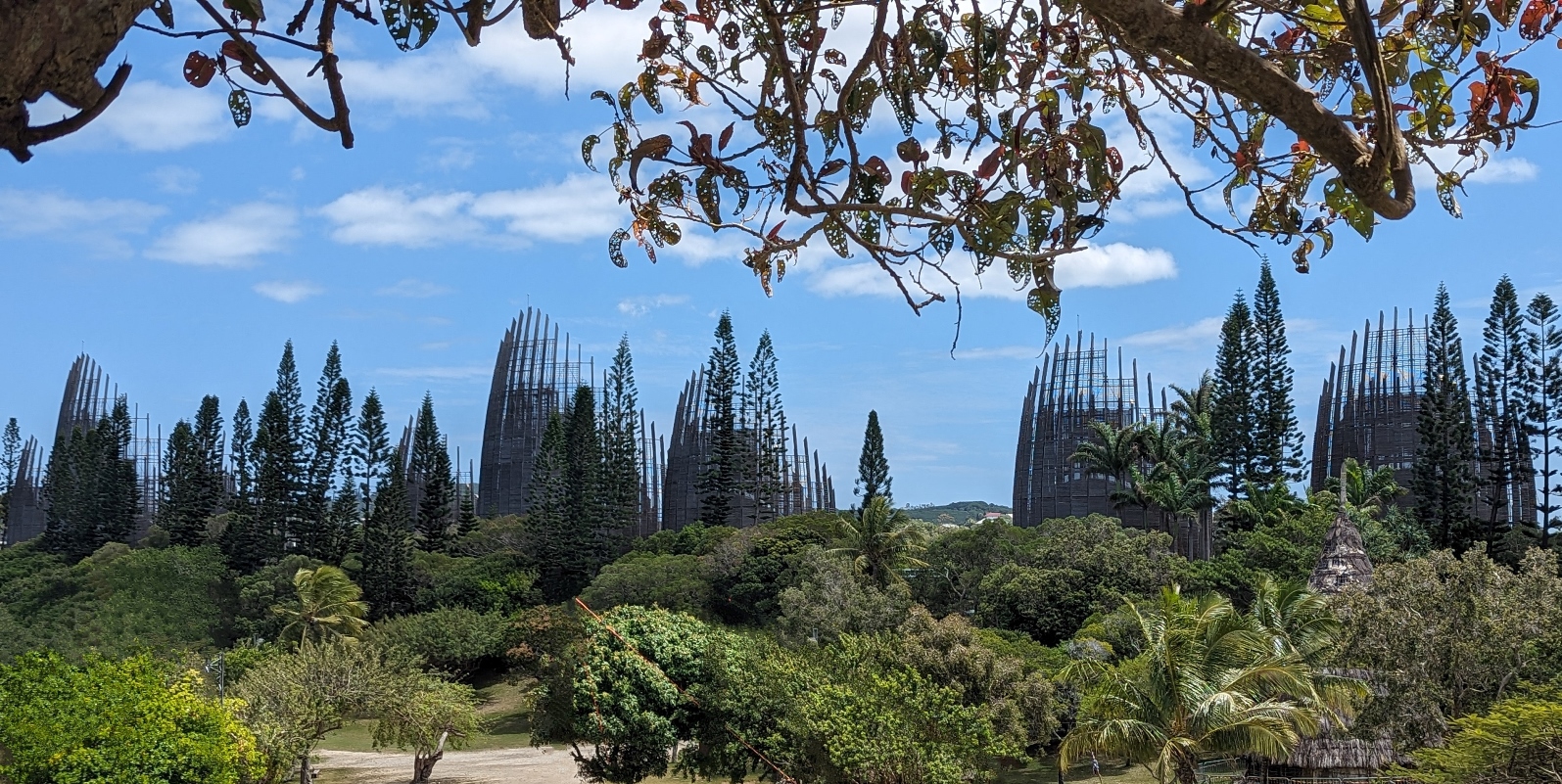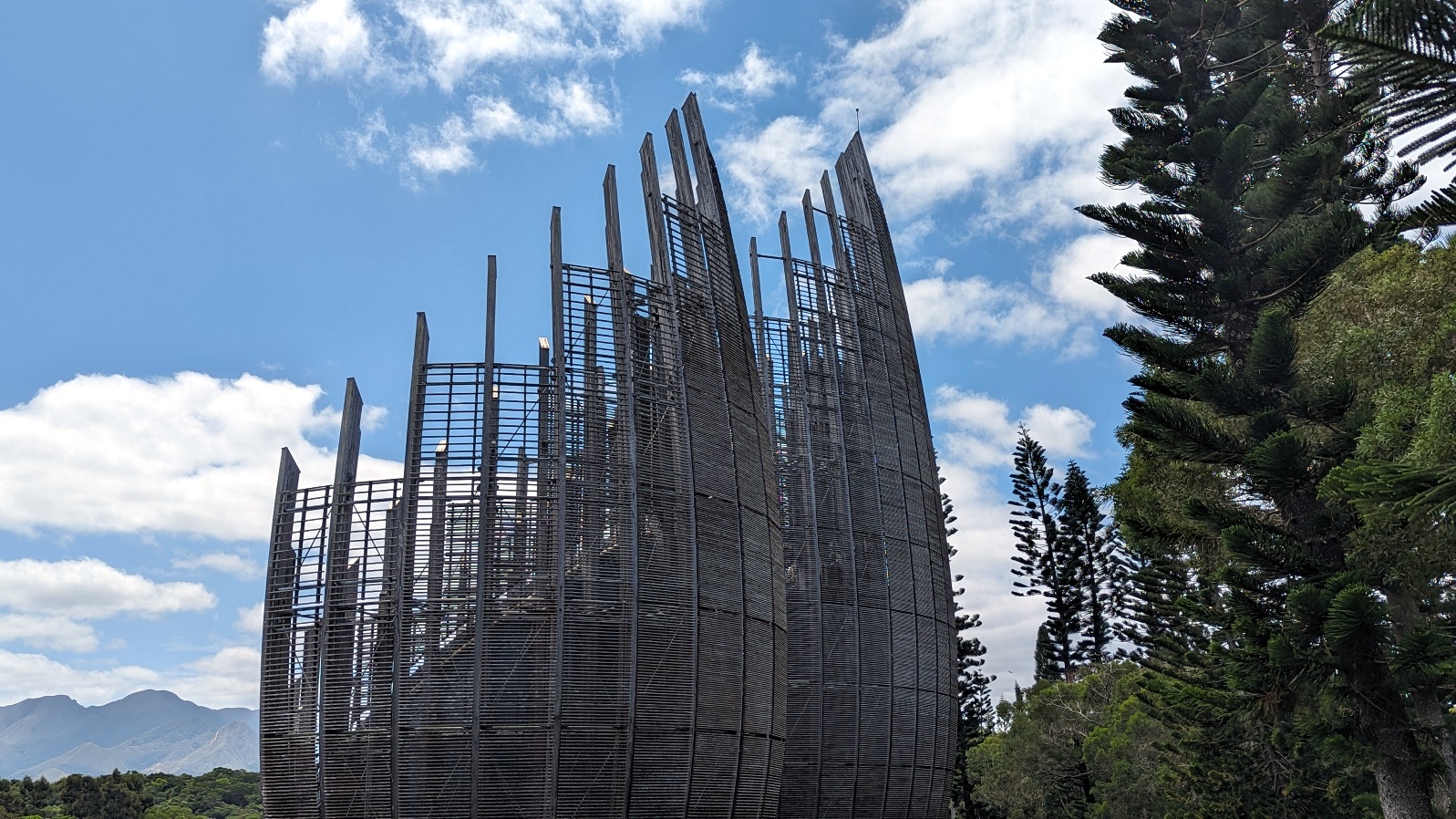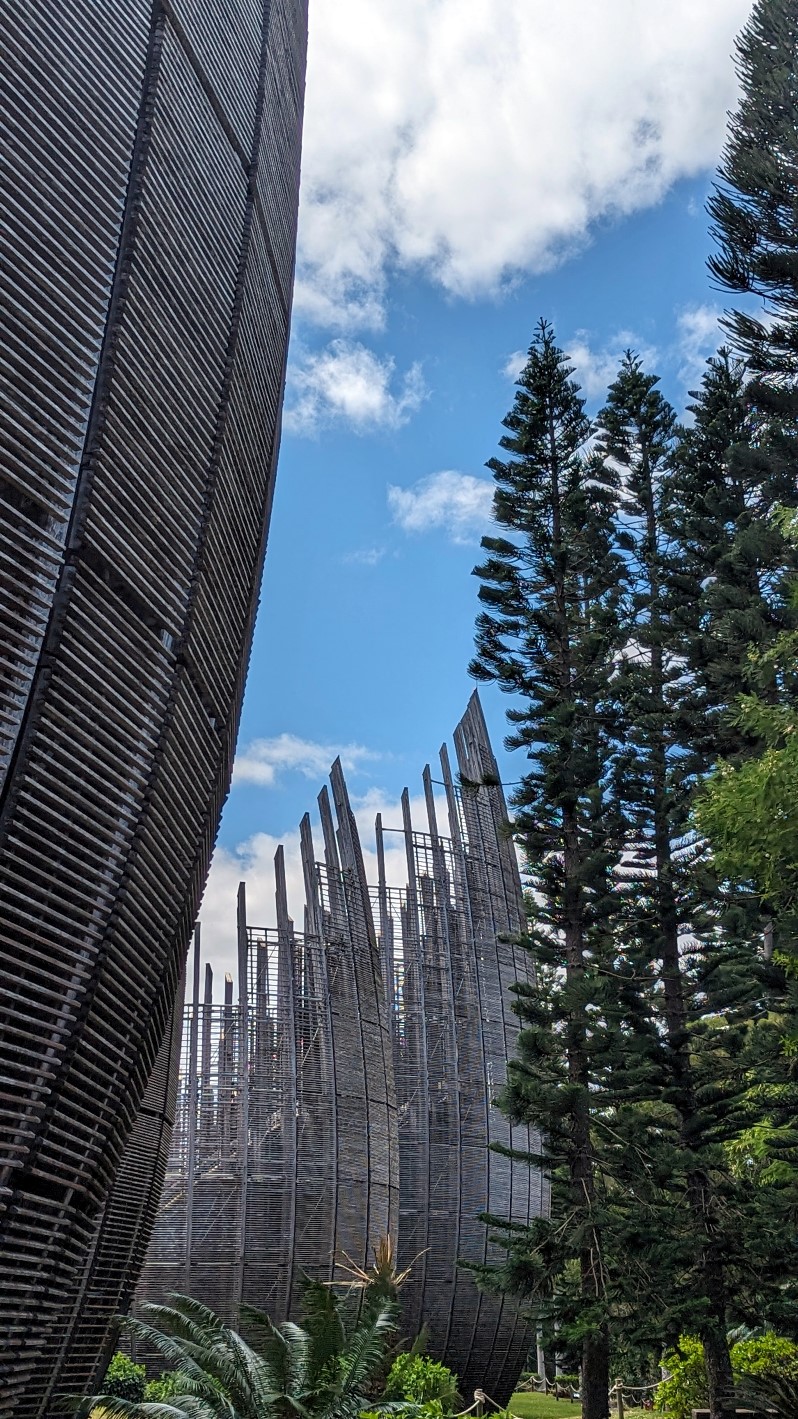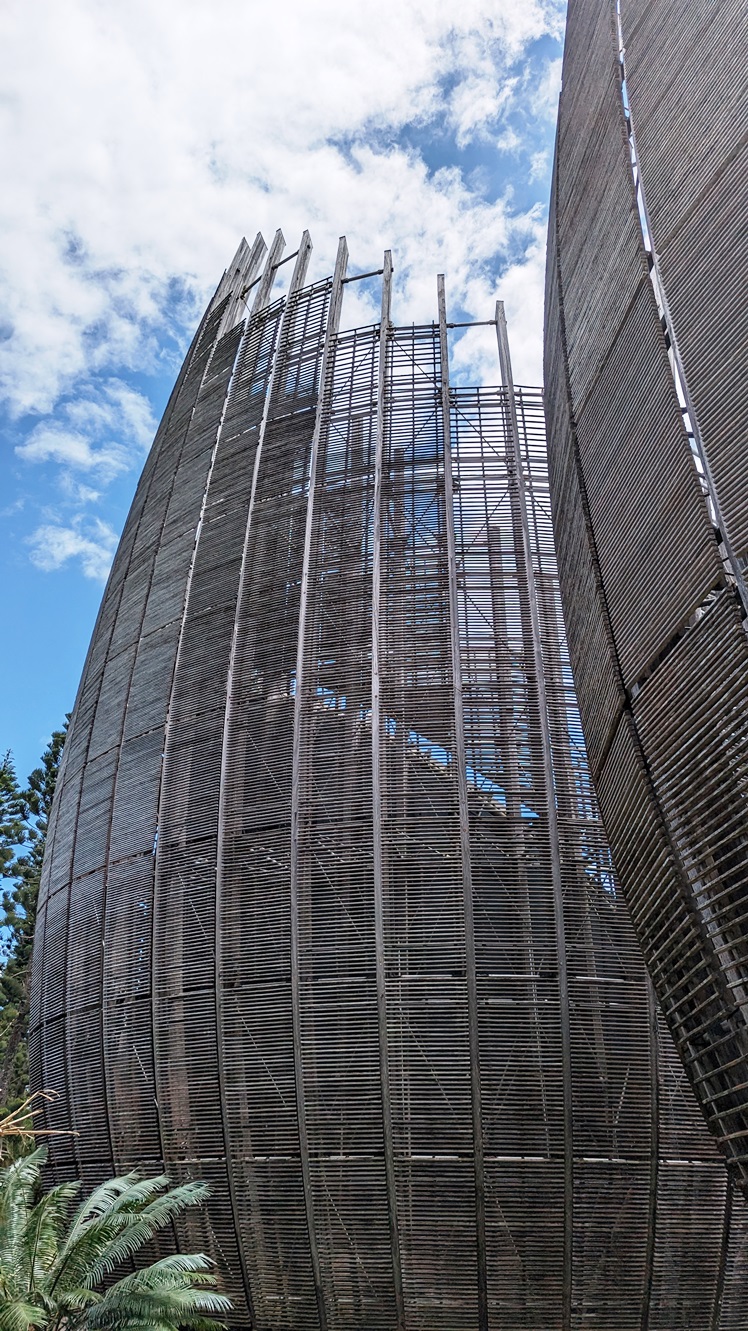 The Jean-Marie Tjibaou Cultural Centre, the undisputed landmark of New Caledonia and the building I travelled far to see. It was rather frustrating to photograph; the trees doing much to obscure the building itself.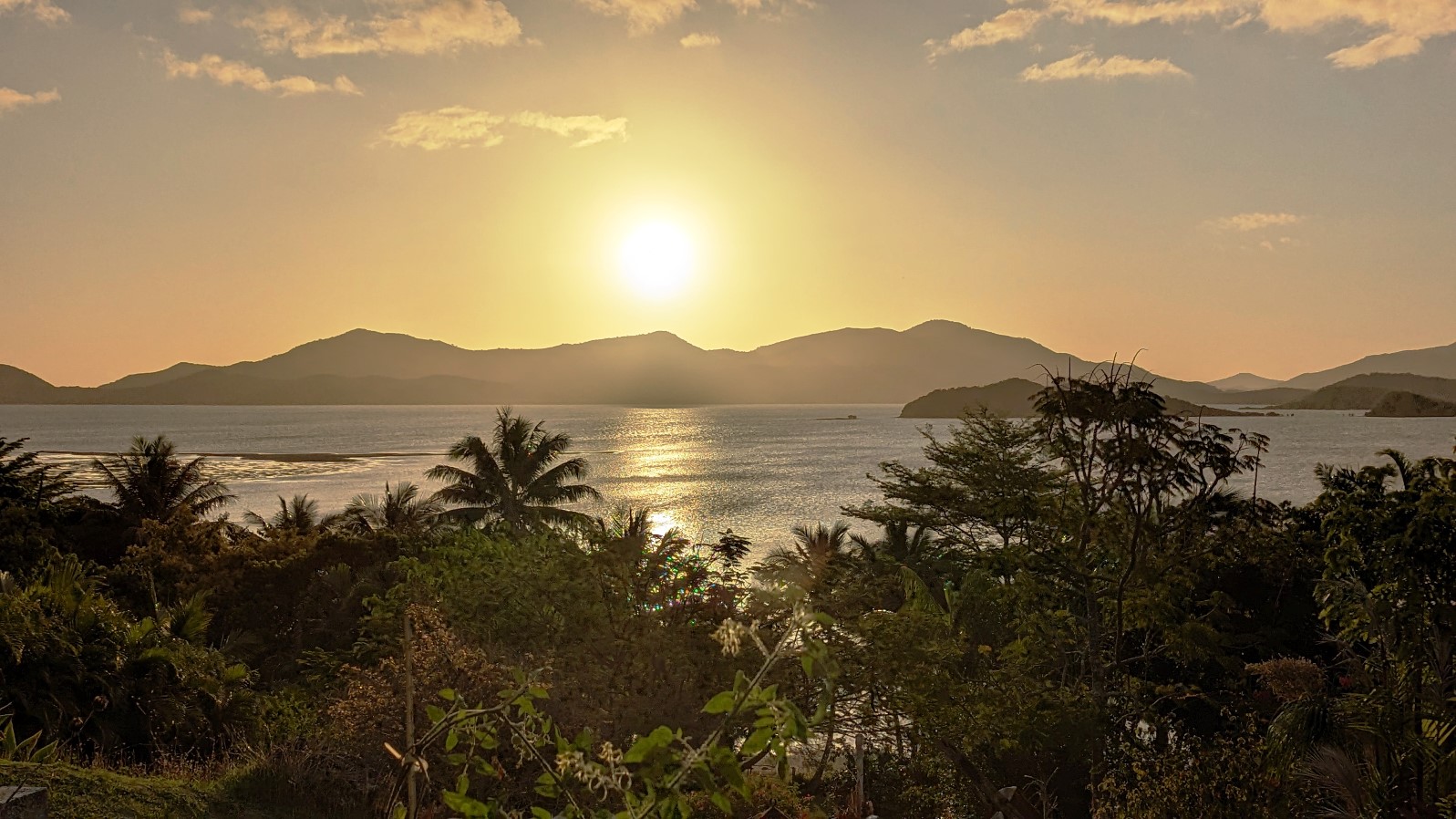 Sunset as seen from our residence overlooking the Dumbéa River and Gadji Bay. It was an awesome spectacle with a repeat performance each and every day.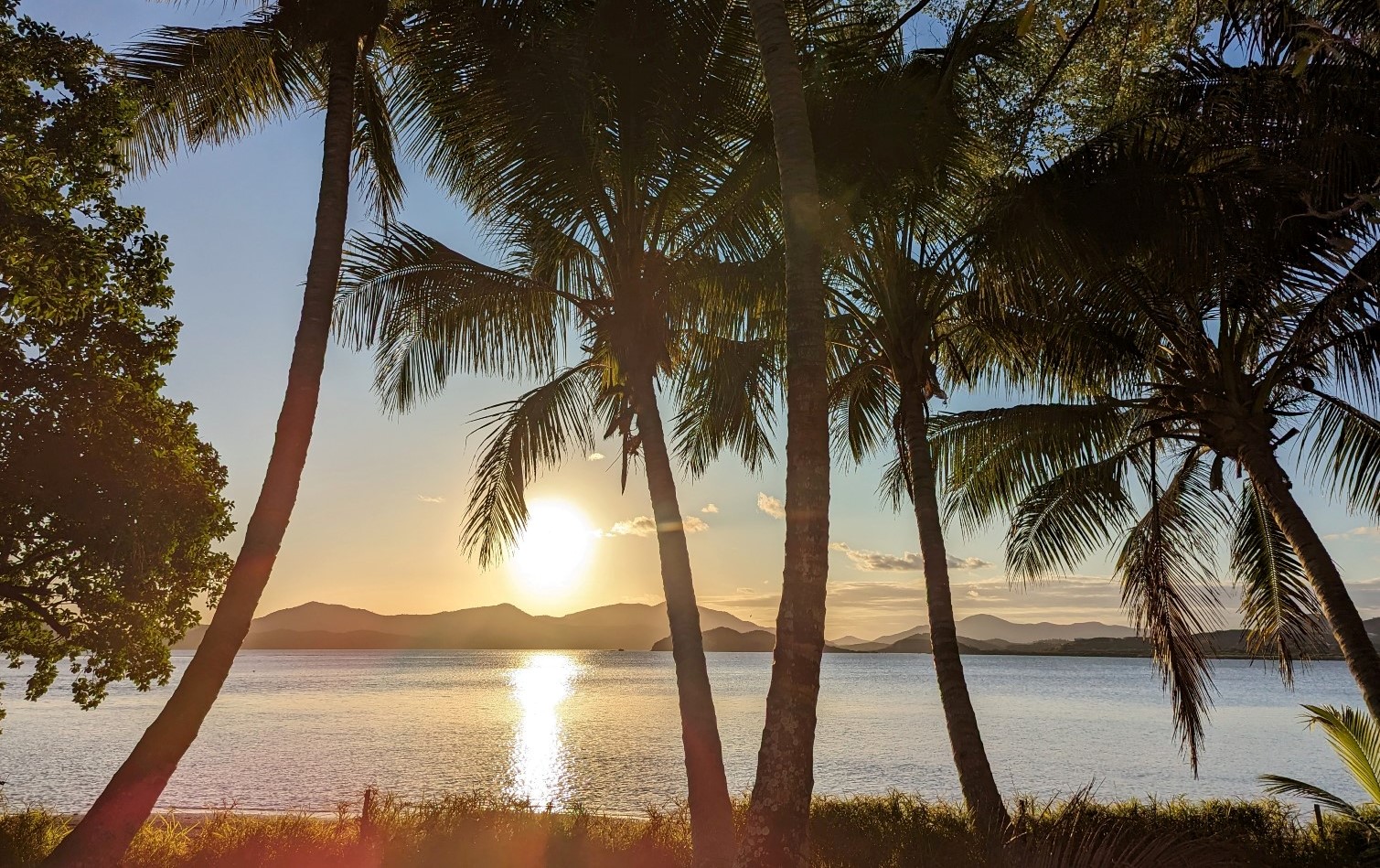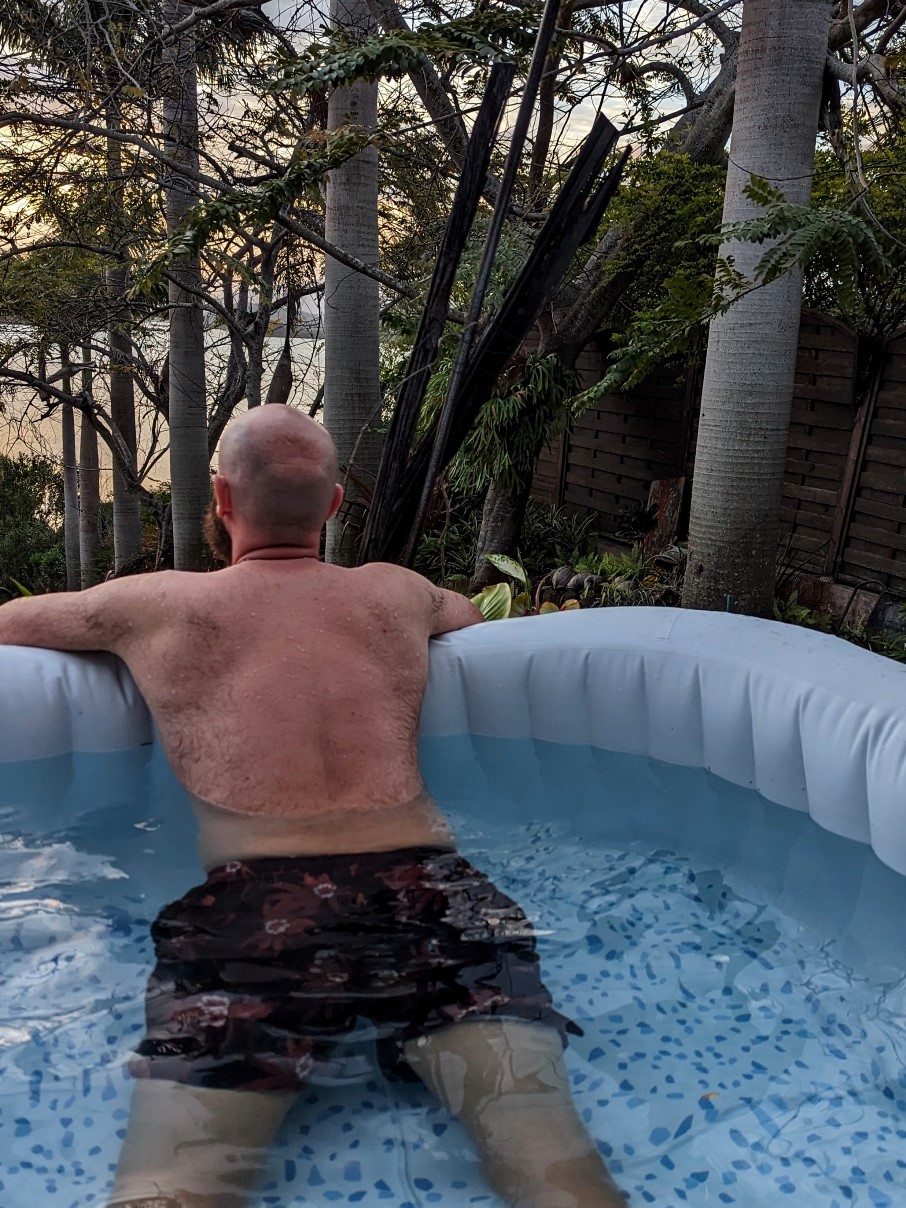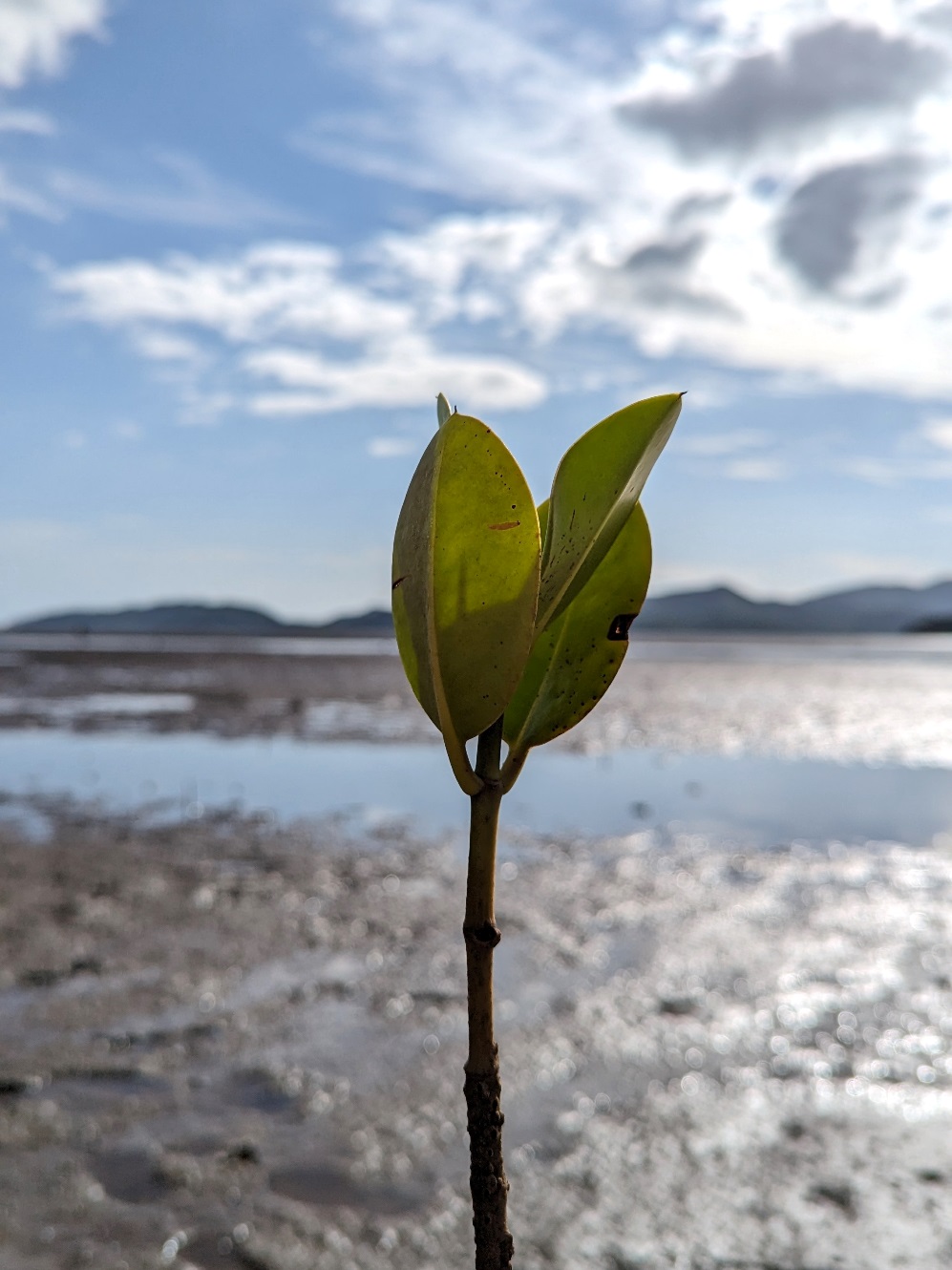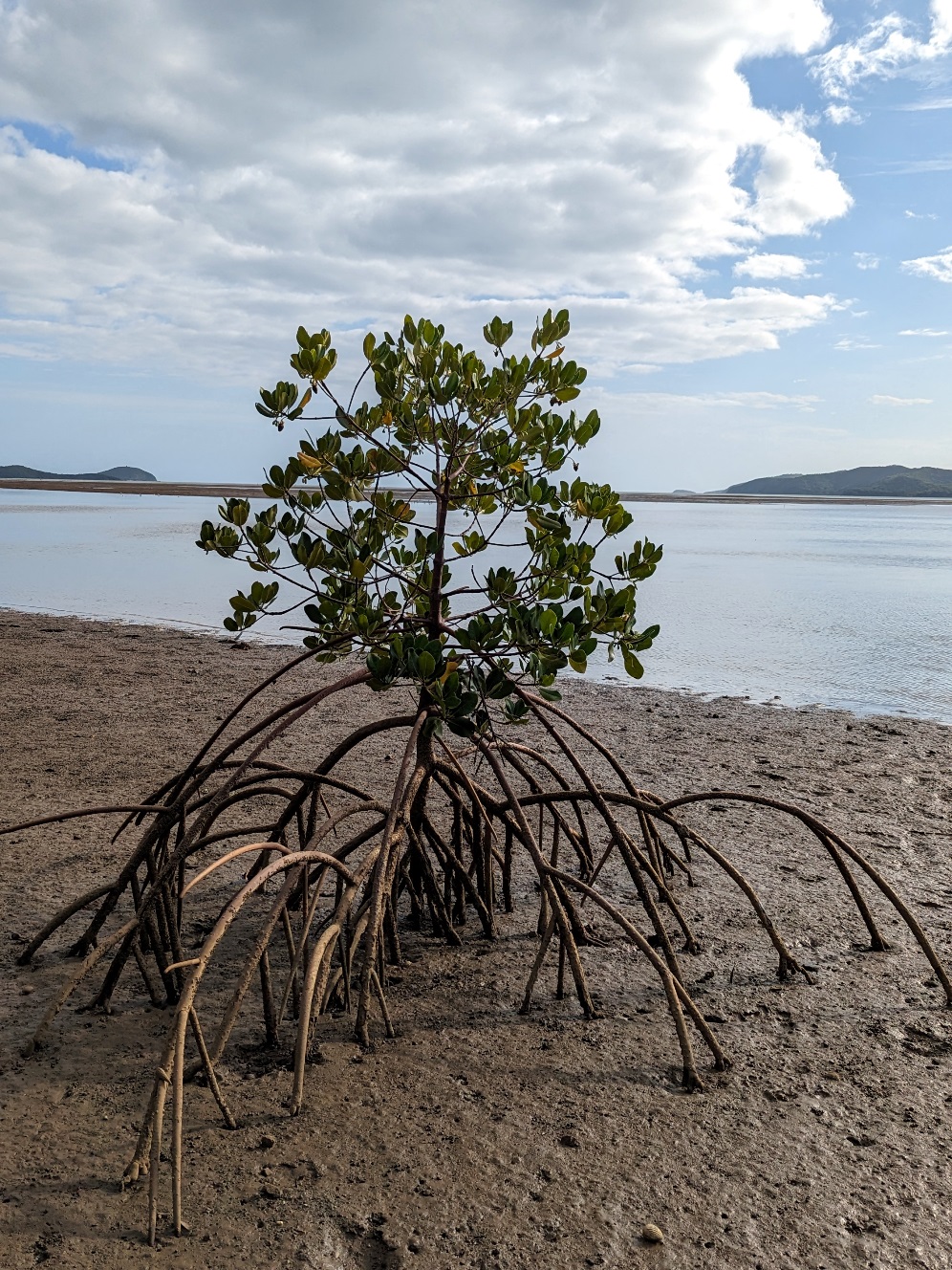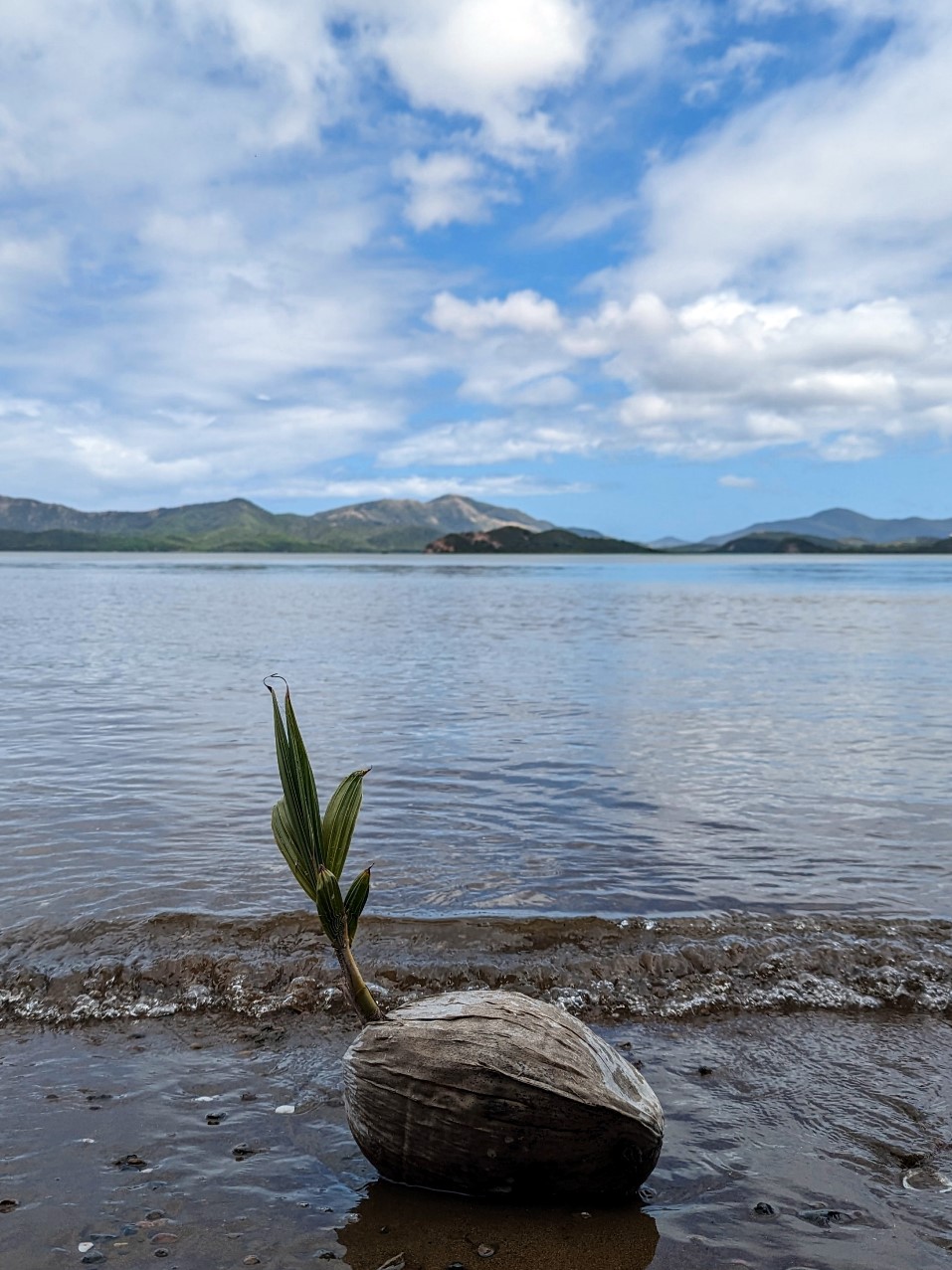 It was only a short walk down from the hot tub and down to the beach, a brown sandy affair with characteristic overhanging palms, fallen coconuts and mangroves.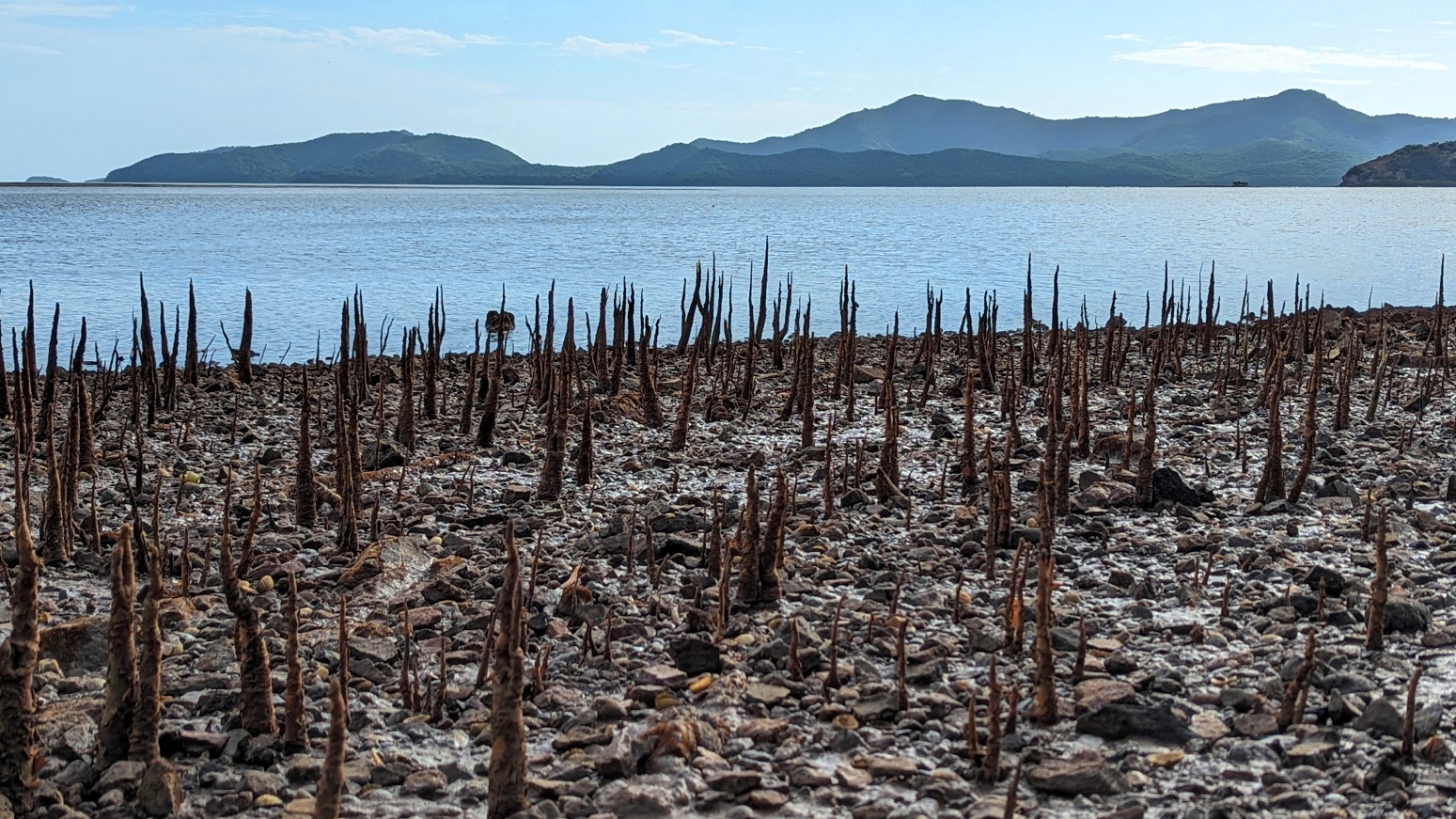 Mangrove roots are exposed as the waters of Dumbéa Bay recede.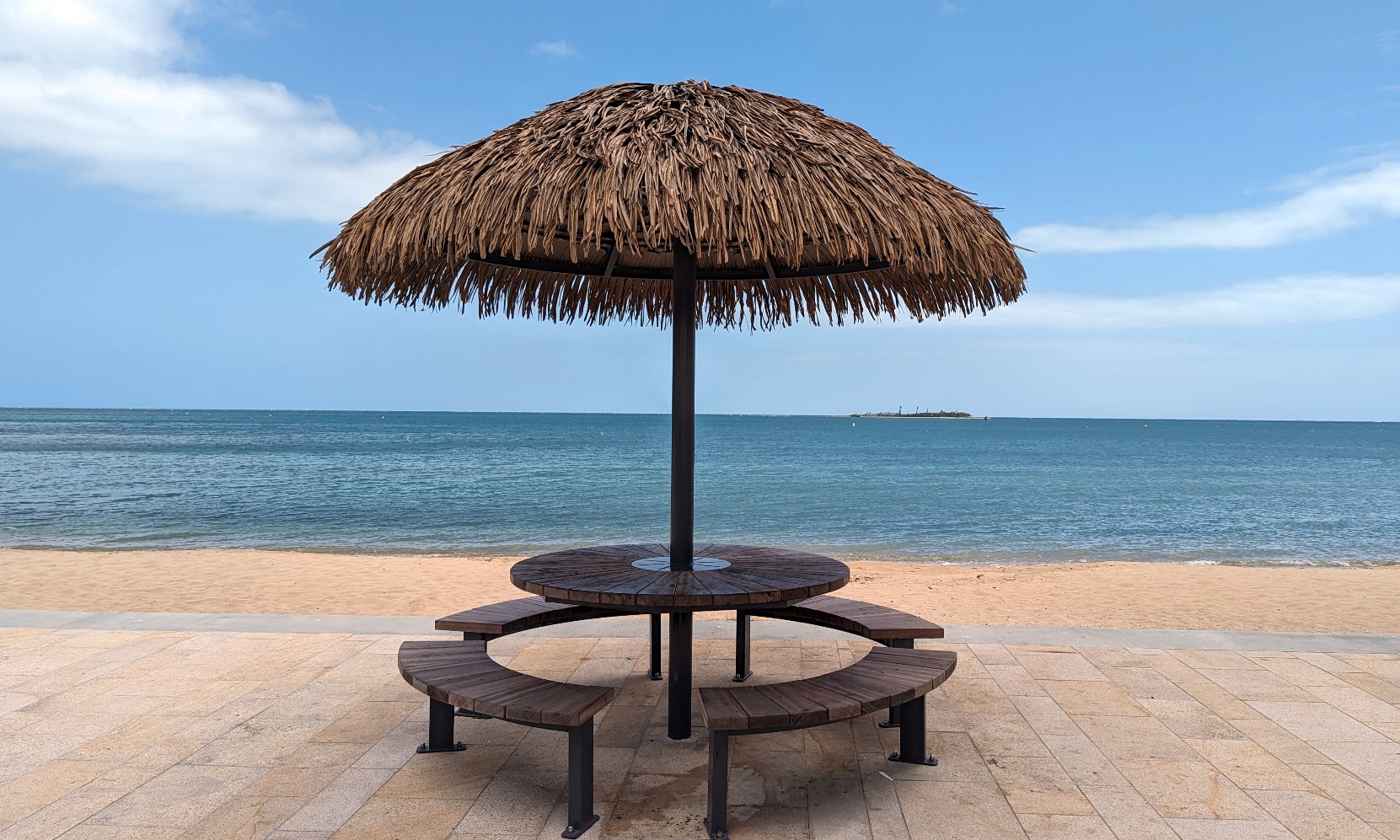 Noumea. The paradox of New Caledonia. Shark attacks mean that this French Overseas Territory has beautiful stretches of beach with almost no-one enjoying them. This seating area looks almost sculptural in its loneliness.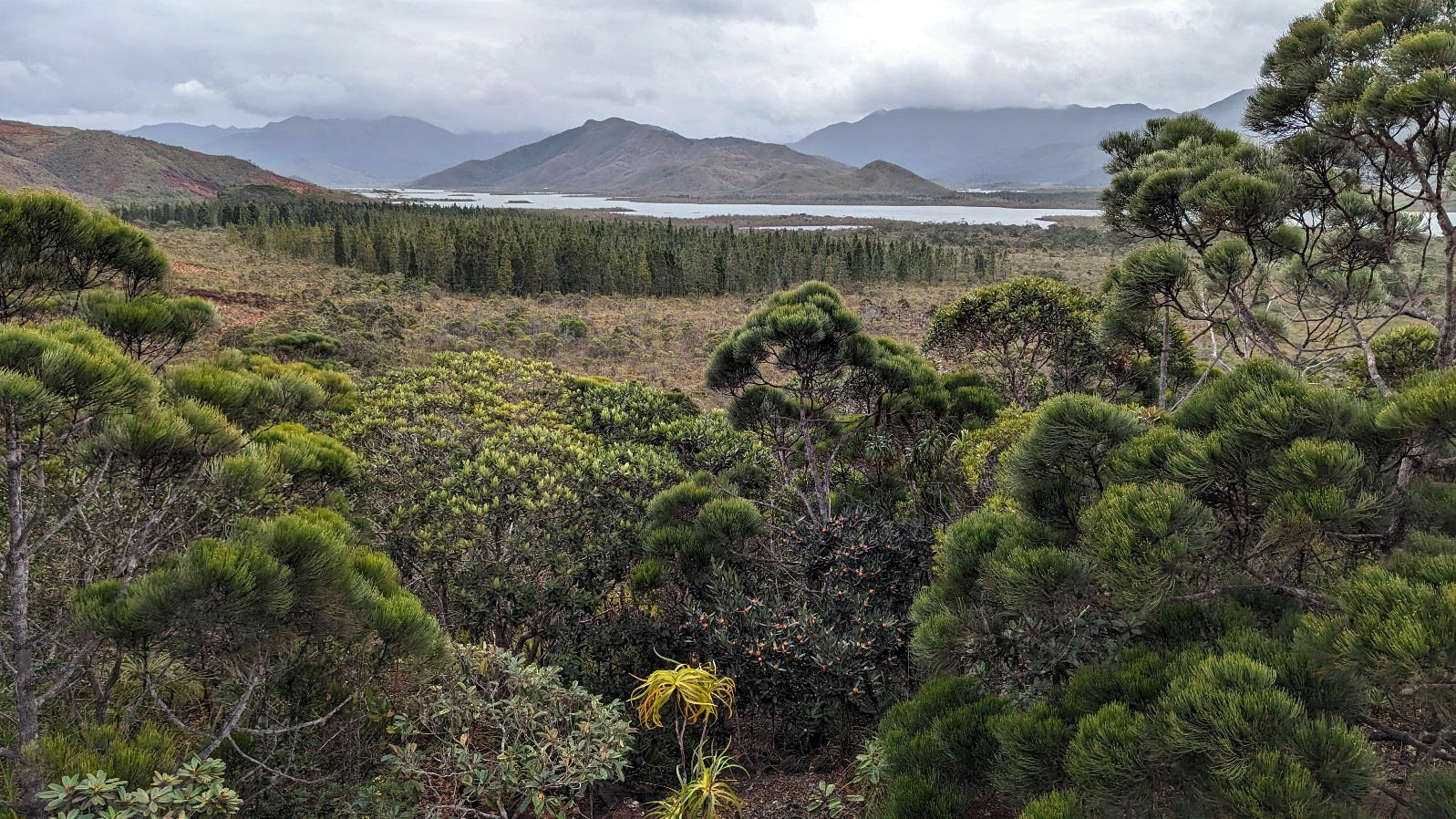 The incredible vistas offered by the Blue River Provincial Park.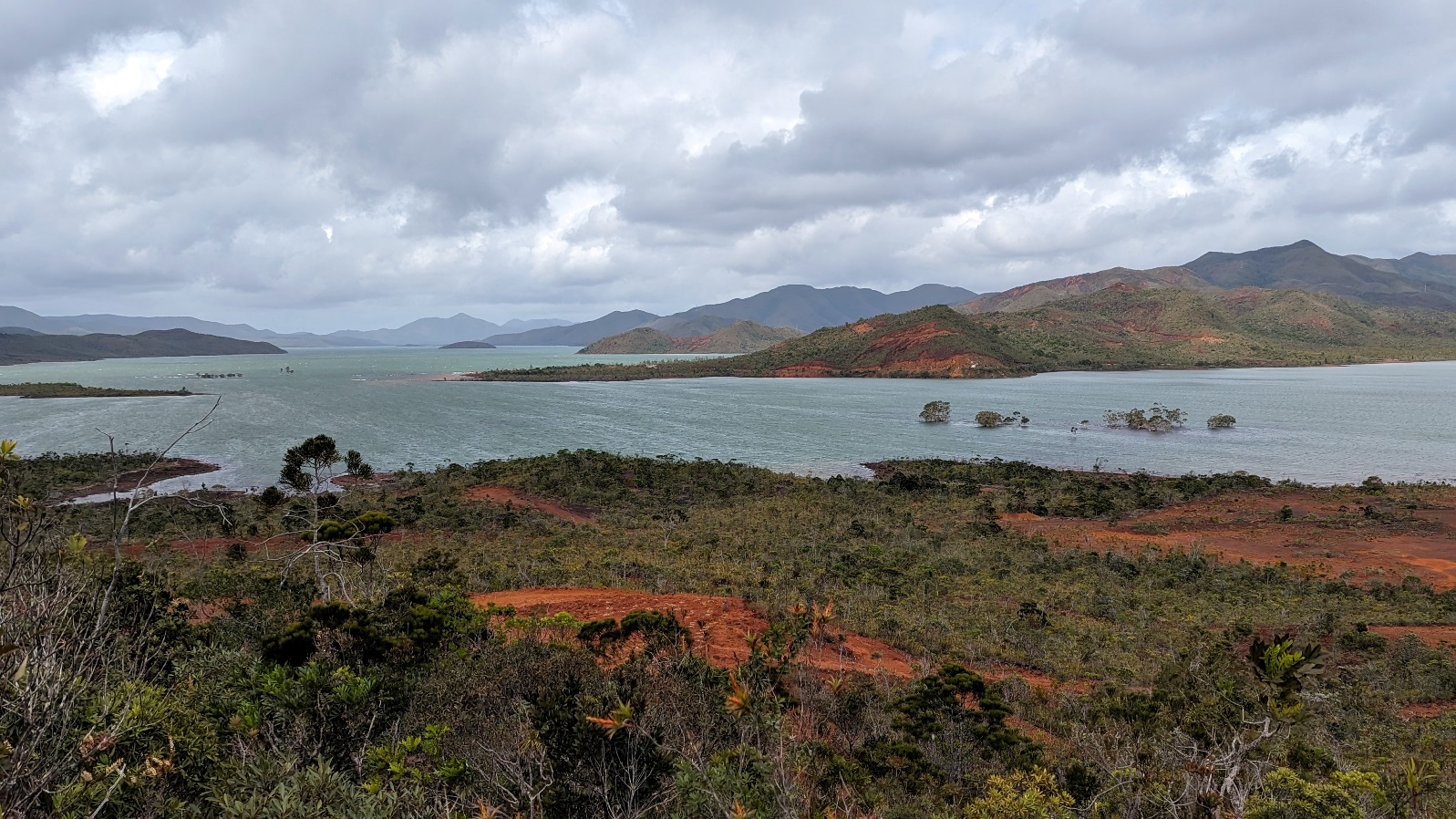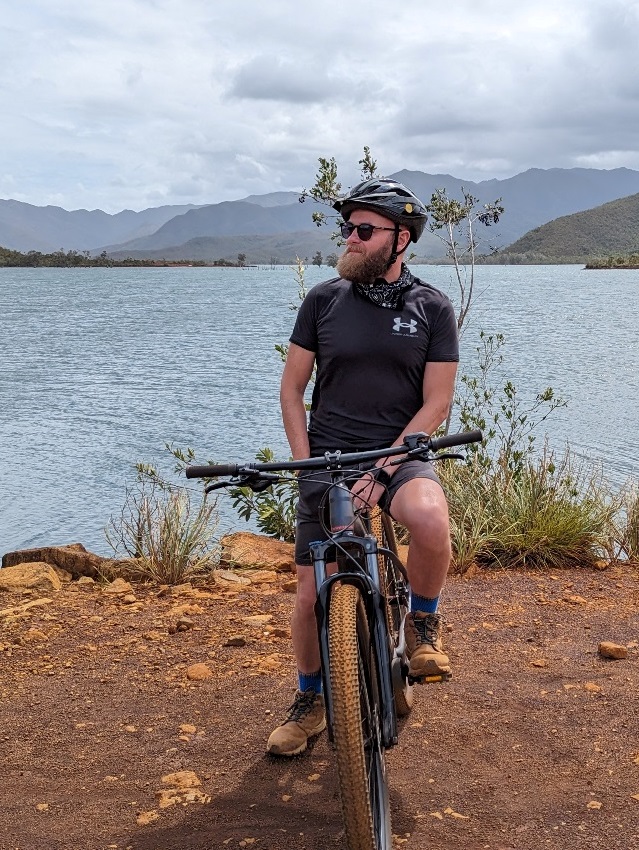 Adventures on land: the Blue River Provincial Park is an awesome place to see by e-bike.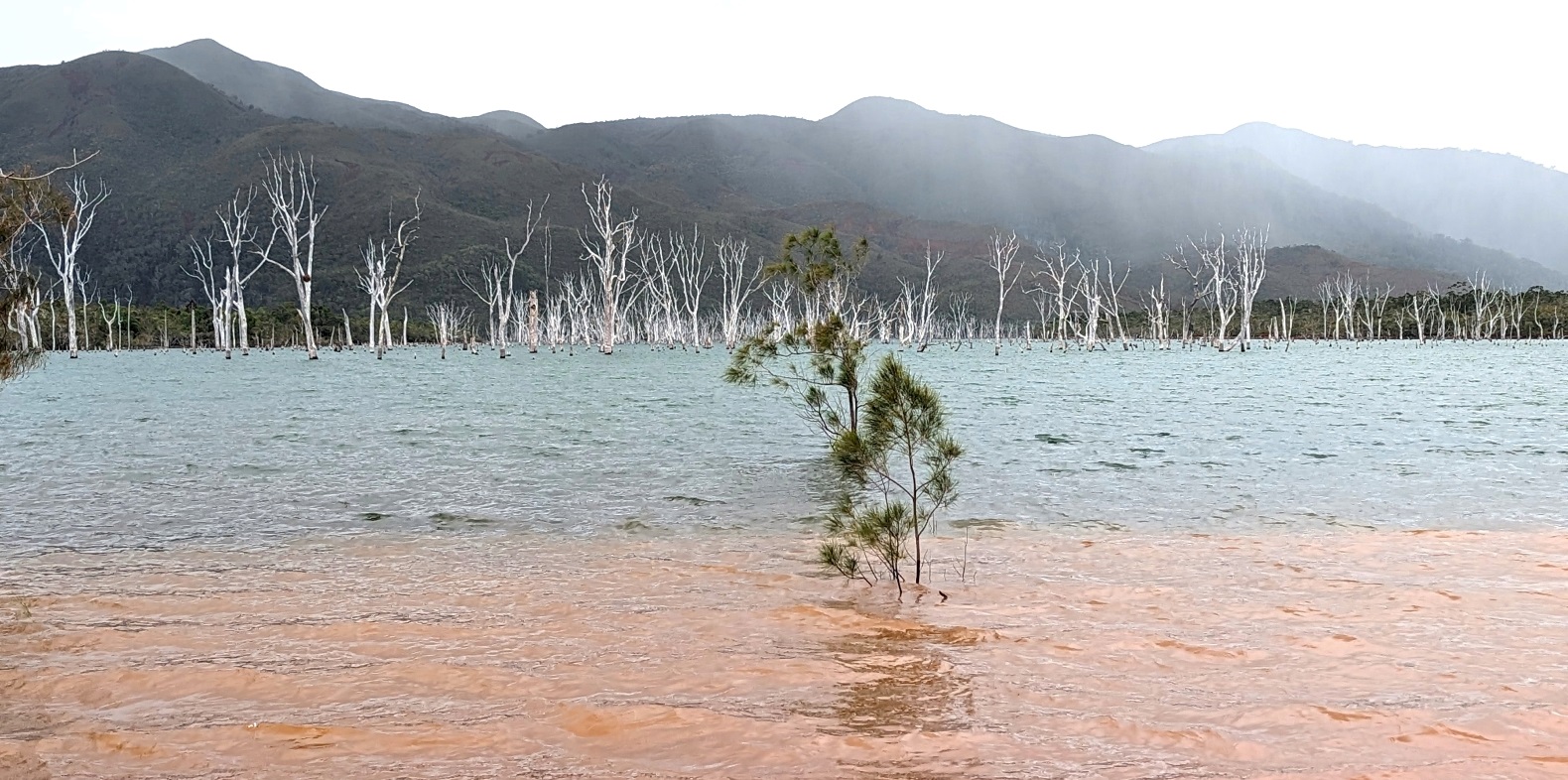 The otherworldly Drowned Forest draped in an evocative mist. Almost ghostly.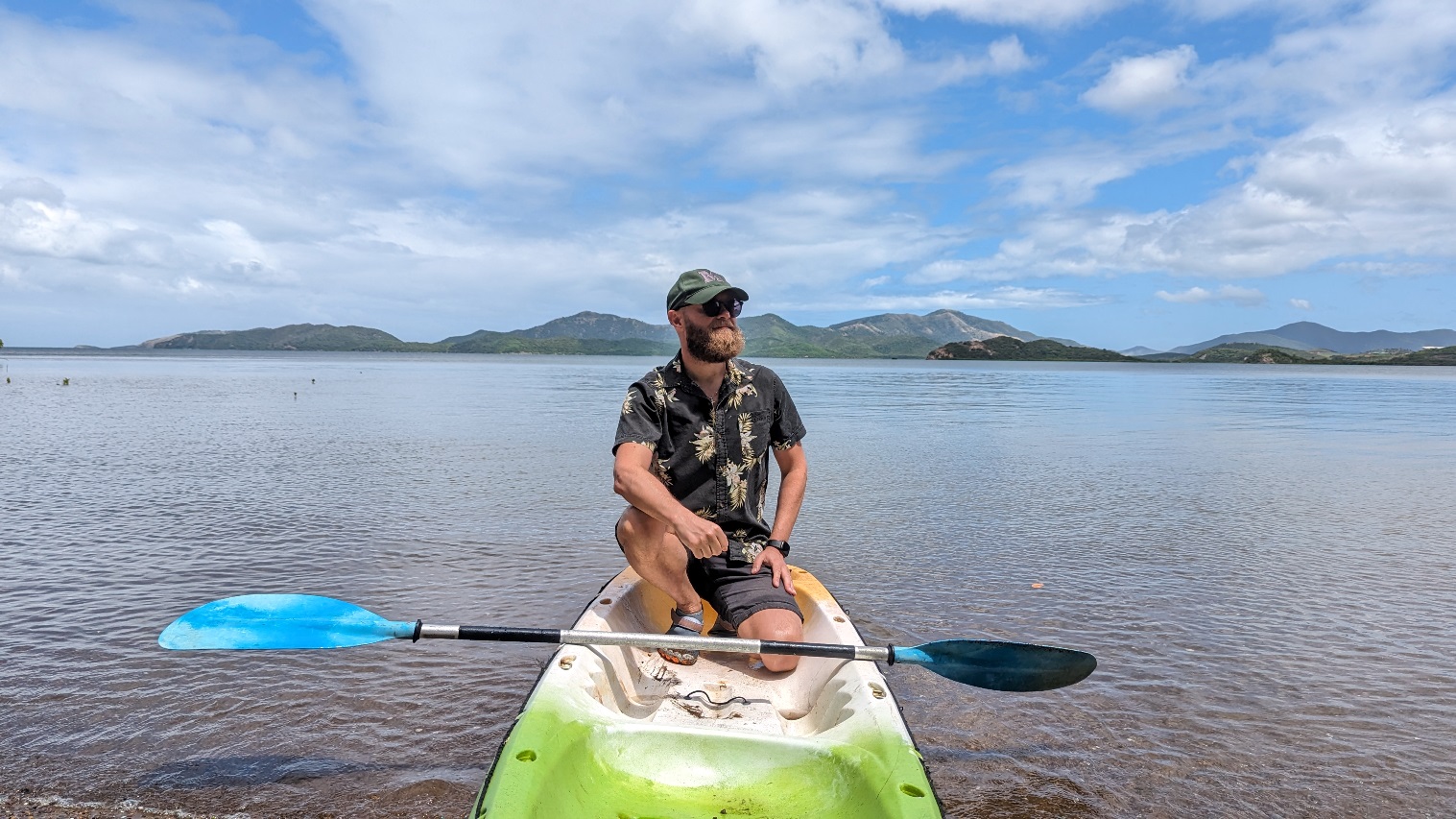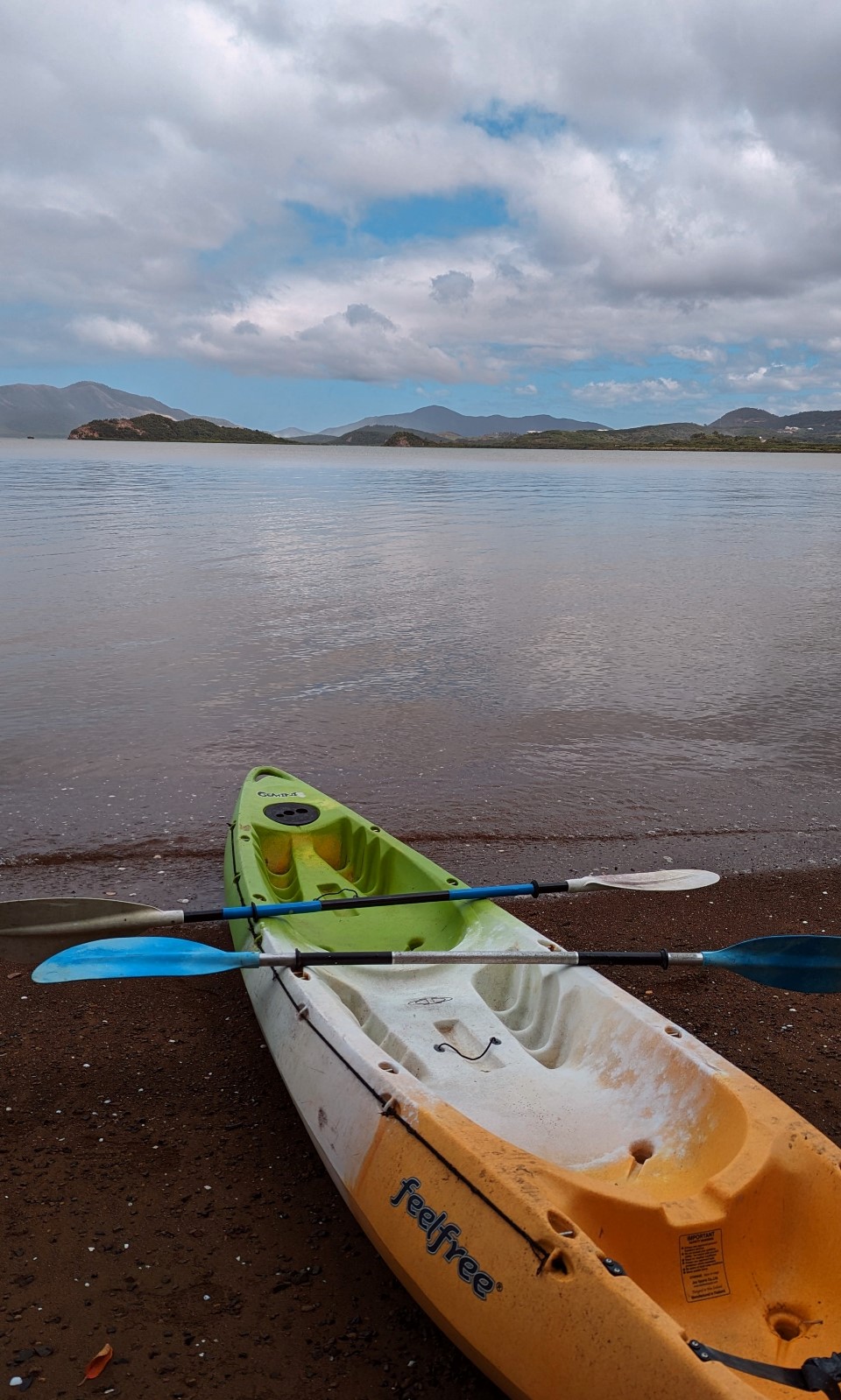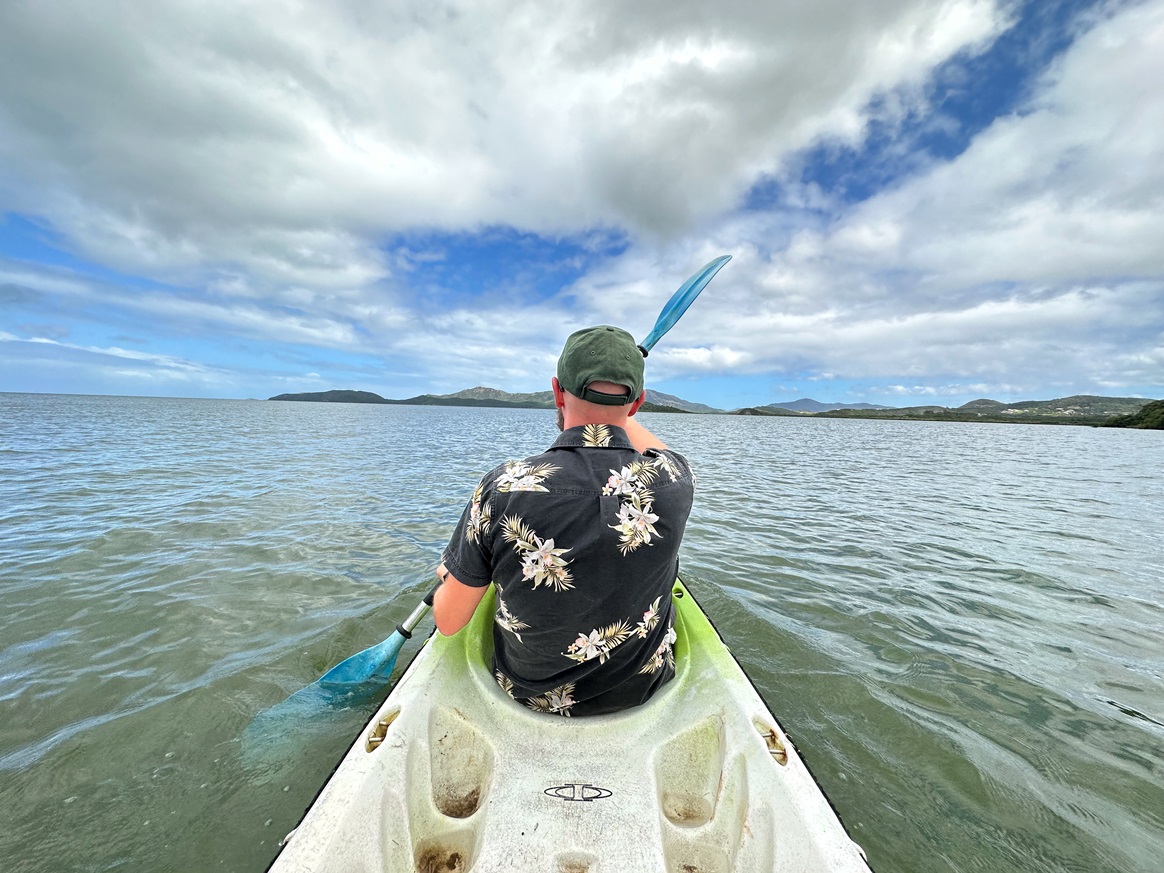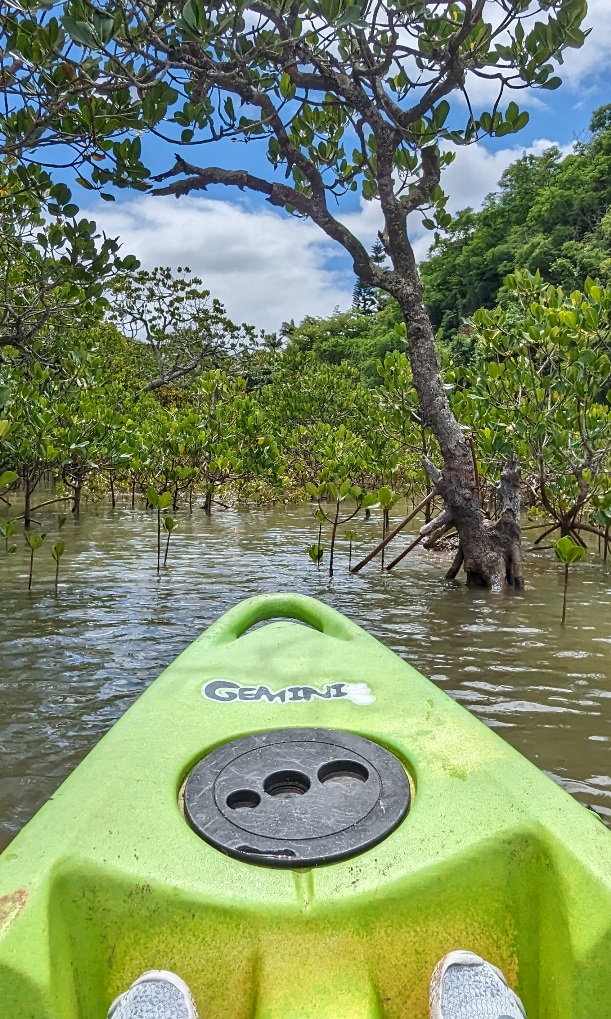 A mid-morning kayak in the waters where Dumbéa River and Gadji Bay meet.
travel tips, links & resources
The main Nouvelle-Caledonie Tourism website is a good place to start researching your trip in NewCal. Head there from here.
As in other Pacific countries and island nations where most things have to be imported, prices are exorbitant in New Caledonia. Anyone who has travelled to this part of the world knows it is not cheap but New Caledonia takes this to a whole new level because not only are many things imported, but they are imported all the way from France.

If you're on a budget you may choose to bring some food items with you - just make sure you declare them on your New Caledonia arrival card.

Be mindful that there is an ongoing concern about shark attacks around the shorelines of Noumea in particular. Indeed, in February 2023 an Australian tourist was killed. See the news article from the Australian public broadcaster ABC here. As a result many beaches were closed during my stay. The New Caledonia paradox is that it has beautiful stretches of beach with absolutely no-one on them.
Snorkelling and other water sports operators are few and far between around Noumea, their businesses having been hit by the banning of many water sports activities. You may as well leave your Go-Pro and snorkel gear at home.
Opening times are frustrating in New Caledonia. Expect a majority of businesses to be closed on Mondays as many seem to consider Monday an extension of Sunday. Walking around central Noumea on any other day of the week brings you face-to-face with closed shops and businesses with the sign "Ferme" dangling on the door. My advice would be to make sure you bring all essentials with you and dispense with the "I'll get some when I'm over there" mentality. Take everything you need with you because, even if you do manage to find a business open from which to buy what you need, it will be at an eye-watering price (take Australian prices and double them). Where New Caledonia's concerned, bring absolutely everything you'll ever need or you'll be certain to pay the price - quite literally.